Martinez: We need to address problems as a team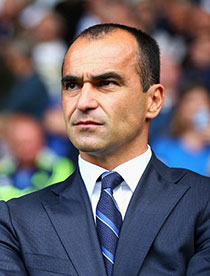 Roberto Martinez has acknowledged the growing crisis that is consuming the defensive side of his team but insists that Everton will address them as a team rather than singling out individuals.

Speaking after last night's exit from the League Cup at the hands of Swansea City, the Toffees' boss insisted that while he was disappointed by the result, there were plus points to take from the performance, not least a first run out for Bryan Oviedo following long-term injury and Luke Garbutt's first senior start.

"It was a disappointing result but not a disappointing night," the Catalan said in his customarily positive manner. "When you make eight changes in the line-up, you're looking for individual performances... I thought some individuals performed in a fantastic manner."

Martinez expressed how pleasing it was to see some of his long-term absentees feature, some of them like Tony Hibbert, Antolin Alcaraz and Darron Gibson for the full 90 minutes, as well the maturity shown by Garbutt.

Since the match he was asked about his defence and, in particular, Tim Howard's confidence given that he has conceded 17 goals already this season coming off his star turn in the World Cup for the USA.

"I am not concerned," Martinez said. "If it was a young goalkeeper or someone who has not got the experience maybe you can think about how he could get affected by these experiences.

"But Tim is in the best moment of his career. The experience he has, he knows how to control every single performance that he has.

"Those moments happen and we need to address them. But that's not just with the keeper, we need to address them as a team."



Reader Comments (90)
Note: the following content is not moderated or vetted by the site owners at the time of submission. Comments are the responsibility of the poster. Disclaimer
John Keating
1
Posted 24/09/2014 at 19:39:31
Some players performed in "...a fantastic manner"
Sorry Roberto they were a shambles - the lot of them. Garbutt and Oviedo were the best of a really bad bunch.

I just wish now and again Martinez would express his feelings in a manner most of the supporters feel. I hope he isn't as positive and optimistic behind closed dressing room doors as he is with the media.

It's a team game and the whole team should be bollocked and told what we're getting is totally unacceptable.
Ian Bennett
2
Posted 24/09/2014 at 19:49:49
Quite. What the hell would a shit individual performance yield? Double figures...
Tony Pickering
3
Posted 24/09/2014 at 19:34:30
"But Tim is in the best moment of his career.."
Gosh! Really hate to see some bad moments.
Les Fitzpatrick
4
Posted 24/09/2014 at 19:51:36
Think this joker was at a different game to everyone else.
The man is becoming a laughing stock...
Andy Meighan
5
Posted 24/09/2014 at 19:51:44
The Spaniard's niceness is starting to get on my tits now. For once why can't he just come out and say we were awful and I can't really can't take anything positive from a performance like that.
After Sunday's debacle and a truly shocking goalkeeping display what does he do? Gives him the captaincy if that was meant to inspire him it backfired. Because he should have saved the first goal.
Why doesn't he for once actually apologise to the thousands who took days off work etc and who were short changed by that abysmal performance? No, because they don't really matter do they? Expect more.
Carl Sanderson
6
Posted 24/09/2014 at 20:05:09
Martinez's sunnily optimistic disposition is beginning to grate. No-one but no-one performed in a fantastic manner: one or two players had half-decent games. The team's pathetic defending is going to kybosh our season unless he sorts it out. If he can.
Frank Crewe
7
Posted 24/09/2014 at 19:57:49
He needed to address the defense in the summer but he didn't. Too busy at the World Cup no doubt.
Two seasons ago, when he was Wigan manager and they knocked us out of the cup, he exploited the fact that our defense had a soft center. What has he done to correct this problem? Sold Heitinga and brought in the useless Alcaraz. He got rid of OFM deadwood to make room for deadwood of his own.
In December Baines turns 30. On that day we can put out a team made up entirely of players 30 or more years old.
Howard
Alcaraz Jagielka Distin
Hibbert Baines
Osman Barry Pienaar
Eto'o Kone
Ten years ago, that would have been a decent side... but now, with the exception of Baines, it's the Antiques Roadshow. Maybe we could sell them and use the money as a down payment on a decent CB because until we get one or even better two good CBs we are royally screwed.
Anthony Hughes
8
Posted 24/09/2014 at 20:18:26
Sorry Roberto but your talking bollocks. And if you cant' be arsed with the league cup maybe we shouldn't enter next season and just organise some friendlies on cup dates.
Sean Kelly
9
Posted 24/09/2014 at 20:18:14
Less words (bullshit) and more action Roberto please. Kick arse and fuck past reputations. I'm still mad as hell after that shite last night. No more excuses and no more please of the positivity bullshit. Just say it as we all seen it.
Danny Broderick
10
Posted 24/09/2014 at 20:24:32
Can anyone honestly remember him saying anything negative?
Giacomo Trifoglio
11
Posted 24/09/2014 at 20:24:53
Reading his comments I get a mental image of someone painting rotten skirting boards.
Tony Twist
12
Posted 24/09/2014 at 20:25:38
He is a clown. He needs to address the problem, it should have been addressed games ago. I know he doesn't like slagging off the players, which is fine, but I think it has gone beyond that now. It highlights the mentality of the man when he wants to dwell on the positives.
I'm afraid I'm a realist and relegation is the reality of this situation unless Martinez wakes up and solves the problem. 18 goals conceded with 4 in defence and two defensive midfielders beggars belief!
James Morgan
13
Posted 24/09/2014 at 20:37:10
Maybe behind closed doors he is saying something different, I like to believe he rules with an iron fist in a velvet glove. He is an intelligent man and lives and breathes the game and surely knows what's going wrong, the question is can he fix it.
Colin Glassar
16
Posted 24/09/2014 at 20:41:46
I'm keeping some of these posts for posterity.
Sean Kelly
17
Posted 24/09/2014 at 20:36:20
Just looking at the league table we have the worst goals against of all the teams in the league. I fear teams have sussed us out and know we are vulnerable. Unless things change real soon I fear we are looking at a dogfight to stay in this league.
Now some may come on here and say I'm overreacting well if so point out some positives to me because as sure as hell I can't see any. I'm a fan of Roberto and I don't want him out but I do expect more from our team than we are getting. Too many players haven't turned up yet or are inconsistent and that spells trouble.
Dave Lynch
18
Posted 24/09/2014 at 20:51:10
Listening to him on Radio City I'm sure I detected a hint of desperation in his voice.
He was not his usual fluent self and sounded quite agitated at times. Maybe he's begining to realise this is not Wigan, he's playing with a big team now, with big expectations and a huge support network.
James Carroll
19
Posted 24/09/2014 at 20:53:41
We'll be fine.
Carl Sanderson
20
Posted 24/09/2014 at 20:53:48
Sean, I do think you are over-reacting slightly, but only because I think we'll score enough goals to steer clear of trouble. With that defence, though, we'll certainly win nothing.
Jim Bennings
21
Posted 24/09/2014 at 21:00:13
What I can't understand is the way we are now is the way we should have been this time a year ago.
This is more Martinez's team now than it was a year ago yet we seemed to be more cohesive and confident when he first came.
To be honest, we look a total mess at the minute and I can't really see how it's going to get any better anytime soon because, every game nearly, we make it so so easy for the opposition to score against us. Let's put it this way you know you have problems when Crystal Palace win TWICE at Goodison in five months, scoring 6 goals.

Kunal Desai
22
Posted 24/09/2014 at 21:16:40
I think Martinez's whiskey is spiked of late by Moyes...
Jay Harris
23
Posted 24/09/2014 at 21:08:42
Carl, what makes you think we'll be alright?
We haven't won a home game since last season and have the worst defensive record in the Prem this season.
I don't need to remind you that Wigan went down with the worst goals against in the Prem and there is general concern that this is a serious blindspot for RM.
When he makes BS comments like "I am not concerned about clean sheets" and "I want players to make mistakes so they can learn from them," I despair.
What lesson can you learn from a mistake that you won't get bollocked for as a professional? That it is acceptable.
A large number of supporters have seen enough preseason and so far this season to have serious concerns about the spirit and application of the players. Their hearts and heads are somewhere else and that my friend is a recipe for a downward spiral..
Ian McDowell
24
Posted 24/09/2014 at 21:11:07
Even Newcastle are beating Palace. Something seriously wrong at Everton.
Carl Sanderson
26
Posted 24/09/2014 at 21:19:28
Jay,
I think we will score enough goals against enough teams to accumulate enough points not to be in relegation trouble. But we won't achieve anything.
Martinez has a massive job to organise a correct balance between attack and defence; he needs to show some cojones and drop the serial under-performers.
I read last week that he would be perfect for Arsenal or Barcelona. Bollocks.
Tony Abrahams
27
Posted 24/09/2014 at 20:45:53
A clown Tony? I disagree with that. I think he's a gambler, who is going to put a lot of his stake on trying to win in Europe. He didn't have us properly prepared for the start of the season because he wants us to be stronger when the Europa League games come thick and fast, maybe?
He is getting let down by individual errors and of course he hasn't helped anyone with his last two team selections. But he is still an inexperienced manager himself and still has a lot to learn, especially with it being his first ever season managing a team in Europe.
He's raised our expectations massively, "Look at the season ticket sales" but has had a very poor start to the new season. As James has said, he's an intelligent man who lives and breathes the game of football but he his getting a lot wrong at the minute. We have still played some very good football for me, but he's definitely got to get tougher with some of his players quickly.
That said, most people were calling for Kendall's head at the end of 1983 and Everton have only played seven matches so far this season. Remember getting battered in a League Cup match at Coventry when Kendall made the players do a training session after the game because we had been that poor?
I don't think Martinez could have done that last night because I don't think he even picked a team to win. Anyway, in our very next fixture, we beat Liverpool 2-0, when everyone had us down to get battered!
Mark Griffiths
28
Posted 24/09/2014 at 21:12:31
James 13: You are right to bring a bit of sanity to this as I was thinking the same myself. However, I am very concerned about our defence at the moment and, if we get spanked by the two filthy red bastards over the next two games, I will really really start to worry.
Dave Abrahams
29
Posted 24/09/2014 at 21:19:29
Dave Lynch, maybe he's getting agitated because he now realises that, however much money comes in through TV transfer fees, not an awful lot gets spent bringing players in. How much was actually spent in the transfer window? Maybe Martinez wanted to bring in players for the defence etc but the money wasn't released by the chairman?
Who knows what goes on the background, it will not be a surprise to many of us but it could be a surprise to Robbie. He will get used to it... or maybe he will just walk away.
Gerard Carey
30
Posted 24/09/2014 at 21:26:52
Fantastic????!!!!!, how could he use that word last night after that display.
James Flynn
31
Posted 24/09/2014 at 21:26:02
Main comment to me was "When you make eight changes in the line-up, you're looking for individual performances..."
So, Roberto did what so many other managers do with this Cup, he sent out a lot of players to get them some game time.
It's 2 days gone now. Looking forward to getting after the RS this weekend. Not as if they're tearing things up.
John Keating
32
Posted 24/09/2014 at 21:43:14
Just for those who think these sort of comments are knee jerk and a bit over the top. When the fixture list came out, who amongst us would have expected us to be where we are going into the derby match?
Surely after the first 5 games who wouldn't have expected us to have around 10 points on the board and a healthy goal difference?
Don't forget — losing (as well as winning) becomes a habit.
Julian Wait
33
Posted 24/09/2014 at 21:46:20
When Moyes played a sub-par team against Liverpool in the Cup, he was lambasted ... but because it was Liverpool, not because it was the cup.
Clearly the League Cup was the lowest priority, based on the team, and now it is off the agenda altogether. I'd love to win something, anything, but beating Liverpool in the league is the higher goal this week, and then Man United after that. Both very winnable games in which I expect Jags ad Stones to start, and maybe we'll see Oviedo as well at some stage.
Kevin Tully
34
Posted 24/09/2014 at 21:48:02
Whilst you are all wetting your kecks at the thought of losing a few games, maybe some of you would like to chew on this snippet: We started the season priced at 7/1 for a top 4 finish, with me so far?
Now, I have just checked the odds on Paddy Power, and we are now a shocking... 8/1.
It's a good job some of you don't support Man Utd, Spurs, or Liverpool. They have all spent 𧴜's of millions and seem to be heading for the Championship along with us.
Surprised by some of the reaction lads. It's shit at the moment and I can see where the concern is coming from, but FFS give it a few more games. Who would have thought Man Utd would throw away a 3-1 lead to lose 5-3 at a newly promoted side with the players they have just bought?
It's at times like this the team needs our support most - not toys out the pram and get rid of everyone. We've a great side who will come good, honest!
Joseph Clarke
35
Posted 24/09/2014 at 21:49:09
He is either delusional, or dishonest. His comments are a bit of an insult to knowledgeable Everton or football supporters. I like and respect Roberto, but his comments, like those of a lot of so-called professional" football experts", display an arrogant dismissal of the rest of us, who have played and watched football for many years, and know our stuff.
Lee Courtliff
36
Posted 24/09/2014 at 22:18:38
I've taken on overtime on Saturday just so I can't watch the Derby.
I'm sure things will get better but I'm not sure it'll be this weekend.
Ian Riley
37
Posted 24/09/2014 at 21:42:13
The first thing the manager needs to do, is not credit the team after three-goal defeat. It drives fans mad as we all think we are watching a different game. It's okay to be angry.
My question is: Do we have a team ready for a battle? – because that's what we have on our hands at present. The team are gaining respect for the style of football they play... but so did Wigan. The players need to put a shift in before playing their own game. We have let so many goals in, it's not individual mistakes but team desire. The team consists of 6 defensive players and 4 attacking players, midfield?
As from this I am concerned and unless the manager addresses this quickly, we will be in a dog fight. Liverpool and Man Utd next which might be a blessing as the players should not need motivating. I would take two 0-0s and solid performances by all. I fear there could be over 4 goals in each game but remember we have not played ten games yet and it could change quickly.
Like me with the signings and squad we have, we expected better but there is plenty of time to turn things around. The experienced players need to stand up and be counted.
Colin Glassar
40
Posted 24/09/2014 at 22:51:50
Careful there KT, they'll be asking for your head soon as well.
Eddie Dunn
41
Posted 24/09/2014 at 22:45:12
Last season I posted on here that I was not happy with the politician style positive spin that Roberto puts on his every public utterance. I find it offensive, an insult to my intelligence.
I genuinely like the guy, and want to give him time, but after a poor show, where obvious mistakes have been made by him, as well as the players, I can do without his happy bullshit, and would like some honesty.
If you have trekked halfway 'round the country at great expense to support your team. only to be let down, by ineptitude, then it is taking the piss to talk of fantastic displays!
Tell it like it is Roberto.
Bob Heyward
42
Posted 24/09/2014 at 22:43:17
The League Cup is a piece of silverware. We have won no silverware in 20-years. It only takes 5 games to get the final, and the silverware/Europa League qualification is in the bank by March. It's also the easiest cup to win, with big teams usually playing B-teams until the semi-finals. Finally, our illustrious Club has never won this title.
So tell me, why oh why is this Cup seen as 'not a priority' for our small squad, yet the pie in the sky 24-games of the Europa League, and the far more competitive FA Cup, are both seen as priorities?
Last night was the best chance we have to win silverware, and we blew it... because it's 'low priority'. Our A-squad could have nailed that competition. WHY WASN'T IT A PRIORITY?!?!?!?!?!
Now we have a League mountain to climb, or win the tough Europa League/FA Cup to guarantee Euro footie next season... all with a tiny squad. Madness. Utter madness.
Dick Fearon
43
Posted 24/09/2014 at 21:56:36
I would be surprised and disappointed if any of our experienced players believes the absolute rubbish spouted by this man.
Blue Bill is a master of the art of bullshit and years of experience taught us to recognise it from a mile away.
The sooner Roberto wakes up to that fact the better it will be for his own credibility.
If the players are looking for an inkling of where we are going wrong and what to do about it they would have gleaned precious little from Roberto's platitudes.
We can only hope his words are for the fans benefit only while secretly he is rampaging around FF kicking more than a few arses including those of our physical fitness guru who ever he may be.
But first he should have a good think about his own role in recent debacles.
Number one problem is that negative unchallenged and totally boring tika taka between our back four and keeper allows opponents time to block avenues to goal.
Second is we have exceptionally fast strong attackers but due to problem number one they are starved of opportunities.
Our third problem is that starting at the back end of last season other teams recognised our problems yet Roberto either did not, would not or could not rectify them.
The ball is in his court and though I am not yet panicking, time is ticking.
John Daley
44
Posted 24/09/2014 at 23:37:37
In the interests of fairness and accuracy, it should be said that Roberto's words have been quoted slightly differently in other quarters to how they have been reported here.
Firstly, when talking about Howard, he was answering a specific question regarding whether or not he was worried about the possible psychological impact conceding so many goals could have on him:
"If he (Howard) had been a young goalkeeper or someone that hasn't got his experience maybe you can think how he might be affected by those experiences. But he is in the best moment of his career and has got the control and experience (to deal with it)".
Then, in terms of the team display and result, he actually said he was disappointed in some individual performances, not that he thought they were 'fantastic'. Okay, he did, admittedly, go on to say later that there were 'many positives':
"When you lose 3-0 you have to be disappointed with certain individuals, but as a team you don't expect to be perfect when you make eight changes.
"We are a team that needs to share the demands with the squad. We've got 25 players that I'm really proud of and excited about what we have for the future and we need to be able to make changes and still win football matches.
"We are a club that wants to compete in every competition and we need to be able to do it sharing the demands with the squad.
"From an individual point of view, there were many positives, a lot of information and a lot players desperate to help the first team but overall the scoreline is something we could't get and that's what we want".

Nick Armitage
45
Posted 24/09/2014 at 23:33:40
Dick - bang on the money with the analysis but I think it all stems down to an absence of drive from centre mid. I don't rate McCarthy at all, he does not impose himself enough, never has, and Barry is as slow as an oil tanker and is almost deployed as a sweeper.
Defence and attack are constantly isolated from one another and neither is capable of support. Only player who can change the status quo is injured. Maybe Gibson can fill a hole for a bit until the prodigal son returns, but with the current set up, we have big problems.
Kieran Riding
46
Posted 24/09/2014 at 23:55:30
Nick #45
He's not injured anymore !
Nick Armitage
47
Posted 25/09/2014 at 00:08:58
I was talking about Ross Barkley.
Phil Walling
48
Posted 25/09/2014 at 00:08:23
We are indebted to John@ 41 for his 're- write" of the manager's after-match summary.There was some of us beginning to think it was total bullshit and an insult to our intelligence.
As if.
Steavey Buckley
49
Posted 25/09/2014 at 01:02:32
It feels like a long way off to the next transfer window in January because all I can see at the moment is Everton letting goals in for fun until then.
Steve Jenkins
50
Posted 25/09/2014 at 01:08:05
@KT
Spot on.
I have it from someone I know that works at Swansea City - it was well known around the club that Roberto has a stern side and chooses to implement it at the right times - hence good man management skills.
He probably feels (imo smartly) that berating the players individually to the press will not help morale.
He did state last week he was really disappointed with the really, really sloppy goals we gave away against Palace.
I do agree however he needs to tone down the over positive remarks after such a comprehensive defeat i.e Swansea.
Kieran Riding
51
Posted 25/09/2014 at 01:23:26
Mark Andersson
52
Posted 25/09/2014 at 01:28:40
Some great post on this subject. Last season when I listened to that wonderful audio interview with the fans I was so excited about everything Bobby was saying. It made me feel good again to be a Everton fan. In fact the interview was that good I listened to it twice.
As with most fans I was anticipating this season with relish. ooohhhh how we are soon brought down to earth with a BIG FUCKING BANG.
I would love nothing better for the team to suddenly turn it around starting with a good performance and a win on Saturday, but the realist in me thinks there will be more doom and gloom.
As for Bobby's positive spins on his post match interviews, I have to agree that he is insulting the many Everton fans who are knowledgeable. However it's Bobby's nature just as it was DM nature to come across glum even after a good win.
Fingers crossed boys and girls it's going to be a roller coaster ride for the rest of the season. Our poor fingers will be knackered come May.
Harold Matthews
53
Posted 25/09/2014 at 01:06:26
Unlike Nick, I've been very pleased with the way McCarthy has been trying to join in with the attackers. His link-up with Baines and Naismith for our first goal the other day was exceptional. Unfortunately, unlike every other player except perhaps Jags, he is very hard to pick out and this is causing people to miss much of his good work. Sounds daft but it's true. I have to keep checking for the number 16. Without it he'd be virtually invisible. Thought Stones had made a great block till the commentator praised McCarthy who had appeared from nowhere and got his foot to the ball. I had to wind the picture back to see where he came from. The guy needs luminous boots or a Fellaini wig.
.
Jack Cross
54
Posted 25/09/2014 at 01:47:46
John Daily 44. Yes well spotted. It's easy to read things out of context. It gives you a totally different take on what Roberto actually said.
David Ellis
55
Posted 25/09/2014 at 02:24:15
Frank Crewe #7 - yes we could put out a side of over 30s, but I am not sure what your point is. We could also put out a side in their 20s. It shows we have a big squad. Howard Kendall once said that when you are rotating a squad it is good to have some experienced old players around (Pat Jennings was cover for Southall at the time). They can come in and do a high quality job for a few games and they don't constantly demand regular first team football. Also they are cheap - its not as if we could afford to have all these same players 10 years younger.
To me it shows good squad management and good squad depth.
Jack Cross
56
Posted 25/09/2014 at 02:42:54
Dave Ellis. I think what Frank, is trying to say is if Roberto, is known for having a young blooded team, then why is he relying so heavily on team of oldies. But I maybe wrong.
Peter Z Jones
57
Posted 25/09/2014 at 04:58:44
Relegation? Really? ToffeeWeb is hilarious. Am I mad that we suck right now? Yes. Are there many things that need to improve for us to be successful this season? Yes. Is Martinez making uncharacteristic tactical errors? 100%. Is our defending shambolic when Stones isn't in the center? Damn right it is. But if you think we are really going to keep conceding at this pace for an entire season, you really are selling our team short there.
It's just a phase of crap form. Sure as you're born, we will begin to click and have a run of clean sheets to balance it all out. Leonardo Ulloa has 5 goals in 5 games and our man Nikica Jelavic hit a fucking bike last week for Hull! Is that gonna continue also? Take a deep breath and step away from the ledge.
Matt Traynor
58
Posted 25/09/2014 at 07:22:20
David #55, slightly off topic, but Pat Jennings was cover for Bobby Mimms - Southall's season had ended on international duty. There's still some of us who think, getting on for 30 years on, that Jennings should've played those last few games!
Mike Iddon
59
Posted 25/09/2014 at 07:36:59
"I don't rate McCarthy"... What a comment about the guy who was 2nd in player of the year last year. Get a grip, not a knee-jerk.
James Richard
60
Posted 25/09/2014 at 07:29:23
Sorry to be negative but I too can see a struggle to steer clear from the bottom 3 or 4. The evidence is there. We have played 4 relegation canditits and conceded 8 goals. Played 2 top sides and conceded 8 goals. Anybody who chooses to ignore that evidence is deluded in my opinion.
Anthony Burke
61
Posted 25/09/2014 at 07:50:37
James, we're 5 games into the season. Judge us at least after a third of the season.
Jim Bennings
62
Posted 25/09/2014 at 07:52:04
I wonder why Connor McAleney was not in the squad for Tuesday night? Or even Chris Long?
Surely either one of these would have been chomping at the bit to get some first team action, just look at the youngsters Liverpool had out?
We keep hearing about this fantastic Academy of players and if they are good enough they are old enough but I still so no evidence apart from Barkley.
Tuesday would have been perfect if your looking at making wholesale changes.
I just don't understand it.
Stuart Mitchell
63
Posted 25/09/2014 at 08:09:37
To much deadwood in the squad, Osman, Gibson, Hibbert, Kone, Pienaar, Distin, Jagielka, Alcaraz all need to be moved on.
Also not been impressed with McGeady, very flash with no end product. Atsu looking the same but will reserve judgment.
We need a top CB in Jan and bring back Deulofeu on loan if possible.
Would bring in a keeper actually capable of putting pressure on Howard as Robles is just awful.
Andy Meighan
64
Posted 25/09/2014 at 08:12:43
Why are posters on here banging on about the starts that Liverpool, Man Utd and Spurs etc have made? We don't support them, do we?
This thread is about the Spaniard needing to address the current defensive problems but he won't address them while he baffles us by making silly unforced changes to the line-up. Okay, Coleman was injured for the Palace game... so what does he do? Puts Stones at right back and keeps the aging slow Jagielka and Dustin in the middle. Every Evertonian I know enthuses about Stones at centre back but equally cringes when he has to play full-back.
I just hope Coleman is fit on Saturday because, if the Spaniard opts to play the same back four as last Sunday. we're in the shit. And the sad thing is, Liverpool are equally as bad as us at the minute but the Anfield derby seems to galvanise them.
Ian McDowell
66
Posted 25/09/2014 at 08:38:08
Anyone know if Eto'o is available for the weekend? He went off at half-time on Tuesday... I didn't read about a knock.
Tommy Coleman
67
Posted 25/09/2014 at 08:41:11
" Insulting my 'intelligence' "
Got to add that to :
"Wigan"
"Relegation"
"Sack Martinez"
etc...
Ray Roche
68
Posted 25/09/2014 at 08:59:10
David #55,Matt#58,
Unfortunately, Jennings never appeared for us after he signed as cover. He couldn't have done any worse than Mimms. Southall? Another occasion when International duty went against us.
David Ellis
69
Posted 25/09/2014 at 09:05:10
Matt #58 - yes you are quite correct...and in retrospect maybe Jennings should have played instead of Bobby Mimms, perhaps we would have done the double instead of winning nothing in '86...
That season still erks me.
Jack #56 - the thing is we don't actually ever put out a team of oldies. We have them, but we don't play them all at once. We have more than before but I think that is largely because we now have a bigger squad than before and have more senior players, some of whom are older. I just don't see this as a problem unless we were paying big transfer fees which generally we have not (perhaps Pienaar and Kone are exceptions, although the former pre-dates Martinez and at the time we bought Kone we were without a decent recognised no.1 striker - so that one looks understandable)
Ray Roche
70
Posted 25/09/2014 at 09:12:52
Actually, that might be a bit harsh on Mimms, he kept a few clean sheets towards the end of the season, but his performance at Wembley, as I recall, was less than stellar. Maybe as a result of too much Stella.
James Stewart
72
Posted 25/09/2014 at 12:15:51
The only side that has actually beaten us this season is Chelsea. The rest we have just surrendered the game & points. There was a time when individual errors started racking up under Moyes as well and he sorted it eventually.
The game at this level is fine margins, as many on here have pointed it out. What worries me more is the team selections, tactics and subs. Martinez has got pretty much all of those wrong in every single game. There was no need to rest players against Palace on the back of a 4-1 win with confidence high. That should have been done in the cup.
Now we go into the derby with no continuity and our most in-form players like Naismith and Mirallas not having started for two games. Basic stuff just horribly mis-managed.
John Hall
73
Posted 25/09/2014 at 12:38:51
I'm sure he still thinks Wigan's relegation season was truly 'positive' and the rest of the clubs just misunderstood them!
James Martin
74
Posted 25/09/2014 at 14:15:44
Didn't take long for the worm to turn did it. How long has he been here? One whole season which brought our record points total with some boss football and suddenly he's a clown because we've had one bad start.
Yes he's too optimistic in the face of defeat but the same lot were complaining when Moyes thought we were lucky to win if we did play well. This is Roberto's character, just like that was Moyes's character.
It's also Martinez's style to be attacking. The 4-2-3-1 with Barkley and Pienaar tucking in midfield was more defensive than what is essentially a 4-2-4 now. We're conceding more but, for the first time in a while (the other night aside), consistently scoring.
I think his one mistake is persevering with Distin and Howard like Moyes used to. Play Stones and give Robles a run and we'll be fine. Once we get over this blip, we'll be flying in this league as the quality of our squad is undeniable. I can't believe the flak Martinez is getting. Last year didn't get him much credit in the bank did it?
Sean Wafer
75
Posted 25/09/2014 at 14:48:01
IF Martinez had any bottle he would play Alcaraz & Stones in the derby. Distin is a 78-year-old defender whose game relies solely on pace. His positional sense is awful, his technique is awful, his mentality is mid-level at best. Him and Jags are the greatest bottlers, treating the ball like a hot potato and making a 5-yard pass seem like a death sentence. Who can forget his FA Cup semifinal assist? Thanks for that.
They are relics, and much too comfortable in their roles as keepers of the old guard. I bet they sit in the changing room back-slapping each other and remembering the good old days when they were taking knives to gunfights and a 50-yard clearance was commendable not lamentable. They have zero ambition, not much more quality, and are not fit to lead this team.
Jagielka is a shocking captain, a lark-about schoolboy who when he's not telling us 'Yeah definitely' is smirking his way through Lukaku's belief we can be a top club. And the man behind them? Howard. Jesus christ, Howard. The Secretary of Defense. No wonder America is done as a superpower. Wouldn't trust him to catch the clap in a Kirkdale whorehouse.
And he is another bottler. Twitching and hollering his way through to a game until he gets the chance to throw out his usual star-jump shapes, that is of course when he's not letting in his favourite near-post squirmers or standing rooted to the spot when a cross reaches the 6-yard box.
Robles deserves a go. He couldn't be any worse. At least give him a CHANCE to do well, instead of the guaranteed screw-up that is Tourettes Tim. The three of them are pathetic and have been directly responsible for almost every goal we've conceded. It's truly laughable.
Martinez has options. Be brave, and use them. I fear he will simply bow to dressing room pressure and play the old favourites. Might some people have been more astute than we gave them credit for when they said he was far too friendly with the players? We shall see. Any combination of those three play Saturday we will concede 3, 4, 5+ goals easily. Mark my words.
Billy Fisher
76
Posted 25/09/2014 at 14:32:19
Hahaha incredible!!!! From 'Roberto',' Bob', 'Bobby' to 'the Spaniard' in 2 months!
Graham Mockford
77
Posted 25/09/2014 at 15:13:31
Also interesting to hear some talk of our inferiority complex going into derby games and then saying they are not going to watch the game because we are likely to get thumped.
As they say, you really couldn't make it up.
Ray Roche
78
Posted 25/09/2014 at 15:17:33
Sean Wafer
"Robles deserves a go. He couldn't be any worse. At least give him a CHANCE"
Thank fuck you're not our manager. I also think that, if we play "any combination of those 3" we'll get mullered. However, play Robles and ANYONE and we'll get spanked out of sight.
Sadly, I can't think of any way we'll get even a point on Saturday and the Shite must be made up to be playing us so that they can get their season back on course. Defeatist? Yep, after watching League derbies since 1962 and Senior Cup ones before that, I'm sort of conditioned to it. So are the players.
Fortunately I'll be in Spain golfing all week and, with luck, won't be able to see the match. There are some RS with us so it'll be bad enough as it is....
Jimmy Kelly
79
Posted 25/09/2014 at 15:17:28
Sean and James, if Robles is the answer, we need to ask a different question.
I honestly just cannot see the lad ever being more than a back up at the top level. In fairness to him it can't be easy not even getting reserve games but he should have been sent out on loan with an experienced freebie coming in for this season as cover.
I've seen most of his games for us, including friendlies, and he's looked a total liability in all of them.
James Martin
80
Posted 25/09/2014 at 16:30:52
Jimmy, whilst you may well be right, De Gea also looked awful for Manchester United at first but Ferguson trusted him and kept him in the side, now he's one of the best in the league.
Howard only promises consistent inconsistency. 9/10 games he will not make any save of note; in the other he will look world class like against Belgium, Swansea away a couple of seasons ago or Wolfsburg the other night. Most other games though he is getting beat at the near post, going to ground too quickly on pens or one on ones, not getting crosses, falling over under easy headers, allowing free kicks to fly in. He is an known liability.
Robles may throw one in his net if played, but his long term form is unknown to us. Our only reference point is his form at Wigan when he ousted Al Habsi and looked good. He could be great or terrible. Howard will certainly be very poor and has already, like the last few seasons cost us needless points. Time to gamble.
Jimmy Kelly
81
Posted 25/09/2014 at 16:39:54
De Gea never really looked awful though James. He was a very expensive signing for them and had long been seen as a top prospect. As a 21 year old he was always likely to take a little while to settle into a new country and massive club but he managed it pretty quickly.
Robles, on the other hand, is now 24. Young for a keeper, but not exactly a kid. He's also been over here for a couple of years and should be well settled.
Fact is, while De Gea made himself number 1 at Atletico as a teenager, Robles never managed it. Nor did he ever get regular representative games at junior level. His transfer fee was probably around 5% of De Gea's. To me, all of this, allied to what i've seen with my own eyes, suggests Robles will never be a suitable keeper for a top 6 side.
Harold Matthews
82
Posted 25/09/2014 at 16:52:11
With you on Robles James. Apart from his all too brief good spell with Wigan, the lad has spent his whole career on the bench. Understudy to both De Gea and Courtois before moving to Wigan. I'm not surprised he looks nervous on the odd appearance. Given a run of competitive games he may turn out to be quite useful. Who knows. At least, unlike Howard, he has plenty of room for improvement.
Dave Duggan
83
Posted 25/09/2014 at 17:43:43
I've read a lot of posts lately saying that Hibbert should have been played at right back to allow stones to concentrate at cb (mainly after the palace game) yet when Martinez does this Hibbert gets rinsed (as we jnow he will) and people say he can no longer wear the shirt anymore. Same with Ssman and young players. Same with all the other usual scapegoats.
Yet Robles is never offered the same chance? Why? Because he doesn't look good in what, 12 random appearances in just over a year? Seriously? Nobody would, ever it's as fucking simple as that!
The post earlier about De Gea being worth more is ridiculous, nobody is saying he is better than him all they are trying to say is that he deserves a chance to perform week in week out over an extended amount of games (fucking up in everyone and still not getting dropped) just to see If he ever will be capable or ever improve his obvious flaws, because Howard has proved, since 2006 or whatever it was that he will always cost points. joel can be no worse at the minute so why is he not tried? And people talk about players needing confidence so that they don't make mistakes! Haha unbelievable!
Don't worry Howard you are as safe as houses, make as many mistakes as you when you want, you will always play. When you need a shock to the system and a big kick up the arse instead of dropping you like anyone should we will make you captain instead!
At least everybody will have an excuse ready when you let in another shed load! He has been absolute shite in every game bar one this season and even in the Wolfsburg game he was made to look better than he was by the outfield players allowing so many chances. He made about 2 really good saves the rest were routine catches or blocks that any tit could have saved (guess what even Joel).
An just for the record I'm not even a fan of Joel, but no way does Howard deserve another game after so many basic errors. No way!
Jimmy Kelly
84
Posted 25/09/2014 at 19:07:07
I'm sorry you found my post 'ridiculous' Dave.
I think De Gea's transfer fee is relevant. James was saying he looked shaky but the manager gave him a run of games and he improved, I'm saying he was always going to improve, he was rated as one of the best young keepers in the world and they'd paid a fortune for him. When you pay the sort of money we did for Joel, that improvement is much less likely. It's a bit like saying "Lukaku didn't set the world alight when he first went to Chelsea, so I don't see why Vellios couldn't become a 20 goal a season striker."
You also appear to believe that ToffeeWebbers pick the team. You say Robles never gets the chance, but that's not down to us is it? It's down to the manager, who obviously doesn't think he's better than Tim Howard. I agree that Howard is no world beater, and the fact that Robles doesn't even appear to be considered a viable alternative by his own manager adds further credence to the belief that he really isn't that good.
Anyone who says 'he can't be any worse' and means it always has me worried. How, exactly, do you come to that conclusion? You've even contradicted your own point by saying that Hibbert was indeed worse than Stones at right back, despite some people thinking it wasn't possible.
Andy Meighan
85
Posted 25/09/2014 at 19:53:47
One thing is for certain: Howard isn't likely to be dropped. Apparently he's in the best moment of his career. He won't be dropped simply because Robles isn't trusted, therefore he's got no pressure on him.
I happen to think Howard is a good goalie but, after Sunday's nightmare, instead of leaving him out Martinez made him skipper for the night instead of giving Robles a go.
Dave Duggan
88
Posted 25/09/2014 at 20:40:48
Jim, just because De Gea was signed for a lot more than Joel Robles doesn't necessarily mean he is was going to turn out any better. Was Glen Johnson always going to turn into a fantastic right back considering Chelsea and Liverpool paid massive amounts for him? No! Was Coleman always going to be shite just because Moyes spent 㿨k on him? No.
Coleman got his chance and improved, Joel hasn't. How do we know that he isn't another bargain? I'm not saying that Joel Is or will be better than De Gea, or even Howard for that matter, but how can he be criticised this much without anybody seeing him play regularly. He didn't exactly make blunder after blunder in the FA Cup run did he?
The comment about Hibbert was meaning everybody knows he is shit, yet there was still calls for him to be selected. Everyone thinks Joel is shit but I would rather we not bother trying to give him the chance he needs. He could improve... we just don't know to what extent until he is given the chance. Howard isn't going to improve and has many faults but you would rather he always played.
And the "conclusion" to how he couldn't do no worse is simple: Howard has single-handedly lost us games this season so the worst Joel could do is the same. He deserves his chance like anybody else. Martinez clearly does rate Joel or he wouldn't have signed him for 2 clubs, he clearly just thinks Howard needs to play to get through a difficult time, while I and others think he needs dropping and taken out the firing line to sharpen him up.
If Lukaku misses 20 tap-ins, how many people would be calling for Kone to be given a chance – even though every man and his dog has slagged him off, saying he is shite? Yet they won't give Joel a chance even thought Howard doesn't deserve to play right now!
Colin Williams
89
Posted 25/09/2014 at 22:07:44
Dave (#83), great comments, everything you say about Howard & Robles is spot-on, mate. Also all the other young talented lads, give them a chance!! Get rid of the deadwood in the squad.
Max Wilson
90
Posted 26/09/2014 at 09:28:11
After going to Swansea, 1,200 of us would not play the following I think:
Atsu – too slow;
Hibbert – too slow but tries hard (been great);
McGeady – overrated, too many mistakes;
Distin – old age has caught up (happens to us all).
Howard to play only because Robles has never looked a safe pair of hands (punches the ball etc). Osman? Sub, yes; full game, no.
Here endeth the votes of the Swansea jury! And we are all becoming RM doubters... Bit by bit.
James Marshall
91
Posted 26/09/2014 at 11:41:32
Why does everyone assume that the best way to motivate players is by shouting at them? Martinez comes from a different school of thought, one which I also subscribe to. Giving people a hard time is not the way to improve them. Encouragement and more work on the training ground is.
This isn't a manager cut from the same cloth as Ferguson or Clough; times have changed.
Admittedly I fear for his style of play, and always did when he joined us, but positive thinking and a conviction in your way of doing things is the way forward. He won't change. Get used to it.
Mike Childs
92
Posted 26/09/2014 at 13:50:41
Sean W. #75 thanks for the secretary of defense comments. After all the negative comments I needed that laugh.
Blood the youngsters please! I can't believe that they can make anymore mistakes than the incumbents of the back line.
As far as expecting RM to be more truthful about bad performances to stop insulting your intelligence, what good would it do to repeat what everybody already knows?

Brian Waring
93
Posted 26/09/2014 at 14:34:09
James (#74) spot on mate.
Steavey Buckley
94
Posted 26/09/2014 at 15:15:20
If the attack can't compensate for bad defending and goal keeping, by scoring more goals than conceded, Everton will be relegated. And if people believe that the defence and goal keeping can sorted out, sooner than later, if it can't, it is a long way off to the next transfer window on January 1st; to bring new players into the club, who may be able to improve the goal keeping and defending situations.
MIke McLean
95
Posted 26/09/2014 at 15:39:21
Steavey: if a team doesn't score more than it concedes, it will be relegated.
Or secure the fourth berth in the Champions League qualifying.
Steavey Buckley
96
Posted 26/09/2014 at 16:08:43
Mike Mclean:Or secure the fourth berth in C L.
Everton are averaging 1 pt a game at the moment, and that is relegation form, not a team challenging for 4th spot.
MIke McLean
97
Posted 26/09/2014 at 16:30:36
Pointing out our CL was secured with a minus goal difference.
Your opinion about relegation is yours. I don't share it.
Mark Boulle
98
Posted 26/09/2014 at 17:04:58
Surely Coleman will be available tomorrow. Unless there's another injury we don't know about, he missed the Palace game due to that fairly innocuous-looking blow to the head against Wolfsburg didn't he? He didn't seem to be knocked out or anything at the time, so he must be back tomorrow...
I will be on the first tee in deepest rural Oxfordshire at 12.15 p.m and ignoring it completely. Like many on here, I can't bear to watch (the fact it's on that miserable excuse for a channel BT Sport makes it even worse), amidst the inevitable flurry of texts from RS mates.
I wish I could generate the slightest bit of optimism that we'll go there and win tomorrow, but I just can't see it. A point would be wonderful.
James Thornhill
100
Posted 26/09/2014 at 22:52:37
What I have noticed this season is the amount of chances teams are getting against us, especially from crosses into the box. We sit back and let the opponent get cross after cross into the box. Leicester, Chelsea, Arsenal all punished us by bombarding us with balls across the box. Even Wolfsburg & West Brom had a ha full chances by doing this. I put it down to the wingers not supporting our fullbacks. They're just not doing their job in a defensive capacity.
Now maybe they're not instructed to do this, but I feel our central mid-fielders are constantly pulled out of position and teams are exploiting this. Now my fear is that tomorrow them lot have a big bugger (Mad Mario) who's quite good in the air and should he get the constant supply of crosses we seem to be conceding, the Mad sod will score one...
---
Add Your Comments
In order to post a comment, you need to be logged in as a registered user of the site.
Or Sign up as a ToffeeWeb Member — it's free, takes just a few minutes and will allow you to post your comments on articles and Talking Points submissions across the site.
© ToffeeWeb