Everton vs Aston Villa
Match Preview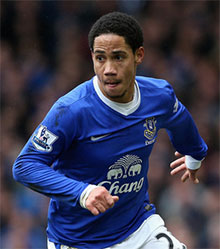 Steven Pienaar limped off against United and faces a late fitness test before the visit of Aston Villa
No one easily forgets what it's like to visit or play at Goodison Park but Everton's supporters and players could be forgiven if they were starting to... By the time Aston Villa roll into town this weekend for the latest chapter in English football's most-played fixture, it will be almost a month since the Blues last played on home turf and it will be November before they complete a seven-game sequence in which six were away from home.
It's the kind of schedule that is pregnant with opportunity — pick up valuable wins on the road before returning to home to build on those results — but the reality is that Everton will return hoping to find solace and inspiration in the comforts of more familiar surroundings as they look for what would be only their second Premier League win in eight this season.
A valuable point from Krasnodar and the avoidance of derby misery at Anfield thanks to Phil Jagielka's stunning equaliser were the bright spots from those four successive away matches, but a sorry loss at Swansea signalled another premature exit from the League Cup while injury was added to the insult of defeat against Manchester United when John Stones suffered a serious ankle injury that looks likely to keep him out until at least Christmas.
It means that Roberto Martinez will again need to draw on what squad depth he has this weekend, particularly in defence. Stones's absence, of course, necessitates a change at centre-half where Sylvain Distin is back in contention after his hiatus following the Swansea game while Antolin Alcaraz, his partner at the Liberty Stadium where the Blues went down 3-0 four weeks ago, offers another option alongside captain Phil Jagielka.
The international break has afforded Tony Hibbert some rest after the veteran was called upon to start four successive games in Coleman's absence but, should the Irishman miss out again, there is scope for blooding young Tyias Browning following two impressive cameos as a substitute in the cauldrons of Anfield and Old Trafford recently.
In midfield, much will depend on the fitness of three players who will undergo late fitness tests before the manager names his team to face Paul Lambert's Villains. James McCarthy and Seamus Coleman have both been battling muscle injuries in recent weeks but are close to being ready for selection, while Steven Pienaar aggravated the thigh problem that has dogged him for most of the season at Old Trafford. Martinez indicated in his press conference that all three should be fit for the trip to Lille next Thursday but remain slight doubts for this weekend.
Muhamed Besic or Darron Gibson are the obvious deputies for McCarthy should he miss out, while Leon Osman would be the most likely choice to come in for Pienaar if he is injured given that Aiden McGeady has filled the void left by Kevin Mirallas, although Bryan Oviedo is also in the mix for that left-sided berth.
Of course, there is the possibility that Ross Barkley could make an early return to the first team for his first appearance of 2014-15 following a medial knee ligament injury, but you'd think it would be as a substitute rather than as a starter given the length of his layoff and his lack of match fitness.
Up front, Romelu Lukaku's quest for full match fitness makes him a likely starter and Steven Naismith's goalscoring form has made him an almost automatic choice in the starting XI when Martinez isn't employing his player-rotation policy — one that seems less necessary now that Everton have one less competition to worry about.
After making a terrific start to the season, one that earned Lambert an extended contract, Aston Villa have gone off the boil somewhat in recent weeks and have now lost three straight since their last visit to Merseyside, a 1-0 win at Liverpool on 13 September. Nevertheless, they are four points and seven places better off than the Toffees coming into this fixture and could be boosted by a first start since March for Christian Benteke, the Midlanders' own Belgian hotshot who has now recovered from a ruptured Achilles.
They will be without Fabian Delph and Philippe Senderos could be deprived of a return to Goodison by a thigh injury but the much-improved Ron Vlaar returns following a calf problem thereby ensuring that Villa will be a tough nut to crack for an Everton side that has found goals and creativity hard to come by recently. Hopefully, the intensity that has been lacking in that string of away matches will return now that the boys are back on home turf where they can dictate proceedings more readily.
The next four Premier League matchups against Burnley, Swansea, West Ham and Sunderland — two of them at home — offer the chance for Martinez's side to build up a head of steam and start accumulating points before the next tough trip at White Hart Lane at the end of next month. Though they currently sit 17th in the table, the Blues are only five points off the top four and a run of good results could markedly improve the outlook on what has been a disappointing campaign so far.
Kick off: 3pm
Referee: Anthony Taylor
Full coverage: ToffeeWeb Match Reports
Reader Comments (57)
Note: the following content is not moderated or vetted by the site owners at the time of submission. Comments are the responsibility of the poster. Disclaimer
Ian McDowell
1
Posted 17/10/2014 at 19:54:35
This will be a tough game particular given that Villa will look to do what they did v Liverpool. Sit back and counter. We need to be alert as failure to win will see the pressure grow. COYB!.
Brian Hennessy
2
Posted 17/10/2014 at 19:55:29
Lyndon looks to have hit a rich vein of form with this fantastic preview, hopefully the team's performance will be just as good!!
Nothing like a 3pm Saturday kick off, I get that empty feeling when we are not playing then.
Eddie Dunn
3
Posted 17/10/2014 at 20:04:59
Excellent build-up, Lyndon, fingers crossed for 3 valuable points and a clean bill of health.

Tony Byrne
4
Posted 17/10/2014 at 19:57:30
A scrappy 1:0 win will do us fine if Coleman & McCarthy miss out, I do pray for the back 4 without Stones & possibly Coleman.
I am slightly dreading this game to be honest. A huge game for Lukaku in front of the home fans as he must step up to the plate.
Hopefully Barkley will come off the bench and get some game time under his belt, he might just spark our season into life?
Tim Greeley
5
Posted 17/10/2014 at 20:10:59
Villa, Villa, Villa. I think I have seen the whole club on sale on eBay. Randy Lerner will literally take ANY offer.
A couple weeks back, I noticed that Benteke's return was timed perfectly to coincide playing against us. Of course it is. I just hope he is as off it as his fellow Belgian. 10 months out, he should be damn rusty!
Somehow these idiots always seem to play us better at Goodison than at Villa Park, but I am confident..........until I remember that Stonesy is hobbled. Godspeed John Boy. Let's try this:
Howard
Coleman Jagielka Alcaraz Baines
Besic Barry
McGeady Naismith Oviedo
Lukaku
Subs: Robles, Osman, Eto'o, Distin, Atsu, Barkley, Hibbert
Tony Sullivan
6
Posted 17/10/2014 at 20:10:47
Very realistic preview. Unlike some contributors on here who seem to think we are involved in a relegation battle, and are heading for mid-table mediocrity. All after 7 league games.
Mark Frere
7
Posted 17/10/2014 at 20:06:57
This should be a very tough test. Villa are a very fit side and good on the counter-attack, but we must start getting back to winning ways.
As silly as it sounds, our dreadful start to the season won't have done too much damage to our league campaign if we can start recapturing our form of last season. All our closest rivals ie. Man Utd, Liverpool, Spurs and Arsenal have all being struggling for form thus far and we only sit 5 points behind 4th place. Put a run together between now and the new year... and we can be right in the mix again... but we must start by winning tomorrow.
Hopefully, Coleman and McCarthy will be fit as they are very influential to the way we play. I would go with Besic instead of Barry to give us that extra bit of energy in midfield against a very hard working Villa side.
I would love to see Browning start in his preferred CB position but I suspect RM will either go with Distin or Alcaraz.
My team to face Aston Villa:
Howard
Coleman Jagielka Browning Baines
McCarthy Besic
McGeady Naismith Pienaar
Eto'o
Ian Bennett
8
Posted 17/10/2014 at 20:31:48
Got to get after these, and keep it tight at the back.
Howard
Browning
Baines
Jags
Distin
McCarthy
Barry
Pienaar
Naismith
Coleman
Eto'o
Phil Walling
9
Posted 17/10/2014 at 20:46:26
Everton now 8/13 to win, Villa 11/2, Draw 3/1. So we are very warm favourites to win this one. I've looked at this fixture as the real start to our season. Let's hope for a good run up to Christmas.......and beyond.
Jay Harris
10
Posted 17/10/2014 at 21:13:42
I feel our problem all season has been too many forwards and not enough strength in MF so in the circumstances I would go with Barry Besic and McCArthy and let Bainesy and Coleman (Hopefully) bomb up and down the wings and it would really make my day if Barkley is fit and could play instead of Mcgeady.
That would give us strength on the ball and goalscoring capability with Ross, Lukaku (or Eto) and Nais switching it around up front.
Andy Meighan
11
Posted 17/10/2014 at 22:15:03
Apart from last season, our record against Villa at home isn't that good. That's why I'm not feeling too confident about this. I mean they're no great shakes but they'll set up like they did against the Shite and it'll make them hard to break down. Also the last few games we haven't created as much as we did in the first few games.
Obviously injuries have played their part in that but we still aren't creating that many chances. Albeit as you pointed out the majority of games have been away so that puts it a little into perspective. We've had tough fixtures to start with now we've got a run of games were we'd expect to pick up points. But we need them key players back.
I do know this: if we leak 3 or 4 tomorrow, can you imagine the grief the back four are going to get on here. I'd be delighted with a 1-0 win myself. Here's hoping...
James Flynn
12
Posted 17/10/2014 at 23:30:45
Saturday evening? 9 from 24 please. Don't care how we get there.
Andy Crooks
13
Posted 18/10/2014 at 00:29:35
Phil, got to admire # 9. You've set yourself up perfectly for the after match debate. If we win it is no more than expected and if we lose it is total disaster, perhaps justifying further attacks on Martinez. Clever stuff, indeed.
James Stewart
14
Posted 18/10/2014 at 01:43:09
Must-win game to get our season back on track.
I would pick the same team as Mark:
Howard
Coleman Jagielka Browning Baines
McCarthy Besic
McGeady Naismith Pienaar
Eto'o
Browning should start. Distin/Alcaraz is a regressive step, neither have been effective for a long time.
Eto'o over Lukaku because he is just a better player.
Will Firstbrook
15
Posted 18/10/2014 at 02:26:15
We could use some 'Dogs of War' mentality for this one. Lads need to put in a solid 90 minute shift and not let the manager down with stupid, school-ground errors.
Stephen Karnes
16
Posted 18/10/2014 at 04:26:12
Just don't put Lukkaku out wide, please.
David Greenwood
17
Posted 18/10/2014 at 07:02:14
Great intro Lyndon and a great post by Andy #13.
Five points from fourth spot or 17th position, whatever way you want to look at it, it's time the players turned up and showed some balls.
Player for player, there are not many Villa players that you would pick over ours.
Hutton is a weak link at right back, he is fine going forward but terrible defensively, I am sure Baines must be looking forward to going against him.
Might not be too pretty at times, but I think we will win 2-1, with a late, late winner.
Let's do this.
Mark Andersson
18
Posted 18/10/2014 at 07:24:05
I'm always wrong if I try to predict a result. Hopefully it's a good game a win and a much needed confidence boost for the team and fans.
Eugene Kearney
19
Posted 18/10/2014 at 07:49:04
We HAVE TO win today - hopefully a few lads are back from injury and we stop the decline (whatever the reasons/excuses have been).
Let's get this season going......properly....
COYB.
Pablo Connelly
20
Posted 18/10/2014 at 08:18:57
The nightmare scenario is going a goal down early on. Villa would just bed in, have no interest in the ball and look to counter with 2 or 3 attackers at most. We just don't have the creative players fit today to come back from a goal down still win. I am desperately hoping we can have an opening hour without defensive mistakes (for the 1st time this season) and get our noses in front. If the game follows this pattern Villa 's game plan will go out the window and the extra space could easily give us a 2 or 3 goal win by the close. Problem is though I am not in the least bit confident in our defence.
Kunal Desai
21
Posted 18/10/2014 at 08:54:30
I think the key to this game is having McCarthey and Coleman back. If not then this game is going to be a struggle. Villa will sit back and be happy to sit on a 1 goal lead. This is absolutely a monstrous must-win game. Defeat really is unthinkable and morale would be presumably be rock bottom when going to Burnley next weekend.
Derek Knox
22
Posted 18/10/2014 at 08:59:03
Can't really say with any conviction that this has got a result in our favour written all over it.
I am neither of the pessimistic persuasion, it's just that our performances to date, have in the most part, been disjointed with all too few moments of quality.
Needless to say, that the injury situation has not helped in any way, shape, or form either, but players who you would expect better from, have let the team down at crucial times.
They say that winning breeds confidence, and to a degree, becomes a habit. I believe that losing too is the direct opposite, and teams would certainly tread carefully against us, when on a winning streak, but believe there is three points up for grabs when playing poorly.
I sincerely hope that my trepidation is proved wrong, and today is the springboard for the season ahead.
COYB
Jim Bennings
23
Posted 18/10/2014 at 09:07:26
Nothing less than three points will be acceptable today, a good performance and clean sheet would also be welcome but just win the game first and foremost no matter how we play.
It's becoming a potentially crucial period over the next few weeks, although it's relatively early, we can't say the same in another month or so and we need to start winning more matches in this period to get where we need to be.
Not winning can become a bad habit itself.
James Carlisle
24
Posted 18/10/2014 at 10:12:36
Today is must win. The Palace and Chelsea games have been the only real league disasters so far. In other games we've just lacked the intensity to string together good attacking moves and score. Today doesn't need to pretty. We just need to win.
Chris Davies
25
Posted 18/10/2014 at 10:22:43
Does anyone have a spare ticket for today please?
07951486020 Chris
Max Wilson
26
Posted 18/10/2014 at 10:28:57
Eto'o and Lukaku up front please, Robert.
Just for once, use your best strikers together.
Simon Harris
27
Posted 18/10/2014 at 10:29:48
The Villa will be buoyed by our indifferent start and injuries to our key players will have them sniffing a result.
We need to re inject some urgency in to our play and fight for everything! Less of the pretty stuff and more nasty please. I'll take a one-nil off someone's backside to get this season going.
Get em fired up Bobby and get the crowd going and we'll win it.

Neil Wood
28
Posted 18/10/2014 at 10:48:48
I'm with Max (#26) on this one and would probably start with two strikers and really go at them.
Besic or Barry? Not sure. I can definitely see something in Besic and think that he seems to be growing with every minute on the field. A lot find the Premier League hard to find the pace but he seems to be doing it quickly.
And Browning with Jags... Why not, he's a talented confident young man and he again will only get better and better given the confidence of the manager and game time.
Please today boys. Please.
Paul Dark
29
Posted 18/10/2014 at 10:54:14
No McGeady, Alcaraz or Osman please.
Would love to see Besic start and Rom and Sam up front together.
We must be careful of Villa on the break. Holding the ball and playing in their half is fine so long as we have an intact defence.
Team selection today will be very interesting.
Nev Renshaw
30
Posted 18/10/2014 at 11:06:38
Let today be the kickstart to the rest of our season. COYB.
Phil Walling
31
Posted 18/10/2014 at 11:02:14
Browning has as much chance of starting today as I have. Martinez is as tentative about giving kids a game as was his predecessor. Garbutt should have half a dozen games on his CV by now and both Long and McAleny (22!) should be featuring from the bench. As it is, they will all end up at Brentford!
Neil Wood
32
Posted 18/10/2014 at 11:14:19
Phil... I concur.
If you look at comparisons with other youngsters given the chance at rival teams. Players like Andros Townsend and Harry Kane, Blackett. Sterling, Shaw, Ward-Prowse.
However, is it not a case that these players aren't good enough or seen as good enough by the manager.
I do have the opinion though that sometimes, if they are thrown in at the deep end they give that bit extra and shine. I'd love to see players like Browning etc given some game time and even the likes of George Green... A massive massive talent and why not have him on the bench and let him have the odd ten or fifteen minutes (situation permitting)
Look at what Rooney did.... Green is as good.
Brian Harrison
33
Posted 18/10/2014 at 11:50:04
I don't know why some fans seem obsessed with having youngsters in the team even if they are not ready. Personally I don't care whether they run out in nappies or with zimmer frames as long as we win. Age is only a number and the question should be are you good enough, and seeing that RM sees all the players everyday then he is the one to make the call.
Richard Lyons
34
Posted 18/10/2014 at 12:00:16
3 points please. A draw or a defeat will spoil my weekend in equal measure. Oh and Lukaku has to score... he needs the confidence boost as much as the whole team.
Phil Walling
35
Posted 18/10/2014 at 12:02:16
Not ready at 22, Brian ? Then what the hell are such players doing here? I'm not calling to put the youth team out but Garbutt will play for England before he gets in our team. Just to see one or two getting a chance to impress is all I'm asking for.
Mark Andersson
36
Posted 18/10/2014 at 11:22:07
Nice one, Phil. Unfortunately the bad start makes the manager nervous about playing the kids.
Paul Smith
37
Posted 18/10/2014 at 11:57:35
My team today, if all fit, would be:
Howard
Coleman
Baines
Jagielka
Distin
Besic
McCarthy
Pienaar
Barry
Naismith
Lukaku
This would be a 4-3-1-2 formation with Pienaar behind the front 2 and Barkley to be introduced after the break. I feel this would give us our defensive stability back and also getting 2 forwards playing together.
With Mirallas out for a while, I don't trust the other wingers yet. When Barkley is fit, I would like to see him replace Barry or Besic in that line up for more creativeness from midfield. With our full backs bombing on, I feel this may be the way forward until Mirallas is back fit.
Brian Waring
38
Posted 18/10/2014 at 12:11:23
Phil I'm all for giving youth a chance, but Garbutt is competing with one of the best left backs in Europe and Oviedo.
Brian Harrison
39
Posted 18/10/2014 at 12:07:00
Phil
I don't know if the youngsters you mentioned are good enough, but talent should be the criteria not age. You mention Garbutt but are you really suggesting that he replaces the current England full back, that would put enormous pressure on the kid. Also would not Oviedo be ahead of him in the pecking order.
I know you can't always pick and choose when you can play youngsters but I would think they would have more chance of coming into a team that is winning than one that is struggling as we are at present.
Sam Hoare
40
Posted 18/10/2014 at 12:14:00
I agree Phil. I was surprised we did not see more of the younger players (specifically Garbutt and Browning) during our recent congested run. Either Martinez does not rate them highly or was/is not brave enough. Those players in particular would be better off on loan in the Championship rather than sat on our bench hoping for 10 mins here or there...
David Chait
41
Posted 18/10/2014 at 12:29:59
In another note Neil (#33), Green didn't make one for the England youth teams. Seems a prerequisite to being as good as Rooney... Is he injured though as I don't recall his name in our sides either.
Phil Walling
42
Posted 18/10/2014 at 13:00:44
Can't disagree about Garbutt but there have been games he could have featured in. As you say, he is is against Baines and Oviedo so may needs to move to make his mark in the Prem. Pity, though.
Dave Abrahams
43
Posted 18/10/2014 at 12:53:01
I'll be watching the referee, Anthony Taylor. In the past, he has given Everton little. He's the referee who refused the penalty versus Cardiff, gave one at Villa, gave one against Fulham at Goodison, and gave Liverpool a hooky one versus Stoke.
He's from Macclesfield, definitely a boyhood red.
Apart from that, Everton will win.
Harold Matthews
44
Posted 18/10/2014 at 12:18:33
Pity Garbutt and Browning don't play on the right wing. McGeady is in and out, Atsu may need time, Mirallis hates it and Pienaar is better on the left. So too Oviedo. Actually, I believe Atsu is also better on the left.
Mike Powell
45
Posted 18/10/2014 at 12:59:14
Let's hope our season starts here. I don't really fancy us to win. I think all the tippy-tappy crap at the back will play into their hands. We need to get the ball forward quicker, get down the wings, get the ball in the box... Why do we make things hard for ourselves?
Come on, you Blue Men... make my weekend a happy one. COYB!
Andy Crooks
46
Posted 18/10/2014 at 13:12:30
I agree, Phil, about Garbutt. He looks a good prospect and I fear he'll have to go elsewhere to get a chance. No one is expecting loads of young players to come in at once but I would like us to have a reputation for giving youth a chance. It could be one advantage we can have over richer clubs.
James Morgan
47
Posted 18/10/2014 at 12:50:48
Martinez doesn't give youth a chance? Stones, Barkley and Lukaku are how old again? How much did he spend on the latter?
Not to mention giving Browning his debut in an Anfield derby. Hmm. I think I trust the manager on when youngsters get blooded. You can't just throw them in willy nilly.
As for today, a win would give us a great boost going in to two games we should be winning. We would fly up the table with three wins in a row.
Jamie Crowley
48
Posted 18/10/2014 at 13:30:27
Time to get the season on track.
I'd go:
Howard
Coleman Jags Alcaraz Baines
McCarthy. Besic
Naismith Eto'o Oviedo
Lukaku
Eto'o just behind Lukaku. Besic and McCarthy putting in an effort worthy of the gods.
I don't give a shit who starts though. I don't give a shit how pretty we play. All I care about is the 3 points. Any way, shape, or form. We have to get moving in the right direction.

Neil Wood
49
Posted 18/10/2014 at 13:35:24
I agree that you shouldn't just throw them in willy nilly but surely, having one on the bench and bringing them on at half time if your winning comfortably (I know that would be a luxury this season) .... I just feel that giving them that taster gives them a massive incentive to work harder and push to that next level.
Denis Richardson
50
Posted 18/10/2014 at 14:01:58
FFS just WIN!
Neil Wood
51
Posted 18/10/2014 at 14:05:05
Barkley starts!!!
Neil Wood
52
Posted 18/10/2014 at 14:06:47
Everton Starting XI: Howard, Coleman, Baines, Jagielka, Alcaraz, Barry, McCarthy, Barkley, Naismith, Osman, Lukaku
Subs: Robles, Hibbert, Gibson, Besic, Pienaar, McGeady, Eto'o
Phil Rodgers
53
Posted 18/10/2014 at 14:16:21
What is Martinez on about here?
http://www.nsno.co.uk/Everton-news/2014/10/Martinez-villa-the-last-side-i-want-to-play-this-weekend/
Tony Abrahams
54
Posted 18/10/2014 at 14:15:39
11/2 Villa? Don't fancy Everton today and can't believe the odds on a Villa victory.
Paul Dark
55
Posted 18/10/2014 at 14:18:09
Alcaraz and Osman, oh dear ...
Let's just pray for three points.

Mark Frere
56
Posted 18/10/2014 at 14:21:01
Osman and Naismith on wings? FFS!
James Flynn
57
Posted 18/10/2014 at 14:27:10
Phil (53) - I read it as routine, pregame manager-speak.
---
Add Your Comments
In order to post a comment, you need to be logged in as a registered user of the site.
Or Sign up as a ToffeeWeb Member — it's free, takes just a few minutes and will allow you to post your comments on articles and Talking Points submissions across the site.
© ToffeeWeb