Barkley trained his way into starting XI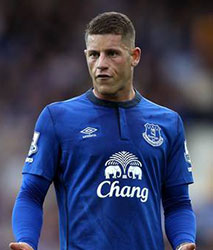 Roberto Martinez admits that Ross Barkley was an unlikely starter for yesterday's win over Aston Villa a week ago but that the 20 year-old showed him he was ready with the way he trained over the last few days.

Barkley has spent two months on the sidelines after suffering a medial knee ligament injury a day before the 2014-15 season kicked off and was expected to be eased back into action over the course of the rest of the month.

His was one of three welcome names making a return to the starting XI to face Villa, with James McCarthy and Seamus Coleman also completing their recoveries from injury, as Everton recorded their first League home win of the season.

"The truth is eight days ago he was not an option in my mind to start the game," Martinez said after the 3-0 victory. "We benefited from the international break and he has been working individually and as a group and was phenomenal.

"On Thursday he put the ball in the top corner out of nothing and scored three goals in a little exercise we did and it was his way of telling everyone he was ready and he was desperate to be on the pitch.

"The way he trained I had no doubts and there was no risk from a medical point of view. The only doubt was how long he could last and he lasted longer than I expected."



Reader Comments (40)
Note: the following content is not moderated or vetted by the site owners at the time of submission. Comments are the responsibility of the poster. Disclaimer
Ajay Gopal
1
Posted 19/10/2014 at 07:13:13
What a wonderful footballer we have on our hands! Hopefully he remains grounded and focused and fit and serves Everton for many years to come. Fingers crossed...
James Byrne
2
Posted 19/10/2014 at 08:25:27
Well done to Ross and for everyone at the club who have supported him while getting back to a high level of fitness.
Jim Bennings
3
Posted 19/10/2014 at 08:22:22
Fucking brilliant is Barkley, no words for it!
I wouldn't even sell him for 㿔 million he is that good, he is every bit the modern day footballer, big, strong, athletic and quick. He certainly made a difference to Everton FC yesterday that's for sure.
It was a far better display yesterday. Lukaku finally looked like the penny had dropped, his overall play was so much improved and that's what we want from him on a week-in, week-out basis.
McCarthy and Coleman? Brilliant, just so happy they are back in our team, the work McCarthy gets through is sensational.
I thought Osman was the weak link again yesterday sadly, games pass him by nowadays. I just can't understand why Martinez never didn't push to sign Mo Diame ahead of Hull, the fella is simply a beast!
It also begs the question what now for the likes of Distin? Alcaraz slotted in very very confidently and was even surprisingly commanding in the air, it looked solid with Jagielka. I could understand why McGeady was left out yesterday, clearly shows Martinez isn't impressed with his form lately. Also, I think it's a big message to Atsu now that next time he sets foot on the pitch he HAS to start producing the goods.
Overall a very good win but we need to go on a winning run now, one win per month is no use. Another three points and nothing less next Sunday at Burnley.
Dick Brady
4
Posted 19/10/2014 at 08:41:11
Big, strong, athletic and injury prone. I love Barkley, I think he could be one of the players of his generation and hopefully an Everton legend but sadly he always seems to be carrying an injury. He reminds me of James Vaughan in that respect. What's the point of being big, strong and athletic if you can't play more than a handful of games before picking up another injury?
Wayne Smyth
5
Posted 19/10/2014 at 08:40:47
Jim, I put forward the idea about Diame last season after watching him play for West Ham out of position on the wing. He played really well that game, not like the square peg in a round hole you'd have expected. Bruce has made some very shrewd signings at Hull.
Honestly though, with Besic, Barry, McCarthy and Gibson, I think we have too many similar players...and I think longer term Besic will prove a better player than Diame.
What we do need are quality long term replacements for Osman and Pienaar. Creative, tricky players, preferably with some pace too.
Agree completely about Barkley though. To play like that in his first game back after such a long time out? Amazing. Talk of him joining the England U21's is frankly insulting given the dross that makes up the senior squad.
As for Alcaraz, it always baffles me when people say they are surprised he's a good defender. I think he's played a lot more good games than bad ones for us, and like someone said yesterday, he often seems to get the blame for others mistakes, and his mistakes get highlighted more than those of others.
Graham Mockford
6
Posted 19/10/2014 at 08:56:05
Jim Bennings
The problem with McGeady starting in a midfield formation is he does not give us enough defensively and his ball retention has been poor all season. One of the reasons for me we have been so open and easy to get at.
The shape yesterday was much better, allied of course to the return of Barkley, and less commented on, but just as important, Seamus.
Dave Duggan
7
Posted 19/10/2014 at 08:53:14
Agree Wayne that we need to replace the creative players like osman and Pienaar and if its true that we had 8 million(ish) to spend on cleverly last day then why did we not go or tadic? He looks a proper little player.
Andrew Ellams
8
Posted 19/10/2014 at 09:09:21
Wayne, I think the idea of putting the likes of Barkley, Shaw etc into the U21s is more to create an image that things are changing at grass root levels in English football and nothing to do with the players themselves.
Jim Bennings
9
Posted 19/10/2014 at 10:01:28
Dave
If it was a choice between Cleverly or Tadic then it's not even a contest.
I didn't even know Cleverly was playing until I checked on my phone the full Villa team about 40 minutes into the match, he was completely invisible.
Tadic on the other hand looks a right little gem of a player, just right up our street.
You have to hand it to Southampton, they always seem to either produce fantastic players or have a great scouting system bringing in crackers.

Aidy Dews
10
Posted 19/10/2014 at 10:06:49
Very good post Jim Bennings!
Harold Matthews
11
Posted 19/10/2014 at 09:40:45
Yes, well done Ross Barkley. Not surprised he worked hard to get fit. Sitting on the sidelines watching others kick a ball about is not his ideal scenario.
Aidy Dews
12
Posted 19/10/2014 at 10:11:46
Dick Brady, Barkley as had 2 bad injuries and both of them weren't his fault. He had his leg broke in 3 places by a team mate in a tackle on England international duty years ago and Barry put the boot in on him in pre-season. He very rarely picks up injuries such as an hamstring or pulled groin from running etc, so I wouldn't go putting him in the Vaughan category just yet!
Aidy Dews
13
Posted 19/10/2014 at 10:15:31
Dave Duggan, we never had ٦M left over to buy Cleverley, we wanted him on loan and Man Utd weren't prepared to loan him to us, wanted a straight cash deal with us as they clearly see us as a rival to them. But cos they don't see Villa as a rival they were happy to loan him to them.
But Tadic looks a steal, and there were quite a few of us over the summer and last summer and January saying we should buy this lad and he's class and a set up artist and he's proving just that at Southampton! 㾶.8m looks a bargain with this lad and he'd've been a player that would've improved us massively, and especially creative-wise in the final third as he's so unselfish, while one or two of our players get excited around the penalty box and get greedy! (McGeady, Osman).
Sigurdsson is another who I wouldn't of minded at us, he's quality and creative, got goals in him, he's another that would've definitely added something to us!
Phil Walling
14
Posted 19/10/2014 at 10:18:41
'Incredible, sensational, phenomenal - a diamond '- just a few of the words accredited to our manager in his assessment of Ross in this morning's papers. Never one to overstate his opinion of his players' performances, I firmly believe he goes round with a thesaurus up his arse!
'Barkley made a successful and encouraging return' would have more accurately represented the truth. And Martinez could have added, 'Let's hope we can keep the lad fit over longer periods!'
Peter Bell
15
Posted 19/10/2014 at 10:43:19
Phil, give it a rest, it's Sunday morning.
Nigel Gregson
16
Posted 19/10/2014 at 10:47:33
Cut him some slack about his vocab, mate. He speaks at least two more languages near natively.
Phil Walling
17
Posted 19/10/2014 at 11:04:56
Na, Nigel, he just learns all the superlatives!
Andy Meighan
18
Posted 19/10/2014 at 12:35:52
Pure and simple: the heartbeat of our side. I didn't really want him to start yesterday as I was worried about his fitness. I thought we could give him 20 mins or so off the bench.
I'm glad he started now, though. I really believe Lukaku will benefit more from him being back as well, as he'll give him more service. I thought he was excellent, especially in the 2nd half yesterday. We are starting to get our best players back now and I really believe we will start climbing the table.
Special mention as well to the ever willing Naismith yesterday who, once again, put in a magnificent shift. Personally I wouldn't go overboard on Alcaraz's performance, he was up against nothing yesterday and was actually quite comfortable. That said, you can only play what's put in front of you.
Dave Duggan
20
Posted 19/10/2014 at 13:26:56
I totally agree, Jim. My earlier post wasn't supposed to say or Tadic! Agree about Cleverly, I don't know what Martinez sees in the lad.
Mike Childs
21
Posted 19/10/2014 at 13:52:53
Come on, Phil, RM is just towing the party line talking up Ross's fee for BK...
Phil Walling
22
Posted 19/10/2014 at 14:46:36
You may well be right, Mike and I guess we couldn't begrudge the kid the opportunity of the riches he could earn. Or, of course, to see the Club 㿞M richer. But wouldn't it be great – just for this once – to have a kid who said fuck the agents and all they have to offer, I'm remaining an Evertonian.
For that, he could become as revered as even Dixie Dean!
Trevor Lynes
23
Posted 19/10/2014 at 16:24:01
I hate this sniping at Pienaar and Osman. Everyone played well and that includes the subs. Osman was thinking all the time and he was the one who took the quick free kick that brought our 3rd and killer goal.
I agree that now he struggles in a 90 minutes game but he is an excellent impact sub and has changed the game when brought on with 30 minutes to go, replacing Barkley. Baines looked much happier with Pienaar in front of him and it was a foul on Pienaar that led to Ossie putting Baines in for the cross finished off by Coleman.
These are the players who create our goals, not McCarthy or Barry, and credit should be apportioned throughout the team who all played their part in a decent win. Every player has a part to play and we can compete with any team when we are playing well collectively!
Steavey Buckley
24
Posted 19/10/2014 at 17:16:45
Ross Barkley, Everton's best and most feared player, that's what the opposition think about him. In the same way football clubs used to think about Gazza in his hey day.
Michael Kenrick
25
Posted 19/10/2014 at 17:28:41
Trevor,
While Osman obviously made more than a telling contribution for that third goal, it does not negate the fact that he was at times simply woeful for long periods of the match. It's obvious to anyone watching, he loses the ball, gets brushed aside with ease, moves break down when the ball comes to him... Why can't we be honest about this?
Paul Hewitt
26
Posted 19/10/2014 at 17:48:22
Did you see how many players around Barkely when he had the ball?
Makes space for other players. Fantastic talent and NOT injury prone like Dick Brady says.
Mick Quirke
27
Posted 19/10/2014 at 18:14:33
Fans who slag off Osman really understand very little about the game. He's never been quick or strong, but he's skilful, quick of thought and clever. Great bit of play in the first half to find room for shot from Baines' cutback being a good example.
Yes he is probably better either playing for an hour, or coming on late and picking out killer passes against tired defenders, but his style is fundamental to possession-based football like ours.
Colin Glassar
28
Posted 19/10/2014 at 18:21:20
Can't we just get behind our lads for once without being so over analytical?
David Chait
29
Posted 19/10/2014 at 18:24:02
On another note, I see Green has a back injury explaining why we haven't seen him for so long... Seems like a bad one too.. From his twitter..
Carl Sanderson
30
Posted 19/10/2014 at 18:32:01
Mick 28:
Couldn't agree more. Everton wouldn't be Everton if it couldn't find room for a player with Leon Osman's skills.
Gavin Johnson
31
Posted 19/10/2014 at 19:01:57
I don't think anyone on TW apart from for a few exceptions would quibble about Osman's attributes; movement, fast feet and footballing brain. The problem is when he plays more than an hour. You seem to notice the lack of strength and the powder puff shooting even more. It's not his fault. It's just that you end up pulling your hair out wondering why everyone bar the manager notices this.
Brendan Whelan
32
Posted 19/10/2014 at 19:17:09
Don't let Barry near this lad at Finch Farm again please!!! With the arrival of Ross, our season proper has finally kicked off.
Jim Bennings
33
Posted 19/10/2014 at 19:12:24
First and foremost, let's get the facts straight about Leon Osman.
He has been a tremendous servant and more than reliable player over the last 10 years. I went to his testimonial, if ever a fella deserved it then Osman is that guy. I have loads of time for him just as I do for the likes of Hibbert, loyal people and fairly decent players.
The gripe is merely that, as with many players, age catches up and they become less effective than they were previously, and sadly I think this is the case with Ossie. He will still do affair job but the legs just don't have it anymore.
Pienaar is and has been one if my favourite players for the last 7 years and I believe the major issue with him is the injuries and lack of fitness but when he does play he's shown how much of a class player he still is. Pienaar never relied on pace anyway.

Paul Tran
34
Posted 19/10/2014 at 19:19:47
Alcaraz gets slagged off because Martinez signed him and he used to play for Wigan.
One own goal doesn't alter the fact that he gets blamed for others' mistakes and can only be judged when he's played a run of games. I hope he gets a good run in the team as we need at least one centre back comfortable with a football.
Gavin Johnson
35
Posted 19/10/2014 at 19:32:45
I haven't really noticed people slagging Alcaraz off on his footballing ability. I think he, like Osman gets criticised for other reasons; Ossie cos he shouldn't be playing 90 mins any more and Alcaraz cos you expect him to be out again with muscle fatigue after a couple of games. So in a sense, any criticism is totally misguided. It lies with the manager for picking and signing them.
I think Alcaraz will be a good replacement for Stones but I'm not going to delude myself that he'll be playing week-in, week-out until Stones is back.
Andrew Ellams
36
Posted 19/10/2014 at 19:51:40
I think, irrespective of what Osman, Pienaar, Hibbert and Distin have achieved, they need to be the next batch of players replaced to move the team forwards. Thanks and good luck to all of them.
Peter Norris
37
Posted 20/10/2014 at 03:42:48
Michael #26. The only player to play Lukaku through for a goal before Ross yesterday. Leon against Palace. Let's be honest he has the skills to do this so let's lay off him a bit.
James Stewart
38
Posted 20/10/2014 at 07:26:45
Barkley is just class – plain and simple.
Jim Bennings
39
Posted 20/10/2014 at 09:14:24
I remember the calls to sign Tadic, yes. At the time, I confess I knew little about him but he seems to be class.
I always say, you can see a quality player as soon as he steps out on a football pitch, that's why all this talk about Atsu needing months worries me: in other words, his football has been poor so far that's why he's been dropped, for a better word.
If you are a player that possesses talents and are technically gifted, it generally shouldn't take half a season before we see what that player can offer.
Tadic fits in with how Southampton play, and given Martinez liking the ball to be used on the ground he'd have settled well here too. I admit I enjoy watching Southampton play; they play quality football and they move the ball around really fast, in a way that I wish we would on a more regular basis.
Everton are at their best when the game is high tempo and the ball is passed around quickly with intensity, but we look poor when we start slowing it down to snail pace and that's easy to defend against.
Southampton seem capable of playing 90 minutes of high pressing, high intensity football. The players are very well drilled and it's two or three years of very good coaching from first Pochetino and now Ronald Koeman.
Mike Childs
42
Posted 20/10/2014 at 11:28:23
Amen Phil. I hope your wish comes through. If only Hermaine was around to put a spell on him.....
Sam Morrison
43
Posted 20/10/2014 at 13:44:51
I don't have a problem with people arguing against starting Osman. It's a game of opinions after all. What I dislike is the snide attitude some people take against players such as Osman and Hibbert who always put in a shift. Often fans bang on about loyalty and in the same breath are saying "get rid" about players who have never agitated for a move or complained about not starting games.
Also someone mentioned on another thread – who gave the ball away least against Villa? McCarthy and Osman.
---
Add Your Comments
In order to post a comment, you need to be logged in as a registered user of the site.
Or Sign up as a ToffeeWeb Member — it's free, takes just a few minutes and will allow you to post your comments on articles and Talking Points submissions across the site.
© ToffeeWeb