Alcaraz set for another long layoff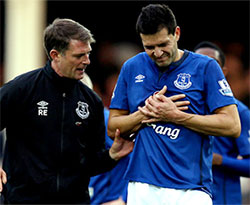 Everton will be without the services of Antolin Alcaraz for what Roberto Martinez predicts will be "a long time" after the defender damaged a joint in his shoulder in yesterday's draw with Swansea.

The 32 year-old defender joined the Blues a last year but had to wait until the end of December to make his competitive debut because of a hernia operation.

And he was in and out of action over the second half of last season due to muscle fatigue and other niggly complaints. He appeared to be over his injury problems this season and had slotted into central defence alongside Phil Jagielka in place of John Stones, another player who could be out until the New Year following surgery to repair damaged ankle ligaments.

Now, however, this latest setback, which came as a result of an aerial challenge with Wilfried Bony in the 0-0 draw, will return him to the treatment table.

Antolin has damaged a joint in his shoulder," Martinez told evertonfc.com. "We're going to assess him tonight and tomorrow morning but it seems he's going to be out for a long spell.

"It's a real shame because he had to work really hard to get back to full fitness and perform. He fought hard for his place and was in a good moment. It was an accident and you don't usually get those sort of injuries in football.

"But we'll help him through it and hope he can come back before the second half of the campaign."

The layoffs for Alcaraz and Stones leave Everton with just two senior centre halves in the form of Jagielka and Sylvain Distin. Tyias Browning, who has already made two impressive cameos at right back, can also operate in that position and Martinez also mentioned England U19 defender Brendan Galloway as a potential back-up.

"We've got opportunities and options throughout the squad," the manager concluded.

There appears to be better news regarding Kevin Mirallas, though. The Belgian has posted a video of himself doing resistance training in the gym, signs that his recovery from a hamstring tear is going well.

"Training hard!!! Play hard!!! Back soon," was the message accompanying the video. Mirallas has been out since the Anfield derby at the tail end of September and wasn't expected to return until early next month.

Quotes sourced from evertonFC.com



Reader Comments (74)
Note: the following content is not moderated or vetted by the site owners at the time of submission. Comments are the responsibility of the poster. Disclaimer
Tony J Williams
1
Posted 02/11/2014 at 17:27:28
No matter what the fallout is with Distin, he has to play now.
Andy Mack
2
Posted 02/11/2014 at 17:25:45
McGeady and Ossie do get a lot of stick, but at least they are available for selection for a good chunk of the season. So far, Martinez (a qualified physio with a post grad in business, let us remember) has done some awful transfer business with his signings, McCarthy apart: Alcaraz seems to be out until about the time his contract expires; the very strange Traore loan; bad luck bear, Kone. It is just bad luck, isn't it? Please tell me it is.
John Malone
3
Posted 02/11/2014 at 17:41:25
Rumours round the ground yesterday that Distin has walked out of the club. Whatever has gone on, someone needs to swallow their pride for the benefit of the club asap!
Jim Bennings
4
Posted 02/11/2014 at 17:49:10
Could we try to employ Moyes to scout the signings if nothing else?
Nothing at all against Alcaraz but along with both Gibson and Kone, they are surely never going to contribute much to Everton Football Club during the remainder of their contracts?
They will almost certainly leave the club next summer.
Why was Tyias Browning not in the squad to replace Alcaraz yesterday?
Martinez talks up these youngsters but they aren't really getting the opportunity they could do with.
All in all quite a crap start to the season , you can't see it massively improving before Christmas, a tough looking West Ham at home after a tricky trip up Sunderland after a European match.
Long hard season which in my opinion will need to lead up to a summer of change at least regarding the playing staff.
Jon Withey
5
Posted 02/11/2014 at 17:55:04
There is only so much bad luck a team can have with injuries before someone has to look at what the staff are doing – whether it's who they are hiring or how they are being treated.
McCarthy, Barry, Eto'o, Besic, McGeady, Lukaku have all been decent enough additions to the squad.
However, his early buys like Kone, Alcaraz and Robles have almost been like Everton paying them a bonus for doing well at Wigan – because they've added very little.
Brian Waring
6
Posted 02/11/2014 at 18:02:43
Got to remember Jim, Moyes was here for 11 years and whilst he made some great signings he also had his share of bad ones; also, Gibson was a Moyes signing.
Colin Glassar
7
Posted 02/11/2014 at 18:11:41
3-4 of the chronically lame have to go in either January or the summer. They are a serious drain on our resources. We all know who they are.
Brian Waring
8
Posted 02/11/2014 at 18:18:40
Agree Colin. Also, sad to say it, but if Kone isn't available to play in January, I think we need to cut our losses and terminate his contract if its possible to do it.
Kieran Riding
9
Posted 02/11/2014 at 18:20:48
I agree 100% Colin. Some decent wages being paid out for players who simply don't / won't play. If you think of the transfer fees we have paid out for these lads, it's not the end of the world if we get rid. Take the hit and move on.
Tony Doran
10
Posted 02/11/2014 at 18:21:18
Unfortunately far to injury prone.
Gavin Johnson
11
Posted 02/11/2014 at 18:16:38
Alcaraz is a complete crock! At least its not the degenerative muscle fatigue, or whatever he was meant to have had last season.
I can't say it's much of a surprise. I'd be happy if we could get shot of Alcaraz and Distin in January and bring someone in who's in their mid 20s ready made for the first 11. In the meantime I hope Browning's picked and takes his chance..
Tony Foxwell
12
Posted 02/11/2014 at 18:37:58
We should've kept Duffy, he was decent when he got a chance.
We need two new centre-backs in January, plus one central midfielder and a forward if Kone is still crocked. Out with the old and in with the new.
Brent Stephens
13
Posted 02/11/2014 at 18:47:15
Fancy falling on yer shoulder. He should know better. How much is he paid?!
Colin Glassar
14
Posted 02/11/2014 at 18:51:15
Some players bodies just can't take the punishment Brent. It's a sad fact but players like Owen, Vaughan, Alcaraz, Gibson, Carroll etc....are prone to severe injuries. There's even talk that Sturridge is another one who has major physical problems.
I think with Kone and Alcaraz, and probably Gibson, we need to make a firm decision by December. I bet there's well over 𧴜k paid to them a week. That's over ٢M a year we are losing. We could buy a decent youngster for that kind of money.
Andy Crooks
15
Posted 02/11/2014 at 19:05:04
How dare these overpaid prima donnas get injured. They must do it deliberately. Paying the wages of people who get injured at work is just disgusting. Ship the malingerers out.
Chris James
16
Posted 02/11/2014 at 19:08:16
If this isn't the best chance to blood the youngsters I don't know what is. I'd start with Distin and Jags next week but ensure that Browning gets some game time (30 mins at least).
Brian Waring
17
Posted 02/11/2014 at 19:15:58
Tell you what, looking at it again, Bony jumps all over him with his full weight.
Brent Stephens
18
Posted 02/11/2014 at 19:23:34
Colin #14, I don't know if they are prone or just unlucky. I guess luck comes into it as well.
Lee Jamieson
19
Posted 02/11/2014 at 19:36:51
The irony of it all is that Shane Duffy seems to have hit the ground running at Blackburn, helping them to a run of clean sheets and the edge of the play offs. What are the odds he will play us next season?
Dick Brady
20
Posted 02/11/2014 at 20:11:09
Somebody get Brendan Galloway's kit ready.
Alastair Donaldson
21
Posted 02/11/2014 at 19:51:22
Slightly inevitable wasn't it. Haven't been to a game this year, but gather he'd done ok the last few weeks, so it is a shame.
He got away with a ridiculous handball just prior ot the injury but his luck ran out...Bony isn't a small lad, that probably would have happened to anyone.
Barry looks a good bet for centre back in a back four.. but I wonder if Martinez will try 3 at the back, till Stones is fit again, in December??
The two European games are tough but also chances for Browning to play there, Sunderland & West Ham too. He looked physically strong against Liverpool.
Out of adversity, comes opportunity.
Jim Bennings
22
Posted 02/11/2014 at 20:04:26
Lee
It's a good point regarding Duffy and one which I made in August, of why let him go when there is clearly a lack of reliable depth to see us throughout a long arduous season?
People say he wasn't good enough and that Martinez didn't fancy him and perhaps he's found his level, that may be so but at present, unless Roberto is brave enough to give Browning some serious game time then it's back to Distin, who at 37 is going to struggle to survive week in week out, or play Barry there, and that for me should not be a serious consideration full time, he may have done ok against a Swansea team that didn't have to attack but it's not going to be like that every week.
Letting Duffy go was a calculated risk given the age of Distin and the woeful injury record of Alcaraz, yes it was appalling luck with Stones but that can always happen.
A special mention is deserved for Jagielka however, he has improved a hell of a lot since the wonder goal at the Kop, seems to have regained his composure and his confidence, that is likely to be tested now though with Distin returning, memories of a ragged first month of the season with Sylvain next to Jags are all too fresh.
Kevin Rowlands
23
Posted 02/11/2014 at 20:09:22
Got to be honest, it's not like Bony fell on him or hit him at full speed, it looked like a nothing challenge, when you say with his full weight Brian, he didn't land on him, it's so frustrating as I thought he was playing well at the time, as for Gibson and especially Kone I've given up on them at this point.
Jim Bennings
24
Posted 02/11/2014 at 20:15:32
Alastair
I tell you what, you don't realise just how big that Bony is until you see him in the flesh, the fella is a beast of a man.
I thought Lukaku was quite a big strong striker but Bony is built like a brick shithouse, total bear of a man.
Kieran Riding
25
Posted 02/11/2014 at 20:20:52
I'm so glad the Shane Duffy claxon has gone off early here. Even if he was still here, I'd have Gaz Baz in at centre half over him, with Besic in the midfield.
Duffy would get bummed by most of the Prems centre forwards, he's a cracking lad, but Blackburn is bang on where he should be, and making a very tidy living out of the game like.
Jay Rollinson
26
Posted 02/11/2014 at 20:16:28
Jim Bennings,
"Could we try to employ Moyes to scout the signings if nothing else? Nothing at all against Alcaraz but along with both Gibson and Kone, they are surely never going to contribute much to Everton Football Club."
Players never got injured under Moyes then? Cahill and Arteta spent long spells on the sidelines most seasons, Andy Johnson was always injured, Yakubu suffered a serious injury and was never the same again. Gibson, whose name you list along with Alcaraz and Kone, was bought by Moyes. Rodwell became like an adopted son to all the kings horses and all the kings men. Pistone was given a new contract only to be instantly crocked. Saha was a well renowned sick note when Moyes signed him.
Recurring injuries at Everton aren't a Roberto Martinez invention.
John Pickles
27
Posted 02/11/2014 at 20:36:40
The Belgian has posted a video of himself doing resistance training
Kev, for God's sake, the war is over, let it lie, concentrate on your football!
Mark Dunford
28
Posted 02/11/2014 at 20:34:44
I agree with Jon (5) – the early Martinez signings have contributed little and I'm afraid this looks set to continue with Kone, Robles and Alcaraz out of the first team frame for the moment. Also, I accept that Duffy is probably at his right level now and I feel he was given time to break through but simply didn't make it.
We need Distin back on Thursday, for subsequent two months and probably beyond. He has been excellent over the years. A new centre-back should then be a priority in January when the transfer window opens, but this was clear in the Summer. A number of able stop-gap deputies are in place – assuming you accept Hibbert and Barry as possible short term cover. We need something till January. Has anyone seen Besic, Galloway or Browning play at centre-half?
Kevin Rowlands
29
Posted 02/11/2014 at 20:42:12
Kieran #25, agree 100%, if the lad was so good and promising WTF wasn't any Premier League team interested? He's by all accounts a nice lad but he's not good enough for the EPL, Browning on the other hand looked great in the derby when he came on for his cameo but we haven't seen him since, not sure why.
Paul Hewitt
30
Posted 02/11/2014 at 21:15:35
No one gets injured on purpose. I think some people need to remember that.
Peter Laing
31
Posted 02/11/2014 at 21:16:04
Has Distin turned Martinez milk sour?
Phill Thompson
32
Posted 02/11/2014 at 21:51:35
This for me is where Rhino, Lawrence et all come into their own. This evening, while Mrs Roberto is watching Downton, he should be pouring over videos and reports on Browning and Galloway... although I'd assume he has a good knowledge already.
This is potentially like a new signing or two. One or both of these youngsters needs to be developed and properly progressed in the coming months This is not only what we are good at but a necessity.
Harold Matthews
33
Posted 02/11/2014 at 22:16:51
Rotten luck, Antolin. Best wishes for a full recovery.
Brian Hennessy
34
Posted 02/11/2014 at 23:17:00
He may have aggravated it diving down to save that shot in the first half!!!
Craziest decision I have seen from one of our players all season, how we got away without giving away a penalty, I will never know.
I feel sorry for the lad though, get well soon..
David Ellis
35
Posted 03/11/2014 at 02:04:43
We don't have a bad injury record. We are not unlucky. The manager does not buy crocked or injury prone players. This is all just NORMAL. Look at sites like the physio room for the current injury legal table
http://www.physioroom.com/news/english_premier_league/epl_injury_table.php
We are 4th equal with 6 injuries. Liverpool have 5. Bottom of the table Leicester has 2 and top of the table Newcastle have 8 (Arsenal recently had 9). For most of the season so far we have been in the bottom half of the table. With Kone and Ovideo out for so long we have had a slightly worse run than some others but this is just how it randomly pans out. No further enquiry needed.
Spragg Johnson
36
Posted 03/11/2014 at 02:19:15
We definitely need a new CB in January though ... Stones might not be back until February. Who do we want folks? As a Kiwi, I'd love to see Winston Reid in the royal blue ... But how about Benny Howedes ... World Cup winner, Left sided, versatile (can also play either flank), Schalke not setting the Bundesliga on fire ... Worth a shout?
Kristian Boyce
37
Posted 03/11/2014 at 02:57:02
He may have aggravated it diving down to save that shot in the first half!!!
Craziest decision I have seen from one of our players all season, how we got away without giving away a penalty, I will never know.
I feel sorry for the lad though, get well soon..
Jackie Barry
38
Posted 03/11/2014 at 05:03:19
I honestly thought it was a penalty at first with Alcaraz but after seeing it again I think it just passes under him, not touching his hand.
As for the knackers yard... well, we might as well add Gibson to that list too.
Amit Vithlani
39
Posted 03/11/2014 at 05:25:23
I seem to remember a lad called Rodrigo who never kicked a ball for us having signed on a ٟm loan... and then there was Lie Tie. One good season, one leg break and he was never the same.
Danny Williamson and Slaven Bilic also come to mind.
We have had a fair few crocks over the years to be fair. Alcaraz and Kone could join the list, although I am not writing them off just yet. Let's see what happens in the New Year.
Matt Traynor
40
Posted 03/11/2014 at 06:02:43
Amit - Juliano Rodrigo did make a sub appearance or two I think - sure I was at one of the games. He was painted as the next big thing, but you need to consider how we were doing at the time. The squad was packed full of average journeymen during a period when the only reason we weren't relegated, was there were 3 teams worse/skint each year.
I think he did his cruciate with us and went back to Brazil. Don't think he ever did much career-wise after that. A shame though, as in that 1 sub appearance I saw... he reminded me of Peter Beagrie.
Lee Wareham
41
Posted 03/11/2014 at 08:09:24
Time to step up to the mark Tylas, whether it's at rightback or centreback. It's people like this who are our future.
Kieran Fitzgerald
42
Posted 03/11/2014 at 08:56:19
Hibbert has shown he can play at centreback, Barry also did so on Saturday. Besic can slot in for Barry so we have cover. I wouldn't go spending money in January if we don't have to.
I would really hope that Browning gets more game time. Can he play at CB?
Ken Buckley
43
Posted 03/11/2014 at 09:04:17
Matt -- Rodrigo played in a pre-season game at Wrexham. He was Brazilian so about 2.000 travelling Blues thought he must be mustard.
Hardly saw him after that.
Jim Bennings
44
Posted 03/11/2014 at 09:44:00
Kieran
Trouble is I doubt Barry will handle centre-back well against sides that go at us and have pace and movement. Swansea never really showed a lot of ambition on Saturday in terms of committing many men, Bony was rather isolated and we just about dealt with his threat.
Hibbert has played in one match at centre-half as far as I can remember, away to AEK Athens, and they were hardly a very good side to my memory.
I have no doubt you'd get 100 percent effort out of both lads, honest and experienced as the day is long, but, just like with Distin, age catches up in the older legs sometimes.
There is also the lack of height if you play Hibbert there. The obvious choice is use Distin sparingly (never going to play week-in & week-out these days) and then give Browning some game time.
It's a difficult predicament to be in, kind of sums up this season so far but we can't do anything until January anyway so it's a case of get the Polyfilla out and start filling the cracks.
Tony J Williams
45
Posted 03/11/2014 at 10:28:55
Strange that we are discussing who should come in for Alcaraz.
At the start of the season Distin was a shoe in with Jags, but because he has had a falling out with the "Gaffer" we are discussing alternatives.
Swallow your pride and do what's best for the team, play the man who actually fits the space vacated by the glass man.
David Graves
46
Posted 03/11/2014 at 10:43:54
John @ 3 I can assure you that rumours that Distin have walked out are complete nonsense. I met him as he was walking into the ground on Saturday with Kevin Mirallas! Both were in high spirits stopping for photos and autographs.
Dave Cook
47
Posted 03/11/2014 at 11:08:10
Would be a good time to play a young, upcoming defender. Where's Shane Duffy?
Dave Abrahams
48
Posted 03/11/2014 at 11:07:22
I don't see any problem with Distin coming back into the team, he is still a good centre half, and at least as good as any other centre back on the books.
Denis Richardson
49
Posted 03/11/2014 at 09:53:33
People calling on the club to get rid of the injured players need to keep in mind that they have a legally binding contract. We can't just turf them out.
Also the club will have insurance so it's not like we're paying them for nothing. A large chunk of the wages will be covered by insurance.
How about supporting the players a bit, luck plays a massive part. It's not as if they players deliberately get themselves injured. Also Alcaraz was signed on a free...
Just shit luck but hopefully Browning can grab his chance to step up.
Paul Melarange
50
Posted 03/11/2014 at 12:47:05
Get Distin back for the Lille game. Barry needs to be playing in midfield, it's a shame we let Duffy go as he looked decent in the few games he played.
As for Alcaraz, he is just too injury prone and was the same at Wigan. If the manager has lost faith in Distin then play Browning against Lille. Up the toffees!
Harold Matthews
51
Posted 03/11/2014 at 11:53:36
Well said Denis.
Yes, Browning captained our U21s from the CB position and we do have Galloway who also looks to be above average. The trouble is, like Smalling of United, these young lads make mistakes, are bullied by powerful strikers and are often caught out of position. Okay, Stones has been a revelation this season but he still makes schoolboy errors. Fortunately he recovers well and rarely flaps.
This latest injury is a big blow for the club and for Martinez. He'll present a brave, optimistic face but knows that jumping kids into the Premier League is a dodgy business. Up front you can get away with it but not at the back where one small piece of bad judgement can lose you the game.
Hopefully, Distin will be up and ready. We'll need him. In the meantime, we will definitely be sniffing around European defenders and reports suggest Lille have been unsuccessfully approached within the last few days.
Kieran Fitzgerald
52
Posted 03/11/2014 at 12:57:56
Harold, we may not get a choice but to play one of Browning or Galloway. Jim's idea @44 about playing Distin sparingly and then introducing Browning may be the way to go. Giving him half-an-hour in games to both phase him in and also spare Distin's legs may be the way to go.
Thursday's result against Lille may go a long way to showing how much game time the younger players get. A win would leave us in a strong enough position to be able to rest players. Also, on paper, the Sunderland game on Sunday may be the opportunity to at least put younger players on the bench.
Harold Matthews
53
Posted 03/11/2014 at 15:34:19
Yes Kieran. Could be an interesting week. Nothing is ever more exciting than watching youngsters trying to break through. Unfortunately, the upcoming games are vital and it's difficult to imagine Roberto taking the risk. Guess it all depends on the mysterious Distin situation.
Brent Stephens
54
Posted 03/11/2014 at 16:12:22
Mark #28 "Has anyone seen Besic, Galloway or Browning play at centre-half?"
Watched Browning and Galloway in the U21s last. Both very impressive.
Gavin Ramejkis
55
Posted 03/11/2014 at 17:10:08
Besic has played there for Bosnia
Sean Roberts
56
Posted 03/11/2014 at 20:09:42
I think too many people are too quick to have a go at the players. Yes, they are paid a fortune but that doesn't make them invincible, does it? You could see the pain and disappointment on Alcaraz's face so it's not like he was faking injury to have a few weeks off or got injured on purpose.
We are Everton and are used to getting shit luck. That's what we are getting now with the injuries but we just need to get behind whichever players are sent out to play in each game.
Harold Matthews
57
Posted 03/11/2014 at 20:33:43
Sunderland lad just carried off with shoulder injury.
Patrick Murphy
58
Posted 03/11/2014 at 20:39:54
That's the third one this weekend, Harold – I wonder if these PL pitches are too hard below the surface and it might explain the numerous injuries suffered by a variety of players in recent years.
Jim Bennings
60
Posted 03/11/2014 at 21:24:58
A very strange statement from Martinez regarding Distin:
"I wouldn't look to put Sylvain on the subs bench at 36, if he is not starting the match, it would be unfair to get him changed and bring him on as a sub."
That just sounds downright bizarre to me. So we'd rather play a midfielder there... square peg in a round hole?
The fact that Distin isn't making the bench with Stones out speaks volumes about his Everton future, or should I say lack of it.
Harold Matthews
61
Posted 03/11/2014 at 21:30:25
Interesting point, Patrick.
Brent Stephens
62
Posted 03/11/2014 at 21:51:28
Must be a sick-note, Harold!
Harold Matthews
63
Posted 03/11/2014 at 23:50:06
Fell over your wooden spoon Brent.
Michael Kenrick
64
Posted 04/11/2014 at 00:10:58
Jim, that is bizarre... almost as if Sylvain has thrown his toys out the pram and said, "I play, I don't sit on the bench, you little Spanish person."
Which could explain the contretemps with Roberto. No bench-sitting this season so far.... Last season, he was on the bench just twice.
Harold Matthews
65
Posted 04/11/2014 at 01:30:30
Yes Michael, his pre-season interview was certainly not pro Martinez. If there is a slight bit of friction I hope it doesn't spill over into the dressing room.
Jay Harris
66
Posted 04/11/2014 at 04:00:57
We have to remember Sylvain is French and therefore very temperamental. Remember their World Cup squad going on strike a few years ago.
Word is that he felt he was being made the scapegoat for the early season defensive frailties and felt disrespected as a senior pro. RM seems to be melting down that camaraderie fast.
Harold, I totally agree with you that experience is key at the back and we have to be careful with youth. I remember Stones saying that Jags and Distin talked him through every game.
I also remember Davie Weir playing back there when he was 39. His legs had gone but his experience and class enabled him to get through games.
Paul Andrews
67
Posted 04/11/2014 at 06:58:54
That reminds me of Basil Fawlty when Manuel messed up.
"Excuse him, he's from Barcelona"
Jim Bennings
68
Posted 04/11/2014 at 08:02:20
It would be a shame if Distin's Everton career ended in such a negative fashion.
He has been a very reliable servant over the last 5 year's, perhaps joined us a few years too late but at the end of the day he was 31 when he signed in 2009 and if someone said then we'd get 6 season's out of him we'd have said that's a good return.
He almost certainly won't be here next year and yes it does seem like there has been some sort of disagreement with Martinez. We are guessing on this but it's probably along the lines of Martinez not being happy with the first few games of the season and Distin bearing the brunt, obviously the Frenchman will not have taken criticism lying down.
Tony Abrahams
70
Posted 04/11/2014 at 08:23:12
Very strange quote if it's true that Martinez said that about Distin.
Is it going to be the same with Eto'o as well I wonder? By no means our worst player on Saturday, but surely he should have been brought off or put in behind the striker when we made our double substitution.
From about the 30-minute mark, Eto'o continuously drifted out wide leaving no-one in the centre-forward position. It looked to me that our manager was pandering to Samuel by leaving him on the pitch in a wide position?
Les Fitzpatrick
71
Posted 04/11/2014 at 08:55:36
As I have previously posted, I have a contact at Finch Farm and am privy to exactly what took place the day after the Arsenal game.
I cannot say more without compromising my source; however, I can state that Distin has shot his bolt at Everton, and will only be selected to play as a last resort type of scenario.
Brent Stephens
72
Posted 04/11/2014 at 10:40:38
Harold #64 - I've always argued against the use of the term "sick-note". That was a bit of light-hearted light-heartendess.
Harold Matthews
73
Posted 04/11/2014 at 15:05:00
Okay Brent. I took it as a bit of lighthearted mischief but never thought you were in favour of that ghastly term.
Mike Childs
74
Posted 04/11/2014 at 19:17:09
I say bloody the kids. I hear what you're all saying about mistakes but, hey, they make them at every age. The only way you stop making them is experience. We all know we're a few players away and will need a few more productive windows to be there so get the mistakes out of their CV's now.
Darren Hind
75
Posted 04/11/2014 at 19:55:27
Les (#72),
If Distin really has "shot his bolt at Everton", why would The manager say that he is happy with his defence and wont be looking for a center half in January? — especially given Stones's injury and Alcaraz's history.
BTW – How did Alcaraz get so badly injured? it was Bony who went flying over the top and crashed to the ground.
Les Fitzpatrick
76
Posted 04/11/2014 at 20:56:36
Darren... I would not expect any experienced manager to advertise to all and sundry what positions he is looking to strengthen, at the next transfer window. That would simply add 20% to the transfer fee.
---
Add Your Comments
In order to post a comment, you need to be logged in as a registered user of the site.
Or Sign up as a ToffeeWeb Member — it's free, takes just a few minutes and will allow you to post your comments on articles and Talking Points submissions across the site.
© ToffeeWeb