Eto'o magic rubbing off on Lukaku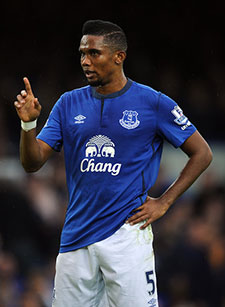 Steven Naismith says that his strike partner Romelu Lukaku's game is already showing evidence of the influence of playing and training alongside Samuel Eto'o.
While the Belgian striker has been spending extra time in training with former Everton Talisman, Duncan Ferguson, he has also been benefiting from the vast experience that the 33 year-old Eto'o brings and now has four goals from nine Premier League starts.
Despite his scoring record, at 21 years of age, Lukaku is still learning his trade and Naismith feels that just being around the Cameroonian is helping his game.
"The two of them work closely in training and so every day he is seeing him, the way he moves, and seeing where he takes his touches and it's definitely helping him," the Scot says.
"It's not as if they go and do specific things together. It is just the general off-the-cuff stuff that Samuel does that Rom is catching onto and hopefully taking into his game."
And Naismith, the Blues' top scorer in all competitions with five, admits that he, too, is picking things up from one of Europe's most prolific forwards.
"Watching him is definitely helping me," Naismith continues, "and with Big Dunc helping with the squad as well giving you pointers, we have great people around us who are going to make us better players."
Roberto Martinez has rightly been impressed with Naismith's contributions thus far as the ex-Rangers man revels in his preferred central role.
'I love watching Steven play," the manager says. "I think the way he is adapting in different positions, even during games, he has an incredible intelligence."
Quotes sourced from The Mirror
Reader Comments (26)
Note: the following content is not moderated or vetted by the site owners at the time of submission. Comments are the responsibility of the poster. Disclaimer
Mike Oates
1
Posted 08/11/2014 at 22:19:31
How do you fit Naismith and Barkley in the same team? Naismith undoubtedly is the better "team player"; he brings more players into the game and is also excellent at closing people down and breaking play up.
Barkley can change a game, can make something out of nothing... but at the moment he's not consistent enough; if he is struggling to create, he doesn't make up for it on the defensive side.
Glad it's Martinez's problem to sort out.
Wayne Smyth
2
Posted 08/11/2014 at 22:31:22
Mike I don't know that Naismith does bring more players into the game. It's not something I've noticed, anyway.
Barkley on the other hand attracts opposition players, leaving space for other Everton forwards. I reckon Barkley earns more than his fair share of free kicks in dangerous areas for us, too.
I would argue that Barkley tends to give our game some pace and directness. Often if Naismith has the ball away from goal, he will tend to not have the pace to go on and beat anyone, so will check back and attempt an easy pass, killing any opportunity of a quick counter.
They're entirely different players. Naismith is very dangerous in the penalty box, Barkley is suited to games where he can run at the opposition from deeper positions. Naismith works harder and is the better 'team' player, but Barkley still has a vast potential and needs minutes to help him improve.
It's a nice choice for Martinez to have, and with the number of games we have to play, he can pick either of those based on form, fitness and the opposition.
One very true thing that someone else mentioned a recently, was that Naismith, Barkley and Eto'o are all wasted on the wing. A shame really, since we don't have anyone of similar quality to replace Mirallas, or anyone with pace on the left side either.
Mark Frere
3
Posted 08/11/2014 at 23:00:23
I don't think we can fit Barkley and Naismith into the team at the same time. It's should be one or the other. Neither play well out wide and it's perhaps too early to move Barkley further back partnering McCarthy or Barry.
The beauty of playing in Europe this season means we can rotate both players so they both get plenty of playing time. There's also the Christmas period where games come thick and fast and we will get the chance to use our whole squad.
The position in the hole, behind the striker, is actually the best position for Eto'o, Osman, Naismith and Barkley so that particular position will give RM a bit of an headache.
I've often said we need a playmaker – a Mata/Eriksson type player but I suppose getting that type of player would limit Barkley's chances of first team football. So, perhaps we need a deep lying midfielder like Xavi who can add a bit of craft, and a younger, fitter, more consistent version of Pienaar who can play on the left and add creativity from that position.
Andy Bulmer
4
Posted 09/11/2014 at 01:30:46
Howard
Coleman. Stones. Jagielka. Baines
McCarthy
Mirallas. Barkley. Pienaar.
Naismith.
Lukaku.
Anto Byrne
5
Posted 09/11/2014 at 01:59:36
I have no idea what all the fuss is about with Ross Barkley. And why is everyone raving about John Stones? So what if they are capped by England and their combined value is up around the 㿨M mark? We have Distin and Naismith – what more is there to say?
Paul Dark
6
Posted 09/11/2014 at 09:55:03
A love-in bordering on sentimentality in some of these statements coming out of Goodison. Bit too much for me sometimes.
Jay Rollinson
7
Posted 09/11/2014 at 10:36:10
Better for team morale if they're at each others throats then Paul?
Phil Walling
8
Posted 09/11/2014 at 10:55:56
The spirit of Phil Neville lives on. Is it the same guy who writes the bullshit for them these days or does Roberto hold the 'charm school' sessions himself ?
But with a Club website to furnish as well as Everton TV, I guess it has to be done. Personally, I think talking shite should be the sole province of us on Toffeeeweb !
Sam Morrison
9
Posted 09/11/2014 at 11:52:00
Phil and Paul. The players are constantly asked to comment in the media and are criticised when they don't. What would you have them say?
Phil McKeown
10
Posted 09/11/2014 at 15:27:54
Having a fucking laugh... magic rubbing off on him?
Lukaku will never be a 㿈m player: slack, lazy and no first touch. How many times did he give the ball away in that game
Let's have all the bellends on here defending him cos he is young... a terrible terrible buy. Simply not good enough and I am really starting to detest his play.
Christopher Kelly
11
Posted 09/11/2014 at 21:28:41
Early this was written before the Sunderland game. I guess it's too much to ask a 21-year-old to play two games in a week??
One-on-one and doesn't even get a shot off?! Looking forward to seeing Martinez spin this one.
James Stewart
12
Posted 09/11/2014 at 21:57:03
Didn't look like it today; Rom was awful.
Naismith, Eto'o, Osman and Barkley are all best in the same position as Mark says. Personally I think it's better to only play one that put round pegs in square holes.
James Marshall
13
Posted 10/11/2014 at 09:35:45
Rubbing off on him? I thought yesterday was his worst performance ever in a blue shirt. Dreadful.
Daniel Joseph
14
Posted 10/11/2014 at 11:12:58
A little more rubbing required please and, as my old mum used to say, "Use some elbow grease!"
Paul Dark
15
Posted 10/11/2014 at 15:53:29
Sam: point taken. There seems to be more of this coming out of GP these days than some other clubs. I like Everton to be dignified and warm – not OTT.
It's just a personal preference, I guess.
Brent Stephens
16
Posted 10/11/2014 at 16:28:04
I think the magic that is rubbing off is "now you see it, now you don't".
What do you think of it so far?
Paul Andrews
17
Posted 10/11/2014 at 16:51:35
Give the lad a chance, he has scored at a rate if almost one in two over the last two seasons.
A baby in his position. Can anyone name three centre forwards of his age who could do a better job?
Nick Armitage
19
Posted 10/11/2014 at 20:58:23
"Eto'o magic rubbing off on Lukaku"
Is it really?

Steven Jones
20
Posted 11/11/2014 at 03:50:49
Lukaku was superb at linking play against Lille and some of his first time touches accelerated play and opened up the defence for two of their goals.
Consistency at that level twice in a week for a 21-year-old CF who is way way before his best yet is unrealistic to expect.
The quality of our front men right now is the best for a long long time – quality and promise.
Anthony Hughes
21
Posted 11/11/2014 at 11:08:06
Can we please stop putting Lukaku's form down to him being young. He has the best part of 200 first class games behind him including international football.
He may be 21 but his football experience has some depth to it. He isn't an 18-year-old novice with a handful of first-team appearances. For whatever reason, he isn't playing well – it can't keep being blamed on his age.
Alan McGuffog
22
Posted 11/11/2014 at 11:58:32
Seem to recall a little red headed fella controlling the midfield as we won the World Cup in 1966... he was twenty one. Now what was his name? Doh!
Harold Matthews
23
Posted 11/11/2014 at 12:01:54
Hope we haven't made a mistake trying to improve the lad. He was okay last season but he now appears to have too many things in his head.
Dave Lynch
24
Posted 11/11/2014 at 12:43:46
Fucking rubbing off!!!!!!!!
I suggest you melt Eto'o down and pour him all over the lad. Even then, I have my doubts he'd make a good foootballer.
Ben Mackenzie
25
Posted 13/11/2014 at 18:29:59
Lukaku is the biggest waste of money in our club's history. Naismith should play up front with Barkley behind, stick Lukaku in the reserves, maybe on the bench. The lad is fucking woeful.
Linda Morrison
26
Posted 13/11/2014 at 19:22:28
Harold is right. We should accept Romelu's good points, old-fashioned striker etc, and stop trying to change him, Roberto!
Ross Edwards
27
Posted 13/11/2014 at 19:21:44
Lukaku does have the touch of a dying donkey at times. Eto'o has been excellent since arriving. He may be 33 but a striker never loses his instincts. Look at Totti. 38 and still top class.
Anyway, back to Lukaku. Does he miss that link with Mirallas? It seems coincidental. Ever since he's been injured, the attacking spark hasn't been there.
McGeady seems to be more bothered about doing shite Ronaldo impressions than providing good service at the moment. There'd be a good crossing opportunity for him and he tries to be like Ronaldo and fails miserably.
As for Barkley, he's only just come back from that injury. He probably isn't 100% fit which is why he's not his usual self.
If you want Barkley, where do you put Naismith? He's absolutely woeful on the wing as we found out regularly under Moyes. So, do you put Barkley in his usual CAM role with Naisy as impact sub or do you play both?
Quite simply, you can't. He can't go up front because that means putting Lukaku out wide where he is about as useful as a chocolate teapot.
Naisy is more an impact player. Eto'o is an out-and-out striker. A poacher. He shouldn't be picking up the ball from deep.
Lukaku: we should bench him for a few games. Barkley: give him time to recover 100% fitness.
---
Add Your Comments
In order to post a comment, you need to be logged in as a registered user of the site.
Or Sign up as a ToffeeWeb Member — it's free, takes just a few minutes and will allow you to post your comments on articles and Talking Points submissions across the site.
© ToffeeWeb