Everton vs FK Krasnodar
Europa League Preview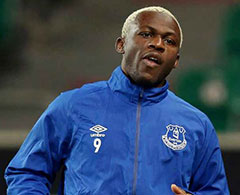 Arouna Kone is hoping to put more than a year of frustration behind him with his first start of the season
Everton sign off from their Group H commitments on Thursday evening with the dead rubber against Krasnodar where Roberto Martinez will make good on his pledge to use the occasion to play some of his promising young players and a couple of long-term absentees.
The Blues were confirmed as group winners and seeding for the knockout phase by virtue of their 2-0 win in Wolfsburg a fornight ago, the culmination of a laudible run of results in what was billed as one this year's Europa League groups of death. Unspectacular yet professional and vital away draws in Lille and Russia were bolstered by two handsome victories, leaving Martinez in the enviable position of going into the final match with nothing to play for but plenty to discover about some fringe players.
The manager confirmed at his press conference this afternoon that Arouna Kone will complete the longest recovery of his career to date by making his first senior start since October last year and will be joined by another long-term injury casualty in the form of Bryan Oviedo. Both players played and scored for the Under-21s at Goodison Park against Sunderland 10 days ago, an outing that both players hope will have marked the final step towards a return to full fitness.
Kone described the opportunity as akin to a second debut. Since arriving from Wigan Athletic in his manager's footsteps in July 2013, the Ivorian's Everton career has never really got off the launchpad. A disrupted pre-season meant that he began his first campaign at Goodison short of fitness and some painful misses in his early appearances betrayed some of that inevitable rustiness before his season was ended by a heavy impact to his knee in the home game against Hull City.
The 31 year-old required surgery to repair the meniscus in the knee and has spent many months in rehabilitation, both at Finch Farm and a facility in Belgium this past summer hoping to be fit to start again in 2014-15. He was set to make an appearance in the Capital One Cup tie at Swansea in September but was forced to withdraw from the team before kick-off after feeling pain in the injured knee and has spent the past three months slowly gaining more fitness to the where it seems he is finally ready to return to the first team.
"Arouna is quite unique in what he brings so as a manager you welcome him back," Martinez said of the striker. "He has plenty of experience and will make a difference."
Oviedo, meanwhile, played in that ill-fated game at the Liberty Stadium before making a late cameo at Old Trafford where he almost reprised his goalscoring heroics of a year ago but has been out of the senior setup since having screws removed from the bones he fractured at Stevenage last January. He too is looking to put the past 11 months behind him by coming through Thursday's European fixture unscathed.
Martinez also confirmed that, in addition to Steven Pienaar — another injury-ravaged player — Atnolin Alcaraz, and Joel Robles, there will be playing time for some of his promising U21 players. Luke Garbutt, Tyias Browning and Conor McAleny all of whom have figured at first-team level already, will play a part. Furthermore, though he didn't name them — "I wanted to give them eight hours' sleep," he quipped — the Catalan promised there would be other exicting youngsters, most likely including Ryan Ledson, involved.
While Evertonians will be hoping for a win to put the icing on the group-stage cake, neutral eyes will be on Lille who still have a small chance of edging Wolsfburg for the second qualification slot if they can win by a three-goal margin at the Stade Pierre-Mauroy.
Kick off: 8:05pm
Quotes sourced from ToffeeWeb Match Reports
Reader Comments (127)
Note: the following content is not moderated or vetted by the site owners at the time of submission. Comments are the responsibility of the poster. Disclaimer
Mark Taylor
1
Posted 10/12/2014 at 18:31:13
I had a chance to see the U-21s' latest match. The good news is that Oviedo looked fit and in decent form. The less good news is that Kone looked much less fit and although he took his goal very well, did not look mobile.
I'd have to say, I didn't really see any astonishing talent elsewhere either, nor in the game against Celtic.
Brian Hennessy
2
Posted 10/12/2014 at 19:08:23
"Arouna is quite unique in what he brings", - he sure is Bobby.
Thankfully we don't have too many players as "unique" as him or we would struggle to field a team...
Mark Frere
3
Posted 10/12/2014 at 18:59:52
I'm looking forward to seeing some of the younger players. I thought Browning looked very shaky recently playing Centre-back against Sunderland U-21s; I think he looks much more comfortable playing RB where he shined against RS. He probably will develop into a CB eventually but at the moment, I'd play him RB.
I'd start with Galloway at CB along with Alcaraz who can guide Galloway through the game in the same way he did a raw John Stones last season.
I'd start with Ledson alongside Barry in midfield as Barry is suspended for the next PL game. Again, it will be good experience for Ledson to play alongside a experienced veteran like Barry.
I'd like to see McAleny play alongside Kone in a 442 formation. This game should offer the likes of Kone, Oviedo and Alcaraz good fitness rehabilitation and the youngters vital experience for their development.
I would play:
Robles
Browning Galloway Alcaraz Garbutt
Astu Ledson Barry Oviedo
McAleny Kone
Bob Martin
4
Posted 10/12/2014 at 19:31:53
A great opportunity to sit back and relax watching the School of Science. Really looking forward to how some of the second string shape up. Hope they can express themselves and hopefully help strengthen the first team squad for the coming months.
Dick Brady
5
Posted 10/12/2014 at 19:57:21
Should David Henen not get a run out? It would be a really pointless loan signing if Henen spent the entire duration of his loan in the U21s.
Guy Hastings
6
Posted 10/12/2014 at 20:21:25
'Arouna is quite unique in what he brings' - and, pray tell, what would that unique quality be that he brings? Gifts of boxes of cheese covered clementines to training, carried in baskets woven from the pubic hair of minor European royalty? An rivalled analysis (at PL level) of the early works of F Scott Fitzgerald? I'm so pissed off with endless, pointless platitudes. Just pick a starting eleven that can – and does – win a PL game. It's not a unique quality but it would for me at the moment.
Patrick Murphy
7
Posted 10/12/2014 at 20:39:24
Guy, Roberto can't help it, if you have seen his talk to the nurses and carers who attended Goodison yesterday, he said more or less the same things in relation to their work and activities. We all have irritating habits that annoy other people, Roberto is just unfortunate to be working in an industry where what you say is scrutinised to the N-th degree.

Dave Abrahams
8
Posted 10/12/2014 at 20:50:54
I like Martinez, I just take no notice to most of what he says especially his after match talks, I never even listen to him. I think he means well but most of the after-match comments are meant for the players, whether they take any notice is another matter.
Kunal Desai
9
Posted 10/12/2014 at 21:04:02
Meaningless game, no need to include any first teamers for this one and instead a good opportunity to see who can step up from the reserves. Save the others for monday night.
Jim Bennings
10
Posted 10/12/2014 at 21:06:24
I very much doubt that Kone would look mobile after the amount of time he's missed, it's just a small miracle that he sets foot back on a football pitch again.
Here's hoping the night goes well for the lads on the fringes or returning from injury.
Jim Bennings
11
Posted 10/12/2014 at 21:28:39
They could surprise the fringe players with a good performance, let's be honest the usual "regulars "have totally uunderperformed nearly all season so it just could be a more interesting game than is widely expected.
Paul Andrews
12
Posted 10/12/2014 at 21:36:21
Roma here we come.
Guy Hastings
13
Posted 10/12/2014 at 21:43:18
Patrick 7 - it's not just Roberto, it's the bloody lot of them. And don't me started on Geoff Shreeves, unless it's with a lead lined baseball bat.
Sean Kelly
14
Posted 10/12/2014 at 21:54:53
"Arouna is quite unique in what he brings" WTF is that then? He brings his crocked arse to Finch Farm every week to make sure he's able to pick his wad at the end of every month. He's brought fuck all only a very large medical bill and an invoice for his non existent services. Get fucking rid.
Colin Glassar
15
Posted 10/12/2014 at 22:07:26
I hope Kone scores a couple tomorrow to see what the comments on here are like. "I always knew he'd come good", "what a player, always liked him when he was at Wigan", "how we've missed you Arouna lad" etc, etc, etc......
Jay Harris
16
Posted 10/12/2014 at 22:03:08
I just hope the youngsters don't get battered and get their confidence shattered.
RM should be experienced enough to know that changing the whole side will be chaotic especially while preparing the first team for QPR on Monday.
We need to ensure a confidence inspiring win tomorrow night to get the crowd and the squad up.
I personally would like to play more of the first team in this one to help the kids out.
Paul Andrews
17
Posted 10/12/2014 at 22:17:25
Colin,
Me too. It's not as if the lad chose to be injured. He's had terrible luck with injuries, and gets kicked in the balls for it.
Eddie Dunn
18
Posted 10/12/2014 at 22:40:54
Dead right, Jay – we need to build some momentum, not fuck about with what will end up a total waste of time.
Play every first teamer who is not carrying an injury .
Bill Gall
19
Posted 10/12/2014 at 22:33:17
Colin, it sounds like you are a Wigan supporter watching Kone a lot.
After all his time off with injuries and looking at how long it is taking Mirallas and Barkley to get up to match fitness, I think this game will just be an exercise to ease him back and will be surprised if he lasts more than 45-55 mins.
Hope he comes through the game okay as, with the injury he had, and the length of time he was out, and considering his type of game is speed on and off the ball, he may find it difficult to get back to the form he was in.
Harold Matthews
20
Posted 10/12/2014 at 22:56:20
Not sure if Robles and Browning are good enough or Pienaar, Kone and Oviedo are fit enough, but it should be interesting and I hope they all have a decent game.
Trevor Lynes
21
Posted 10/12/2014 at 23:51:34
I thought Kone and Oviedo had decent games for the Under-21s but defensively we were pretty poor. The only outfield player in the defence who had a decent game was Galloway who unfortunately is yet another left back. The midfield were poor at closing down and finding space and although McAleny did OK he is a bit lightweight and also did no work off the ball.
I reckon the coaches must take the blame for not instilling work rate into these youngsters who are supposed to be the future of the club. Sunderland were the better team and the outstanding youngster on the pitch was Whatmore who ran both Jones and Browning ragged until he went off with an injury. We did improve after Whatmore went off but while he was on we struggled to contain him.
Kone would have had a hat-trick against our defence, that's how poor they were collectively. In possession they looked fairly good but without the ball they gave Sunderland too much room. I hope that the players selected to play against Krasnodar play much better as this is a fine opportunity which they should do their utmost to take.
Mike Childs
22
Posted 11/12/2014 at 00:00:34
Robles could have a clean sheet, Kone a hat trick, Garbut a blinder and it won't matter – they won't get PL playing time. Please just release Pienaar now, give the time to someone who might actually contribute in the future.
James Marshall
23
Posted 11/12/2014 at 00:13:05
Why do people give Kone a hard time for being injured and getting paid? Do you think he wanted to get a career threatening cartilage injury and not play for a year?
Seriously.
Andy Crooks
24
Posted 11/12/2014 at 00:51:45
Exactly, Jay. I think we need a balanced side. As regards injured players, any player who misses more than three games through injury should be shamed and shot.

Kunal Desai
25
Posted 11/12/2014 at 07:14:01
I understand people wanting continuity and confidence being maintained however the flipside is that its clearly shown Everton results suffer playing two games a week. If we lose or draw at home to QPR on monday most will put it down to a first team being put out tonight. Im happy to have 5 first teamers on the bench if need be but whats more important Getting a result tonight or 3 points on monday?
Adam Luszniak
26
Posted 11/12/2014 at 08:29:37
Can't understand people deriding Kone for have the audacity to suffer a potentially career ending injury. I'd love to see him play well tonight.
Duncan McDine
27
Posted 11/12/2014 at 08:32:01
Mark (3), has the team spot on for me. I'd be shocked and dissapointed if Bobby sends out more first teamers than that.
James Hughes
28
Posted 11/12/2014 at 08:39:52
Adam (#28), to my shame I am one of those people / posters.
Mainly due to the few times when he made it on to the field, he looked pedestrian and uninterested. We had the, "It was ramadan and he was suffering", well I work in catering and I know plenty of people who can observe this and still pull a 12-hour shift effectively.
But yes, you are right, a bad injury and I hope he recovers fully, gets on the pitch and scores for fun.
Come on, Kone, get your boots on, son!!!
Ajay Gopal
29
Posted 11/12/2014 at 08:42:00
Exactly, Adam. True supporters would surely want the players who get a chance to do well today so that it gives the Manager some options for the busy Christmas period ahead as well as put pressure on the 1st teamers to perform.
Robles
Browning Hibbert Alcaraz Garbutt
Ledson Barry
Atsu Barkley Oviedo
Kone
SUBS: Howard, Baines, Jagielka, McGeady, Osman, McAleney, Eto'o
Eugene Ruane
31
Posted 11/12/2014 at 09:42:39
My only concern re tonight, is arriving at the ground and hearing "Due to high winds and a slightly loose slate on the roof of a chippy in St Helens, we regret..."
Sean Kelly
32
Posted 11/12/2014 at 10:14:36
My earlier comments may have come across as a dig at Kone. Look I wish the lad well and obviously he didn't come here to get injured. What gripes me is the club seems to be a nursing home for other clubs crocks. Alcaraz Gibson haven't contributed much since arriving. We even signed Traore injured and where the hell has he gone. This club can't afford the constant and it would have been better trying to offload and cut our costs. It might seem hard nosed but man utd Wigan and Monaco done it to us.
Robert Workman
33
Posted 11/12/2014 at 10:37:20
Martinez has a unique opportunity to rest all the players that he expects to start against QPR for 9 whole days. The only exception could be Leighton Baines. I would like to see him play left midfield with Steven Pienaar inside him.
He has indicated that there are 3 young players who could come into the first team. Assuming that they are Browning, Garbutt and Ledson, I would play all 3 from the start and tell them that they will play for the full 90 minutes (barring injury or fatigue).
He should say the same thing to Atsu, encouraging him to express himself.
Defensively there is a gap in the central defence, so why not play Besic there (as this is supposed to be one of his positions) alongside Alcaraz.
Up front I would like to see McAleny and Long both have 45 minutes alongside Kone.
If Naismith and McCarthy are approaching full fitness I would have them as substitutes and bring them on after 70 minutes (for Kone and Pienaar). The rest of the bench should be composed of players that will not start on monday.
We can all relax knowing that the result is not as important as the performance of certain players in this unusual match.
Robert Workman
34
Posted 11/12/2014 at 10:49:08
Forgot to mention Gareth Barry. Contrary to some other posters I would not have him in the squad. I would use his suspension to give him 2 weeks off, in the hope that he can return to full fitness and show his earlier best form.
Denis Richardson
35
Posted 11/12/2014 at 10:42:11
Key from this game for me is to
i, get Oviedo and Kone back to match fitness so they can play a regular part for the rest of the season. Hopefully they can both get through at least an hour if not the full 90.
ii, give Garbutt, Birdman and Bless you a full 90 minutes to keep them match fit and ready to help out when needed in the coming weeks.
iii, give a few of the youngsters senior game time to see if they can handle it. (Although I doubt the Russians are going to send over a strong team as the game is meaningless for them too.)
I'd play
Robles
Hibbert, Browning, Bridman, Garbutt
Atsu, Barry, Barkley, Oviedo
McAleny, Kone
Barry and Barkley just to get a run out and some confidence back as this will be like a training match. Hibbert in just to stay match fit as Coleman will play on the weekend..
Terence Tipler
36
Posted 11/12/2014 at 10:47:31
5 Players we don't need to learn anything about tonight. All well over 30 years of age: Hibbert, Distin, Barry, Osman and Eto'o. If any of them set foot on the pitch tonight, it will have been a wasted opportunity.
Phill Thompson
37
Posted 11/12/2014 at 11:30:20
Well I read the OS comments as a starting. "9", so no Barkley or Barry in the team. If that's the case only 2 spots open . One will be Ledson playing alongside Oviedo, then probably Galloway alongside Alcaraz with Browning at right back. Less likely is Browning with Alcaraz, Kenny right back . This could be more interesting than fielding a first team cos we needed a draw.

Brent Stephens
38
Posted 11/12/2014 at 11:34:27
I can't believe that injured players generally just want to turn up at Finch Farm so they can collect their wages, rather than to try to get fit again. But what do I know?
Tim Greeley
39
Posted 11/12/2014 at 11:31:54
I cant wait for the Round of 32 draw. We should have a Live Forum for that!
I don't see Lille downing Wolfsburg by 3 goals but that could be interesting to keep an eye on.
Also it figures that the one time we have a Monday game after Europa, instead of Sunday, we will be resting most of the squad. Wouldve been interesting to see how that extra day helped, as Mo Po over at Spurs has called for.
Brent Stephens
40
Posted 11/12/2014 at 11:39:47
Grauniad today says Roberto has said that Kone, Robles, Atsu, Pienaar, Oviedo, Browning and Garbutt all start alongside two "young diamonds". Grauniad expects the latter to be Ledson and Dowell.

Len Hawkins
41
Posted 11/12/2014 at 11:51:51
I would prefer two young nuggets rather than two young diamonds they are easier on the teeth especially with curry dip.
Also amusing me is the "Kone brings something unique" – yes, Roberto, sick notes are hard to extract from your doctor nowadays. Ian Duncan-Smith has made them rarer than Unicorn shit.
Michael Upton
42
Posted 11/12/2014 at 12:02:16
Jim Bennings - how ironic that although "the usual "regulars "have totally uunderperformed nearly all season", as you state, they have managed to blitz their Europa League group so convincingly that we can play the kids tonight?!
Credit where it's due, please...
And Sean Kelly (32), while Alcaraz and Gibson were injured at their previous clubs, Kone's ordeal seems to have been consigned to Everton alone as he played more than 30 league games in each of his two seasons before signing.
He's just been unlucky. The "other clubs' crocks" tags hardly applies to Stones and Barkley, for example, does it?

James Marshall
43
Posted 11/12/2014 at 12:26:50
Anyone who complains about injured players should try having a serious injury of their own to see how it feels not being able to do anything. I've broken everything from my back twice, to both my arms, both legs, and everything in between and I can assure you it's no fun being laid up doing nothing for weeks and months on end.
Kone must be dying to play again, the same for Oviedo. Kone is 31 which is still young in the grand scheme of things. Everyone seems to think you hit 30 and suddenly you're and old man. Well I hit 30 nearly 12 years ago and it feels like a lifetime away now!
Robert Workman
44
Posted 11/12/2014 at 12:36:45
Just watched the pre-match interview. Seems like the Baines experiment is not likely to happen. Also no prospect of Naismith or McCarthy making the bench. Good that Oviedo is back. Look forward to seeing how the younger players perform.
On a separate note, I was surprised that Kone had not used his time away from football to improve his English. I have noticed improvements in that respect with other players, notably Mirallas and Oviedo.
John Audsley
45
Posted 11/12/2014 at 12:50:16
So
People seem to enjoy slating Kone because he had a near career ending injury and now he should have used the time away from the game improving his English
What a failure of a man this player is
Maybe he should throw himself off a bridge and have done
though if that happened he might get slagged off for jumping incorrectly
Get a grip FFS
Steve Brown
46
Posted 11/12/2014 at 12:49:52
Robert you hit the nail on the head. If he had been arsed about what contribution he can make to the club off the pitch when injured, then he would make the effort. Seems like we have been paying 㾶k per word over the last 18 months.
Harold Matthews
47
Posted 11/12/2014 at 12:45:07
James. Are you an ex jump jockey or downhill skier? Or maybe your missus is a karate black belt?
Phill Thompson
48
Posted 11/12/2014 at 12:52:40
Brent I can't see Dowell starting as McAleny will play "10" behind Kone , Atsu right Pienaar left. Could come off bench though.
Jason Heng
49
Posted 11/12/2014 at 13:05:58
What happened to George Green? Wasn't he the next big thing?
Alfonso Orlando
50
Posted 11/12/2014 at 12:53:41
Kone had a superb games to goal ratio at Wigan, he was a holding player, a fast-paced runner with the ball. You may remember he was part of a Wigan team that blew us to shreds in a certain FA Cup run that went all the way.
I hope he's the star man in a team of boys and gives us more options up front.
Brent Stephens
51
Posted 11/12/2014 at 13:22:26
Phill - it was in the Grauniad so it must be true!
Maybe he'll come off the bench. I'd like to see all these guys mentioned get at least some time tonight.
Jamie Barlow
52
Posted 11/12/2014 at 13:23:56
James Marshall, please tell us what mental hobby you have to receive such injuries. Got a little sweep going at work. I've gone for cage fighter.
Jack Plant
53
Posted 11/12/2014 at 13:43:09
I'd like to see Barkley play tonight, obviously there's a risk that he'll get injured but he needs as much time on the pitch as possible to get him up to match speed.
Mike Oates
54
Posted 11/12/2014 at 13:43:08
Also think the two young lads will be Ledson and Dowell. Dowell looks like he's got one of those sweet left legs, which carass the ball and deliver it on a sixpence from 49 yds and can hit a chestnut off a tree
Sorry sorry must get back down to earth, but heard 14th hand (Academy Coach via his mate, his mate, my brother) that this lad Dowell is a REAL jewel in the crown
James Flynn
55
Posted 11/12/2014 at 13:48:46
Jamie (52) - Get me down for absented-minded window washer.
Richard Reeves
56
Posted 11/12/2014 at 13:33:39
Whatever team he starts with, I hope some of these youngsters put in eye catching performances and crowbar their way into the manager's immediate plans for the rest of the season.
I would like to see:
Robles,
Hibbert, Browning, Galloway, Garbutt,
Besic, Ledson,
Barkley,
McAleny, Kone, Long.

Kieran Riding
57
Posted 11/12/2014 at 14:10:42
Krasnodar's season is finished until March. In their last game, Zenit picked them off on the counter and tonked them 4-0. Huge chance for Atsu tonight and I hope he takes it.
Dave Lynch
58
Posted 11/12/2014 at 14:19:51
Jamie @52.
Throw my name in the sweep i'll pay you if I ever see you at the match.
I'm going for 1 legged tightrope walker...
Phil Walling
59
Posted 11/12/2014 at 14:18:45
If Krasnodar's season is finished, it's possible that they will just be going through the motions. So what would that tell us about Atsu or any one else? That they can run around for 90 minutes ?
Dave Lynch
60
Posted 11/12/2014 at 14:25:00
To be fair Phil, if they are going through the motions then I would expect anything over 5 to be acceptable.
Brent Stephens
62
Posted 11/12/2014 at 15:00:24
Jamie #52 - my money is on...
... he used to "do it" in a hammock - standing up.
Tony McNulty
63
Posted 11/12/2014 at 15:01:38
James shops on Black Friday
Dave Abrahams
64
Posted 11/12/2014 at 14:52:30
Eugene Ruane @31.
My worry is if the game goes ahead it will be spoiled by the heavy winds. I hope the fans will make allowances for the younger players making their first appearance if this is the case.
Eugene Ruane
65
Posted 11/12/2014 at 15:09:50
Dave (64) - Agree (re 'making allowances').
By the way, I imagine there's less chance of a cancellation tonight.
It's one thing to tell Palace to piss off back to London, another to tell a side who've just flown in from Russia "Erm... look, there's no easy way to say this... so not to beat around the bush... to be completely frank and... um... all things being considered... when all's said and done... not to put too fine a point... "
Etc.
Mike Childs
66
Posted 11/12/2014 at 15:35:37
Put me down for James being a real like Fielding Melus.
Aka new products tester.
Tony J Williams
67
Posted 11/12/2014 at 16:01:42
Either that Mike, or he is just one massive clumsy bastard!!!
Brian Waring
68
Posted 11/12/2014 at 16:19:48
The funny thing is, if Martinez puts out some of the young lads (as some have been calling for on ToffeeWeb) and we get beat, he will probably get slated for playing the young lads.
Harold Matthews
69
Posted 11/12/2014 at 16:07:23
Hard to imagine a decent game in these gale-force winds.
Mark Press
70
Posted 11/12/2014 at 16:30:08
I think Hibbert will start all the Europa league games. Hibbo for captain and Hibbo to score!
Denis Richardson
71
Posted 11/12/2014 at 16:39:55
Hibbo hopefully will start — he's got to be down for penalties if we get given one.
John Keating
72
Posted 11/12/2014 at 16:51:36
Remember now guys, regardless of how we play as a team, or individually, there are to be no negative comments. Any mistakes by the young lads are to be roundly applauded and they should be encouraged to continue playing as best they can. NO booing!
These instructions are to be continued throughout the remainder of the season.
Patrick Murphy
73
Posted 11/12/2014 at 17:02:51
Well done, JK, glad to see you're so on message!!

John Keating
74
Posted 11/12/2014 at 17:23:37
Patrick
This is for everyone else
I'm off to give them dog's abuse – if they deserve it!
Brian Wilkinson
75
Posted 11/12/2014 at 17:18:40
Spot on Brian@68, beat me to it, as I have always said, youngetsers will make the odd mistake but will learn and improve, with the injuries weve had this season, its time we gave these players a go,no pressure regardless of the result tonight so hopefully might wake some of the first teamers up with competition.
I Liked Garbutt when he came on at ht against Leyton Orient, never put a foot wrong second half, then in the next round against Leeds didnt even make the bench,talk about knocking a youngsters confidence.
Heres hoping to a good game tonight and a bright future to Everton Football Club and its supporters.
Paul Dark
76
Posted 11/12/2014 at 17:50:15
I'd like to see Duncan play tonight.
Paul Andrews
77
Posted 11/12/2014 at 17:48:56
What would be the best Europa draw for ToffeeWebbers?
If you could pick our next round opponents for the best trip,who would it be?
Colin Glassar
78
Posted 11/12/2014 at 18:02:34
Celtic Paul. Great stadium, atmosphere, city etc...
Ian Linn
79
Posted 11/12/2014 at 18:03:06
We'll probaly get twatted 3-0 and then Martinez will be a cunt for not putting out his strongest side.
Colin Glassar
80
Posted 11/12/2014 at 18:06:41
He's in a no-win situation for some of our lot Ian. Damned if he does, damned if he doesn't.
Phil Walling
81
Posted 11/12/2014 at 18:30:40
I can't see that the game has any relevance at all. If he sends out the kids, it's to see how they shape up and as we know from the non progress of the last lot, it won't make the slightest difference as to their futures, anyway.
The whole exercise is a waste of time.
Brent Stephens
82
Posted 11/12/2014 at 18:45:48
What a miserable night - cold, rain, hail, Phil.
Graham Mockford
83
Posted 11/12/2014 at 18:38:02
Paul,
I'd go for Riejka if they can get past Sevilla, top place for an away trip on the Croatian coast. But there are some other top destinations such as Bilbao and Lisbon.
However there's not many that appeal in Eastern Europe!
Graham Mockford
84
Posted 11/12/2014 at 18:47:33
Phil Walling
Anyone ever mentioned you are one miserable get?
Phill Thompson
85
Posted 11/12/2014 at 18:43:42
Well of "the last lot" who played against Bate 5 years ago the 8 of the youngters who started are still playing , Rodwell, jake Bidwell, Shane Duffy, Kieran Agard, Adam Foreshaw , Jose Baxter all be it all but Rodwell at a lower level. That's got to be where Roberto makes his mark, turning promising youngsters into PL players not Championship and below players. Interesting that two of the subs against Bate were Garbutt and McAleny .
Oh , and the 8th "youngster" was Seamus Coleman at 21 .
So maybe not all meaningless.
Brian Waring
86
Posted 11/12/2014 at 18:56:20
"What a miserable night - cold, rain, hail, PHIL."
Like it Brent.
Colin Glassar
88
Posted 11/12/2014 at 19:01:54
Graham, Rijeka is a bit of a hole isn't it? My son was there last summer and he said it was the worst place he visited in Croatia (the rest was beautiful).
As for Phil, well we all know he likes to wallow in his self-inflicted misery.
Darren Hind
89
Posted 11/12/2014 at 18:17:28
I'm giving it a miss tonight and watching onthe box, but I'll be taking a big interest in the attendance.
A lot has been made of the increased attendances this year, fans rolled up in the hope of seeing Robbie deliver on his promises of a brave new approach, but he hasnt been able to has he? our approach has been anything but brave.
I felt the mood was changing last week not only did Goodison turn hostile at the end of the Hull game but I
noticed huge gaps in the stands during the game. Has he lost them already, the next few home games will tell us a lot

Phil Walling
90
Posted 11/12/2014 at 19:05:18
Graham. My missus, daily ! But this game really does mean nowt and will count for as much as those awful pre-season friendlies the kids played in.
Brian Waring
91
Posted 11/12/2014 at 19:07:36
I'll be taking a big interest in the attendance."
Here's a thought Darren, the attendance tonight may be down because we're already through, it's on the tele, we have a more important game on Monday and money is tight, weather is shite.
Gary Carter
93
Posted 11/12/2014 at 19:10:03
I don't understand all this "let's hope Kone gets back to the form he was in" ! He was barely average in the team that Roberto Cretinez got relegated because his phenomenal footballing tactics and the only thing I really remember him doing in an Everton shirt is miss an open goal from about 3 yards, in fact I think he completely missed the ball not just the goal.
Let's do something really phenomenal and get rid of Kone, alcaraz, Robles and Cretinez and get someone in that wants to play effective winning football not pass the ball sideways and backwards in our own half possession football
Robert Workman
94
Posted 11/12/2014 at 19:04:24
10 of the 11 I expected to start are named. Just surprised at the inclusion of Barry.
Colin Glassar
95
Posted 11/12/2014 at 19:14:21
Spot on Brian, this is nothing more than a practice match.
Anyone agree with Roberto that after a EL game the following prem game should be played on a Monday? Sounds reasonable to me.
Ray Said
96
Posted 11/12/2014 at 19:13:58
i will be interested in how Kone shapes up. I have always thought Lukaku would prosper with a hard running striker capable of holding the ball up ahead of him so Lukaku can have more opportunity to be running towards the goal with the ball at his feet.
David Booth
97
Posted 11/12/2014 at 19:15:14
Whoah, what an interesting line-up:
Robles
Browning, Alcaraz, Barry, Garbutt
Oviedo, Ledson, Pienaar, Atsu
Kone, McAleny
SUBS: Dowell, Grant, Jones, Kenny, Long, Williams and Griffiths (G)
Brian Waring
98
Posted 11/12/2014 at 19:15:57
Get rid of Martinez! Get a grip Gary lad.
Brian Waring
99
Posted 11/12/2014 at 19:17:33
David, interesting is an under statement!
Colin Glassar
100
Posted 11/12/2014 at 19:17:17
Cretinez? Omg what a moron!!! Similar to the 'charlatan' idiot the other day. Go and crawl back to an field you plastic wum.
Graham Mockford
101
Posted 11/12/2014 at 19:16:17
Phil,
You do realise we are obliged by the rules of the competition to play tonight?
As the result of the game is meaningless, it does give us an opportunity to give a few players returning from injury such as Kone and Oviedo a competitive game. Also he can let a few of the kids get some first team experience.
Your missus is very insightful by the way.
Brian Waring
102
Posted 11/12/2014 at 19:19:39
The oldest average team the other day, wonder what it is for this team tonight?
Robert Workman
103
Posted 11/12/2014 at 19:17:02
I find it mildly ironic, Colin, that we have to play on a monday after a home game with nothing at stake. Whereas each of our away games was followed by another away game on the following sunday (v Utd was even an early kick off).
Graham Mockford
104
Posted 11/12/2014 at 19:20:03
Gary Carter #93
I completely agree with the first three words of your post.
Darren Hind
105
Posted 11/12/2014 at 19:14:05
and thats why I said "The - next - few - homes - games -would - Tell - us - a -lot Brian.
BTW we were'nt "through" against Hull, the game WAS important, the weather wasn't " shite " and money was tight last week too. . .wanna offer excus ..I mean reasons for that ?
Colin Glassar
106
Posted 11/12/2014 at 19:22:48
I suppose sky wouldn't be happy if we all played on a Monday Robert.
Brian Waring
107
Posted 11/12/2014 at 19:22:12
Robert its Monday because we're on sky live, and the Mancs against the shite is live on Sunday along with Spurs v Swansea.
Phil Walling
108
Posted 11/12/2014 at 19:22:31
That's as may be, Graham. But tonight is no more than a cynical abuse of the supporters goodwill. If you have money to waste on it, I haven't.....or were you planning to watch it on telly, anyway ?
Phil Walling
109
Posted 11/12/2014 at 19:27:20
Anyway, hats off to all who attend tonight, it looks wet and windy out there.
What WILL be interesting is whether tonight's side will follow the style laid down by St. Martin and embrace the principles of PAATB with a different goalie between the posts.
OPTA note books at the ready, class !
Dave Lynch
111
Posted 11/12/2014 at 19:30:47
Stuff all this footy talk.
Who won the sweep?
Gary Carter
112
Posted 11/12/2014 at 19:22:57
So Colin Glassar, because I have an opinion that isn't the same as yours im a wind up merchant, what a highly intellectual comment that is. I find Martinez to be something if a cretin, when someone continually calls losing and not playing well " phenomenal" I just can't bring myself to draw any other conclusion. His stubborn insistence on playing his brand of football that got wigan relegated and has been sussed out by other teams from probably around April this year is quite shocking really. I wanted him to do well, in his first season when our team still closed down, attacked and broke at teams incisively with pace and direction and didn't pass backwards and sideways until the opposition got their defensive shape he did.
Sadly he and his back room staff now have their footballing blueprint firmly embedded on our team. It is slow, lumbering, painful and almost completely ineffective in the premier league as just 4 wins in 14 games will testify too. Our excellent defence has been all but destroyed leaving solid defenders confidence in tatters. We leak goals like a sieve DESPITE having two very good holding midfielders and an above average keeper. He has not brought youth players through as he promised at the start of the season, I realise this may be due to them not being good enough but garbutt has looked good and browning has acquitted himself well.
He just seems to be in a world of his own where everything is, dare I say it, "phenomenal" ! For me he is a very poor mans Arsene Wenger and I think he lacks the discipline, steel and mean streak to take us anywhere
Brian Waring
113
Posted 11/12/2014 at 19:38:36
Your married Phil! your missus must be a trouper.
Andrew James
114
Posted 11/12/2014 at 19:30:15
I really like these pre-Xmas Europa league matches we have. Like 2007 and 2009...
In 2007 we sent out a comedy team with kids, Mad Dog and Jimmy Mac with lots out of position or looking like they'd never even met. It was an exciting (3-2?) victory against the current Man Utd manager's Alkmaar.
In 2009 we watched the kids play at Goodison (sadly all of whom don't seem to have made it bar Coleman who wasn't really a kid then anyway) marshalled by Tony Hibbert at centre half. We lost but it made for interesting watching.
It's a bit random, a bit crazy but we can rest key players, give some players some much needed experience and it is panto season after all!
The importance and value of doing this was summed up in pre-match ITV4 footage of one of the kids (Browning?) He looked extremely nervous. The next few hours will teach him lot.
Paul Andrews
115
Posted 11/12/2014 at 19:35:24
A dead game,Christmas coming,rain and gales forecast,a home game in a few days.
Anything around the 20,000 mark would be a good attendance.
Colin Glassar
116
Posted 11/12/2014 at 19:41:26
You see Garry, you can make a valid point without resorting to insulting, and childish, name calling.
I just hope to god that Roberto rams your comments down your throat this season, though I doubt you will ever accept him whatever he does.
Phil Walling
117
Posted 11/12/2014 at 19:41:55
Paul, all who attend conned out of hard earned cash for NO purpose whatsoever.
Armchair critics of my stance against supporter exploitation need not reply.
Colin Glassar
119
Posted 11/12/2014 at 19:49:11
Exploited of the world unite, Phil?
Paul Andrews
120
Posted 11/12/2014 at 19:49:00
Conned?
How so Phil?
Apologies if I am disturbing you at Goodison :-)

Darren Hind
121
Posted 11/12/2014 at 19:44:54
25, 000 would be good tonight considering the poor fayre we've been paying through the nose for ths season.
hope they 'll be rewarded with a decent performance
Graham Mockford
122
Posted 11/12/2014 at 19:43:48
Phil,
I'm in Senegal this week so the decision was made for me. You say it is a "cynical abuse of supporters goodwill".
Absolute tosh even by your standards. It is a dead rubber because we have done outstandingly well in the first five games. Yes read it and weep Phil, in the Europa Cup we have done really well which I know doesn't quite square with your anti-Martinez agenda. But the game has to be played
The club have done the right thing by reducing prices. It's £5 for kids tonight. The manager has done the right thing by not playing first team players.
But don't let the facts of the situation get in the way of your titty lipped ( my mother's phrase) negativity and continual sniping.
Andrew James
123
Posted 11/12/2014 at 19:43:55
@Gary
I get your frustration Gary but there are some puzzlingly positive aspects to this season. Everyone has been raving about West Ham. Their one recent defeat was to us. Another anomaly was that Spurs fans are agreed they played their best against us. We were screwed by the ref at City and should have definitely beaten Arsenal. While I agree we should be doing better, we look like we can get points anywhere. I certainly don't write off matches against the cash rich clubs anymore.
And to make it all the more puzzling, we've walked the Europa League thus far. In a group that was meant to be hard.
I'm not sure we have been sussed out. I think it's a case of several players out of form all over the pitch and at different stages in their returns from injury. If we can get Coleman, Baines, Mirallas, Barkley and McCarthy playing together for a few months (without injuries to Jags, Naismith or Lukaku), we will finish much higher than we currently are and go on some cup runs.
Phil Walling
124
Posted 11/12/2014 at 19:51:06
I suspect that many who oppose my stance against supporter exploitation - tonight IS a friendly, after all rarely pay to go to matches, anyway.
It doesn't make you any less of an Evertonian but don't encourage UEFA in their greed for gawd's sake.
Will Firstbrook
125
Posted 11/12/2014 at 19:54:10
From a basket of unhatched and broken eggs, I truly hope Oviedo is ready to step back into the first team on a regular basis. We could certainly benefit from a healthy dose of his pace and directness. Let's hope nothing else spontaneously blows apart during this match - casts gaze in Kone's direction...
Graham Mockford
126
Posted 11/12/2014 at 20:04:14
Phil
Are you suggesting that Euefa should change the rules of the competition and not play the game tonight?
I assume you are watching Masterchef and not bothering with the game?
Graham Mockford
127
Posted 11/12/2014 at 20:06:52
Oh and Phil I disagree with you and spent £2.5k on two season tickets this year.
Phil Walling
128
Posted 11/12/2014 at 20:07:36
....and I guess , Graham , that you are in your usual seat in the Main Stand !
Graham Mockford
129
Posted 11/12/2014 at 20:11:54
Read my posts Phil I'm working in Senegal. And my seats are in the Park End. Where are yours?
Phil Walling
130
Posted 11/12/2014 at 20:09:33
Just as predicted, Atsu fails his first real test. At least it gives one of our own a chance to shine.
Len Gowing
131
Posted 11/12/2014 at 22:27:27
Got up to 15,976 then people started leaving 15 minutes from the end so I lost count.... Should have stuck with Home Alone 2.
Ray Roche
132
Posted 11/12/2014 at 22:28:31
Darren@39.
There were just under 35,000 at the Hull City game and Hull brought a mini bus and a taxi so, with that in mind, not a bad turnout.
Patrick Murphy
133
Posted 11/12/2014 at 22:38:58
Around 25,000 turned up for a PL match at Villa Park recently so that also tells a story as does the fact that one of our least attractive games versus Stoke City is sold out albeit that it is a Boxing Day game which obviously helps.

---
Add Your Comments
In order to post a comment, you need to be logged in as a registered user of the site.
Or Sign up as a ToffeeWeb Member — it's free, takes just a few minutes and will allow you to post your comments on articles and Talking Points submissions across the site.
© ToffeeWeb