Krasnodar rain on young Blues' parade
Everton 0 - 1 FK Krasnodar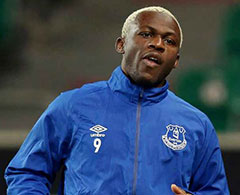 Arouna Kone started up front alongside Conor McAleny

Everton signed off from the group stage of this year's Europa League with a narrow defeat to Krasnodar at soggy Goodison Park but it was a night to remember for some of the club's young talent and, perhaps, the last milestone on the road to recovery for Arouna Kone and Bryan Oviedo.

Roberto Martinez handed a senior debut to 17 year-old Ryan Ledson for the dead rubber against the Russians and was prompted to introduce Kieran Dowell, also 17, when Christian Atsu pulled up with a hamstring injury after just 10 minutes.

Tyias Browning and Conor McAleny also made their first starts for the club in a line-up featuring Kone, Oviedo and Steven Pienaar, with Gareth Barry deployed at centre half alongside Antolin Alcaraz.

With the Russian league season over, Krasnodar fielded nine players from the two clubs' first meeting in October so it was always likely to be a tough assignment for a very youthful team.

The game's only goal was attributable more to errors by some of the more experienced members of the starting XI, however, with captain Pienaar failing to adequately track the run of Ricardo Laborde as he latched onto a ball knocked behind the home defence and Joel Robles exhibiting some mystifying goalkeeping.

The Spaniard initially forced the Colombian forward wide but then showed him too much of his goal, allowing Laborde to fire home from the angle.

Robles had earlier denied Wanderson, blocking a fierce shot from the other side of the goal with his face as the Russians pressed early on.

At the other end, where Luke Garbutt was again impressive raiding down the left flank from fullback, Andrei Sinitsyn in the Krasnodar goal made saves from Kone and Pienaar to preserve the visitors' lead going into half time.

Everton were more settled and purposeful in the second half, with Ledson growing into the contest and all of Garbutt, Pienaar and Oviedo providing some nice moments.

Kone, who looked sharp and fit throughout, went closest to equalising with an impressive turn and shot that the 'keeper parried behind and the Ivorian was unfortunate that a terrific surging run later in the half came to nothing.

Laborde would find his way through again but was foiled by Robles while more poor positional play by the Spanish 'keeper almost ended up with Marat Izmailov doubling Krasnodar's lead but he scuffed his shot wide.

Chris Long and Gethin Jones were sent on late for their first senior appearances but the Blues could not find a goal to put some gloss on an otherwise instructive night for the manager.

In the other Group H fixture, Wolfsburg ensured they will join Everton in Monday's draw with a 3-0 win in Lille who finish bottom of the pile with no wins.

The Toffees' potential opponents in the next phase are as follows: Anderlecht, Ajax, Roma, Villarreal, Torino, Celtic, PSV Eindhoven, Dnipro Dnipropetrovsk, Sevilla, Young Boys, Aalborg, Guingamp, Trabzonspor

Quotes sourced from ToffeeWeb Match Reports



Reader Comments (211)
Note: the following content is not moderated or vetted by the site owners at the time of submission. Comments are the responsibility of the poster. Disclaimer
Christopher Wallace
1
Posted 11/12/2014 at 19:32:57
Can see at least 6 goals in this game
Bill Gall
2
Posted 11/12/2014 at 19:37:24
Let's see what the future holds.
Robert Workman
3
Posted 11/12/2014 at 19:39:27
Am watching Salzburg destroy some Romanian team. Its only 4-1, but could easily be at least 7-2. Am glad that we cannot meet Salzburg in the next round.
Here is a link that explains it all very clearly:-
http://en.wikipedia.org/wiki/2014%E2%80%9315_UEFA_Europa_League#Knockout_phase

Ian Jones
4
Posted 11/12/2014 at 19:40:47
Looking forward to seeing how the younger players get on. And hope Atsu gets a chance in his favoured left sided position. I am a bit old school and think if you are good enough you can play anywhere within reason. I also think if Messi could use his right foot as well as his left, he could be some player :)
Harold Matthews
5
Posted 11/12/2014 at 19:45:40
Plenty of kids on the bench. Long, Kenny and Williams are tough enough.
Alexander Stockmair
6
Posted 11/12/2014 at 19:47:01
Robert, I hope that we meet Salzburg in the later knockout stages. They are a good team but they will lose Kampl and Ramalho in winter.
This would be so great because I'm from Austria and would only have to drive for 1 hour to visit the Red Bull stadium.
Mike Oates
10
Posted 11/12/2014 at 20:04:28
Thought Martinez was going to play 2 young diamonds.
Gavin McGarvey
17
Posted 11/12/2014 at 20:10:51
Looking forward to this. Be interesting to see how the young guns get on.

Andrew Keatley
18
Posted 11/12/2014 at 20:14:00
Blimey. Atsu. That's fucking typical. Off to Chelsea he goes then...
James Marshall
19
Posted 11/12/2014 at 20:14:10
Atsu hamstrung. Brilliant.
Ian Price
20
Posted 11/12/2014 at 20:15:15
Kone looking lively
Bill Gall
22
Posted 11/12/2014 at 20:16:54
Well I guess that is the last we will see of Atsu -pulled hamstring and when he gets fit the African cup.
See the tippy tappy football trying to play from the goalkeeper is ingrained right through the club.

Gavin McGarvey
23
Posted 11/12/2014 at 20:21:17
Disappointing to see Atsu going off. You can't help but wonder if it's going to happen for him at Everton.
Jamie Yates
24
Posted 11/12/2014 at 20:22:59
Howard wouldn't have stopped that near post effort, well played Joel. Props also to Garbutt for clearing the first man more than once with corners. Disappointed not to see my namesake James Yates involved.
*And that lad Dowell was born in October 1997. I give up.
Jamie Yates
25
Posted 11/12/2014 at 20:24:51
And our physio's gonna run out of them nose plug things soon if he's not careful!
Kone's looking sharp, love to see him notch tonight. COYB!
Mark Tanton
27
Posted 11/12/2014 at 20:30:08
Couple of young uns looking sharp but not chance of displacing any of the underperforming stalwarts I predict.
Ian Price
28
Posted 11/12/2014 at 20:30:16
I know it's only 25 mins gone but I've seen more action and great touches from our new centre forward tonight than all season.
Ernie Baywood
29
Posted 11/12/2014 at 20:30:19
Quite enjoying watching this performer. Krasnodar showed they're no mugs in the first game but so far our kids and squad players are doing well.
Ernie Baywood
30
Posted 11/12/2014 at 20:35:25
Spoke a bit soon there.
James Marshall
31
Posted 11/12/2014 at 20:14:46
Robles really is shit.
Joey Brown
32
Posted 11/12/2014 at 20:36:16
Robles really is terrible
Michael Penley
33
Posted 11/12/2014 at 20:33:32
Uh oh. Looks like we're stuck with Howard for the next few years then.
Christopher Kelly
34
Posted 11/12/2014 at 20:36:21
2 things we've learned so far.
Astu needs to be sent back immediately.
Robles needs a new team
...More later
Phil Walling
35
Posted 11/12/2014 at 20:36:19
Excellent keeping as expected. A new goalie is a must in January - this guy is a clown!
John Zapa
36
Posted 11/12/2014 at 20:34:43
Who was saying what about Howard and the near post? Robles was very poor coming out at their striker and a very poor attempt to save at the near post. He belongs in the Championship at best.
Greg Mckerracher
37
Posted 11/12/2014 at 20:33:18
I'm sorry - but Joel Robles us absolute shit. He didn't even save that near post effort, it smacked him square in the face. Dowell, Garbutt and Browning are all going to make it. Class.
Michael Upton
38
Posted 11/12/2014 at 20:36:39
Oh dear, being beaten at your near post really is poor.
Still, plenty of energy and promise in the overall performance.
Mike Oates
39
Posted 11/12/2014 at 20:36:59
Wish the " regulars" would give up all this crap about Ledson, McAleny, Browning, Robles being given a first team chance etc etc , there is only Garbutt any where near the level required.
Clive Lewis
40
Posted 11/12/2014 at 20:37:49
Robles , well I am embarrased by our goalkeeper.
Tony J Williams
41
Posted 11/12/2014 at 20:38:26
Two corners from Garbutt and probably produced more than Baines all season.
Mo Guindi
42
Posted 11/12/2014 at 20:41:26
Conclusion - at this stage - Garbutt to replace Baines v QPR

James Marshall
43
Posted 11/12/2014 at 20:41:04
The big difference with these young players is their lack of positional sense and organisation off the ball.
When the oppo have it, they're all over the place. Alcaraz, Pienaar and Barry are the only ones holding this together at times.
Franny Jeffers!
Len Gowing
44
Posted 11/12/2014 at 20:38:53
Sat in the family enclosure with Krasnador fans behind me. I've decided to count the crowd. Will keep u updated.
Ant Summers
45
Posted 11/12/2014 at 20:43:43
Yes did not look good from Joel, were was the cover on the run,,BARRY and PIENAAR standing sill on 3rd Man running, they have to be critisized.
Mike Oates
46
Posted 11/12/2014 at 20:43:24
Bit harsh in my last comments, in reality the lads are only 17-18 but they are a few years away from 1st team place
Jamie Yates
48
Posted 11/12/2014 at 20:41:09
Piebutt is the left-wing combo they'll be talking about for generations.
Alex Taylor
50
Posted 11/12/2014 at 20:49:38
Garbutt and Kone are the only two anywhere close to a first team slot tonight.
Chris James
51
Posted 11/12/2014 at 20:48:39
Not so unhappy with the performance so far, result is irrelevant and the team hasn't played together before vs a top 4 Russian side (currently).
We could easily be ahead and probably should have stopped that goal, Robles was pretty poor for that.
Actually, I've realised I'm really enjoying watching the team and seeing some new prospects. The football's not brilliant, but it feels more direct at times than the tippy, tappy stuff we're all starting to get a bit fed up with.
Been very impressed with Kone so far, played the lone role really well with power and an actual first touch (are you watching Romelu?!)
Garbutt also looking good and Alcaraz, Pienaar and Barry showing class when needed (as you'd expect).

Jamie Yates
52
Posted 11/12/2014 at 20:52:59
I agree Chris, some good 'heads-up' stuff going forward, if lacking the final ball and a bit haphazard in terms of organisation when they've got it. Lots of promise especially considering the chucked together nature of the side, an early substitution and them playing a stronger first team. Bring on the 2nd half, great experience for these young boys.
Ray Said
53
Posted 11/12/2014 at 20:52:46
Lets pray that Howard does not get a bad injury. We would be in the relegation shit if we had to play Robles-he is really poor.
Paul Andrews
54
Posted 11/12/2014 at 20:55:22
Great centre forward hold up play from Kone.
This lad will make a lot of people eat their words as he gets fitter.
Michael Upton
55
Posted 11/12/2014 at 20:51:01
Mike Oates well done for revising your comments, I was going to pick you up for writing the youngsters off after half an hour.
Don't forget most young players make their debuts in a scratch side, they do it in ones and twos.
And remember they're playing against experienced players.
So far if I was Martinez I'd be looking at the faulty offside trap and ing Joel for
Garbutt, Kone and Peanuts the best performers thus far...
Michael Penley
56
Posted 11/12/2014 at 20:48:47
I'm loving our enthusiasm and directness. It's exactly what the first team is lacking. If only we could inject some of that liveliness there, or some of their experience into this team. Lukaku might like to learn from Kone how not to look like he's running in molasses.
Phill Thompson
57
Posted 11/12/2014 at 20:53:48
Jamie Yates, careful what you wish for re having a namesake playing - having a footballing namesake ain't all it's cracked up to be :-(
Kieran Riding
58
Posted 11/12/2014 at 20:56:54
Hope he proves me wrong, but McAleny ain't got 'it'.
Atsu pulling a hammy, couldn't make that up could you.
Mike Oates
59
Posted 11/12/2014 at 20:57:20
Michael Upton- I was only trying to point out that there a many on this site who think the kids are ready , can come in and replace the established lads and they aren't ready as yet
Kevin Rowlands
61
Posted 11/12/2014 at 20:56:36
Even though were losing I'm enjoying watching the young lads, Garbutt is quality, Oviedo and Kone also looking good, Barry can definitely play center half if needed, on the minus side, please let the Ruddy rumors be true, I'm not Howards biggest fan but if he gets injured we really are in the shit.
Kev Thomas
62
Posted 11/12/2014 at 20:57:20
I think that this is probably the final straw with Atsu, and he'll probably be at Sunderland come January. It's a shame as I was excited by his arrival.
Also, and I hope this isn't libellous, but re the Spurs game: wasnt floodlight failure reported as being part of one of the many Far East spread-betting wheezes?
Sue Brown
63
Posted 11/12/2014 at 20:49:09
So..half time confirmation Robles is crap, but good to see that someone in a blue shirt can take a decent corner
Brian Hennessy
64
Posted 11/12/2014 at 20:53:48
1st half summary
1. We need to buy a keeper quick, Robles is pure shite
2. Kone looked very, very good. Sharp and held the ball up brilliantly.
3. Garbutt is a million times better at taking corners than any Everton player in last 10 years.
4. We have some good youngsters that could be excellent in a couple of years.
5. Oviedo baby is back....
Dave Duggan
65
Posted 11/12/2014 at 21:00:41
Decent at times. This would have been the perfect opportunity to try baines in the centre IMO because I think we defiantly need to see garbutt given an extended run at lb, he looks very good.
Ledson is comfortable in possession and defiantly has a future as does dowell by the sounds of it. Mcaleny looks rusty. Browning seems to be the jags clone, not great in possession but can defiantly defend and has a fair bit of pace.
Kone has been good he has better control than I thought. Oviedo is 100% not a centre mid! Would be better off switching him and Pienaar I think.
Joel was fucking terrible there though! I've been one saying he should be in over Howard lately because of his constant mistakes but fuck me that was awful from Joel!
Charles McCann
66
Posted 11/12/2014 at 21:01:58
Enjoying this match but for me Pienaar very disappointing. Badly at fault for not tracking the run that led to there goal. Kone and alcaraz looking good.
Charles Brewer
67
Posted 11/12/2014 at 21:01:34
Kevin, I'm enjoying this enormously. Garbutt paired with Pienaar has some of the best of Baines / Pienaar partnership which we haven't seen much this year, Kone looks more of a footballer than Lukaku.
Sadly, Robles should have done a Schmeichel "take the fucking lot out" and bottled an easy save.
Len Gowing
68
Posted 11/12/2014 at 21:01:57
3,343. I was sat in front of the tele with a glass of wine watching home alone 2 at 7 o'clock this evening. I know where I'd rather be at the moment.
Harvey Miller
69
Posted 11/12/2014 at 20:16:45
Joel made a massive blunder. He don't have a future anywhere.
Otherwise, the second team is doing at least as well as the first team did in Krasnodar.
Christopher Kelly
70
Posted 11/12/2014 at 21:04:21
The play is still too slow for my liking. Obviously a tactical thing throughout our academy. Remember kids and pros's, if you don't have the fucking ball, don't stand there looking at the ball, move, get open, and open up for it.
Kobe is slow as molasses but could be helpful. Also needs to work on some moves. He has zero trickery
Bill Gall
71
Posted 11/12/2014 at 21:01:04
Not sure what other people think but Barry looks comfortable alongside Alcaratz.
Was not expecting a great performance tonight but with the conditions, overall the young players are doing ok.
Mike Oates
72
Posted 11/12/2014 at 21:07:56
Just to clarify very early comments , Henen and Galloway not in squad as you need to be at Academy for 2 years before you're eligible to play in European Comp - Liverpool Echo
Kevin Rowlands
74
Posted 11/12/2014 at 21:09:31
Chris #70, it's the lads first game in 15 months after a horrible injury, cut him some slack FFS, he's putting in a shift and will definitely be helpful the rest of the season.
Chris James
75
Posted 11/12/2014 at 21:11:21
Kone does look bloody good you know.
Mike Jones
76
Posted 11/12/2014 at 21:10:13
To use a Roberto word. Garbutt's dead ball delivery is phenomenal.
Chris James
77
Posted 11/12/2014 at 21:12:52
Contrary to other Chris, I think Kone's looking super sharp considering. He's not going to be a pace merchant, but I don't think that's what we need. We need someone to hold up the ball bringing in other players and have a pop at goal, both of which he's done very well.

Charles Brewer
78
Posted 11/12/2014 at 21:13:46
Kone is looking very decent. Let's hope this is setting up some real competition in then first team

Chris James
80
Posted 11/12/2014 at 21:14:44
I don't think the kids are playing that badly either, just no-one really exceptional apart from Garbutt who looks a genuine asset and can (as has been said) deliver a decent dead ball.
Mark Frere
81
Posted 11/12/2014 at 21:05:39
Garbutt = class.
Chris James
82
Posted 11/12/2014 at 21:18:56
It's just not quite working for McAleney at the moment, looks a bit like a sub-Barkley currently.

Starting to think how Garbutt can get in the first team though, even if just for the corners and crosses.

James Marshall
83
Posted 11/12/2014 at 20:50:21
The boy Garbutt certainly knows how to cross the ball.
Charles Brewer
84
Posted 11/12/2014 at 21:20:36
Ledson looks good too

James Marshall
85
Posted 11/12/2014 at 21:21:15
Say what you like about Kone, he pretty much always hits the target.
Charles Brewer
86
Posted 11/12/2014 at 21:22:08
The trouble is we need a lunatic like Andy Gray or Dunc to make the most of Garbutt's stuff. Someone who will gamble on the cross being good enough

Chris James
87
Posted 11/12/2014 at 21:25:59
Good move. Dowell just a bit too slow.
Is it just me or is movement a bit wooden...
Christopher Kelly
88
Posted 11/12/2014 at 21:24:27
Kevin Rowlands it's not his first game. Check your stats, mate.
Kone/Kobe whatever lol.
Garbutt with another good corner
Tony Hill
89
Posted 11/12/2014 at 21:22:33
I don't care about the result. A very useful exercise confirming the quality of Kone if he stays fit, the considerable promise of Ledson and Dowell and, above all, the emergence of Garbutt who looks a proper player and, just maybe, a seriously good one. I'm afraid I agree that McAleny looks a touch short.
Chris James
91
Posted 11/12/2014 at 21:28:08
Totally agree with Tony here. I think the boys deserve an equaliser though, be even better for their confidence.
Charles Brewer
92
Posted 11/12/2014 at 21:27:02
Garbutt = No 1 choice?

Chris James
93
Posted 11/12/2014 at 21:29:26
I'd really like to see Garbutt in the senior side. He's just naturally more direct and looking for the early ball which is what we often desperately need.
Talking of desperate, how much does Kone want a goal?
Colin Glassar
94
Posted 11/12/2014 at 21:31:22
Kone is class.
Len Gowing
95
Posted 11/12/2014 at 21:15:27
Krasnador fans in fine voice. 10,427.
Christopher Kelly
96
Posted 11/12/2014 at 21:32:11
Which class Colin? Our class?
Charles Brewer
97
Posted 11/12/2014 at 21:31:23
Kone there had the same problem we've seen all season. Someone gets a decent advanced position and no-one is with them. That's Naismith's big strength
Chris James
98
Posted 11/12/2014 at 21:31:10
I know he's a youngster and he's probably trying too hard to impress, but McAleny is frustrating to watch. He has all of the poor decision making of Barkley without quite as much talent sadly.
Gavin McGarvey
99
Posted 11/12/2014 at 21:30:14
Good match for Garbutt. He's certainly pressing his place for inclusion in the first team. Kone too, if he can come through this, will be a good option to have.
Ian Price
100
Posted 11/12/2014 at 21:29:11
Great young prospect in Garbutt,
Chris James
101
Posted 11/12/2014 at 21:33:05
I think it's fair to say that Arona is match fit now anyway. He's been all over the bloody pitch.
James Marshall
102
Posted 11/12/2014 at 21:32:44
Len, is that official or your count?
Christopher Kelly
103
Posted 11/12/2014 at 21:33:15
I hope Kone is helpful down the line. By January he should be performing.
Where does he fit though? Replacing Lukaku??
Umm... what did I just see out of Robles? Like a U-14 game... Wow!
Chris James
104
Posted 11/12/2014 at 21:34:25
Bloody hell, where the feck was Robles again. He looks like a 5-aside player being asked to go in nets at times.
Charles Brewer
105
Posted 11/12/2014 at 21:34:38
I'm watching in Milan, and I think there are about 20 pixels in total on my VPN, I no longer have any idea who is doing what!
Matt Parks
106
Posted 11/12/2014 at 21:37:03
Link anyone? I lost mine

Brian Garside
107
Posted 11/12/2014 at 21:32:57
My link just died! Anyone?
Chris James
108
Posted 11/12/2014 at 21:37:15
Come on lads, let's get a goal, you deserve something.
Guy Hastings
109
Posted 11/12/2014 at 21:35:18
Have to feel sorry for Robles, all over the place for the goal and near post save ends up with him getting a bloody nose because the ball goes through his raised forearms. But I love him because tonight he plays for us.
James Morgan
110
Posted 11/12/2014 at 21:39:53
Tyias Browning looks like Will Smith in his Fresh Prince days.
Christopher Kelly
112
Posted 11/12/2014 at 21:44:05
Kevin Rowland's has gone quiet
Chris James
113
Posted 11/12/2014 at 21:51:23
We've played pretty well this half. Shame about the result, does this effect our UEFA coefficient?
Charles Brewer
114
Posted 11/12/2014 at 21:52:39
With a half decent goalkeeper, this was 0-0
Karl Jones
115
Posted 11/12/2014 at 21:53:58
Really poor performance... Hardly an effort on goal against a team who aren't very good... So disappointing.
Brian Waring
116
Posted 11/12/2014 at 21:55:50
Yeah, really shit from all those young lads, Martinez out!!!
James Marshall
117
Posted 11/12/2014 at 21:56:48
Karl, I'm not sure what game you were watching but I was impressed second half. Well played from the young lads and the senior players coming back from injury. Result means nothing. Good stuff all round.
Ian Hams
118
Posted 11/12/2014 at 21:56:21
I thought most of the kids did well, Kone looked good too, Pienaar has lost his legs though and I don't think will ever be back to his best, very sad.
Mark Frere
119
Posted 11/12/2014 at 21:58:14
Tongue in cheek perhaps, James?
Bill Gall
120
Posted 11/12/2014 at 21:56:30
Most probably there will be critizism of individual players but under poor conditions and, yes, there were positives and negatives I think the majority of players out there did quite well.
Mike Oates
121
Posted 11/12/2014 at 21:57:43
Plus points: Kone looks as though he's coming back to his Wigan form, which if anyone remembers was good. Garbutt is clearly the most advanced "youngster" and could fill in for Baines anytime.
Minus points: Robles is a walking disaster zone

The rest of the youngsters aren't anywhere near ready, Ledson looks confident but wants to kick every bugger, Dowell didn't show enough, McAleny again confident but doesn't pick his head up for the easier ball.
Christopher Kelly
122
Posted 11/12/2014 at 21:58:13
I'm not impressed with the tactics – just like the first team. No movement or creativity. At least we know where they're getting it from.
Garbutt looks the business, Kone will be helpful and push Lukaku and be a different option.
No world beaters anywhere on the horizon.
Jay Harris
123
Posted 11/12/2014 at 21:07:54
I ask myself was it worth losing our unbeaten record in the EL.
On balance probably yes baecause it gave us the chance to see what the kids are like in a live game as opposed to Finch Farm.
Thought Pienaar, Garbutt and Kone were outstanding.
Barry was fairly good in the back 4.
Disappointed with Oviedo and Browning who seems to have lost his confidence.
Special mention for Robles who I thought was Krasnodars best attacker. Will somebody please give him a video of "Neville Southall's goalkeeping basics". Or preferably transfer him to Chester.
Having said all that we didn't trouble their keeper all night.
Hope we're prepared for Monday Robbie!!!!
William Tone
124
Posted 11/12/2014 at 21:58:53
Garbutt very impressive again, Browning also very good. Kone looks almost all the way back, Oviedo still some distance. Barry showed that he can play cb in a pinch, is probably a better option than Alcaraz, who was awful again. McAleny not good enough, probably a Championship player.
Robles a complete disaster. No wonder Timmy looks so complacent: it would be suicidal for Bobby to sit him. We need to bring in someone to compete for that job.
McAleny nowhere near ready for the senior squad. He was much improved in the second half, but his first half was just terrible. Pienaar showed flashes of his former self, but I think he's just about finished. Overall, not nearly the "celebration" I was hoping for.
Brian Waring
125
Posted 11/12/2014 at 22:02:53
Baines left back, Garbutt left – mid.
Steve Jenkins
126
Posted 11/12/2014 at 21:56:22
Tonight's performance was what it looked like, youngsters thrown in with fringe first team players lacking match time and sharpness.
All in all, a good and well worth exercise.
Robles – the less said – not up to standard, full stop.
Most impressive and clearly ready for the step up out of the youngsters are Garbutt and Ledson.
McAleny has pace and showed some nice touches, I think he offers something different, Browning was good, has pace and defends well played well second half but was not as impressive as previously.
Dowell who's rated highly – he showed nice touches but is clearly too soon for the step up, he looked like a boy against men who needs to grow and get his man strength. A season or so too early to judge him.
Kone was the first team player who was the most encouraging – and that's with a year and first senior back game.
Jamie Crowley
127
Posted 11/12/2014 at 22:00:01
Karl I hope you're kidding. I thought our kids played well. No complaints from me.
What we really need to be concerned about after this game is the condition of Tim Greeley's gastrointestinal tract.
Dave Lynch
128
Posted 11/12/2014 at 22:03:55
A few things stood out for me tonight.
Robles is a shit keeper.
Pienaar is finished as a footballer.
Martinez's pointless, passive, passing at the back is permeating throughout the whole club.
Other than that, the youngsters did us proud.
Peter Morris
129
Posted 11/12/2014 at 22:06:01
Good to see Kone and Oviedo moving well and lasting the albeit pedestrian pace. And, even after such an enforced absence, he still holds the ball up and takes a long pass better than Lukaku!

Jim Bennings
130
Posted 11/12/2014 at 22:05:31
Steve
I must have been watching a different McAleny, he was lightweight and frankly I'd say that was McFadden he would have been destroyed for hogging the ball too long. He will end up at somewhere like Blackburn or Bolton, another Vellios.
Kone was quite impressive, looks like being a good sub at least.
And I predict Garbutt will take over from Baines within the next two years..
Milos Milenkovic
131
Posted 11/12/2014 at 22:07:39
So, one from:
Ajax, Roma, Anderleht, Villareal, Sevilla, Torino, Celtic, PSV, Dnipro, Young Boys, AaB, Guingamp, Trabzonspor.
Nice :)
Gerry Quinn
132
Posted 11/12/2014 at 22:09:58
That's a bit hard on Chester, Jay Harris #123
Kunal Desai
133
Posted 11/12/2014 at 22:09:40
Kone did well tonight, got in a fair few shots on goal. Garbutt was excellent going forward. Him and Coleman combined – 𧽌k. Absolute priceless.
One thing tonight has shown is that Pienaar should be one of two or three leaving the club in the summer, if not in January. He's simply not good enough.
Mark Frere
134
Posted 11/12/2014 at 22:11:13
Just hope we avoid Sevilla, Villarreal and Roma.
Mike Corcoran
135
Posted 11/12/2014 at 22:13:02
Villarreal... that would do my crust in.
Colin Glassar
136
Posted 11/12/2014 at 22:07:51
Dave, you're missing Ossie. Wasn't he terrible tonight?
Poor first half, a lot better second. Remember Browning and McAleny playing out of position. Oviedo, Pienaar, Kone, Alcaraz all coming back after injury. Lots of green kids. I thought we did better than expected.
Kevin Rowlands
137
Posted 11/12/2014 at 22:03:47
CK, it is his first first-team game in 15 months. Anyway, I hate us losing but I actually enjoyed the game. Kone, Oviedo getting 90 minutes is so good to see, both coming off awful injuries and I thought they both did well and will be an asset for the rest of the season.
As for the youngsters, Garbutt, Ledson and Browning are going to be big time players, for me McAleny is not good enough at this level (he's older than Lukaku) as for the others time will tell, anyway Monday night I'll be a lot more stressed than I was tonight.
Jay Harris
138
Posted 11/12/2014 at 22:12:50
Youre probably right, Gerry.
Fred Karno's Circus would be more appropriate.
Kunal Desai
139
Posted 11/12/2014 at 22:13:27
I think tonight also highlights we should be looking at potentially two new keepers.
Mark Frere
140
Posted 11/12/2014 at 22:13:58
I just hope we get Garbutt signed up on a long contract... I think his current deal runs out in the summer and he will be a free agent.
Mike Allison
141
Posted 11/12/2014 at 22:12:56
I must have watched a different Pienaar to some of you. I can't wait to have him back on the left with Baines, although Garbutt will be pushing for left back because he can ACTUALLY TAKE A CORNER!
McAleny was like the kid on the playground who wants to show how good he is but actually just needs to pass it much quicker.
Our entire club philosophy seems to be to dither and dally on the ball until closed down. You're supposed to move it much, much quicker than we do.
Mike Childs
142
Posted 11/12/2014 at 22:02:28
Because of his age and never seeing him before I was most impressed by Ledson. Confidence on the ball, not afraid to press defensively.
Kone, Oviedo and Garbutt deserve starts and bench positions for the rest of the season.
Christopher Kelly
143
Posted 11/12/2014 at 22:10:16
I have to say I'm very disappointed yet again with the vision of the club. If we have "no money" to compete, then fine, develop some youngsters. Have three Rooneys in there barreling down the backs of our first team. Instead we have Garbutt. That's it, really. No-one else stood out in my eyes. No-one that'll push any first teamers.
It's so simple. Develop the best youth academy with cutting edge training methods. find the best scouts. Send those great scouts and have them go to Africa, Eastern Europe, Latin America wherever. Get those kids in from a young age and build that way if you "don't have money".
There is absolutely no excuse for it after all of these years. I have no idea where this team is headed.
Kieran Riding
144
Posted 11/12/2014 at 22:18:10
I thought we never looked like scoring to be honest. Obviously our first team sticks 5 past them if needed, but the hard work was already done in this group.
Celtic please in the next round. The Scottish Kopites are shite and Naisy scoring the winner would be priceless.
William Tone
145
Posted 11/12/2014 at 22:16:41
I should have said Ledson is nowhere near ready. In the second half, he was calmer, made safe passes but at least completed them. First half, he looked every bit the terrified 17-year-old. Hopefully down the road he can develop into a decent pivote, but that's a long way away.
Christopher Kelly
146
Posted 11/12/2014 at 22:21:08
Mike Allison, Pienaar is done.
What have we won with him? What has he contributed towards that? Why do some people want these old hacks to stick around? They're not getting better.
Eddie Dunn
147
Posted 11/12/2014 at 22:11:28
Garbutt is a better corner-taker than Baines.
Pienaar is not fit.
Oviedo is not fit.
Kone has a nice all round game.
Negatives –
Robles.
Losing our unbeaten record.
Tactics - Kone all alone... Browning out of position... McAleny out of position (due to Atsu).
I even noticed a patch of tap it round amongst the back four until a loose pass gave them a clear chance. If we tonk QPR on Monday, then I suppose we will all forget this experiment.
Phil Walling
148
Posted 11/12/2014 at 22:12:35
The kids did ok considering but I can't see anyone other than Garbutt likely to 'graduate' any time soon.
Barry was impressive at centre half – more to come?
The Martinez style now in evidence throughout the club is a big minus as it means we are slow and predictable and will leave these kids of little use to any club. If this is the future, gawd help us!
Patrick Murphy
149
Posted 11/12/2014 at 22:19:53
Personally I would play Kone and Lukaku up front together; Kone can hold the ball up better than Lukaku but Romelu is quicker than Kone. It could make us a little more potent up front – but whether it suits Roberto's methods is open to debate.
Garbutt is ready to help the first team, Oviedo is still some way off the pace and Pienaar is still useful but not for a whole game. The kids did alright but as many have said none of them look like making it at the very top level – but at least they have had a go in what was a pretty competitive match which shows how good it was for us to top that particular group.
Now it's back to the bread and butter of the PL and if the first-team players show the same enthusiasm and willingness to work as many of the lads did tonight, we should be OK – I hope.

Declan Martin
150
Posted 11/12/2014 at 22:20:09
Any lessons learned? Any consolations?
Garbutt – looks okay;
Oviedo – okay, but played out of position;
Kone – Transfer window and Championship beckons;
McAleny – Hmmmm! Another McGeady?
Barry – next centre back. Plays there next 5 years;
Keeper – libel laws prevent me from commenting.
Liam Wilson
151
Posted 11/12/2014 at 22:26:13
Kieran Riding
There are more Celtic supporters, who are clandestine Toffees, than you would think. I know many, many who hate the Shite.
"Grand Old Team"... origins of this song?
Kieran Riding
152
Posted 11/12/2014 at 22:28:58
Declan, McAleny... "Another Jose Baxter" would be more accurate, me thinks ?
Brendan Fox
153
Posted 11/12/2014 at 21:50:05
Some good performances by one or two of the young players but not quite the composure Garbutt especially. McAleny was full of energy but seemed to run down a lot of blind alleys and kept hold of the ball for too long.
Ledson has a great range of passing and good positional sense and can see in the next season or two him forming a good partnership with McCarthy. Browning is deffo not a right back but will have a bright future as a centre back pairing with Stones.
Nice to see Kone & Oviedo get a good run out, those two will be important squad players for the rest of the season.
One thing for sure: Robles is not good enough even as a back up to Howard so need to get a new keeper in possibly on loan in January and shot of Robles.
Steve Jenkins
154
Posted 11/12/2014 at 22:22:49
Jim,
He has pace and offers us something different – in that he's small and nippy and could play off a big man. We don't have this type of player upfront in our squad.
I know the point you're making, ultimately you need more than one game to be certain (he too is coming back from an injury I believe) we need to see more of him at this level, whether we do is anybody's guess.
Srdjan Sekulic
155
Posted 11/12/2014 at 22:28:12
Aside from Spaniards, I'd take any team.
Kieran Riding
156
Posted 11/12/2014 at 22:30:11
Liam, I had a half-and-half bobble hat as a lad btw...

Liam Wilson
157
Posted 11/12/2014 at 22:34:13
Kieran ...and so did I....
Blue/green.
Still have it.
Jamie Crowley
158
Posted 11/12/2014 at 22:31:47
I'm with Liam. And I don't want to play Celtic at all. Like having to punch a family member in my world... You know, the sibling who isn't as big or strong? It's just wrong to level him.
And we'd level Celtic and I'd be happy for progressing but don't want to oust the team that wears hoops. Let someone else do it please God.
Gavin Johnson
159
Posted 11/12/2014 at 22:28:36
I thought Garbutt had a fantastic game, as did Kone and Oviedo coming back after both being out for so long. It might have been an idea to play Baines tonight in the Philip Lahm role that was muted in the summer, because Baines shouldn't hold a divine right for the left back spot any more.
Garbutt should play against QPR based on Baines form of late. You never know, we might even score a goal from a corner from this kid's deliveries. It made me think back to the days of Andy Hinchcliffe.
Jay Harris
160
Posted 11/12/2014 at 22:30:55
Mike, I totally agree re Pienaar.
I thought he pushed Garbutt for MotM.
He was involved in most of our productive play and helped the defense out much more than Mirallas or McGeady would have.
Jim Bennings
161
Posted 11/12/2014 at 22:32:47
Steve
Kone is that man with pace and "nippy"
McAleny just looks too waif-like and I can now see why, since that debut at Arsenal three years ago, he hasn't been on the bench.
I don't think we learned a great deal about tonight other than only Garbutt and maybe, just maybe, Browning could knock on the first team door; none of the others are either physically or technically ready and probably won't be for at least 12-18 months.
Robles is crap, Pienaar sadly his best days are gone, and the probably we won't see Christian Atsu play in an Everton shirt again, if his hamstring has gone and I think it had then your looking at a few weeks, which he will then go to the African Cup and most certainly back to The Bridge so they can loan him out again.
Atsu's injury was probably more disappointing than the defeat tonight, a real opportunity for him to show something, instead it just kind of summed up his Everton career so far.
Mark McGuinness
162
Posted 11/12/2014 at 22:44:50
Now Kone is fit, does anybody know if he will travel with Ivory Coast for the Cup of Nations?
Declan Martin
163
Posted 11/12/2014 at 22:41:55
Gavin – agree with you. Time to get more from Baines. The old left wing axis with Pienaar sadly a thing of the past. Give Garbutt a run and move Baines up to wing back?
Gavin Johnson
164
Posted 11/12/2014 at 22:38:22
Just to add, I also thought Ledson was composed and could play that Gibson role with his range of passing.
I wasn't impressed with McAleny at at. It might be a tad harsh to judge him on one game, but some of his decision making was awful. I can think of two or three occasions where he could have played a simple ball out wide to Garbutt, and one to Kone in the first half but opted to run down a blind alley. Hope we sell him in January for a nominal fee with a decent sell-on if he comes good like Forshaw.
Hope we draw Celtic.
Steve Jenkins
165
Posted 11/12/2014 at 22:41:39
Jim,
I mainly agree with most you say, except I'd like to have another look at McAleny, but with Kone back and rightly in front of him, that's unlikely to happen.
Browning I think will come through and Ledson I don't is 18 months away, more likely (6 months) start of next season, that's not to say regular starter but first team squad member.
I feel if we were short now – he could step and up and do a job.
Robles, Atsu and Pienaar – fully agree.
Ernie Baywood
166
Posted 11/12/2014 at 22:41:40
I'm struggling with some of the criticism above... why exactly would we expect players with no first team experience to be ready to challenge experienced players for places?
There is a point at which they are no longer learning from playing youth/reserve football. You give them first team football because it benefits them, not because they're ready to walk into the team. If any of these players are ready to challenge now then we've massively neglected their development by not giving them a few tastes over the last couple of years.
Garbutt, to me, is the one who is absolutely ready for first team football. He needs to either get first team minutes or go on loan.
The rest, are fine in the reserves for now. Didn't think they did anything wrong but they've got a way to go. Give them the odd bench run in the first team to keep them keen.
Steve Lindley
167
Posted 11/12/2014 at 22:54:53
I was impressed with the Blues 2nd team today. We put out a team that was split three ways. Recovering injured players, new youth and a couple of pros to hold the mold. Very impressive display.
God forbid we ever have a Munich 58 disaster like Man Utd, our back-up team is impressive enough to compete in EPL. Good footballers are not just bought... but nurtured on home turf. Koodos to the EFC youth academy on tonight's display.
Kevin Rowlands
168
Posted 11/12/2014 at 22:51:42
Actually thought Pienaar was good tonight, I really hope this Baines/Lahm supposed experiment is true, Garbutt is good enough to be our regular LB, Kone is going to make some people eat humble pie on here BTW.
Gavin Johnson
169
Posted 11/12/2014 at 23:01:39
Declan, It's not working with the back four at the moment. I agree with you that we need to look at different formations. We were unlucky not to get a draw at Man City and I think that had a lot to do with how we set ourselves up playing a 3-5-2.
I think that teams have worked out that a lot attacking play comes through Coleman and Baines playing high up top. So they're getting extra attention this season. Because of this over reliance on them we've also been left stretched at the back whenever Distin/Alcaraz play. (Hopefully Stones will be back soon.)
So yes, I think we need to start playing with wing backs more or add some creativity to centre midfield, so I'd have also liked to have seen Baines play in the centre midfield in a dead rubber fixture.
Eric Holland
170
Posted 11/12/2014 at 23:04:59
I thought Garbutt and Ledson had good games, great range of passing and work rate from Ledson, Garbutt should be giving Bainesy some crossing and corner-taking tips.
Barry Stevens
171
Posted 11/12/2014 at 22:29:41
Robles – I know Howard has been shaky but there is no way he can be replaced by this guy. Thought it before and think it even more now. One of the worst keepers I've seen grace Goodison.
Barnett – Not a right back. Would like to see how he plays at centre half. Looks composed and strong but poor going forwards.
Garbutt – Very impressed. Looks the player that Dick Brady said he was in his much maligned scout reports a while back. A little naïve defending at times but will get better with experience. And his dead balls... Class!
Barry – Played well enough though I'd only like to see him at the back in an emergency.
Alcaraz – Some people praising him tonight. Sorry, I just don't see it. Slow, cumbersome, way too casual with the ball for my liking.
Ledson – Unfair criticism by some on here tonight. This boy is just only 17. Showed composure, good positional sense and a willingness to receive the ball. Likes to get stuck in as well. He will be a player.
Pienaar – Wasn't great, wasn't shite either. Sub for us now at best.
McAleny – Seemed like he was trying to hard. Has got ability no doubt about it,and could maybe have a role as an impact sub. Unfortunately down in the pecking order,and at 22 should probably move on and carve a career somewhere else.
Atsu – Started brightly,then got injured. Just don't think it's gonna happen for him at Everton.
Dowell – Like the look of this kid. Some nice touches and vision when on the ball. Only slight was not involved for long periods. Again only 17 and with good coaching and attitude could become a gem.
Kone – Looked like the player that tore Heitinga a new one at Goodison. Hope it's not a false dawn.
Long – Not on for much but showed some good movement. Get him out on loan to a Championship club and see how he gets on.
Steve Lindley
172
Posted 11/12/2014 at 23:14:24
Player ratings: Simple Analysis.
Robles: One real shot at him.. fucked up & has to go.
Browning (90' Jones): Smart player. Has potential.. not a bad game.
Alcaraz: Seems to be getting back into the groove after long absence.
Barry: Great playmaker but still fucks up in the D.
Garbutt: Unsung hero, great game and a Leighton's prodigy
Ledson: Impressive.. just needs more game time
Oviedo: An excellent return after horrific injury... Watch and see this boy excel soon.
Pienaar: He actually enjoyed the game being team captain. Waiting for his confidence boost.
Atsu (10' Dowell): This guy is done... get him off the payroll asap.
McAleny (80' Long): Brilliant... another Ross Barkley.
Kone: Always had doubts about him but not after today... true potential striker.
Mark Frere
173
Posted 11/12/2014 at 23:13:10
I think Pienaar's best days are behind him but the people on here who are saying Pienaar is finished on the basis of tonight's performance is absurd. He was one of the best players tonight and still has plenty to offer for this season at least.
Barry Stevens
174
Posted 11/12/2014 at 23:16:49
Forgot about Oviedo baby. Not his usual high impact self but who cares. Just great to see him back.
Jamie Barlow
175
Posted 11/12/2014 at 23:21:25
I agree Mark and I hope he starts against QPR.
Steve Jenkins
176
Posted 11/12/2014 at 23:19:02
146 I have to agree with this, these players for me are deadwood that need moving on for new blood.
Whilst here they should be fringe players and used sparingly – Ossie, Hibbo, Pienaar etc.
They've giving us good service but were not good enough to get us where we wanted to be previously, we have won or achieved nothing with them and clearly they aren't good enough to take us onto the next level.
Being that we want to move on to the next level, I can't see why some want these players to stay, they're past it and getting worse as well.
Head scratcher.
Ben Jones
177
Posted 11/12/2014 at 23:28:23
I thought the most promising thing is Kone and Garbutt. Kone was brilliant in holding the ball up, played direct and had a couple of good chances. He faded in the second half but he will be a good option.
Garbutt's set pieces were fantastic, and he made some good runs. Defensively he was sound too.
Browning looked very solid, always made the right choices and when he physically imposes himself more in games, I can see him being a decent half.
Ledson worked hard and looked more comfortable as the game wore on,
Barry played well, and although Alcaraz made a few howler passes in the first half, he defended well.
I love how positionally aware Oviedo is, but he got mackerel in the second half, but he'll get there.
Good work out, only negatives is the loss, Robles's performance, Atsu's injury and the cold!!!
Brian Wilkinson
178
Posted 12/12/2014 at 00:16:27
Been saying it on here for months, our top target has to be a goal keeper, if Howard gets crocked were done for.
James Stewart
179
Posted 12/12/2014 at 00:33:01
I don't think our two worse keepers than Howard and Robles in the league. Atrocious by Joel. How is he even a professional?!
Garbutt is excellent and deserves a go in the first team. Time for Baines to try a midfield role to get them both in.
Clive Lewis
180
Posted 12/12/2014 at 00:29:41
Pleased with the young lads especially 2nd half. I thought Ledson and Garbutt stood out. Good to see Kone and Oviedo back.
Robles was an embarrassment, he even saved the ball with his nose on one occasion. Seems to not have the basics of goalkeeping sorted.
Andy Crooks
181
Posted 12/12/2014 at 00:25:02
Kevin # 168, good post. I have had a fair helping of humble on this site over the years. Thoroughly deserved too. But, I have always rated tonight's striker, sorry this kindle makes his actual name unrecognizable, and I believe if he keeps fit he will be a revelation.
Also, who would have thought we would be lamenting the loss of Naismith. I always liked and rated him, I thought the criticism of him after his injury was absurd. However, much as I admire him, I think his reputation has improved with injury.
Colin Malone
182
Posted 12/12/2014 at 00:11:24
How can you determine a view on one game? Ledson's positional game was very good, you cannot see that on TV. I was impressed with him.
McAleny had to go wide when Astu went off. Oviedo played on the right for some unknown reason, maybe a fitness run as with Barry.
Well done Roberto for giving the young lads the opportunity, ginger nut would not have done the same. Well done the young lads.
Eric Myles
183
Posted 12/12/2014 at 00:53:42
I hope those that were calling for Robles to replace Howard now understand why that is not a good idea.
Eric Myles
184
Posted 12/12/2014 at 00:58:38
Barry #171, the frightening thing is that Martinez has said Robles WILL take over the keeper's jersey from Howard!
Christopher Kelly
185
Posted 12/12/2014 at 01:00:02
176, I couldn't agree more.
No-one is asking for a perfected article while these guys are 17-22 years old. I just wish some (Garbutt aside) would show glimpses of excitement! Glimpses of what we saw out of Deulofeu, glimpses of Ross last year, Rodwell when he was good etc...
But just as a general rule, if you haven't won a thing at 34 years old like most of our players of that age, well then it's time to move on because it's not going to happen with them. Simple really isn't it?? Not for everyone I guess...
Bill Gall
186
Posted 12/12/2014 at 01:17:17
Steve #176
The reason that Everton have these so-called deadwood fringe players is that Everton do not have the finances to make overall transformation of the squad and have to try and build through a youth policy and use whatever transfer monies are available, for quality.
I believe most supporters would be delighted if we could replace the older deadwood players as you call them but, with BK despite working 24/7 (cough-cough) to find a consortium or a buyer with money to spend, we have to go with what we have and hope some of the younger players can force their way into the team.
We do not want to return to the policy of selling our best young players to pay off bank loans or please the smug Sky Pundits.
Harold Matthews
187
Posted 12/12/2014 at 01:24:20
Garbutt takes magnificent corners but what's the use if we don't have anyone with the determination of Carroll and Terry to head them in.
Matthew Svatos
188
Posted 12/12/2014 at 01:42:32
I believe that if Barkley or Osman started that game in the middle, we could have gotten a result. There was no creative player in the team bar Pienaar, and his games are numbered as it is.
The amount of quality running and movement from the kids was great and if they had a decent pass to run on to we could have gotten a couple. Stand out performers for me were Kone and Garbutt, with Oviedo and Ledson putting in very good shifts as well. I hope they all play a part on Monday.
Will Firstbrook
189
Posted 12/12/2014 at 03:11:12
You are right there, Harold. However, I am encouraged to see Kone willing to get his head onto a few tonight. Here's hoping it rubs off on Lukaku.
Eric Myles
190
Posted 12/12/2014 at 04:45:51
Bill #186, we have never gotten away from that policy.
Tom R Owen
191
Posted 12/12/2014 at 05:59:12
I've said it before on TW. We should never have brought Pienaar back. Complete waste of time and a fairly unpleasant character off the field. Ship him out in January and have Robles carry his luggage.
Lee Gorre
192
Posted 12/12/2014 at 07:05:19
Unimpressed. Regardless of whatever team is put out, we didn't really "have a go" tonight or show any intensity in the game, just letting Krasnodar knock it around with little pressure and there was little momentum going forward. A typical Martinez approach for this season yet again.
Injury time – a free kick and an opportunity to pile the box and force a chance, but we put three on the edge of their box, no-one challenging the second ball, and it was cleared – and that sums this team irrespective of who is playing up at that moment.
Robles – does any one watch him pre-match and at half-time in the PL games? He never practices basic keeping pre-match when there is shooting practice, he just lets everyone score, Half-time and he has a kick about with the goalie coach. If it were me I'd be diving everywhere to show what I can do, but then again judging from what he does when he has an opportunity, it is obvious to see that he can do little.
Ian Jones
193
Posted 12/12/2014 at 07:34:08
I would like to see McAleny be given a chance on a more regular basis but at 22, for the benefit of his own career, he may have to go as I don't think he will be offered much of a chance this year.
Ian Bennett
195
Posted 12/12/2014 at 07:36:48
Robles – new keeper please. Not what we were looking for, no matter how much game time he has had. That was a goal worthy of FIFA or park footy.
Browning – did okay, bit unfair on the lad if he is a centre half.
Alcaraz – did okay, good to have him back.
Barry – missed him in midfield given the experience.
Garbutt – very positive, he looks a class act in the making.
Ledson – grew into the match, good positioning.
Oviedo – good to have him back, and goes ahead of Pienaar in pecking order for me.
Pienaar – leg strapped, but looks well off the pace. Gone at Xmas?
Atsu – took one player, and the did his hamstring. Back at The Bridge come January 1.
McAleny – bright, you'd imagine he will make a football career elsewhere given his age.
Kone – I was very pleased with his comeback. Get him on the bench over Christmas.
Jon Withey
196
Posted 12/12/2014 at 07:31:21
Enjoyed the match and we improved as it went on – even Robles. We lost to an average team but we matched them well enough with a second string.
Garbutt was excellent and really whips in those crosses. I was impressed by Ledson too and can see him as a Premier League player in a year or two.
Browning is an imposing lad and I don't think he did much wrong but he must be a centre-back.
Dowell isn't there yet but he did show a bit of vision and he'll definitely improve.
It didn't really happen for McAleny but surely he should be on loan for game time – he's not going to get past Naismith, Eto'o, Lukaku and Kone for now.
Alcaraz, Oviedo, Kone and Pienaar all look fine for the first team.
Final word for Kone, who looked mobile and impressive – let's hope he stays fit.
Phil Roberts
197
Posted 12/12/2014 at 08:39:20
Colin Malone #182
Any opportunity for a snide comment heh?
http://ToffeeWeb.com/season/09-10/reports/BATEBorisov(h).asp
Or is your narrow mindedness affecting your memory.
Michael Polley
198
Posted 12/12/2014 at 08:49:46
Dosn't matter about the result. Good run out for the youngsters. Impressed with Gabutt – he can cross a good ball. Oveido looked like it was returning to a good fitness level. Kone looked sharp on occasions, although some fatigue set in during the 2nd half.
Robles – say no more. What a disaster area!!!!
Steve Jenkins
200
Posted 12/12/2014 at 09:11:53
Christopher 185
Agreed.
Bill 186
I understand the restrictions and agree with building youth policy. The point I'm making is that there is better quality players out there than what we have as fringe players that can be found at good market value.
Clubs like Swansea, Stoke, Southampton all seem to find them. Yet we tend to stick with these fringe players.
Besic would one good example of where we have found a gem for excellent market value of ٢M – yet it is infrequent.
Martinez spent a large part of the summer transfer fee on one player, hopefully this season he will be able to spread it around more and strengthen the squad.
I agree we don't want to be selling our best players off.

Steve Jenkins
201
Posted 12/12/2014 at 09:31:33
Bit surprised we didn't see Green, Galloway or Henen at all last night considering how highly they are supposed to be rated.
Anyone know anything – does Martinez feel they are not ready yet, can he only play so many youngsters at once without upsetting the balance and or are any of them carrying an injury etc.
Ray Roche
202
Posted 12/12/2014 at 09:39:19
It should be remembered that McAleny missed half of the 2013-14 season with a broken leg, as well as a ligament injury, so his progress has been somewhat slower than it might have been. If you can recall it, Osman had a similar problem as did Barkley. Younger players injured for a length of time WILL be a bit behind their counterparts in their development.
I thought he did quite well last night and, also, I can't believe some of the ridiculous comments on here saying Pienaar was crap. Pienaar can bring out the best in players like Baines and Garbutt, dovetailing with them and allowing them to get down the wing. Garbutt was excellent, Ledson got better as the game progressed.
A useful exercise in a dead rubber of a game.
James Joseph
203
Posted 12/12/2014 at 10:20:35
Steve (201), As someone else stated earlier in this thread, neither Galloway or Henen were eligible under the Uefa rule that states that academy players have to be registered for two years before they can play in a European competition. Green's been out with a back injury since early season – I don't think he's played since.
Tom R Owen
204
Posted 12/12/2014 at 11:28:12
Steve 201
Henen tweeted he and Galloway were not eligible and we're off to London?! Can't shed anymore light!
Joe Bibb
205
Posted 12/12/2014 at 11:29:38
Pienaar went to Spurs, they got shut, only fools like us wanted him.
Look at his goals record for EFC, then look at his assists and maybe then realise he does nothing for us.
Time to move him on while he still has a good name.
Ben Jones
206
Posted 12/12/2014 at 11:34:47
Steve, I completely disagree.
The RS did exactly what you said and look at where they are now. They should have addressed Suarez leaving but they didn't, and bought rubbish just to put up numbers in the squad.
We addressed the lack of striking option and bought Lukaku. It's a different argument whether he's worth the money but, in my opinion, we look more of a threat with him in the side, we addressed the striking problem.
Now looking at this summer, I'd say the problem is the centre half and the left wing position. If Roberto spends big on those two positions and keeps the bulk of the squad then I'd be a happy Blue.
Patrick Murphy
207
Posted 12/12/2014 at 11:45:31
Tom, it had something to do with Uefa rules, apparently young players have to have spent at least 2 years at the club's academy to be eligible, or something like that anyways.
Colin Malone
208
Posted 12/12/2014 at 12:20:28
Phil Roberts 197.
What snide remark? if you mean, you cannot see things on TV. That's fact, The camera follows the ball.
Ledson's positional play was very good and you don't see that on TV. If you thought I was having a go, I apoligise.
Mike Allison
209
Posted 12/12/2014 at 12:56:15
Patrick, that would make sense. We have to register 25 players for the group stage. Players under 21 don't need to be registered, so can play anyway. This must not be true if they are players under 21 who you bought from someone else. Hence all our academy products would be automatically eligible without needing to be on the 25 man list, but Henen and Galloway weren't as we've only recently brought them in from other clubs.
Tony J Williams
210
Posted 12/12/2014 at 13:29:02
Colin, I think Phil was referring to
"Well done Roberto for giving the young lads the opportunity, ginger nut would not have done the same. Well done the young lads."
He then added a link to the 2009 Bate game, where Moyes did the exact same thing as Bobby....5 years before Bobby did it!
Thomas Surgenor
211
Posted 12/12/2014 at 13:26:58
Football manager gets a lot of stick on the net. But one thing it is good for is learning the competition rules.
Everton can register up to 25 players to be eligible for the competition. Within that 25 man squad, 8 must be must be trained from within the English league system and of those 8, 4 must be trained by the club.
Club-trained players are defined as players who, regardless of their place of birth, have been registered between the ages of 15 and 21 with their current club for a period of three entire seasons or 36 months.
Steve Jenkins
212
Posted 12/12/2014 at 13:34:46
Tom
Cheers.
Ben
You answer your own point here - they bought rubbish and overpaid for it.
You can spend big or small - its whether the manager knows what he's doing in the market.
There are players to found at great value - Besic is the perfect example of this as are Coleman, Garbutt etc you don't have to spend big.
At the same time if a real quality player becomes available that wants to come Everton - please... Bobby, go for it!
However, at no point did I say we should buy rubbish just to add to the squad, what I said was there are better players out there than the fringe old players we have and are keeping at value prices that we could replace them with - and other clubs manage to find them.
I agree and didn't and don't have a problem with RM spending large on one player last season - I agree as well that he overpaid for RL but see Lukaku long-term as an integral put of the side.
Last season we spent roughly 㿏m?
The point I was looking to make was its unlikely this season Bob will spend that large on any one player (㿈M) - he could buy 3/5 quality signings with if he has a similar budget this season.
James Newcombe
213
Posted 12/12/2014 at 14:02:38
I think McAleny should get a bit more game-time, off the bench. There's a useful player in there.... And don't forget he's missed a lot of development time with injuries.
Maybe one day we'll produce a good striker through the academy who doesn't have injury issues (still think Vaughan would have been top class)
Tom R Owen
214
Posted 12/12/2014 at 14:13:44
Patrick 207
Thank you, Makes more sense now.
Richard Reeves
215
Posted 12/12/2014 at 14:06:17
I thought all the youngsters did well, particularly Garbutt, Ledson and Browning. Even with so little experience Garbutt has got to be up there with the best set piece deliverers in the league and his link up play was also very good.
Ledson is well beyond his years,for someone so young he had a bit of authority about him and has a bit of bite (nastiness) which is good for that holding midfield role. I don't think he'd look out of place in a league game now, that's how much I rate him.
All the speculation at the moment is on Barkley but this lad will have the clubs with money chasing his signature in a few years, I've no doubt about that.

Browning has always impressed me when he's played at right back and after last nights performance I would choose him over Hibert every day but it's as a central defender (his natural position) that I would like to see how he copes. When Coleman is fully fit and we lose a central defender through injury I would like to see Browning given a chance if only to speed up the process of having Browning and Stones as a partnership. And if Galloway is as good as people say we could have a quality young defence for years to come.

All in all it was good viewing for me,the only negative was Robles's mistake and it would of been nice if Browning had been given more applause from the crowd when substituted as he put in yet another first class display.
Colin Malone
216
Posted 12/12/2014 at 15:24:41
Tony 210.
Thanks Tony.
Eric Myles
217
Posted 12/12/2014 at 15:29:33
Joe #205, if there was no Pienaar who would Baines have played the 1-2s with that made our left side such a feared attacking force all those years under Moyes?
Eric Myles
218
Posted 12/12/2014 at 15:39:01
Ben #206, being threatening and actually carrying through with the threat are 2 different things.
Surely addressing the striking problem is getting a striker that scores goals, not a striker that threatens to score but fails? We could have got Balotelli for 10 mill cheaper if that's what we wanted.
Colin Malone
219
Posted 12/12/2014 at 15:47:37
Under Martinez, Ruddy and Mustafi and Ruddy would still be here.
Brent Stephens
220
Posted 12/12/2014 at 16:18:02
Pleased before the game that Roberto was to give so many younger lads a game. And pleased with / after the game. No points needed so I'm not arsed about a loss.
More important was that the experienced players played well (except Robles). Kone's control is excellent. Barry back to his normal assured display. Pienaar looked good. Oviedo getting back into it.
And some good experience for the young lads. Garbutt - say no more. Ledson, for 17 looked steady enough. McAleny is my only concern.
So what's not to like.
Gavin Johnson
221
Posted 12/12/2014 at 16:47:04
Speaking of the disaster zone otherwise known as Joel Robles, there's an interesting story in today's Independent that statistically concludes Tim Howard is the worst goalkeeper in the EPL.
Now I've always rated our Tim as the best goalkeeper outside the 'top 4' and have held the belief that goalkeepers get remembered for their errors and an otherwise excellent performance in a game can be forgotten. So I've always given Tim a bit of slack, but this story is enough for me to conclude it's time for an immediate change between the sticks.
The errors are getting more and more. Added to that, from the top of my head, his save-to-shot ratio is the poorest at something like 37.1%, which gives credence to what Martinez was saying the other week about the opposition getting one chance and scoring.
Also, after seeing yet again how inept Robles is, even at the basics (not covering the near post enough on the goal last night), I'm starting to think that we really do need to get a quality keeper in fast, along with centre half and a winger to replace Atsu.
Peter Jones
222
Posted 12/12/2014 at 17:20:25
Pienaar is one of the best Everton players I have ever seen never mind over the last 10 years. He is reaching the veteran stage so it may be more difficult for him to maintain the standards he has shown. It is also true that Moyes got the best out of him, unlike Martinez, but the age thing may have something to do with it. We should nurture him until Martinez manages to replace him. Whether he can is a big question mark over his managerial ability.
Jay Harris
223
Posted 12/12/2014 at 17:44:10
Gavin
Tim Howard has always been a flapper but is also one of the best shotstoppers around.
I don't think he is as good as he was but he is certainly good enough for the Prem.
The problem with the statistics is they reflect on the keeper when the team selection and tactics as well as individual defensive mistakes all contribute to this.
Gavin Johnson
224
Posted 12/12/2014 at 17:55:13
Jay, I hear what you saying. I know statistics aren't black and white, and with them, you get players like Joe Allen hailed as a prolific passer when he makes short useless passes in the centre of the field. So I know the statistics can be manipulated to elevate or denigrate a player.
I don't think I've jumped on the bandwagon for Howard to be ousted because I've always appreciated him in excelling at shot stopping. I've been placing the blame with the liability Distin has become, but that said, Howard has become more error prone this season, and as you said, not as good as he used to be. The statistics in that Independent article have just swayed me into believing we now need a good keeper in January (either a direct replacement or someone to challenge Howard more than Robles) rather than waiting until in the summer.
Mike Powell
225
Posted 12/12/2014 at 18:41:49
The kids did okay... nothing special, only Garbut will make it out off the lot off them. I'm very impressed with him. Now I hope people will stop harping on about getting them in the side against Premier League teams... they would be out off their depth.
Howard must stay in the team because Robles is useless. Great to see Kone back and looking strong and eager; we are going to need him over the Christmas period.
Darren Hind
226
Posted 12/12/2014 at 18:37:05
"Kone will make a lot of people eat humble pie"
How exactly is he going to manage that? He's cost us about seven million quid thus far.
I think Kone himself would settle for staying healthy enough to start to making a meaningful contribution.
Ian Jones
227
Posted 12/12/2014 at 18:37:11
In defence of Tim Howard and not having seen the article in
The Independent
, the way some of the players in front have been playing wouldn't necessarily help his cause. But it would be great to have a keeper who can command the penalty box more. But that costs money.
On yesterday's goal: whilst criticism of Robles is probably fair, it was pointed out several times by the pundits (far too much perhaps..) that Pienaar didn't help in the build up to the goal as he was pointing to Garbutt to keep an eye on the wide man instead of moving inside to mark/track the runner, the one that Pienaar let run through to score. You have to assume, if Garbutt had moved inside, the goal may not have happened.
Anyway, quite a good performance from the young ones. I agree with earlier comments about trying to give McAleny a game and that, at his age, I thought perhaps for his own benefit and career, if he wasn't likely to be getting many games, he should move on. I forgot about the injuries he had; at 22 he has years ahead of him to prove his worth.
Mike Childs
228
Posted 12/12/2014 at 20:28:10
Howard sucks; he has sucked for the last 3 years. He's been lucky that both Moyes and RM haven't put him under any pressure by hiring competition for his spot. Then again, the reason neither has challenged TH is BK's cheapness and satisfaction – that bottom line is in his favor.
More and more, I see why the lifelong Evertonians feel about BK.
Terry McLavey
229
Posted 14/12/2014 at 13:33:14
Again watching Robles through my fingers, has he put his first name on his shirt so we won't recognised him?
What was that dance move masquerading as a save for their goal? Wouldn't have looked out of place in the West End! Maybe that's where BK found him!
Who was that dreadful injury-prone goalie we had that fell out of his loft at home and hurt his shoulder, and landed on the A board when jumping in the goalmouth during a warm up and went off injured?!
Barry Thompson
230
Posted 14/12/2014 at 14:45:36
Richard Wrong
Terry McLavey
231
Posted 14/12/2014 at 15:43:17
Thanks, Barry! Now I can sleep – just like Mr Wright did during our games!!
---
Add Your Comments
In order to post a comment, you need to be logged in as a registered user of the site.
Or Sign up as a ToffeeWeb Member — it's free, takes just a few minutes and will allow you to post your comments on articles and Talking Points submissions across the site.
© ToffeeWeb