Naismith calls for patience over Barkley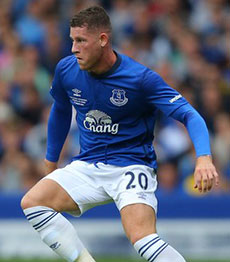 Steven Naismith says that Ross Barkley should be given the time and room to develop without the burden of expectation that usually gets put on the nation's young stars.
The 21 year-old made the headlines again with his impressive goal and all-round performance against QPR on Monday night, reawakening talk of him being England's next great hope.
While many believe that national team manager Roy Hodgson ignored the Wavertree-born starlet when England needed his precocious talents at the World Cup in Brazil, Naismith feels there is danger on the other side of the spectrum where too much expectation could be damaging.
"It's the normal kind of British mentality where he is expected to be a world beater as soon as he comes in," Naismith says. "Young players are going to be hot and cold for many years. It's not until they hit their mid-20s they will be very consistent.
"It's always going to be difficult for him. He is a terrific talent and he's got a lot going for him, but he's got a lot to learn and after the World Cup there was a lot of expectation.
"Ross has suffered from a bit of that. He's got all the talent in the world but he's got a lot to learn and you just have to give him time to learn.
"He will make mistakes and he will maybe come on in games and be effective or he will come on and lose the ball. He needs to learn the times when he does go forward and do his bit and the times to keep it simple. But that will come with experience.
"I think in the coming years if we are patient with him he will be a terrific player for Everton and England."
Quotes sourced from ESPN FC
Reader Comments (24)
Note: the following content is not moderated or vetted by the site owners at the time of submission. Comments are the responsibility of the poster. Disclaimer
Paul Andrews
2
Posted 17/12/2014 at 06:31:36
We should look to build a team around Barkley, Besic, McCarthy playing in midfield. Add Stones, Coleman, Lukaku and you have the base of a young side developing together. A side that would excel in Roberto's philosophy, with the addition of a centre half comfortable on the ball who could step into midfield and get us on the front foot quicker the system works.
Nothing wrong with the system, you just need the right players. We should leave Roberto alone to develop a team. In the short term, using the current squad, 4-3-3 built around the 3 midfield players above. Lukaku,and any two from Eto'o, Kone, Naismith or Mirallas in a front 3
Peter Warren
3
Posted 17/12/2014 at 07:37:01
We need to beat Southampton. We haven't had a good win yet and that win would shorten the gap and mean we can start looking to catch teams above. We would have a good chance with no Europa league to worry about and lots of games coming up.
Lose and it's going to be pretty boring in the league with just cup competitions to look forward to.
Christopher Kelly
4
Posted 17/12/2014 at 07:45:16
Why can't people give this kid a break. NONE if our mid/thirty year olds have even 1% chance of being a world beater like, Ross. Sure he makes mistakes but live with it! The boy needs to learn and needs support.
He will be the Boss soon!
Len Hawkins
5
Posted 17/12/2014 at 07:47:03
Well Saints got beat by Sheff Utd last night so confidence should be low. If the REAL Everton turn up there is no reason why a win is beyond the realms of possibility.
Patrick Murphy
6
Posted 17/12/2014 at 08:13:12
In a similar vein to Barkley, people should also give a little patience to Lukaku - a piece in today's Echo reports that Lukaku doesn't see himself as a target man and he feels that his natural game is when he gets the ball facing the opponents goal. That's not to say that the lad isn't trying to improve himself at those things that don't come naturally. It does beg the question as to why Roberto thinks that Romelu can play a central strikers role - when the Chelsea manager obviously didn't believe that he could.
Improving players is an important element for a club like Everton - but can it be done in the white-heat of the Premier League?
My personal opinion is that if the manager has a rigid system that he won't move away from then he can only purchase players who can fit into that system.
For example if Luaku loses confidence in his natural ability by trying to improve other aspects of his game - he will become unhappy and how long will he tolerate that before he decides to move on.
Asking young players that have come through the ranks to do things they are not comfortable with is not such a gamble, paying 㿈m for a player and then asking him to do something he finds difficulty in doing is a massive gamble.

Brian Harrison
7
Posted 17/12/2014 at 08:37:16
Maybe Naismith should direct his comments to RM as he has come out and said that Ross can be the best England player and Lukaku could be the best centre forward in the World. So its not the press or fans putting the pressure on the players its our own manager.
Ajay Gopal
8
Posted 17/12/2014 at 09:09:50
Our 1st choice team in a couple of years:
New GK
Coleman Browning Stones Garbutt
McCarthy Besic
Barkley
Deulofeu Lukaku Mirallas
I can guarantee someone will get an 8-0 drubbing!
Ray Roche
9
Posted 17/12/2014 at 09:46:46
Patrick Murphy @6
Patrick, Lukaku saying that is almost a plea to get Martinez to set the team up to play TO his strengths and see him for what he is. A striker who can run at defences and score goals. If Ferguson is coaching him he should be able to see that. We had years of balls hoofed up to Ferguson in the hope that he could flick them on to...er...nobody,actually. Hit and hope.
Lukaku would be great in a different team.
Michael Penley
10
Posted 17/12/2014 at 09:54:34
If Lukaku thinks he's at his best running at the goal with the ball why doesn't he get in front of Naismith when the ball is lobbed from the back? Naisy almost always gets his head onto it and the ball goes on to no one. It happens 5 or 6 times every time Naismith plays.
Ray Roche
11
Posted 17/12/2014 at 10:00:30
Good point Michael, and if Nais could direct the ball with unerring accuracy every time it would be feasible . But it's back to hit and hope. I'd prefer an accurate through ball, on the deck, or at least to Lukaku's feet, to give him more of a chance. A bit like we saw last season.
If Martinez is going to persist with his " philosophy " and play out from the back, as opposed to passing along the back line until we're closed down and then hoof it up front, he needs to get the right sort of players to play that system. And play through the middle of the team, along the floor.
Dave Pritchard
12
Posted 17/12/2014 at 11:00:00
Ajay, it could be us. Fantasy footy time looking ahead a few years but nothing wrong with a bit of fantasy.
Jim Bennings
13
Posted 17/12/2014 at 10:56:59
Has anyone maybe thought to themselves that a lot of our players would actually prefer to play a different style than Martinez persists with?
Maybe the slow build up and seemingly endless passing at the back doesn't suit but more frustrate the likes of Lukaku, who is a player that comes to life when running direct at goal, as we saw against Wolfsburg and the goal he got against West Ham and Hull too were the result of quick incisive play, all this frustrating going backwards from a free-kick in the opponents half must be maddening at times no matter what level of football your plying your trade at.
Andrew Ellams
14
Posted 17/12/2014 at 11:04:36
Why is everybody so convonced Deulofeu is coming back?
Trevor Lynes
15
Posted 17/12/2014 at 11:27:04
Galloway is much better than Browning, IMO. Galloway has pace and Browning does not! Pace cannot be coached, you either have it or don't. Galloway was the only under 21 side defender who performed decently against Sunderland and it was painful seeing both Browning and Gethin Jones getting run ragged by Whatmore of Sunderland in the first half.
It was only after Whatmore went off injured that Browning settled down. Both of these players lack the pace required and that is a must have in today's game in the Premier League.
The big plus for Garbutt is his pace and fearlessness. This lad will be a success unless he gets injured. Browning is another Duffy who also lacked the pace to play at the very top.
Some older players compensate their slowing down by experience and positional sense.But if a youngster lacks pace he will not make the grade in todays game.
Iain Love
16
Posted 17/12/2014 at 11:51:54
I'd like to see a period of injury free football where the likes of Barclay Besic Mcarthy Lukaku etc get a run of games together, these are young lads playing at the highest level and are not the finished article.
Everyone fit I feel we are only short of a left sided attacker similar to Miralles. Of course the addition of some world beaters would be nice.
Phill Thompson
17
Posted 17/12/2014 at 12:20:12
The most dangerous time in football is what Rugby call "turnover ball" - when a team is attacking , even if not too far up the field, lose the ball and the opposition score because the defense is not set up. Think of the number of goals scored like that against us this season.Then compare it with the few times we have managed that. All the players are now used to a quick short passing game, that's fine but theres a time to go back/sideways and a time to go quickly forward. The "20 odd passes and score" goals are great but two of our goals the other night came from quick passing after we'd recovered the ball.
Richard Reeves
19
Posted 17/12/2014 at 12:33:48
Ajay (#08)
That's how I see it but with the exception of Deulofeu, only because he isn't here at the moment but I would love to see him return permanently. We've also got Galloway who looks like he could be as good as Stones. So that centre back role could be very healthy with Browning, Stones and Galloway battling for the position and I can see the option of a back three with all of them playing if required.

I would like to see McCarthy and Besic given time together now and hopefully they could nail down that position with Ledson getting some game time as well so that in a few years like the centre back position we could have three top players battling for that position.

I know it's all speculation but with a good right back to cover for Coleman, Oviedo to cover for Garbutt once Baines has hung up his boots and a new goalkeeper we could have our whole defence and defensive midfield set up for a long time to come.
Dave Pritchard
20
Posted 17/12/2014 at 13:36:51
Andrew (14) I'm not convonced Delofeu is coming back. Definitely had more influence last season than Atsu has this season so I would probably have him back in January. Only a loan as I'm not convonced that he is as good as some make out.
Jay Harris
21
Posted 17/12/2014 at 16:04:33
It is frustrating for me to have such talent but see the team selection so unbalanced.
I know we all have our own opinions but we have the best two wingers in the prem in Coleman and Baines so I don't understand why he keeps picking any four of Lukaku, Eto, Naismith, Barkley McGeady Mirallas, Ossie which leaves our MF lightweight and forwards all running into each other.
I would play a 4-4-2 with a MF four of McCarthy Besic Barkley Barry(Or Baines and play Garbutt LB).
and a front two out of Lukaku Naismith and Mirallas depending on what game it is.
That would make us less porous and have more players available for the back 4 to pass to and Leave Baines and Coleman to overlap.
Phill Thompson
22
Posted 17/12/2014 at 16:53:23
I would love to see a 433 format , with Barkley driving out of midfield covered by 2 Defensive MFs and a front 3 interchanging ,not two wingers and big guy in the middle. I have been puzzled by Roberto's choice of strikers like Romalu and the never-to be forgotten Traore. I would have thought he would like his 9s to be highly mobile ballplayers , hence moving Anichebe and Jelavich on . Nessie, Eto'o and to a certain extent Kone fit that mould. Particularly if it is the Barca format he favours, with their current front 3 of two highly mobile goalscoring ballplayers, with the third there to provide extra bite.
Peter Morris
23
Posted 17/12/2014 at 20:23:54
since Ross's injury and subsequent indifferent form, he has largely been free of the press hype that accompanied him last season. However, following on from his goal and overall performance on Monday, the hype has returned with the previous vigour across all of the national press. If he maintains this momentum against Southampton this weekend, we will see the return of the stories about him 'inevitably needing to move to fulfil his potential' to one of the usual list of clubs. I for one do not share a view often expressed here that we should cash in on Barkley. He is one of us, and if we are to hold true to being a 'club' rather than some sort of trading company, then our home grown players should be nurtured for the long term success on the field for Everton. I felt the same about Rooney. It was a tragedy that we lost him, and we are repeatedly told that was then, and this is now, and Everton are no longer a selling club. Making a turn on players the likes of Lukaku is different. He came to us as an overseas player seeking to optimise a career and we are just a stepping stone to him and others like him. I get that, and don't resent it, but I for one hope Ross develops steadily and progressively to become a real legend to Everton by achieving all of his career goals at his home CLUB.
Mike Childs
24
Posted 17/12/2014 at 22:54:45
Peter #23 I love you're thinking but remember one thing BK is in charge not RM. That's the only explanation for why the highest salary players start the minute they've at 60%. Who hasn't he sold who showed a glimmer of potential?
Peter Morris
25
Posted 18/12/2014 at 09:44:55
Mike(24), Fair point,
but as we are supposed to be in a much stronger financial position now than at any time under BK's ownership, I for one will turn on him big style if he engineers a sale of Ross or any of our other young home grown players. I had sympathy for him at the time when he let Rooney go because I genuinely think his hand was forced by the banks. The world is full of people who have to sell their assets because they don't have the funds to carry on, but supposedly no more!
Joe Edwards
26
Posted 18/12/2014 at 13:35:00
Barkley is an amazing talent and a level Headed lad to boot, but some of the comments I heard from some arseholes in the top balcony when he gave the ball away were nothing short of disgraceful. He is still very much a raw talent and I agree 100% with Naisey saying we shouldn'texpect consistency until he's in his mid twenties.
Enjoy the spectacular and praise the incredible things he does and quit moaning about his mistakes as they are the only way the lad will learn.
---
Add Your Comments
In order to post a comment, you need to be logged in as a registered user of the site.
Or Sign up as a ToffeeWeb Member — it's free, takes just a few minutes and will allow you to post your comments on articles and Talking Points submissions across the site.
© ToffeeWeb