Southampton 3 - 0 Everton
Blues show they are learning nothing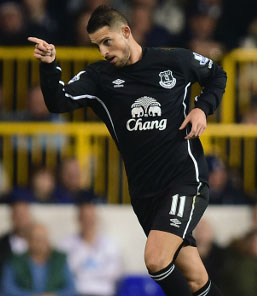 Kevin Mirallas escaped serious injury against QPR but won't play this weekend
Gareth Barry and Samuel Eto'o were in the starting line-up for Everton's match at Southampton. McCarthy, Hibbert, Osman, Gibson, Atsu and Mirallas were all out injured.
Southampton went close with a good chance on 10 minutes, Pelle heading just over. Then Eto'o put Steven Naismith through but a defender was back quickly to block the chance.
A sequence of four corners for Everton lead to nothing with Lukaku being called offside again.
Eto'o went down after getting a smack in the face but Everton played on, Barkley getting a shot in on goal before the game was stopped.
Barry got forward and played in Lukaku but the big man could not pull off his acrobatic shot. At the other end, Jagielka was watching an aerial ball and ended up taking out Shane Long with a high boot as he was coming in on his blindside. Southampton wanted a penalty but scored anyway from the resulting corner, Lukaku heading in an own goal under pressure.
Everton pushed forward after a buoyant spell for the home side, Coleman's cross to Eto'o was a difficult one to try to convert.
Everton struggled at times in the second half, Southampton proving to be difficult opponents as the game became increasingly stretched before any substitutions were made.
Pelle was able to force the ball past a flailing Howard to double the lead as Everton again failed to really test the home keeper after Clyne somehow got his cross in past Howard.
Besic picked up another yellow card and Font almost scored but for a good save from Howard.
Barkley did well to win a free-kick off a foul by Font but the young star could only drive into the wall.
Yoshida got on the end of a simple ball to make it 3-0, a shockingly poor result. It was summed up by a glorious chance for Lukaku at the death, but he could not beat Forster. With away fans trouping out before the end, there were boos again for the increasingly vacuous possession football insisted on by Roberto Martinez, who incredibly failed to make a single substitution.
Everton: Howard, Coleman, Distin, Jagielka, Baines, Barry, Besic, Barkley, Naismith, Eto'o Lukaku
Subs: Robles, McGeady, Kone, Pienaar, stones,Garbutt, Alcaraz.
Kick off: 3pm
Referee: Jon Moss
Quotes sourced from ToffeeWeb Match Reports
Reader Comments (496)
Note: the following content is not moderated or vetted by the site owners at the time of submission. Comments are the responsibility of the poster. Disclaimer
Denis Richardson
9
Posted 20/12/2014 at 15:42:51
WTF is that line up??
How can you try to shoehorn Eto'o, Barkley AND Naismith into the same line up all playing AM???
Clive Rogers
11
Posted 20/12/2014 at 15:48:52
Too many old men. No legs.
Phil Head
12
Posted 20/12/2014 at 15:48:07
When will we actually employ a coach that informs the players that in order to get past the opposition you have to wait till they close you down first, before passing the ball? Otherwise, no matter how many times you pass the ball around, your always gonna have 11 players to get through. I was taught that when I was 6, yet people actually pay to watch these uneducated, overpayed, disinterested players and coaches every week. Eto's really getting on my tits, strolling around as though he's playing on the beach, it's like the Gascoigne and Ginola days all over again, he's laughing all the way to the bank.

Timothy Sebastian
15
Posted 20/12/2014 at 16:25:43
Another ridiculous star jump by Howard for the second goal.
David Harrison
17
Posted 20/12/2014 at 16:26:43
Garbage. No fight, too old, players out of position again...wtf Roberto. Barkley finally looks like the player we're hoping for on Monday & is then shifted out wide. I give up!!!
Alexander O'Brien
18
Posted 20/12/2014 at 16:26:14
Playing against a side that has lost 6 in confidence and missing several key players and we still roll over without a fight. I'm sick to death of the same old passing for passing sake with no end product. Wtf is the team selection?? Same with Hull l
Alexander O'Brien
19
Posted 20/12/2014 at 16:33:03
Pressed send in error! hull lost 4 on the spin and we gift them a point. Players and management should be ashamed!
Linda Morrison
20
Posted 20/12/2014 at 16:33:50
I knew this would happen if Barkley was moved from what he describes as his best position to accommodate Barry. Very poor show and I think it is time to drop some of the so called "stars" and put the young ones in. When is Oviedo going to be in for Baines who isn't at the races in this game?
Phil Rodgers
22
Posted 20/12/2014 at 16:41:29
I am afraid this guy is not the man for the job. Get him out now. He has no fucking balls
Nick West
23
Posted 20/12/2014 at 16:40:32
Strange stuff. Strange selection - too many similar players up front, Naismith and Barkley out of position. No width. What happened to our attacking fullbacks? No substitutions.
Very very odd.
Michael Polley
24
Posted 20/12/2014 at 16:30:49
For Fuck sake !!. Why is Barkley played out wide ??? Play him in the middle where he is most effective. Can't understand RM's thinking .Another game lost - Pathetic. I'm now getting used to the disappointment of losing. We need Mirallas back quickly. He is our only creative player that can create chances for us. While typing this Soton have scored their third - I give up. we are an embarrassment. Mid-table for us unless we get our mojo has a present from Santa.
John Steadman
25
Posted 20/12/2014 at 16:40:46
Time for the Taxi Roberto.
Thanks for one good season, but you are devoid of ideas.
No passion, not prepared to come out and say we are garbage.
No players prepared to run behind defences.
PREDICTABLE!!!!!!!!!!!!!!! game in game out.

Dominic Tonge
26
Posted 20/12/2014 at 16:42:11
How are we THIS bad? This is horrid. I really am snapping about this, another performance lacking passion, guts,guile, tactical awareness . We are shocking.
Phil Smith
27
Posted 20/12/2014 at 16:43:06
Poorest performance of the season to date! Worse than the Chelsea game. At least we looked like scoring there. Verry worrying team performance this...
Ian Tunstead
28
Posted 20/12/2014 at 16:42:17
There is no way Everton should be getting beat by Southampton unless by pure fluke having battered them for 90 mins but it's us who have had the luck and still beaten easily. Man for man we are far better than Southampton, even our bench is better than their first team that point to poor management. Martinez has dragged us down to Wigan level.
Jim Bennings
29
Posted 20/12/2014 at 16:35:55
Martinez the New Moysiah!
Utter bollox again
I give up with the league now, worst season in year's.
I can't remember a single good performance all season,
Gutless shite no pace to our play
This is a bad bad Everton team face it guy's.
Scott Williams
30
Posted 20/12/2014 at 16:39:45
Fucking disgraceful! I am usually patient! But play Barkley Eto'o and NoSmudge in the same position. 80+ minutes played no changes. Put Barkley and Besic together again! Get rid of Distin! Best attacking full backs last season and we are playing the ball through the middle. Get it in the box! Get rid of Barry! No urgency again! We need some more players!
I am getting pissed of now! No desire! Another team that has a poor run if form! 'Dont worry lads we've got Everton next we'll beat them!' Oh is there any players that haven't scored ever stick him on too and he'll get a goal! Joke joke joke joke joke joke joke joke joke joke joke!
John Scott
32
Posted 20/12/2014 at 16:48:07
Baines needs a rest and Distin and Howard need a P45.
Jim Bennings
33
Posted 20/12/2014 at 16:47:11
Dread the Stoke game..
A well organized side should easily contain us and fancy their chances.
Playing for at best 10th and at worst a relegation battle until at least late March..

Andrew Rimmer
34
Posted 20/12/2014 at 16:47:31
Roberto will go to bed again pleased with the way we played.
Get lost Roberto and can we have our 㿈 Million quid back?
Tony Hill
35
Posted 20/12/2014 at 16:48:23
It is plain that RM has lost some of the players. But a selection of Barry, Eto'o and Naismith was begging to be exploited by a side like Southampton. No pace at all, no conviction and radical moves are required to stop the rot. Baines, Distin, Howard ( I don't care how weak Robles looks), Barry, Lukaku have to be dropped. Appalling.
Jim Bennings
36
Posted 20/12/2014 at 16:49:07
I do worry that Martinez is now so much a one trick pony..
Its his boring slow pedestrian football or nothing..
Utter shite!
I feel for any fans who went down there today
Peter Z Jones
37
Posted 20/12/2014 at 16:49:09
Samuel Eto'o isn't an attacking mid. Barkley and Naismith aren't wide players. And apparently, Tim Howard isn't actually a goalkeeper. Meanwhile, no one ever passes the ball to Baines on the overlap and Barkley/Mirallas decide to steal all of his free kicks like he didn't bury 2 top corner last year against West Ham. Martinez makes no changes down 2-0? No shit we fucking lost. I remember when Roberto was a good manager that actually made an impact on the game with his sound decision making. What the fuck happened to that guy? This is ridiculous. We just got our ass kicked by a team that lost 5 in a row with a bunch of 18 year olds in midfield. So fucking disgusted with that sorry excuse of a performance.
Gavin Johnson
38
Posted 20/12/2014 at 16:52:17
No width, running down cul-de-sac's all day long. Too many oldies Distin, Howard and Pienaar must go. Worst performance all season against half a Saints team! Just shows how off track we are.
Peter Jansson
39
Posted 20/12/2014 at 16:53:52
I seriously doubt that Martinez is the right man for Everton.
This strategy is totally useless. The strategy of Everton is extremely easy to read for the opponents as it seems we have only one way to play. No backup plan or nothing.
Wait to attack until all opponents are back in the defense, then give away the ball in the center midfield after passing left and right a couple of times. The opponents gets a dangerous contra attack.
And, do whatever you want but don't hit a crossball into opponents penalty area... it could be that we actually manage to score.
If this does not improve in the next 5 or 10 games we should seriously look for another manager.
We have the players, but we don't have a strategy.
Martin Nicholls
40
Posted 20/12/2014 at 16:57:01
I've been an apologist for Martinez but no more. Bad team selection then no subs? The man's on dimensional. Hope Kenwright has got the balls that Martinez hasn't and does something before it's too late.
Dave Lynch
41
Posted 20/12/2014 at 16:56:36
Whether people wants hear this to not we have got to change our early season expectations.
Our main aim now must be to reach 40 points and ensure safety, from what I have witnessed so far this season it ain't gonna get any better.
He can fuck off with EL and FA cups, concentrate on the league and ensure safety.
William Tone
42
Posted 20/12/2014 at 16:54:54
I can't believe how terrible that was. I usually bristle at all the Lukaku-bashing (if he were as polished a player as some on here think he ought to be, he would have cost twice what we paid) but today he really was a waste. Baines was so awful that for a long stretch it looked like others had lost confidence in him, wouldn't even get the ball to him when he was all alone out wide. Howard, Distin, Jagielka, Baines and Barry all too old, not good enough to play regularly in a team that thinks it can challenge for a CL spot. If they can't even play 90 minutes (although for some reason RM left them all on for the full 90) how are they going to make it through New Year's?! Barkley and Besic were both excellent, Coleman and Naismith were invisible. Just sickening.
Scott Williams
43
Posted 20/12/2014 at 17:01:03
So happy I paid to go to Southampton. And that I'm going to Newcastle. Horrendous! No new tricks! Barry hasn't played well at all this season! As soon as he got a full contract he's laughing his tits of and relaxing now! Barkley should be played next to Besic or McCarthy! I'm sure I'm not the only blue that's getting threaders with this season!
And if I hear one more person say 'But the Europa league tires them out because of the extra games!' I'm going to thump them. They are pro athletes that are playing like they are in Sunday league!
Dave Pritchard
44
Posted 20/12/2014 at 17:01:41
Poor from everyone. Players must be dropped and others given a chance after that feckless performance.
Bob Heyward
45
Posted 20/12/2014 at 17:01:32
Martinez: 'Their was nothing between the teams today'.
SOMETHING IS ROTTEN IN DENMARK.
Jamie Crowley
46
Posted 20/12/2014 at 17:02:32
DISGUSTING!!!
Besic played ok - I won't fault him at all. Barkley tried. It's time for Bobby to "make the transition" and start playing "the future". Stones, Garbutt, McCarthy, Seamus, Besic, Lukaku, Barkley... and "fill in" with 3 experienced players who ACTUALLY PUT IN A SHIFT!!! Naismith, Jags and Mirallas. McGeady as a sub. The old guard MUST GO!
Lazy, couldn't give a shit.
I don't care about the wages... the "undropables" (not a word....) Change must occur because that was the most unacceptable performance I've witnessed in my time of watching Everton.

John Keating
47
Posted 20/12/2014 at 17:01:27
I got slagged by certain people last week for saying we were shite and the tactics were even worse than shite. Well I hope tonight people put the blame for that exhibition squarely on the ridiculous and horrendous tactics of Martinez.
How anyone can play Barkley, Eto'o and Naismith in the same team is just beyond a joke. I will be very interested to see if anyone can defend Martinez after that.
Tahir Abdullah
48
Posted 20/12/2014 at 17:04:36
Wiganesque!
Anto Byrne
49
Posted 20/12/2014 at 16:52:47
Soton Reserves 3 Everton 0.
It's a young man's games and they were very youthful and enterprising and to be honest good to watch. On the other side, we are slow, ponderous and lacking any team spirit. There is no room for players such as Distin, Eto'o, Howard and Barry whose best days are long gone.
Thank fuck it's only football and we can put this game to bed and bring on Stoke. Still need another 19 points for safety and the way we are playing it's going to be tough.
Mike Price
50
Posted 20/12/2014 at 16:58:05
Sick of being the leagues Slumpbusters. No legs, no aggression, no clue. This is as bad as I can remember and I'm really worried about the rest of the season.
The RM honeymoon is well and truly over, square pegs in round holes, shit players on long contracts and soft, soft bastards all over the pitch.
Andrew Rimmer
51
Posted 20/12/2014 at 17:05:06
What would change with new players???
Jim Hourigan
52
Posted 20/12/2014 at 16:56:34
3 goals all scored from the middle of the 6 yd box - its not rocket science !!! our central defenders and goalkeeper are crap. RM has tried to turn them into footballing defenders and they have lost the power to defend. Terrible selection with Eto, and Naismith, neither player is a wide attacker, so they were completely ineffective. Lukaku looks crap because we take so long to get the ball forward that he has no space to run into and is closed down by the defenders. The problem is that McGeady is worse, Osman is too slow and he has no faith in Pienaar any more - so how do you change it ! Why did he leave Eto and Naismith on with Kone on the bench - as someone said is RM a one trick pony?
Terry McLavey
53
Posted 20/12/2014 at 16:55:38
Did we take any subs to Southampton? Well why didn't we fukin' use them, they could have possibly shaken up that aimless football we have started to play we in week out!
There was one point were Lukaku looked like a Sunday league player had who had wandered on by mistake! I'm beginning to think he is. Drop him to the youth team until either he bucks up or gets his confidence back, which ever arrives first!
Something is radically wrong and it needs sorting out tout suite!
David Harrison
54
Posted 20/12/2014 at 17:07:17
Too many here for the ride
Gavin Johnson
55
Posted 20/12/2014 at 17:02:59
Like the tactics, the post match interviews are starting to get predictable and grate a little. If I hear the adjective "phenomenal" attached to any aspect of today's performance, I won't be responsible for my actions!!
Tommy Coleman
56
Posted 20/12/2014 at 17:00:55
Dreadful.
Without doubt our worst display under Martinez.
He got it wrong at every level for this game.
Preparation looked non-existent, players were flat, disinterested (except Barkley) and had terrible decision making.
Starting line-up was completely unbalanced and yet no substitutes were used.
This Southampton team did nothing, not a single one of their players would get in our team yet they battered us 3-0.
This performance has got me worried, God knows how Martinez can explain this.
By the way, I'm a huge Martinez fan. He needs to ask some questions of himself after that.
Tony Hill
57
Posted 20/12/2014 at 17:04:09
I have said before that Jagielka's captaincy is a serious part of the problem. There is no one to steady us and to manage a game, to inject urgency. He should be relieved of his post – I would give it to McCarthy or to Coleman (in the latter's case it might be the booster he needs because his own form at the moment remains worrying). Besic in a couple of years should be the sort of captain we need.
I agree with those who say that we need to look to safety in the Premier League as a priority now.
Craig Mills
58
Posted 20/12/2014 at 17:02:12
Fucking dross, and embarrassed to be a blue tonight. I honestly fear Martinez has lost the plot, his team selection is bizarre, tactically he has one idea, that's to try keep the ball from the opposition, he seems to have taken all the energy and passion from our team yet all he goes on about is fucking energy and passion. For me, we are heading nowhere with this clown in charge.
Ray Roche
59
Posted 20/12/2014 at 17:12:41
I wonder if Martinez knows the difference between "phenomenal" and "predictable"? Probably not.
William Tone
60
Posted 20/12/2014 at 17:11:29
To watch that you'd game, you might think that we never practice corners. We were almost as terrible taking them as we were defending them.
Joe McMahon
61
Posted 20/12/2014 at 17:05:55
It's not looking good, is it? Old players, 㿈 million wasted on a 㾸 million forward, clueless (Roberto now looks like a Championship manager – should have stayed at Wigan).
Baines 㿲k a week, can't even take a corner, Barry on a 3-year contract, oh and a shed of a stadium too. Yeap things are bad.
Mohammed Horoub
62
Posted 20/12/2014 at 17:02:13
No passion, no character. That was a stroll in the park for Southampton and they were missing the spine of their team. Lucky they were playing a spineless team...
After the third goal I switched to the Aston Villa - Man Utd game and saw more drive, excitement and passion in those 10 minutes then we have seen this season from our team. Where did our spirit go?
Nobody wants to watch robots retain possession by passing it in their own half and back to Tim 'I left all my saves at the World Cup' Howard. If Martinez wants to take control and show he's the Boss, Howard, Baines, Distin, Barry need to be dropped. Barkley needs to be played up the middle or kept on the bench. I can't believe after last season that getting to 40 pts will be a relief...
Jay Harris
64
Posted 20/12/2014 at 17:08:37
Roberto strikes once again.
I have gone on all season, as a lot of other posters have mentioned, about RM's team selection with too many forwards and not enough MF players.
Eto'o, Naismith, Lukaku are all outright centre forwards not fucking wingers or MF players and so they clog each others space and cause defenders to surround them leaving no space for players to run into.
Lukaku is about as mobile as a bus with no engine and there is no link up play from MF guess why because there is no MF; they are all up front waiting for the ball.
Even with injuries he could have played, Pienaar or Garbutt or even McGeady would have done a better job on Bertrand but no he has to play forwards.
Time for him to get back to Wigan which is about his level.
Ray Roche
65
Posted 20/12/2014 at 17:15:44
"I do feel we need to find a good run of performances. I don't think the performance was too far away from what you need to get good results."
Martinez, after the match. The performances have been crap all season.
Dave Lynch
66
Posted 20/12/2014 at 17:15:00
Wiganesque.
Says it all for me.
Kieran Fitzgerald
67
Posted 20/12/2014 at 17:12:30
Remind me again please. Which team on show today finished in 5th place with 72 points last season?
Here are some hints. It played wonderful attacking football, scored loads of goals and was solid at the back.
Here are some more hints. It was confident, full of determination and didn't stop for anything.
Here's another hint. It had a manager who inspired his squad to all of the above and used the platform left to him by the previous manager to full effect.
That's right, it was....... Oh no wait, it can't be us, we have none of the above.
Mick Wrende
68
Posted 20/12/2014 at 17:16:28
I have been saying for most of the season that the players are unhappy and obviously hate this style of play. Right through childhood football is about going forward and scoring goals and yet Martinez has turned that completely on its head. He should be ashamed.
David Harrison
69
Posted 20/12/2014 at 17:17:00
Stop dreaming you're in charge of Barcelona. 1st ingredient to do well in the Prem is a never say die spirit. Can't believe Everton have become so soft
Paul English
70
Posted 20/12/2014 at 17:19:22
"The School of Science is on its way back" ...."You don't know what your doing"... There's more truth in the latter!!!
William Tone
71
Posted 20/12/2014 at 17:14:22
I count myself as a Martinez apologist but I'm starting to worry now. I was one of those who was probably a bit harsh in criticism of the kids RM put out against Krasnodar, but that's because I had been holding out hope.
For RM's plan to really work, we'd need to have some Barca / Ajax caliber kids coming up through the academy, and his hyperbolic comments about the "jewels" he was going to showcase had me hoping we might, but it doesn't look like we do.
If we could afford to find and buy 7 more players like Barkley / Stones / McCarthy / Besic, we might be alright, but I don't see that happening either.
Conor Skelly
72
Posted 20/12/2014 at 17:11:07
There's no attacking pattern going forward just make it up as you go along. Players on top of each other everywhere. Literally falling over one another. The only plan we have is to pass it round the back which is a shit plan if your trying to win games. Players aren't fit either. All signs point to poor management.
See how we go for the rest of the season but barring a miraculous transformation it has to be all over for Martinez. It's glaring to me that it's not working and if it wasn't for the fact we actually have a lot of good players we'd be in big trouble.
At least with Moyes there was a pattern of play. The stuff being served up is nonsense. Last season was a combination of a few factors that were in our favour. What they were will take a whole article to clarify but judge Martinez on this season.
Vince Furnier
73
Posted 20/12/2014 at 17:22:06
No plan B. Lukaku forever with arm raised calling for the ball and never being sent it. Martinez standing there arms folded clueless. No subs, no pace, no motivation. Let him go.
Mike Allison
74
Posted 20/12/2014 at 17:17:03
Martinez seems to be showing that he simply doesn't understand football.
There are three key points:
1. Possession is NOT the key to success. It may have been as recently as 2-3 years ago, now many sides are extremely happy conceding possession and hitting on the break. Linked to this is the fact that we need to play balls into the channels, and we need to cross the ball into the box. These passes may well lose possession, but they will still be threatening, and the defenders will often have to concede corners, throw ins or just hoof it away, in which case we get the ball back anyway.
2. Set pieces are absolutely vital. To be frank, you can be a pretty poor team, but if you can score off set pieces and defend them well enough, you will do well. Roberto seems to actively resent this fact, and refuses to be good at set pieces on principle. I need to find some stats, but I think if we were even average at corners we'd be many, many points better off than we are now.
3. Team selection should include substitutes and substitutions. There should be plans A, B, C, D, E and F. We only have a plan A, which is pass it around slowly while the opposition get back in position then close us down effectively. All three substitutes should be used every game, and not after the 80th minute. No matter whether you are winning, losing or drawing, the substitutes should be able to come on and positively effect the game.
Jamie Barlow
75
Posted 20/12/2014 at 17:18:18
"I don't think the performance was too far away from what you need to get good results."
Says it all really. Fuckin deluded!!!
Did we eventually make a sub?
Alex Winstanley
76
Posted 20/12/2014 at 17:18:25
Ok.. I am now seriously concerned! We have been found out. All coaches now know that if you stop our fullbacks getting forward and hold a line of 4 sooner or later Everton will give you the ball by trying to pass it through the defence. We have to get the ball into the box and to the front man quicker.. We can all see it, why can't Martinez? I am seriously, seriously concerned!!
David King
77
Posted 20/12/2014 at 17:14:13
Martinez should be sacked now, that was one of the worst performances I have ever seen, totally clueless, why no subs or changes in formation, the only place this clown will take us is the championship, Barkley and Naismith both playing wide?pathetic.
I for one will not be renewing my season ticket if Martinez is still there next season. I don't mind getting beat by a better side, but Southampton were shite!
Paul Smith
78
Posted 20/12/2014 at 17:26:20
Just left St Mary's & Wow! what a shocker. A lot of boos' at the end; the only player with the balls to thank the travelling frustrated fans was Ross.
No subs used by RM sums it up for me.
Conor Skelly
79
Posted 20/12/2014 at 17:25:08
To add to that as someone has said before. We could sign another 30 million pound player and he wouldn't make any difference in this set up. Has to go. Not knee jerk before anybody gets on my case. It's just glaringly obvious who's letting us down.
Mo Guindi
80
Posted 20/12/2014 at 17:12:30
FINALLY! Robbie comes out and says how disappointed he was with the defending!
Tony Cornmell
81
Posted 20/12/2014 at 17:14:50
The biggest problem is all our teams so unbalanced the manager is trying to play players who don't have a balance to a team selection.Forget ego's have some balls Martinez pick a balanced team no matter what age,your the manager ,then manage or go away.
Anthony Lamb
82
Posted 20/12/2014 at 17:14:36
While not seeing any of the game today I would still maintain that on the evidence so far this season Everton's sights should now focus well and truly on Premierahip survival. There is a malaise around the whole team/squad which has transferred itself to the crowd and the atmosphere at Goodison for a whole variety of reasons.
This ludicrous slow, laborious, unprogressive play has simply taken the life out of players and crowd alike. Allied to carrying a number of so-called athletes who are forever unfit to play (Gibson etc) and the manager failing to instill any confidence both in his team selection, and use of substitutions to change events on the pitch and we have some very deep seated problems.
Could anybody explain to me just what the so-called coaches at the club actually do? We still have highly paid so-called professionals who find it difficult to control a ball with ease and confidence, never mind attempt to pass it accurately and incisively to a teammate. We have a 20 year old centre-forward who seems to find it impossible to actually jump with any conviction or heading ability either in open play or in the penalty area. Is the former Everton "legend" (apparently employed by the club) actually claiming to be addressing this?
We accept the fact that Mr Martinez is understandably conversing in a second language. However is nobody at the club not able to advise him that while positivity is no bad thing, when it fails to address the fact that the "emperor really does not actually have any clothes on" then it is simply patronising to those who know full well that the "emperor" is in dire need of new clothes.
There is very little evidence at present that this team is actually capable of winning football matches with any degree of confidence. After all, last week at Goodison the team and the crowd seemed genuinely fearful that possibly the worst team in the league could actually threaten a so-called routine victory from a starting point of 3-0!
No, there is a serious need for drastic action, certainly on the pitch, otherwise this gradual dragging of the team into the nether regions of the league will become a very serious threat. Whether it involves action off the field is another matter but a blind man can see that something(s) are seriously adrift at present.
Mike Powell
83
Posted 20/12/2014 at 17:26:01
Utter garbage. There is no defending Martinez now – do us Evertonians a favour and go now.
Tactics all wrong, subs too late, he will take us down – if not this season, then it will be next. He is out off his depth.
I can not watch any more off this garbage. We have a great squad but that buffoon Martinez as not got a clue. I better not say much more because I will get banned... Martinez Out!
Roman Sidey
84
Posted 20/12/2014 at 17:25:12
William, my thoughts exactly about corners. The feeling of lost opportunity I get when we are awarded a corner is the same as if the other team got a goal kick. We just never look like using them.
I've been critical of Baines lately, so I didn't think there was much else I could say. Today, he was probably the worst I've seen him. He can't defend to save his life - Hibbo standard really - and he hasn't created shite for a very long time.
Someone mentioned Martinez losing the players. I'm not sure if he has yet, but, from experience, one way to lose them quickly is to not make any substitutions when you're losing by more than one goal. This is starting to feel like Moyes' "If we keep doing the same thing something will change and it will all work out" logic. Insanity.
I'm leaving for Australia in the morning and was gutted that I'd have to be up at all hours to watch the matches while I'm there. Now I'm starting to be thankful for the enforced break I'll get from watching this shite.
Julian Wait
85
Posted 20/12/2014 at 17:28:40
Christmas shopping. Dodged a bullet it seemed.
Time for Bobby to go shopping too?
Andy Crooks
86
Posted 20/12/2014 at 17:33:42
I can no longer defend Roberto Martinez. This season has demonstrated his utter ineptitude as a coach. There are no Europa League excuses today, only a coach entirely bereft of ideas. He has been found out as a one dimensional pedant. I suspect that tomorrow I will take a more objective view but this evening MOTD Will be once again unwatchable.
During the reign of our last coach I argued that we could get some one better. I feel the same this evening.We look Wiganesque , and, sad to say, this evening I feel Wallingesque.
John Daley
88
Posted 20/12/2014 at 17:42:00
An abysmal showing from both the players and the manager.
Poor performances all over the pith, a disturbing lack of defiance after the first goal went in, and a bewildering reluctance to bring players off the bench until doing so was practically redundant from Roberto.
In fact, I can barely stomach talking about it as I can slowly feel myself starting to seethe. I'm just gonna regurgitate some shite I said the other day:
I have, on a number of occasions, placed the blame squarely on certain players for making shocking individual errors, whilst absolving the manager of blame as he couldn't possibly legislate for the experienced and trusted senior pros ( who served him so well last season) suddenly turning into Frank Spencer in football boots.
However, we're now four months in, the players are still fouling up from week to week, and the manager clearly hasn't yet fathomed a way to refocus their minds and get them to eradicate these costly cock ups.
I still take the view that certain players have let him down very badly but, by now, he should really be making a better fist of motivating them and ensuring the same bollocks don't keep being dropped.
When Distin was temporarily dumped from the side, I hoped it was a sign that Roberto had finally removed the soft velvet glove and whacked on an Ash from 'The Evil Dead' style chainsaw attachment in an attempt to wake up his lifeless fucking Deadites . However, it now seems like the 'he just had an injury, honest lad' line might have had more legs instead. (Distin looked clueless yet again today by the way. Groping around, futilely trying to find his man more than George Michael when some twat turned the toilet lights out).
Roberto's trademark trusting of players and talking up of their abilities is all well and good, but even the worlds most donkey respecting 'Rag and Bone' Man knows there comes a point in the road where you need to bin the carrot and switch to the stick. Otherwise, you're just going to come to a grinding halt and be stuck sat on top of a grotty cart full of someone else's old shite.
Last season Martinez managed to coax a bit more out of his players by bestowing them with belief. Belief that they had the ability to challenge the top teams if they just took the shackles off. Belief that by following his methods they were in with a realistic chance of getting over that final hurdle they've fallen short at so many times before.
They didn't quite make it but the players clearly bought into his way of thinking. They played with a swagger and a sense of freedom that was sorely missing for most of the Moyes reign.
Liberation... by lovely little sound bites.
At the start of this season the belief seemed still to be there, but began to be slowly eroded by a slew of stupid mistakes. They did well enough at Leicester but switched off disastrously at the most vital times. They totally outplayed Arsenal for 80 minutes, only to panic when their teetering opponent finally mustered up enough fight to tear themselves off the ropes and have a pop back.
When the self-destruct button was swiftly pressed again at the start of the Chelsea game you could almost see the 'WTF? Maybe we're nowhere near as good as we thought' look creeping over their faces. That expression has never really changed since. It's freakishly frozen there. Like Mickey Rourke's mad rubbery rigarmortis mug, or David Copperfields disbelieving yet disgustingly smug 'cum face' after he finally got to shag Claudia Schiffer.
Since then, whenever it seems like they're about to turn the corner, another banana skin is dropped, kamikaze style, sending them careening back onto their arse again. You can see it in the ponderous passing, the unwillingness to take risks, the uncertainty at the back, the absence of fight to force their way back from the brink of defeat.
I also think Martinez himself has been sapped of some confidence. In a number of after match interviews now, he's looked like a more shellshocked, Catalan, Choi Min-Sik in 'Old Boy'. As though he's been abducted off the street by an unknown assailant, gassed, locked up in a windowless hotel room for fifteen years, then shoved in a suitcase and suddenly set free to speak about the game before he can begin to get his bearings. He's still trying to talk a good game but it's ringing kind of hollow and almost comes across like he's hoping to convince himself as much as anyone else right now.
I know injuries have played a part, as well as the demands of the Europa, but at other times the changes could stand accused of coming close to needless 'tinkering'. The constant switching up of personnel suggests he's no longer sure of his strongest side and undermines any chance of certain players finding their flow. Barkley, for example, has found himself starting one game, sitting out the next, playing in his proper position, sitting on his arse, being shunted out onto the wing, back on the bench again etc. Not surprising he's yet to hit his stride thus far.
So, for me, it's not as clear cut as saying it's either the players who are the problem or it's the manager. There's been fault on both sides. You can't absolve Martinez of blame just because he did better than expected last season and he seems like a boss bloke. On the other hand, you can't call Cousin Otis to 'go get the hounds ready' and march round his house to order him to leave town just because you've always thought there was something 'off' about him. He's got a squad of players strolling about on auto-pilot and performing like pride is something that doesn't currently exist outside a gay carnival.
I still think Martinez will turn it around and get us moving up the table, sooner rather than later. We've got too many players long overdue a good run of form, and a manager who is, surely, too smart to leave his head half buried in the sand all season.
I just think he needs to be a bit less Ned Flanders to nudge things along and the players need to be a hell of a lot less Homer Simpson to help him out. Kenwright can just carry on being Ralph Wiggum in the background until summer comes, but then he needs to get his rotund, cringe inducing arse along to the Quick E Mart and splash some serious cash for a change. A couple of bargain buys aren't going to cut it anymore.
Even those who were proclaiming this to be the best Everton squad since the eighties must now be prepared to concede that a culling of the old guard is in order if a consistent challenge for the top four is where the clubs ambitions currently lie.
Jamie Barlow
89
Posted 20/12/2014 at 17:35:07
I agree Tony. We have a good squad or good team but they're not being allowed to do what they do best because of instructions or being played in the wrong positions. Lukaku, Eto'o, Barkley and both our full backs aren't playing to their strengths or are being played out of position. That's nearly half our team that aren't used to playing this way. Look at what it's doing to Baines and Coleman. They were our biggest threat and they do nothing now.
I can't even be arsed trying to work out what's going on with our set pieces. One of Barkleys went about 60 feet in the air today.
Roberto needs to get his head out of his sweet smelling arse and knock some fuckin heads together.
Bill Gall
90
Posted 20/12/2014 at 17:35:29
This is the first game as an Everton supporter since 1956 either at the ground or watching on tv I have stopped watching the game. Today I went out at half time with the wife shopping. This manager this season is showing his true frailities 1 being his complete lack of knowledge in setting up a team and 2 how stubborn he has become in believing playing players out of position will work and 3 insisting that his way is the only way has made me become someone who is starting to believe we made a mistake in hiring him.
Martinez to me has now reached the end of experimenting with this possession football that he tried and failed 5 years ago with Wigan and is just to bloody stubborn to change.
Jamie Barlow
91
Posted 20/12/2014 at 17:51:04
Starting with his own.
James Martin
92
Posted 20/12/2014 at 17:40:02
We'll be slugging it out with the also rans this season. Not even making a sub when you're a couple of goals down is embarrassing. The starting line up was deluded. Every Evertonian could see we had little chance of winning with that formation and those players. The back 5 are a walking car crash yet play game after game. Howard Distin Jagielka and Baines need to be dropped. You have Stones, Browning, Hibbert, Alcaraz and Oviedo kicking their heels why these clowns keep getting picked and keep messing up. Have we kept one clean sheet with that back five this season? They are embarrassing. We are gifted with midfielders yet Martinez is flogging the worst of them every single game. Barry is hopeless,I thought he would be used as squad cover this season ith Gibson back fit and Besic and Barkley able to partner McCarthy but no that geriatric is the first choice and the rest partner him. Our two best players from the other night where also played out of position.
Absolutely hopeless management equal to Moyes at his very worst. This wasn't even a full strength Southampton side and they turned us over 3-0. We have a 30 million pound striker who got about one shot off as well.
Fed up of watching us, this is the most boring Everton side I've seen in a long time. What's the most depressing is you know Martinez will not change out his favourites. When under pressure he reverts back to experience so Barry Jagielka Distin are all certainties to start the next game. Average at home and truly truly awful away, we'll become the first premier league side in history to have a 30 million striker and finish in the bottom half. At least when Moyes served up dross it was usually because we had a load of rubbish players out because of injuries. Martinez has the bet squad we've ever had in the premier league and they are playing like a relegation side.
As I've said previously we rode a wave of good fortune last season rescuing games with wonder free kicks, brilliant solo goals, and Osman, Pienaar and Naismith coming off the bench to change games. This season that hasn't happened and Martinez won't use the game changing subs. He's deserves the chance to turn it around but if he carries on thinking he knows best and stubbornly sticking to this failed formula I'm giving up on him.

John Williams
93
Posted 20/12/2014 at 16:56:30
What a shocker. I really thought we'd get a result today but now realise this is our season.. mid-table.... Cup runs only high points possible I watched the game till the 3rd goal then had to turn off due to the pain.
We can go on all day about playing players out of position and I agree but for me we totally lack creativity. Baines and Coleman are clearly off their game but they are fullbacks and not wingbacks from last season. We play two holding mid field players who rarely create anything never mind score which is fine if your top four have the ability to attack with pace and score goals. Today shows how poor we are in this department and nothing on the bench to change it.
A number 10 and a pacey winger for Christmas for me please...
Amit Vithlani
94
Posted 20/12/2014 at 17:32:50
Criticising Baines is off the mark as we know with a system which plays to his strengths he can be hugely effective. With Barks, he can act as the spark but at present with a horribly mis-shapen team he is totally lost. Defensively, he is consistently exposed as Distin provides no cover and the attacking midfielders never seem to track back on his side.
Today exposed a gut wrenchingly bad team selection and set of tactics. It as a wake up call, exposing the lack of foundation in the team. Against Stoke, we must go back to basics (high tempo, pressure on the ball, work the flanks more, clear the lines instead of dallying). Set up a foundation and go from there.
If Martinez cannot set the team up to do this, we will get beat and he needs to walk.
Mark Melton
95
Posted 20/12/2014 at 17:58:29
It might just be an unlucky ground? We haven't won there since 2002😄🎄
James Carlisle
96
Posted 20/12/2014 at 17:40:52
Let's hope they can pull out a 2nd half of the season charge as usual but tbh this is the worst i've seen us play. This time if we finish best of the rest and are told to be happy because we're only little Everton we should tell them all to fuck off and make a prolonged push for all round change at the club. Otherwise we're gonna be served up this dross forever.
There are no positives at the club right now. I wish I had high hopes for the cups, but this is essentially the same group of bottlers that have destroyed our cup prospects for the past 5+ years.
And none of the new faces look like changing that. Lukaku is one of the worst strikers I've seen. I don't carethat he's 21, despite his height he can't head the ball and despite his size he can't hold it up either. He's a complete no hoper.
Joe Clitherow
97
Posted 20/12/2014 at 17:55:57
I'll say it then, without a jerking knee and happily hoping I will eat humble pie, but it's "Martinez Out!" for me.
Gerard Carey
98
Posted 20/12/2014 at 17:52:37
Utter shite, what was Lukaku doing for the first goal, looked like he was ducking out of the way. A six foot plus striker should be able to head the ball clear. Headless chickens on the field and RM clueless on the sideline. Changes needed and quick.
Gavin Johnson
100
Posted 20/12/2014 at 17:34:22
I count myself as an apologist for Martinez and have seen the mitigation and the positives from certain games when others have criticised, which I believe has been unfair in some cases. That said, I can't take any positive from that performance and result.
I've got no problem with Lukaku, like some on here. What I am starting to have misgivings about, Is the fee, which is no fault of the player, but when you have dead wood like Distin and Howard (both past their sell by date) and the ageing Pienaar who we only see fleetingly these days. Martinez should have realised he had inherited a team where many were in the twilight of their career. I can understand that he wanted to keep what was good about the previous regime, and improve upon it. But nothing lasts forever and I now think it was a little naive to splash so much on one player and bring in a load of other veterans (Barry, Alcaraz and Eto'o to supplement the old guard. I've said on other threads I alarmed by the number of veterans in the side.
As others have said, I don't think there's no plan B if things go wrong. I would have played Garbutt today, or Oviedo, Pienaar or even McGeady for that matter. I don't understand a manager playing Midfielder's and strikers on the wing, when he has players at his disposal who specialise and the wide positions. But I think that has a lot to do with my other criticism, in that players aren't being picked on merit this season.
I still think that Roberto can turn it around but I think it depends a lot on the next transfer window and whether he can be a little more flexible tactically. Why didn't he play a 3-5-2 today so the fullbacks could push-on... At least we would have had a little more width.
Joe Clitherow
102
Posted 20/12/2014 at 18:02:35
I've seen no evidence that Martinez can turn this around. None. None whatsoever. If he tried to turn things round that may be a start but I've seen no evidence of that either.
"Nothing between the two sides" is the killer for me. Let's start with the key difference that a reserve team wanted to win it and we didn't and we can go on from there
John Keating
103
Posted 20/12/2014 at 17:49:05
Martinez is totally to blame as his tactics and team selection is clueless.
We could have the best 11 players in the world out there but if the tactics are wrong we would still lose.
Tim Howard recently said that the team are playing exactly how Martinez wants them to play. The self imposed mistakes at the back are a direct result of his tactics players are to make the pass rather than the hoof, sometimes you just have to hoof it !
The team selections are so amateurish it beggars belief that this guy is managing in the Premier League !
We do not play to Lukakus strengths so why play him ?
We are playing similar types of players in either the same position or in positions that don't suit them.
If our wide men are injured or out of form then try Baines out wide on the left and young Garbutt at full back, similarly Coleman on the other side.
It has now become a total joke and unless he does something drastic i.e. sensible, we will be hanging around the bottom half at the end of the season.
People question whether we have the right to boo the team........after week in week out of this dross then there's only one answer.
Moyes left the basis of this squad after last seasons honeymoon Martinez is well and truly fucking them up
Ray Roche
104
Posted 20/12/2014 at 17:54:41
Amit, Baines has built his reputation on free kicks and his ability to dovetail with Pienaar. Pienaar is becoming yesterdays man and Baines is all the poorer for it. So either replace Pienaar with a similar player who can allow Baines to become, once more, the player we know he can be, or bring in Garbutt for an extended run.
Martinez MUST play players in their correct position. He MUST stop pissing about with the team i.e.: Barkley and Besic were outstanding against QPR, so let them continue to form a partnership. Don't shove Barkley out to the wing. Don't play Barkley, Naismith and E'eto in the same team. Play to Lukaku's strengths or drop him. Don't keep telling Distin and Jagielka to fart about with the ball at the back. If they aren't comfortable bringing the ball out then get defenders who are. And don't do a Moyes again by either not bringing subs on or by waiting until it's too late for them to make an impact. Martinez is quickly becoming an arrogant prick.
Andrew Keatley
105
Posted 20/12/2014 at 17:57:56
I think Einstein described "insanity" as "doing the same thing over and over again and expecting different results". Well, it certainly seems to me like Martinez is persisting with his method regardless of the results...

Joe Clitherow
106
Posted 20/12/2014 at 18:08:05
Narcotics Anonymous is the general acceptance Andrew, Einstein is the urban myth. But I take your point
Andrew Keatley
107
Posted 20/12/2014 at 18:09:19
That bloody Einstein... nicking all of Narcotics Anonymous most quotable output...
Andy Meighan
108
Posted 20/12/2014 at 18:03:05
What was post 88 about? The biggest load of shite I've ever read in my life and I'd put my house on that was a an American who posted that. I'd also hazard a guess that he's never been anywhere near the Old Lady in his life absolute load of nonsense.
Dave Williams
109
Posted 20/12/2014 at 17:56:38
I am away so haven't seen the game and won't bother now when I get back but reading the comments it sounds like what has been happening all season only worse?
Centre midfield should have been the same as QPR and Nais cannot play in the same team as Eto'o. The defence is too old and as any chance of 4th place has surely now gone Roberto has to ditch the 30 plus brigade and give the younger players a chance, let them get used to the first team and see if they can make it. I am not talking about the under 18s (though Ledson looks decent) but Oviedo(how we have missed his energy), Garbutt ,Stones and with McCarthy fit we would have a more dynamic and energetic team.
As for style of play a passing game is fine if mixed with incisive attacking but we don't have the players in form to do this and as so many are saying teams have sussed out how to combat that game and our lads cannot play that game when pressed high up the pitch. I like Roberto but he has to show that he can adapt. Kevin Keegan quit as England manager because he admitted he couldn't do this - time for Roberto to be decisive, drop the old guys and tweak the tactics cos if he doesn't the dissatisfaction will grow and we can all see that it is affecting the players. We do not want this to become a crisis and it will if it continues unchecked.
Andrew Keatley
110
Posted 20/12/2014 at 18:11:28
I actually think Martinez is suffering from being soft. Soft on his players, soft on himself, and soft on opposition sides. Trying to play attractive (if slightly one dimensional) football is a good thing; we all want the team to play good football I think. But there's a lack of bite, a lack of hunger, and I think actually a lack of effort. We've got a bit complacent.
And I'm getting tired of all the talk of potential. With Barkley. With Lukaku. With the team in general. The players are not learning quick enough, and that makes me think that the coaching - and the intensity - required to move these players into the phase where they are realising that potential is not present at Finch Farm. it certainly isn't consistently making it onto the first team pitch come match day.
Gavin Johnson
111
Posted 20/12/2014 at 18:09:16
Actually the Einstein definition of insanity is a good metaphor because Roberto is a bit of Idealist and although he needs to be a bit more flexible, I'm starting to have doubts he can be. He is doing the same thing week-in, week-out and expecting a different result.. It's not working and there's absolutely zero flexibility, and more and more are starting to realise this, except Roberto himself.
Brent Stephens
112
Posted 20/12/2014 at 18:10:55
I wont boo our players when (if) they are giving their all and playing to orders.
And I think they are playing to orders - any shred of spontaneity has been drilled out of them, I guess.
And they play in positions where they are picked - worrying formation (Eto'o behind Lukakuu, Barks and Nais having to go wide).
And they continue to play as told without any subs being used.
I think we have enough players of quality but Roberto is making the team less than the sum of its parts - negative synergy.

Paul Smith
113
Posted 20/12/2014 at 18:12:58
Joe Keep coming back mate!
Patrick Murphy
114
Posted 20/12/2014 at 18:10:32
Roberto may have thought that there was little between the two sides, however Saints are eight points better off than us, so quite a lot between the two sides as far as the table is concerned, six points off the bottom three is also concerning - not panicking yet - but I am concerned, especially with some of the gutless performances we have put in away from Goodison.
Roberto has in my opinion got five or six months to save his Everton career and he will have to wield the big stick asap - if that means putting in inexperienced players then so be it - we can probably just afford to drop points in the months ahead as long as we win another 7 or 8 games - but if Roberto sticks to the same script between now and the end of the season - he may well ruin whatever we had and he will not or should not be Everton's manager next season.
Colin Glassar
116
Posted 20/12/2014 at 18:12:04
Many on here said we would suffer 2nd season syndrome. I didn't.
Many said we would struggle. I didn't.
Many said it was OFM team and Martinez would be found out. I didn't.
Many said we would be seventish or worse. I didn't.
Many have called Martinez a charlatan and Cretinez. I haven't and won't.
But fucking hell I'm starting to get really worried now and maybe I've been wrong about him. I just don't know.
I'm prepared to give him another season but for christ's sake Roberto cut out all the positive crap and start wielding a big stick. Too many of your favourites (Howard, Coleman, Distin, Baines, Barry and Eto'o) are just going through the motions right now showing no desire, fight, leadership, interest etc... Show hem you've got some cojones and drop them for Robles, Hibbo, Stones, Garbutt and Oviedo. Players who might show some desire and urgency. Not this lot who seem distracted and, let's be honest, not interested in at least trying.
Show those of us who still have some faith in you that you can turn this around and make the required changes. If not, then do the right thing. You know what that is.
Bill Gall
117
Posted 20/12/2014 at 18:12:05
I feel sorry to those people who think that Martinez is capable of turning this season around as he has not shown any capabilities of doing it for the last 3 months and he can not understand why the teams he puts out playing to his instructions are so poor. yet nearly everone else can.
Everton are not the type of club that fire their managers so I hope we are not fighting relagation if they do .
Chris White
118
Posted 20/12/2014 at 18:14:42
Fucking idiot needs to go the prick who thinks he is Evertons no 1 fan sat in front of me today needs to have a word with himself if he thinks that shite is acceptable from one of the biggest teams in football. To accept that shite is a fuckin disgrace the sooner Martinez fucks off the better
Peter Cummings
119
Posted 20/12/2014 at 18:15:47
I forecast this yesterday but even I couln't beleive how low we've sunk. I wasn't thrilled about RM being signed from Day One but was prepared to give him a go; not anymore as we are fast going nowhere. Nice goal by Balliotelli Mk 2 though...
Frank Crewe
120
Posted 20/12/2014 at 18:03:07
You know what is driving me nuts. I see long posts listing all the problems we have both on and off the pitch yet right at the end comes the "I still think Martinez can turn it around" bullshit.
Wake up. HE CAN'T!!!!!!!!!
Simon Harris
121
Posted 20/12/2014 at 18:05:30
With Moyes you knew that when the shit hit fan we'd dig in and grind out a few results...normally, nail-biting 1 nillers.
I just don't have any confidence that Martinez is capable of change and therefore can't see a way out of this mire.
I really want him to succeed as I was promised sin miedo and exciting football, but fear this job is just too big for him and the fans will not tolerate his dour football style and patronising post match interviews for much longer.
If he can't see something is seriously wrong and that a little tinker or slice of luck will fix it; then I hope his staff have the wherewithal to get into the team and stoke them up to come out fighting ...the fans will always follow that.
Dave Abrahams
122
Posted 20/12/2014 at 18:07:06
All the good will that Martinez gathered last season has been slowly ebbing away since the start of this season.I think he is coming to the point where the majority will turn against him.
He is proving to be a very stubborn man who only listens to himself, you will have to change Roberto or you YOU will be changed.
Brent Stephens
123
Posted 20/12/2014 at 18:25:08
Ray #104 - IMO a very reasoned and reasonable piece.
Brian Waring
125
Posted 20/12/2014 at 18:20:09
Martinez said: "The most disappointing thing was the way we defended our box. We were a little bit soft and were undone by three balls that went into the six-yard box."
Something we already knew Robbie ages ago'
"We are to blame for the defeat because we didn't defend any simple ball into the box well. Our record shows that we are normally a lot better in that respect and that is where we lost the game." Look at goals conceded Robbie.
"The second half we started with a good mentality and we had Southampton where we wanted them. All they wanted to do was work on the counter-attack." Southampton were comfortable all game, also they were winning Robbie so did what any team would do winning a game, sit back and counter attack.
"But it was disappointing to concede three goals the way we did. Clearly it was a day when nothing went in our favour because even when we created opportunities we never hit the back of the net. The difference between the two sides was in the boxes." You make your own luck Robbie.
Martinez also explained why he did not make any substitutions during the game.
He added: "I did feel that the team was the right one to get back into the game. I wanted the players to show the right intention to get back into the game." 1 shot on target up to the 73rd minute says otherwise Robbie lad.
"I never felt that we were outplayed - it was a matter of the way we defended our 18-yard box rather than any tactical aspect." They had half their best players out and still won comfortably.


Jay Harris
126
Posted 20/12/2014 at 18:24:35
It's not right to criticise the players.
Our problems are down to 2 things.
An amateur standard of preseason preparation leaving the players half a yard short and equally amateur team selection and preparation.
He might be a nice guy with good intentions but when have our great club ever employed a manager that has got his team relegated.
FFS even Pulis and Warnock understand the game better than this clown.
Paul Smith
127
Posted 20/12/2014 at 18:35:32
Brian Wearing - great shout mate! Says it all for me.
David Greenwood
128
Posted 20/12/2014 at 18:31:55
Pretty much agree with the posts above. I have mentioned before about journalists failing to ask the obvious questions. So when RM said' we were a little bit soft with balls into the six yard box' why wasn't the next fucking question, that's been happening all season Roberto, you haven't addressed it yet, why not?
Eddie Dunn
129
Posted 20/12/2014 at 18:25:08
Most of us on here seem to agree that Players are playing out of position.
This has happened on numerous occasions this season.
We hope to control games, but the moment something goes wrong, we concede and take an age to rouse ourselves into anything resembling an effective team.
Slow, lethergic play, from a manager who talks bullshit, and sets the team up all wrong.
He is so stubborn that he didn't even try to change it and use any subs.
Baffling.
Eto, and Nais were in Barkleys way in the second half.
Our wing backs used to be our big threat, but today, we had Barkley pushed out wide left in Baines' way, and Nais in the way of Coleman.
Hopeless dross.
Sack Martinez now.
Brian Waring
130
Posted 20/12/2014 at 18:33:24

What I can't get my head around is that there were loads saying as soon as the team was announced what would happen, but for some reason Martinez can't see it.
Minik Hansen
132
Posted 20/12/2014 at 18:38:00
Why do we have to lose against a team in bad form and why does players who haven't scored for a long time aleays scores against us? I hope we get to see different players in the flanks and get Kone playing. What's happening with Baines? Osman and Pienaar are surely missed now, ay.
Matt Muzi
133
Posted 20/12/2014 at 18:17:57
Worse performance for me so far under RM, I don't understand why he persists in starting Lukaku. Kone has shown more passion in his limited appearances compared to Lukaku all season.
Distin is finished we need a new centre halve to partner Stones.
Howard for me isn't good enough at all and with no one to push him a GK is a must for me as well.
We are really missing Miralles & McCarthy and we desperately need a clear out: Gibson, Howard, Distin, Hibbert, Barry & Hibbert, there can be no sentiment, if we're going to operate with the budget we have.
Like many others this lack of a plan B & appalling set pieces is starting to really annoy me. I'm also sick of seeing our players with the ball and everyone standing still waiting to get the ball.
What further compounds the issue is Martinez's post match interviews either he is completely deluded, doing his utmost to protect the team or he thinks we'll all swallow it!
The board fully supported RM in the summer and the 28 million purchase of Lukaku hasn't paid off, that said it doesn't help that we aren't playing his preferred game knocking the ball down for him to run onto, which may explain in some way his performances to date.
Safety is a priority, I'm writing this season off as a transition season.
Matt Muzi
134
Posted 20/12/2014 at 18:17:57
Worse performance for me so far under RM, I don't understand why he persists in starting Lukaku. Kone has shown more passion in his limited appearances compared to Lukaku all season.
Distin is finished we need a new centre halve to partner Stones.
Howard for me isn't good enough at all and with no one to push him a GK is a must for me as well.
We are really missing Miralles & McCarthy and we desperately need a clear out: Gibson, Howard, Distin, Hibbert, Barry & Hibbert, there can be no sentiment, if we're going to operate with the budget we have.
Like many others this lack of a plan B & appalling set pieces is starting to really annoy me. I'm also sick of seeing our players with the ball and everyone standing still waiting to get the ball.
What further compounds the issue is Martinez's post match interviews either he is completely deluded, doing his utmost to protect the team or he thinks we'll all swallow it!
The board fully supported RM in the summer and the 28 million purchase of Lukaku hasn't paid off, that said it doesn't help that we aren't playing his preferred game knocking the ball down for him to run onto, which may explain in some way his performances to date.
Safety is a priority, I'm writing this season off as a transition season.
Andy Walker
135
Posted 20/12/2014 at 18:41:27
This manager needs to go now, he should never have got the job. He's no Moyes. Get Moyes back and get rid of relegation Roberto.
Brian Waring
136
Posted 20/12/2014 at 18:45:20
"Get Moyes back" Noooooooooooooooooooooooooooooooooooooooooooooooo
Kevin Rowlands
137
Posted 20/12/2014 at 18:32:56
Feel for the lads who made the longest trip they will have all season in the EPL and they have to watch that turdid shite, also am I imagining this or does practically every team that are on a losing run or in bad for ALWAYS seem to end that when playing us. Things going tits up in the Europe and FA cup and this season could be a disaster
Matt Muzi
138
Posted 20/12/2014 at 18:47:26
No I agree we don't want him back!
Gerard Carey
139
Posted 20/12/2014 at 18:36:50
Aye!!!, bring back Moyes!!!, lets try to get to 40 points and the Holy Grail!!!!. So pissed off with this shite, one step forward and two back.
Andy Walker
140
Posted 20/12/2014 at 18:46:46
Brian I'd have Moyes back in a flash to replace the feckless Spaniard.
Pragmatism is the key to compete with teams with £100m to spend a season.
Tom Magill
141
Posted 20/12/2014 at 18:07:02
I just knew we were going to lose today. I have totally lost all confidence in this manager, he can't get any rise out of the players, they seem to be going into a hole. If there is no change soon, we are going down; it's painfully plain to see.
This isn't the Everton style of football we love, all blood and guts and EXCITING!! I feel like falling asleep watching us now. Taxi for Martinez.
Brian Waring
142
Posted 20/12/2014 at 18:49:22
Was just thinking, is Martinez trying to use the tactics he uses in Europe in the prem?
William Cartwright
143
Posted 20/12/2014 at 18:31:04
Venting spleen will in time do something or nothing.
I want to know why up to the Crystal Palace game last season all the pre-match talk was focussed on our strengths and no credence given to the opposition. And it worked. The suddenly all the Roberto chat was focussed on how good the opposition could be and the team bought it. Ever since the mental shift of focus we have gone backwards.
I enjoyed Roberto's Sin Mideo approach but why did he abandon his own bloody lack of fear? Simply beyond me, and probably beyond Bill Kenwright too poor bugger!
Murdo Laing
144
Posted 20/12/2014 at 17:57:30
I was at St Mary's last season when we succeeded in beating ourselves , and thought then that such a poor performance was an anomaly, and we'd learn from it. I've not seem today's game, but from the postings above, today's show sounds equally , if not more abject. We seem to have settled in to a pattern of strings of poor results , punctuated by the odd win , only then to find ourselves (fans)cursing the false hope. I fear that we are on the path to literally handing Ross to one of the Sky 4, as we are not playing him consistently in the same position and letting the lad find his creative feet. Worst of all, we are boring- really fucking boring , and the fans know it don't they ? Without Mirallas , we have little in the way of pace or threat from the flanks, cutting inside,and I think that's why Ross gets handed the black spot when KM is out the side. Anyway, I've just applied to Dignitas but they have knocked me back on the grounds that there's a queue of Evertonians ahead of me !
Gavin Johnson
145
Posted 20/12/2014 at 18:47:42
I think the guys a bit of a weapon but we should try and bring Koeman in, if he can get a performance out of a load of untried teenagers against our team, supposedly laden with stars.
Fraser Auld
146
Posted 20/12/2014 at 18:10:05
That was terrible, difficult to know where to start.
Martinez has tried to shoe horn Lukaku, Eto, Naismith and Barkley into a 4231 formation before this season and its coincided with our worst performances.
The main problem is glaringly obvious...our wide men. We have been badly let down by our wide men this year, other than made of glass Mirallas.
Pienaar is finished, it looks like his legs have totally gone, this has been a season too far for him and Booby seems to have realised it not giving him any game time.
McGeady hasn't shown that he is good enough to be a starter in a team trying to get champs league or top 6. He had a big chance this season to cement a place, no Del Boy on the right wing to compete with but he doesn't do enough.
Atsu has been a big let down and doesn't look like Bobby trusts him.
Mirallas has been good when not injured.
I can understand starting the season 4231 as it served us well last season but after sussing the above players weren't going to cut it Bobby needed to change it and he hasn't.
A lot of the other problems the team has had this year is in my opinion because the team has been so unbalanced up front. Playing the players that we did today is basically playing a 424 formation - every time we turn the ball over the other team is running at our back four and two defensive midfielders, the other four are just stood fannying about up front. No f...ing wonder we're shipping them in.
Playing a 424 coupled with Barry looking like his legs have given up means our defence gets no protection. Might be that Barry isn't fully fit but if that's the case then why rush him back after Barkley and Besic did so well the other night? There are some bad decisions being made at the moment.
Again the lack of balance we have up front is contributing to Coleman and Baines having poor seasons - they haven't become shite overnight. Playing that basically 424 means they get no cover because Barkley and Naismith are all over the place and going forward its the same.
My feeling at the moment given the lack of wingers would be to play 433 or 4312 with a midfield 3 of Barkley, Besic and McCarthy. Upfront I'd go with any 3 from Lukaku, Naismith, Eto, Mirallas, McGeady.
If we don't have the personnel to play the preferred system then we have to change the system to fit what we do have and then buy/loan the players we need to play 4231. The big question is will Bobby do it?
Brent Stephens
147
Posted 20/12/2014 at 18:56:31
David #128 "So when RM said' we were a little bit soft with balls into the six yard box' why wasn't the next fucking question, that's been happening all season Roberto, you haven't addressed it yet, why not?"
Roberto would just reply "Pass".
Brian Waring
148
Posted 20/12/2014 at 18:57:11
" The big question is will Bobby do it? "
No Fraser, going by his post match interview he thinks nothing is wrong.
Brent Stephens
149
Posted 20/12/2014 at 18:59:11
Eddie #129 - where you at Salford Uni?
David Greenwood
150
Posted 20/12/2014 at 18:59:31
Brent @147, very good!
Denis Richardson
151
Posted 20/12/2014 at 18:32:35
That result has to be one of the most disappointing ones we've had for a few years.
The slow car crash started with the initial team selection and never improved.
Why can Martinez not see what pretty much every blue can: none of Barkley, Naismith, Osman or Eto are wide players and two of these are not even midfielders.
Starting with three supposedly as AMs was always asking for trouble. Even with the injuries the likes of McGeady and Oviedo (whats happened to him?) would have been better.
Besic and Barkley in the middle worked - why change?
Kone looked decent and fit - why is he not brought on?
Garbutt looked solid when he's played - why is he getting no game time?
Where the fook is Oviedo?
Etc etc.
We have decent players and should be doing much better. For me our current problems have nothing to do with players ages or injuries. The manager is simply not making the right decisions. Some of these decisions are so basic that it's getting really worrying.
If this carries on much longer he'll lose the dressing room.
Mike Oates
152
Posted 20/12/2014 at 18:51:02
Live on South Coast and just got back from St Mary's. Something is drastically wrong, it's not the individual players who to be fair all did their best, their best today was way off from their best last season. To me it's the selection, shape, passing philosophy . Why oh why pick 3 men in same team who play better in the No 10 position , and stick two out wide contributing nothing all day and stick Eto in the no 10 role who had a shocking day.
Coleman is half he player he was last season, he hasn't got a clue when to go forward , and when he does he just goes down blind alleys. Baines did try and try to get forward but was constantly under utilised either by poor Barry distribution or Barkley cutting inside. Baines had so many overlap opportunities but was used once.
Distin and Jags and Howard were useless today, Long and Pelle dominated them, but again our full backs let their oppo's cross the ball with ease. About 5 crosses , 3 goals and lucky not to concede the other two opportunities.
Besic and Barry dominated by 2 kids and an old hand, Barry was the worse I've ever seen him. Lukaku lazy but again he never ever got the ball into space , not once, he must regret coming to Everton, the service to him is pathetic.
Barkley and Naismith wasted, Eto useless.
In the last 5 mins Baines, Distin, Howard, jags just looked at each other as another attack was stumbling and actually all just shook their heads in disbelief. Barkley and Jags made some attempt to go to the fans, heads held low in disgrace , the rest just walked off quickly . They all know as does the manager that the performance against Southampton's reserves was nowhere near good enough. But will Martinez fi anything about it.
The manager looked clueless on the touch line and even the Southampton fans couldn't understand how we never used our subs.
Amit Vithlani
153
Posted 20/12/2014 at 18:47:27
Ray, when Peanuts left for the Spuds, Bainesy combined with other players (e.g. Ossie) and still did well. Prior to his injury this season, he was getting back to form (6 assists this season).
He is not only about free-kicks and Peanuts. He has the second highest assists in the history of the PL for a defender. A large chunk of those have come when Peanuts has not been in the side.
To add to the point, we know on the other flank Coleman has been one of the best full backs in terms of attacking capability.
The issue is the system and the tempo. Both full backs need the ball to stick in the final third so that they have time to get up and down. They can't push on if it is being passed slowly along the back line, only to be lumped forward to a striker with no hold up capability.
They also tend to thrive when we press further up the pitch.
Its all about getting back to the basics and building a foundation. Bainesy still has the ability to be a major cog in the team if we provide him with a platform.
Patrick Murphy
154
Posted 20/12/2014 at 19:04:17
Whomever hosts mastermind these days "Well - You chose football as your specialist subject and Mr Martinez you have 500 passes and no points!"

Bobby Thomas
155
Posted 20/12/2014 at 18:38:48
Saw the team and didn't bother with it after that.
He's been selecting unbalanced sides ALL season.
Ron Sear
156
Posted 20/12/2014 at 19:02:34
This is now getting serious but let's take Roberto's optimism and look on the bright side, the fans who go to the away matches will have a new lot of grounds to visit next season if we carry on like this.
Linda Morrison
157
Posted 20/12/2014 at 19:04:38
I really like Roberto but am worried. We have very good players so why are we so poor?
Stick with a winning team Roberto and play Ross where he should be. Stop trying to accomadate Barry
Brian Waring
158
Posted 20/12/2014 at 19:05:47
I was thinking the same Denis, where the fuck is Oviedo?
For me, and I know he gets slagged off, but McGeady out on the right, Oviedo on the left (even Garbutt) Barkley in the middle with Besic and Naismith behind Lukaku, looks to have a nice balance to it.
Wayne Smyth
159
Posted 20/12/2014 at 18:58:49
Fraser, I think you've nailed it regarding our wingers being the issue. I've thought the same too for quite a while.
Eto'o is not really a link player; more of a penalty box player. He's certainly not a wide-man. Barkley is not a winger and Naismith certainly isn't. Mirallas hasn't been fit enough and Pienaar and Atsu are not of the required standard anymore.
We simply have no quality there, resulting in no width and this is making our build up slow and laborious since the players are not comfortable with their tasks and are taking the easy option of passing sideways and backwards in a congested middle area.
I don't think that Martinez's passing philosophy has anything to do with the shit performances. It's simply square pegs in round holes out wide.
I think a change of formation is due given the lack of quality there and the strength we have through the middle. I want to see Lukaku given some proper support, with Kone or Eto'o playing alongside him in a traditional 2. Lets accept we have no decent wingers, and put Naismith just behind them.
A midfield 3 of Barkley and Besic with Barry/McCarthy in behind then the usual back 4 would do.
Todays performance was probably the worst of the season...and I would include the 3-6 result against chelsea in that. The players look completely lacking in confidence or belief.
Having accepted we were going to lose the game I was actually glad we went down 3-0 rather than 1-0. A 3-0 loss is more likely to result in some kind of action from the players and I hope management too, whereas a 1-0 loss can often be brushed under the carpet a lot more easily.
Tony Hill
160
Posted 20/12/2014 at 18:55:38
I'm struggling to find anything hopeful to say, but that performance was so dire that it surely has to be a turning point. If RM is going to survive at Everton then he must now act; that will include honest internal discussion and a rebooting of his own approach, as well as removing those players who are unwilling to perform with commitment for our club.
It is possible and we have 3 winnable games over Christmas to get us started. I am not going to give up on this manager and, at the risk of annoying others, I am one of those who does think he is going to come through this deeply disappointing period. But he has to save himself and he has to start immediately.
Wayne Smyth
161
Posted 20/12/2014 at 19:10:46
One other thing, I think Garbutt deserves a run. Baines performances have been sub-par for a long time. Some players need to start understanding that their positions are under threat if they don't perform.
Dave Lynch
162
Posted 20/12/2014 at 19:07:39
Don't worry everyone.
Roberto stated in a recent interview that we will be firing on all cylinders come February!
God give me fucking strength...
Tony J Williams
163
Posted 20/12/2014 at 19:12:45
Stop fucking about with the team Bobby, it's that simple.
Andy Walker
164
Posted 20/12/2014 at 19:12:28
I think it's quite obvious what the problem is, we have been poor all season and are looking worse with each week. We were poor against QPR even though the result was right. We are playing relegation style football at the doctrine of a relegation manager.
Worst blues team for 10 years. It was always going to be hard following Moyes, but relegation Roberto never was and never will be, the answer. He's a nice man, but not a manager for us.
Sean Kelly
165
Posted 20/12/2014 at 19:07:40
There are several things wrong with us at the moment and they are all the down to Roberto. One our shit pre season means we are off the pace. We need a proper fitness level to play like we did last season. Roberto will not drop players playing badly namely Barry Distin Baines and Coleman. Too many players don't give a shit. Some players know they will never be dropped and those trying to get into the team are being harshly treated namely Garbutt and Oviedo.
Finally I think the players have lost faith in Roberto's project. He constantly plays players in wrong positions. WTF is Barkley and Naismith doing on the wing. They are NOT wingers if its not Roberto's fault it must be Ossies.
Richard Lyons
166
Posted 20/12/2014 at 19:14:35
Hugely disappointing... in fact, crap with a capital C.
Crap...
Lukaku = most expensive white elephant we've ever had.
Sean Kelly
167
Posted 20/12/2014 at 19:20:00
Dave Lynchyou should see our fixtures in February. Read the fixture list and weep because we ain't getting any points mate. The Leicester game will be a six pointer.
Brian Waring
168
Posted 20/12/2014 at 19:20:25
Southampton missing their best 2 centre - mids, think Barkley with Besic in the middle would have caused them all sorts of problems.
Stephen Davies
169
Posted 20/12/2014 at 19:16:28
Living in New Zealand, we don't get to see that many Premier League games these days. So the chance to see Everton play is always a welcome bonus. Well, usually it is.
I have been supporting Everton for 42 years now and what a disgusting, embarrassing, disgraceful and gutless result against Southampton today. There are not enough adjectives to describe how bad it felt watching this game. I feel ashamed of Everton. I am ANGRY as hell. Total crap! When Southampton got their second goal, you just felt a third was on the cards. I am fast losing interest in Everton this season until they provide proof, with a decent run, that they deserve my support.
Once Everton go out of Europe, this season will feel as good as over.
Jamie Crowley
170
Posted 20/12/2014 at 19:21:32
Linda Morrison says:
Stop trying to accommodate Barry
Yep, that's the issue IMO. That and we have no CB who can play the ball out.
Here's an idea... if you want to accommodate Garreth, drop him back alongside Jags. He can actually play a ball out from the back.
I like Bobby but he needs to make adjustments because this is perilously close to Moyes, with different packaging. Stop playing favorites Roberto! Don't be stubborn it's not working. Don't over-react, just tweak your system and play the proper players that will make the system work.
And play the players who deserve to play, regardless of age or money spent on wages.
Phill Thompson
171
Posted 20/12/2014 at 19:18:24
The first simple fact is that all three goals came from an inability to defend properly 3 crosses into the box. By omission, neither Jags or Distin got near any of them - and I say omission meaning that for 2 of the goals they may not have been at fault but where the feck were they when we needed a commanding defender to head the ball away ? So before we start tinkering with DFM, MF, attack or whatever , get that defence sorted, Stones needs to come back immediately.
John Voigt
172
Posted 20/12/2014 at 19:03:43
I've been a big supporter of Roberto Martinez. He's making it tough for Everton fans to support what he's doing. This 4-2-3-1 setup he won't switch out of just isn't working (with the players that are currently available). Everton just don't have the wing players to play this system.
Brian Waring
173
Posted 20/12/2014 at 19:27:49
Jamie maybe give Jags and Distin a rest and put in Stones and Barry, both can play out from the back.
Andy Walker
174
Posted 20/12/2014 at 19:24:18
The one positive I think is that us fans seem now to be alive to the reality that this season will be about staying up, because if we continue to play as we are relegation is inevitable. But we don't need to keep playing so poorly so let's all get behind the team to help them avoid the drop.
I don't think Bill will have the balls to get rid before the end of the season, so we are stuck with the manager. Best hope we stay up and regroup in the summer.
Joe Clitherow
175
Posted 20/12/2014 at 19:29:35
How about keep the players and get a manager who sees their strengths and plays to them and adds to them gradually.
This clown is not him
Bill Gall
176
Posted 20/12/2014 at 19:20:13
Just makes me laugh Martinez complaining about the defense .If you go over his managerial time I believe he has the worst defensive record that any other manager in the premier.He has not learned anything about defense since he came into the premier league and has the worst goals against record in the premiership of 42 in 1season.
Goals will get you the points but defense will win you games.
Kevin Rowlands
177
Posted 20/12/2014 at 19:19:55
Couple of things I'd start with, Barry to center half permanently, Lukaku benched for the foreseeable future and to be used as impact sub, please stop with the 'he's getting no service shite' he's been fucking garbage all year, Ross, Besic, McCarthy and Ledson deep midfield options, give Garbutt a chance he deserves it, Stones back asap, and ffs sign a goalie like Ruddy in the new year to at least challenge Besic. Oh and btw, we thought we mugged Utd with Fellaini, well Chelsea and Mourinho have done it to us but even worse!
Colin Glassar
178
Posted 20/12/2014 at 19:12:58
Matt Muzi, you really don't rate Hibbo at all do you? Not only did you ask for him to be sold TWICE in the same sentence but you re-posted and mentioned him TWICE again. Poor Hibbo.
Guy Hastings
179
Posted 20/12/2014 at 19:22:16
The best attacking full back pair in the PL (apparently) but the lack of adventure down both flanks has disappeared. It can't be down to the players as it's what they've been doing for seasons. It must come from the training ground. So, what is the thinking behind it? To me the danger signs were being shown towards the end of last season but an entire back five don't turn into collective and individual shite during the close season. Who the fuck has sucked the adventure and balls out of the side? As for RM's eternal optimism of the sunshine mind, if I want that I'll read Rebecca of Sunnybrook Farm. He needs to sort this out pronto and a spawny win against Stoke won't be enough. But I suspect, behind the smiles lies a 'my way or the highway' mindset.
Kevin Rowlands
180
Posted 20/12/2014 at 19:34:31
Lol obviously meant Howard!
Brian Waring
181
Posted 20/12/2014 at 19:34:15
Kevin, Lukaku's strength is running towards goal, the problem he has is we are so slow and lethargic getting forward he always has his back to goal, and he's not the type of striker who is going to be able to hold the ball up while we amble forward in support.
Joe Clitherow
182
Posted 20/12/2014 at 19:38:14
I think our game is made for Stoke - in particular - to take us apart worryingly
Bill Gall
183
Posted 20/12/2014 at 19:35:25
Dave #162 I hope he is not talking about the 2015 -16 season because we seem to have lost a couple of cylinders this season.
Peter Lynch
184
Posted 20/12/2014 at 19:22:20
We were incredibly poor (and lucky) against QPR so people shouldn't be surprised. The concerning thing aside from the performance/result is Martinez's insistence on how close it was. Barry needs a mobility allowance and shouldn't get anywhere near that team; we're desperate for a new keeper and our full-backs are seemingly undroppable.
Relegation battle not far away I'm afraid.
Brian Waring
185
Posted 20/12/2014 at 19:38:58
Tell you what, if most of those players out there today had half of the commitment Hibbert shows we would have won today.
Jim Bennings
186
Posted 20/12/2014 at 19:37:30
Can fuck off with this playing our from the back?
Frankly I'm fucking sick of it, this is NOT Serie A.
It's the fucking Premier League, I don't give a flying fuck what the football is like as long as its winning productive football.
How many West Ham fans are moaning this season about Fat Sam?
Let's be honest this playing out from the back tippy tally shite is hardly getting the juices flowing with excitement is it?
Brian Waring
187
Posted 20/12/2014 at 19:42:46
I was saying earlier Jim, it's as if Martinez is trying to play in the prem like he does in Europe, and we all know the prem and how European teams play is like chalk and cheese.
Jamie Crowley
188
Posted 20/12/2014 at 19:38:18
I agree Brian 100%. I've said before that I don't mind one defender who is the "classic defender" in the back in this system (Jags) as long as he has a ball-playing CB to play the simple ball to who can then start the ball out from the back.
I like your idea better TBH with Stones and Barry, but Roberto will never drop Jags.
I have to say this too. As an American and a "convert" to "soccer" nary 8 years ago, I find that a hell of a lot of English footy fans really over-analyze and over-complicate things! I grew up playing hockey and also played some basketball. The similarities in the approach to these sports is actually very similar. I think honestly sometimes someone as myself can see a game and in a very elementary fashion see what's wrong and call it like it is. I really do.
My point to all that windy crap in the above paragraph? It's so damn simple! ANYONE can see it! Don't try to out-think everyone in the room. Get someone in the back who can play it out, don't stick #10s out wide, and play the players who deserve to play, not the ones with a "name" or are "undroppable" because they are on big wages.
It's so elementary this dumb-ass American can see it and thinks it's crystal clear - it's that simple. Don't over-complicate it Roberto!
Seb Niemand
189
Posted 20/12/2014 at 19:48:43
Well, now I know what I want for Christmas. Martinez - out!
Brian Waring
190
Posted 20/12/2014 at 19:45:56
Jamie, my lad is 15 now and plays at a decent level, but I always said to him growing up that football is a simple game, it's about pass and move, a defenders job is just to do that, defend, if need be just get rid of the fucking ball.

Paul Smith
191
Posted 20/12/2014 at 19:31:52
Everton substitute - "we're 2 nil down boss & playing shit, I think I can make an impact here"
RM ""- "we're doing ok, there's fuck all between us, give it 10 minutes"
Sub - "boss, that's 3, I need a run out and I can't do much worse than the shit that's out there, you've gotta give me a go?"
RM - " sorry lad, I'm sticking to my guns, they'll turn it round in the last few minutes.....blah blah, blag blag phenomeshite"
The lads on the bench must be fuckin' scratching their heads witnessing that shit and not getting on. Can't do their self-esteem/confidence any good.
Brian Waring
193
Posted 20/12/2014 at 19:55:49
Jack Daniels has kicked in now, so one positive! how good is Besic, thought he had a decent game today, just goes about his business with a swagger, just hope that when McCarthy is back (can't come soon enough) that he isn't the one benched.
Jamie Crowley
194
Posted 20/12/2014 at 19:59:59
and I have a 16 year old (among others) who plays at a decent level and I say the same thing.
Great minds think alike and all that.
David Barks
195
Posted 20/12/2014 at 19:46:35
It's really not that complicated Jamie, you're absolutely right. In basketball you wouldn't get very far with a team of 4 Kobe Bryants. And you wouldn't do very well playing a point guard at Center.
Yet Martinez continuously tries to stick players in the wrong parts of the pitch, as if somehow positions don't matter. Well, if most of your game plan is to just pass the ball around and backward, perhaps he's right. But if your plan is to try to score goals, THEN PUT PLAYERS IN THE POSITIONS THEY ARE MEANT TO PLAY IN AND PASS THE BALL FORWARD.
McGeady can't get time on the pitch in a team with no wide men. The guy has his faults, but one thing he does try to do is actually take a player on and get into the box. This apparently goes against the Martinez philosophy. This was Coleman's greatest strength, but now he always cuts it back instead of taking on his man to get into the box. And when we do get down the channels, nobody is in the box to attach a cross because they're all standing behind the 18 yard box, expecting the ball to be played back out.
Lukaku has his faults, but how the hell is he supposed to score when he gets absolutely no service into the box? And Barkley is suffering the same as Coleman now. His first instinct is to take his man on, but you can see him thinking and then moving sideways and passing the ball laterally. That's a player trying to do what his manager is telling him to do and not doing what comes natural to him.
I hate this manager's style of football, hate it with a passion. I don't care if we lose possession, just go forward and attack. He insists with playing two defensive midfielder's yet still has his team playing cautious possession football, safety pass first, God forbid you try to force the defender into making a mistake or a bad tackle in the box. Game planning against Martinez must be the most enjoyable week of work a manager can get.
Amit Vithlani
196
Posted 20/12/2014 at 19:59:34
Martinez' unwillingness to criticize his players when it is blindingly obvious the team has played badly may reflect (1) a fear of losing the dress room, and/or (2) a tacit acknowledgement that is he, not they, to blame
Brian Waring
197
Posted 20/12/2014 at 20:01:25
Jamie, sack Martinez and get me and you in!
Tony Twist
198
Posted 20/12/2014 at 19:54:17
Merry Christmas from Everton FC. Thanks for today Martinez. I have said it before but will say it again, given time, Martinez will take us down. He is like Moyes in too many ways, stubborn and won't change his ways. He wants us to play a certain way, a way that doesn't suit the players. We need a manager who takes each game at a time and puts a team out to win the game, whatever it takes, even if it gets ugly. Martinez will be given time, that's what worries me. Lets hope he is not given any money in January, he will only waste it. I never thought that Pullis would suit us more than even Martinez but I am starting to think that now. Bilic tries to set his team out to beat the opposition, maybe he is the answer.
Len Hawkins
199
Posted 20/12/2014 at 19:34:44
What is the Spanish for "stop polishing the turd – it has nearly disappeared but the duster is full of shit"?
James Marshall
200
Posted 20/12/2014 at 20:00:45
Lukaku's strength might well be running at goal, but we've never played like that since he's been with us, last year or this. His strength is certainly not his fucking strength. Slow in possession like the rest of them. Shitty slow passing, Baines took 73 minutes to run at their fucking full back! I mean seriously.
Barkley runs down blind alleys due to the slow build up. Teams mass their defenders in the middle of the pitch while we play so fucking narrow it hurts. How can you expect to play an expansive brand of football when you don't make the fucking pitch bigger!!?
It was staggering to watch today, as Martinez just stood there with his hands in his pockets making players warm up for no reason. Fucking idiotic management and plenty of us let him know it towards the end.
It's this single minded stubbornness and reliance on a system, a plan A that got Wigan relegated.
He needs to wake the fuck up and realise that you need pace, and wide men, and subs like he made last season to change games. This season is going to be mediocre at best, and that's fine as long as he has the balls to realise you have to affect games with changes. He go's on about flexibility of players all the time, yet shows none himself. Infuriating and baffling.
Matt Muzi
201
Posted 20/12/2014 at 19:59:43
Agree with Jamie Crowley at 188, however Stones playing alongside Jags, brings Jags game on.
I think a big reason we're struggling & something I don't understand why RM hasn't got onto it would very much appear..... is teams know how to stop us.
They press our fullbacks, press us when we play the ball out of defence, because they know Howard Jags & Distin can't pass & know all they have to do is put two players on Lukaku, because his first touch is appalling. Also at Goodison so called lesser teams, Hull being a prime example will put at least two banks of four behind the ball when we've got the ball to stop us and then try to hit us on the counter attack.
Michael Evans
202
Posted 20/12/2014 at 20:08:13
Football is a simple game
Hurt the opposition with pace and power.
Best Everton team I ever saw was in the mid 80's.
At Goodison, Bracewell volleys a clearance out onto the right wing and Steven cuts in with pace and skill to score.
Simple but highly effective.
.
Somebody with a better memory will remember who it was against.
Brian Waring
203
Posted 20/12/2014 at 20:07:05
That's the thing Tony, Martinez never put out a team to beat them today, they were missing there two best central midfielders, and IMO Besic and Barkley in the middle would have caused them loads of problems today keeping them on the back foot, Clyne and Bertrand were bombing forward too much for my liking because Barkley and Naismith aren't natural wingers who could track back.
Brian Hennessy
204
Posted 20/12/2014 at 20:04:47
Only good thing to come out of today is that we were well and truly thumped.
Hopefully RM will see now things need to change, starting with his team selections and followed by the comintment levels (or lack of it) show by some of our players.
I think a lot of our problem is that we have six or seven players that heve realised that is doesn't really matter how they play, they will still get picked for the next game.
In particular I am talking about our goalkeeper, whole back 4, Barry and Lukaku, all get picked even if they play poorly.
I am praying Martiez shows some balls and drops some our "star" players for the next game.
But I wont hold my breath
Patrick Murphy
205
Posted 20/12/2014 at 20:14:44
Sunderland Michael - that was a good time to watch Everton in their pomp
Jamie Crowley
206
Posted 20/12/2014 at 20:07:15
Imagine this:
Coleman. Stones. Barry. Garbutt
Besic. McCarthy
McGeady. Barkley. Miralles.
Lukaku
Subs in Naismith at the 10, baines Oviedo, Eto'o (I'd play him and him only out of position out wide if need be), and Kone. Jags if u r worried about the back / wanna close out a game.
Youthful exuberance, impactful subs. Everyone in proper position. Gaffers preferred 4-2-3-1.
I Dunno... Just seems so obvious and simple...
Kevin Rowlands
207
Posted 20/12/2014 at 19:40:41
Brian, he was loaned to WB here he spent most of the loan as an impact sub, he went back to Chelsea where they had an out of form Torres and other limited strike options yet they still loaned him to us, he was told more than once last season by Mourinho he needed to keep his big mouth shut and do his talking on the pitch, he had an average year with us then went to the WC where he played one game and we hardly seen him because the Wilmots didn't rate him, he then was transfered to us because Chelsea didn't want him.
Now how many times do we have to hear he's still young, he's not getting the service etc, absolute bullshit, he's a fucking man mountain who gets bullied around and can't head a fucking ball, Osman and Naisy are better in the air and their half his size, his first touch is woeful, honestly at this point I think Anichebe would have give us more this season. I said in the summer we should have signed Bony, less money and a far better player, we were mugged off, I will be happy to be proven wring by him but I don't see it!
Brian Waring
208
Posted 20/12/2014 at 20:19:54
"Just seems so obvious and simple... "
To you and me, and everyone else Jamie, to Martinez................?
Clive Rogers
209
Posted 20/12/2014 at 19:28:36
Martinez has mortgaged our future by signing two players in their mid thirties with contracts that will cost the club 㿅M over the next 3 seasons. He has compounded this by doling out new contracts to other ageing players like Osman, Hibbert, Howard etc., who are already struggling at present. God knows what they'll be like next season. Add to this the crocks who never play. We need a large investment in youth in the summer.
As if that's gonna happen!!!!
Kentwright should have known better after the debacles with Gazza, Ginola, and Hughes.
Andrew Keatley
210
Posted 20/12/2014 at 20:00:47
A few people have mentioned wide men - and how we have been let down by our wingers. I think the problem lies in Martinez' style of play - and why (unlike today) we are even playing wingers.
I don't think Martinez wants anyone to put crosses into the box; it often feels like crossing the ball is a last resort. Which means that wingers - when we play them - provide width, but almost no danger of crossing the ball from wide. Which in turn seems means that we don't get enough people making dangerous runs into the box. Which means that defenders don't need to track that movement. Which means that the play becomes quite static. Which means very little mayhem in the box for the other team to worry about. Which means that defenders don't bust a gut to close those wingers down. Which means that the wide men look up, see no movement, and end up switching play (via our centre halves and/or goalkeeper) so that the same thing can happen down the other flank. It's completely pointless.
I think we have forgotten how to use width to our advantage. Baines and Coleman got so far forward - and often in behind the other team - throughout last season. We need forward players to make runs in behind the opposition back four in order to push them back, and force them into having doubts. And that includes making runs when the ball is wide and in a good crossing position.
We need to remember how to release the shackles on Baines and Coleman, because at the moment they are giving us width, but posing no threat. And I want to see balls crossed into the box; if it can lead to three goals for Southampton today then I don't see why Martinez wants to eradicate crossing the ball from our play!
Patrick Murphy
211
Posted 20/12/2014 at 20:16:52
Brian - I think it was telling that Howard in an interview in the Echo was saying how difficult it is to find a PL keeper - it was almost as if he expects to be Everton's goalie until he decides to call it a day in a couple of years time - that is not the sort of attitude that should be allowed in our dressing room, every player should be on their toes and worrying about losing their place, but that is arguably more down to the way the club has been run than the managers sole responsibility. Mr Kenwright has a lot riding on this season and if the trend of the last couple of months continues he is looking like he won't attract the necessary backers for a new stadium and without a new stadium he is stuck with Everton and Everton are stuck with him.

Darren Fellows
212
Posted 20/12/2014 at 20:07:50
it seems to me RM is a good manager great tactician plays superb formation JUST 50 million and 6 new signings too early I can see what he is trying to do rotating the squad...... thing is he hasn't got a team with great depth to rotate think he needs time after all we are changing the way we play the team is evolving into a passing side he has inherited certain players that cannot pass so come on guys give him a chance and pullis no thanks first signing crouch no thanks lets get behind the manager and enjoy the season we have a great chance to progress in Europe I have a feeling we may win a cup this season and come January sign del boy and bony
Tony Twist
213
Posted 20/12/2014 at 20:16:48
Besic's participation have been one of the very few brighter moments of the last few weeks with some qualities of great players of Evertons past. Reid and Bracewell in the centre of the park were truely great. A centre 3 of Mccarthy, Besic and Barkley should be able to govern games which is what we need. Rock hard centre core of a team for years to come.
Michael Evans
214
Posted 20/12/2014 at 20:19:56
Patrick @205 Thank for you - totally agree.with regard 80's side
Reliable Goalkeeper
Defence there to ... defend
Midfield mixture of hard as nails and artisan.
Power and skill up front.
Sticking rigidly to the philosophy that football is a beautiful game and that possession is all smacks of Emperors clothes.
Time to wake up and smell the coffee RM.
Brian Waring
215
Posted 20/12/2014 at 20:21:45
Kevin, agree, the size of Lukaku he should be bullying defenders. I just remember one of his best games (and ours) the 1st half against Newcastle last season, 2 goals and an assist for Lukaku, his performance was all about pace and power because we got the ball forward quicker, if we can get back to that level we'll see the best of him again,big if I know.
Paul Hewitt
216
Posted 20/12/2014 at 20:27:47
Bobby needs to go now – not tomorrow or next week but now before it gets worse. And it will.
David Barks
217
Posted 20/12/2014 at 20:26:03
Why do we need two defensive midfielders? You know what works really well? Having a player in the center of the pitch who is dangerous with the ball. If McCarthy is healthy, Barkley should be playing alongside him. If not McCarthey then Besic and Barkley. Let Naismith sit behind Lukaku with Barkley attacking the defense, allowing Lukaku and Naismith to make runs behind the defense. Just Attack!!
Brin Williams
218
Posted 20/12/2014 at 20:22:59
A sad day, a sad season, as very sad state of affairs!
Did I see it coming when I cancelled my season ticket? - Not sure/maybe!
Was I enjoying the best footy we'd seen in years, last season? - Yes/but!
Do I have faith in the whole set up/manager/team? - Not really.
Do I miss going to matches? - >NO.

Do I spend as much time on ToffeeWeb as I did? - No.

Am I still an Evertonian? - You bet.

So why the above negativity? - Nil Satis Nisi Opimum.

PS - What happened to the Blue Union? Seems that was the way change happened in the recent past.
Jamie Crowley
219
Posted 20/12/2014 at 20:29:48
From SSN:
"In a shocking move this evening, Everton Football Club has announced they have sacked Roberto Martinez.
Arguably more shocking, Bill Kenwright has announced that American soccer Dad Jamie Crowley has been appointed the new manager.
When interviewed Crowley said, 'I'm extremely proud to represent and manage Everton Football Club. I've no idea how to run a proper training session - hell I've never even had a proper fish and chips or a damn pie - but I will rely heavily on my assistants in that regard. One thing I will promise all Evertonians is that we will play hard 100% of the time, we will play players on form in their proper position, and we will win.'
Evertonians have have met the appointment with mixed response."
Amit Vithlani
220
Posted 20/12/2014 at 20:30:32
The man will not be sacked, no matter what happens this season. No amount of dissension or booing at GP will change this. Therefore, one can only hope that the Board initiates a change in the backroom staff. Someone said we lost a load of personalities who were not replaced (Stubbs, Weir, Holden, Irvine) and I could not agree more. Big Dunc never struck me as a vocal personality, whilst Jones and Bergara were appointed by Martinez and I can't see them being anything other than yes men.
We need people who understand the traditions of the club, whom the players would respect and likely to have influence in their own right, such as Waggy, Snods or even Big Nev Southall.
Brian Waring
221
Posted 20/12/2014 at 20:32:42
The thing is I like Besic because he is always looking to get forward, dropping deep to pick the ball up of Distin/Jags and getting us going, problem is there is never any movement in front of him. Love his passion, doesn't give a fuck about reputation, against QPR Barton and Fer were shit scared of him, IMO, if he stays he's a future captain.
Amit Vithlani
222
Posted 20/12/2014 at 20:30:32
The man will not be sacked, no matter what happens this season. No amount of dissension or booing at GP will change this. Therefore, one can only hope that the Board initiates a change in the backroom staff. Someone said we lost a load of personalities who were not replaced (Stubbs, Weir, Holden, Irvine) and I could not agree more. Big Dunc never struck me as a vocal personality, whilst Jones and Bergara were appointed by Martinez and I can't see them being anything other than yes men.
We need people who understand the traditions of the club, whom the players would respect and likely to have influence in their own right, such as Waggy, Snods or even Big Nev Southall.
Bill Gall
223
Posted 20/12/2014 at 20:24:26
Darren I am not sure what your smoking but I hope I get some for xmas .I agree that we have not got a large squad but to try and put square pegs in round holes is not going to work .
Send a questionare out to a 100 Everton supporters and ask them is Barkley more effective as a midfielder or a left winger. ask isEto,o better off playing in or around the 18 yard area or in midfield and ask how we managed without Miralles all the time he was injured.
A great tactician as you say we be able to alter his game plan by using the bench to control the game and not wait for either injuries or to play catch up.
Patrick Murphy
224
Posted 20/12/2014 at 20:36:44
Brin - There hasn't been that much change in reality - BK will celebrate his 15th year in charge on Boxing Day! Unfortunately the Merseyside clubs have swapped roles with the Manchester clubs. One has become the glamour laden media favourites with little hope of winning the title, whilst Everton have become or are on the way to becoming the Swales led Manchester City.
Brian Waring
225
Posted 20/12/2014 at 20:38:38
Like it Jamie, if your looking for an assistant...........................
Mike Connolly
226
Posted 20/12/2014 at 20:18:31
When we got booed off at home to Hull, I thought it was bad. But when you get booed off away, when our away fans are normally very patient, I know it's getting bad. Really starting to worry now.
Joe Edwards
227
Posted 20/12/2014 at 20:42:13
The wheels have well and truly come off this bandwagon as Martinez has proved again that he has NO Plan B!
I loved Dunc as a player but is obvious that he is no coach; Lukaku has gone from instinctive striker to back to defence target man in exactly the ilk Dunc was and he is all the worse for it.
Get Stubbsy back ASAP and fuckin well cut the Spin Bob it's getting embarrassing now.
Ian McDowell
228
Posted 20/12/2014 at 20:42:08
Fellas its very difficult and frustrating but lets not give up on Roberto yet.
Patrick Murphy
229
Posted 20/12/2014 at 20:41:33
Jamie Out! He doesn't know much about Soccer, how can he the johnny-come-lately American, I know a couple of Americans who had the misfortune to be season ticket holders at his previous club and they reckon he is clueless - writes a good game but when push comes to shove he lacks basic football knowledge - my Nan knows more about the game than that charlatan Jamie does - a terrible appointment. :)
Ernie Baywood
230
Posted 20/12/2014 at 20:41:47
I watch every game in the middle of the night. Have done for a decade since moving to Oz. Last night I started playing FIFA15 on my phone in the second half. Which means I did more than Roberto during that time. The game couldn't have been less interesting.
Brian Waring
233
Posted 20/12/2014 at 20:46:04
Ian, agree, I'm a Martinez fan and think he'll get it right, problem is the honeymoon is well and truly over for him.
Also think someone at the club should start sending someone else out for the post match interviews because the bullshit he's coming out with is doing him no favours, because we aren't fucking stupid.
Sean Kelly
234
Posted 20/12/2014 at 20:37:28
I'm tiring of the shite being offered by Roberto and the team. The football is crap,. The set up is crap. The only one who comes out with any honour in the recent games is Besic. I just know Roberto is going to suck the life out of him.
What's the way forward? I don't know all the answers but it starts by Roberto admitting he is wrong both tactically and with the team selection. I would also remind some players who they are playing for and our tradition. We may be underdogs in some games in this league but surely not against teams like Southampton today who were missing several of their top players
To start to get things right Roberto needs to drop his favourites namely Barry and Baines. He needs to find out where the passion had gone or had he binned it for this nice guy smiley toothless displays.
Roberto get nasty get your team set up to play with pride. Above all Roberto stop taking us long suffering fans for fools because we ain't buying your bullshit anymore. Get it right soon or if you can't get the hell out of our great club and bring the geriatrics like Distin Pienaar Barry and Eto with you.
Jamie Crowley
235
Posted 20/12/2014 at 20:53:03
LMAO Patrick! Brian you're hired!
Clive Rogers
236
Posted 20/12/2014 at 20:55:15
Brin,
The blue union didn't change a single thing. Kentwright completely ignored them and they gave up with him.
Brian Waring
237
Posted 20/12/2014 at 21:00:20
Also Brin, when things were going well the blue union got abused to fuck so they stood back a tad.
Ian McDowell
238
Posted 20/12/2014 at 21:02:36
Brian @ 233 I agree. I am a Roberto fan however I am becoming concerned. Not so much by results but by the performance. I thought we where lucky to win v West Ham and QPR and fell below what I expected.
Amit Vithlani
239
Posted 20/12/2014 at 20:55:08
Ian at 228, your loyalty and faith in the manager has to be applauded, but his position is being questioned because we have a rot which has set in over THIRTY games.
Martinez reached a zenith when we beat Arsenal 3-0 and since then our record in all competitions reads Pl 30 W 11 D 8 L 11
That is a 37pc win ratio over a sustained period of time which does not bode well for a manager who supposedly promised to deliver Champions League football, and sent out a statement of intent by splashing 28m on a centre forward.
Ian McDowell
240
Posted 20/12/2014 at 21:04:42
Amit to be honest thats not a great record and our performances have been very inconsistent since that result. I can't think why, not much has changed.
Colin Malone
241
Posted 20/12/2014 at 20:46:54
David Harrison.*69. Stop dreaming you're in charge of Barcelona. Spot on David.
You cannot train old dogs new tricks, i.e. our defence, so until we get defenders who are comfortable bringing the ball out with a bit of guile, let them do what they have done best,which is defend and let the midfield do the passing because its very very slow, which does not help Lukaku who is not an out and out centre forward, if not go and buy a six foot eight centre forward, because thats the only way we are going break through oppositions defence.
Brian Waring
242
Posted 20/12/2014 at 21:05:39
Maybe Martinez is trying to bring a philosophy of football that is more suited to the European leagues than the prem.

Ian McDowell
243
Posted 20/12/2014 at 21:11:02
How about we give our manager who wants to completely change the playing style of the club on a limited budget more than 18 months?
Ian McDowell
244
Posted 20/12/2014 at 21:14:29
Remember Sam Allardyce was given dogs abuse last season and now seems the messiah at WHU.
Guy Hastings
245
Posted 20/12/2014 at 21:10:01
While the red tops are flagging LFC in crisis, Brenda in crisis, Gerrard in crisis, RM can sit back safe that the media spotlight isn't focused on him. I think we're in as much trouble as they are, it's just that it's a lower key media trouble.
I And I've said it before, any manager who puts the house on winning a cup at the expense of everything else has to have beyond Teflon self-belief and Lottery-winning luck behind him. I suspect RM has one of those.
Brent Stephens
246
Posted 20/12/2014 at 21:09:20
Jamie #219 - but did your current chairman break his leg at some time?
Amit Vithlani
247
Posted 20/12/2014 at 21:09:49
Ian, what is further puzzling is that results against the other 6 teams making up last season's top 7 - i.e. Man City, Man Utd, Chelsea, Liverpool, Arsenal and Spurs - since that 3-0 win over Arsenal have been pretty poor too. It reads Pl 7 W D 2 L 4.
If you look at results this season against sides currently above us in the table, it reads Pl 8, W 1 D 2 L5, with Newcastle to come.
So embedded in the 37pc win ratio is an even poorer ratio against the better sides in our league. We have therefore regressed into a mediocre mid table outfit during the course of 2014.
Colin Glassar
248
Posted 20/12/2014 at 21:07:40
Same here Ian. Same players, same manager as last season but it's all gone pear shaped. As many have already stated on this and other threads our form in 2014 has been awful. Hopefully, Martinez can turn things around in 2015. I still want to believe he can and will do so.
Brian Waring
249
Posted 20/12/2014 at 21:12:42
Ian totally agree,I think Martinez doesn't help himself though by doing things that we can all see doesn't work.
Trying to squeeze Barkley, Naismith and Eto'o into the starting 11 doesn't work, it's something he's tried to do numerous times and it hasn't worked, so why keep doing it?
Barkley playing wide left is a crime IMO, Martinez has tried it a fair few times now and even though Barkley looked ok late on today he has normally stank out wide.
Also, if he came out in his interviews and told it how we saw it he may get a bit of leeway, but he comes out with some bullshit.
Paul Dark
250
Posted 20/12/2014 at 21:13:35
Ian, 243 - I do think you have a point.
I do wonder, though, if RM is asking for too much versatility from British players, who generally find that quite hard.
Also: his tactical aberrations do need to be addressed. Still, with a board that backs him to the hilt - as does the Arsenal board Wenger (much to their credit) - I think RM will have the space to be stubborn, pick his favourites and play players out of position.
I'm surprised how he hasn't commented how the searing football of the first half of last season has been replaced by turgid and languid complacency.
In my view, Besic is head and shoulders above his team mates in there last few games. He's hungry, fast and focused (you can see on his face). I think we're missing Macca too. Barry needs to be dropped. Bainesy needs a rest, and we must use the bench.
A defeat at home to Stoke and we are in crisis and looking to avoid relegation, no question.
Brian Waring
251
Posted 20/12/2014 at 21:23:34
Paul agree on Besic, I would bet my house on it though that when McCarthy is back, Besic will be dropped like a lead balloon because there is no way Barry is being benched.
Paul Smith
252
Posted 20/12/2014 at 21:26:05
Just in from St Matys - Konr is still doing his warm up routine on the touch line (poor bastard).
Alex Willett
253
Posted 20/12/2014 at 21:22:40
I really hope Martinez sorts this out it's disturbing.
Paul Dark
254
Posted 20/12/2014 at 21:29:19
252 - haha.
Maybe RM is a genius; no one, part from him, understands the absence of subs today.
Brian Waring
255
Posted 20/12/2014 at 21:30:19
Paul, was Kone ready to come on before the third went in, then sat back down.
Mike Corcoran
256
Posted 20/12/2014 at 20:35:47
John Daley I love your posts! I'll buy your book when it comes out fella! Kudos
Paul Smith
257
Posted 20/12/2014 at 21:33:36
Yeah, everyone thought the change was imminent. We'll still be waiting in the New year.
Patrick Murphy
258
Posted 20/12/2014 at 21:31:23
Paul 254 I believe that BK has declared in his Christmas message to the staff that following last year's Boxing Day debacle Roberto was to refuse any requests for Subs this time around, obviously the message got lost in translation.

Joe Clitherow
259
Posted 20/12/2014 at 21:23:43
Ian I have been watching Everton for over 40 years since I was a small child and I know from attending matches that Evertonians are generally a very knowledgeable lot. Given that Sam Allardyce is actually a really well known quantity then it has been clear to me that he would do an adequate job for West Ham eventually given his proven track record.
I would ask, then, in all seriousness, on what basis would you give Martinez more time? Why?
When I watched Everton under Kendall in the early 80s there was something there, there was change, a spark. I honestly cannot see anything with this guy to give me any sort of hope that it is bad luck. I'll say again that this is the best squad of players we have had since the 80s and every week we seem to plumb new depths. On what basis, beyond blind faith with little grounding in reality and fact, would you give more time? Genuinely, if I am missing something, please enlighten me. All I can see is good players being stifled into some kind of system that I cannot ever see working and has been rumbled plenty of times in the same way by managers of supposedly lesser teams.
Happy to be educated, but again for me. Martinez Out as quickly as possible, and ideally with an upcoming transfer window for a new manager. That's how dire I think it is right now
Doug Harris
260
Posted 20/12/2014 at 20:40:20
First things first. Why doesn't Howard command the six-yard box like Big Nev did? Today he was stood a yard off his line watching a ball come across that,sadly came off Lukaku for their first goal. Nev would have knocked everyone in his way to get and keep that ball.
Of all the opinions in this thread, with most I agree, this fella Tim Howard is a very lame duck at the moment. You build a team from the back; sadly Tim has gone, which most of us know anyway.
James Stewart
261
Posted 20/12/2014 at 21:33:17
The only P45 being dished out should be to Martinez. That was simply embarrassing.
I have had enough of what can only be described as Zombie football. It's tedious and painful to watch. We are not Barcelona and do not have the defensive players good enough on the ball to play that system. Stale predictable and tactically inept.
He has got to go. We are already worse off than when Moyes left and it is only going to get worse.
This is not a knee jerk reaction but damage limitation. Can anyone name one performance this season where we have played well and won the game with the result never in doubt? All the organisation and discipline of Moyes's reign has now eroded and we will not make the top half this season let alone top 4 and, with our squad, that is a sackable offence in my opinion.
Brin Williams
263
Posted 20/12/2014 at 21:27:56
Clive/Brian - I was never a supporter of the BU but neither am I of the opinion that the fan's right to boo the playerds should be questioned. The fans deserve nothing but the best, at all times, from the club (players-management- and board) - nothing less and it is their prerogative to express themselves in any lawful way they wish.
For various reasons, I did not take up the option to renew my season ticket - and the way things are I cannot see me doing so in the foreseeable future.
I am of the opinion that having enjoyed an outstanding last season eyes have been taken off the ball - things are being allowed to slip and the fans have every right to voice their opinions.
Whether the BU is any sort of answer I do not know but it is sometimes better to take the bull by the horns before a catastrophe happens.
Martinez (I remain a fan) will not step down - nor will he be fired, not unless he takes part in the Apprentice - but he is in a 'special moment' of his career
and only a 'phenomenal' change will convince the fans that he has the right to steer this very special and phenomenal club to his promised Champions League and secure his place amongst the greats.
Ant Summers
264
Posted 20/12/2014 at 21:46:39
It's a sell-out Boxing Day... if Stoke turn us over, RM will know Goodison Park wrath. If Barry, Distin, Jagielka and Howard all turn up, we will be Donald Ducked. On today's performance – an away win.
Jim Bennings
265
Posted 20/12/2014 at 20:58:42
Agreed with you Brian
The European game is played totally different from the rough and tumble, frenetic nature of the English Premier League.
Its ok looking at team's like Arsenal and saying the we want to play that way but the difference with Arsenalis that their team is packed with blistering pace on the counter attack, we haven't got an Oxlade-Chamberlain or a Ramsey or when fit a Walcott and we haven't got a striker/s that can actually move, or be supported by others running off around them.
Watching Everton this season has been like watching paint dry.
We have barely put in a single strong performance, we have not kept clean sheets, we have been horrible to watch away from home, apart from Burnley our goalscoring piss poor, let's be honest it was only thanks to a once in a lifetime hit and hope injury time Jagielka goal that saved the Anfield Derby from petering out into another limp wristed meek surrender, the Jags goal clouded how bad we were that day against a bollox Redshite team.
Our home form has been relatively poor since April, no tempo or urgency to make Goodison a roaring bearpit.
I never thought I'd day this 12 month's ago but this season is making some of the Moyes years look positively exciting.
I'd say many things about Moyes but one thing he did do more often than not was make sure the fans created an atmosphere at Goodison and that was the result of a quicker more direct productive way of playing, something to engage the fans not numb our minds with pre-season-esque slow sideways passing.
The entertainment level watching Everton both at home and away this season has been akin to watching a Eurovision song contest back to back..
Slow paced and at the end of it all not actually building up to anything of any note at all.

Joe Clitherow
266
Posted 20/12/2014 at 21:48:50
I blame you for the bold type too Brin. I'll try and turn it off Does that work?
Joe Clitherow
267
Posted 20/12/2014 at 21:51:38
I think it has!
Mark Griffiths
268
Posted 20/12/2014 at 21:51:03
Just watched the goals over and over again (I know I know) and the one thing that I can see apart from the crap defending is the players looking like they could not be arsed and had zero fight in their bellies! Being honest, we were fairly crap against a shit QPR side and something stinks at Everton at the moment.
Brian Waring
269
Posted 20/12/2014 at 21:39:54
Joe, that spark was Kevin Brock!
Mike Corcoran
270
Posted 20/12/2014 at 21:49:01
Surely Roberto is due his phenomenal Damescene moment and the lightbulb will appear above his crust? The players are here but it's all miedo and no sin. It's so predictable and easy to both put us under pressure and nullify our attack. We are so slow in build up that no space remains.
Kevin Rowlands
271
Posted 20/12/2014 at 21:53:31
Honestly, just read the match report, lose 3-0 and not make a single substitution? I'd be interested to know if something like that has ever happened in a game in the history of the EPL or most other leagues and competitions for that matter, it just beggars belief.
Brian Waring
272
Posted 20/12/2014 at 22:00:43
Kevin, that's why I couldn't understand Martinez saying he felt he had enough out there to score and he wanted to give those players a chance, even though up to the 73rd minute we only had one shot on target.
Brian Waring
273
Posted 20/12/2014 at 22:03:09
Have a feeling also that Stoke will be a tougher game than today.
Brian Waring
274
Posted 20/12/2014 at 22:04:16
What's everyone's favourite tipple? Mines Jack Daniels (and it's been pounded today!)
Jim Bennings
275
Posted 20/12/2014 at 21:51:10
I'd also like to question the validity of all this "best squad since the 80's" bullshit.
Errmmm..
Tim Howard? Average keeper always prone to circus act behaviour.
Jags and Distin?. Past their best, were always just fairly competent not great.
Leighton Baines?. Nowhere near the same player of 2 years ago, forget all this assist stuff, his overall game has been average for too long now, his setpieces, his predictability on his poor low crosses always hitting the first defender.
Since the Pienaar days he's never been the same.
Seamus Coleman?. Having nowhere near the same impact or as strong defensively as last season. Was also poor during Moyes last season in charge (2012/13, was last season a one-off Jelavic style?
Pienaar?. Just read Leighton Baines.
Barry and Besic? . Barry too slow, good last season but the time seems to have caught him up now, is on too long a contract.
Besic has been quality but sadly is not going to offer anything going forward (not his fault).
McCarthy and Barkley?. Macca not been as good as last season at times, very good during other times, but again as good as he is, he's another defensive midfielder who never gets near offering a goal threat.
Barkley all the ability in the world but probably at this moment doesn't use it enough, not helped by Martinez suddenly thinking he's a wide midfielder.
McGeady?. Puts a decent cross in..now and again, but in the main has been frustrating shite that has beat himself more than any opponent fullbacks.
Lukaku and Eto'o?. Eto'o flashes of genius, doesn't have the legs anymore though to last him out and is wasted again by Martinez playing him out wide, a fuckin fella who's earnt his living as a goal poacher.
Lukaku?. One sentence needed.
We should have signed or tried to sign Wilfried Bony.
Naismith.. As good as gold, gives his all but again had suffered due to Martinez tinkering.

Joe Clitherow
276
Posted 20/12/2014 at 22:06:20
The spark wasn't Kevin Brock Brian, he was just the catalyst with his backpass. The team had something, you could see what Howard was trying to do. I have no clue about Roberto, nice man that he is.
It's like he doesn't realise that the other team have tactics too.
Roger Helm
277
Posted 20/12/2014 at 21:41:53
What is maddening is that we have a group of really good young players at the club - Barkley, Stones, Besic, McCarthy, Garbutt, Lukaku, Coleman, as well as some good older players like Naismith and Jagielka etc. Surely a half decent coach could build a side around these.
Martinez seems obsessed with one particular style of play and there is no plan B when it doesn't work. Worse, he is shoehorning players into his system, rather than adapting his tactics to get the best out of his players.
Surely it is obvious that Barkley is best in the middle - he has his season's best match at CM then next game he plays out wide; Lukaku is a goalscorer when the ball is played into his feet and is never good with his back to goal; our two regular CBs are not comfortable bringing the ball out of defence; Coleman can not bomb forward with McGready occupying that space; Eto'o and Naismith are both number 10s who can't really play together; and so on.
There are other systemic failures: too many old players on long contracts; a chronic lack of urgency, pace and desire (Besic the honorable exception); too many undroppable players like Howard, Baines and McGready; a poor use of substitutes in what should be a 14-man game; a lack of honesty in post match analysis; poor man-management - being nice all the time is very comfortable, but can you imagine Clough and Ferguson behaving like this?
Clearly the team have been found out tactically and are too easy to play against. Something has got to happen in the next two months, either bringing in younger players to replace the has-beens, changing the tactics, dropping the nice-guy routine or a big investment in the next transfer window, or it's a taxi for Martinez.
Mark Taylor
278
Posted 20/12/2014 at 21:25:04
Steady now!
I don't post that often on here but my message from the outset was that RM would do very well indeed to out perform Moyes in terms of league position. Sorry to have to repeat this but success in the PL is closely correlated with spend and we are relegation fodder on that basis, so why not in reality?
Last year was an excellent outcome, far above what I was expecting. We had one of those rare opportunities in January 2014 when with a bit of support from the board, we may well have brought in the quality that could have delivered top 4 and finally broken the glass ceiling. Instead, we got McGeady on a free and a 7 foot bloke on loan who didn't play (and maybe just as well).
But for all that, I'm not going to over react now. Martinez was a decent manager last year and suddenly hasn't become a terrible one. The problem is, he has got people expecting more than is realistic. Sometimes we will have a great season and be top 5 or 6, sometimes we will be a mid table side (which is where I think we'll finish this year). Unfortunately that is our position in the pecking order.
We do have some decent players. I think the problem is as others have articulated; we sometimes play them out of position; our tactics need refreshing because the players struggle to implement and in any case, other teams know how to make this brand of possession football a liability; we have players who have deteriorated quicker than expected who really need to be moved on and others who look demotivated and/or uneasy at the role they've been given.
The solution? Well I wouldn't start from here. For a start, we've blown all our money on a striker with a great shot and an eye for goal but little else. I think we basically need to try and get our best players on the pitch in a formation that suits them. One option is a 4-3-3 with Howard, Coleman, Jags, Stones, Baines (or Garbutt)- Besic, McCarthy Barkley- Mirallas, Lukaku (or Eto'o), Kone. Or you could play a 5-3-2 with Howard, Coleman, Stones, Jags, Barry Baines ( or Oviedo)- Besic, McCarthy, Barkley- Mirallas, Lukaku (or Eto'o or Kone). In both, Barkley plays a little forward of Besic and McCarthy. In the 5-3-2, the full backs are given full licence to attack and cross to the two blokes in the middle, with Besic dropping back to CB, and Stones and Barry moving out to FB.
Obviously our troubles are a little deeper than this. Howard looks past his sell by date as does Distin, Pienaar and to a lesser extent Jags, Barry, Hibbert and Osman. Players like Atsu and McGeady are, in my view, well short of the desired standards here. We are now especially weak on the wings, which makes the cuurent 3-1 formation up front basically impossible to implement. But wholesale changes are not affordable and we have given some of these longer contracts which we can't afford to break. But I think we can play a team that can get us top half provided we break this obsession with possession and make a virtue of fast transition from defence to attack. In particular, there is no point in playing Lukaku if we are not going to feed him with the kind of through balls that he feeds off or, as a fall back, get some decent crosses in the box, preferably before the defence is fullt set.
Dave Abrahams
279
Posted 20/12/2014 at 21:51:06
A car door has just banged outside next door's house, I know without looking it's my next door neighbour, a disabled Everton supporter just back from Southampton with his mother who goes with him as his carer.
This young man lives for Everton, they are his main reason for living the rest of the week and his mother enjoys taking him, I wish Martinez and the players had the bottle this lad has in living his life and the way he loves Everton.
He will be sick at that performance today but unlike me he will never critisise his team and he will just get on with it and be back for more against Stoke. I'd like to think that the players would understand and appreciate supporters like this young man, I think too many of them couldn't give a f--k. I,m starting to lose heart with the situation at Everton but seeing this young man and his love for The Blues gives me the encouragement to carry on supporting Everton.
Bill Gall
280
Posted 20/12/2014 at 21:26:54
To sum up todays performance I urge supporters to read Luke O'Farrells report of ( Roberto Martinez deserves criticism for wretched, Everton's dire form) these are a couple of comments from it
Once Southhampton extinguished Evertons early promise with the opening goal there was little hope for the toffees from their trip to the south coast.
Not for the first time this season - and at this current rate not the last - Everton found themselves on the backfoot before the first whistle had sounded with Martinez's changes causing problems.
The failure of the original set up was bad enough with too many players out of position and hampered by the tactics afforded them. That the same shambolic mess remained untouched through the 90 mins was inexcusable. There is no justification for these bedraggled players to plough aimlessly through the entire match.The manager has to attempt to alter the flow of the match; simply disowning this is not acceptable
This last comment really shows what myself and a number of supporters are begining to realise'
Perhaps most alarmingly of all is Martinez's inability to acknowledge what appears right under his nose.
Brian Waring
281
Posted 20/12/2014 at 22:12:41
"Everton were 1st team not to make any subs in a PL game this season. Last team to do it was Arsenal v Chelsea Dec 2013."
Chris James
282
Posted 20/12/2014 at 21:23:13
The problem for me isn't so much the results, it's the direction which at the moment is only one way.
We started this year as one of the best placed teams to push on having kept together the key players of what was a top-4 challenging side from 13-14 and added Besic, Eto'o and Atsu.
Yet somehow we started the season looking like a team that had hardly played together and was out of condition. Our passing game appears to have gone from pretty slow to utterly pedestrian and one or two performances aside we're getting outfought and outthought tactically by anyone half decent (if QPR had Austin on Monday it'd have been a different story).
Having our tactics found out is forgiveable, it happens to every team at one point (even the mighty Spain and Barcelona went a little stale of late), failing to adapt or have a Plan B is utterly shameful. And unfortunately that's where it appears we are right now.
Once the transfer window is over, Martinez job is to define playing strategy (which isn't working currently), motivate the players (ditto) and then make changes during the match (ummm). Right now I'd say he's falling short on all 3. The results are bad, the performances are bad and it looks like the moral at the club is slipping fast (fans and players alike).
What's going to change? I don't know.
A more direct plan B and actually practising set pieces would be a start.
Joe Clitherow
283
Posted 20/12/2014 at 22:08:19
Jim this is pretty much the same group of players who challenged for the Champions League last season, and many of whom have been solid Top 6 challengers for a while longer. To do a comparison you need to compare not just slag off the players we have, who are decent in my opinion.
e.g. for Coleman compare versus Marc Hottiger, for Barkley look at Scott Gemmill, For Besic you look at Mark Pemberton, Distin Carl Tiler. I haven't even got onto Claus Thomsen!
Do you know I could go on for a long, long, long time but I am steadily depressing myself that we are now seeing the end our tenure at the Top 6 end of the three groupings of clubs in the PL.
Brian Waring
284
Posted 20/12/2014 at 22:16:33
Mark, thing so many are pissed off because as soon as the team was announced everyone (apart from Martinez) knew the starting 11 wasn't going to work. Trying to squeeze Barkley, Naismith and Eto'o into the starting 11 has been tried by Martinez numerous times and hasn't worked (it never worked the first time) Barkley wide left is a waste of a talent, Naismith on the right when you have a natural winger in McGeady (even though he gets slated) is a joke.
Paul Holden
285
Posted 20/12/2014 at 22:36:18
Just got back from St Mary's – what a croc of shite! How does Martinez justify no shots on target first half, and two second half (both long range hit and hopes)?
Jim Bennings
286
Posted 20/12/2014 at 22:32:10
Joe
The 2004/05 squad lets be fair, limited but they actually finished 4th.
Sometimes you get a freak season, don't you recall Ipswich finishing 5th in 2000?
What happened last season is totally irrelevant to what's happening here and now,
If you look at our form throughout the whole calender year of 2014, the good 7 match winning run aside, we have had some truly shocking results and some of the worst performances for a long long time.
Martin Berry
288
Posted 20/12/2014 at 22:36:11
I used to love watching us but this season is fucking painful. Even when we win the match with the odd exception it's been pretty dire and that's being kind. When you start cleaning the kitchen, sorting the drier out and washing dishes (without being nagged) during a match it sums up how boring we've been.
Darren Hind
289
Posted 20/12/2014 at 22:22:01
The journey back trom the south coast has been a miserable, miserable experience.
Although we were poor Against QPR, the one real positive was the Besic/Barkley partnership. it offered new hope. people around me were actually opened mouthed when we found out he 'd split them up.
I'll give reading all the other post a miss until tomorrow, I don't think I could bear to read the usual suspects bleating about the players letting the their hero down.
"raised expectations "my arse he 's slowly but surely destroying all hope.
I've been saying all season that this group of players should be fighting for Champions league qualification and if we had a manager who was up to it They would be
Kevin Tully
290
Posted 20/12/2014 at 22:40:38
Honestly, the most hated post of mine I ever read was 'didn't see the game but.' Then any comment was null and void in my mind.
So, due to a longstanding family commitment, I never saw the game today. But, I can see the total vitriol being projected towards the manager on here. I can't defend him, because haven't seen the game.
Maybe Bobby is best suited to the Spanish game? The PL is not a passing League unless you have the players. We don't.
Mike Jones
291
Posted 20/12/2014 at 23:01:09
im just a bit annoyed and fed up with football. I never expected a 3 0 defeat...but I did expect a defeat. Fortunately i'm watching Beyoncé dance on the tele just now...so its all relative
Chris Gould
292
Posted 20/12/2014 at 22:58:36
Martinez is a complete pussy. He's terrified of dropping the senior players. He is not a leader. He does not inspire. He is simply a nice guy.
Brent Stephens
293
Posted 20/12/2014 at 23:09:24
Why no substitutions made?
Either he thought there was no problem on the pitch. Duh!
Or he thought those on the bench wold be no better. Equally duh for me as you just have to try something different even though you know whether it might work.
Joe Clitherow
294
Posted 20/12/2014 at 22:47:06
Jim I don't know where you get the "freak season" quip from? The group of players have been regular top of the league contenders for a while, without ever having that consistency that marks out title challengers - they aren't that good. They did better last season than for a while, and missed out on CL mostly because the "truly shocking results" you mention mostly came at the end of last season. In fact, as I have said. the team has been steadily sliding down since about the end of March, every week bringing a new nadir of turgid, boring ineffective shite football based on passing just for the sake of passing. No penetration, no movement, no inventiveness on set plays, no attempt to cross or take corners (RM doesn't think they are effective) and no idea how to defend highly effective set plays from other teams (who seem to score almost every other goal we concede from corners despite them being a waste of time and despite every single player in the team being in our box for them - I almost said defending them then).
I don't really get your point. If you are saying that the players are basically rubbish and are only now showing where they should be then sorry I just don't buy that because it is not borne out by anything so far as I can see. As an example Leighton Baines has consistently been in my opinion the best left back in the country for some seasons and at 30 should be playing the best football of his career. I have to go back to Paul Power in the season of his life 86-87, past Andy Hinchcliffe (my erstwhile neighbour!), to recall a better and more consistent left back performance game in game out. Yet all of a sudden he isn't playing the best football of his career and every other post above is calling for him to be dropped. Does that mean he was crap all along for the last 6/7 years? Were they all freak seasons for him? Or does it mean he is being managed badly, confidence completely shot, overcoached in a system that just does not work and does not take advantage of his exceptional footballing talent? I know where my money is and that's just one player as an example
Nick Entwistle
295
Posted 20/12/2014 at 23:18:13
Chris #282, I don't think we were one of the best placed teams to push on.
You run just to stand still in the Prem and bringing in Besic and Atsu is neither here nor there, and an aging legend, when those we are trying to beat have legends in their prime, isn't going to do chuff all.
Brent Stephens
296
Posted 20/12/2014 at 23:21:40
What might be an attempt to produce a free-flowing, flexible, spontaneous and creative system based on confident passing / possession, is probably in reality a heavily-coached, mechanistic, robotic, fear-laden, risk-averse set of performances.
Kevin Tully
297
Posted 20/12/2014 at 23:26:52
By the way, very unlike Blues to be shouting for a change because of a few defeats, or were we find ourselves in the League.
This is all about the football, and lack of fight, isn't it? How can anyone argue against that?
Harvey Miller
298
Posted 20/12/2014 at 23:29:01
I'm glad I didn't watch the match.
At the moment we are relegation stuff, this could be the season we go down.
Nick Entwistle
299
Posted 20/12/2014 at 23:36:30
In one way Kevin you are right. How many of the Moyes seasons did we find ourselves in this position only to turn the new year and out perform all but the league champions?
But this isn't that bloke, its Martinez, the bloke who got Wigan relegated without an ounce of pragmatism and relied on 'philosophy' with the basics forgotten.
We won't go much lower but we won't go much higher either.

Jim Knightley
300
Posted 20/12/2014 at 23:35:14
This side is a very good side, but we are being let down by them because of Martinez, imo, atm. It began with the piss poor pre-season, which anyone with any football sense could get would lead to a poor start. We are devoid of confidence, and because of that our passing is slow, nervous, and impotent. We need patience...but what on earth was Martinez doing with the team selection today?! We go to a team struggling to score goals, but with good defensive players, and stick Barkley, Eto, Naismith and Lukaku in the same team! Not only is it extremely top heavy, but all three players are second strikers/amcs! We can't play them all in one team, or even two of them, and it's so obvious it's embarrassing. It ruins our structure, ruins our full backs, and makes us so so obvious to play against. Why does Martinez, who so clearly values a passing style, play with so many direct attacking players? Why does Martinez try to shoehorn several players who favour the same position into our team? Why doesn't Martinez play to Lukaku's strengths? Despite Jim's exaggerated condemnation of our side (Coleman was brilliant for the last six month's of Moyes' reigh), we have a very good young team, with some aging players. We are playing well below ourselves at the moment, and we could do with a top left sided player and another top cb..but more than anything, we could do with some confidence and tactical changes.
Patrick Murphy
301
Posted 20/12/2014 at 23:41:56
If it was just a case of bad results with decent performances Kevin - it would be a problem but when its a case of poor attitude, application, tactics and a lack of direction ending in mostly poor results most fans of most clubs would give voice to their misgivings - Evertonians in general are quite a forgiving bunch but they won't stand back and watch a team go through the motions without battling in games, in any circumstances regardless of who the manager may be. The old adage that you have to earn the right to play your football seems to be lost on the current regime and its players.
Kevin Tully
302
Posted 20/12/2014 at 23:43:12
Nick, I was desperate for Martinez to show that that highly paid, international footballers could match the golden clubs.
Maybe it can't be done after all. That makes me want pack it all in.
Daniel Joseph
303
Posted 20/12/2014 at 23:40:14
Naismith Eto'o & Barkley cannot play in that formation together, in those positions. They were falling over each other to get to the ball. Time to put Lukaku on the bench along with Baines & Barry. If Macca is fit I'd play him before Besic (who I like) and go 4-4-2 with:
Howard
Coleman, Jagielka, Stones, Garbutt
McGeady, Besic, Barkley, Mirallas
Naismith, Eto'o
Totally disjointed today and I'm sick of the Ray Wilkins school of tappy-tappy, passy sidey, passy backy dross that's been on show this season. Any manager worth his salt can overcome us this season.
Very, very poor, Bobby lad.
Joe Clitherow
304
Posted 20/12/2014 at 23:51:53
Or maybe it can be done Kevin but just not by this guy?
Kevin Rowlands
305
Posted 20/12/2014 at 23:50:17
Peg leg Whelan "Robertore will take Everton places they never imagined" am I the only one starting to worry the old racist twat may have been right but not in a good way?
Kevin Tully
306
Posted 20/12/2014 at 23:52:48
I think it can be done, Joe. We need an inspirational Fergie type character. Doesn't look like Bobby is that man. Both in style or substance.
Doesn't mean we should disrespect the guy though, he achieved a record points haul last season. He clearly has some talent.
Patrick Murphy
307
Posted 20/12/2014 at 23:54:09
Kevin - I honestly don't think we will be relegated this season and if we even finish close to doing so I don't think Roberto would be given the chance to try again next season. Much of course will depend on the teams performance over the next few months - somebody has to find Everton's Mo-Jo and quickly I wonder if it has been left on the Beaches of Rio?

Tony Abrahams
308
Posted 20/12/2014 at 23:39:24
Fair play to every blue who went the game today, I'm just glad I wasn't one of them. Still cost me money because my teenage son went, but I can't justify giving up my time, to travel such distances, and watch performances devoid of any energy.
Can't comment on the game itself Kevin, but I never expected anything when me Dar, showed me the team. Prentice had a go at the fans in the Echo, as has Howard, because certain sections booed, the other night. Howard Kendall on the other hand said he couldn't criticise what went on. I wonder why?
My personal opinion is that QPR were ripe for a five or six goal mauling only for Everton to stop playing after they scored number three. How can you build up momentum for your next game, when you stop playing after a hour of your previous match?
Think he's gambled on Europe, because a team will never gain momentum, with all this changing winning systems and teams. This lack of conviction has got to stop now, before it results in a total lack of confidence.
Colin Glassar
310
Posted 21/12/2014 at 00:01:59
Jim knightly, I couldn't agree more. We've got one of the best squads we've had for years but something is going seriously wrong and I want it fixed ASAP.
Gerard Carey
311
Posted 20/12/2014 at 23:48:42
Here's one thing, what if the results stay the same over the next half dozen games, and we drop a few more places, what then. After the first few games some on here were saying Martinez needed to sort things out, others were saying give it ten games and we would have a better idea of where we were going. Now we are closer to twenty games in and things are getting worse. At what point do serious changes have to be made, either on the field or the sideline. One point I would like to make is that we looked better when Stones was playing, is it time to give some of the younger ones a bit more game time.
Jay Gee
312
Posted 20/12/2014 at 23:47:38
Sadly my youngest son and I left the ground on 75 mins today. Long drive, gutted, disillusioned, angry etc etc. Any viable reason from a large choice to get away from that debacle. This is the first time in Bob's tenure that I've felt genuine worry for what lies ahead.
RM is trying to integrate our players into the Barcelona, Arsenal type system. A noble endeavour! One of our many problems is not just the lack of skill to adapt with some players it's also their processing, or lack of really. When a Barca or Arsenal player has midfield possession there's 2, 3 sometimes 4 players spinning, moving and showing in good space for the ball thus making the player in possessions task simple. Processing!
Today, I saw up to 4 players in a flat line up top, each one marked barely showing for the ball. If they received a pass punched into them they would be instantly closed down then left with the same problem our midfielder had. Who wants the ball? Most galling, I saw players not showing at all in the second half. If I I do nothing then I can't do something wrong approach.
We may be halfway home from St James by injury time if RM thinks there's merit in some of these players next week.
Jim Bennings
313
Posted 21/12/2014 at 00:05:49
Best squad was 2007/08
Four strikers.
A variety of midfielders including Cahill, Arteta, Fernandez (on loan) , a younger Pienaar, a younger Leon Osman.
A defence of Hibbert, Lescott, a younger Jags with decent stopgap like Alan Stubbs ( who knew the art of defending) Joseph Hobo and a decent stop gap left back in Nuno Valente, and Leighton Baines.
Jim Bennings
314
Posted 21/12/2014 at 00:10:32
# Joseph Yobo
Kevin Rowlands
315
Posted 21/12/2014 at 00:04:38
I think another thing to worry about here is player unrest and disharmony, I mean think about it, were 2-0 down after 65 mins (that's when all three subs should have been made) 3-0 down after 82 minutes and nothing? What must the players be thinking on the bench and even some on the pitch, surely it would have been something like why doesn't this fucking idiot change things up? He then says in the presser that he didn't make changes because he thought he had the right personnel on the pitch, what sort of message does that send to the players on the bench? something is seriously not right at Everton right now, I mean look at the last two games at Goodison, booed off against Hull, a mediocre performance vs QPR where the crowd were on edge the whole game and then booed off today, not good viewing right now.
Ant Dwyer
316
Posted 21/12/2014 at 00:14:27
Roberto has to go, great squad with youth and ability in abundance and he is going to fuck it all up.
Eddie Dunn
317
Posted 21/12/2014 at 00:05:05
Brent 149, no mate never went to Salford Uni.
Went to Trent Poly Nottingham in the early eighties, when Forest were at their best, and County got in the top flight.
One night midweek I watched Howard Kendal Show his babes how to play midfield - Oh how we could do with him now.
Mike Childs
318
Posted 20/12/2014 at 23:02:56
Shocking yet totally expected. Thanks Dave A. #279 for reminding me of the good of this club which right now is the fans.
Must be something about be an American Jamie cause I posted the same lineup the other day with Kone as the trigger man. Barry has to replace Distin now and when Stones is healthy than the erstwhile captain can join him on the bench.
Colin Glassar
319
Posted 21/12/2014 at 00:27:12
Barry at cb is an interesting option. I still think I'd prefer Jags and Stonesy.
Craig Mills
320
Posted 21/12/2014 at 00:21:10
Congratulations Alan Shearer.......it's finally out there so now everyone knows . He has annonounced on tonight's MOTD Everton have 3 major problems.
1. They are soft defensively and conceded far too many "poor" goals
2. No substitutions are made when things are not going to plan
3. Everton have no other plan than plan "A".....
I sincerely hope you were watching and listening RM because you are turning us into a fucking joke, your signings are a joke, tactically you are a joke and for me you can walk away now.
How does everyone see what's wrong except you, we are the most boring team to watch in the PL, players are showing not an ounce of effort or pride for the shirt and you come out on the post match interview saying there was nothing between the teams today - how about 3 fucking goals you dim wit.

Brian Waring
321
Posted 21/12/2014 at 00:31:19
"I'll give reading all the other post a miss until tomorrow, I don't think I could bear to read the usual suspects bleating about the players letting the their hero down."
Darren, you may be surprised.
Colin Glassar
322
Posted 21/12/2014 at 00:35:01
Craig, I switched off when Ne-vile started yapping. Was he putting himself in the frame for the job?
Brian Waring
323
Posted 21/12/2014 at 00:38:19
http://www.liverpoolecho.co.uk/sport/football/football-news/southampton-3-0-Everton-fc-blues-8324054
Brian Waring
324
Posted 21/12/2014 at 00:38:46
Even Shearer can see what's up.
Brian Waring
325
Posted 21/12/2014 at 00:40:20
Moyes finished 17th in his first full second season, Martinez is in his second season, what feels different?
Andy Crooks
326
Posted 21/12/2014 at 00:34:58
Darren, another good post, and I agree with Brian, you will be surprised. The failure to make substitutions today defies belief. It was the most inept performance by a coach that I have ever witnessed at any level in my life.
This man could get us relegated. I will be happy to eat those words again but he seems to me to be totally uninspiring , unimaginative and arrogant.
Colin Glassar
327
Posted 21/12/2014 at 00:43:55
Hopefully the return of Delofeu in January, or in the summer, will give us some much needed urgency.
Brian Waring
328
Posted 21/12/2014 at 00:44:45
"The failure to make substitutions today defies belief."
Here's one for you Andy 'Everton were 1st team not to make any subs in a PL game this season. Last team to do it was Arsenal v Chelsea Dec 2013."
Brian Waring
329
Posted 21/12/2014 at 00:48:16
Was thinking about Delofeu Colin, Sam Hoare made a good point after the QPR game that we need more young hungry players along the lines of Besic.
Joe Clitherow
330
Posted 21/12/2014 at 00:50:17
Key difference Brian is Moyes inherited a team of relegation fodder with no money whereas Martinez inherited a Top 6 side and has been backed heavily in the transfer market.
Apart from that there is nothing between them to use the phrase of the moment (sigh)
Andy Crooks
331
Posted 21/12/2014 at 00:45:21
Brian, what feels different is that Moyes, for all his faults, and I have mentioned them now and again, is a man who will avoid relegation. Martinez has proven that he can get you relegated Also, the team Martinez has should be vying for fourth, not churning out the same shite week after week.
A manager needs time and I gave Moyes years. However, during those five years I never got the feeling that I have this evening; that our coach is out of his depth.
Andrew Hawes
332
Posted 21/12/2014 at 00:30:21
Bring Moyes back!!!! One thing he guarantees is players in peak fitness, absolutely chomping at the bit. He would have us whipping in crosses left ,right and centre for Lukaku and Eto'o. But most importantly he would tear a massive fucking strip out of our defensive unit who are so deep in there comfort zone it's unreal.
There's a reason people don't watch the Italian league: it's because they all play this crap slow style of play with no end product!!
Colin Glassar
333
Posted 21/12/2014 at 00:51:53
The talks between del boys agent, Barca and Everton have been going on for some time now Brian. The price has been agreed (10m euros), it's now a case if we can get him on loan in January or have to wait until the summer. That's up to Barcelona and Seville to work out.
Joe Clitherow
334
Posted 21/12/2014 at 00:55:08
I'm really not sure that Deulofeu is the type of player we need right now. We need someone with grit to dig in - if only we could turn back the clock for Tim Cahill
Bill Gall
335
Posted 21/12/2014 at 00:54:54
The thing that amazes me with no subtitutes is that Martinez is saying apart from Miralles we do not have another winger on the books and the subs are only on the bench in case of injuries.
Brian Waring
336
Posted 21/12/2014 at 00:57:58
Joe, Andy I agree (I wanted Moyes out, and wouldn't want him back) but you knew what to expect from him, keep it tight and hope to nick one (with some good football threw in now and again) with Martinez (who I still think will turn it round) he has you scratching your head every week.
Kieran Riding
337
Posted 21/12/2014 at 01:00:16
As Colin says, any deal for Deloufeu is tricky ( Barca are a bit dodgy like.. ) and don't forget, as much as we loved him, he could also be shite on occasion.
I haven't posted as a knee jerk today, but I'm very concerned now.
Mike Green
338
Posted 21/12/2014 at 00:53:06
Hhhhhhmm......
Southampton are having a really good season but looked like today's result was handed to them on a plate other than anything else. They, like Spurs the other week have been in bad form for the past half a dozen games and they turn us over easily from what I hear and have seen.
Woeful defending. No fight. No real cohesion. From what I can see.
The problem we've got is we seem to have forgotten that the little netty things at either end are what matter, not the green expanse in the middle.
The players and manager need to sort themselves out - and that doubling goes for the likes of Jags and Baines who are England Internationals FFS.
Brian Waring
339
Posted 21/12/2014 at 01:03:05
Colin, think Barca are pissed off because he's not getting a look in at Sevilla.
Colin Glassar
340
Posted 21/12/2014 at 01:06:26
Luis Enrique doesn't see him as a Barcelona player Brian. And with the forwards they have, they don't really need him. Seville don't seem to rate him very highly either.
Brian Waring
341
Posted 21/12/2014 at 01:07:01
"today's result was handed to them on a plate" Mike in a nutshell mate. With Southampton missing their 2 best centre - mids, IMO, playing Barkley and Besic in the middle (like against QPR) would have kept them on the back foot, instead playing Barkley wide left must have had Koeman pissing himself laughing, it totally took him out of the game as a threat.
Kevin Rowlands
342
Posted 21/12/2014 at 01:08:09
Brian, whilst that Stat of yours is true about no Arsenal subs in a match played over a year ago, I have to point out that game did finish 0-0 draw and not a 3-0 fucking loss for the Arsenal not sure if Roberto realizes it but the honeymoon is well and truly over.
Brian Waring
343
Posted 21/12/2014 at 01:12:31
Maybe we get him at a bargain price Colin? Hate saying this, but looking forward to seeing Bojan for Stoke.
Brian Waring
344
Posted 21/12/2014 at 01:14:17
One of the lads was saying Kevin, Kone was ready to come on and as the third went in and he sat back down.

Kevin Rowlands
345
Posted 21/12/2014 at 01:17:13
So they basically just gave up then Brian? depressing times indeed.
Kieran Riding
346
Posted 21/12/2014 at 01:21:25
Brian, I heard he pulled his calf sitting back down ?
Roman Sidey
347
Posted 21/12/2014 at 00:03:38
The more I think about the no subs being used, the more confused I am. All my mates who support other teams like West Ham and QPR actually texted me with "Did you see the match? Why didn't Martinez use his bench? Seems a bit strange." or similar. These are blokes who couldn't care less about Everton Football Club.
During the last 10-15 minutes of the match, you could see McGeady sitting on the bench in full tracksuit, looking like he was on the couch watching a match. I would have assumed that if Martinez did make a sub then McGeady was one of two people probably going on, the other being Kone.
If he was sitting there, not warmed up and not even looking like he was an option, it occurs to me that he probably knew the subs weren't going to be made, which is a lot more alarming than it sounds. Either that, or he also just doesn't care. I've been in the "don't care" situation before playing rugby, and the only thing that causes that is when you don't care what the manager thinks of you.
Brian Wilkinson
348
Posted 21/12/2014 at 01:20:10
Maybe just maybe some on here will now see past Osman and Mcgeedy as whipping boys, so easy to put blame on a player where deep down its down to more than certain players but as is the case, its always easier to point a finger at a local whipping boy.
Strange no subs used today, lets say we put Kone or Mcgeedy on and still a same scoreline, how many would be screaming why did we take whoever off and put those two on.
I for one would like to see Kone start next game and use Lukaku as hopefully an impact sub.
Howard knows he only has Robles in contention so maybe bring in a keeper in January and get Tim some competition.
Martinez has to hold his hands up for this one, if its not working after 65 mins and your acouple of goals down you make changes, very very strange no subs used.
James Flynn
349
Posted 21/12/2014 at 01:23:08
Hope no one thinking the best part of a healthy Barry is the occasional camera shot of him sitting on the bench, watching the game. As these things go, likely he got the 3rd year on his contract in trade for taking a salary within EFC's budget structure.
No denying Barry was central to our success last season; a true pro dropped in front of an experienced backline. Can't recall any "bedding in" period. Barry fit right in and Roberto wanted him back.

So, here we sit now with a player the manager wanted, the Club tacked an extra year on to get him, and anyone think our manager is going to sit him?
Well "anyone", think again. The owners aren't going to sit and watch the games and at some point realize the 32-year old they signed, at the insistence of their manager, is sitting and watching too.
On a top-of-the-budget three year contract.
Barry plays unless he's injured.

Brian Waring
350
Posted 21/12/2014 at 01:44:13
Kevin, I was saying on the live forum after going 2-0 down, it's as if Martinez was accepting the defeat.
Will Firstbrook
351
Posted 21/12/2014 at 01:34:11
Can't wait for Friday's match strategy - catch Stoke on the counter-attack. Eff me, I think I smell burning toast!
Brian Waring
352
Posted 21/12/2014 at 01:49:54
Funny thing is Will, tactically Stoke don't have to do anything, all they have to do is play two banks of four, let us have the ball around the half way line, we'll do the rest for them.
Bill Gall
353
Posted 21/12/2014 at 01:50:30
Heard a rumor Everton are changing there name from Everton F.C. to Everton benevolent society . If you are struggling we will help you out Player cant score we will help you out . It is getting rather monotonous.
Everton use no subs Southhamton use 3 from their acadamy.
Brian Waring
354
Posted 21/12/2014 at 02:08:24
Anyone at Stoke looking for their first goal?
Ernie Baywood
355
Posted 21/12/2014 at 01:56:52
The game was fairly even early on but you could see a marked difference in the pace of the passing. Southampton had less possession than us but moved it quickly when they had it. This isn't because of their players - they were different players to their early season performances. It's the strategy; it's the manager. That must be beyond any kind of dispute surely?
And I'm still not buying into the Besic hype. There's no credit in moving the ball as slowly as we do. Besic isn't immune to that because he shows up for tackles. The only two I'd give any kind of excuse to right now are Barkley and Naismith - they're playing at a different pace to the rest of the team. Once the strategy changes we can judge Besic.
Hopefully it's Bobby that changes things... otherwise it will have to be a new man.
Brian Waring
356
Posted 21/12/2014 at 02:18:48
Ernie I
Brian Waring
357
Posted 21/12/2014 at 02:19:40
Ernie I mentioned that, Southampton were in and around our box in a flash, we took about a million passes to get in the same position, and then we just gave the fucking ball back to them.
Peter Barry
358
Posted 21/12/2014 at 02:19:06
This season started off badly and it has been all downhill from there. There is only one place to lay the blame and that is at ROBERTO's door is he a busted flush , has he lost the dressing room, will BILLY LIAR do anything at all. Tune in next week and watch another BORING episode of incompetence.
Brian Waring
359
Posted 21/12/2014 at 02:27:15
Think Martinez needs to realise what it means to us Peter, after the boos Monday he just put them down, boos at the end today with a mass exodus way before the end may make him take note.
Bill Gall
360
Posted 21/12/2014 at 02:47:08
What other manager coming to a new club gets a player with Barkley's drive and talent and then wastes it.
With Merallis allready stating what he wants next season if we keep on struggling like we are he may not be the only one and we will be back to a selling club of our young talent.
Roman Sidey
361
Posted 21/12/2014 at 02:41:58
I am genuinely worried about what Krkic will do to us on Boxing Day.
Andrew Presly
362
Posted 21/12/2014 at 02:52:30
A lot of rats leaving a seemingly sinking ship here. Where do you lot go in the good times?
Gavin Johnson
363
Posted 21/12/2014 at 01:59:54
It's a strange state of affairs! We're still 10th! Although it feels like we're in the relegation zone. Mid-table mediocrity would have been aspirational with some of the late 90's teams we had to endure. Even then, I still had the feckless hope that we would have a cup run or we were a couple of signings away from turning things around. Thinking back, I must have had a masochistic steak because I enjoyed watching us, even when we were shite.
There is no comparison when you compare some of those teams that had the likes of Tiler, Pembridge, John Oster and John Spencer in them to the players we have now. So why do I feel like I do?! I've never felt so dispondent as I do of late. We're spoiled with some of the talent we have at our disposal, but it's clearly not being used effectively. I can see us beating Stoke in the next game but it doesn't alter the fact that the footballs become a bit turgid and stale since March. The result against QPR illustrated the state of affairs perfectly.
I think Martinez has to be bold and decisive and play people in their correct positions and not pander to Barry, Howard and Distin. Distin must now surely be dropped once and for all, for Stones or Browning. I'd say drop Howard but we haven't got sufficient cover, which must be sorted in January. If I could wave a wand I would offload Distin, Howard, Pienaar and Gibson in January and replace them, but it's realistically not going to happen. So the only solution is to be a bit more versatile with the formations and promote the likes of Garbutt and Browning and keep Besic or Barkley playing alongside the returning McCarthy. It's not much but it would al least show a little bit of flexibility.

Brian Waring
364
Posted 21/12/2014 at 03:07:55
http://www.espnfc.co.uk/club/Everton/368/blog/post/2209194/Martinez-deserves-blame-for-wretched-Everton
Gavin Johnson
365
Posted 21/12/2014 at 03:09:01
Andrew #362, are you a RS in disguise, baiting for effect?
I'm a Martinez supporter and I've not forgotten that we got our biggest ever points tally under his tenure. I've scoffed at some of Phil Walling's and Darren Hind's rants against Roberto. At the same time, I've said on numerous posts that I'm not enjoying the performances this season. Martinez is clearly a talented manager or else we wouldn't have seen some of the best football in years. What I, and many others are commenting on, is that the team under his stewardship is slowly becoming a one trick pony that has been found out. And it's not good to watch!
Frank Crewe
366
Posted 21/12/2014 at 03:04:14
Martinez is to Everton what Moyes was to Manure. A boy trying to do a mans job. If we carry on like this and West Ham knock us out of the cup I think that will be the last straw. I wouldn't give him another penny to spend in January because he'll blow it on another McGeady, Robles, Alcaraz, Kone, Eto, Atsu, Traore, or some other overpriced, injury prone, geriatric, bench warning, wage gobbling flop.
Everton used to be perrenial relegation dodgers. If we don't want to go back to that then we need a new manager right now or RM is going to dig in like a flea on a dog and turn us into Wigan II until eventually a bullet catches us and down we'll go just like Wigan I never to return.
Will Firstbrook
367
Posted 21/12/2014 at 03:37:52
Thanks for that link, Brian.
"The failure of the original setup was bad enough, with too many players out of position and hampered by the tactics afforded them. That the same shambolic mess remained untouched throughout the 90 minutes was inexcusable. There is no justification for allowing these bedraggled players to plough aimlessly through the entire match. The manager has to attempt to alter the flow of the match; simply disowning it is not acceptable."
Pretty much sums it up for me. I don't know what point BBS was trying to make today with his bench management (or lack thereof) but he now has everyone looking at him. Your move Bobby - better make it a good one.
Bill Gall
368
Posted 21/12/2014 at 03:51:55
Brian # 364
Thank you for posting the web site I never mentioned it in my posting #280 but I put some of the comments in it.
Will Firstbrook
369
Posted 21/12/2014 at 04:15:12
My bad, Bill. Missed your reference to this article earlier.
Pretty much captures everything most of are experiencing at the moment.
Steve Brown
370
Posted 21/12/2014 at 03:52:31
Some great posts here about the imbalance in the team (shoe-horning four advanced midfielders into the team) and the squad (too old). Yesterday was terrible and shows what has been clear for weeks - teams are beating us not because they are better but they have the legs to outwork us and RM is getting selections wrong.
Four things I said in here before the season started 1) we need another wideman 2) we need a right back 3) we need another centre half. More than anything we need to stop picking players on reputation rather than form. Drop Distin, Eto'o, Barry, Howard and BAINES. Yes Baines, as I am getting fed up with all the apologists who go about the absence of Pienaar bejng the reason has has been utterly shit this season. He is an established international so should be able to adapt to anyone in front of him.
Team for next week - Robles (we are deperate!), Coleman, Stones, Jagielka, Garbutt, Besic, McCarthy (or Ross), Miralles (or McGeady), Oviedo, Ross (or Naismith), Lukaku. That team has pace, legs, talent and will beat Stoke.
Kevin Rowlands
371
Posted 21/12/2014 at 04:10:10
Andrew #362, I think it's more a case of a lot of very concerned fans who are no doubt watching a team in a mini crisis. Hopefully Martinez will turn things around but his actions today or lack of, followed by his weak arse excuses in the press conference, I mean who who wouldn't be concerned?

Peter Warren
372
Posted 21/12/2014 at 04:26:58
Robles? I don't see him being the answer to Howard. Is however another iffy signing by RM
Steve Brown
373
Posted 21/12/2014 at 05:01:06
Peter, as I say we are desperate.. but how many goals has Howard been directly or indirectly responsible for this season? There has to be consequences of playimg so badly. Same for Baines and the rest.
January transfer window I'd enquire about Ruddy or Marshall.
Chern Lee
374
Posted 21/12/2014 at 05:31:17
I work in the restructuring department of a bank and one of the most common factors causing a company to fail is management imagining the sky is all blue whilst refusing to acknowledge mistakes are being made.
Seems like Roberto is falling into this trap....!!!! It is clear our playing style has to change. At this rate, 41 points will be a major achievement.
Simon Hermansen
375
Posted 21/12/2014 at 06:32:19
There's been a lot said on what's wrong so I won't go over old ground. RM needs to wake up this morning and realise shoehorning favourites and being over cautios in rushing players back ain't working - he needs to be bold and find a different approach.
The following are musts for the rest of the season:
Stones first choice CB.
Barkley and Macca first choice deep mid.
Naismith first choice in No10 role.
Mirallas and Oviedo first choice wide players.
Garbutt given a lot more game time and put on corners.
Howard replaced in Jan.
Lukaku rotated more.
Barry to be benched.
NO MORE PUTTING THE SYSTEM AHEAD OF THE PLAYERS AVAILABLE TO EFFECTIVELY PLAY IT.
Not a lot to ask!

Graham Mockford
376
Posted 21/12/2014 at 06:45:48
Steve #370
I think you are missing the point about Baines. The problem is the way Martinez is setting up the team. A three of Barkley, Eto'o and Naismith gives no width and it's been the same for weeks. It's no coincidence that Seamus is equally ineffective in this set up.
Last year we were at our best with Mirallas and either Pienaar, Defoleu or Osman in wider positions. We had width whereas at the moment we are predictable with everything down the centre.
What's even more staggering is the failure to make any changes when it patently wasn't working.
I don't think it is any surprise that PL teams have worked us out but we have prospered in Europe.
Norman Merrill
377
Posted 21/12/2014 at 06:57:56
Not a lot to say, because as all Evertonians know, there was FA out there representing the famous old club.
WEAK, FEEBLE, DEVOID OF ANY CHANGE OF PLAN.
GET A GRIP ROBERTO, THIS WONT DO!!!!!!!
Darryl Ritchie
378
Posted 21/12/2014 at 06:39:58
I've got a good cable package and record all the games. I only watch the the wins and draws.The losses are just too depressing. I get all the info I need about the losses by reading TW and catching the highlights. From what Ive been reading, it's going to be a very short highlight package.
Can't comment on something I haven't seen, but I will say this....And it's something I had hoped to never to say again.
I hope we make it to the 40 point, safe level, this season.
Helen Mallon
379
Posted 21/12/2014 at 07:44:20
Absolutely disgraceful that's what today was. I was there and Martinez was out of his depth. His team was unbalanced and to not make subs was just stubborn. I want to go on record and say after that game I fear for our prem status, he needs to change his ways or we will go down. As someone posted earlier. Tip tap football is not suited to the hustle and bustle of the prem league.
Colin Glassar
380
Posted 21/12/2014 at 07:54:45
Steve Brown, Howard seems more interested in mouthing off to the press these days in an effort to sell his book. Ever since the world cup he's been trying to keep himself in the headlines first by having a go at Brad Friedl, then saying city MUST let Lampard go to NY, and today having a go at man u for the way they treated OFM.
He needs to shut up and concentrate on his game.
Helen Mallon
381
Posted 21/12/2014 at 08:01:23
One more thing we do have wide players. Garbut is a wide player Oviedo is a wide player Seamus can play wide. The problem is Martinez is scared to change things. Hibbert at right back Seamus in front or Seamus right back Oviedo in front do you get my drift.
Jim Bennings
382
Posted 21/12/2014 at 08:11:12
Colin
Howard is at a stage of his career now where he knows this is his last club and basically he probably knows he has maybe two more season's left ( he should be replaced next summer in my opinion)
The fella has lost the hunger and focus that he had during the early few years in his Everton career.
He also probably knows he's never going to achieve anything that he has already at Everton, at best a top 10 this season and top 7 next with one or two cup runs.
We need to look at replacing Howard at some point in 2015, not with another poor sub keeper but with someone who IS going to replace him.
Tony Abrahams
383
Posted 21/12/2014 at 08:10:38
No Colin, he needs to be fucked off!

Paul Andrews
384
Posted 21/12/2014 at 08:26:27
Centre-half partnership looks gone to me. Not enough protection in front of them. No intensity in our play, too ponderous.
Tom Magill
385
Posted 21/12/2014 at 08:39:14
Roberto, can you not see that every other manager knows how to beat your tactics? It's not working, we need a change of direction. We are too soft, I can't remember us ever being beaten this easily, we have no fight in us, been that way all season. Get it sorted ASAP or we're gonna be in trouble.
Sam Hoare
386
Posted 21/12/2014 at 08:21:42
Have been too depressed to even vent on here.
Too many things to moan about but watching Lukaku not jump for a header that hit him and went in our net makes me feel a bit sad. The guys out record signing and at 6ft 4 shows so little desire to win balls in the air. Compare that with the smaller Shane Long who out jumps two players to knock down the ball for their second goal.
I can handle players having limited skills but showing limited desire and determination is simply not the Everton I know and love. I'm afraid that desire flows from the top. I'm looking at you Roberto.
Mike Green
387
Posted 21/12/2014 at 09:09:50
I agree Sam, Roms OG was woeful but in his defence he's not a defender. Both our CB's looked shocking yesterday, I just don't understand what's happened to them other than being a year older (which in the case of Distin is significant obviously....)
Mike Green
388
Posted 21/12/2014 at 09:20:52
Interesting that this thread is nearing the 400 mark, not much of it being very positive.
I know we are a tiny representation of Evertonins, and may not be atypical but by any TW standard that means there are a lot of people very worried at the moment.
We are getting into Moyes leaving / Rooney coming back territory on the barometer. Not good.
Jim Bennings
389
Posted 21/12/2014 at 09:23:53
Mike
Lukaku may not be a big central defender, but he is a big strong striker that should at the very least, have JUMPED.
The fact he practically ducked out of the challenge full stop was deeply distressing in all honesty.
It also tells me that the main problem with Lukaku is the lack of aggression, the fire in the belly.
He has ability, he can score goals, but he lacks at this moment in time the vital ingredient needed for any player to succeed...Passion.
Don't even get me started on that inept defending, or should we say non-defending?
The woeful inability of Jags and Distin to actually get off the ground and attempt stopping Southampton.
The "go on just cross the ball into our box" attitude of the fullbacks, or whoever was meant to be closing Southampton's wide players down.
Do we ever get close to opponent's to stop the crosses coming in enough?. A resounding no..
As for Barry an centre half?.
Sure another guy who can't jump and is hardly renowned for his heading ability.
Its not even fair that we should expect John Stones to be the instant saviour at his age, he is a fine young footballer but has been interrupted by injury this season.
Even Stones, wonderful he is on the ball, he is not what you would call an old fashioned stopper.
We need to be looking at signing a central defender to eventually partner John Stones.
Neil Roberts
390
Posted 21/12/2014 at 09:30:24
I honestly believe Martinez will get us relegated the way he is going... maybe not this season as there is some utter shit in the league, but I worry if he carries on.

Andrew Presly
391
Posted 21/12/2014 at 09:30:43
Gavin #365 - obviously won't dignify your first suggestion with a response but from the rest of what you say I'm in broad agreement.
Kevin #371 - key part of that being "mini crisis". We're obviously in a rut and have been for a while but it's nothing a re-jig of tactics / personnel won't cure. 3-0 is better than a narrow defeat in that regard.
Is a season of transition after last year's heroics an unforgivable sin?!
Obviously not, from reading some of this stuff but then pessimism always does allow for the classic "I told you so" / "happy to be proved wrong" double act I guess.
Always easier to be a pessimist as you win either way.
Mike Green
392
Posted 21/12/2014 at 09:43:02
Fair comment Jim.
I've been a great fan of Distins but his time is well and truly up. I don't have much faith in Alcaraz being the answer and would happily see Stones starting and Jags and a new face with quality fighting it out for the second birth.
Most great CB partnerships have a hard man and a flair player that can play the ball out of defence. I think Stones will grow into the second of those roles with distinction, we've just got to find the other one. Jags you would think would fit the bill but to be honest you've got to let him be him and boot it if he wants to now and again, he's just not a flair player.
Jim Bennings
393
Posted 21/12/2014 at 10:07:51
Agreed Mike 100%
What would you think of a partnership of one of Shawcross or Curtis Davies next to Stones?
I hope one day in the future Browning will become that man butuit won't be yet, few years experience needed possibly on loan in the Championship.
Mike Green
394
Posted 21/12/2014 at 10:23:38
Don't have much of an opinion on Davies but Shawcross.....that's the sort of player we need without it actually being Shawcross if you know what I mean :)
Mike Connolly
395
Posted 21/12/2014 at 10:22:02
We know we are in trouble when our away fans boo us off.
Sean Kelly
396
Posted 21/12/2014 at 10:18:08
Having read a lot of the above posts it amazes me how I many people can see what's wrong yet one man can't. Ive been supporting Everton for over 50 years and I've seen some shit managers here. I've seen some shit players here also but I've never witnessed shite like this before. Even when we had less money and conference type players we played for the jersey. Today my fellow Evertonians we are witnessing a bunch of mercenaries pretending to represent our club. There is no pride no passion and no understanding of what we expect. There is something disturbingly wrong in our club and unless billy and his bullshitters start voicing their fears and ours we are on the road to the championship.
Square pegs in round holes doesn't work but the problem is not just that. We have a manager who had no balls, no plan b and yesterday he didn't give a shite. Why was there no substitutions? If I was on the bench and watching that shite I would be itching to get on. But Roberto slapped all our subs in the face by leaving them there. If I was a sub I'd be asking Roberto what's the fucking point in being here. It's time to rise up folks.
Kunal Desai
397
Posted 21/12/2014 at 11:03:16
What is so painfully galling is that it has been a long time since i've seen literally all Everton players showing no fight, no passion and spirit. We are never first to any second balls that drop. Its not just the last few games, its the entire season. How many times have we actually come from a goal down to win a match. Westham and villa last season spring to mind. Its clear something is fundementally not right in the camp.
Ernie Baywood
398
Posted 21/12/2014 at 11:03:01
I think criticism of Baines' performances is really harsh. I really feel for him under this system (until I consider his salary).
He's still a top player but one being played in a plodding team. Yesterday was the first time I've seen his frustration boil over with the sheer lack of pace in our game. How many times was the ball played to him so slowly that he had to wait for it? When did anyone play 3 or 4 quick passes to open up space ahead of him?
When the game plan is the way it is then Baines and Coleman are completely wasted. We go from Centre back to our two deep lying midfielders who invariably have 5 touches and roll it straight back. Teams are playing on this. Let the centre backs have possession and press Baines and Coleman if they get it. At the moment that can't fail. We need to find a way to play out that isn't so slow and predictable.
I don't think there's a player in the world who could replace Baines right now and perform from that position.
Iain Davies
399
Posted 21/12/2014 at 11:13:29
Taxi for Martinez! Actually you can get the bloody bus!!!
Blinkered, delusional and a one-trick pony; we have some great young players but it seems you've lost the squad and now a big section of the fans. The Wolfsburg and QPR wins simply papered over the cracks...
Amit Vithlani
400
Posted 21/12/2014 at 11:19:08
This is one of the occasions where the invention of social media is a big plus. There are stream of articles and comments filtering through and it will be impossible for the management and players to ignore.
In days of yore it took the fans booing and protesting to push for change, something which I don't like as it becomes a self fulfilling prophecy.
Ahead of the watershed against Stoke I am desperately hoping that the criticisms via the web have filtered through and Martinez and the players adopt a radically different approach and come out firing from the first minute. Get the crowd on your side immediately and make this game our cup final. It could be a huge turning point enabling us to salvage something from the rest of the season.
Paul Smith
401
Posted 21/12/2014 at 11:40:04
Another abject and typical Martinez performance I'm afraid. The lack of movement and testimonial pace we play at is so boring and easy to play against. Where is the team who played towards the end of last season who played with panache and swagger.
I'm not one for changing managers too easily but Martinez needs to sort this out quickly because if we get dragged into a relegation fight this team and manager haven't got the stomach for it. I fear if things don't improve quickly the crowd will turn on the players and manager.
Paul Dark
402
Posted 21/12/2014 at 11:27:11
There are clearly a few problems on the playing side at present. I personally think the main one is what I'd (kindly) term Martinez's purism.
I believe it's the purism in him that makes him play players out of position, not make substitutions when almost anyone else would have done and play certain players despite repeated bad form (Barry, McG inter alia). Stubbornness, intransigence and lack of insight are also words that can be used, but it's my strong feeling that Martinez is an ideologue, not a practical man - and this is the root of his strengths and his weaknesses. If he unconditionally wants to play the way he does, I think he's better off recruiting players from mainland Europe. I think some of the British players (Jags, Coleman, Barkley, McG even) don't really get the play-anywhere-and-adapt thing very well. With a large squad of extremely talented players, this might be possible - perhaps at Barcelona?
Even with a head honcho, someone needs to have a word at some point and question some of the decision-making. I fear with RM that his propensity to ideology might well block change - and BK is a very weak chairman, very. With the right personnel, his ideological obstinacy might well work (it did for a time last season), but he does seem to be digging his heels in. Mirallas, Stones returning might yet save some blushes - but he must start playing players in their right positions.
I do think the perpetual positive niceness is also a problem. I see that Mourinho is warning the ref today about Stokes's physicality before today's game. I feel RM would never do that ... and to our detriment. Soton were very dishonest yesterday, and the first goal should not have stood.
As The Stranglers said: 'Something better change' ... .
Tahir Abdullah
403
Posted 21/12/2014 at 12:01:41
Blaming individual players, injury record and fixture load for the EFC current state is futile. These are merely symptoms indicative of the root cause which ultimately resides in Martinez's mindset. Adapt or die....
Gavin Ramejkis
404
Posted 21/12/2014 at 12:08:31
Some interesting but narrow ideas regards these being the same players blah blah blah, yes they are, yes they are also a year older, yes the world doesn't stop still and other teams have also changed their squads and more importantly they have also learned how to nullify a team whose passing is desperately slow with little to no direct running at them unless Mirallas is playing. The wing backs are so detached from the gameplay often too far down the pitch to help a pair of ageing centre halves left to defend against pace or multiple players running at them or after a lofted pass over them. Behind them you have Howard, oh dear beaten to his near post on so many occasions and just doesn't command his area but safe knowing his only competition is Robles.
Coming back to the wing backs and they only really work with a winger in front of them, more often than not they haven't got a natural winger in front of them and have central midfielders out of position to try to work with who don't cross over to cover them running forward and backtrack to fill the void.
Going to the forward line and you have no balance with an out of form Lukaku being played over and over, whilst he has his back to goal his first touch is usually too heavy and sends the ball back a yard meaning he isn't turning to run at defenders, if you don't feed a striker ammo he has little chance to score.
Ernie Baywood
405
Posted 21/12/2014 at 12:14:05
It's interesting that the refereeing hasn't really been mentioned on here. It was terrible. The decision to not award a penalty but give a corner was the sort of shite you used to get in Sunday league. Cowardly to the point of dishonesty. He had an absolutely awful game... And I felt we got a lot of the rub of the green from him.
Mike Childs
406
Posted 21/12/2014 at 12:05:55
LVG would have stopped the game right there and then and took Rom out for that chickenshit defending that led to the first goal. Mourinho would had done it the half. The week before I watched Swansea WHU and Boney cleared out 5 or 6 defensive headers in their box.
Time to play the kids forget the salaries paid, play the guys that are ready to give blood if necessary not bend and hide from every challenge.
Max Murphy
407
Posted 21/12/2014 at 12:14:41
Those supporters who said last week, "what's everyone moaning at? It's 3 points in the bag", are short-sighted and have no perception of the deep-rooted problems existing in the squad and management.
Roberto Martinez will get our team relegated this season or next season. His "rolling the dice" team-selection procedure is ludicrous, as are his post-match comments. He has lost all credibility, and last season was a mere fluke.
The sooner he leaves our club the better.
James Marshall
408
Posted 21/12/2014 at 12:33:28
Criticism of Baines is a bit of a tricky one, given that he didn't run at their full back until the 73rd minute yesterday. Why? Is he being told not to? Or has he lost his bottle?
It was highlighted last night that when we lose the ball high up the pitch, teams break easily on us with Distin and Jags left high & dry time & time again. It was this type of play that got Wigan relegated because they had players like Alcaraz chasing back - we're lucky in that we have pace in our centre halves, but I tell you one thing, it leaves them so exposed and under pressure at all times, then they get pilloried by us but it's not exactly their fault - it's the system.
Martinez is a one trick pony, fact. He sticks to his guns, which in a way is admirable, but you have to have a plan B otherwise you lose games, lose face, and look like an idiot just standing there doing nothing as the game passes you by. It was like Moyes yesterday, just doing nothing to affect the pattern of play.
Infuriating. The system only works when you have the right players to play the system - yesterday was not the day, but he sticks to the same system week in, week out. Nothing will change, he will not alter his philosophy regardless of whether Mirallas, McGeady, Eto'o, Barkley, Pienaar, or Lukaku is fit to play the attacking roles. It's mindless - we try to play expansive football, yet we play so fucking narrow it's simply not possible. You need pace and width to play his brand of football, and yesterday he left our pace & width scratching their arses on the bench!
There was a shot of McGeady at one point, blosing his cheeks out sat there with one arm around an empty seat which said it all really.
Kunal Desai
409
Posted 21/12/2014 at 12:41:44
I guess it wasn't going to take long for a few idiots to organise a 'Martinez out march' before the stoke game on boxing day. Thats going to do wonders for confidence and 3 points for the side. Fuckwits!
Kieran Riding
410
Posted 21/12/2014 at 12:45:58
What if Big Dunc isn't a very good first team coach ?
Bobby Thomas
412
Posted 21/12/2014 at 12:44:25
To those who were wankng themselves silly after the Wolfsburg home game, you may want to accept we were atrocious.
The signs have been there for a while. I actually thought we were very poor away to Fulham last season but somehow got the points.
The players all apparently love playing for him.
Sure. Id love a gaffer that didnt make me do any dirty work.
We are a soft touch.
Ian Smitham
413
Posted 21/12/2014 at 12:42:43
Do not get to the game so much anymore so do not post so much on here. Some lads I used to sit next to had an adage" if you don't go you don't know"
Was at Swansea at home at season when I first doubted "plan A" , they had a guy up front who persistently panicked our back four into launching the ball upfield, negating the passing it around at the back that we try to play. It highlighted our one dimensional, slow paced play that has been rumbled by the Premier teams. The Europa ones left will soon follow.
The smart suit, brown shoes, smile and "phenomenal" have a place, but more is needed and I am not sure there is more.
So, while there is time, and a transfer window fast approaching, I propose change. We need someone who is comfortable in front of the press, a proven leader, respected by the crowd, the players and the hierarchy. A winner, both as player and Manager, someone who has won trophies, who knows what it takes, knows the club and its dynamics, someone available with these credentials, and available at not much costs. Someone who can grab a club, shake it up and get quick results playing aggressive attacking football using power and pace.
Someone who can "come back for more" , maybe as a stop gap. Fellow ToffeeWeb readers, I nominate Big Joe Royle.
James Marshall
414
Posted 21/12/2014 at 13:00:42
Kunai - a lot of us are pissed off with him being so naive, but I'm not naive enough to want him out. You're right, that's a knee jerk reaction at this stage but he does need to alter his philosophy to set up differently when required.
He did nothing yesterday, yet the pattern of play was plain for all of us to see.
Karl Jones
415
Posted 21/12/2014 at 12:57:53
Its the lack of fight when we go behind that I find most worrying this season. I don't see that in other PL teams. We seem to accept defeat far to easily. The Crystal Palace game was the worst example of that.
Maybe its because no matter how badly we play, Martinez always finds excuses. For instance, yesterday, it wasn't just the poor defending coming back to haunt us which he accepted, but the lack of shots on target and slow passing style and lack of determination that was just as much to blame.
Once we go behind in a game we are so easy to pick off on the break when the pedestrian play inevitably breaks down in the last third.
Denis Richardson
416
Posted 21/12/2014 at 12:42:45
Wow, over 400 posts! Can't remember a game under Moyes producing so many comments.
The masses are really not happy and Martinez and co are going to be in for a real treat at home to stoke.
If another unbalanced side is selected followed by another crap performance, it could get ugly.
I've reached the stage where my faith in Roberto has come to a crossroads, am neither for nor against right now. He needs to sort things our pronto and finally play a proper side and use some proper tactics to allow the players to play properly.
The current set up is obviously not working and neither the players nor the fans are happy.
Gavin Johnson
418
Posted 21/12/2014 at 13:00:44
I think it ridiculous to be calling time for Martinez. We were "phenomenal" (sorry couldn't resist that) last season. We're going through a mini-crisis that's for sure, and how Martinez reacts to this over the next few games will either see him grow as a manager or make his position untenable in most peoples eyes. I think the juries out on which way it will go for him, but saying he should be sacked is a bit much for me even after the embarrassment of yesterday.
Barry Thompson
420
Posted 21/12/2014 at 13:13:16
His post match comments were more of a concern to me than the abject performance of the team. A team can be changed but he felt there was no need for change. Baffling.
Jamie Barlow
422
Posted 21/12/2014 at 13:26:41
My thoughts exactly Barry. It's more worrying that he thinks we're not far off being a good team when playing this way.
James Byrne
423
Posted 21/12/2014 at 13:07:27
Boxing Day awaits and the crowd are going to be in a not so festive mood if we don't see some changes after that gutless display yesterday.
One of the problems most of us have is that we can't help but like Martinez so for a while now he's got away with some shite performances and shite team selections. Yesterday changed all that and for the first time since he became the manager the majority of fans are now asking questions.
What is even more worrying is that the teams around us are getting prepared for a fight yet we're becoming the whipping boys for teams we used to take points off.
I think the Martinez philosophy of playing football has been well and truly found out and we are all in for a bleak few weeks!
Mark Wilson
424
Posted 21/12/2014 at 13:27:35
I don't think Roberto is going to get the I will never sack you" treatment even from BK and the reason for that is simple, the fans. Goodison is already booing winning performances and the grace and favour spell vas long since ended. Things really will get horrible for the mgr very quickly and whilst I think that's sad I can't escape from the view that he's bringing a lot of this severe criticism on himself.
He seems a brilliant community man, a family man, a man of respect, yet it's reaching the point where his post match comments are in danger of dis respecting the supporters. He would have done so much for himself and the team to come out and say I made a huge mistake with my team selection, should have made subs and I got it wrong alongside a team that is struggling at present but we will sort it out.
It really IS beginning to look a lot like Wigan rather than Christmas.
Michael Penley
425
Posted 21/12/2014 at 13:31:04
Agreed Gavin. Things change so quickly in this league and no one can tell if we're simply having a bad run or this is the start of something worse. A few weeks back it was Pardew and Wenger's heads being called for, and now both clubs have mysteriously regained their form. Martinez should be given time. What is frustrating is how it sometimes feels like our managers, unlike many others, don't have to perform, and are untouchable. Roberto's comments about a 3-0 loss being 'not far away from where we need to be' are patronising and insulting to fans who expect greater things from this club. I think many fans want to see a bit of accountability, and less apathy.
Andy Walker
426
Posted 21/12/2014 at 13:18:25
This is a serious situation for our club. We lost the best manager we had for 20 years and replaced him with a manager that had just relegated his previous team.
We were a consistent top 6 team, now we look like a bottom 6 team. Relegation Roberto is slowly destroying the defence, work ethos, shape, confidence and ability to get results when the chips are down.
We need to get back to some basics to get results. The bollocks of open attacking, possession football reliant in the main, on budget/past their best players has shown to be a disaster.
We need pragmatism, hard work, and the self awareness to know we will not compete with the best teams in the league by trying to play their style. This is no hindsight argument, it was fecking obvious from the day our casino manager was appointed.
The abuse that was thrown at Moyes after performances (often even wins with abuse that was usually personal, after all, hair colour is so important to some in determining if the manager is any good) was often massive on here. Now we are playing several orders of magnitude worse, with much worse results and very little prospect of a quick turnaround as Martinez simply does not seem to be able to set his team's up to play in a different way to get a result.
We need action from the terraces now to try to accelerate the inevitable sacking of the feckless Spaniard. The BU wanted change when Moyes was doing a sterling job, a quite bizarre and staggeringly bad judgement. Now is the time for BU to get back on it, we really do now have a need to awaken the mass fan base to the crisis we face, so that we can get change and sort out the mess we are in.
James Marshall
427
Posted 21/12/2014 at 13:55:41
Sacking the manager will simply destabilise the team further. We're better than that. The team needs a Plan B that's all, not a new manager.
He just needs to learn to be more flexible in his team selection, and pick a team to play against the right opposition. He makes mistakes and is stubborn - make the subs he made last year, remember those? Game changers. He looks a bit lost at the moment.
John Daley
428
Posted 21/12/2014 at 13:52:24
Andy,
The Blue Union were never about getting rid of Moyes. Also, have you forgotten all the times we suffered an absolutely atrocious first half of the season under his stewardship?
James Marshall
429
Posted 21/12/2014 at 13:57:27
The other thing, is also obvious. We're too slow in our build up play - we pass sideways, teams mass their defenders around their box and we then struggle to get through them, round them, or even over them.
We never ever mix it up, go long, direct or anything. It's the same play over & over again and that is down to the manager NOT the players.
Paul English
431
Posted 21/12/2014 at 13:54:45
This my team, I know it counts for nothing, but here goes!
Howard
Coleman, Stones, Jagielka, Garbutt.........
McCarthy, Besic....
Barkley, Mirallas...
Kone, Naismith.
It gives youth, balance and strength....
Denis Richardson
432
Posted 21/12/2014 at 13:59:32
Andy - Moyes was NOT the 'best manager we've had in 20 years'.
Martinez is making mistakes at the moment but let's not start with the 'Moyes the great' nonsense. We've long moved on from that time and I'd take the results of Martinez's first season over anything Moyes delivered in his last 4 or 5 years in charge.
Let's please stick to curent issues rather than rewriting history.
Andy Walker
433
Posted 21/12/2014 at 14:13:31
John it not about half a season, look back over the whole of 2014, our record is appalling. Disagree with you that BU didn't want Moyes out, my perception was that Moyes was seen as BKs puppet as far as BU were concerned.
Gavin Johnson
434
Posted 21/12/2014 at 13:50:14
That's it Michael, things do change fast. Pardew looked out of his depth only a few weeks back at Newcastle and big Sam's, West Ham are a different proposition to last season. I was thinking about Laudrup's Swansea last night, on how he could do no wrong (much like Roberto) in his first season, but had lost the dressing room by Feb the following season.
The sound bites that Roberto spouts are good when things are on the up. We all felt it last season after the usual downplaying of "40 points then we'll see" garb from OFM. But I'm in total agreement that Martinez can come across as patronising and grating with the post match interviews we've heard over the last few weeks. Things aren't rosy in the garden and yesterdays performance by him (I won't scrutinise the players, but blame the formation), His post match interview paint a picture of man who is either in denial or keeping up appearances and hoping this positivity will transfer to the players.
Again you can't call time on a manager who's had us playing our best football since we were in our pomp in the 80's. And while there's worrying signs playing a team with 3 number 10's that seems to be pandering to favourites (indicated by Barry's inevitable reappearance) we've got to see if the guy takes heed of what is clear to everyone else.
Personally I don't know the answer to that any more and that's coming from a massive Martinez fan, so we'll have to see, starting with Stoke on Boxing Day.
Barry Thompson
435
Posted 21/12/2014 at 14:13:09
When asked about Plan B, Martinez replied "I thought The Defamation of Strickland Banks was phenomenal."
Denis Richardson
437
Posted 21/12/2014 at 14:15:46
Fingers crossed the reaction to the loss from fans and media will give Roberto a lot to chew on in the next couple of days.
He really does not have to do much. Just select a balanced side and be more honest with the fans (realistic post match comments) and just let the players express themselves with more pace and urgency.
Simple, simple, simple. The players are good enough so let them do what they enjoy doing!
Andy Walker
438
Posted 21/12/2014 at 14:27:30
Denis, thanks for clearing that up with such a convincing argument. Actually come to think about it, I still believe Moyes was the best in the last 20 years. The choice is:
Joe Royle
Howard Kendall in his third spell that lasted less than a year.
Walter Smith.
R Martinez.
Royles win ration was not as good as Moyes's, but I did like Joe.
And it's very relevant, would you bet against Moyes returning? I wouldn't.
Gavin Johnson
439
Posted 21/12/2014 at 14:41:09
Moysie back?! I say, in big Ian Paisley tone "NEVER, NEVER, NEVER!!"
But in all seriousness, why would anyone want a manager back who won zero trophies in over 10 years and never turned up for the derbies. As well as any other game of major significance! Martinez superseded the ginger one's best points tally in his first attempt and for all his faults this season, has already got to the knock out stages of the Europa.
James Marshall
440
Posted 21/12/2014 at 14:53:23
Moyes will never come back - not even worth talking about.
Andy Meighan
441
Posted 21/12/2014 at 15:20:29
Where's all this "best football we've played since the 80s" shite come from because I sure as hell haven't seen it lets be fair here we haven't played well since marthe spaniards side has been well and truly found out.
The style of play might work well on the continent but it doesn't suit the high tempo required of the prem in fact I'd go as far to say this is one of the worst seasons in terms of football I've seen at Goodison for a long time and that's saying something when you consider the dross that's been served up down the years.
There's not an earthly we'll be relegated but then again we'll finish closer to the bottom 3 than we will to the top 4 unless this stubborn fucker sees the error of his ways. I won't hold my breath on that though...
Andy Walker
442
Posted 21/12/2014 at 15:18:08
I think it could happen, Gavin. I think he would have done a better job than Relegation Roberto yesterday. It was an appalling display of management, from the initial terrible team selection, then making no substitutions when 2-0 down with 20 mins to go, to the post match interview when he clearly didn't have a clue what our failings had been.
It's not as if the feckless Spaniard's past record is reassuring.
Please take the record points tally last year with a pinch of salt. It was a highly unusual season where the division had a high proportion of very poor teams, 34 points would have kept a team up, 40 points was good enough for 13th. The top 6 were so much better than the rest it was easier than ever before to win more matches and this big quality gap created a unique points distribution last season.

Paul Tran
444
Posted 21/12/2014 at 15:43:32
Andy, if you think the league was poor last season, what does our 10th place tell you about it this season?
Denis Richardson
445
Posted 21/12/2014 at 15:43:28
Andy, how the fuck can you rank Moyes above joe royal.
Name me one thing Moyes won in his 11 LONG years in charge?
Also he was in charge for 11 of those 20 years. Martinez achieved more in his first season than most in a lot of his!
Moyes did an ok job, let's leave it at that.
Andy Walker
446
Posted 21/12/2014 at 15:49:11
Paul, We are worse than last season whilst other teams have improved this season, so it's much tighter this year, excluding Chelsea and City.

Paul Tran
447
Posted 21/12/2014 at 15:51:04
No contest for me. Big Joe took a team marooned at the bottom of the league and won us the Cup. Then went to Anfield and won. Then was royally shafted by club management over transfer funds. Wonder what would have happened if he'd been given the money and security the other guy got.

Andy Walker
448
Posted 21/12/2014 at 15:51:31
Of course Denis you are right, Moyes failure was a lck of a trophy, but then Martinez won the FA cup and relegated his side. For me the week in week out performances in the league is the priority. I understand not all fans think or want the same, but I would prefer if we were a top Premier League team year in year rather than a relegation dodger that picked up a cup once every 15 years.
We got to 4th once and yes it didn't work out, but then we were genuinely robbed by a terrible refereeing decision.
I remember the relegation battles, worst time of my football supporting life!
Nick Entwistle
449
Posted 21/12/2014 at 15:57:02
Denis, I'm pretty sure Wigan fans would have taken Jewell's or Bruce's record over Martinez's.
Jim Bennings
450
Posted 21/12/2014 at 16:09:52
Joe Royle for me everyday of the week.
Had two years here where he took a club on its knees to a trophy and a top 6 finish with a team that played pretty good football in that 1995-96 season.
Royle knew how you need to play in the English game and signed quality flair attacking talent in Kanchelskis to add the icing to the tough tackling midfield.
The only thing he never quite managed was a truly outstanding striker, Big Dunc inconsistent at times, had we signed a player like a Les Ferdinand, Ian Wright it Sheared back then we night have won it.
Andy Walker
451
Posted 21/12/2014 at 16:24:29
I loved Joe too, but let's not forget he didn't have to compete against teams with billionaire owners. It was a much more level playing field in his day.
Darren Hind
452
Posted 21/12/2014 at 16:09:04
Wow. Well over 400 post and not not one of a sycophantic nature.
I don't blame Martinez for any of this, he must have thought he was doing a terrific job. He was told so often enough.
I'd like to think the knowledgeable Evertonian can now forget all the "next manager of Barcelona" bollocks they've patiently listened to and get behind our manager. He is clearly struggling with life at the top end of the table, but he has a cracking group of players to work with.

Ray Roche
453
Posted 21/12/2014 at 16:58:43
Darren, if he has a cracking group of players why isn't he playing them?
I mean, all of them, as and when they're required, and not just shoe horning his favourites in to keep them happy? Barkley out wide after a super performance in the middle v QPR? Barklet, Naismith and E'eto all in the same team? Barry, a modern day Pembridge if ever I saw one, chugging about in mid field, strolling straight back into the side? No substitutions? Dear me....easily pleased.
Darren Hind
454
Posted 21/12/2014 at 17:11:21
Not read any of my previous posts then Ray?
Fair enough
Ian Tunstead
455
Posted 21/12/2014 at 17:13:13
Kevin Tully 290, finally the penny has dropped has it?
Denis Richardson
456
Posted 21/12/2014 at 17:08:34
Andy, what's Martinez's record at Wigan got to do with the Everton manager of the last 20 years?
We're only talking about the manager of our club, not what any manager did elsewhere. Fact is Royal won us a trophy and Moyes won us f all and was in charge a hell of a lot longer.
All a matter of opinion at the end of the day but give me a trophy all day long.
We can only really compare Moyes and Martinez once the latter has had more than 18 months in charge. (As things stand he may not last till next year!)
I hope the Spanish one can turn things around but if he's too stubborn to change his ways and not even select a balanced side, then.....
Ray Roche
457
Posted 21/12/2014 at 17:22:14
No, Darren, I must be honest, there are too many posts on here to go back to the start, so I was responding to your recent post. I wasn't being sarcastic or anything just as frustrated as the rest of us. And the Arse have just gone 1-2 up.
John Daley
458
Posted 21/12/2014 at 17:30:15
"What was post 88 about? The biggest load of shite I've ever read in my life and I'd put my house on that was a an American who posted that. I'd also hazard a guess that he's never been anywhere near the Old Lady in his life absolute load of nonsense".
Andy, you owe me your house then. I'm definitely not an American and I've had a season ticket for years. I'll let you off though as I really don't think I'd fancy taking up residence in 'The Derek Zoolander School for Kids Who Can't Read Good and Want to Do Other Stuff Good Too.'
Besides, it'd be way too much bother emptying the vast East Wing library of it's entire contents: The Very Hungry Caterpillar, The Complete Can You Tell Me How To Get To Sesame Street, and Rentaghost Annuals 1981-1984. Fuck that, I'd need to use both hands.
Gavin Johnson
459
Posted 21/12/2014 at 17:19:16
Darren, you never know about Roberto getting the Barca job. Stranger things have happened. I never thought OFM would get a job at a top 4 club.
I'd agree with the consensus that big Joe pips it over Moysie. We always turned up for the derbies, won the FA Cup when it still meant something. Also as Jim said, the season we had Kanchelskis we played great football and had we signed a "top" striker (no disrespect to Diamond) to play alongside big Dunc anything could have been achievable. If I remember right, didn't we nearly sign Collymore from Forest when he was banging them in for fun? I know things didn't pan out well for him at the RS but you never know how he'd have taken to playing for us.
Darren Hind
460
Posted 21/12/2014 at 17:25:58
No worries Ray.
I suggest you don't read back, its to depressing
Ray Roche
461
Posted 21/12/2014 at 17:42:48
OK, Darren, I won't bother then!, I'm just hoping the Arse hold out, they seem to be giving the ball away as much as we do.
Kevin Rowlands
462
Posted 21/12/2014 at 17:45:31
It's a sad day when we can't even enjoy things going tits up for the RS because we're so poor ourselves, damn it.
John Daley
463
Posted 21/12/2014 at 17:50:45
"John Daley...I'll buy your book when it comes out fella!"
Save your money Mike. You can have the signed copy I was keeping aside for Andy Meighan!
Andy Walker
465
Posted 21/12/2014 at 17:37:16
Denis, I think we should be looking to improve with time not get worse. I'm sure you'd agree the only way you can measure improvement is to compare with what happened previously. So it's right that Martinez should be compared to Moyes.
I am pretty sure that RM winning the FA Cup will have had an influence on the decision to appoint him as our manager... in fact I'd go as far as to say if he hadn't won it he wouldn't have got the job. So his past is extremely relevant to our club.
I looked up who Wigan beat to get to the Cup Final: Bournemouth, Macclesfield Town, Huddersfield Town., Everton, Millwall – basically a very easy draw, with the exception of us when Moyes had one of his worst matches in charge, aided by Neville who never made another first team start. I remember we were all disgusted by our team's performance that day, not amazed by Wigan's brilliance.
Having got to the final, Wigan beat a Man City side who turned up with the attitude that they had won it before a ball was kicked and they paid the price.
The point of my ramble, Wigan and Martinez had a lot of luck in that cup run and the result was he is now our manager and we get a performance like yesterday's.
Peter Knight
466
Posted 21/12/2014 at 17:36:36
What I did not like at halftime was you could see Distin, Barry, & Eto'o should have been replaced by Stones, Kone, & McGeady and try to get back in the game as Southampton were vulnerable.
When we went 2 nil down Roberto decided we could not come back like we did against Man Utd when we were 4-2 down. Not even given Stones, Kone, Alcaraz some playing time as they have been injured but keep the subs fresh for the next games and accept defeat.
John Daley
468
Posted 21/12/2014 at 17:56:24
"..didn't we nearly sign Collymore from Forest..?'
If I'm remembering it right, an ٦m fee was agreed and it looked like he was going to sign until the RS came in and hijacked the deal. I don't know if he really would've been the right sort of character to kick Royle's team on though. Royle also had a sniff around Shearer I think (I remember a supposed 'bid' being slapped in after Newcastle had already agreed a much higher fee) and fought for the unknown Tor Andre Flo to be brought in, to no avail. So he definitely knew another frontman was required.
Colin Glassar
469
Posted 21/12/2014 at 18:04:49
Always an ominous sign on TW when there's only one or two threads on the game.
Any word from Roberto today or the players? I've just got in so I'm not sure what's happened. Still gutted about our season.
John Daley
470
Posted 21/12/2014 at 18:11:00
Not seen anything ColIn but we all know what the script is likely to be anyway. Probably best they refrain from the usual soundbites about small margins, making amends in the next game or stating that our season starts now etc.
Mark Frere
471
Posted 21/12/2014 at 18:06:50
Dion Dublin was the striker we needed and he ended up at Coventry. I think we were 2 or 3 players short of being a really good side. We needed a creative midfielder to play alongside Parkinson, a good RB and like I said Dublin. As it happened, Parkinson got injured, kanchelskis was sold to Fiorentina and we went in to decline. Real shame.
Ray Roche
473
Posted 21/12/2014 at 18:24:23
Mark, as I recall, Kanchelskis wanted to move so he could get a signing on fee to help pay off gambling debts. He seemed to move about quite a lot, from 1996 to 2006 he had eight clubs....
Wasn't the failure to back Royle with the signing of Flo the reason Royle left? Just as the failure to sign Dublin led to Kendall going. Royle had agreed a deal with Utd but an Everton director pulled the plug.
Kunal Desai
474
Posted 21/12/2014 at 18:31:12
Does anyone know why Kenwright didn't ask big Joe to to come back and manage us when he sacked Smith?
Bobby Thomas
475
Posted 21/12/2014 at 18:25:12
Collymore was always going to the shite. We had a bid accepted and had talks, but imo we basically got used as a negotiating too for better wages.
Kunal Desai
477
Posted 21/12/2014 at 18:35:50
Would love to see both a Limpar and Kanchelskis in this side. McGeady and Pienaar haven't got a patch on these guys.
Phil Walling
478
Posted 21/12/2014 at 18:24:44
Andy Walker. Martinez got the job because he knocked us out of the Cup AND went on to win it. Had he not done the latter, I suspect Cup Final Dave would not have been able to sell him to Kenwright together with a shitload of his colleagues and players.
We are now reaping the harvest.
Mark Frere
479
Posted 21/12/2014 at 18:49:59
I think you might be right actually, Ray. For some reason I always thought it was Royle who wanted to sign Dublin.
Sam Hoare
480
Posted 21/12/2014 at 18:51:18
Things have been bad all season. And actually quite a lot of the back end of last season.
Most worryingly it actually feels things might be getting worse rather than better.
I'm all for giving managers time but there are always parameters. I think it's highly unlikely Roberto would be sacked this season unless we fell very heavily down the league (not impossible judging our last few performances) but what would necessitate a change this Summer? Maybe if we continued playing as we are and finished below 12th? Or would he get the Europa excuse and more faith to turn it around a la Pardew?
Things can change very quickly in football but many more depressing days like yesterday and he will certainly lose the fans.
Colin Glassar
481
Posted 21/12/2014 at 19:08:59
Sam, all he has to do is play the players who are showing some form and desire when given the chance.
Why was Ross moved out wide? Why was Garbutt dropped? Why was Oviedo not even in the squad? Why no subs? Why no tactical shifts?
So many questions, so few answers. Great piece in the Mail On Line btw.
Paul Andrews
482
Posted 21/12/2014 at 19:22:12
In my opinion Roberto will still do a good job for Everton.
When he gets his own players into the squad we will reap the benefit.
He is one of the best young managers around. Now more than ever, he needs support.
Kieran Riding
483
Posted 21/12/2014 at 19:23:34
Colin, I haven't read The Mail online yet, but I deffo know they have a good source at certain clubs.
Kevin Rowlands
484
Posted 21/12/2014 at 19:30:27
Have to give you props Phil, it took you till the 478th post to make a comment, unfortunately I think a lot of us are starting to think you may have been right all along but you can't criticize people defending Martinez when things were Rosy. I hope he turns it around but yes I am beginning to have major doubts at this point.
On another note did anyone notice Martinez and Jones in the stand at the Newc/Sund game, I've read in various places that we are interested in bringing in Adam Johnson in January, oh I hope that's true and they were there to watch him, I'd have him over Del Boy in a heartbeat and whilst were at it bring Larsson as well, that lad is under rated and has the heart of Lion, something that were sorely missing.
Max Murphy
485
Posted 21/12/2014 at 19:39:31
Kunai (#409) if you sincerely believe that Everton FC rely on ToffeeWeb comments to gain confidence to play & win their next Premiership game, then it is you that is indeed a fuckwit, just like our current manager.
Sam Hoare
486
Posted 21/12/2014 at 19:44:45
Kevin, probably they were scouting Newcastle who we play imminently.
Not sure about Johnson. Seems like he has gone backwards rather than forwards over last few years. Deulofeu was mercurial at best but I think has the potential to be a different class to Johnson.
Gavin Johnson
487
Posted 21/12/2014 at 20:03:00
I'd take Johnson, isn't he equally adept at playing on the left side too? I thought he was more of a left winger but he always seems to be played out on the right whenever I've watched him in recent seasons.
I have to agree with Sam, Deulofeu has world class potential. I'm pretty sure that if Colin's right about him returning, Barca will ensure they put in clauses so that they can buy him back for a certain fee or have first refusal.
Raymond Fox
488
Posted 21/12/2014 at 19:52:55
Well the Southampton performance was poor no doubt it.
But lets take stock, anybody would think that Martinez was the worst manager in the world going off many of the comments in the thread!
We are now 11th in the table but we are at this stage in no danger of relegation (at least in my opinion).
He said when he took over that he wanted to play possession football, but I've no doubt he wants it to be played at a faster and more penetrating way than it is at the moment.
Which ever way you play the game, its the quality of the players that has the last say.
Why are the same teams each season occupying the top 4 places?
To suggest he's ignorant in the different systems and tactics is surely wide of the mark as he apparently watches football for hours on end.
He knows different tactics which was shown in out manoeuvring us and Man City in the FA Cup.
We are still short of at least 3 top class players which would make all the difference to our play (again in my opinion)
Say Martinez was dismissed who could we engage that would make us a top 4 side?
Moyes chose the more direct route of play and in general did an excellent job, but he could not break the strangle hold that a few clubs have on the Premiership.
Our biggest and long term problem is not which manager we have, its the size of our transfer budget.
Don't get me wrong we have some top class players, Coleman, Baines, Barkley (developing), Stones (developing) Mirallas (sometimes), Eto (past his best), Lukaku (could be in time but not a 㿈m player yet).
The rest are average Prem. quality at best.
Patrick Murphy
489
Posted 21/12/2014 at 20:34:02
Raymond - I think a good proportion of the support want Martinez to retain his position as Everton manager and of course you are right in saying that there's nobody out there who could take us to top4 - even the chosen one would struggle to do that at Everton. But, if the current trend continues for any length of time we will end up as a club who punches below its weight and that for me at least is unacceptable. Pride, passion and commitment should be a byword for Everton even if the players are unable to produce the performances we would like to see - at the moment those qualities seem to be missing and that doesn't help Martinez in his ongoing project but it is something that Everton of all the PL clubs cannot afford to dispense with - I said yesterday that any team has to earn the right to play its football and at the moment Everton are not doing that.
BTW many of those players who you describe as average PL players achieved some good results last season and played some good football along the way - we've seen them produce those performances so the argument that they are average at best is somewhat perplexing - but perhaps individually they are what you say and it is only when they act collectively that they can attain the high standards they produced last term.
Raymond Fox
490
Posted 21/12/2014 at 20:57:07
Patrick, we got on a roll last season and rode with it, I think as has been said many times lately is that we have been sussed this season and teams know what to expect.
We don't seem to have the individuals that have the quality to overcome close marking and find a pass forward, we are 2 or 3 class players short.
Adding to the problem this season many of the players are not trying hard enough to find space to make a good pass possible.
As far as my comment about 1/2 the team being average Prem. quality,
how many with the exception of McCarthy (maybe) and the players I mentioned in the earlier post would get in a usual top 4 side, I don't see any Patrick.
Sean Kelly
491
Posted 21/12/2014 at 21:02:07
I think a lot of what's wrong is down to fitness or lack of it. We are second best to every ball. We don't show up at all for any second ball. Lady season we looked fitter and were amazed how this team adapted to Martinez's game plan. We had a shit re season. I won't use the World Cup as an excuse because we still haven't upped our game. The lack of fitness has in my humble opinion contributed to two things namely our abundance of hamstring injuries and also our bad decision making. Look around the other teams in the premier and see how many of their first team squad have missed games this season due to hamstring injuries.
Our players have looked tired since the latter part of last season. Because of this tiredness they have been making wrong decision after wrong decision. This tiredness has been added to by Roberto's reluctance to rotate his squad. Players playing badly are never dropped. Barry Distin and Baines have been utter shite this season and know they will not be dropped. With this in mind and the refusal of Roberto to make any substitutions when we were two nil down yesterday sends out the wrong messages to those on the itch and those on the bench. Those playing know they are there to stay and those on the bench will want away as they know they have no chance here.
All of this stops at Roberto"a door. If he doesn't change now and starts picking up points now come February we will be in the relegation zone. FFS we are only four points ahead of qpr and they are shite. Too good to go down? On paper maybe but on the pitch at the moment we are not good enough to stay up. Sorry for the negativity folks. I have been a supporter of Roberto since he came and I hope to stay clear of the Phil Walling fan club but at the moment Roberto is proving him right. I have been an Everton supporter for over 50 years answer are supposed to have the best squad for several years. The thing is with lesser quality squads in the past the players on the pitch burst a gut and emptied their tanks on the pitch in an effort to get some points. This crew and the manager have no desire and no passion for the club or jersey.
Patrick Murphy
492
Posted 21/12/2014 at 21:22:10
I'm not really arguing against your assessment of individual players but I would argue that Evertonians are not casting aspersions upon Roberto because we are not challenging the top 4 as most of us would agree that at least two of those clubs are in a different financial stratosphere as to a lesser extent are Man U, but we should be able to at least have a go at Tottenham, Liverpool, Arsenal et al - but only if we play as a team in every match.
What we are currently seeing is a drift towards mediocrity and nobody at the club seems to be concerned about it - as fans we are concerned and rightly so - a defence which was mostly reliable has become a little suspect 27 conceded in 17 games is not good reading and as confidence is falling that may get worse before it gets better.
Most of us understand that we will lose games or fail to win but when it looks as if the players aren't trying or the manager doesn't seem to see that there may be a problem it only exacerbates the problem - no team is too good to go down unless they prove it out on the park and that is the real fear - perhaps irrationally - of many, if the drift is allowed to continue for too long. I'm not saying we will be in a relegation dog-fight but for those who think it's not possible I would warn that such complacency has accompanied many a team on its way out of the top-flight.
Raymond Fox
493
Posted 21/12/2014 at 21:40:35
I doubt the players see the same Martinez that is his public persona Patrick.
Our general play has gone downhill in the League I agree, but watching the game we were reasonable for the 1st half hour.
All their 3 goals were from crosses and involved our centre halves who are the most experienced in the Prem.
I could have made a better attempt to head the ball than they did for all 3 goals, they were in the right positions each time but totally failed to get off the ground and deal with the crosses.
Jim Bennings
494
Posted 21/12/2014 at 21:57:40
Newcastle United have lost four games on the spin now, their next game on Boxing Day is at Old Trafford to face an improving Manchester United team..
Fear not Geordies, on December 28 the football doctor will be in town to cure all your recent woes.
Don't we just know that Newcastle will get that timely pick me up against Everton?
Gavin Johnson
495
Posted 21/12/2014 at 22:01:46
I think the fact that we look good in the first half of games and then to fade in the 2nd half as a lot to do with the disaster that was pre-season. The statistics going into the game had us 3rd in the EPL on first half performances. That makes it obvious that the players aren't as fit as they should be. That, as well as the ridiculous amount of hamstring injuries we keep getting struck down with. I guess the blame for this has to be laid purely at Roberto's door. He shouldn't have been sunning it, networking in Brazil during the WC.
Kevin Rowlands
496
Posted 21/12/2014 at 22:39:32
Lol Jim B, unfortunately 100% spot on, there must be managers across the EPL who are on a bad run praying that the Everton fixture will be coming up soon.
Colin Malone
497
Posted 21/12/2014 at 22:43:10
Im frustrated, but I will be shouting the blues on on boxing day, because no positives come from the booing from the crowd. After all, its about money to get you anywhere in this league, which we have none.
So lets get behind the BLUEBOYS.
Robin Cannon
498
Posted 21/12/2014 at 22:55:58
It doesn't appear to be the passing style itself so much as the pace of our play. I don't agree necessarily that teams have "sussed" us; it's not actually that easy to suss fast paced, quick passing, attacking play that we often put together last season.
This year everything just seems so much more ponderous. Instead of slow, slow, quick, quick, slow, it's just slow, slow, slow, slow, slow. So many times this season I've found myself spending as much time looking at my phone as the match on TV, especially once we're behind, because I just don't see any sign at all that we're getting back into a game.
There doesn't seem to be any particular logic for this drop off in the pace of our play. There is nothing wrong with patiently probing and then increasing the pace of play, but we just pass it around forever. The difference in the team when Mirallas is there is big, because he naturally seems to be quite a dynamic player, but that can't be the sole reason. It's certainly not helping Lukaku; he hasn't been great this season, true, but I can't really remember the last time he had a decent ball to run on to that played to his strengths.
Harold Matthews
500
Posted 21/12/2014 at 23:30:31
I was pleased to hear Martinez admit that "teams are taking advantage of the way we play." Guess it's time to change things.
Mike Price
501
Posted 21/12/2014 at 23:29:58
He started worrying me when he started handing out contracts to bad players, Hibbert, Howard, Osman, Robles, 3 years for Barry and now Naismith until 2019!
I really thought he would bring pace into the team at least, but I was always worried by the lack of aggression and steel. Every player, apart from Besic, is 'nice', they're all quiet and soft, and if it doesn't change, we're in big trouble.
When that clown Whelan said that he'd take Evertonians to places they couldn't imagine, I was thinking champions league, now lots of us are worried it might be the unimaginable.
Chris Davies
503
Posted 22/12/2014 at 00:07:16
With the lack of grammar on this page, reading "Everton", has become as difficult as watching them.
Just my observation..
When I were in Southampton, I noticed their, that they're possession football was better than are's and there keeper didn't have much to do. There so much better than us but not nearly as difficult to read as this post.
Gavin Johnson
504
Posted 22/12/2014 at 01:18:18
Chris, So what's your point?? I don't see anything in your post about the game or your views related to Everton. The only point I can see is the need to make yourself feel superior to others.
Just saying like..
Harold Matthews
505
Posted 22/12/2014 at 02:01:07
The Editor once rapped my knuckles for not getting my paragraphs right.
Colin Gee
506
Posted 22/12/2014 at 02:30:17
Jim #494 as well as Newcastle, we go to Hull on NYD and they haven't won for I think 11 games.
I haven't read the thread having spent the weekend in Southampton, two things though, when we went 2-0 down why didn't Martinez bring on Kone who had been warming up for almost the entire second half, to at least try and get something out of the game.
Also listening to the Southampton fans in the pub afterwards they couldn't believe how poor we were and couldn't understand why Ross was playing on the wing.
Ernie Baywood
507
Posted 22/12/2014 at 05:04:06
Some of the answers are simple. Don't play Ross on the wing being an example. Our problems run deeper than that though.
There was a point yesterday where Baines got wound up, charged into centre midfield, played a few quick passes.
Howard
Coleman Jags Barry Garbutt
Barkley Baines
Aiden Nuts
Naismith
Romelu

Laurie Hartley
509
Posted 22/12/2014 at 05:27:06
I got up Sunday morning here in the land down under an fired up the iPad with trepidation. I wasn't surprised at what greeted me.
I read about 200 posts on this thread and, despite that, decided to watch the full replay (as I do every week). It was horrible.
If I had to describe how we played in one sentence it would be "like a ship without a rudder". Which we were.
Then I read the rest of the thread. There are a lot of very level headed fans really concerned with our current situation.
Rightly so in my opinion.
Harold noted Roberto's comments "teams are taking advantage of the WAY we play". Perhaps it is more a case of teams taking advantage of WHERE we play.
If the ball is in your oppositions half they can't score. But better than that if you have two or three players who are willing to run themselves ragged and put themselves about then there is a good chance they will force your opposition into a mistake. This season, from what I have seen, most of our possession is in our own half. We are not a threat for most of the game.
The only time we do look threatening is when we break.
Roberto had two wingers and a striker on the bench on Saturday - Pienaar, Kone, McGeady. He should have pulled Barry, Lukaku and Naismith when we went 2-0 down and replaced them with these three. We would then have had a team of square pegs in square holes.
If I and so many others ( including the press ) can see this that is reason for us to be seriously concerned.
The West Ham board told Sam they wanted to see a different style of football. Perhaps it is time for our chairman to have a similar conversation with our manager.
Andrew Clare
510
Posted 22/12/2014 at 07:25:40
Jim #494,
Unfortunately you are 100% correct.There are no surprises with Everton. We will turn up have a reasonable amount of harmless possession – no shots on goal and lose.
How refreshing it would be if the team played with enthusiasm pace and varying tactics to confuse the opposition – not a chance!
Yes I am very disappointed.
Michael Kenrick
Editorial Team
511
Posted 22/12/2014 at 07:32:24
I'm with you, Chris, and I usually fix those I see as I'm reading the comments. But I'm travelling at the moment and with the overwhelming response to Saturday's dismal display, I've been unable to keep up. Better standards will be reimposed in due course... whether this will happen to performances on the pitch remains to be seen...
Ant Summers
512
Posted 22/12/2014 at 07:36:06
I'll prepare you all now. We face a Stoke team that wins the "In Your Face" award, out of all Premier League clubs. If we don't take it to them, and continue with this triangle pit-pat, hoof football, there is only one result. I hate playing Stoke at any time but this could just about be the worst, I don't see them allowing us to play.
I'm not looking forward to Boxing Day, or the trip to Newcastle, after yesterday's home defeat. If things really go against us, 5th from bottom at Christmas is not beyond the realms of possibilities. RM will probably talk his usual tripe of "It was on a knife edge, could've went any way" bollox.
Too good to go down... where have I heard that before?
Ernie Baywood
513
Posted 22/12/2014 at 08:15:08
A team not allowing us to play might just be what we need. But I suspect they'll do what everyone else does... let us play. When you let Everton play they invariably don't know what to do with it.
Jim Bennings
514
Posted 22/12/2014 at 08:13:37
Your right Andrew
Anyone who watched the Newcastle-Sunderland game yesterday could clearly see how much passion Sunderland played with and what I was taken with is how much it meant to them at the final whistle.
When is the last time we saw Everton play with such a passion, hunger, desire and more importantly... A real tempo?
Sunderland are of course limited but any team can look half decent when they play with hear and passion coupled with a fast tempo.
I like Martinez as a person but I'm praying he wakes up to what is needed to get this season and the club back into some kind of "feel good factor".
Brent Stephens
515
Posted 22/12/2014 at 09:57:40
Chris #503. Yer pulls us up over us grammar, and say "Just my observation.."
Why two full stops? Or did you mean that to be an ellipsis (and was it an intentional omission?).
Colin Glassar
516
Posted 22/12/2014 at 10:35:01
Sounds like Stonesy and Mirallas will be back to face Stoke.
Paul Dark
517
Posted 22/12/2014 at 11:02:58
Colin - any word from the inside about the mood of the dressing room/RM?
Brent Stephens
518
Posted 22/12/2014 at 11:09:24
Where are u (sorry, you) picking that up, Colin?
Colin Glassar
519
Posted 22/12/2014 at 11:26:05
Not a peep Paul. They're in lockdown. About Stones and Mirallas, Brent? Liverpool Echo.
Kevin Tully
520
Posted 22/12/2014 at 11:30:48
I think this will only go two ways; either the team starts to put up a fight, and they start to play with pace and power. Or they really don't want to play for Bobby, and they don't buy into his 'philosophy.'
I don't see us muddling along in mid-table. The players either want to play for him, and buy into his system, or they don't.
A few more displays like the last few weeks over the busy Christmas period, and you would have to say he has lost the dressing room. Any professional sportsman hates to lose, and this crop are too good to be battling in the bottom half.
No system, or tactical set up can stop the players giving 100% effort - I can't honestly say we have looked like we are leaving everything on the pitch lately.
Hate to mention this, but the redshite ran themselves ragged against Arsenal yesterday, you know they haven't lost faith in Rodgers, even though they've been as poor as us lately.
The next few games will show where we are heading. Let's hope it's up the table rather than down, or things may end badly for Mr. Martinez.
Paul Dark
521
Posted 22/12/2014 at 11:49:30
Thanks Col - I hope 'lockdown' ends up being a synonym for getting their heads down - and together!
I do fear for us against the thugs and cheats that are Stoke - managed by Thug-in-Chief, Hughes.
Matt Melia
522
Posted 22/12/2014 at 11:36:12
For my sins, due to age, I, although a season ticket holder of very long standing, no longer go to away games and we all know you see a totally different game in the flesh than on a TV screen. But, whichever way you saw the Southampton game we were dreadful.
I partake of a few pints with a Wigan fan, every Sunday, and he informs me that their reserve strip is en-route to Goodison, the system is already there.
Just look who Roberto brought with him; Alcatraz, Kone & Robles.
Sadly, Our Bill (Kenwright) will keep an extremely low profile while Roberto
continues to destroy our team.
Roberto must be on some illegal medication, because he's totally delusional.
Part of Roberto's after match comments;
Martinez did not make any changes during the game and he explained: "I did feel that the team was the right one to get back into the game. I wanted the players to show the right intention to get back into the game.
"I never felt that we were outplayed -- it was a matter of the way we defended our 18-yard box rather than any tactical aspect."
Reminiscent of Walter Smith's "It's been very disappointing"
We all know that he has a paranoia of playing the Barcelona way, but this side and every fan I know is well aware, unless we buy the whole of the Barcelona team, it'll never happen.
It may be me, but I think the lads on the park also can't handle the Barcelona approach and appear not to have a clue what they're supposed to be doing.
Last season we had a little rub of the green, but it was earned by gutsy performances, similar to yesterday's Sunderland performance against Newcastle.
Our full backs used to be paired with the wide men and scared the shit out of opposition defenders, Seamus was leading defensive scorer in Europe.
This season they have disappeared into the ether.
The back four no longer defend. Distin's sell by date has well passed and Gareth Barry, after his 2 year contract, doesn't seem interested and is always a yard behind the attacker.
Jag's has just lost the plot. (Never been the same player since his England call-up)
Baines has gone stale and giving Oviedo a chance may be the kick up the backside he needs.
Pienaar has lost his legs and skills, another Oldie.
McGeedy blows hot and cold, may be on the same medication as the Boss.
Lukaku, who may be a better player/scorer if the ball were put in front of him, lacks effort and honestly I've seen more effective Sunday League C/F's.
The signing of a Quality goalie is a priority. We have a goalie(?) who does Star Jumps instead of attempting to go for the ball or come off his bloodie line. I suppose commanding his area, the 6 yard one would be an improvement, is out of the question.
Although I'm criticising some players that I have the greatest respect for and they owe the Blues nothing, they are past it, this is the Premiership and pace is a great part of the game.
Stones merits a start and Garbutt, & Browning must be blooded. This team of Oldies isn't the answer.
Besic, not the finished article, but he's getting there and at least you know he's on the park.
Mirallas one of our few creative players, draws the short straw with injuries.
Ross gets back on the mark and Roberto switches him wide??????????, but was still our best player.
I think Eto'O, although no spring chicken has the skills to be given the chance up front with Naismith, with Barclay & McCarthy the feeder midfielders and get the full-backs and wide men back on track.
We have a difficult few games coming up and I am greatly concerned we could be sucked into the dreaded, we need 40 points to survive gang.
Games against lower teams, which we should be guaranteed 3 points, are in the January fixtures, but our worst performances have been against similar sides.
Hopefully, I'm wrong and I won't need the extra pack of Rennies.
Nobody may agree with the above, but I always feel better after a rant.
Season's Greetings to all readers, enjoy reading all your input and let's hope it's a positive

BLUE, BLUE, CHRISTMAS
Matt

John Zapa
526
Posted 22/12/2014 at 16:46:43
I always said Martinez was a fraudster mascarading as a premier league manager. I don't anticipate relaxation this season, Roberto still need a couple more transfer windows to drag the club down.
John Voigt
527
Posted 22/12/2014 at 16:46:41
I'm not a life long football fan. I'm a yank and I replaced the thing we call football with the real game of football 10 years ago.
My knowledge of formations and styles of play is way below most posters to ToffeeWeb, but even I can see the system Everton are attempting to play has little chance of success based on the players Everton have available.
The Soldado goal was the worst goal we've conceded this season. Playing slowly out of the back with central defenders wide Barry gets his pocket picked from behind by Harry Kane, and with the simplest of passes you have Soldado running with the ball with nothing between him and goalie Howard. He hadn't scored in 9 months, but easily beat keeper Tim.
If we had the players Chelsea have or City maybe this system would work, but Barry, Disten and Jags are too mistake prone. I'm OK with John Stones playing out of the back. He can carry the ball forward and also make nice passes forward (not sideways or backwards!).
Even when slow out of the back works all you're left with is the ball at midfield playing against a settled in defense.
I too question the lineup and formation. In the last game it appeared to me we were playing 4-2-3-1. The wingers were Eto'o and Naismith and they aren't wingers. Both of them don't take up wide positions. I can't remember either receiving the ball out wide. Playing as narrow as Everton did last game makes the defenses job easier.
Martinez will definitely lose my support if he continues to play a system that doesn't match the talents of the players he has. If Eto'o is told to play out on the wing he needs to play out wide.
Having no width should be an easy fix, but stubborn Roberto doesn't seem to see the problem.

Kevin Rowlands
528
Posted 22/12/2014 at 17:27:30
John #527, don't put yourself down mate you sound like your proper football well enough to me.
Hate to say it but when Alan gobshite Shearer is spot on in his analysis of our problems we know we have been well and truly found out by other clubs in the EPL as well, Martinez needs to stop being so fucking stubborn in his ways and adapt to change when needed, it's not rocket science, there is no one single way to play this game like he seems to think.
John Voigt
529
Posted 22/12/2014 at 18:01:40
How's this for a holiday wish: Have Everton play a formation that's suits the players they have. I'd play the old fashioned and out of favor 4-4-2. Everton have 4 forwards to play 2 positions (Lukaku, Eto'o, Kone and Naismith). All make my team sheet and I'm bringing on a fresh striker after 60 minutes. Another one at the 75 minute mark if a goal is needed.
My back line is Garbutt, Jags, Stones and Coleman. In midfield I'd play Oveido or Baines in front of Gabutt. I'd play McCarthey (when he's fit) along with Barkley (guess this means Barry plays until McCarthey is fit). On the right midfield I'd have Besic. My instructions to Besic would be don't join the attack if Barkley goes forward. Stay back and provide cover in the center. I actually think this would be a really good role for Besic. With this setup there will be more room in the center of the field for Barkley to roam. The strikers start with a bit of width and there should be room for Barkley to operate instead of the cramped areas he's had to deal with the last few games.
This setup would allow Baines to get forward more often and have less defensive responsibilities. It would allow Barkley to roam forward any time he wants because Besic will cover for him. It allows Everton to play 2 forwards in positions where forwards like and need to play.
And of course the instructions to the goalie is boot the thing long. I'm sick of bad turnovers resulting in easily conceded goals!
Dave Lynch
530
Posted 22/12/2014 at 18:26:39
John@527.
Your analysis is spot on. Nobody at any of his clubs have tried to play Eto'o as a winger/wide man, he is a poacher who comes alive in and around the box.
He has scored countless goals for every club he's played for and his ability at putting the ball in the net cannot be taught, they are a natural gift.
Roberto has either never seen him play before or is a complete fool to ignore the attributes of one of the greatest African players to have ever played the game.
You decide.
Laurie Hartley
532
Posted 22/12/2014 at 19:31:48
David Lynch - Correct.
James Byrne
533
Posted 22/12/2014 at 20:38:28
John Voigt, well said mate and great contribution.
Sean Kelly
534
Posted 22/12/2014 at 21:19:21
Gone very quiet down at Goodison and Finch Farm are they having a sleep over in Roberto"s holiday home?
Colin Glassar
535
Posted 22/12/2014 at 21:21:44
They're having an intensive training course in bingo Sean.
Sean Kelly
536
Posted 22/12/2014 at 21:34:00
They will probably give them balls away too Colin
Peter Fearon
537
Posted 23/12/2014 at 00:21:20
All of the 'Martinez Must Go' rhetoric that has appeared on this site recently is way, way, way over the top, as are the ludicrously dire predictions of a relegation battle. We are not going to drift into a relegation battle any more than our neighbors, a single point above us, will. Yes, the performances of late have been flat and disappointing but the 3-0 scoreline seriously flattered Southampton who were arguably more dangerous after their run of defeats than they might otherwise have been. We were playing without our most effective playmaker in Mirallas while Barry, Eto'o and Lukaku have been significantly off the pace for some time. It will change for the better. I frankly thought the lack of a substitution was strange but with two matches in three days coming up I could understand it.
I am looking forward to a successful European campaign and a solid bid for the FA Cup. And remember: we put up with a lot worse for a decade under his predecessor. A lot worse. I am still confident Roberto Martinez will get it right.
Colin Glassar
538
Posted 23/12/2014 at 00:38:36
Peter, I was going to post something quite similar. I've been really peed off with our last couple of games but m not giving up on Martinez just yet.
He's a young manager who is still learning his trade. If he's as good as they say (his peers) then he will turn this around. This is a crucial period for him and the team so we need to stay firm, without losing our right to criticise, and stay the course. In Roberto I Trust.
Joe Clitherow
539
Posted 23/12/2014 at 00:50:07
Colin if it's just the last couple of games you've been peed off with (one of which was a win) then fair play to you, you have more tolerance than me. I find myself saying every week that I've seen the worst performance of the season and every week I'm right.
I still don't understand the faith in RM as he has no track record as far as I can see. I also base my judgement on what I've seen from him from not just this season but the collapse at the end of the last. A six game run to win an FA Cup against I think only two PL sides will always be on his CV, but in my mind is more than offset by a 38 game season ending in relegation. I don't trust him at all (and you may have gathered I didn't want him in the first place! Sin Defendo!)
Jackie Barry
540
Posted 23/12/2014 at 01:23:09
In all honestypes Joe I said the same of Moyes in the end. He did OK nothing more and is certainly no legend. Right now I am more than disappointed with Martinez but after calming down I see that we have to give him time. I hope all can see that Europe, while we dream of it, is nothing more than a hindrance right now. We need more quality in the ranks and those stating we have enough of it are living in dreamland. Hopefully January will see more additions and the start of Martinez rebuilding the squad to the quality a team like Everton should have.
Jack Cross
543
Posted 24/12/2014 at 15:37:31
Jim Bennings, Your right Jim, there isn't any passion or heart that I can see in the team. I wasn't a fan of Moyse, but the team always seemed to play with pride and determination, a never say die attitude.
I was watching the Red shite against Arsenal and although you can see problems in certain areas of their game, in that match you couldn't fault them for their determination in wanting something out of the match, even with 10 men. That's something that as been sadly missing from the blues game.
Could it be as simple as the players don't like the style of football Roberto, is trying to introduce because they don't feel their capable of achieving it? Maybe too much too soon,
---
Add Your Comments
In order to post a comment, you need to be logged in as a registered user of the site.
Or Sign up as a ToffeeWeb Member — it's free, takes just a few minutes and will allow you to post your comments on articles and Talking Points submissions across the site.
© ToffeeWeb