No Christmas cheer as Blues are beaten again
Everton 0 - 1 Stoke City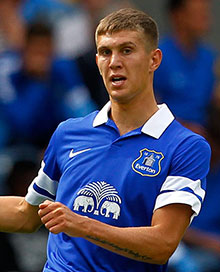 John Stones returned and battled through 90 minutes of a bruising encounter

There was no Boxing Day respite for beleaguered Everton who crashed to a second successive defeat, their third in four Premier League matches, as Stoke successfully defended Bojan's first-half penalty and intensified the pressure on Roberto Martinez.

With James McCarthy, Kevin Mirallas and John Stones all returning to the team, the Blues were able to name arguably their strongest starting XI of the season thus far. And they began with high intensity, hoping to translate pre-match talk of finding a response to last weekend's debacle at the St Mary's into a winning display, and almost went ahead when Mirallas's shot deflected into the side-netting.

The resulting corner fell to Gareth Barry at the far post but he somehow contrived to put the ball back across goal from a couple of yards out and the chance was wasted.

The match was ultimately decided in two contentious minutes in the final 10 of an injury-ravaged first half that would be extended by a further 10 minutes of stoppage time.

First, Jonathan Walters escaped with just a yellow card for a cynical foul as the last man on Leighton Baines who was denied a clear run at goal.

Then McCarthy clipped the heel of Bojan Krkic as he cut in from the byline and referee Lee Mason pointed to the spot. Bojan took the penalty himself and tucked his shot into the corner past Tim Howard's dive.

Stephen Nzonzi then headed Steven Naismith's header off his own line as Everton finished the half strongly but Mirallas squandered a great chance to send the game into the interval level when he again fired into the side-netting, this time without the help of a Stoke defender.

Martinez was forced to withdraw both Phil Jagielka and Howard at half time due to injury, sending on Joel Robles and Antolin Alcaraz as replacements but Everton began the second period at a slower pace and with noticeably less penetration as the Potters dug in.

With tentativeness creeping into their play, Martinez's side really only troubled the Stoke goal with efforts from outside the box, Begovic spilling one from Baines that he was fortunate to see hacked away by a defender and two more low shots from Romelu Lukaku.

Martinez threw on Samuel Eto'o for McCarthy with 21 minutes left but the extra attacker yielded just one real opening in the final minute of the regulation 90 when Naismith was tackled six yards out before he could get off a shot.

The result leaves Everton further off the pace in the chase for Europe and looking increasingly over their shoulders with two tough away fixtures to come before the FA Cup campaign begins.

Full match details in ToffeeWeb Match Reports



Reader Comments (207)
Note: the following content is not moderated or vetted by the site owners at the time of submission. Comments are the responsibility of the poster. Disclaimer
Ian Linn
1
Posted 26/12/2014 at 17:48:18
Very poor, not helped by the ref but ultimately we weren't good enough. Again.
Franny Porter
2
Posted 26/12/2014 at 17:54:44
Easy to blame the ref but yet again it was our stupid fuckin tactics that let us down. Two defensive mids at home against fucking Stoke, Barkley absolutely wasted on the flank and Lukaku yet again to lead the line despite being shite for weeks. On top of this, the usual fucking fart-arsing round with the ball at a snail's pace even when a goal down.
Now I don't rate McGeady, but he should be starting for now to accommodate Barkley in the middle. Preferably at the expense of Barry, who offers fuck all.
Martin O\Sullivan
3
Posted 26/12/2014 at 17:56:47
That was really bad!!! This sideways negative football needs to change quick or we could get caught up in a lower league battle!!!
David Edwards
4
Posted 26/12/2014 at 17:55:32
The signs have been there since the lousy pre-season. Love the Aldi/Lidl Barcelona quote from a previous post. 62% possession and no end product. Reminds me of the Higgins sideways passes of the end of the Gordon Lee era.
Barkley just not shining, Lukaku very average and the team lacking confidence and understanding. No buzz and a manager whistling "Always look on the bright side of life!"
We won't get relegated, but we won't come close to winning anything either. Now older fans are coming on TW saying they've had enough. Purgatory, as us Catholics would say. Time to light a few candles at Midnight Mass!
James Byrne
5
Posted 26/12/2014 at 18:11:34
Roberto is making decent football players look fucking awful with his fantasy football tactics.
As a result of the way we play we are ending up with continuous injuries.
It's time to part company with this clown of a manager I'm afraid.
Mike Price
6
Posted 26/12/2014 at 18:10:44
Nightmare season, nothing going our way and referees lining up to have a mare against us. Everything about us is soft, from top to bottom, and that's why people are getting very jittery about a dogfight.
We need some men brought in to this set up and quick. I know they're limited, but I'd be doing cartwheels right now if Joey Barton, Tim Cahill and Jon Walters pitched up! Evertonians who wouldn't be afraid to fight.
Tony Draper
7
Posted 26/12/2014 at 18:08:10
Shoddy from front to back.
Shoddy from start to finish.
Not even a hint of inspiration from anyone.
However, if I thought that our performance was shite (and I REALLY did), then it was beaten flat by the walk home.
On another occasion I may have been tempted to have thought "Poor Buggers, gotta feel sorry for them trying to play decent football in those conditions".
Well today, I didn't think that. I thought "I can't wait to get home, write something dismal on ToffeeWeb, pour a big drink, and defrost my real feelings!".
So now I'm off to pour meself that big drink!
Mike Childs
8
Posted 26/12/2014 at 18:09:31
I'd like to say RM ruined my Christmas but once I saw the lineup I knew what to expect especially with Mason in charge. I have seen Mason 5 times or so this year and the next time he plays the advantage it will be the first.
Until Martinez realizes that salaries have nothing to do with form we will languish between 11-15 this year. How does he expect to win the Europa league when he has his players lacking confidence
John Moore
9
Posted 26/12/2014 at 18:01:44
Utter shite again, the passing is much too slow and measured in to feet invariably with back to goal, which is so easy to defend against as no-one is making runs in behind. All opposing teams need to do is keep their shape and the play will break down at some point.
When you're in a bad run and low on confidence, you need to get back to basics, play a back four and not get stretched around, play as a tight unit for a while before trying to bomb forward leaving the centre-halves exposed. Let the defenders defend first and foremost, then we need to have two proper wide players not strikers or centre midfielders playing out wide and turn opposing defences around giving Lukaku something to run onto with the goal in front of him.
It's easier said than done but I'm sick of watching this dirge. Either change this style of play, Martinez, or fuck off cause it's boring me silly.
Jack Cross
10
Posted 26/12/2014 at 18:10:34
Piss poor game once again. The ref didn't help but you couldn't blame him for the tactics. Triangle passing at slow pace with backs to the opposition sounds familiar and it's starting to sound like a broken record. If there is light at the end of the tunnel, it must be a very long tunnel because I can't see were or when it's going to come.
Chelsea 28 shots at goal against West Ham. The blues 3, it sort of speaks for it's self.
I thought Barry, had a decent game but I couldn't see any other pluses on the pitch.
Lukaku should be dropped and lets see what Kone can do. I'm grasping at straws really but I'm prepared to give him a chance, lets see what he can do.
I don't think Howard and Jags will be a major loss if out against Newcastle, or should I say their not that hard to replace. Both have had there day.
Paul Ellam
12
Posted 26/12/2014 at 18:32:54
What has changed from last season to this?
Looks a bit like we've been sussed out, but surely there's more to it than that.
Obviously the woeful defensive errors hinder us and playing players out of position doesn't help but we are a completely different side to that of last season, even though the majority of the players are the same.
Maybe the chairman and manager will see that we now need some new faces in to help out. Starting with a GK, a CB and a winger!
Glen Garrett
13
Posted 26/12/2014 at 18:27:42
i think it's time for BK to grow some balls & get tough on Martinez & the players & drop their wages.
Chelsea saw Everton coming when we waved 㿈 million under there noses for Lukaku. I am now understanding why Mourinho didn't want to play him.
I can't get why we have gone from being a team other don't wanting to play against, to a team that every team can't wait to play. Everton put the fear into every team last season... What's gone wrong this season?
Roberto needs to try & find Jesus because by the look of things Everton are going to need a miracle to stay up in the Premier League this season.
Let's face it, he got Wigan relegated, even though they won the FA Cup. Lightening may well strike twice for Martinez. Everton fans.... Start worrying!!!

Steven Telford
14
Posted 26/12/2014 at 18:06:34
Lukaku is not shit........ the tactics are are not right for bringing him into play and making the most of him.
James Morgan
15
Posted 26/12/2014 at 19:00:14
Make no mistake, we are in a relegation battle. The referee was abysmal, but he didn't stop Mirallas equalising, nor did he make us play so shite overall. Martinez has been found out, one trick pony with a continental accent. If this Moyes or whoever, they would be getting pelters!
Jim Bennings
16
Posted 26/12/2014 at 18:49:15
Utterly depressing.
Just where oh where do we go from here??
How on earth can what we have seen all season change with this current personnel?
I have totally fallen out of love with this Everton team, let's be truly honest here, some, in fact not some, MOST of this season it has been as bad as some of the worst years under Moyes and Smith.
The football is absolutely turgid, it's like watching paint dry, forget how bad that ref Mason is, the fact is we could have played on until midnight against 10 men and still not looked like scoring.
Where is the motivation?
Where is the tempo?
Where are the leaders of men?
We know we have no quick players in the team really so why then do we not attempt to make the ball the fastest thing on the pitch by moving it surround faster and with more purpose?
Instead every game I have seen nearly this season has been played like a pre-season tournament in the hot sun in Thailand.
Slow slow slow, pass pass pass sideways, sideways, back back..
We are depressingly poor to watch, easy to play against, our opponents must be licking their lips at the prospect of facing this meek limp Everton side.
No doubt we will travel to Newcastle on Sunday afternoon and give them the perfect antidote by turning in another load of half interested bollox..
The transfer window opens next week.
I'd suggest we need our best ever January window to date otherwise I really fear where this current group of players are going to take us this season, and I fear Martinez is like a man driving with his eyes completely covered..
Newcastle and Leeds were both relegated with some seasoned experienced players such as Michael Owen, Alan Smith to name but a few..
We have the distinct look of team that looks bad enough to get sucked down there, I'd suggest the sooner the players start forgetting these top 4 pipe dreams the better and start knuckling down and earn the fucking right to win football matches again because at the minute, we have lost it big time.
Mike Childs
17
Posted 26/12/2014 at 19:00:26
This is how shite this season has become – I am rooting for the detestable Arsenal, down to 10 men, to win against QPR. I hate Arsenal. The only teams I hate worse are the Redshites and Man Utd.
Jack Cross
18
Posted 26/12/2014 at 18:43:48
Paul Ellam (#12):
Well, I think last season, Paul, the defence still had the Moyes mentality drummed in to their brains. And Martinez's new-style passing was sort of starting from midfield onwards so it had to have a more pacey edge to it. Even he must've thought if he changed the whole process so rapidly, he would have been up shit creek, if it fell flat.
But maybe that's where he made the mistake; maybe he should have introduced his philosophy in the first season and gave us a total U-turn in what we were about to get. Who knows... maybe then this team would be more settled to his style of play. But we will never know now.
One thing we do know is that he is not a man to change – even under pressure. And he must be feeling real pressure at the moment. I can't see BK or the board being happy with what's happening on the pitch. So, with them and the fans, he is getting it from all sides. I'm all for principles and a person's beliefs. But there must come a time when all the masses can't be wrong and he will have to swallow his pride and take notice and listen.
Gary Drain
19
Posted 26/12/2014 at 19:08:50
Mike #6
If you think Barton or Walters are going to improve our team then we might as well give up now!
Tom Loughrey
20
Posted 26/12/2014 at 19:07:30
When will the suffering end? Supporting Everton is the ultimate lifelong sentence. What gets me most? Our manager who will never say it like it is (say what you like about OFM but he almost always said it how it was). Next in line, our captain and senior players. Is Jags possibly the least enthusiastic captain there has ever been? We have no leader, no fight, no bottle. Getting rolled over week after week cos of our soft centre and shit tactics.
There is no turning this around when the manager is so convinced by his own methods. Thanks for the memories Roberto (last season) but that was a one-off and it's time for you to go back to the Championship before you take us there with you.
Jamie Barlow
21
Posted 26/12/2014 at 19:12:30
Barton would improve our team.
Murdo Laing
22
Posted 26/12/2014 at 19:05:12
Mike, I had to play catch up on the radio in the car today , and ,like you I found myself rooting for the likes of Spurs and the RS to get results to try to stop the bottom teams gaining ground. There – I've said it – I was hoping Liverpool would win at Burnley so we wouldn't be dragged down!!! Now that IS desperate.
I've said it before on TW, not only are we boring and predictable, we now seem to be a beaten team when we go behind, both home any away. I feel sorry for all our fans who packed out Goodison today in the hope of some good cheer, we now need a big shake up, and for the manager to earn his crust and put some results together – stating Sunday.
Richard Lyons
23
Posted 26/12/2014 at 19:19:57
Last season was one huge step forward; this season feels like 10 steps back... I can't remember feeling this low under Moyes, except the time Wigan beat us in the FA Cup. This feels like the Walter Smith era...
Norman Merrill
24
Posted 26/12/2014 at 19:21:52
Sad, sad, sad... I can't wait for the excuses to pour in?
Jack Cross
25
Posted 26/12/2014 at 19:21:11
Jamie Barlow 21. I think Barton would give us the grit, that were sadly lacking. He is a Bluenose and openly as said his would relish playing for us. He might be a big mouth, but maybe that's what we need to give these so called stars in our team a kick in the balls. And he can produce it on the pitch, there is no dought about that.
I'd have him in our team tomorrow.
Steve Carse
27
Posted 26/12/2014 at 19:29:59
Norman (24), the best RM quote tonight that I heard was that the loss of Jagielka and Howard at HT 'upset our rhythm'! For one, there was never any rhythm. For two, since when in the history of football has the way a team plays been set by a goalkeeper and a CH???
Peter Fearon
28
Posted 26/12/2014 at 19:30:53
The ref made two howling errors in not sending off Walters and in giving them a penalty that was clearly a dive.
The conditions were terrible for the kind of football we were trying to play and we have injuries to two major figures in the first half. In those circumstances it's not a matter of apportioning blame.
We need to give Lukaku better service and we need to play Barkley deeper and more centrally. And yes, Barry's contribution recently has been negligible.
However, this is not a crisis yet, and anyone who compares this to the Walter Smith era could not have been watching when Walter Smith was managing us. There is no comparison in terms of the style and method, the skill level of the players or the morale of both players and fans.
This is a bad period but we will play through it.
Nick Page
30
Posted 26/12/2014 at 19:43:06
Its the hope that kills you. And we've been found out big time. Massive lack of pragmatism from stubborn (?) manager. Piss poor pre-season, that wasn't really questioned. What's next?
Andy Crooks
31
Posted 26/12/2014 at 19:46:21
Peter, I admire your reasoned approach but this " bad period" has not come about through bad luck, bad weather or bad refereeing. It has come about because of bad coaching.
Damian Nolan
32
Posted 26/12/2014 at 19:49:56
Oh ah Mick Madar and John "I am a bag full of goals waiting to happen" Spencer? Give Lukaku time.
Jim Bennings
33
Posted 26/12/2014 at 19:45:55
Peter
We once scored 37 goals at HOME during Walter Smith's second full season.
Yes he was ultra defensive but the team of Hutchison, Barmby, Collins, Campbell and Jeffers was far more enthralling to watch than this predictable soulless crap..
Other teams have a style, a gameplan, a way of playing, they are either direct and get loads of quality crosses into the box but make sure they have enough men in the box to actually look like scoring.
Others like Arsenal play fast flowing football because they have the personnel that allows it, pacy, intricate players that can get behind teams..
But Everton?
We are betwixt in between..
We think just passing the ball about slowly amongst the defenders and keeper constitutes this "attack from the back" motto..
It doesn't..Fact!
It may not yet be a crisis but the next four matches, including that now even more vital West Ham cup game may just make certain that a crisis it is..there's no getting away from that some fact

Cliff Jones
34
Posted 26/12/2014 at 19:40:52
Barkley and Besic praised for partnership in win v QPR. One now a left winger and the other at home (or wishes he was).
Kone, a good cameo v QPR. Lukaku should be part of the band that was Cameo (word up).
Garbutt brilliant when played. Can cross at speed and takes corners that can be perceived as dangerous. Baines a very good player. Push him forward.
Barry brilliant when breaking up play in front of back four but Besic brilliant at doing the same 20 yards further forward and has more urgency and pace.
Eto'o a legend. Naismith is better at the role due to age.
We don't have a top keeper at the moment. Come on RM. Best form of attack is not sideways or backwards from advanced positions.
Raymond Fox
35
Posted 26/12/2014 at 19:24:21
Same manager, same players that did well last season but we still missed out by 7 pts though.
The opposition have only to mark us tight and were beat, they all can see that now, nobody has the ability to get around their marker or find a telling pass if their hassled .
It's not fitness, the players don't look tired, they gave it a good go especially second half, we didn't get beat for lack of effort. On top of that nothings going for us, Besic sick, bloody injuries again, refs won them the game with the crucial decisions against us, and that's on our ground. Add to that 2 very good chances missed, I could have scored the Mirallas miss!
We have no one in midfield that find a telling pass that's a glaring problem, McCarthy and Barry are defensive players chiefly and Barkley is not producing much at all.
Talk of sacking Martinez wont make us a winning side, we've not won anything for 19 years for gods sake, it shows what any manager of ours is up against. I'm afraid the bitter truth is that the money we can afford to spend on players is not nearly enough to give us a realistic chance of winning a trophy in the League, a cup maybe someday.
Oh to be an Everton supporter; talk about gluttons for punishment.
James Byrne
36
Posted 26/12/2014 at 19:56:06
Peter #28.
We can't surely be going out and relying on what the ref will do or how he'll perform. That's bollox I'm afraid.
What style of play are you referring to because I don't remember seeing all season Everton play any style other than the shite we witnessed today.
Neil Pickering
37
Posted 26/12/2014 at 19:59:13
This is the same team as last year if not arguably better so you really cant blame Martinez. Difference is Barry's legs have now gone, Distin and jags are a year older, and Baines and Coleman are out of form.
I do blame him though for spunking 㿈M on a fucking yarddog, and hyping up Barkley as ''phenomenal'' when he's actually quite average for me. Both should be benched with Eto'o and Besic starting in their place.
Bill Gall
38
Posted 26/12/2014 at 20:02:26
Peter all the apologies you are offering for the defeat today ---ask yourself as there were 2 teams playing did you actually see Everton playing good enough to win.
Jack Cross
39
Posted 26/12/2014 at 19:57:08
Jim Bennings . Hey Jim, what did you think of Billy Bingham, as a manager? And who would you compare him to?
Also Jim, do you remember Duncan Mackenzie (first division) playing against Stoke? I think we won 3. 1. at Goodison. He was fantastic on that day. Over head chips, going around players as if they were invisible, his ball skills were tremendous. On that day he was fantastic. But to me he was the most inconsistent over rated play to were a blue shirt.
You wondering why I am mentioning him? Saw him on a sky programme taking about his playing days to some pundit. The pundit said about his over riding success at Everton and his fabulous skilful displays. I could only recall that one match. How about you Jim?
I use to stand in the Enclosure then with my mates.
Bobby Thomas
40
Posted 26/12/2014 at 20:06:26
I'm not overly sold on Lukaku, but he IS big, strong , quick, is at his best running onto thing or in behind, and nets 15-20 league a season. Thats why he cost the money, because if you can net over 15 league these days you cost.
Bearing this in mind, why is he being asked to spend 90 minutes with his back to goal?
And if that's how Martinez wants his striker to play, then why sign him?
He is getting absolutely no service and is constantly being asked to do things he isn't great at.
If Moyes was in charged he'd be accused of destroying him.
Nick Page
41
Posted 26/12/2014 at 20:25:02
Sean Dyche, now there is a pragmatic manager. His comments after the game v the shite today pure quality. Pulis a bit longer in the tooth but is so hard working, and a tough bastard. Cold either handle a bigger job?
Peter Bell
42
Posted 26/12/2014 at 20:24:58
Jack, that McKenzie game was 2-0 v Stoke in the cup, not the league. He wasn't there long enough and showed glimpses of genius but not often enough.
As for ficking Bingham, If you think Martinez says "phenomenal" too much – every other word Bingham said was "we're optimistic".
Nick West
43
Posted 26/12/2014 at 19:59:12
There's something wrong here. Where are our attacking fullbacks? No one works with Baines down the lefthand side. One of the great creators of European football for the last two or three seasons and he's left out on his own. Coleman seems subdued. It's all very strange.
Nick Page
44
Posted 26/12/2014 at 20:28:49
"Talk of sacking Martinez wont make us a winning side, we've not won anything for 19yrs for gods sake, it shows what any manager of ours is up against"
The problem is, Raymond that plenty of shite no-hopers have trophies whilst we've gone sideways for fucking years. Ultimately it IS about the money but 24/7/365 would rather take a salary, esp now as the money has been upped. And despite the big money we were still lower bottom half of spending AGAIN.
Where's the money, Bill......???
Jim Bennings
45
Posted 26/12/2014 at 20:12:07
The most damning assessment I can make after today's debacle was that neither the players nor the fans believed we were going to score, the clock on the screen had broken but you ccouldn't tell the game was nearing its climax because there was no passion from either the players or supporters like you'd expect in the late stages..
The club is dead at the present moment.
Bill Gall
46
Posted 26/12/2014 at 20:15:26
People who think the majority of supporters are either over reacting or pressing the panic button to soon, ask yourself ?why are these people after only 18 months in charge nearly 85-90% want Martinez out yet it took the likes of Lee 3yrs walter 4yrs and OFM about 8-9 yrs before they were wanting a change and one of the reasons are OFM was wanted out was because he was unable to crack the mythical glass ceiling..
The reaction on here is simply the supporters are now realising that we have a stubborn manager with a set system of play that he is either unwilling or unable to change when the majority of supporters watching can see it is not working.
We were a top 5 team last season and while we may have expected a slight slump in our position with playing in the Europa league the only person to blame for a landslide is the manager. He is the one who takes the praise so he has to exept the critisism.
Joe Clitherow
47
Posted 26/12/2014 at 20:33:27
Raymond 35
"Its not fitness, the players don't look tired, they gave it a good go especially second half"
I don't know how or where you watched today's game but, believe me, I was about 10 yards from a 21-year-old, red -aced, blowing Ross Barkley – one of our quicker players who was left for dead by a Stoke player and who plainly could not keep up with him today.
Those asking what is different between this year and last need to start first of all with the fitness levels of our team before the move onto anything else because that lack of fitness, close up in the stadium, is absolutely apparent to all including the opposition. We cannot compete past 65-70 mins and that probably goes a long way to explaining quite a lot of our injuries.
Not being fit enough to compete for 90 mins is the easiest thing to fix but in my opinion is a criminally negligent, gross misconduct offence which warrants a sacking in its own right for a PL.
So far as the tactics go, listening to the Arsenal-QPR even the casual watchers, including Graham Taylor, were stating that we had no Plan B. Taylor said something like "when you are found out and you can't change, you are in trouble". So we don't even have a Plan A now, and you can bet your last penny that every manager we play now knows how to counter Martinez and, as above, has a fitter team.
At the risk of sounding like a broken record, I have asked several times on this to those who say persevere with Martinez: On what basis would you give him more time? Where is the evidence he can change this? I've seen nothing in his track record or how he has acted in a bad spell to think anything will be different.
For me, decisive action has to be taken before the transfer window because this clown is clueless and a charlatan.
Martinez out!!!
Ian Riley
48
Posted 26/12/2014 at 20:03:02
Does anyone know when our next win is coming?
I am worried based on the lack of leadership on the pitch. Play eto up front on his own with the captain's armband. At present we need a leader with a voice and experience.
Sacking the manager is not the chairman's way but he must be a little concerned. Unless the manager can change the mentality or style of play then worrying about other teams results around us will be our concern.
Just when I thought good times where around the corner. I wake up and remember which team I love and bloody hell don't they test it!
John Keating
49
Posted 26/12/2014 at 20:50:01
Thank God we had more possession and passes than Stoke! Also we had more shots and corners plus less fouls! Phenomenal game. Our stats are well up.
Result? What result? Who's interested in the result? I'm just hoping we can not only maintain these stats for the rest of the season but also continue them next season in the Championship.
Jack Cross
50
Posted 26/12/2014 at 20:56:17
Peter 42. Cheers mate. Not sure were I got the 3-1 from....
Andrew Hawes
51
Posted 26/12/2014 at 20:55:16
MARTINEZ OUT!!! He came to this club as a failure and will leave as one!! He got lucky last season with another manager's team and work ethics!!
Not Arsenal, Spurs or Liverpool (our closest rivals)... but STOKE?? It might not be what people want to hear but Moyes with this current squad would have us in the top 3!! No fitness, motivation, idea, aggression... and, more worrying – our manager thinks these performances are okay??
John Malone
52
Posted 26/12/2014 at 20:45:03
Martinez out!
His stubborness to play his way is what took Wigan down!
The first objective is to get results by hook or by crook, then secondly play a nice attractive brand of football. At the minute were getting neither, useless!
When he took the job he said he would play with a blend of Spanish and English styles to get the best out of this team he is getting nothing out of these players they are much better than the manager is allowing them to be.
I've had enough of this manager, his so called 'style' of football, his bullshit comments, playing shite, doing nothing to change it then getting beat I wont be going again until there is a vast improvement in the performance and results. It's painful to watch!
Jim Bennings
53
Posted 26/12/2014 at 20:57:04
I can't see where our next win is coming either..
We just know what's going to happen at Newcastle don't we?
With them being on a bad run, in walks the football doctor dressed in blue to cure your woes..
I don't rate Howard but the thought of Robles playing 90 minutes in a testing away game brings back memories of the Arsenal Cup capitulation in March.
I don't think I will even bother watching it on Sunday.
Jim Bennings
54
Posted 26/12/2014 at 21:07:25
Duncan Ferguson hasn't had much impact as a pre-match motivator, has he?
Just a thought but perhaps the 'Roy Keane, narky arsed way" doesn't really go down all that we'll with players these days.
We obviously don't know what Big Dunc is like in the dressing room but there's been very little motivation or passion since he came on board, who is it up to to do the motivating? we must wonder...
We can say what we like about Joe Royle but boy, he knew what motivation meant. Even in his earlier days, Moyes had his major flaws but he could motivate a side.
Roger Helm
55
Posted 26/12/2014 at 20:52:08
It's not only Barkley who is unfit and slow. I watched Baines and McCarthy lose possession and be unable to keep up with the Stoke players as they counter-attacked. It seems most teams we face are stronger, bigger, faster, fitter and better organised. Lukaku was caught out for pace several times.
Do our players get any defensive coaching at all? They seem completely different from the Moyes era.
Martinez's possession football worked well for Barcelona, for a while, but this is the Premier League, not la Liga, and we don't have players of Barcelona quality. Barca's possession was in the opposition half anyway, not their own.
I just hope Martinez wakes up to the need to be pragmatic before it's too late.
Jay Harris
56
Posted 26/12/2014 at 21:08:21
Martinez interview:
"We played well enough to achieve a different result."
Obviously not Roberto because we lost – yet again.
I totally agree with Joe Clitheroe: Our fitness levels have gone to the dogs under this fella and I am told he has stopped the practice routines for crosses which Moyes set up because he believes football should be played on the floor.
I have news for you, Roberto: Football is played to win.
Jack Cross
57
Posted 26/12/2014 at 21:02:00
I'm not a Roberto fan. But at least give the man a chance. He thinks he has something. So let's give him the three seasons he said he would need.
As for relegation, that's madness; it won't happen. Maybe a mid-table finish. We don't want to become a sacking club. We gave Moyes 11 years: surely we can give Roberto 3 years?
This board has never wanted to invest in the team and their multi millionaires. I feel they're just happy with Premier League existence and if we win a cup along the way, well that's a plus.
I have a feeling we will beat Man City on the 10th January. Yes, I'm serious. Then a couple more wins and you're in the mix again. But relegation – that's ludicrous.
Joe Clitherow
58
Posted 26/12/2014 at 21:16:00
Roger, I wasn't saying Barkley was unfit, just using that little tableau because Raymond doesn't think there is a fitness issue. The whole team looked spent. Gareth Barry looks bigger than I've ever seen him.
I genuinely believe not turning out a team able to compete in fitness terms is a stackable offence in its own right.
Damian Nolan
59
Posted 26/12/2014 at 21:17:04
This is Mrs Nolan. Roberto, is there any chance my husband and boys will be cheering up soon? So far, he claims you have ruined his Christmas and, given that I have spent weeks getting it all sorted, I am not happy myself.
Anyway, I have typed this while he is away from the screen and he will go mad when he sees this but it is getting too much for me already. Before I go, is Barry's first name actually "Fucking"?
Ian Burns
60
Posted 26/12/2014 at 21:27:02
I have personally seen enough of RM's lack of ingenuity in his selections; his oft inexplicable use of subs and his constant gift of seeing good points from piss poor performances. I have said on the live forum he has hit his personal glass ceiling and this season his shortcomings are being found out. I know we gave Moyes 11 years but that is no reason to watch RM inexorably slide this wonderful club into Wigan pier...
Neil Gribbin
61
Posted 26/12/2014 at 21:36:50
Martinez can fuck right off, the phoney.
Minik Hansen
62
Posted 26/12/2014 at 21:40:46
#28 Peter, I hope you're right. I believe we are a few changes away, rm needs to let some on the benches step up, thank God we are a few days from a new game, which means rotation of the team.
Unlike some, I was hoping Arsenal, Liverpool & Tottenham would lose, as we are 3-4 wins tops (they will lose a few games eventually) and next we know it's real tight again as we know it.
Seriously though, the team needs real inspiration, instead of the manager avoiding talking about mistakes our players are making and realises a huge part of it is the line-up. The next game which means resting some players and January is coming as sent from heaven.
Nick Page
63
Posted 26/12/2014 at 21:55:19
Minik, I'm now looking at Palace, Burnley and Leicester results. And Palace twatted us.
What a load of predictable shite, we've become. Fucking School of Science my fucking arse.
Matt Williams
64
Posted 26/12/2014 at 22:04:21
Kenwright and the board need to wake up and smell the coffee and get rid of this muppet now before it's too late. He's going to take us down playing this shite – and anyone who says he isn't is just in denial.
Andrew Hawes
65
Posted 26/12/2014 at 22:10:07
Joe #58 agree totally ...Leon Osman made our new training regime crystal clear under a new manager when he said how he enjoyed pre-season doing "ball work and possession " over hill sprints etc ..sorry but this is so obvious now when teams a step below us are coming to goodison and leaving with 3 points!
Bill Gall
66
Posted 26/12/2014 at 22:13:02
what the hell people hoping other teams will loose so we can move up the league-- I thought we had to win to do that
Sean Kelly
67
Posted 26/12/2014 at 22:02:01
There is a lot of people on this thread and others saying Martinez out. That's laughable. What the hell do you want? We have a board that had invested heavily....㿈 million for a centre forward, brought experienced international (Barry and Eto'o ) to our club and your still complaining. Jesus wept folks this is Everton FC.
We play to a full house week in week out. What else do you want? Players playing with assipn and pride in their jersey? A manager that is tactically savvy? A Goodison that is a fortress and puts the shits up any opposition?
Yeh me too but it's not going to happen folks. We have a board that is shitting themselves and not listening to the vast majority of fans that are clamouring for change. We have a manager that will smile his way to the championship. And we have players that don't give a shit, play badly week in week out.
We are being taken for fools but real Everton supporters know their football. And this current tripe being dished up ain't for us.
Martinez can fuck off out of our club. I just can't watch the shite football or listen to his stupid lame excuses anymore. Just fuck off .
Brian Hennessy
68
Posted 26/12/2014 at 22:13:21
What a difference a year makes, so what has changed to make us bad?, I think it is a combination of factors.
1. - Like him or hate him Moyes did know how to coach a defence, much of his work (and coaching staff) was still in the players minds last year but this has faded over time.
2. - Barry had plenty to prove last year and was playing for a contract. Since he received his contract with us he has looked half the player he was.
3. - Distin is a year older and loosing some of his pace.
4. - Baines and Coleman have suffered from the way the manager is setting up the team but they also must accept their perfomance levels have dropped considerably. Baines never looks the same without Pieenar and he cannot stay injury free.
5. Lukaku has never and will never hold the ball up well but will score goals if he gets the right service. He is playing with his back to goal most of the time and the manager is unable to set his team up to get the most from him.
6. THE most important thing of all in any sport is confidence. We were full of it last year and we now look scared. A couple of wins would bring this back and sometimes the kindest thing to do to a player is to drop them
Sadly Roberto seems to play the same players and system week in week out.
John Keating
69
Posted 26/12/2014 at 21:33:39
Jack Cross 57
"Relegation is madness"
Is not our form and performances that of relegation candidates
We are playing shite our manager talks shite
Jack
hopefully you are right and it is rubbish to talk of relegation so when, in your opinion do we stop talking this shit
John Keating
70
Posted 26/12/2014 at 21:33:39
Jack Cross 57
"Relegation is madness"
Is not our form and performances that of relegation candidates
We are playing shite our manager talks shite
Jack
hopefully you are right and it is rubbish to talk of relegation so when, in your opinion do we stop talking this shit
Paul Hewitt
71
Posted 26/12/2014 at 22:35:34
People won't see the problem till it to late.
Tom P Owen
72
Posted 26/12/2014 at 21:59:34
We're going through a difficult patch, but I'm not one for sacking the manager just yet. There's a list of reasons why we're in this position, which isn't all the manager's fault. For now, we need to stick with the man and believe things will turn a corner. It's shit, I know, but we need to give the man a chance to turn it around.
What I saw today was a side lacking confidence. Roberto spoke of wanting a side full of players with confidence, exuberance and arrogance. There's none of that at the moment.
We've had rotten luck with injuries, especially to key players. Roberto has had to swap and change, and it's done no favours to the rhythm or balance to the side.
Roberto layed trust in older and experienced players, who for me time has caught up with them, and quite frankly have played one season too many. He wasn't to know this. No one was expecting the calamitous form of Howard, Jagielka and Distin this season. Roberto had little choice but to stick with this quartet with injuries to the likes of Stones and Alcaraz.
Players have lost form. Only Mirallas and Naismith have found any sort of consistency this season.
The formation that worked so well last season has failed us this season. A potential reason could be that teams have worked us out. It needs freshening up.
What I think might work; a 3-5-2 formation. I would like to see Garbutt giving a run of games in a left-wing back position, and see Baines brought into central midfield. Besic or Barry could easily play in a back three alongside two of Stones, Jagielka or Distin. I would like to see Barkley play central midfield alongside McCarthy. And then Mirallas and Lukaku up top.
Europa League aside, it's been a pretty dismal season so far. Luckily we have a transfer window fast approaching, and I'd like to see the board back our manager. I could certainly name 5-6 players who I'd like to see leave.
A pacy winger is a must. Also a player in the mould of Pienaar. I thought that Bojan was terrific for Stoke today, someone like him please.
But it's all fantasy football stuff.. what do I know.
A difficult game on Sunday. With the injuries, and lack of confidence, it's going to be hard, but 3 points are there for the taking.
A pivotal moment in our season.

Brian Hennessy
73
Posted 26/12/2014 at 22:49:11
Tom @72 Very good post
Jay Griffiths
74
Posted 26/12/2014 at 22:40:04
I'm worried. Really worried!
Mike Price
75
Posted 26/12/2014 at 22:02:30
Said early in the season the players are overweight. Lukaku is heavy legged and drenched in sweat after 5 minutes, that 10 lbs is taking away his pace and sharpness. Other players are clearly in a similar state. That's a disgrace on quite a few levels, individual to management.
We need to man up quickly because we are fast becoming the softest touch in the premiership....and that's from just about every individual to the management too.
Joe Clitherow
76
Posted 26/12/2014 at 23:00:18
Tom
I see nothing at all in your post which is actually not the manager's fault. Specifically because they are all predictable risks which he is paid a fortune to mitigate ; time catching up with older players, who'd have thought that could happen eh?
Coupled with the plainly obvious fact that the team are not fit enough to compete for 90 mins and I am not for giving him any more chances. Nor would I give him a penny for transfers given how he has spent so far. No doubt he will be given the next window but I fear for where we will be end of January if he is still around. I, personally, have seen enough of him already
Ian Bennett
77
Posted 26/12/2014 at 23:10:02
I'd give Kone a go upfront, garbutt a go on the left. Bit concerned by Barkley pulling out of challenges.
With the injuries:-
Robles
Baines
Coleman
Alcaraz
Stones
Garbutt
McCarthy
Barkley
Mirallas
Kone
Eto'o
Lukaku from the bench.
Peter Z Jones
78
Posted 26/12/2014 at 22:08:53
Honestly, I think there is just tons of complacency all over the place with this team. There are too many favorites that play 90 minutes regardless of whether or not they play well.
For example, I think most would agree Besic was miles better than Barry the last 4-5 games and should have started again. Last year, there was no alternative to Barry and he played quite well, so there was no reason to doubt his inclusion in the team. Now we have a younger, in form option in Besic, and Barry is out of form at the moment. I thought this was the reason we bought the kid. To up the competition and rotate like the 'big clubs' do right?
Tim Howard is busy kissing babies, doing color commentary on NBC, and signing autographed copies of his memoirs midseason while we languish in 12th. With such a busy schedule for him, I'm not surprised he's 2nd to last in the league in save percentage. Last season, Howard legitimately viewed Robles as real competition for his job when the kid was given a 5 year deal. It propelled him to probably his best season in goal. Now he doesn't view Robles as a threat. And so, he does whatever he wants because he knows he'll never be dropped. But watch. If Robles plays well in his absence, all of a sudden he'll start playing his ass off again when he gets back in the team. That's what real competition does and that's on Bobby.
Also, Martinez really has to stop putting our attacking players in places they don't belong (for the umpteenth time). Barkley is a central midfielder. Period. Yet again he's out wide and we don't score. I know. Total shocker right? More and more people jump on Lukaku, but in reality, his success is directly linked to Barkley's position on the field. Put them together, we score over two goals a game and usually win. When we don't, well, you've been watching the games. Quite a few ToffeeWebbers see this but our manager is still admiring his face on the side of Goodison Park and has yet to notice. Barkley, Naismith, Eto'o (not a creative mid either), and Osman aren't wide players. But most games, two, sometimes THREE of that group find their way into the lineup. What happens? They all drift inside from wide because that's their nature. Space gets clogged. Then we do our whole slow passing routine that dies a slow death near a corner flag, as if the goal is actually located there. McGeady isn't exactly the most popular figure on our squad, which is fine. However, him, Mirallas, and Atsu are the only real wingers that provide width, pace, and trickery. Two of those three have to play in order the open up the middle. One is injured. Should be an easy decision.
Until the manager demands accountability from his players, ups the tempo of our play, and the team width changes for the better, I can't see any reason why Everton won't go on giving us more lifeless performances. We are unbelievably shit right now and it's 100% Roberto's fault. I like the guy. I don't want him out because I think he really can help us realize our dreams. But to say his decision making at present is horrific is the understatement of the year.
Bill Gall
79
Posted 26/12/2014 at 22:44:54
Tom #72
Along with a number of other supporters quite rightly you remind us of the problems that Martinez is experiencing this season from injuries to key players ,time catching up on older players, players loosing form and the most important one; teams have worked us out.
Your last comment is the key one and is the reason that people are getting so p---ssed off about and that is that Martinez either will not or as it seems to become obvious can not change the system that other teams now how to stop us.
We are supposed to have one of our strongest squad for years so there is no need to play players out of position to replace injured players; this is supposed to be why you have a squad. If you do not have players in the squad to replace injured players then what is the use of having a squad. Last week proved the manager has no confidence in the players on the bench and that they are only there if someone gets injured.
I watch a lot of premier games on tv and notice how many players use their subs to change a game around or if a player is injured he is usually replaced by a player of roughly the same position. Mr Martinez's use of subtitutes to say the least is questionable.
The majority of Everton's supporters have most probably been watching Everton for a lot of years and allthough not proffessional coaches have a good knowledge of the game recognize a good system played and are aware of someone that appears out of his depth. Mr Martinez may have the makings of a top coach but one of the things he has to learn is the fundamental part of a successful coach or manager isyou have to recognize the problems and change them.
Mr Martinez is either to stubborn to admit his style of play is not working withh this group of players to change and the people who are suffering are the Everton supporters
Joe Clitherow
80
Posted 26/12/2014 at 23:13:51
By the way, no Moyes "apologist" ever found so many excuses as I have seen for Martinez and the shite we are served up week on week. As bad and as spineless in every sense as that served up by Mike Walker and we have much better players. The current emperor truly is naked.
James Martin
82
Posted 26/12/2014 at 23:13:33
Managers need 3 seasons. If we'd binned off Moyes after the 17th we'd have never experienced European football and a cup final.
The key difference for me though was Moyes knew when it wasn't good enough. If we had all our players fit more often than not we'd win especially at home. Back then squad depth was key, an injury to Cahill or Arteta could make or break Moyes' season. You got the sense that Moyes knew how to get us put the rough patch. People got fed up with him when he gave up, stopped admitting it wasnt good enough, blamed the players, and wouldn't change a losing formula.
What is worrying is that Martinez is already doing these things. He doesn't even think we're playing badly. Yes I will give him time but if there's no improvement this season and next season goes the same way then i'd get rid, 3 seasons is long enough. Mourinho or Ferguson would have this squad in the top three. That for me is what has turned fans against Martinez so much. You can stomach near misses when its McFadden and Beattie upfront but when you've spent 30 million and got Batkley Mirallas Lukaku and Etoo you really have to deliver more.
Kunal Desai
83
Posted 26/12/2014 at 23:21:20
Last Boxing Day, we lost to Sunderland by a penalty and down to 10 men showing, some fighting spirit and heart; this time around we lose to Stoke by a penalty as well.
Rather than getting frustrated and angry, I pretty much from the off looked at the body language of the players, the movement, and how vocal the players were. There is nothing there, nothing at all.
Players on that pitch were lazy and some look as though they don't want to be there strolling around. They are an embarrassment to Everton Football Club. Each and every one of those players didn't give a shit today. I want to see players at this club that want to play for EFC – not prance around like fannies.
I made a 400-mile round-trip in treacherous snowing conditions, putting my own life on the line to watch those gang of massive cunts put in a performance like that?? Whilst they won't feel guilty putting in that sort of performance, cruising back home in there 4x4s and souped up motors.
Fuck off, Everton. Those players are an absolute disgrace and an embarrassment to the club.
Christopher Kelly
85
Posted 26/12/2014 at 23:32:45
Remember when Martinez was " going to barcelonas next coach".???
Uhh, yeah, good luck with that.
Joe Clitherow
86
Posted 26/12/2014 at 23:32:12
James I've said it a few times here it really is folly to compare time given to Moyes versus Martinez because Moyes inherited a potless relegation side and left Martinez with a very solid Top 6 side, and he (Martinez) has been given heavy financial backing too. It's quite right we should expect much more and not the same.
Plus you could see the improvements in the team year on year and even the Moyes wobbles happened when we were effectively safe in the league. We are being dismantled by this fella
Robert Duncombe
87
Posted 26/12/2014 at 23:41:17
Hurrah Kunal!!
Ernie Baywood
88
Posted 26/12/2014 at 23:32:36
Thought Rom had a better game than usual (feint praise I know) and Baines was approaching his old self.
There was a bit of a reaction. The tempo was up from the start and you could see they were hurt by recent weeks. So that's something.
Unfortunately the problems persist. The full backs have nothing ahead of them due to shoehorning central players into the team. The defensive midfielders still offer little in terms of quality possession (plenty of quantity). The passing from the back is too slow. And we have no ideas up front.
On par with our performance was the referee. Got the big calls wrong and spent most of the game in the way... As Nais pointed out to him when he got him booked. I fact I don't think I've ever seen such an unfit ref. He'll get demoed on that performance for sure.
Fucking up referees careers seems to be the only impact we make nowadays.
Been saying it for a few weeks but Baines to midfield makes so much sense right now. He's the only one who seems interested in moving the ball and moving without it. He's so undeserving of recent criticism on here. Under appreciated.
David Edwards
89
Posted 26/12/2014 at 23:36:05
Have you seen our fixtures before the RS in the Derby? I'd have expected at least 7 points from these 5 games, and hopefully at least 9, but I really fear we might be on our way to a massive 3 points with the current mind-set, and that's hoping the Baggies are not up for it either. I won't post again until after these, but for me Roberto needs to get things moving, because anything below 5 points and I'll be booking the Riverside for a pre-match with the father-in-law next season (although judging by Boro's Championship form at present, they might even leap-frog us!!!) Isn't it great being an Evertonian!
Conor Waters
90
Posted 26/12/2014 at 23:42:47
Will the injuries to Howard, Jagielka, Mirallas, Besic(?) and another potentially ropey ankle for John Stones, a suspension for Naismith, the likes of Barkley, Baines, Coleman, Barry and Lukaku woefully out of form...what hope do we have for the next fixture at St James Park?
After each more depressing performance than the last, I try to rationalise it with some kind of hope. Like: "This will give the younger lads a chance to prove their worth" or "Now is the time for Kone to shine" or "Surely it can't get any worse than this" or "Well at least we've hit rock bottom" etc etc. But its just not happening. It may seem preposterous to consider relegation, but at this rate we are certainly more likely to be getting dragged into a fight at the lower end of the table, because the top half (forget about top 4) are disappearing over the horizon.
Bobby Thomas
91
Posted 26/12/2014 at 23:40:11
The lack of wide and attacking mid options are causing big problems and the way we are playing the 4-2-3-1 clearly isn't working.
Theres no imagination, its pedestrian, Lukaku is getting no service, Barkley is playing poorly due to being messed about (imo), & the full backs are being nullified.
So how can we get our big talents into the games more to affect the play and also get Lukaku some help?
I think its time to go three center halves.
We can play with the two holders, get the wing backs going, play two strikers so Lukaku gets help & someone to play off, and also get Barkley playing in an advanced central position.
The problem postion could be left sided center back . Its either Distin or Barry.
Now what we do about the lack of spirit, charachter and the absolute fact the team has an inherently soft center im unsure. But I think it could be the best way to get some results as otherwise its clear we are sinking and have problems
Clive Rogers
92
Posted 26/12/2014 at 23:50:51
Naismith had an absolute stinker and Mirallas proved again that he's not a winger. He just wants to cut inside and provides no service whatsoever.

Hearing reports of trouble behind the scenes. Besic stormed off apparently, Jags and Howard falling out, Oviedo told he is third choice and upset.
It all going sour.
Colin Glassar
93
Posted 27/12/2014 at 00:32:52
Let's see what our beloved former captain, super nev has to say about us.
Bob Heyward
94
Posted 27/12/2014 at 00:05:01
Not wanting to sound like 'Mr Health and Safety', but I've been reading and, more importantly, seeing the pictures of some divvy firing a laser into the Stoke player's eyes during the penalty. The player could have been blinded.
The divvy with the laser has brought shame on our great Club. I fervently hope that he's found, prosecuted and then banned from EFC for life. We don't need his type. Prat of a lad.
Craig Mills
95
Posted 27/12/2014 at 00:16:31
Just seen the game on MOTD, have to say really poor decisions from the referee, definitely a red card and never a penalty for me.
But that said, we seem incapable of breaking a team down who sit behind the ball, and as mentioned on MOTD, only 8 goals scored in our last 8 games and we have the worst defensive record in the league at home.
That sounds like a recepie for disaster as far as I'm concerned and I'm not sure Martinez knows how to sort it
Mark Nunnen
96
Posted 27/12/2014 at 00:11:46
Barkley needs to go central and prove he is the player everyone seems to think he is, otherwise take the 㿅million for him before he is the next Jeffers.
Stick Barry in the back 4 for Jags and give Kone a run alongside Lukaku. But do something. Definition of madness is doing the same thing over and over and expecting a different result.
James Martin
97
Posted 27/12/2014 at 00:56:44
Managers need 3 seasons. If we'd binned off Moyes after the 17th we'd have never experienced European football and a cup final.
The key difference for me though was Moyes knew when it wasn't good enough. If we had all our players fit more often than not we'd win especially at home. Back then squad depth was key, an injury to Cahill or Arteta could make or break Moyes' season. You got the sense that Moyes knew how to get us put the rough patch. People got fed up with him when he gave up, stopped admitting it wasnt good enough, blamed the players, and wouldn't change a losing formula.
What is worrying is that Martinez is already doing these things. He doesn't even think we're playing badly. Yes I will give him time but if there's no improvement this season and next season goes the same way then i'd get rid, 3 seasons is long enough. Mourinho or Ferguson would have this squad in the top three. That for me is what has turned fans against Martinez so much. You can stomach near misses when its McFadden and Beattie upfront but when you've spent 30 million and got Batkley Mirallas Lukaku and Etoo you really have to deliver more.
Jason Heng
98
Posted 27/12/2014 at 00:51:04
I don't understand the panic. Roberto may get us relegated, but win us the Europa League trophy in the same season with his brand of football. Not too shabby. Then again, we are past 21 points on 18 games, so the 40 points mark is fully achievable. Just take a Moyes-que perspective and all is good and well.
Colin Glassar
99
Posted 27/12/2014 at 01:09:14
Good post, James. Three seasons sounds about right to me. OFM overstayed his welcome by at least 4 years IMO.
Colin Gee
100
Posted 27/12/2014 at 01:21:05
Craig#95 Most goals conceded at home, only 8 goals in our last 8 games, two wins from 9 in the league.
Anyother team would say that's relegation form. There's something wrong with Everton at the moment, I don't know what it is, but whatever it is it needs sorting out quickly.
The first half today I thought we played the 12 men well, but after half time we never looked like scoring.
It seems that as soon as we go behind it's game over. I don't think we've won a game having gone behind this season. I am not looking forwards to Newcastle and Hull, both very losable games.
Paul Smith
101
Posted 27/12/2014 at 01:19:32
We can hypothesise all night re: how long to give Bobby? however results should dictate this, for us & him. If we're in trouble and possibly facing relegation with time running out, common sense would suggest there will be a change.
That's up to The Board, Billy & in some part, pressure from the fan base. Myself, I would give him as long as we can without inflicting too much self harm on the club. At the moment we're in pain but it can be easily remedied with a couple of good performances & wins.
If it gets to the point that we need two wins to stay up or drop, that's too much pain for me & I want to see another Dr.
Brian Wilkinson
102
Posted 27/12/2014 at 01:19:28
I touched on this months ago when people were slating certain players.
Its easy to blame certain people but those certain players have not played in our last couple of games.
Today we put out possibly our strongest starting eleven and looked like rabbits in hedlights and its easy to see we have been found out and have no plan b.
Martinez needs to act quick and try a different system, not many teams are blessed with two attacking full backs like Baines and Coleman, so its time to cut out the triangle passing and hit teams quick and hard.
That is the best Everton team we have had for a long time, we need to play to the teams strength and cut out this boring short butch Wilkins like passing and go for plan b before our season goes up shit creek.
Harold Matthews
103
Posted 27/12/2014 at 00:30:43
Lost count of the number of times Coleman could have crossed the ball but he preferred to slow down and try to dribble the full back. What's that all about? No ideas, no movement in the final third. Naismith trapped a ball 20 yards into touch. Lukaku looks far too heavy and has no zip. A very poor performance and till Eto'o came on, no-one looked too bothered.
Roman Sidey
104
Posted 27/12/2014 at 01:09:58
I'm torn between thinking the players are cowards for not taking matters into their own hands on the pitch (how many times have we seen Baines wind up for a cross only to play it back to the top of the 18yd along the ground?), and realising the players could be doing as they're told as poorly as possible because Martinez has lost them. Either way, this team is capable of a lot better without changing any of the personnel.
On another note, the next time I hear the old "Baines isn't the same without Pienaar" bollocks, I'm going to snap. If he was only good with Pienaar playing alongside him, then he isn't as good as anyone says, and he shouldn't be one of our highest earning players.
Bring in Oviedo. If he can play a full game in reserves then he needs to be rushed back into the first team.
Against Newcastle I would change it up and play this team:
Robles; Coleman, Baines, Stones, Besic; McCarthy; Mirallas, Barkley, Oviedo;
Lukaku, Eto'o.
Experimental, but fuck it. Can't get any worse, can it?

Will Firstbrook
105
Posted 27/12/2014 at 01:49:58
What does Kone have to do to get onto the pitch?! Nobody seems to have a goal in them at this point - might as well give him a run. What could it hurt??
I would love to see us play with two up top but I know that will never happen under the current gaffer.
Bill Gall
106
Posted 27/12/2014 at 01:47:09
The people who purchased a season ticket are the ones I feel sorry for as they have paid up front for what is turning out to be a misserable season so far and a not too rosy future
I heard that one of Martinez'comments was that the injuries to Jags and Howard disrupted our rythm (sounds like he is talking about come dancing.)
We can complain on these exellent sites until the frusration exhausts us but I doubt if any one will take any notice. Often on these comments there are some good team selections but the problem is the man who counts are allways differant.
I was criticized for mentioning the way Totenham was run and no I do not want Everton to be run like Totenham but my comment was I wished we had a chairman with some balls and a backbone like they have who in the least at this time have explained to Martinez that the club was not very happy and he only had a couple more games to turn it around.
The comments of we only need a couple of wins to turn it around we will be ok is a kick in the face for the season ticket holders as they pay off a lot of the bills with their early purchases and don't expect a half season of football.
Time for Martinez to show that all the praise he has been given is warrented before it is to late.. Iam 74 now and cant take mutch more of this crap that his teams play and his comments after a game.
Kevin Tully
107
Posted 27/12/2014 at 02:19:50
Right - 2.30 am and I've just thawed out. The effort was there, so no complaints there. That was an awful display, whichever way you want to cut it.
I am seriously losing the faith. Good players are not making chances - that is a total lack of tactical acumen. What has happened to Seamus Coleman?
Paul Ferry
108
Posted 27/12/2014 at 02:34:41
Neil Gribbin
61 Posted 26/12/2014 at 21:36:50
Flag this comment.
Martinez can fuck right off, the phoney.
That really helps move the debate along.
Harold Matthews
109
Posted 27/12/2014 at 03:08:22
I've changed my mind about Martinez. After giving him my full support I now want him to go. ASAP. Half the players also need to go but I'll settle for a tough, no nonsense coach who can frighten them into showing more urgency and fighting spirit. A coach who has no favourites and gives an honest post-match interview. A coach who can make Goodison a fortress and can work on a tight budget. Excluding Moyes, there's one out there who is not very popular but I would have him tomorrow. No use asking me his name. Some things are best kept to oneself.
Steve Brown
110
Posted 27/12/2014 at 03:51:07
Woke up this morning feeling seriously hung over and nauseous... and I only had one glass of red wine last night. That's Everton for you!
Mike Corcoran
111
Posted 27/12/2014 at 03:39:04
The School of Seance... "Is there anybody there???"

I've seen better movement and meaning from a Ouija board...
Ernie Baywood
112
Posted 27/12/2014 at 03:57:59
I'm slowly being sucked into relegation thinking after previously being of the view that we were just far too good for that.
I'm trying to think of the last time we were this bad? Which starts to take some of the gloss off last season's efforts.
The season we started with the one nil loss at Blackburn springs to mind... We were hopeless until December that year. OFM turned it around after Christmas. RM needs to get this right very, very quickly.
It actually feels like we need loans or signings to put some fresh life into us because the team looks like it's rotten right now.
James Flynn
113
Posted 27/12/2014 at 04:48:50
Pretty much accepting that McCarthy, Jags, Distin, and Baines are unhappy with Roberto's way.
Minik Hansen
114
Posted 27/12/2014 at 05:08:45
So happy to find out that Naismith is suspended for the next match, that's one less central offensive midfielder misplaced to worry about.
Steve Brown
115
Posted 27/12/2014 at 06:02:49
Reflections about a painful experience...
1) use players in their right position and get proper balance in the team - our wingers might be setting the world on fire, but I would choose Miralles, McGeady and Pienaar in that position than Osman, Barkley, Naismith or Eto'o all day long. Also, because we have four CAMs who RM loves doesnt mean we can play them all in the same line-up
2) Play Barkley as CAM behind the striker. It is the position where he genuinely looks the part... otherwise drop him.
3) Dont give up on the passing game, but move the ball quicker back to front so defences arent always set before we reach the penalty area. Then vary the play and get some early balls/crosses into the box.
4) If you are going to play a system where centre halves play the ball out of defence, then Stones and Alcaraz will be first pick for the rest of the season if they are fit.
5) As a fan lf his, drop Romelu before his confidence is completely shot. I should get pelters for this as I've slagged him off relentlessly, but replace him with Kone. At least he's hungry and fit!
6) Get legs in the team as we look slow, pedestrian and teams are outworking us - that means Besic before Barry to partner McCarthy.
My team for Newcastle - Robles - Coleman - Stones - Alcaraz - Garbutt - McCarthy - Besic - Miralles - Barkley - Kone - Oviedo.
COYB!

Steve Brown
116
Posted 27/12/2014 at 06:33:10
Paul Ferry #108, you have an admirer! See post #3 on From My Seat: Stoke City.
Mike Price
117
Posted 27/12/2014 at 08:02:55
Naismith out is good. He's like an enthusiastic puppy. He's crap basically, but runs around a bit more than some of the others, so is revered. Sums up how far we are falling and he's here until 2019....that's what is turning my opinion on RM, along with his other many other poor signings/extensions to old, average players.
His summer was pathetic, partly his fault, but if I was BK I think I'd be a bit more hands on than that. Fat, sluggish players picking up annual salaries in a week, but being fat disgraces with no personality or fight would have to trigger a considered reaction.

We're becoming a joke, an embarrassment, and an outside bet for a relegation dog fight. If that happens these players will hide and fail. Surely, surely not.
Laurie Hartley
119
Posted 27/12/2014 at 08:13:02
Harold at #109. I know who he is. He brought a team out of the championship, and established them as a premier league outfit.
He fairly recently won an FA cup with them - everybody still hates playing against them - especially us.
He pulled a struggling team out of the mire last season against all odds.
Strange as it may seem he is out of work at the moment but won't be for long because "some club" is going to sack their manager shortly and bring him in to see If he can help them avoid relegation this season - which in all probability he will.
The flip side to this is that "another" club is going to regret not having called him in. I hope it isn't us because we are in serious trouble at the moment.
We need someone to take the current situation by the scruff of the neck.
Presumably Jagielka will not be playing against Newcastle. I will wait to see who gets the armband for the Newcastle game before I go public - but I think the cat is out of the bag.
Neil Wood
120
Posted 27/12/2014 at 08:39:14
Laurie 119 .... Who??
John Malone
121
Posted 26/12/2014 at 21:06:20
Nick west totally agree, this manager is ruining all the good work Moyes had done. All the good partnerships, understandings, organisation and spirit which stood us so well is being lost by this fraud of a top manager.
The fundamental's of a top team are hard work, fitness and organisation we lack all of the above we are fast becoming a joke. Baines and Coleman have become isolated and are playing within themselves.
Ross Barkley looked like he'd been on the ale all christmas!
Colin Glassar
122
Posted 27/12/2014 at 08:54:34
Omg, now you want some messiah to come out of the desert to save us from imminent doom? Some biblical, gum chewing, avenging angel with a welsh accent?

Andrew Ellams
123
Posted 27/12/2014 at 09:02:08
Laurie 119, if you mean Pulis he has never won the cup or anything else
Harold Matthews
124
Posted 27/12/2014 at 08:51:46
Laurie. One stat slightly wrong but you've got him.
As for your "cat out of the bag" stuff. I'm still in the dark on that one.
Andy Walker
125
Posted 27/12/2014 at 09:25:15
It's taken Relegation Roberto 18 months to destroy the desire, speed, determination, flexibility, confidence and direction of our team that David Moyes painstakingly built.
Get David back to sort out the shit this feckless Spaniard has created.
Totally predictably state of affairs, Martinez should never have been appointed having just relegated his previous side. A disgraceful appointment for which Kenwright must take responsibility. He was sucked into the PR hype surrounding Martinez, just like many fans. At least the latter now seem to have wised up in the main, time for Kenwright to show some balls.
Jim Bennings
126
Posted 27/12/2014 at 09:40:20
Just a word on all this "the formation is stifling Baines and Coleman"
Could it not just be possible that neither, especially Seamus, are playing at all well this season?
There was a incident in the second half when Coleman under no pressure passed the ball straight to a Stoke player, but he was gifted it back immediately, only for the ball to then bounce off his shins again in a moment of woeful control..
Moments like this is not down to formation but a blatant lack of form.
I said straight after the Spurs defeat that Martinez was wrong to drop both fullbacks, Garbutt and Hibbert, following the great win (and clean sheet) in Wolfsburg.
He completely sent out the wrong message to two men who had performed admirably, and who would have relished the chance to face Spurs.
Too many mistakes not just from the players but from the management team (not just Martinez) this season, has resulted in the pit we currently find ourselves in now.
Brian Harrison
127
Posted 27/12/2014 at 09:42:13
Andy 125
I totally agree with everything you say, I said some weeks back that he was a charlatan, and one or two took exception to this reminding me of last seasons points tally. Well I think a lot of what happened last season was he was left with a good group of talented players who all worked for each other. This season its all down to RM, he told us only a few days ago that he wont change his philosophy which obviously served him well at Wigan, and its obviously beginning to work just as successfully here.
Thankfully if things get really bad and we get sucked into a relegation battle, at least we have Joe Royle at the club and he saved us once before from relegation. I see we have conceded more goals at home than anyone in the division despite setting up with 2 defensive midfield players. Lets just hope that we can get to the end of the season still in the Premiership but that will be inspite of RM and not because of him.
Sean Kelly
128
Posted 27/12/2014 at 09:29:42
There something wrong in our club at the moment. I can just about get over losing games when we put a shift in. There's no passion or desire in the team at the moment. Players are turning up because they have to. They are not fit because of our pre season. This will not improve over the next few months. Most of what's wrong is down to Martinez. Our shit pre season, non plan b when plan a is clearly failing and a stubbornness in playing wrong layers in wrong positions. Coule these with his refusal to drop players when playing badly namely Barry, Baines and Lukaku. Why was Besic or Oviedo not on the pitch yesterday?
Layers are coming out saying we need to get a couple of wins and go on a run and yet when they take to the pitch they forget what they have said. They are leaderless and spineless and piss about the pitch like they couldn't give a shit.
It's ironic and equally frustrating that having had a decent season last year and assembled possibly our best squad for many years we are laying the worst football I've seen since those shitty smith days.
If anyone has any answers to the above please send on postcard to Robbie head up my arse c/o Goodison Park or bullshit billy. c/o hiding behind me sofa at Goodison. Pulis no thanks but if someone finds balls lease please send them to Roberto as he's obviously lost his.
Ray Roche
129
Posted 27/12/2014 at 09:29:22
People who are saying that relegation is impossible, we are 4th from bottom of the form league, behind such giants as Hull, West Brom, Burnley, Sunderland..... and as every pundit will tell you, every season a big(ish) club goes into free fall and ends up in a relegation dog fight. And we don't have players who can fight. I can't think of opposition, home or away, where I would be confident of winning. I watched MOTD and Leicester...Leicester for heavens sake... give Spurs more of a match than we could.
As a team we are not fit.Nowhere near as fit as previous seasons. We have poor tactics,and a manager incapable of changing a game. OK, the ref yesterday was appalling and, yes , Walters should have walked, and after watching MOTD I think it was a dubious penalty, as much a pen as the Mirallas one, but that doesn't hide the fact that we are woeful.
Incidentally, I'd play Baines AND Garbutt, with Bianes further forward giving us width. He was cery exposed yesterday, but that's Martinez's team for you.
Allan Board
130
Posted 27/12/2014 at 09:15:24
Been up since 7am with my lad,hes playing with his trains he got for xmas and im sifting through comments on TW. Some of the comments are mind blowingly absurd,but most are understandable.
One undeniable fact is that the manager no longer has the players "on side" so to speak. We need 3 or 4 players to show some balls and demand,threatening or otherwise,battling performances with a "fuck the opposition attitude" until this charade of a campaign ends.
Unfortunately,i don't see any Cahills,Carsleys amongst this lot so I trust it wont happen. The 1st team have become a bunch of robotic players who play "safe" so they keep in favour with the managers ideas and don't dare rock the cosy "love boat" ethos this manager has generated for fear of reprisals. Besic and Oviedo have been treated dreadfully by Martinez and I think its because they have a desire to win and can rub players up the wrong way ,dead against this blokes ethos. These 2 would start EVERY GAME for me as when the shit hits the fan these are the types you turn to.
They also happen to be fucking good footballers! At the minute our "captain" behaves more like a childish panto dame than your figure head on the field. Too comfy you see,like many others and doomed to failure.
Martinez doesn't want his team to have a nasty streak as that's not part of the latest coaching manual,and wont look great on his CV,when Barcelona come knocking(best joke ive heard for ages that was). Out of his depth,sinking fast,taking some decent players with him too. Please step aside,bring a fella in with a pair,who tells players what he thinks and perhaps you may see a change in attitude on the pitch.
Fuck it,im taking the kids out for a blast round our local castle and a fucking big bowl of soup! Hope it helps to get this shit out my head!
Laurie Hartley
131
Posted 27/12/2014 at 09:47:38
Harold - apologies for getting one of the stats wrong. He only got them to a cup final.
As far as the "cat out of the bag" it already is. Colin and Andrew have already sussed me out.
Andrew - I stand corrected.
Colin - is everything going to be alright then? Personally I am seriously concerned and I'll tell you why.
When the whistle goes at the end of the Newcastle game we will have played half a season. We will be on 21, 22 or maybe even 24 points. If 40 points represents "safety" we will have to find at best another 16 points to stay in the premier league - at worst 19. The question is are our performances improving or getting worse.
We were a bit better against Stoke than we were against Southampton but that wouldn't have been hard to achieve.
But still 0 points out of a possible 6.
I want what Harold said he wants - have another read of his post at #109.
Kev Wood
133
Posted 27/12/2014 at 10:45:17
Stoke at home isn't a fixture to get the heart racing. You know they will put out a team of big yard dogs who are well capable of inflicting serious injury to key players. Last season we put four past them- but it took us 45 minutes to score our first.

What was missing was creativity and incisciveness in the final 25 yards. Last season Deolefeu played one of his better games for us and Pienaar worked some of his magic- both assets which may be gone for good.

I'm worried about the coming months. A couple of lads leaving the Top Balcony were singing 'Let It Go' from Frozen- which raised my only smile on a bleak afternoon. Let's hope we're not all humming that tune at the end of a failedfoot of the table struggle in May. Get it sorted Roberto, if you can!
Sean Kelly
135
Posted 27/12/2014 at 11:43:18
I watched 11 turkeys in our beloved shirts yesterday. Stuffed and headless and their leader was in disguise in a raincoat.
Tony Twist
136
Posted 27/12/2014 at 11:54:42
Repeat after me "You don't know what you're doing!". I'm sorry but Martinez has had enough time to turn it round, the turnaround should have happened after the embarrassing pre-season. You learn from past experiences, what the manager did for Wigan is all you need to know, he didn't know what went wrong then with his perfect football just as now, he is clueless. You beat the side you face not carry on regardless. If we are going down lets at least get someone in that will field a team with fight and spirit. Nil points over Christmas and the New Year might just happen.
Kevin Tully
137
Posted 27/12/2014 at 12:08:57
Did you see Jagielka waiting for the Stoke player to put his boot back on before resuming play? That is typical of this side. We play nicely while the opposition are cheating, pulling and diving at every opportunity. Gobshites.
Conor McCourt
138
Posted 27/12/2014 at 11:30:44
It looks as if I'm in the minority here but I still have a lot of confidence in Roberto.
Of course as manager he is ultimately responsible for the poor showings and results but I think a lot of our players are escaping overdue criticism.
In the second half yesterday it seemed to me only the 2 centre halves, Barry and surprisingly Lukaku wanted it and too many players were not only poor but much worse than that they were hiding.
I must single out Barkley as he seems to escape most as Roberto has played him out wide and in the hole which are not his best positions but even when in the centre yesterday he was awful again. He doesn't feel that he has to do defensive duties and drifts in games. Except for QPR and Villa he has been shocking for a player with his talent.
I did see shoots of recovery yesterday as Stones and Alcaraz made a big difference to our play both defensively and on the ball, but also we looked dangerous from corners for the first time in ages thanks to the Birdman's presence.
I also thought in the first half we were more like the team from last season in terms of pace, hunger and movement and we had 3 great opportunities which we should have buried and that hasn't happened for a while.
I hope the board back Roberto in January as we need so much a top winger as Dellboy would totally transform this team and give us the balance we are crying out for. Other areas need strengthening but can wait however we need a top wide man now as Roberto's teams have always been heavily dependent on the quality of his wingers for creativity.
Finally I think its too easy to take a swipe at Roberto for his Wigan record and making him out to be a failure. He done an amazing job there as kept them up on numerous occasions despite consistently having the worst budget in the league and paying easily the worst wages.. He won the cup also which is an incredible feat and do people think Sean Dyche is doing a terrible job also because I think he is doing a fantastic job with his resources. Look at the struggles they have had since he left.
Keep the faith
Simon Harris
139
Posted 27/12/2014 at 12:20:13
Kevin - The team are a mirror of the manager, a nice chap who talks a good a game and who outwardly appears devoid of passion or anger in favour of a measured gentlemanly retort.
Andy Walker
140
Posted 27/12/2014 at 12:28:34
Tony Twist, I think the point is that Relegation Roberto has lived up to his name and has turned Everton around, unfortunately from a top EPL team to one of the worst.
He should be replaced immediately. My view has been the same since day 1 at our club, that is, his record was terrible at league management and player level. He'd fluked the FA Cup, more thanks to a kind draw, us and Man City, yet the resultant 'winner' mantra fed by certain fans was lapped up by BK, no doubt also suckered in by the 'I will take Everton into the Champions League' diatribe. The guy is a slick PR operator, who got lucky.
For God's sake Bill get rid of him now.
Andy Walker
141
Posted 27/12/2014 at 12:38:45
So true Simon. I also think he's probably a splendid chap to have a chat with, unfortunately that's about it.

James Marshall
142
Posted 27/12/2014 at 12:28:49
There's nothing WRONG with the way we play, as such, but there is something entirely wrong with the tactics therein. We're extremely easy to play against - teams just put up two banks of 4, sit deep and invite us to play around them.
We struggle to penetrate them as a result, and spend half the time playing the ball to no effect.
So, what I've written there, you all know already. I know it, you know it, the media are writing about it, and as a result our players also appear to know it as well - it's showing up in the lack of confidence shown. OK, so what next?
Well someone needs to sit Martinez down and tell him - Roberto, it doesn't work all the time against every team. Sometimes yes, other times no. What's Plan B? There is no Plan B. Martinez' problem isn't his philosophy, it's is stubbornness and inability to change to another way of playing. We can all see that, and so can our opposition.
Yesterday was a prime example against a Stoke side setup to soak it up, play hard and nick it. And what happened? Exactly that. We all saw it coming, but the manager didn't?
Some of our players are being made to look second-rate as a result - Barkley for example, collecting the ball, rolling it under his foot, then either passing sideways to no affect, or running into 3 or 4 players at once, losing the ball and looking like an idiot.
Lukaku - stuck up top, constantly surrounded by massed defenders, unable to have any effect on the game with his back to goal all the time. Pointlessly being made to do donkey-work with no end product. Again, not his fault as such but fans get on his back as much as centre halves (you see what I did there?).
The best teams out there, that play the system he sticks with, are also the hardest working teams out there when they lose the ball. We don't win it back as much as we should in any area. Why? Tactics is why - Martinez philosophy of ball-playing is all well & good, but you have to do the other half which is to win it back like men possessed. We don't do that. Ever. As a result we're wide open at the back when we lose the ball, with our fullbacks miles up the pitch, and everyone chasing back - this happens constantly, and eventually it tells as our defenders come under more & more pressure from both opposition and their own supporters who see this as them being rubbish/lazy/not bothered, when in fact they're probably fucking knackered all the time from all the chasing back and last-ditch tackles.
I actually feel a little sorry for the players at the moment, because it's them in the firing line with a manager that just waxes-lyrical constantly, without ever taking any responsibility due to his blind faith in his system. It's not rocket science to sit back and watch us play the ball around without getting anywhere.
Mid table obscurity is this seasons new aim as far as I'm concerned.
Gavin Johnson
143
Posted 27/12/2014 at 12:13:58
I'm not going to jump on the bandwagon for the "Martinez Out" brigade...Yet!! That's because I don't think we will be relegated! We need to revise our expectations this season, should we beat West Ham in the cup (I'm 50/50 on that) I think we'll do well in FA Cup and progress to the latter rounds of the Europa, if not even winning it.
Yes our league form is alarming, Moyes had second season syndrome and while I don't want to be a Martinez apologist (although I feel like I am as a write this) I think he sound be given until the end of the season because I reiterate..I don't think we will go down! I'm prepared to write this season off league-wise (a top 6 finish) for the chance of some silver wear.
That being said, I'm getting seriously alarmed by some of the BS we are being fed by Martinez. Following the same script that we won't change our passing game, come what may! Our set pieces and corners are atrocious and need to be worked on. It is this inflexibility from Martinez that comes across a little like delusion that is beginning to worry me.
I think if he was sacked tomorrow it might ruin our progression in the Europa. Also, if he brings in some quality additions in January. I'm thinking Delboy, Marshall/Ruddy and someone like the soon to be out of contract Ron Vlar to replace the hopeless Distin. It will give us the best possible chance of winning a cup.
Of course, it's unlikely he'll get any money and if that is the case he really needs to stop being Mr Nice Guy and give Howard, Distin, Barry and even Baines some time out to reflect on how shit they've been all season.
Ian Tunstead
144
Posted 27/12/2014 at 13:02:38
Sign me up to the MOB.
James Marshall
145
Posted 27/12/2014 at 12:58:45
I honestly don't think any one player has been that bad, and sacking the manager is a stupid idea which would simply make us struggle even more.
What would a new manager do? Wave a magic wand and have the players do something completely different to fix it?
I fail to see how that would help anyone.
Mark Frere
146
Posted 27/12/2014 at 13:04:56
Conor, I admire your blind faith in Roberto, but it is him who picks the players and it's his job to motivate the players playing the tactics and philosophy he wants. Many of the players are from Moyes's days here, some aren't but the fact is the players look short of fitness, confidence, character and generally don't look up for the fight. I wasn't a massive fan of Moyes but I could never say the same about his teams.
This is the best squad we've had since the mid-eighties and it's a group of players which should be challenging in the top 6. I'm not sure (unlike you) that I have a lot of confidence in Martinez but I think he should be given until the end of next season to turn things around... that is unless we're flirting with relegation and the situation becomes too desperate that the board has to intervene.

Andy Walker
148
Posted 27/12/2014 at 13:13:49
Why on earth should we keep him as manager?
He has no past record of success at league level.
He relegated his last team.
He's taken a good team and has made it poor.
He's overseen the building of the oldest squad in the EPL.
The players don't look like they want to play for him.
The players don't look fit.
He repeatedly makes the same tactical mistakes and has one way of playing.
He won't drop out of form players.
His buys have been awful with the exception of McCarthy and Besic.
His post match comments are bizarre.
What exactly is it that gives anyone reason to think he will suddenly do what he has never previously done at EPL level?

John Keating
149
Posted 27/12/2014 at 13:03:05
I got slagged on here a few weeks ago from Patrick someone or other for saying the teamwas shite the tactics were shite and the management was worse than shite
Well Patrick I'm waiting to hear your replies to the hundred posts who Echo my sentiments
I'm watching Hibs play Rangers Stubbs must have remembered how we played last season as first half was like we played a year ago
Patrick Murphy
150
Posted 27/12/2014 at 13:23:45
Patrick Murphy is the name and I don't remember 'slagging' you off as you put it - I may not have agreed with what you wrote and assume I must have given reasons for that disagreement at the time. If you had taken the time to read my many posts on the subject you would also realise that I have argued both for and against Roberto and his team this season. I have always said that football is a results based business and obviously Everton's results thus far are not what any of us would have wanted. The plain fact is that currently we are not good enough to win Premier League games and if it continues for any length of time Roberto will be relieved of his duties and A.N. Other will be appointed to try rescue the situation. I try not to become personal with my posts if I did in relation to one of yours I apologise.
Brent Stephens
151
Posted 27/12/2014 at 13:27:43
James #145 "What would a new manager do? Wave a magic wand and have the players do something completely different to fix it?"
James, apart from the wand, I think that would be the point of a new manager (not that I think one is coming soon).
Mark Frere
152
Posted 27/12/2014 at 13:24:47
Andy Walker
Wigan had the lowest budget in the PL and it is unfair to use that against him. The season Wigan got relegated they had their best 2 central defenders injured for most of the season, that is a big reason they shipped all the goals.
It's always more accurate to analyse what Martinez has done at Everton - a club with a much bigger budget. Last season we finished 5th with a record points total... surely that's more relevant than what happened at wigan, no?
This season has gone drasticly downhill, but no club will ever get any stability if it sacks it's manager without giving him time to turn things around. In a more modern era of football, Alex Ferguson and Howard Kendall would probably have been sacked before having a chance to guide their clubs to glory because things got desperate for both of them in the early days.
Rob Halligan
153
Posted 27/12/2014 at 13:44:30
John #149.
Stubbs seems to be doing a pretty job of things at hibs just now. 4-0 at the moment. As Patrick says about relieving Martinez of his duties, could we do any worse than Stubbs with big dunc as number 2?
Max Wilson
154
Posted 27/12/2014 at 13:37:55
This narrow defeat has destroyed what lingering support RM still had amongst the majority of us? Personally I'm trying to be fair to him and see if he can improve our performances. His biggest mistake seems to have been not to have brought in a good defender at the begining of the season,someone with experience,to address our ageing back line. Instead he used Stones who is still learning. But yesterday once again revealed we lack momentum and ideas.Stones and Baines put in a good shift , Naismith tried hard within his limited abilities but our tactics are so predictable. W
Andy Walker
155
Posted 27/12/2014 at 13:44:46
Mark, thing is Wigan had been in the EPL for about 7 years, so they were no yo yo club and should have been able to stay up as they had financial security via the TV money.
The centre half problems were classic Martinez, he failed to get enough cover in pre season and didn't react during the season, i.e. loans for example.
He took over a very good Everton team from Moyes, last season they naturally still had the latent Moyes habits, fitness, attitude, pragmatism and belief amongst others. It is only this season though that the team has truly starting to reflect Martinez. Think of it the other way around, managers don't take over a poor team and turn them into a top team in 1 season, it takes time to change things. This is what Martinez has been doing, changing things. For example, from this is who Moyes would have employed in the backroom, to this is who I will employ, this is how Moyes wants you to defend, this is how I want you to, etc. The impact will never really be seen in one season, the second season is usually when it starts to come through, and it sure as hell is.
Mark Frere
156
Posted 27/12/2014 at 14:01:09
TV money has nothing to do with it, Andy. All clubs get a slice of the pie... and the bigger clubs get more money because their games are broadcasted more on TV... so how would this be beneficial to Wigan staying in the PL? They still had the lowest budget compared with the rest.
It's pure bollocks to say we finished with a record points total because Moyes left his legacy. How come Moyes never acheived 72 points in his whole time here? It's clear you have always pined for Moyes and you have only ever come on these boards to stick the boot into Martinez. Never once have you said anything complementary about him, even when we were doing well last season.
You are entitled to your opinion - but don't fabricate nonsense to suit your agenda.
Andy Walker
157
Posted 27/12/2014 at 14:10:33
Mark, I didn't address your point re the record points total. This is something that Martinez was very quick to jump on and repeat frequently, he does like his own PR. Yet it was a unique points distribution due to there being a massive gap in quality between the top 7 teams and the rest.
In other words, the other teams were simply fodder for the top 7 as they were so poor that season. 34 points would have kept you up, WBA stayed up with only 7 wins all season, West Ham finished 13th with only 40 points, the usual relegation benchmark. A real one-off season and it certainly should not be used to reach conclusions about the ability of our manager.
Andy Walker
158
Posted 27/12/2014 at 14:17:08
Mark, I am not sure what you think I have fabricated. Every team's objective when they get promoted into the EPL is to try and establish themselves in the league. To do this, a team has to initially spend a lot of money to get their squad up to EPL standards, but season after season we see how difficult this is.
But if a team does manage to establish themselves in the top league for a number of years they have been through the pain and actually staying there is an easier task than that facing a newly promoted team. This is not a radical point surely?
Andy Meighan
159
Posted 27/12/2014 at 14:20:34
Anyone thinking the 3 points at Newcastle are there for the taking are seriously kidding themselves, as Jim Bennings brilliantly put it. The good doctor dressed in blue will cure their bad run; also we've forgotten how to score goals in football – a recipe for disaster. Now where's that Newcastle player who hasn't scored for 3 years? – Tell him the Toffees are due in town!
John Keating
160
Posted 27/12/2014 at 14:16:54
Rob,
Watching Hibs smash Rangers, it was just like us last season: great possession, totally dominant all over the pitch, quick sharp passing, always looking for the forward pass. Stubbs had a balanced team and I think being an ex-defender it was a case of giving nothing away at the back then breaking forward.
Fuck knows what's happened to Martinez but, if he asks Stubbs for the video and sits down with the players and watches it, hopefully they ALL might learn/remember something. I hope Stubbs does well and continues his learning process...
Andy Walker
161
Posted 27/12/2014 at 14:32:05
Yep John, couldn't agree more, I watched Hibs as well and they were excellent. It would be good to see Stubbsy come back into the fold at some point in the future.
It's a cliche but every good team is built on a solid defence.
Andy Walker
162
Posted 27/12/2014 at 14:36:18
Mark, my opinion on Martinez has been the same from the first day he took over as our manager, simply because I've seen nothing to change it. I have therefore consistently posted that I don't think he is a manager suited for our club as it is my opinion. When Moyes managed us, I thought he was a good manager for us and I often posted to this effect, but not exclusively as I did criticise Moyes on occasions.
I post my opinions here, this is what this great site helps us all do. You don't agree with them, that's fair enough, but I always try and form my opinions based on a personal interpretation of actual relevant events, actions and the evidence I see with my own eyes. I try hard not to be prejudiced by irrelevances, like hair colour and accents – not saying you do by the way.
Trying to take an objective view of what Martinez is doing, I genuinely cannot see any reason to stick with him, but then again I never thought he should have been appointed in the first place as I didn't rate him at Wigan. I have seen nothing at all, or heard any argument or points that make a reasoned argument in my opinion for Martinez to stay, other than he won the FA Cup and had a record points total, or "Who would take over mid season so let's just keep him" – all of which hold no water for me.
Sam Hoare
163
Posted 27/12/2014 at 14:54:43
The soundbites are almost intolerable at the moment. Still no genuine admission that we have not been good enough. That something needs changing.
Makes me fear we are in for lots more of the same.
James Marshall
164
Posted 27/12/2014 at 15:06:04
Moving on slightly, tomorrows game looks like being a tough one now. Howard, Jagielka, Stones, Mirallas and Naismith all missing....
Robles, Distin, Alcaraz, Eto'o and McGeady coming in?
I guess we can't be any worse than recent games!
Tony Abrahams
165
Posted 27/12/2014 at 13:28:33
Mrs Nolan, I have been watching Fuck Off Everton, for 40 years now, and always thought Boxing Day was named after our team!
Martinez, a talented but inexperienced manager has got it wrong from the start this season, and has put that much emphasis on Europe that it's like the Premier League has been no more than an afterthought.
"Fail To Prepare, then Prepare To Fail", was a comment attributed to Roy Keane, but he could easily have been saying it about Martinez, and our preparations in the Premier League this season.
I saw Robert Elstone, the other day in town and when I asked him what's going wrong? He just kept repeating what a great manager Roberto was. He might be one day, who knows, but the best in any sport learn from there mistakes quickly – even if I'm prepared to give him a bit more time just yet.
Maybe we are missing Stubbs, John, because the last time he left us, the team that had previously came 4th, struggled like mad until he came back in the January. I think our defenders are missing him anyway but I'm not sure what input he had with the players last season.
The emphasis for Europe keeps making us stop playing when we have a good lead, and this resulted in the boos against QPR, which in turn has now really affected our confidence. When confidence goes, anything is possible, which is why it's imperative we get something out of our next two games, and stop the rot becoming a crisis.
Michael Winstanley
166
Posted 27/12/2014 at 15:13:56
James. We have a phenomenal squad, it's an opportunity for players to stake their claim for a starting spot until the injured players are fit.
If Robles can't take his chance now to push Howard out, then it's obvious we need a new keeper in January.
James Marshall
167
Posted 27/12/2014 at 15:22:21
Phenomenal? Are you Martinez in disguise!? ;)
Who does that leave on the bench?
Stanek, Hibbert, Oviedo, Kone, Besic, Browning, Garbutt?
Mark Frere
168
Posted 27/12/2014 at 15:24:12
Andy, are you aware aware Martinez didn't get as much money to spend as Bruce and Jewell before him? His job was made harder because he had his budget cut... I go back to my point about the injuries to his best 2 defenders: Alcaraz and Ramis were injured most of the season and as a result, Wigan leaked a vast amount of goals. Great managers like Jurgen Klopp have managed relegated clubs - it doesn't always mean they are shit managers.
The jury is out on Martinez, and I have lost a lot of confidence in his ability to turn things around, because our performances have been dire most of the season - but I think he deserves the chance to turn things around as long as we are'nt involved in a relegation dogfight.
For what it's worth, I never wanted Martinez here in the first place; I wanted Bielsa - a manager which does well with limited funds, his teams are super fit and justt look at his mighty Marseille side topping the French League ahead of moneybags PSG and Monaco. Martinez is here now though; he did well in his first season and IMO, should be given time to prove you and the rest of his doubters wrong.
Minik Hansen
169
Posted 27/12/2014 at 15:24:58
I think most of our main players lost the belief of the 4th spot, disappointed and just not turning up for it, in a bad mood, that's needed to be shaken up.
Spark, I think is what it takes, a little one, hopefully shown when some that have been letdown by themselves are dropped to the bench and others step up they show it.
Surely the staff are able to look back and put this bad spell behind. And they need inspiration from us fans as much as we need inspiration from them to cheer them on.
Raymond Fox
170
Posted 27/12/2014 at 15:29:16
Phenomenal, Michael? Name one whose playing well never mind phenomenal.
The bookies had us finish 7th before the season started, that's how phenomenal they thought we are.
Howard – never know which one will turn up.
Coleman – defensively frail.
Baines – ditto and neither breaking any pots going forward
Jagielka – fast over the ground, frail in the air
Distin – ditto
Barry – okay defensively, not much use going forward
McCarthy – ditto again
Stones – still learning but great potential
Barkley – ditto not producing much this season
Mirallas – good but inconsistent
Besic – could be an asset to us if he gets a run
Eto'o – class player but past his very best
Lukaku – playing like a 㿈 thousand player never mind a 㿈 million.
The rest – average Premier League players at best.
Conor McCourt
171
Posted 27/12/2014 at 15:17:09
Mark, it's not that I have total blind faith in Roberto; I have been annoyed with some of the sides he has put out and especially with McGeady's omission from recent games as we are becoming predictable. It means teams are able to defend as a block as no-one is getting behind full backs which makes their job so easy.
Certainly this month has been one of the worst for a long time but it's just that we need a sense of perspective. Last season was the best I have witnessed as an Everton fan both in performances and results (I was only 7 in 1985). Some of the rubbish Andy has come out with about last season's success beggars belief and as you suggest is clearly agenda-orientated.
We have had this guy for a year and a half and the first year was exceptional. We have put a lot into the Europa League also and statistically teams struggle in the Premier League with that extra workload, travel and injury pressure.
I disagree that we have a top six squad as players like Distin, Howard, Atsu, Pienaar, and Hibbert would not make Arsenal, Spurs or the RS squad. Yes, we have some quality players in our ranks but it's largely imbalanced, eg, four No 10s but only one decent winger.
We are at a very low ebb no doubt but there is still a lot to be played for this season and, while many question Roberto tactically on here, I have been looking to the bench for inspiration and don't see the quality like last year with Dellboy and Naismith to change it.
I also like Roberto's approach to how we can compete by purchasing Lukaku 21, McCarthy 23, Besic 22 and bringing through talent like Barkley and Stones and getting them tied to long-term deals. Of course results are the most important thing but how the whole club is developing under this manager is also why I keep the faith.
Chris Gould
172
Posted 27/12/2014 at 15:57:58
Personally, I'd like to see Martinez relieved of his duties. I don't think that his system is simply suddenly going to click into gear. He consistently plays players out of position and nothing is going to change his mind set. I don't think he's capable of setting them up differently.
However, who's available to take over? Pulis would be a disastrous choice. Nobody would be interested in coming to our club, as either a player or potential investor. Martinez is more marketable, although that counts for nothing if he gets us relegated.
Head says, get rid of the useless twat. Heart says, maybe he should have more time as I'd love to see him turn it around.
Who's a realistic alternative?

Andy Walker
173
Posted 27/12/2014 at 16:25:41
Conor and Mark, you both refer to me having an 'agenda'. Sounds very sinister, exactly what do you think my 'agenda' is?
My simple opinion is Martinez is not the manager for us. Where's the agenda in that please?
Nigel Bennett
174
Posted 27/12/2014 at 16:28:11
Joey Barton!!!! Are some of you for fuckin' real? Relegation, have a lot of you been on the cookin' sherry? How many of you will be there tomorrow supporting our fantastic football club?
Yes, we are having a bad time at the moment, but for fucks sake get behind the boys!!! Don't you think they need it more now than for a while? We are EVERTON, not the Redshite, don't be so shallow!!!

Andy Walker
175
Posted 27/12/2014 at 16:31:46
... wait a minute, I think you may have sussed me, yes I admit it I am trying to get rid of Martinez so I can become the manager myself, you see I am not really Andy Walker but Tony Pulis...
Back to watching more Homeland chaps.
Paul Tran
176
Posted 27/12/2014 at 16:28:30
In this poor league we definitely have a top six squad.
I'd like us to get the manager we had last season. The one who played a balanced team, had them defending and passing well, all knew their jobs, scored lots of goals.
Not sure where he's gone, but I think he'd be spot on. Judging by some the measured, even-handed comments on here, he was really lucky as well!
Denis Richardson
177
Posted 27/12/2014 at 16:31:58
We won't go down as there is no way we will be below the likes of Leicester, Burnley and West Brom come May, so I'm not going to shout for a change of manager just yet.
However, if it becomes clear that the manager has lost the players, then there's no way back after that and he should then go. That time may not be far off, till then let's see what the next couple of games bring.

Andy Walker
178
Posted 27/12/2014 at 16:41:42
Nigel, we need to support are team as passionately as we always have. Cut out the booing, it will never help. Vent frustration at he manager not the players.
One of the symptoms of Martinez's style of play has been to dampen the Goodison fans. For decades our game has been based on passion, intensity and speed. It all served to get the fans up and give us that bit extra which I think is the main reason we have, in the past, always had such a strong home record.
Martinez has now mostly stripped the team of these attributes and we are left mainly with ponderous, boring, predictable passages of build-up play. I sit there frustrated and bored by much of the play, it's like watching Italian mid-table dross.
Minik Hansen
179
Posted 27/12/2014 at 16:53:18
The boys have been too arrogant, all what's left is to come up with real fight.
The constant playing players out of position has been put to the test, and Martinez will seek for other options.
Remember OFM playing Bilyaletdinov, Naismith and Osman out of position? Seems like Ossie and Naismith are still willing to play out wide just to have a chance to play.
Mike Hughes
180
Posted 27/12/2014 at 17:08:44
Cheer up, folks. Lawro and someone called Jack O'Connell are predicting EFC to beat the Barcodes by 0-2 and 1-3 respectively.
Happy days.

Vincent Taylor
181
Posted 27/12/2014 at 17:15:03
Do we wait to drop into the bottom four before serious questions are asked?
Conor McCourt
182
Posted 27/12/2014 at 16:58:21
Andy, you are clearly against Martinez and you have even made up ridiculous points about the league last year to fit your opinion. I am obviously in the other camp but totally agree that this season and especially what we have seen in the last month has not been good enough.
When fans speak of not liking the atmosphere at Goodison, of tactics, of poor results, I can respect their opinion and they can justify their argument. But anybody who doesn't respect the excellent finish last year or great achievement of finishing top of a very tough Europa League isn't being fair on the manager, I feel.
Paul Tran
183
Posted 27/12/2014 at 17:33:45
One of things that has really irritated me this season has been the return to the bad old days of playing players out of position, buying players, not playing them or seeming to not know what to do with them.
Last season I thought those days had gone. They've returned with a vengeance.
Nothing wrong with the 'tactics' and 'system' last season. Manager and players have seriously underperformed since the summer. No team has ever made progress when the manager and players have been as clearly out of sorts with each other as we are right now.
At the moment we're relying on Martinez to find something within himself, the players to either up their game, even if it's for the sake of their own careers, or go to the management and sort it out. Remember, Bill isn't a sacking manager, especially when he put Martinez on a five-year contract, no doubt in response to the shit he was in when the last guy left without compensation.
Time for serious questions, also for serious suggestions about our next steps.....
Minik Hansen
184
Posted 27/12/2014 at 17:52:10
Maybe Martinez knew that our tactics been exposed and tried out with three COMs, I don't know.
Andy Walker
185
Posted 27/12/2014 at 17:31:51
Conor, what have I made up?
The Moyes legacy was much stronger last season than this. Time (in terms of more of it for Martinez's ideas to take effect) and the subsequent departure of backroom staff are in my opinion the reason we are much worse this season than last and this is why I won't heap false praise on Martinez for last season.
It's easy to take over a previously successful big business and run it for a year. It usually takes about a year before poor, albeit savvy, managers (in any walk of life) start to get found out if they aren't really up to the job and the business then starts to suffer. The good existing staff and practices will keep a business on a steady path for some time. Inevitably though when the new management fail to demonstrate they can make the right decisions at the right time, the smoke and mirrors they've been hiding behind start to fail them. In Martinez's case, his PR machine is starting to fall apart and we are now beginning to see his true ability.
Mark Frere
186
Posted 27/12/2014 at 17:59:31
Yes Andy Walker, your hero (Moyes) did really well with SFAs legacy at Man Utd, didn't he? I mean, they went from being PL champions and being the best side in England for 20 years to finishing 7th - that right, 7th! Fuck knows what would've happened in the second year when Ferguson's legacy would have truly worn away.
Ian Linn
188
Posted 27/12/2014 at 18:06:21
Some people have said that Martinez does not have a plan B, I would claim that he doesn't have a plan A.
We have looked shit all year but despite that, we have got to the elimation stage of the Europa League with a favorable draw ahead of us.
I don't think he's anywhere as good a manager as people -especially pundits like dickhead Savage - say he is, true he won the FA cup but the draw was very easy with us being the only decent team they beat on the way to the final.
As much as as I am disappointed with us this year, I don't see any point in getting rid of him mid season - any subsequent appointment would be knee jerk.
On the plus side, we have a good squad on paper which you would think
should be top 6 challengers - though ultimately I doubt we'll make top 6.
We're just going to have to tough it out this season and see where the dominoes fall in April
Andy Walker
189
Posted 27/12/2014 at 18:21:37
Mark,
I think my post from nearly 18 months ago sums how I still feel:
Andy Walker
536 Posted 31/08/2013 at 22:38:53
Amit I agree that I don't think Man Utd should have appointed Moyes, big risk. I cant see any other way of deciding whether you think a manager is good enough to manage your team than by looking at their past performance. Not always a guarantee but better than tea leaves, dowsers , tossing a coin, etc.
Any average football fan knows what you get with RM, the way he likes playing, (pass pass pass) sets his team up (one up front), his type of players (technically good with the ball). That's what he's done his whole career and its no surprise he continued to do it at our club. Don't get me wrong, he could be great with a load of money where he can buy the best players who can deliver his ideas on the pitch. I actually think he would have done better at Man Utd than Moyes. It's about matching your manager to your club and RM just isn't a good fit for us in my opinion.

Ian Linn
190
Posted 27/12/2014 at 18:21:56
And by the way if anyone comes in with a decent offer for Barkley in the transfer window we should take it.
Murdo Laing
191
Posted 27/12/2014 at 16:59:59
I guess it's time to close this comments thread now? Many spleens have been vented, tomorrow is another day , you all know you will be glued to the commentary on the radio or on TV if you can't go the game. It would be just like us to turn up a result and an exciting performance only to mess up again in the next home game .Come on Roberto , give us something to cheer.We are Everton. COYB
Mark Frere
193
Posted 27/12/2014 at 18:38:47
Okay Andy, good luck in 'Walker World'... I'll leave you to your blinkered view of the football world.
Tom Evans
194
Posted 27/12/2014 at 18:21:33
The views of some who say that we will not go down because of us trumping Leicester, Burnley, and WBA could be branded as arrogance.
If we had those teams as our next three opponents, I for one, would not bet against them on our current form.
That we are in the shit is a bit of an understatement and unless the players themselves stand up to be counted before much longer, then the spectre of relegation will loom ever larger.
Oh and it is Duncan's 43rd birthday today, happy birthday big man.
Declan Brown
195
Posted 27/12/2014 at 18:35:59
If we're sticking with Martinez, how about changing formation to 3-4-1-2 with Stones, Jags and Distan as CB's, Baines and Coleman being wingbacks with licence to go forward, Basic and McCarthey in CM, Barkley or Naismith in AMC, with Lukaku and Eto'o / Mirallas up front? Extra cover in defence, 5 with the windbacks when defending with 3 in midfield, but 5 in midfield when pushing up / attacking going back to 2 up front to give Lukaku a chance to start scoring again?
4-2-3-1 is killing us (well the tactical suicide we employ to it). We could even do 3-5-2 with Barklay in a free role in midfield?
Before that get them into a proper fitness regime and get them physically fit, powerful and strong again. Joe Royle done that in his first 2 weeks back in November 1994, the lack of fitness issue I blame solely on Roberto and his management team, it can be done in mid season if you know how to approach it in the right manner.
If we need to go back to Dogs of War, being competitive, tight, fit, powerful, physical, hard to beat, good at setpieces (attacking and defending) with a manager who has the know how to get goals from his team, who can find good players at bargain prices, that manager being a tough, gritty, take no nonsense manager, then we look no further than Mark Hughes.
Desperate days lie ahead. Want to see Roberto succeeding and turning it round, but I don't believe he will. If he's lost the dressing room (rumours and the state of us on the pitch) I can't see it lasting much longer, Kenwright will pull the trigger when the fear of going down kicks in, remember how much it will financially hurt the club to be even in the lower half of the league, haven't we always budgeted to finish 10th just to break even?
Remember Kenwright pulled it on his great friend Walter Smith when we hit the bottom 3, I just can't see it being that close, but i'll bet as soon as we're mathamatically safe the lads will down tools and give up even if it means finishing 17th like we did that year with Moyes, we were never going down that year, but once we were safe, we took some hidings until the end of the season (5-1 away to City under Joe Royle).
I'm old enough to remember the dire straits of the Walker and Smith era's (Walter was ok in season 2 when he had the attacking line of barmby, hutchinson, collins, jeffers and campbell etc), back then I had women troubles on my mind to occupy my emotions, now that's not the case, although now I wish it was the case! Could be a long 4 months to come...
Minik Hansen
196
Posted 27/12/2014 at 18:52:21
Brent 192 TW messed it up, if I am Mark on this post, I am Minik.
Brent Stephens
197
Posted 27/12/2014 at 18:54:45
OK MH!
Minik Hansen
199
Posted 27/12/2014 at 19:02:42
Tom 194 You wouldn't bet on the blues, as you say, ON CURRENT FORM. Current is what it is, get behind them, and they'll most likely show what it takes.
Colin Glassar
200
Posted 27/12/2014 at 19:15:29
Tom 194, now that you mention Big Dunc I wonder what his role is at the club? I thought he'd be on the touch line berating and threatening the players or getting Roberto in a half nelson, but he doesn't seem to do anything apart from sit on the bench with arms folded.
Happy birthday big man.
Andy Walker
201
Posted 27/12/2014 at 19:15:55
Mark, we simply have a difference of opinion, please don't take it personally.
Happy New Year and let's hope we pull a rabbit out of the hat tomorrow.
Conor McCourt
202
Posted 27/12/2014 at 19:08:13
Andy you are so right- Moyes had a lot to do with us last season as he had such an effect on Barry, Lukaku, McCarthy , Stones, Barkley and Dellboy. That's right 6 of our best 11 Moyes had as much of an influence as I did. Others such as alcaraz played their part as well.
How much credit can Moyes take for Naismith? none he played him as a right winger. One could even argue although I'm not that its Moyes players who are killing us this season like Howard, Distin and Jags.
What about the style, again totally different to Moyes. The systems each manager used; yep you guessed it totally different.
Just as Martinez has to take responsibility for our league position this season he should take the plaudits for last season. Nothing false about that Andy.
Tom Evans
203
Posted 27/12/2014 at 19:14:03
Nice retort Minik. You only have my word that I am always 100% behind them, and have been, man and boy for over 50 years now.
The thing is, that we had or maybe still have, the ingredients for the start of something good. Sadly though the demeanour of the team tells me there is a lot of bad things going on behind the scenes and that RM is not going to be able to correct matters.
I will be among those at Hull on Friday shouting for us. I hope the boys in blue on the pitch will be listening.
Mark Frere
204
Posted 27/12/2014 at 19:21:15
Andy - I'm not taking it personally mate. Happy New Year and here's hoping for 3 points and a much improved performance tomorrow.
Tom Evans
205
Posted 27/12/2014 at 19:27:37
Just seen your post Colin.
I wonder if he is keeping his powder dry?
Andy Walker
206
Posted 27/12/2014 at 19:28:56
Hear, hear Mark!
Andy Walker
207
Posted 27/12/2014 at 19:34:18
Conor, what is your explanation as to why you think the team is so poor this season? I've set my thoughts out, would appreciate yours.
Colin Glassar
208
Posted 27/12/2014 at 19:33:22
Well Tom, if one of these days we are getting beat and no changes are made, I wouldn't be surprised if Dunc gets off his arse and gives Roberto a Glasgow kiss followed by a, 'hasta la vista baby'.
Joe Kaliszczak
209
Posted 27/12/2014 at 19:17:37
Just because we criticise Martinez, doesn't mean we want him out.
I don't like mentioning Brendan the Bullshitter on TW, but Martinez and him have a lot in common – everything fell good for them last season, despite many of their transfers failing (for whatever reasons). They were upbeat when the results were good but when, like this season, the results go against them. They may blame the referee, but they're also upbeat, talking about the (non-existent) positives, even though fans on Merseyside know their footy, and know positivity is one thing, but saying it like it is, is another!
It's never their fault, never the fact they play players out of position, or just plain stupid blind loyalty. They're both pathetic at the moment, and treating Merseyside fans like idiots will only quicken their own demise. I don't care what happens to the Redshite, but for us Evertonians over 50, this present drivel does compare with what Billy Bingham produced in has last 20 months or so, and what happened to him!?
Roberto is intelligent and gifted, but at the moment, he doesn't seem to be learning from his mistakes; if this continues, it will just be a matter of time before he is driven out!
Patrick Murphy
210
Posted 27/12/2014 at 19:38:30
Colin - Will Duncan be able to choose the team from inside? Seriously though it did look yesterday particularly in the second half that whatever was said at half-time failed to inspire the team and I honestly believe that some of the players are not giving their all for the manager. Like Man Utd last season, they know that as players they can't all be sold or left out so that leaves only one person and his staff to carry the can.
Colin Glassar
211
Posted 27/12/2014 at 19:43:52
You might have a point there, Patrick. Some are saying Roberto has lost the dressing room, that some of the senior players (Jags, Distin and Baines) aren't happy with the tactics, others (Oviedo) are just pissed off, too many just going through the motions etc....
I don't know if it's true but the togetherness and team spirit seems to have gone lately; unless it comes back, we are in deep, deep shit.
Rob Halligan
212
Posted 27/12/2014 at 19:42:54
I mentioned elsewhere that, should Martinez be relieved of his duties, we could do a lot worse than Alan Stubbs with Big Dunc as his Number 2. Stubbs is a scouser and true blue and Dunc just adores the club. Stubbs was a candidate to take over from OFM, so he clearly thinks he can do a job. Both would instil some confidence and self-belief back into the players. I'm not saying sack Martinez by the way!
Paul Tran
213
Posted 27/12/2014 at 19:37:52
Andy, good question to back up your shrewd analysis earlier.
Here's my penny worth:
Martinez did a good job last season. He made plenty of good decisions and lots went right for us. The players appeared to enjoy using the ball more and having a method to the play.
For me, Martinez has three big issues:
First, he's a shocking judge of fitness. I think he planned the preseason before the World Cup and got it horribly wrong, hence the hastily arranged friendlies. Plus he constantly brings players back too early and/or says they're fit then doesn't play them.
Second, he's too cautious. Yes, too cautious. Has his way and sticks with it. Must be one up-front. Must be two centre-mids. Won't use set-pieces effectively, even though he won the cup with one.
Third, I think the backroom staff aren't up to scratch. I'm guessing that's where some of the reported unrest stems from. Just like the last guy, seems to like yes-men who are like him rather than a different point of view.
Put all that together with the fact that it's his first job at a big club with expectations and I think that's where he's going wrong.
Nothing wrong with the system that a bit of flexibility wouldn't put right. More importantly, he needs to get the players with him again.
The last guy had many a shocking half season and was given the chance to put it right. I predict a mid-table finish and a summer where he has the chance to learn from his mistakes and sort it out for next season. If he doesn't – time for a change.
Tom Evans
214
Posted 27/12/2014 at 20:18:17
Suspend belief for a moment and imagine that the unthinkable happens, is this the description of the guy that will bring us back......."a manager arguably out of his time as a Premier League team and favouring a more abrasive style more suited to the rigours of the Championship"?
I give you Neil Warnock.
Minik Hansen
215
Posted 27/12/2014 at 20:25:12
Same excuse more than twice is too many. Roberto won't say the same comments tomorrow. I sense it's the time for the squad to step it up since it's an away game and they will get back to GP backed by the fans. Do or die.
John Keating
217
Posted 27/12/2014 at 21:22:16
Can we not just sum everything up and finish this discussion?
The team are an overpaid bunch of tossers
The play is shite
The set up is shite
Shite tactics by a shite management team
They should be honoured to wear the blue shirt and presently the whole shower need sacking!
If these pricks don't get sorted we'll be visiting Elland Rd next season
I can't get to Newcastle and I will not be watching. The whole shower are a disgrace to our great club
Ray Roche
218
Posted 27/12/2014 at 22:34:18
I take it you're not happy, John?
Andy Walker
219
Posted 27/12/2014 at 22:29:50
Paul, very interesting perspective, I think you have flagged some fundamentals that RM needs to sort. I just hope he can.
Dreading tomorrow, I will of course have to watch but I'm not looking forward to it in the slightest. Maybe out of adversity some kind of fighting spirit will return to the players and we can get a result.
The sooner we can get back to winning ways, the better. Newcastle won't be particularly confident, I suspect, so that will hopefully help.
Minik Hansen
220
Posted 28/12/2014 at 03:47:38
Last season, Man utd. finished more than few places below than the usual and two + three seasons ago Liverpool finished lower than us. If we are better than that, then this is the time to cheer the team up from now on and into the next many games, so we play our part as catalysts to lit up the second half of the season as we know it, it's just right in front of us, embrace the moments that we like from our players, show it to them, let them feel we are there for them, then they'll boost their confidence. We don't have to wait for our team to score, just start cheering them on from the kick-off! Then witness the spirit we've been thriving to see and enjoy it for the next many games. NSNO fans. COYB.
---
Add Your Comments
In order to post a comment, you need to be logged in as a registered user of the site.
Or Sign up as a ToffeeWeb Member — it's free, takes just a few minutes and will allow you to post your comments on articles and Talking Points submissions across the site.
© ToffeeWeb