Report: Howard out until February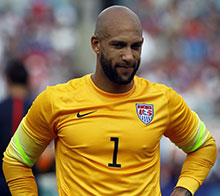 Sources in the US are claiming that Tim Howard is expected to be sidelined for four to six weeks with a calf injury.

Goal USA report that their sources have confirmed to them that the American tore a calf muscle last Friday and will likely be ruled out for all of the January programme.

Joel Robles has been deputising for the 35-year-old since, replacing him at half-time of the defeat to Stoke and then playing against Newcastle yesterday.

The Blues' third-choice goalkeeper is 18-year-old Russell Griffiths who was named on the bench at St James' Park but who has yet to feature at first-team level.



Reader Comments (135)
Note: the following content is not moderated or vetted by the site owners at the time of submission. Comments are the responsibility of the poster. Disclaimer
Kunal Desai
1
Posted 29/12/2014 at 21:02:27
Give Russell Griffiths a chance now, Newcastle have done the same with Alnwick. Robles is shaky. We can look for a first team keeper in the summer.
Paul Andrews
2
Posted 29/12/2014 at 21:07:31
Alex McCarthy.
Can't get a game at QPR.
We should put a bid in for him.
A very good keeper
Sam Hoare
3
Posted 29/12/2014 at 21:05:39
Difficult for any goalkeeper to come in and look solid straight away. With a run of games we will have a better idea now of whether Robles has it in him or is as patchy as he has looked in his few appearances.
John Audsley
4
Posted 29/12/2014 at 21:03:38
Then we have to buy in January
Howard has been woeful this season and pretty arrogant as well. I'm not going to miss his stupid scissor jumps either.
Robles is sadly not the answer and with the team leaking goals we need a top goalkeeper.
The way we have been playing lately has been fucking disgraceful and its not particularly the style of the play, its the total lack of effort.
Build from the back, spend some money or pay the best wages we can to get Cech on loan
He would be the best keeper at GP since Martyn and he kept us up in 2003/4. Howard isn't half the player Nigel was and after his record breaking performance against Belgium has been shocking in goal.
We are crying out for a goalkeeper and a centre back with a bit about them but will it happen...............
Bobby Thomas
5
Posted 29/12/2014 at 21:13:36
Kunal, have a lie down chief.

Ian McDowell
6
Posted 29/12/2014 at 21:15:19
Christ the thought of Robles for 6 games fills me with dread. Need to definitely buy a CB and GK in Jan.
Mark Frere
7
Posted 29/12/2014 at 21:14:45
I think Anders Lindegaard would be perfect. Victor Valdes's arival at Man Utd has pushed him even further down the pecking order.
Just hope we get a new capable goalie asap. Can't take take much more of Howard... and Robles?... well, less said the better.
Colin Glassar
8
Posted 29/12/2014 at 21:16:33
John, I'd sell Seamus to United for the 㿅m they are apparently offering, plus Januzaj and go and buy a decent goalie, a top CB and a creative MF player.
John Audsley
9
Posted 29/12/2014 at 21:15:04
Griffiths (who know one had ever heard about before yesterday) a QPR reserve or Robles
If that's the best we can hope for we are fucked
We need the best we can get behind the wall of strength of Jag/Dustbin and Barry.
I wouldn't trust any of those 3 to improve the 2nd worst defence in the league
If Cech wont come or we cannot afford him then that's another story (and a shambles if its the latter) but to get him for 5 months could turn the season around.
Howard has been a disgrace this season, I can only hope Robles takes this chance.
Colin Gee
10
Posted 29/12/2014 at 21:27:26
David Marshall would be my choice. I doubt we could afford Peter Cech wages.
Louis Parr
11
Posted 29/12/2014 at 21:23:19
Robles in goal for 6 weeks! We're going down. I am a keeper and I think we should go for David Marshall, John Ruddy or Ben Foster. Alex McCarthy's a great shout though.
Knowing Martinez, he'll have faith in Robles and we'll be in the Championship by March... Flipping sack him, Bill!!!
John Audsley
12
Posted 29/12/2014 at 21:23:48
Totally agree Colin
Seamus performances have nose dived and if anyone was daft enough to spend 25M on a RB I would do the same.
We need a new spine and someone to create chances for the front men.
Roberto takes about this time being "pivotal". Well going into the 2nd half of a bad season with a shite goalkeeper and a woeful defence will have the opposition knowing all they have to do is turn up and we will give them 2 goals.
At the moment we have to score at least 3 goals to have a chance of winning
A fucking shambles
Jim Bennings
13
Posted 29/12/2014 at 21:27:23
Try to sign Cech on loan until May.
Make a bid for the domineering dirty but damn effective bastard defending Shawcross.
Sorts out this travelling circus of a defence we have at present,
God I can't wait to see us on New Years Day, haha what a shambles this is turning in to eh?
Colin Glassar
14
Posted 29/12/2014 at 21:34:48
Same here John. Seamus has been crap since the back end of last season (as have most of the others) so if Van Gaal wants to give us 25m plus janusaj I'd grab it with both hands and rebuild the spine of the team. Cech on loan would be a good move.
John Audsley
15
Posted 29/12/2014 at 21:35:21
A Cunt like Shawcross could make this team
He is a dirty twat but would demand 100% every game
Aside from Besic and the odd time Gibson is fit we haven't got one mouthy player
Harold Matthews
16
Posted 29/12/2014 at 21:25:42
If we can't find a big, useful, experienced keeper out there, even from the lower Leagues, someone needs to find another job.
Ian Linn
17
Posted 29/12/2014 at 21:44:14
John Ruddy
Darren Bailey
18
Posted 29/12/2014 at 21:42:45
Has to be Cech 100%. But we'd have to send Atsu back-never mind! If we got Cech I really think that'd give the team the belief they need defensively. Ruddy would be a decent purchase though.
Januzaj would be great but Bill better ask Super Kev if he's ok with that first.
Sam Hoare
19
Posted 29/12/2014 at 21:49:12
I think Cech is pretty unlikely, not sure he'd want to come and would require smashing our wage budget which is never ideal.
Shawcross would provide some needed grit but would not come cheap as Stoke's captain.
Lindegaard is a decent shout and Marshall as well for GKs. I think Winston Reid looks a very good CB but would we be a step up from West Ham? Not at the moment! We could use some more pace on the wings and Ayew and Deulofeu both seem better options than McGeady or Naismith out wide. Januzaj would do for me but i'd rather have him permanently than on loan.
We certainly need some more leaders out there as the current lot seem woefully short on spirit. Besic should be in there for a start as he seems one player who really cares and at the least is prepared to throw himself into some blood and guts tackles to get the crowd going.
Rob Halligan
21
Posted 29/12/2014 at 21:51:54
Martinez needs to get onto his recruitment department and recruit a new goalkeeper ASAP!!
David Marshall for me. Sign him permanently. Ok we will be stuck with three goalkeepers until the summer, but once Howard if fit he can sit on the bench for a while. Robles can come and sit in the stands with us before he gets sold in the summer!
Ste Traverse
22
Posted 29/12/2014 at 21:58:04
Delusional stuff to think we'd have any chance of acquiring Cech.
Guy Hastings
24
Posted 29/12/2014 at 22:04:38
Yeah, I can imagine Chelsea being up for us borrowing Cech, particularly after all the game time Atsu was promised. Still, JM is pragmatic enough to think Cech would likely as not put a few dents in his rival title tilters aspirations.
Paul Hewitt
25
Posted 29/12/2014 at 22:08:11
Cech no chance john Ruddy would do.
James Marshall
26
Posted 29/12/2014 at 22:16:28
We won't sign a keeper - this is what backup keepers are for so you can all forget the Fantasy Football bollocks.
Robles it is for at least 6 games, and to be honest I don't see what difference he'll make one way or another playing behind our shambolic outfield players.
Our lack of a defensive mindset is what's costing us, not the keeper. And I used to be one.
Mick Quirke
27
Posted 29/12/2014 at 22:15:58
So Seamus is suddenly crap?! WTF! And as if we'd get Cech.
Some real beauts on here.
Anthony Hawkins
28
Posted 29/12/2014 at 22:19:41
I've been calling for Howard's replacement for the last couple of years. Sadly, I don't think Cech is it. He's never been the same since his head injury (although I don't blame him)mandate he's been a lot less solid.
I don't know who the answer is but Howard needs to move on.
We need a new CB to compliment Stones as Jags isn't the answer although he is good. Personally I wouldn't do it at the expense of Coleman. If we're to move on up we need to keep hold of our best players and lose the bad wood.
Steve Chesters
29
Posted 29/12/2014 at 22:25:13
Who is Everton's goalkeeping coach ? Whoever he is he should be sacked.
We've had Robles for 18 months now, wouldn't you think that the coach might have mentioned to Roberto that this guy isn't up to it.

We should've kept Mucha he was decent when he played. If Martinez doesn't get a new goalie, this is getting serious.
Joe Clitherow
30
Posted 29/12/2014 at 22:27:13
Cech would cost the earth and is another aging player.
I would seriously test out if Stoke can keep Begovic
James Marshall
31
Posted 29/12/2014 at 22:28:57
Mucha was shite, absolute shite. At least Robles is young, and made a great save the other night - his problem (as is often the way with young keepers) is decision making and crosses......so not much to worry about there!
Sean Kelly
32
Posted 29/12/2014 at 22:28:52
I've been calling for Marshall for the last two years. Anyone who thinks Robles is a keeper is deluded. Can't catch / won't catch. The first thing a keeper needs to do is catch a fucking ball and this guy had a phobia about a football. We brought in a young keeper during the summer but maybe he's being kept for the championship.
James Marshall
33
Posted 29/12/2014 at 22:38:05
Keep calling, Sean. I'm ready to get the old gloves out any time mate! ;)
Gerry Quinn
34
Posted 29/12/2014 at 22:38:47
I bet Mignolet would come cheap!
Mark Dunford
35
Posted 29/12/2014 at 22:36:09
Nothing much to debate. We've needed a decent reserve keeper for a few years now and - at least - the transfer window is about to open. Time for action is today and a new signing is needed in the squad for the weekend. It doesn't really matter what we think of Robles, because if he is injured then we're in even deeper trouble.
Colin Gee
36
Posted 29/12/2014 at 22:47:35
Gerry #34 When he was a Sunderland I always thought he looked a decent goalie, but now he's been tainted by the dark side...
He does have a boss song though.
Raymond Fox
37
Posted 29/12/2014 at 22:32:33
We didn't get beat at Newcastle because of Robles, I thought he did ok, 1 fine stop and wasn't at fault with the goals for me.
The state were in at the moment does call for an experienced head not a lad that's hardly played this season!
We do need to spend in Jan though, another goalie on loan as a stop gap, a real quality midfielder which we need urgently, one that can find a forward pass, and a good in the air central defender.
Whether Martinez will get the cash is any ones guess.
Patrick Murphy
38
Posted 29/12/2014 at 22:52:22
I would have liked Tim Krul, but I'm not sure he has recovered from his injury as yet - but if Pardew leaves for Palace, it could be possible to lure him.
Callum McNab
39
Posted 29/12/2014 at 22:53:30
Mick Quirke, totally agree. Seamus is an outstanding defender( that's why Chelsea and Man Utd want him) but, if we got 㿅 mill, would you trust Bobby with it? Or do you honestly think Billy Liar and his cronies would give him all of the money?
We need to keep our best players, there's plenty of deadwood to get rid of, before we consider going near the likes of Seamus. Sadly, though, I do think he has been tapped, and will be off to United. It will be a Martin Keown moment all over again. Boy, did we regret selling that lad.
John Raftery
40
Posted 29/12/2014 at 22:51:59
Nice one Gerry (34)! Like Robles he can't kick a ball further than Gordon West could throw it!
Colin Glassar
41
Posted 29/12/2014 at 22:59:17
Alan Irvine sacked. Can we get him back as defensive coach? And big Nev as GK coach?
Peter Bell
42
Posted 29/12/2014 at 23:02:48
Colin, did you not know your hero George Wood is GK coach at Palace
Colin Glassar
43
Posted 29/12/2014 at 23:08:27
I thought he'd retired Peter. I'd love big Nev back to ruffle some feathers and to impart some of his genius to our goalies.
Paul Dark
44
Posted 29/12/2014 at 23:17:30
Robles is a terrible keeper.
If Ruddy doesn't cost too much, he'd be a good acquisition (in January).
Neil Pickering
45
Posted 29/12/2014 at 23:15:23
If Howard is out till February then we are well and truly in the shit! Robles looks like an outfield player who has had to go in goal.
He's the worst keeper I have seen at Everton, and I include Mucha and Wessels in that. We will never win another game whilst he is in goal, so we need to get out of there quick.
Maybe try Distin?
Paul Dark
46
Posted 29/12/2014 at 23:22:13
Col - Big Nev should have been our GK coach years and years ago. He is pure class,
Colin Glassar
47
Posted 29/12/2014 at 23:26:31
Pure class but too outspoken Paul. Diplomacy was never his strongest trait. That's why I'm a bit surprised by the other big man, Duncan Ferguson. I thought he'd be far more vocal on the sideline.
Ray Roche
48
Posted 29/12/2014 at 23:27:20
I always thought Michel Vorm was a decent keeper, he's yet to play for Spurs in the league this season.
Ken Williams
49
Posted 29/12/2014 at 23:33:53
I reckon Coleman will be gone in Jan, his head has been turned and I believe that is why he is playing within himself in case a picks up an injury, at least if he does go (not that I would want him too), we would have money in the kitty for a few decent buys...a new goalie for one....
Denver Daniels
50
Posted 29/12/2014 at 23:55:09
Stefan Wessels.....................
Danny Broderick
51
Posted 29/12/2014 at 23:44:02
On the subject of Big Nev, he said at a Q & A session a few years back that he had recommended the Welsh keeper Hennessey (who was at Wolves but is now Crystal Palace no.2) to Moyes. I'm not saying he's a world beater, but he has had a few good reviews playing for Wales of late and is not playing for Palace. He could be bought fairly cheaply, and would be an upgrade on Robles.
Gareth Fieldstead
53
Posted 30/12/2014 at 00:07:54
Neil (45) like an outfield player having to go in goal, love it! If we had money to spend would we trust Martinez to use it wisely?
Paul Dark
54
Posted 30/12/2014 at 00:17:02
Neil - 45 agreed re Robles.
McG is the worst player, let alone winger, I have ever seen at the club.
Kieran Riding
55
Posted 30/12/2014 at 00:33:51
As I posted earlier, we are actively trying to move Pienaar on. Maybe he could now be involved in any move for a new keeper as part of a deal.
Mark Frere
56
Posted 30/12/2014 at 00:29:57
Speaking of outfield players playing in goal, Lucas Radebe for Leeds Utd quite a few years ago now had to play stand in goalie for game and pulled off several outstanding saves, anyone remember?
Anyway, he's still only 45 years old... Not much older than some of our senior players. Maybe worth a shout?
Andy Crooks
57
Posted 30/12/2014 at 01:07:03
I don't think Robles deserves to be judged on his limited opportunities. He'll get a run in the team now and I hope he takes his chance. Good luck to him.
Steavey Buckley
58
Posted 30/12/2014 at 01:32:38
If a goal keeper does not know when to come out to catch the ball, he is not a goal keeper, but a volley ball player. I think Robles fits that description. I hope I am proved wrong, because the goal keeper is the No 1 most important position, as the the No 1 is printed, usually, on the goal keeper's jersey.
Phil Sammon
59
Posted 30/12/2014 at 02:55:39
Steavey
You do realise that the squad numbers are not directly indicative of a player's importance to the team?
Harold Matthews
60
Posted 30/12/2014 at 03:49:30
He's very comfortable with the ball at his feet.
Matt Traynor
61
Posted 30/12/2014 at 03:43:47
Neil #45, don't forget Baardsen!
Mark #56, I recall Niall Quinn going in goal for Man City, and saving the penalty that resulted in the 'keeper's sending off! Get him in, plus he's got experience of being Chairman, and selling the club - all those problems solved in one go!
Steven Telford
62
Posted 30/12/2014 at 05:56:07
I'd take a "Guy Fawkes" over Robles
Faster reactions for one thing.
Les Jones
64
Posted 30/12/2014 at 06:14:42
Robles is young and still learning at Premier League level. It's not really his fault he does not have that experience yet. John Ruddy only developed by playing at Norwich. Forster had to leave Newcastle to play and progress at Celtic, while Hart was loaned to Birmingham for a season, when they were in the Premier League, and Courtous as been playing at Athletico. Even are own great, big Nev started shaky, and was loaned out to gain more experience.
I am not suggesting Robles will be as good as any of them, and it may well be we have to buy a new keeper, but the club management past and present should have done a bit more to develop a good young keeper. Tim Howard as done a good job down the years, but as never known any serious competition for his place. I think we will just have to get behind Robles, thier will be mistakes, but he will get better. Getting on the lads back will do him and us no favours, after all are current league position as nothing to do with him.
Donald Neville
65
Posted 30/12/2014 at 06:31:45
Sell Pienaar, McGeady. Send Atsu back to Chelsea.
Bring in:
Lingaard (even if it's a loan) or Ruddy (permanently and sell Robles at seasons end). Get Ayew if you can in Jan or sign a pre contract for next year and loan in Janzuj for the time being.

At CB I like: Shawcross (won't be cheap). Reid is decent enough. Caulker is strong and is a decent tackler.
Sam Hoare
66
Posted 30/12/2014 at 07:18:48
People writing Robles off now have little patience. The guy has barely had two games in a row since he arrived. It takes a run of games.
Look at De Gea when he started, he couldn't catch a cold. Now he's maybe the best in the league.
Robles may turn out to be not up to it and the run that he will have now will give us much more evidence to judge him from than his isolated cup games.
Neil Pickering
67
Posted 30/12/2014 at 07:32:37
Sam #67 sorry mate but Joel doesn't cut it. Handling poor, positioning poor, command of area shocking. At least De Gea was a good shot stopper when he first arrived at Utd, but Joel isn't even that.

Like I said, he looks like he's an outfield player. He uses his feet to save most shots and sometimes he doesn't even dive for shots that fly in his net. The goal against Krasnodar is the single worst piece of goalkeeping I have ever seen from a professional.

Trust me on this one; I know a keeper coach who used to work at the club and he tells me what most of us already know- he's seriously seriously shit. The lad has 3 years left on his deal as well!
Sam Hoare
68
Posted 30/12/2014 at 08:05:30
Neil, he can't be that beyond hope if Martinez and the gk coach who worked with him for a year at Wigan bought him in. They obviously saw more of him than we have and rated him.
Remember quite a few on here being pleased because he had looked a talented keeper in wigans cup win. Personally I wanted Pantillimon from City on a free but Robles had shown some good moments.
He does look ropey as hell but so would a lot of players given so little time.
I suspect he won't recover here and will go on to be a decent Gk elsewhere, much like John Ruddy who many on here wrote off and now want back.
Paul Andrews
69
Posted 30/12/2014 at 08:36:59
Sam,
Very fair point re Robles and De Gea analogy.
Not saying he is in the class of De Gea but you are right De Gea struggled badly with crosses initially.
As you say they have worked with him for years so know his potential.
I would still look to bring in a new keeper,I see this possibly being Howard's last season
Ant Summers
70
Posted 30/12/2014 at 09:07:58
I think you are grasping at straws, even if he himself improves (I hope he does), severe lack of confidence and just not good enough players in front of him, his errors will be very much in the spotlight. Good luck to him, he will need it.
John Audsley
71
Posted 30/12/2014 at 09:07:04
To be honest Robles is first choice until Howard reclaims his seemingly god given right as our No1. Robles looked really good for Wigan but he had a hell of alot of saves to make with a bad back 4. Our defence is truly shocking so he is going to be a busy bloke. Kenwright wont spend a penny in the transfer window, he is the cheapest fat man on the planet.
Dave Lynch
72
Posted 30/12/2014 at 09:16:23
Dai Davies for me...
Dan Hollingworth
73
Posted 30/12/2014 at 09:19:04
Cech on loan for me, sure he wants game time could be win win for everyone.
Hopefully blue Bill can find the funds to throw that one together. I highly doubt it however, anyone know what Carlo Nash is up too these days?
James Byrne
74
Posted 30/12/2014 at 09:28:51
Thanks for the report, Ken - very wise advise for Roberto in your penultimate paragraph. The man would benefit greatly from the advice of Joe Royle in the current situation. First though he has to be wiling to take advice.
He must send a team out against Hull that has a "we won't be beaten today" attitude. That would be a start.
Ken, I have to question one part of your report. For our first goal I thought it was Eto'o who got clear of two markers and switched the play to McGeady who put Coleman through with a perfectly waited and directed pass. It was a beautiful goal.
I thought it only fair to mention this as McGeady has been clobbered for giving the ball away for their second goal and rightly so. And like Harold I am an Eto'o fan – play him as a striker consistently and he will score goals.
Up the Blues
Chris Fisher
75
Posted 30/12/2014 at 09:58:18
Sometimes I despair when I read comments on this website! Granted Seamus hasn't been at his best the last few games but suddenly we should sell him and take someone not good enough for a poor Man Utd team! Keeping our best players and getting better players to challenge and push them to get even better is what we should be doing. I thought we were no longer be selling club?
Anyway, with Howard out injured, this is our chance to sign a keeper to really push him for the goalkeeper position.
Oliver Molloy
76
Posted 30/12/2014 at 10:09:24
I am over the moon that Howard is out for a month (if true). He is more interested in selling his book than Everton, it seems to me.
Let us all get behind Robles rather than write him off.

Ian McDowell
77
Posted 30/12/2014 at 10:20:33
Just read on BBC out for up to 6 weeks.
Richard Lyons
78
Posted 30/12/2014 at 10:20:58
I have the perfect solution: try out McGeady in goal, and Robles on the right wing! They surely can't do any worse, and it would fit Bobby's players-out-of-position policy!
James Marshall
79
Posted 30/12/2014 at 10:30:16
Why do threads like this turn into Fantasy Football/Football Manager threads? We have a backup keeper - his name is Joel Robles, so suck it up and get on with it.
All this stuff about buying a new keeper? What planet are you all on? I don't mean to sound disrespectful, but you're living in fantasy-land if you think that Everton will buy a new keeper to cover the keeper that we have as cover for our keeper!
Why else do you think Martinez bought Robles? He's our number 2 keeper, now our number 1 keeper for a month or so, with Stanek as number 2. This is what will happen.
We won't buy Cech, or anyone else that you all think we should. This is reality, not your Playstation.
Richard Lyons
80
Posted 30/12/2014 at 10:39:48
McNulty sums up our season on the BBC website:
http://www.bbc.co.uk/sport/0/football/30613002
Spot on, if you ask me... I hope that BK & RM take note.
Neil Fitzsimons
81
Posted 30/12/2014 at 10:07:43
Alex Macarthy would be a great shout for a keeper, but this looks like the least of RM's problems. What on earth has happened in the last 12 months, I can't believe... We've gone from being able to mix it up and be a free flowing team with the ability to beat anyone on our day, to this season where we we can't beat the also-rans.
RM remains positive and unbowed refusing to mix it up anymore or making key decisive sub decisions during a game. Long ball pass stats from last season to this are halved and replaced with retaining possession around the 18-yard box with no out option, thus inviting pressure and costly mistakes.
RM must realise support is waning and the need to do something different is obvious to everyone bar him. I like RM and really want him to succeed but historically, the best managers succeed and keep their jobs because they have the tactical nouse (and extra cash of course) to know when to play a certain way and are flexible enough (not stubborn) to adapt. See Mourinho, Ferguson et al. The last managers I can think of at Everton who could get teams to play with passion either freely or digging in where Royle & Kendall, and Moyes on a few occasions.
The media and pressures are of course a lot more intense nowadays so time becomes limited. Please RM take heed of some of the more constructive comments as they represent the majority and we fear you will be out of a job if you continue not to compromise your footballing beliefs for wins. (See Wigan.)
Oh Yeah, final notes, Barkley needs to be played in his correct position and why does the club appear to be imploding with key staff leaving on a regular basis, Stubbs, Irvine, 2 key Medical staff, Communications Manager. Continued musings of RM losing the dressing room. (See Coleman's recent performances – Not in the know but looks like a player who's been told hes leaving.) Hope this is not the RM affect behind the scenes too.
First time poster so sorry for the long-winded rant.
James Byrne
82
Posted 30/12/2014 at 10:38:34
James #80
Good point but I think you might be missing the point of some of the threads.
From what most of us have seen Robles is awful. He deserves a chance but he's getting thrown into a defence that already leaks goals, every game. The cross that lead to the Cisse goal might be a good example - Robles should have been punching that ball at least to get it out of the box!
Sandra Bowen
83
Posted 30/12/2014 at 10:23:32
Saw a stat on TV that highlighted how poor Howard has been this year. Same attempts on our goal by opponents this season! however in comparison to last year, he's only saved 50% as opposed to 75% last season. Makes a big difference.
Oh, and the rest of the team have been shite too...the Chelsea game still annoys me thinking how poor he's been, he didn't make any glaring mistakes but he didn't actually save anything. Not one of their goals was a great finish or a worldy goal, he just didn't stop any shots. He was rubbish in the World Cup too, he still seems to be living off one game where all he did was his job, it was poor finishing and not great goalkeeping. The other games in the group we're not so good for him. Get back to basics Tim, stop the shots please.
Robles is not the answer. Nowhere near, I too have not seen as poor a keeper as him in many a year. Yes, he's only had a few games but by god he looks awful.
Nigel Rickman
84
Posted 30/12/2014 at 11:03:36
James, just looked at your link with Gary. Neville, isn't their goalkeeper coach from EFC?
Rahul Sreekumar
85
Posted 30/12/2014 at 10:48:29
For once Roberto did not outrightly deny if he would look to buy a keeper in January when asked during the pre-Hull press conference. Even though he teaches a class on diplomatic(read bull-shit) answers at Cambridge, I think there's a chance we might get a new pair of gloves in January.
It's either that or promote Griffiths & what's his name to first team. Because he absolutely couldn't say anything positive about Tim Howard getting injured or say once nice thing about Robles.
James Joseph
86
Posted 30/12/2014 at 11:07:42
Let's sign that reserve goalie from Man City........errr Dickie Wright, although he probably injured himself pulling a cracker on Christmas Day.
Lee Gorre
87
Posted 30/12/2014 at 11:23:46
Has anyone ever watched Robles in pre-match or at half time? Pre-match when the shooting practice starts he lets everyone go in and makes no attempt to save any. Half time he comes out with the GK coach and they pass the ball to each other, no actual goal keeping work involved.
That says a lot to me about the approach of the goalie coach and manager and the player himself. If it was me I'd be flying around saving shots and practicing the art of goalkeeping and showing the manager and fans what I can do, not fucking about.
That, his lack of basic goalkeeping technique and authority, and lack of any urgency in games he's played so far, is why I don't see him being up to it, but I would be amazed if anyone else was brought in during the window.
Allan Board
88
Posted 30/12/2014 at 11:29:16
Wow, out for 6 weeks, eh? Cant say I'm overly pissed at that, he could use the time to trim his comedy beard back! At least we won't now be thinking Albert Trotter is in the sticks!
Chris Gould
89
Posted 30/12/2014 at 11:29:21
At 35, Tim's reflexes are no longer what they were. He's relying on experience, but consistently making odd decisions. Robles should be in his physical prime, but he just doesn't have the ability.
We do need a new keeper, but won't get one. For us to buy a new keeper would require Martinez to admit that Robles isn't good enough. He won't do that. He doesn't make mistakes and his players are phenomenal. It must be other variables out of his control that make them look so shite.
Paul Smith
90
Posted 30/12/2014 at 11:39:36
RM "Tim being injured is a massive miss for us, I'm trying to think of a positive, but I'm struggling to think of one".
He can't rate poor Joel at all, he can normally see the positive in every adverse situation.
Patrick Murphy
91
Posted 30/12/2014 at 11:53:41
Paul - Surely he must have gone on to say that he has faith in Robles or something of that nature? If he didn't then perhaps that is significant in so much that he could be described as a micro-manager who examines everything on an individual basis rather than looking at the big picture and quantifying everything in the round.

Eric Holland
92
Posted 30/12/2014 at 11:51:24
Why Shawcross? the guy has worse ball playing skills than Jags – no way will he fit in to the Bobby way of total football. There must be better options than him out there!
Robles is going to play in goal for six weeks now, so let's get behind him and give the lad a chance. One thing's for sure – with our defense he will get plenty of opportunity to practice his shot-stopping ability!!
Paul Smith
93
Posted 30/12/2014 at 12:09:27
It was taken from the clubs official Twitter feed (164 characters) the full presser is on the official site or YouTube. I've not watched it all, so you might be right, Patrick. I guess micro-managing is OK as long as you realise the systemic nature of a team dynamic. Can he see it? Or does he work from that premiss? God knows.
Phil Walling
94
Posted 30/12/2014 at 12:10:16
Patrick, in the interview I've seen, Roberto said Robles soon settled in when he came on for Howard and 'did well' at Newcastle. He 'would have to decide whether to bring in cover'.
He concluded by saying it had been 'exciting to be stretched by so many competitions' and his job was to ensure 'that we get back to enjoying the games again.'
Paul Smith
95
Posted 30/12/2014 at 12:19:16
Phil, he hasn't looked too excited on the touch line over the last few games, he's looked concerned.
Richard Lyons
96
Posted 30/12/2014 at 12:25:08
He's looked concerned? What about us?? He can get sacked or walk away and still manage another club eventually... We're stuck!
Paul Smith
97
Posted 30/12/2014 at 12:33:33
Ok Richard, a slight understatement. He's looked lost. There's no room for sentiment in football, but I feel for him... still EFC comes first and if results don't improve soon he's gotta go!
Paul Smith
98
Posted 30/12/2014 at 12:47:15
That was meant to say improve btw
Ian Bennett
99
Posted 30/12/2014 at 12:36:48
A 'defence' with Robles, Distin, and Alcaraz is doomed. Tim isn't getting any younger, and won't get any better.
Time for a new keeper and centre half to stop the rot.
Michael Winstanley
100
Posted 30/12/2014 at 13:17:39
Excellent timing. Howard isn't the keeper he was and now Robles has the chance to stake his claim for the number one spot. If Robles isn't up to the task then a new keeper is priority during the summer.
I don't rate Howard or Robles if I'm honest but I'm looking forward to seeing how Robles does over the next few weeks, this is his big chance, hopefully he'll take it.
Phil Gardner
101
Posted 30/12/2014 at 13:14:08
not arsed about Bobo the Clown being injured until Feb. Personally I feel Feb 2016 would be better for the side. The guys's been a liability all season, the WC and adulation from Soccer USA has clearly gone to his head and then the tit makes a fool of himself over the Friedel saga. His distribution is shite as has been his non existent shot stopping. Let Robles play the six games...who knows, he may get some confidence and be the goalkeeper he looked like he was gonna be at Wigan. After all, with the gaggle of gobshites masquerading as a defence in front of him, the kid's gonna get plenty of opportunity to make a name for himself!
Gavin Johnson
102
Posted 30/12/2014 at 13:24:50
Good News
Richard Reeves
103
Posted 30/12/2014 at 13:13:39
I can't see how Griffiths would make more mistakes than Robbles even without having any first team experience. I would give the lad a chance, he could turn out to be a very good keeper.
He doesn't appear to be short on confidence from what I've seen in interviews which also would help him if called upon at such a young age and particularly for that position.
Gavin Johnson
104
Posted 30/12/2014 at 13:42:14
I hear Richard Wright's looking for a club... He would be a contender for first choice with our current crop of talent!
Mike Chambers
105
Posted 30/12/2014 at 13:41:55
Well said, Phil (#102),
Robles will either be an improvement on Howard or just the same. We need to spend on two full backs who can help the goalie out. We have other areas to spend on, plus we need to save for our new ground!
John Voigt
106
Posted 30/12/2014 at 13:29:01
Does Martinez realize he really needs to make a move for a goalie who needs to be a top flight Premier League keeper? We'll find out. Will be interested to see if a new keeper with sweeper/keeper skills is acquired.
I assume Everton will go cheap and bring in someone who isn't suited to the slow from the back system Martinez wants to play. It will keep with the managers incredible ability to either play players out of position or ask players to do things they aren't comfortable with.
Phil Walling
107
Posted 30/12/2014 at 14:14:41
I have a sneaky feeling we are about to realise how good a keeper is Tim Howard – even if he has been shite! (If you get my meaning!)
Paul Dark
108
Posted 30/12/2014 at 14:18:25
Phil, 108: I quite agree. TH being injured, if Robles is to play in his place, is a disaster. I'm not sure I've ever seen a goalie look less accomplished. We might have had the best and worst ever goalkeepers in the history of the English game.
John Francis
109
Posted 30/12/2014 at 14:18:27
I had a heart attack 13 years ago. I am 65 I wear glasses and have chronic arthritis, and I would be a upgrade on Robles
Steve Jenkins
110
Posted 30/12/2014 at 14:26:56
Agree with the keepers mentioned - we need someone as I fear for us with Robles as main man for 6 weeks.
David Marshall, John Ruddy or Ben Foster have all been muted.
Alex McCarthy is more likely at this point and is a quality keeper.
Cech on loan for 6 months, I'm sure Chelsea would let him come to us.
Marshall would be my long-term choice but more likely wouldn't be available until the summer.
Like others I wouldn't be against selling Coleman, if it meant being able to strengthen the squad overall - keeper, no nonsense CB & pacy wingers being top of the list.
We need some tough leaders in the team. CB for one and Besic needs to come in for Barry (but won't).
Kone has to start against Hull.

Tony Draper
111
Posted 30/12/2014 at 14:13:09
Lee G @88
I've watched Joel's prematch routine and half time workout's too and I'm equally unimpressed and pretty bewildered by the "Hoofball" antics.
In fairness, he's NOT the only keeper going through this weird scenario, because most weeks it seems that visiting keepers and coaches seem to do similar.
That doesn't alter my opinion of Joel, 'cos based upon the games when he has played, I have no confidence in him at all.
I'd secure John Ruddy without delay.
But the very idea of Shawcross as our CH? NO!
Eddie Dunn
112
Posted 30/12/2014 at 14:45:55
Phil 102, I love it "Gaggle of gobshites", I wonder if any of our defenders read these posts? It could explain the lack of confidence in the side.
Paul Andrews
113
Posted 30/12/2014 at 14:58:06
John Francis 110,
Bring your boots for 2pm.
٣ subs please.
Instalments accepted
Raymond Fox
114
Posted 30/12/2014 at 14:54:41
Jesus we have Phil and Paul in the space of 2 posts.
See you've not spoilt both your records of never having a good wood to say about anything Everton!
If you have, I must have been out of the country.
Which of the 3 goals was Robles fault at Newcastle?
Drew Shortis
115
Posted 30/12/2014 at 15:09:38
I'm not the biggest fan of Robles as he always looks nervy but this opportunity to play a run of games is just what he needs to boost his confidence and show what he can do. The defence needs to tighten up though as picking the ball out of his net three times versus Newcastle isn't going to boost his confidence, even if they weren't his fault. I wish him nothing but the best of luck!
Len Hawkins
116
Posted 30/12/2014 at 15:02:17
Christ... Worst Goalkeeper, worst defence, worst midfield, worst forwards, worst manager, worst backroom staff...
Can somebody from the club evaluate the stewards and turnstile operators before the club implodes.
Michael Kenrick
117
Posted 30/12/2014 at 15:15:39
Raymond, he made absolutely no attempt to save the third goal, he didn't even move. He wasn't up on his toes, ready to hurl himself across goal... nothing.

Paul Dark
118
Posted 30/12/2014 at 15:17:00
Tony, 112: I agree.
Personally, I would rather we got relegated than stooped to the low levels of Shawcross and Pulis. They really are the dregs. Cheating and thuggery have never been our way.
I would rather we lost as Everton (retaining our core values) than win as Man Utd, Chelsea, Liverpool, inter alia.
Will Firstbrook
119
Posted 30/12/2014 at 15:12:10
Quite certain there won't be a new keeper coming in Jan. BBS will run with Robles for the period Howard will be out. I would like to think we'll be looking for a potential #1 replacement in the summer as Howard has looked quite vulnerable this season. Though he's under contract until 2018 so I am not holding my breath!
Buckle up lads and take your nitroglycerin pills - going to be a roller coaster ride!
Raymond Fox
120
Posted 30/12/2014 at 15:18:31
Michael, I'm not saying he's a wonderful goalie, I am in favour of a more experienced keeper coming in.
I thought Colback scored the 3rd goal which went though his legs, which not uncommon.
He was wrong footed for the Perez goal and I couldn't blame him for that.
For me he wasn't at fault for any of goals, other players in our team were, Barkley most certainly.
Phil Walling
121
Posted 30/12/2014 at 15:40:07
Raymond, blame is not the issue but goalies like Courtois and DeGea actually stop some shots/headers like those and thus WIN matches for their team. They are worth their weight in gold.
Raymond Fox
122
Posted 30/12/2014 at 15:48:32
Phil, he did make one very good save + a few routine ones. Apart from when they scored, they didn't trouble our goal much at all.
I'm not trying to make out he's a super goalkeeper, but he's nowhere near as bad as you paint him!
Paul Andrews
123
Posted 30/12/2014 at 16:00:04
Phil,
That's why they cost more than their weight in gold.
Michael Kenrick
124
Posted 30/12/2014 at 16:03:26
Raymond, can you really in all honesty watch that second goal (you're right, it was Perez) and not think... "Hmm.. the goalie could have done a bit more to stop that." Like maybe flung himself in an effort to at least look like he was standing in goal for a reason?
It was nothing short of pathetic. Howard has looked bad at times but at least he makes an effort to stop shots. Being "wrongfooted" is a far too generous excuse for being caught totally flat-footed and immobile, and making no effort whatsoever to move his massive frame!
Paul Tran
125
Posted 30/12/2014 at 16:03:50
I'm with Phil on this one. Robles looks like a very poor keeper. Reluctant to catch a ball, seemingly reluctant to dive for a shot. Looks like he's sitting himself and appears to inspire no confidence in his defenders.
Never underestimate the worth of a good keeper. Big Nev won us plenty of points and remember what happened when he was injured and Mimms came in. I think we'd have won the league under Lee with a good keeper.
If it was my summer transfer budget, I'd have bought a top keeper and centre back rather than chuck it at Lukaku and said so at the time.
Paul Andrews
126
Posted 30/12/2014 at 16:11:49
To be fair I have seen the best goalkeeper I ever saw make no attempt to save shots or headers he knew he could not stop.Stood rooted to the spot.
Robles would not be my selection for keeper but in my opinion he had no chance of saving the second goal.
He will be our keeper for the next few weeks at least.
Let's get behind him
John Voigt
127
Posted 30/12/2014 at 15:56:30
There are goalies that are big difference makers. Courtois and DeGea are among the difference makers.
Cech is a pipe dream. He's on wages of 140,000 a week, which is twice as much as the top paid Everton players, plus Chelsea want to win silverware this season and it would look really stupid if something happened to Courtois and Cech wasn't available for Chelsea.
Everton should have been scouting goalies. I figure a goalie coming from a lesser league in Europe would cost a lot less than someone already in the Premier League. My guess is a goalie will be brought in and the goalie won't be a household name.
Phil Gardner
128
Posted 30/12/2014 at 17:36:46
Paul Tran....I thought I was the 'Phil' you were agreeing with when I read your second, third and fourth sentences....sounds like a pretty accurate description of 'Timmy Starshapes' this season if you ask me ....
Ray Roche
129
Posted 30/12/2014 at 17:54:51
Taliban Howard may not have been the best keeper we've ever had, and I realise by saying that that I am in pole position for the "Master Of The Understatement" award for 2014, but when you realise just how rank the Battalion Of Buffoons he's had scampering around if front of him have been is it any wonder?. You could get a better back four from Monkey World.
Tom Flower
130
Posted 30/12/2014 at 18:17:19
For me Robles could have done more for the first goal. The cross leading to the goal was in the 6 yard box and was there for punching. He looked very flat footed for the second. I also can't forget the goal in the recent Europa League game which was laughable.
I suspect however that having stuck his neck out to buy him RM will have to play him and in a funny way it may be the making of the lad and restore some peoples confidence in RM's judgment if it comes good. I really hope so. Or maybe I should go easy on the wine gums and sherry......
Phil Walling
131
Posted 30/12/2014 at 18:51:32
I don't agree with that statement, Ray. Yes, one or two of our players are showing their age but we have some real quality that is just being deployed wrongly. Thus, confusion reigns !
Mark Press
132
Posted 30/12/2014 at 19:06:40
Get Paul Robinson from Blackburn. Proven, reliable, top guy.he's out of contention at Ewood park. Send Robles out on loan.
Robinson is a bit old, I know, but I don't worry too much about age when we buy keepers. We bought Nigel Martyn when he was much older than Robinson, and he served us well for a number of years after he signed.
Colin Glassar
133
Posted 30/12/2014 at 19:57:37
I hope the Al-Habsi rumours are just an early April fools joke.
John Malone
134
Posted 30/12/2014 at 20:22:57
Victor Valdes! Free agent great goalie and can play football have a look at his five a side skills on YouTube.
Anthony Gee
136
Posted 30/12/2014 at 23:00:42
Listen, Robles is frighteningly bad positionally and confidence in the area. He's the worst I've seen and that includes Richard Wright and Paul Gerrard. The man is utter dog shit and whilst I don't think Howard is the greatest, he certainly instills me with more confidence than this geezer. I was on to him at Wigan and it was confirmed in the Krasnador game. Utter shite.
Tony Abrahams
137
Posted 30/12/2014 at 22:57:48
Colin, if Robles stays in goal, we could be in massive trouble by April Fools Day. Reading Martinez, in tomorrow's papers is slightly worrying though.
It's alright talking about being better, it's what everyone should strive to be. But I hope there was certain things lost in translation, because even if it might make sense, we are not living in an ideal world, are we?
Back to basics, "whatever that may mean", or a refusal to change. Total opposites, but which one will it be?
Brian Wilkinson
138
Posted 31/12/2014 at 09:59:00
we are up shit creek if Robles plays in the next 6 weeks as cover, whoever is the goalkeeping coach at Everton needs his p45 and a shared taxi out of Goodison with Robles.
For christ sake please bring a goalkeeper in and fast, I really do not think my ticker will stand up to 6 weeks of Robles in goal.
Ron Sear
139
Posted 31/12/2014 at 13:01:34
It all went wrong when Howard grew that beard. Make him shave it off (and make Lukaku grow his hair again). There you are, as sensible a suggestion as some we have seen. On the other hand perhaps the team need to get round a table and work out their own solution to this mess, in other words become a team again and not a bunch of individuals who seem at a loss. A good team that actually works will always cover for individual weaknesses and play to their strengths.
Anto Byrne
140
Posted 01/01/2015 at 02:17:40
Shawcross would be a backward step if we want defenders to play football. Both Stones and Garbutt with Jagielka and/or Alcaraz/Browning is the future. Perhaps an eye on some lower league talent is the order of the day.
A younger more athletic keeper is required. Howard is a stopper and has slowed down considerably. Maybe a long rest will do him good... 6-8 weeks especially as he has this World Cup hangover and has been poor this season or very inconsistent.
This window is an opportunity to start off-loading some of the deadwood. Moyes wants Pienaar so there is a start. I just read we are looking at Tim Cahill on loan. He is 35... I'm not sure that's a great idea. Bring him back as an inspirational coach or something to instil some fight and self belief?
We should beat Hull 2-0 by playing on the break. I reckon Hull will settle for a point and set up to hit on the break. Let's park the bus and see how they like it?
---
Add Your Comments
In order to post a comment, you need to be logged in as a registered user of the site.
Or Sign up as a ToffeeWeb Member — it's free, takes just a few minutes and will allow you to post your comments on articles and Talking Points submissions across the site.
© ToffeeWeb