"There's no panic but we're not happy"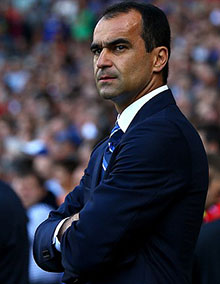 Roberto Martinez admits that confidence is low at Everton and that the team needs to work within itself to get back to winning ways after four consecutive defeats.
"I'll take responsibility," he said after the 2-0 defeat at Hull City condemned the Blues to a fifth successive loss away from home. "The reality is we are low on confidence and once a goal goes in, we're a completely different side.
"It's for us to start a new year by quickly turning things around. It's the time to start finding solutions.
"The only positive was the way we started the game. We were very bright. We were trying to find our momentum and it's disappointing to lose the first goal out of nothing and that hit our confidence and made it difficult from that point on."
Martinez acknowledged that the team's current problems can't be attributed to injuries alone and that there is enough talent in the ranks to turn things around.
"We know what we can achieve," he continued. "We started well and once we conceded the goal the confidence dropped enormously. We need to find solutions internally. The quicker we get back to winning, the quicker we'll get rid of that low confidence.
"This is a challenging time but we need to look forward to the second half of the season. But clearly the performance today, after letting the goal in, was not up to the standards we expect. There's no panic but we're not happy.
"As a football club we can never accept the run of results that we've had. We're a football club that will find solutions and we'll try to bounce back straight away."
Reader Comments (170)
Note: the following content is not moderated or vetted by the site owners at the time of submission. Comments are the responsibility of the poster. Disclaimer
Nicky Styles
1
Posted 01/01/2015 at 18:17:00
And if we do bounce back... it will be phenomenal.
David Flanagan
2
Posted 01/01/2015 at 18:22:11
Clueless...."we're not happy"....try playing people in position and work on defending and attacking as a team would be a start and get the players fit to work their bollocks off for 90 minutes like every team we play does.
Jamie Barlow
3
Posted 01/01/2015 at 18:25:53
We'll I'm fuckin panicking Roberto.
Kieran Riding
5
Posted 01/01/2015 at 18:28:30
Thank god for that. I was panicking for a moment.
Paul Ellam
7
Posted 01/01/2015 at 18:28:48
We have gone from the 5th best team in our country with the 3rd or 4th best defence and a free scoring attack to what we are now. And all with the same players too. Now that is some feat by the manager!
The only reason that explains it for me is that he has lost the dressing room, in which case, we may as well look for alternatives.
Daniel A Johnson
8
Posted 01/01/2015 at 18:31:09
Teams we face Roberto are organised, well drilled, tactically aware and willing to put the effort in. Everything were not
David Barks
9
Posted 01/01/2015 at 18:36:58
Watching Spurs play right now and every pass is forward, or the player receiving the pass immediately turns toward the opposing goal. Players dribbling into the box making the defense uncomfortable. It's really not complicated is it?
James Hughes
10
Posted 01/01/2015 at 18:38:53
Take away the 'no panic' part and Roberto sums up the average fan's mood at present. In fact... bewildered would be better.
Karl Parsons
11
Posted 01/01/2015 at 18:40:17
The worst part to all this is how easily the Manager accepts defeat. This complacency has spread right thru the team.
Andy Crooks
12
Posted 01/01/2015 at 18:31:23
Why does he come across as such a bumbling, bewildered , half wit? Insipid, uninspiring , toe curling nonsense is what he is the master of. How can this fool possibly motivate anyone? Did anybody expect a half time team talk today that would win us the game? He offers nothing but platitudes and should apologize for patronising the good folk who have followed his awful side around the country. Those supporters put the hired hands in blue shirts to shame.
Colin Leary
15
Posted 01/01/2015 at 18:46:26
BK said the first thing RM said he was getting us in the Champions League... I think he miss heard him and he said the Championship!
Bin him now and get Alan Irvine in. He didn't have the squad at WBA like we have.
Patrick Murphy
16
Posted 01/01/2015 at 18:55:15
Karl #11 I think that is certainly a trait he has shown and its not acceptable at Everton FC, we can tolerate most things but getting used to losing is not what we expect even if we can't win every week.
Amit Vithlani
17
Posted 01/01/2015 at 18:49:57
Roberto will never shy away from speaking to the media. Part of me thinks this is an admirable quality as he is fronting up but once the corporate speak pours forth he sounds more like a PR man rather than a PL manager. At a time when brutal arse kicking and plain speaking is necessary, the bloke may be failing to get across to the players what these "internal solutions" are.
Martin O\Sullivan
18
Posted 01/01/2015 at 18:57:51
One game to many now!!! Reality is we are looking at just surviving the league, and I can't see us getting 40 points to be honest !!! We have pretty much had a return of one point a game, so with 18 games left and based on our points return so far we are not getting 40!!! Already the panic is setting in!!! So if we are going to get rid we need to do it now so the new manager has January to maybe get some bodies in and get the dead wood out!!! Starting with Alcaraz and Robles!!!!
Bill Gall
19
Posted 01/01/2015 at 19:05:36
If the Spurs game stays the same god help us when Man City comes to goodison with the chance of going top.
Ant Summers
20
Posted 01/01/2015 at 19:04:14
I would like to know when we are to panic. Sounds like Corporal Jones in Dad's Army.
In my opinion, he should take the honorable way out, but we know money talks, and he will get a pretty penny for being sacked.
Phil Rodgers
21
Posted 01/01/2015 at 19:02:39
Couldn't agree more Karl. Its devastating how complacent we are becoming.
I'm certain he's lost the players now, the players look disinterested and disorganized. Once the rot sets in its nigh on impossible to turn it round.
James Stewart
22
Posted 01/01/2015 at 19:07:21
We won't make 40 points with him in charge. Act now or relegation will happen which is unthinkable considering the squad he's got. Shameful tactics and performances deserves the sack.
Daniel A Johnson
23
Posted 01/01/2015 at 19:10:29
If players want rid of a manager they stop playing, look at Moyes at Utd. Looks like our first team are showing what they think of Roberto Martinez on the pitch!
Colin Leary
24
Posted 01/01/2015 at 19:10:44
I think we need to get a new manager now while we have enough games to save our Premier League place. We backed him but he has failed. In my my job, you are measured by your results, month in & month out.
Paul Dark
25
Posted 01/01/2015 at 19:22:15
It was a poor interview again: so much flannel. He's a wordsmith in all the negative senses of the word.
Eric Fogg
26
Posted 01/01/2015 at 19:20:24
Daniel A Johnson — Absolutely spot on why would so many internationals play so bad. I think they will play for themselves on Tuesday and we will win.

Rob Dolby
27
Posted 01/01/2015 at 19:09:05
I know the manager carries the can in times like this but I can't look beyond how much each player is under-performing compared to last season.
Each and every one of them needs to have a serious word with themselves. Have we got anyone who is in any sort of form. Have we got anyone who is showing any sign of passion. Roberto has got January to find a couple of players who will do the ugly stuff and stand up for themselves I am fed up of being out fought in every match otherwise the same players are going to get him the sack.
Colin Grierson
28
Posted 01/01/2015 at 19:19:28
If the players stop playing for the manager then they can get to fuck aswell. They don't have the right to stop playing. They need to find a way to win on the pitch cos all I can see is a bunch of overrated lazy twats just picking up their wages. There are lots of players who at present are not fit to wear the shirt.
It's never just the managers fault, they're just as responsible for the dross being served up. Simply white!
Colin Grierson
29
Posted 01/01/2015 at 19:31:08
Tuck in predictive text is simply white too!
Howard Parr
31
Posted 01/01/2015 at 19:13:52
I feel physically sick.
Yes I'm panicking – and losing sleep. Can't see where next point is coming from...I'm not into knee-jerk sackings, but it feels like its do or die for us now. After a poor to middling start to the season, but topping the EL – I didn't see this coming with such destructive speed.

I still say dominating games/possession is not a bad thing – but 66% possession and just 1 cross from open play (just before 1st goal) means he just doesn't get it!

We know we haven't much cash – so cant afford to let RM spend any whilst he looks shot. Ergo – we need a new manager. A new leader. JR/Dunc as caretakers not a bad shout.

NSNO!
Cathal Carroll
32
Posted 01/01/2015 at 19:19:05
It think Bill needs to grow a pair... Liverpool may have all the trophies but Everton are the heart and sole of the city, a wise man quoted. We need that heart and sole back. Only one guy fits that ......Big Duncan bring back Stubbs from Hibs or I would like Alan Irvine back as No 2. I hear he's available?
Iain Love
33
Posted 01/01/2015 at 19:33:39
Mate was short for a game and asked me to play , turned up and it was a load of young lads in their early 20s [ i'm mid 50s ] , kicked off and I was quite impressed by the level of skill some of these young lads had. Went 2-0 up happy enough , but we where trying to play it out of defense and the other team started pressing high and caught us out 2-5 down , fuck this I thought and went long , the other team got caught out by the change in tactics 7-5 final result.
Fucking simple.
Ant Summers
34
Posted 01/01/2015 at 19:38:02
No panic... Man City, West Brom, Crystal Palace, Liverpool and Chelsea. Our next 5 games, two going for the title, two with new managers who grind out results, and our greatest adversaries. 15 points on offer... the way we are playing, we will be very very lucky to get 6. That would be 25 played, and 27 points, should we panic then?
All I am thinking is it's not going to be a happy January and February with Martinez in charge.
Jim Bennings
35
Posted 01/01/2015 at 19:38:26
Agree that the shameful players need an absolute twatting too..
Martinez has totally lost it in every sense of the word, I have to agree with that now but I'm disgusted if I think there are players out there not pulling their weight if they want the manager sacked, no matter who they are, if this is the case then I want them out of my club tomorrow.
I read at a interview with a Man United player saying how they weren't doing it for Moyes and wanted him gone... cunts.!
Martinez will be gone by the end of January if we are still in the sane boat because it's not getting any better at the start of February with the Redshite and Chelsea away back to back.
I'm just so gutted at so much this season.
As someone says the results are bad enough but you cannot enough console yourself that were are playing well and losing, because we are NOT.
We got hammered out of site today just as we did at Southampton and at Newcastle, let's be honest that was closer to a 4-1 at times than a 3-2.
When we go behind you just invariably know the game is gone, only two draws have we saved from games we have been behind in (and let's be honest we've been behind in a lot)
We have squandered away so many games due to errors that I'd be embarrassed to see in a school playground.
If we are talking about shifting deadwood then take a look at this list...
Howard
Hibbert
Pienaar
Distin
Gibson
Barry
Osman
McGeady
Alcaraz
Robles
How can any of these still be here this time next year?
What are they possibly going to offer next season when they can't even offer anything now?
Your looking at half a squad there and maybe you could even include the likes of Eto'o who in another 6 month's will be even further down the line in his career.
Jagielka will be another year older and slower, more prone to injury.
Then you have the likes of Lukaku, I mean what do you with a guy you paid 28 million quid for but has basically been outperformed by a QPR striker who a few years ago was a brickie? (Charlie Austin)
This Everton team is in for a major major transition over the next few season's.
Ian Burns
36
Posted 01/01/2015 at 19:53:21
Rob Dolby 27 - if the players are not performing it is the responsibility and the fault of the manager - he has the power to make the changes, he has the power to motivate the players. This man has lost the plot.
I have been saying on TW for some time that this man is out of his depth and every game that goes by, proves this to be fact and his delusional utterances are a total embarrassment.
If he is given January, it will only serve to put this great club I have supported for 60 years into grave danger of going down and only one person is responsible for that - RM should go NOW, not given January to "put it right with a couple of signings" - he hasn't got the ability to turn this around, he should go without delay.
Minik Hansen
37
Posted 01/01/2015 at 19:41:38
Look at Dortmund, struggling far worse than us, even though they're favourites. I was hoping Klopp had turned their bad run recently to show that Roberto needs to be given a chance... Time to shop quality in January.
David Flanagan
38
Posted 01/01/2015 at 19:55:42
He needs to scrap his football philosophy and get back to basics otherwise we're doomed. For a so-called attacking team, we create very little and don't work the goalies enough so how does he justify his tactics? We've failed to score in 3 of the last 4 and could play all day and still nothing doing...
David Midgley
39
Posted 01/01/2015 at 19:47:30
Over the years I have been in jobs where I didn't like the boss and sometimes vice versa. However ,no matter how bad I felt about the situation I always worked to the best of my ability. It would be harmful to the company,and personal pride would not let it be any other way. Maybe they don't like the manager or the tactics but you can still run,shoot and more especially try !!!
Some of these players should be ashamed of themselves from a professional and a personal level.
Don't they have any self esteem?
Patrick Murphy
40
Posted 01/01/2015 at 19:56:16
I agree there are quite a few players on the staff that probably shouldn't be, but we are stuck with them until their contracts end or they move on. The only players that will possibly move on in this window are the better players and that isn't going to help our situation one bit. Seeing as RM hasn't been able to rescue the situation up to this point the only chance Everton have to rescue anything positive from the season is to change the manager and back-room staff.
I don't agree with players not giving their all for the club but it has most definitely happened on more than one occasion this season and there are no signs of improvement in fact things are beginning to look worse after each game is concluded. Bill will have to make a statement sooner or later and either back or sack the manager - it's his decision to make, I just hope he bases that decision on football and not on other things.
When I read that a supporter who has travelled to an away game has left the stadium with eighteen minutes to play that says there is something far more wrong than just losing matches.

John Audsley
41
Posted 01/01/2015 at 19:59:14
When your winning you can come out with whatever shit you want.
When your one a terrible run like we are you simply cannot do that and have any credibility left
Its been the same level of performance for ages and this was the worst by far
He has lost it, seemingly lost the players which is shameful and doesn't seem to see all the problems that 99% of the fans see.
Kenwright wont sack him and we will finish between 10th and 14th if we are lucky
Its been utter bollocks on and off the field this season
I'm thoroughly ashamed of the the playing staff and the clueless manager
Supported this club for 32 years and seen some fucking dark times but when I read shite like this it makes my blood boil
FUCKING SET OF IDIOTS or plant pots as my Evertonian Granddad Jim would have said
Terry Downes
42
Posted 01/01/2015 at 20:04:57
Have I missed something here because I don't understand all this the players don't want to play for Martinez?
Why wouldn't they?
Last year they all loved him. So what's happened to change it???
Phil Walling
43
Posted 01/01/2015 at 19:59:05
Jim Benning @37; I posted a very similar list yesterday and questioned how we could possibly hope to shift players some of whom are on long, ultra generous contracts.
I never, ever, thought I would say this but the only way to sort out the mess is by appointing a tough, unsentimental bastard who has been round the block and knows what HAS to be done.
After two hours of thought, the only name I came up with was Rafa Benitez. God forgive me !
John Keating
44
Posted 01/01/2015 at 20:07:03
Thank God we had more possession than Hull not sure on the passes though
We really need to improve on our throw ins as sometimes the opposition get first touch
Sorry what was the result?
Who's interested?
As long as our manager is happy with our style of play who cares about results
Might I suggest we fuck Martinez off by the morning and get Peter Reid in until the end of the season

Dave Abrahams
45
Posted 01/01/2015 at 20:05:44
Patrick (40), it's not something new they have been leaving in droves throughout the season even when we have been winning, as the team's performances have mostly been dire.
However I agree with you they must really stink if the fans are leaving with nearly twenty minutes to go.My sons and grandsons go to most of the away games and that is what riles me, to see them spend time and money and not get the effort out of the team that they have every right to feel entitled to.
The manager, players and everyone connected to the club should feel ashamed of this lack of effort by all concerned.
Mark Wild
46
Posted 01/01/2015 at 20:03:33
It seems clear to me that we were successful last season because we had previously had a manager whose philosophy was first 'don't lose' then second 'win'. Consequently, Moyes's strength was defence and discipline but weakness was knowing when to take risks and play expansive football.
We then take on Manager at the opposite end of the spectrum, comfortable with risk and it works. It works because we have a good grounding and discipline. We also had David Weir and Alan Stubbs, two Evertonians, strong leaders and defence-minded. It is no surprise to me that the lose of these two influential characters culminates in a team both defensively naive and lacking in character. Have they been replaced and if so who by?
As an Evertonian, I am confused. If we hadn't achieved the results of last year is be saying enough is enough and let's try and get Moyes back as I see no other candidate in the market of adequate standard. Do we take the risk and give him to the end of the season? Where are our next points coming? We have had bad patches in the past and worked through them. However this to me feels different. I lack the deep down sense of feeling we will ride through it. I can't help thinking this is how Wigan demised and but for the grace of some poor sides we are down. If we were to replace, who could lead us forward?
Ian Burns
47
Posted 01/01/2015 at 20:15:07
Phil 43 - I feel for you having to spend 2 hours to think of a name to replace this clown - but what about Poyet; Dyche; Howe; McClaren and even Stubbs/Dunc - at least they know the heart of this club and how it ticks!
I am so frustrated at the thought of this man taking this club down - and those who think it won't happen because there are clubs below us who won't catch us - think again - look at the managers of those clubs, they will be licking their lips at the thought of 3 points off EFC right now.
Mark Fitzgerald
48
Posted 01/01/2015 at 20:06:22
When I first heard the calls for RM to be replaced I ignored them as overreactions. But now even loyal fans are having their patience tested. It's not just the defeats that hurt, it's the manner of them. As has been stated here already, one of the best defences in the league is now a shambles. We appear toothless up front. And trying to figure out our (Roberto's) style of play is like picking up a Rubik's cube for the first time. Every single team must now view us a soft fixture. I do think it's fair to say that we have not performed at all this season. Even the Europa Cup run has flattered us. Season seems over for us already. Can't believe that there is a real chance of a relegation battle. The only excuse I can accept is injuries to key players. But that has only highlighted how poor some of our squad players actually are. Major surgery required, and soon. Certainly on the field and looking more and more likely off the field also.
Dave Lynch
49
Posted 01/01/2015 at 20:21:06
I would take Raffa in a fucking heartbeat over this surrender monkey.
Bet he would snap BKs hand off as well.
John Audsley
50
Posted 01/01/2015 at 20:25:41
Royle with support from Ferguson/Sheedy and whoever he wants for the rest of the season,
Sack all the seemingly useless backroom staff.
Martinez cannot turn this around as it would mean changing his principles and philosophy on the game
Brent Stephens
51
Posted 01/01/2015 at 20:23:50
I'm at a loss as to why we get sucked into the crowded middle when there is space on the wings (and there was, plenty of times today); and why when we do have it out on the wing, we don't cross the damn thing; and when we do cross it, there are so few bodies in the box.
Can't be having with losing possession, can we.
Andrew Yates
52
Posted 01/01/2015 at 20:27:12
I was born in 1983, I effectively 'missed' the glory years, my memories of seeing Everton are firmly rooted in the mid-90's to the present day. I lived in Hertfordshire so not many opportunities to see them on a regular basis.
What games I did see were, abysmal defeats to teams like QPR & Spurs, the odd draw against Villa or West Ham, really difficult to watch stuff, obviously under Moyes we stabilised and became difficult to beat.
I was at the Hull game today (in the Main Stand) with Father-in-Law and a friend, what I witnessed to today was nothing short of disgraceful, shambolic, blah, blah, blah.
The team has no leader (I love Jags but he has no leadership), no organization, we set up with Alcaraz, Jags and Barry with Coleman and Baines pushed on and the rest sort of in the middle somewhere. Any team that makes TWO changes at half time with no sign of injuries to players speaks volumes, then we find Naismith in holding role with Baines, Alcaraz was always going to be sent off, give away a penalty or score an own goal, Robles well................
How Martinez can stand there and watch it and not do anything beggers belief, at no point did I see one sub warming up, so there was never any intention of changing things.
We looked like amateurs pretending to be Premiership players, on at least 3 occasions we had a free kick where you would normally loft it into the box and create chance, every one was passed back to Jags who then passed it back to Barry poorly and then we lost possession, throw ins were the same and corners, hahahahahahh didn't beat the 1st man once.
In short, on that performance, we are relegation fodder. I couldn't argue with my companions because I couldn't defend our performance, at least if we had tried then you can say we had a go but the better team won, we didn't try, we didn't even look like trying, we are actually in the poorest state of disrepair I have ever seen in my opinion and it hurts like hell.
Colin Glassar
53
Posted 01/01/2015 at 20:32:39
I saw a tweet earlier on from a highly respected source saying "two bad apples have poisoned the atmosphere in the changing room against Martinez". He didn't say one or two, just a definite two. I wonder who they are?
John Audsley
54
Posted 01/01/2015 at 20:44:35
Interesting, Colin,
Sadly it's a guessing game but we definitely have a very unhappy dressing room. The bench today looked like a morgue.
Brent Stephens
55
Posted 01/01/2015 at 20:44:37
Colin, as it would need to be somebody with the confidence or arrogance or whatever to stir things, then Mirallas would be one guess.
Ian Burns
56
Posted 01/01/2015 at 20:44:02
Colin 53 - whoever they are, they should be made captain and vice captain.
Mark Wild
57
Posted 01/01/2015 at 20:39:56
We are playing a system with a key focus on getting onto the wings. We have one consistent winger, Mirallas. Atsu hasn't been up to it, McGeady far to inconsistent and Pienaar now looks far past his best when not injured. We have no other wingers.
I saw a stat showing we had made the fewest crosses into the box than any other team this season. Baines made the most crosses of any player in the league last season. Another key reason for our lack of goals.
Patrick Murphy
58
Posted 01/01/2015 at 20:44:29
Colin - I would guess that one was a Frenchman who doubles up as a milkman and the other would have to be part of the previous regime I suppose - can't see it being a player that RM purchased.
Ian McDowell
59
Posted 01/01/2015 at 20:45:36
Colin, I heard some rumours about that myself. Something is obviously very wrong. No idea who the 2 players could be.
Mark Tanton
60
Posted 01/01/2015 at 20:50:31
If this is the case then it's a clear challenge to Martinez's authority. What will be do about it?
John Keating
61
Posted 01/01/2015 at 20:51:30
Colin,
I'm surprised there's only 2!!
Anyone with a modicum of sense – including the dog – would realise this clown's ideas are shite.
Colin Glassar
62
Posted 01/01/2015 at 20:53:23
Lots of comments about RM losing the players trust, disagreements, unhappiness in the squad, confusion etc... We all saw what happened to OFM at OT when his senior players turned on him. Will Martinez let the same happen to him? He should read Animal Farm.
Ian McDowell
63
Posted 01/01/2015 at 20:53:32
A while ago Martinez and Distin were rumoured to have had a falling out. Two weeks ago Jags and the coaching staff where rumoured to have had a blazing row. Very sad indeed if all these rumours about dressing room unrest are true.
Guy Hastings
64
Posted 01/01/2015 at 20:53:46
'Poisoned the dressing room' or had the balls to say enough is enough?
David Hallwood
65
Posted 01/01/2015 at 20:56:49
Come on Colin Glassar(#53) you can do better than that, as your sources are usually bang on....tell us more.
Adam Luszniak
66
Posted 01/01/2015 at 20:45:28
Have skim read most of the responses on this thread. Respect the opinion of anyone who is willing to give theirs, but wonder if there is anyone on TW who doesn't want Martinez gone?
I know our results and performances have been way way below what we would regard as a minimum, but I still feel that Martinez deserves the benefit of the doubt. Before everyone points out all his failures, I'm aware of them, having watched the recent games like the rest of us.
Personally I prefer to hope the man can turn it around, given what he achieved last season, rather than scream for his head. I'm also not sold on the argument that says the only reason we were so effective last season is because the ghost of David Moyes lingered in the dressing room, inspiring the kind of defensive solidity which has recently deserted us.
Doesn't the highest ever PL points tally mean Martinez deserves more time?
Brent Stephens
67
Posted 01/01/2015 at 21:01:40
Ian #63 "Very sad indeed if all these rumours about dressing room unrest are true."
Or maybe our saving grace if enough cojones are shown?
Colin Glassar
68
Posted 01/01/2015 at 21:01:55
Not necessarily David, before KO this afternoon I was told Garbutt was out due to a knee injury (which I promptly printed) only to find out that he'd been dropped due to his exposure in the press of certain things.
From now on, unless I'm 110% sure, I'm keeping my mouth shut.
ps: Oviedo only got a go today because Garbutt wasn't included. He's another one in the doghouse.
Ian McDowell
69
Posted 01/01/2015 at 21:04:29
Adam, I have vented frustration at games recently but deep down I don't want Martinez gone (just yet).
Ian Burns
70
Posted 01/01/2015 at 21:04:39
Adam 66 - there is no doubt many on TW would like him to stay and turn things around. It is the nature of the debate. I am not one of them and if I ever needed convincing it was Garbutt's comments (out of mouth of babes?), which convinced me that what I was seeing on the field is borne of a man who has lost the plot - if he ever had one.
Tony Twist
71
Posted 01/01/2015 at 21:00:26
If we are going to do things properly then stay away from the Stubbs, JRs and Fergusons of this world and go for Slaven Bilic. He knows the place, he has plenty of experience, he sets his team to go out and beat the opposition, takes each game as it comes and he's an ex defender so should know how to stop us defending so badly. He is also, I would think, a respected name and would stand more chance of attracting more quality players to the club.
Ian McDowell
72
Posted 01/01/2015 at 21:08:22
Anyone know what Garbutt said to the press?
Jon Withey
73
Posted 01/01/2015 at 21:01:40
Is this the dressing room whose fantastic spirit we don't want to change with new signings ?
Historically Eto'o seems most likely. Pienaar and Distin probably have best reason not to be his biggest fan.
I'm not a big fan of player-power at clubs. Equally I'm not a big fan of gutless performances.
Manager has to take responsibility for all of it I'm afraid, that's the job.
Adam Luszniak
74
Posted 01/01/2015 at 21:08:43
Ian 70, I appreciate it's the nature of the debate. I ask because there was a great deal of animosity towards Martinez on the live forum today, much of which was understandable. That said, I'm intrigued to know whether people would actually get shut now if possible, or are simply venting at seeing us perform so badly. Maybe there will be a ToffeeWeb pol?
Colin Glassar
75
Posted 01/01/2015 at 21:07:13
Adam, I'm with you but time is running out. I think he has the potential to go to the very top in the game but he has to start being ruthless with certain players.
I look at AVB and how quick Chelsea and Spurs were to get rid of him. His reputation was in tatters at such an early age but the guy has resurrected his career in the USSR and I bet one or two of the big clubs in Europe are keeping an eye on him.
I'd hate it if Martinez was forced out now only to prove us all wrong further down the line. But, like I said, he needs to turn this around NOW!!!
Ian McDowell
76
Posted 01/01/2015 at 21:12:56
I think during the live forum whilst watching the game people (myself included) tend to become too emotional.
Bob Martin
77
Posted 01/01/2015 at 21:05:07
Adam (66) I'm with you – count me in... although we need improvement fast..
John Audsley
78
Posted 01/01/2015 at 21:14:28
If its from March then it cannot be Eto'o but god did he looked fucked off on the bench
He should have come on for Kone after 60 minutes and if you sign a finisher play him up front!!!
I can make a guess who I think it is but its pointless really
Really sad state of affairs at EFC
Craig Mills
79
Posted 01/01/2015 at 21:06:01
I can tell you for sure one player is Distin, I would guess the other is Oviedo. I know both have no time for Martinez and the feeling is mutual.
Before anyone asks, that's from a first team member's dad I know...
Mike Hughes
80
Posted 01/01/2015 at 21:20:07
From the BBC website half an hour ago.
More vows to improve.
Sadly sounding increasingly thin (and desperate).
http://www.bbc.co.uk/sport/0/football/30653588
Peter Bell
81
Posted 01/01/2015 at 21:17:05
Tony @71
Can you please explain to me how Bilic "knows the place"?
He played a handful of games, was always injured and lasted a handful of months.

Adam Luszniak
82
Posted 01/01/2015 at 21:15:07
Colin all of us want to see an immediate upturn in form. Personally I'm not sure dropping the manager at the first sign of trouble is the answer.
I don't believe he is a clueless idiot as many state. If so, he is the first clueless idiot I've ever seen set us up to out play Arsenal, for example.
I guess only time will tell. Clearly his defensive record at Wigan was very poor, something we were all worried about when he took over I imagine. If he doesn't sort it out, I will be happy to see him go. I'm not worried about how he comes across or what he says to the press. It may be annoying but it's not critical in my opinion.
John Gee
83
Posted 01/01/2015 at 21:16:52
If Martinez has fallen out with 2 players it's probably over selection, tactics, preparation or all three. He should listen to those criticisms and take them on board. Then get rid of those same dissenters. Agitating a dressing room is not on, no matter what they think their standing is. Fergus was right to do the same with Keane, Stam and whoever else. The team comes first.
Having said that, his days were numbered after the Southampton capitulation. He's had half a season to figure out that twating around at the back doesn't work for us and he still hasn't learned his lesson.
But please don't replace him with Stubbs. He seems so thick that it borders on a disability.
Adam Luszniak
84
Posted 01/01/2015 at 21:23:18
Craig Mills, which first team member's dad?
Colin Glassar
85
Posted 01/01/2015 at 21:23:25
Peter I think Tony meant Bilic would know his way to the physio's room not sure about anything else.
Dick Fearon
86
Posted 01/01/2015 at 21:23:55
I think he is beginning at last to glimpse the fuck up he has created.
Brent Stephens
87
Posted 01/01/2015 at 21:26:24
Adam - Baines' dad was mentioned on Live Forum.
Ian Burns
88
Posted 01/01/2015 at 21:23:19
Adam 82 - you are obviously a fair thinking man but may I put a different point to you? This is not the first sign of trouble, it started last season against Arsenal, continued with the debacle of a pre-season and as a result of his inept managerial skills and his lack of tactical awareness and I come back to Garbutt's alarming comment, we are now sliding inexorably towards the Championship.
Do we have to drop into the bottom three before the penny drops! I am of the firm belief that enough is enough and he should go now before it is too late.
Patrick Murphy
89
Posted 01/01/2015 at 21:28:43
Ian - the commentator on my link for today's game also mentioned that RM had changed his team formation when he saw who Hull had in their line-up which I would have thought is a strange thing to do close to kick-off but perhaps the commentator got it wrong.

Mark Wild
90
Posted 01/01/2015 at 21:27:05
If two players have turned the dressing room then Martinez has man management issues. If he is to be the best he needs to learn from ferguson (the whisky noses one). He has managed a multitude of awkward egos and large squads and still consistently managed performance. I do not buy this as an excuse. I still feel the lose of Stubbs, Weir and I suppose Irvine is now reaping results.....the wrong ones.
Jay Woods
91
Posted 01/01/2015 at 21:17:18
This is Everton, 9 times English champions and winners of the European Cup Winners Cup. Current performances and indeed, attitudes or dare I say it, the club's culture, are utterly detached from (and unworthy of) that wonderful heritage.
Now, we can blame the chairman or the players, but the person most directly responsible for the here-and-now on-field activities is the manager. If he has lost the dressing room, that may indeed be a shame on the players; but in effect, it is an even greater shame on the manager.
Did he not embarrass the club through his misuse of FIFA credentials during the World Cup? Did he not fail the club again by an absolute farce of a pre-season that saw players start the campaign lacking proper fitness? And hasn't he repeatedly embarrassed us with absurd rose-tinted views of shambolic performances or talking up our players ("I would pay 𧴜 million for Lukaku")?
Sure, none of those things in isolation should be sackable offences. But they paint a trend, a vector, if you will, that shows an absence of good judgement in matters most central to his profession, and the players see it. He's therefore a liability who needs to go before the club gets sucked into a relegation melee.
Adam Luszniak
92
Posted 01/01/2015 at 21:29:13
Ian Burns, perhaps you're right, I guess everyone has a different limit for when enough is enough. I would also agree that it seems like the rot started at the end of last season.
What I would say is that I would like to see Everton managers given time to implement their plan. I am a firm believer that Martinez did not achieve what he did last season by luck, therefore I am willing to give him until closer to the end of the season. I don't think we will be relegated.
Ian Burns
93
Posted 01/01/2015 at 21:35:01
Adam, we agree to differ - I only hope you are the one who is right!
Steve Lindley
94
Posted 01/01/2015 at 21:20:57
Discontent in the ranks AND a January transfer window pending . How many itchy feet in our squad? These boys play for money... not the loyalty for a club. Life is too short for todays top players.
So farewell to Bainsey, Ross and Seamus and then the inevitable drop of doom with a Wigan vs Everton fixture next season. WTF.
Craig Mills
95
Posted 01/01/2015 at 21:32:17
Adam, I didn't want to put the name, he told me a few weeks ago about the serious unrest in the camp including his son's disappointment with RM. Distin is a major problem within the camp and is also influencing some of the younger players against the RM way of life.....
Colin Glassar
96
Posted 01/01/2015 at 21:35:29
I guess we will find out who the "bad apples" are when the transfer window opens up tomorrow or will we? Everton FC have a reputation for keeping things under wraps.
James Newcombe
97
Posted 01/01/2015 at 21:22:59
Bilic completely messed us about as a player - I doubt he'd be interested in managing us! I wouldn't welcome him here either.
Some of the other suggestions i've heard today, have included Peter Reid, Duncan Ferguson and Roy Keane, if this is the best we can do, then we may as well stick with Martinez. He really needs to learn to appreciate the art of the defending though!
Adam Luszniak
98
Posted 01/01/2015 at 21:43:20
Craig fair enough. If there are people not pulling their weight in the dressing room, or even actively trying to destabilise of, then it is these people who's heads we should be calling for, not the manager's. I stand by that even if the manager does turn out to be a moron.
Dick Fearon
99
Posted 01/01/2015 at 21:27:53
I don't get the sympathy RM is still getting. For months he has ignored what the rest of the football world has recognized. Game after disappointing game he trotted out reams of gobbledegook that bore no resemblance to what actually is happened.
His blind em' with science has failed and now he is doing the baffle em' with bullshit stage.
Steve Higham
100
Posted 01/01/2015 at 21:32:23
Lots of stories circulating about Martinez falling out with players. Distin fell out with Martinez after the Swansea City League Cup game – Distin was told to train with reserves then Martinez had to back peddle when Stones got injured shortly after.
It's been reported that Garbutt told the press that the team had no clue about tactics against Newcastle and hence was dropped from the squad today.
It's been reported that John Stones told the manager he was not fit enough to play against Stoke City but Martinez played him anyway – then he gets injured again – Eto'o then allegedly told Stones that Martinez would ruin his career...
I dont know how true these stories are but very worrying if this is what is going on in the dressing room.
Jamie Barlow
101
Posted 01/01/2015 at 21:43:26
Who was the tweet off Colin?
Adam Luszniak
102
Posted 01/01/2015 at 21:46:08
Dick I don't have sympathy for the guy. You clearly don't like the fact that he speaks positively after bad results. That's fair enough but frankly I'm not bothered about what he comes out and says after matches. He can say what he likes and I don't envy him having to do that part of the job.
Helen Mallon
103
Posted 01/01/2015 at 21:26:57
Just sack him now.
Dick Fearon
104
Posted 01/01/2015 at 21:50:46
That senior players with wide experience of other systems advise youngsters about football outside of the Martinez doctrine.
Patrick Murphy
105
Posted 01/01/2015 at 21:50:22
Adam - I think most fair-minded Blues would on the whole say back the manager on most occasions but from having an iffy start to the season we have regressed further and our last nine competitive football matches since the Wolfsburg game have produced one victory against QPR and seven defeats with a draw against Hull City, it is a very long time since Everton had a run of results like that and it may easily turn into eleven defeats by a week on Saturday.
If we were to win half of our remaining PL matches - which would be some achievement given our fixture list and current form - we would only have 48 points at the end of the season a massive 24 points down on last season despite paying 㿈m for a striker.
All the signs point to Everton having 40 or less points at the end of the campaign which will be touch and go for the relegation places, depending on other teams results in the remaining fixtures.
Patrick Murphy
106
Posted 01/01/2015 at 21:58:09
Sorry added next two fixtures twice should read could move to nine defeats quite easily.

Adam Luszniak
107
Posted 01/01/2015 at 21:58:18
Patrick, I'm not denying that we're In a shitty position. You rightly point out that we have a mountain to climb. We both agree on that. You also point out that for the price paid, Lukaku is under performing. I would agree with you there too, and add that he is by no means the only one in the Everton squad who is playing below parr.
I guess the difference in opinion lies in how the club rectify this situation. Some people believe that Martinez has proved beyond all doubt that he cannot do better than he is doing now, not only that but that there is a ready made alternative waiting in the wings who can instantly turn things around In a way which is totally obvious to the entire world (exlcuding Roberto Martinez). I simply don't agree with this view.
Gary Carter
108
Posted 01/01/2015 at 21:59:44
Colin Glassar, I have no idea what your supposed secret link to the club is, nor do I question or doubt it and I might have misunderstood you and being going you an injustice here. But are you seriously suggesting that our absolute dogshit style of play and form since April is down to two bad apples in the squad !?!? Where were these bad apples under Moyes? Where were they up until April?
Why do people refuse to accept not just what is statistical fact, in front of your very eyes for 90 minutes twice a week and written in the annals of history with his elegantly worded statements of denial after every game – that we stink the place out!!! Martinez's tactics don't work, his lack of discipline doesn't work, his blasé attitude to fitness doesn't work, his blasé attitude to defending doesn't work...
To sum it up, he's not good enough, and that's being very kind. He's lost the squad, a lot of the fanbase, any respect in the footballing world and media, and a hell of a lot of games. Our form since April is relegation form and we have a very good side and squad, better than what Moyes had for probably 9 out of the 11 seasons he was in charge.
Stephen Brown
110
Posted 01/01/2015 at 22:09:07
If these type of rumours about players deliberately causing problems for RM and then the club I'm disgusted!
They need to be rooted out and shown the door sharpish irrespective of whether RM keeps his job or not.
For what it's worth I've been a big RM fan but the reality is he's got next 3 games to start a revival. Cup win plus 4 points v Man City and West Brom.
Patrick Murphy
111
Posted 01/01/2015 at 22:05:54
The only way the club can rectify the situation if they want Roberto to remain in charge is to cut their losses and cash-in on whichever players are causing trouble or agitating for a move and give the manager the recouped money to spend, that would be a massive gamble because so far Roberto hasn't exactly set the pulses racing with his purchases.
Even if he bought in decent players his lack of attention to the defensive set-up and his intransigence on the playing style would still be there and many of the Goodison faithful would remain sceptical about his methods.
I don't see a solution to the current situation without sacrificing the manager. The team needs the supporters behind them and the supporters have to believe in what their manager is doing or attempting to do and I believe the rift between the support and the manager is too great to bridge - but I have been wrong before so it isn't a given.

Keith Meakin
112
Posted 01/01/2015 at 22:14:19
If this carries on much longer then BK will have to react, what about Ralf Rangnick mentioned before Bobby got the job.
Steavey Buckley
113
Posted 01/01/2015 at 22:02:27
Everton being relegated could not be ruled out from the beginning of the season, because of so much inept defending and errors by the goal keeper, the defensive mistakes are still reoccurring, and Robles is also a goal keeper ready to make goal keeping errors.
But the Everton season can still be turned around if they can get Stones and Mccarthy fit, because they are missing these players who have a spring in their step with a youthfulness. But both Barry and Alcaraz should be put out to grass, before they cause any more defensive problems - their slowness of mind and foot are obviously embarrassing.
Kelvin Thomas
114
Posted 01/01/2015 at 22:10:26
Gary Carter#108
Can't argue with that. The stories of unrest within camp are worrying but finally makes sense of such a downfall in performances. It's easy to say RM should read the riot act like Sir AF did with Stam, Beckham, RVN etc. Sir AF was the most successful manager ever! RM isn't!

For that reason, if there really is unrest due to his methods then the club have no option but to replace him, and quick!
Colin Glassar
115
Posted 01/01/2015 at 22:11:04
Hardly a secret link to the club Gary. I stated during the off season that I was kept up to date with the Lukaku and Besic transfers by a friend at the club (somebody who has since left).
The same person obviously maintains links with the club and occasionally he will tell me about certain things he's heard. Now I've never claimed that any unrest at the club is causing Martinez to make so many mistakes recently. In fact, I agree with you that our football has been dire too often this season. So, If he goes he goes. I'd like him to try and sort it out but if this run continues then I realise his situation will become untenable.

On the other hand, if he does have a few shit stirrers in the squad I hope he gets rid of them before he leaves.
Kelvin Thomas
116
Posted 01/01/2015 at 22:22:42
Something has to give!
If he gets rid of the 'two' bad apples, will we return to form?
RM is given some funds to improve the team this month, will we return to form?
I seriously doubt it!
James Joseph
117
Posted 01/01/2015 at 22:14:54
All this talk about 'losing the dressing room' and 'bad apples' would be laughable if it wasn't so sad as the truth is that no-one on here knows the truth, no matter what they've heard from someone's dad, sister or second-cousin. Who are these bad apples? Distin? Over 450 PL games for just 4 clubs, one of them on loan. Is he really going to have any influence on out of form players like Barry (almost 550 games for 3 clubs) or Jagielka (480 games for 2 clubs) or Baines (around 400 games for 2 clubs). Not exactly the records of trouble-makers are they?
I'm as worried as anyone but am the first to admit I've no idea what's going on. However, here's Leighton Baines talking about OFM around the time he was sacked from United:
"It's really hard. The important thing is the start. When you go in everyone is sussing each other out and from both sides. If you start well as a player when a new manager comes in the first impressions are positive. It can also work the other way."
"We started with a few draws and everyone was kind of sitting on the fence, and then we beat Chelsea and went on a bit of a run. That game was massive."
"Even if you look back, we nearly conceded a ridiculous goal trying to play out of defence. What if that had of gone in and you lose the game because of it? It was the tipping point. If we had lost maybe people would have started to want what they had before. But we went on a run.
"They are fine lines. Beating Chelsea gave us the lift and made us kick on. We were trying to buy into all the new ideas and concepts but it's the same with everyone. It's a results-based business and until you start getting results, you're not going to buy into it. I guess over there [Manchester United] they never quite got going and, if they had, they would probably have been flying."

Ian Barton
118
Posted 01/01/2015 at 22:27:19
No panic, we can't defend and do not threaten the opposition goal. We are too predictable and too slow.
My concern is that RM states that we had chances. We only had two shots in the first half and I can only think of one save the keeper had to make - we were playing Hull and we made them look a good team which they obviously are not.
RM, look at your tactics as we are predicting the next square or backwards pass in the crowd so it must be easy for the opposition.
Guy Hastings
119
Posted 01/01/2015 at 22:20:14
If Martinez did drop Garbutt from the squad because of ill-judged remarks then his man-management skills are shoddy, to be kind. RM should have had a firm but quiet word, encouraged him for the future and left it at that.
And I have to ask, who was the twat at EFC that allowed the Echo uncontrolled access to Garbutt? If he'd been in a 5-0 winning side then fine. But not when he'd just made his debut in a shambolic loss. Seems symptomatic of EFC at the moment.
Trevor Lynes
120
Posted 01/01/2015 at 22:18:04
Sounds like the star chamber to me. All this rumour and conjecture is totally off limits and detrimental to our club.
Players are argumentative in every level of the game and it is just as bad in the lower divisions. When teams are going through losing runs the arguments in the dressing room increase. Last season I bet there were not too many 'off court' shindigs.
Players mentioned on here include those who have quite recently signed new contracts .I honestly do not believe twaddle written on here unless it is substantiated and not second hand hear say.
This is a time when real fans get behind the team and stop castigating individual players and show that they are supporters. I have supported Everton through the ups and downs of relegation, the highs of trophy wins and the near misses of both relegation and title wins.
We had the highest points ever earned by us in the Premier League last season but failed to strengthen the squad sufficiently to meet the extra fixtures of this season.
Our squad was never big enough and I actually said this before the season began. Our youngsters are a pretty poor crop compared to elsewhere so we should have brought in new blood of premier league standards.
Through injuries we are now bringing the likes of Atsu back on the bench when he was supposed to be injured and back at Chelsea. This is the toughest test of our limited squad so FFS get behind them.
Peter Laing
121
Posted 01/01/2015 at 22:36:41
I've never liked Distin. He comes across as an arsehole with his Twitter profile, fronting the fans at Palace last year, the milkman stories etc etc.
Martinez should never have give him a contract extension at the end of last season and he should have his contract terminated immediately and take those players with him who are not up to the fight.
Colin Grierson
123
Posted 01/01/2015 at 21:28:08
If any players are found to be undermining the manager then they should be transfer listed ASAP. I don't give a fuck who they are or what their reasons are. It wouldn't surprise see me if Distin was one of 'the two' as he only knows how to get rid and has struggled from the off with playing football as well as defending.
I hope Martinez comes out fighting if this rumour is true. Player power is bollocks. We as fans can moan and boo as much as we like cos we have no conflict of interest. Players who don't like passing and controlling the ball in tight spaces are likely to rebel.

I'm not making excuses for Martinez as he has to grow a pair of bollocks and sort these players out for the sake of those who travelled today.
Sad times for our great club.
Brent Stephens
124
Posted 01/01/2015 at 22:57:08
Peter #121 "he should have his contract terminated immediately and take those players with him who are not up to the fight."
A bit heavy / serious in relation to what, after all, is only tittle tatle at this point?
Ste Traverse
125
Posted 01/01/2015 at 23:09:00
Trevor #120.
What a poor post. It just needed the cheesy 'COYB' at the end of it.
Peter Laing
126
Posted 01/01/2015 at 23:21:04
Brent, Distin should never have played for Everton again after he gift wrapped the equaliser for Suarez. The man is a walking egotist and has been a disruptive influence on every Club he's played for.
Chern Lee
127
Posted 01/01/2015 at 23:22:41
I see football 365 are offering 21/1 odds on the Toffees getting relegated.
As someone once said - never let a crisis go to waste...!
Chris Neubauer
128
Posted 01/01/2015 at 22:55:30
It was posted on this thread earlier; we've had bad runs in the past, but this feels different. I couldn't agree more. In years gone by, whilst in the midst of poor form, I always looked to the next game with optimism because we were in the most part combative and well organised.
After today's game I've got some sort of apprehension. I know deep down we haven't got the stomach for a fight. We've chucked in the towel. The manager uses all the flowery language in the world to suggest why. But to my mind he's lost the players.
As far as sacking him is concerned, who the hell is gonna do that? Thank goodness for the parachute payments!
Chris Gould
129
Posted 02/01/2015 at 00:18:53
2 bad apples - bollocks!!
Everton 2014-2015 played 20 conceded 33.
Wigan 2012-2013 played 20 conceded 35.
See any similarities?
He was shit then and he's shit now.
Paul Smith
130
Posted 02/01/2015 at 00:05:52
I was at Goodison on Boxing Day for the first time this season. It felt like there was an air of inevitability in regards to the defeat and I was taken a back by the lack of atmosphere and outward concern from the fan base.
Newcastle and today won't have helped matters.
Is it inevitable that a club as poorly run with such little investment will eventually fall ? I prey no! But have my concerns that some of the fans as well as the players might have given up.
I feel like it's a war of attrition supporting Everton and often wonder how long we can maintain our current position in the top flight.
Short term we can replace RM, however can we replace the general malaise I felt amongst some of the fan base with real hope for the future? This sentiment is far more important to our club than a fly by night footballing philosophy on the pitch.
In short - are the fans giving up as well as the players? Obviously not on these boards, however these boards do not count for the majority of match going blues'.
Andy Crooks
131
Posted 02/01/2015 at 00:36:21
There is quite a difference between supporting the team and supporting the club. The Blue Union supported the club. At present we appear to have a clueless coach and some petulant hired hands unworthy of supporting. It seems to me that supporting the club is wanting what is best. What is best now is a new coach.
Patrick Murphy
132
Posted 02/01/2015 at 00:35:03
Paul - the fans will never give up on their team, regardless of how poor the team plays, but I believe because they like Roberto as a person but don't like his style of play, the silence at the ground has been a way of 'displaying' displeasure. But I sense the last couple of games have turned a great many more against the manager and his methods and his ridiculous statement about defending will come back to haunt him.
Of course he still has a chance of retaining his position but I would imagine the axe has been taken out of storage and will be sharpened before the end of this month. With a fixture list that includes games against the two title contenders, two relegation rivals and our neighbours in the next five Premier League games, it wouldn't surprise me if it is used sooner rather than later.
But will BK gamble on the fans rallying if Roberto is removed or will he gamble that Roberto will get enough results in time to save his job?
Simon Harris
133
Posted 02/01/2015 at 00:42:15
Not just any coach though Andy - I hope Bill is hurriedly if not haphazardly making contingency plans to get a coach who can lift the whole club, players and fans alike - ala Moyes post Walter Smith.
Big Joe is the only candidate that springs to mind who could muster enough spirit to grind out 18-20 points and then take stock at the end of the season.
Martinez may have the cup game as either respite or to seal his fate.
Saying all that , this is Kenwright so gord only knows what will happen.
Paul Smith
134
Posted 02/01/2015 at 00:51:39
Interesting if not unnerving times a head. I might add to your last Patrick that there could be an element of outright "shock and disbelief " proliferating through our support, at such a turn around in fortunes. Stunned the life out of me!
Steavey Buckley
135
Posted 02/01/2015 at 01:01:24
The passing game can't be to blame, because in the last 2 games, Naismith at Hull and Eto'o at Newcastle could not pass the ball accurately forward to any Everton man. They are basically lacking composure and care with their passing. As for McGeady, he does appear not to mind who he passes to, as long as he passes to someone including the opposition.
Peter Barry
136
Posted 02/01/2015 at 01:35:29
When your manager and his coaching staff and five players are all ex-Wigan why do you expect to play like Barcelona and not Wigan. BK and the rest of the Everton board allowed this to happen so must bear a lot of the blame. But the only solution is to bite the bullet and get rid or be prepared for the Championship and maybe worse.
Bill Gall
137
Posted 02/01/2015 at 01:57:46
As some one pointed out there is a massive amount of criticism on here of the manager on this site and other social media outlets and taking in the performances over the last number of weeks the majority of it is justified.
However these sites only show a small fraction of Everton's supporters The real show of the supporters emotions towards the manager will I believe show up with those supporters who attend the next 2 home games.
Good luck Mr Martinez.
Eric Myles
138
Posted 02/01/2015 at 03:01:48
After 20 games he's finally realised he needs to find solutions to the problems?
Bill Gall
139
Posted 02/01/2015 at 03:31:59
I think when he is talking about going back to Basics that is the name of a book store that sells books on tactics in the modern game. Hope he reads it before monday.
Susong Hermawan
140
Posted 02/01/2015 at 03:42:08
Just leave... MARTINEZ, pleaaase!
Mike Allison
141
Posted 02/01/2015 at 09:01:20
If he's lost players it must be because his training and methods are bad.
We seem to have forgotten how to attack and defend, and it seems Martinez's 'philosophy' is more important to him than winning football matches. As players that would seem to be ridiculous, being asked to turn up every day for training to do stuff that you know doesn't work.
I imagine the players know enough about football to want to work on attacking, defending and set pieces, and Martinez asks them to pass, pass and pass. To be frank, all professional football teams are good at passing when they're 2-0 up. It's not something you need to practice that much. The difficult bit is getting 2-0 up, you need to practice that.
Jim Bennings
143
Posted 02/01/2015 at 09:20:45
Please please can we never see Barry at centre half again!!
I can understand him leaving Distin out due to age but why not give Tyias Browning a game there?
That's something else that boggles the mind with Martinez.
He gives Browning game time away to Liverpool and Man United yet he'd rather prefer to play Barry, a guy who is never in a million years mobile enough to make a centre half in the rough and tumble Premier League.
Watching the highlights again has anyone else noticed how big Barry looks?
Martinez has made too many suicidal decisions over the last year.
Joe Foster
145
Posted 02/01/2015 at 09:34:36
I think we have somehow ended up with the only manager in the whole world that can not a get a decent game out of this side. It must have took some doing.
Jim Bennings
146
Posted 02/01/2015 at 10:01:38
Joe
Your right!
Even throughout some of Moyes worst season's in charge, and I can think back to season's such as the early part of 2010/11, we struggled scoring goals but we were battering teams, I was at Villa Park and Fulham in the first month of that season, we hadn't won a game by the end of September but I remember thinking "we are playing well enough here to get out of the trouble"
Now, all through this season our performance levels have gradually gone from bad to worse.
Can anyone recall a game this season were they thought "wow! that was great, we were outstanding today?"
No me neither.
Same after the humiliating performance at Southampton before Christmas, I'm sitting there thinking "we will really get at Stoke and put them to the sword or at least at Newcastle, or Hull"
Nothing, no hunger no fight just sideways football played at such slow a pace that you'd think we were still on a Thai beach doing a pre-season tour.
Lacking hunger, desire, passion to put it right.
Denis Richardson
147
Posted 02/01/2015 at 10:18:50
With just 4 points between us and 19th(!), I don't think it will be too long before BK is forced to act.
The FA cup game is almost meaningless now and all eyes are on the city game. If we lose that then surely that will be the end. How can any manager survive 5 league defeats on the trot?
We'll likely have a new manager in two weeks time.
Harold Matthews
148
Posted 02/01/2015 at 08:41:15
At the moment I would not put money on us to beat Palace, West Brom, Leicester, Burnley or QPR. In fact, if these five teams retain their present form, we are relagation certainties. How we are still 25/1 to aviid the drop is beyond me. These rivals are not even in the Europa league.
The bookies are being guided by our reputation and last season's record. A season when we played with great confidence with Barry, McCarthy, Barkley, Osman, Pienaar, Deulofeu, Lukaku, Oviedo, Baines, Coleman, Jags, Distin and Stones playing important roles.
Alas, one year on and things are not the same. Delboy has departed and all the rest have suffered injuries of one kind or another, confidence has disappeared and we are performing like a bunch of faint hearted strangers. The number one keeper is out till February, we're still involved in the Europa League and the FA Cup and we're dropping like a stone in the Premier League.
To stay up we need a massive improvement or three of our rivals to completely fall apart. It won't be easy but we'll leave the panic button till late Feb or March when we may have a settled team and an organized defence.
As for the manager. That's up to BK. I Don't care who it is. The Club comes first and right now it needs a mighty shake-up.
Dave Abrahams
150
Posted 02/01/2015 at 10:35:59
Regards to all the rumours, I tend to take no notice, and I've heard a few, what I do know is that you can't make a player play for you if he doesn't believe in what you are preaching.
There certainly looks like there is something seriously wrong between the manager and a lot of the players and it has to be sorted out, very soon one way or the other or we all know the consequences.
Damian Braithwaite
151
Posted 02/01/2015 at 11:07:23
Even if there was a problem between the manager and the players I can't get over the fact of the so called professionals short changing the match going fans. It's a disgrace for any set of players not to put a shift in especially with all the games we've had in such a short space of time and the amount of money it costs.
If there is a problem the playing staff need the balls to tell Roberto his tactics are not for them instead of dragging this on any longer hoping results might get him the sack or whether he changes his philosophy. How can a good set of players suddenly become shite over night, the team need to stick together and fight for each other and if his tactics aren't getting us anywhere then use a bit of initiate and and change it themselves to suit. Otherwise the players will lose support of the faithful.
Paul Smith
152
Posted 02/01/2015 at 11:20:09
The only positive about yesterday was we tried a new system but again the manager made mistakes with playing people out of position. Barry for me has to come out of the team and the idea of playing him at center back is laughable. Then we have Naismith playing center midfield it is becoming a joke now.
What happened to Garbutt yesterday he plays well then comes out of the squad altogether. From the outside it looks like the manager has lost the dressing room and the players have downed tools as the effort at the moment is abysmal. This reminds me so much of the Mike Walker time at the club and the manager being too nice. What exactly do his backroom staff do, you don't see them on the touch line ranting and raving either.
This is now a full blown crisis now and I don't think this manager is equipped to bring us out of it and fear change is the only option.
Eric Myles
153
Posted 02/01/2015 at 11:44:32
Mike #141, if all they are doing in training is practicing pass, pass, pass, then it really isn't working 'cos finding a blue shirt is one of the main things we are failing to do
Jimmy Salt
155
Posted 02/01/2015 at 11:58:19
Transfer window open, Ideal opportunity for a reshuffle. Time for the manager to stamp his authority on the the squad. Will he/wont he. Will he be allowed? I'm just waiting for an update on the new stadium to calm the madding crowd.
Graham Morris
156
Posted 02/01/2015 at 14:46:45
Martinez is Spanish. Maybe he needs more English lessons to understand the rubbish he spouts.
Phenomenonal = Shit
Togetherness = Disunity
Leaders = Cowards
Amazing = Shit
Fantastic = Shit
World Class = Championship Class
Confidence = Fear
Defence = Nothing
Quick = Slow
Organisation = Chaos
Philosophy = Cloud cuckoo land
Stubborn = Stupid
Fitness = Obesity
Effort = Laziness
Martinez = Delusional, Arrogant, Egotist.
Terry McLavey
157
Posted 02/01/2015 at 18:01:51
Not Happy, Roberto! Well guess what — neither are we!! You should go into politics, how many have those bastards been caught and protested they've done nothing wrong! Well this season you've done nothing right!
James Power
158
Posted 02/01/2015 at 19:09:12
Having watched Bobby's interview on the BBC website the overwhelming feeling is he was at a loss. It reminded me of the Alan Partridge film, Alpha Papa where he was forced to broadcast by Pat and just started saying random things (mug, pen..). Dear old Dr Phenomenal tripping out phrases in no syntactical order whatsoever. It was tough to watch as he was genuinely lost.
The same players defended admirably last season so they haven't forgotten and need to take a huge share of this fury, professionals with enough game time under their belts to understand that urgency, desire and communication are factors that must remain constant to provide the platform for talent to flourish. These players know what it takes and need to remember they are men and start behaving so, rather than like little boys looking for somewhere to lay blame, grow up and take some responsibility!!
James Power
159
Posted 02/01/2015 at 19:24:22
By the way, this doesn't apply to Alcaraz, he is clearly playing at the peak of his powers, it is just that he is really, really shit and that cannot be helped. It is like putting a frail, old lady in charge of the kids, he can't be trusted. He needs to be given a ball of his own and have everyone smile at him sympathetically.
Stu Smith
160
Posted 02/01/2015 at 19:52:16
I personally think we are a pass too slow. I don't mind pass and move but there has to be a time when you play the killer ball.
People who want RM out.... who else would we get???
James Power
161
Posted 02/01/2015 at 21:43:07
Doug Stamper from House of Cards. Looks like Bobby but always has a Plan B.
James Power
162
Posted 02/01/2015 at 21:44:52
In all seriousness that is a difficult question. I would not want any combination of the current management detail, especially not Duncan. We need to persuade somebody of outstanding quality and not just the character opposite of Roberto just because we are frustrated with him. However, I have no idea. By the way, why is Pulis now this management great? Sky news hanging on his every word? He loses as many as he wins. Additionally, why do the press happily mention the fact that he gets in early to the training ground like it is a unique and commendable thing? I get in fucking early! It's expected! Reminds me of when all of the pundits in the BBC World Cup panel unanimously agreed (on several different occasions) that Danny Welbeck was 'world class' ........at closing people down.
Colin Gee
163
Posted 02/01/2015 at 23:26:30
Good job we didn't get Pulis, Everton One doesn't have enough stuff in stock for him to wear.
Steve Carse
164
Posted 02/01/2015 at 23:08:23
I can't think of any previous period of crisis in which the number, never mind quality, of potential managers has been so small. In fact I can't readily think of any I would actually wish for. The savings grace though is the quality of the squad of players compared to other crises. Any manager with any kind of tactical and organisational skills will be able to use this quality to ease past the 40 points mark. Mark Hughes maybe?
But the change has to happen before the WBA game.
Harold Matthews
165
Posted 03/01/2015 at 01:12:14
Steve. You make it sound very simple. Unforrtunately, without a top keeper, a reliable goal-scorer, tough CBs, plenty of pace and a whole heap of ferocious fighting spirit, we're not going anywhere. Hughes already has these things at Stoke. Why would he want to come here?
Adrian Breeden
166
Posted 03/01/2015 at 02:04:15
Like a lot of Everton fans I'm sick with worrying about the threat of relegation because it would also ruin a great record the club has, apart from the honours won – 60 consecutive years in top-flight football, second only to Arsenal.
James Power
167
Posted 03/01/2015 at 07:50:46
Love it, Colin, maybe that's why he is in so famously early, starts the dressing process. Also why he keeps his weight down, sweating furiously under they duvet of layers. He is a likeable character though, like an amiable and helpful B&Q manager. Knows where the cross-head screws are and not averse to taking you to the exact aisle. Organised, knows stuff about things.
James Power
168
Posted 03/01/2015 at 07:56:34
Harold, good points. Hughes is ambitious and would recognise that Everton is a step up, no disrespect to Stoke, but it is a step up, call it old money (frequently no money), tradition, whatever, we do represent the bigger more traditionally successful clubs and he would know this.
I'm not entirely feeling the suggestion though. Mark Hughes, capable, but not much beyond. Bilic is a no go for me, I doubt he would want to come anyway and I feel he would leave in a heartbeat. It would be great if Roberto had a moment of self realisation and appointed someone to complement his own weakness.
Alex Ferguson always had someone who seemed more even-minded at his side, Quieroz, McLaren, he wouldn't have appointed Roy Keane as his No 2 as two nutters kicking teacups and throwing hair dryers would not a summer make (as the saying doesn't go).
Mike Allison
169
Posted 03/01/2015 at 08:22:51
Harold, we have far better players than Stoke, and we have all those things you mentioned.
Something has gone seriously wrong in the club and the finger can only be pointed at the manager. A new man in charge, a completely different attitude and approach, and we would see these players perform completely differently.
Mike Green
170
Posted 03/01/2015 at 08:34:24
Correct on all counts Harold - but personally I wouldn't leave it that long.
I genuinely think we need to act now and at least give someone the opportunity to make a difference in the Jan transfer window; in four weeks time, their hands will be tied.
Martinez has failed by bringing Robles and Alcaraz in as cover for CB and GK and now we are paying the price.
Mike Green
171
Posted 03/01/2015 at 08:41:40
Graham #156 - very good post! :D
Eric Myles
172
Posted 03/01/2015 at 09:38:55
Stu #160, "who else would we get" the same question was asked re: Moyes replacement, and no doubt Smith and Walker too.
The answer is, there's always someone available; whether they're better or worse we won't know until they get the job.
Patrick Murphy
173
Posted 03/01/2015 at 10:05:21
If BK and the board did decide to replace the manager, Jurgen Klnsmann would in my opinion be worth a punt.
Whether he would be open to leaving the USA is debatable. But he seems to understand the game and isn't averse to grinding out results when necessary and doubtless he would have the respect of the dressing room – but it's probably an idea doomed to failure.
Colin Glassar
174
Posted 03/01/2015 at 10:12:06
I can just see Klinsmann leaving his LA mansion, with indoor heated pool overlooking the valley, for the warm climes of Merseyside and Norris Green baths, Patrick.
Not.
Tony Abrahams
175
Posted 03/01/2015 at 10:58:44
I think there will be more than two bad apples at the minute, but the obvious ones would be the centrebacks.
How many times has McCarthy been rushed back from his hamstring injury too quickly? Rewind back to April and Martinez, saying he wasn't prepared to rush Jagielka back from injury because of the World Cup. Bollocks to that – it was because Stones was flying and Martinez probably feels he's a better player. Maybe Jagielka felt aggrieved and maybe sub consciously blames the manager for his poor World Cup?
Fast forward to the first away game and look how shaky they both were at defending any high balls, and they just don't seem comfortable. Maybe they're scared because they don't know if there is any cover going to be there from the fullbacks?
Stubbs is the obvious choice short term, but he would probably want a longer contract, even if he is a "man who bleeds blue". Is he ready for this step up yet?
James McCarthy came to Everton because of the manager, a person who has been good for his career and someone he must obviously TRUST. If he was promised a better contract, if he performed well, and he's still waiting now, then Martinez, has obviously broken that trust.
They're only rumours at the minute, but if Spurs are going to pay 㿅 million for McCarthy, he has definitely kept up his side of the bargain, and must feel let down badly.
If we're not panicking then we are certainly not fighting either. It's okay staying calm on the pitch, but where's the fight?
Michael Polley
176
Posted 03/01/2015 at 13:07:02
The military have an acronym - FUBAR
Look it up. It sums up our team to date.

Patrick Murphy
177
Posted 03/01/2015 at 13:27:45
Good one, Michael, BOHICA is probably a suitable acronym to describe life as an Evertonian. [Bend Over Here It Comes Again]
James McPherson
178
Posted 03/01/2015 at 13:31:59
I think all the talk of summarily replacing Martinez with a quality manager who then has funds available to address GK/CB deficiencies all within one calendar month is complete pie in the sky. That involves decisive speed of thought and more pertinently – three cheques!!
Severance for Martinez, compensation for the new manager, and transfer funds. Can anybody see our board being capable of that – without player sales?
I can imagine the board partially listening to the fans and showing reluctance to invest with Martinez in this window!!! They won't back him and they won't sack him. Just hopeless drift as usual. Drift that has been there for a lot longer than Martinez. That's what's so worrying.
Anto Byrne
181
Posted 03/01/2015 at 16:18:31
We can't afford the Championship. Still, it might get rid of Kenwright and the useless Board of Directors. Keeping Moyes for 11 years playing survival football has kept them on the gravy train.
At season's start, we all welcomed Lukaku and thought Barry was a sensible signing. We all knew the team was getting on. We didn't replace Osman, although a lightweight, still a very useful player. We bought Besic and got Eto'o. We shipped out players, bringing in 㿔M and picked up McCarthy.
We should have had 𧴜M to get players in and trade players out. Martinez has tried to make a silk purse from the sows ear. Too many players not suited to this style of play. If senior player's are revolting, they can leave. We can play football under Martinez but whether player power undoes him we can only wait and see.

Stu Smith
182
Posted 03/01/2015 at 19:57:23
Dare I say it...There is a certain manager who has a house on Merseyside currently managing in Italy. Sadly he managed the inferior colours of Merseyside but rumour has it he wants back in the Prem...
Gavin Johnson
183
Posted 03/01/2015 at 21:39:38
There's not much out there in the way of available managerial talent. I think Klinsmann and Koeman would be my personal preference but can't see either wanting the job.
Other than those two, I'd maybe take a punt on Frank De Boar with the hope he could emulate the job his fellow countryman Koeman is doing at Southampton.
If we went with a domestic British manager it would be Steve McClaren hands down for me. One of the few top class number 2s who has successfully made the transition into management. I know he might not be popular with many. But this guy knows the European leagues, winning trophies in holland as well as doing a great job at Boro (didn't he get them to the Uefa Cup final or the semi's??) I've got a mate who's a massive Derby fan, and he's done a great job there on a limited budget. Motivating a group of players that were treading water under Nigel Clough.
As for Rafa, I know he's a good manager but I just couldn't warm to a guy who made such underhand remarks about our club.
---
Add Your Comments
In order to post a comment, you need to be logged in as a registered user of the site.
Or Sign up as a ToffeeWeb Member — it's free, takes just a few minutes and will allow you to post your comments on articles and Talking Points submissions across the site.
© ToffeeWeb