Lukaku: ôI knew it was time to reactö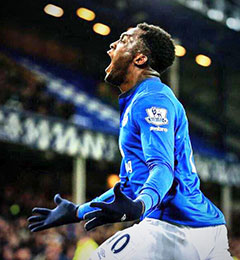 Lukaku explodes with relief after netting the stoppage-time equaliser against West Ham
Romelu Lukaku says that two games on the substitutes' bench provided him with the motivation he needed to put on the gutsy display he showed against West Ham last night.
Having been criticised for his lack of impact in recent weeks, Lukaku was demoted to the bench against Newcastle and Hull as Roberto Martinez sought solutions to his team's slump but returned to the starting XI in last night's Third Round tie.
He dragged an early chance wide and saw to more shots spilled by Hammers goalkeeper Adrian before referee Anthony Taylor disallowed what looked to be a legitimate goal in the second half that would have cancelled out James Collins' header five minutes earlier.
Lukaku got the all-important equaliser in stoppage time, though, that kept the Blues in the FA Cup by forcing a replay at Upton Park next Tuesday, capping a fine display from the club's record signing.
And the 21 year-old admits that both his and the team's improved overall performance was the result of a more direct approach, something the players had requested of Martinez.
ôWe have a great relationship with [the manager],ö Lukaku says. ôHe shows us new things every day and we learn such a lot from him.
ôThe players were asking about going more direct. I asked them, and we all said to the manager: ĹCan we play a bit more direct sometimes?' We have a style of play where we keep the ball a lot, but knew we needed to take more responsibility, play to my strengths more, and they did it perfectly.
ôWe mixed up how we played a bit more, at times we were a bit more direct. For me that makes it easier, because when I am one v one, running on a defender, that gives me a better chance.
ôIt was a big performance from the team. For me personally I'm very happy with that goal. It was very pleasing to see my team-mates looking for me and playing to my strengths. I tried to deliver for them and I did it.ö
The Blues' ú28m summer capture now has eight goals in all competitions and he says he is determined to kick on now and produce his best form.
ôAfter two games on the bench I knew it was time to react,ö he continues. ôI wanted to show the manager how he can count on me. I wanted to show it was just a temporary thing, and now I am ready to move on and push myself to the limit.
"I want to win silverware, I want to end up as high as we can in the league and we have five months to do that. I just want to play my best football now.ö
Martinez, meanwhile, admits that his team haven't recovered from the disappointment of dropping crucial points from winning positions at the start of the Premier League season.
ôIn the league, expectations internally have been so high that dropping four points in those [first] two games set us back a little bit and you need a real good momentum to get rid of that feeling.
ôI don't think we've managed to do that and it keeps creeping in. But now we are in a position where our season is not about looking back.ö
Quotes sourced from The Guardian
Reader Comments (169)
Note: the following content is not moderated or vetted by the site owners at the time of submission. Comments are the responsibility of the poster. Disclaimer
Aman Kanji
1
Posted 07/01/2015 at 23:07:41
Shows Martinez is stubborn and it has taken the players to force him to see the light... Hopefully this Â'newÂ' style of play will be adopted by EFC for the future...!
COYB
John Aldridge
2
Posted 07/01/2015 at 23:15:41
DonÂ't ask him, just go for it. Direct attacking beats tippy tappy crap in the back four any day.
Peter Murray
3
Posted 07/01/2015 at 23:14:34
Good to see Lukaku so confident and committed. LetÂ's take it a step further against City.
Useful insight into the relationship between manager and players.
Tony Draper
4
Posted 07/01/2015 at 23:16:25
Good lad Rom, hope you have learned that doing what you are told is not an excuse for doing nothing.
There is a way to disagree, without resorting to dissent or sedition.......it relies upon character and last night you showed plenty.
Keep up the good work and the goals will come.
Kevin Tully
5
Posted 07/01/2015 at 23:18:26
Confirmation the players have not been happy with the managerÂ's instructions. I think it was quite obvious from the first minute, watching JagielkaÂ's long balls down the line.
Where does that leave us though? Surely this has undermined everything the manager has been working on since his arrival?
As far as IÂ'm concerned, this has made Martinez look like an amateur. Poor management if the players are dictating tactics.
Russell Smith
6
Posted 07/01/2015 at 23:19:02
Sounds like the players have had enough tippy tippy. Strange that Rom had to be dropped for two games before he realised he has to "react".
He and all the other players need to react in every game from now to the end of the season if we are to pull away from a relegation dog fight, and they shouldnÂ't have to loose 4 games on the bounce to "realise" that.
Jamie Crowley
7
Posted 07/01/2015 at 23:19:41
IÂ'm very encouraged by this. If the players went to Roberto and he acquiesced, it shows our manager maybe isnÂ't quite as stubborn as suspected.
It also creates a real opportunity to find a balance. A style of play that would be effective and pretty to watch. Possession football with common sense and not so predictable.
HereÂ's hoping.
Jamie Crowley
8
Posted 07/01/2015 at 23:27:44
Kevin -
This does not make Martinez look amateur. It makes him look intelligent. He listened to his players which shows mutual respect, and he made a change based upon feedback. That doesnÂ't equate to the inmates running the asylum.
Nor does it mean the players are dictating the tactics.
They had input. Nothing wrong with the collective having a meeting of the minds.
Ever compromise on something with your wife? Usually turns out better than your original idea in my experience (and yes, that pains me to say).
Patrick Murphy
9
Posted 07/01/2015 at 23:23:37
Kevin - It certainly raises as many questions as it answers. We can only hope, the manager the staff and the players are all pulling in the same direction and that they all want the same thing i.e. success.
Reading between the lines of what Lukaku says it seems that he felt he was the fall guy for bad results and that by the team changing its style he has responded in a positive way, but what happens if the manager insists on reverting to his normal mode of operation - does Lukaku decide to stop trying?
ItÂ's interesting that it is a Roberto signing that has spoken about the alteration in tactics rather than one of the elder statesmen in the squad. I canÂ't imagine Alex Ferguson, Howard Kendall et al being happy if one of their players had revealed what had occurred - surely they would have publicly pre-empted changes in tactics before one of their players? WeÂ'll see what happens on Saturday, as always another interesting day in the life of Everton FC.
Oliver Molloy
10
Posted 07/01/2015 at 23:36:14
LetÂ's see what you do come Saturday and the next couple of games Rom!

Kevin Tully
11
Posted 07/01/2015 at 23:33:35
Jamie - this isnÂ't a tweaking of formation we are talking here, or a refinement of a certain style. This is a complete departure from everything Martinez has preached from day one. ItÂ's a conversation you would expect from Sunday League set-up, not one of the finest clubs in world football!
Oh, and there is no compromise with my missus, I just nod and say Â'yes dear.Â' Then I go out to the boozer, and stay out, until sheÂ's gone to bed!
Harold Matthews
12
Posted 07/01/2015 at 23:26:06
Putting the boot into the man who got the club to pay a fortune for him.
Paul Smith
13
Posted 07/01/2015 at 23:38:41
Jamie Crowley has nailed it for me. I said as much in the other thread. What next ? Well more collaboration, feedback and honesty from all involved. Saturday should be interesting.
Joe Clitherow
14
Posted 07/01/2015 at 23:34:46
Jamie IÂ'm not sure it does make Martinez look intelligent at all. Intelligent would have been him coming up with this (completely obvious to everyone else, including the players) remedy and being proactive rather than reactive.
This to me says he is pretty much finished because he has lost all credibility. If the players are now calling the shots on tactics - and correctly in this case - what is the point of Martinez? Where is his authority? What happens next time there is a disagreement with players over tactics?
Martinez needed to initiate change in a proactive manner by covering all the bases, or at best have a discreet conversation with the captain to sound out player feelings at arms length - which in my opinion should be done constantly in any case. This sounds different to that in my opinion.
When this type of Chinese Democracy approach is followed in the army or in business it is an absolute cast iron sign of weakness in leadership and a guarantee that a leader needs replacing ASAP. Busted flush as I have said before.
Peter Roberts
16
Posted 08/01/2015 at 00:01:59
Let me translate....
"Yeah IÂ've been a right sulky, lazy, primadona. I just didnÂ't think the manager would have the balls to drop me for that carthorse who does a better job at holding up the ball and puts in a better shift.
If you play the way I want then I will put in a good effort. The manager has stood by me in my shocking games, but now IÂ've had one decent game IÂ'm gonna use it as a means of getting what I want..... Who have we got at the weekend? Man City!!!!..... My toe is a bit sore.....".
Paul Smith
17
Posted 08/01/2015 at 00:10:35
#16 never looked at it like that. Good move by RM sticking King Kone in then.
Colin Glassar
18
Posted 08/01/2015 at 00:07:53
Garbutt was dropped for saying far less than this. Hope this is the beginning of an improvement in form.
Nigel Gregson
20
Posted 08/01/2015 at 00:17:44
Good stuff by Roberto. The beast is angry and he wants to prove everyone esp the manager wrong and he wants direct balls and fair play that Roberto let him have some. Motivation can be a bit more subtle than Â'my way or the highwayÂ' . Welcome back Rom, more of the same against Man City.
Eric Myles
21
Posted 08/01/2015 at 00:36:41
So the players had to tell him something about tactics that the fans and match commentators have been saying for months.
Maybe he should just read ToffeeWeb or watch repeats of the games?
Colin Glassar
22
Posted 08/01/2015 at 00:44:55
Eric, you can read a more complete version in the
Daily Express
. Thers a bit more to it.
Andy Crooks
23
Posted 08/01/2015 at 00:53:36
Jamie, it does not make Martinez look intelligent. To me, it makes him look feeble, bewildered and utterly out of his depth.
Chris Gould
24
Posted 08/01/2015 at 00:54:30
I am not trying to be controversial and I applaud those who still fully support RM. I admire your loyalty. But wouldnÂ't you prefer a manager who could work out team tactics himself? Surely that is his job. Otherwise he is a little....redundant.
If he has put together a team who canÂ't defend, seem disillusioned, are hardly an attacking force, get beat regularly.... and now have to come up with the tactics themselves what exactly is the point of him?
Ciaran Duff
25
Posted 08/01/2015 at 00:58:24
All good managers should be able to accept honest constructive feedback from their staff. That, to me, is not a sign of weakness. It is a sign of maturity and mutual respect. If you read the article, Rom did not portray this as a revolt or indeed moving away completely from our possession based game. ItÂ's just adding another option to our game.
"...We mixed up how we played a bit more, at times we were a bit more direct..." .
So, IMHO, I think this is a good step. Indeed, it contrasts with the previous regime where tactics and positions were far more rigid.
James Flynn
26
Posted 08/01/2015 at 00:17:01
So, the Everton manager is all but being mocked in the media and, definitely, being ripped into by the fan base for his unyielding, unchanging view of how to manage a club.
Lo and behold, his premier signing appears talking about, "I asked them, and we all said to the manager: "Can we play a bit more direct sometimes?Â' We have a style of play where we keep the ball a lot, but knew we needed to take more responsibility, play to my strengths more, and they did it perfectly."
Fucking 21-year old had to explain to Roberto what was wrong with his approach? More like, some seniors had a word with Bill, and Bill had a word to Roberto about how Everton is looking in the media. And job security. I agree with Lukaku, mind.
Nonetheless, if this is to be form and form holds, maybe Jags, Baines, and Hibbert can talk to Bill about 2 banks of 4 and hit em on the counter. And Bill can convey this to the fellow whose salary he pays to manage. I donÂ't care if Bill, the players, or Roberto manages right now. We need points and ManCity is up next.
And fair play to Kenright, he knows how to stage-manage.

Michael Penley
27
Posted 08/01/2015 at 01:43:12
At this stage, IÂ'd say itÂ's more a sign of intelligence than anything else he could have done. We all knew we were getting an inexperienced manager. How old is he, 41? From what heÂ's said before it seems he thought he knew it all, that his style was infallible. If heÂ's really questioning all that, then that gives me hope, much more than if he persisted and then went on a run of 10 wins.
HeÂ's got to start listening more, even van Gaal doesnÂ't stand on the touchline alone giving directions, he listens to Giggs who knows the club better. ThatÂ's his main flaw and LukakuÂ's comment shows he may be willing to change. WeÂ'll see. For now itÂ's the best move he could have made: listened to the players, found out whatÂ's wrong, then took action - against his own principles.
Derek Thomas
28
Posted 08/01/2015 at 02:42:22
James #26 I think Bob Hope summed it up best....Â' Nothing works as well as a carefully rehearsed ad-lib Â'
Â'The Philosophy1.0Â' has been replaced by Â'The Philosophy1.1Â'
A giant step for Roberto, but just a small step for Everton.
More tweaks and patches please Roberto. Start with Â'The Philosophy1.2Â' Change zonal marking in our box to... attack the ball, watch the late runner and pick up your men.
Eric Myles
29
Posted 08/01/2015 at 04:55:08
Colin, the article says the same as reported above.
Jamie Crowley
30
Posted 08/01/2015 at 05:10:35
For weeks now I've been reading here that Roberto needs to change. We need to play more direct. We need to play with more pace...
Roberto has made a change, and now we get, "well fuck me it took a player to make this change happen..., That's pub league stuff..."
Hang on just a second...
He's agreed to let the players play to their strengths. How is that a sign of weakness?
Joe Clitherow rightly points out that in a perfect world Roberto would of come up with this independently. But....
Roberto isn't Jesus. Nor is anyone posting on TW. What the hell is wrong with him making a change if he's prodded by a player he signed for a huge (record!) fee coming to him with a suggestion?
No one is infallible. I applaud Roberto taking in advice, and acting on it.
It shows excellent management skills and a willing to actually adapt - EXACTLY what most people posting in TW have been crying out for!
He finally, through a coming to Jesus meeting with his major signing, has adjusted. The anti-Roberto faction have been screaming out for this. But yet now it's, "he should of come up with this one his own..., what a clown..., Charlatan...."
No!
He's listened, made an adjustment, and hopefully we are better off for it.
That's humility, that's flexibility, that's good management.
If a man has conviction in a way to go about things, utter conviction his way is the right way, but it isn't working.... Then that same man actually listens to alternative opinions and makes a change - contrary to his deep held convictions - for the good of the collective....
Is that NOT to be applauded??!!!
Well done Roberto!
Come on you fucking Blues! Work together, players and a "phenomenal" manager alike, and get it right!
There is nothing but positives to take away from this.
In my humble opinion...
Jamie Crowley
31
Posted 08/01/2015 at 05:35:13
Kevin Tully -
It's not a complete departure from everything Roberto has preached since day one.
It's a realization, through a player he clearly loves in Rom, of recognizing that we need to try a different way.
He still is 100% convinced possession football is the way to go. But if the players come to him and say, "I'm not comfortable with XYZ..., Can we please try this?.... I can't do what you're asking me to do..."
And he adjusts, how is that a BAD thing? MIT doesn't mean he's abandoned his principles! He's simply taken on board feedback from his players and what they want and are comfortable with, and tried to meld his philosophy with what they want.
The only logical counter-argument is Joe C's when he says Roberto should have come up with this on his own. And I don't disagree!
But who gives a fiddler's fart if he did or not? He listened, and hopefully we make the adjustment - as we obviously tried to against West Ham - and we are better off for it!
Peter Bell
32
Posted 08/01/2015 at 06:34:14
I think what this is really saying is that Lukaku has been stealing a living off the hard working match paying Blues for a long time. Regardless of the managers tactics, he has a responsibility to give 100% no matter what.
He's gone down in my estimation after this, I thought he was naturally lazy. Just proves he is an impostor. I think what he is saying is that Kone has returned to full fitness.
Steven Flynn
33
Posted 08/01/2015 at 06:43:04
Kev Tully & Joe Clitheroe,
I totally agree. The players telling their manager how they want to play is the end for Martinez... sounds like rumours of dressing room rifts are correc.
by some of the comments here you would think we played some kind of brilliant football the other night, not scoring in the last minute to save our skin in a performance that would've been slammed if not for the late equaliser.
Tony Hill
34
Posted 08/01/2015 at 07:35:33
The problem is one of authority and respect. It is a straightforward change in approach that Lukaku is talking about, an obvious one for his game as our most expensive purchase, and it has taken until January after a string of defeats, and a request from the players, to bring it about.
It makes RM look foolish I'm afraid and weakens him for the future. It is always regrettable to have tactics discussed in this way. I agree that Rom should have kept his mouth shut.
A successful PL manager should not be taking guidance on basic matters from his 21 year old striker.
Short term this may all produce the improvements we need and if it rescues the season then that's wonderful, but I am concerned about the longer term implications for RM. I hope Jamie is right that the players will see this as intelligent compromise rather than capitulation to them.
Iain Davies
35
Posted 08/01/2015 at 07:54:59
Joe Clitherow @14, I think your comments are spot on, especially down to the fact a player has come out and stated that they 'the players' felt it necessary to 'tell the manager' and then mame it known to the press and public.
Colin Glassar
36
Posted 08/01/2015 at 08:02:53
Eric, I stand corrected. I missed out a paragraph re the 'relationship with Martinez and the things he teaches them'.
Anyone on here who has worked in management and has refused to listen to a subordinate's suggestion/idea is simply not a good manager.
Ian Jones
37
Posted 08/01/2015 at 07:59:08
I appreciate Rom's comments about it being time to react. However, it still took him to injury time to react!
Only joking
:)
Jon Withey
38
Posted 08/01/2015 at 08:10:19
You'd never hear a player saying that about Fergie or Mourinho, would you ?
That said, I don't care how it's done, we need to win games.
It does seem that Martinez is back-tracking though - I'm not sure where that leaves him but results will speak for themselves.
Points in the league please - the rest is secondary.
Adam Luszniak
40
Posted 08/01/2015 at 08:31:35
Cor this argument just gets better! It seems this revelation is fuel for the fire. People who are saying Martinez being influenced by another opinion makes him weak and a poor manager, aren't you the same people who were criticising him for being totally flexible and not having a plan B?
Mohammed Horoub
41
Posted 08/01/2015 at 08:23:57
I agree that it's positive to have an open line of communication between management and staff but my issue is with the timing. As far as I'm concerned the alarm bells should have gone off with Bobby and his 'A' team after we conceded 6 goals at Goodison to Chelsea. (I still can't believe that actually happened) They should have figured that everyone was pressing our back 4 to stop us playing it out from the back and the game plan should have been diversified. Now we don't only have a problem with tactics but also confidence and belief and RM will find it's much more difficult to bring that back.
If the definition of football intelligence is to take on board feedback AFTER losing 6 out of 7 games then I am the first person to ask Kenwright to replace Bobby with a moron who knows nothing about football. At least then if the team continues to play like this we can all say "Well he actually doesn't know anything".
No-one wants to see Everton lose but an injury time goal at home to earn a DRAW is not my definition of a turning point!
Even Wenger has evolved and brought in specialist coaches for his defence. So what has RM done in his career to take this stance. If he had done for Everton what Wenger did for Arsenal then I can accept he has earned the right to be given time but until then he needs to show some humility and it starts by changing the coaching staff who are making Steve Round look like Ancelloti.
RM needs to accept that football is always in a fluid state and tactics can evolve. The two constants that any team should have are the desire to play for the shirt and fans and the fitness to back up that desire. He has so far failed to deliver on any of this and that is why so many people are worried.

Patrick Murphy
42
Posted 08/01/2015 at 08:52:13
Adam - There are two ways of looking at the Romelu revelations:
1. The manager is approachable and can adopt new ideas and players feel comfortable in requesting new tactics.
2. The manager has been too rigid and it has taken a very poor run of form for the players to respond and request a change.
My particular take is that Roberto has been married to his ideas and listens to nobody and it has taken a poor run of results to bring to a head the frustrations of his team with the game-plan. It also begs the question why Romelu put in such a mature and hard-working performance on Tuesday night when for most of the season he has looked leaden footed and disinterested.
If there have been frank exchanges at Finch Farm and both sides have listened to each other then that can only be a good thing in the long-run, but if players are picking and choosing when to perform to their maximum if they feel that they will benefit from the tactics employed that could prove problematic.
It would have been far better for the manager to have said he altered the tactics, but he is so wedded to his philosophy that he simply couldn't bring himself to say such a thing and instead it is left to a young player to make it public knowledge.
But whatever the particular details - as long as it brings Everton FC enough points in the coming weeks and months I'll take it, but it still leaves me feeling a little more unsure about Roberto the manager than I was previously.

James Stewart
43
Posted 08/01/2015 at 09:12:22
Does not look good on Martinez at all. If it hadn't've been for players asking to go direct, it wouldn't happened. Lukaku knows his strengths and good on him for speaking up.
I still have absolutely no faith that Martinez knows what he is doing.
Ian Jones
44
Posted 08/01/2015 at 09:09:19
Hi Mohammed
Interesting points raised. Some I agree with, some not. Unfortunately, due to being at work, I only have time to comment on your point/comparison in relation to Roberto and Arsene Wenger suggesting if Roberto 'had done for Everton what Wenger did for Arsenal then I can accept he has earned the right to be given time but until then he needs to show some humility and it starts by changing the coaching staff who are making Steve Round look like Ancelloti'
I may be missing your point but to be fair to Roberto, over what period are you comparing the two.
Roberto has only been at Everton for app 18 months... Wenger a lot longer, so quite clearly will have had time to be more effective, perhaps not the last 10 years or so... I think we should allow Roberto a bit of leeway.
However, if you mean over the first two years of Arsene Wenger's tenure, what exactly did Arsene do for Arsenal apart from win the Double!
Okay, it may be a good point you raise!
Having said that the Premier League in the 1990s was a totally different league to the one it is now for many well documented reasons.
.
Chris Gould
45
Posted 08/01/2015 at 09:28:58
Premier League managers are supposed to be the elite. Does anybody truly feel that RM is an elite manager? Whether you back him or don't back him, everyone is in agreement that things needed to change. They wouldn't have if the players hadn't intervened. Maybe they still won't change enough. After all we only scraped a 1-1 draw at home to WHU.
We could all see that it needed changing months ago. He couldn't see it. Still can't. The players are forcing the issue. I just hope it has the same results that it did with Chelsea when Di Matteo was put in charge. Drogba, Terry, Lampard and Cole called the shots and it worked spectacularly. Di Matteo was just a puppet.
Joe Clitherow
46
Posted 08/01/2015 at 09:04:39
So I stand by my points above around loss of credibility. Mainly because of some of the subtleties here, and the devil is always in the detail.
First off the changes made were/are not rocket science, they are just so blindingly obvious: mix up your style a bit to keep the opposition on their toes and play to the strengths of the guy you paid 㿈M for? Err yeah, go figure that one out. That's not a Plan B by the way, that's a fundamental part of Plan A. Did Roberto *really* not work that out for himself? Or was he just too stubborn to approve it? Either scenario is not a good one,
I think it is great when a manager asks for opinions from staff, he should be doing that all the time. The thing is, get all the opinions in and then say "this is my decision of what we will do". The problem Bobby has is that he has backed himself into a corner with his spouting about "philosophy" and this looks not good. Look at the direct quote splashed all over the media: "I knew it was time to react". Note I". From a 21 year old. I don't reckon this is a Macchiavellian stance from Lukaku by the way, just naivety like Garbutt, but it is telling.
But like that Garbutt quote, why does this have to appear in the papers at all? In a close knit team shouldn't it be kept in house? In a strong team environment you accept the mistakes of others and cover for them. That's what a team is, surely? In a 'them and us' environment there is point scoring. This looks like point scoring to me. What happens the next time like I said that RM wants to push something the players don't want to do or don't agree with, like all leaders have to do from time to time? Who wins that battle?
My take on the message here is players saying "We knew he was wrong all along and had to force the matter" which to me leaves Martinez very diminished as the manager.it fits the scenario of a dressing room split that has been rumoured for a while in terms of circumstantial evidence.
Of course, short term, like almost all the posters I don't give a toss about loss of face for Martinez, I just want results improving, and if this really is Road to Damascus then even better. I've nothing personal against him and if the club continues to improve then that's fabulous.
However, I have severe doubts about this and I do think medium to long term he is now knackered, because while things are going well (and let's not all get carried away here - we scraped a last minute draw against an Allardyce team) it's all hunky dory and a chummy love in. Next time it goes bad and leadership is required, whose job is it to provides?
Brent Stephens
47
Posted 08/01/2015 at 09:33:42
We "knew" we weren't mixing it up enough, with an over-emphasis on tikki takki. We sensed that players were unsettled with, uncomfortable with that single approach. What Rom now says seems to confirm their discomfort. He says they "asked" Roberto if they could "play a bit more direct sometimes" and he seems to have agreed (you could see from the start on Tuesday a more direct approach).
So I'm encouraged by this as it seems: the players haven't revolted; Roberto hasn't "lost" the dressing room; they have maturely suggested we mix it up; he has maturely bought into that; this is why some (Ken in his Seat) said they saw "green shoots" on Tuesday; this is why I sensed we were more threatening Tuesday than for a long time; this is why I go into Saturday with a wee bit of optimism (dare I say anticipation as I expect to see passion and mixed tactics).
Joe Clitherow
48
Posted 08/01/2015 at 09:38:40
By the way, had RM come out first and related what Lukaku said and also said something like "the players told me this and this, I gave it some thought, decided they were right and I was wrong this time, so I changed it" ├éÔÇô then that would been very very different. That would have shown great humility and leadership and he would have gone up not down, showing he could retain control.
But he didn't do that did he? That's another trick he missed.
Adam Luszniak
49
Posted 08/01/2015 at 09:39:55
The way Martinez portrays it in his press conference this morning is that the dialogue between players and staff is a normal ongoing thing, not a one-off occasion. Perhaps it would have been better for it to come from Martinez's mouth rather than Lukaku's, however i'm not fussed either way.
Some will argue it's weakness and is a wholesale change of philosophy. Others that it's a tweak and part of the normal process. Either way, again I'm not too bothered. It seemed to produce a slight upturn in performance and that's what we all want to see. I guess we'll know more from the Man City game, where we can assess wether this more direct approach sticks or we return to the keep ball of the past.
Brent Stephens
50
Posted 08/01/2015 at 09:45:13
Adam #40 - well said - we asked Roberto to be flexible, he now has been, so let's acknowledge that.
Brent Stephens
52
Posted 08/01/2015 at 09:52:07
... and "going forward" (dread phrase) what's important is not just that Roberto has learned something here but whether he has learned how to learn (how to pick up on other things that might go wrong in the future).
Joe #48 - agree that the way this has come out is unfortunate. Just hope it all augurs well for the future, starting with Saturday's thrashing of City!
Max Wilson
53
Posted 08/01/2015 at 09:58:57
Any comment was unnecessary in my view. We could all see a change in tactics.
Phil Walling
54
Posted 08/01/2015 at 08:52:35
Rom follows Garbutt and Ossie onto the list of players who have questioned the manager's preferred tactics in recent days. I wonder how many others have been in his ear ?
I'm old fashioned enough to wonder at the openness of all these dressing room influences and suspect the real truth is that it was getting near to open revolt.
The so-called loyalists (we mustn't say apologists, apparently !) who would follow Roberto to the ends of the earth would have such democracy painted in a good light. Those of us who, through experience, know the perils of having the workers call the shots would say it was total weakness.
No prizes for guessing which camp I'm in !
Brent Stephens
55
Posted 08/01/2015 at 10:04:21
Rom "We have a great relationship with him (Martinez). He shows us new things every day and we learn such a lot from him."
And that is good news as well.
Matthew Williams
56
Posted 08/01/2015 at 10:04:15
So goodbye to the School Of Science, it was short lived. Last season we played some of the best football I have seen, I don't know why we couldn't just keep that going rather than reverting to hoofball. I for one found it depressing the amount of times I saw Jags just hoof it up, I think Martinez just has to accept that many fans now were not brought up with the school of science philosophy.
Chris Gould
57
Posted 08/01/2015 at 10:08:43
Matt - the problem isn't the fact that many of the fans weren't brought up with that philosophy. It's that the players haven't been.
Brent Stephens
58
Posted 08/01/2015 at 10:11:31
Matthew #56 - I didn't see Tuesday as hoofball. I saw Jags (not enough!) put his foot through it rather than arse about at the back under pressure; I saw fast balls out from deep positions, aimed direct at a player (that's not hoofball and is exactly what Rom is talking about and what he got and what he praises); I saw tikki takka; I saw meaty challenges and pressing in the middle (Besic). That's a nice mix for me.
Ian Tunstead
59
Posted 08/01/2015 at 10:06:53
So, what is the point of Martinez? Basically, tactically he has been found to be inept and either too stupid or stubborn to react and respond, and now the players are dictating the tactics.
He has been shown to be weak and out of his depth. His team selections and substitutions have been awful, and his signings have mostly been poor or over priced. He has shown he can not motivate the team or get the best out of his players.
His man management has been found wanting, the players are not playing for him and constantly making comments to the press which undermine him. His dealings with the press and fans have also worked against him, being ultra positive after being awful each game after getting beat by teams that will probably be fighting relegation just makes him look fake or delusional.
This is not the man to run a PL team, let alone a team like Everton. He has shown himself to be completely out of his depth and redundant. He has to go at the end of the season or as soon as we go out of the remaining cup competitions.
Nigel Gregson
60
Posted 08/01/2015 at 10:26:04
I wonder if we had lost 1-0 any of the 'experts' here would have even noticed the fact that there was a change in approach and that we played more directly.
Callum McNab
61
Posted 08/01/2015 at 10:21:32
I'm glad their has been a change. The worry for me is it's took half a season and staff resignation, plus players decent to hopefully start turning things around. Did he learn nothing from his time at Wigan.
John Keating
63
Posted 08/01/2015 at 10:36:50
Nigel
I think you will find that there have been numerous posts on various threads noting the more direct approach.
Robles clearing directly upfield and only throwing out to defenders who were unmarked - a bit different to Howard who threw out to players on numerous occasions who were already marked or close to being closed down.
Defenders clearing upfield when challenged rather than play the short pass regardless.
So yes there were numerous people who commented on it.
It is just a pity it has taken Martinez 20 odd games to see what thousands of people have been saying since the Leicester game and now we find out the players have finally had the bottle to mention to him.
Good for him he has taken the players comments onboard now hopefully we will see a bit of a mix in our tactics and a change in our fortunes
Phil Walling
64
Posted 08/01/2015 at 10:40:23
Nigel, I suspect that had we had lost 0-1, the subject of these threads would have been something other than Romelu's outpourings !
Ian Jones
65
Posted 08/01/2015 at 10:53:47
Sometimes putting your foot through the ball and 'hoofing' it may just release the pressure.
Likewise, knocking it in to touch when defending may be also be wise. Thinking of Tim Howard who raced out of his goal towards the touchline to clear the ball as far as a Man Utd player. Was soon in the net. Perhaps Row Z would have been better.
occasionally needs must!
John Daley
66
Posted 08/01/2015 at 11:03:53
"Look at the direct quote splashed all over the media: "I knew it was time to react". Note I". From a 21 year old. I don't reckon this is a Macchiavellian stance from Lukaku by the way, just naivety like Garbutt, but it is telling......This looks like point scoring to me."
It's only 'telling' in the way you imply if you take the qoute entirely out of context.
He used the word 'I' simply because he was referring to the fact that he 'himself' knew he needed to up his own game after the wake up call of being dropped:
"After two games on the bench I knew it was time to react. I wanted to show the manager how he can count on me."
Nothing to do with him being an upstart seeking to claim credit, or considering himself a separate entity adrift from the team. Simply a player stating that he wanted to prove his worth after being taken out of the starting line up following some sub-par performances.
Also, what has his age got to do with anything? The temerity of the kid, referring to himself in the first person. At age 21 he should surely stick to announcing himself as 'LuLu' in a lispy toddler voice. Like a less skinny Smeagol from Lord of the Rings. "LuLu knew it was time to react. Yessss. LuLu wantssssed to."
People have moaned long and hard about Lukaku looking like he doesn't give a shit. He finally busts a gut and reacts in the manner any recently dropped player restored to the first-team should and, suddenly, that's not enough? We now need to know the finest minutiae of why he mentally got himself up for it? Who cares?
He's a fucking footballer, not Fyodor Dostoevsky. There's nothing to be gleaned by going over his simple words, again and again, in search of some hidden subtext.
Joe Clitherow
67
Posted 08/01/2015 at 11:06:00
Nigel, the change was so completely obvious (to anyone who was watched us this season) within the first five minutes, which didn't take any kind of expert to see. Actually we saw a glimpse of it early doors too against Stoke but it didn't last very long. Maybe, for the conspiracists, the players decided to try it themselves but received instruction to stop. Who knows?
James Martin
68
Posted 08/01/2015 at 10:47:41
It really is make-or-break time. The players and Martinez have either had a blunt heart to heart, got it all out and are now working together and will hit some form, or it is the final nail in the coffin revealing Roberto has lost control.
I hope it's the former as I love a good sporting turn around and I think Roberto is a good manager capable of great things IF he can survive this period. The prospect of a renewed team with a humbled RM attacking European knockout with a full squad is a good one in my opinion.
Don't lose v Man City, beat West Ham, beat West Brom, get the revival back on track. We don't need to sack him, we should be better than going to that as first resort. How about the players following Lukaku's example and playing for the manager. Stick together and we can get out of this. When we went one-down to West Ham, all you could hear were chants of 'Everton'. Full houses for Man City and Liverpool as well (neither picked up by the papers who loved all the booing).
If RM can ride this out and get us back where we need to be, it will be great for Everton and great for the future for RM knowing we stuck by him. The emotion was back the other night and it's for those moments you go the game. Easy to be a boss fan when everything is going well. This is the other side that in the 90s we used to be so good at. Sticking by the team and manager even in the worst of times.
Nigel Gregson
69
Posted 08/01/2015 at 11:19:14
Perhaps to you Joe, but right now I all I see is pitchforks and stake hunt because the witch has been clearly identified and condemned to be burnt. Evidence be damned because any development will be interpreted against him in any way, even if it contradicts prior evidence used.
Peter Roberts
70
Posted 08/01/2015 at 11:28:18
Has it not kinda logged with anyone that we haven't got issues scoring goals, its conceding them.
Mr Lukaku thinks getting the ball to him quick is why he played well? No I think its clearling the lines meant we didn't concede more despite Jags looking drugged up.
Lukaku played well because his ego got rattled, nothing more, nothing less. Looks like we've got a high maintenance diva on our hands.
Mike Oates
71
Posted 08/01/2015 at 11:26:37
Why is everything so black and white to people, I've worked with numerous managers who take feedback, change the way we do things, listen to other ideas, its called man management - meaning both ways manager and staff.
I suspect Roberto will change back to possession football when the confidence is back, when we have McCarthy and Barry/Besic firing on all cylinders again, the back 4 back to being confident with the ball, instead of being frightened to death.
The players have said , we not playing well, we are making too many mistakes in dangerous areas and we need to get the ball out quicker, and that will also probably be better for forwards who aren't getting good service. What's wrong with that. Its called listening, which most good managers do.
It's clear Martinez was hoping that the players could play there way out of trouble and its become obvious over the Xmas/New Year period that the players just cant play the way Martinez wants them to at the minute. But hopefully times will change and we'll start to win, and players will revert back to last season's standards.
Kevin Tully
72
Posted 08/01/2015 at 11:19:00
You can't just take this snippet from Lukaku and pretend this one issue has been the only problem this season. These fuckers have been sulking all season, as proven by performances. Has any player merited more than a 6/10 over the past few months? Can't you see how wide the rift between players and manager has been lately?
Even our two best players from last season, Baines & Coleman, have been fucking awful - the problems run far deeper than the players asking the manager if they could they knock it long.
So discussing whether the manager should listen to the players is only the tip of the iceberg I'm afraid. This is all about a massive falling out over many months. If the likes of Jagielka and Distin said what they really feel, I think many would be shocked.
All ths should have been sorted months ago, before our season went to shit!!
Liam Reilly
73
Posted 08/01/2015 at 11:41:32
Don't see anything wrong with this. Any decent manager in any walk of life will tell you there is always a need to listen to trusted teams members views and suggestions in both good and bad times. Ultimately however the decision on strategy is the Managers and the Managers alone.
RM listened to the suggestions from his senior players and decided it had value. The sign of a good Manager; not a weakness.

Brent Stephens
74
Posted 08/01/2015 at 11:48:41
Peter #70 "... we haven't got issues scoring goals, its conceding them. Mr Lukaku thinks getting the ball to him quick is why he played well? No I think its clearling the lines meant we didn't concede more despite Jags looking drugged up. Lukaku played well because his ego got rattled, nothing more, nothing less. Looks like we've got a high maintenance diva on our hands."
Peter, things don't have to be "either / or"; they can be "both / and". IMO this was "both / and". Getting the ball out more quickly and more directly both took the pressure off defence and gave Rom a better chance of receiving the ball when under less pressure and being able to turn.
Harold Matthews
75
Posted 08/01/2015 at 10:28:03
We needed a change of tactics because too many are nervy on the ball, too many have a poor first touch, too many show little movement and too many exhibit zero fighting spirit. We're pretty good with the normal type of British football but the possession stuff is not quite our cup of tea.
After Swansea and Wigan, Martinez made the mistake of thinking the higher quality Everton squad would carry out his philosophy to the letter and take the football world by storm. Record points in his first season suggested he was on the right track but it sadly all fell apart. Pre-season, Europa and injuries haven't helped but the performances have been dire and the fans are not happy.
Where we go from here is anyone's guess and I'm not about to make suggestions. Hopefully things will improve.
Keith Harrison
76
Posted 08/01/2015 at 11:49:09
Can I add something different to this argument perhaps?
Personally I think Martinez does not have a plan B, and the interview with Jags and Rom after the game was summed up quite succinctly by Steve McManaman (an Evertonian after all) when he said the body language shows the boys are not happy. Absolutely spot on.
More worrying however, is that I was told last night via a source from within the club that Baines was sent home before the game for calling Martinez a ├é'Soft Wanker├é' and that he is/was not injured. Looks like the early stages of a revolt ├éÔÇô not a friendly word with the manager!
Quite a few lads are being played out of position, which is affecting the natural flow we had early last season, and if we took just 2014 as a calendar year, it was pretty poor.
Hopefully Roberto has phenomenal understanding and realises the crowd and teams monumental incredible backing which is in our DNA might just evaporate if we keep fucking about with the ball in our own 18-yard box!!
Brian Harrison
77
Posted 08/01/2015 at 11:51:34
I think that this highlights that not only are the players so fed up of the Charlatan's style, that they have not only spoken to him about it they have also gone public about it. For me, he is now a dead man walking, the fans have been saying for a long time the style is not working and now the players have had their say.
Yes, I am sure all good managers have regular heart-to-heart meetings with their players but usually these things quite rightly are kept in house. The fact that the players have said publicly what has been said behind closed makes a massive statement as RM either has to change and admit his philosophy was wrong or leave.
Ian Burns
78
Posted 08/01/2015 at 12:05:42
Well said Brian 77 -
Osman; Garbutt: Rom - now can one of the players ask RM if they can practice defending set pieces - then can one of them ask him if they can play in their best positions?
Then one of them can ask him if he would stop filling the team with number 10s.
You never know but these players can make a manager out of him yet
Kevin Tully
79
Posted 08/01/2015 at 11:58:43
I also wish posters would stop making comparisons with normal workplace mangers and a Premier League manager.
It is not in any shape or form comparable. Even cap'n Pip was saying he hadn't make a cup of coffee for himself until last week, aged 37!!
Premier League managers are in position to get results - nothing else matters. He is not being paid tens of millions to listen to how the team would rather play. Even amateur football doesn't work like this FFS.
Tony Waring
80
Posted 08/01/2015 at 12:02:51
Surely the question we should be asking is why/how were we so spectacularly good last season and now find ourselves unable to repeat the magic with virtually the same squad ?
Joe Clitherow
81
Posted 08/01/2015 at 12:22:11
John 66 I may very well agree with your point but that's the Sky age and t'interweb I'm afraid. What was the point of the quote in the first place? What's the point of this forum? What is the point of you providing a counterargument? This is all just the matchday pub chat transferred to virtual 24/7 and to a wider audience. Ultimately it makes not a jot of difference to team performance but we all like to talk about these things. It's the curse we also carry surely?
Ironically the point I was trying to make (clearly badly) was in some way the same as yours, in that the quote wasn't necessary, the change was obvious. Thing is once the genie is out of the bottle then speculation is inevitable (so we do).
By the way, your Gollum scenario did make me laugh, but coming in the week when Phil Neville revealed he couldn't boil an egg and had to phone his wife to ask how to make instant coffee, I'm really not sure if you're joking or not.
John Keating
82
Posted 08/01/2015 at 12:13:21
I find it quite strange that some people who are extremely pro-manager ├éÔÇô be it Moyes or Martinez ├éÔÇô seem to think that supporters should not criticise the manager, regardless. It should not matter who the manager is, if he is big enough to take the money and praise when things are going well, then he should be big enough to take the criticism when things are not.
I cannot believe there is one supporter of our Club that at sometime this season has not questioned Martinez's tactics, team, style, substitutions and comments. After last season and our expectations for this season seeing the team play so bad and all the reported periphery stuff going on, are we just to sit back and say nothing?
Remember, this is our Club and we will be here long after any manager or player leaves. If any of these arseholes put our Club in a bad light then take what they get.
After last season, I believe everyone wanted Martinez to continue or better our form well it has backfired dramatically, therefore, he is up there for any comment any supporter feels he justifies. Nobody working for Everton Football Club should be above criticism, if deserved, and Martinez fully deserves it so far this season. Blind loyalty causes more harm than good.
Brian Harrison
84
Posted 08/01/2015 at 12:42:26
I would think no matter what level you manage at surely the things that must be fundamental to all teams are, make your team as fit as they can be, then make them organised, then give them a structure. I think RM fails in all of the above, maybe the games over the Xmas period has actually helped get the players fitter as clearly prior to Xmas they looked Knackered after 75 minutes. Then putting the basics in place a lot will depend on the quality of player you have or can buy. But by not putting in the basics even quality players will struggle in RMs team.
Ian Burns
85
Posted 08/01/2015 at 12:49:15
Just reading a notice on Sky that RM said there was no team meeting about a change to incorporate a more direct style of play.
In the next paragraph Rom says he and his teammates had a meeting with RM and pleaded with the manager to adopt a more direct style of play.
Somebody is telling porkies.
Phil Walling
86
Posted 08/01/2015 at 12:48:34
Jag's surley demeanour on Tuesday night has been mentioned throughout the media. He looked to me like a guy who had just had a good bollocking. If so, I think his performance merited it. although it probably for resorting to hoof-ball, nothing else!
Mike Allison
87
Posted 08/01/2015 at 12:53:02
Not necessarily Ian, they may have discussed it but not in any kind of formal 'meeting'.
This is the most encourahing thing I've read about Martinez in weeks, now all it needs is someone to request that they get fit, practice defensive organisation and spend time on set pieces and we might just have a decent team yet.
Michael Polley
88
Posted 08/01/2015 at 12:44:02
I agree with some of the above points, in particular that the problem with tactics should of been addressed after the Chelsea result.RM has remained stubborn for too long, and it has cost us.
Let's hope this change to a more direct football will see us move up the table. It will be interesting to see game plan for Man City game.
John Keating
89
Posted 08/01/2015 at 13:00:07
Ian I think Mike has it. I believe it was not a called for formal meeting asked by the players. It seems it was an informal group chat. I think we'd call it a meeting but I suspect it might be more diplomatic to call it a group chat ├éÔÇô wouldn't like anyone to lose face!
I'm just made up Martinez's rigidity and determination to pursue a failed model has been relaxed. Something most people have been calling for. Hopefully we can have another group chat to recommence practising dead-ball situations.
Clive Lewis
90
Posted 08/01/2015 at 13:06:59
Well it does not make a difference who said this etc. Maybe Martinez will now develop a style that is more direct. The time when passing it around a lot worked has gone. Players fitness levels are good they can chase all day short passes. Deliver the balls quickly down the channels and through the gaps is much more difficult to defend against. I will applaud Roberto if he changes his style, a bit a balance is needed between passing and longer direct passing. The long pass will suit players like Besic better..
Tony J Williams
91
Posted 08/01/2015 at 13:11:15
To be honest I think it's shocking that it has taken 20+ games before someone has the balls to ask....fucking ask?... if they can play a different way.
Head in the sand, "My philosophy will work, trust me!" is madness and these professional players haven't the guts to perhaps boot it into touch if under pressure or to twat it upfield to clear their lines if they want to. Are they mindless robots?
It's not black and white, sometimes there are shades of grey and hopefully Bobby has realised that and will allow the players to make some decisions themselves instead of playing under the manta of pass, pass, pass....shit lost it, defend, defend.
Mark Andersson
92
Posted 08/01/2015 at 12:56:13
Just a observation, to those that bang on about MartinezÂ's highly acclaimed legacy of Swansea, if he was so fundamental in their current status, then why are Wigan not top of the Championship? There have been numerous managers at Swansea since El Bob left them for the pie-eaters. Just why did he think going to rugby town a step up?
This latest debate re: Lukaku comments is both irritating and fascinating. Opinions are just as varied as always. Either outcome will have one set of fans gloating "I told you so". Bottom line is we are still in deep shit. I for one hold the manager to account; however, the piss poor attitude of the players sulking, while the fans who live, breath and pay top money to be entertained have been short-changed.
The shit has hit the fan, itÂ's shit or bust now for both manager, players and fans. We need a decent game against Man City no matter what the result is.
Terence Tipler
93
Posted 08/01/2015 at 12:58:06
These latest revelations, now confirm what a lot of us on this forum have suspected for a long time. The manager has lost the dressing room, with his insistence on the tippy tappy game, and square pegs in round holes. They seem to have taken matters into their own hands... the manager has now lost all credibility, what little he had left anyway.
I now expect things to get worse results-wise, as players are going to be caught in two minds when on the ball, as to whether they should pass the ball out of trouble, or go direct. This will now result in hesitation and worsening results. Games against West Brom and Palace, later this month, will decide his fate.
Joe Foster
94
Posted 08/01/2015 at 12:12:35
I think it had more to do with BK's new jacket...
Jay Wood
95
Posted 08/01/2015 at 12:59:11
I'll take a hybrid position on this, akin to Mike Oates @71 and Brent Stephens @ 74... does every comment and act by the club and it's employees HAVE to be so black and white as Mike says?
There are other shades in the spectrum you know...
Similarly, as Brent says, things can also be either-or, both-and.
Personally, I think it's healthy that the players are concerned enough to approach the manager who was receptive to them.
I can understand the viewpoint that this can be interpreted as weak management on Roberto's part, or a dereliction of duty that he was unable to see or make the change himself.
Some argue that Fergie and Moyes would not allow such a brazen approach by their players. Maybe, maybe not. But then, Martinez is not of that nature - ruling by fear. He is clearly a personable, approachable fellah.
We all respond differently to different personalities. Who can say with absolute certainty just how the players respond to Martinez and just how the relationship is between manager and players?
That's why I always take claims of 'the manager has lost the dressing room' with a pinch of salt. It ain't easy dealing with the egos of overpaid sports stars who always believe they should be in the team.
Conflicts are inevitable, even in the tightest knit changing rooms as Everton has had down the years. Any one watched The Crazy Gang documentary over Xmas? Fashnu and Sanches - two pivotal players in the heyday of Wimbledon - HATED each other and weren't even on speaking terms ... but ... they fought and won together.
Of recent declarations to the press, I'm more concerned about the Luke Garbutt affair.
The lad makes his full PL debut at Newcastle, does well, the team gets beat, and HE is the sacrificial lamb wheeled out to make after match interviews with the press. This isn't something that happened by chance.
He makes an unprepared, innocent comment about the short time the team had to prepare defensively for the game ... and he gets dropped from the squad against Hull. There has been NOTHING said that he was injured and he was back on the bench on Tuesday.
Two things here for me. The senior pros were chicken shits for throwing him to the wolves for interviews after the Newcastle game, rather than stand there themselves and explain another defeat.
If, as seems possible, Martinez took umbrage at his comments and punished him for the Hull and Hammers games, then I think that WAS bad management and totally unjust.
This does have potential consequences as he is out of contract in the summer and it gives him food for thought. "Shit! I play well, do what I'm told - give an interview - and I'm dropped for my comments, not my performance?"
Would you be encouraged to sign a contract extension..?
Declan Brown
96
Posted 08/01/2015 at 13:33:54
I'm glad that's all been sorted now. Good man Rom.
Now can you go back to Roberto and ask if we can start practising defending and attacking set pieces, also fitness that means we can last 90 minutes now. After all, the FA Cup and Europa League may present a few games where extra time is required. God help us if that comes about given the state of our squad's current fitness.
If Graeme Jones asks what's the point of it i'd happily ask him what's the point of him being there and he can go and think about that, as a coach he should know.
Jay Harris
98
Posted 08/01/2015 at 13:32:24
FFS we only drew 1-1 against an average West Ham side and the problems remain the same except Lukaku had an outstanding game.
RM is obsessed with playing forwards and doesn't give any consideration to defending.
Every time West Ham had a corner they could have scored.
Our defending of set pieces isn't even up to Championship standards.
I think the late goal and outpouring of relief will have done the players good as did the "open" discussion but it still doesnt mean Jags and Distin are totally happy with the way we are set up.
We have a really good quality squad hindered by the manager's team selection and lack of organisation.
John Voigt
99
Posted 08/01/2015 at 13:57:15
I'm really concerned about the way Everton play defense. Defending corners is more than a concern. Making the same mistakes against West Ham playing short on corners with Everton players slow to react is a real problem.
It's also easy for opposing teams to get a bunch of corners against Everton. There are acres of space out wide. How many times to we see an Everton defender coming out late to play against an attacking player who plays out wide. It's easy for opposing teams to get the ball out wide and have a cross blocked for a corner. If I were setting up a team against Everton I'd get the ball wide and play for corners, which Everton don't defend well.
Everton need some clean sheets, but the way they play there aren't going to be very many.
Raymond Fox
100
Posted 08/01/2015 at 13:35:54
There's no pleasing some folk! Roberto moves to make our style more direct, not a lot but sometimes, what's wrong with that? Now he's weak! Give over, he's listened, hasn't he?
It's become obvious as the season has gone on that the player's are not good enough to play the style that he prefers. >If he had one or two of Man City's and Chelsea's players, it wouldn't be a problem; they would have that little bit more ability and close control to pull it off.
The dream when he took over was that it was a long term strategy aimed at producing superior young players from within the club. No easy feat, but for a club of financial standing a must if we want to win something for a change.
Moye's style of football made us competitive so I'm not knocking it, but it proved that it could only take us so far.
Tony J Williams
101
Posted 08/01/2015 at 14:30:47
Raymond, I would think that the issue is that the manager apparently didn't make the changes, he had to be asked (still can't believe that) to change them by his players.
"I now expect things to get worse results-wise, as players are going to be caught in two minds when on the ball, as to whether they should pass the ball out of trouble, or go direct." - Terence if that ever happened then all they all deserved to be dismissed from their positions as professional footballers.
Also, I have it on good authority that Bobby has not lost the dressing room, as he still allows the players to have their chips on a Friday night.....
Bill Gall
102
Posted 08/01/2015 at 14:19:16
I have often commented that Martinez appears to stubborn to change his philosophy or style and that in the modern game depending on who you are playing you have to change your tactics to suit the opposition, so regardless who makes a suggestion if it shows improvement who cares.
I still believe he should bring in a qualified defensive coach ( preferably an Italian who seem to have defence inbreded in them ) to intergrate the defence within the style or philosophy he wants. Goals earn points defences win games.
James Martin
103
Posted 08/01/2015 at 14:40:10
What is perhaps most annoying is that in Tuesday night you saw Besic and Lukaku literally head and shoulders above their team mates. Besic has been at this level for a few games but Lukaku has only just got himself there. Stones then came on and looked class. A large part of it is player attitude which is why the RS collapses are never as bad as ours because they always had players who would demand perfornances regardless of what Hodgson or whoever said. We've got a group of players who cling incessently to their manager. If they're finally starting to tske responsibility for their own performance then good even if it means some peoples noses are out of joint.
Anthony Hughes
104
Posted 08/01/2015 at 14:25:40
Whilst it's admirable that the players and manager can have a discussion about the style of play the question is still there of why it wasn't Martinez alone who could have picked up on what was going wrong. As many of us have said there is still the issue of team selection and players being played in the wrong positions.
Does Roberto need help from the players in regards to picking the team?
If we win and play well is it down to the players and if we lose it's Roberto's fault?
Martinez' has left himself open to alot more questions here.
Paul Thompson
105
Posted 08/01/2015 at 14:47:43
If we get a few decent results over the next month by mixing up the play better, the 'who said/did what' of the change will be largely forgotten, but if there is no improvement, it may be the final nail in the Martinez coffin. His authority with respect to players and play will be seen to have been fatally weakened. I'm hoping for the former, but suspecting the latter.
And will some of the idiots on this site laying into Lukaku get a grip. Despite the price tag, he's inexperienced and that sometimes shows. But's he's an intelligent and honest lad who will always score goals if he gets the service - sadly lacking most of the season.
Eric Myles
106
Posted 08/01/2015 at 14:32:16
Colin #36, I think the paragraph you really missed out was "Everton manager Martinez had insisted sticking to his possession-based philosophy was the only way of emerging from the torpor." It's not like it hasn't been mentioned in EVERY game this season by match commentators, media analysis and fans on ToffeeWeb that there's a problem with the tactics, but there was only one person who did not see that problem apparently, until the players 'asked'├é┬Ł him if they could try something different for a change.
And having to tell your manager how to do his job just engenders distrust and disrespect and the feeling that you'd be better off employed elsewhere working for someone that knows what they're doing.
And lest we forget, we didn't convincingly win a game, we're celebrating rescuing a draw in the 92nd minute and were still defensively all at sea. I hope now our defenders will ask Martinez if they can practice defending corners.

Raymond Fox
107
Posted 08/01/2015 at 14:47:29
Tony I understand your point, but he's proved he can be flexible which is what a lot of people were asking for.
I don't think he would have changed his instructions if it hadn't occurred to him as well that the possession style was not working as he envisaged.
We need to get some points on the board, its getting a bit scary at the moment, it doesn't matter how they do it, any old way will do!
Jimmy Kelly
108
Posted 08/01/2015 at 14:45:19
Peter Roberts (70) no I hadn't noticed that actually. Probably because, well, it's not true. Prior to Tuesday night we had failed to score in 3 of our last 4 games, and we were around 90 seconds from that becoming 4 out of 5.
If you don't think that suggests a problem scoring goals you have slightly different expectations to the majority of Evertonians.
For me, it's hard to say whether this is a positive or a negative. The fact that he's approachable and willing to take on board feedback from players is great, the thought that without intervention he might have sent us out in a home cup game playing the exact same way that had seen get swatted aside by such luminaries as Hull and Stoke is truly staggering. I guess we'll just have to see how the next few games go. Fingers crossed the green shoots turn into mighty oaks.
Terence Tipler
109
Posted 08/01/2015 at 14:59:28
Regardless of results against Man City this weekend, and the replay against West Ham. Both of which I believe we will lose. He needs at least 4 points from the West Brom, and Crystal Palace, games later this month, or he will be gone.
Jay Wood
110
Posted 08/01/2015 at 15:08:26
@ Raymond Fox 100
I notice a constant refrain in nearly all your posts, claiming as you do again here "the players are not good enough to play the style that Martinez prefers."
You add "If he had one or two of Man Citys and Chelseas players, it wouldn't be a problem; they would have that little bit more ability and close control to pull it off."
I really have issues with that point of view on 2 counts:
1) It is essentially the same squad as last year which thoroughly excited and entertained us ├éÔÇô playing Martinez's preferred system ├éÔÇô and achieved our record PL points haul. It is fair to conclude from that that the current crop of players are MORE than capable of adapting to Martinez's system and that he was effective in transmitting his methods and implementing them.
2) If, as you continue to argue, the current squad players are NOT capable of playing the Martinez Way then ├â┬ó├éÔéČ├é┬Ž why is he persisting in imposing on his players a style and method of play they are not capable of producing? Surely that is negligent, a dereliction of duty?
From all we know of Martinez he is clearly a serious student of the game. He must have studied different systems, strategies and training methods. If, as seems the case, last year's impressive and successful system has been 'found out' then it is his duty, his responsibility, to find alternative ways for the players under his charge to win games. And he is patently failing to do so.
Your argument (or rather, your veiled defence of Martinez) is seriously flawed.
James Marshall
111
Posted 08/01/2015 at 15:37:06
At last, he relents and listens to what we've all known for weeks. We were definitely better against West Ham, mixing up play, having Lukaku run at them instead of his back to goal all the time.
We'll be OK against City because they keep the ball well - this helps us IMO because it means we have less possession and less chance to just tip-tap it about like the Lidl Barcelona.
Good on the manager for listening and letting players have input. For this alone he has to get some credit.

Tony Marsh
112
Posted 08/01/2015 at 15:37:17
Our situation this season is not as simple as Martinez being found out. It's a combination of being found out, old age catching up on players. Howard, Barry and Distin are the prime examples. Add to that no backing from the board in the summer Deulofeu out and Eto'o in was basically it.
Lukaku and Barry were here last season so don't really count as squad additions.Its a complete mess.
The players are all too nice and to cosy at the club. There is no mean streak in anyone involved at EFC. No winning mentality on or off the park.
We are still tied up with the most ludicrous kit and sponsor deals in the entire country. The owner is a Buffoon and those around him worse.
Our problems run much deeper than Martinez being found.
Paul Hewitt
113
Posted 08/01/2015 at 15:53:51
As one of many on here calling for Martinez to be sacked I am pleased he has now it seems been listening to the players.
There is always more than one way to play and it now seems Roberto realises that its not always about possession.

Direct isn't always negative as Chelsea and Man City show so for that he has my support.
Mark Andersson
115
Posted 08/01/2015 at 16:10:33
So the manager lets the sulking boys have their say, they scrape a draw, not a win, and all of a sudden, Martinez is a good manager again? Get a grip ├éÔÇôthis team have been found out. The manager is a liability and the players have let the fans down by not manning up and playing with pride. All too little, too late.
I was born a blue, was it a blessing or a curse? well both: when itÂ's good, thereÂ's nothing better... but when itÂ's bad, itÂ's worse.

Colin Malone
116
Posted 08/01/2015 at 16:30:37
It took the players to tell Martinez to change to a plan B, as have all the fans have been saying for months.
My question is; what is the coaching staff doing? Are they all nodding dogs?
Tony Draper
117
Posted 08/01/2015 at 16:21:13
Many here have called for RM to go, I haven't.
That doesn't mean that he retains my 100% approval or that I completely disagree with those who want him to leave.
When Harry Catterick decided to sell Alan Ball I learned, with great pain, that the club is all that I adore (I STILL have dreams that Bally never left.....and...................) the players come and go, the managers and coaches too and "The Board" (though I can NEVER imagine shedding a single tear over ANY of them leaving Everton).
Roberto must get things right, that has never changed from the moment he penned the contract.
He is young, determined, VERY intelligent, adores stylish football and has a wonderful appreciation of Everton Football Club's illustrious and stain free history.
I want Roberto to become our greatest ever manager, and I want that far more than even he does !
If that requires a season or two of more "Plain Jane" football, well then I've seen plenty of that before.
If that requires selling a few adored players, well then I've seen that before.
If that requires us being relegated............well then, NO !
I have not seen that and I will not.
Our players MUST ALL face up to the fact that THEY are the underperformers.....
We could send Bally and Billy and Big Nev out alone against this current crop and beat them handsomely.
No previous Evertonians have been so highly paid, so well cared for, nor so numerous. Therefore, this current ensemble, have the fewest excuses in our illustrious and stain free history.
So, go on lads........make us proud......there really is NOTHING stopping you !
Dave Abrahams
118
Posted 08/01/2015 at 16:59:56
Tony Draper(17) my sentiments exactly,I've seen the Blues relegated, I was ten, didn't cry, but it was a miserable three years before we came back, just hope I never see that again.
But it is a real possibility and that is why Robbie has to listen to all of us and change the style even from game to game.
James McPherson
119
Posted 08/01/2015 at 17:24:12
Tony Marsh (112) - whilst it is always good to read your contributions - agree with them or otherwise - I think you are being a touch selective with your qualified support for Martinez. I seem to recall this useless board (which I agree they are) being around and persistently hindering Moyes when he was at the helm. Don't seem to remember your using that as a mitigating factor for OFM. Fair's fair now! Anyway, good to hear from you - hope you are ok and coping with this shambles.
James Marshall
120
Posted 08/01/2015 at 17:31:10
Tony Draper, a rallying cry, but I would say that while you're right that this crop of Everton players might be the most pampered bunch we've ever had - the opposition is probably stronger than ever as well.
The gap between the top/middle/bottom of the Premier League is a lot greater than it ever was in the old First Division.
Peter Warren
121
Posted 08/01/2015 at 17:42:02
I can't believe how useless we've been. I don't by the theory that Martinez or the players have been found out. Just look how shit Lukaku has been.
Seems to me that there has been serious internal unrest festering and then revealing itself on the pitch.
I believe all out in the open now, dealt with and that our results and performances will now drastically improve.
I bloody hope so anyway
Ian Burns
122
Posted 08/01/2015 at 17:31:57
Tony 117 and David 118 - a couple of old codgers just like myself! and Tony a terrific post! I well remember as a youngster EFC losing their first 6 games of the season - played 6 naff all points and I well remember how gutted I was and I have been getting that sinking feeling for some weeks.
My confidence has not been lifted by the draw with WHU although I admit the performance was an improvement.
This manager fills me with doom although I would never wish him anything but good wishes for the sake of our club - I never want to experience what you have done David albeit 60 years ago!! I wish my fears would disappear but the next two weeks or so will give us a huge clue!
James McPherson
123
Posted 08/01/2015 at 18:05:23
Ian Burns (122) - very well put. Even Phil Walling wants RM to turn it around. We all wish RM the best because the club is everything. Sadly, just can't see it. In many ways in his tactics and management he's written his own "death warrant".
Peter Warren, not sure Tuesday's game was the catharsis you reckon it to be. What's now all out in the open?
Colin Glassar
124
Posted 08/01/2015 at 18:18:01
Haven't read all the posts but one question re corners. Do we do zonal or man to man marking? I honestly can never work out what system we employ. Prefer man to man tbh.
James McPherson
125
Posted 08/01/2015 at 18:28:51
Colin Glassar, if you believe Osman's book, they are to work it out for themselves!
Colin Glassar
126
Posted 08/01/2015 at 18:36:36
Every man for himself then, James? Does look a bit keystone cops sometimes. This is where, IMO, jags fails big time. He's the captain, our supposed leader, he should be organising the bloody defence.
Nigel Gregson
127
Posted 08/01/2015 at 18:35:25
Phil #64 well thats exactly my point isn't it ? No one would noticed that actually he's changed the style would have all blamed him for being inflexible stubborn etc. At least when you call it, your thoughts are well reasoned and consistent, but right now its a pure witch hunt. Rational arguments are not needed anymore.
James Marshall
128
Posted 08/01/2015 at 18:34:22
Colin - re corners. I agree, it all looks a bit vague at corners these days. Zonal marking is bollocks in my view - get tight to your man and fucking stick to him like that arsehole does over at Mordor. If you get beat by your man, then fair play to him, but at least you're tight and in roughly the right place.
The West Ham goal at the weekend could have been prevented if players were more switched on and Besic didn't run off the line when they went to play it short - his fault as much as Distin for not staying with Collins - which all points to a collective failing.
I feel sorry for Robles to be honest (ex keeper here - goalkeepers union & all that) having to walk into a struggling team with a shabby defence and a lot of the criticism railed at him has been unfair in my view. He's a young keeper with a bright future from what I've seen.
His lack of confidence on crosses comes with maturity and games. He's a bit lad who can stop a shot - have another look at the save down low against Newcastle which was a fantastic. You can keep all your high-flying saves, it's the ones low down like that which count. The kid will be fine.
Sid Logan
129
Posted 08/01/2015 at 18:04:27
I don't know why anyone reading this would turn it in to a criticism of Lakaku. His only mistake may have been to be indiscrete but if the club was aware In advance then what he said then he is completely above criticism.
No question in my mind that the person who comes out of this looking like a complete dork is Martinez. First according, to Lakaku, he was telling the players that the only way they would come out of this slump was by continuing to play whatever the hell type of football he has the team playing. For the sake of argument let's call it possession football.
Secondly he appears to be just about the only person watching us this season who believed the style should not change in order to halt the slump - even if in his mind it's to be temporary. Those who had already arrived at this conclusion included just about every supporter and almost every media commentator some of whom are ex Everton players and remain Evertonians. It is to me without question this lack of ability to see what was going wrong and what changes were needed to halt the decline that I find most disturbing.
Personally I'm delighted he listened and will will be even more delighted if we continue to show some level of improvement against Man City. But I'm actually horrified that our manager did not have the wherewithal to see it for himself. I don't therefore have much confidence that once we pull out of this decline that he will have an understanding how it came to be reversed it and more importantly that he is has the capability and the flexibility of absorbing the lessons on a permanent basis.
Raymond Fox
130
Posted 08/01/2015 at 18:38:31
Jay 110, I take it you've watched all our games this season, have they looked good enough to you?
The other teams have wised up from last season, they have found out if they press and hassle us when we are in possession our players havn't the ability to get round their marker or find a telling forward pass.
How many of our players would get a starting spot in the usual top 4 teams, 1 or 2 and that's pushing it!
Your 2nd point I can agree with, he probably has persisted too long trying to play passing possession football when its plain to see the players cant pull it off.
James Marshall
131
Posted 08/01/2015 at 19:29:23
Raymond - "if they press and hassle us when we are in possession our players havn't the ability to get round their marker or find a telling forward pass."
Really? I don't even think it's that. Teams just line up in two banks of 4 and wait for us to stumble into them. We're piss easy to play against because we don't do anything other than pass it about with zero penetration, too fucking slowly.
Nobody even needs to harry us to make us ineffective!
Tommy Coleman
132
Posted 08/01/2015 at 19:31:13
"We have a great relationship with [the manager]," Lukaku says. "He shows us new things every day and we learn such a lot from him."
Exactly as I thought. The Players and Manager are all in this together and will work our way out together.
Ian Burns
133
Posted 08/01/2015 at 19:40:22
I posted earlier that when I was a youngster I recall EFC losing the first 6 games of the season and how gutted I felt at the time. I was casting my mind back to those days due to the underlying feeling of doom I am experiencing when if memory serves me correctly our season started to turn around in game 7 when we beat guess who? Man City and it just might have been Bobby Collins debut but my mind could be playing tricks trying to cheer me up whilst I cry into my gin!
Raymond Fox
134
Posted 08/01/2015 at 19:36:55
So how come their passing sideways and backwards James, I'm sure they would prefer to play towards the opposition goal if they could go round the nearest defender or find a good forward pass.

James Marshall
135
Posted 08/01/2015 at 19:50:38
Exactly. They play sideways because RM thinks possession is King. Which some might say it is, but the build up is so slow, teams can simply sit back and mass their defenders around their box time & time again.
I don't remember many teams hussling to get the ball back, because they don't need to. We just play in front of them like you say!
Colin Glassar
136
Posted 08/01/2015 at 19:51:34
Ian 133, correct me if I'm wrong but didn't we lose 10 out of first 12 games in the 2005-6 season?
Ian Burns
137
Posted 08/01/2015 at 19:59:12
Colin - not sure we lost 10 out 12 that sounds heavy to me and Moyes head would surely have rolled but it was not a good start as we were in the bottom three at some point in October
Denis Richardson
138
Posted 08/01/2015 at 20:01:30
Colin, we lost 8 (league) games out of the first twelve that year. We crumbled after being dumped out of the CL and Uefa within 2 weeks (a record I believe that still stands today), losing six on the bounce. A loan Marcus Bent goal was all we could muster in the first 8 games.....
Think that was also the season we lost two games back to back 4-0, against villa and Bolton(?), not managing one single shot on target!
Happy days indeed....
Denis Richardson
139
Posted 08/01/2015 at 20:09:35
should read lone not loan....
Patrick Murphy
140
Posted 08/01/2015 at 20:08:52
Ian - That is exactly what happened Everton won twice and lost TEN games in their first dozen matches of the 2005-06 season. The team scored five and conceded 20 in all competitions.
Raymond Fox
141
Posted 08/01/2015 at 20:03:19
James, I go back to my original point, Jags and Distin are unsuited to playing the ball out from the back, Stones is much better when he gets to play + we badly need a playmaker in midfield, in short the players in these positions are not good enough with the exception of Stones.
We are too easily nullified.
Ian Burns
142
Posted 08/01/2015 at 20:19:24
Patrick, not sure that makes me feel any better but thanks for the clarification! The point I was trying to make in my second post about the 6 straight defeats was the seventh game was against Man City, which I think we won and the season was saved.
However, I think we had players who stood up to be counted!
Patrick Murphy
143
Posted 08/01/2015 at 20:24:12
The season that you're talking about Ian was the 1958-59 season it was a victory over Man City (3-1) which stopped the rot, Ian Buchan was the manager and Johnny Carey arrived a little while later.
Ian Burns
144
Posted 08/01/2015 at 20:28:47
Many thanks Patrick, despite being an old codger me memory is serving me well! Really appreciate you following that up for me - let's hope Saturday brings a similar turnaround!
Colin Glassar
145
Posted 08/01/2015 at 20:33:25
Thanks guys, so it was 10 out of 12 games lost in all competitions?
Jay Wood
146
Posted 08/01/2015 at 19:16:48
Raymond @130
I have indeed watched all our games this season. As I did last season. And from this season, although the results were disappointing, IMO we've only come close in a couple of games to repeating last season's form - the home games with the Arse and Chelski, top opposition.
Against the Arse, we were absolutely spanking them, as we did last season ... until around the 70th minute when we started blowing out of OUR Arses and allowed them to level. One of the stories of our season that isn't it? Our fitness levels.
Conversely against Chelski, we started with our heads up our arses, but our response to going two down in 3 minutes was magnificent! We were all over them! A mixture of bad fortune and dumb plays at critical moments prevented us from taking something from an impossible position.
My point is that already this season, the players have clearly demonstrated the same form and ability that thrilled us so much last season. The players CLEARLY have the capacity and ability to receive and play the ball in tight situations with sharp one touch football which pulls teams all over the place, which you deny they have.
I accept teams are setting up differently against us. I don't think they press us hard in midfield, per se. They press us further up the pitch, principally with 2 wide men preventing Coleman and Baines storming forward. By and large, the opposition simply sets up with straight lines across defence and midfield. They are happy for us to continually and ponderously pass it backwards and sideways until we meekly surrender the ball.
Unlike yourself, I think it is this SLOW rhythm of play that is killing us! We were at our best last season with the rapid one touch passing - under pressure - than this look up and go backwards play we are enduring this season. The players DO have the ability to play the Martinez way you continually claim they are not capable of.
Martinez has facilitated things for the opposition by not selecting TRUE wide players in front of our full backs, such as Pienaar, Mirallas and Delboy last season.
Now I know injuries and the fact Delboy is no longer with us is partly the cause of that, plus the vagrancies of McGeady and Atsu. But Roberto's picks for the wide positions in front of Coleman and Baines have negated our greatest threat, offered them no support offensively or defensively and the result is our winning formula of last season is completed neutered and our players look bad, as your (mistaken, IMO) evaluation of the player claims.
They DO have the ability, but Martinez's selections and tactics are not getting the best out of them as he did last season.
For me, one of our best performances of the season came at the start of this bad run - away to Wolfsburg. Now some claim we were lucky to get a win. I totally disagree. We rode our luck in the first half, but as in the home game, they were largely limited to long range shots outside the area.
The longer the game went on, the more solid our defence looked. I turned to my son early in the second half and said ... "we'll get a second soon, just watch." And we duly did.
Lukaku and Mirallas combined brilliantly that night. But key to victory was our magnificent defence. And who was our back four? The much maligned Hibbo, Jags, Distin and Garbutt. Coleman and Baines were absent.
Indeed, the whole line up was interesting. We had Lukaku up front with Eto'o playing behind him, Mirallas and McGeady wide and we started with McCarthy and Besic in central midfield, but James had to go off with his hammy after just 30 minutes and our wee diamond, the also much maligned Ossie came on. We bossed it from there on in.
What do you notice about the side? It's extremely well balanced, round pegs in round holes, the enforcer axis of McCarthy and Barry missing, Barkley only appearing for Eto'o in the last 15 minutes (when the job was already done) ... and we did a number on the second best team in the Bundesliga on their own patch.
I really thought THAT was our turning point, back to our best ... but since that night Roberto's picks and tactics AND the team have been dire!
So no Raymond. I strongly disagree with you. We have the players. I hope - I truly hope - we also have the manager to turn this around.
Brian Waring
147
Posted 08/01/2015 at 20:48:23
Jamie (#8) spot on mate.
James Marshall
148
Posted 08/01/2015 at 20:50:19
I don't think our problem is Jagielka & Distin's inability to play the ball out from the back - I think it's a number of things. The team as a whole plays too slowly, we're always way too narrow as a team, despite the managers tactic supposedly being expansive football. We bought a £28m striker who's strength is running at defenders, and the manager makes him play with his back to goal - we have players played out of position just in order to get them in the team, and a manager hell bent on only playing one way.
He thinks we're Barcelona. We're not.
There's an awful lot more to it than simply having two centre halves who aren't the best in possession. I think if you look at centre halves across the PL, you'll find Jags and Distin are actually pretty good with the ball at their feet compared to most.
I do agree Stones is our best ball playing centre half though.
Ray Griffin
149
Posted 08/01/2015 at 20:45:19
If you wonder how the rest of the football world views our current situation, have a read of today's issue of 'The Fiver' - the Guardian's excellent column which sees through the usual football bullshit.
Personally I think if RM was the captain of the Titanic he would have seen hitting the iceberg as a pivotal moment and everything afterwards could only get better and as a bonus, would help character building & overall team spirit
Paul Dark
150
Posted 08/01/2015 at 20:53:27
Mixing the long ball with possession-based football does not compromise the School of Science, and it might save us from the drop (all that matters).
Rom comes across as mature, intelligent and loyal in this article. He and Besicbauer are our two biggest assets, no question.
While I remain sceptical about Roberto, this article gives me hope.
Nil satis nisi optimum!
Jay Wood
151
Posted 08/01/2015 at 20:50:22
PS Raymond ... what James said @131 and 135!!!
Just seen it now...
Colin Glassar
152
Posted 08/01/2015 at 20:59:02
Paul, the School of Science could out play, out pass and kick the crap out of the best of them. It wasn't all pure football, no. The likes of Labone, Hurst, Brown, Morrisey etc...could all play but they could also elbow, nut, bite, kick and use all the other the dark arts available.
Paul Dark
153
Posted 08/01/2015 at 21:06:51
Col - it's exactly the point I'm making, mate.
Tony Abrahams
154
Posted 08/01/2015 at 20:22:53
Tony 91, first paragraph, bang on.
James 103, Redshite collapses are never as bad because they have players who demand performances? probably. IÂ'm convinced that Liverpool changed their style immediately after Gerard called Everton, Stoke, after the derby match at Goodison two years ago. We had mixed it up and fucking battered them. Coming back from a two-goal deficit, to get something out of a derby game, for the first time in my lifetime. Only the Mirallas injury prevented us from winning that game, and Gerrard was fuming because his team was second best.
Anyway, back to the present, but didnÂ't England get to a World Cup semi-final, only losing on penalties, because the squad had asked the manager to change?
Duncan McDine
155
Posted 08/01/2015 at 21:10:14
hopefully this will be a turning point in our season... the great thing for me is that Roberto listened and was prepared to give it a try.
Raymond Fox
156
Posted 08/01/2015 at 20:57:48
Jay, your not telling me that RM wants us to play the way we have, with the results we've had this season as apposed to last season are you.
I don't think he's some kind of masochist, do you.
As many others have said before, other teams have seen how to nullify us, this has been the difference.
Add to the fact that our numerous 30year old are all another year older and are playing like it doesn't help either.
Speaking of which their going to have to replaced somehow, and that's going to cost a pretty penny for quality replacements.

Anthony Lamb
157
Posted 08/01/2015 at 21:09:53
"Excuse me sir" says the junior group of surgeons to the senior consultant surgeon "but do you think that the reason we are losing so many patients on the operating theatre tables over the past 5 months is because we are taking just too long over the operations?"
"We are taking just too long to get the scalpels and the swabs and the clamps from the trolleys, via the assistant nurses, to you at the implementation stage"
"Good Lord gentlement you may have a very good point there, it just never crossed my mind....There was I thinking that taking our time and passing the instruments carefully and slowly along the line was a sign that we taking our responsibilities seriously. There was I thinking it was actually the patients' fault for not responding to our efforts during their hours on the table. I thought they were dying with such frequency because they just didn't appreciate our immense professional knowledge, expertise and methods"
"Nurse pass me that scalpel.....come on....come on....quickly....quickly"
So FIVE months into a season with failure heaped upon failure, with many of the root causes clearly evident to the most blind among us, and somebody finally suggests "that the emperor really doesn't have any clothes on sir" and the director of the operations seems to actually open his eyes! And these are professionals? You could not make it up.

Jay Wood
158
Posted 08/01/2015 at 21:32:56
@ Raymond 156
Eh? Raymond ... I think your opening paragraph is one of the most nonsensical, non sequitur posts I've ever read on this site. Truly bewildering statement.
Then you follow up with "As many others have said before, other teams have seen how to nullify us, this has been the difference."
Jesus H Christ with a capital J... so, we just accept it with a shrug of the shoulders?????
WE can all see it ... we're discussing it to death! What is the man whose job it is to counter this counter by opposition doing about it????!!!!
Sorry Raymond, but your last post is pure gibberish obfuscation.
Colin Glassar
159
Posted 08/01/2015 at 21:46:42
Jay, I don't think Latin is a suitable language to be used on TW. Now Greek.........
Paul, idem.
Jamie Crowley
160
Posted 08/01/2015 at 21:16:50
The likes of Labone, Hurst, Brown, Morrisey etc...could all play but they could also elbow, nut, bite, kick and use all the other the dark arts available.
That's exactly why Besic should be playing every single game in lieu of Barry. He's a fucking beast.
Someone else also posted that what concerns them most is that Martinez couldn't see what the problem is. I respectfully disagree. I think he could definitely SEE what the problem is. I think he honestly THOUGHT we could stick to his possession based style and we could PLAY our way out of this malaise.
All the reason in the world to be happy with this meeting of the minds and the subsequent change in approach.
BTW Tony Draper - what a great post @ 117.
It's been a long and trying season thus far. Let's see where we are at after January. Man City is going to be a tall order. There's still issues. I think after the next 4-5 games we will realize if this "adjustment" has helped steer the ship in the right direction.
Ernie Baywood
161
Posted 08/01/2015 at 22:09:09
I think it's good that our manager takes input from others, it's part of being a leader. You implement the overall strategy but your followers need to be engaged.
On the other hand I think it's bad that Rom's tried to take credit for it. That shows some lack of respect for RM.
Sid Logan
162
Posted 08/01/2015 at 22:02:44
Jay and Raymond - you need to stop bitching with each other.
Brian Waring - your wrong with your last comment re Jamie # 8. The last this change of tactics shows is that RM is intelligent. He may be - but this whole business in no way demonstrates that he is - it demonstrates his lack of flexibility and the fact that he may be entering squeaky bum time.
I'm re- watching the game on TV and one of the overriding thoughts is how crap Barkley was for most of the game. It seems to me like he need to focus in games so much more tha he does at present.
Everton are never quite as bad (if we don't get beaten) as they often look on the day! I've still got massive faith in Jags although he had a nightmare on Monday. Besic and Lukaku were excellent.
You can't beat the more objective view from a TV game after the event !
Jay Wood
163
Posted 08/01/2015 at 22:23:39
Sid ... what are you on about?
Sid Logan
164
Posted 08/01/2015 at 22:27:11
Jay perhaps a read of your respective post would enlighten you.
Jay Wood
165
Posted 08/01/2015 at 22:37:16
Sid ... perhaps a read of my previous analytical post and Raymond's response to that would enlighten YOU ...
Even better, if you can make sense of Raymond's response, please interpret its meaning and enlighten ME.
Move along, la... no bitching going on here.
Sid Logan
166
Posted 08/01/2015 at 22:42:27
Jay, I was borne and rises in Walton, Liverpool 4 . Never quite understood what la meant.
Jay Wood
167
Posted 08/01/2015 at 22:46:18
How quaint ... borne and rises ... sure you're not from one of the mock Tudor houses in Knotty Ash...?
Sid Logan
168
Posted 08/01/2015 at 22:52:57
Jay, I'm avaialble for further discussions In the County before a match day - Fire Brigade corner.
Jay Wood
169
Posted 08/01/2015 at 22:59:05
Love to meet up with you Sid ... but I'm sadly exiled overseas these days.
Here's to your health ... and Everton's!

Sid Logan
170
Posted 08/01/2015 at 23:01:36
Jay, problably the best place for you.
Regardless, all the best to you!
Jay Wood
171
Posted 08/01/2015 at 23:05:53
Tsk! Tsk! Sid. Practise what you preach ... no need for bitchiness now!
Colin Grierson
172
Posted 08/01/2015 at 22:37:25
Colin #159
Nil satis nisi optimum!
Amant Everton!
Anything else is Greek to me.

Colin Glassar
173
Posted 08/01/2015 at 23:25:50
Forgot our motto Colin. It must be all the excitement seeing Milly Clode back on SSN.
Chris Leyland
174
Posted 08/01/2015 at 23:34:08
Just checked 2005-06. We lost 11 of the first 14 games in all competitions that season including 7 of the first 8 league games.
Peter Warren
175
Posted 09/01/2015 at 00:01:08
James 123# nothing in particular just a feeling I got from the game with a noticeable shift in Tempo style - no so much hitting it long but creativity shots forward looking. Still lacking massive confidence however
Eric Myles
176
Posted 09/01/2015 at 00:35:57
Sid #129, your last 2 paragraphs, my thoughts exactly.
Paul Dark
177
Posted 09/01/2015 at 08:07:29
Anthony, 157: bit overstated (but only slightly), in my view, but essentially you have a good point (amusingly made). And again: what comes out of GP points to a naive ideology on RM's part. Things have come to a pretty pass when all the players have to tell the manager that the style they are playing doesn't suit them. His eyes and brain should be working quicker.
I'm hoping Roberto comes good, but I do have fundamental concerns now: team selection (Barry, McGeady - Besicbauer not playing every game), transfers (Alcaraz, Robles, McGeady - but then he also bought Rom and The Bosnian Stare) and substitutions (more than once McGeady for Besic - quite quite unacceptable) and asking players to play in the wrong position (Nace, Ross and so on). Oviedo should've been brought back earlier. He does have his favourites (Macca, Barry) and is blinded by that sometimes.
On a more positive note: let's hope some momentum from the goal against WHU (bit desperate I know) is carried forward to tomorrow's game and that we get behind the players at the Old Lady and create an upset. I'd love it.
Nil satis nisi optimum.
---
Add Your Comments
In order to post a comment, you need to be logged in as a registered user of the site.
Or Sign up as a ToffeeWeb Member — it's free, takes just a few minutes and will allow you to post your comments on articles and Talking Points submissions across the site.
© ToffeeWeb