Everton sign Lennon on loan
Winger arrives from Spurs; Kennedy sold to Cardiff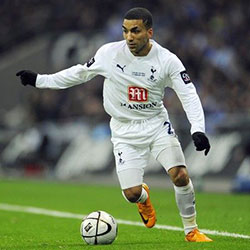 Everton have agreed a loan deal for Aaron Lennon.
It looked likely to be a quiet day at Finch Farm today before the window closed tonight but Everton have completed the loan acquisition of Tottenham's Aaron Lennon for the remainder of the season.
Roberto Martinez indicated on Saturday that he didn't expect any movement on the transfer front despite the loss last week of Samuel Eto'o but he has swooped to take the Spurs winger for the remainder of the season. Everton will have the option to purchase the England international in the summer if the move works out.
Though he will be cup-tied for the Europa League campaign, Lennon comes in to add pace and depth out wide for the rest of the Premier League campaign.
The 27 year-old looked bound for Stoke City earlier in the day but reportedly opted for Goodison Park where he felt there would be more chance of regular first-team action.
"Aaron will be a really important asset to our squad and will represent a real boost in terms of attacking options," Martinez said after the transfer was ratified.
Meanwhile, Matthew Kennedy has joined Cardiff City for an undisclosed fee while Conor McAleny is also on his way to the Bluebirds on loan for the remainder of the season. Conor Grant has been loaned to Motherwell, also until the end of the campaign.
---
Media speculation linking the Blues with a loan move for Manchester United's Adnan Januzaj or a swap deal involving Lennon and Kevin Mirallas was knocked on the head in the early afternoon.
Meanwhile, speculation that Sylvain Distin could be in talks with West Ham over a late move to the Capital and rumours that Everton were interested in signing Tyler Blackett or Winston Reid as a replacement don't appear to have had much substance.
Nor does speculation that Orjan Nyland might be a deadline-day capture. Norwegian media report that talks have taken place between Molde and the Blues in recent days but there is believed to be interest from Manchester United and Arsenal in the 24 year-old.
Reader Comments (250)
Note: the following content is not moderated or vetted by the site owners at the time of submission. Comments are the responsibility of the poster. Disclaimer
Colin Glassar
1
Posted 02/02/2015 at 08:51:09
Looks like SSN are going to do their job without the presence of the usual bunch of inbreds, scallies, mongs, blue dildos etc..... It's about time as it was embarrassing the behaviour outside the grounds.
Clive Mitchell
2
Posted 02/02/2015 at 09:04:42
I'd prefer Everton to be adamant they'd never buy Aaron Lennon. Perhaps privately they are.
Phil Walling
3
Posted 02/02/2015 at 09:06:19
I shan't bother to go down to Finch Farm this time, then, Colin, so have given the missus her toys back. Ouch!!
Colin Glassar
4
Posted 02/02/2015 at 09:09:18
What are the Stoke fans going to do now? This was the height of their social life.
Ernie Baywood
5
Posted 02/02/2015 at 09:10:43
This might be the first year I don't bother checking right up to the deadline. Mind you I say that every year.
Sam Hoare
7
Posted 02/02/2015 at 09:25:31
Expecting a quiet day unless Levy breaks the habit of a lifetime and makes an over-the-odds offer for Mirallas.
I would like to see at least one player come in to add some excitement, if nothing else.
David Hallwood
8
Posted 02/02/2015 at 09:55:51
Oh come now Colin (#1) admit it; watching the retards outside the Britannia gives one a warm glow of superiority. PS just heard it from the shoeshine man, we're signing Messi and they're hoping finalise the paperwork by 12pm for a swap deal involving McGeady and Ronaldo. You heard it here first.
Anthony Flack
9
Posted 02/02/2015 at 10:03:19
At least we know it is not Riquelme
Craig Walker
10
Posted 02/02/2015 at 10:11:42
It's Deadline Day and it's also Groundhog Day so we know how today will go don't we? We've been here so many times.
Ray Morgan
11
Posted 02/02/2015 at 10:19:51
If RM had not spent all that money on a donkey, maybe we would have a few quid to spend this year, and get a decent striker in!!
Paul Dempsey
12
Posted 02/02/2015 at 10:29:01
I wondered when SKY would pull the plug on Moron TV. Every year I would cringe when they went to Finch Farm.... Praying "Please don't let us behave like Stoke, Newcastle or QPR".... What are the nations scruffy and meffs going to do now.... Still there will still be the lovely Natalie Sawyer there to explain the intricacies of 'Appy Arrie's' transfer genius...
Jim Bennings
13
Posted 02/02/2015 at 10:59:41
Let's just hope that if we keep Mirallas his head is "right" and he doesn't end up totally falling away form wise, he is inconsistent but he is the ONLY quality wide player we have and that's a FACT.
Mirallas is also the only goal threat we genuinely possess from midfield.
Disappointed in Martinez really, or Kenwright, whoever has made the decision to finish the season with this pile of rabble, I'm not being fooled that we picked up a win on Saturday, the performance level all season has been rank shite and all of this so-called great attacking football we are meant to play?
It is the most tepid, boring sluggish Everton team I have seen for year's, sadly no due to not freshening up the squad this month, it's fair to say entertainment value may perhaps be better found doing weekend shopping than being at Goodison.
The money men won't be happy because next season your not going to have 30,000 season holder's coming back to watch something that does not give value for money.
If there is no money there this month, don't expect too much in the summer without the sale of a prized asset.
Brian Harrison
14
Posted 02/02/2015 at 11:21:00
Really amusing to see Sky Sport reporters covering all the Prem teams and basically nothing is happening. But they are still trying to make it sound fantastic that Robert Huth is going to Leicester on loan.
Gary Mortimer
15
Posted 02/02/2015 at 11:31:03
Does anyone know why the January transfer window is open until 11pm February 2nd and not 11pm January 31st?
Does the final day of the window have to be on a Monday so that the 'media' can try and drum up some excitement for the final day without the dullness of a real match day to get in the way?

Denis Richardson
16
Posted 02/02/2015 at 11:29:59
I am staying hopeful – relegation should not be an issue but if we've got any serious intention re the EL we have to bring in fresh blood. (Yes I know the CL clubs are also in the EL now...). The EL is what RM really wants to have a crack at, I get the feeling.
Eto'o gone, Osman out for the rest of the season, no sign of Pienaar coming back anytime soon... we have to sign someone. Especially an attacking midfielder. I'll be happy if we at least get Januzai on loan.
Come on, Bobby – time to start winning some fans back. Where the fook's that Spanish connection??
Ernie Baywood
17
Posted 02/02/2015 at 12:04:22
Gary, I can only assume that clubs don't want to pay the admin staff double time for Sunday. Who else would be able to operate the fax machine?
Jim Bennings
18
Posted 02/02/2015 at 11:56:58
What I'd give this season to a player at Everton who got me out of my seat in anticipation, we have sorely missed a player to excite, a player with blistering raw pace, too many times when I have watched us this season its been like sitting in a field watching a game of chess, we have no tempo or pace in the team, we never attack with any gusto anymore.
We probably all had a go at Deulofeu at times last season for being a greedy little swine but he is the type of player we have missed so much this term, I could never have imagined that we would have missed him but it's obvious now, frustrating he was, he could win you a match and opponents were fearful of his pace.
This season team's can push us back and commit more men safe in the knowledge that we have nothing in our attack in which can truly hurt them on the counter attack.
I'd have happily took Lennon on loan until May, at least he offers some speed.
But it looks like we will drag on with what we now have.
Ernie Baywood
19
Posted 02/02/2015 at 12:06:46
Jim, I really think Del could change this team right now. But more than anything, I just want someone to give me a bit of excitement. Who's playing that role for us? We deserve one don't we?
Jim Bennings
20
Posted 02/02/2015 at 12:10:15
Exactly Ernie
If you look at all of the other sides in the top half of the table they all have either a player who can excite the fan's or someone who can add a different dimension to his team in terms of attack.
We have, as far as I can see, only Mirallas capable at present of doing something a bit special.
It's been dismal this past three months just watching us ambling forward at a snail pace and just seeing the ball endlessly bouncing off an isolated Lukaku. Regardless of his goal Saturday, Lukaku is not the perfect target man/lone striker, his control and inability to hold the ball makes for uncomfortable viewing.
Anthony Lewis
21
Posted 02/02/2015 at 12:19:23
Please stop talking about Delboy, he ain't ever coming back. :(
And with people bringing it up all the time, I keep thinking that he may just.
You're all messing with my mind. And stop it, I say. My mind is messed up enough.
Bob Heyward
22
Posted 02/02/2015 at 12:06:07
Well, the whisper (if that's what we call a SSN trailed, Daily Mail reported 'whisper') is that Janu-wotsit is coming from Man Utd. Interesting, though whether the Man Utd CEO will take the call from BK given the spanking he got from Kenwright over Fellaini, well, that's another question...
That said, if we do anything then I'd guess it will be loans. There's no way Martinez is being given any money to spend - understandable as he's a lame duck. That could cost us though. If it does, BK has huge questions to answer about why Martinez was allowed to stay in place through this January.
Anto Byrne
23
Posted 02/02/2015 at 12:00:57
I like the manager of South Korea, Uli Stielike (German) – brilliantly organised football team, the sort of manager we would do well to attract.
In defence of Martinez it's definitely second-season syndrome and he really does need to rebuild. I do feel we are going to lose some big name players this summer, KM will go and I think we could lose another. I think old stalwarts such as Hibbert Osman and Pienaar have run their course. Distin and Howard – time's up. As this season is a major write-off... well, all I can say is "Roll on next season".
Bob Parrington
24
Posted 02/02/2015 at 12:25:27
Why, on earth, would we want Lennon in place of Mirallas? OMG. Let's get back to the real world!
Paul Tran
26
Posted 02/02/2015 at 12:41:21
Lennon would be a good loan move, he's fast, direct and knows this league. Just the kind of loan signing we need, rather than ones who need three months to get up to speed.
Keith Slinger
27
Posted 02/02/2015 at 12:53:05
I would take Lennon on loan at this moment in time, at least it will someone coming in......
Andrew Hawes
28
Posted 02/02/2015 at 12:52:21
Exactly Dennis #16, where's the Spanish connection?
Outside of his ex-Wigan players and veterans, what inspiring signings has he made? McGeady???
Brian Harrison
30
Posted 02/02/2015 at 13:03:28
I know it's not related to transfers but the Liverpool Echo is saying that Merseyside Police are appealing tomorrow to local magistrates to have the derby game moved from Saturday evening to Saturday dinner time.
Geoff Trenner
31
Posted 02/02/2015 at 13:07:41
Brian @30
Evening is dinner time. I assume that you mean lunch time
Brian Harrison
32
Posted 02/02/2015 at 13:14:05
Geoff
Yes they want it moved from 5:45 kick off to 12:45.
James Marshall
33
Posted 02/02/2015 at 13:17:19
If they move it, there'll be a massive TV clash as Spurs play Arsenal at lunchtime I think.
Apparently the old bill are taking it to court.
Anthony Lewis
34
Posted 02/02/2015 at 13:23:43
Guess they don't trust scousers to stay sober prior to kick-off!
Ernie Baywood
35
Posted 02/02/2015 at 13:25:53
Late game = more drinking before.
Early game = more drinking after.
Much of a muchness isn't it?
Clive Lewis
36
Posted 02/02/2015 at 13:31:50
I fancy we will get Lennon on loan with a view for a deal for Mirallis at the end of the season. Still I am not going to get any hopes up becuase we have a very poor manager at the moment.
Eugene Ruane
38
Posted 02/02/2015 at 13:38:06
Clive Lewis (36) - "I fancy we will get Lennon on loan with a view for a deal for Mirallis at the end of the season".
That could be illuminating for both of them.
KM: "What's it like at Spurs?"
AL: "Shit, they don't see that I'm dead good and should play every game and should be on twice the money I'm on and should be playing Champions League... what's it like here?"
KM: "Shit, they don't see that I'm dead good and should play every game and should be on twice the money I'm on and should be playing Champions League"
Long pause, followed by quizzical looks from both of them, then their eyes widen as the realisation hits them both.
Christopher Dover
39
Posted 02/02/2015 at 13:49:24
Jim (18) what you mean no-one to get you out of your seat with excitement?
You must be nearly climbing onto the pitch with anticipation every time we pass the ball around at the back...
Clive Lewis
40
Posted 02/02/2015 at 13:56:24
Eugene 38 just to add to that, they look at Roberto: "They don't see that I'm dead good and should be managing in the Champions League with Barcelona – we passed the ball 50,000 times during the last defeat!"
Jim Bennings
42
Posted 02/02/2015 at 14:43:49
Distin apparently in talks with West Ham?
That's a strange one, I'd normally say yes let him go but we are already very lightweight centre half wise?
Brian Hill
43
Posted 02/02/2015 at 15:00:34
Jim,
Luckily, I am privy to the talks between Distin and West Ham -
Allardyce: Sylvain, I've heard you've been accused of having a big head?
Distin: Sacre bleu!
Dave Pritchard
44
Posted 02/02/2015 at 15:29:12
Geoff (31) Don't you partake of supper in the evening? Heathen!
Dave Lynch
45
Posted 02/02/2015 at 15:41:56
I'm with you Dave @44.
Supper should consist of toast, with best butter on it and a big pot of tea in this cold weather.
Denis Richardson
46
Posted 02/02/2015 at 15:17:17
Distin to West Ham? That is a strange one but not sure how I feel.
If we could bring in a replacement then fine otherwise Hibbo will be playing CB if anything happened to Jags or Stones given Alcaraz is a near permanent establishment in the treatment room.
Ant Summers
47
Posted 02/02/2015 at 15:53:42
So long as nobody's going out, that is okay. We can't afford to let anyone go, even if they are fringe first-team players.
Ray Roche
48
Posted 02/02/2015 at 16:04:34
So, Yakubu has finalised his move to Reading. "Yakubu,72, has signed a 10-year contract with Reading, a free agent since his contact with Qatari club Al Rayyan expired after they had run out of pies."
Col Wills
49
Posted 02/02/2015 at 16:03:28
i wonder if Alan Irwin will get the big blue dildo treatment again........
hang on, that sounds like some portugese defender.
Breaking news......"Everton line up Lisbon defender 'Bigblue Dildo'"..........
Kevin Rowlands
51
Posted 02/02/2015 at 16:30:00
Nothing going to happen probably. I can't understand why more teams aren't looking at Darren Fletcher seeing Man Utd are willing to let him leave, including us, btw; if his health is okay the lads a quality player. Still only 30, he's a much better choice than Cleverley for me.
Let's face it, Osman, Pienaar and the never plays Gibson are probably done at the club after this season. Go get him, Roberto.
Craig Walker
52
Posted 02/02/2015 at 16:50:52
Geoff #31 - breakfast, dinner and tea where I come from.
Andy Mack
55
Posted 02/02/2015 at 17:12:29
Darren's health problems probably the reason, Kevin. Crocked through no fault of his own.
Kevin Rowlands
56
Posted 02/02/2015 at 17:18:26
I thought they had that under control though Andy, suppose we could always put health clauses in any contract he signed, very good player imho, a big upgrade on Gibson, and a maybe signing in the summer Cleverley.
John Gee
58
Posted 02/02/2015 at 17:38:11
Fletcher would be a good signing, I've always thought he was a good player. But it won't happen because of insurance issues and it shouldn't happen because it will result in Besic leaving in the summer because of lack of game time.
Brian Wilkinson
59
Posted 02/02/2015 at 17:38:29
Mirallas will not sign a new contract no chance of that, I would get some decent money now and take Lennon in the deal at a shot, Lennon and Mccarthy has a certain ring to it.
Wayne Smyth
61
Posted 02/02/2015 at 17:31:12
Darren Fletcher is a centre mid. We're already overflowing with centre mids....including ones with dodgy injury records.
What we need is a wide player with pace and trickery, and an attacking midfielder with genuine creativity. Someone like Banega.
It's a shame we seem to have no cash. I heard today that Southampton were eyeing Tonny Vilhena from Feyenoord for just ٣M, which would be criminal if true. Exactly the sort of young upcoming, creative player we should be aiming to get.
For those criticising Martinez's transfer record, I think other than overpaying for Lukaku by about ٣M, the rest of his signings have generally been good quality players.
McGeady and Alcaraz are probably his worst signings. Both cost a combined ٟ.5M and neither are as horrible as some of the signings we've had in the past for a lot bigger fee's.
Lukaku, Barry, McCarthy, Besic, Robles and Kone(assuming he can stay fit), all look good players to me who were a lot better than what we had.
We've got a lot of average or ageing players in the side left over from Moyes time Osman, Pienaar, Hibbert, Distin, Howard, Gibson. All of those need replacing on top of the players we've already got rid of like Anichebe and Jelavic.
Quite why Martinez decided to give some of those oldies new contracts is beyond me. I want to see Browning and some of the other youngsters given chances, and some new blood brought in.
That said, he can't replace the entire squad in such a short time on limited funds. It will take time for him to cut out the deadwood.
He also made a comment that he found out about how certain players have reacted in adversity, which says to me that he can see certain players have reacted badly when the chips are down. The side needs more leaders like Besic, Stones and Lukaku. Not players who hide when things aren't going well.
I reckon we'll see some movement tonight. Maybe a winger on loan.
Jon Withey
62
Posted 02/02/2015 at 17:56:57
The only reason anyone rates Lennon is that he hardly plays and so cant be criticised !
Mike Powell
63
Posted 02/02/2015 at 18:00:31
Please, not Lennon... he is a headless chicken. Spurs fans cannot wait to get rid off him.
Ray Roche
64
Posted 02/02/2015 at 18:03:07
I think Fletcher's health problems are not so much "injury" as "illness", in his case Ulcerative colitis, an illness that affects the colon. As I understand it, he has had surgery to remove the affected area and has now recovered. I hope so, the lad has had to put up with a considerable amount of pain and suffering. There was a piece in the Times about his problems recently and he thought it was clear of any problems now.
Tony Abrahams
65
Posted 02/02/2015 at 18:29:44
Jon 62, Lennon has got great pace, probably the biggest thing lacking in our squad.
Phil Walling
66
Posted 02/02/2015 at 18:27:17
I suspect BK has switched off the money supply pending a change of manager in the not too distant future.
We might just get a goalie in and some trading around the Distin situation.
Budget will be adjusted to allow for a twelthish finish.
Brian Hill
67
Posted 02/02/2015 at 18:59:06
Tim Cahill is available.Some on here have advocated his return - make your case.
Ian Jones
68
Posted 02/02/2015 at 19:05:41
He has a bit of naughtiness about him. Useful for Derby Day.
Brian Hennessy
69
Posted 02/02/2015 at 18:59:24
BBC reporting Tim Cahill set to return to Prem League.
Would anyone hear like to have him till the end of the season? part of me thinks he could still do a job.
Phil Walling
70
Posted 02/02/2015 at 19:16:21
A bit young for Martinez, isn't he ?
Ant Summers
71
Posted 02/02/2015 at 19:11:34
Tim C, would be good for moral in this squad.
Breandan Clarke
72
Posted 02/02/2015 at 19:22:03
Did Cahill not get sent off in his last match? He'd probably have to serve the ban still?
Don't think he'd offer much in returning to be honest
Brian Hennessy
73
Posted 02/02/2015 at 19:26:17
The YAK is back
Tony J Williams
74
Posted 02/02/2015 at 19:32:05
Maybe Eto'o will ask to come back
Brian Wilkinson
75
Posted 02/02/2015 at 19:29:06
Tim knows all about Derbies and scoring in them, short tem and put a dampner on the Stevie g farwell Derby.
Yes got to be worth a crack bringing in Cahill on a free.
Nick Entwistle
76
Posted 02/02/2015 at 19:50:51
Lennon confirmed on five live.
Jim Knightley
77
Posted 02/02/2015 at 19:58:24
Pace is not the biggest thing lacking in our squad, or directness. Mirallas has it in spades, as does Atsu, and Barkley and McGeady are direct players. Lukaku and Kone are quick too. We need brains, and creativity, not more pace. Most of us have wanted Martinez gone for a while now, as do I, and one of the major reasons, aside from his failure to motivate the squad, is his desire to play passing tactics which do not suit the squad. Signing another quick winger when you want to play passing football does not help either. Personally, I'd rather have Lennon than nobody, but we need a genuine creative player.
And why on earth would we want Cahill? He is not a passer, and we have Naismith and Barkley vying for the role behind the striker, both of whom are better players.
Personally, I'd have like to seen us look at Rosicky, now that Arsenal's top players have returned. We need somebody to play a pass, and not somebody who runs at defenders with a poor end product.
Gerard Morgan
78
Posted 02/02/2015 at 20:02:23
BBC says its a done deal. Ten years too late I think but I've always rated him as a winger. Surely better than Lukaku or Naismith ending up out wide whipping it in, as seems to happen all too often.
Stewart Oakes
79
Posted 02/02/2015 at 20:19:30
Cahill has a 3 match ban to serve.
Tony Byrne
80
Posted 02/02/2015 at 20:17:44
Sky just confirmed Lennon to Everton, at least he's a half decent winger, Nais & Barkley are not so we should hope to see round pegs in round holes??
Brian Denton
81
Posted 02/02/2015 at 20:22:41
Welcome back Eugene! Either you've been away for a while, or you've just been posting on the more obscure threads......
Pete Edwards
82
Posted 02/02/2015 at 20:26:33
Quite happy with this, no brainer really on loan with option to buy
Wayne Smyth
83
Posted 02/02/2015 at 20:18:43
Jim I have to disagree. We lack do lack pace in key wide areas.
Atsu is not premier league standard, quick or not. Barkley plays through the centre which is too often congested(because we have no width). Kone and Lukaku are centre forwards and by virtue don't play wide.
We need someone like Lennon who is quick, but also is happy to play on the wing and stay wide, get crosses in. We need someone to complement Mirallas so that we have 2 genuinely quick wide players.
My main concern with Lennon is that we already have a short squad and another short-arse isn't going to help us defend set pieces.
The reason you think we need clever players, is because the side is not balanced. We have all our players are more comfortable centrally leaving no options wide. We're easy to mark and don't have any decent passes on.
Lennon will probably have a similar impact that Donovan had, when he came and gave us a 2nd threat to complement baines/Pienaar.
Tony Hill
84
Posted 02/02/2015 at 20:32:17
Wouldn't have been my choice, he has done little of note for a long while and never delivered consistently even at his best. But here's hoping he gets a new lease of life.
Paul Dark
85
Posted 02/02/2015 at 20:31:26
I have no idea why RM doesn't play Atsu more. It is not possible for him to be more destructive than McGeady. People constantly praise McGeady for tracking back, but he doesn't do much when he tracks back. He has very little talent and should never play for us again, ever.
Mitallas, Atsu and Oviedo are enough. I hope Pienaar comes back at some point.
We don't need Lennon, and we don't need McGeady (who is the worst player to wear a blue shirt (not just an Everton one!) in recent times).
Fintan Spode
86
Posted 02/02/2015 at 20:35:45
I really liked Lennon when he was younger. I think of him as similar to Dell boy. Can add some pace and 'devilment' to the team.
Ant Summers
87
Posted 02/02/2015 at 20:37:30
Lennon....past it. Not for me, 1 dimensional.
Jim Knightley
88
Posted 02/02/2015 at 20:27:43
Wayne the reason I think we need passers...is because we need passers. It's not just a movement thing, it's related to an utter lack of creativity. Barkley is direct, and not a passer. Naismith is not a passer. Mirallas? not a passer either, and neither is McGeady. As I said I'd rather have Lennon than no Lennon, but he will not help the passing problem, and although Atsu may not be Premier League standard, Lennon has not proven himself for a very long time. This new start may work in his and our favour, but he is not as clever a footballer as Donovan was, and cannot dribble like Deulofeu.
I personally think that getting Pienaar or Osman will fit will help us as much as Lennon. We are playing square pegs in round holes too often this season, but balance is not just about playing players where they are use to playing, it's about playing the right balance of players. City get their creativity from Nasri and Silva, Chelski get theirs from Hazard and Fab, United have Di Maria, Mata, Carrick and Rooney, Arsenal have Ozil, Cazorla, Sanchez and Rosicky, Spurs have Eriksen, Southampton have Tadic, Liverpool have Coutinho and Lallana. Our starting 11 lacks a truly creative midfielder, and for a team wanting to play a short passing style that is the equivalent of footballing suicide.
Paul Thompson
89
Posted 02/02/2015 at 20:45:28
Lennon past it? FFS he's 27. Ok his final ball can be wasted, but the same goes for a lot of pacy wingers. And Mirallas for that matter. This will be a good buy. We need someone who can get to the by-line and put the ball in the box for Lu and give us a quick outlet on the break. Same about Atsu, but for whatever reason he hasn't looked like he could do that.
Ken Williams
91
Posted 02/02/2015 at 20:48:29
Play Lennon on the wing (his natural position) and Mirralas in the centre with Lakarku. Should give us a better balance.
Ant Summers
92
Posted 02/02/2015 at 21:01:59
Paul and Ken with all due respect, under RM Lennon will be a passenger, RM does not just like to throw the ball in, or even cross the ball, we are at the bottom of the pile for crosses, so tell me were does Lennon fit in?, or do you know RM is changing his playing style for 1 admission to the squad. 1 dimensional and yes past it for me, his work rate may improve.
Brian Hennessy
93
Posted 02/02/2015 at 21:03:03
Paul Dark@85 - Atsu has been injured most of the season, that's why he hasn't featured. When he did get fit it was time for him to head to AFCON
Happy enough with Lennon, especially as I had resigned myself to nobody new arriving and we certainly need more players with pace.
Would have loved if the Reid/Distin swap with money was true.

Brian Hennessy
94
Posted 02/02/2015 at 21:08:45
Talk-shite seem to think Cahill back to Goodison is still a runner
Oliver Molloy
95
Posted 02/02/2015 at 21:10:48
We should welcome Lennon with open arms,just for the very fact he chose us over quite a few interested clubs .
Lennon has a lot to prove and I think he will be a breath of fresh air.
Play him in the derby and see what happens!
Brent Stephens
96
Posted 02/02/2015 at 20:51:12
Lennon? ok but let's break fast, get the ball to him quickly down the wing so he can cross to a Lukaku who is racing into the box (just like the goal at Palace). Would love to see Lukaku muscling Skittle out of it in this way at the weekend.
Paul Thompson
97
Posted 02/02/2015 at 21:17:58
Not much confidence in RM either Ant, but surely Lennon will play the role that Del did last year?
Andy Crooks
98
Posted 02/02/2015 at 21:21:57
Oliver # 95, I agree. Lennon is fast, tricky, good attitude and something to prove. If he signs, start him against Liverpool, it could change our season.
Jamie Sweet
99
Posted 02/02/2015 at 21:17:26
I can't get overly excited about Lennon, but at least it's an extra pair of legs and may possibly be a better option than McGeady.
Anyone know if he is eligible for the Europa?
Would love to see Winston Reid arrive, although unlikely.
Milos Milenkovic
100
Posted 02/02/2015 at 21:24:21
Ken, absolutely agree with you, I like Lennon signing and I would love it to see Mirallas playing alongside Lukaku up front. Probably it will not happen but anyhow I think Lennon is very good player and very good business for EFC.
Ben Dyke
101
Posted 02/02/2015 at 21:25:32
I used to watch Lennon play for Leeds reserves and remember thinking he'll never make it. He's a headless chicken I thought. But that's why I'm not a scout! I actually think he's a better headless chicken than Mcgeady is. A deluxe headless chicken perhaps.
John Malone
102
Posted 02/02/2015 at 21:29:58
Brent 96, I couldn't agree more mate Lukaku loves the front post early ball like Deulofeu played against Newcastle away last year, if they could master the early ball down the line for Lennon then Rom hitting front post and Mirallas hitting pen spot we could score bags on the break. I'm buzzing if we've got him McGeady is dog shit!
Matt Muzi
103
Posted 02/02/2015 at 21:30:41
Anyone heard anything about Distin, hearing rumours he's about to go. There's a video on Sky Sports that appears to show him driving into West Ham's training ground.
Like others can't see us signing Reid, he'll go for a big money contract to somewhere else in the capital at the end of his contract.
For me Olssen from Norwich apparently the baggies are moving in for him, wouldn't be a bad replacement reported fee of 4mill, however we probably haven't got 4 pounds!!
Robin Cannon
104
Posted 02/02/2015 at 21:33:45
The more I think about the Lennon signing, the more I think it has potential. Flawed player, yes, but at his best he's pacey and direct.
Don't see it as an argument for playing Mirallas down the middle, though. Surely it just gives us the balance of having speed and trickery on both wings by playing both Mirallas and Lennon wide, with Lukaku down the middle.
I'd take Timmy back on a short term deal, too. Not as a regular starter, but maybe as a Lampard type impact player and definitely someone to be a great dressing room motivator and generally positive influence.
John Raftery
105
Posted 02/02/2015 at 21:35:37
Jamie (99) Lennon has already made 5 appearances in this season's Europa so he won't be eligible to play for us.
Brent Stephens
106
Posted 02/02/2015 at 21:38:34
Ben #101 Lennon as a "deluxe headless chicken"! One of my tits ruined through laughing!
Paul Dark
107
Posted 02/02/2015 at 21:40:03
Brian H: point taken, but he's been on the bench often enough and not used. So many on here say he hasn't showed anything, but that's because Martinez's favourite donkey has been in the team before him, and Atsu hasn't been given the opportunity. It's a crying shame. Oviedo and Atsu should ALWAYS play before McGeady, always - and they don't.
We don't 'need' Lennon. We need better team selection.
Tony Abrahams
108
Posted 02/02/2015 at 21:20:20
Jim knightly, I agree Barkley is direct, and to say he's not a passer or creative is probably true, but only at the minute. He's not much at the minute, but I prefer to remember some of the great games he played last season, and I'm sure he will soon come again.
None of our team have Lennon's pace or directness, and I personally think, that if we would have had someone so direct in our last home match, we would have beaten West Brom quite easily.
Don't disagree with you about needing more creativity but with the addition of Lennon, I don't think we will have to play to many players out of position anymore. Which should definitely help with the balance!

John Malone
109
Posted 02/02/2015 at 21:43:06
Stick Lennon straight in on the derby give him 60 mins to tear that Mamadou Sakho a new arse!
Steve Cotton
110
Posted 02/02/2015 at 22:00:34
So we can look forward to Lennon McCarthy in midfield. All we are saying is give us a goal...
Christy Ring
111
Posted 02/02/2015 at 22:12:20
I think Lennon will be a great addition. It will give us more width, a quicker outlet, and it will stop Bob's slow pedestrian play through the middle.
Sondre Haga
112
Posted 02/02/2015 at 22:23:04
Could be a good signing this. An extreme pacy, direct winger. What happened to the promising Tom Ince? Heading to Derby on loan..
Tony Draper
114
Posted 02/02/2015 at 22:38:17
Lennon is sorted.
As a loan, that'll do.
Extra supply rote for RL.
Minik Hansen
115
Posted 02/02/2015 at 22:47:42
A winger can then be rested and play Aaron Lennon in a PL match before an EL match, since he is ineligible there.
Mike Price
116
Posted 02/02/2015 at 22:53:31
Well pleased with Lennon. Genuine pace is a key weapon and changes the way teams can play against you. Mirallas is fairly quick but doesn't have blistering pace, this is a key acquisition as I don't think Atsu is quite ready to start every week.
Phil Sammon
117
Posted 02/02/2015 at 22:51:58
I'm really happy with this one for a couple of reasons. I've always liked Lennon and I think this could be a new lease of life for him. It could also signal intent from Martinez to play a little more direct with someone like him in the team.
My only little sigh is for Oviedo. I don't know what we're going to do with the lad. He should be playing regular football for us. This season is pretty much a write off. I'd like to see us at least developing Oviedo and Garbutt rather than McGeady who has no real long term future at the club. And I'm one of the few people who actually thinks McGeady is a decent player!
Ant Summers
118
Posted 02/02/2015 at 22:59:32
Bill has had us all off again....1 loan, marvelous.
Michael Penley
119
Posted 02/02/2015 at 23:01:12
Surely this is a net loss for the January window? We lose Kennedy for probably a pittance and pay to keep a Spurs player fit, a team who we will likely be competing with for European places in years to come. All of this stopping our own youngsters from progressing. We wouldn't have resorted to this if we weren't trying to avoid relegation, which Martinez is 100% to blame for putting us in that position.
Ant Summers
120
Posted 02/02/2015 at 23:01:37
Mike Price, he has no end product. If he changes our season I will kiss Big Bill's backside.
Ant Summers
121
Posted 02/02/2015 at 23:05:13
M Penley. No blame on BK?
Colin Glassar
122
Posted 02/02/2015 at 23:04:52
Biggest scare of the night was the Garbutt to rs rumours. If Lennon sets up the winner against the rs then he will be well worth it.
John Malone
123
Posted 02/02/2015 at 23:06:49
Ant why are you trying your best to piss all over everyone's joy at having a proven pacy Premier League player in our squad? McGeady has been shite so why not give the lad a chance to shine?
Colin Gee
124
Posted 02/02/2015 at 23:08:48
Lennon is better than McGeady, so that's a positive.
Michael Penley
125
Posted 02/02/2015 at 23:09:11
Ant - what for, making $28m available, our biggest spending window ever? It's not Bill's fault that Roberto failed to use it properly.
Fraser Auld
126
Posted 02/02/2015 at 22:30:47
This signing is what it is, he's the best available on our budget i.e. fuck all, in a position we have been crying out for all season.
Roll the dice, fingers crossed and hope that it works out.
For me the wings have been our problem position all season and its had a knock on effect on the whole team. At the start of the season it looked like we had both flanks covered but....
McGeady had a proper pre-season behind him, he's been given chances but hasn't been good enough, nowhere near good enough.
Atsu, most were happy when we got him but he's looked shite the games he's played in and then with his injury followed by AFCON he's been unavailable for months.
Pienaar, legs have gone, has hardly played and when he has he's never really looked fit.
Osman, wing not his preferred position but Bobby could have used him as an alternative to Pienaar on the left. He's out for ages now too.
Mirallas, made of glass but when fit is the only attacking wide player who can hold his head up this season.
Conclusion, looked like we were set at the start of the season but the way things have panned out we need a big clear out in the summer, send Atsu back, see if we can give McGeady away and throw Stevie P in with him and Ossie will have to have a long think about hanging up his boots. Mirallas' future will be out of our hands and don't expect him to want to sign a new deal so chances are he'll be sold leaving us to sign/loan 3/4 new wide players.
I think Bobby's well aware of our failings on the wings this season hence he's willing to take Lennon until the summer, we're desperate. Hopefully whoever we sign in the summer will be more Del Boy than Atsu or McGeady. Thing is with our budget we're always going to be taking a punt...
Ant Summers
128
Posted 02/02/2015 at 23:14:54
The board, sanction the signings, 2/3 rds on 1 player. However, you know, I know you have to spend to get in the CL, BK don't like spending money. Hate his and the boards greed.
Oliver Molloy
129
Posted 02/02/2015 at 23:18:14
I see Carragher is setting the tone for the derby on twitter.
"Lennon will be a good signing for Everton, his first match will be the derby. I'd love the chance to tackle him like the way I got Pienaar!"

Oh for a victory over his past team mates, and ram it down his throat!

Oliver Molloy
130
Posted 02/02/2015 at 23:24:48
Correction on my previous post.
Actually he said " the way I got Pinnear "
Ant Summers
131
Posted 02/02/2015 at 23:24:24
Oliver I really hate this man, ive had direct and in direct dealings with him and Fowler, neither are nice people, thats my opinion, they both look down on people in my opinion like not worthy.
Charlie Burnett
132
Posted 02/02/2015 at 23:29:29
This is the time I pray there is something in the pipeline for when I wake up....... Guess I'll be swearing at breakfast...
What happened to the Barça connection, can someone please tell me? Me, myself, I would've taken a gamble with Adebayor. He destroyed us last year... powerful.
Denis Richardson
133
Posted 02/02/2015 at 23:26:41
Lennon ey? Wouldn't have been my first choice. He's got bags of pace but end product is dicey. Still I'd have taken him on loan over nothing. Him and Coleman will give us decent pace down the right, got Mirallas and Oviedo for the left (if RM ever actually starts Oviedo instead of McGeady..).
Call me cynical but presume this 'loan' means Mirallas is off to Spurs in the summer.
We needed another midfielder and one that would play wide and had pace - we got one so lets see what he can do. He's got a point to prove and even if he doesn't want to stay with us long term, he'll be giving it everything being in the shop window.
Dave Abrahams
134
Posted 02/02/2015 at 23:26:37
I think Lennon is an excellent signing, I'm sure he will be a good player and will improve the team,and look forward to see him on Saturday, his pace will be a big asset for the Blues.
Mathew Kennedy, hope he does well for himself at Cardiff, he will hopefully make a good living out of the game, don't think he was ever going to be a premiership player, lots of skill but a typical Scottish "tanner ball player".
Not a bad transfer window, could have been better could have been a lot worse. Strangely Moyes wanted Lennon when he was leaving Leeds, would have cost less than ٟ,000,000 at the time.
Colin Glassar
135
Posted 02/02/2015 at 23:39:28
Does anyone know if Distin left or not?
Jamie Sweet
136
Posted 02/02/2015 at 23:28:25
I can see it now.
It's the 89th minute on Saturday. It's nil nil.
Lennon drives into the box with incredible pace and trickery, brought down by a flailing Gerrard leg as the RS skipper slips on the greasy surface in his final derby appearance...
Penalty to Everton!!!
Mirallas grabs the ball.
Naismith chases him around the pitch for five minutes screaming "give Leighton the f'ing ball!"
Ref gets bored and blows for full time.
Oliver Molloy
137
Posted 02/02/2015 at 23:36:14
I'm with you Ant, I can not stand him and the fact he got away with murder in many a match against us makes it worse.
I take from his comments he is basically telling Liverpool to kick us all over the park because they will get away with it.
I hope somebody, anybody with a blue shirt, hits Gerrard so hard in the first minute he has to go off.

Drew O'Neall
138
Posted 02/02/2015 at 23:47:42
The presence of two pacy wide men should ensure opponents keep their full backs in their back line when they attack allowing us to get ours in to play again at long last.
Bob Heyward
139
Posted 02/02/2015 at 23:42:27
Not a bad addition. Hopefully Martinez will be braver than he has been with previous signings, getting him blooded early instead of waiting five games for him to adapt...after all, anybody on the right would be better than McGeady, and we desperately need results.
John Gee
142
Posted 03/02/2015 at 00:08:24
Btw- lump on stevie me to get a red card in the Derby, karma owes us a payback and it's his one. Second yellow for dissent as he tells the ref what to do... again.
Michael Penley
143
Posted 03/02/2015 at 00:18:29
Dave - Kennedy may not turn out to be a prem player (or he might be) but we've already got enough non-prem players who are over the hill, and why not get rid of those? Ship out Distin, Hibbo, Alcaraz, Pienaar, Ossie and bring in some new faces with the returns.
Andy Crooks
144
Posted 03/02/2015 at 00:21:36
Lukaku, Lukaku. Thank you, Phil Walking. Sorry , Walling. Got it now, Phil.
Andy Crooks
145
Posted 03/02/2015 at 00:25:37
I think this is an excellent loan, but I do think Roberto must be bold in how he uses him.
Clive Mitchell
146
Posted 03/02/2015 at 00:58:33
Deluxe headless chicken it is then.
Matt Muzi
147
Posted 03/02/2015 at 01:04:29
Colin @135 looks like he's staying one of the West Ham Chair's son's quoted on Sky as saying they'd been trying for 8 players but all 8 deals had broken down. I'm imagining Distin was one of the 8.
Jamie Sweet
148
Posted 03/02/2015 at 02:18:25
Cahill moving to Shanghai.
I predict he'll score 20 with his head in his first full season.
Tommy Webber
149
Posted 03/02/2015 at 02:11:20
3, no 4 out (not including Sly) and 1 in....Why does that sound so familiar? Everton will have to be every bit as phenomenal as El Bob says we are to keep us up this year! Squeaky Bum time!
James Marshall
150
Posted 03/02/2015 at 05:10:56
For all the people who constantly complain about us not doing enough business on deadline day and slagging off Bill for not getting involved, have a read of this article which proved you all wrong.
We do more business than any other club in the Premier League during the transfer window.
Link [Doesn't work, James – Ed]
Darren Hind
151
Posted 03/02/2015 at 04:46:30
There doesn't seem to be too many doing cartwheels about this signing. I'm made up.
His end product hasn't always been fantastic, but I put a lot of that down to him being in the WHL madhouse. How can anybody develop a lasting understanding with team mates when they change every three weeks?
On his day this guy can be unplayable. Get him in there straight away against the shite, give him it to feet and just listen to the noise. I think Goodison will love him
Eric Myles
152
Posted 03/02/2015 at 05:31:13
The link doesn't work, James.
Darren Hind
153
Posted 03/02/2015 at 05:25:59
BTW ; Anybody hear the details? is there an option to buy, or is it a case of the more successful he is, the less likely we are of being able to make it permanent?
Tony Cheek
154
Posted 03/02/2015 at 05:46:46
Got rid of Eto'o and borrowed yet another winger.......can just see the headlines in the Echo...."Shithouse out, shorthouse in!"
Darryl Ritchie
155
Posted 03/02/2015 at 05:50:34
Lennon in, is a good move. Lots of pace. Loads of experience. Not going to win many headers, though.
Eto'o out, is probably a good move, also. On the live thread, it was mentioned that he's already had a bit of a hissy fit at Sampdoria,( something about a extra training session) and it's doubtful he'll play for them at all. What a tool!!
Mike Green
156
Posted 03/02/2015 at 06:06:52
Darren Hind #153 - to a large extent I'm with you.
We're crying out for someone prepared to run at defences and Lennon's right up there for that, the crowd will love him just for going at other teams and boy do we need something to lift the crowd.
His woeful final ball is well documented but then Dellboy rarely got as far as delivering a final ball at all, constantly running down blind alleys and running the ball out, but many of the faithful loved him.
At last we have a true out and out right winger, I think the last was Kanchelskis 20 years ago - not only will this bring Mirallas down to earth a bit but also give RM the option to play him elsewhere. Personally I'd like to see Oviedo on the left with Baines and see if Lukaku and Mirallas can work together up front.
Our only problem then is the complete lack of creativity from midfield......
James Marshall
157
Posted 03/02/2015 at 06:50:58
Weird, they've taken the page down. It basically said that since 2002 we've signed more players on deadline day than anyone else in the PL based on percentages.
Moving on, I think Lennon is a great loan. We all know about his shortcomings but Deulofeu was mostly headless and everyone loved him. Lennon will definitely inject pace and excitement into our pedestrian team.
There are no further terms to the deal by the way. End of the season, no option to buy or anything. Lennon apparently will make his decision in the summer so I guess if he enjoyed life here and it goes well we'll probably sign him.
Lyndon Lloyd
158
Posted 03/02/2015 at 07:28:26
There may not be an explicit option to buy in the deal but the Echo are reporting that move is with a view to making it permanent in the summer so the player will be looking to win a full-time contract with us.
Paul Andrews
159
Posted 03/02/2015 at 07:31:33
Good morning to all,
Window could have been better... could have been worse.
Lennon lacks goals and a final ball, but is quick which is something we have been crying out for.
David Chait
160
Posted 03/02/2015 at 05:50:52
Wish Lambert had gone...
"You sold Lambert.. we sold Samuel Eto'o.. Samuel Eto'o"
Paul Smith
161
Posted 03/02/2015 at 07:49:45
Getting loans off Spurs! Pragmatic and needed but it makes me feel rather insecure regarding our stature in this league.
Ray Roche
162
Posted 03/02/2015 at 07:50:35
Mike Green #156
Mike, hasn't Martinez been trying Baines in midfield during training? He's got a good brain on him, maybe he'd be worth a punt there, giving Garbutt and Oviedo a chance down the left.
Paul Tran
163
Posted 03/02/2015 at 07:45:52
SSN were talking in terms of an option to make it permanent in the summer.
As usual, let's see what he does on the pitch. This could be interesting; pace to burn, knows the league and can go straight into the team.
How about a four-man midfield of Oviedo, Lennon and two from Barry, Besic and McCarthy (always one injured or suspended) with Lukaku and Kone up front? A balanced midfield with pace and energy on both flanks. All four playing where they should be. Two strikers playing where they should be. There would be goals in that team, surely? We may even be good to watch again.
Mohammed Horoub
164
Posted 03/02/2015 at 07:38:14
Great signing! Helps improve the balance of the team and we need his pace. I know there are some negatives but I always remember him making an impact in the games against us. I expect him to start on Saturday and that will give the team a lift.
Now Martinez needs to show some 'character' and resist the urge to play his favourites and keep a balanced team. Robles, Baines, Coleman, Jags and Stones are a lock. If McCarthy is fit he has to drop Barry. Besic has earned his spot.
On the left its either Mirallas or Oviedo. I know I would always pick Oviedo because Mirallas isn't there mentally. Lennon is a lock on the right with McGeady backing up. Then it's Naismith or Barkley in the hole and Kone or Lukaku up top. RM has the square pegs now let's see if he has evolved and learned from his mistakes.
Brian Hill
165
Posted 03/02/2015 at 07:57:45
David@160, how about: "We sold Eto'o, You still have Lambert"?
Ray Roche
166
Posted 03/02/2015 at 08:05:41
According to the Gulf News (no, me neither)
"Australia's leading goalscorer Tim Cahill joined Shanghai Shenhua in China's Super League on Tuesday, shortly after the New York Red Bulls announced he had left the club by mutual consent."
Tony Abrahams
167
Posted 03/02/2015 at 08:17:16
Interesting what Lennon said. Joining a team with great potential, just keep him off ToffeeWeb then. Unless he scores the winner on Saturday, that is!
Raymond Fox
168
Posted 03/02/2015 at 08:34:12
I'm with the good signing team, what I've seen of him he can go around at least one defender for fun, something we badly lack.
Some teams will probably double mark him which could open the middle up somewhat too.
Pity we are poor with our attacking headers, Lukaku is built to be a monster when the ball is crossed into the box in the air, presumably Roberto want's the ball on the ground most of the time.
I'm still with Martinez but the box is an area that were not exploiting enough, get the ball into the area and anything can and does happen.
Lennon will be a threat in attack I've no doubt, whether he is active in defence I've not a clue!
Andrew Ellams
169
Posted 03/02/2015 at 08:51:09
John Gee @ 142, there is not a referee in the league that would have the bollocks to send off Gerrard on his big day, or anytime this year on his farewell tour of English football grounds.
Craig Walker
170
Posted 03/02/2015 at 08:49:30
I don't think this is a bad acquisition. Lennon has pace and will run at players. He always seemed to play well against us. I can't help but feel though that this will pave the way for Mirallas to join Spurs in the summer.
I think people remember Deulofeu as being better than he was. There was some great moments from him (Arsenal away) but he frustrated the hell out of me. I remember the League Cup game away at Fulham. He was superb in the first half and then couldn't make 2 yard passes in the second half.
Tony Sullivan
171
Posted 03/02/2015 at 08:55:47
Lots on here appear to be writing Lennon off before he has kicked a ball for us. Seems an odd way to support your team.
Colin Glassar
172
Posted 03/02/2015 at 09:10:36
Like any player who wears the shirt he will get my full support. Don't let us down lad.
Dick Fearon
173
Posted 03/02/2015 at 09:07:16
I welcome Aaron and wish him well, he might turn out to be an excellent pick.
Cahill chose China for several reasons not the least of which would be enormous scope for his coaching schools.
Nick Page
174
Posted 03/02/2015 at 09:03:45
So, according to Hyperbole Bob, Lennon has:
1. Terrific pedigree,
2. Terrific experience
3. Real good understanding of the league
4. Still at a very good age.
5. Experienced two World Cups with England
6. Brings something really important to our squad straight away (?)
7. Already reached huge landmarks in the Premier League
8. Ability to adapt to different ways of playing (!! lol)
9. Had a very interesting experience (?)
10. Can play on both wings with a lot of power and a lot of pace.
11. Has incredible ball control,
12. Has high speed
13. Can take people on
14. Can be really exciting
What a load of fucking nonsense! And why the fuck would Spuds be selling him? Just say he's a good addition and look forward to seeing what he can add. FFS
Brin Williams
175
Posted 03/02/2015 at 09:09:53
Lyndon 158 'that move is with a view to making it permanent in the summer'
You bet it is and with Mirallas going the other way.
Deal already agreed methinks!
Martinez has probably agreed to this so that we have the manpower to beat the drop – then it's sell-up time – car boot sort of thing.
Colin Glassar
176
Posted 03/02/2015 at 09:12:32
With all respect to Tim Cahill why would anyone really want him back at his age? His legs went years ago. He's an Everton legend so it would've been sad to see him struggle in this league. He's better off getting an easy pay day in China.
James Marshall
177
Posted 03/02/2015 at 09:22:45
It's more than a payday in China. He's a good lad, Cahill and cares about the promotion of the game on a world scale. Chinese football is a massive growth industry and TC knows which way his bread is buttered.
He's a World face in the game now, having played here, the US, a star for the Aussies in the World Cup. It makes sense for him to go to China. He's an ambassador.
Aidy Dews
178
Posted 03/02/2015 at 09:22:14
I'm not one of Lennon's biggest fans but he's here and I'll back him. He as got the one thing we've been seriously lacking in the final third and that is pace!
Most of the season we've been playing a certain way where we sit deep and allow teams to do one to us and then look to take the ball and break but we haven't had the pace in the side to execute such a plan like the season before when we had Deulofeu with Mirallas; now we have Lennon and that should make us more dangerous.
I would've liked to've seen the keeper Nyland signed but it wasn't to be, and if it was even possible, a swap deal involving Distin and money for Reid would've been good but by all accounts Reid wanted to see the season out at West Ham and it never ended up a goer.
And according to Cahill himself, he got an offer from Kenwright to re-sign! Sentimentally, it would've been nice for fans but Cahill knows that he and us have moved on now and it wouldn't've been right for him to come back. Moyesy was even in his ear about going to Sociedad but he's chose to go to China and good luck to him, he deserves his big, final pay day!
Ian Jones
179
Posted 03/02/2015 at 09:18:00
It's nonsense to write off players before they have kicked a ball for us. We might as well start writing players off that don't play for us at the moment and probably never will. I nominate Messi. So over rated. Never uses his right foot, totally one footed. Wouldn't have him at Everton.
I think we could generally agree that whenever we have players against us using their pace either through the middle or on the wings, it's worrying times (thinking Suarez, Coutinho, Sterling, Sturridge, Bolasie and many more) . We have seen what pace can do to opposing teams when we have had some fast wingers/forwards (thinking Deulofeu), so hopefully Lennon can inject some fast forward thinking etc. It has to benefit the team in being able to relieve the pressure.
Hope the rest of the team can catch up with him.
Ross Edwards
180
Posted 03/02/2015 at 10:23:20
Give the guy a chance. Spurs are getting rid of him because they have about 3 other wingers Nick: Chadli, Lamela, Townsend. Their squad is big enough as it is. Some Spurs fans that i've seen on Twitter and fan sites are disappointed that he's left and one in particular said our squad is stronger with him and Tottenham's is now weaker now he's gone.
You didn't expect us to be lashing money around did you? If the player we all wanted isn't available you look around. Lennon fitted the bill for what Martinez wanted. We needed another winger, he was the best available at the time yesterday, so we got him.
He gives us another option and strengthens the squad. We didn't lose Mirallas, which is what a lot were fearing heading into the deadline day. I think it's a decent signing.
And at the end of the day, if he fails we can send him back. Simple. It's not like we'll be stuck with him like we are with McGeady.
George McKane
181
Posted 03/02/2015 at 10:29:19
I'm sure you have heard this one doing the rounds already:
Lennon and Mc Carthy - Give Pace A Chance
Tommy Coleman
182
Posted 03/02/2015 at 10:31:05
Lennon is only 27.
He seems to have been around forever.
Ross Edwards
183
Posted 03/02/2015 at 10:29:27
And I guarentee, if Lennon would have gone to Stoke, those moaning about him signing would be saying "Why didn't we go for Lennon?" or something like that.
He's here now. He wasn't our first choice but neither were McCarthy or Stones when they arrived. Look how invaluable they are now.
James Marshall
184
Posted 03/02/2015 at 10:44:46
Who was our first choice? Was it Robben? Ronaldo maybe? Bale? I didn't even realise we had a choice.
Nick Page
185
Posted 03/02/2015 at 10:40:28
Happy to have Lennon, IF he's used properly. Secondly, he's not fucking World Player of the Year, we haven't broken the bank to get him here and Spurs wanted rid (for ٥M... arf... more fucking Levynomics) so the completely OTT comments from Bob the Waffler are totally misplaced as per usual. Like I said, glad to have him "on-board".
On the flip-side, looks like this deal is a prelude to Mirallas leaving for that shithouse outfit. And that'll be the end of his career. Their greedy little fucking prick of a chairman has probably agreed some derisory fee given he has 㾸M left on his contract (whatever the fuck that really means) and was happy to wait 'til summer. I fucking hate them almost as much as the other lot.
Colin Smith
186
Posted 03/02/2015 at 10:54:48
Ray (156), Agree about Baines in midfield, think Baines & JM/Besic partnership would work well and would also allow Garbutt to play some games.
Garbutt's looks very promising and, contract or no contract, he won't want to hang around and be our 2nd/3rd choice left back when he could be regular № 1 choice somewhere else.
Andrew Clare
187
Posted 03/02/2015 at 10:57:03
To me it's a disappointing signing and it shows just how far we have fallen over the years. There is no end product to his play, pretty much like a lot of players who are here already. He will probably look good for the first few games then fade away.
Tony Marsh
188
Posted 03/02/2015 at 10:59:24
Hmm... Lennon? I remember him when he was at Leeds saying he would not consider Everton as a positive career move just before he signed for Spurs. We were not big enough you see?
Well he is here now and, although I don't really rate him, he is adding to squad numbers. But he cannot play in the Europa. Lennon has to be better than nothing doesn't he?
Phil Walling
189
Posted 03/02/2015 at 11:22:03
No doubt an improvement on McGeady and Atsu and it's only a loan. Never much chance od Bobby being given any money whilst his job is on the line, anyway.
He didn't even get money for a goalie which shows how much his stock has fallen and he'll need more than one or two jammy victories to save his neck. So be it.
Brian Williams
190
Posted 03/02/2015 at 11:55:35
I'm happy with getting Lennon on loan. He's fast, direct, and he'll be out to prove something. I know some say there's no end product but I don't think you get that many England caps if you're absolutely shite. At 27 he should be mature enough to make the change ok but not over the hill.
I personally DON'T think this means that Mirallas is off to Spurs in the summer. If he plays on Saturday and sets up Lukaku, and scores himself he'll be a fucking Everton legend. :-)
Amit Vithlani
191
Posted 03/02/2015 at 12:02:04
Nick Page - I believe Mirallas has 2 years left (1 year currently plus an option for a further 12 months at Everton's discretion) but don't let that get in the way of your rant.
The thing about Lennon is that there is a maximum 14 games he can play (I assume he is cup tied for EL and can't play against Spurs). He will need 3-4 games to adjust so we are talking maybe a max 10 games where he will be in a position to have an impact.
Very similar number of games to another RW, Landon Donovan, in each of his individual loan spells. If he has half the impact of Donovan it could give us a lift and might result in something being salvaged from this wreckage of a season.
Paul Hughes
192
Posted 03/02/2015 at 12:16:38
It's been a Helter Skelter season. It'll be a Long and Winding Road to turn it around. We can't just Let It Be – we need a Revolution.
I'll get my coat....
Andrew Ellams
193
Posted 03/02/2015 at 12:23:06
James Marshall @ 185, I think you'll find the popular choice with the fans for this position was Deuolofeu.
It's a shame the rumours about Winston Reid didn't come to fruition as I think we will struggle to get him in a straight contract fight in the summer.
James Hughes
194
Posted 03/02/2015 at 12:24:41
We needed a boost and he is a solid and experienced signing so I am happy(ish)
Reality is we are 12 points adrift of 7th with 15 games to go, I need some of Phil Wallings enthusiasm and say we are about to go on this amazing winning run. Starting with Saturday!!
Ross Edwards
195
Posted 03/02/2015 at 12:36:51
James Marshall
A lot of people on Twitter and other fan sites wanted Deulofeu, some suggested Bolasie and Milner among others.
Sean McCarthy
196
Posted 03/02/2015 at 12:29:39
I've said on another thread but FFS let's put all this talk of Delofeu in the box marked "former players"!! He ain't coming back. Neither is Landon Donovan. Now move on!!!
Phil Walling
197
Posted 03/02/2015 at 12:46:48
Ross, what people suggest and who is available and affordable are very different things. Milner, for instance, is on mega money and will only become available when he's Barry's age.
Delboy has assumed legend status in these columns although, in reality, he was a show pony who occasionally turned it on. Bit like Mirallas if truth be told!
James Marshall
198
Posted 03/02/2015 at 12:56:08
Deulofeu? But he's already on loan. I don't get why people still go on about him.
Palace won't sell Bolasie mid season either. I think people lack realistic expectation.
Nick Wall
199
Posted 03/02/2015 at 12:53:07
Everyone seems to want to compare Lennon with McGeady, but in my opinion the more interesting comparison is with Pienaar. Over the past 4 seasons, Pienaar's played 82 league games with 12 goals and 15 assists while Lennon's played 118 with 11 goals and 20 assists. Not dissimilar, in other words.
This season, even when he has been fit, Pienaar hasn't shown the creative threat that he has in previous seasons, so based on that and the age difference between the two players, right now I would rate Lennon above Pienaar.
Andrew Ellams
200
Posted 03/02/2015 at 12:59:05
Well we definitely never see Donovan back as he has now retired. Young Gerard I'm not so sure. He seems to have been pushed out of the reckoning at Barca and not having a good time at Sevilla so who knows.
This kid isn't a winger though, he's far too direct. A good coach could turn him into the next Thierry Henry
Dave Lynch
201
Posted 03/02/2015 at 13:01:40
When are fans going to realise, their opinion about who they want is not worth 2 toots on a ragmans trumpet.
We will get who the manager wants and within Bill's monetory constraints.
Phil Sammon
202
Posted 03/02/2015 at 13:03:19
Nick 200
I'd love to see how many of Baines' assists were set up by Pienaar. I don't think the 'Goals and assists' stats really do him justice. He's been vital to us for a number of years.
And the reason people are comparing him to McGeady is because they are both direct, pacey wingers. I'd have thought that was pretty obvious.
Phil Walling - re Milner
He actually wants to leave City, and has done for at least 8 months. I'm surprised we've not even shown interest in a loan move.
James Marshall
203
Posted 03/02/2015 at 13:06:48
Incidentally, has anyone seen the photo of Lennon looking delighted to be at Finch Farm?
Jeez, cheer up.
Phil Sammon
204
Posted 03/02/2015 at 13:12:06
Oh and has anyone seen Lennon's first pictures at Finch Farm. He looks absolutely fucking thrilled to be there! NOT!
James Marshall
205
Posted 03/02/2015 at 13:12:54
Dave - it's the Football Manager mentality. People have difficulty with the disconnect between fantasy and reality.
I want Ferenc Puskas, Maradona, and Franz Beckenbauer to play for us but it's unlikely to ever happen.
Jason Murray
206
Posted 03/02/2015 at 13:15:32
Brian @191. Re: number of England caps reflecting talent. Three words for you mate, Phil fucking Neville!
Bill Gall
207
Posted 03/02/2015 at 13:03:24
Do not understand why people are being critical about Lennon coming to the club . Saturday against Palace the general consensus was we looked a better balanced team playing the 2 wide men and now we bring in a better player than McGeady to play wide and some supporters are allready slagging him off before he has kicked a ball for us.
I guess you can't please everyone but he looked good when we lost at Tottenham this season.Give him a chance he has a lot to prove and then maybe we can forget about that player from Barcca that we were not going to get anyway.
Dave Lynch
208
Posted 03/02/2015 at 13:16:50
You're right of course James, but you would think they would have a vague idea that we are poorer than a church mouse.
Maradona.....Hmmmm, can't be any worse than McGeady.
Barry McNally
209
Posted 03/02/2015 at 13:27:05
Looks to be carrying a bit of timber too in the Finch Farm snaps.
David McKitt
210
Posted 03/02/2015 at 13:30:22
Alan Bodell
211
Posted 03/02/2015 at 13:11:37
I am delighted with Lennon's arrival and, thinking how piss poor Lukaku has been, I'm hoping the pace angle with the big lump piling into the box may bear fruit as he certainly can't head, shoot or hold the ball up too well for a player costing 㿈m.
Sam Hoare
212
Posted 03/02/2015 at 13:35:37
I'm happy with the Lennon signing. He's direct and pacy (more so than McGeady) and allows us to play two proper wingers which will stop us congesting in the middle and hopefully facilitate some quicker transition and counter attacking. Something we've seen very little of.
If he's garbage then its only a loan so not much lost. If he's good then will be a decent replacement for Mirallas.
Eric Myles
213
Posted 03/02/2015 at 13:39:07
James #157, I'd bet we've sold more players in the last hour of the transfer window than any other team as well!
Brian Hennessy
214
Posted 03/02/2015 at 13:53:53
We sold a whinger and bought a winger, not a bad window after all.
Dave Abrahams
215
Posted 03/02/2015 at 13:21:04
Michae Penley (#143),
Yes you're right, I have got no argument with losing most of the players you suggest.
What I was saying about Mathew Kennedy was based on the fact he is 20 years of age and he is no way ready to play for the first team at the moment. He maybe a late developer and in time become a much better player than he looks at the moment, so good luck to the lad if he does.
Brent Stephens
216
Posted 03/02/2015 at 14:02:37
Jason #207 "Brian @191. Re: number of England caps reflecting talent. Three words for you mate, Phil fucking Neville!"
Jason, is that one word and two expletives?!
Colin Metcalfe
217
Posted 03/02/2015 at 13:55:19
I've got a mate who is a mad Spurs fan, texted me this morning saying after a game Adebayor slagged off Kane and Lennon and Kaboul sided with him which pissed off Pochettino and the rest of the squad, hence all three were frozen out!
Seems most on here seem to think he is better than McGeady, I am not so sure... Lennon is bit of a chicken with no head and doesn't score too many, so let's wait and see.
My personal opinion is that McGeady is low on confidence and is trying too hard but there is a good player in there somewhere.
Clive Mitchell
218
Posted 03/02/2015 at 14:14:35
Nick, 200 - Pienaar has been instrumental in countless great/good Everton results. I bet that's not what most Spurs fans say about Lennon. Oh for a 27-year-old Pienaar to sign. OFM could spot a player, couldn't he?
Ross Edwards
219
Posted 03/02/2015 at 14:19:28
No, I have to agree there. And I had a bit of a dispute on Twitter yesterday with someone who was going on about the fact that we didn't go for Bony and Gabriel which shows the small time mentality of the fans that they didn't criticise Kenwright over this or something ridiculous like that.
How could we have possibly gone for players we couldn't afford? Honestly, some fans think we're some kind of mega rich club with bottomless pockets.
Brian Hill
220
Posted 03/02/2015 at 14:24:58
Several contributors, on this and other threads, have made the observation concerning McGeady that "there is a player in there somewhere".
There is not. McGeady has spent his entire career at a very low level, where his schoolboy stepovers and idiotic shuffles would work occasionally against opponents of equal mediocrity.
Now that he is in with the big boys he has been exposed for what he is.
Lennon is not great but he is way above the standard of McGeady. That is the only consolation I can extract from this signing.
Andrew Ellams
222
Posted 03/02/2015 at 14:39:41
Ross, I think you'll find they have them in their FIFA teams and struggle to differentiate with reality.
I think we will spend a decent sum again this summer, but no single huge amount like we did last summer.
Jason Murray
223
Posted 03/02/2015 at 14:43:00
Brent @217. Haha well spotted mate! If Lennon can recapture his form of a few seasons ago we'll have a very shrewd acquisition on our hands. If not it's back to Spurs for him and Bill can open his cheque book to do some serious rebuilding in the summer... *cough*.
Dave Abrahams
224
Posted 03/02/2015 at 14:47:46
Andrew (223),
Yes, we agreed to spend a lot last summer but we haven't paid nearly half of it yet, that's just more debt for the future.
The real trouble will start when we have to replace quite a few of the older players very soon... you will find we just do not have any money to replace them.
Dan Brierley
225
Posted 03/02/2015 at 14:57:44
Not a bad signing at all, especially given the lad will have a point to prove after his career stalling somewhat following a blistering start. He has pace to burn, but has never quite turned that into consistent end product.
Certainly an improvement on what we already have, so hats off. New faces can also give a boost to our squad, which has been sapped of confidence by bizarre decisions and tactics. Hopefully this will mean the end of seeing central midfielders and strikers out wide.
David Harrison
226
Posted 03/02/2015 at 15:13:11
I hope he is happier to be here than he looks. It could be a smart piece of business but I have a horrible feeling this is just a desperate rummage around in the bargain bin without any real research into the player's desire and attitude.
We used to be a side where the changing room had a totally professional team ethic. My worry is how quickly that disappeared (last week's gritty performance notwithstanding). Come on Aaron, understand what it is to play for Everton. We can't afford sulkers.
James Flynn
227
Posted 03/02/2015 at 15:15:00
Hope he goes straight into the Side. If LD could go straight in jumping from a minor league, Lennon should be OK. I don't like to knock players, certainly not in here, but Lennon can't, CAN'T do worse than McGeady.
Put him right in and let's see what he can do. Let the RS do the worrying.
Andrew Ellams
229
Posted 03/02/2015 at 15:29:24
We have been crying out for balance all season and a combination of Lennon and Miralles should provide this. Not sure we will see Barkley and Naismith in the same team again.
James Royston
230
Posted 03/02/2015 at 15:28:57
Give the lad a chance, I seem to remember he has caused us some problems in the past. Play him on Saturday & let them lot over there be worried about what he can do.
On the Lennon & McCarthy kick, it has to be "All we need is goals"...
If he plays this will be the last time we'll see The Devil SG!! I wonder if he will still have the ref in his pocket???
Ant Summers
231
Posted 03/02/2015 at 15:25:13
I still don't get it, RM is obviously telling his players not to cross the ball, pass as much as you can... unless he has had a change of heart on this tactic, that is why he has loaned a winger.
We are bottom in 4 divisions for crosses into the box. You can't get away from that.
If there is one team suspect on crosses, it's the Redshite. I hope he has had a change of heart; if not, they will be bossing the middle over us.
Dave Abrahams
232
Posted 03/02/2015 at 15:36:24
I can't believe people are moaning on here about Lennon not smiling at Finch Farm late last night.
If he makes us smile by what he does on the pitch is all that matters, and that is all I'm looking for.
Andrew Ellams
233
Posted 03/02/2015 at 15:42:05
We are low on crosses, have had one decent wide player on our books all season so far and he had a fairly lengthy injury. Do the maths, folks!
Michael Kenrick
234
Posted 03/02/2015 at 15:45:58
Come on, Dave. He really looks a right miserable bugger in every one of those pictures... No way that passes without comment from our eagle-eyed readers!
Will Firstbrook
235
Posted 03/02/2015 at 15:14:50
Lennon adds depth in an area of the pitch where we are seriously lacking (especially under the system/style we try to play).
The fact he hasn't logged any real match minutes for some time, let alone work his way onto the Spuds bench, should temper expectations.
From an individual perspective, he has much to play for so that can only be to our advantage (not unlike Barry getting a lifeline on his career last year when he joined us).
What I find worrisome with this business is that I see this as a precursor to negotiations for Mirallas moving to the Spuds in the off-season. I hope that is not the case but Levy's history in transfers would indicate there is more to this than meets the eye. I hope that is not the case.
Roll on Blues
Ant Summers
236
Posted 03/02/2015 at 15:45:11
Disagree Andrew, two best full backs in the country, many many times they and others have been in a position to cross only for the ball to be kept hold off and played back. No sorry thats wrong what your saying, the truth is RM keep the ball tactics.
Raymond Fox
237
Posted 03/02/2015 at 15:29:09
Those photos of Lennon are a disgrace, he deserves a fine, which must be some kind of a record!
Latest whipping boy, I give you McGeady.
First it was Naismith, then Robles, then Kone, of which none have turned out to be 1/2 as bad as painted.
I said earlier that I thought that Lennon was a good signing, after looking at those photo's I'm not so sure!
James Carroll
238
Posted 03/02/2015 at 16:05:54
Is he officially number 25, do we know?
Will Firstbrook
239
Posted 03/02/2015 at 15:47:46
Ant, I would agree with that.
What I am hoping to see on Saturday is Besic and Macca making life difficult for Coutinho and Pickle Butt and nullifying their ability to freely move the ball through the middle.
What I am expecting to see is Barry getting his walking papers following a vain and clumsy attempt trying to take the ball off one of them. If so, I hope he manages to put one of them out of the match in the process.
I'm a silver-lining kind of guy
Andrew Ellams
240
Posted 03/02/2015 at 16:10:12
Ant and Will, one thing those two full backs have been hugely dependant on previously is doubling up with forward wide players. That hasn'y happened at all this season and has served to negate their play somewhat too. And when confidence is as thin on the ground as it is now, a short pass is often an easier option than a cross.
Chris Gould
241
Posted 03/02/2015 at 16:13:45
Sorry if this has already been mentioned. And I realise that this isn't an appropriate thread...but if West Ham get booted out of the FA Cup then that means we get a second chance. Something to be hopeful about, after all, if it was a 2 legged match then we would have gone through on away goals. So no need to feel bad about getting through the backdoor. If it happens.
Andrew Laird
242
Posted 03/02/2015 at 16:11:07
I have no idea why signing (on a try before you buy) an available and fit wide player with a point to prove who has genuine pace and is at a great age is a bad move by some on here.
If it means that we no longer have to play unbalanced and never have to see Barkley or Naismith on the flanks ever again then it is a great move regardless of any individual player success.
Andrew Ellams
243
Posted 03/02/2015 at 16:26:32
Chris Gould, surely Bristol City would just go through instead as they were the opponents when the alleged offence happened.
Chris Gould
244
Posted 03/02/2015 at 16:37:14
Andrew Ellams, mmmm not sure. That would also not be fair on us as we should have played Bristol City and not WHU. Gonna get complicated if they get thrown out.
Will Firstbrook
245
Posted 03/02/2015 at 16:26:54
Andrew @241 - sorry my comment was in relation to the prospect of losing the midfield on Sat.
As to the reason why we are not putting balls into area from wide positions, I see it more as a by-product of overall tactics. Both of our fullbacks are capable of putting in crosses (though admittedly Baines has really struggled with crosses of any kind this season) but do not when the opportunity arises. Whether that is a conscious choice or dictated by RM's larger possession-first tactics/strategy, I can't say say (but would be inclinded to believe so). However, even if either player did want to cross it, there is never anyone available on the receiving end!
I don't necessarily believe we HAVE to start crossing the ball more IF our fullbacks pressed forward. This opens up more space and opportunities through the middle for the folks who are supposed to score. Problem is, for whatever reason, our FB are not pressing forward this season (certainly not with the marauding frequency they were last season). The explanation for that is likely due to a number of factors.
Andrew Ellams
246
Posted 03/02/2015 at 16:40:10
You're right Will, there are multiple factors but I can't help thinking back to last season and we had Baines/Pienaar and Coleman/Miralles on the flanks it's the difference to what we are seeing this season.
Chris, we are nothing to do with any of the West Ham ineligible player thing. We were done and dusted before any offence was commited.
Chris Gould
247
Posted 03/02/2015 at 16:46:42
Ah yes, Andrew, my mistake, sorry about that. Dammit!!!
Ray Roche
248
Posted 03/02/2015 at 16:55:49
All these comments about Lennon looking miserable, he's from Leeds, FFS, it comes naturally to him.
Will Firstbrook
249
Posted 03/02/2015 at 16:43:09
Without a doubt, Pienaar offered defensive cover allowing Baines to attack more last season. Clearly there have an understanding between them that we are sorely missing this year.
While I recall Mirallas playing on the right last season, I also recall Delboy out there for a fair amount as well. Let's face it, neither of them offer much defensive cover to an attacking fullback. No doubt the squad was making the most of a renewed sense of confidence and freedom under RM last season which I'm sure spurred the backs to take more chances going forward regardless of who they were partnered with.
I think Mirallas prefers playing on the left as it allows him to cut into the middle with the ball on his stronger foot. But I do agree, and to your point, that the unnecessary personnel rotation that was happening in the first part of the season coupled with injuries (not an excuse, mind you) has undermined our effectiveness to attack (and defend!) the flanks.
The "square peg / round hole" analogy has been thrown around enough times this season. However, it's still a valid and accurate characterization of where a big source of our problem lie.
Dave Abrahams
250
Posted 03/02/2015 at 17:21:20
Michael (235) yes it!'s no big deal either way,if he scores on Saturday or plays well he can look as miserable or as happy as he wants!!!.
Andrew Ellams
251
Posted 03/02/2015 at 17:24:39
Last season both Barry and McCarthy were filling in behind the full backs when they were going forward countering the counters as it were, this season has just gone to pieces and so much hard work has gone to waste. There are a lot of simple things that they could start doing again that would help turn things around to some degree.
Martinez has 12 games to earn the right to at least try and put things right next season.
Andrew Ellams
252
Posted 03/02/2015 at 17:24:39
Last season both Barry and McCarthy were filling in behind the full backs when they were going forward countering the counters as it were, this season has just gone to pieces and so much hard work has gone to waste. There are a lot of simple things that they could start doing again that would help turn things around to some degree.
Martinez has 12 games to earn the right to at least try and put things right next season.
Jay Wood
253
Posted 03/02/2015 at 17:39:05
Well I for one am made up we've landed Lennon, regardless of whether he cracks a smile or not.
He is NOT a headless chicken. He is probably the quickest player in our squad, he is technically gifted (all the trickier with the speed he plays the game) and his final ball is NOT always cack.
His success or failure with us will be determined by how the manager plays him. Keep him wide, get the ball to him, running at and turning the opposition defence and he will get people out of their seats and Lukaku will be licking his lips at what Lennon can deliver.
Restraining him to playing from the half way line, passing it side ways in a narrow midfield will neuter both Lennon and the contribution he can make to the team.
He will switch wings, but I imagine principally he will dovetail with Seamus. If they click, Lennon's arrival could help give Seamus his Mojo back too.
His arrival also calls into question not so much Mirallas' future as some speculate, but rather IMO more that of McGeady and most certainly Atsu.
Oh! And the Spurs fans I know have been pissed off all season he has not been playing more regularly and are not happy he has joined us.
Will Firstbrook
254
Posted 03/02/2015 at 18:01:00
I think there is a compelling argument to be made that McCarthy did a brilliant job filling in the holes behind Barry last season :-)
The absence of McCarthy this season cannot be understated. So much of what we do well (and not) seems predicated on whether he's in the line-up. For me, he cannot come back soon enough.
Barry has his moments and games, no doubt. However, when playing against opposition that attacks with pace and movement, he is often left exposed and by extension, the half or fullback that he is covering. He is by no means the only one having a tough season and I am not trying to deliberately single him out. But often times, many of the players appear to be of two-minds when attacking this season. Whether that is due to confusing strategy or tactics or whether there is some doubt and fear of being caught out of position on the counter, who can really say?
Back to the original point of the thread - if Lennon can take the ball and keep it in the opposition's end and ideally cause them some trouble and create some space for other, then we are better off than before. I sincerely hope that he can.
Colin Glassar
255
Posted 03/02/2015 at 18:43:54
After almost 24 hours of reflection and soul searching I'm also chuffed that we now have Lennon on board. He gives us speed, width and vast experience in the prem. So despite looking miserable, welcome aboard Aaron.
I remember my first reaction when we brought in Cahill and Arteta. One was a unknown Aussie from an unknown championship team and the other, was an unknown, skinny Spanish lad who had struggled with the physicality of the Scottish league. Both of them turned out ok didn't they?
Paul Tran
256
Posted 03/02/2015 at 18:55:00
Jay, you're spot on. Lennon on one side, Oviedo on the other, Kone up front with Lukaku, you've got a balanced team with pace and serious attacking intent. Will he do it, though?
Dave Kelly
257
Posted 03/02/2015 at 18:57:32
Just another angle on the Lennon debate. My mate is a Wigan season ticket holder who has never been a lover of Roberto, however he does reckon the guy always seemed to get the best out of wide players such as MacNanaman, Nzogbia, Moses, McClean etc. So who knows, Lennon seems to put in a lot of those hard low crosses which are a bit hit and miss but if Rom gets on the end of one or two...hmmm.
Ian Brandes
258
Posted 03/02/2015 at 18:58:16
According to the Sydney morning herald, we did try to get 'Tiger Tim' back. Apparently our former Ginger Whinger spoke to him re La Ligament, and Kenwright was on the blower to, hoping to lure him back.
He declined though, much bigger money in China on offer.
As for Lennon, let us give the lad a chance despite his miserable demeanour. Maybe he is just a guy who doesn't do good photos.
We will all be pleased if she shows the promise he had several years back. But I am not sure we will see him in action against the RS unless he comes on as a late sub.
Do we know how fit he really is? What makes me think that we don't!
Ian Brandes
259
Posted 03/02/2015 at 19:10:46
This predictive txt does me head in. It turned La Liga into La Ligament, and obviously Aaron is a he, not a she!
Colin Glassar
260
Posted 03/02/2015 at 19:14:20
He's played 17 games this season Ian so he shouldn't be totally rusty. I'd expect him to start on the bench on Saturday but I suppose it will depend on how he does this week in training.
Wayne Smyth
261
Posted 03/02/2015 at 19:29:03
One things for certain. If he is on the bench on Saturday, a knackered RS defence isn't going to be happy when they see him coming on for the last half an hour.
Out of interest, anyone know what the agreed purchase price is, or infact whether we got anything for Kennedy?
Peter Gorman
262
Posted 03/02/2015 at 20:08:13
Oh Colin, Arteta and Cahill were hardly unknowns when we signed them; the former much loved at Ibrox and the latter the star of Millwall's march to the FA Cup Final – surprised you admitted that man.
Gavin Johnson
263
Posted 03/02/2015 at 20:18:28
I think Lennon will be a good signing as a "try before you buy". It'll be good to have someone who is fast and direct rather than McGeady who just meanders around.
I don't read too much into the photos either. I seem to remember big Dunc not looking best pleased when we signed him on his initial loan.
Dick Fearon
264
Posted 03/02/2015 at 23:10:07
If that is a picture of delight I'm glad not to be a cat in the Lennon household.
James Marshall
265
Posted 04/02/2015 at 08:01:14
Lennon looking miserable isn't a big deal but it is pretty funny. Not to mention weird. Why did nobody think to ask him to a smile a bit? Eeyore Lennon.
Matt Traynor
266
Posted 04/02/2015 at 08:18:56
Ian #260, you may be blaming predictive text for turning "he" into "she", but in your original post you did go on to ask how fit she was....
Mike Childs
267
Posted 04/02/2015 at 23:43:03
Put me down in the like column. I think Will F. #236 was spot on with the comparison of the Barry lifeline. Pace is a game changer glad to have him for that point alone.
Phil love the comparison of Mirallas and Delboy as "show ponies" that is the truth. What difference does it really make if it's a precursor to Kev going the other way? He's going to go somewhere this summer unless BK wants to put him on 𧴜k-a-week salary.
---
Add Your Comments
In order to post a comment, you need to be logged in as a registered user of the site.
Or Sign up as a ToffeeWeb Member — it's free, takes just a few minutes and will allow you to post your comments on articles and Talking Points submissions across the site.
© ToffeeWeb