Everton vs Liverpool
Match Preview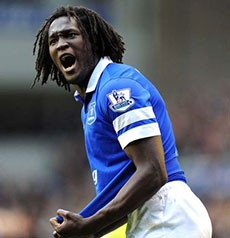 Romelu Lukaku's two-goal blast almost secured a dramatic win in 2013-14
What can you say about the derby that hasn't already been written, said or thought? Most of us hate it and can't wait until it's over. The week leading up to it is a mixture of fear, dread and that annoyingly irrepressible optimism that flickers in your belly at the prospect of what could be. You know you're setting yourself up for heartache but you can't help yourself. The life of a Blue...
Everton have had the better side than Liverpool on paper on quite a few occasions in recent years but we haven't beaten them since 2010 when Tim Cahill and Mikel Arteta were in their pomp. In last season's Goodison derby we really should have done — Romelu Lukaku, dreadlocks a-flying, had scored a brilliant brace and put us on the verge of a famous win but a lapse in focus at the back right at the end cost us.
Prior to that, of course, there was another thrilling 2-2 draw in which Luis Suarez was up to his snide worst, raking his studs down Sylvain Distin's heel and stamping on Kevin Mirallas; and then, of course, the scandal of the "Martin Atkinson derby" when Jack Rodwell's red card robbed us of any hope of winning the 2011 edition.
Unfortunately, the Premier League haven't mitigated the prospects of refereeing controversy in the fixture that has, historically, seen the most red cards. Anthony Taylor, no stranger to baffling decisions or cards of either color, is the man entrusted with this season's Goodison derby and that makes it something of a lottery. Who knows, although it's worth mentioning we're unbeaten in our last eight games in which he has been in charge. Perhaps Everton will be the beneficiary this time and be awarded what would be just the third derby penalty in the Premier League era... Stranger things have happened.
Of course, as Sky Sports' disgracefully biased marketing won't let you forget, the other aspect to this derby is that it will likely be the last for "Slippy G" — until he comes back to hog the limelight again on loan from LA Galaxy next January, that is. Frankly, we Blues can't wait to see the back of him given the misery he has caused us over the course of his career and nothing would bring greater pleasure than if we could ruin his send-off from this fixture. Please let it happen...
Having surprised ourselves somewhat by beating Crystal Palace last weekend, Everton come into this game with a spring in their step and, possibly, armed with James McCarthy back in the starting XI. After practically all the national dailies came out simultaneously with the news that the Irish international had suffered another setback in his recovery, Roberto Martinez claimed in his Thursday press conference that scans had given him the all-clear and that he would be in the squad.
Ordinarily, were he to start he might do so at the expense of Muhamed Besic, who has deputised impressively over the past five weeks and established himself as something of a crowd favourite, but Martinez played all three of his defensive midfielders at Anfield in September and could do so again.
If he does, it would likely be at the expense of Aiden McGeady, an immediate debut for Aaron Lennon, or a return to the starting line-up for Ross Barkley. It's hard to see the manager changing much from the team that beat Palace so it would not be a surprise to seen the new man from Tottenham start on the bench, even if his pace would be a welcome boost given that the reds have their own fleet-footed players like Raheem Sterling.
Keeping the likes of him, Philippe Coutinho and Daniel Sturridge quiet is, obviously, going to be key to to Everton's chances this weekend. Liverpool's defence can be vulnerable when attacked either at pace or with any sustained pressure so there will be plenty of weaknesses for Kevin Mirallas and Romelu Lukaku to exploit. But keeping the back door closed and avoiding the mistakes that befell us at Anfield a year ago — and which, to be fair, seemed to have been heeded based on September's game — will be vital.
And, of course, keeping cool heads and rising above the usual derby fray given Mr Taylor's presence in the middle will be paramount. The Blues rarely, if ever, benefit when the red cards start being bandied about so there will be no need to give the officials any cause for rash behaviour.
We all know what a win would mean to us. Let's just get it done. COYB.
Kick off: 5:30pm
Referee: Anthony Taylor
Full coverage: ToffeeWeb Match Report
Reader Comments (123)
Note: the following content is not moderated or vetted by the site owners at the time of submission. Comments are the responsibility of the poster. Disclaimer
David Harrison
1
Posted 31/01/2015 at 14:28:53
If we're looking for a grafting performance, I'm worried by how many free kicks McGeady will give away "tackling" back. Not convinced he will deliver going the other way either. Just not the type of player needed in our situation. Having said that, I hope he shoves those words down my throat!!!
Ray Roche
2
Posted 06/02/2015 at 15:17:40
The referee, Anthony Taylor,is the ref who denied Liverpool a penalty against Chelsea recently, and was the subject of much criticism from Brenda.
Now, as we all know, it's Slippy G's swansong, so I can only see Taylor doing his best to curry favour with the RS and Brenda by giving the Shite their 11th penalty in the last 25 years. Against our two. Doesn't look promising, does it?
Dominic Tonge
3
Posted 06/02/2015 at 15:25:15
I hate derby days, I hate Gerrard, I really want Besic to snap Slippy into bits and then score the winner.
Frank McGregor
4
Posted 06/02/2015 at 15:21:36
Having watched several Liverpool games of late, I really don't believe they are playing that well. They are still vulnerable in defense, particularly on the left side, this would be a good time for the likes of Mirallas and Coleman to exploit.
The Bolton game this week did give clear indications that they are being hyped up by the media as usual.
David Hallwood
5
Posted 06/02/2015 at 15:26:07
That was bang on the money, Lyndon, and like you I hate derbies. Go past the 'anything can happen in a derby' bollocks and I'll clutch at straws by saying that worse Everton teams than this one have beaten better Liverpool teams. But a clean sheet will do me, and an even more tedious 1-0 then last week's fare and I will be ecstatic.
BTW, a horse called Gerrard's Slip won @10/1 this week-omen?
Kevin Tully
6
Posted 06/02/2015 at 15:28:02
Let's just hope we do ourselves justice. Rolling over to a tame defeat is not an option. Set the tempo from the first second, and don't give them a minute's rest until the final whistle.
Mingolet is suspect to any high balls like no RS 'keeper before him, bombard the fucker! Get in their face and cheat, dive, feign injury – whatever it takes, they do it every year. Nice guys finish last!
ps: They were playing on when one of their own was down in mid-week, do not start kicking the ball out for injuries, or I am likely to run on to that pitch and injure someone myself. Let's fucking 'av 'em!!!
Tony McNulty
7
Posted 06/02/2015 at 15:35:11
Re. Gerrard, I wouldn't like to, "ruin his send off." I would like him sent off in the opening minutes, as he should have been on many previous occasions.
Mo Guindi
8
Posted 06/02/2015 at 15:33:22
Watching my 10th viewing of the Return of the King (with the help of Kaiser Becks). Battlecry time – the Orks are invading! Time to repel the filth! send Sauron (aka Creasehead) and his Ork King (Skiltte) into oblivion!!! NIL SATIS NISI OPTIMUM!!!!!!!! God I hate the Shite!!!
Winston Williamson
10
Posted 06/02/2015 at 15:45:38
If there is one thing I hate more than Liverpool... it's playing them!
I'd give a couple of my toes and a few fingers for a win tomorrow!!
Allan Board
11
Posted 06/02/2015 at 15:31:23
Can't wait for tomorrow! This is THE GAME of the season for me – every season. Not a clue what the score will be, but be nasty and combative from the off, Blues!!!!
See you there in full voice!
Joseph Clarke
13
Posted 06/02/2015 at 15:54:08
We will win!
Kieran Riding
15
Posted 06/02/2015 at 15:59:57
Barkley isn't starting.
Huge game for Besic.
Phil Rodgers
17
Posted 06/02/2015 at 16:05:36
Do you think Danny Cadamarteri ever re watches his goal against Liverpool and then has a little cry?
Lyndon Lloyd
18
Posted 06/02/2015 at 16:10:56
Strange to think Cadamarteri never amounted to much after that glorious goal. Goes to show what youthful confidence will do. I think of Rodwell's rampaging goal against United in the same way and wonder how he became so pedestrian and conservative in his play.
I watched that derby from a crappy obstructed-view seat at the back of the Gwladys and it was still one of my favourite games.
Eric Myles
19
Posted 06/02/2015 at 16:10:02
"Liverpool's defence can be vulnerable when attacked either at pace or with any sustained pressure"
So playing piggy in the middle outside our box is not going to achieve much.
Brian Waring
21
Posted 06/02/2015 at 16:18:30
"Liverpool's defence can be vulnerable when attacked either at PACE or with any sustained pressure"
A start for Lennon then Eric.
Ant Summers
23
Posted 06/02/2015 at 16:28:45
We are playing against Sky Sports, a referee who will be bias no doubt. I fear a sending off for us I really do, however its up to the crowd to let Sky Sports and the rest of the world know who are the home team, every EFC supporter should come out of that ground with no voice left.
We need to drown the 3,000 or so kopites out, but I do fear Carragher and Sky have borrowed the loud speakers from the 'Escape to Victory' set. Make it a cauldron for this egotistical horror on his last game. I myself are not far away from hailing distance of the radio commentators in the main stand, John Aldridge will be pissed off with our group before it even starts. COYB, Just Once, please Just Once.
Gareth Fieldstead
24
Posted 06/02/2015 at 16:38:00
Would love to be like you Allan! I hate the derby!!!! I think if we play to the best of our ability and a referee decision doesn't decide the game (for them!) I think we will get something from the game.
If McCarthy and Lennon are fully fit I would start them. Pace and in there face from the first kick. Will be interesting to see if Sturridge starts.
Charlie Burnett
25
Posted 06/02/2015 at 16:40:36
I would love Gerrard to get smashed everywhere. Fuck it, we can't do nothing with the league – just smash him all over the park. Set a stamp all the derbies you will always remember this on.
James Marshall
27
Posted 06/02/2015 at 16:46:50
Oh and for what it's worth, I LOVE the derby at our place.
Ian Burns
28
Posted 06/02/2015 at 16:53:35
Love derby day at GP - seen so many (I was there when St. John scored a hat-trick but we won 4-3 in some sort of Liverpool Cup) but alas unable to travel to GP these days so I shall watch from sunny climes (although snowing here at the moment!).
We will win.
Will we win?
Win we will!
Up and at 'em with pace out wide, have their defenders turning towards their own goal – but if we revert to slow slow slow at the back, I might just have to catch a plane and throttle RM!
But no negative thoughts – we will do it!
Tom R Owen
29
Posted 06/02/2015 at 17:05:45
I'm with Dominic #2! I hope Mo smashes "Slippy". It would be nice to see "Champions League Kev" take his gloves off and stick one in.
I really hope Big Duncan has been giving Rom a history lesson this week and that he to rises above the Redshite defence and powers a header
Brian Harrison
30
Posted 06/02/2015 at 17:03:37
I don't know how anyone can love derby games, I get in a bad enough state when we play other Prem teams but when we play them, it's unbearable.
I saw a stat today that said Gerrard had played in I think 29 derbies and only lost on 4 occasions, talk about having the wood over us. At least in some games at Goodison I can relax at certain periods in the game but not against this lot, I call them the Houdini team as they can be playing absolutely awful yet out of nowhere they will score a goal.
I will be glad when it's all over, I just hope that Gerrard doesn't score the winner – otherwise we will never hear the end of it.
Ian Burns
31
Posted 06/02/2015 at 17:24:10
Brian - 29 - you have to approach these games with confidence and attitude so the players get the same vibes!
My wife worries these days about derbies in case the television can/t take another glass of gin being smashed over it if somebody in red scores!
James Marshall
32
Posted 06/02/2015 at 17:39:22
An RS mate of mine said he watched Stevie Me interviewed earlier and he said about us giving him stick:
He thrives on it. The more you give, the better he plays. He (Gerrard) said, "I prefer the Goodison Derby, you can really feel the bitterness and the hatred." He was positively liking his lips at the prospect. Playing into his hands.
I fucking hate him with the core of my very being and I hope we turn them over tomorrow so that he scuttles off to his rock in American with his forked tail between his fading legs.
Sorry if this is slightly vitriolic, but I cannot wait to see the back of him.
Stephen Brown
33
Posted 06/02/2015 at 17:39:26
I wonder who the studio guests for sky will be tomorrow night? Redknapp, Carragher and Souness is my guess!
Stephen Brown
34
Posted 06/02/2015 at 17:43:12
But I'm sure Fowler and Murphy will provide more analysis on MotD later!!
John Malone
35
Posted 06/02/2015 at 17:34:52
My nerves have been going since we got Lennon on Monday, I feel sick today I can't help it, it means too much.
My heart says Lukaku hat-trick; my head says Barry and Mo overrun in the middle.
The result is all that matters... I really do hope Martinez uses his head like he did against Arsenal, Chelsea, Man Utd last year and parks the bus then counters with Lennon, Lukaku, & Mirallas.
There's been a lot of hype about Besic but people forget the sloppy passes and the taking too many touches. I, just hope he's bang on it tomorrow and keeps his head and helps us to glory.
We need this one more than ever!
Ant Summers
36
Posted 06/02/2015 at 17:44:37
Peter Reid back from India, maybe. But definitely 2 ex reds will be there, pies at the ready park end.
Eugene Kearney
37
Posted 06/02/2015 at 17:48:01
I think we'll do it this time. We have to. We have to prove that a bit of Qatar sun has woken us up.....and get the rest of this season underway with a bit more oomf.
I'm gonna do a bet in the morning which will include an Everton win !!
COYB.
Tony Hill
38
Posted 06/02/2015 at 17:49:14
I haven't done any research on this ref and I know he was crap in the cup game but I can't remember us losing many with him in charge – he's reffed quite a few wins for us I think from memory over the last couple of seasons. All superstition of course but I can't help it.
Ray Roche
39
Posted 06/02/2015 at 18:02:35
Tony, read my post #1!
Brian Hennessy
40
Posted 06/02/2015 at 18:03:05
Ireland v Italy in the Rugby at 2:30 followed by the derby later, so much for giving the garden a spring clean this weekend.
I'm going to try to remain all positive and say I can't wait...
Minik Hansen
41
Posted 06/02/2015 at 18:18:46
We've been unlucky, but at some point, it won't depend on the referees decisions how the game turns out. We're bound to have our luck at hand. COYB.
Alan Bodell
42
Posted 06/02/2015 at 18:20:56
Just let Duncan do all the team talks, that should be worth a goal.
Denis Richardson
43
Posted 06/02/2015 at 18:16:50
I think we'll be okay tomorrow. The adrenalin and atmosphere will make the players forget about the tappy tappy nonsense and play with a bit of purpose. There are enough players in the team who've been at the club long enough to know what the game means.
We're at home with the crowd and they're as usual being overhyped. It'll probably end up a draw but I cannot see us losing for some reason.
Looking forward to it!
Wayne Smyth
45
Posted 06/02/2015 at 18:20:32
Lyndon (17) – a clue as to why Rodwell never became the midfielder he could have been lies in a comment Moyes made after Rodwell scored the goal. It was something along the lines of "I didn't know he was capable of that".
My immediate thought was "Why the fuck not, given that you're meant to be working with him every day?" I think half the time managers and coaches pigeon-hole players and don't really give them the freedom to try different things out.
Probably a similar thing going on with McCarthy who was maybe told to keep it safe with his passing and runs. We saw before he got injured that he has a lot more ability to get up and down the pitch if he feels he is allowed.
As for the game tomorrow, I agree with Kevin(5). "cheat, dive, feign injury" to win. They do it every time they play us. We need a bit of nastiness in our play and we need to pressurise the ref. I reckon we might lose 10+ points a year from being too feckin nice.

Jay Harris
46
Posted 06/02/2015 at 18:29:02
As long as we can overcome the "second" referee on his last derby we will be OK.
I would play McCarthy Besic and Barry to beef up our MF and the bring Lennon on second half to roast them.
Hope the crowd stay behind the team no matter what.
COYB
Ant Summers
47
Posted 06/02/2015 at 18:27:31
Here is my forecast. Everton 2 Redshite 1. Lukaku both goals, game finishes with 10 men a side. The Redshite goal was an own goal.
The game is hastily moved to 3rd on the schedule from 1st. MotD show more referee issues/mistakes than the game itself. After Gary Lineker already booked to talk at length with Slippy post game, RM is quickly asked to deputise. The players from the Redshite quickly cancel the booths that are booked at the Hilton hotel for a post match celebration. The Liverpool Echo cut their 4 page spread down to 2. And throughout Saturday night in the City Centre there are choruses of... "If you know your history...."
Colin Glassar
48
Posted 06/02/2015 at 19:07:14
"I love the hatred and bitterness at Goodison". Please, please, please make him swallow a very, very bitter pill tomorrow. I can't stand that piece of dog shit. He epitomises everything I despise about that club.
Ian Brandes
49
Posted 06/02/2015 at 19:16:46
Ant 46,
In my version, it is 0-0 in the 86th minute when Rom scores with a spectacular diving header. This galvanises the Blues, who score again in the 89th via Kone.
And then we park a fleet of buses during the six minutes of stoppage time to notch up a famous victory! Oh and I forgot to mention that Creasehead left the field in the 60th minute after lashing out at Mo Besic.
Wonder what the Missus has been putting in my tea..
Seriously though, we will win, we have to!
COYB
Phil Walling
50
Posted 06/02/2015 at 19:36:27
No doubt, like every other derby, this one will boil down to another dose of 'what might have beens',' bent' officials and endless whinging about how hard done by we have been..... again!
That is, of course, unless Roberto can restore his shattered reputation by inspiring a sparkling win to put most of his predecessors in the shade.
Rob Halligan
51
Posted 06/02/2015 at 19:30:30
Hear hear, Colin. I despise that pile of shit so much my blood boils at the very thought of them.
Kevin Tully
52
Posted 06/02/2015 at 19:44:42
Is one win in sixteen proof we have a mental block when up against these twats? If there was ever a job for a sports phychologist, it has to be our bottle merchants. We had an excuse in 70s and 80s – they were sweeping all before them, but they haven't won a title in what, 24 years?
Let's hope the new blood in the squad hasn't been infected with the old mentality when they set eyes on a red shirt.
It's also nice to see every blue on here behind the team, it's been a rough season for all of us!
Frank Crewe
53
Posted 06/02/2015 at 19:39:47
You want to keep Sturridge and Sterling quiet? Then you have to keep Coutinho quiet.
Mark him like stink on shit otherwise he's going to get Sturridge and Sterling past our static defense with ease. Also we can't give away free kicks around the box. They scored from two set pieces last season and we don't want them doing it again.
The longer they don't score the more desperate crease head will get to be a hero, start fouling and hitting long shots over the bar.
Our best hope is hit them on the break or a set piece.
Iain Love
54
Posted 06/02/2015 at 19:46:22
Sounds like most of you think nasty Liverpool will cheat their way to another win. ONLY IF WE LET THEM!
I would love to see McCarthy back in with Besic alongside, Mirallas (paying us back) and Lennon, all on the pitch. That pace would / will cause them as many problems as they will give us. As bad as Jags has been, he's better than that yard dog Sakho.
COYB.
Joe Hurst
55
Posted 06/02/2015 at 19:52:42
Steve Gerrard, Gerrard,
That bloody song always grates,
Thank fuck that he's off to the states,
Steve Gerrard, Gerrard.
Phil Walling
56
Posted 06/02/2015 at 20:02:12
Love him or hate him, Stevey G seems to get more mentions on ToffeeWeb that most of our players. Let's hope he will be so nondescript tomorrow that it will merit all the copy!
David Hallwood
58
Posted 06/02/2015 at 20:18:39
Ian Brandes (#48) 88 min yes, but I'd have a spectacular o g by DJ Beater, and then in the 90th, he gives a pen away 2-0. bye bye Stevie.
Colin Glassar
59
Posted 06/02/2015 at 20:30:34
Strange choice of words Phil, "love him or........"? I hope that's not a Freudian slip on your behalf.
Kevin Rowlands
60
Posted 06/02/2015 at 20:43:28
That young lad Clough gave them fits during the week with his speed, Lennon from the start please Roberto!
Guy Hastings
61
Posted 06/02/2015 at 20:46:54
He scores great goals, he's a free kick wizard, he drives the team forward, he's 'Mr Penalty', he has a shite haircut despite earning thousands a week, he thinks he's a lot better than he is, it's his last Merseyside derby, so let the media worship and universal acclaim begin for... Kevin Mirallas. Oh, sorry, wrong planet.
Tony Hill
62
Posted 06/02/2015 at 21:15:19
Yes I had read yours Ray 38 but we just seem to do well with Taylor. As I say, totally unscientific and no doubt you're right and we'll get our usual dollop of shit from the officials when we're playing Stevie's XI.
Laurie Hartley
65
Posted 06/02/2015 at 21:27:36
Could be a big game for Naismith - I'd put him on Gerrard.
Not the most talented footballer, but he has got a big heart, runs all day, and understands what this is all about.
Laurie Hartley
66
Posted 06/02/2015 at 22:01:47
PS - I think Lukaku should grow his hair long again - you know like Samson.
Les Newsham
67
Posted 06/02/2015 at 22:10:50
I know it's an obvious thing to say on here, but please please let us win this one! I would not be able to take the beatification of Stevie should they win.
Mike Price
69
Posted 06/02/2015 at 22:32:23
We need Joe Royle to ask the referee 'are we both playing by the same set of rules today?', just to make the point.
I'm 8 hours behind in Canada and I just can't watch it live tomorrow. I know it's pathetic, but I'll try anything, and tomorrow I'm doing a Bikrams yoga class while the game is on.
It's harder than you think, before you start taking the piss by the way!
If we win I'll come back and revel in every second, if we lose I'll delete, and find out what happened on here.
Mike Childs
70
Posted 06/02/2015 at 22:46:11
Very surprised by our record with Mr Taylor blowing the whistle. More of a case of us winning or drawing in spite of him then because of him. He maybe the worst at playing the advantage. Also like most of his brethren he's afraid to make the controversial call.
As for the game, absolutely no reason we can't get the 3 points. Their back 4 and GK are certainly not the envy of the league. No need to rehash all the solid points made by the rest of you. If we win, I'll probably be so happy that I cry.
David Cromwell
71
Posted 06/02/2015 at 22:47:54
I've gone into derby week feeling optimistic, pessimistic, fatalistic, realistic – it never seems to make any difference.
With tormentor-in-chief in his swansong, us playing desperately badly, and a later Sky-mandated kick-off, I can really only see them tonking us for the umpteenth time.
I'll wait for Ken Buckley's match report I think and spare the cat a kicking.
Tom Bowers
72
Posted 06/02/2015 at 23:01:31
Unfortunately most of the referees anywhere are prone to crazy decisions that only they can explain in their own minds. That's something footie fans have to grin and bear week-in and week-out but we Evertonians have had more than our fair share and particularly in derby matches since even when I was a youngster.
The Blues haven't been playing with any aplomb this season and so we have reason not to feel excited about tomorrow's game. However, recent form has never been a factor when it comes down to the derby match and it has to be said even by Redshite fans that the Redshite are not much to shout about this season despite the extra millions they have spent.
My worry is that, despite the spirited fight the Blues will put up tomorrow, the defence without a dominant man in the air might come unglued from the set pieces Redshite will get.
Fairy tales have a way of happening to Redshite; one only has to look back to the Bolton cup-tie to see that and with Slippy 'G' playing his final derby match (apart from the unlikely possibility of a Europa League clash) then there may be another. We can only hope that the real Everton from last season shows up and sticks it to them and we need the referee to be pretty good to help us along.
The Redshite like to play a high tempo game relying on the fast breaks, so I really hope that RM has gotten his tactics right for this one so that the Blues don't play gung-ho attacking football just because they are at home. This game needs real discipline in the middle of the park without some of the sloppy passing they have been guilty of in many games this season.
Phil Walling
73
Posted 06/02/2015 at 23:42:35
Colin, Read what you choose into it. I've no great feelings about him one way or the other. All I know is if he had been captaining our side over the years, instead of some that have been, our record in these matches would not be the disgrace it is tonight.
As it is, I just hope he has a shit game tomorrow or Brenda leaves him out!
Stephen Brown
74
Posted 06/02/2015 at 23:59:00
Surely it's our time to win! I can't say more than that! Please!!!
Neil Wood
75
Posted 06/02/2015 at 23:58:24
Phil, there's no way he will leave him out. Despite my dislike if Gerrard, you can't help thinking and wishing we had out own version. We cry out in here time and time again for someone to ignite a game, to take it by the scruff if the neck and influence the other players.
I would back a bit of reverse psychology tomorrow and give him a massive standing ovation. Then when he sees what is happening and begins to respond.... All turn out backs laughing!
We need to win tomorrow. Nothing else but a win.
Tony Rutherford
77
Posted 07/02/2015 at 00:12:29
COYBB! Make us proud!
Colin Glassar
78
Posted 07/02/2015 at 00:13:08
Time for Barkley to stand up and be a man on the pitch methinks. C'mon Ross, show the world there's a new kid on the block.
Phil Walling
79
Posted 07/02/2015 at 00:16:24
Better still, Colin, that there's a man inside the boy!
Milos Milenkovic
80
Posted 07/02/2015 at 00:10:47
We will win today!
I am sad and worried with the news about their 𧷤 million sponsorship deal, compared to ours ٤ million? I was hoping that after spending 𧴜 million, mostly on poor to average players will cost them this and in seasons to come but then they receive 𧷤M. They can buy another three Southampton teams...
It will be hard to compete with them and this is a big task to our board and everyone in club to raise our image, our brand. Europa League is huge opportunity and I would say our only chance to improve our chances. But, before that, we must deal with Liverpool and Chelsea and I believe we will do well. Come on!
Raymond Fox
81
Posted 07/02/2015 at 00:20:21
I have a good feeling about the game, for I think it's going to be our turn! No logic involved, it just feels right, hope I don't look stupid at 5pm,
They bet Everton 5/2. the draw 12/5. Liverpool 11/8. They are betting like they think it's probably a drawn game, I think 5/2 is generous for us and a saver on the draw is the way to go.
Mike Green
83
Posted 07/02/2015 at 00:31:23
Win, lose or draw it's the last time that c**t will ever play at our ground.
We've got a silver lining before a balls even been kicked.
Advantage Everton
COYB.
Andy Crooks
84
Posted 07/02/2015 at 01:04:39
Raymond, sometimes you really do get a feeling about it. I hope you are right. My own particular way to prepare is to envisage every possible negative outcome. The theory being that it never turns out how we expect.
Mike Green
85
Posted 07/02/2015 at 01:06:34
And there is a God given he would've expected his final derby to be at Anfield given the fixtures over the last 10+ years.
Flag sellers must be spewing.
Paul Kossoff
86
Posted 07/02/2015 at 01:05:02
David, McGeady is second class and is just not good enough for the Premier League.
A player has to excel at one thing, be it defending or attacking; McGeady excels at nothing.
Mike Childs
88
Posted 07/02/2015 at 03:17:39
With the way the season has been going I'm probably lucky that I don't have options to wager on the matches like you guys and ladies do. I'd be an all out sucker for props bet. Who wins the coin toss, the first goal, amount of penalties etc.....
Jamie Crowley
89
Posted 07/02/2015 at 03:55:29
Laurie @65 says -
PS - I think Lukaku should grow his hair long again - you know like Samson.
YES! There's a definite cause and effect with the length of Rom's hair and our form. No question.
He's gotta grow it out man. It's his power. I've said it 1000 times...
Juju.
Laurie Hartley
90
Posted 07/02/2015 at 04:19:01
Phil @ 73 – you are right about Gerrard. Part of the reason we Evertonians dislike him so much is because we know if the chips are down he will more often than not make the difference. He has also got that nasty streak in him that his kind of leader have.
Keane, Robson, Viera, Kompany, Toure, Fabregas – wish we could find one. As a matter of fact I see signs of it in Besic. I've got a feeling this lad is going to grow in stature with his team mates as he becomes a regular in the starting eleven. He's feeling his way a bit at the moment but perhaps this is the game he will emerge as a leader. It's that mad glint in his eye that I like.
Anyway, another derby is upon us, on our own midden – let's hope the players are up for it. I have taken a bit of heart from the Palace win.
However, to everyone saying "please" let us win this one – sorry fellas, with all due respect, it doesn't work like that. For us to win this derby, Goodison will have to be like a madhouse, and every one of the players will have to put a full shift in. Wish I could be there – Everton really need the fans behind the team more than ever at this point in time.
Cry Havoc.
Anto Byrne
91
Posted 07/02/2015 at 05:43:23
Just watching the 1978 goal from Andy King on YouTube. I was standing in the Gwladys Street at the time. Remarkable to think it's a memory that has never diminished after all these years.
Besic is due a goal and I think we can win this 2-0. Young Boys, watch out.
Amit Vithlani
92
Posted 07/02/2015 at 06:58:29
Tom @ 72 spot on. Yes we need the crowd fired up and the players pumped, but the set up of the side is vital.
RS have been deploying 3-4-3 which looks like a 5-4-1 until they break.
Bobby's usual 4-2-3-1 might play into their hands because of spaces down the flanks unless he has drilled the wide men to track back so effectively we defend with two banks of 4.
Besic and Barry play far too deep at home and need to press a little higher up, giving room for Jags and Stones to attack long balls to their front men (unless Lambert starts).
Besic is definitely our catalyst. A few tackles will get the crowd going and if we are set up to be solid confidence will flow, overcoming nervousness on conceding the first goal which has dogged us recently.
Paul Kelly
93
Posted 07/02/2015 at 07:34:09
Neil @ #75
We did have our own version. Unfortunately we sold him to the Mancs for pittance.
Bryan Green
94
Posted 07/02/2015 at 07:32:10
All I have heard all week off the so-called experts is all the shite have to do is just turn up to win like they're a top team. Where are they in the league? About seventh... that to me means an average football team. The only difference has been individual mistakes against the lesser teams which we keep doing mainly down to tactics.
We have beaten a lot better teams at Goodison. We also play with more intensity against so called bigger teams. I am confident we will beat this lot today if we play to our ability. COYB!!
John Paul McGurk
95
Posted 07/02/2015 at 08:04:08
I hate Liverpool.
Robles
Coleman Stones Jagielka Baines
Lennon Besic Barkley McCarthy Mirallas
Lukaku
When they have the ball, 4-5-1. When we have it, break fast.
Pablo Connelly
96
Posted 07/02/2015 at 07:59:05
The manager was spot on when he declined to talk about that gobs!te and said it's all about us. Sky can be as biased as they want doesn't matter – they cant affect the game. The ref will almost certainly give them everything, doesn't matter if we go out and blow them away in the first half (just as we did to a much better team in Arsenal in August).
And a 34-year-old defensive midfielder certainly doesn't matter unless us and the team buy into the hype and let it affect us. If anything, we should be looking to exploit the parts of his game that aren't what they once were.
We have more than enough to comfortably beat these. Don't forget it was long ago they lost comfortably to Palace. Only hype and a mental block can stop us.
I am going the game and I intend to give everything I've got to make our players feel 10 feet tall. If 36 thousand others do the same, we will win.
James Brand
97
Posted 07/02/2015 at 08:35:06
Last time Slippy will play at Goodison?! Don't kid yourself! Premier League will adjust fixture schedule in coming seasons to ensure there's a derby right in the middle of the MLS break so Stevie can come back.
Sorry to put a dampener on it, lads, but this afternoon will not be the last time you will witness that vile creature getting one over on us... just saying like.
Ian Bennett
98
Posted 07/02/2015 at 09:03:10
I'd start with Naismith playing on Gerrard, and then bring on Ross to win the game.
Robles
Coleman
Baines
Stones
Jagielka
Besic
Barry (but I think McCarthy can come on to add bite and wish he was fit to start).
Mirallas
Naismith
Lennon
Lukaku
Mike Green
99
Posted 07/02/2015 at 09:07:15
Raymond #81 - will all due respect, those odds are betting it's an away win.....?
Parry Power are doing a money back special if it's a draw and Betfred are giving 3-1 promotion that Gerrard plays btw.....
Laurie Hartley
101
Posted 07/02/2015 at 09:29:29
Pablo @ 96 - great post.
Brian Waring
106
Posted 07/02/2015 at 10:19:03
Tony Cottee saying as a sign of respect we should applaud Gerrard off at the end. Also them nobs on Talksport all coming out with the same crap, we should show him respect, WTF!
Colin Glassar
107
Posted 07/02/2015 at 10:35:53
Wtf fuck should we applaud him off the pitch? Wtf should we show him respect? Wtf should we bow down in honour of his 'services' to football? What the fuck has that slime ball piece of dog shit ever done for EFC? Has that cheating, horrible, diving twat ever shown us an iota of respect? Has he fuck!!!!
Hasan Noor
108
Posted 07/02/2015 at 10:42:19
The referee is always the problem in this game.
Chris Leyland
111
Posted 07/02/2015 at 10:45:17
I don't remember the shite giving Pip Neville a guard of honour or applauding him off. After all, he was out captain and he Have been far far more successful successful than Stevie G-la in termsof the honours he won. The only thing I remember then doing was actually assaulting Neville as he took a throw in at their ground one year with some knobhead punching him in the back.
I'm with Colin G, Gerrard is a vile individual. My favourite Goodison memory of him was a couple of years ago in the 2-2 when they had that last minute goal disallowed but he didn't realise and and ran the length of Goodison celebrating before it suddenly dawned on him.
Dave Rinehart
112
Posted 07/02/2015 at 11:05:58
Okay, this day needs a little levity. Phil (79), had to reread your post a few times. I think that double entendre was uninteded, funny nevertheless.
I used to approach this derby with great anticipation and hope, now as anxious and bitter as most everyone else on here these days. I may try that yoga thing to lower the heart rate.
Colin Glassar
113
Posted 07/02/2015 at 11:21:17
Sorry Phil, I turned off the poet in me and went into fan mode.
This particular individual (along with Aldridge, Redknapp, Thompson, Mcateer etc....) just makes my blood boil every time I see/hear him.
I'm just dreading the thought of seeing him as a pundit next year on the telly.
Colin Glassar
114
Posted 07/02/2015 at 11:26:01
Just seen that as well Dave. Behave Phil.
George McKane
115
Posted 07/02/2015 at 11:34:03
Let's have no neggo waves today – possos all the way.
Cosmic grooves to all Blues.
Just getting ready to go to The Dark House early to get myself ready got a big win.
Ray Roche
116
Posted 07/02/2015 at 11:55:35
Geroge, "Just getting ready to go to The Dark House early to get myself ready got a big win."
No you're not. You're going for several pints of Old And Filthy and a bag of crisps.
Enjoy....
Brian Denton
117
Posted 07/02/2015 at 12:08:11
Stones giving a good interview on Football Focus.
Kevin Tully
118
Posted 07/02/2015 at 12:10:09
John Stones on Football Focus: "Hopefully, one day I can be Everton and England captain."
So do I son, so do I. Class for one so young.
George McKane
119
Posted 07/02/2015 at 12:16:56
Thanks Ray - I still drink "Golden" – amazing how younger ones and some bar staff don't know what it is.
Will raise my glass to you later in TDH – Up The Blues.
Just got out of the bath (steady), had a read of Shelley – some revolutionary poetry – ready for anything now.
Rave on, Percy Bysse – Rave on, You Blues.
Kunal Desai
120
Posted 07/02/2015 at 12:24:25
John Stones - He for me is the Everton future captain emulating another defender we once had in Dave Watson. With Stonsey, he's also got the vocal side in him which I like.
Phil Walling
121
Posted 07/02/2015 at 12:46:40
What was the poem, George?
'One hope is too like despair
For prudence to smother,
And pity from THEM more drear
Than that from any other.'
With apologies to PBS.
George McKane
122
Posted 07/02/2015 at 13:02:50
Just on the bus through The Tunnel, on my way to The Dark House.
Cheers Phil, chat tomorrow – posso waves.
Scott Hamilton
123
Posted 07/02/2015 at 13:11:29
Ha, check out the comment from "disgusted" on the Sky site. Too right!
http://www1.skysports.com/football/live/match/313619/preview
Eugene Ruane
124
Posted 07/02/2015 at 13:14:53
Steve Brown
125
Posted 07/02/2015 at 13:17:14
For that to happen with this generation of PL players, they'd have to have accidentally knocked the reporter down in their Aston Martin.
Brent Stephens
126
Posted 07/02/2015 at 13:29:01
Re Eugene's link, Tommy Lawrence – we used to call him the flying pig.
Colin Glassar
127
Posted 07/02/2015 at 13:33:54
His belly flop was legendary Brent.
Brent Stephens
128
Posted 07/02/2015 at 13:37:40
Haha! Distant mammaries, Colin.
Colin Glassar
129
Posted 07/02/2015 at 13:48:36
Mammaries? What a tit!! Lol
Kevin Tully
130
Posted 07/02/2015 at 13:48:49
Good offer on Paddy Power, bet on Everton to win, and if match ends as a draw, you get your money back as a free bet. (Up to 㿞)
Lukaku will score today – I can feel it.
Jamie Crowley
131
Posted 07/02/2015 at 13:49:00
At 88 minutes Roberto mysteriously brings on Hibbo for a tiring Coleman. At 92 minutes with 3 minutes added Mirallas drives down the left side, cuts in and fires a laser only to be parried by the ugly Belgian rs keeper ...
Directly into the path of a charging Hibbo who scores the winner.
Cue riot.
Eugene Ruane
132
Posted 07/02/2015 at 14:14:29
Jamie (138), should that happen, I guarantee my shirt will be off and my walk down Priory Rd will be 'viking style'.
Jamie Crowley
133
Posted 07/02/2015 at 14:22:22
Is that how they invade the island nowadays?
Get video Eugene... I'd pay real money to see you reenact that.
Tim James
134
Posted 07/02/2015 at 14:32:51
Eugene (#129) – great link. Often wondered about Tommy Lawrence, he used to drink with my dad in the Pack Horse and once took my brother to the derby he was playing, my brother supporting Everton. Picked him up after the game and brought him home. Don't think that could happen today.
Jim Bennings
135
Posted 07/02/2015 at 14:40:28
What a good game that North London derby was! Spurs played the entire match with gusto and high intensity – how I wish I can see Everton do this tonight rather than the predictable slow pedestrian build-up.
Andrew Cunningham
136
Posted 07/02/2015 at 14:44:45
The Ev to win tonight... no drama, no worries: 2-0
Colin Glassar
137
Posted 07/02/2015 at 14:52:29
I think most of us would take a 1-0 bore-fest today, Jim, but I get your point.
James Marshall
138
Posted 07/02/2015 at 15:14:56
Just sat down in a bar down on the islands of southern Thailand to be greeted by a huge Finnish guy..... Who's a kopite. What are the chances....
Colin Glassar
139
Posted 07/02/2015 at 15:18:21
Slip him a Micky, James.
James Marshall
140
Posted 07/02/2015 at 15:26:54
I'm not messin with him, Col he's fuckin huge.
Colin Glassar
141
Posted 07/02/2015 at 15:29:55
Slip him a couple then.
Tony McNulty
142
Posted 07/02/2015 at 15:43:00
James, how tanked up will you be by the time the game starts?
James Marshall
143
Posted 07/02/2015 at 15:50:26
About a 7, Tony. I was expecting a crowd so got here early... I've just had some dinner so hoping the Singha won't be too rowdy by kick off. And yes, I'm not drinking Chang because it's shit!
Ant Summers
144
Posted 07/02/2015 at 16:08:24
I'm off to the game, two pints in the King Harry... fuck the red shite if they're in there. In the ground at 5:15... for two hours of torment, then coming straight home. There will be trouble around, you can smell it in the air... COYB
Steven Telford
145
Posted 07/02/2015 at 16:10:42
"annoyingly irrepressible optimism"
Summed it all up there Lyndon
Translate it into Latin, slap it under St. Rupert's Tower, and there you have it - our new crest.
The War Drums begin to beat!
Oh, to feel that same joy as when Oviedo did Moyes's United!
---
Add Your Comments
In order to post a comment, you need to be logged in as a registered user of the site.
Or Sign up as a ToffeeWeb Member — it's free, takes just a few minutes and will allow you to post your comments on articles and Talking Points submissions across the site.
© ToffeeWeb