Martinez has no issue with Mirallas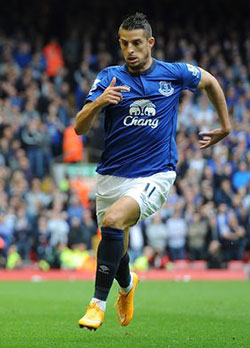 Roberto Martinez insists that there is no problem with Kevin Mirallas following the forward's pre-derby interview with Belgian media last week in which he spelled out his desire for Champions League football.
Mirallas's long-term future remains in doubt as he stalls on a new contract at Everton, with his recent rhetoric essentially suggesting that his signing any new deal hinges on whether or not the Blues qualify for Europe's elite competition at the end of this season.
The 27 year-old told La Capitale that, after three seasons at Goodison, he is ready for a new challenge, possibly in Spain where he has consistently said he fancies playing, but the Champions League remains his main goal.
He pointed out in the interview that he could still achieve that with Everton should the club triumph in the Europa League this season but his timing of comments have been construed as potentially destabilising ahead of such an important fixture as the Merseyside derby.
His has manager waved off the suggestion, however, saying that he only saw the player expressing the same goal as his Blues teammates.
"I'm aware that he did an interview in Belgium," Martinez said, "and the way that it was translated or taken out of context maybe seemed like he was saying something negative but I don't think that's the case. At least that's what I've been led to believe so I don't think it's an issue.
"I believe that the comment was 'I want to play in the Champions League', and we are in the same position. We want to win titles and we want to get into the Champions League, so I don't think there's anything wrong with that."
"I've never had a conversation with Kevin where he's showed that he's not happy.
"All he wants is to play and score goals. Nothing different. Kevin has a phenomenal career in front of him and all I'm interested in is seeing him grow as he's grown in the last few seasons with Everton.
"It's not an issue at all. He's not a player who is out of contract in the summer and not a player with a decision to be made about his contract, so I don't see it as an issue at all."
Mirallas has been struggling to remain fully fit in recent weeks following an ankle injury sustained in mid-December and apparent tightening of his hamstring in the 0-0 draw with West Bromwich Albion in which he controversially missed a penalty and was then alleged to have told Martinez he wasn't fit enough to play the second half.
He was withdrawn after an hour of Saturday's goalless encounter with Liverpool as well, although this time it appeared to be more tactical that related to fitness.
"I want players to be unhappy when they're not playing," Martinez continued. "He's a young player who has high hopes and high goals — and I don't have an issue as long as the player is not disrespectful to his team-mates and as long as the player gives everything he has got in training and in games.
"He hasn't been disrespectful in this manner and it just seems disappointing that from the outside we want to pick on Kevin Mirallas because he missed a penalty, because he created something against West Brom.
"I would tell you if it's an issue. It's not an issue. He's not out of contract in the summer."
Reader Comments (35)
Note: the following content is not moderated or vetted by the site owners at the time of submission. Comments are the responsibility of the poster. Disclaimer
Gary Russell
1
Posted 09/02/2015 at 17:11:54
Gold Bentley. Can't be arsed, makes no effort half the time, interested in only HIMSELF.
What is there to like? Seriously? He is shocking in his attitude, or, lack of it, as a paid professional to give his utmost. It was like this when the Moyes was at the helm. TEAM PLAYERS are what we need. He is overrated.
Steven Telford
4
Posted 09/02/2015 at 17:42:06
As much class as his daft car.
All the same, it will be shame to lose him, he does give his all in games.
Frank Crewe
5
Posted 09/02/2015 at 18:14:40
If RM found him in bed with his missus he'd find someway to rationalise it.
Brent Stephens
6
Posted 09/02/2015 at 18:29:50
Frank, does that mean I'm safe then?
Tom R Owen
7
Posted 09/02/2015 at 18:46:31
I'd rather have Lennon.
Phil Walling
9
Posted 09/02/2015 at 18:52:45
Does this guy EVER say anything that's honest or understandable? He is so far short of what is required of an Everton manager, he must confound even BK!
But hey! My bookie told me today his firm's oddsmakers calculate that just 10 more points will see Everton safe. Goodee!
Kev Wood
10
Posted 09/02/2015 at 19:04:29
I had an issue with Mirallas as he sulked off the pitch on Saturday. I played the devil with him from my seat high in theTop Balcony (for what that's worth – but I felt better for saying it). I rate him really highly but as we know, it wasn't a CL performance that he gave us against them.
Don't care what he drives and at least it's not a Lamborghini. But his body language was execrable and once players start flouncing about like that, they deserve a kicking (bring out the team enforcer!). Hope he starts with the right head on against Chelsea though.
Duncan McDine
11
Posted 09/02/2015 at 19:12:36
He'll be off in the summer for sure. Shame, but not the end of the world.
Minik Hansen
12
Posted 09/02/2015 at 17:45:16
Fellaini brought him here, Mirallas probably brought Lukaku here, so it's more than just a footballer. I only see him help us push for it, one of ours, come on Mirallas, fight for the cause.
Lennon's here and Atsu is coming back better and stronger, so it's good times yet again, COYB.
Mike Gaynes
13
Posted 09/02/2015 at 19:33:56
Agreed, Kev Wood #10, especially because Lennon was clearly more dangerous from the moment he stepped on. And the free kick he took from 35 yards was ridiculous, and selfish. His petulance was well out of place.
Joey Brown
14
Posted 09/02/2015 at 19:30:41
I agree, Duncan. As long as we get 㾻mil plus, no problems on my end.
Ian Burns
15
Posted 09/02/2015 at 19:38:07
The best thing Mirallas can do when he goes is to stick RM in the boot of his stupid fecking car and never return.
Jamie Barlow
16
Posted 09/02/2015 at 19:57:06
Gold car, gold car, gold car.
What fuckin difference does it make what colour his car is?
It's mental on here lately.
Ian Riley
17
Posted 09/02/2015 at 19:43:40
How many offers have we turned down for this player?
Alert all champions league clubs, a game changer is available. Honest, hard working and unselfish. Oh I forgot no reference is required just the right fee.
This is not the right time to make him the main focus. The manager should tell him to shut the .... up and do your job!
John Gee
18
Posted 09/02/2015 at 19:57:08
Every now and again, he does something half-decent in a game. But he's no Ronaldo. In fact, Peter Beagrie would keep him out of the team.
I'm sick of these players at various clubs making these statements. Sniedelin, Berahino and the rest. They're nowhere near as good as they think they are. They're essentially journeymen who are stealing a living.
If you want to go, Kev, why don't you buy yourself out of your contract and fuck off!
Oliver Molloy
20
Posted 09/02/2015 at 20:07:58
Mirallas was out of order coming out with his "Champions League" comments before such a huge match. The club pay him a lot of money to do his stuff on the pitch, not in the press.
As a player, he is very inconsistent and tends to drift out of a game very quickly if it's not happening for him. As I said before he thinks he is better than actually is. He has the ability to win a match for us, but if he wants a move to a club that is in the Champions League he better start performing and show it.
Someone on this thread mentioned the figure of 㾻million would be an acceptable transfer fee – that is very wishful thinking you will find in my opinion. For once, our manager should grow a pair of balls and tell the likes of Mirallas to shut his mouth, and start contributing to the "phenomenal" club Everton FC.
Rant over!
Colin Glassar
22
Posted 09/02/2015 at 20:44:10
Can we get Dave Thomas back? Even with his eyesight problems and age he'd probably still put in a better shift than this egotistical moron.
Russell Smith
23
Posted 09/02/2015 at 22:50:47
Mirallas has always flattered to deceive. When he's on his game he can be brilliant but how many times in 3 seasons has he put 2 or 3 consequtive outstanding performances together. Never. Both he and Lakaku talk themselves up about wanting CL football, if the pair of them had the class to play in it then they could do it with Everton, but they are both too inconsistent.
When you look at the teams who are regularly in the CL all their players produce performances on a regular and consistent basis and the stars like Robben, Messi etc just add the extra dimensions.
The complaints on here stating that we did not have a creative midfielder to feed our front 3 during the Derby are missing the most glaring problem, that are front 3 do not create sufficient space by constant and intelligent movement to allow any midfielder to produce a telling pass. Part of Barkley's problems have not been that he has picked the wrong pass or dribbled into a mass of players but that there is nobody ahead making runs into space meaning he holds onto the ball until he is finally crowded out. The one moment of intelligent running by Coleman on Saturday allowed Barkley to play an early pass which produced our single strike on goal.
Personally I would start with Lennon and Kone against Chelsea and bring the CL lovers on in their places if either is not performing, or are running out of steam.
Colin Williams
24
Posted 10/02/2015 at 00:33:51
Russell, agree with your comments! Kone, Lennon and Ross should start the game... But mark my words, they won't.
James Stewart
25
Posted 10/02/2015 at 00:52:25
Never turns in a Champions League performance when you need one. Saturday he was completely irrelevant and offered nothing which is all too often the case with him. Move him on in summer. At least it will generate some funds.
John Gee
26
Posted 10/02/2015 at 01:38:44
James, 28, Did you read the reports from Spain of the Madrid derby? Apparently La Marca called Bale's performance Irrelevant to the game. I think it's a phrase we'll see increasingly over here.
BTW, you're right. Mister Champions League was irrelevant. As he is for most games. Far and away the most overrated player to ever wear blue.
Darryl Ritchie
27
Posted 10/02/2015 at 05:32:52
Kevin is good; not as good as he thinks he is, but good. Is he good enough to start for one the billionaire Champions League clubs? That's a question that will probably answered this summer.
Next question. If a top team doesn't come knocking, what what options does he have, since he's already drawn a CL line in the sand?
Turkey or Greece; maybe Russia, I figure. Or does he re-sign with us?
Rick Tarleton
28
Posted 10/02/2015 at 09:05:52
If Martinez hasn't got an issue with Mirallas, then he should have. He's the manager and he's got a sulky, self-centred adolescent playing in fits and starts, giving unauthorised interviews and electing to take penalties when he ought to leave it to an expert.
Not only Martinez, but captain, Jagielka and senior professionals like Baines, Osman, Howard, Barry should be having strong words with the sulky teenager.
Trevor Peers
29
Posted 10/02/2015 at 09:31:12
Mirallas should've been sold in the window. He undermines the manager's authority, he can't defend and the little bit of attacking potency he gave has now vanished.
Martinez does not like confrontation and the team's recent progress could be undermined by keeping Mirallas in the team, It's that serious.
Sam Hoare
30
Posted 10/02/2015 at 09:49:08
Trevor, what little progress we have had recently has been in part thanks to Mirallas. He is one of the few midfielders/attackers we have able to create chances from nothing and that scares the opposition. Yes, he's a bit of a lazy prima donna who has off days but he's also one of our very few goal threats from midfield... which when you play 5 midfielders you kind of need!
He'll be off this Summer, hopefully for a decent fee if its true that we have the option to extend his contract for a year.
Andrew Ellams
31
Posted 10/02/2015 at 09:47:29
And if he'd sold him, we would be a player down for the rest of the season. He is a very talented player who is extremely undermotivated right now, and he isn't the only one.
Colin Grierson
32
Posted 10/02/2015 at 11:15:40
I can't think who would buy him in the summer but we should get rid if someone comes knocking. He's far too inconsistent to attract a BIG CL club.
I often wonder when watching the early stages of BGT or X-Factor how some people can be so deluded?!? Perhaps Kev could throw some light on it for me as he shows similar traits.
James Stewart
33
Posted 10/02/2015 at 11:33:02
(29) Good spot; I did, John. Perfectly describes a lot of the performances of Mirallas. Also McGeady although I would say he is often worse than irrelevant.
Andrew Ellams
34
Posted 10/02/2015 at 11:52:18
I don't think we would be short of offers, Colin, but they won't be from clubs who you would consider genuine Champions League contenders.
Trevor Peers
35
Posted 10/02/2015 at 14:05:01
Sam (#33), Of course we would've had to find a suitable replacement in the January window before letting him go. It's all water under the bridge now and Martinez has to nurse him through to the end of the season. Good luck, Roberto!
Gerard Carey
36
Posted 10/02/2015 at 14:16:50
None of the big CL clubs will come in for him. He is erratic at the best of times. Flog him to Spurs in the summer. We will be lucky to get 㾶 million for him with a year just left on his contract.
Jim Hardin
37
Posted 10/02/2015 at 14:13:33
Unbelievable the negative commments to someone who hasn't missed training, isn't making bad headlines for smoking etc, plays where he is told even if it is always out of his proper position under Martinez. He hasn't once said he wouldn't sign a new contract and was just playing out his paper, has he? He hasn't come out and said Arsenal or "insert club here" is my dream club to play for, while suited up for Everton, has he? He said he wanted Champions League and gets knocked for it. Those of you trashing him for that and suggesting Kone and Lennon in the lineup obviously want Championship games but that is your choice.
To the poster who suggested Lennon was more dangerous when he came on, I suggest you start watching the game from the first whistle and not just the second half. Obviously, Mirallas had run many miles more already in the game, making fine runs you apparently missed, so by contrast Lennon, or any sub, should have looked more lively, otherwise why sub? But what did he really do? Barkley to Coleman was the last good chance.
Trashing a player for looking upset when he is pulled is insane. He knows RM wants to protect from injuries so he is going to get subbed but doesn't like it. Good! I want someone who wants to be out there and has more skill than current favs, Besic and Naismith.
Everton is less without Mirallas in the lineup... and Lennon – retread that he is and inconsistent player that he was and has always been – while a good addition, is not better than Mirallas.
Brian Hennessy
38
Posted 10/02/2015 at 14:54:44
I never knew owning a gold Bentley upset so many people...
I'd better sell my one asap, any takers?
David Barks
39
Posted 10/02/2015 at 17:04:32
God forbid one of our players has ambition to play in the biggest club competition. The guy has never given poor effort on the pitch. He is always trying, always looking to attack, despite the team being flooded with defensive players.
Do ya think he might be a tad bit frustrated at watching the club go so far backward under Martinez and the boring style of play? And shut the hell up about his car. I'm sure if you all had millions coming in you wouldn't do a thing different, right? Stay humble and all that.
Thomas Surgenor
40
Posted 11/02/2015 at 08:26:32
God forbid one of our players shows a bit of ambition. Didn't the quote also say he believes Everton can be in the Champions League next season?!
I also believe a few on here "go with the flow" or what the "media tell them". Two short months ago, we were praying for the return of Mirallas as he was to be the saviour of our season. Now, because he drives a gold car and harbours ambitions to play in the pinnacle competition of his profession, we lambast him?!
Get a grip! This man is important to our current squad. He is pacey and direct. While he is at the club, he will be one of my favourite players. We are better with him in the side than without him.
There seems to be a growing trend, on here, that Everton fans only like the players who aren't in the starting 11. Ross was getting flak, now he is benched and all of a sudden "he should be starting games and is our best player" again.

Add Your Comments
In order to post a comment, you need to be logged in as a registered user of the site.
Or Sign up as a ToffeeWeb Member — it's free, takes just a few minutes and will allow you to post your comments on articles and Talking Points submissions across the site.
© ToffeeWeb