Everton table new contract offer for Garbutt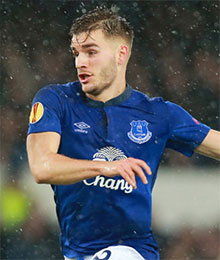 Garbutt has yet to agree a new deal and could walk away in the summer on a free
Everton have reportedly offered Luke Garbutt fresh terms in a bid to keep the fullback at Goodison Park.
The 21-year-old can leave the Blues for free in the summer if the two parties don't come to an agreement over a new contract, with Garbutt seeking assurances over first-team opportunities in one of the team's most competitive positions.
The fullback, picked up from Leeds United as a 17-year-old by David Moyes, has established himself as a regular for England's U21s and impressed at senior level for Everton this season when deputising for Leighton Baines. He has also been overlooked in favour of Bryan Oviedo and even Tony Hibbert at left back this season, however, and he was not included in the squad to face Liverpool at the weekend despite Baines's absence through injury.
With rumours suggesting that the player and club are at odds over his requested salary and that Liverpool are waiting in the wings, the Liverpool Echo report that an official offer is on the table from Everton as they bid to keep a highly promising member of the squad on the books.
The same report also suggests that Garbutt could be sent out on loan again to a Championship side for the remainder of the season.
Correction: Because Garbutt is under 24 he would not leave for free at the end of his contract. Everton would be due a development fee to be decided by tribunal.
Reader Comments (103)
Note: the following content is not moderated or vetted by the site owners at the time of submission. Comments are the responsibility of the poster. Disclaimer
Gavin Johnson
1
Posted 10/02/2015 at 20:21:37
Let's hope he signs. I'd go as far to say that we need to persevere with the Baines in midfield experiment to accommodate Garbutt. We must pull out all the stops to keep him with us.
Colin Glassar
2
Posted 10/02/2015 at 20:24:15
It would be criminal if this lad left for free.
Max Murphy
3
Posted 10/02/2015 at 20:28:19
With Martinez as manager, if the lad has any sense, then he should leave as soon as possible.
Christy Ring
4
Posted 10/02/2015 at 20:17:12
I think he's a great prospect and don't understand why he didn't even make the squad for the derby especially with Baines missing. Bob is totally wrong and I think he's a better left back than Oviedo. I hope it hasn't pushed him out the door.
Stephen Brown
5
Posted 10/02/2015 at 20:30:20
Sign him up as soon as possible! He's got lots of potential and will surely get game time soon. And if he doesn't and then wants to leave we can get a good fee! Luke Shaw 㿅+ million Garbutt must be worth 㾶 million!
Colin Glassar
6
Posted 10/02/2015 at 20:33:22
Believe it or not, this isn't about the manager?
Ian Bennett
7
Posted 10/02/2015 at 20:29:55
This free bit isn't right though.
My understanding from the Gosling episode was as long as we offer equal or better terms, we don't lose him for free – a fee would be set by a tribunal. He can leave on a free if he goes outside of the UK, so watch when Moyes comes in for him...
Stephen Brown
8
Posted 10/02/2015 at 20:34:01
Colin has a good point – nearly every thread now becomes about Martinez being at fault for something!
Anthony Jones
9
Posted 10/02/2015 at 20:35:15
Martinez is at fault though. Baines has been picked even when playing poorly. Garbutt played well against Krasnodar and then he was back out of the side. Wouldn't blame him at all for leaving.
Andy Crooks
10
Posted 10/02/2015 at 20:43:05
This is not down to the coach. The deal should have been done ages ago by whoever does these deals.
Ian Tunstead
11
Posted 10/02/2015 at 20:35:16
Just mentioned this on another thread, would be gutted if he left on a free. The lad has pace to burn, has a good engine, Is good on the ball, is good at set pieces, perhaps not the best defensively but we could experiment with him on the wing, especially as we are so short of quality wingers. In fact reading back through that description, it's like I am describing a young Bale.
This lad has the potential to be a Baines/Coleman Mk II. The way he goes past people like they are not there is something I've only ever see from opposing players when going past Osman. Baines is clearly on a downward spiral now, he is not the player of two or three seasons ago. Garbutt must be given game time and a bumper new deal.
Colin Glassar
12
Posted 10/02/2015 at 20:47:47
Exactly Andy. After the Gosling farce anything is possible at EFC. That wasn't OFM's fault and this isn't the present manager's fault, unless he doesn't rate him that is.
Stephen Brown
13
Posted 10/02/2015 at 20:43:51
Anthony (#9) Baines is currently England's first choice left back and has been one of the best left backs in the league for a number of years and despite not being on top of his game this season he has still contributed to 11 goals I believe!
Garbutt whilst being a great prospect played well v Krasnador (not the greatest opposition). RM should be cut some slack on this one IMO. The board, for letting this contract situation happen, despite the Gosling debacle, should be held to account!
Andy Meighan
14
Posted 10/02/2015 at 20:43:34
Strong rumours been flying round Goodison at the last couple of the games that the RS are in for him in the summer. That'll be a kick in the teeth and only down to Martinez and his stupidity.
Yes, the lad came out and criticised the tactics and rightly so; he only said what we'd all been saying. Seems he's been ostracised ever since.
Wouldn't be shocked if he never signed a deal the way Martinez handles players.
Nick Armitage
15
Posted 10/02/2015 at 20:55:36
This isn't about the club, it's simply about Luke Garbutt wanting to go to Liverpool.
Steve Foster
16
Posted 10/02/2015 at 21:03:06
Nick - 15
Bang on mate.
Let's not attack the club/manager on this. He wants to go to 'them'. He will be a kopite come summer.
Plain and simple, fuck him!
Anthony Jones
17
Posted 10/02/2015 at 20:53:42
It's easy to point the finger at the board but they could offer the player 㿔,000/week for 5 years and he would still probably turn it down if decent clubs that need a left back are sniffing around.
Martinez talks about bringing through younger players but his favouritism is as irritating as that of his predecessor. Bring back Howard no matter how well Robles is playing; play Barry at all costs; if he can walk play Baines.
Mark Dunford
18
Posted 10/02/2015 at 21:00:03
Impossible to know what to make of this - except to agree that we have three good left backs and Garbutt is currently third in this short queue. He has impressed but it wouldn't be amazing if he moved on as we have real strength in this role and the boy needs to play otherwise his career looks in jeopardy. After all he is the same age as Lukaku. It seems a shame but he'll probably leave and his absence last weekend was telling.
Nigel Gregson
19
Posted 10/02/2015 at 21:06:36
Anthony 17 - Surely you see that the reason why Garbutt is rated all of a sudden is because Martinez actually gave him the opportunity ?
Jim Bennings
20
Posted 10/02/2015 at 21:08:29
No, no, no to Baines in midfield, we have enough defensive holding players in midfield without playing a left back there too.
The wide midfielders should be Lennon and Mirallas for the rest of this season, end of.
In a more ideal world, Garbutt would be sent on loan somewhere to learn his trade more and get a bit more physical, he's not a young young player and I understand he needs games now but he's got a bit of time on his side.
We don't really know how he gets on with Martinez or if he's the manager's cup of tea, from what we have seen of Garbutt he has a very tasty left foot but we won't know enough until he's had the same number of games as say Stones for instance.
Let's not forget, Garbutt is a Moyes signing so who knows where's he's really at with Martinez.
Sid Logan
21
Posted 10/02/2015 at 21:22:46
Garbutt must be kept. Not only is he good defensively – he's excellent going forward. But on top of both these attributes he's by far the best corner taker we've got. He's also a great hitter of a dead ball.
Of course, it may be that his skill on corners is lost on Martinez who doesn't have the word corner in his vocabulary.
Gavin McGarvey
22
Posted 10/02/2015 at 21:19:31
A good player Garbutt and he looks like a natural successor to Baines. Would be a shame to see him go. It's difficult to know about the contract situation. We can't force him to sign one and it seems like he's not keen on signing one. What's the club meant to do? If he's already set on going then that's that.
Tom R Owen
23
Posted 10/02/2015 at 21:38:09
He has a lack of ambition if he wants to go to the redshite.

Jim Bennings
24
Posted 10/02/2015 at 21:42:44
Tom
A few months ago I would have agreed with you but sadly them fuckers might yet get 4th, they look reinvigorated and play the game with far more tempo and gusto than we have all season.
It could just be that Garbutt has become bored sitting watching our boring chess-like pedestrian football and certainly doesn't fancy playing in it.

Jimmy-Ã…ge Sørheim
26
Posted 10/02/2015 at 21:45:06
I rate Garbutt over Baines. I would give him a new contract in a squad rotation role.
Ian Tunstead
27
Posted 10/02/2015 at 21:44:17
Good point, Sid. Martinez doesn't appreciate the skill and importance of set pieces which is probably why he doesn't appreciate the true value of Garbutt.
Beckham didn't have half the attributes of Garbutt but his set-pieces and crossing could decide games. If you don't have the foresight to take advantage of certain qualities a player has then you shouldn't be in management.
Sid Logan
28
Posted 10/02/2015 at 21:43:14
I suspect he's seeing many of his Under-21 contemporaries getting more first team opportunities.
There's no doubt he should have had more games than he's been given so you can understand him being slightly pissed off. Despite the view that we must now be more considered when criticising Martinez there's no doubt it's Matinez's fault because he hasn't played him when he's had the opportunity.
He doesn't value dead ball skills. Why would he when only goals from open play (not much of that these days) is the
only true religion. Sorry to upset the Martinez apologists (I fully appreciate the implications of using that term on this site) but for me the turn around in our performances has been completely player driven. The manager has been an innocent bystander. My regret is that he'll be with us next season.
Tony Draper
29
Posted 10/02/2015 at 22:01:33
Gosling?
Not currently captaining Barca is he?
FFS.........
Mark Frere
30
Posted 10/02/2015 at 21:56:36
Can't blame him for wanting to leave if he's not getting the opportunities to play here. He's now at the stage in his career where he needs first team football. If he is merely third choice LB then what incentive is there for Luke to sign a new contract?
Garbutt should've been given more game time this season... especially considering how poor Baines has been. Garbutt's corners, crossing and general play (from the little we've seen of him) has been far superior to Baines. And most importantly, he's only 21 years old and has a big future ahead of him. Baines will shortly be entering the twilight of his career. Baines should be moved into midfield to make way for young Luke; I thought he did quite well in CM... he certainly can't do much worse than Barry who now looks more like a guy in his 40's!
Colin Glassar
31
Posted 10/02/2015 at 22:10:26
I like Garbutt and think he's got a great future ahead of him but of course our evil manager wants to ruin him by playing his favourite LB, Leighton Baines. Words fail me.
Paul Tran
32
Posted 10/02/2015 at 22:13:56
I don't know whether he 'gets on' with Martinez or not. I don't know if he's been tapped up by anyone. Would you put him straight into the team now?
Bottom line is that if a player wants to go, he'll go. He presumably wants regular football and/or more money. Would he get that with our next manager?
If Martinez stays, someone might want to remind him that he's a Moyes signing. That seems to be the way to get into our team these days!
Gavin Johnson
33
Posted 10/02/2015 at 22:10:52
Jim #20 if Baines was played in midfield. I wouldn't define him as a holding player just because he's a defender. I would have him as a different option to Barkley and Naismith. He's one of our most creative players even when his forms been indifferent.
Is there any basis to the rumour about Garbutt wanting to go to the RS. I know the red tops have been making mischief printing stories saying they want him, but has there been any indication that Garbutt wants to go there??
Bill Gall
34
Posted 10/02/2015 at 22:21:38
Bottom line is, if his advisors can get him a better deal somewhere else, he will leave. Not the manager's problem he doe's not negotiate deals. He may advise BK if he wants the player or not and spin the boy with his philosophy.
Christopher Wallace
35
Posted 10/02/2015 at 22:24:30
For those saying that they rate him ahead of Bainesy: What has he done in his career, either for reserves or first team, that has led you to that conclusion?
A year or two ago, Bainesy was the TW (and a lot of non-Blues) consensus best LB in the league. He was also a loyal club hero, having turned down Man Utd.
Sid Logan
36
Posted 10/02/2015 at 22:16:41
Colin, steady on lad. Garbutt has been very good when he's played. During our poor spell Leighton's corner have been awful - along with just about everyone else's.
When we were looking for some sort of boost it was crying out for Garbutt and Baynes to play on the left flank. It didn't happen. We all love Baines and I credit him, along with a couple of others, of converting the manager to having a sense of reality. Baines is now coming back to his best but there were opportunities when Garbutt could have played even if only as a sub.
You've chosen the words that you think reflect what people are saying but in fact you're wrong. People are basically saying Garbutt should have played more - particularly during our worst spell - and they're dead right!
To imply that we were looking to dump Baines is a misrepresentation of what some of us were saying. For my money I credit Baines, along with one or two others, of helping the manager acquire a sense of reality. Baines is my favourite player so please, along with Christopher Wallace, jump down from the high moral ground, and see what is being said.
Mark Taylor
38
Posted 10/02/2015 at 22:42:01
If we have to sell to buy – and I think it is pretty obvious that we do – then I would love Man Utd to re-bid their 㾸-15k for Baines, keep Garbutt who looks very promising, and re-invest the money where it is really needed. (CB, wide midfielder, goalie, creative midfielder, take your pick.)
Brian Garside
39
Posted 10/02/2015 at 22:42:45
Garbutt is already better than Shaw. In a business sense we should cash in on Baines and play Garbutt. This is what would happen with 'Arry or José. No sentimentality there! Otherwise sell Oviedo, which would finance a new contract for Sure Fire Luke, and rotate him and Bains. LB has been a favourite of mine for years. I am loathe to part with him. Nor am I a businessman or a footy manager.
Colin Glassar
40
Posted 10/02/2015 at 22:45:14
Sid, I've been saying for a while now that I'd like to see Garbutt at LB, Baines at LM, and Oviedo at LW but that doesn't mean it will happen just wishful thinking on my part.
I take your point about Garbutt and his attributes but you used the A word and as I consider myself an A I responded in kind. My apologies for the misunderstanding.

Anthony Jones
41
Posted 10/02/2015 at 22:45:32
You can dress it up however you want, but Garbutt should have been given at least a few more games this season. Martinez bleats on about how we have a strong squad and how we will use rotation but he seldom turns his words into actions. His refusal to drop Barry is bordering on craziness, and if Howard walks straight back into the team then words will fail me as well as yourself, Colin.
John Daley
42
Posted 10/02/2015 at 22:51:03
The continual cries for Garbutt are getting ridiculous now. He's a novice left-back that nobody has seen enough of to declare that the club should 'pull out all the stops to keep him' or, even more laughable, that they 'rate him over Baines'.
He put one a corner into the box and looked reasonably comfortable on the ball against Krasnodar (That's Krasnodar, not the entire planet Krypton). He wasn't exactly running about like Roberto Carlos and ripping the opposing full back a new arsehole was he?
He's clearly got potential to be a good player in the future but, fuck me, you'd think Luke's last name was Skywalker rather than Garbutt the way people are proclaiming 'that boy is our last hope'.
If there is one decision I wouldn't criticise Martinez for this season then it is preferring Baines, England's first choice left-back and Everton's assist leader, over a 21-year-old with just 2 first team appearances under his belt.
"Beckham didn't have half the attributes of Garbutt"
Fuck me.
Sam Hoare
43
Posted 10/02/2015 at 22:42:51
Garbutt has looked extremely promising this season and is surely the set for a good career in the Premiership. He's probably our best young player who's yet to properly break into the first team.
Add that to the fact that Baines looked more than competent in his central midfield berth and provided one of the very few assists from that area this season and the solution seems obvious.
Put Leighton in the middle where his energy, composure on the ball and vision will give us more creativity where we need it without losing much solidity wise and stick Garbutt at LB where his crossing is as good if not better than Leightons and his dead ball delivery is worth a goal every handful of matches at least.
Plus, best of all, we can drop Barry!
How bout this team if we're sticking with the 4-3-3 from the weekend.
Robles
Coleman Stones Jagielka Garbutt
McCarthy Besic Baines
Lennon Lukaku Mirallas
Pace aplenty. Energy and bite in the middle. You know it makes sense, Roberto. Give Gareth a rest.
Gavin McGarvey
44
Posted 10/02/2015 at 22:35:41
If Martinez was going to bring him through then presumably it would be having Garbutt further forward in the same way that Coleman was brought through.
Unfortunately Baines isn't Hibbert and looks to have a few years in him yet. You'd think we'd be able to give him some decent game time given the demands on the squad.
Perhaps the indicator that his mind is already made up on leaving is his lack of game time. Maybe Martinez thinks Garbutt is already set on leaving, and doesn't want to waste time on bringing him through.
Gavin Johnson
45
Posted 10/02/2015 at 22:45:35
I think everyone would agree that we should have seen a little more of Garbutt. His situation has parallels to Joel's on the other thread.
Baines needed a rest earlier in the season when he wasn't playing great. Garbutt came in and played well for a couple of games. So you'd have thought we would have continued to see a bit more, even as an option further forward on the left, or as a substitute, but we haven't!
IMO Baines is still the best left back the league and if it came down to choosing our number one left back. I would say Baines every time. That said, I mentioned playing Baines in midfield to accommodate Garbutt in some games. Because I think Baines has potential to move into that role. I thought he played pretty well in the middle at St James park in the new year fixture.
Denis Richardson
46
Posted 10/02/2015 at 22:44:58
We should keep this kid at all costs and make him no.2 LB behind Baines and use Oviedo more in midfield. Oviedo put in a couple of excellent performances last year playing further up field so certainly has it in his locker.
Could alsot see how Garbut is playing wide midfield every now and again - after all Bale started off at LB and it didn't do Coleman any harm playing midfield. I don't see the point in having them and only using them as LBs.
Baines is not going to go on forever and Garbutt should be given a few games here and there, he certainly looks like he has the ability but I can understand he wants to be given some game time - up to the manager to convince him and he's in his plans.
Letting him go on a free or small tribunal fee will be a real cock up by the club, especially when the manager is saying we need more players.
Peter Gorman
47
Posted 11/02/2015 at 00:00:50
Agree with Denis above, Garbutt would be a good 2nd choice LB with Oviedo a winger, Mirallas on the other side and McGeady loaned out to a Championship club (apologies, I know this thread isn't about him so I shouldn't express and opinion, oh yeah, I can).
In defence of those who criticised Martinez, it is entirely valid to speculate whether or not Garbutt will sign for a manager who doesn't show overwhelming amounts of faith in him. Good lad if he does go looking for first team football, it will be our loss though as he could be a regular in a year or two.
James Stewart
48
Posted 11/02/2015 at 01:23:40
(31) Agreed. He should have played more your quite right. You can't blame him for wanting to play more. This lad will have a very promising career but it looks like he wants to move. Would be a massive own goal to let him go especially with Oviedo not looking the same player post injury and Baines's powers in decline.
James Flynn
49
Posted 11/02/2015 at 01:42:47
hasn't isn't doesn't wouldn't
Ian Tunstead
50
Posted 11/02/2015 at 01:49:17
John Daley, let's face it, attributes-wise Beckham was an all-round mediocre player but with a couple of outstanding attriubtes that made up for the limitations in the rest of his game. He couldn't beat a man with skill, he wasn't very pacy, he wasn't all that good deffensivley, wasn't all that good in the air.
In my opinion he is the most over-rated player in the history of the game in terms of the fame and wealth he acquired. In his prime he was nowhere near as good as players like Zidane, Figo, Ronaldinho and fat Ronaldo who were playing at the same time yet he was probably more famous than all of them put together.
The point I am making though is that because his dead-ball delivery was so good he eclipsed all those genuine great players. I am not saying Garbutt is as good at set pieces as Becks but I am saying how important and effective it can be to have someone in the team who can deliver a quality cross from open play or from a corner. Yes, it is very early days to judge a player after only a handfull of appearances but I can remember seeing Coleman and Baines first few appearances and getting the same feeling. One thing is for sure, he will not fulfill his potential sitting on the bench.
Gavin Johnson
51
Posted 11/02/2015 at 02:49:00
There's a lot of surmising on here that he wants to leave. This may be the case, but I wondered where this is coming from, other than him not yet signing a contract.
It looks like a new contract offer wasn't even forthcoming until now.
Colin Williams
52
Posted 11/02/2015 at 03:08:59
I can't believe for I minute that he will be allowed to just walk away. I would put him is at left back this week and keep him there for the season. This lad has a great future could/ should play for us for the next 10 yrs!....Garbs is one of our future stars.
John Zapa
53
Posted 11/02/2015 at 05:12:17
The Liverpool rumors are floating about because they are looking to off load their second choice LB Enrique who doesn't fit their plans. From their point of view replacing an older declining player on high wages with a young player with high potential and much lower wages sounds very good. Especially when they can make much more in selling Enrique than they will have to pay via tribunal to land Garbutt.
Fredrick Parchment
54
Posted 11/02/2015 at 05:06:59
How many boyhood Everton fans have we lost to other teams that became household names? Ian Rush, Steve Gerrard and Wayne Rooney come to mind. Our academy definitely produces world class players. So the question is. Is Luke Garbutt that player? The fore mentioned players came back and bit us hard in the ass. I love this team and if they did me wrong I would want to make them pay.
Imagine Rush Rooney and Gerrard leading us where we truly belong that money has bought other teams the success we just find a way of eluding it since 1987 from a league championship standpoint.

We have and have had game changers from when they were diamonds in rough. So let the youth blossom and flower for us and not for others.

Like I said before if had the skills of Rush, Gerrard and Rooney knowing with a supporting cast top 4 finish guaranteed and the club wouldn't support me. I would make them pay. Those players sure did. I love our youth system i'm just worried of letting world class players go.
John Daley
55
Posted 11/02/2015 at 05:58:01
"Our academy definitely produces world class players"
They do? Name one.
With the exception of Rooney (who I would say falls short of that accolade), who else even comes close?
Phil Sammon
56
Posted 11/02/2015 at 06:34:25
Danny Cadamarteri?
Mike Price
57
Posted 11/02/2015 at 06:52:16
Fredrick (#55), Not sure about Gerrard, but Rush, Owen, McManaman, Carragher and Fowler were Evertonians that became legends for them.
Rooney was the one, but the timing was wrong. We were rubbish when he came through and no one can really blame him for moving.
Bob Parrington
58
Posted 11/02/2015 at 07:07:50
Find a way to keep Garbutt. Looks like he has the ability and strength to become a very valuable player. The RS have just unveiled their young RB (Ibe, I think). He looks the part, too. We don't want them to have the option to play Ibe and Garbutt as their preferred FB's for the next 10 years or so.
RM - Lesson 1. Don't make long term decisions based on short term situations!
John Daley
59
Posted 11/02/2015 at 07:14:36
Ian @51,
It makes no difference whether you consider Beckham to be the greatest player to pull on a tight fitting white shirt since Michael Caine made a bit of a tit of himself against some Nazi bastards, or you consider him to be nothing more than a bad ponce who made a few quid simply because taking the field with Phil Neville made him look like an Adonis standing alongside the young Albert Steptoe.
To claim that a guy who captained his country and played hundreds of games for Man Utd, Real Madrid, AC Milan and PSG "didn't have half the attributes" of a kid whose 'career' thus far consists of two starts for Everton and a couple of seasons on loan at fucking Cheltenham Town is just pure fantasy as there's no evidence as yet to back it up. He hasn't got anywhere near enough games under his belt for an unbiased opinion as to his ability or attributes to even begin to gestate.
It's the same hysterical hyperbole we allow to take root whenever a kid from our youth set-up looks like he might have something about him. The same shite Barkley had thrust prematurely upon his shoulders, that sees people now calling him all sorts for 'underachieving' and failing to live up to the all conquering future they fabricated for him before he'd even played five games for the club.
Eugene Ruane
60
Posted 11/02/2015 at 06:57:51
Fredrick (55) - "How many boyhood Everton fans have we lost to other teams that became household names? Ian Rush, Steve Gerrard and Wayne Rooney come to mind. Our academy definitely produces world class players. So the question is. Is Luke Garbutt that player?"
Well firstly, the way we 'lost to other teams' re Rooney, was vastly different to how we lost (out with) Rush.
Rush (like Michael Owen) was an Everton supporter scouted, given a contract and selected by Liverpool, Rooney WAS an Everton player... who Everton sold.
Gerrard, despite that photo, was never a blue.
Dave Abrahams
61
Posted 11/02/2015 at 08:41:16
I agree with James Flynn, Garbutt is a very, potentially, good player and his agent is looking after his interests very well, has told him to see what clubs will come in for him, and he will almost get better offers and the chance to play more first team football at other clubs.
Phil Walling
62
Posted 11/02/2015 at 09:04:14
He'd be daft to stay here as he's getting nowhere. His advisers will tell him so.
Kevin Elliott
63
Posted 11/02/2015 at 08:18:14
John (#60):
He was on loan at Colchester also and was Man of the Match on many occasions.
My opinion, for what it's worth, is that, if he doesn't want to go, then we need to give him a decent contract and play him more. The boy is quality and definitely one for the future.
James Newcombe
64
Posted 11/02/2015 at 09:34:58
This is one of the most important bits of business for 2015. Garbutt is the future. (Play Oviedo at LM/LW).
Sort it out, Blues.
Ian Brandes
65
Posted 11/02/2015 at 09:52:27
Just wonder whether the powers-that-be are going through the motions with this one so they can say 'Not our fault' when he goes. It's happened before as we all know.
For what it's worth, I would like him to stay – impressive, capable and young. However, I think he will depart in the Summer. I don't think the current regime much like him.
Sid Logan
66
Posted 11/02/2015 at 09:33:34
John Daley (#60),
So glad you got that off your chest – even I feel better now.
Barkley is a different player from Garbutt and being potentially a game changer and goal getter he probably had been over-hyped and has suffered accordingly. He'll get over it.
Not sure exactly where you saw the hysterical hyperbole. Most of us have seen Garbutt playing for us and the England Under-21s and I haven't seen him have a bad game. As I said earlier, when no one in the team could take a decent corner to save their lives, he should have had more much game time.
He looks a good prospect and shouldn't be allowed to leave – and definitely not to the RS. As always it's impossible to know for sure how he'll turn out but we should certainly keep him long enough to find out.
Right now I'd have no problem playing him left back with Baines ahead of him in midfield. Having said that Oviedo probably deserves more playing time at right midfield. Probably the real moan is when we had the chance to play Garbutt with or without Baines we didn't take it.
With Oviedo fit, Pienaar possibly returning (who knows for how long), the opportunity to play Garbutt has now gone for the immediate.
Sid Logan
67
Posted 11/02/2015 at 10:04:08
Sorry Oviedo at left midfield.
Ian Tunstead
68
Posted 11/02/2015 at 09:47:45
Ok John Daley, you are right, in such a short time, there is no was I can make such a radical judgement and dare to suggest that Garbutt has better attributes than Beckham. I mean how stupid of me to think that Garbutt is quicker than Beckham?
My eyes and memory are clearly playing tricks, perhaps I am biased in thinking he is better in the air or more skillfull, or that he has the ability to beat people with pace and very good close ball control that I don't remember seeing from Beckham.
How was that for sarcasm? As you are clearly the king of it.
Tony Draper
69
Posted 11/02/2015 at 09:42:41
There really is some "teenage hormonal nonsense" being flounced around in this thread.
Either that or some TW'ers have such incredible insight that they are clearly the ones squandering their true talents here when they really should be raking in the squillions with their deep talent spotting insight.
Luke "Skywalker" Garbutt is a decent young lad (born in Harrogate and secured via tribunal from Leeds Utd and therefore every bit as much much a boyhood Evertonian as Slippy G... ie, not at all) who may well turn out to be a very good player, or may become the next Dan Gosling style journeyman. Truth is that there just isn't enough evidence so far.
Given that when Oviedo deputised for Baines that he was reassuringly good then clearly he was the natural second choice LB.
Did Garbutt take any advantage during Oviedo's 12 months out with the serious leg break? ANY? Then why not?
And as to rotating LG for LB this season? FFS, the enforced changes to our back four due to injuries have been one of the root causes of our wimpish defensive record... so a rotation would have helped would it?
Garbutt has rapidly increased his "value" in the eyes of many simply because of a media rumour that, when he walks away for free, he'll cross the park.
I still hope that we can get him to sign a contract and that he turns out to be the new Gareth Bale, why wouldn't I?
John Daley
70
Posted 11/02/2015 at 10:08:01
"Most of us have seen Garbutt playing for us and the England Under 21s and I haven't seen him have a bad game." – How many times have you seen him playing for us again, Sid?
As for England Under-21s? Franny Jeffers used to run fucking riot for them but it didn't act as a barometer for his future career did it?
You quite rightly go on to describe him as 'a good prospect' who shouldn't be allowed to leave. I'm not disputing that. That's exactly what he is, nothing more, nothing less, and the club should certainly look to retain his services.

The problem I have is with the wild overegging of his current worth, when he is totally unproven at the highest level.
On this thread alone, we've had:
"We must pull out all the stops to keep him with us"
"... he's a better left back than Oviedo"
"Garbutt must be worth 㾶 million"
"I rate Garbutt over Baines"
"Beckham didn't have half the attributes of Garbutt"
"Garbutt's corners, crossing and general play... has been far superior to Baines"
"Garbutt is already better than Shaw"
"...we should cash in on Baines and play Garbutt"
Harold Matthews
71
Posted 11/02/2015 at 10:17:16
Sid. You obviously missed the Portugal U21 game where Garbutt was England's weak link and had to be pulled off. The main cause was his inability to deal with high diagonal balls to the winger. One of his tentative headers led to a goal.
Saying that, I do like the lad who, unlike Baines and Distin, can clear the ball strongly with both feet. He can also get forward at pace and hit quick balls across.
Definitely one for the future, a loan to a Championship club would be ideal.
Sid Logan
72
Posted 11/02/2015 at 10:40:17
John. I've seen him enough times (about 5) to reckon he's going to make the grade in the Premier League. Also heard from people who've seen him much more than me who rate him highly.
Take your point about the hyperbole from the comments you've quoted. Some of our people are prone to exaggeration – it's a trait we're prone to in the football fraternity. I think the general point is Garbutt looks to be a prospect who, out of the youngsters we've seen so far, performed to his promise.
Bottom line for me is we should definitely keep him. Not at all cost but I don't expect that will be the case. He, like many of us, is wondering why he didn't get more playing time which maybe is making him less loyal.
Sid Logan
73
Posted 11/02/2015 at 11:05:12
Harold, I did see that game but off games by 'top' players happen every week in the Premier League. But, in the interests of honesty, you're right to mention it.
Neil Pickering
74
Posted 11/02/2015 at 11:08:21
We have to move heaven and earth to keep this lad. Even if we have to push Barnes wide and have him at left back right away. In my opinion, his delivery from set pieces alone is already better than Baines's.
Phil Walling
75
Posted 11/02/2015 at 11:06:19
Harold, just why would the lad want to go out on loan to a Championship side when he can move to one for free and pick up some decent cash in so doing?
We are all a bit one-eyed but expecting a decent player to accept 'third choice left-back role' just for the honour is pushing it a bit far – particularly as he isn't even a local boy!
Nigel Gregson
76
Posted 11/02/2015 at 11:12:45
John Daley 71 - Nicely put. Heaven forbid the vitriol Bobby will cop if he plays Garbutt and he turns out to be not-all-that, mistakes leading to a few losses etc.
Brian Harrison
77
Posted 11/02/2015 at 11:41:31
Some posters are saying this has nothing to do with RM; well, surely any manager worth his salt will have a massive say as to who is offered new contracts and who isn't. I would ask why have they left it so late to offer this lad a new contract? If I was Garbutt, I would think: "Well, he has given Hibbert a contract extension months ago and only now are the club offering me a new deal."
For me, this says the manager doesn't fancy him and would rather spend the wages somewhere else... and that's fair enough. But, if the lad goes for free and ends up getting selected for England in a couple of years, then we will have every right as fans to ask how can a cash strapped club give away a potential England player?
Brian Waring
78
Posted 11/02/2015 at 13:11:15
So the lad plays a few games, took a few good set pieces and, all of a sudden, some think he's better than Baines and Oviedo!
Garbutt is nowhere near the quality of Baines, Baines is one of the best left backs in Europe.
Also some having a pop at Martinez; here's a thought: maybe Garbutt is up his own arse because he's believing all this hype about himself and is asking for demands in his contract that are ridiculous.
Oh, by the way, he's not better than Oviedo.
Richard Reeves
79
Posted 11/02/2015 at 14:05:29
About time!
How can the club take a risk in letting this lad leave for free in the summer unless he is not highly rated? Terrible decision making by the club yet again. I could understand it if the player was a gamble as to whether he'd make it in this league but he's already proved himself and I'm not going over the top when I say in a couple of years he'll be the best left back in the country.
Minik Hansen
80
Posted 11/02/2015 at 14:41:56
Baines in midfield I can agree on, to keep Luke, he's got it. Whatever happens, all the best.
Harold Matthews
81
Posted 11/02/2015 at 14:35:49
You're probably right Phil but his U21 team-mate Harry Kane was 3rd or 4th choice at Spurs not too long ago and his loan spells brought him on a ton.
Gavin Johnson
82
Posted 11/02/2015 at 15:00:56
If we hadn't have brought in Lennon. I'd have welcomed fielding Baines, Oviedo and Garbutt in the same side, with Oviedo left wing and Baines playing in front of McCarthy and Barry. The pair of them offer more creativity than McGeady and Naismith.
Irrespective of Garbutt's situation I think Oviedo and Baines offer something different to our one-dimensional midfield.
Jay Wood
83
Posted 11/02/2015 at 14:55:28
I'm with John Daley on this one.
Yes, Luke has looked good in the few opportunities he's had, but to claim as some are that he is a better than Baines, Oviedo and Luke Shaw - and that he has more to his game than David Beckham ... well that is hyperbole on a cosmic level.
Personally, I think he was pretty shabbily treated following the defeat at Newcastle when the raw kid was put before the cameras ahead of his more seasoned colleagues and innocently said on camera the team had no preparation time ahead of the game.
Consequence? He was dropped completely from the squad next time out against Hull, with no suggestion of it being injury related, and hasn't seen game time since and barely made the match day squad.
He seems a good lad and I don't imagine he is a big time Charlie. Maybe Martinez just doesn't fancy him, or has to rationalize his budget and believes he is well covered in Luke's position. Who knows for sure?
I would keep him, but it shouldn't have come to this point, just months away from being a free agent. The club have surrendered the initiative to the player and his agent. Martinez is part of that failing, but not the sole reason that this hasn't been sorted earlier.
Jim Hardin
84
Posted 11/02/2015 at 15:14:57
Garbutt is a good player in the making but is not one brought in by Martinez and is not favored by Martinez for whatever reasons which may by RM's arrogance, insecurity at relying upon yet another Moyes pick, formation, tactics, or Garbutt's criticism, etc. However, for those saying don't blame the manager if he leaves, wrong. Manager makes the squad and sets the starters. So RM and no one else is leaving the lad off the squad.
He is not the savior but seems to fall into that category of players so adored on this site and overhyped because they run (Garbutt, Besic, Naismith) despite their obvious flaws and limitations. For the fan who indicated he was missed last week ( I assume the last game?) Did I miss a goal scored versus Oviedo? Oviedo is fine and for a player with almost a year off at the top level having played very few minutes since returning, he looked good if a little rusty.
I hope Garbutt doesn't leave but if there is no spot for him for regular playing time he should leave and at least from me there will be no hard feelings and I would wish him well. Would like to see him signed and then loaned to RS or somewhere else at a top league level, not the Championship.
Phill Thompson
85
Posted 11/02/2015 at 15:39:34
The puzzle for me is why he wasn't offered an extended contract last summer when a number of deals were done. It wouldn't have taken much to secure him then and all the speculation would have been put to bed . I rate the lad, get that contract sorted and take it from there.
Paul Tran
86
Posted 11/02/2015 at 17:25:28
Garbutt is a promising young player who should have been given more opportunities to show his talent.
Despite what people of varying opinions say, Martinez is a very conservative manager, very unlikely to blood youngsters. I would forgive him this midtable season if he had thrown the youngsters in. Instead he plays out of form experienced players, often out of position.
Mind you, the story is that a promising youngster can't get past the 'best left back in UK/Europe', or his able deputy, and the lack of a signed contract so far is used as a stick to beat Martinez.......
Wayne Smyth
87
Posted 11/02/2015 at 18:11:51
Phill Thompson, how do you know it wouldn't have taken much to secure him last year? How do you know he would've signed an extension?
What terms Garbutt is willing to accept is his decision. Not Everton's, Martinez's or anyone else. Why he hasn't signed up till now only Garbutt knows.
I agree with you that he looks a quality player who I hope stays, however.
Ray Roche
88
Posted 11/02/2015 at 18:07:49
I also agree with John Daley in as much as there is some mildly hysterical comments on here about Garbutt.( can you be "mildly hysterical"?) However, I do rate Garbutt from what I've seen and read about him and think we should do our best to get him signed for the future. I also think he could and should have played more games than he's been given.
But the comments about Beckham being overrated are spot on. I don't give a monkey's chuff if he's been England captain, gained 115 caps and played for top clubs, he was NOT fast, a poor tackler, never beat a man and couldn't head for the exit. His big talents were being handsome (twat), marrying a Spice Girl and having the nous to realise that he could make money and fame using those attributes. He, and hatchet faced Victoria, were a money making machine. If she had been Vicky who worked in the chippy and he had looked like that chimpanzee look-a-like Jon Flanagan from the Shite they wouldn't have been anywhere near as famous and well off as they are. This, from an article on Beckham, shows why top clubs chased his signature, "He has enjoyed a long term relationship with adidas worth millions and officials at the German kit supplier estimate a staggering 10 million replica Beckham shirts have been sold during his 20-year playing career, worth 𨁮m at today's prices." Oh for someone who could bring in money to EFC like that!
James Stewart
89
Posted 11/02/2015 at 18:27:56
Garbutt did excellently against Wolfsburg who are no mugs and easily as good as most EPL sides he is more than ready for first team football.
Don't agree with the comments on Beckham. Yes there was a media circus around him but he was an exceptional player in his prime. His work ethic and commitment were of Ronaldo levels. Model professional and a credit to his profession. Just look at some of his best goals if you are in any doubt. Ridiculously good strikes
Jay Wood
90
Posted 11/02/2015 at 18:37:28
Yeah, rubbish that Beckham fellah ... fooled 'em all ...
United, Real Madrid, Milan, PSG, LA Galaxy and England ...
Ferguson, Cappelo, Sven, Ancelotti ...
Cantona, Giggs, Scholes ... Zidane, Figo, Ronaldo, Roberto Carlos, Raul, Cassilas ... Vieri, Pato, Kaka, Ronaldinho, Pirlo, Maldini, Seedorf, Inzaghi, Shevchenko ... Ibrahimavic ...
What were they all thinking, letting him win trophies with every team he played for? (bar England, of course!)
Now Luke Garbutt on the other hand ... now there's a player!
Gavin Johnson
91
Posted 11/02/2015 at 19:17:12
I'll second your assessment on Beckham, Ray. If he looked like Ian Dowie he would never have had the same profile within the game. So, overrated, YES!
Ray Roche
93
Posted 12/02/2015 at 09:41:23
Jay, Beckham was a good player, but not as good as his perceived stature within the game would have you believe. It was his capacity to generate money playing for, arguably, the biggest club in the world and his pop star lifestyle that helped to make him a household name around the world.
Do you think PSG signed him for his worth as a player or the fact that his appearance and subsequent shirt sales paid for his fee in the first month of his contract?
"Sir" David Beckham? You, my friend are having a laugh.
Jay Wood
94
Posted 12/02/2015 at 10:52:05
You're right, Ray, I am having a larf at your exceedingly funny post that Beckham only achieved his success in football by "being handsome (twat) and marrying a Spice Girl."
I'd happily have 1-2 'overrated like Beckham' handsome twats at Everton now and at any time in our history. How about you?
Ray Roche
95
Posted 12/02/2015 at 12:44:47
Ha Ha, nice one, Jay. Yes, at his best he'd give Osman a run for his money.....
But I DO still think he was overrated and his whole lifestyle and persona added to his desirability as well as his shirt sales. If you recall there were all sorts of movements to ensure that he got the most England caps, undeservedly in my view... All sounds a bit like the aura that currently surrounds Creasehead from across the park, don't you think?
Graham Mockford
96
Posted 12/02/2015 at 13:13:32
Ray,
I think you are plain wrong. Beckham polarises opinion because there hasn't been an English footballer ever to attain the media profile he has. I think there is a little bit of green eyed jealousy involved here and at the top of the list was SAF, who couldn't stand Beckham's standing. All his achievements in management didn't stop him being a horrible twat who if he perceived he could not dominate and bully players sent them packing and those that stayed were the yes men like Giggs, Neville and Scholes.
Would he get in an all time England XI, probably not but his achievements speak for themselves. For a period of time between 99 and 04, he and Owen carried the England team. His crossing of a ball, his range of passing, his ability to deliver a dead ball and his sheer hard work make him a very good player by any measurement.
Jay Wood
97
Posted 12/02/2015 at 13:48:04
Ray, I have no issue with you not rating Beckham. Football is all about opinions.
But your main claim that he only attained the success he did because he was a pretty boy who married a 'celeb' and marketed himself well is, as Graham says, plain wrong.
You don't get to play for and alongside all the giants of world football I listed in post 90 without having something about you other than a beguiling smile. When he announced mid-season he was leaving Real Madrid for LA Galaxy, his then manager Capello was so miffed he dropped him from his Gallatico match day squad completely.
Beckham didn't utter a word, professionally continued to work hard in training until Cappelo relented, admitting he was impressed by Beckham's work and team ethic and recalled him to the side. Cappelo later of course continued to select Beckham for England.
For a supposedly thick East End boy, I don't begrudge him making the most of his fame and looks and promoting and marketing himself as well as he did (and does).
What sponsor wouldn't like him? Great family man, many charitable causes, a team player not only concerned with the 'self' as many modern day footballers are.
And if you truly think he was little more than a marketing mannequin during his playing career, I'd have taken even that from a similar player at Everton if it generated the huge revenue and heightened profile for the club his presence did for United, Real Madrid, Milan, PSG and LA Galaxy (and by extension the MLS).
Phil Walling
98
Posted 12/02/2015 at 14:29:12
In what way does Beckham influence a decision as to Garbutt's future?
Andrew Ellams
99
Posted 12/02/2015 at 14:29:53
After all the stick Rooney got in the summer for not performing in a major tournament, he at least managed it once in his career. Beckham was a huge media myth.
Garbutt, quality player, natural successor to Baines. Get him nailed down for years...
Nick Entwistle
100
Posted 12/02/2015 at 14:30:23
I do side closer with Ray on this, but there is no doubt that whatever you think of Beckham, as a player he placed higher importance on his celebrity career than his footballing one - role model my arse.
Jay, with great celebrity comes great PR. Great family man? I'm giving him no gold stars there as every father should be, though I have on 'good authority' that the "Beckham household is not a happy one".
And PR 101, associate with charities. Its the perfect deflector of criticism of the brand. See Lance Armstrong.
He was an excellent player, never the best in any side he played for (Go Landon!), and decided to hang out with Will Smith and Tom Cruise during his peak years.
He won the same at Utd than our very own Phil Neville, played a lesser role for a poor Madrid team that only won the title in his last season, their first major trophy during his time there, and played L1 standard football in the states on Victoria's behest, and vanity transfers to PSG and Milan were as much a joke as they were profitable.
If he didn't sell seats he wouldn't have got no where near 100 caps and should have been replaced by Wright-Phillips by the 65-70 mark. A definite case of celebrity outweighing his considerable ability.
Ray Roche
101
Posted 12/02/2015 at 15:07:31
Jay, Graham, if you read my posts you'll see that I DO think Beckham was a good player, his ability with the dead ball was exceptional and far outweighed his ability with a "live"ball, and he had a good engine. I also don't think that his only gift was to look good on a billboard in his skiddies or that he woke up every morning looking at Posh Bloody Spice, (I shudder at that thought) but let's be honest, for much of his career, including his time at Real Madrid and PSG, it was his use as a marketing tool that got his name on the sheet every week. He was also a good professional who clearly looked after himself but his desire to rub shoulders with slebs was probably as strong as his desire to play football. But I still think that his ability alone was not deserving of the level of adulation that he has received.
Graham, #96,Beckham wouldn't get on the subs bench of an all time Everton team consisting of players that I have seen myself, never mind an all time England X1. And there is no jealousy here, even though I'd look nearer to an Ian Dowie on the billboard than a Beckham.....!
Dave Hall
102
Posted 12/02/2015 at 16:10:42
Start blooding Baines in midfield. Gibson and Barry out. Oviedo and Garbutt compete for places at LB or play one or the other on the wing.
Please...
Tim Greeley
103
Posted 12/02/2015 at 18:01:22
Where does he think he fits in at the RS!? As of right now they are playing three center mids with First Choice LB playing wingback. And don't they still have homegrown Walt Flanagan's dog over there?
If Lefty Luke makes that move, then he is dolt and I guarantee he will spend most of the next two seasons on loan and then move on to Norwich or Hull or Aldershot. Stay with Everton and we will LOVE YOU LONG TIME, LUKE. The fans that is, not sure about the manager...
Jay Wood
104
Posted 12/02/2015 at 18:47:46
@ Phil 98 - it doesn't at all Phil.
Maybe you should get out more ... never been down the pub with mates when the chat bounces all over the place as related topics go off on a tagent?
Stephen Daniels
105
Posted 15/02/2015 at 15:33:08
This kid is pure class; with Baines getting on and Oviedo more of a winger, I would love him to sign.
Paul Dark
106
Posted 15/02/2015 at 19:44:16
We need to pull out the stops to sign him, no question at all.
---
Add Your Comments
In order to post a comment, you need to be logged in as a registered user of the site.
Or Sign up as a ToffeeWeb Member — it's free, takes just a few minutes and will allow you to post your comments on articles and Talking Points submissions across the site.
© ToffeeWeb