Martinez disappointed by Chelsea's conduct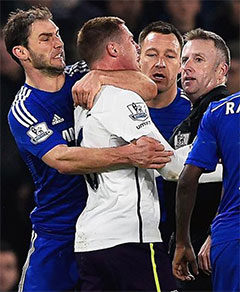 Ivanovic has McCarthy around the throat in clear view of the referee but escapes a booking
Roberto Martinez has criticised Chelsea's players for aggressively trying to influence the referee during Everton's narrow 1-0 defeat at Stamford Bridge this evening.
Gareth Barry was sent off a second bookable offence, Muhamed Besic picked up a harsh yellow card early on and James McCarthy was the only player booked in a late melée before the home side scored the decisive goal with two minutes left.
Branislav Ivanovic, meanwhile, was caught by television cameras strangling and then appearing to head-butt McCarthy during the fracas that followed Barry's late trip on Willian but escaped censure by the referee, Jonathan Moss.
To add insult to injury, it was the Serbian whose header off the subsequent free kick led to Willian's goal via Tim Howard's clearing punch.
"If you look at the images, Ivanovic's behaviour is wrong. That shouldn't be allowed," the Blues boss said after the match. "He grabs James McCarthy around his neck in a very forceful manner, then he puts his head against him when James McCarthy never reacted one single bit.
"If you want to be on top of the laws that's a red card. We got nothing out of that moment."
Martinez was dismayed by the conduct of Jose Mourinho's players in general, feeling that they press-ganged the referee into sending Barry off.
"It is very clear what the home team are trying to do is influence the referee," he continued. "Every time there is a challenge, it feels as if the weight of the world is on the referee's shoulders and he has to act.
"My players react to that and it is something unfortunate. It is something that constantly we see here [at Stamford Bridge] and it is something we have to let the authorities look in to.
"The reaction surrounding the referee and the [Chelsea] players' conduct, you don't want to feel it affected the referee's decision, but it is disappointing. That [red card] created belief for the home side and their goal comes from that.
"To give Gareth Barry a second yellow card because of the reaction of the Chelsea players is disappointing. It was just a flick, just a free-kick. If you don't get that momentum, they don't end up in the back of the net."
Meanwhile, Chelsea manager Mourinho, in typically impetuous fashion, walked out of a post-game interview when pressed on whether he would take retrospective action against Ivanovic if there was video evidence of improper conduct.
Reader Comments (48)
Note: the following content is not moderated or vetted by the site owners at the time of submission. Comments are the responsibility of the poster. Disclaimer
Mike Price
1
Posted 12/02/2015 at 01:55:58
Mourinho is a master at planting seeds that eventually work in his favour and clearly gets his players to pressure referees and play on opposition players who are already on a yellow. Ferguson was the same. Some may say "bad sportsmanship" but it's a professional approach that clearly works.
We're too nice from top to bottom and regularly get screwed over because there is no consequence to screwing us over. Management, players and media barely cause a ripple and that's our own fault.
Some say it's too late after the games over, but drawing attention to these injustices, taking fines for slaughtering referees and pressuring them during games eventually gets you favours in the end. If you don't, you just get the occasional split decision that doesn't actually affect the result. This is high stakes, professional sport and we're just not competing.
Bill Gall
2
Posted 12/02/2015 at 02:15:59
Will the FA not look at this incidence the same as they looked at the forward hitting Coleman at Newcastle.
Mike Green
3
Posted 12/02/2015 at 02:21:55
The picture says it all, McCarthy did nothing wrong, Ivanovic was bang out of order, we get punished. Same old same old.
Dick Fearon
4
Posted 12/02/2015 at 02:24:08
I have known of only two managers who censured their own players for harassing referees yet complain when other, usually more successful teams routinely dispute decisions and mob handedly intrude upon a refs personal space.
Chelsea top that list closely followed by the RS and Arsenal. I have not once heard Maureen, Brenda or Le Arse utter a single word of reproach about it. The two 'pacifist' managers I mentioned earlier are Moyes and Martinez.

Harold Matthews
6
Posted 12/02/2015 at 03:20:25
When Guardiola took over Barcelona his first order was for the players to put pressure on officials. It got so bad the Spanish FA had to change the rules.
Ronaldo & co demanded a red for Rooney, Batituta, Simeone & co made sure Beckham went and imagine if Maradona had tried his hand of God thing against Germany, the inventors of cheating.
England, Everton and other fair teams are cannon fodder for referees, even the honest ones. Ask Gerrard. He calls it "Taking advantage of the situation" because that's the way he's been coached and he knows it works. He doesn't see it as cheating. Mourinho and Guardiola don't see it as cheating. As Mike Price points out, It's high stakes and anything goes.
Eric Myles
7
Posted 12/02/2015 at 04:45:37
McCarthy should be encouraged to make a police complaint against Ivanovic based on that photogrpahic and video evidence.
Only then will the FA start to make refs do something about the likes of Skrtel who get away with it every game.
Jamie Crowley
8
Posted 12/02/2015 at 05:03:16
I applaud James McCarthy.
If someone had me in a bear lock from behind - pinning both my arms down and therefore leaving me in a ridiculous vulnerable position... And then...
The the same perpetrator grabs me from behind via submission hold around the neck...?
I'd slug the fucker right in the mouth.
James exhibited unbelievable restraint and unfortunately proved nice guys finish last.
I'd never blame a player for taking 3 to 6 games off for defending himself - especially seeing how refs never assess the situations properly.
And this ref was a certifiable moron.
Darren Hind
9
Posted 12/02/2015 at 05:52:07
I think we need to get away from this "poor us" mentality.
We knew how the Chelsea players would be conducting themselves before we set off. You either rise above it or you meet fire with fire, but let's stop acting hard done by.
If Lukaku puts his boots on the right feet, the antics of the Chelsea players become irrelevant.
Not a bad performance, but "Nice" Everton have had their kecks taken down again. Martinez needs to stop bleating and start thinking about how to turn his side into winners.
Tony Abrahams
10
Posted 12/02/2015 at 07:18:36
Barry should have been sent off because what he did was ridiculous. Just as it was ridiculous to keep such a slow, ponderous player on the pitch against the speed of Chelsea.
Barkley wasn't great, but he posed a threat, and we always have a chance to break when he is on the pitch. Besic booked after 4 minutes then never put a foot wrong and was clever with his defensive work after this.

Barry is a player I like, and I actually thought he was MotM at Palace. But the pace was slower and his experience counted that day. Against Liverpool when the game was quicker, I actually felt we was a man down, and for the first time in 40 years of watching Everton I was screaming towards the bench to drag a player off.

His first yellow card showed his distinct lack of pace at this level and therefore made his second booking for again being made to look to slow unforgivable.

Unforgivable? The manager kept him on when better players were hooked, so maybe you can't blame the player.

Chelsea are top of the league and there manager is an out and out winner, so what did you expect when Barry made such a stupid decision for the second time Roberto?
Joe Foster
11
Posted 12/02/2015 at 07:52:14
That picture says it all, the ref looks scared shitless.
Neil Pickering
12
Posted 12/02/2015 at 08:56:48
Barry was a liability with his challenges all night, and in my opinion he should have gone earlier. Keeping him on the pitch for longer than 60 mins and you are asking for trouble as far as I'm concerned, particularly against nimble players like Chelsea have.
Contrast that with Besic, who again for me, despite being booked early, was excellent and sensible with his challenges thereafter. Another massive balls up from the manager to add to his ever growing collection!
Andrew Ellams
13
Posted 12/02/2015 at 09:05:11
The referee was going to book our players for anything last night, if we had played nasty we would have ended up with 8 players on the pitch. This playing nasty thing only works if you are one of the preffered few.
On a positive note, how good is John Stones? If there was an award for tackle of the season, he would have had it nailed on last night.
Michael Polley
14
Posted 12/02/2015 at 09:46:33
Lucky Fuckin' Chelsea Bastards! We didn't deserve that. We defended great, and curtailed them to long range efforts Typical of Chelsea scoring a lucky deflected shot in the 89th min,
Oh I wish Lukaku had scored that point-blank effort.
I'm gutted, but take heart that we can now defend. You can guess I hate Chelsea!!!!
Ross Edwards
15
Posted 12/02/2015 at 09:59:19
Mourinho all over. Cynicism, cheating, intimidation of refs, and then afterwards frightening the journos already in awe of him into not mentioning the Ivanovic incident because he threatened to behave childishly and walk out.
Stephen Nalty
16
Posted 12/02/2015 at 09:18:45
I agree with what Joe Foster #11 says "That picture says it all, the ref looks scared shitless."
Obviously the 'so-called' referee did see Ivanovic throttle James McCarthy around his neck very forcefully, and no doubt also saw Ivanovic push his forehead against McCarthy's own head just like an head-butt.
I hope the FA look at these incidents and take the necessary action, and to me it is perhaps Mourinho who wants his players to be like this after watching him storm away from the BBC interviewer when asked about his own players.
I feel the referee should be moved down a couple of leagues and given a telling off. What makes me sick about this is Ivanovic should of been Red Carded and it was his header that reached Willian to score their winner.
Ian Burns
17
Posted 12/02/2015 at 10:40:59
Mourinho taught Martinez a lesson.
It is all about three points and when Chelsea looked as though they weren't going to get them they resorted to what we witnessed at the end.
We have a man sent off; they get the three points scored by a man who also should have been sent off – RM complains and sits on the coach on the way home moaning about the Chelsea players whilst Mourinho was at home, feet up cigar on.
We can feel entirely satisfied with the behaviour of our players, particularly McCarthy who should be applauded for his restraint. Meanwhile, Chelsea got the 3 points.
Do I feel proud of our boys behaving properly and coming away with 0 points? Of course I do, don't I?

Andrew Ellams
18
Posted 12/02/2015 at 10:52:44
I read a report this morning that said Paul Lambert had finally paid the price for poor football and a lack of goals. Sound familiar?
Ross Edwards
19
Posted 12/02/2015 at 11:30:05
I can't see Martinez being sacked, Andrew, although we were all saying that about Lambert. It would have to take a drop into the bottom 3 like Villa to force a possible change.
Tony Hill
20
Posted 12/02/2015 at 11:45:32
I agree Andrew and the only thing that matters is getting safe, the rest can wait until summer. Though if we were to lose to Leicester – God forbid – with two following away games, one v Arsenal then I am afraid the manager's position would be inevitably scrutinised.
The Leicester game is massive because Leicester themselves have to win realistically to have hope of surviving. It will be interesting to see what side RM picks for the EL.
Andrew Ellams
21
Posted 12/02/2015 at 11:55:16
To be honest, I don't see us dropping into the bottom three; if the worst happened and we did, I think we would be way too close to the end of the season for any managerial changes to make a difference.
Eugene Ruane
22
Posted 12/02/2015 at 11:52:22
Bill Gall (2) - "Will the FA not look at this incidence the same as they looked at the forward hitting Coleman at Newcastle."
I hope absolutely nothing happens to Ivanovic and I'd honestly be gutted if he got a three match ban.
We get shat on and three OTHER teams get the benefit? Fuck that!
He didn't get sent off when he should have against us, but... that's it for me.
Given our position, it would be salt in the wound to ban him and make it easier for Chelsea's next three opponents (especially Leicester and Burnley).
Andrew Ellams
23
Posted 12/02/2015 at 12:17:50
Can the FA take retrospective action if he was booked for the incident?
Harold Matthews
24
Posted 12/02/2015 at 12:10:22
Nice one, Ian. Close but no cigar.
Tommy Coleman
25
Posted 12/02/2015 at 12:42:01
Chelsea/Mourinho are cheats. For me, it's not about winning at all costs, who wants to win like that.
They do it because they're not good enough to win fairly.
I wish Brian Clough was still around.
Thomas Surgenor
26
Posted 12/02/2015 at 13:05:44
Let me start by saying I like Jagielka and he is one of my favourite players over the past decade... BUT... where is he in all the stills of this incident? Terry never left the ref's side when it all kicked off, constantly chirping in his ear.
It is ridiculous that McCarthy was punished and I believe Ivanovic escaped caution? (I think this means he can be punished by the FA unless the Ref mentions him in the match notes)
What I wouldn't give for a Tim Cahill like character on the pitch again.
Paul Dark
27
Posted 12/02/2015 at 13:08:14
For Martinez to say what he said meant that things were pretty bad. Chelsea cheat, just like Man Utd – and the so-called 'lesser' teams. RS are the same. We aren't – the only ones who aren't in the league.
Everyone knows it, but no one does anything about it.
A very British affair indeed...
Glen Garrett
28
Posted 12/02/2015 at 12:57:51
Let's all face it, the FA are useless, they really are. Everton played their hearts out last night and didn't deserve to lose but that's football for you. It just goes to prove that influencing the ref & cheating is the way to go in football. Everton have got to start cheating their way or find that team they were last season.
I think Everton will now stay up in the Premier League, they wont finish in bottom three. Champions League is still on, we've just got to win the Europa League now so let's start seeing some fucking goals that win games please.

Paul Dark
29
Posted 12/02/2015 at 13:15:36
25 - Tommy - great post. What you say is even more true of Man Utd - they are the worst in the league at winning at all costs. They can't win fairly, but they have to win.
Sad as it all is, it makes me pleased I support the best, most historic, most dignified club in Britain.
Tommy Coleman
31
Posted 12/02/2015 at 13:26:09
Paul - Don't get me started on Man Utd! :)
Chris Leyland
32
Posted 12/02/2015 at 13:20:57
Eugene, is absolutely right in what he says. He doesn't get sent off last night so we don't benefit from that decision at the time. If he then gets a retrospective ban he misses games against teams around us in the league and that benefits them and not us. there is no fairness in that.
The only way to cut out this sort of thing from the game would be for retrospective action to lead to a direct detriment for the offending club by docking them points. So, the result reverts to the scoreline at the time it happen. Chelsea lose 2 points and you can bet Jose would be telling his players to behave and stay away from the ref.
Tommy Coleman
33
Posted 12/02/2015 at 13:48:50
Chris - They did benefit, Ivanovic won the header that led to the goal and we were a man down when we shouldn't have been.
Chris Leyland
34
Posted 12/02/2015 at 13:57:42
Tommy, Yes but my solution caters for that as it takes the result back to what it was prior to the incident. So their benefit would there be negated.
The other point was,we suffer double detriment. The original detriment on the night as his header led to the goal and the further detriment as a result of any retrospective ban as any ban benefits the other teams they play who are those teams in and around us in the league.
Gary Mortimer
35
Posted 12/02/2015 at 13:55:11
Barry was incredibly stupid and most of the Chelsea players all reminded the ref that he'd already been booked, a number running half the length of the pitch to have their say.
However, after the ensuing fracas had died down, how could the ref think that booking James McCarthy and not even speaking to Ivanovic was the appropriate course of action? Who had the other player in a head lock? James McCarthy didn't retaliate in any way at all. From the photo above it's not as if he didn't see it. No doubt he was scared of a Mourinho backlash.
Unbelievable.
Where was Jags though? Rearranging his socks – like he was when KM was deciding that he was a better penalty taker than Baines? I am afraid our skipper is not a leader on the pitch – he should have been in there giving it some!
Jim Hardin
36
Posted 12/02/2015 at 14:36:47
The ref was intimidated right from the firsst few minutes. Hazard actually stopped a run to yell and complain for a foul and got it despite minimal contact to his mid back (not a push, just contact). He gets a free kick. Numerous Chelsea players including their newest Brazilian cheater went down in the box (simulation, no card). When is the FA going to adopt rugby rules that you cannot talk to the ref unless you are a captain and you cannot surround him and bark and cry at him?
To those wondering why Barry was left on, his role was different than that of Besic. If you think Besic is a true defensive mid you are wrong. Barry, if you watched, is the player telling the others where to be and when to push up and pressure. Numerous times during the game you could see him telling Lennon and Lukaku and Barkley and Besic where to go. That is why he stays on because he is controolling and directing the shape of the team defensively.
Bill Gall
37
Posted 12/02/2015 at 14:45:24
Just reading some of the comments from supporters of Chelsea and other clubs of the Ivanovic incident.
A number of them are saying there was nothing in it and happens all the time in a game with a couple saying he was only giving McCarthy a hug. I can just imagine these guys having a pint in their local and someone comes up and grabs them around the throat, and as they turn around to clock him he says "What's up with you? I am just giving you a hug."
I hope the FA give him more than a 3-match ban but will not hold my breath.
Eugene #22. I agree with your comment that is no help to us if they do ban him but you cannot condone this type of action just because it is no benefit to your club. There should be no place for either Ivanovic's or Chelsea's players' actions in the game and it is about time the FA got some backbone to stamp it out.

Ian Burns
38
Posted 12/02/2015 at 14:57:31
Jim - 36 - first of all Barry has to be the best player in that position. Is he?
People wondered why Barry was left on because some people thought Besic/McCarthy would have been a better partnership.
Jags should be directing operations on the field and if you are going to tell me he is too far away in the back line, then he should not be captain in the first place.
If Barry is left on - then it has to be because he is the best player in that position at that point in time. If that is the case, then so be it. Me? I would have put Besic and McCarthy together - but then again I am not a football manager's backside.
Tony Abrahams
39
Posted 12/02/2015 at 15:03:57
Jim 36, don't you think a man could do that job from the sidelines?

Andrew Ellams
40
Posted 12/02/2015 at 15:31:13
There was a good point made on the live forum last night that Barry was possibly kept on because his yellow card meant that he was already suspended, and if Besic has stayed on and got a second yellow they would both be suspended for the Leicester game.
This idea that Barry needs to be in the team because he sits deeper than the other two, so what? They are both quality ball winning midfielders and played in a 3 with Barkley as their outlet player we need never see Barry huffing and puffing his way around the field picking up stupid yellows again.
Tony J Williams
41
Posted 12/02/2015 at 16:25:12
Jim 36 that for me set the tone of the whole game. A perfect opportunity for Jags to scream at the prick in black, "is he reffing this fucken game or are you?"
Niall MacDiarmada
42
Posted 12/02/2015 at 16:44:47
We're too nice.
Once, just once I'd love to see an Everton player turn around and deck an opponent after being manhandled.
The likes of Terry, Skertel, Collins get away with it in every game
Ray Roche
43
Posted 12/02/2015 at 16:44:21
Eugene Ruane #22
Eugene, I made the very same point after that other shit, Cisse of Newcastle, received a ban after elbowing Coleman. We conceded the goal that day, other teams got the benefit. It makes you want the FA to drop all the trial by video, after the event crap. The sinned against don't get any justice so why bother?
Ray Roche
44
Posted 12/02/2015 at 17:14:11
Incidentally, on the FA site they have said that both Everton and Chelsea will be charged with failing to control their players by Ivanovic won't be charged with anything. Spineless ref, spineless blazers.
Will Firstbrook
45
Posted 12/02/2015 at 17:23:56
Money and influence win out in the end. Nothing new there.
Moss has screwed us over on more than one occasion. New plan for the next game we have with him - anyone gently roll the ball in his direction and Besic through the back of him poleaxe-like. We should start a collection for the fine now. It would be worth it.
Tony Abrahams
47
Posted 12/02/2015 at 20:44:34
Exactly, Ray (44). United never got many penalties against them at Old Trafford and as soon as Ferguson left, Liverpool got 3 in 1 match there.
Mourinho played it clever last night, and by threatening to walk out the press conference was basically sending a message to the FA!

Surprised if either team will get anything but a warning, but it does show the benefits of having such a powerful MANAGER in charge.
Ian Riley
48
Posted 12/02/2015 at 21:32:44
This is why I had great respect for Brian Clough. Won league titles and European cups and had great respect for referee's. He would fine players for moaning at the referee.
Which manager is going to give more stick to referees when decisions don't go their way? Referee's in this country appear to want to be friends with the top players and managers. Don't upset the top club managers, could make it difficult with the FA. Or the FA don't want to upset top managers.
Europe needs to pool all officials from top leagues and rotate between leagues. Referee's would not feel so pressurised by top clubs and managers.
Dick Fearon
49
Posted 12/02/2015 at 22:55:02
Sweet mild mannered Martinez cries when Swansea played a different style to what he wanted and now he moans about Chelsea taking advantage of a weak referee.
It is about time he grew a pair and stopped behaving like a pre schooler.
Tony Abrahams
50
Posted 13/02/2015 at 09:26:51
Ian 48, great idea that, but maybe corruption would then become a bigger issue. I know it is already with us because these refs never even supported teams when they were growing up!
You love football, but you have never supported a team? Besides Chris Foy, another Evertonian, not one of these Refs has ever told us the truth.
Clever man Clough, Ian, his players didn't need to talk to the Ref, because they were all scared of their manager!
Dick Fearon
51
Posted 14/02/2015 at 19:30:48
To paraphrase the Lizard of Oz, criticism from Martinez is like being hit with a wet lettuce.
Instead of whinging about opponents' aggressive attitude, he should take a leaf out of their book by telling his players to man up and give as good as they take.

A bit of aggression from himself could be a good example. His first move should be to find or buy a proper captain. Jags struggles to nail down his defensive role and, unlike any number of other captains, he could do with a more of a commanding presence.
---
Add Your Comments
In order to post a comment, you need to be logged in as a registered user of the site.
Or Sign up as a ToffeeWeb Member — it's free, takes just a few minutes and will allow you to post your comments on articles and Talking Points submissions across the site.
© ToffeeWeb