Everton in control after thumping Young Boys in Bern
BSC Young Boys 1 - 4 Everton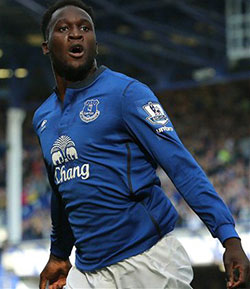 Romelu Lukaku scored three and might have had five as the Blues caught fire in Bern
Everton recovered from conceding an early goal to demolish Young Boys and take a commanding lead back to Goodison Park for the second leg.
Kevin Mirallas returned to the starting XIm with Gareth Barry getting the nod over Muhamed Besic in central midfield. Ross Barkley also started alongside Steven Naismith in the less-defined floating roles behind Romelu Lukaku.
Everton made a dominant start to the game and Lukaku forced an early save but the Blues fell behind early to Guillaume Hoarau's well-executed curler from 25 yards.
The Blues responded well, however, with Lukaku and then Barkley forcing good saves from Mvogo in the Young Boys goal.
Lukaku did beat Mvogo, though, with 23 minutes gone when he connected with Barry's cross and steered his header into the corner via the 'keeper's glove.
Five minutes later, Everton took the lead with a brilliantly-worked goal. Naismith, perhaps fortunate not to be flagged offside in the build-up, played a one-two with Barkley and fizzed it across the face of goal where Coleman slid in to guide it home inside the far post.
Young Boys then stepped into a higher gear and almost equalised when Howard could only divert Hoarau's volley to Nuzzolo but the ball ended up safely in the 'keeper's arms.
And it was 3-1 to the Blues six minutes later, though, when Oviedo's neat backheel to Barry ended with a low cross deflecting off a defender and sitting up perfectly for Lukaku to convert from close range.
Sanogo looked to have halved the home side's deficit shortly before half-time when the ball arrived at his feet 12 yards from goal but his drive cannoned off McCarthy on the line, onto the post and then away to safety.
Young Boys carried the greater threat in the early exchanges in the second half but were being kept at bay by resolute defending, including determined work by Oviedo in which he picked up an injury that forced him off in the 58th minute.
But it was Everton who scored again as Lukaku romped away before clipping a shot over Mvogo to complete his hat-trick.
The Blues' evening was soured somewhat when Stones was sent off shortly afterwards for hauling back Hoarau but the Frenchman scooped his penalty over the bar.
Oviedo's replacement, Garbutt, put Lukaku's fourth on a plate for him midway through the second half but he made a mess of the chance to make it 5-1. And he would be denied again by Mvogo late on as he was put clean through on goal as the visitors threatened to increase the margin of their lead.
It finished 4-1, with Roberto Martinez's men full value for an excellent performance on the Swiss side's much-vaunted artificial pitch.
Everton: Howard, Coleman, Stones, Jagielka, Oviedo, Barry, McCarthy, Barkley, Mirallas, Naismith, Lukaku
Subs: Robles, Alcaraz, Besic, Gibson, Garbutt, Atsu, Duffus
Kick off: 6pm
Referee: Manuel de Sousa
Full coverage: ToffeeWeb Match Reports
Reader Comments (164)
Note: the following content is not moderated or vetted by the site owners at the time of submission. Comments are the responsibility of the poster. Disclaimer
Stephen Brown
1
Posted 19/02/2015 at 17:04:14
Would have been tempted to throw in the full of confidence Atsu!
Save Naismith for Leicester ?
Brian Furey
2
Posted 19/02/2015 at 17:32:51
Is Kone injured or why not in subs?
Atsu hat-trick?
Dennis Stevens
3
Posted 19/02/2015 at 17:38:45
Is Kone broken again?
Rahul Sreekumar
4
Posted 19/02/2015 at 17:48:08
Atsu, Garbutt and Gibson will probably be the three subs (if RM decides to use his 3 subs that is) who'll be used today depending on the way the game goes.
Stephen Brown
9
Posted 19/02/2015 at 18:19:09
Ross looking sharp
Ernie Baywood
11
Posted 19/02/2015 at 18:28:46
Much maligned Barry sets up the much maligned Lukaku.
Much maligned Naismith sets up the under performing Coleman.
Even a bit of luck with the offside decision.
Maybe we should get a synthetic pitch at Goodison?
Ant Summers
12
Posted 19/02/2015 at 18:32:03
Howard, you just made up for your first mistake.
Stephen Brown
13
Posted 19/02/2015 at 18:33:41
Can Goodison have one of these pitches next year ?
Steven Telford
16
Posted 19/02/2015 at 18:41:17
Martinez, seems to have found a place for taking shots into his strategy. See what that can do!
Atsu definitely deserves a run out, and who better to replace than a (so far) lackluster Mirallas.
have to tip your hat to their goal, and that was a top class header from Lukaku. hopefully he zips the mouths of his (too numerous) TW critics.
Paul Jeronovich
19
Posted 19/02/2015 at 18:58:51
Great first half boys. The scoring's not over here if we keep up the pace. Hoarau looks a good player though.
Ernie Baywood
20
Posted 19/02/2015 at 19:10:31
Referee has been shit. Linesman brilliant!
Ernie Baywood
21
Posted 19/02/2015 at 19:11:51
Class hat-trick finish, that!!!
Ant Summers
22
Posted 19/02/2015 at 19:17:52
Lukaku owed us that.
Ant Summers
23
Posted 19/02/2015 at 19:19:19
Well, I said it... Stop trying the fancy stuff at the back. Who the fuck is telling him to do that? Disgraceful defending at any bloody level.
Ernie Baywood
24
Posted 19/02/2015 at 19:20:24
Stones didn't really need to do that at 4-1 up. At least he should only miss a dead rubber.
Shocking penalty. Getting some breaks here.
Ant Summers
25
Posted 19/02/2015 at 19:21:47
Stones got away with it twice in the first half, then again instead of basic defending, got caught out. Hate that, get rid of it, hope he learns.
Peter Gorman
29
Posted 19/02/2015 at 19:41:46
Nice touch from Lukaku there, handing the physio his med bag. Good manners cost nothing.
Ernie Baywood
30
Posted 19/02/2015 at 19:39:18
Just as Wolfsburg did, these have played to our strengths when our weaknesses are so apparent with a small amount of homework.
We've been different class.
Lukaku should have had 5.
Jamie Barlow
31
Posted 19/02/2015 at 19:50:39
That was refreshing. Well played lads.
Paul Smith
32
Posted 19/02/2015 at 19:54:59
Well played lads. Pleased for Barkely had a great game.
Paul Chaloner
33
Posted 19/02/2015 at 19:54:43
Credit due

Tahir Abdullah
34
Posted 19/02/2015 at 19:56:03
Well played against a very poor YB side; can this performance be replicate on Sunday?
Jay Wood
35
Posted 19/02/2015 at 19:50:50
THAT'S the standard we should be playing to!
Where has this team been all season?
Did we really play with just 10 men for the last half hour? No exaggeration, if we had been more clinical in our final pass and finishing it could have been double figures.
A good hard lesson for John Stones too without being too costly.
Cracking win and performance.
Steve Guy
36
Posted 19/02/2015 at 19:58:04
Perfect hat-trick tonight. Both feet and a header!
Great performance. Naismith was class
Mike Keating
37
Posted 19/02/2015 at 19:52:25
If Stones hadn't been sent off, he should have been yanked off by RM for schoolboy defending. Brian Labone would have kicked his arse for being a clever dick
We were a bit lucky but missed a couple too
3 - 7 would have been a fair result

Barry had a good game after all the stick he's had recently and Naismith was back to his best.
Gavin Ramejkis
38
Posted 19/02/2015 at 20:02:26
Where the hell has that Everton been all season? Very tidy display in Europe again
Paul Jeronovich
39
Posted 19/02/2015 at 20:02:17
Phenomenal
Dave Pritchard
40
Posted 19/02/2015 at 20:05:05
The difference must be that in Europe teams play at a more sedate pace which allows us time to play like tonight. Players actually turning up also helped tonight.
Brian Wilkinson
41
Posted 19/02/2015 at 20:05:38
Get the cheque book out, Bill, and invest in one of those pitches.

Paul Johnson
42
Posted 19/02/2015 at 20:06:23
Great performance, great result. Bring on Leicester. Gonna enjoy a few glasses of red and enjoy the rest of my night. Been a long time since I last felt this good.
Chris Wilson
43
Posted 19/02/2015 at 20:07:51
What was Oviedo's injury? Anyone know? Hopefully not one of those subtle knee things that often happen when playing on turf.
Stephen Brown
44
Posted 19/02/2015 at 20:11:02
Great result! Big Rom started his payback, Ross was lively, Barry decent and Naismith energetic!
McCarthey being back gives all a lift! One or two silly yellows that could come back to haunt us in future rounds!
What's Warsaw like in May ?!?!
John Keating
45
Posted 19/02/2015 at 20:12:23
Thank God these European teams don't watch us more often!
The proof of the pudding comes against Leicester.
Brian Hennessy
46
Posted 19/02/2015 at 20:11:07
Wow, fantastic performance and result, really enjoyable game to watch.
So many Everton players played well, even Barry was very good.
One of Barkley's best games in an Everton shirt, shame about the Stones red card.
Anyone know how many games he will miss?
Ross Edwards
47
Posted 19/02/2015 at 20:15:05
The perfect result. Firmly in control of the tie.
Stephen Brown
48
Posted 19/02/2015 at 20:15:58
Normally one match for a last man red card. Could work out well as should be formality going through now ?
Phil Walling
50
Posted 19/02/2015 at 20:13:43
Great fun on the Forum tonight and great to see Romelu look value for money... even though he missed three sitters!
Stones showed his inexperience but he's a great find and will learn from it whilst on the European stage Mirallas just showed himself for what he is. Selfish.
Now Bobby and the boys have to take that form into Sunday's game against 'no hopers' Leicester and show us they can do 'the day job' as well as the Thursday Stroll!
Tony J Williams
51
Posted 19/02/2015 at 20:21:37
Well I was not expecting that.
Can we get one of those pitches at Goodison?
Ian Bennett
52
Posted 19/02/2015 at 20:22:25
STONES OFF AS HOWARD CONCEDES AGAIN?
Colin Glassar
53
Posted 19/02/2015 at 20:26:18
Fantastic performance. Roberto really has this Europa League lark down to a tee doesn't he? I just hope we can continue this form in the Premier League.
Paul Thompson
54
Posted 19/02/2015 at 20:25:55
European teams allow more space and allow us to play more. But we did well. It didn't seem to make much difference when we went down to 10 men - still playing it about nicely and creating chances. Barkley revelled in that space and Barry really stood out, particularly after the sending off. Only dud was Mirallas - playing for if not with himself.
Tony Hill
55
Posted 19/02/2015 at 20:23:14
Wonderful and we should enjoy it. Biggest plus for me was seeing Barkley play with some fire and confidence. Credit to RM for sending the side out with such an attacking attitude. Some of our one touch stuff and ball retention was top class.
Worth remembering this side hasn't lost a home European tie for ages so we shouldn't diminish the achievement.
Other major plus was the obvious team spirit which has been the big worry. And we got goals which was my other serious concern. Please let's carry this form through. So pleased for those who travelled.
Trevor Lynes
56
Posted 19/02/2015 at 20:26:33
Lukaku got in the box a lot tonight and his strength was too much for YBs. It should give him confidence for Leicester (I hope). Still I am disappointed that the midfielders never looked like scoring.
Plus points were the Garbutt and Atsu cameos, they both looked comfortable on the ball and it would be nice to see Atsu have a bit longer on the pitch.
Stephen Brown
57
Posted 19/02/2015 at 20:30:41
I agree with Tony #55 about Ross. Although stupid, I loved the push in the back on their player – fire in the belly!!
Ant Summers
58
Posted 19/02/2015 at 20:28:07
We are still playing too much football at the back that is not required. Sort that out, as better sides will pounce.
Good display, but not excellent; we got the rub of the green tonight... Overdue, yes, but a decent win: well done.
Keith Glazzard
59
Posted 19/02/2015 at 20:33:01
Thanks lads, you worked hard to make it look easy in the end.
10-4 it should have been. Over and out.
Brian Waring
60
Posted 19/02/2015 at 20:36:44
"Well played against a very poor YB side"
A Young Boys side that hasn't lost a game in Europe at home for 3 years,score goals for fun, and finished runners up in their group second to Napoli who they beat at home 2-0.
John Malone
61
Posted 19/02/2015 at 20:33:00
What a great performance! Great to see Lukaku get a hat-trick; we look so much sharper on the plazzy pitch!
MotM was Naismith; for me, he did everything apart from score he is a leader on the pitch.
Good to see Barkley look fit and sharp making the correct decisions. Mirallas can go – he is a gobshite and typifies everything wrong with the modern footballer!
Jay Harris
62
Posted 19/02/2015 at 20:34:44
We don't need to get too far ahead of ourselves but with this result against all expectations (and pundits!) we look a fair bet to go far in the EL.
Hope Lukaku uses this as a springboard now.
3 points against Leicester and the season starts to get better.
Brian Waring
63
Posted 19/02/2015 at 20:39:21
Ant, how did we get the rub of the green because we could have scored 9 tonight.
Ant Summers
64
Posted 19/02/2015 at 20:45:24
Brian, common... one was 100% offside. Stones was at fault for freekick that was off the line, hit the post, possibly a second offside, Barkley on another day gets sent off... bloody hell, we did get the rub.
Kevin Rowlands
66
Posted 19/02/2015 at 20:46:34
CO #43, Oviedo just tweeted that he's fine, great performance hopefully we can carry this form into the league now.
Ant Summers
68
Posted 19/02/2015 at 20:48:28
Brian you will possibly be the only one watching who thinks we did not get a bit of luck..I did say its overdue
Tony Hill
69
Posted 19/02/2015 at 20:43:56
Shame if Oviedo is injured to any significant extent because he was looking very sharp going forward but if we must have an injury then left back is where to get it.
A word for Rom whom I've slagged off badly but thought he was excellent, Yes he should have had 6 but 3 will do. Also very encouraged by Coleman tonight, looked leaner and focused.
Stones will learn.
The more I look back on that game the happier I am.
Ian Jones
70
Posted 19/02/2015 at 20:54:14
Seems nobody is having a go at Martinez for once which is excellent news. Good result all round.
Glenville Williams
71
Posted 19/02/2015 at 20:54:30
Behave Ant! We were all over them. We could have scored 6 or 7.
Andy Meighan
72
Posted 19/02/2015 at 20:51:18
Brilliant performance! The two players I've give the most stick to all season, Barry and Lukaku, were absolutely brilliant tonight. Why, why, why can't we play like that in the Premier League?
Every one of them was superb in my view... apart from (and this is only my opinion) Mirallas – he just looks as though he can't be bothered. Yes, he's a threat but at times looked like he didn't care. He won't be missed when he moves to Real, Barça, Bayern or whoever else gets involved in the bidding war.
That said, we could have hit 7 or 8 tonight. I just hope that fills us with confidence for the rest of the season.
Peter Norris
73
Posted 19/02/2015 at 20:58:47
Brian #60. Your comments are spot on and sum up perfectly a top result and performance. Pre-match everyone thought this was a tough draw and we carved through them. COYB
Nick Entwistle
74
Posted 19/02/2015 at 20:58:35
What a game! Shame the drugs my doctor has put me on made me sleep away most the second half. I was really enjoying it. Didn't see much after the penalty miss.
Whatever the European style is, can't fault Roberto for having it on European nights. Doesn't suit the following Saturday though... Sunday.
Ant Summers
75
Posted 19/02/2015 at 21:01:48
I give up, yes I agree we could have scored a lot more; howeve,r we did not, and I can imagine the stick Lukaku would have got if the linesman was not so generous to us in the first half. Add to that a crucial, yes a crucial save by McCarthy at a time when the game was at a balanced point.
Don't be fooled by them downing tools, and saying we battered them. Look at the whole game, thru objective glasses – not blue-tinted ones. As I said, a good performance – no more than that... and I don't care what anyone says: we got the rub, more than overdue. If we beat Leicester 4-1, I'd be convinced.
Dave Lynch
76
Posted 19/02/2015 at 21:05:43
That big fella they had up front looks a bit of a handful, I'd keep an eye on him looks like he's got Premier League written all over him.
Other than a Timmy howler for the first goal we battered them from pillar to post.
As mentioned the back 4 need to stop dicking about with it and clear the lines when required, Naismith my MotM worked his arse off all night.
Still buzzing...
Dave Lynch
77
Posted 19/02/2015 at 21:14:17
Come off it, Ant.
I've been one of RM's biggest critics but a strange playing surface, a team unbeaten at home in 3 years in Europe!
Gotta be happy with that, moi san.
Leicester will be a different ball game but a win of this magnitude breeds confidence and credit where credits due, the manager got it right tonight.
I'll settle for a 1-0 on Saturday by the way.
Stephen Brown
78
Posted 19/02/2015 at 21:18:06
For all the flak he's received this week, big Rom needs a lot of credit and he spoke well in the after match interview too! He's not had a great season yet that puts him on 13 goals for the season only a few behind Costa and more than a whole host of other big names!
He should get 20+ by the end of the season and help turn us into a 'top' club. Well done tonight, lads, but we need the same on Sunday as we don't want a relegation battle to distract our Europa League effort!
Eugene Kearney
79
Posted 19/02/2015 at 21:20:44
Great result - and a hat-trick from Lukaku. Good on 'im.
We awake......
COYB.
Michael Upton
80
Posted 19/02/2015 at 21:11:29
Great result, top performance, so pleased heads didn't drop after the opener and we were on to batter them.
A bit of credit is due to Two Assists Barry and Non-Stop Naismith tonight given their recent (and deserved criticism).
Rom also looked like the striker he can be when given some decent service. He really needs to play facing goal, not back to it, though his hold-up and link-up play was good tonight, too.
The only tiny blemish on my evening was Kevin Ratcliffe. Great player, club legend but what a miserable arse. Slaughtered Howard for the goal and seemed to need no second invitation to criticise or sound unimpressed. His praise for the win was grudging at best. Cheer up, Kev.
Now PLEASE PLEASE take that confidence and form into the Leicester game.
John Crossley
81
Posted 19/02/2015 at 21:25:12
Great result! We will win this, I believe.
Glen Garrett
82
Posted 19/02/2015 at 21:24:22
Great result. I am happy for Lukaku for getting a hat-trick, well done to him and the rest of the team for the way they played. Keep playing like that in the Europa League and Everton can win it they really can.
The trouble is they need to play like that in the Premier League too – if they want to play in the Premier League next season... still not out the drop zone yet.
David Flanagan
83
Posted 19/02/2015 at 21:35:37
Ratcliffe seems to want to come across as unbiased during commentary but ends up going too far the other way.
Michael Upton
84
Posted 19/02/2015 at 21:43:42
Glen I appreciate your sentiment and agree that tonight's form needs translating into the PL but we're not technically (or in fact anywhere near) in the drop zone, as you put it.
Peter Mills
86
Posted 19/02/2015 at 21:35:38
A strange game.While we can all be very happy with the result there were still quite a few flaws.
Stones and Barkley showed naivety, but hopefully will benefit from the experience. We were much more comfortable with the time and space afforded by the opposition, should have scored more, but defended badly at times. European football is a steep learning curve, we seem to be on it, but there may be other teams ahead of the game.
But for tonight, great scoreline, gutted I didn't go, well done to all who did.

Michael Upton
87
Posted 19/02/2015 at 21:51:06
Stephen (85) - well capable of getting smashed in Turkey. Think I'd rather have the 4-1 away win!
Jason Murray
88
Posted 19/02/2015 at 21:35:54
Wonderful performance; It's about time us Blues had a result like that to celebrate!
Hopefully Oviedo's injury isn't too serious but it's a chance for Garbutt to show his worth if he gets a run in the side. It was great to see Ross looking a lot more confident on the ball as well. Lukaku easily should have had five or six rather than the measly three he put away though. What a useless lump!
Barry Lambert
89
Posted 19/02/2015 at 21:40:44

Great win. Since when did Rats become a red? I got sick to death listening to him continuously bleating on about offside.
Kevin Mirallas, selfish bastard, won't be missed.

Wayne Smyth
91
Posted 19/02/2015 at 21:37:29
Lot of focus on Lukaku understandably, but I was pleased for Coleman too.
He's hasn't captured last seasons form and we've missed his marauding runs, but I think this goal will do him a world of good.
Really pleased with the way the team played. The passing and movement was excellent. The play for Coleman's (offside) goal was something Barcelona in their pomp would've been proud of. Barkley also looked very sharp and dangerous. Stones will learn from his error.
I thought the officials were awful. Offside for one of our goals, yellow cards like confetti for most of our players, Sanogo should've been off for his kick at Ross's head, yet only Ross gets a card?
As an aside, not surprised to still be reading some negativity on here. Unbeaten at home in Europe in 3 years, and we batter them 4-1 with 10 men playing some fantastic football. Yes, they had chances, but we also had tons of chances which we could've buried. Yes, Barkley could've been sent off, but Sanogo could've done too.
Paul Hughes
92
Posted 19/02/2015 at 21:53:06
Ant (75), yeah we got the rub of the green tonight. But for fuck's sake cheer up. We've played a team who've made their home into a fortress over the past 3 years or so, and absolutely stormed it. Agree that we need to repeat the performance on Sunday, but what a result tonight!

Dave Abrahams
93
Posted 19/02/2015 at 21:56:41
Great result and performance. I'm happy for Barkley, very good; this should help his confidence. Most of the team performed like we know they can. I hope this display carries on into the Premier League starting on Sunday.
Darryl Ritchie
94
Posted 19/02/2015 at 21:50:02
A lot of positives and very few negatives. With all that was said about the artificial surface, I've come to the conclusion that we should install at Goodison. Our passing was crisp, accurate, and for the most part, in the right direction.
Lukaku, Barry, Naismith and Barks each had their best games of the season. Howard was playing under a magnifying glass and didn't disappoint.
On the negative side; we still have to work on defending corners. RM doesn't rate them, but everybody else does.
Mike Allison
95
Posted 19/02/2015 at 21:54:40
There will always be someone who comes on ToffeeWeb and claims the opposition were no good if we put a big win together. I don't understand how they fail to grasp the simple idea that when we play like that we make them look poor. They had an excellent pedigree in Europe at home and in general this season anyway.
Again there is a comment focusing on something negative about Barkley. I don't understand what some blues want. We've got an outstanding young talent there who will get better and better the more he plays and the experts on here keep saying he shouldn't be picked and only want to talk about what he did wrong.
We were fantastic tonight, there's no point looking for negatives in that performance, it won't do any good, so we should be simply looking to take the positive attitude into the next game.
And Lukaku's second goal wasn't offside because Barry's ball was a pull back, which then went forward off the defender. Highly frustrating when even the commentators don't seem to know the rules of football.
One final rant, why the hell did ITV include a feature on Daniel Sturridge as part of the build up to our game? Twats.
James Martin
96
Posted 19/02/2015 at 22:06:42
Great performance, like watching a different side. McCarthy makes a huge difference. I don't know what he does but his passing patterns seem to relieve the pressure in midfield freeing up Barry and Barkley to have time on the ball and move it forward.
Shades of last season in some of the movement with the fullbacks being played in further up the pitch. Gives Stones a breather for the second leg anyway and gets rid of any lingering suspension for him later in the tournament.
Jim Knightley
97
Posted 19/02/2015 at 22:10:10
Whilst he missed some chances, that kind of performances demonstrates why many on here need to lay off the 21-year-old Lukaku. He got the right kind of service today, and he delivered.
The opposition may not be great, but they are not awful, and winning 1-4 away from home on an artificial pitch is fantastic work. We did what we needed to do, now we need to get some wins in the Premier League so we can fully concentrate on the Europa League.
Brian Hennessy
98
Posted 19/02/2015 at 22:05:50
Mike, I thought that ITV Sturrdige thing was crazy too.
To be honest I can't stand ITV coverage of games.
I still havn't forgiven them for going to a commercial break during the "live" coverage of that merseyside derby where we scored during the add break.
Ross Edwards
99
Posted 19/02/2015 at 22:13:58
Enjoy it Ant, embrace our sudden change of luck. Embrace our only gateway to the Champions League.
Keith Glazzard
100
Posted 19/02/2015 at 22:09:53
As a sidelight, we need Baines, Oviedo and Garbutt in our squad, as tonight showed. And at least two of them can play in the same team together. Maybe Oviedo is our replacement for Pienaar, who I hope makes it back, but may well not.
Tony Abrahams
101
Posted 19/02/2015 at 21:44:02
I didn't see a performance like that coming. Full of good football, played at a much better pace, and really enjoyable to watch.
It was like we got our team back tonight, and scoring four goals away from home, should do wonders for the team's confidence.
Most pleasing thing tonight was how much sharper we looked, to show that sometimes, football really is all about yourselves!
Tom Magill
102
Posted 19/02/2015 at 21:54:44
Very good result, Everton. Well done, boys! Feeling a good bit better now about our prospects, what a difference a couple of weeks make. We have a few great prospects with Garbutt, Galloway and Browning coming through.
COYB
Colin Malone
103
Posted 19/02/2015 at 22:16:34
Gareth Barry back to his best, no coincidence when McCarthy is in the team. COYBB.
Eric Holland
104
Posted 19/02/2015 at 22:16:30
Ant, still having a go at Lukaku??? The lad scores a hat-trick away from home in Europe!!! The mind boggles.
Jamie Tulacz
105
Posted 19/02/2015 at 22:12:54
Thumping young boys, hmmmm...
Great result; why can't we do this in the league is the question..
Ant Summers
107
Posted 19/02/2015 at 22:23:57
1 swallow..etc, lets see what happens in our next two league games, yes tonight was a good win, however that's it.
Leicester and Arsenal, 6 points in the bag? According to some on here tonight, no problem. I am more of a realist. We are on 27 points after 25 games, with -4:gd for a reason,
Oh just let's forget about all the first 6 months of the season because we have had 1 good win, wake up will you!
Tony Abrahams
108
Posted 19/02/2015 at 22:20:17
James 96, that's why I don't understand people who have ago at McCarthy for his sideways passing. This kid is always available and he never dwells on the ball, which means that even if he doesn't play the best pass, the speed in which he gives it to a teammate, usually means that the better pass is still on.
A player's player of the highest quality, who has nowhere near reached his full potential, he would improve most teams. Hopefully our future captain as well?
Chris Green
109
Posted 19/02/2015 at 22:29:23
Grief, some positive comments. Reading the forum the last few days, you couldn't help but think we had the worst team in history. Howard is shite, Coleman not doing anything, Jags and Distin past it, Mirallas a twat, Barry useless, Lukaku useless, Naismith useless.
Well they played tonight. Howard was good, couple of very decent saves, Coleman marauded, Jags was excellent, Barry set up and Naismith worked his nuts off... And Lukaku a hat-trick.
I take the view that YB were not that good tonight, but they had a great home record. It was a decent performance. More pace, more width and the big players starting to play again.
Same again at the weekend chaps! Well done Roberto, learn, learn and learn some more and tweak it.
Sandra Bowen
110
Posted 19/02/2015 at 22:31:49
Well said Mike (95), embarrassing that they didn't even notice that it was a perfectly good goal as it came off their player.
All-in-all, happy days. Players looked like they were enjoying themselves and nice to see some smiling faces again.
Stones had a bit of a shocker but let's hope he learns from that and improves his decision making of when and when not to play, bloody love him though. Reminds me so much of Tony Adams.

Tony Hill
111
Posted 19/02/2015 at 22:32:53
Ant, I agree we still have to do it in the league (I have been consistently anxious and remain so) but I doubt you would get much dissent on that front in truth. Let's enjoy a cracking night though for its own sake. That was a really good, vibrant performance on any construction.
Craig Walker
112
Posted 19/02/2015 at 22:26:18
We were superb tonight. Credit to RM and a few players who have been heavily criticised by all of us of late. I won't feel happy though until the RS are out. Just think we'll end up drawing them. Well done though Blues. Another very good European performance.
Eugene Ruane
113
Posted 19/02/2015 at 22:24:51
Lukaku showed that if the
RIGHT
balls are played (Ie: balls to run/move onto rather than balls into his feet when his back is to goal and there's a hairy-arsed defender stuck up him) he's able enough to stick a fair percentage of them away.
A few iffy moments but a great result.
Thought Barkley did well, Stones had his worst game and I could watch Naismith all night.
He plays every game with the enthusiasm of a kid and everything about him says 'I fucking hate losing' (my kind of player and I wish we had three or four more like him).
Up the Toffees!
Tony Hill
114
Posted 19/02/2015 at 22:43:03
Chris (109), one of the reasons I prefer TW is that there is a fair measure of realism. People broadly react to what they see, praising when it is due (very infrequently this season) and criticising when it is justified (very frequently this season). That's as it should be surely?
Bill Gall
115
Posted 19/02/2015 at 22:31:30
That was a solid all round team performance that showed what teamwork is capable of. Away to any European club with a good record was not going to be easy but Evertons team performance made it look easier than it was.
One of the positives was they just rolled their sleeves up after a goal down and did not let their heads drop. Lots of good individual performances but IMO they seemed to have a better understanding as a team.
The only negative I seen was the injury to Oviado and hope it is not to serious.
Tony Draper
116
Posted 19/02/2015 at 22:28:48
Superb and well deserved result.
Lukaku's hat trick did our approach play justice and yes, he really could have had a double hat trick (how many times did I think that when "The Latch" was at his pomp ?).
At half time my Dad said he thought that the ref was extremely lenient towards YBB and that we would be made to pay for much more cheap behaviour in the remainder.
Sadly, Stones' red was naive and unnecessary. No game changer, but hopefully a real lesson for him. Great young lad who will certainly iron out his rare but dreadful errors...... the impulsiveness of youth. His action was desperate, thoughtless and needless given the circumstances. So all in all, not a bad moment to fuck up.
If anything JS chose a very good moment to get it badly wrong and got lucky with the missed pen. Hopefully, the lesson is well learned.
Well deserved result for the performance.
Looking forward to more of the same in the return leg and for the remainder of the season.
Eric Holland
117
Posted 19/02/2015 at 22:52:16
Great win tonight against a team unbeaten at home in Europe for three years on a tricky pitch.
Well done lads!!!
Michael Fallon
118
Posted 19/02/2015 at 22:54:12
All looks rosy now but, come Sunday, Leicester will come and shut up shop, it'll end 0-0 and we'll look one dimensional again.
Ant Summers
120
Posted 19/02/2015 at 22:59:49
You will all see come May that RM is capable or has the way about him to be a good cup manager. However, look at his record for wins in the Premier League all his games as manager. He has been in charge of over 200 games, has a 28% win record, and almost 100 goals in the minus column for those games. Enjoy the cup run whilst in lasts. That's all we are getting from this phoney.
Paul Ferry
121
Posted 19/02/2015 at 23:13:51
Oveido on twitter Bill (115):
"Great result today. We keep dreaming. do not worry about my injury, I'm fine."
Phil Gardner
122
Posted 19/02/2015 at 23:14:03
Just landed in Mexico...chuffed!!
If ever you needed proof of BBC bias checkout the 'football page'....2nd headline is the Shite scratching a 1-0 home win with a pen (again!) Everton's result (of the draw) is a mere footnote.... scumbags!! COYB!
Steve Cotton
123
Posted 19/02/2015 at 23:05:06
Why the fuck did they put a ten minute history of Daniel Sturridge after our game? They hardly discussed us. ITV would never have done an article about us during the RS game... joke
Derek Thomas
124
Posted 19/02/2015 at 23:39:04
Sandra (#110) I was going to say 'Tony Adams?' – wash your mouth out, but I won't, due to the next name I write... He's as good as Hansen, who purely as a player was truly Elegant.
Who thought when we went 1-0 down it was all over? ... I know I did.
I have my long-term doubts over Martinez as a Premier League manager (may he soon prove me wrong), but up to now, both he and we seem to have this Europa League thing, at least for the moment, sussed out good style.
We pull down, quite rightly, the Prem Refs, who seem to work on a slightly different set of values to the ordinary supporter. But these foreign Johnnies take the biscuit.
What happens at Leicester will be a different kettle of fondu. I doubt they will want to come out and go toe to toe with us but, given how far behind they are, one point is not much use to them, so you never know.
Well worth getting up at 0345 to watch... and I haven't been able to say that much this season.
Purely by accident you understand I watched it via the American Fox Sports 2. For Yanks it wasn't bad. Better in fact than the Redshite love-in / bias as reported by viewers in the UK.
More of the same in the Prem please Roberto... if you can.
Paul Johnson
125
Posted 19/02/2015 at 23:55:39
Eugene, I get the Naismith love in but I struggle like mad with it. He gives the ball away so much. Great Scottish heart but if we are to move to the next level I think we will have to move on. Just don't sell him to the shite....
Brian Wilkinson
126
Posted 20/02/2015 at 00:25:37
Why do we have to take the gloss off a good performance by rattling on about Leicester the true test?
People are quick to make a negative out of a performance. Yes, we had a bit of the rub of the green but we could easily on the other hand been close to double figures tonight.
If we get a big win against Leicester, some will still rant on about our next game. Take each game at a time but for Christ's sake, give the team some credit for tonight's performance.
Ian Tunstead
127
Posted 20/02/2015 at 00:21:54
Finally it is starting sink in with people that we should have been playing to Lukaku's strengths, instead of the obsession with tippy tappy passing for the sake of passing or ball to feet with his back to goal. I said last year that in 5 years he will be worth double what we paid for him. Even when not in form he scores goals and you pay a premium for that skill. He is still a young lad who will improve but we need to continue to play to his strengths.
Was glad to see Garbutt get a run out, nearly got an assist with his first attack. What people don't seem to appreciate is that it is difficult for a new or young player to make an impact when just given brief cameo 20-30 min run outs once every few games.
If he was given a run of games and given the chance to gain full match fitness and earn the confidence of his team mates, thus gaining the confidence in himself, we would see a lot more quality crosses coming from him into the box for others to put away. He oozes quality and he is nowhere near his full potential.
Sadly I suspect we will be seeing him breaking Baines's full-back assist record with another club.
Bob Heyward
129
Posted 20/02/2015 at 00:42:41
Back from the game. Credit where credit is due. Great performance, good management.
That said, we have to start showing this in the Premier League. The disconnect between Europa and Prem performances is getting bizarre. Anyone any theories on that anomaly?
Tony Draper
130
Posted 20/02/2015 at 00:48:15
Well said Brian @126.
Far too many TW people adopt an attitude that despite an outright win, that last weeks Euromillions jackpot was even bigger!
Great result, great performance. Can only add to our growing confidence.
Andy Crooks
132
Posted 20/02/2015 at 01:06:27
Paul #125, if a player gets selected by the coach and gives his all (Naismith), it will do for me. I think some of the criticism of Ant is unfair. This was a really good show but, it seems to me, is a step in the right direction of Roberto solving a problem he caused.
Anyway, enough of being churlish. Tonight it was a pleasure watching our team. Let's thump Leicester on Sunday.
Paul Johnson
133
Posted 20/02/2015 at 01:19:25
Andy, I am really at a serious impasse with Naismith. He works so hard and deliberates every decision with the officials as though it is life or death. Yet he does it in a way that is so unassuming. So he comes across as a great bloke backed up by the work he does in the city.
Unfortunately, Andy, I watched the greatest Everton team ever (1985) and he wouldn't have got a game. If we want to be at the top competing, then it will not be with Steven in the side. Till that happens, I am happy to see him working his plumbs off for the mighty Blues.
Then, in 20 years, I will celebrate him at a dinner where he will be remembered as being part of the 2015 Europa League winners...
Anthony McInerney
134
Posted 20/02/2015 at 01:43:22
I was gonna just write "Great result" but, reading the comments, I'm gonna embroil myself on the side issue that always develops when someone dares to write a negative comment after win.
Anyone who says we didn't get the rub... Bollox! But it's all good, innit – that's football.
Anyone who says we could have had seven, yes... but that would be when they're 4-1 down and chasing it.
Anyone who thinks I'm changing my mind on Lukaku... Well, I hope he comes good because it's win-win if he does but we put at least 6 on a plate tonight and he scored 3. He looks up for offside when he's through and misses a sitter on another... and to pull it apart even further, he was one lucky lazy fuker for that second one. Why was he even considered to be offside. I'm pleased for him though I wish we could play him in Europe every week.
Harold Matthews
135
Posted 20/02/2015 at 01:51:33
I find it hard to get interested in the Europa League stuff but this performance exceeded my expectations. Okay, we made mistakes at the back and fluffed a few easy chances at the other end but we showed good spirit and played with confidence.
I was pleased with the Lukaku hat-trick and the dominance of Barkley. I hope this continues in the weeks to come.
Colin Gee
136
Posted 20/02/2015 at 03:06:07
Was at work so didn't see any of the game, surely even Everton can't feck it up in the second leg.
Steve Brown
138
Posted 20/02/2015 at 02:29:41
Ant @120, come on! It should really have ended 7-1 against a team have have won eight out of the last nine games.
I am delighted with that performance, playing a quicker tempo and as Ian @ 127 said, playing to Lukaku's strength. Also spot on Ian about Luke Garbutt, he was excellent when he came on. Let's do it takes right now to resolve his contract right now.
Rahul Sreekumar
139
Posted 20/02/2015 at 06:39:47
I felt bad for Robles on the bench... Howard was good though. I think RM prefers him over Robles because, in addition to 'keeping, he brings a little bit of, ahem, *leadership* for the back line; which Jags doesn't seem to visibly do..
Mike Allison
140
Posted 20/02/2015 at 08:13:28
Naismith is becoming a bit of an issue for me. I love him too and am glad we have him. His character is second to none and he is a real asset. However, he plays every minute of every game that he is available and in many ways is one of our least able/talented players.
There are times when he is exactly what we need, and there are times when his presence holds us back. Roberto's job is to recognise the difference between these situations and use Naismith accordingly.
I also think he tires later on in games, you can see him visibly flagging as he moves. I would want him on the bench at least every game, as he can come on, lift the team and grab a goal, but he can't keep playing every minute.
Michael Upton
141
Posted 20/02/2015 at 08:40:37
That Sturridge thing was ridiculous but not that surprising – little Everton's demolition of Young Boys was hardly big news compared to the impending majesty of the mighty Reds (barf), was it? But ITV big-up the coming-up game every time so I can't say I'm surprised.
What was more infuriating was the commentators mentioning how Stevie Slipup was going to be their studio guest while we were still looking like racking up more in Switzerland. Twats.
Re Oviedo, he's tweeted that his injury isn't too bad, which is good news. Garbutt looks good but surely Oviedo is the man in possession and should get a run? Same argument as many applied to Robles.
I think last night shows we're best suited to playing on the counter away from home. RM's challenge is to find a way past sides who combine pressing high up and parking the bus at Goodison. On that showing, Naismith and Ross are the key.
Have to say McCarthy looked like the player we all know he is – vital to our fortunes. When he was out over Christmas, I was convinced that was a major factor. I'm hoping this side can begin to push on now.
Tony Abrahams
142
Posted 20/02/2015 at 08:32:31
Across the park, Mike, they have a similar player who is soon going to become their captain.
Talent is great, and I agree Naismith doesn't seem the most talented, but what he lacks in skill, he definitely makes up for with sheer effort.
I watched the match with my lad who constantly went on about Naismith's distribution compared to Ross Barkley. He said that Barkley doesn't need to work as hard because he has got well more ability. Only 15 my son, so I had to argue with him about how good Barkley would be if he worked as hard as Steven Naismith in every game.
I think it's a really bad shout to call the manager a phoney, Ant, and although it's early days, wouldn't it be great if Martinez, pulled off the football equivalent of the classic "Rope A Dope"!
Craig Walker
143
Posted 20/02/2015 at 08:51:24
Ant #120 - give it a rest, mate. I don't mind criticism based on performances we have witnessed but to get your crystal ball out and slag RM off because we're going to get a 0-0 against Leicester is ridiculous.
We were excellent last night against a very good team. Admittedly, we've been shocking for a lot of this season and the team and manager have come in for a lot of criticism. You can't whinge about that performance last night though. Any attempt to do so is childish.
Don't go making proclamations based on what you think is going to happen.
Andy Meighan
144
Posted 20/02/2015 at 09:12:24
Ant Summers, do me a favour mate. You're only as good as your last game and in our last game we were brilliant. What exactly did you want from last night? That performance we executed the game plan to perfection. Yes, I've been Martinez's biggest critic to date and rightly so but he got it spot on last night. Yes, it could go tits up on Sunday but that game hasn't been played yet. So lighten up and enjoy your weekend.
Chris Green
145
Posted 20/02/2015 at 09:39:58
Hi Tony (109). Absolutely. I love that there is realism. The truth is though, when I have read some of the stuff on here lately its just been bashing people. Like one guy said above, with Barkley. He hasn't had a good season, but is an amazing talent. We need to back him not ask for him to sit on the bench. Martinez did wonders last year and ALL our players were fizzing last year. This year, for whatever reason they haven't. I think it's due to loss of form and key players being injured (ie Stones, McCarthy) and yes,.. I do think those two are vital to the way we play.
Just think realise is also about seeing the whole picture. There was very little negative about last night... yet still people find something. Praise them for a great performance. It's one performance and they need to do it again against Leicester, but praise them...not "yeah but........" Sorry.. rant over
Chris Corn
146
Posted 20/02/2015 at 11:25:20
Ant @ 120.I really hope Martinez does prove he is a good cup manager. We have won nothing in 20 years and no-one seems to care. People go on about Champions League and the irony is the only way we are likely to see it is if we win this. I would never trade trophies for relegation but if you asked me if I would finish where we are in the league now for winning this, then I would snatch your hand off.
If Martinez's legacy was that he was a good cup manager, and put a couple of trophies on the board, then that would do me. We are not going to qualify for CL as things stand because we just cannot compete financially. I've accepted that but I would love this club to win something again. Sadly, in this modern era, I know I am in a minority.
Alan Bodell
147
Posted 20/02/2015 at 11:29:52
Great result, and it was a no-brainer to play Barry as he is out of Sunday's game; Mo Besic gets a well earned rest and we're going need him 100% for a likely physical battle as Leicester will have seen how Pulis nullified any creativity we have.
Great that Oviedo isn't badly hurt as this lad deserves a steady run after his bad injury and I cannot think of any game where he has disappointed. Young Luke is firing himself right into the picture also so I never thought it but we can afford to rest Bainesy occasionally it seems.
Final word for last night, let's not get carried away because this was just Young Boys' 3rd game back from their winter break so the score maybe flattered us although we could have had 7.
Charlie Burnett
148
Posted 20/02/2015 at 11:41:03
Bill... where's the Arteta money? Buy us a pitch!
it was enjoyable to watch last night. I am not going to say we played unbelievable, now we're going to win the cup. What I am going to say is we played the standard that we watched every game last season; the fight was there and it just proves they can do It when they want to. Let's just hope this is a turning point.
I hope Lukaku picks up from this. I don't want to be a negative sod but he could've had 6 or 7 last night... stupid misses and the offside. I read he is the player in the Premier League for most offsides this season.
Gavin Ramejkis
149
Posted 20/02/2015 at 11:55:00
Out of interest, I know that made Lukaku our fourth blue to get a European hat-trick but does anyone know if any of the other three got a perfect hat-trick like his? Header, right foot, left foot? I can remember Yakubu scored a perfect hat-trick but think it was in a league game.
Andrew Ellams
150
Posted 20/02/2015 at 12:05:31
Unfortunately Chris players don't see it like that. If we are not finishing higher up the league we won't attract the players capable of winning cup competitions.
The days of cup teams like Arsenal, Spurs and Man Utd in the 70s and 80s are gone. It's rare for a cup to be won by a club not seriously in contention for the title. Four doubles in history up until the start of the Premier League era, how many since?
Jim Knightley
152
Posted 20/02/2015 at 12:12:39
Ant, everyone is pissed off about our league form. That is clearly not the point here though is it? This is a discussion about a Europa League match in which we thrashed a decent team 1-4 away from home, and essentially progressed to the next round as a result. We are all rightly happy because it is a fantastic result, which demonstrates the potential in our side. It is the more impressive because it was on an artificial pitch which we are not use to. An artificial pitch, which Napoli (the joint favourites, or thereabouts, for the competition) loss on in October.
Last season some of us complained about going out in the cup competitions, when we were going well in the league. We complained, because they are different competitions, and as numerous examples from recent times have demonstrated, Cup and League form is different (Wigan have shown that most obviously recently, as have the likes of Liverpool, Chelsea, Real etc). We are rightly happy about the result, and those expressed their happiness in a season with a lack of it, do not need to read stupid comments like the following: 'Leicester and Arsenal, 6 points in the bag? According to some on here tonight, no problem. I am more of a realist. We are on 27 points after 25 games, with -4:gd for a reason,'
Please tell me who is claiming we will beat Arsenal? Explicitly or via implication? Many expect we will beat Leicester, and rightly so, because we should beat them, even if the Europa League tie will have sapped some of our energy, and hindered our preparations. But I do not expect us to beat an in-form Arsenal away from home, along with the 99% of other Everton fans.
Ged Dwyer
153
Posted 20/02/2015 at 12:25:05
Barry had a cracking game!
Brian Harrison
154
Posted 20/02/2015 at 12:19:50
Well I am not RMs biggest fan but fair play, he set the team up well last night. Also not easy when you go a goal behind away in Europe, but they overcame that and looked the better team all night.
I think their back 4 playing a high line helped us and left space for Lukaku to run into. I thought Barkley had his best game this season – he knew what he wanted to do everytime he got the ball. On most occasions, he looked to run at the opposition which is Barkley's strength.
I thought Garbutt was excellent when he came on; I think he was better than Oviedo. The thought of the lad walking away at the end of the season for nothing is surely unthinkable.
Derek Thomas
155
Posted 20/02/2015 at 12:35:31
Gavin (#149); no big deal. I got one myself coming on as a 60 min sub for East Coast Bays in NZ; left foot, header, right foot (pen).
Chris Gould
156
Posted 20/02/2015 at 12:57:23
I think it's important that we enjoy results such as last night and there isn't any need to pick apart a fantastic performance.
And it certainly isn't fair to criticise a hat-trick hero....BUT.....he has got to start timing his runs better. He's offside so often and sometimes it's inexcusable. There was one instance last night when he had full view of the back line and was waiting for the pass while standing at least a foot offside. It's ill-discipline and could prove costly.
I think it's clear that Premier League teams have sussed out how to set up against us but, as yet, European teams haven't. As long as we avoid Tottenham or the RS we may go far.
Ben Dyke
157
Posted 20/02/2015 at 13:07:43
Some things from last night:
Atsu played great when he came on and will be useful after a good ANC.
Barkley struggles under weight of home expectations at the mo but is a good player and was his normal self last night, a player you would much rather have than face.
Barry showed why we bought him. In the closing stages he was so composed just in front of defence. Problems occur in premiership because the minimum required in EPL from the smaller to the bigger teams is press, press, press and it shows us up. We are set up with personnel and formation, and tactics that works much better in Europe. To do it in EPL requires top top drawer midfielders. Chelsea, Man Utd, Man City must have midfielders with an average value of 㿀M+, compared to our average value of 㾶M–
Lukaku showed why we took an expensive punt but also why he's not good enough for Chelsea.
Ant Summers
158
Posted 20/02/2015 at 13:23:18
I'll tell you all why I go on about our league form, 2 games we have won and 1 game were we got beat out of 25, I thought we might have something, 3 out of 25. Now you can all go on about 1 result, but I'm a realist, Leicester and Arsenal, with a walkover in between (allegedly). Let's see us destroy the said two sides, and I will believe again. And a side issue, league matches home and away, about, 2k to be entertained, or come out of a game positive..3 Times not bad eh?.
25 games, 27 points, -4 GD, Just in case you forgot, and not out of the woods, 1 swallow, etc with this manager and board.
Ray Roche
159
Posted 20/02/2015 at 13:32:48
Chris Gould @156
Chris, I saw an article a couple of days ago which stated that Lukaku was the player caught offside the most in the League, and he has strayed offside ten times more already this season than he did in the whole of last season. Something must have changed in the way he's playing or where he's playing.
Sam Hoare
160
Posted 20/02/2015 at 13:41:58
Everton roll over the Swiss as the Young Boys get spanked.
Great result. Baffling dichotomy between European and domestic form. Shows how crucial confidence and liberty is I suppose.
Ant, we are aware of league form. Enjoying this win is not the same as saying everything is okay.
Mike Allison
161
Posted 20/02/2015 at 13:41:35
Ant, (a) your previous post doesn't make much sense, and (b) no-one is denying or arguing with anything you've said anyway, they're saying you're wrong to focus on all that stuff that's been covered to death on ToffeeWeb over the last few months.
We know all the negatives, we've talked about them plenty. We finally put in a very good performance last night, which reminded us all of how good we were last season and gave us hope that we can be that good again in the rest of the season, I don't really understand what you're trying to do.
You seem either to be trying to tell us (a) "we're still shit" or (b) "one result doesn't mean anything". Neither of these are true. On it's own, this result only means we're overwhelmingly likely to qualify for the last 16, but as we've seen over the last few months, form and confidence are extremely important in football, and last night looks like it could be a huge turning point.
So, yes, of course we still need to perform and get results against Arsenal and Leicester, but we all know that anyway, it doesn't need pointing out on the thread about the Young Boys game. Also, praising our performance last night and being happy about it is in no way detrimental to us getting results in the upcoming league games. In fact, the generation of a 'feel-good' factor (which you seem to be a lone voice in trying to prevent) could be a vital element in having a strong finish to the season.
Andrew Ellams
162
Posted 20/02/2015 at 13:50:33
Ray, I can't help feeling Lukaku is wandering offside more this season because he isn't playing his natural game. When he is and he's running at the defence, instead of hanging about in box for what must seem like an age before a cross comes in, he is not going to get caught as often.
Keith Harrison
163
Posted 20/02/2015 at 13:54:24
Ant, as Donald Sutherland said in 'Kelly's Heroes' "What's with the negative waves?". We are where we are. If we win every game between now and the end of the season (which would obviously mean winning a European Trophy), I get the impression that some punters would still be on here saying - "Yeah, but we would have won the league if we weren't shit early on".
Enjoy the victory for what it was – we totally outclassed a hitherto unbeaten team on their own artificial turf this season. Let's then hope that this transports into the confidence to rip Leicester a new one come Sunday, and not before then should you be the harbinger of doom and gloom if we fail to put them away.
Dave Lynch
164
Posted 20/02/2015 at 14:44:22
Ha ha Kieth.
Oddball, one of the great film characters of all time.
Woof woof! thats my other dog impression...
Jim Hardin
166
Posted 20/02/2015 at 14:54:30
Much better performance as the players looked comfortable passing the ball around the whole game (maybe the turf helped with the speed). Anyone notice that Coleman's improved form seems to coincide with Howard and McCarthy returning? It actually isn't a coincidence that he can now trust the GK and the right mid to do what they are supposed to and can then get forward without having to worry about Besic being out of position too far forward and central and not dropping back and covering or about having to protect for Robles all the way back to the goalpost.
For those claiming Howard is at fault for the first goal, exactly how is that? In one of the other Cup games yesterday, the same shot but from a left foot bending over and around the keeper into the left upper part of the goal, was called a perfect shot, nothing the keeper could do. The announcers on Fox and during the game called it a scorer's goal, nothing the keeper could do. Notice that the much raved about Young Boys' 'keeper let one right through the 5-hole (unacceptable) and deflected another to Lukaku on the back post and then see how well TH did!
Martinez had the starters right and I know the injury and red changed things but why not get either Lukaku or Mirallas off sooner by substituting Atsu at 70 minutes or even 65?

Andrew Ellams
167
Posted 20/02/2015 at 15:21:00
Jim, I don't want to be negative today but Howard was badly positioned and way too slow in reacting. I would have more confidence in Robles stopping a chance like that than Howard, if nothing else because he is much taller and therefore has a greater reach as well as being the more athletic of the two.
Keith Harrison
168
Posted 20/02/2015 at 15:42:03
Andrew,
By the time Timmy Ul Haq had shouted cccccccccccccccccccccccccccclose him down (with various expletives), the ball was past him. I also think Robles might have got it, and he is unfortunate to be back on the bench.
Chris Gould
169
Posted 20/02/2015 at 15:56:42
Suddenly Robles is saving everything that Tim lets in? Wow, how opinion has changed.
Howard has played very well in both the Chelsea and Young Boys games. Neither goals were his fault. Since when was Robles's positioning faultless?
Tony J Williams
171
Posted 20/02/2015 at 16:00:38
Perhaps it was also the fact that their top goal scorer could have had time for a picnic before Jags started to close him down and pick the spot several times over.
Peach of a goal from their in-form striker. The only way Robles would have saved it (my! how times have changed) is if he morphed into Reed Richards from the Fantastic Four.
Alan Bodell
172
Posted 20/02/2015 at 16:14:12
Regarding the debate about their goal and Tim's positional fault, the replay showed just for that brief second he stepped to his right anticipating and when he shifted it was too late. How on earth can we lay blame on a milli-second of body balance?
I for one am glad we have Robles and Howard keeping each other on their game. Our central defence could have rushed at him, the blame is with them then also but we should be happy that we have 2 capable goalkeepers vying for that № 1 spot.
My choice would be Robles until he messes up but I guess we have to see what happens.
Dave Abrahams
173
Posted 20/02/2015 at 16:17:49
Chris (#169), I could give you an argument over whether Howard should or shouldn't have saved that shot last night but, given the result, it's not important. Let me ask you a question instead:
Do you think Howard should have come back into the team versus Chelsea seeing as Robles had done little wrong in the previous games?
Ant Summers
175
Posted 20/02/2015 at 16:41:58
Great win. I'm sure it will be on the CD. Now for the other 90 minutes. Any ideas? Anyone???
Tony J Williams
176
Posted 20/02/2015 at 17:05:39
If I may Dave?
Howard is considered our number one goalie so he is always going to come back in straight away.
The same with Jags, Baines, Lukaku etc
Yes Robles had some good games, Howard played well against Chelsea and was beaten by a deflection and not even Robles could have made a difference with a deflected shot.
He played well last night with a couple of great saves and yes we can argue their goal and his positioning but I saw it as a brilliantly placed shot by their in-form striker, who had masses of time to decide where to place it.
All due to the defence not closing him down, not Howard.
Dave Abrahams
178
Posted 20/02/2015 at 17:15:41
Of course you may, Tony. I saw the goal differently to you: Howard was outside his six-yard box... if he had been closer to his line, where he usually is glued to when corners and crosses are coming in, he might have done better, but that is a matter of opinion.
My main point is, in my opinion, Robles was treated badly by Martinez when he was dropped for the Chelsea game. Howard maybe the Number One goalkeeper – it doesn't mean he is the best, but again it's just opinion.
Brian Wilkinson
179
Posted 20/02/2015 at 17:49:20
Ant, this thread is about last nights performance, I am pretty sure we will all comment on Sunday's game when it's played.
We have not had much to cheer about, but last night's performance deserves praise and let's cross Sunday's bridge when it comes.
Brian Wilkinson
180
Posted 20/02/2015 at 18:19:28
When a defence has played so long in front of a goalkeeper, it breeds confidence. No question Robles has been unlucky, but at the same time with Howard back, results will start to come.
Robles is still young and will get another chance, but for me Howard is our Number One goalkeeper and I'm glad to see him back between the sticks.
Same could be said about Bobby Mimms – he didn't concede many in the league in our 86 season but, when big Nev was fit, it was a no-brainer to bring your best goalkeeper back into the team.
Glen Garrett
181
Posted 20/02/2015 at 18:29:56
Michael Upton (#84),
If you care to look at the Premier League table, mate, you will see that Everton are only 5 points off the drop zone, yeah?
I don't know what table you were looking at, mate, but if Everton do not beat Leicester City next game are you going to be telling me that then? I take it you know who Everton have got next in the Premier League after the Leicester game? We are not going to be winning that one. Maybe you were reading the table up side down, mate.
Dave Abrahams
182
Posted 20/02/2015 at 18:43:25
Brian (180), there's an argument between Howard and Joel, there is absolutely no argument about Big Nev and Bobby Mimms. There is no argument with Nev and almost any other goalkeeper.
John Keating
183
Posted 20/02/2015 at 18:47:36
In my opinion, Howard was badly positioned for their goal and I reckon it was totally down to him.
During the game there were times when rather than do a Robles and just hoof it out he passed to players who were closely marked – a trait he has been guilty of this season though I suspect it is because of the Manager's "possession" football. He's also guilty of flapping at crosses.
He may well be our No 1 but I really think we need to look at the goalie position this close season.
Glen Garrett
184
Posted 20/02/2015 at 18:54:36
Dave, I have to say you are exactly dead right there. Big Nev Southall was without a doubt an amazing goal keeper, he won games for Everton. Everton will not get a keeper like him & if they do then he has got to be something else. We could do with a keeper like big Neville Southall right now.
The eighties... what a time that was...
Keith Harrison
185
Posted 20/02/2015 at 19:08:21
Brian (#180), I think the defence were getting increasingly confident with Robles – that is why we were keeping clean sheets. The team seemed more settled as well because Joel's distribution is far superior to Howard's in not pressurising his team mates. It is good however that we finally have a back-up goalkeeper pushing the 1st choice. I would hope that Joel leapfrogs Tim in the pecking order this summer though.
Ross Edwards
186
Posted 20/02/2015 at 19:26:58
Ant. We know. We're poor in the league. Just give it a rest until Sunday would you? If we finish 10th but win the Europa we won't care because we'd be in the Champions League as a result.
Andy Crooks
187
Posted 20/02/2015 at 19:54:12
Keith, what would be wrong with saying "We were shit earlier on", we were. Last night we were excellent, but we have been poor for some time.
Harvey Miller
188
Posted 20/02/2015 at 21:43:16
Great win for us.
Stones was stupid to commit the faul he did, but he will learn.
Lukaku is a goalscorer, 13 in a bad half-season, he could get 25 if we get going.
Still, Leicester will be tougher opponent.
Roman Sidey
189
Posted 21/02/2015 at 16:32:03
Gavin (149), The Yak's hat-trick was against Fulham in the league probably in the 07-08 season.
Can anyone definitely say that Stones will only miss one match? I assumed a straight res would be more than a single match.
Phil Walling
190
Posted 21/02/2015 at 17:10:33
Roman, the Yak did score a hat-trick in Europe – against Brann in 1997. It followed the one you refer to against Fulham, I seem to remember.
Roman Sidey
191
Posted 21/02/2015 at 17:43:17
Ah, yes, Phil. Gavin was referring to the perfect hat-trick which I left out.
---
Add Your Comments
In order to post a comment, you need to be logged in as a registered user of the site.
Or Sign up as a ToffeeWeb Member — it's free, takes just a few minutes and will allow you to post your comments on articles and Talking Points submissions across the site.
© ToffeeWeb