Everton announce summer Singapore tour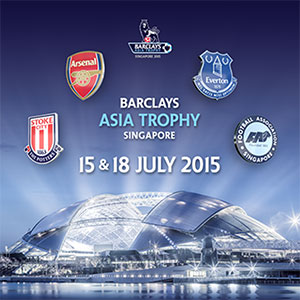 Everton have revealed the full extent of their trip to the Far East this summer with the announcement that they will take part in the Asia Trophy in Singapore.
The four-team tournament will take place between 15th and 18th of July and will be rounded out by Arsenal, Stoke City and a select Singapore XI.
It's the Blues' first involvement in the tournament for 10 years which will form the core of the club's pre-season preparations before the 2015-16 season kicks off on 8th August.
Two games will be played on each day, with a final to determine the winner and a play-off for third place. All matches will take place in the new National Stadium, which was completed last summer.
Reader Comments (37)
Note: the following content is not moderated or vetted by the site owners at the time of submission. Comments are the responsibility of the poster. Disclaimer
Saegaran Kana
1
Posted 11/03/2015 at 03:30:21
Yippeeee.... finally, after 8 years another chance to meet the mighty Toffees. COYB!!
Ciaran Duff
2
Posted 11/03/2015 at 04:34:08
From a marketing point of view it would be great if Everton could include a side trip to China to play Shanghai Shenhua (Tim Cahill's club).
Darryl Ritchie
3
Posted 11/03/2015 at 05:10:52
If the unthinkable should happen, and we finish in the bottom 3, do we still make the trip?
Jim Harrison
4
Posted 11/03/2015 at 05:22:54
Perfect timing, I fly to the UK for the summer and the blues head over here! Arse.
Danny O'Neill
5
Posted 11/03/2015 at 06:54:52
We're actually planning our pre-season. Wow!
Sam Hoare
6
Posted 11/03/2015 at 07:14:43
Good to see someone at the club is capable of learning from past mistakes. Hopefully some more competitive pre-season might have us sharper for the start of next year. Wonder if Roberto was on board and will be for this tournament?
Wally Melwani
8
Posted 11/03/2015 at 07:40:19
I live in Singapore and for years have been dreaming, wishing, hoping, praying that one day Everton make a trip to Singapore.
Now that it has been announced that they will indeed make this trip at long last, I have mixed feelings because deep down inside with the way things are going in the Premier League, the fear lingers that, come July 2015, we may just not be among the elites of the BPL anymore (biting my tongue).
It's a feeling I've not had for many years now. Lord help me...
Colin Glassar
9
Posted 11/03/2015 at 07:47:18
I hope they take some shirts with them to flog. It's easier finding a Bournemouth, or a Notts County, shirt in the Far East than it is finding an Everton one.
Denis Richardson
10
Posted 11/03/2015 at 08:47:30
Seems to be a sign that the powers that be are assured we won't go down.....can't see how we would have been allowed to sign up to this otherwise.
Jim Bennings
11
Posted 11/03/2015 at 08:53:37
Let's hope the summer is not only about pre-season jaunts though.
For me it needs to be primarily about making big decisions regarding, one, the manager and then if he is allowed to still be here, the second big decision is clearing out the deadwood, the players who are not going to offer anymore to Everton Football Club. Finally we need to spend money on signing the type of players who can offer a new dimension to this team.
Whoever the manager is, we need to make certain that better players, more equipped players are in the starting XI from the first day in August. I don't think I could sit through another season watching this central midfield to be honest.
Going to Singapore is great but let's get the house in order first.
James Kirrane
12
Posted 11/03/2015 at 09:09:21
A quote from Richard Scudamore trying to sell the tournament.
"Everton under Roberto Martinez continue to play an exciting brand of football."
When was the last time he watched us play???
Oliver Molloy
13
Posted 11/03/2015 at 09:10:08
Jim,
I do believe that Martinez will be the manager of Everton come August. However, I also believe that he will have around 10-12 games to prove this season was a blip and he has learned a lot!
If Everton are not in the top end of the table, he will be gone.

Robert Keys
14
Posted 11/03/2015 at 09:42:49
Planning to go to Singapore for these games, only 6 hours from here in Adelaide.
Could anybody make a guess as to where the team will be staying? It would be great to book in to the same place!
John Keating
15
Posted 11/03/2015 at 10:29:14
Robert,
The way these tossers are playing it'll probably liven them up to stay in Orchard Towers – the 4 floors of whores might see them at least move.
Failing that Bugis Street – might make them run!
Matt Traynor
16
Posted 11/03/2015 at 10:37:41
Robert, hard to say - depends which hotel offered them the best deal (i.e. free). When the Aussie squad were in town in 2007, they stayed at the Amara Hotel in Tanjong Pagar. And they still insisted we had a car and driver to take Tim Cahill out to meet the Everton fans, a five minute walk away (I guess he was still recovering from one of his metatarsal injuries).
Anyway fortunately for us the head of BMW in Singapore at that time was a fellow Blue...
If it's down to us to pay for it, take your pick from any Hotel 81.
Jim Bennings
17
Posted 11/03/2015 at 11:21:23
James Kirrane
It does amaze you that the media clearly still subscribe to this "attacking football" line. I have seen less attacking football this season than I did in some of Moyes's worst years in charge.
Oliver, I am slightly worried that you might just be correct about Martinez still being here then. I do think a hell of a lot is going to depend on how we finish this season though.
A manager can be in charge of a team that has a blip that lasts a couple of weeks, even a bad few months, but this has been an entire season where he has refused to budge on these principles that clearly don't work anymore.
Only time will tell.
Liam Reilly
18
Posted 11/03/2015 at 11:47:20
Barring relegation (which I'd seriously doubt even now); RM will be the Everton Manager in the summer.
Personally I'm not too surprised about this season in the PL: 2nd season syndrome. Last season, it was predicted that Everton would struggle post Moyes and opposing teams played a far more attacking formation against the blues.
This season has seen an unfit start caused by a poor pre-season (solely RM's responsibility and he should be honest about that) but has also seen opposition adapt their style to combat Everton's strengths. No surprise we are better equipped away from home than at Goodison.
Let's get behind the team for the remainder of the season; I'd take bottom half for a crack in the Europa League final and give RM the 3rd season to see which one was the fluke.
Bulletprroof vest on.
Craig Rowan
19
Posted 11/03/2015 at 11:56:56
Robert, I would say that the players would probably end up at the Marina Bay Sands hotel...... If you want my recommendation for a hotel I would suggest the Hotel Fort Canning.
Jim Bennings
20
Posted 11/03/2015 at 11:58:38
Liam
Maybe not so much a bulletproof vest you need, perhaps just allow me to ring a few places to find a padded cell for you.
Liam Reilly
21
Posted 11/03/2015 at 12:22:24
Ha Jim,
Yep I know I'm in a small minority but the football last season was a joy to watch. I remember being proud to be a Blue when we played at Arsenal last season (in the league). That football flowed with a confidence not seen in years.
This season has been pale shadow of that; except in Europe and again I don't think there's any surprise there, because the onus is on the home teams to win the games and that leaves holes. That doesn't happen in the Premier League; Leicester and others would take 38 point and 38 draws if you offered them.

Jim Bennings
22
Posted 11/03/2015 at 13:11:00
I do like your optomism, Liam, but for me the only way we can get ourselves sorted out next season is if Martinez learns to be more flexible. It's no coincidence (and it's not just second season syndrome) that we have performed so poorly. It's because Martinez failed to compensate that managers of all the other clubs would devise a simple plan to stop Everton doing what they were successful at last season. If anything, Martinez has been very guilty of naivety and complacency this season.
Last season, two major factors helped us be quite successful in winning games:
1) I believe the players, at least the vast majority, were quite physically fit after working with Moyes for so long (Moyes was known as being a stickler for physical fitness) hence why we seemed to finish matches so strongly throughout the best part of the season.
2) Surprise element.. Quite possibly teams were surprised that Everton adopted a more possession-based style, a much slower patient style rather than the faster football preferred by Moyes.
Teams seemed content to let us "play from the back" and it perhaps surprised them that we could hurt them playing that way... but, this season, most sides have learnt that all you need to do is press us high up and don't give us time or space in which to maneuver and manufacture attacks.
This for me is where Martinez has failed dismally. He has failed to surprise the teams that were surprised themselves by us last season.
The biggest test for the manager was always going to be answering the new questions that were going to be asked of him and his team this season.
Liam Reilly
23
Posted 11/03/2015 at 14:01:38
I'd not disagree with much of what you say Jim. I also agree that RM has a lot to answer for and he needs to adapt his approach to counteract the changes in style adapted by PL opposition this season to stifle our play.
But I would argue; that based on his first season and the football that his side produced; he should be given time. At the very least; the time for another pre-season and a the first 10 games of the new season to see if he can learn and adapt.
I have faith; although that said; I've been wrong before.

Gerard Carey
24
Posted 11/03/2015 at 14:01:37
Liam, I would take 38 points right now if it was offered.
Paul Ellam
25
Posted 11/03/2015 at 13:22:47
"Europa League Champions and Champions League representatives Everton attend the Asia Cup" has a certain ring to it. Beats "Championship Everton attend the Asia Cup" anyway!
Fingers crossed.
Jim Bennings
26
Posted 11/03/2015 at 14:30:40
Liam,
To be honest, I like Martinez as a man, I was desperate to see him succeed when he got the job and he comes across as a decent fella who is very approachable.
I do feel he has failed this season and he has spoken an awful lot of garbage, possibly due to feeling so much pressure due to the shocking results, he has looked like a man under pressure lately and you can also feel it in his interviews by the words he speaks.
I'd love him to come up with a way of getting the results he got last season and show not only us Evertonians but the rest of the Premier League as well that he is a very clever manager that will not be out-foxed so easily.
I don't expect him to come out publicly and confess that his possession philosophy has been totally sussed out now, but I'd like to see him shock teams and show them that Everton have found a new way of surprising teams just like we did last season.
Perhaps this is made even more valid a point by the results in the Europa League?? The European sides we have faced are in the same boat as the vast majority of the Premier League last year. They haven't had much time to do their homework on us, don't know yet how to stifle what we do/did well last season.
The difference between the Everton in Europe to the Everton in the league has been amazing. Let's see what Dynamo Kiev have researched tomorrow!
Victor Jones
27
Posted 11/03/2015 at 15:09:10
Good to see that someone has the good sense to arrange a few (maybe) testing pre-season matches. Maybe, just maybe get the squad fit and ready to go. And maybe, just maybe we can start next season's Premier League campaign on the front foot.
And yes, I say next season's Premier League. Even though the team have still to play their way to safety. I think that we will just about be okay... Just. And that will be in spite of Martinez's efforts. Because I fear that the man is floundering. He is grasping at straws. He is losing the plot. And yes, as you all can guess, I am not convinced by him or by his substandard efforts this season.
At least this group of matches should give the players a chance to get properly match fit. And be more beneficial that playing the likes of Tranmere Rovers. Although right now they would be hard pressed to beat Tranmere.
Just a last point on last season. Yes we managed 72 points, but we still won nothing. The FA cup was there for the taking, but Martinez and Everton fluffed their lines. And as for this wonderful flowing football that some people like to mention. That IMO is a myth. Everton played well in about 6 games. They also managed to win a number of games by the odd goal. A few of those games could have gone either way. I know. I sat through a few of them. The wins against Cardiff City and West Ham spring to mind. We are not winning those close matches this season.
Just an early comment on Thursday's game: I hope we win. But right now, if it was a toss-up between a win on Thursday or on Sunday. Guess what? I'd take the win against Newcastle every time. We need wins. We cannot keep relaying on other teams losing. We are not safe yet.
Far too much needed IMO to put things right. Far too much for me to mention now. But a bit of forward planning is always welcome. Here's hoping that Martinez has some sort of a plan in place for the rest of the season. One that actually works. Or is that just wishful thinking? FOREVER EVERTON.
Jim Bennings
28
Posted 11/03/2015 at 15:55:35
Victor, do you think the football played under Martinez is actually any better than under Moyes?
It's just recently I was watching a highlights DVD the other day from the latter part of the 2011-12 season and I have to admit I was kind of shocked to see how well we were playing at that time.
That period is of course negatively remembered for our Wembley defeat to the Shite in April but our league form was bear sensational with the return of Pienaar just complimenting Baines with Jelavic and Fellaini thriving.
We scored four goals in three matches in April, including a 4-4 draw at Old Trafford and beat Champions League chasing Newcastle 3-1 at Goodison on the last day.
I think from about 2006 onwards, when Moyes started signing better players, the football style did improve. Players like Arteta, Pienaar etc produced some mesmerizing stuff during 2007-08 and I recall one year at either Ewood Park or Man City, Paul Merson saying Everton were knocking the ball around like Barcelona.
I'm probably now more reflective on the Moyes era because this season has gone pear-shaped fair enough, but I'm trying to contrast the two difference between Martinez's at times soft, slow, and a tad meek Everton to Moyes's more frenetic "no-one bullies us" style.
To be honest, we could really do with a bit of both.
At times, Moyes came very close, when he had the quality playing staff, to getting a team that would not be bullied yet also could play better football than it was given credit for at the time.
It all comes down really to Martinez and that word "flexibility" again, doesn't it?
Victor Jones
30
Posted 11/03/2015 at 16:01:32
I have to agree with all of Jim's comments. I also sort of like Mr Martinez. He is most definitely not one of these "thick as pig shit" sort of managers. We all know the belligerent type.
But is he right for Everton? Did he get lucky in a few games last season? Is this only second season syndrome? Or is this the real Martinez? Will he ever get a Plan B? Will he ever improve? Will Everton ever win another PL match? (only joking).
Can anyone tell me what exactly does G. Jones does. Will Martinez ever talk sense? Will big Duncan Ferguson ever smile? Will Barkley ever make a forward pass? Will Robles get another game this season? Will Lukaku ever trap a ball? Will Baines ever regain his crossing skills? And will he ever manage to take a corner that reaches the box? And will Barry ever not get booked? And will I ever stop typing this nonsense?
Okay, you all get the message. Far to many questions. And so far this season, no bloody answers.
Rant over. Back on topic. Good to see a proper tour planned. Let's hope they all use it to everyone's benefit.
Victor Jones
31
Posted 11/03/2015 at 16:31:57
Jim. Some of the football under Moyes was bloody awful. But I also remember a number of games were Moyes's Everton actually dismantled a few teams. Sunderland for example. There are others. I often wanted Moyes to be mose adventurous. Be more attacking. But no. He always reverted to type. But right now I would welcome his (lets get 40 points ) approach. You never appreciate what you had until its not there.
My problem with Martinez is that I think that this is actually a very good Everton squad. I was really hoping for better this season. And his tactics, and his philosophy and his lack of a plan B , has stunted this team. Look at how Barkley, Baines and Coleman have performed this season. That's down to the manager.
The football under Martinez is awful. But that is what you get with a manager that has a relegation on his CV. I firmly believe that this squad will be right up there challenging if they had the right man in charge. But I fear we will need to be bottom three before BK wakes up.
Sorry people, this is all of topic. But will Everton ever get things right? And a new owner is not always the answer. Look at Blackburn and numerous others.
But I do believe that the right manager could do wonders for Everton. And that is not Martinez, IMO. But who is.? We might need to poach a proven winner. But has BK got the balls to do that? I'm not convinced.
Tim Michael
32
Posted 11/03/2015 at 17:00:52
Singapore and the Asia Trophy is a million miles away at the moment. There's the small matter of making sure that we are in the most lucrative tournament in the world next season – the Premier League!!!!!
Jim Bennings
34
Posted 11/03/2015 at 17:39:24
Victor
I agree with you. Martinez has his philosophy and his principles, he is never going to stray from them, that is blatantly clear and obvious now; good for him, but like you I just don't think he is going to be the right manager for my club.
The philosophy and playing style he want's is suited to the Spanish league and I believe he would be fantastic at somewhere like Bilbao or Villarreal.
The Premier League is frenetic, quick paced and teams are just not going to give you time and space to knock the ball around like playing on a Far East beach in July.
Martinez doesn't seem to have grasped this. He still believes that this patient build-up is going to all of a sudden pay dividends but how many goals have we scored since Christmas?
Do we even look remotely like a team going forwards? I think sadly the answer is no.
Andy Meighan
35
Posted 11/03/2015 at 17:44:30
I'm with Tim(# 32), the timing of this is all wrong. Yes, by all means get the pre-season schedule sorted early, especially after last season's fiasco. But this could've been kept in house at least until we get the required amount of points to ensure our safety but the way were playing you wouldn't bank on that.
These players who have so woefully underperformed all season must be pissing down their legs at us fans. A nice working holiday to the Far East, all expenses paid, staying in 5-star accommodation.... what a life, hey rewarded for failure. And before anyone comes on and berates me for not mentioning the EL, I believe me we won't win it; not good enough, end of.
Paul Dark
36
Posted 11/03/2015 at 18:21:02
Stoke? That should mean handful of pre-season injuries. I think Stoke should be chucked out of the league. They're an utter disgrace: cheats and charlatans.
Let's hope Martinez is gone by then.
Phill Thompson
37
Posted 11/03/2015 at 21:42:15
Well there are worse ways of earning some money – I've just had a good laugh at the RS "Nivea Men" commercial. You just know they'll be back at Wembley... wearing white suits again.
Liu Weixian
38
Posted 12/03/2015 at 01:56:52
If we are relegated, Everton will probably be staying in a cheap hotel at Geylang Lorong 24 because without the money from staying in the Premier League, we will be absolutely skint.
Dave Cook
39
Posted 12/03/2015 at 02:07:47
@Lui, I don't think that will change even if we survive, win the Europa League and sell Barkley for 㿞 million.
Matt Traynor
40
Posted 12/03/2015 at 03:02:46
Weixian #38, at least there they'll find some new fans who love them long time.
---
Add Your Comments
In order to post a comment, you need to be logged in as a registered user of the site.
Or Sign up as a ToffeeWeb Member — it's free, takes just a few minutes and will allow you to post your comments on articles and Talking Points submissions across the site.
© ToffeeWeb