Barkley needs a summer break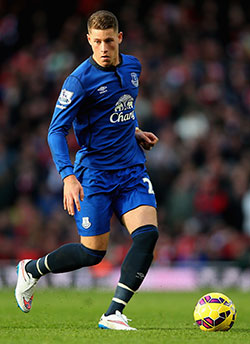 (Paul Gilham/Getty Images)
Roberto Martinez has cast further doubt on Ross Barkley's involvement in the Under-21s European Championships with England by suggesting that the 21 year-old needs "a proper break" this coming close season.
Barkley's astronomic rise to prominence during Martinez's first season in charge was followed by a call-up to the World Cup in Brazil last year and his club manager is making no secret of his belief that playing for the U21s now would be both a retrograde step for the player and an impediment to the advancement of other young England players.
Barkley has been selected by Roy Hodgson for the senior squad for the forthcoming Euro 2016 qualifier against Lithuania and the friendly in Italy but he remains a candidate to join Gareth Southgates U21s in June's tournament in the Czech Republic.
After missing the first two months of the current Premier League campaign with a medial knee ligament injury, Barkley has struggled for form and consistency for Everton but he showed flashes of brilliance in the ill-fated Europa League second leg in Kyiv that have reinforced Martinez's belief that he needs the biggest stages to bring out his best.
"What Ross brings is the bigger the occasion, the bigger the performance and bigger the response," he told the Liverpool Echo.
"What was pleasing last Thursday night was to see the 'old' Ross getting away from people, being so threatening with his forward pass and getting his shot away with either foot.
"He hit the post with his left foot and with his right foot. I loved seeing the signs of the old Ross appearing.
"We need to look after him and make sure he has that sort of standard for the rest of the season and has a proper break in the summer.
"Do that and we will have a player completely new for next season after the experiences he has had this season."
Quotes sourced from Sporting Life
Reader Comments (52)
Note: the following content is not moderated or vetted by the site owners at the time of submission. Comments are the responsibility of the poster. Disclaimer
Colin Grierson
1
Posted 24/03/2015 at 15:38:56
I think Ross should ignore his boss and go off on an adventure with a group of lads his own age to showcase his talent and have a good laugh. Harry Kane, a shoe-in for the Young Player of the Year award, can't wait for the tournament. I would think he figures in the senior squad ahead of Ross at the moment so why should Ross not go? It
is
a big occasion, it's just that the likes of RM, some other managers and some pundits devalue it.
If we get another 3 points soon then the rest of our fixtures will become relatively meaningless. Why not rest him then and let the lad go and represent his country at a major international tournament?
Free of the constraints placed upon him at Everton this season, Ross may re-find the kind of form he consistently showed for us last season. If he's picked then he should go IMO and it should be down to the player and have NOTHING to do with the manager.
Dave Abrahams
2
Posted 24/03/2015 at 16:15:19
Colin agree, let Ross go, play and enjoy the tournement, it's us supporters who need the break.
Tony Cheek
3
Posted 24/03/2015 at 16:24:33
Definitely exactly what the lad needs. Dont listen to him, you really need this, go and show them who's boss Ross!
Helen Mallon
4
Posted 24/03/2015 at 16:25:14
Totally agree with the above, let him go to the tournament it will do him good.
Chris Corn
5
Posted 24/03/2015 at 16:35:08
Totally disagree. He is selected for the senior side, so why should he be expected to turn out for the U21's?! It is a feeder side. In my opinion, the reason the top international European sides do well is because they turn out better players at club level, not because they have all played for the 21's.
If a rest benefits Barkley and Everton then I'm all for it.
Tony J Williams
6
Posted 24/03/2015 at 16:47:48
Difficult to choose.
On one hand I am all for having a full off season on his jollies but then think that the lad needs to give his confidence a boost and the U21s might do that for him.
Patrick Murphy
7
Posted 24/03/2015 at 16:51:27
There's a few of our players I'd give an extended period of rest to recharge their batteries and prepare for next season - once we are mathematically safe. As for Ross, if he did go to the tournament and he is outstanding we may have to fend off the money-bags clubs to keep him at Goodison. So like Tony J I find it difficult to say what is best for him - whichever it is I hope he rediscovers his true form sooner rather than later..

John Gee
8
Posted 24/03/2015 at 16:57:30
If Ross plays well next season he'll be selected for the Euro's, that means he would have broken through to the first team in one season followed by a summer tournament followed by his second season and then U21's, followed by his third season then the Euro's. What happened to worrying about young players burning out?
If he plays well in all that time he'd likely be off somewhere else and the media wouldn't give a fuck about if he's injured for friendlies but fit for competitive games and that he played without a rest the entire time he was in the Everton first team.
Fuck the U21's, fuck woy and fuck England. It's all a corporate scamming, fan fleecing, scapegoating, tapping up media circus that is designed to suck the money and joy from football fans with its best seats reserved for the Tarquins and Tobys and never ending substitutions.
I wouldn't be unhappy if he never went near woy (mascherano is the world's best player) Hodgson and the rest of those quarter final fucktards.
Paul Hewitt
9
Posted 24/03/2015 at 18:20:14
And we need a permanent break from Martinez.
Dominic Tonge
10
Posted 24/03/2015 at 18:31:24
What's the bother, it will be at best 5 games, we ain't going to win it. Ross has missed lots of game time and a change of atmosphere might bring about a change in form. On the other hand, tapping up ahoy at England get togethers so might get his head turned
Jim Hardin
11
Posted 24/03/2015 at 18:37:16
I think going would be good for him. What is wrong with him hanging out with other young players, representing his country, and maybe finding the fun in the game again? Plus, it may be one of the few tournaments he gets to play in if RM remains at Everton.
Danny Broderick
12
Posted 24/03/2015 at 18:28:15
He's missed most of this season! He could do with the games! He needs to find his form again. He should go. Young footballers need games. He'll be on the bench again for most of next season unless his form improves. He has to go.
Martin O'Sullivan
13
Posted 24/03/2015 at 18:59:10
Let him play!!! Great for him to go play in a tournament!!
Classic club v country stuff. He should do whatever he wants and not listen to Bobby!!!
Bill Gall
14
Posted 24/03/2015 at 19:10:46
He has to go as he may be coached into playing in his correct position and develop into the player a lot of knowledgeable people in the game believe in. Martinez may be worried if he is played some of the England coaches may see how he has ruined his confidence and progress.
Colin Glassar
15
Posted 24/03/2015 at 19:22:19
I agree with the majority. He should go and enjoy his football.
Mike Gaynes
16
Posted 24/03/2015 at 19:24:35
Geez, I knew somebody (thanks, Bill Gall #14) would come up with the crapola about Martinez ruining his confidence. Of course, before that it was Moyes ruining his confidence. Before that, it was the aftermath of the broken leg ruining his confidence. Before that....
Deary me, let's not hold the poor little lad responsible for his own performances. After all, he's only 21, barely out of his doidies. By all means, let him go off and be "coached into playing in his Correct Position"... which in Barkley's case would be Upright With Head Out Of Ass. Maybe he'll learn to actually put in a strong, consistent, confident effort. You know, like a grownup.
Bill Gall
17
Posted 24/03/2015 at 19:56:39
You're welcome Mike, but despite your opinion of Barkley as I stated there is a lot of people who are knowledgeable in the game have a firm belief in his abilities. As far as your comments, like a grown up, I have met lot of 21-year-olds I would never consider grown up .
Guess that is what TW is for, as we all have our own opinions.
Mike Gaynes
18
Posted 24/03/2015 at 20:03:52
Bill, there are definitely a lot of people who believe in Barkley. The problem is that Barkley doesn't appear to be one of them. You blame that on Martinez (and presumably Moyes), but let's not forget that senior teammates Pienaar and Jags have publicly called him out for needing to put in a more consistent effort. Stones is less experienced and less heralded, but nobody has had to kick him up the ass in public or coddle his confidence. And his progress has been rapid and obvious, much more so than Barkley's.
The one who needs to commit to Ross is Ross. He's a big boy now. Everybody knows the talent is there, but he isn't going to succeed or fail because of Martinez, or Hodgson, or Southgate, or anybody else you want to blame. The only guy who can make Barkley a star is Barkley. And he's the ONLY one to hold responsible if he doesn't achieve it.

Dave Ganley
19
Posted 24/03/2015 at 20:11:34
Well Mike (#16), I guess after being told all season how brilliant he is and how it's okay to make as many mistakes as you like and then find out, actually you're not that brilliant and the fans don't like you making mistakes, then probably the best thing for Ross is to go away with lads his own age and for him to play in his own position and regain some battered confidence that out glorious manager has destroyed piece by piece this season.
Bill Gall
20
Posted 24/03/2015 at 20:31:50
Question Mike – as you say the only one who is responsible for Barkley's progress is Barkley. Then, if a coach or a coaching staff member has watched his progress from the start, what do you believe that his correct position should be as he seems to be tried in different formations?
The only thing I blamed Moyes for was dropping him after he made a couple of mistakes and at that time he was not the only one. I believe that even you can see that this season there is a number of players who have lost confidence in the way the team is playing so who's problem is that?
Andy Williams
21
Posted 24/03/2015 at 20:44:42
I think Ross's problems stem from a combination of Hodgson and RM. He came in for a lot of stick for his decision making (from RH and the media) when on England duty. That combined with RM's attempts to knock every shred of footballing instinct out of every player has wrecked his confidence.
Mike Gaynes
22
Posted 24/03/2015 at 21:03:22
Andy Williams, gee whiz, maybe he's getting stick from ALL his managers for poor decision-making because his decision-making is actually poor? Nah.
Bill, I think his best position physically is where he played against Kiev... behind the striker... but I don't think he has the brain or the instincts for it. He commits to his decisions too early and stares at where he's going with the ball, and he can't adjust quickly enough when defenders anticipate him, so he loses the ball. Several folks on the TW forum last weekend were speculating that he eventually winds up as a striker, and given his explosive physical abilities and ferocious finishing, that's an intriguing possibility -- his reactions would be more important than his thinking.
Regarding your question about this dismal season, I think the manager and the players are equally to blame. The dropoff in performance from last year is everybody's problem.
Helen Mallon
23
Posted 24/03/2015 at 21:21:31
Chris corn, most of the German side that won the World Cup all played and won the Under-21 cup all playing together in the same side. As did the Spanish lads before that.
Playing tournament football will do him the world of good. Those of you saying he needs to rest, really. He has hardly played this season and his World Cup was a none starter as Woy never played him in Brasil.
Mike Allison
24
Posted 24/03/2015 at 21:34:21
He's had plenty of breaks this season when he's not been picked.
England should pick the strongest possible side and go to that tournament with the intention of winning it. Otherwise it is a waste of time and mediocre players will continue to roll off the treadmill into a mediocre England side.
Barlkley should want every possible footballing experience that can add to his development.
Bill Gall
25
Posted 24/03/2015 at 21:25:13
Thank you, Mike, it is always nice to hear decent opinions from people that do not have to resort to foul and abusive language to make their point. IMO, if he plays behind Lukaku, Everton have to have wide players for an outlet or as I have been saying for at least the last 3 seasons a quality midfielder to provide service to the forwards.
Intriguing idea to use him as a striker; if Lukaku and Kone are out for a while, it may be an option instead of Naismith
Alastair Donaldson
26
Posted 24/03/2015 at 21:13:58
He's certainly not been helped this year with injury and then playing in a number of different positions. On his decision making, surely some advice about what to try based on where you are on the pitch at any given moment is being communicated to him?
I think he should go to the U21s who are probably better than the full side anyway and he might win something!
Still, glad he's a Blue.

Andy Williams
27
Posted 24/03/2015 at 21:59:20
Mike, he is an instinctive player and last season his instinct generally served him, and us well. However, Hodgson's criticism was very publically displayed whilst RM appears determined to turn our players into a team of automatons.
His decision-making can undoubtedly be poor at times but he has obviously not been handled in the way he needs to be. Good man-management should not turn a player who was the envy of all in the league last season into the mess that he is now
Mike Gaynes
28
Posted 24/03/2015 at 23:23:40
Bill (25), that was my first thought as I saw the other two limp off minutes apart. Remember Cahill and Fellaini? God that was fun. Wonder if RM will give it a shot.
Bill Gall
29
Posted 25/03/2015 at 02:05:25
Yes, MIke, but what are the odds in him doing that? Although the possibility is there as it would not be the first time he has played players out of position i.e. Lukaku against Arsenal on the right wing.
Harold Matthews
30
Posted 25/03/2015 at 02:28:54
He's certainly got problems. Too big and heavy to chase around like Besic, McCarthy and Naismith. No low centre of gravity like Silva and Iniesta. What he does have is technical ability, physical power and a mighty shot in both feet.
As Mike says, the lad needs to grow up, show more fight and determination, and get himself into the box. The awareness, skill and pace when he ran on to the Atsu pass to slot the ball home was an illustration of his capabilities. Sturridge does it across the park. Barkley could do it for us. I'll bet he wouldn't miss many sitters.
Ian Jones
31
Posted 25/03/2015 at 06:06:29
I am in the camp that says he should go. Unfortunately he takes the place of someone who helped England U21s qualify etc.
As for him having a break, he appears to have taken a break during games as well so should be fresh.
Ray Morgan
32
Posted 25/03/2015 at 07:21:14
I will tell you the answer to "Burn-out" — pay the players by appearance. It would then be a thing of the past. Never heard of it in my day back in the 60s.
Adam Luszniak
33
Posted 25/03/2015 at 07:17:05
After the pre-season we had last time round, and the fact that I don't see the point in going from full England first team, back down to U21s, I'd say don't send him. Rest him.
Many comments on here saying Martinez has coached the confidence/instinct out of the player. I just don't see that. Martinez has many failings but as far as I can tell he's let Ross play how he wants to play and encouraged risk taking. Yes, he has been played on the left or the right of a front 3, and been ineffective there. Don't see that as Martinez's fault when the alternatives have been an injured Pienaar or McGeady for much of the season.
Dave Abrahams
34
Posted 25/03/2015 at 08:15:31
I like Ross and expect him, in the future, to become a consistently good player, but he has the ability to be a consistently great player. It's all down to himself, he certainly is a very slow learner and maybe it's because he hasn't got a football brain; this was the reason put forward by a well respected former Everton player and coach.
Geoff Evans
35
Posted 25/03/2015 at 08:35:33
Can imagine people trying to stop Alan Ball playing any football match.
Jim Bennings
36
Posted 25/03/2015 at 08:32:15
Not too sure I agree with getting selected for the U-21s again after you have already been to a major tournament with the senior squad. If anything, it probably harms the younger lads' hunger and desire to put in a real shift at the U-21 level.
I'm not sure that going this summer will truly do Barkley much good in the long run. I'd much rather see him managed far better by his club and find the form he had last season.
Jim Bennings
37
Posted 25/03/2015 at 08:46:33
Also, I think the structure of the U-21 football needs looking at better than it currently is. It's called Under-21 football but Barkley turned 21 before Christmas, it should be a select group between the ages of 17-20 in my opinion and once players turn 21 they should no longer be eligible for this squad selection.

Colin Grierson
38
Posted 25/03/2015 at 08:50:46
Ian # 31
He can take Tom Ince's place. He has 'retired' from international football I believe.
Sam Hoare
39
Posted 25/03/2015 at 08:56:00
My first thought was 'send him' it would be good for his confidence. But actually Ross looks so jadeda nd if he were to go then mjuch would be expected of him. What if he has a shocker and ends up being replaced by some Championship nobody?
I think actually what Barkley could use is a good rest, a nice holiday and 6 weeks of having no pressure to perform that will allow him to relax and rejuvenate mentally.
It's the expectation that is weighing him down in my opinion and a Summer Tournament would only add to that. Let the kid have some downtime and re-focus.
Phil Walling
40
Posted 25/03/2015 at 09:26:15
A few months ago, I asked 'What do you do with a player like Ross Barkley?' In over a hundred responses, some people said play him every game, others suggested a mid-season break for him. Some said he was a genius waiting to flourish, others 'Simply take the money!'
I've never begrudged the player his full England caps but to me he has never looked quite ready for the honour and I can think of no International he has played in which he has made a real impact.
For me, the appetite for action of Harry Kane – who has left Ross for dead in the development stakes – is the one to be admired but if his manager says he should skip the U21s then that is what he will have to do.
Of all the youngsters I have seen in 50 years, Ross has received most acclaim. Perhaps next season he will realise it. Perhaps.
Phil Walling
41
Posted 25/03/2015 at 09:54:44
ps: My memory tends to block out Wayne Rooney - his leaving us was my biggest regret. In Barkley's case, I meant to say that we have never waited so long for 'promise' to flourish!
Max Murphy
42
Posted 25/03/2015 at 09:57:44
For some reason – I am totally not interested one way or the other.
Max Murphy
43
Posted 25/03/2015 at 10:03:09
Phil #41 It was a "banker" Rooney would leave!!!
Phil Walling
44
Posted 25/03/2015 at 10:11:15
Of course you are right, Max, but it didn't stop us being sad about it's inevitability.
I guess it says all about how insignificant – outside our hearts – this great club has become.
Derek Thomas
45
Posted 25/03/2015 at 10:28:13
Given our powder puff pre-season and low key training. any football he gets in June & July will be a bonus.
Slightly off topic: I think that the poor pre-season was some of the cause of the poor Barry... at his age he needs to give it heaps in the pre-season and just keep limber and ticking over. The games will give him all the hard work he needs – or can take
Max Murphy
46
Posted 25/03/2015 at 11:06:59
Sorry Phil (#44) - I was trying to be clever.
Phil Walling
47
Posted 25/03/2015 at 12:03:13
Good one, Max! I had just been in a telephone altercation with said bank and my thought process must have been blaming it all on Ross!
Mark Andersson
48
Posted 25/03/2015 at 11:13:05
Fascinating debate, all post have a valid argument. However I can't take anything Martinez says seriously.
One thing we should have all learnt this season, is simply Ross at 21 is not fit enough to have laced the boots of a 16-year-old Rooney. Rooney had more skill, desire, and arrogance, shame it was not the other way around. Because we needed a player of Rooney's appetite this season.
Philip Yensen
49
Posted 25/03/2015 at 16:20:31
There have been many young players with outstanding ability. What I don't see in Barkley is vision, strength or stamina, his all-round play is sloppy. I have a feeling he will end up like Franny Jeffers. There is a suggestion that he has a free role, no that gives him licence to drift in and out of a game.
One chance I'd give him now is centre forward especially wth Luk out for a couple of weeks. Let's stop wrapping him in cotton wool. In my early twenties I played Saturdays, Sundays, trained twice a week with both teams and 5 a side league midweek while in full time work. I don't see how a young man needs to rest or have any other reason not to go on the pitch and give his all in every game. Oh, yes and there are the unbelievable wages he is on.
Christopher Kelly
50
Posted 26/03/2015 at 02:41:50
We may look back and say the day Rooney was sold was the day Everton died??
Maybe a bit OTT admittedly but we'll see how the history books get written.
With Barkley, he's such an enigma it's tough to say what is right. My feeling as a former athlete is to give him a mental recharge. None of us know the pressure he's under so I can only assume it must be immense beyond most measure. Let the lad live for a summer and come back stronger.
Brin Williams
52
Posted 28/03/2015 at 19:31:43
The heading said – Barkley needs a Summer break.
Don't we all!!
Brin Williams
53
Posted 28/03/2015 at 19:33:06
Chris K (#50), "None of us know the pressure he's under, so I can only assume it must be immense beyond most measure."
You're probably right there mate, the pressure of having all that wealth at such a young age without any financial nous and with the inner knowledge that he is taking us all for a ride and will sooner or later be found wanting – must be very worrying.
I know that sort of pressure would worry me shitless!! There's an old saying: If you can't stand the heat (pressure) get out of the kitchen!! Time for him to grow up and start delivering.
---
Add Your Comments
In order to post a comment, you need to be logged in as a registered user of the site.
Or Sign up as a ToffeeWeb Member — it's free, takes just a few minutes and will allow you to post your comments on articles and Talking Points submissions across the site.
© ToffeeWeb