Gibson out of Ireland qualifier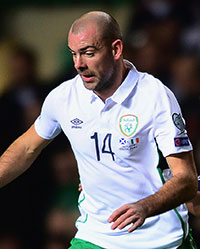 Darron Gibson has been forced to withdraw from the Republic of Ireland's Euro 2016 qualifier against Poland on Sunday because of injury.
The midfielder went down needing treatment after taking a knock at Queens Park Rangers at the weekend but was able to finish the match despite initial fears he had damaged his troublesome knee.
Gibson has been unable to train with the Irish squad this week because of a different issue, however, with reports suggesting he has a groin strain.
He was hoping to play for his country for the first time since the autumn when he was forced out of the qualifier against Scotland but will return to Finch Farm for further treatment with a view to being fit for the visit of Southampton in the Premier League on 4th April.
Reader Comments (35)
Note: the following content is not moderated or vetted by the site owners at the time of submission. Comments are the responsibility of the poster. Disclaimer
Terence Tipler
2
Posted 25/03/2015 at 16:57:45
Here we go
Oliver Molloy
3
Posted 25/03/2015 at 16:59:20
I feel sorry for Gibson. It just seems to be more of the same all of the time.
He gets fit ( or so we think ), plays 3 or games, breaks down and the process starts over again.
It is a real shame for all concerned.
It seems his body just isn't up to the demands of the premier league.
Brian Porter
4
Posted 25/03/2015 at 17:03:39
Just when we thought he was injury free and starting to show his importance to the team, yet another injury problem. Let's all hope this is nothing serious and he can be fit in time for Southampton. Get well soon Darron.
Andy Mack
5
Posted 25/03/2015 at 17:04:35
Thats unexpected. Come on Gibbo man, surely another injury would call for some kind of contract nullification. 3 years and about 1 seasons worth of games. We need a crock clearout.
Tony J Williams
6
Posted 25/03/2015 at 17:17:05
Well that's a fecking big surprise........
Kevin Jones
7
Posted 25/03/2015 at 17:14:59
Andy. Gibbo gets injured playing football for Everton / Ireland. He doesn't fall out his loft, or walk into the back of a ladder, drop aftershave on his foot or, or even, and this takes the fecking biscuit, move a sign saying "do not play here" and the fall over said sign.
Imagine how frustrated HE must feel about these injuries. It's a crying shame because, as with Joey Parkinson before him, with a few injury free seasons he would be an absolute legend for Everton
John Audsley
8
Posted 25/03/2015 at 17:46:57
Kevin Jones.
Nail on head.
Ben Howard
9
Posted 25/03/2015 at 17:53:10
It's such a strange one. He comes back from a long lay off and immediately shows his worth to the team. You'd expect some rustiness, but he seems to always hit the ground running. I obviously feel so sorry for the lad but we literally can't afford to carry him. If he didn't have a glass body he'd still be at Man United and pulling the strings for them, I'm sure.
Chris Williamson
10
Posted 25/03/2015 at 17:56:37
Very frustrating for the poor fella - and the fans. What did he cost us? Is he the six million dollar man?
Ben Howard
11
Posted 25/03/2015 at 17:58:34
Further to my comments above I also think there has to come a time when you commit fully to your club. Should he even be considering playing for Ireland? Sorry to any irish fans that might offend but I'd say the same thing if he was English .
Minik Hansen
12
Posted 25/03/2015 at 18:04:11
Ben Howard, aren't you busy on your I Forget Where We Were tour?? :)
Gibson and Oviedo I believe have made difference on those occasions they were involved in the games, they seem to be the once that brings desire real desire.
Let's hope Gibson have inspired enough to push his teammates forward, though he just might be back real soon?
Peter Healing
13
Posted 25/03/2015 at 18:32:30
Unreliable. One of many reasons we are shit.

Eugene Ruane
14
Posted 25/03/2015 at 19:01:02
Peter (13) - Mirallas is unreliable (his fault), Gibson is injury-prone and/or unlucky (not his fault).
(Is there any more petulant act than getting angry at a player who gets injured?)
Ian Brandes
15
Posted 25/03/2015 at 19:09:51
Rather he was fit for us than his country. He has been dogged by injuries sadly, and if this signals a long lay off, then perhaps the club should claim the insurance if it is finally a career ending injury.
The tragedy is that he is a great player for us when fit, but the latter is not that often.
James Flynn
16
Posted 25/03/2015 at 19:09:30
Christ! Again? Really too bad. What a fine player Gibson is. Really too bad.
What the hell, if his legs were good all along, he'd still be at ManU.
If he's healed in the next 2 weeks, would like him straight in. Even if it's to showcase him for potential buyers. What with Barry's 3-year contract and all.
Brian Hennessy
17
Posted 25/03/2015 at 19:38:27
I'm going to stay positive on this one and hope this is just a minor set-back.
Maybe Gibson is just being ultra cautious given his past injuries while playing for Ireland. I wouldn't be surprised if he is back within a couple of weeks.
Chris Williamson
18
Posted 25/03/2015 at 19:49:59
Didn't Reidy have a succession of injuries until his later years ... then we took a risk and around 28 they cleared up and he blossomed for us?
Sid Logan
19
Posted 25/03/2015 at 19:46:02
Truth is if he wasn't so injury-prone, we wouldn't have him. Looks like he'll always be a player would have achieved much more had he had better luck with his injuries.
With us he's never had the opportunity to create any real momentum. If that had have happened this season it would have been a huge plus. He's a class act!
You've got to have massive sympathy for him and maybe for us!
Dominic Tonge
20
Posted 25/03/2015 at 20:22:55
Or, he has a little knock, thinks, the blues have shown him good loyalty and decided he wants a breather so he can get a good run of games under his belt in the run in...... Half full still my glass.
Dermot O'Brien
21
Posted 25/03/2015 at 20:37:03
What a cunt getting a knock sticking the boot in for Everton. I wish we had some more cunts getting stuck in.
Stephen Daniels
22
Posted 25/03/2015 at 21:08:09
Nothing new here; Gibson injured... Wow! What a surprise!
Andy Crooks
23
Posted 25/03/2015 at 21:12:04
Yes, Dermot. Actually, why not stop his pay. Ban him from playing for Ireland. In fact, fine him for every minute he misses. He has feigned injury his entire career and it's time it stopped.
Alastair Donaldson
24
Posted 25/03/2015 at 22:11:52
He
always
gets injured with Ireland... how come he even went this time if he was injured on Sunday?
He is a cracking player... sadly made of glass.
Jon Cox
25
Posted 25/03/2015 at 23:06:24
Come back soon, Gibbo... come back soon.
Ian Jones
26
Posted 26/03/2015 at 08:12:32
So he may have a groin injury....or recurrence of knee problems. Assume the comment above about claiming the insurance money if the injury is finally a career ending injury was tongue in cheek.
Sadly, as far as I am concerned he probably wouldn't have been in the team for Southampton as Gareth Barry is likely to be back.
Gibson is a quality player. Seems to want to do the right thing, play the right way, and at his age does have at least 5-6 years left if he can stay fit and would be an asset to most teams.
Re playing for his country. He had a few years out not playing for Ireland. So assume he is making up for lost time.
Christopher Dover
27
Posted 26/03/2015 at 08:41:29
RM will play Barry, even better reason now as he can rest Gibbo, not that he needs a reason.
Max Wilson
28
Posted 26/03/2015 at 09:23:17
Red Nose conned Everton when he sold us Gibbo. Injury prone at Man Utd; same with us. Mirallas may end up like him so be warned.
Ian Jones
29
Posted 26/03/2015 at 11:02:42
Hi Max
We weren't conned. We knew what we were getting. The transfer fee probably reflected that
John Crook
30
Posted 26/03/2015 at 12:12:53
Surprise, surprise. See you in 15 months Darron!
Dave Roberts
31
Posted 26/03/2015 at 16:09:48
The manager needs to sit down with Gibbo and tell him he has to reduce the number of games he is expected to play and that otherwise his career will be over. He really does need to consider retiring from international football... after all, he will be playing for nobody at all if this continues.
On the other hand, this might not be all that serious. That was one hell of a knock against QPR and one that would be likely to put anybody out of the next game at least. It doesn't necessarily mean another protracted lay-off. Let's hope not anyway.
Harold Matthews
32
Posted 26/03/2015 at 23:30:08
Never the quickest but a quality footballer who reads the game and moves us forward. Probably has the best heading technique of all the midfield players and has certainly helped us change things round.
Unfortunately, unlike Stones, Lukaku and Besic, players like Kone, Barry and Gibson need regular training and competitive games to stay match-fit. Let's hope Gibbo's period of inactivity is a short one.
Mark Cooper
33
Posted 27/03/2015 at 09:29:35
I have a feeling this is just a precaution; hopefully he will be fit for the next Premier League game. After all, he is the only player we have in midfield at the moment who can play a forward pass.
Jim Bennings
34
Posted 27/03/2015 at 09:47:50
It will be a massive shame if it's a long term thing. He's a better player than Besic in terms of making things happen going forward.
It's no real surprise that we have scored a few more goals since Gibson has returned rather than the mind-numbing previous four months watching Barry, Besic and McCarthy pass the ball negatively.
Brian Wilkinson
35
Posted 27/03/2015 at 23:43:28
Smacks of Martinez's ready made excuse to bring Barry straight back in next week.
Derek Thomas
36
Posted 28/03/2015 at 00:52:17
Hopefully there's a bit of 'Diplomatic Injury' mixed in to keep him out of the Ireland Squad.
But if I was betting on who will start the next game: Him or Barry??
---
Add Your Comments
In order to post a comment, you need to be logged in as a registered user of the site.
Or Sign up as a ToffeeWeb Member — it's free, takes just a few minutes and will allow you to post your comments on articles and Talking Points submissions across the site.
© ToffeeWeb