Baines and Barkley figure in England win
Fullback will not make Italy trip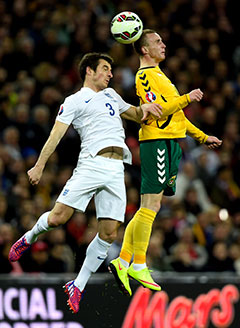 (Photo by Mike Hewitt/Getty Images)
Leighton Baines was the only Everton representative to start for England tonight as he was named in the team that beat Lithuania in the senior side's Euro 2016 qualifier.
Phil Jagielka and Ross Barkley were on the bench as the Three Lions looked to further their prospects of qualifying for next summer's tournament with victory at Wembley.
With Raheem Sterling having added to goals by Wayne Rooney and Danny Welbeck, Barkley got the final 20 minutes to impress with the game more or less sewn up.
His thunder was stolen somewhat by Tottenham's Harry Kane who came on to make his debut at the same time and scored almost immediately to make it 4-0.
Baines has been released back to the Blues and will not be in the squad to face Italy in midweek due to a minor injury he picked up on tonight's game.
Meanwhile, neither John Stones nor Luke Garbutt were named in Gareth Southgate's starting XI for the England Under-21s against the Czech Republic.
Both Garbutt and Stones eventually made it on in the second half and helped preserve a 1-0 win.
Reader Comments (40)
Note: the following content is not moderated or vetted by the site owners at the time of submission. Comments are the responsibility of the poster. Disclaimer
Patrick Murphy
1
Posted 27/03/2015 at 19:53:15
Obviously Roy doesn't rate Jags that highly tonight but I bet he picks him for the meaningless friendly against Italy. Rooney has scored for the fifth time in a row for England and it makes me so mad that a player who came through our ranks will end up being England and possibly Manchester United's all-time greatest goalscorer.

Phil Walling
2
Posted 27/03/2015 at 19:58:36
There's a lot on here who don't give Jags the credit he deserves. Often branded 'a quiet captain' and sometimes 'a hoofer', he's as good a defender as John Terry if not as 'nasty'!
Call me old-fashioned but I like my centre-halves to put their foot in and clear their lines – not piss about as this manager demands. But then, he would wish all No 5s to be like David Louise!
Colin Glassar
3
Posted 27/03/2015 at 20:41:19
Same here, Phil, and Jags is miles better than Phil bloody Jones. But as John G said, Woy has his favwites and most of them are RS.
Colin Glassar
4
Posted 27/03/2015 at 21:36:45
Thought Bainsey and Ross were the two best players out there tonight. Notice Sterling never passed to Bainsey when he overlapped him?
Tony Hill
5
Posted 27/03/2015 at 21:44:27
A joke of some sort I assume, Colin. Leighton remains terrified of taking any sort of incisive risk and Ross, in an admittedly brief slot, showed the same sort of paralysis. Both very fine players, but both their own worst enemies.
Patrick Murphy
6
Posted 27/03/2015 at 21:48:56
Tony - you must have missed the nice pass and move between Barks and Baines and the little give and go on the edge of the area by Baines for the striker to have a pop at goal. I agree though quite often with England, Baines will overlap and whoever has the ball seem reluctant to give him it.

Colin Glassar
7
Posted 27/03/2015 at 21:49:14
You're joking, right Tony? (I was!) Bainsey made some great runs but got totally ignored by his "team mates" whenever he got into good positions. I thought Ross looked confident and went out to enjoy himself. Where did you see them paralysed?
Tony Hill
8
Posted 27/03/2015 at 21:55:48
I see them as paralysed because they never take the opportunity to assert themselves. They never push themselves into the game and give their natural talent room to breathe. They remind me of Gary Stevens and Trevor Steven who were always somehow cramped for England.
They were fine and safe tonight, Colin, but they're a great deal better than that if only they would take the brakes off themselves.
Andy Finigan
9
Posted 27/03/2015 at 21:59:59
I'm very proud of Baines. I thought he played very well.
Colin Williams
10
Posted 27/03/2015 at 22:01:57
Both our boys played very well.... Delighted!!
Colin Glassar
11
Posted 27/03/2015 at 22:01:58
I get you now Tony. They are both quiet, unassertive lads who won't rock the boat. They will feed on any scraps the RS and Manc players will give them but, In fairness, Rooney always looks for Bainsey to make the runs.
James Martin
12
Posted 27/03/2015 at 22:33:45
Watching England is just like groundhog day. Beating a load of jarg sides in the qualifiers and getting excited.
Just look at the team. Jones and Cahill aren't top draw but get in above a player who is (Stones). The midfield three is Henderson (rubbish), Delph (rubbish), and Carrick (good but 34) and we have two wide players who don't want to stay wide. We'll get done by the first decent team we meet.
Frankly, if Lampard, Gerrard and Cole hadn't retired, Roy would still be picking them. The England team is only ever dictated by the club you pay for. Just look at Henderson shaking his head coming off thinking he is the big I am and should be getting 90 minutes. He wouldn't even be an international for any other top country but because he's a Liverpool player he thinks he has the golden ticket, the same way Jones can just walk back into the team ahead of Jagielka who has been in great form for England and recently for us.
When the media start writing about England, you suddenly realise there isn't one of them who knows anything about football. Can't wait for Delph Henderson Sterling v Kroos Schweinsteiger Ozil, Iniesta Busquets Fabregas, Verrati Pirlo Marchisio.
Mark Andersson
13
Posted 27/03/2015 at 22:40:54
Can't comment as despite Everton having representative I simply find England more boring than this season's efforts by the once mighty blues
Besides, our players never get any credit, it's always about the Red Shite players.
Trevor Peers
14
Posted 27/03/2015 at 23:04:18
I don't think England have any loud players in the whole team that's part of the reason why we never look like winning a big tournament. I rate Joe Hart; he should be the captain... he leads by example and shows a lot of courage.
James is right: we haven't got enough real quality to compete against the best teams in the world although Woy is doing a good job with what he has to work with and the players trust him, so keep him in the job !
Patrick Murphy
15
Posted 27/03/2015 at 23:35:04
Leighton's not going to Italy and has returned to Goodison with a minor back injury. Hodgson said he never intended playing Baines in Italy anyway. Let's hope LB is back for Saturday.

Patrick Murphy
16
Posted 27/03/2015 at 23:37:45
James (#12), of course you are correct what can a nation like England gain by playing mostly second tier countries in qualifying tournaments? They lull themselves into a false sense of security and then blow up as soon as they meet a streetwise nation.
A familiar story; although I had the game on in the background, it was no more than a glorified training session. How they manage to attract 80,000 paying customers for games like that amazes me... this recession malarky mustn't be hitting certain parts of the nation too hard.
Trevor Lynes
17
Posted 27/03/2015 at 23:36:54
Jags is much better than any other England centre-back and Stones will soon be the best. Cahill gives away silly fouls around the box and picks up bookings. Jags is quiet but very efficient and when was he ever sent off or suspended.The best centre backs at Everton have all been quiet and do their jobs really well. My list go's back to TG Jones, Labone, Mountfield (who scored 14 in one season) and Dave Watson. None of these guys were grapplers in the area or booked ad nauseum.
I admire Jagielka despite the snipers on here and he has carried EFC defensively along with Distin and now Stones. This is despite poor interlopers like Heitinga and Alcaraz who were/are not good enough.
Frank Crewe
18
Posted 28/03/2015 at 00:33:53
The group is so easy England have strolled through it. Ian Botham will have his chain mail back on before much longer. Harry Kane our new saviour will lead us to European glory. NOT!!
Baines was okay. Considering the lousy opposition, he should be. Barkley was barely adequate. He needs a break and some serious coaching. He runs up blind alleys and dwells on the ball. Just like he's done all season for Everton. I just don't think he is anything like the player he's made out to be.
Maybe a season playing out of position for Martinez has stunted his developement or maybe OFM was right and he's just not that good.
Harold Matthews
19
Posted 28/03/2015 at 00:37:07
Barkley seemed sharp and fit but the team looked like a bunch of strangers without a plan.
James Martin
20
Posted 28/03/2015 at 00:48:36
Patrick, I honestly think England games in general have just become an occasion to be at, more than an opportunity for real England fans to watch the team. The amount of times I've heard of people who are going to Wembley to watch some meaningless friendly or qualifier and they're not even football fans, just came about the tickets. Obviously I'd never knock any real hardcore England fans but I refuse to believe 80,000 of them would turn up for Lithuania.
Ultimately Hodgson suffers from what a lot of managers in the English game, and British managers in particular suffer from (Ferguson excepted). They will always value the athletic, all-action, hard-working powerful central midfielder.
In fairness, it's not even just British managers; Capello started the 2010 World Cup with a midfield of Gerrard, Lampard, Barry & Milner. Moyes would do the same, for some reason Neville and Rodwell were preferred to Osman and Arteta in the middle. Now Hodgson will go with Gerrard and Henderson or Henderson and Milner. Why would he never go with say a lineup of Wilshere Mason and Barkley? Three natural footballers who could pass and move and create for others.
It seems to be a condition of the English game that affects all that we see the centre of midfield as something that must be defended. Martinez also – he puts two sometimes three defensive mids in there.
Why? The games England played against Italy in 2012 and 2014 illustrate the futility of this perfectly. When you come up against absolute top class midfielders like Pirlo, Verrati, Marchisio, playing holding midfielders is almost irrelevant. If you sit deep and back off them they will float balls wherever they want in behind your backline as they did to Balotelli. So then you end up trying to press them high up (something holding mids are rubbish at anyway) and they simply play round you.
A better approach would be just to accept the futility of trying to defend against top class teams when they have the ball, and instead try and defend by actually keeping the ball away from them and attacking them. Managers would see a midfield of Barkley, Wilshere and Carrick as wide open and offering no protection but actually they'd keep the ball away from the other team better than Henderson, Milner and Gerrard would. The same way Osman, Gibson and Pienaar could line up for Everton in the middle and have absolutely no pace or strength yet they'd toy with a midfield of Besic, Barry and McCarthy who regularly concede goals despite playing as three defensive midfielders. I don't get why managers do it, and clearly one of the greatest of all time Ferguson didn't either because he would just play two ball players in a two Keane and Scholes, and then later Carrick and Scholes.
I thought when Barcelona came to power everyone would start appreciating the real footballers more even if they were short or slow. But instead you just get people like Martinez adopting the mindless passing part of it but still playing with the classic athletic non footballers in centre mid.
That is why ultimately England will never win anything. We don't have the class to win it on paper but then are you telling me a German team with no recognised striker and Per Mertesacker in the backline was the perfect 11 either? No. We would give ourselves a chance by playing Wilshere and Barkley to bring our attacking talent into the game. The first big team we meet though would just strangle the likes of Henderson and Milner exactly the same way as they did Gerrard and Lampard because these athletes cannot control games.
Steavey Buckley
21
Posted 28/03/2015 at 01:37:09
Roy Hodgson as England's manager is suffering from the same problem Martinez suffers from, having width on one side and not on the other. Then trying to play through the middle where defenders are waiting. That's why England are always found wanting against better international teams.
England's cause is also not helped by playing Liverpool's Henderson, who is pretty awful in midfield. England looked better when Barkley came on as second-half sub.
Peter McHugh
22
Posted 28/03/2015 at 06:48:36
It was the perfect opportunity to play Stones in a competitive game but not only does he get sent to U21s, he's not even good enough to start for them.
Kev Smith
24
Posted 28/03/2015 at 09:28:27
Did anyone else notice Henderson shaking his head and gobbing off when he got subbed for Ross. I don't know who he thinks he is?
Phil Walling
25
Posted 28/03/2015 at 09:20:32
I thought Baines had a decent game and Barkley was adequate in the very limited time he was given.
Looking at these two in an Everton context, I don't consider either of them as effective as they were two seasons ago. Martinez has done for both of them.
Eddie Dunn
26
Posted 28/03/2015 at 11:15:05
Baines did fine, but Barkley would have been better suited to Rooney staying on. As for Jones being ahead of Jags, it is so dim. Jones could have had a couple of yellows early on and against a better side would be exposed.
I bet poor Jags will start against a good Italy side, and when England concede. idiots like Andy Townsend will start criticising him. Especially after Jones has played against the most impotent international side I have ever seen.
What is the point of a friendly so soon after a proper qualifier?
Sid Logan
27
Posted 28/03/2015 at 12:09:11
Baines had a good game and was actually better than he's been for us lately. Woy encourages him to get forward far more than Martinez does.
A number of England players persistently fail to give the ball to Baines when he gets in to good forward positions. This has been a problem for some time but seems to be particularly prevalent amongst RS players. Or is that an imaginary bias on my part?
Barkley also did quite well but whenever he plays he looks to have Martinez's voice whispering in his ear saying "Don't take risks, Ross – possession is God!" I'd say he too looked better for England than he has been lately for us. I've no doubt that he'll be a key player for us in the future. Probably when Matinez has said adios!
Colin Glassar
28
Posted 28/03/2015 at 13:14:37
I'm also blaming Martinez for that dire win yesterday. It's raining here so I'm blaming HIM for that as well.
Sid Logan
29
Posted 28/03/2015 at 13:51:26
Colin, surely Martinez is only partly to blame for the rain.
The sun is shining here but he's taking no credit for that!
Bill Gall
30
Posted 28/03/2015 at 13:56:33
England to me looked like a bunch of individuals trying to prove themselves with no idea what the team formation was supposed to be. Baines looked as if he was on a training session running up and down the wing and being ignored.
Ross Edwards
31
Posted 28/03/2015 at 14:18:16
It's only Lithuania. As for the glorification of Kane in the media, it was already game over when he came on but most of the sycophantic hacks are going on like he scored a winner in the World Cup Final.
Alex Fox
32
Posted 28/03/2015 at 14:32:03
This might be counter to the general anti-England feeling, but I actually quite like what's going on with the national side at the minute. All the players that made them so unlikable in the past (Cole, Gerrard, Terry etc) have moved on and been replaced by decent pros picked for form rather than for the club they represent (Clyne, Delph etc).
There's a decent number of Everton players in there, and up-front there are young players that aren't afraid of beating a man. Rooney, Barkley, Welbeck, Chamberlain, Walcott, Kane, Sturridge, and Sterling are all players with the ability to make watching England exciting rather than the chore it's been in the past (even in spite of the latter two's unfortunate choice of club).
As for last night – Baines had a decent game. It was all coming down his flank. And Barkley seems to play with a little more freedom and under less pressure for England than Everton at the minute.
Denis Richardson
33
Posted 28/03/2015 at 15:15:56
One school of thought is that you can only beat what's in front of you... however, the praise in the press and gushing over England's win is a bit OTT when you consider it was Lithuania... at home. Not England's fault, I guess, that the qualifying stage has been made into a meaningless exercise to ensure all the 'big guns' make the final competition.
I cannot really see how the England team is going to improve significantly playing qualifying games against the likes of San Marino, Lithuania, Estonia and Slovenia. That's pretty much almost 8 wins out of 8 guaranteed = massive build up in the press as 'one of the favourites', followed inevitably by an exit at the group stage and rounds of finger pointing and soul searching... but hey, at least Rooney gets to beat Charlton's record scoring against the likes of mighty San Marino and Estonia........
European Championship and World Cup qualifying used to be interesting to watch as the games were competitive; now I can barely be bothered to check the score of a training match as it's pretty much guaranteed who will qualify.
Wake me up in 2016.
Colin Glassar
34
Posted 28/03/2015 at 15:55:04
The same goes for most competitions nowadays, Dennis. The Champions League group stage is a borefest and it only gets interesting in the knockout part.
Football is now a gigantic cartel geared to keep the rich and powerful at the top and the rest of us feeding off scraps.
Frank Crewe
35
Posted 28/03/2015 at 16:56:56
@ Alex Jones.
The only reason the players you mention made England "unlikeable" was the 10 years of total failure to make a decent attempt to win the World Cup or European Championship. After another 10 years of abject failure the current bunch will be "unlikeable" as well.
England have been huffing and puffing away at international level since 1966. Next year it will be 50 years since we won the World Cup. Our one solitary success. Even that required playing at home and a dubious linesman decision.
The fact is that English football doesn't "do" international football. Between Ramsey and Woy we've had 16 managers. Each one the new messiah only to fail miserably. We've tried English managers and foreign managers. All to no avail. One flavour of the month player after another has come and gone. Now we have Harry Kane (who the fuck names their son Harold) to pin our hopes on. But next year when he's not so hot the media will eat him alive like they do with all those who don't live up to expectations.
Really we just want our clubs to be successful and we don't care how many foreigners they have to recruit to do it.
Brin Williams
36
Posted 28/03/2015 at 19:21:55
Israel 0 - Cymru 3. (tri)
Da iawn hogia - daliwch ati.

Brin Williams
37
Posted 28/03/2015 at 19:25:21
Oh yea, I forgot to say that although Wales don't have Baines or Barkley both in my Everton team WE, Cymru, do have that young whippersnapper that is learning his trade in the Spanish Capital. One by the name of Gareth Bale – plays for a little Spanish side.
Draw any comparisons anywhere? No, I didn't either.
Phil Sammon
38
Posted 29/03/2015 at 09:38:11
Harry Kane is absolutely fucking useless. I've watched him for years with various England youth teams and can only conclude that this season's rich vein of form is the result of selling his soul to the devil.
Sam Rangle
39
Posted 29/03/2015 at 18:51:24
Ross's thunder "was stolen somewhat"
Somewhat?? The prince of last summer has turned into a weirdly ultra talented nobody. It kills me because he is a favourite, but how does a manager let his crown jewel wilt before his eyes like that? 㿞M?? We'd be lucky to get 㾻M now.
Colin Glassar
40
Posted 29/03/2015 at 19:44:41
Two and a half Everton lads playing in the Irish team tonight.
Colin Glassar
41
Posted 29/03/2015 at 20:25:54
Looks like McGeady has decided to play for Poland tonight.
---
Add Your Comments
In order to post a comment, you need to be logged in as a registered user of the site.
Or Sign up as a ToffeeWeb Member — it's free, takes just a few minutes and will allow you to post your comments on articles and Talking Points submissions across the site.
© ToffeeWeb