Gibson has a future at Everton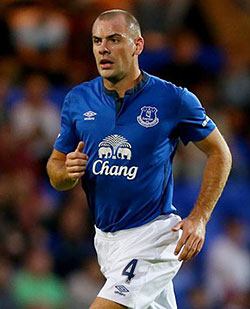 Roberto Martinez has underscored his faith in Darron Gibson with praise for the injured Irish midfielder that indicates he could be offered a new deal this summer.
The 27 year-old will have a year left of his current contract at the end of the season but he has made just three League starts this term following a long lay-off with a cruciate knee ligament injury and now a fractured metatarsal bone in his foot that has effectively ruled him out until 2015-16.
His manager described the former Manchester United man's latest setback as "devastating" but reaffirmed his belief that Gibson has a big part to play in Everton's future, that despite continuing speculation that the Catalan will move to pick up free agent Tom Cleverley in the summer.
"This injury has arrived at such a bad moment because he was back from another long-term injury," Martinez is quoted as saying, "but it's something we'll look at in the summer.
"I've been very pleased with Darron. Coming back from that sort of injury you don't reach 100 per cent for a long time.
"But when he's been on the pitch, he's performed really well. Though he's now injured, he's been able to show his worth and for me he is an important player that we want here for the future."
Gibson admitted that spending a year on the sidelines last season was frustrating and demoralising and he will be tested again by this latest injury but Martinez offered assurances that the backing will be there again from the club.
"We are trying to support him," the Catalan continued. "He can add that calm feeling, he has shown his worth and what he is capable of adding. But it is tough, I won't lie. It is devastating for him. We just have to look at the positive that he doesn't need surgery. At one point, it looked very likely.
"If he is fully fit for pre-season, that would be fantastic. We don't have another player like him in the squad."
Reader Comments (24)
Note: the following content is not moderated or vetted by the site owners at the time of submission. Comments are the responsibility of the poster. Disclaimer
Denis Richardson
1
Posted 09/04/2015 at 23:16:30
For a guy who's managed barely a dozen appearances a year for the last 3 years, would it not make sense to at least wait until the start of next season to see if he ever manages to get fit and stay fit, before talking about a new contract?
Trevor Peers
2
Posted 09/04/2015 at 23:20:09
Denis, It would, in most manager's estimation. In Roberto's world if he likes you then you get a 3-year contract: Kone, Alcaraz, McGeady, Barry, Howard, Hibbert all get the nod, no questions asked. Cleverley next, no doubt.
We're on the road to ruin and there's nothing that can be done about it. Maybe we deserve what we get if we don't make it clear enough that this manager is just awful and should be shown the door.
Minik Hansen
3
Posted 09/04/2015 at 23:44:42
I hope we get a real good run til the end if the season, so people can have faith restored in Roberto's short time as our manager.
Kase Chow
4
Posted 09/04/2015 at 23:58:59
Top player. Just a shame he's so injury prone
Mark Andersson
5
Posted 10/04/2015 at 03:10:15
Minik, I love your optimism; however, wishful thinking ain't going to turn me and a lot of other fans around.
Even Fat Sam at West Ham has less haters than Martinez.
Can you really see us going on a good run of wins, playing attractive entertaining football? It would be nothing short of a miracle if it happens.
Mike Price
6
Posted 10/04/2015 at 04:00:02
Why do we keep giving unnecessary contracts out?
We should see how his final year goes and then evaluate the situation... we're becoming a cross between a knackers yard and an OAP's home.
Most of our contracts become liabilities as soon as they're signed... not a good way to run a football club – or any business for that matter.
Brian Porter
7
Posted 10/04/2015 at 05:56:32
Martinez has totally lost the plot. New contracts should be discussed with players who have performed well in the shirt, and who we wish to keep because of the valuable contribution they make to the team. We all know Gibson can do a good job when fit, the problem is he doesn't seem able to maintain that fitness for more than a few weeks. On that basis there seems no logic in handing out another 'old crock' contract, but sadly, this is the Martinez way.
Another manager would keep quiet on the subject, and maybe have a private chat with the lad and tell him we may look at a new contract next season if and when he can prove his long-term fitness.Gibbo must be laughing all the way to the treatment table, with a warm fuzzy glow in his wallet to help dull the pain.
Ernie Baywood
8
Posted 10/04/2015 at 06:43:21
Where did he say he was offering him a new contract?
Ian Jones
9
Posted 10/04/2015 at 08:55:35
As Ernie says, there is no mention of a new contract. Martinez's comments about Gibson are fair and helpful to a player's confidence after what must be a demoralising period (again) for Gibson.
I really cannot see why people think Gibson will be laughing all the way to the treatment table whilst lining his pocket. I am sure he will be devastated not to be fit. I seem to remember Jagielka picking up a cruciate ligament injury at about the same age as Gibson and he recovered well enough.
I appreciate Gibson has had injuries throughout his career but let's hope that one day he can put injuries behind him and play enough games for Everton to be one of the best we have had.
If he can keep fit, I certainly don't want to see him performing every week for another team.
Eugene Ruane
10
Posted 10/04/2015 at 09:32:07
Well said Ian (9).
Ernie (8) - "Where did he say he was offering him a new contract?"
Good question and the answer is nowhere, but that's (obviously) not going to stop some getting worked up about a contract that hasn't been mentioned.
Example?
Brian Porter (7) - "Another manager would keep quiet on the subject, and maybe have a private chat with the lad and tell him we may look at a new contract next season if and when he can prove his long-term fitness. Gibbo must be laughing all the way to the treatment table, with a warm fuzzy glow in his wallet to help dull the pain."
Couple of points.
First of all the idea that the player is somehow happy with his personal situation (one that must be depressing and frustrating in the extreme) is both ludicrous and insulting.
(Or maybe when Gibson said "..spending a year on the sidelines last season was frustrating and demoralising", he was actually made up and 'laughing all the way to the treatment table'?)
Secondly, who can prove their long-term fitness – how's that done?
A player could spend months 'proving' his fitness, only to crack a bone, strain his groin, break a toe (etc etc) first time back at light training.
I have no doubt if the player passed every fitness medical test known to man, but had his leg broken by a bad tackle, there'd be plenty on here whining "he's a fuckin' waste of space, he's robbing us blind" etc blah.
Most of what I have read on TW about Gibson recently, has told me nothing about the player – his injuries, fitness, state-of-mind etc, but has revealed a lot about how some posters deal with disappointment (basically in the same way toddlers react to having their toys taken off them).
Finally, even if the word 'contract' had been mentioned, it wouldn't automatically mean 5 years at 㿨k a week (sometimes known as 'a Neville'). There are one-year extensions and and pay-as-you-play contracts too.
John Audsley
11
Posted 10/04/2015 at 12:22:10
Gibson is the best "footballer" we have at the club.
It's horrible for us and for him that he is never fit for long enough as we have all seen what a difference he can make.
He can pass and talk when nobody else in the team seems to have a clue.
We need a fit "Gibson type" next season.
That's the real priority signing.
Roger Helm
12
Posted 10/04/2015 at 13:50:13
A broken metatarsal is "devastating"? I wish RM would talk a bit more sensibly. A bereavement is devastating. I can understand a cracked foot being dissappointing.
Some players have a run of bad injuries then come good later in their career, like Peter Reid. Next season will be make or break (sorry) for Gibson. Unless he stays fit for most of the campaign, he will be out, which will be a great shame for a talented footballer.
It underscores our need for a playmaker. We only have three: Gibson is always injured, Osman is too old, and Barkley is too inconsistent.
Dave Harrison
13
Posted 10/04/2015 at 16:13:53
The man who can probably be given most credit for lifting us out of the dog fight. Also worth noting how grateful he is to the club for not laying him to waste and sticking with him through injuries.
I think he expresses this gratitude when he plays, always gives 100%. Commitment and loyalty always go down well in my book! And he can play too.
Matt Traynor
14
Posted 10/04/2015 at 16:28:22
Roger (#12) seriously? When did we lose the English language to the hyperbolic hijackers?
You better not read too many match reports from this season then, or you'll be jumping down people's throats left, right and centre.
Anthony Lamb
15
Posted 10/04/2015 at 18:02:04
Of course, in a physical game, injuries are part and parcel of it. However, leaving aside injuries that "could happen to anybody", Gibson just does not seem to be able to withstand the rigours of the game as witnessed not only by his record at Everton but previously at Man Utd and with the Irish national team. How he can be seen as being depended on to play a truly effective, consistent role in the further development of the team is beyond me.
In addition, we have this variation on the "absence makes the heart grow fonder" theme. In that, so infrequent have been his appearances that he seems to be seen as a better player in some people's eyes with each successive absence! I would just like to know on what evidence people can point to that make him capable of becoming "one of Everton's best" (as one poster put it on another post). Is it because of the ludicrous situation of a dearth amongst the present squad of people who can play the "unbelievably difficult art" of an incisive forward pass?
Gibson in his earlier career at youth and Man Utd squad levels showed signs of really being able to strike a ball goalwards etc. Sadly in recent times he incurs injuries just passing it. Sad indeed but such is Everton's need at present that they simply do not have the luxury of living in hope or make believe.
Ian Jones
16
Posted 10/04/2015 at 18:40:49
Hi Anthony
I assume you are referring to my earlier post about my hope that Gibson can in time become one of Everton's best when you ask about what evidence there is to support him becoming one of Everton's best. It's based on hope and what I have seen him do in his brief appearances for which ever team he has played for.
Your post does make some sense and especially liked your comment about being able to pass the ball forward. I have always found that a useful tactic.
However I may be missing your point about his absences making the heart grow fonder etc. Its been a long day at work :) I am not sure if people see him as a better player each time he is absent.
I feel that every time he plays he shows what he is capable of and admittedly I don't get to see games live so can't truly compare but in the matches I have seen on TV etc when he plays there seems to be more movement in players around him as they probably think there is a better chance of them getting the ball.

Andy Meighan
17
Posted 10/04/2015 at 20:14:48
Minik I hope we win every game between now and the end of the season. But it still won't alter my opinion of the man. This season has been depressing – mind-numbing dull football... endless games where we've failed to create chances or troubled goalkeepers... even in home games and still being linked to ordinary players like Cleverley and Januzaj.
No, sorry, that won't restore my faith in him – quite the opposite actually. He wouldn't know a good player if he turned round and smacked him in the face.
Jim Hardin
18
Posted 10/04/2015 at 21:30:23
Eugene, stop trying to argue logically with some of these posters or to make sense of their "opinions." It will just drive you to drink if the season's results haven't already.
Roger, I think the idea was that suffering another injury, especially a relatively minor injury, that still sidelines you after coming back successfully from a truly major injury is devastating. Not a RM fan but I didn't think he was talking gibberish this time, just letting his player know he has his back.
Ross Edwards
19
Posted 10/04/2015 at 21:55:03
Minik, sorry but ending this terrible season well doesn't mean that everything is suddenly OK again with nice fluffy clouds in a phenomenal blue sky.
3 scrappy, lucky wins playing shocking football, with barely any structure or organisation to our play whatsoever is not a way of restoring the faith. If we can go from that crap v QPR and Southampton to playing like we did last season in 3 weeks I'll bow down to Martinez and kiss his feet.
Mike Price
20
Posted 10/04/2015 at 22:45:16
Anthony#15 and Ross #19 Both talking sense I see.
Gibson is a very average playmaker at this level and is ridiculously injury prone.
It's sad that so many accept that this is our level of expectation. Gibson, Howard, Naismith, Hibbert, Kone, Alcaraz, Osman etc etc...poor players, shocking contracts.
Andrew Presly
21
Posted 10/04/2015 at 23:06:32
Not to re-start previous arguments but there's no such thing as luck. I won't use the "F" word again to save time but Gibbo is a crock we'll never see play and we'll get Cleverley in on a free to replace him. It'll happen. Dwell on that.
Clive Rogers
22
Posted 10/04/2015 at 23:30:42
Mike #20,
Correct. RM has been doling out contract rediculous extensions. Like Hibbert who has hardly been fit for three seasons. Another weird one is McAleny who is 23 and has a contract to 2017. If a striker hasn't made it by 23, he probably never will.
Sam Morrison
23
Posted 11/04/2015 at 20:34:32
No such thing as luck, eh?
Max Wilson
24
Posted 14/04/2015 at 15:32:48
I think the posters that find the Martinez remarks worrying do have a right to be concerned.Okay he's being kind and loyal to an unlucky player.But Martinez has been doling out extensions to players with quite limited abilities, time left in their footballing careers at top level and with poor fitness histories. (We all know some players are injury prone). The only worse thing a PL manager could do would be to sign
players who are'nt good enough in the first place. And he's done that too has'nt he? Things will be better next season will they? Oh yeah?
---
Add Your Comments
In order to post a comment, you need to be logged in as a registered user of the site.
Or Sign up as a ToffeeWeb Member — it's free, takes just a few minutes and will allow you to post your comments on articles and Talking Points submissions across the site.
© ToffeeWeb