Martinez to get "ample transfer funds"
Looking to add quality rather than quantity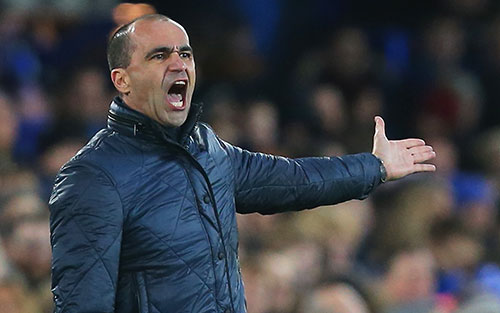 Martinez will be given board backing as he chases a new centre-back and mdifield playmaker this summer
The Everton manager will be backed with "ample" transfer funds in the forthcoming summer transfer window according to the Liverpool Echo.
Concern was raised on social media at comments made by Roberto Martinez in a post-match interview at Swansea on Saturday in which he quipped that "when you don't have much money, you have to be creative."
Local journalist Phil Kirkbride reports, however, that it is his understanding that the manager will be backed as he seeks to make targeted acquisitions rather than sweeping changes to a squad that the Catalan believes will be back challenging for European qualification again next season.
Out-of-contract defensive duo Sylvain Distin and Antolin Alcaraz are expected to leave the club and, according to the report, Martinez will prioritise finding a new centre-half and a midfield playmaker in the close season and already has identified targets in mind.
Defensive prospects Tyias Browning and Brendan Galloway are also expected to be a more integral part of the team's pre-season preparations with a view to involving them more at first-team level in 2015-16.
The possibility of a permanent move for on-loan winger Aaron Lennon will also take place at the end of the season amid speculation that Tottenham Hotspur will demand around Ł6m for the 27-year-old. Martinez is apparently using the remaining fixtures of the current campaign to assess Lennon's suitability as a full-time acquisition.
Yound Belgian forward David Henen is in a similar situation as his season-long trial in the Under-21s draws to a close. Joe Royle and his Academy staff will deliver their judgement on the Olympiacos loanee David Henen for whom Everton have the option to sign for around Ł200,000.
Reader Comments (153)
Note: the following content is not moderated or vetted by the site owners at the time of submission. Comments are the responsibility of the poster. Disclaimer
Patrick Murphy
1
Posted 14/04/2015 at 14:46:44
So the manager also doesnĂ''t envisage any players leaving Goodison (although Distin and Alcaraz are probably set to leave).
Perhaps the players have all decided to buckle down and give it another go next season, who knows? But it also looks like there will be no wholesale changes in the summer either.
Dean Adams
2
Posted 14/04/2015 at 15:36:24
Patrick, with so many players being available on "free transfers", out of contract, maybe our players have decided to keep the contracts they have as one or two may have heard of the "austerity" measures that have been so widely talked about. With players not being too well versed in all things political, maybe they are worried!!
Seriously though, it is nice to know that our squad is still all on the same page, so to speak.
Nick Waters
3
Posted 14/04/2015 at 15:41:23
So this is the season tickets boost story. WeĂ''re not going to get a takeover whisper as well are we?
Denis Richardson
4
Posted 14/04/2015 at 15:43:20
For the first time some good news at least. No new contract for Alcaraz it seems and two of the most important positions being prioritized – namely creative centre-mid (not Cleverly!) and a decent CB to join Jagielka and Stones. (Note: Jagielka will be 33 come the start of next season.)
So far so good.
Andrew Ellams
5
Posted 14/04/2015 at 15:46:08
But is that Ă''ampleĂ'' by Everton standards, or by a normal clubĂ''s standards? If he has a midfield playmaker in his sights, he wonĂ''t get a top class one on the cheap.
Kevin Tully
6
Posted 14/04/2015 at 15:46:11
Looks like the clubĂ''s spin doctor has been woken up.
Martinez had prompted some concern among supporters when, speaking after SaturdayĂ''s 1-1 draw at Swansea City, he responded to a question about possible funds this summer by responding tongue-in-cheek: "When you havenĂ''t got too much money, itĂ''s about being creative."Ă'Âť
However, the Echo understands the Blues boss will have ample funds at his disposal during the forthcoming window.
A free signing and ٤m for Lennon... unless Barkley or Stones are sold. We have the club we deserve.
Colin Glassar
7
Posted 14/04/2015 at 15:58:29
Andrew it could be Riquelme or Moutinho. Is anyone else still watching that space btw? I would also like to see good cover for Seamus (if he stays) and another forward as Kone doesnĂ''t look good enough.
Does this mean that more of the kids will figure next season? IĂ''d like Henen to be kept on. IĂ''ve heard good things about him.
Patrick Murphy
8
Posted 14/04/2015 at 16:06:03
ItĂ''s the players on the park who we need to be creative not the manager, board or accountants.

Jim Bennings
9
Posted 14/04/2015 at 16:09:17
We will see at least four players leaving and at least another three or four going into their mid-30s and slowing down even more such as Osman, Pienaar, Jagielka and Barry. Are these players not going to pick up the same injuries again and spend time out?
Is Howard going to get any better?
Is Gibson going to play a part in 30-35 squad selections?
Gavin Johnson
10
Posted 14/04/2015 at 16:04:57
Ă''Ample fundingĂ'' is relative! EvertonĂ''s ample funding will probably pay for Lennon and a couple of other signings of that quality and price if IĂ''m being optimistic. ItĂ''s nothing compared to what the RS, Chelsea, Man City, Man Utd, Arsenal and Spurs will be spending... ThatĂ''s life I guess!
If we also snap up a couple of quality free signings, IĂ''d be satisfied. ItĂ''s not that long back that we signed Jan Mucha and Jermaine Beckford one summer. So, yes, itĂ''s all relative I suppose.
Colin Glassar
11
Posted 14/04/2015 at 16:17:46
㿊m more or less will be his transfer kitty. The rest of the Sky gazillions goes to BKĂ''s offshore accounts.
Patrick Murphy
12
Posted 14/04/2015 at 16:23:30
Colin – IĂ''d think that 㿊M will be a very optimistic figure to be in the Ă''ampleĂ'' kitty. ItĂ''s more likely to be circa 㾶 - 㾻m as the board will also be reluctant to fund a manager that may not produce the desired results in the opening part of the season. I can see that Diego bloke arriving along with another Centre-back and probably a loan or two and that will be it at least up until January. Mirallas will probably join another club in January 2016 as I think his contract runs out in the summer of that year and weĂ''ll probably get Lennon in a swap deal at that point.

John Malone
13
Posted 14/04/2015 at 16:20:53
Not sure how availlable he is but I hope we go back in for Michy Batshuyai, heĂ''s bagged a few for Marseilles and plays a bit like Sturridge – pacy with a trick up his sleeve. He could pair up with his Marseilles pal Andre Ayew when we get him too!
Oscar Huglin
14
Posted 14/04/2015 at 16:28:36
Very encouraging. I think we could surprise a lot of people without European football as a distraction next season.
Colin Glassar
16
Posted 14/04/2015 at 16:33:55
Could be Oscar. Let the Redshite and Spurs fight over the Europa League scraps. We should concentrate on a cup run and trying to get CL football next season.
Kevin Tully
17
Posted 14/04/2015 at 16:36:18
Gavin # 10. Correct, when people start going beserk about the riches Martinez has had at his disposal, they tend to forget the likes of Hull, West Ham, Newcastle and QPR all outspent us last summer. Along with the usual suspects!
Mike McLoughlin
18
Posted 14/04/2015 at 16:42:47
I would hope it is another managerĂ''s treasure chest, because I donĂ''t think Roberto is the man for Everton. I would love to be made to eat my words but I just think he is tactically lacking and not strong enough with the players.

Andrew Ellams
19
Posted 14/04/2015 at 16:43:59
To be fair Kev 3 of those teams will probably finish below us. Too many of those teams take quantity over quality, you could include Sunderland in there too.
Gavin Johnson
20
Posted 14/04/2015 at 16:39:31
Diego will be a very good signing if weĂ''re after a midfield schemer. HeĂ''s 30 now, but it wasnĂ''t that long back Juve paid €20m+. So while heĂ''d be another oldie heĂ''d offer the kind of invention we only have through Ossie in the current squad. But unlike Ossie heĂ''s got the legs to do it over 90 minutes.
Harold Matthews
21
Posted 14/04/2015 at 16:32:22
John. I wouldnĂ''t want any more of these Champions League wannabees, even if we could afford them.
Gavin Johnson
22
Posted 14/04/2015 at 16:51:08
Kevin, in summers gone by when we were selling Arteta and bringing in Straq and parading Beckford (a First division striker) as our star summer signing, I hoped that we could at least be competitive with smaller clubs likes of Wolves and Stoke City. I never expected us to compete with the Ă''so-calledĂ'' big clubs but it was a sad indictment when the aforementioned clubs were spending more than us.
Last summer, our spending was amongst the best of the rest. So if we spend again like that this summer I donĂ''t think any of us can really complain. That said, theyĂ''ll be a lot of conjecture whether weĂ''ve got the right man at the helm to spend the summer budget.
Ross Edwards
23
Posted 14/04/2015 at 16:58:43
The Echo is the boardĂ''s mouthpiece. TheyĂ''ve used Ă''ampleĂ'' to fool us into thinking heĂ''s being given a big budget when in reality itĂ''s probably about 㾶m, ٤m to be spent on Lennon with ٢m left for loan fees and wages.
ItĂ''s always the same.
Tony J Williams
24
Posted 14/04/2015 at 17:05:22
Early bird bonus ends in two weeks... quick get out the old line that there will be loads of money to spend.
Also, as already said we will get the takeover/ground talk next week.
Fool me once... etc.
Harold Matthews
25
Posted 14/04/2015 at 17:05:15
Martinez is big on Premier League experience and thatĂ''s the way heĂ''ll go.
Colin Glassar
26
Posted 14/04/2015 at 17:04:45
What was it OFM used to say? "Two quality signings per season"? Looks like this fella is going to have to do the same. Until we get rid of this board, nothing will ever change.
Gavin Johnson
27
Posted 14/04/2015 at 17:02:12
If thereĂ''s no outgoings apart from Distin and Alcaraz, I canĂ''t see the budget being much bigger than 㾻M. We bought Rom last season but we would have had money cashed or still coming in from the Fellaini deal.
Like Ross says, the Echo is the boardĂ''s mouthpiece, but IĂ''ve never read the adjective Ă''ampleĂ'' there before. So I should imagine the budget will be better than what weĂ''ve used to. But youĂ''ve got to take into consideration that all the other clubs around us will have had the bumper sky money... So weĂ''ll have to wait and see.
Trevor Lynes
28
Posted 14/04/2015 at 17:07:07
We really need a top quality playmaker in his mid 20s. Osman and Pienaar are unfortunately a season or so away from being too old for the Premier League. I am not at all convinced about Browning either. He was given the run around by some kid from Sunderland last time I saw him play. Galloway is a prospect though as he has pace plus height.
Our young midfielders are a mediocre lot IMO and we have little up front unless Henen improves. We need to spend at least 㿀 million on a midfield general unless Roberto has a loan prospect up his sleeve from Spain.
Patrick Murphy
29
Posted 14/04/2015 at 17:12:09
Gavin - Ă''AmpleĂ'' can mean anything we want it to mean, if we are optimistic it can mean 㿊m+ or if pessimistic it can mean ٤m. If the manager wants to spend big and he gets the OK off the club he will be given an ample amount to do so, if he only wanted to bring in one player for example Lennon for ٤m that could also be described as an ample amount.

Ross Edwards
30
Posted 14/04/2015 at 17:25:53
Ă''AmpleĂ'' is a clever way of putting it. Because it could be as much as RM thinks he needs. Maybe heĂ''s told the board he only needs 㾻m. That in his mind is probably an ample amount for what he wants to do.
Denis Richardson
31
Posted 14/04/2015 at 17:28:38
I cannot see any way in which Mirallas is here next season, tbh, so I donĂ''t believe the Echo/Board when they say no-one will be leaving other than the contracts that are up (which presumably includes Garbutt).
However, IĂ''m encouraged at least that a creative centre-mid is a target given we havenĂ''t had a proper one since Arteta left (and he was constantly played out wide!).
Brian Harrison
32
Posted 14/04/2015 at 17:20:54
As always when the summer transfer window approaches, the power is all with the players and not with the club, So I think what we spend might be determined by which players leave.
I could easily see a scenario were Coleman, Mirallas and Stones could leave and I wouldnĂ''t rule out either Barkley or Lukaku leaving. So I think this will be an interesting window, and while fans will point out that most are under contract that has no bearing on anything when the player says the immortal words I want to leave.
Darren Hind
33
Posted 14/04/2015 at 17:33:04
It makes me laugh when people bleat about money to defend Martinez. How many teams do we face with a greater market value than ours, six? Martinez inherited about 𧴜M worth of talent, then spent north of 㿞M to drag us over a cliff.
He has to go. Give whatever funds are available to the new guy.
Steavey Buckley
34
Posted 14/04/2015 at 17:57:03
DonĂ''t be kidded, the likes of Osman, Barry and Howard will still be on the team sheet next season.
Steve Woods
35
Posted 14/04/2015 at 17:34:30
Bad news all round really. It suggests that Relegation Roberto will actually be staying rather than being shown the door. Does the board really trust him to manage the contracts of our existing players and also trust him to spend real money on acquisitions and shape the future of the club (his way) on the field for the coming years?
The Wigan players that he got relegated and then brought with him here have flopped with the expensive exception of McCarthy. I am actually dreading the transfer window with this joker in charge. Will he take an active interest in it and the pre-season this time around or just leave it to his magnificent Wigan backroom staff again while he is off on another paid jolly?
I donĂ''t trust him with any of the above. I fear ItĂ''s going to be an even more painful transfer window than usual. This guy fills me with more dread for the future of our club than any of the managers that we had when the abyss beckoned. This one I fear has the genuine and proven credentials to take us down into it and as we sink he will continue spouting his usual absolute bullshit footballing psychobabble.
*Rant Key now Off*
Steven Telford
38
Posted 14/04/2015 at 18:11:25
Look, this is one time (in recent postings) in which I have to say, he is not at all wrong to let it drop that we are not plush. It makes complete sense when youĂ''re in the market for soothing to not have people think you have got catch to burn.
When the polar opposite, Van Gaal, comes knocking, the price rises from the sheer speculation as to the size of his "Save our pride at any price" budget.
Patrick Murphy
39
Posted 14/04/2015 at 18:05:53
Darren I donĂ''t know whether you saw my analysis the other day on another thread but the bottom line was since the January 2010 window Everton have signed players to the value of 㿴m and sold players to the value of 㿺m.
Of course that doesnĂ''t include the wages or bonus payments but we are and have been for the last five years a club that is treading water in real terms in relation to paying out money for permanent transfers – regardless whether it was Moyes or Martinez. It doesnĂ''t excuse this seasonĂ''s poor performances but it has to be taken into consideration.
All of those dreaming of big stars arriving or even top players will have a long wait for that to happen. Everton, despite the money from TV, are not going to be competing with most Premier League clubs for players; they will target specific types of players whose wage demands arenĂ''t astronomical and Roberto will have to do better with the squad next season than he has this.
It might also answer the question as to why Roberto was taken on in the first place and why he will remain the manager at Everton for the foreseeable future.
Gavin Johnson
40
Posted 14/04/2015 at 18:19:48
Patrick & Ross, yes Ă''ampleĂ'' is a bit slippery and open to interpretation so maybe we shouldnĂ''t be shocked if the three signings are – Lennon, Cleverley and David Henen.
Kevin Tully
41
Posted 14/04/2015 at 18:20:08
The more the TV money pours into what were Ă''small clubsĂ'' such as Swansea, Southampton, West Brom etc. the more that spells the end of any hope of progress.
We used to have an advantage over these clubs because we we could pay decent wages due to larger gates and our name still meant something.
Once all these other clubs start to match our wage structure, which they now can, what will we have left to offer?
Paul Tran
42
Posted 14/04/2015 at 18:33:00
Patrick, youĂ''re also for getting the ToffeeWeb rule that says when Moyes signed a player, you mention the fee. When Martinez signs a player you have to include the fee, wages, petrol money, coffees and the depreciation. People keep going on about the millions Martinez has been given. Take away Lukaku and heĂ''s traded a surplus. ThatĂ''s why we got him, thatĂ''s why heĂ''ll be staying. I reckon he got slapped last year for the "6 or 7 players" statement. ThatĂ''s why weĂ''re getting the "quality not quantity" argument.
Darren Hind
43
Posted 14/04/2015 at 18:21:43
I didnĂ''t see it, Patrick, but I have no doubt that you would have researched it thoroughly and will catch up with it
IĂ''m all for people pointing to the ridiculously small amount of Money Kenwright and his cronies have made available for players, especially when itĂ''s done to draw peopleĂ''s attention to their inadaquacies.
What I canĂ''t have is people trying to hide behind the boardĂ''s shortcomings in a desperate attempt to exonerate Martinez.
What your analysis will not show is the talent Martinez inherited.
How many other managers inherited EnglandĂ''s center half?
How many other managers inherited a real talent like Mirallas?
How many other managers inherited the best pair of attacking full-backs possibly in Europe?
How many inherited what many believe to be the best ball playing center-half since Bobby Moore?
How many inherited a Ross Barkley? ... vastly experienced back up like Osman and Pienaar. ... A defence that had averaged 40 a season against?
How do you throw those fantastic advantages into your analysis? Some of the managers of teams above us would have killed for such a starting position.
Martinez may only have spent 㿢 million, but that doesnĂ''t begin to cover what he has squandered.
Colin Glassar
44
Posted 14/04/2015 at 18:47:16
Ample. Adjective.
Enough, sufficient, plenty, abundant. It can also mean fat e.g. Bill Kenwright has an ample girth (or Bill Kenwright is a fat bastard). Any more?
Phil Spencer
45
Posted 14/04/2015 at 17:40:26
I honestly cannot see the following players being at Everton next season:
Distin
Alcaraz
Atsu
Mirallas
McGeady
Lennon??
Garbutt??
Plus the following players having no or minimal impact with age catching up on them
Osman
Pienaar
Barry
Gibson
Hibbert
My opinion is that a major overhaul is needed so Bill better dig deep!
Kevin Tully
46
Posted 14/04/2015 at 18:52:56
Feck me, Darren. We must have won something with that bunch of players youĂ''ve just described? if that mob are still there next season, IĂ''m getting on us winning the League.
Deffo no requirement for Ă''ample fundsĂ''... YouĂ''d better let Bill know – weĂ''re sorted!
Colin Glassar
47
Posted 14/04/2015 at 19:02:06
Agreed Kev. Pity DarrenĂ''s idol couldnĂ''t win anything with those world beaters. He couldnĂ''t even beat lowly Wigan when it mattered, could he?
Iain Love
48
Posted 14/04/2015 at 19:00:12
IĂ''d seriously look at the relegated clubs for incomings. Pantillimon would be a decent buy; same for Austin. Leroy Fer, who I think we looked at before, is worth a shout.


Darren Hind
49
Posted 14/04/2015 at 19:15:05
My idol, Colin? I rated Moyes as low as I rate Martinez...
You do the idolising around here.
I noticed you or the other fellow Martinez fan donĂ''t deny he inherited the list I made – thatĂ''s because you canĂ''t... but you are invited to try.
He was then given 㿞 million quid to take us on further, buy that striker we never had.
Apologise all you want for him, but Ă''failureĂ'' doesnĂ''t begin to cover it.
Colin Glassar
50
Posted 14/04/2015 at 19:25:26
Sorry Darren, I thought you liked him. I must be confusing you with someone else.
True, he inherited a good bunch of players but players imbued with a loser mentality. ItĂ''s not only about money, until we change this Ă''knife to a gunfightĂ'' mentality, we are going nowhere fast.
Kevin Tully
51
Posted 14/04/2015 at 19:35:38
Darren, youĂ''re not making any sense. How can you not rate a manager who put a team together as you described above?
Matt Muzi
52
Posted 14/04/2015 at 19:20:54
While IĂ''m happy that the press are saying weĂ''re looking for a new centre half & creative midfielder, I still think we need two wingers, right back cover, another goalkeeper and a striker.
The following players are all on frees in the summer:
Vlaar & Schaar - defenders
Konoplyanka & Ayew - wingers
Gignac - striker
While I accept weĂ''ve got no chance with Konoplanka, the others I think are worth considering.
Personally think Mirallas is off in the summer, seemingly so is Garbutt, which IĂ''m more gutted about to be honest.
I also think weĂ''ll lose one key player in the summer with a club putting a big bid in, who that will be I donĂ''t know, Stones, McCarthy, Coleman or Barkley.
Let the fun & games begin come July 1st!!
Christopher Kelly
54
Posted 14/04/2015 at 19:27:03
Darren is correct imo.
Martinez has turned an old, successful but seasoned club into an older, less useful and now impotent one. Anyone expecting "ample" funds to mean something substantial that catapults us into the top 4 hasnĂ''t paid attention for the past 15 years...
Of course an overhaul is needed as half our team is over 30 and is sliding downhill. Of course Martinez is not the man for it as heĂ''s mostly picked up ex-Wiganers (despite all of our hopes that heĂ''d scour the Spanish/Portuguese divisions for unearthed gems). The Board will do just enough to keep us mid-table and not a pound more. No word on Garbutt or any other youngster that could actually help the team for "free." At MOST we can expect another Europa League finish as that tournament is the death cycle for all wannabee teams setup by the fat cat CL teams to not overtake them.

Darren Hind
55
Posted 14/04/2015 at 19:41:16
Moyes did bring in some good players, IĂ''ll give him that, but IMO he was a cautious miserable man and he didnĂ''t believe we could take the next step. Consequently, neither did his players.
Martinez is even more cautious, even more miserable than TGT in his approach to the game, consequently so are the players.
These are good players, but a team will always reflect their manager.
Get rid.
Helen Mallon
56
Posted 14/04/2015 at 19:39:49
Darren Hind, REALLY??? Moyes never played Barkley, MirallAs inconsistent Jags and Baines both England internationals but you only mention the worse one.
Oh that Bobby Moore playing centre-half — Martinez wanted him but he came to the bigger club.
You do have a hatred for Martinez but what you forget to mention is that in his first season with all those players he was left with he broke all records — and he still wonĂ''t finish 17th in his second season.
Ross Edwards
57
Posted 14/04/2015 at 20:00:00
Surely Helen you arenĂ''t defending RM by saying that at least heĂ''s
NOT
finishing 17th?
LetĂ''s be honest with this squad 12th, 4 points behind Palace is bad enough in my view and a sackable offence.
But IĂ''ve accepted that RM will be here next season. Him and HowardĂ''s rhetoric this week is that weĂ''ve learned from this season and weĂ''ll be a lot more competitive next season. If he wants to keep his job, we have to start well.
Gavin Johnson
58
Posted 14/04/2015 at 19:55:04
Had Moysie stayed at the club, I very much doubt weĂ''d have finished 5th again. Some are putting too much onus on the money Martinez has spent but the Rom money came on the back of Fellaini, Jelavic and Anichebie going.
ItĂ''s no different to the situation Moyes found himself when he sold Lescott and the players he brought in werenĂ''t all good signings – Bilyaletdinov was shite. Heitinga was good for one season. Only Distin proved to be a decent signing.
if the team was so good under OFM, why didnĂ''t he buy a 20-goal striker with the 㿀-odd million we got from Lescott??
Colin Glassar
59
Posted 14/04/2015 at 20:11:01
Spot on, Helen, even during our miserable pre-crimbo run at least we could still pass the ball to each other...aimlessly and without purpose I know but we kept possession.
Under OFM it took him about 7-8 seasons before any of his teams could string together more than 3 passes without either hoofing it or heading the sodding ball!!
Gavin Johnson
60
Posted 14/04/2015 at 20:13:48
Darren, IĂ''m surprised that youĂ''re now slating Moyes. I was always under the impression that you were one of OFMĂ''s biggest fans.
Colin Glassar
61
Posted 14/04/2015 at 20:21:31
So was I Gavin. Oh and Ross, not only 17th but with a record low of 39 points and I also think with a record low for goals scored as well. Despite all of this I wanted him to stay to see if he could turn things around, which he did. Thank god we give managers a second chance unlike other teams.
Kevin Tully
62
Posted 14/04/2015 at 20:26:04
WeĂ''ve lost 12 games so far this season, be interesting to see if we can manage to equal our losses when we finished 4th, we lost 13 that season. Funny old game, as they say.
Aidy Dews
63
Posted 14/04/2015 at 20:17:21
I think heĂ''ll get 㾻M before sales, possibly 㿀M at a push?! I think if heĂ''s going to get the quality he feels we need to kick on, then heĂ''s probably gonna need around 㿅-30m to spend!
IĂ''d like us to keep Mirallas but I can see him going to boost our kitty. And I think Lennon could come in and replace him but I still think we need another quality winger.
And I hope itĂ''s true that a CB is going to be a priority as we need a really good third choice, someone who in time could take JagielkaĂ''s place in the team with no fuss.
And we do need a playmaking CM. Whether that be a true CM or a player at No 10 but we need someone to make us tick, someone to unlock doors and create, give us that magic in the final third!
But for me we also need a new, up and coming keeper thatĂ''s gonna be pushing for the No 1 spot within a year with Joel and we need another striker, a reliable 2nd choice that can come in and do the business when Lukaku is out.
Add to all that a couple of loans as squad fillers, Garbutt a new deal and weĂ''ll of had a good summer imo!
Paul Tran
64
Posted 14/04/2015 at 20:22:07
Darren, you hit the nail on the head in your last post. Despite the hype on both sides of the argument, Martinez has been more cautious and dull than his predecessor. Plus weĂ''ve suffered a mid-table season without any mitigation of blooding youngsters or any long-term strategy.
Not sure about your accounting, though. He may have been Ă''given 㿢 millionĂ'', but heĂ''s recouped 㿌 million of it. Or is he the only manager whoĂ''s sales donĂ''t count?
The serious issue is the amount of over-30s in our squad who will need replacing soon. Regardless of who is manager, weĂ''ll be gambling on cheaper players. WeĂ''ll have to stomach the odd dud, though IĂ''m sure thereĂ''s no chance of some accepting this with Martinez in charge!
Colin Glassar
65
Posted 14/04/2015 at 20:34:16
Paul, I have to disagree with your first paragraph (I agree with the rest). MartinezĂ''s team wasnĂ''t dull last season. This season yes, but last season? The other fellaĂ''s teams were dull for 9 out of 11 years!! And which youngsters did OFM blood exactly?
Andy Crooks
66
Posted 14/04/2015 at 20:29:18
Gavin, I agree with you entirely about your reluctance to give any transfer funds, ample or otherwise, to Martinez. It is imperative, in my view that he is first out the door.
I bowed to no one in my criticism of the later Moyes years but always acknowledged that his transfer record was good; at Everton this is vital for any coach. I believe that Martinez has been a little unlucky with Kone, spot on with McCarthy and Lukaku and wrong with Alcaraz. Overall, probably just about average.
Paul Tran
67
Posted 14/04/2015 at 20:41:21
First thing Colin, weĂ''ll have to agree to disagree regarding last season. I thought we played organised functional football with the odd spark of flair and kept the ball really well. But exciting? Not in my book. I thought it was a good starting point for his first season and weĂ''d kick on this one with some sharper, quicker passing to go with the organisation. We havenĂ''t and IĂ''d love an explanation as to how thatĂ''s gone so pear-shaped this season.
YouĂ''re right, the last guy didnĂ''t blood many youngsters. Neither has Martinez and I expected far more from him. HeĂ''s even reluctant to play some of the players heĂ''s bought! I suspect IĂ''m not the only one who expected more, hence the vitriol on here.
Gavin Johnson
68
Posted 14/04/2015 at 20:32:15
I must admit IĂ''ve been doing the old football manager thing and thinking about quality players we could sign this summer, with the likes of Peresic, Deulofeu and Will Hughes on my wishlist. But I was doing that on the back of someone like Rom or Barkley leaving.
So if we now assume nobody leaves other than Distin and Alcaraz. And we bought in 3 players. I think realistically weĂ''ll be looking at spending ٤M on Lennon and around the same amount again on a quality CB and a creative midfielder, if reports are to be believed, Diego would fit the bill and price for this kind of midfielder.
If we could also grab a couple of free signings in the shape of Ings to complement Rom, and Ayew to replace Atsu. I think weĂ''d be sorted, and have a very strong team next season.
Bill Gall
69
Posted 14/04/2015 at 20:49:11
WeĂ''ve only been waiting for about 4 seasons for a quality creative midfielder. I will believe it when one is signed to a contract and not someone on loan.

Gavin Johnson
70
Posted 14/04/2015 at 20:49:03
Andy #66 IĂ''ll be more than happy for Martinez to have this summer to spend the transfer kitty. I was just saying that itĂ''s open to conjecture because Martinez is like Marmite right now, but my own view is that he should be given until at least Xmas. If heĂ''d have been sacked after Kiev I wouldnĂ''t have been that sad to see him go, but weĂ''ve won 3 and drawn 1 since then. So it would have been the wrong decision had he been sacked imo.
Michael Polley
71
Posted 14/04/2015 at 21:00:27
Off load all his ex-Wigan mates please!!!
James Stewart
72
Posted 14/04/2015 at 20:47:07
I think ColinĂ''s figure is about right if you look at the books and tv money. Around 㿊M plus of course the departure of Mirallas and whoever else will leave ample funds indeed.
My Concern is the guy spending it not the amount. Martinez has a dreadful record in the players he has brought into this club. Lennon was his best signing in my opinion so maybe there is hope. Moyes and his team pulled some real rabbits out of the hat time after time and IĂ''ve no faith that Martinez has the ability to do the same and find a Stones, Arteta or a Coleman.
Gavin Johnson
73
Posted 14/04/2015 at 21:07:52
James, you canĂ''t count Stones. Martinez was on the verge of signing him for Wigan before Moyes got him at the last hour. But I agree that MartinezĂ''s transfer record is a mixed bag at the moment.
Dave Abrahams
74
Posted 14/04/2015 at 21:12:17
Tony J Williams, I thought the last day day for the early bird prices was May 24th, can anyone confirm this?
Paul Tran
75
Posted 14/04/2015 at 21:21:00
Blimey, just think, if Martinez had beaten Moyes to signing Stones, he may have brought him here from Wigan. Imagine the pelters Stones would be getting on here as a Ă''WiganĂ'' player – Ă''shouldnĂ''t pass or dribble with the ball, bloody tiki-taki, should put it in Row Z like a proper defender........Ă''!
Kunal Desai
76
Posted 14/04/2015 at 21:14:01
Ample? I will believe it when I see the right players signed holding up the Everton scarf. ItĂ''s going to be extremely difficult for Martinez to try and attract the calibre of players to push for Europe. No European football — let alone Champions League football. I think he will struggle to bring in decent signings. I just hope the club keep Ă''ampleĂ'' funds aside to pay off Martinez if all goes horribly wrong come 12 games or so of next season.
Trevor Peers
77
Posted 14/04/2015 at 21:26:37
What if Roberto decides his creative midfielder is Cleverley? ItĂ''s quite possible he tried to play him there for Wigan. Whisky nose bought intoĂ'Â it as well when he took him to Man Utd.
David Holroyd
78
Posted 14/04/2015 at 21:45:19
Martinez will be here next season, god help us. Did anyone see the Manchester derby, Man Utd played the game so much faster than we do. Our play is so slow. Cannot bear to watch the rubbish we play.
Martinez out out out.
Ross Edwards
79
Posted 14/04/2015 at 21:57:11
Although football has changed in those 11 years since Colin. After the Moyes era weĂ''re all used to top 6, top 8 maximum finishes every year.
As you know IĂ''ve stated my position several times about RM. But heĂ''ll be here next season. He needs to start next season well otherwise he will definitely have to go.
Ian Glassey
80
Posted 14/04/2015 at 21:52:47
Dave 74.
I think that is for new season tickets, if you are already a season ticket holder and want to keep your seat it is the 1st May..
Trevor Peers
81
Posted 14/04/2015 at 22:20:42
The next step, Ian, will be the new stadium update. ItĂ''s all a bit predictable. LetĂ''s see what players he actually signs before getting carried away with wish lists.
Jamie Crowley
82
Posted 14/04/2015 at 22:37:27
The overhaul thatĂ''s needed needs to come in the guise of playing the younger players and letting them develop together, in my opinion.
If you keep Barry, Osman, and Pienaar, with Alcaraz and Distin out the door, the three elder statesman that stay shouldnĂ''t be in our "top 11" starting lineup. They need to accept they are squad players, or capable subs / back ups.
I think this team is very promising:
Robles
Coleman Stones Jagielka Garbutt (Jesus, sign this kid)
McCarthy Besic
Lennon Barkley New signing (young with pace!)
Lukaku
Subs:- Baines, Barry, Pienaar, Osman, Gibson, Naismith, Henen.
When I say Ă''subsĂ'', I obviously donĂ''t mean 5 on the bench, I mean players that can come in when called upon to change a game / provide depth and make a serious Cup run.
We need to go young. We need a young pacy winger. We have an excellent base of young talent and itĂ''s time Martinez, as the wise sage Harold Matthews points out is his habit, stops playing "experience" and looks towards a bright, young, energetic team for the future. If Roberto can add a creative playmaker in the middle and provide depth at CB heĂ''s identified two areas we are in need / will improve us.
If he makes the move towards youth, shows some balls and plays for the future and plays the "kids", weĂ''re in for an exciting season in 2015-16. If Roberto doesnĂ''t do this, I think we will languish in mid-table obscurity and he needs to find the door. IĂ''m rooting for the man and I for one am glad heĂ''ll be given another season to right the ship.
Phill Thompson
83
Posted 14/04/2015 at 22:38:14
The reality is that for us "ample" funds wonĂ''t anywhere near match the funds available to the current top 4, the RS or Spurs. So to compete means we will have to take chances and spend the money to acquire a few good players who could make a difference. To do that requires getting rid of dead wood and taking a chance on youngsters.
In Garbutt, Browning, Galloway, Pennington, Kenny we should have enough cover at the back, with Barry( eeek!) also able to provide back up. Add injury free Oviedo and Gibson plus Ledson as DFM cover and that looks to be well covered. IĂ''d therefore spend what money we have on a couple of goal scoring midfielders plus a decent back up for Lukaku . A risky policy relying on youngsters with only Garbutt having decent PL experience, but IĂ''d rather see us take some risks than end up with another season of mid table mediocrity, breathing a sigh of relief when we get 38 points.
Tony Hill
84
Posted 14/04/2015 at 22:54:41
Jamie, I think on present evidence that Martinez should be sacked - he has made a godawful mess of this season and my worry is that he has lost the players. ThatĂ''s the key, because it doesnĂ''t matter who he recruits/brings through or what tactics he uses if the main players think heĂ''s useless.
He wonĂ''t be sacked so I am with you in hoping - against my expectation - that he gets the team on side and then starts to develop our youth. I donĂ''t really think heĂ''ll manage any of that, but we have no choice except to pray that it happens; everything else is a waste of breath.
Harold Matthews
85
Posted 14/04/2015 at 22:41:19
IĂ''ve been against Martinez but he has recently made several brave and unexpected decisions which have gained my admiration. Clever stuff and not up for discussion on TW.
Jamie Crowley
86
Posted 14/04/2015 at 23:08:31
Tony -
IĂ''m not for sacking Martinez, but I share your trepidation in whatĂ''s to come...
ThereĂ''s too many TWers that know a hell of a lot more than I do calling for the manĂ''s head. And that concerns me in an honest moment.
It could all go to shit. ThereĂ''s no question. RobertoĂ''s standing on a precipice.
I will say that IĂ''m very, very glad I support a conservative, stable Club that gives their managers a ton of rope. The knee-jerk reactionary sackings of so many managers in this league is laughable.
Roberto has the backing to right the ship. IĂ''m glad heĂ''s being given the opportunity to do so. If he fucks it up as so many on here predict... HeĂ''s got to be out the door by my American Thanksgiving if heĂ''s shitting the bed again.
Patrick Murphy
87
Posted 14/04/2015 at 23:39:53
Harold - IĂ''ve never known you to be so cryptic in the past but your point of view is well respected by most if not all TWs, therefore IĂ''m curious to know what you mean by Ă''clever stuffĂ''?
If you mean that he has used some psychology to re-motivate the players and his captain on his behalf let some players know that they are not immune from the axe, I would tend to be in agreement with you.
If you also mean that lowering the expectations of the club and its fan-base, and that is clever for him in managing to keep his job, then, once again, I would tend to be in agreement.
I would also argue that at times Roberto has been far too clever for his own good and at times he forgot the basics or at least from the outside he looked as if he did.
Roberto is a bit like his team, there is something there waiting to be unleashed but it gets lost in a fog of words and inaction and as mere supporters we are only ever interested in what we witness on the pitch. That is where he will be judged from the start of next season and the patience of the fans wonĂ''t be as forgiving (if thatĂ''s the right word) as it has been to a point this season. If his team serves up good and winning football, that will be the cleverest thing he could do as far as IĂ''m concerned.

Eddie Dunn
88
Posted 14/04/2015 at 23:36:42
My feeling is that we will be stuck with the current incumbent for the foreseeable future, unfortunately. He has tinkered so much this season, with personnel, positions etc, so it is the law of averages that on occasion he will get it right.
I would love to believe, like some kind souls on here, that he will sort out his squad and improve next season. However, this is not logical, as he has screwed-up so many times, with teams, unmotivated, lacking fight, lacking balance, and of course, lacking confidence.
Add to this the Distin/EtoĂ''o business, and rumours of player unrest, and the recent improvement in results fades into meaninglessness.
Martinez, though, I think realised that we were not good enough to get into the top 4, and prioritised the Europa League as a way to get into the Champions League. If he had pulled it off, he would have been hailed as a genius, by all on here, and the media tossers.
His plan did unravel though, and it was a long shot in any case, but it did keep us interested and gave us hope.
On 606 the other night the pundits were considering whether Spurs or Liverpool would be better off going for 5th and Europa or preferring 6th and a shot next season of top 4.
Someone said that 5th would give an easier route to Champs League than getting top 4, which is probably true, as the winners now qualify for it.
However, Martinez is also looking after his own high profile and doing well in the Europa League was always a better career move than getting 6th in the Prem, or a FA Cup semi-final loss or even a League Cup win!
He is, like his players, in a fickle industry and aware that this seasonĂ''s "Have-a-go" heros very quickly become next seasonĂ''s "relegation heart-break".
I can not see us getting anyone even vaguely good in on the playing staff this summer, I think we will wait and wait, as usual and be underwhelmed at our meagre shopping bag in comparison to our competitors.
Ant Dwyer
89
Posted 15/04/2015 at 00:01:46
Phil Spencer (#45);
Spot on, major major need for an overhaul. You've named 12 players there and all of their futures are far from clear-cut. I think most need to retire or move on, and two or three others may want to go.
I'd love to see us hold onto Mirallas and Garbutt, the rest would be better moving; add either one of Joel or Howard and Kone to that list an that's 12 players need ousting.
Options with Cleverly and Milner being on frees could be a god send plus hopefully the emergence of Ledson, Browning, Galloway and Chris Long plus the fact we have Besic to call upon more often.
With that in mind, I'd say we will need at least the 㿏M we had last year to get ourselves a main creative threat, a goalkeeper, and a centre-half.
By my estimation, this is an overhaul!
Darren Hind
90
Posted 15/04/2015 at 00:45:09
Never in the history of TW have I said anything good about Moyes. Yet criticise Martinez and all of a sudden youĂ''re a fan.
Every time Martinez is discussed, his acolytes can't drag Moyes into the argument quick enough. He left two years ago and they are still trying to hide MartinezĂ''s shortcomings behind MoyesĂ''s unpopularity.
In a debate about whats available to Martinez, I don't care how much Moyes had to spend in 2004-05-06-07-08. I donĂ''t care where he finished, it has nothing to do with whatĂ''s available to Martinez. I don't even care if he is never mentioned again – although Colin and Kevin would struggle for any sort of defence then.
Paul T
I don't get this argument about MartinezĂ''s gross/net spend. IĂ''m happy to talk net spend and include the 㿑M Martinez has recovered, just as long as you agree that what he inherited was nearer 𧵎M worth of players than the 𧴜M I spoke about earlier.
A player is worth what another club is prepared to pay for him and if the club has recovered 㿑M for players that were already here, that 㿑M has to be added to the value of what he inherited. Right? ... or is that "free" money we shouldnĂ''t bring into the equation?
I won't say Martinez/Moyes = Frying pan/fire any more. (I'm sick of saying it anyway.) For some people, it clearly means you don't like Martinez because you were a Moyes fan. I guess it's beyond the comprehension of some not to have a foot in either camp.

Gavin Johnson
91
Posted 15/04/2015 at 01:55:14
Fair enough, Darren, I got the impression that you were a big Moyes fan because you always seem to mention him as a yardstick to bash Martinez. But if youĂ''re saying it's the other way round with some folk on TW, it sounds like a case a cross purposes.
Eric Myles
92
Posted 15/04/2015 at 01:37:52
Colin #59, itĂ''s the aimless Ă''piggy in the middleĂ'' possession football that Martinez was most criticised for earlier in the season with everyone saying we should be more direct.
And when we play more direct Ă''hoofing and headingĂ'' football we get points.
Everyone could see Martinez's Ă''philosophyĂ'' wasnĂ''t working except the man himself who still refuses to accept his mistakes.
Matt Muzi
93
Posted 15/04/2015 at 02:05:26
Phill @83 I think Garbutt will be with another club come August, he still hasnĂ''t signed a new contract and his current one runs out at the end of the season.
Darren Hind
94
Posted 15/04/2015 at 02:27:13
Not so Gavin
I will often mention the players Martinez inherited, but I go out of my way to avoid talking about the guy he inherited them from
I was critical of him when he was here, but (for me at least) he stopped counting 18 months ago
Michael Kenrick
95
Posted 15/04/2015 at 04:01:29
With Martinez seemingly getting the "Vote of Confidence" in terms of the reported ampleness (amplitude?) of his transfer kitty, and the team moving slowly up the Premier League table with 38 points on the back of a four-game unbeaten run, the signs seem increasingly clear that the beleaguered Manager will not be ditched any time soon. He will not be leaving at the end of the season; he will be the Everton manager going into the new season.
So... any chance we could set aside the Martinez Out campaign on here? I think itĂ''s blown itself out for this season, and is getting just a little boringly repetitive... donĂ''t you think? LetĂ''s face it (as I used to say repeatedly about OFM): HeĂ''s really not going anywhere just yet.
Paul Ferry
96
Posted 15/04/2015 at 05:11:15
Hallelujah MK Hallelujah! IĂ''ve been waiting for one of you two to say that for ages. I called it being realistic a few months ago.
YouĂ''re so right: whatever any one of us thinks, Bobby will be our gaffer in say September. YouĂ''re not saying therefore get fully behind him, MK, I get it, but you are saying get realistic and then discuss.
A real positive and constructive step forward IMO.
Harold Matthews
97
Posted 15/04/2015 at 05:25:14
Sorry Patrick mate. IĂ''m referring to football decisions but IĂ''m not about to toss an apple into the whirling blades of an angry chopper.
Michael Kenrick
98
Posted 15/04/2015 at 05:35:46
ThatĂ''s right, Paul. Not telling anyone to get behind him, but the repetition is becoming very tiresome.
IĂ''ve also read on here that we have some players in their thirties... really? And a number of them, so we are told, should/must move on. The list gets repeated a few time a day, it seems.
HereĂ''s a thought: I donĂ''t think anyone is going anywhere for at least another month or so... could we just hold off perhaps ... you know, wait and see who actually does move on? In May, June or even July...
Mark Andersson
99
Posted 15/04/2015 at 02:09:29
Great reading. I will never be in the fingers crossed hope camp. This season showed Martinez's faults, warts and all. I can respect people who back their points with facts. It will be another summer of discontent and much more to debate.
We have not won one game comfortably this season. It would require some player to revitalise this current squad for next season. Not going to happen, so itĂ''s going to be more of the same next season.
Happy debating.
Brin Williams
100
Posted 15/04/2015 at 09:02:04
Well done MK - about time you put your foot down with a firm hand!
Colin Glassar
102
Posted 15/04/2015 at 09:44:28
Second and third that MK. IĂ''m all for healthy, open debate but the constant harping on about the future of the current manager has become stale and pointless.
Can we talk about what needs doing next season to avoid another catastrophe like this one? WhatĂ''s happening on the Ă''new stadiumĂ'' front? WhereĂ''s all the sky money going? Which players need to be bought and sold? These are far more important issues to deal with right now than the future of El Bob donĂ''t you think?
Darren Bailey
103
Posted 15/04/2015 at 09:19:08
Some interesting comments on this thread about a varying amount of players and obviously Martinez and Kenwright but as MK has said the latter two arenĂ''t changing any time soon so the best thing for us to do as fans of this great football club is to support the team 100% and start to have a bit of faith. IĂ''m not BobbyĂ''s biggest fan by any stretch nor BillĂ''s but this is what we have and this is what we need to believe in. Considering the wealth (or lack of) Bill has, he has supported both Moyes and Martinez the best he can while also making the club financially stable again. Something that he should be congratulated on in my eyes.
I follow on from the "Besic" article yesterday and say that I believe in him we have a ready made CB that can step in. After all, that is him position! Why not play him there and bring him in to the DCM man marking duties when needed? And then with Fabien Shaar available on a free we have our CBĂ''s sorted for ٞ spent. I believe Browning is a right-back and not a centre-back and should be given more game time as with Garbutt on the other side (sign him) and then Galloway brings more cover at centre-back.
In the midfield, I believe we should sign Cleverley to partner McCarthy and Barkley to complete the triangle. Controversial as lots of you donĂ''t like him but I believe Martinez may get something out of him and heĂ''s an England International free agent. He must have something about him. Diego while not the youngest of midfielders would be a great addition and could easily teach Ross a thing or two in that No 10 position. Barry and Gibson complete the midfield (when fit).
In my eyes, the money needs to be spent on the wings. Deulofeu and Lennon would be great additions. Ayew has just stated today that heĂ''s a Redshite fan so not sure about that and Konoplyanko wonĂ''t join us. If he did choose us, IĂ''d be made up as heĂ''s a quality player on a free also. Oviedo shifted further forward offers more options as does Osman and Naismith but IĂ''d like to see the back of Pienaar and McGeady in that area of the park. Kone should be moved on and Henen given a chance next season.
A lot has been said about this ample amount of funds but spent wisely quality and quantity is possible. Ambitious attempt above at building a squad for next season and I know this isnĂ''t FM but these are all players that have been linked with possible moves and I believe would be the foundations of very good squad moving forwards.
Max Wilson
104
Posted 15/04/2015 at 09:38:57
As no actual figure has been revealed we canĂ''t judge whether next seasons funding will be enough. But, even if it proves to be generous, Martinez has been choosing too many duds this season, so he obviously needs guidance in choosing recruits and making squad choices.
The Toffees I mix with are not in favour of sacking managers willy nilly so weĂ''d rather see Relegated Roberto get things right and stop us all chewing his balls off. It is obvious we need another striker to play with Romelu and probably 2 decent midfielders and a goalie.I think Martinez will try for another winger to replace Mirallas who is obviously on his way.
The really good news for the rest of this season and next is the re-appearance in top form of Pienaar. If youĂ''d seen him at Swansea, youĂ''d have been very pleased with him. Watch him Saturday!
Karl Graham
105
Posted 15/04/2015 at 10:00:15
ItĂ''s good to see Alcaraz and Distin are heading out and hopefully replaced by a left-sided ball playing centre back who can defend. IĂ''d send Browning on a season's loan so he can get regular football and Galloway would be fourth choice getting time on the bench and maybe an occasional appearance.
Left back is a bit up in the air until Garbutt decides what heĂ''s doing. My ideal scenario would be he signs we extend OviedoĂ''s contract and cash in on Baines as this is probably our last chance. If we get Garbutt to sign but no sensible offers for Baines, loan him out to a promoted team so he can gain experience. If Garbutt leaves (which is now the most likely outcome) make sure we extend OviedoĂ''s contract and weĂ''ll still have two decent left backs.
Goalkeeper and right back I expect to stay as they are but I personally would replace Howard but I canĂ''t see Martinez doing it.
Centre-midfield we ideally need someone creative to come in but I think we need someone to move on first so hopefully Barry will leave but unfortunately I canĂ''t see it.
In the attacking midfield areas weĂ''ve got enough options at Number 10; however, on the wings, we need one or two if Mirallas leaves. The only way I would sign Lennon is if McGeady leaves as well. He is a slight upgrade on him and would make a better back up but isnĂ''t good enough for first choice. Keep Pienaar as 4th choice. The new winger (or two, depending on Mirallas) needs to be of a quality that they improve the overall team. I would sign Henen permanently to takeover from Pienaar when his contract runs out at the end of next season.
Upfront we need another striker to provide genuine competition for Lukaku and also allow us to rest him or have the option of 2 up top.
Sam Hoare
106
Posted 15/04/2015 at 09:34:55
IĂ''ve not been a Martinez fan this season, not sure even his fans have been, but IĂ''m ready to get behind him for the next season.
Crucial summer needed with a creative AMC, a creative DMC, a back up CB and a winger (possibly Lennon) the priorities as well as replacing any outgoing first team members.
Henen should be signed as has scored as many as anyone in the U21s and Galloway and Ledson will be on the fringes next season.
To go all Champ Manager for a moment, I think we could do worse than Fabian Schaar on a free, Lennon for ٣M, Sergi Roberto on loan and 㾶-15M to spend on a really top creative midfielder. (Roberto Firmino is a long held pipe dream of mine but someone similar.) Then replace any outgoings (such as Mirallas) and if thereĂ''s money left over maybe bring in a GK to replace Tim Howard who I have slightly lost faith in despite his recent upturn in form.
Colin Glassar
107
Posted 15/04/2015 at 10:41:51
Henen will be offered a contract, Karl. HeĂ''s impressed everyone at the club and for 𧷤k heĂ''s a steal.
James Kirrane
108
Posted 15/04/2015 at 11:19:29
Just seen that Jurgen Klopp is resigning from Dortmund due to Ă''an incredibly disastrousĂ'' season. Will our Roberto do the same or might he consider it quite a Ă''phenomenalĂ'' season?
Gavin Johnson
109
Posted 15/04/2015 at 11:20:47
HenenĂ''s got 9 goals in 17 U21 games which is a pretty good return from a winger. It seems silly not to offer him a contract for such a little fee. I look forward to his first team debut...
Tom R Owen
110
Posted 15/04/2015 at 11:33:34
Klopp Is leaving Dortmund! I would pay the airfare to get him to JL airport!
Colin Glassar
111
Posted 15/04/2015 at 11:35:56
And once he gets to Speke (IĂ''ve never called it JL) what would you do Tom? Martinez is our manager for the foreseeable future so stop dreaming (especially about managers whoĂ''ve done even worse than him) and pray he does better next season.
Marc Hints
112
Posted 15/04/2015 at 10:53:32
Hi All,
Here is my take on what the squad should be next season:
Goalkeepers To Stay:
Joel Robles
New keeper
Defenders To Stay:
Leighton Banes
Phil Jagielka
Seamus Coleman
John Stones
Tyias Browning – Give him a go/cover for Coleman
Luke Garbutt – New contract needed/cover for left back
Brendan Galloway – Cover for Jags and Stones
New Central Defender
Midfielders To Stay:
Darron Gibson – Useful Squad Player/One more season
Aiden McGeady - Useful squad player/One more season
Bryan Oviedo
James McCarthy
Mo Besic
Ross Barkley
Leon Osman – Useful squad player/One more season
Steven Pienaar – Useful squad player/One more season
Aaron Lennon – Get him signed
Kevin Mirallas – New contract as once done he will perform
New Playmaker midfielder
Forwards To Stay:
Romelu Lukaku
Arouna Kone – Good pre-season maybe/ one more season
New Striker
New Striker
Academy Players I think should be in the squad next season:
Brendan Galloway – already above
Tyias Browning – already above
George Green
Ryan Ledson – Midfield
Sam Byrne – Striker
So that makes me think that we need 5 new players next season.
Players that I think should leave are:
Sylvain Distin
Christian Atsu
Steven Naismith
Tim Howard
Tony Hibbert
Antolin Alcaraz
Gareth Barry
Thanks!!
Jay Wood
113
Posted 15/04/2015 at 12:01:30
Ă''RM Air - On A Wing And A Pray.Ă''
Catchy...
Jay Wood
114
Posted 15/04/2015 at 12:09:19
Opps!
Ă''RM Air - On A Wing And A Prayer'
Even catchier...
James Marshall
115
Posted 15/04/2015 at 12:25:06
Ample. IĂ''m guessing this means enough to cover BobĂ''s targets.
So thatĂ''s a loan and Lennon? Probably.
Klopp to Man City? He says heĂ''s taking some time out. So maybe in the summer heĂ''ll show up there. Probably.
Steve Brown
116
Posted 15/04/2015 at 13:09:02
Right-back backup, first team centre-half, creative midfielder, wide player on left (and right if Mirallas leaves). Maybe a goalie too. It had better be an Ă''ampleĂ'' transfer kitty!
Agree on toning down the vehemence and invective rained down constantly on RM. It reminds me of the posts over the last 18 months of Moyes. I didn't even support hiring Roberto but it is getting tedious frankly.
Joe Foster
118
Posted 15/04/2015 at 13:48:20
I think Ă''ampleĂ'' in this case means "Here you go, RM, this is your lot, make the most of it as there is no more."
Eric Myles
119
Posted 15/04/2015 at 14:10:48
Darren #103, if the Club is financially stable as you say, I donĂ''t credit Bill and the board with that, itĂ''s all down to Rupert Murdock and his ilk at BT, Fox, CTH and other worldwide telly companies that are pouring money into our coffers. Something Bill and his fellow board members have singularly failed to do.
Eric Myles
120
Posted 15/04/2015 at 14:21:40
James #115 "So that's a loan and Lennon? Probably."
Should read, Cleverley and Lennon, certainty
Colin Glassar
121
Posted 15/04/2015 at 15:02:32
According to the Echo, he will get 㿀m to buy two 㾶m players plus a few freebies. No comment.
Tom Bowers
122
Posted 15/04/2015 at 14:52:40
Everything will be up in the air and speculation will be rife over the next few months. To say RM has gotten things wrong this season is an understatement but given last seasonĂ''s performances he has probably been given the benefit of the doubt by many fans as well as BK.
Certainly there will be changes and some players will be let go and some others who should go will still be here next season. If the two major loanees are not kept for whatever reason then that will free up wage space for new acquisitions but I think an offer should be made for both.
Speed and skill are essential in all areas but although Mirallas has speed he has been disappointing this season and should be sold. Everton are crying out for another top class striker to compliment Lukaku along with another commanding centre-back to compliment Stones. With all due respect to the magnificent Jagielka, he is past his best and Alcaraz is not an option in my opinion.
Robles should be given some starts in the remaining games and RM may also want to consider a commanding, attacking midfielder in the event Barkley is snatched away.
Tom R Owen
124
Posted 15/04/2015 at 15:07:50
Colin (#111)
Klopp's CV reads a little better than RM's.
Colin Glassar
125
Posted 15/04/2015 at 15:13:25
IĂ''m not doubting that, Tom, but this season Dortmund are on 33 points compared to our phenomenal 38. Ian, Klopp will most probably go to Man City so youĂ''re stuck with Roberto for the time being.
Tom R Owen
126
Posted 15/04/2015 at 15:45:17
Colin
May be a case of "better the devil you know! "...
Patrick Murphy
127
Posted 15/04/2015 at 15:50:09
I wonder how our financially stable club would look if the TV revenues were removed from the equation? Of course some of the other brands would suffer as well but where would we get the funds to pay the players if we had to rely on gate receipts alone?
This is the reason that many of Bill KenwrightĂ''s critics have so many issues with his tenure, itĂ''s not just about the board not putting in the money itĂ''s about how they have failed to build the business side of the club over 15 years.
Building the business doesnĂ''t have to cost a great deal of money but it would require dedicated people who keep their eye on the ball at all times not some group of amateur enthusiasts who believe that keeping the club afloat from a playing and financial point of view is sufficient.
We all realise that life and football moves on quickly and it wonĂ''t take another decade to see the results of the inertia that has gripped Everton FC for so long, perhaps, the ground move if it ever happens can be the catalyst for change, it doesnĂ''t have to be a change of owner but it does need a new way of operating and perhaps the hiring of professional people who can really take the club forward, even if it is a slow process at least that would be a move in the right direction.
James Flynn
128
Posted 15/04/2015 at 14:34:07
Michael, if you donĂ''t want discussion of the next transfer window to be talked about until the window opens, why post an OP titled: Martinez to get "ample transfer funds."
What other discussion was going to occur other than whatĂ''s been posted? Why allow it to be put up on the Board at all?
If itĂ''s tedium regarding "Martinez bashing", no quarrel from me. Not sure how we prevent that on a Everton discussion board. Shut down the site, perhaps? HeĂ''s the manager, of course he gets bashed. HeĂ''s earned a fair bit of it on merit, hasnĂ''t he?
So, bashing the manager? "Enough already." Transfer talk? "Wait until the window opens." OK then, what do we discuss?
Guide us, Senior Editor.
Craig Walker
129
Posted 15/04/2015 at 17:20:02
Bill must have had a look down the back of the sofa again.
Paul Tran
130
Posted 15/04/2015 at 17:06:48
Dup
Paul Tran
131
Posted 15/04/2015 at 17:24:48
Darren, every manager inherits a squad of players. He canĂ''t control that. He can control who he brings in/out and how he pays/receives. ThatĂ''s why IĂ''m arguing my way with the figures. IĂ''ve never seen a managerĂ''s transfer acumen include a nominal value of the squad he inherited. ThatĂ''s a new one on me and I think weĂ''re comparing apples with pears.
Now if we were debating what heĂ''s done with who he inherited, thatĂ''s another story!
Dave Abrahams
132
Posted 15/04/2015 at 17:54:50
Mark Hints (112) out of curiosity why have you included Sam Byrne in the first team squad for next season? He has hardly played for the reserves this season.
Colin Metcalfe
133
Posted 15/04/2015 at 18:17:33
If the report is correct and Klopp is leaving Dortmond at the end of this season BK should be on the phone to him ASAP!
I simply donĂ''t trust Martinez with a transfer kitty. His record is appalling !
Michael Kenrick
134
Posted 15/04/2015 at 19:07:28
James:
Discussion — Good.
Repetition — Boring.
Hope that helps.
Andy Crooks
135
Posted 15/04/2015 at 19:05:33
I will say no more about the future of Martinez. In my view, it is the most important issue about the club at the moment. I do not believe it is stale but I will respect the views of Michael and others and lay off until September when I believe it will be relevant again.
Darren Hind
136
Posted 15/04/2015 at 18:54:50
You're either missing, or choosing not to see the point, Paul, but it's a perfectly valid one.
If You were to become manager of Burnley and you were given 㿞M to spend, nobody would point the finger if you didn't challenged for Europe. However, if you were to become the manager of Man City and were given 㿞M to spend, then people would expect you to be challenging for the Title – why? Because you will have inherited some of the most talented players in the country.
People slaughter Man City for not dominating They murdered Moyes because he turned the champs to chumps, they point the finger at Pochettino because his players are cost over 𧵎M and they still won't challenge for a CL place.
Every manager will be judge from his starting position. if you inherit the champions. you will be judged harshly if you spend 㿞M and fall down the league (ask TGT) ... If you inherit Sunderland and spend 㿞M ,you will be hailed a hero for keeping them up.
Spurs + Man City will be savaged by the critics this year, but how much of the mega bucks did Pellegrini and Pochettino spend? A pittance in comparison to the value of the players they inherited.
Martinez inherited a more valuable team than the overwhelming majority of other managers. For a couple of years they had shown improvement in both points accumulated and in the way they played. They were clearly on an upward curve and Martinez knew he had landed himself a fantastic gig.
This is not a "new one" on you Paul. Year after year, you see managers judged on performances of teams they have inherited. Martinez is not being singled out here. He may not have been in pole position, but he was in a better position than most.
How can anybody say if a manager has failed or succeeded without first looking at what he started with?
Trevor Peers
137
Posted 15/04/2015 at 20:03:32
I think weĂ''re back to the Martinez in or out argument. BK admires him so the debate ends there. Darren's post makes sense unfortunately though we wonĂ''t know the answers until this time next season. All will be revealed by then, the Sky money will paper over the financial cracks... If it goes tits up.
Andy Walker
138
Posted 15/04/2015 at 20:30:08
First of all the definition of ample needs to be qualified. Ample to do what exactly? Compete to win the league (surely not) top 4, 6 maybe? Or just stay up?
Michael, the statement leading this thread is that Martinez has been given ample funds. As much as you may think itĂ''s repetitive to keep talking about Martinez, if a short statement includes his name, he is by definition part of the discussion, that is, it is Martinez who is being give ample funds and his credibility must be considered if a discussion of the statement is to be had. In other words whoever has decided to provide ample funds (whatever that means) has defined that in the context of Martinez being given the money to spend.
If our manager had been someone else, it may well have been a different word other than Ă''ampleĂ'' used. We donĂ''t of course know this but it canĂ''t be dismissed as a possibility, so the validity and worth of Martinez is an inherent part of the discussion.
I donĂ''t want to preach, but it seems common sense to me. In my opinion we canĂ''t be told what we should be discussing, IĂ''m sure you would agree, but your comment didnĂ''t read right to me.
Andy Meighan
139
Posted 15/04/2015 at 20:24:33
People can go on about ample transfer funds, war chests, etc as much as they want. To me itĂ''s all about spending it wisely. Personally, I wouldnĂ''t trust the Spaniard to go down the corner shop for me because his record in the transfer market already is nothing to write home about.
But saying that, heĂ''s not alone is he? Look at our illustrious neighbours. The cash theyĂ''ve blown on the likes on Lovren, Balotelli etc... laughable scratching around for 4th with the other big spenders Man City. When you look at their squad with the likes of Navas, Jovetic, Fernando, Mangala et al who, quite honestly, are just average players yet cost an arm and a leg. Now compare those two with Southampton who lost half their squad, brought in a manager who knows the game inside out who played at the top talks sense and bought hardly what youĂ''d call household names and yet look whoĂ''s challenging the two clubs I mentioned. Just because a player costs zillions doesnĂ''t mean heĂ''ll be a success.
On another note, itĂ''s obvious what we need. A creative midfielder is a must and I mean creative, not Tom f**king Cleverley as he ll soon be known if we sign him. A centre half, a striker and a winger. And on the subject of centre halves, I do hope he gives Distin a chance to say goodbye by giving him a run out before the season ends. This player has been a magnificent servant for our club and to think we only paid 6 mil for him. A top top player in my view and deserves to play one more time at home at least. Knowing Martinez though, I wonĂ''t hold my breath
Mark Frere
140
Posted 15/04/2015 at 21:05:04
Darren, you keep going on about this top notch squad that Martinez has inherited... but was it a better squad than what Chelsea, Man City, Arsenal, Man Utd, Spurs and Liverpool had/have? Clearly itĂ''s far inferior to a few of those teams and our squad doesnĂ''t have the depth of any of the big 6. What were/are your realistic expectations?
Last season when we were in and around the top 4, challenging for Champions League, recording a record points total, all you did is moan!
This season has been a shambles... but even when things are rosy, thereĂ''s no pleasing you it would seem. Furthermore, the rival teams IĂ''ve mentioned above have massively out spent us which makes this Ă''Martinez has spent 㿞 million argument redundant... especially when you discard the net spend altogether!
Paul Tran
141
Posted 15/04/2015 at 22:34:21
Darren, I take your point now that youĂ''ve fleshed it out. My response wasnĂ''t a defence of Martinez, but a genuine question about how/why you quoted the spend and ignored the sales. If my accountant did that IĂ''d fire him! I still wonder if Martinez would have been given much to spend if soft lad hadnĂ''t splashed out on Fellaini.
ItĂ''s an interesting line of argument, your idea of diminishing player value. Certainly applies to our manager this season. Inherits a good squad, improves it and then crashes it. If I played devilĂ''s advocate, I could open the argument up with the idea that he inherited a good squad with too many ageing players that need replacing. ThatĂ''s probably the reason why he was appointed and will be retained. ThatĂ''s why heĂ''s been allowed to exacerbate this situation by bringing in more ageing players with little or no resale value. HeĂ''s happy to live in the short-term freakonomics that is Everton.
Like I keep saying, IĂ''d sack Martinez at the end of the season. The only evidence I need is the league table and the dreadful football served up this season. If people want to throw stats around and selectively misinterpret what he says (not accusing you of that, Darren), thatĂ''s fine, but I donĂ''t think it adds to the simple argument for his dismissal.
Is there a manager out there that can find quality players of value and build a team that can keep the ball and attack? I hope so, because thatĂ''s what we need.
Stephen Daniels
142
Posted 15/04/2015 at 23:30:03
The kid we bought from MK Dons last season is coming on leaps and bounds IĂ''d love to see him get the chance like Stones did next season.
Darren Hind
143
Posted 16/04/2015 at 05:23:37
Mark (#140),
IĂ''m usually reluctant to respond to post that will contain the phrase "I know this season has been a shambles BUT"... However, I am usually interested in what you have to say, so in your case I will do so.
The season has indeed been a complete Titus, but for me, there can be no "BUTS". I knew in pre-season that by failing to prepare, Martinez was most definitely preparing to fail. That's not hindsight. I screamed the house down at the time.
I don't buy into the claim that we were "fantastic" last season. Yes, I know we played some fantastic stuff on half-a-dozen occasions – notably Arsenal (H) and Newcastle (A) – but these performances were inspired by individual brilliance. RMĂ''s tactics often ensured our games were drab affairs, our wins often of an attritional nature. For every entertaining game you could name, I could name you four that ... err, werenĂ''t.
You're not exactly a John Daley – who once had my lads pissing themselves laughing by dubbing me as a "miserable arl Get" – but youĂ''re still right, I am a moaner. I don't have allegiance to any chairmen or managers, but I love this club and when I see it being mismanaged, I can't bring myself to look the other way.
Michael Kenrick not only gives up his time to share the workload with Lyndon to provide us with this unique platform, he puts up some fantastic stuff of his own. His call-it-as-he-sees-it approach is a breath of fresh air ... but I think he is wrong to suggest Martinez is a given for next season. This is Premier League football, even clubs like the Shite and the Mancs who traditionally "don't sack managers" are now prepared to do the dirty. The stakes have never been higher.
The reluctance to back their manager publicly when his back was to the wall said an awful lot about our leaders. They will be keeping a watchful eye on ST sales. Their ears will be close to the ground. Money talks... and if Martinez stops being a commercial asset, heĂ''s toast.

Peter McHugh
144
Posted 16/04/2015 at 07:06:17
Darren, I think Martinez is safe. The difference with clubs you mention is that they can give and do give their manager zillions. That means doing shit even for a season comes with the territory.
For plucky Everton we donĂ''t compare and one of our attractions to managers is we give them time.
As such, Martinez is also safe as:
1. It would cost a lot to get rid of him;
2. I think Bill thinks he could do a good job (I do too);
3. An attraction of managing Everton is you get time – unlike most of our peers.
Clive Lewis
145
Posted 16/04/2015 at 08:33:25
Lennon? I don't rate him that much. Lukaku and Mirallas will leave, I expect... maybe others. That leaves us with the idea to reconstruct a squad full of players of the quality of Alcaraz and Besic, and Lennon.....
Starting to look like relegation already for next season.
Marc Hints
146
Posted 16/04/2015 at 20:53:36
Dave Abrahams (132)
My apologies. I was supposed to put David Henen. As I was studying the reserves, I put that by mistake. He has come on leaps and bounds, so I hear, so think we should give him a go. What do you think of the rest?
Paul Tran
147
Posted 16/04/2015 at 20:57:01
Darren, whatĂ''s a complete Titus? IĂ''ve clearly been away from Liverpool too long!
Patrick Murphy
148
Posted 16/04/2015 at 20:59:32
Paul, Is it something to do with Titus Bramble and some sort of weird rhyming slang. As the player gave the ball away the crowd shouted "that was a real Titus" or as the goalkeeper prepares to take a goal-kick "YouĂ''re Titus... aaargggh!"

Dave Abrahams
149
Posted 16/04/2015 at 21:00:07
Marc (146)?itĂ''s easy done, we all make errors. You never know how young players react to playing in the first team, George Green certainly wonĂ''t lack confidence, and Ryan Ledson has every chance along side Galloway.
I'm not sure about Browning; since his two cameos versus Liverpool and Man Utd, he has rarely played for the first eleven. He seems to lack confidence in himself, but I hope he can progress and become part of the squad.
Mike Childs
150
Posted 17/04/2015 at 10:48:03
According to Alexi Lalas, former USA player and now commentator, all Martinez would talk about at the World Cup was playing in the Europa League – no concern for the EPL. We certainly went further than most expected but at the most crucial time he again made the same mistake as he did the year before against Crystal Palace with all offensive lineup.
I pray he will really take a critical eye to his style and correct his mistakes of playing square pegs and injured players or out-of-form players to heart. He must also grow a pair.
As an Yank with only 5 years of vested interest in the game, you would think it would be easy to just say, "Hey, I made a mistake; from now on, IĂ''m a so-&-so fan." But the passion and love of this club that you folks have shown me makes that an impossibility. For that I say Thank You and long live Everton!
Drew O'Neall
151
Posted 17/04/2015 at 11:46:14
You have to give Martinez credit for his eye on the squad.
For all MoyesĂ''s moaning about not being able to afford a 20-goal-a-season striker and fears about losing his crown jewels, RM came in, moved on some squad players and got top dollar for the one asset we could afford to lose in Fellaini and replaced him with a better player for less in McCarthy and one of the best young, proven strikers in the League.
I know the TV money helped but we got Lukaku on ٣m a year which the manager and the board deserve credit for. These were the moves Everton fans were crying out for and Moyes had been too myopic and set in his ways to be creative in that way (for all his good points).
I would venture the manager is again making the right noises about what the squad needs in the lead-up to this transfer window, with a playmaker and centre back being top of the agenda, which is refreshing candour after the previous regime, and I for one would trust him again with a transfer kitty.
For those anti-RM posters who will cite the Wigan contingent; Alcaraz for Heitinga probably saved us ٟm last year in wages alone.
He was unlucky with Kone but that could happen to anyone and when he bought him that was what we could afford and we needed a striker – I for one thought he was a good, intelligent player in his Wigan days.
You want your manager to bring the best players from his old club, Martinez did that and he and the board prevented Moyes from doing the same.
I have been euphoric in the transfer windows as an Everton fan under Roberto Martinez when all I remember is pessimism prior to that. I am similarly enthused, based on these comments, about this summer.
COYB!
Colin Glassar
152
Posted 17/04/2015 at 12:08:57
Mike, my only knowledge about Alexi Lalas is seeing him at a World Cup (94) with a huge carrot-coloured flop of hair and straggly beard. He was an awful footballer and according to some of your fellow countrymen, an even worse pundit. Does he have any credibility? Only you yanks can answer that.
Paul Andrews
153
Posted 17/04/2015 at 12:40:57
Drew OĂ''Neall,
That is a very good post. Let us hope Mr Chairman keeps to his word re a decent transfer budget this season. Martinez indicated he wanted 6-7 players; obviously given the recruits he was told the money wasnĂ''t there.
Christopher Kelly
154
Posted 17/04/2015 at 16:15:25
Colin (#111),
Saying that Klopp has done "worse than Martinez"... Now IĂ''ve heard it all. Colin has to be really be Green, Kenwright or Planet Hollywood, oh lord.
㿊M minimum needed. end of. Play youngsters the rest of the way, understand what you have and what you need, Martinez. Simple. DonĂ''t give us "Alcaraz is playing for next year" blah, blah. Get rid of most of the oldies and anyone over 34. Bring out the sword and we move on.
Marc Hints
155
Posted 17/04/2015 at 18:25:09
Dave Abrahams,
Yes, I definitely agree with George Green, Ledson and Galloway. And I do know what you mean about Browning lacking confidence... but hopefully that will come with time. The worrying thing for me was they were the only ones that I think could make a step up.
The other players I put in for one season, like Pienaar, is thinking along the lines we are not going to have any more than 㿀 million to spend so I'm hoping we will get one good season out of them. The other side of me agrees with most posts on here and that it could be worrying times as I could actually name about 8 or 9 players that really need replacing.
Paul Ferry
156
Posted 18/04/2015 at 02:55:08
Christopher (#111) – I think that Colin was speaking about this season and sure itĂ''s up for debate but a case can be made that this season Martinez has not done as badly as Klopp, not least given the relative situations of of twelve months ago.
Paul Tran (#147) – DonĂ''t worry mate, Darren is the poet and spinner of rhyming slang in the Scottie Road area and heĂ''s boss at it: caught me out yesterday. Just keep a list PT, theyĂ''ll come round again.
Andy Walker - 138 - canĂ''t speak for MK needless to say but I think that his point was that this repetitive Martinez out refrain is (1) boring and (2) utterly unrealistic coz he aint going anywhere soon and therefore - maybe - debate might move on as it has in some circles.
Unless I missed something subtle I didnĂ''t read anything anywhere near the lines of what you suggest – that one of the eds was saying what or not we ought to be discussing (although they absolutely have the right to offer things for debate quite frankly and set agendas) or whether we could say something or not but simply saying this is so boring ......
Make of that what you will.
I decided that it meant that it was so boring .......
Come on lads, twat these Hovis munching cobble street habitues tomorrow. 11th will be our lowest finish this season but we might still nick a top 10 place with SamĂ''s lads going backwards and Stoke drawing or losing not winning.
When the curtain falls on this topsy-turvy angst-inducing season, 10th would not be too bad at all.
Barry Sherlock
157
Posted 17/04/2015 at 18:47:18
A lot of people believe that the squad will only be tweaked this summer and not have any sort of "major overhaul". Really???
There are too many pointers that indicate that there will be serious ins and outs this summer.
Distin: HasnĂ''t played in over two months. Rumours of a fallout with RM. It doesnĂ''t look good for him. Going.
McGeady. HasnĂ''t played in long while. Will the fans ever forgive the red card? HeĂ''s going to leave.
Mirallas: Not getting his game. WonĂ''t sign a new contract with 12 months left. Everton do not have deep enough pockets to say, "No worries, see out your contract and then go for free." We will have to cash in this summer.
Lukaku: Why does everyone think he has signed with a new agent??? He already has a long contract. He already has his move. He wants Champions League football. The agent will be looking everywhere to get a big move. And if someone comes in with a big cheque BK will open the door for him. I for one, will be gutted.
Osman: Had a number of injuries. Will he call it a day?
Gibson: Too many injuries. Probably end up a Sunderland?
Oviedo: Still not getting game time. Garbutt preferred as cover at LB. I can see him moving on.
Naismith: For all his hard work, he doesnĂ''t quite do it for me. Possibly end up back at Rangers.
Kone: Not a fans' favourite. He may not get another club and end up staying, warming the bench.
Alcaraz: Antolin has had a number of poor performances. Not a patch on Jagielka & Stones. Rumours of another CB coming in. HeĂ''s going.
Barkley: The media are dying for him to go to Man Utd or Man City. The future England "star" at one of the Sky 5. Again, IĂ''d be gutted.
Howard: For the first time since he came, Tim has had the fans on his back this year. I can see a new keeper coming in.
Coleman: Man Utd still keeping tabs on him. Big money offer comes in for a player who cost, how much was it again.....! We donĂ''t really have any cover for Seamus. That could be one of the reasons we wouldnĂ''t sell.
Besic: HasnĂ''t played anywhere near the number of games that he was expecting. A World Cup player. He wants to be a first team regular. IĂ''m not saying that he should be. He may look to go to a lesser team and try to establish himself. I wouldnĂ''t blame him either. IĂ''d be gutted to see Gareth Barry get into the first team ahead of me!!
McCarthy: The rumours still rumble on about a move. Personally I think he is an excellent player. Possibly our best player. IĂ''d hate to see him leave.
Stones: All the big clubs are monitoring him. Arsenal would love him. HeĂ''s a real player. Very comfortable on the ball. Again, IĂ''d hate to see him leave.
Baines: If a decent offer came in now that Garbutt could step in, maybe the board and the manager would have a different view to last year?
So, for me, when I look at the squad and then hear people saying 3 in and 3 out I think: "Are you joking? Effectively our whole squad is being mooted for moves." Certainly they wonĂ''t all happen but I can see 6 in and 6 out.
Ernie Baywood
158
Posted 18/04/2015 at 11:25:47
In terms of key players, you would think only Mirallas would go. CanĂ''t see Rom, Ross, Baines, Jags, Stones, McCarthy, Coleman going. And I donĂ''t think anyone is so cash-deprived nowadays that weĂ''ll see the top 5 or 6 taking whoever they want off them.
The likes of Distin, Alcaraz... who cares how they go? TheyĂ''re gone. Barry might be a special case and end up staying. Kone? HavenĂ''t got a clue, maybe heĂ''s destined to play out his days as (hopefully) 3rd striker unless someone is silly enough to offer good money.
Osman, Gibson, Pienaar, Naismith, Howard. Decent servants and if they hung around another year would probably still offer something to the squad.
Garbutt would be a real shame. A loss of potential but no loss to the current XI. IĂ''d imagine whether Oviedo stays is in GarbuttĂ''s hands.
I still have an feeling that McGeady can offer something if used well.
What the above tells me is the outs donĂ''t necessarily dictate the ins required. WeĂ''re low on players youĂ''d actually care about keeping... So there are probably 5 or 6 needed regardless of who or how we get rid of players.
Keeper
Spare CB
Both wings (I guess Lennon is one)
Striker (backup as minimum)
Creative midfielder
WhatĂ''s that? About 㿞M? Dream on, Ernie.
Eric Myles
159
Posted 18/04/2015 at 11:46:05
Barry (#157), remember our Club do more outs than ins... so, while you may be right about 6 outs (you missed Hibbert off your list by the way), I still only see 3 ins likely.
Barry Sherlock
161
Posted 19/04/2015 at 11:55:42
Eric (#159), I guess youĂ''re right; perhaps there will be more outs than ins, but I think we need more than 3 players coming in. Particularly as some of the players leaving could be first teamers.
I didnĂ''t forget Tony Hibbert. I just think he is Everton through and through and that he has one year left on his contract. Where is he going to go and get the same money? No one will take a chance on him given his recent injury record. Besides all of that, he will see out the year and become a coach (probably).
6 outs (in my opinion)
Mirallas; one year left and wants CL football. HeĂ''s 27
Lukaku; agent already talking to CL clubs. PSG have deep pockets!
Distin; no contract. FREE
Alcaraz; no contract. FREE
McGeady; back to Celtic. HasnĂ''t what it takes in this league.
Oviedo; real shame. He is 3rd choice LB.
6 ins
Goalkeeper (first choice)
Centre back (cover)
Midfield (cover) - possibly Cleverley?
Winger (right) - possibly Lennon?
Winger (left)
Striker (first choice)
Certainly I hope that the club makes a stand against Lukaku going. But we have seen player/agent power before.....
---
Add Your Comments
In order to post a comment, you need to be logged in as a registered user of the site.
Or Sign up as a ToffeeWeb Member — it's free, takes just a few minutes and will allow you to post your comments on articles and Talking Points submissions across the site.
© ToffeeWeb