Pienaar considered calling it quits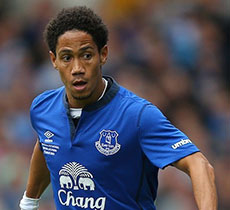 Steven Pienaar says that the toll of his succession of injury problems had him considering retirement but credits his team-mates for keeping up his morale through a tough season.
Once a mainstay in the Everton side, Pienaar has managed just 11 appearances this season, often struggling to play two matches in succession due to groin and knee complaints.
The 33 year-old made a long-awaited return to action against Swansea 10 days ago but then missed the win over Burnley as he still wasn't 100%.
He is hopeful of getting more game-time in before the end of the season but he is not afraid to admit to having had thoughts of calling time on his career.
"At one stage, I thought I had better just hang my boots up and call it a day," he told evertonfc.com. "But on the other side I was just thinking that I enjoy going in and seeing the guys so I just had to stay strong and that kept me going.
"When you are at home not coming in for training you feel very down but as soon as I walk through the door, there's always the camaraderie in the group, there is always fun.
"Even if you are injured, you can always laugh and it keeps you going. Just to be among the players, it's kept me going."
Roberto Martinez, meanwhile, has not discounted Pienaar from his plans for next season despite his poor appearance record this term.
The manager is confident that the South African can resolve his knee issues and play a big part in the 2015-16 campaign after a solid pre-season programme.
"We need to get him fit, but it is not a big, big issue," Martinez said in the Liverpool Echo. "His knee was a big problem and all of the problems that come from the mechanics of the knee.
"You get those seasons where you get one problem after another because you are trying to catch up.
"So we hope with a period in the summer we will be able to refresh and readjust him to get him ready for pre-season and set him up for a positive campaign next season."
Reader Comments (41)
Note: the following content is not moderated or vetted by the site owners at the time of submission. Comments are the responsibility of the poster. Disclaimer
Peter Mills
1
Posted 22/04/2015 at 22:59:12
He's a skillful player, he showed up well when he came on at Swansea. But we saw in the FA Cup Final 6 years ago – that's 6 years ago – that he lacks strength, stamina and pace, which are so important in the modern game.
Sorry to be cynical. But if I was considering quitting my job, but realised I could go in to work, have a laugh with lads and earn a couple of mill a year, I would probably postpone my retirement.
Colin Glassar
2
Posted 22/04/2015 at 23:18:01
I've always loved Pienaar but age is catching up with him.
James Kirrane
3
Posted 23/04/2015 at 00:30:48
I can see a 3-year contract coming for Pienaar.

Minik Hansen
4
Posted 23/04/2015 at 00:59:32
We have missed him. Give him till the end of season, he will have a good run of games and give us that creativity we have lacked at times.
Michael Winstanley
5
Posted 23/04/2015 at 00:54:09
I'd have him on the bench, to come on and try to win us the game. I wouldn't plan on starting him because he'd just get clattered but having him as an option for the last 20/30 mins of games wouldn't be a bad thing.
Plus there's more chance of ref's booking players for fouls the later the game goes on so he might get more protection.
This season we've witnessed no plan B when some of the main players aren't fit, to rely on them again and expect a full season would be madness. Gibson and Pienaar would bring real quality from the bench but for me they shouldn't be starters.
Phil Sammon
6
Posted 23/04/2015 at 01:37:16
One of my favourite players of the last decade. I'm always baffled how such a talented and skillful player can split the fanbase like he does. Rarely concedes possession, hardworking, always shows for the ball, just the kind of player I want to see at Everton.
Phil Smith
7
Posted 23/04/2015 at 02:05:01
Totally agree with you, Phil. Class player who is quick, skillful and retains possession better than most. Also one of the most fouled players of the Prem. League era. His pass-and-move play has been sadly lacking up-front for most of this season.
Timothy Sebastian
8
Posted 23/04/2015 at 03:40:07
A good manager knows when to move players on. In the 70s, Bob Paisley knew this, but Don Revie didn't. Hence Leeds Utd declined with the aging of its key players while Liverpool went from strength to strength. Alex Ferguson also knew this as Man Utd manager.
I'm afraid our current manager hasn't quite caught on to this management skill.
Terence Leong
9
Posted 23/04/2015 at 03:52:41
Skills, pace & strength... While Pienaar lacks the 2nd & the 3rd, it might not be as crucial because of the skills he has.
He hasn't been, and is not meant to be a marauding winger flying down the wing, smashing through every challenge.
We kept talking about lacking players with guile to split defences. We have no short of players who can barge their way through. Pienaar brings fluidity to the team play. Paul Scholes was so valuable to Man Utd as he reinvented himself in the middle of the park, pinging long and short passes. While Pienaar can't do the long passes, he can certainly do that quick one-two defence splitting passes.
He's worth keeping.
Peter McHugh
10
Posted 23/04/2015 at 06:16:57
Keeping Pienaar at his age so he can play 20 minutes or so now and again is crazy. My gut feeling is get rid. I have enjoyed seeing him play but he just hasn't played much for 2 years now. Gibson on the other hand I would persevere with.
Sounds like we'll see if he is fit following a full pre season which I suppose ain't a bad shout.
Phil Sammon
11
Posted 23/04/2015 at 06:46:57
Baffling logic there Peter. If you're worried about keeping players that don't play enough football then Darron Gibson should be your prime candidate for the exit door.
Not that I advocate getting rid of either, mind you.
Sam Hoare
12
Posted 23/04/2015 at 07:08:57
I really like Pienaar as a player but wonder how much we can expect from him at 33 having missed almost an entire season.
The fact is that we need players in our squad who can do what Pienaar, Osman and Gibson can do but sadly none of these players can be even nearly relied upon to be fit for 90% of games. As such I think we need to probably find younger more reliable versions who will be on the pitch more than on the treatment table.
Eddie Dunn
13
Posted 23/04/2015 at 07:58:05
Phil & Phil, as much as I have appreciated his skill and passing over the years, I have to disagree with you both on him rarely coughing up possession. If he doesn't get a ref that will blow-up for the slightest of contact, he is to be seen lying on the ground imploring the ref to give him a foul as the opposition counter attack.
Early in his career with us he did win many free kicks. However he is one of those maddening players who goes down too easily, and in the last few years the refs have not been so accommodating to him. If he played for someone else, we would look on his antics differently.
Apart from this, I've always liked him!
Phil Sammon
14
Posted 23/04/2015 at 08:17:42
He's a diver, Eddie, I wouldn't contest that. There's too many opposing teams doing the same thing for me to get hung up about that sort of thing anymore.
Kevin O'Regan
15
Posted 23/04/2015 at 08:27:48
He has been good for us in the past, but has very often left me frustrated by not playing a pass and going down too easily – ie, looking for a free kick when a decent attack was on. Ossie always tried his best to finish the attack, and that's what we need from a creative player.
Sorry Pienaar but I'm in spring-cleaning mode.
Jim Bennings
16
Posted 23/04/2015 at 08:24:35
In my opinion, he's still easily the most talented skillful ball player we have at Everton, the major factor that Pienaar has had over Ross Barkley and Kevin Mirallas is that he has a quicker working football brain. Barkley never sees the final pass and like Mirallas at times he too often goes for personal glory.
I often wonder how playing Pienaar just behind the striker would have fared? We keep harping on and ever since Arteta left, we have let's be honest, harped on about not having a creative midfielder who can play a killer pass. We have never even tried playing a player of Pienaar's intelligence there and it surprises me considering he is a player in similar stature to Arteta.
Then again I always said when Bilyaletdinov was here that his best position, with his biggest asset being that rocket left foot, would have been in the middle just being a striker, another player who was slated for not producing it on the wing, but to everybody apart from Moyes, you could clearly see the lad was being wasted.
I don't know if it's something to consider if Pienaar is fit until the end of the season or not, but having Mirallas on the left and Lennon left just maybe it's something we could give a trial to.
Pienaar just behind Lukaku with McCarthy and Barry behind him? Or McCarthy and Barkley even?
Jim Bennings
17
Posted 23/04/2015 at 08:37:40
It's something to consider rather than the same old boring stagnant 4-5-1 with two defensive stoppers and Barkley just running around into blind alleys like he has done all season, I can't see any good reason why not to try alternative formations or slightly alter the personnel.
We know what the current personnel offers in the current formation, it stagnates attacks and frankly it hasn't produced a free flowing attacking team all season.
Martinez says he's flexible but we need to see proof.
Trevor Peers
18
Posted 23/04/2015 at 08:23:14
Finding younger versions of players like Pienaar, Osman and Gibson represents Roberto's biggest challenge as a manager. It's essential if we are to keep our place amongst the upper reaches of the Premier League. What concerns most blues fans though does Roberto think along the same lines?
Signing Lennon would be a start although he's not exactly young, let's see if Roberto really does have the nouse to find a young creative CM that would certainly buy him some credibility back after a pretty awful second season.
Patrick Murphy
19
Posted 23/04/2015 at 08:53:46
Pienaar has been a really good player for the most part in an Everton shirt, but his contributions to the first team have become minimal in the last 12 months. I can't see how due to his injury issues he will contribute much in the coming season(s) therefore it would be better if he was replaced in the squad by someone who will make more of a contribution, that goes for others too as Everton FC cannot afford to constantly pay wages to those players who are in the last knockings of their careers, no matter what they may have contributed to the club in the past.

Interesting that Lukaku says that he loves having Kone playing up front alongside him, he believes it gives him more space to operate as Kone distracts the opposition. Are we going to see 4-4-2 more often next season? Will Lukaku throw a strop if we continue with a lone striker formation? Does Lukaku think that he looks a better player having somebody worse than him playing up front? We shall see.

Clive Rogers
20
Posted 23/04/2015 at 09:04:51
Pienaar, Hibbert, Osman and Gibson will all be in the squad next season, but we'll be lucky to get 15 games out of them. With other squad members coming to the end of their careers, it's a disaster waiting to happen. Rank bad management IMO.
Clive Rogers
21
Posted 23/04/2015 at 09:27:57
Mind you they'll all be able to pop in for a coffee and a chat while the others are training.
Max Wilson
22
Posted 23/04/2015 at 09:24:03
If you had been at Swansea two weeks ago you'd have seen the old Pienaar at work, he played really well. He was a real handful for the Swans. Later, TV edited out all his work. I'm sure everyone on the Toffee terrace was looking forward to seeing him appear against Burnley.
Was this his Swan song? (Ha Ha Ha). Let's hope not. He looked really useful. Don't write him off yet Toffee mates!
Andrew Ellams
23
Posted 23/04/2015 at 09:36:31
Gibson has injury record against him, Pienaar has age and injuries. Great player but all good things come to an end. Number one priorty for Everton has to be lowering the average age of the squad over the next two years.
Eddie Dunn
24
Posted 23/04/2015 at 10:05:51
Max, I agree at Swansea he played well but when Martinez talks of him getting a good pre-season, I wonder what it will amount to?
The important points made so far conclude that with our threadbare squad there are too many players on the treatment table for long periods. We have been too stretched this season, and I hope some of our old, injury-plagued boys can be put out to grass and some of the youngsters given more of a run out.
Harold Matthews
25
Posted 23/04/2015 at 10:29:27
I love Pienaar. He showed against Swansea what we've been missing and what we need. He'll be hard to replace but with one goal and two assists last season and hardly anything this season, we should be looking for a younger version.
Contracted till June 2016 at ١.1M, I can't see him going just yet.
Stuart Mitchell
26
Posted 23/04/2015 at 11:58:38
No room for sentiment. Osman, Pienaar, Gibson should be moved on if clubs can be found. Will have very limited game time and those wages could be spent better elsewhere. Bring in younger players, ones that have some creativity.
Paul Dark
27
Posted 23/04/2015 at 12:28:26
He has been an excellent player for us and can still contribute.
Trevor Lynes
28
Posted 23/04/2015 at 12:11:47
In today's football, with the amount of subs on the bench, top midfielders can get away with playing for an hour or even less. Osman and Pienaar are two such players and even the younger players tend to fade at today's pace and I include Mirallas and Barkley in this.
Barkley and Osman are perfect rotation players as both tend to be impact players of late. I am sure that Garbutt or even Baines could do the same with Barry and Pienaar. These players have the experience, skill and know how to succeed.
Beardsley became similar towards the end of his career as did Scholes who was the best English midfielder of Premier League years. None of those players at EFC are on mega bucks so why not keep them when there are no ready made replacements in our junior ranks?
Pienaar was indeed one of the most fouled players in the Premier League because he dribbled and shielded the ball so well. We won lots of free kicks in dangerous areas when Pienaar played and Baines scored a fair few of them. It is no coincidence that Pienaar gave the whole team a lift in his last game and that is because his style of play is effective and lifts the fans too.
I am truly disappointed that our coaches have not been able to bring on a similarly styled youngster to do the Pienaar role and keep that left-sided attacking option open. All we seem to produce are defenders. I honestly believe that perhaps Garbutt could be coached to play that role in the way that Bale was similarly used when he was just a pretty average full back.
Garbutt and Baines each have pace and can defend and cross a decent ball. I think that this is a way to keep Garbutt and Baines happy and valuable to the team. I would try Garbutt in place of Barry or McCarthy at the hour mark in a game instead of bringing on Besic who is basically a defender. Oviedo unfortunately is not yet fit and may not be fully fit this season.
It would be wonderful if Garbutt grew into this role and I am sure that Baines would benefit.
Tony J Williams
29
Posted 23/04/2015 at 12:26:05
I love all this, "get shut of them" talk...
That's all well and good if you have an "ample" transfer budget to replace the loads of players every different poster wants dumping.
Ossie, Pienaar, Hibbert, Gibson, Kone, Barry, Distin, Alcaraz, Howard, McGeady... that's ten already.
How exactly are we going to replace these ten players? Is Kenwright going to win a few lotteries all over the world?
We are brassic due to the incompetence of the board and that's why the infirm are getting extensions.
Bobby last year said we needed 6/7 players, we got 2/3 and now we are going to probably lose about 6 this season so we are about 10 short of where we should be again..... don't panic....don't panic.
On a brighter note, I have decided to give it one more season; soft ollies here is renewing... the baby won't realise I am missing every Saturday in two just yet. Why do we do it???
Patrick Murphy
30
Posted 23/04/2015 at 12:40:16
Tony,
We can't help it mate - being at the match is a lot better than not being able to attend, no matter what the performance from the team is. Having to watch ropey streams on our lap-tops is bad enough for the away games but is intolerable for the home matches, we need one of those magic, "everything falls into place" seasons next time around, or the one following... or the one after that...
Tony J Williams
31
Posted 23/04/2015 at 12:44:18
True Patrick, I mean the baby doesn't really need new clothes anyway......
Andrew James
32
Posted 23/04/2015 at 12:45:01
True story....and apologies for the language.
Pienaar is a favourite in our family - normally referred to as "Peanuts". We were having Sunday lunch at friends, and my kids were chatting with their kids. My son was going on about "Peanuts" and my friends son giggled and then said "penis" (as it sort of sounds similar to peanuts if you are only six years old) - and giggled some more. My friend's daughter then joined the banter and giggled and muttered "vagina" to which my son immediately shouted back "No he's not, he's from South Africa !" (He thought she'd said "(he's) from China").
Should he stay? I hope so, I think as mentioned above - he's useful to have in the squad, can do a job coming off the bench, and he's creative in a way we have a short supply.
Mark Rankin
33
Posted 23/04/2015 at 12:57:25
How can you consider getting rid of Osman, Gibson, Pienaar, Alcaraz, Distin, Hibbert etc...
How many games have those 10 played? 3 fit first team players could replace them I imagine.

Jim Hardin
34
Posted 23/04/2015 at 12:57:25
It is impossible to figure out the Everton fans. They love you if you run around like a chicken with its head cut off (he is full of energy) or if you have actual skill but the latter only for a while... while the former makes you a club great. Pienaar had the gall to think there was a better bigger club out there to play for that might get him the chance to win a trophy of some sort.
Despite the numbers showing that there are indeed bigger clubs out there, Pienaar will always seemingly have the "stain" of leaving and returning held against him rather than welcoming him back. Look how the fans have treated Lukaku and Mirallas and last season Baines.
What I like most about him is that there is no-one t Everton who can routinely take on two or three players and in a space of mere inches get a pass through to a teammate. When he occupies two players or requires the second man behind on defense to hold his spot, it opens up space that allows Baines, Barkley, Mirallas, Lukaku, Barry, McCarthy etc to be open.
This is the value of him versus Naismith or Lennon, or McGeady or even Atsu etc. A pacey player without close skills is easier to defend than one who gets in on you and by you not with speed but guile. He creates the fouls by getting the defender formerly in front of him, behind him, making them come through him like Cazorla, Hazard, Osman, etc.
Even if we had the money to replace 10 players, his name is not one of the ones I would put on that list.
Tony J Williams
35
Posted 23/04/2015 at 13:44:18
Amen, Jim.
Eugene Ruane
36
Posted 23/04/2015 at 13:37:23
Congrats Jim Hardin (34) on - "It is impossible to figure out the Everton fans. They love you if you run around like a chicken with its head cut off"
The best example I've seen in a long time of a poster taking hundreds of opinions (many well-reasoned) and condensing them all into one glib, fact-free oversimplification.
Do you have any views on films, theatre or literature?
The Godfather maybe?
"Just a load of gangsters like... in the olden days"
Equus?
"About a trick-cyclist with a patient who likes horses and stuff"
Decline And Fall?
"A toff who gets lobbed out of Oxford for running round with his kecks off."
(By the way, I'm a big fan of Pienaar.)
Denis Richardson
37
Posted 23/04/2015 at 16:15:03
A decent player on his day but even if injury free he'll be turning 34 next season so not someone we can overly rely on. RMs comments are the typical stuff you'd expect any manager to say.
Had his contract been running out in 2015 he'd be leaving the club this summer but I believe his contract runs out in 2016 so he'll be around for another year – as would all of us if we were earning ١M a year...
The old guard of Osman, Pienaar, Hibbo and Howard to some extent need to be leaving the club over the next year. We should be looking to get replacements for at least two of these this summer so we don't have a disaster next year. (Nevermind Distin and Alcaraz...)
Tony J Williams
38
Posted 23/04/2015 at 16:27:28
Bring back the Stracq.....
Murdo Laing
39
Posted 23/04/2015 at 19:35:54
Denis #37, broadly agree on all your points, but in the unlikely event that Roberto is right, and SP can have a good pre-season, and he is given a starting berth fit and refreshed, I'd have him in on that left flank in a heartbeat. As others have said, his reliance is upon guile, not pace, so turning 34 should not really be the be-all & end-all.
A truly gifted and influential player of whom we've had the best years of, let's remember? On the other hand, if Pienaar cannot stay fit, then his contract should be allowed to run down and I would not be surprised if he might opt to return to South Africa and have his swansong in his beloved Cape Town. All in all, Steven and Everton FC have been good for each other and I think most fans will remember him fondly when he leaves.

Teddy Bertin
40
Posted 24/04/2015 at 01:11:35
Spot on, Michael Winstanley. I can't agree with people on here who can say that we should get rid of a player of his quality because he's 33. We know that in some games, even at the peak of his career, he was pushed off the ball too easy and struggled to exert the influence he would like.
But let's be honest how many players of his all round quality have we been able to purchase in the last few decades? If he can come on for the last 20 mins of a number of games next season and still make a difference in the EPL then he's worth every penny.
Everyone knows that we need new, younger creative players in the squad but don't be too quick to write off the impact that someone of Pienaar's can have on a tightly contested game (which is every game in the EPL).
Ernie Baywood
41
Posted 25/04/2015 at 01:23:04
As some others have said, he's been a bit if a favorite of mine. A skillful player who is at home playing great football. Even his injury-riddled cameos have been exceptional.
And despite leaving us, you could never doubt his effort for the cause. In that mauling we got against Arsenal (Lescott saga) he was the only one who showed a bit of hurt and pride. 10 heads went down and he just worked harder and harder. That kind of thing sticks with you.
Despite all that, it's clear to me he needs to be replaced. He's not the future and he's barely the present. Left mid is a vital position for us to strengthen.
---
Add Your Comments
In order to post a comment, you need to be logged in as a registered user of the site.
Or Sign up as a ToffeeWeb Member — it's free, takes just a few minutes and will allow you to post your comments on articles and Talking Points submissions across the site.
© ToffeeWeb