Everton vs Manchester United
Match Preview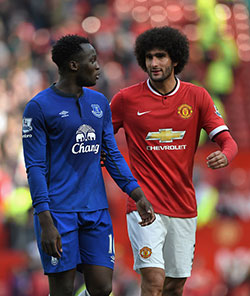 Brothers in arms at international level, Romelu Lukaku and ex-Blue Marouane Fellaini will again be on opposite sides this weekend
Everton's season may effectively be over bar the possibility of sneaking into 8th place over the last five matches but Roberto Martinez's side could yet have an important say in both the European and relegation pictures between now and the end of the season.
This Sunday the Blues entertain Manchester United who looks odds-on to finish in the top four and who will come to Goodison Park looking for the win that would virtually guarantee it. Three points at the Blues' expense would also give them a leg up on local rivals Manchester City in the battle to finish in one of the places that guarantees automatic entry to the group stage.
Everton, meanwhile, can record a third successive home win over United for the first time since their title-winning season of 1986-87 and, if results go their way elsewhere, move back into the top 10 after five months in the wrong half of the table. For more Premier League football scores and stats visit livefootball.co.uk.
The stakes aren't quite as high as a year ago when fourth place was still a possibility and the return of David Moyes gave extra spice to the occasion but the visit of a big team on a good run also offers extra incentive to raise the performance.
Having missed the two of the last three games and come on as a substitute in last weekend's win over Burnley, Romelu Lukaku is expected to return to the starting line-up, possibly alongside the mis-firing Arouna Kone although Martinez may elect to retain the two-wingers formation that he used against the Clarets and keep Kevin Mirallas in the team.
Steven Pienaar is a major doubt as his injury frustrations continue while James McCarthy will be assessed over the final two training sessions to see if he has recovered from the ankle injury he picked up at the end of last Saturday's game. Leon Osman will also undergo a late fitness test after missing out against Burnley with a groin strain but could make the squad.
Louis van Gaal will be without Michael Carrick, Marcus Rojo and Rafael while Daley Blind could return after recovering from an ankle injury but ex-Everton players Marouane Fellaini and Wayne Rooney in the side will add an extra dimension to a game that will hopefully be more than the standard end-of-season fare.
Kick off: 1.30pm
Referee: Andre Marriner
Full details: ToffeeWeb Match Reports
Reader Comments (66)
Note: the following content is not moderated or vetted by the site owners at the time of submission. Comments are the responsibility of the poster. Disclaimer
Colin Glassar
1
Posted 25/04/2015 at 07:22:14
This has score draw written all over it but, I think if we go out with a positive attitude we could win this. I'll stick with an entertaining 2-2 though.
Jim Bennings
2
Posted 25/04/2015 at 07:26:51
Do you reckon, Colin?
I can't see what convinces you that we have two goals in us lately, it's been one against Burnley, Swansea and Southampton in the previous three games. United will want to ensure they finish as high as possible and ahead of rivals. Manchester City so I can only really see one outcome.
I'm not at all fooled by our unconvincing mini-revival lately, I think against QPR, Southampton, Swansea and last weekend the games could have easily been drawn or lost, we haven't exactly outplayed any of these sides.
Manchester United tomorrow, and probably next week at a rejuvenated Aston Villa, will be a totally different kettle of fish and a truer test of whether this team really has turned a corner in this dark dismal season or not.
I remain to be convinced myself, let's wait and see.
Terry Murphy
3
Posted 25/04/2015 at 07:45:15
Love to see a win, but really I don't mind if we lose so long as we actually turn up.
Jim Bennings
4
Posted 25/04/2015 at 08:19:58
I see Phil Jagielka has succumbed to temptation and stupidly opened his trap that Wayne Rooney's performances are inhibited whenever he plays at Goodison Park; no doubt that just means he plays out of his skin tomorrow and scores!
Why can't our players for once use a little common sense and let the football do the talking?

Trevor Peers
5
Posted 25/04/2015 at 08:46:38
Roberto doesn't do discipline – one of his many weaknesses. Players regularly run off at the mouth without any sanctions; I can't imagine any of the great managers ever allowing that to happen.
I'm sure we'll put in a decent performance tomorrow though, the fan's will demand it.
Mike Childs
6
Posted 25/04/2015 at 09:24:13
If Jimmy Mac is a no-show, I'd love to see him move Barkley into the deeper role that I believe is his better position based on the form he showed against QPR.
Sure would be great to see Robles for a few more games but him don't do that; him plays favorites.
As for me, after the RS, this is the team I enjoy seeing our boys beat the most.
Paul Dempsey
7
Posted 25/04/2015 at 09:26:19
How can the manager be responsible for a player's innocuous comment (which incidentally is taken out of context to produce a headline)? Perhaps the club should give the players a script? Is it possible that we will ever see the manager or chairman not being blamed for everything from inflation to the weather?
Incidentally whilst I agree with Jim with regards to the four matches prior to Burnley, I believe our play last week merited and deserved three or four goals... poor finishing and excellent keeping not withstanding.
Mike Allinson made an excellent point several weeks ago... supporters have a fixed world view that is then 'proved' by events viewed through their own preconceptions.
Victor Jones
8
Posted 25/04/2015 at 10:25:39
We are now ten minutes into the game, Everton are so far looking comfortable. Jags tackles Rooney, he passes to Stones, Stones carries the ball out of defence, he plays a neat pass to Barry. Barry rolls the ball to Barkley. Barkley looks up, he plays a great ball out to Lennon. Lennon runs at Shaw. He goes past Shaw, he then swings a beautiful ball into the box. Lukaku connects on the half volley. The ball rockets into the top corner. Goal. Everton take the lead. One nil. The ref blows for half time. Everton are in complete control.
When I wake up, I'll let you know how the game finishes.
Says everything about this season, when I am making up my own scoreline. Fact or fiction? Which Everton will turn up tomorrow? I half expect Martinez to start rotating. And bring Alcaraz back into the team. Anything is possible with our resident genius. But at least we are now safe, so I will try and enjoy the game.
That's the way I feel about this season. Supporting this Everton team, is like going 12 rounds with Mike Tyson. You get the stuffing knocked out of you, but you keep getting up , and going back for more. But we will soon be put out of our misery, at least until August. Then it all starts again. Who said that I am punch drunk. Never. Just a crazy Evertonian. COYBS.
David Hallwood
9
Posted 25/04/2015 at 11:16:37
With you on that one, Mike (#6), but it will almost certainly be Besic. I'm with Colin on this one; score draw written all over it.
Final thought; I hope the supporters show a bit of class, and if they're not going to applaud Rooney & Fellaini then don't boo them. They played for us, did a job and we made a good profit on both players. Get over it and move on.
Terence Leong
10
Posted 25/04/2015 at 11:10:37
The media (or at least most of them out there) has predicted that Man Utd will trump us at Goodison. Paul Merson is probably the only one that I've read that predicted a draw. No-one has us down for a win.
Realistically, it's gonna be tough. But here's hoping that we beat them, and not just sneaking it, but comprehensively. We need to will on the players, be that 12th man. They have players who are still injured, we have most of our players back. I'm believing for a win.
Their backline is weak and can be pressured to make mistakes. It's unlikely that Man Utd will sit back (though I think that they will do that for the first 20 minutes, to suss us out). If we can get an early goal, or be able to keep it even after 30 mins, I think we can expect Man Utd will come at us. That will leave gaps for the team to exploit.
But I am hoping that we still get an early goal, and that might suit us further. Here's to a 2-0 victory! Optimistic (some say deluded), but why support the team if I am not expecting them win?
Jamie Barlow
11
Posted 25/04/2015 at 11:33:09
No need to start messing with the back 5. We haven't seen them together enough this season as it is. Keep it the same. It's hard to believe but I'm sure I read we have the 3rd best defense in 2015.
Howard, Coleman, Jagielka, Stones and Baines.
Denis Richardson
12
Posted 25/04/2015 at 11:50:45
I can't believe Pienaar is injured again, he only just came back!
Really no point in risking the likes of McCarthy and Osman in a game that's basically a dead rubber for us. Barry and Besic is is then in the middle with Mirallas, Barkley and Lennon in AM and Rom up top I guess.
I would love to win and see Man Utd avoid 4th, otherwise not too fussed tbh. Waiting for the summer.
Tom Cuffe
13
Posted 25/04/2015 at 11:58:41
Please god we beat them, and at least give us one memory of the most depressing season I can ever remember. Sir Philip, if you're looking down, smile on us.
Brent Stephens
14
Posted 25/04/2015 at 12:08:15
Guardian says Pienaar is out because of "fatigue".
Fatigue!!!
Mark Andersson
15
Posted 25/04/2015 at 12:18:25
Seriously, how can anyone be optimistic about this game. We have been utter shite all season, despite our recent lucky run.
We will get beat, Martinez will embarrass the club with his post-match bullshit. The deluded ones will blame the ref and Ozzi.
Well that is the "glass half-empty" side of me; the "glass half-full" using logic says Naaaaa... we will get beat.
Have to agree with the sensible post like Jim B, James Halewood and the like. But I love to be proved wrong, just ask my wife.
Dave Abrahams
16
Posted 25/04/2015 at 12:24:49
I'm with Tom Cuffe, they, the team and players, owe us at least one good victory against a top team, to lift us out of this very depressing season. United are a good team but not great, yet, and they are beatable, Swansea did it a couple of weeks ago, so come on, Everton, move your arses and have a really good go for once at least this season.
Jim Hardin
17
Posted 25/04/2015 at 11:54:23
Mike #6, "Sure would be great to see Robles for a few more games but him don't do that, him plays favorites."
But if your previous posts, when Robles was put back where he belongs, were more than hot air, you would have to agree that you can't take out a keeper who is part of an undefeated streak and has a clean sheet, can you? I too want to see Robles in goal, just not for Everton.
Patrick Murphy
18
Posted 25/04/2015 at 12:30:05
Brent - I think it's muscle fatigue rather than plain ordinary tiredness.

Ross Edwards
19
Posted 25/04/2015 at 12:33:46
This game, as I said on another thread, is a good indicator of where we are. We need a positive performance tomorrow and a good win rather than another poor, scrappy, backs to the wall turgid pile of shite as we've been subjected to in the last few weeks.
Darren Hind
20
Posted 25/04/2015 at 12:38:01
We'll beat this crew.
Their goalkeeper had a fantastic first half of the season and that's the only reason they are in the hunt. We were better than them by some distance last season and if we were managed properly this season, we'd have finished above them again.
Let's not talk about them as if they are Bayern Munich.
James Marshall
21
Posted 25/04/2015 at 13:02:59
They haven't beaten us at home for 3 years, so our recent form against them is decent – Jonny Evans is back from suspension which helps them, but Carrick is still out and he's a huge miss for them. Blind apparently is fit again too. They're still short with Rojo, Jones, Rafeal, and Januzaj a doubt which bodes well for us.
I see Stevie P is about our only doubt with Ossie and Macca both fit again so I don't see why we can't go out confident of a result. I'd be disappointed if we lost this one, and see no reason we can't beat them at home.
James Marshall
22
Posted 25/04/2015 at 13:08:32
Denis @12,
You want us to stop Utd making the top 4 – you do realise that if that happens, the likelihood is that the RS would take 4th spot? I know who I'd rather see finish 4th and they don't play anywhere near Stanley Park...
James Marshall
23
Posted 25/04/2015 at 13:16:01
One other thing, and apologies for 3 posts on the bounce but where does this fantastical notion that Man Utd's defence is no good come from? They have the second best goals against record in the division and only conceded one more than Chelsea?
It's pure fantasy that they can't defend – the stats don't lie.
Victor Jones
24
Posted 25/04/2015 at 13:02:44
Not much really left to say about this season. We are now starting to string a few results together. But, when it really mattered, we couldn't beat anybody. It's all too little, too late. There was a scare for a few months but we are now safe. So a little credit to Martinez for finally realising the seriousness of the situation and setting up appropriately to get a few results. Let's hope that he gets everything right for next season.
So we are safe. So surely now the shackles should be cast aside. Darren is spot on. Man Utd are not anything special. Their manager is nothing special. If anything he is just an old nark, moaning and crying about everything. Let's send him home tomorrow with plenty to cry about. Let's see him chew the ear off some poor reporter.
Here's hoping that Everton start the game on the front foot. Lukaku and Kone up front. And yes, I said Kone. For now he seems to allow Lukaku to play. Let's put early pressure on the Mn Utd defence. I would also let Mirallas and Lennon loose... and hope that KM turns up. Naismith on the bench.
And finally this season the defence is starting to look tighter. Here's hoping that Baines and Coleman get down the wings. And Baines starts taking penalties again. The Everton midfield is a lottery.
So once again, here's hoping that they turn up, especially Barkley. He is due a big game. And they don't come much bigger. I love Everton beating Man Utd, second only to the shower across the park. I repeat, as DH has stated, we are not playing Bayern Munich. I go for an Everton win. 2-0 or 2-1. But no tippy tappy pissing about. Thank you. COYBs.
Harold Matthews
25
Posted 25/04/2015 at 13:30:25
Spot on with the 4th place business, James.
Thanks for the info on United's defensive record. I didn't know that one.
Mike Childs
26
Posted 25/04/2015 at 13:52:56
Yes, Jim H. I agree with your point about not taking out a guy who seems on form in TH. I do not agree though that Robles should play for someone else. I happen to believe in him and that's why I'd like to see him again before the season is out.
Trevor Lynes
27
Posted 25/04/2015 at 13:57:01
Dead rubbers are finished. There is ٟ.2 million for every higher position we can reach and Roberto says that this will help to raise transfer funds. We need to win every match that we can and get to as high a position as possible.
I would however like to see Garbutt played at left midfield in place of Barry as we are overloaded with defensive-minded players IMO We are basically playing seven defenders and one of those players should be able to create and be used in counter attacks.
Perhaps against Man Utd we may need these seven for the first hour but surely we can afford to bring on an attack-minded player for the last half hour Our attack is not strong enough to cause Man Utd as much trouble as I would like.
Sam Hoare
28
Posted 25/04/2015 at 14:07:20
Darren 20, De Gea may have been good in the first half of the season but he hasn't needed to be in the last few months which is what really has pushed Man Utd up the table. There are in very good form, solid defensively but very potent too in attack.
I'd settle for a draw though a win might go someway to building some momentum into the start of next season.
Mike Childs
29
Posted 25/04/2015 at 14:08:48
Jim M. Totally agree with your point about Carrick who to me is their 2nd MVP behind DeGea. I'm not one to go looking up stats but I'd be willing to bet the majority of United's wins have come with Carrick on the pitch.
Denis Richardson
30
Posted 25/04/2015 at 14:21:24
James, I'm still hoping Southampton can pull something out of the bag (slim I know).
Personally I dislike both the Dark Side and Man Utd with equal passion. My fear is that Man City will drop out and both the red teams will make the top 4. Although if that happened it would also be hilarious given the ٟbn that's been invested in them in just half a dozen years or so.
Once the prem only gets three Champions League places come 2017, at least two of the 'Big Five' will be left out each season. That will put the cat amongst the pigeons.
Steven Telford
32
Posted 25/04/2015 at 15:20:19
Let's get this shit season over.
Brian Foley
33
Posted 25/04/2015 at 15:16:02
Jim @4, For fuck's sake... Danny Ings was bound to score last week cos he hadn't scored since the ark got wet or something... didn't though, did he?
If Rooney does score, it's one for them... could be anyone on the pitch we just gotta score more than them, innit.
Mike @6, yes, I agree. I'm more scared of Young diving. Who is the ref? Never thought I'd say this but I wouldn't mind Clattenburg. There you are, Denis, there's your pigeon.
Kunal Desai
36
Posted 25/04/2015 at 17:12:13
Unlikey to finish 8th after Swansea's win. Rooney assist for Fellaini to finish. 1-0 defeat.
Tony Bourbon
37
Posted 25/04/2015 at 17:36:33
If we win by 2 goals... We'll be equal to West Ham with 34 played, 11 W, 11 D, 12 L, 0 GD, 44 Pts.
Fighting for tenth in the table sums up the season – below expectations.
Brian Porter
38
Posted 25/04/2015 at 17:49:02
I'm with Jim at #2 on this one. If we could only put away one of about twenty chances against lowly Burnley, I can't see us hitting a shedload against Man Utd. I do believe in trying to win every game and of course, a top-half finish would be better than the bottom half.
A draw wouldn't really help us after today's results so let's see us treat this like one of those 'eight cup finals' our wonderfully phenomenal, ultra positive manager spoke of recently.
Having said that, if Kone starts, forget it. For God's sake, start with 7-goal Naismith, not 1-goal-a-long-time-ago Kone.
I want us to win, but don't see it happening somehow. Oh, and if we get a penalty, BAINES MUST TAKE IT, FOR CRYING OUT LOUD!

Eddie Dunn
39
Posted 25/04/2015 at 18:51:53
One crumb of comfort is that Carrick is missing.
I would love to beat them, but think we will give them too much respect. The only way to beat them is by going for the jugular, but I fear Roberto will try to stay in the game, and hope for a bit of luck.
Unfortunately they will give us a pasting 1-3 methinks, with Rooney scoring. Their defence is suspect, but we won't try to take advantage till it is too late. Hope I'm wrong.
Des Farren
40
Posted 25/04/2015 at 18:37:49
I can recall many seasons more depressing than this one. I just feel that after last year many had expectations that simply could not be fulfilled for reasons already done to death on here.
I want us to win of course and see no reason to believe that we won't if players perform to their undoubted ability.
Patrick Murphy
41
Posted 25/04/2015 at 19:31:44
Having just watched Man City, who have gone up to second in the table, this is most certainly the worst standard of football I have witnessed for a very very long time in the top division. Yes, Man Utd are higher in the table than us and they probably have better players but, if Everton can pull out all the stops, they can emerge victorious tomorrow.
They've had better sides and we've had worse ones in the past but we usually give them a game regardless, so hopefully we'll do that tomorrow, the players certainly owe the supporters a special performance.

Brin Williams
42
Posted 25/04/2015 at 19:57:01
PM (#18),
"I think it's muscle fatigue rather than plain ordinary tiredness."
So, which muscle do you think he's been exercising?
Patrick Murphy
43
Posted 25/04/2015 at 20:02:58
Brin You'll have to ask Mr Martinez - I'm no Physio
Andy Meighan
44
Posted 25/04/2015 at 20:17:54
Man Utd can finish where they want as far as I'm concerned – we don't support them. I'm more worried about us and what a disappointing season this has been.
Compare this to last season's game against them at home: all the crowd up for it, the players the same... somehow, I don't really think this game has got the same feeling about it.
Who'd have thought when Moyes walked out on us to join them, his last game as manager would have been against the club he served so well for 11 years? Poetic justice, I suppose. This time, it's a different story. The shackles are off; we've nothing to play for so just once this season, I'd love us to play with a freedom that's been sadly lacking all season.
If we lose, and having entertained... so what? – That's football. Somehow, though, I get the feeling it'll be the same old turgid shite we've had to put up with for what seems like a life sentence.
Prediction: one-nil, either way. Underwhelmed? – You bet your sweet life I am. Time for a drink, I think!
John Gee
45
Posted 25/04/2015 at 22:19:29
For us, it's a dead rubber. Put some youth team players in (not Garbuttmunch) and progress the squad.
Ernie Baywood
46
Posted 25/04/2015 at 23:23:48
We would go tenth with a win wouldn't we? Yeah it's only a crumb of comfort but you can only aim for what you can see.
I have a feeling we'll win. The confidence looks to be coming back.
Michael Winstanley
47
Posted 26/04/2015 at 00:00:08
Important game tomorrow, one we're expecting to win. Amazing when you consider our season, we're expecting to beat Man Utd who are challenging for second spot.
I don't care how we win just as long as we win.
James Marshall
48
Posted 26/04/2015 at 00:17:45
We've just won 4 and drawn one, and Utd have only beaten us at home once in the last 6 seasons – we've won 3 times and the other 2 draws so I see no reason for us to fear them at Goodison.
They miss Carrick massively, and still have plenty of players out. Plenty of reasons to be cheerful – I wish you lot would let go of the doom & gloom and looking forwards instead of back over a shit season.
We're playing better, safe in the division and should at least try to enjoy the last few games without much in the way of pressure. Jeez.
Tony Farrell
49
Posted 26/04/2015 at 00:59:28
Last month, we were all shitting ourselves (myself included) at the prospect of the big R.... If we lose at Newcastle, get beat here, etc ... most of the posts were "I'll settle for mid-table or just to stay in the Premier League." Well, we've got that, and there's still moans. A shitty 10th is all we've got to go for.
Yes, totally agree, it's been a twat of a season. but let's try and get behind the team for the Man Utd game... Who knows who will be here or won't be next season? Players and managers come and go but we as Evertonians stay – it's our club. I will take a hard fought gritty one-nil win.
Michael Polley
50
Posted 26/04/2015 at 02:13:47
Always give them a tough game. Let's enjoy this game. I hope the players are relaxed and ready to go for it. They have nothing to fear. COYB
Colin Metcalfe
51
Posted 26/04/2015 at 02:11:28
Quite surprised by the amount of positive comments on here; although we have dragged ourselves out of trouble, it hasn't been with any panache... in fact, a lot of the time it's been a case of backs to the wall.
On paper Man Utd have the stronger side and although they have not been pretty to watch they have become difficult to break down and they are creating a lot more chances this season.
I think Man Utd will be just a bit too strong for us tomorrow. Yes, we have some positive results of late but against sides lower in the league and certainly not of the caliber of a team such as Man Utd.
My prediction: 1-3.
Peter Barry
52
Posted 26/04/2015 at 03:07:07
Too many people wishfully hoping for a better next season but what possible evidence have they got that Roberto won't produce the same crap he produced this season? I mean we are not where we are because of bad referees or unlucky results, we are where we are because for most of the season we were crap.
Phil Sammon
53
Posted 26/04/2015 at 03:25:47
Blind optimism, Peter. I know that's what's keeping me going!
Peter Barry
54
Posted 26/04/2015 at 03:48:40
With the emphasis being on 'Blind' hey Phil.
Darren Hind
55
Posted 26/04/2015 at 06:24:59
Sam
The bookies agree with you, William Hill have United at, err... 23/20... HeHe (how far are these odds makers prepared to go with their margin splitting?)
There's no doubt that LVG has found a winning formula – Don't you just love the way the big hoof to Fellaini has now become the long pass? – But this United team has yet (IMO) to reach the heights our group of players reached last season.
The Mancs have good players, we know that, but they will be without their ringmaster. I'm working on the theory we can't underperform in EVERY game this season. We have to click at least once. Right ? ... Maybe not.
Anyway, I usually avoid backing Everton in individual matches, I'm a bit of an Hillman Minx, but I think on this occasion, the Bookies – like many pundits – have over estimated the Mancs and I'm straight onto odds checker after posting this. I will be disappointed with anything less than a win.
Paul Tran
56
Posted 26/04/2015 at 07:08:30
Man Utd are a very expensive version of us last season. Solid, workmanlike, dull to watch with the odd flash of individual brilliance. Which makes our season all the more baffling.
We may be good value today. Darren, if you're a Hillman, keep your money in your pocket!
Richard Lyons
57
Posted 26/04/2015 at 07:18:10
I can't see us winning or even drawing today. A paltry 1-0 against the 10 men of Burnley says it all. Kone should be on the bench – preferably one of the benches in Stanley Park furthest away from the players' entrance. (Actually I think he wasn't too bad last week – but that was against Burnley.)
However, if we do win 3-0 we'll be up to 10th and feeling a bit dizzy. Who'd have thought that would be possible a few weeks back?
Denis Richardson
58
Posted 26/04/2015 at 07:44:04
I wouldn't be surprised if we put in a decent performance today. Nothing whatsoever to do with the manager mind. Playing Man Utd is a big game for our players and those wanting out will see this as a big shop window (eg, Rom and Mirallas and possibly a couple of others).
Still can't see us winning as they have too much quality and one of Jagielka or Stones will take a battering from Fellaini, who I predict to score.
A draw or narrow loss for us.
Pete Edwards
59
Posted 26/04/2015 at 08:37:43
So, Denis, if we put in a decent performance, the manager takes no credit? I'm guessing if we play shite then the manager will take that particular credit! Jesus!
Kevin Gillen
60
Posted 26/04/2015 at 08:56:52
We should have won at Old Trafford so why shouldn't we win today! COYB!
Tom Bowers
61
Posted 26/04/2015 at 09:11:24
Whilst it's nice to win games and finally the Blues have started to win again this game has no significance for them except maybe to give another chance for the fringe players like Garbutt, Browning and Besic to name but three.
However, it seems likely that RM will stick with the ''old brigade'' who will just produce the same kind of display we have become used to this season even though it is Manure.
Manure still have a big incentive and have been playing well despite some reservations about their defence but Everton's is very suspect also. Could be a 3-3 game.
Dave Ganley
62
Posted 26/04/2015 at 09:37:44
I'm with Phil (#53), blind optimism is the way forward today. Let's face it, its better than facing reality!! Everton owe us a big performance today; however, I'm not sure they are capable of giving us one so in that case I will be quite happy with a goal off Rom's backside and a backs-to-the-wall defensive display that frustrates the hell out of the Mancs.
After the RS, MU is the team that gives me greatest pleasure to beat so hopefully (with lots of blind optimism) we can turn them over and give us all a bit of hope going into the close season. It's a lovely day and for the first time in weeks I'm looking forward to going to the game... Man United generally seems to bring out a unity amongst Blues fans so hopefully we can make the Grand Old Lady rock today and come away with a win. COYB
On a side issue from another thread (sorry) Harold #25 I will quite happily eat humble pie and apologise to you if we witness your new quick football style.
Darren Hind
63
Posted 26/04/2015 at 10:08:41
You raise an interesting point, Denis.
The Fro will be looking to pull onto Baines and Coleman for the long diagonal – without Carrick, they will use that a lot today. I'm confident Stones is physically up to the challenge and he should be the one who moves to protect as Jags stays central.
No "blind Optimism" here, just the belief that every game is winnable as long as you don't surrender before a ball is kicked.
PT – You're right of course – I'll leave it alone.
Derek Thomas
64
Posted 26/04/2015 at 10:35:57
These games come along ever so often, albeit with different opposition or a big cup game and we all say 'they are due one' / 'they owe us a big performance' / 'we are going to give somebody a hammering one day'.
The odd time, usually in the league, hardly ever in the cups when it gets to the business end, we do over some one.
Please, please, please, let this be the day, just for once.
You owe us one, give us something to shout about and we will... oh and intensity, always intensity, get into those Manc twats.
Paul Tran
65
Posted 26/04/2015 at 11:15:06
Darren, if you're desperate for a bet, Coral have us at 13/8 to score in the first half. You can fill your boots without completely jinxing us!
James Marshall
66
Posted 26/04/2015 at 11:39:15
Comparing the Burnley game to this one is meaningless IMO - we always play well against Man Utd, especially at Goodison.
I don't think we'll get beat today.
James Marshall
67
Posted 26/04/2015 at 11:54:16
Go look at the stats for us v Utd at Goodison in recent seasons - everyone is lost in the doom & gloom of this season, and seem to be forgetting our recent record against them is really good! We've only lost to them once in 6 years at home!
Simon Temme
68
Posted 26/04/2015 at 12:04:07
Why is it that Van Gaal reminds me of Christopher Walken's more pyschotic, demented Dutch cousin?
Colin Glassar
69
Posted 26/04/2015 at 13:07:38
Draw written all over this. 0-0 or 2-2.
---
Add Your Comments
In order to post a comment, you need to be logged in as a registered user of the site.
Or Sign up as a ToffeeWeb Member — it's free, takes just a few minutes and will allow you to post your comments on articles and Talking Points submissions across the site.
© ToffeeWeb