Mirallas drops strong hint over his future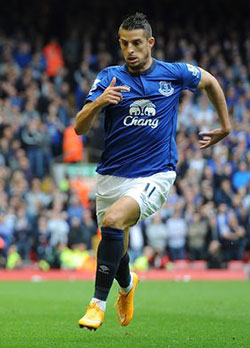 Kevin Mirallas has offered another hint that he sees himself staying at Everton next season.
With his contract set to move into what would be its final year unless the Blues elect to take up the option of extending it by another 12 months, the Belgian has been the subject of plenty of speculation about this future in recent weeks.
Links to a potential move to La Liga or to London with West Ham or Tottenham have all surfaced in the press, while much was made of comments he made to Belgian media earlier this year where he restated his desire for Champions League football.
If Mirallas's celebration after scoring the only goal against Burnley the weekend before last was a nod towards that media chatter about his future, however, he lent further weight to it in an interview after Sunday's impressive win over Manchester United.
The 28 year-old scored the third goal in the 3-0 victory and while this time his celebration was aimed at his family watching on in the stands, it was his post-match comments that suggested he is on no rush to leave Goodison Park.
""I think it was our best performance of the season.," he said. "For me, it's good to score in both of the last two games but the most important thing for me is that the team has won the two games.
"I was very happy because my family is here my baby is here.
"There was a lot of paper talk about my future last week but I am very happy here and I see next season [playing in] the same shirt I think."
Mirallas has battled minor injuries since December that have restricted his playing time but he is the Blues' second-highest goal scorer this season with 11 goals, seven behind compatriot Romelu Lukaku.
Reader Comments (69)
Note: the following content is not moderated or vetted by the site owners at the time of submission. Comments are the responsibility of the poster. Disclaimer
Chris Gould
1
Posted 28/04/2015 at 18:58:49
There's been a lot of negative comments on here about Mirallas, some of it understandable, but he is a class player and an asset to the team. 11 goals is a great return when you take into account how many games he has missed or been on the bench.
Tony Hill
2
Posted 28/04/2015 at 19:07:51
If he stays, excellent. I understand that he was very nearly sold in January so if he is committed to us then it will be a very significant bonus.
Tony Hill
3
Posted 28/04/2015 at 19:07:51
If he stays, excellent. I understand that he was very nearly sold in January so if he is committed to us then it will be a very significant bonus.
Paul Ferry
4
Posted 28/04/2015 at 19:08:16
Absolutely agree Chris. Never once said a bad word about KM - perhaps I whispered something about that car - and nothing he has said or has been quoted as having said has made me doubt his commitment to EFC, even the "I want Champs League" stuff ...
A brilliant player on his day. Our one genuine creative forward who is capable of something magical. Frustrating, too (at times) when because of his forward momentum and style of play he can be seen to drift out of games.
Always love to see him in the starting 11 even if he rarely makes it to '90. He can change a game in the blink of an eye and think just how great his goal return would have been this season without the lay-offs.
It's so important to have him with us next season.

Murdo Laing
5
Posted 28/04/2015 at 19:09:31
Agree Chris, and I was one of those expecting him and Rom to jump ship, but I was particularly miffed with KM because he is effective and can score goals , but the penalty debacle sort of put me off him a lot. Still, yes, his goal return is very good considering his limited appearances. It is going to be an interesting close season , what with players' agents touting their wares.
Andrew Ellams
6
Posted 28/04/2015 at 19:19:47
Love to see him and Rom as a two up front.
Denis Richardson
7
Posted 28/04/2015 at 19:17:22
If he stays, great. If not, then at least get a decent fee.
All talk at the moment. We'll see in the summer.
Trevor Peers
8
Posted 28/04/2015 at 19:15:41
I've not been one of his biggest fans because of his alleged comments in the press about wanting to play for a CL club.
But if his heart's back into playing for the Blues, that's good news. His main asset is scoring goals. He can make a valuable contribution next season. Stay injury-free, Kev; good luck for next season!
Colin Glassar
9
Posted 28/04/2015 at 19:29:22
Not a huge fan (due to his perma-sulk) but if he wants to get his head down and use his obvious talents to our benefit then welcome aboard.
Being a bit of a cynic, I wonder if this change in attitude is, perhaps, down to a lack of interest shown from 'CL teams'?
Ross Edwards
10
Posted 28/04/2015 at 19:35:29
Too much was made of the CL comment. Every player wants to play in the biggest competitions.
Eugene Kearney
11
Posted 28/04/2015 at 19:44:32
Good news, if he really stays. He'll have his part to play – and probably won't dare try to take another penalty!!
Stephen Williams
12
Posted 28/04/2015 at 19:57:20
It just shows you that we can all read different things into the same words. I'd quite like him to stay for a while – but not just for next season! He would then be at the end of his contract and be able to leave for nothing.
We just aren't a club who can write off a significant value for an established international, who whilst isn't as good as he, or some on here think he is, but is still a useful member of the squad. He would still only be 28 and in his prime and to allow him to run down his contract and get nothing would be criminal.
In my mind, he either signs up to a longer contract or we cash in for a reasonable pay day in the summer. The size of any potential fee would dictate which option I'd prefer. More than 㾸m and sell to reinvest, less than that and give him a four year deal (3 year extension till he's 31).
Cold hearted and pragmatic – oh yes – the only way to be in our current financial position.
Martin Mason
13
Posted 28/04/2015 at 19:58:16
If he has the right attitude next year as he seems to have now then I dearly hope he stays. He's a wonderful finisher of the Kanchelskis ilk cutting in and shooting across the goalie. It can only be good for us if we can keep players of his quality, it must be really difficult with predatory agents always looking at the next move.
I'm really pleased that RM is allowing Ross Barkley to play in his best position too, I personally thought he was very good against United. The big worry is replacing Distin's role (why not Browning who seems a perfect fit for me) and keeping the magnificent Stones and McArthey long term. Van Gaal must have been absolutely impressed with them and they are desperate to strengthen those two positions. Stones is also a big advantage under FFP but how about McCarthy who's from Southern Iron I think?
Everton had De Gea bamboozled Saturday, he just didn't know when to stay or come out. That was the quality of Evertons attacking play and never mind possession which is irrelevant now and which always seems to be our enemy.
Oh yes, please find the money for Aaron Lennon, he is made for us.
I've shifted back to giving Martinez my support but that interview after the United game was Wow, the most phenomenal yet.
Barry Lambert
14
Posted 28/04/2015 at 20:06:52
Once he mentally commits himself to us and frees his mind of all the bullshit flying around he will undoubtedly start to enjoy himself,get the respect back from his team mates which I feel may be in doubt, then I think we will see the very best out of KM.

Paul Ellam
15
Posted 28/04/2015 at 20:28:41
Would be happy if he stayed as I think he is a positive attacking player.
I think he has found his level with us. Doubt any of the "big hitters" will be interested in him. So far, Spurs are the only team sniffing round and they are hardly a step up so he is better off where he is.
Peter McHugh
16
Posted 28/04/2015 at 20:38:10
I really like Mirallas, I think he is class. That said, he gets lots of injuries and is quite inconsistent.
I would like to keep him and sign Deulofeu and Lennon. If not possible, then would sell him at his prime to buy other two. (I suspect their wages combined would not amount to more than KM will demand.)
Tom Cuffe
17
Posted 28/04/2015 at 20:30:25
I hope he stays, he scores crackers from time to time, he gives us something different, if he can stay fit, and start more games, or at least be brought on when he can make a difference, I do believe we have a real gem in Kevin.
The only criticism I would have is, pass the ball to your team mates a bit more.
Wish Barkley possessed some of Kevin's swagger, arrogance, call it what you like.
Conor McCourt
18
Posted 28/04/2015 at 21:16:27
Colin, I don't normally disagree with you but I think it's crucial to our hopes of progress that we sign Mirallas up. There are few widemen in the league who will get more than 10 in a season and this despite injuries and a fallout between him and the supporters. I wouldn't be surprised next year if he got 20 with a bit of luck.
Wingers get criticized for drifting out of games or for being greedy but nearly all in the prem seem to have reliability or end product issues bar Hazard and Sanchez.
I do however agree with you that his turnaround maybe due to no Champions League interest but I like ambition in our players, I only wish our board shared Kevins vision. If we sold him we would get less than 㾶 million yet hes been probably our most important player for the last few seasons whereas Ross is apparently worth over 㿔 million and contributes little in terms of goals and assists.
Martin Mason
19
Posted 28/04/2015 at 21:30:52
Tom, Ross seems to doubt his own massive talents. Oh for KMs swagger in that boy.
Clarence Yurcan
21
Posted 28/04/2015 at 22:27:06
Everton will win the league next season, and the Champions League in '17!!!
Ross Edwards
22
Posted 28/04/2015 at 22:30:07
Are you feeling alright Clarence? Has RM inserted a 'phenomenal' chip into your brain or something?
Danny Broderick
23
Posted 28/04/2015 at 22:30:50
Anyone else think Mirallas would be more effective than Barkley in the No 10 position? He'd certainly score more goals. I'd like to see us give him a run there and sign Lennon for the right wing, and someone similar to Lennon for the left wing...
Derek Thomas
24
Posted 28/04/2015 at 22:41:08
I'm probable staying – aka – since me and my agent left all that 'bait' about in the papers, there hasn't been so much as a nibble.
David Sheen
25
Posted 28/04/2015 at 22:55:32
Funny that he makes this comment as Everton have an upturn in results. 5 wins in 6 and he says this.
Maybe Lennon coming along on loan has shocked him. Since Lennon has been quality, tracks back (something Mirallas does not do enough of). And has basically been a revelation and yet he cannot even get into the spurs team. Mirallas afterall said first team football is what he wants more than anything. He knows now that he might be a bench warmer at teams with money.
Having said that, Mirallas is quality. And I would rather him stay to run down his contract than for him to leave for 7m. Having him and Lennon on either wing would be great for next season.
Minik Hansen
26
Posted 28/04/2015 at 23:51:03
There must be something about we being able to spend big this summer! In that state, our club is attractive to be staying at. COYB!
Andrew Lightfoot
27
Posted 29/04/2015 at 00:25:46
I hope Kev stays. He's genuinely talented, and unpredictable. With that comes no lack of frustrating performances, but there are few like him in the Prem.
Kanchelskis is my favorite player of all time and Kev reminds me of him. I wasn't offended when he said he wanted to play Champions League, doesn't every player? I want every Everton player to want to play CL!!
Andrew Lightfoot
28
Posted 29/04/2015 at 00:33:42
Plus, if he stays then perhaps Rom will too.
Colin Williams
30
Posted 29/04/2015 at 01:32:18
Never really rated him. Lots of reasons... One reason that sticks in my throat... He thinks he's bigger/ better than our great club.
Take a hike!!! Overrated and underachieved!! Pain in the ass.
Phil Sammon
31
Posted 29/04/2015 at 01:48:40
I'd hate to see Mirallas leave. He is a genuine threat on the right, left and even through the middle. A goal scoring midfielder is absolutely essential at Everton and frankly he looks to be the only one who knows where the net is.
He's arrogant, yes, but I'd rather judge him as a footballer than weigh him up as a potential best mate.
Eric Myles
32
Posted 29/04/2015 at 01:32:40
Martin (#13): "The big worry is replacing Distin's role. (Why not Browning who seems a perfect fit for me?)"
Because Distin is left CB and Browning RB/right CB. We should replace like with like not right pegs in left holes.
Gavin Johnson
33
Posted 29/04/2015 at 03:09:49
Having already done the mourning you do when one of your better players starts frequently mentioning Champions League in interviews, I'd accepted he was going. So this has come as somewhat of a surprise. If he stays it'll be a bonus but the cynic in me says it's because no Champions league team has made an approach.
I was also shocked when I discovered he'd scored 11 this season. Pretty impressive considering he's injured half of the time.
James Kirrane
34
Posted 29/04/2015 at 03:23:14
Would be very happy with Lennon on the right and Mirallas on the left. That gives us plenty of pace on the flanks and a real goal threat from Mirallas. I have been very impressed by Lennon's work rate and enthusiasm. If only his final ball was a bit more clinical.
Brian Porter
36
Posted 29/04/2015 at 05:42:54
Moody and unpredictable? Yes. But, as long as the 'good' KM turns up for games, he is a real asset and I'd love to see him stay. If the 'other' Mirallas is evident from kick-off, he can be substituted, as with any player not doing the business.
I agree, the lack of interest from CL clubs may be a contributing factor in his latest pronouncement, but if so, maybe it has taught him a little humility and made him realise just where he is well off. Better to be a big time player for us than a bench warmer elsewhere, unless all he wants is the money. That, however, would show a lack of professional ambition, something I believe he is not short of.
So, maybe he's weighed up his options and thought things through logically and if so, and he has made peace with himself, we may just find a 'new' Kevin Mirallas in there with a better, more positive attitude for the remainder of this season and the start of the new one. We all want CL football, Kevin, so stay where you're well off and appreciated, and help Everton to achieve that dream.
Richard Lyons
37
Posted 29/04/2015 at 06:22:23
He's a great player for us, above all he has the combination of skill and a positive attitude to the game – ie, "get forward and score" – which contrasts with the horrible and negative "KITAP1" attitude.
However, he is no Messi, so I doubt he would ever get a move to any of the better CL teams. Maybe he has begun to realise where the grass is really greener...
Eugene Kearney
38
Posted 29/04/2015 at 08:46:17
If there was a LIKE button here, I'd click on Brian Porter's post, #36
Well said, sir!
Andrew Ellams
39
Posted 29/04/2015 at 08:57:30
Happy if he stays next season, but isn't his contract up in a year? We can't afford to be allowing quality players to swan off for free.
John Pickles
40
Posted 29/04/2015 at 09:10:02
He hasn't even said he's looking at a new contract with us, yet let alone signing one. As I see it, nothing has changed, we have him for up to 2 years and at some point it will be decided if he stays or he goes.
Simon Jones
41
Posted 29/04/2015 at 09:16:25
I'm not sure KM is a player that we take to our hearts, he made a major ricket with that penalty, but even if I don't love him, I still think he is a major asset and he always looks like he has a goal in him.
Lennon in, wouldn't mind Charlie Austin in, would love Deulofeu in (don't think it will happen) sell Kone, Distin released, Pienaar released and get Garbutt on a decent contract! Keep everyone else in the first team squad.
Michael James
42
Posted 29/04/2015 at 09:42:02
Goal scoring wingers are rare to find these days. I hope he stays... if not, get a good fee for him.
Jim Bennings
43
Posted 29/04/2015 at 09:58:14
I wonder if Distin might get a late run out against Spurs on the last day?
Even though we know he's finished now, I still think it's been a sad way for him to bow out of his Everton career after 6 years.
It would be nice to even see him for the final 5/10 minutes on the last day and give the guy a proper send-off.
Laurie Hartley
44
Posted 29/04/2015 at 10:20:13
Jim, that is a great idea.
Sam Hoare
45
Posted 29/04/2015 at 10:39:49
Even though he's prone to sulking around a bit, he's still easily one of our most effective players in terms of scoring and creating goals.
Like some others above, I'd be curious to see him get a run out as a second striker. Would definitely add more goal threat than Barkley. Otherwise to have Lennon and Mirallas on the wings gives us great counter-attacking threat so long as we continue to persevere with this current more direct style to utilise that pace.
I also see that we are linked to Januzaj again today who is quite a Mirallas-esque player.
Dave Abrahams
46
Posted 29/04/2015 at 10:45:28
Jim (43) yes, good idea, Distin has been a good player for the blues and deserves a good send off.
Mirallas, sell him and get a decent price; one good game in three, maybe, is not worth the trouble in my opinion. Best to let him go, he's had enough chances; consistency is not part of his outlook.
Sam Hoare
47
Posted 29/04/2015 at 10:57:42
Dave 46. He has consistently scored goals this season. Far more so than any other midfielder. More than 1 in 3!
Trevor Peers
48
Posted 29/04/2015 at 10:59:38
The tactical change to counter attacks will suit Mirallas; given more time and space, he should produce more goals. Maybe that's one of the reasons he wants to stay.
Phil Sammon
49
Posted 29/04/2015 at 11:00:29
Simon Jones (#41):
'Release Pienaar'
I honestly can't fathom how anyone can be of that mindset. If you can't see the quality Pienaar brings to the side, then I honestly don't think you understand football. I don't say that as a gratuitous personal insult to you. I simply can't come to any other conclusion.
Brian Harrison
50
Posted 29/04/2015 at 11:07:02
I can't believe that anyone would want to sell Mirallas. Yes, he sometimes disappoints but the guy has goals in him, as his record shows. Compare that to our other alternatives out wide: McGeady, Pienaar, Atsu and Lennon – their goals per game record is woeful. Yes, I know Lennon has scored 2 goals during his loan spell but his record tells you he doesn't score on a regular basis.
A lot has been made of his Champions League comment; well, if a journalist asks "Do you want to play in the Champions League?" – what are you supposed to say? "No, I don't"? He has said he wants to stay and I hope RM sees the light and offers him a new contract and starts playing him to make him feel like he is important to the team.
Andrew Ellams
51
Posted 29/04/2015 at 11:19:43
Phil @ 49, you are right about Pienaar's abilities as a footballer but there has to come a time when we need to weigh that up with his age and the amount of time he is unavailable. I would struggle to justify him having more than one more season on the payroll.
Jay Wood
52
Posted 29/04/2015 at 11:17:13
I defended Kevin in the face of vitriolic attacks on here following his CL statement, so I'm firmly in the 'Keep Kev' camp.
A club with our limited resources should not be casually discarding a maverick talent like KM and the assists and goals he brings to the team.
People took umbrage at a quote in a newspaper. Yer know ... those rags written by toss pot journalist so many on TW seeth about?
I've seen more than one video interview with Kevin where he has been extremely funny, with a twinkle in his eye. He'll do for me.
But then ... he does have a gold Bentley ... what a tosser, eh...?
Max Wilson
53
Posted 29/04/2015 at 11:19:30
As the vast majority of us say, keeping Mirallas on a new contract would be good news. The mistrust of him began after his comments about wanting CL football and seemingly delaying signing a new contract, whereas about the same time, Leighton had signed on again. 11 goals this term ain't bad.
I think the language barrier may have made Kevin appear disaffected; these foreign players aren't 100% literate in English and can come over the wrong way. We have looked after Kevin throughout his injury problems and he should feel this is his home; it just needs him to scrawl that signature to make everyone happy.
Dave Abrahams
54
Posted 29/04/2015 at 11:24:05
Sam (#47),
Mirallas is not a consistently good player IMO but, if you like him, that's fair enough, he's a very good player... ON HIS DAY, just not often enough.
By the way, he's scored 28 goals in a 101 appearances for Everton. I cheated, I looked that up!!!
Andrew Ellams
55
Posted 29/04/2015 at 11:32:21
He's a damn sight better than anybody that we could probably afford to replace him, especially his goals.
Harold Matthews
56
Posted 29/04/2015 at 08:41:45
I don't like the bloke. He's a nasty, selfish piece of work who should now be sitting out a 3-game ban. Unfortunately, he also knows we're not too well off for goalscorers.
I don't buy the Champions League and big ambition business. As a recently retired pro stated only last week. "Don't kid yourself. It's all about money. It's always all about money."
Tony J Williams
57
Posted 29/04/2015 at 13:03:53
I hope he stays but not bothered if he goes.
Thinks he is far better than he really is.
We have the same conversation at the game every time we mention him, great players get involved and change games whereas he is happy to sit on the wing scratching his plums waiting for the play to come to him.
Liam Reilly
58
Posted 29/04/2015 at 13:18:16
I don't pertain to know the lad but so what if he's arrogant and not that likeable. I couldn't care less if he's Genghis Khan if he does well in that shirt on matchday.
We need to add to the squad for an assault on the top 4 next season and not diminish it by getting shot of one of our only goal threats.
Keep what we have, add Lennon, a central defender, a playmaker and another striker and there's a good squad lurking.
Mike Childs
59
Posted 29/04/2015 at 15:10:10
I like your thinking, Liam, but like Harold said he can be nasty at times. Definitely our most polarized player.
Stephen O'Donnell
60
Posted 29/04/2015 at 15:25:17
I would have Bolasie from Palace in a heartbeat... so fast and direct.
Mirallas is injury-prone – hence why Arsenal never took him.
Brian Porter
61
Posted 29/04/2015 at 16:06:05
Eugene at #38, thank you most kindly for your comment.
Jim Hardin
62
Posted 29/04/2015 at 16:22:37
Where do the comments about Mirallas being a nasty selfish person (not player apparently) come from? Do any of these posters actually know him? Odd that his Belgium teammates on the national squad (except for Januzaj) seem to like him. He seems to be liked by the Belgium press and is actually a good interview although the translation to English blunts it somewhat.
His goals-to-minutes ratio is pretty good for a wide player. He is better than Lennon and Naismith and most other wide players in the league. He gets hurt on the pitch playing, not doing something selfish and stupid. People might not like his lack of always tracking back, but if that is the player's style then a good manager can account for it. Never see Baines or Jags or Barry yelling or gesturing for him to get back like they do for Barkley.
The arrogance and selfishness in this are the people who want to offload a player who admits he wants to play in the CL. What player wouldn't? Instead of slagging off the guy who has ambition, the criticism should be directed at the people who don't, namely the Board.
Personally, I would like to see him stay as I think he is more important to Everton's success than most do. If he goes, I can't begrudge him and will wish him success.
Nightmare scenario for Everton fans would be he goes to West Ham (about to become a bigger club financially than us with a new stadium) and joins Moyes there (if the rumours are true).

Andrew Ellams
63
Posted 29/04/2015 at 16:52:19
If Mirallas tracked back as often as some would have him, then we would lose our outlet ball. He should be sitting just inside our half, waiting for the ball to come to him, and hit the opposition on the break.
Trevor Peers
64
Posted 29/04/2015 at 17:19:45
Well, Jim, it looks like you have got your wish. I'm glad he might be staying too. Loyalty to Everton is all I'm interested in though, for whatever reason he's decided to stay.
Roberto's insistence on possession football may have been driving him insane like the rest of us until he saw the light.
I don't consider him good enough to play at the very highest level of the CL so his ambitions were misguided to say the least.
James Marshall
65
Posted 29/04/2015 at 17:56:52
Loyalty? I think that went out the window when clubs started buying players from abroad. Mirallas isn't an Everton fan so why would he feel in any way loyal or disloyal to Everton give his contract situation?
Players have contracts, they honour them up to a year left, and then get sold – it suits player and club and that's why the Bosman rule exists.
As for his desire to play Champions League football, I don't see any problem with ambition, and there are plenty of teams in the CL, not just Barcelona and Bayern, Madrid etc. There are loads of second-tier teams in the CL that would take him.
Dean Adams
66
Posted 29/04/2015 at 18:05:33
Paul Ferry (#4),
Marvellous stuff there young man. I see you have the same keen eye for a tallented player as I. Let's hope the lad stays and we achieve that dream of his, to play in the Champions League.
Alex Jones
67
Posted 29/04/2015 at 20:38:41
Mirallas is one of the highest scoring wingers in the league and we need to get him signed on a new contract and actually play him more as he's our best option out wide. If he won't sign then maybe we'll have to sell him but he'll be hard to replace.
Tom Dodds
68
Posted 30/04/2015 at 04:40:50
File under (yet another): Season Ticket (desperation) PR.
Ant Dwyer
69
Posted 30/04/2015 at 23:27:28
For me it's a must we up Mirallas's wages as he is a top player. Please get him signed up as he's the main man to open up defences in our team. Play him week-in & week-out and he will be good for 25 goals (assists and goals split), he's got his game boxed off and he works his socks off; very very under-rated.
Dave Abrahams
70
Posted 02/05/2015 at 08:39:01
Ant (#69), whatever he is paid he will only earn a third of it.
Dave Abrahams
71
Posted 02/05/2015 at 19:52:52
After today's performance, clubs from all over Europe will be rushing to sign Kevin. What a display!!!!!!
Michael Polley
72
Posted 04/05/2015 at 11:38:47
Like to see him stay. I appreciate he has had a stop/start season due to injury, but he seems to lack motivation sometimes.
There are games were he is our most creative player on the pitch, and then other times when he is totally anonymous.
All the paper speculation, and that infamous penalty miss seem to have been a distraction for him. He needs to refocus for next season. I believe he can add to our goal tally, and provide numerous assists.
---
Add Your Comments
In order to post a comment, you need to be logged in as a registered user of the site.
Or Sign up as a ToffeeWeb Member — it's free, takes just a few minutes and will allow you to post your comments on articles and Talking Points submissions across the site.
© ToffeeWeb