Martinez remains unfazed over Garbutt's contract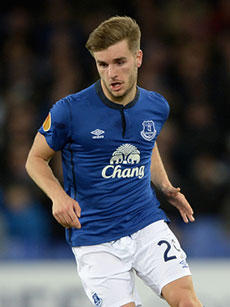 (Gareth Copley/Getty Images)
Roberto Martinez says that he doesn't see Luke Garbutt's contract situation as a big issue and hopes to resolve it positively in the summer.
The 21 year-old fullback is one of the most promising players in his position and has already demonstrated his readiness for regular first-team action with a number of appearances this season, including in the Europa League.
His contract is up this year, however, and is decision to defer further negotiations over a new deal until the summer has Blues fans concerned that the club risks losing him for just a player development fee if they can't persuade him to stay.
"[Luke has] been terrific in terms of going through the programme that we put in place and we're looking forward to having [him] for...many years to come," Martinez told the media today.
"Obviously his situation is something that needs to be solved and I'm sure that's something we're going to look into in the summer and we'll be able to find a solution in that respect.
"He's been working really well and the contract situation, I don't see it as a big issue.
"If Luke Garbutt wants to stay at Everton, we want Luke to stay at our football club so I don't see it as an issue."
Garbutt is believed to be happy at Goodison Park but, having already demonstrated his ability to represent Everton at the top level and established himself as a regular for England U21s, he is looking for assurances of first-team football.
Reader Comments (44)
Note: the following content is not moderated or vetted by the site owners at the time of submission. Comments are the responsibility of the poster. Disclaimer
Chris James
1
Posted 30/04/2015 at 15:35:55
If we do lose Garbutt this summer then someone's job has to be on the line. He looks like a top class full back who should be natural cover and successor to Baines and one position we don't have to worry about in the summer.

David Smith
2
Posted 30/04/2015 at 15:57:39
Agreed Chris. He's a real prospect - I can just see it though. It'd be typical, one step forward 6 back.

Dave Lawley
4
Posted 30/04/2015 at 16:16:14
If we lose this lad it will be an absolute scandal, and I for one will be well pissed off if he goes. Although I won't blame Garbutt – he did everything asked of him, he stepped up to the first team for 8 games and played very well only to be dropped ala Robles.
What message does this send to the kid? If I was him I would feel very disappointed; if another EPL team came in and offered first team football, I'd be off. How did EFC let such a promising player's contract run down.
Liam Reilly
5
Posted 30/04/2015 at 15:57:30
"If Luke Garbutt wants to stay at Everton"
It's astonishing how this is yet to be resolved and would be criminal to allow him to leave; which would undoubtedly come back to bite the club in the ass.
There's nothing but dead rubbers left this season; the guy needs to play.
Mike Childs
6
Posted 30/04/2015 at 16:38:12
The problem is they didn't know what they had until this year. Hopefully it's not to late.
Eric Myles
7
Posted 30/04/2015 at 16:36:49
He's still only 21 and relatively inexperienced at Premier League level although showing promise. It would be a gamble for another team to sign him, as well as for the lad himself, as he would have to integrate into the new setup and not be a first choice starter straight away.
So not an immediate advance for him whereas on the other hand he's a known entity with us, and is likely to get a starting place earlier than if he moves away.
Terry Downes
8
Posted 30/04/2015 at 16:54:34
Listen, lads he's 21 and wants to play now.
In reality, he won't take Baines's place next season for sure so, if he stays, he's looking at more of the same.
Ask yourselves: in that position, what would you do?
Denis Richardson
9
Posted 30/04/2015 at 17:11:59
'"If Luke Garbutt wants to stay at Everton, we want Luke to stay at our football club so I don't see it as an issue.' – ie, the club want him but have not been able to persuade him to sign on the dotted line. I hope we keep this kid and the chat from the manager is not to simply say the right things to the media.
It's difficult to see how he'll stay though if we're not giving him any game time.... Guess we'll find out in July....if Baines is sold to Man City.
Brian Porter
10
Posted 30/04/2015 at 17:11:32
I agree that Luke Garbutt is a great prospect, but reality and logic dictate that you do not drop England's first-choice left back just to make room for a promising young player with as yet, limited PL experience. If Baines is injured or out of form then yes, he has to be there to step up and fill that role.
Most top clubs do have more than one player for each position and sometimes the understudy does spend a lot of time on the bench. It's a conundrum that needs careful and sensitive man-management, and Liam (#5), the next few games are not dead rubbers, as the financial rewards system in the PL means more money for a higher league position so we would want to finish as high as possible and hopefully, some of that money can then be used towards either signing new players or towards contract negotiations with players such as Garbutt and any others in the pipeline.
As good as Garbutt may be one day, we have to be realistic and be grateful we have a terrific first-choice left back already and Luke Garbutt has to work bloody hard if he wants to displace him, unless Leighton makes the move to left midfield, as has been spoken of more than once this season.
Ajay Gopal
11
Posted 30/04/2015 at 17:31:50
Agree with Brian (10): Just as Baines had to work hard to displace Lescott who did a terrific job at LB and kept him out for almost a year and a half after his transfer from Wigan, in the same way, Garbutt should be ready to fight to displace LB from the LB position!
Tony Foxwell
12
Posted 30/04/2015 at 17:46:27
We need a compromise, so sign him on a 5-year deal and loan him out next season to a Premier League side with a call-back option if Baines gets injured, as Oviedo is sadly having a terrible time with injuries this season with now a broken fifth metatarsal.
OR move Baines into the rumoured Lahm position. Or do what Moyes did with Coleman, play Garbutt left wing.
Phil Walling
13
Posted 30/04/2015 at 17:43:53
To be honest, I don't think Roberto sees ANYTHING as a big issue - whether that be the pre-season training plan, a long run of games without a win, the need to practice for corners and free kicks or outright confusion over penalty takers.
The lads will work it out whilst the fans do the worrying. Managers are for philosophising.
Eric Myles
14
Posted 30/04/2015 at 17:31:43
Terry #8, "He wants to play now".
So I see his options as:
1) Move to another PL team where he won't play now as he's an unknown quantity, and wait for his chance against other established players, ie, no better off than he is now;
2) Move to a Championship team where he has a chance to break into the first team early but be in a Championship side, is that better off than he is now;
3) Bide his time with us, a club that appreciates him (I hope) and will give him a chance but currently has the best left back in Europe who he might learn a thing or two from;
4) Move for more money and sit on someone's bench as Rodwell, Gosling, Lescott (to a degree) did to make up the local quota, and not play. He'd be better off financially anyway, before moving to a bottom-of-the-table club in 2-3 years where he'd get regular games.
Tough choice for a 21-year-old with an agent looking to make some money for himself.
Charlie Burnett
15
Posted 30/04/2015 at 18:10:43
He wants to stay at Everton but also wants to play football and Baines isn't hard competition for him. Two options: fight hard against Baines (what Baines had to do against Lescott) or get him signed then loan him to a mid-table Premier League club next season. In two seasons, he'd be the first name on the sheet.

Phill Thompson
16
Posted 30/04/2015 at 18:10:51
It's not a question of him replacing Baines... more about how he has been treated this season. Can anybody in their right mind give me a justification for playing an ageing right back at left back instead of Garbutt? You would imagine his first question will be "Tell me, Roberto, when Oviedo and Hibbert are fit, who is your 2nd choice left back?"
He's not the finished article yet but his potential is outstanding.
You would hope he can be persuaded to stay and develop, moving to another club where he can't be guaranteed a starting place would be detrimental for him. But with a minimal transfer fee the likes of Swansea, Southampton even Stoke could probably offer him more money, a starting place and a manager who could convince him their club is on the up. Now that would be depressing, losing one of our brightest prospects to one of the "S"s.
Brian Cleveland
17
Posted 30/04/2015 at 18:18:20
Whether he is currently playing or not, he is training every day with current defensive English internationals in Jagielka and Baines (his position) and perhaps even including Stones who was in the squad before his injury and I expect will be again in the near future. It's not beyond the realms of belief that we'll provide the majority of the defensive line for England in the Euros next year, so Garbutt is learning his trade with top class players.
Is that enough to keep him with us until he gets more of a chance... only he knows, but I hope it counts for something...
and when Martinez says "If Luke wants to stay..." I hope that doesn't really mean he hasn't asked him yet!
Please stay Luke, because we want you!
Sam Hoare
18
Posted 30/04/2015 at 18:32:35
Here's what you do. Tell him you think extremely highly of him and offer him a new contract that reflects that. Admit that he is up against one of the best left backs in the league. Tell him you plan to loan him for the entirety of next season to another Premiership club where he will be able to get consistent first team football (possibly a promoted team?). He will have a recall clause if Baines suffers a serious injury. Then the following season he will be expected to take over from Baines who will be 32 and become experienced back up.
That way either Garbutt excels himself on loan and becomes our first choice by right. Or we sell him with years left on his contract.
Win-win for everyone?
Helen Mallon
19
Posted 30/04/2015 at 18:35:05
Look he is very good BUT he does not want to stay. If he did he would have signed now. Let's be honest, who is he going to be a regular for, it won't be the top four so who? Blaming the club is unfair if he don't want to stay.
Tony Doran
20
Posted 30/04/2015 at 18:33:07
If Baines could be sold for a big fee what would go towards a top striker,I say go for it. Not that he is as good as Bainesy but it's to do with age.
A club like Everton can't keep top class players waiting on the bench. Either way, it's very bad that this has been allowed to happen.
Scott Goin
21
Posted 30/04/2015 at 18:39:11
Unfortunately, I expect Garbutt will leave. It's in his best interest to go to a club where he can get 1st-team football and with Baines and Oviedo at Everton, he's unlikely to get too many chances. Garbutt obviously didn't want to resign for a low amount when he couldn't be guaranteed playing time. I can't blame him for that.
It's a difficult situation for Everton as well. We want to keep the lad but we can't spend a lot of money on a guy who's essentially roster filler right now. Maybe we could have sold him a year ago but his value wasn't as high then and he did help us out this year when Baines & Oviedo were down. Garbutt has some potential but I still don't see him as a future top-tier left back.
I wish the kid luck wherever he goes.
John Daley
22
Posted 30/04/2015 at 18:48:51
"If we lose this lad it will be an absolute scandal and I for one will be well pissed off if he goes, although I won't blame Garbutt he did everything asked of him"
Except sign the new, improved contact that was offered to him.
Eric Myles
23
Posted 30/04/2015 at 18:50:54
Charlie #15, I didn't see that Baines had to fight hard against Lescott. When Baines joined us he was injured and Lescott had to play left back which he wasn't happy about, preferring to be a left CB.
When Baines was fit he became the LB and Lescott reverted to being the LCB before moving on to City after which time we got Distin in.
Lyndon Lloyd
24
Posted 30/04/2015 at 19:02:22
Baines did have to wait an awfully long time to displace Lescott, Eric, because Moyes was loathe to take another tall defender out of the back four.
I recall much frustration on these pages at the fact that he was choosing a centre back at left back over a natural fullback in that position for whom he had shelled out ٤m.
John Audsley
25
Posted 30/04/2015 at 19:02:39
"If Luke Garbutt wants to stay at Everton"
Hmmmm, I'm not convinced that will happen.
Colin Glassar
26
Posted 30/04/2015 at 19:00:35
Wasn't it Valente or Naysmith who was RB when Bainsey arrived, Eric? Lescott covered for Bainsey when he was out injured.
I hope Garbutt stays. Like many have said, no Premier League team will guarantee him first-team football just yet so he may as well stay as Oviedo is finished IMO.
Eric Myles
27
Posted 30/04/2015 at 19:04:25
Lyndon, I also recall much frustration by Lescott at having to play LB, which I think was as much the cause of his departure as the money at Man City.
Lescott was performing admirably as LB which is maybe why Moyes was reluctant to change a good thing, but also Baines arrived injured (from Wigan!!) and took time to get fully fit.
Ross Edwards
28
Posted 30/04/2015 at 19:21:14
In Martinez propaganda-speak, that means he's leaving.
Matt Muzi
29
Posted 30/04/2015 at 19:25:43
Let's be serious: if he hasn't signed a new contract by now, he's off at the end of the season.
John Gee
31
Posted 30/04/2015 at 20:52:02
If he has been offered a contract then we have a 21-year-old holding the club to ransom who plays in a position that we're over stocked in. If that's the case, we'll only be delaying a problem with him in the same way rooney undermined Man Utd.
Personally, I think he's got an offer and he's off. But don't worry; we have at least one player who is much better.
Winston Williamson
33
Posted 30/04/2015 at 22:03:42
The lad is a class prospect. He has speed, power and some skill. He's good at deadball situations too. Is he as good as Baines or Oviedo at the moment? No.
However, is he as good as Baines was at 21? To be honest, I can't remember Baines at 21. Can anyone say whether Garbutt is a better 21 year old player than Baines was?

If so, could he improve like Baines has over the last 4 seasons? And could he maintain his form like Baines has? I'd say keep him either way!
James Flynn
34
Posted 30/04/2015 at 22:13:19
Nothing new here. Tribunal aside, he's a free agent. The kid's gonna see what offers come, weigh his options, and decide. Let's not ignore, the Club has a lot wages invested in Baines and Oviedo.
Garbutt looks a talent; pace and a wonderful left foot. Lots in front of him and we all want him to stay. The financials say different, though. It's too bad, but just one of those things.
A lot hanging on these next three windows. With the players out of or about to be out of contract? A lot hanging. Don't think I'd put Garbutt way up on the list. Of course I want him to stay. But he's firmly in the driver's seat for where he winds up. Better we hope the Club has a solid argument at the tribunal.

Ant Dwyer
35
Posted 30/04/2015 at 22:56:33
It's a must that this kid signs a deal to keep him at Everton. I'd be very aggrieved if we lost him to a main rival, he's got to sign his deal, join one of the bottom half Premier League or top few Championship clubs for a season/or half season on loan to get him games, then come straight into the main fold and challenge Bainesy and be considered for left mid.
For me he's head and shoulders over Oviedo atm so he's got to be kept. Sadly though I'm sceptical over how his contract is and the fact he's not signed a new deal. I can see another Dan Gosling here.
John Gee
36
Posted 30/04/2015 at 22:51:55
I want him to stay. But, he's not Messi and he's a defensive player. Who gives a fuck. Sign or don't sign, we're adequately covered and he's either a dumb twat controlled by his agent, a clever twat in league with his agent, or he's got an offer that he fancies. Seriously, fuck him.
If he stays, I'm one fan that he'll have to win over because I'm not convinced on his loyalty, ability, dedication or self awareness. He just looks like another kid who wants to milk the fans before he's done anything.
If he was as good as some of you think, he wouldn't be a defender.
Conor McCourt
37
Posted 30/04/2015 at 23:45:23
I realize how important Baines has been to us but this is my biggest fear to lose Garbutt. Managers must make tough calls as Wenger has done brilliantly over the years. Garbutt will serve our club for the next ten years while Baines has two if he's lucky.
If City offer 㾶 million then we should bite their hand off and use the funds in other weak areas. We have one decent winger on our books for starters. We need about 7 new faces and we know our board won't deliver so Roberto needs to be clinical and I'm sure Baines would be happy to be playing in the Champions League anyway.
Brian Porter
38
Posted 01/05/2015 at 01:21:24
Sorry, Conor, I have to totally disagree with you. If Garbutt is as good as you seem to think he is, he will NOT serve our club for the next ten years, as some big money club will come in with a tempting offer and he'll be on his way, thanks a lot Everton.
As opposed to Leighton Baines who is probably the most loyal servant we have who could have been playing CL football for Man Utd, but chose to stay with us, the club he loves.
At present, Baines is still twice the player Garbutt is, and no one knows for sure if Garbutt will continue to develop, or remain at his current level of skill and performance. You seriously want to dump England's first choice left back in favour of a kid with less than a dozen PL starts under his belt? Reality check needed my friend.
I respect your opinion, but really, Baines in many ways is the symbol of all that is good about Everton, whereas Garbutt, if he is holding us to ransom over signing a new contract, most definitely is not!
Jim Hardin
39
Posted 01/05/2015 at 02:32:19
Just one question for the Garbutt fans. Who is more "loyal" to Everton, the player playing under a one- or two-year contract or the one letting his contract run out and not signing the new one offered? Why is he not being blasted like Mirallas for not signing a new contract to "prove his loyalty." Mirallas has one and possibly two years on an existing contract and is playing it out at this point but Garbutt is out of contract in a few months.
Typical Everton fans on here though blast the player we need and want him to go and want to keep a player who is 3rd behind two other players who are the starting backs for their respective squads (4th if you count Hibbert ahead of him). If he wants to sign, great; if not, go.
The sky will not fall in and there will be other left-backs coming along we can buy. If he was truly the next great back, why haven't any big clubs come in for him last summer or in the January transfer window? He is not a true defender first and attacker second, but rather, is an offensive player who is asked to pay defense and gets turned around and bamboozled at the Senior level too much.
Brian Porter
40
Posted 01/05/2015 at 06:22:29
Well said Jim. That's precisely what I was saying at #38. Nice to know someone else sees it as I do. I also like your comparison with the Mirallas situation, and there's a player who I feel is more important to the first team than Luke Garbutt. But, as you rightly point out, nobody seems to recognise that likeness on this situation.
With Leighton Baines and a fit-again Bryan Oviedo, we have two terrific international left backs at our disposal (no complaints from Oviedo about being second to LB), so why the sudden mad rush to secure Garbutt's signature on a contract he has had on the table for months? Like you, I'm very much in favour of 'loyalty first', especially where that loyalty is tied to the ability of players like Baines and Oviedo.
Tony Doran
41
Posted 01/05/2015 at 08:20:59
Why can't why sign him up for good wages and send him out on loan for a year or two. Plenty of clubs would be willing to take him including big prem clubs and pay his wages. It's what top clubs everywhere do. I think he's just to good to lose
Mike Childs
42
Posted 01/05/2015 at 09:40:02
As the Clash sang " Should I stay or should I go now"?
Harold Matthews
43
Posted 01/05/2015 at 10:00:55
Jim #39. Yes, he has a great left foot and can get me off my seat but your last sentence sums him up perfectly.
Seems he and his agent are waiting to weigh up the various offers during the summer. He's not a local lad. His credentials put him firmly in the driving seat and all we can do is offer him a decent wage to continue his present situation with the possibility of a high level loan spell elsewhere. I say "possibility" because it all depends on whether another club wants him and are willing to pay his wages. Alan Stubbs always said that arranging a loan to a good club was very difficult.
What if we offer him ٟ.25M and another club offer him regular football at ٟM? W'e're talking ٣k-a-week difference and that's a lot of money to give up. We'll see.
Eddie Dunn
44
Posted 01/05/2015 at 14:56:35
It's all just speculation. Martinez simply is not going to let the world know his plans on the transfer front, this summer. I hope Garbutt stays, but there might be a surprise or two, when players leave, and the manager isn't going to flag-up his plans to all and sundry.
Richard Reeves
45
Posted 01/05/2015 at 15:22:21
Terrible vision from Martinez to not get him signed up earlier.
Conor McCourt
46
Posted 01/05/2015 at 21:49:33
Brian I'm not sure that's entirely accurate about Baines deciding to stay at Everton... wasnt it that Man Utd wouldn't pay the asking price?? Of course you are correct when you say that he's been a great servant and he will have more loyalty than most due to him being a boyhood Evertonian.
Did I say Garbutt is a better player now?? No but I have seen enough of this guy to see he is the real deal. Yes, he only has a handful of games but that is because Baines is in front of him.
Garbutt is quicker than Baines, is going to be much better than him defensively and has better set piece delivery also. Of course I accept the qualities of Baines who has probably been our best player over the last 5 years but this season has been his poorest and he may only have 2 or 3 years left at the top level.
If we had decent finances, I wouldn't even suggest letting Baines go as no-one appreciates him more than me but if we were to get over 㾶 million our squad needs strengthening with no money to do so.
Reality check?? Well I'll make this prediction now that Garbutt will have a lot more England caps at the end of his career than Baines. By the way, Sterling had only a handful of appearances last season and Kane this season and they are doing ok so don't worry about his inexperience.
You make a good point about Baines's character, Brian, so much that I feel bad expressing this view but we have a core of young players we must build the club around and if we have to sacrifice a player then I would much prefer it to be Baines than McCarthy, Stones or Coleman.
Brian, from what I gather, Luke is a great fella and isn't holding us to ransom. He wants to make the right move for his career and doesnt want to be a 3rd choice left-back, just as Baines wanted to join Man Utd when a deal was close. Its not disloyal to do what's best for your career.
Like all I want to keep both and ideally see our board to at least outspend bloody Hull.

Eric Myles
47
Posted 02/05/2015 at 18:27:14
Conor #46, isn't Baines a boyhood red???
---
Add Your Comments
In order to post a comment, you need to be logged in as a registered user of the site.
Or Sign up as a ToffeeWeb Member — it's free, takes just a few minutes and will allow you to post your comments on articles and Talking Points submissions across the site.
© ToffeeWeb