Martinez's fears realised as Blues fall at Villa Park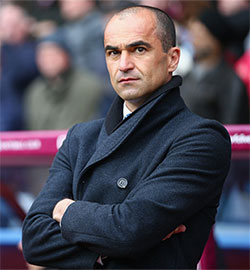 (Mark Thompson/Getty Images)
Roberto Martinez admits he was worried that his side would struggle to match their performance from last weekend against Aston Villa this afternoon.
Everton blew Champions League-chasing Manchester United away at Goodison Park last Sunday with a perfectly-executed game-plan but struggled to get going in the first half against Tim Sherwood's relegation-threatened side this afternoon.
Poor defending allowed the Midlanders to take a commanding 2-0 lead heading into half time and though Romelu Lukaku half the Blues' deficit with a penalty just before the hour mark, Tom Cleverley effectively secured the precious points with a well-taken goal five minutes later.
Phil Jagielka's injury-time header came too late for Martinez's men to grab an equaliser and Everton dropped back into the bottom half of the table on the back of today's results.
"I was worried about exactly what happened," Martinez was quoted as saying by the Associated Press after the game, "coming here and not having the engagement or stimulation after having such a fantastic performance and result and atmosphere at Goodison.
"It happens in football — the intensity and tempo we had in our last game maybe made it a bit difficult to start the game in the same level. I did feel in the first half we were second best in everything we did.
"It's fair to say Villa were the better side in the first half and we were the better side in the second.
"We couldn't get through that poor period without damage. I thought the damage of giving a two-goal lead was huge."
The manager took comfort from his players' response in the second half, however, even if they weren't able to claw back a point.
"The reaction was very good, there are dressing rooms which maybe cannot react or find that intensity but we did that and performed in a completely different manner."
Reader Comments (73)
Note: the following content is not moderated or vetted by the site owners at the time of submission. Comments are the responsibility of the poster. Disclaimer
Shahul Hameed
1
Posted 02/05/2015 at 19:21:36
Might as well have stayed home and forfeited the game if you felt this way.
Tony Rutherford
2
Posted 02/05/2015 at 19:26:32
To be fair, at least he admitted we were second best in the first half. But he still talks utter bollocks at times!
Colin Williams
3
Posted 02/05/2015 at 19:30:10
It's not about winning a 45-min period... Stop making fecking excuses! You're just not good enough!!! Stop talking bollocks... Go!... and take your SHITTE signings with you, plus the so-called super experienced senior players. (useless pricks)
Christy Ring
4
Posted 02/05/2015 at 19:32:49
Why would you change a winning team? And what does Naismith offer? Hard work is no substitute for skill and pace.
Also a new keeper is a must in the summer. When have you seen Howard coming for a cross?
Patrick Murphy
5
Posted 02/05/2015 at 19:43:07
Mmmmm....If ever there was a sentence that summed up Roberto it is this one...
"I was worried about exactly what happened," Martinez was quoted as saying by the Associated Press after the game, "coming here and not having the engagement or stimulation after having such a fantastic performance and result and atmosphere at Goodison.
I saw the possibility of running out of fuel when I passed the last service station, unfortunately I was proved correct and had to walk miles to find the next one. Roberto, you identified the problem so how come you didn't find the solution?

Colin Glassar
6
Posted 02/05/2015 at 19:45:07
If it ain't broke, don't fix it. It does my head in all this unnecessary rotating. Roberto got it wrong, once again, big time by the sound of it.
Colin Glassar
7
Posted 02/05/2015 at 19:48:04
Echoes of LVG, Patrick?
"I was worried after I saw them warming up before the game."
Bizarre comments by both managers.
Gerard Carey
8
Posted 02/05/2015 at 19:56:15
Same-old, same-old!!!!!. Our manager will never learn. He never learns from his mistakes. If he stays, it will be more of the same next season.
Those that say we should give him ten games at the start of next season are only clutching at straws. He had ten games at the start of this season, then till Christmas, then till after the Europa League, and now to the end of this season, and still he makes the same mistakes. I really feel sorry for our supporters – especially those who spend hard earned cash on away day.
Christy Ring
10
Posted 02/05/2015 at 20:08:30
Why didn't he bring Besic on for Barry at half-time. Our midfield was completely overrun. Is it in Barry's contract he can't be substituted??
Steve Harris
13
Posted 02/05/2015 at 20:14:45
Last week's win doesn't make up for the shite we've had to endure all season and today's game just about summed Martinez up! Not one effort on goal in the first half, not one corner, defence a shambles, passing non-existent but still no substitutions! If it's not working, fucking change it!
Matt Traynor
14
Posted 02/05/2015 at 20:25:49
I watched this game in the Irish bar in Bahrain Airport. RS supporter (from Kuwait, naturally) greeted me as I walked in and told me their game was gonna be shown on the TVs and I'd have to watch on my laptop – fair enough.
The manager had other ideas and put our game on instead (although I don't live there, I always visit when I am flying back, and he knows I'm a Blue).
So the RS fan decides to sit next to me to watch... to his credit he wasn't rubbing it in. He didn't need to. The first half truly showed the "Ugly Everton" we've had to suffer too often this season.
I'm very much in favour of giving Martinez another season. To my mind he's less of a problem than the board. He can't defend that today though, and if he tries to then I'll hope he gets his P45 asap. I stopped listening to his post-match shite last season when we were doing well. It's only got worse since.
Colin Gee
19
Posted 02/05/2015 at 20:23:47
It was back to the bad old days of Southampton away, Hull away again. We couldn't string two passes together, a defence that looked like they had been out on the ale until 4am, a midfield that didn't bother closing down when Villa had the ball and a striker that kept pointing were he wanted the ball played to but it never got to him.
It was obvious that Villa would be up for it today; it would have been the ideal game for Besic to start instead of Barry. As much as Martinez got his tactics right against Man Utd last week, he got it wrong again today. We've seen it too many times this season.
Peter Mills
21
Posted 02/05/2015 at 20:30:14
Strange. As a manager, I sometimes worried that my staff might not have the engagement or stimulation to carry out their tasks adequately, and saw it as a fundamental part of my role to ensure that they did.
Patrick Murphy
22
Posted 02/05/2015 at 20:29:14
The only time it matters about what the fans do or don't do is at the game itself – that is the only time that the supporters' backing or lack of backing has any effect on the players.
People discussing their worries or being pro this or anti that on a website has no influence whatsoever on the players or indeed the club and in no way does it determine how good a supporter of the club they are.
If an argument is flawed then by all means put up a counter argument and if the manager has some abilities that others are not seeing or are unwilling to see then point them out and highlight them by all means but to rubbish somebody's love for the club because they are having a go at the manager or players is unjustified.
It can be a bit tedious at times when the same arguments are trotted out by the same people but that isn't as tedious as some posters questioning other posters loyalty to the club when they happen to disagree with a particular viewpoint.
Matt Traynor
24
Posted 02/05/2015 at 20:37:25
Ross, I won't ask you to name your preference to replace Martinez, because those questions are pointless. He wasn't my first choice. Of the ones strongly linked, I favoured Pereira for no reason other than he wasn't Martinez, and Rangick sounded like a volatile loon.
But we got Martinez. My fear would be if we got shot now, who could we realistically go for? We're a corner shop operation. Next season we'll probably be outspent by Bournemouth (ok maybe not). What manager worth his salt would come to us with a Chairman who's more ambiguous than ambitious?
Mick Wrende
25
Posted 02/05/2015 at 20:39:04
Proper fans always support their team but we also try to make it better. Having a dolt as a manager is not the way for this great club to go forward.
There are several players who only get themselves up for big games and can't do it two weeks in a row. If they can't do that they don't deserve to play for us and if we have a manager who can't inspire them then he shouldn't be here either.
Like in any situation, the way forward is for us to protest, and that is what the real fans are doing now.
Doug Harris
26
Posted 02/05/2015 at 20:36:17
Utter garbage today... and I ask, as others have: Why change a winning team? We all knew that Villa would be up for it. So why weren't we?
Happy to put ya swimming gear on, lads, the season is over for the players, so let's fuck off somewhere sunny for the next 10 weeks. ..........
William Mctaggart
27
Posted 02/05/2015 at 20:45:05
I should apologise. My comment was out of order. I'm just annoyed that we lost and annoyed that my hair is falling out.
Darren Hind
28
Posted 02/05/2015 at 20:42:33
So
"proper fans always back the team and the manager" – Is that some sort of a joke?
The backing the players and the manager had today was fantastic.
In return, our fantastic fans were ONCE AGAIN let down and betrayed by yet another clueless gutless performance.
How much patience are you expecting from them?
Eugene Ruane
29
Posted 02/05/2015 at 20:19:16
That was just a surrender – horrible to watch – and how they only won it by a goal, Christ only knows. Second to every ball, possession given away over and over and over again, pathetic marking, we looked slow, generally clueless and were outworked and out-thought for most of the game.
I understand Villa have been rejuvenated in recent weeks but they were 2 points off a relegation spot when the game kicked off and we made them look like fucking world-beaters.
Christy Ring (4) you ask 'What does Naismith offer?" Well, I think we're agreed he's limited, but at least he looked like he gave a shite and won us a penalty (albeit one he was looking for). He got us back into it and we should have taken advantage of that.
As for Kevin 'Champions League' Mirallas, you might as well have played me (and as someone mentioned above, Howard appears to be glued to his line).
A shocker imo.
Clive Rogers
30
Posted 02/05/2015 at 20:38:17
Martinez got what he deserved for bringing in Naismith who was dreadful as usual.
Ross Edwards
31
Posted 02/05/2015 at 20:50:53
That's the problem, Matt. The man is unsackable in that regard. I don't think Martinez would ever be sacked. He'd only leave this club if he resigned or got a bigger job.
David Greenwood
32
Posted 02/05/2015 at 20:54:49
However poor RM has been this season, and no matter how much better he should have done, it's a change of board we need more than a change of manager. We could have SAF, Jose, Pep in charge and while we would have done better than we have this season, we still would be signing loans and freebies. It's a scandal that we are being run as badly as we are.
Colin Glassar
33
Posted 02/05/2015 at 21:04:58
I've been saying the same all season, David, but, that aside, it sounded like both the manager and players royally screwed up today. There was no apparent reason to drop Ossie and Ross for Nessie and Le Sulk.
Andy Crooks
34
Posted 02/05/2015 at 21:09:41
Roberto Martinez talks more shite than anyone I have ever met in my life, and by Jesus that is saying something.
Andy Crooks
35
Posted 02/05/2015 at 21:18:39
Also, I wonder what those shameless tarts and their bewildered coach are doing right now. Gutted, like us? Or enjoying their vast, totally undeserved rewards.
You know what, I've nearly had enough of fretting about hired hands who don't give a flying fuck. Can you imagine the response of a proper coach to that garbage?
Chris Gould
36
Posted 02/05/2015 at 21:16:30
Chelsea have won the league at a canter. Mourinho only rotates if he is forced into it. Surely any manager who aspires to be any good should look no further than Mourinho to recognise what it takes to make a team successful?
What bugs me is that it is clear that the players only play for Martinez when they feel like it. Can you imagine any Mourinho team playing like we did today? It can happen to anyone once or twice a season, but when it happens a dozen or more times in a season, then something is very seriously wrong.
Martinez doesn't have the ability, charisma or respect to inspire these players, week-in and week-out. For this reason alone, he will never be good enough for Everton.
Gerard Carey
37
Posted 02/05/2015 at 21:25:11
William 27, not to worry mate, my hair started falling out years ago, wish I could blame Martinez for it but I can't. But there's times I feel like pulling the rest of it out when we play like we did today!!.
Murdo Laing
38
Posted 02/05/2015 at 21:18:48
Some time ago, several TW posters were expressing relief that Sherwood had (just) then been appointed as Villa manager, the relief resting on the basis that we were on the slide at that time, but one of our relegation rivals had appointed an "inferior" manager. I never shared that view, not that I know Sherwood, but I know people who had dealings with him when he was at Blackburn Rovers and spoke very highly of him as a motivator and reader of the game.
Neither was I at the game today, but it sounds from some of the comments above that we were shut out of the game by a hungry Villa outfit. Maybe it's a case of them needing it more, and (as RM has alluded to) our players being on a "come down" after the magic of the United result. Either way, they outdid us, and any hopes of a top eight finish are banished.
All we can hope for now is that Martinez is better prepared for the new season, and we hang on to key players, most the younger ones. Sadly, I feel this is our destiny under Roberto: runs of good and bad form, punctuated by the odd stellar result (United) and the odd shocker (Hull away).
I believe Villa will be safe, and could even come out of he end of a generally desperate season with an FA Cup. At least we don't have to sweat on the last few games, but I fear that we may show up similarly demotivated at home next Saturday.
Brian Porter
39
Posted 02/05/2015 at 21:32:02
I am 62 years old, and have been an Everton fan since I was six. That's 56 years as a 'proper fan' and have supported many managers and Everton teams through those years. What I and many others will not support, however, is the almost willful ineptitude of a man who has been entrusted with the well-being and the reputation, through performances, of our once-great football club.
You will notice I use the term 'once-great' as we sadly no longer bear a place among the great teams of the modern day, but Martinez is dragging us down even further and if we, as loyal supporters, just sit back and support the manager as you suggest, then we become complicit in his failure because, as I see it, it is the job of us 'proper fans' who unflinchingly follow the team year after year to tell the manager, the players and the board just what we think when they or any one of them is taking any sort of action that threatens to destroy the status and reputation of our football club. 'Proper fans' have a role to play, and that role does not include blindly following like lemmings as a totally unsuitable manager leads our team slowly but irrevocably towards the spectre of relegation to the Championship.
OK, end of rant, but please, remember us fans will still be here long after Martinez has moved on, and we are the one constant in this great institution that is the family of Everton FC. Managers and players come and go, but we the fans, go on forever, or at least, for as long as we live, and therefore have a right to demand something better than we have in charge at present.
Jim Bennings
40
Posted 02/05/2015 at 21:42:47
Same old shite and pretty much what we have been used to for the majority of the season, and proof that Martinez never learns anything?! It was easy after last weekend to forget how bad we have really been this season.
I just can't forget the away games at Southampton, Hull, Stoke and Dynamo Kiev or the home games against West Brom, Hull or Leicester...
It's too easy to look at the mini run we have had and say the garden is rosy because it's obvious it's not. Martinez fails to bring continuity or consistency to the team which then results in a loss of confidence from the players.
He also fails on too regular a basis to rouse the players for the occasion.< How next season will really prove much different remains to be seen.
Tony Abrahams
41
Posted 02/05/2015 at 22:14:50
I class myself as a proper Evertonian, but at the minute I feel oblivious.
Paul Holmes
42
Posted 02/05/2015 at 22:18:40
Martinez is a shit manager, end of story. Just look at our league position compared to Spurs (who were in the Europa League as well). Remember Ukraine (it could have been 7 or 8 and we had Stones on the bench).
Remember him dropping Robles after all those clean sheets and he was brilliant in the cup against West Ham. We beat Man Utd 3-0 and he changes the team! He picks up around 㿲k a week to make those shit decisions and his interviews... FFS! Send him back to Wigan – I'll drive him myself.
Jim Bennings
43
Posted 02/05/2015 at 23:14:37
I think the first 6 games of next season are absolutely crucial for Roberto Martinez.
The summer is of course pivotal but no matter who we sign or who we lose, we simply can't afford to start the season slowly with lethargic performances and sloppy results.
I appreciate he will be here next season but we can't be blindly optimistic if it's not happening.

Jim Bennings
44
Posted 02/05/2015 at 23:33:02
One of the reasons why we are in the bottom half is just 4 away wins all season and, unbelievably for Everton, we have kept just TWO clean sheets on our travels this season. This is something Martinez needs to work out if he is to improve next season.
It's imperative you keep a solid defence away from home but this season we have been weak and simply easy to score against.
Ross Edwards
45
Posted 02/05/2015 at 23:44:43
10 away defeats this season. 16 points out of a possible 54. Simply not good enough.
Patrick Murphy
46
Posted 02/05/2015 at 23:47:49
Winning anywhere is never easy, but a good team will get a lot of points from their travels. It's a failing that has hamstrung our efforts for too many seasons.
All of our cup exits have come away from Goodison this season and we have only beaten Burnley, QPR, Palace and West Brom away from home, which is just as well because we would still be in some trouble if we had failed to beat those teams at their grounds.

Patrick Murphy
47
Posted 02/05/2015 at 23:57:13
This season will be the first time since 2003-04 (10) that we have failed to register 20+ points from away games even if we win at Upton Park. Last season saw our best points tally away from Goodison for many years with 30 points won.
Jim Bennings
48
Posted 02/05/2015 at 23:55:24
Another alarming factor is how many cheap soft goals we have conceded away from home this season.
The goals at Southampton and Newcastle in December were schoolboy stuff, the Hull game on New Years Day, the Stoke game at the Britannia in March, the shocking horror show in Kiev.. It really has been too easy to score against Everton at times this season.

Ross Edwards
49
Posted 03/05/2015 at 00:02:40
The defending for the 3rd goal in particular was an absolute joke.
Liam Reilly
50
Posted 03/05/2015 at 00:27:46
Poor first half and Villa deserved the win but for fucks sake; this is a dead rubber now and I'm struggling to even bother to tape it on Sky.
I'm an RM fan and reckon he deserves the first 10 games of next season to see which Martinez is the real coach: first or second season.
Just wish he'd give some of the kids some game time.
Patrick Murphy
51
Posted 03/05/2015 at 00:47:10
Liam - If you are a fan of Roberto and you think that the first ten games of next season should dictate his future at Goodison, it hardly fills his critics with confidence – in which case, he may as well be removed at the end of this one to at least give the club a fighting chance.
BTW, these so called dead rubber games – do the supporters get to see them for free and have their travel costs reimbursed? Just curious.

James Flynn
52
Posted 03/05/2015 at 00:46:05
"'I was worried about exactly what happened,' Martinez was quoted as saying by the Associated Press after the game, 'coming here and not having the engagement or stimulation after having such a fantastic performance and result and atmosphere at Goodison'."
I hope he was misquoted. I didn't get angry. Felt sad, though.
If having the players up for ANY game isn't the specific business and duty of the manager, why have one?

Brian Porter
53
Posted 03/05/2015 at 01:10:24
Jim @ #44, agree with you completely, which is why we should be worried for next season as of course 'Phenomenal' Martinez openly stated earlier this season that clean sheets weren't important to him. (??!!****??).
Also, going by his asinine post-match comments (again), I guess if we are going to have this kind of reaction as he says he expected(!), after a good result like last week, then surely the answer in his mind, in the world of La La Martinez, must be simple. Just don't win any games, then you won't have the reaction of over expectation in your next game.
That's obviously how he managed to do such a fantastic job of getting Wigan relegated. I feel as if he's taken us through the looking glass and we're now all living in the land of the Mad Hatter. Find me a straitjacket, please!!!
John Gee
54
Posted 03/05/2015 at 01:23:22
Under no circumstances should RM have 10 games next season. It's almost acceptable to have 3 games to ease into a pattern but, by the 4th game, the pattern for the season should be established. I'm talking in terms of performance and decision making.
He's not going to be fired after "guiding" us to safety. But, ffs, he can't be allowed to manage our decline for much longer, surely.
The first 30 minutes of our first game of next season will indicate everything for me. Team set up, player selection and ideal tactics. I'm predicting that he'll be gone by mid-September.
Peter Bell
57
Posted 03/05/2015 at 02:40:57
He has basically admitted he is a manager who cannot motivate his team to put back-to-back good performances together, another goal conceded from a corner with no-one on the posts. His time is up.
Joe Clitherow
59
Posted 03/05/2015 at 07:28:19
Not really one for stats – the style of play tells me all I need to know about this incompetent fool – but I think that was the SEVENTH time we have shipped three or more goals this season, against such luminaries as Crystal Palace, Newcastle and Villa. Add to that more than a third of our league games lost, barely break even GD and it is difficult for RM "fans" to show why they are so. In fact, I have repeatedly challenged to be enlightened all season and nothing comes back except "good last season, bad this season, let's see next season".
What a fantastic approach to any kind of proactive management that is.
Usually also I leave his quotes be – but it's really difficult to sometimes:
"It happens in football — the intensity and tempo we had in our last game maybe made it a bit difficult to start the game in the same level."
Cos, yeah, that's exactly how top managers think, isn't it?
Followed by this piece of genius insight which must have lots of journalists tapping their noses and giving each other knowing looks in press conferences:
"I thought the damage of giving a two-goal lead was huge."
Ladies and Gentlemen, I give you, Roberto Martinez
Joe Clitherow
60
Posted 03/05/2015 at 08:19:53
One other thing.
Whilst, sadly, I don't believe Ross Barkley will become the player we hoped, there is no doubt in my mind that he is a confidence player. So, given that he had a decent game against Man Utd last week, the idiot promptly goes and drops him – for Stephen Naismith – for apparently "tactical" reasons in the very next game. A gesture which can only be interpreted by Ross as "I don't trust you".
Just a single incident of rank bad people-management which gives an insight into exactly why Martinez cannot motivate a team in my opinion, because, let's be clear, he didn't have to do that last week, the players motivate themselves for the big games.
Dave Abrahams
61
Posted 03/05/2015 at 08:14:27
Last week gave me, and I think a lot of us, some hope that the manager was prepared to admit he had got his tactics wrong and was ready to stop this pointless possession game. Yesterday, he went back to tippy-tippy nonsense that drives you to sleep and away from the game.
People who want to give Martinez 10 games to prove himself at the start of next season must already have doubts about him to suggest such a thing; I have no doubts whatsoever – he will not change and he is just not good enough to manage Everton. Don't ask me to nominate another person to take over, I just know absolutely, that Martinez is not the one.
Brian Porter
62
Posted 03/05/2015 at 08:36:44
Spot on, Peter Bell @57. Now we know why Wigan were relegated. He just cannot motivate his team coming off the back of one good result, hence he sees defeat in the next game as an almost inevitable consequence of a good performance. What kind of crap is that, and how much more of his insane and inane ranting and rambling are we supposed to suffer?
He might have clung to some semblance of our respect if he'd been man enough to admit, "I made an error in changing the team after last week's superb performance. The blame for today's reversal in fortunes was down to me, and also to the players seriously under-performing. Rest assured, strong words will be said behind closed doors as I will not tolerate such abject surrender from an Everton team."
Sadly, Martinez has proved consistently that he's unable and unwilling to admit to his mistakes. We are all human and prone to make mistakes but he just refuses to admit it when his decisions lead to calamitous performances and results. After that abject first half, a decent manager of a League Two side would,have gone ballistic in the dressing room at half-time and made the substitutions that he instead left until it was too late.
The man is a buffoon and a prime candidate for the role of court jester. Might be good if a few thousand fans turned up next week wearing jesters hats in honour of our 'phenomenal' manager.
Tony Abrahams
64
Posted 03/05/2015 at 09:34:54
Just saw the goals and it's fair to say that unless he's telling lies, next season will only get worse if he's sticking with Howard.
Any good footballer anticipates play naturally, this fella doesn't know the meaning of the word. Imagine what it's like playing Infront of Tim?
Barry is a good enough player. It's just that he's to slow. He might have anticipated Cleverley's run. But he was either to lazy, Or to slow to do anything about it. Take your pick, but neither are good enough.
Dave Ganley
65
Posted 03/05/2015 at 10:17:29
I'm not sure whether to laugh or cry at our messiah's latest verbal assault on the eardrum...."I was worried about exactly what happened"????? Wtf!!
Erm, isn't that your job to motivate the players and make sure they are in a position to take to the field to at least compete for 90 minutes??
Anthony Hawkins
66
Posted 03/05/2015 at 10:42:07
Maybe if Martinez had stuck with the winning formula we may have won.
Martinez is a tinkerer and can't leave well alone.
Mark Andersson
67
Posted 03/05/2015 at 10:52:03
I only saw the first half. Villa had nearly all the passion we couldn't do tipy tappy because we were too busy giving the ball back to Villa. Utter shite. I never got to see the second half as I knew it was going to be one of those days.
Good old Everton, always there to let you down. Anyone who thought we would go on an unbeaten run till the end of the season was just being delusional.
Ernie Baywood
68
Posted 03/05/2015 at 11:21:59
I'm surprised how many people took hope from last week's game, just as I'm surprised that anyone is particularly aghast at this week's performance.
We are an absolute mid-table side this season. So it's not about performances in big games. There are no key games. It's just the performance over the course of a full season.
And we haven't been good enough for this club. We've been shit to watch and a soft touch to play against. So the Man Utd and Aston Villa games mean nothing in isolation. They're just part of an overall score – a score which should see the manager booking a taxi.
Brian Harrison
69
Posted 03/05/2015 at 11:41:31
I, like many, have renewed my season ticket, and sadly have no faith we will finish higher next season than we have this season.
I watched the flypast at Anfield and thought how times have changed: they finished second last year and almost won the league. This season, despite losing Suarez and having Sturridge injured for most of the year, they still have a chance of making the Champions League spot. Meanwhile, we have just escaped a relegation fight and yet we still have quite a few fans who think he should be given another season. I think we should have the Red Arrows fly over Goodison all with banners saying "Martinez out and anybody in".
When he became our manager, many thought he would play a more attacking style of football; also, many thought we might see some of the younger players getting game time. Some even thought he might unearth a latin talent that nobody had heard of.
Sadly none of the above happened; he played much of this season with two defensive midfield players, no new young player has emerged under Martinez, and no new latin talent either.
Peter Barry
70
Posted 03/05/2015 at 08:06:15
I fear a relegation battle if the idiot is in charge next season.
Jim Hardin
71
Posted 03/05/2015 at 12:40:30
Tony and Christy, are you really blaming Howard for the goals? Incredibly stupid or naïve. BTW, watch the Sunderland game or the highlights and see what happens when a keeper comes out and doesn't get there when he should have stayed back and let the defenders do their job.
The problem today was our defenders didn't do their jobs. I know Stones is the wunderkid but he messed up badly on the second goal and Naismith didn't help. Jags erred for the first goal leaving Baines to try to outjump Benteke. The third goal, Barry let his man go and missed the block on the slide and Howard did leave his line and did go out to take away as much of the goal as possible (made himself big) but it was a very good shot.
Obviously you don't rate Howard but stop blaming him for every goal. Put the blame on the players who messed up and the manager who doesn't practice defending and correcting individual defensive flaws.
Ross Edwards
72
Posted 03/05/2015 at 12:58:27
You're spot on, Peter. It's the manager's job to ensure that a win like last Sunday is followed up with an equivalent performance to keep the momentum going.
If he can't motivate his players sufficiently, he shouldn't be in charge. Simple.
Tony Twist
73
Posted 03/05/2015 at 13:34:12
Martinez's management is, has been, and always will be a car crash waiting to happen. We need a manager who painstakingly prepares for games with the ability to adapt as things are not going to plan. I think we pay good money to manage Everton; he is a very ordinary manager and is out of his depth. God knows what it would take to get rid of him.
Trevor Peers
74
Posted 03/05/2015 at 13:48:02
Being in the bottom 3 for a few months is the only way BK will contemplate getting rid of his favourite son. Otherwise, he will complete his 5-year tenure; what's the betting we never finish above 12th with Roberto?
By the time he leaves, the attendances will have halved. Hope I'm wrong, but just look at his record, apart from last season's blip, when he was left a consistent top 6 team full of potential.
Derek Thomas
76
Posted 03/05/2015 at 14:27:40
Martinez; He's not doing himself any favours is he?
Paul Tran
77
Posted 03/05/2015 at 14:17:24
I had a feeling this would happen, too. The difference is, I have to run my business and I expect Martinez and his staff to deal with theirs.
Again, Martinez was too cautious, playing the 'solid' option of Naismith, when the guile of Osman would have been better. As usual, the 'solid' option resulted in a lack of shape and cutting edge going forward. Villa had a good shape and played with all the intensity we lacked.
The players aren't blameless here. Free from the 'mental pressure' of the EL, buoyed with a run of 16 points from 18, they went a goal down and just disappeared. Again. They couldn't pass water and looked like strangers. Again. They forgot how to defend. Again.
Villa looked pretty good at times yesterday. Delph was superb. Cleverley played well again – if he wasn't ex-Wigan, people would want him here on a free. Benteke was everything Lukaku wasn't. For all that, the moment we put them under a bit of pressure, they looked like a brittle, ordinary side in a dogfight. For all the plaudits Sherwood is getting, they haven't left a genuine relegation fight and they still beat us.
Nothing wrong with losing a game. Everything wrong with no energy, not competing, poor passing and movement.
Steavey Buckley
78
Posted 03/05/2015 at 14:42:09
Defending yesterday was shocking and the overhaul display was similar to the display against Hull City away. How and why it was not possible for either Stones and Jags to defend against Benteke, the lone striker, and then both going AWOL to allow Cleverley to burst through the middle of the defence to score, maybe both of them had their minds on other things other than defending.
And the idea of Baines being asked to defend and attack by himself is really a flawed idea that is not lost on the opposition, who will quickly move the ball wide when Baines is out of position.
Sean Patton
79
Posted 03/05/2015 at 15:34:22
Looking on the bright side, at least this means that Cleverley will stay at VIlla Park.
While Howard was not directly at fault, when the ball is so far in the air as it was for the first, then he has to come for that; and the second was scored from about 4 yards... He takes no pressure off the defence whatsoever; we will never get anywhere with him in goal.
Brian Porter
80
Posted 03/05/2015 at 17:01:13
With fan discontent growing with every game, the thing that is annoying me is the resounding silence from BK on the matter of our manager. He surely cannot fail to be aware of the gathering storm of disaffection among those who pay to watch the constant dross we are being presented with week by week. Is he really so weak that he daren't criticise the appalling season we are continuing to endure?
This is just another symptom of the failure in the club's leadership. If he's not careful, he might find himself in a Newcastle-like situation, God forbid, with campaigns being started to oust either him, the manager, or both. Is that a sign of just how important Everton really is to him?
Whatever else might be said about him, I always thought he truly loved this club, but for me, his silence in the face of this appalling season, when other clubs would have got rid of a failing manager long before now, makes me aware just how little he really cares about the club he professes to love. With BK in the chair, and Martinez in charge of the team, my crystal ball predicts a long, difficult and heartbreaking future for those of us who really care about our football club.
Allan Board
81
Posted 03/05/2015 at 18:27:12
FFS! I can't work out whether this fella is taking the piss out of the supporters intentionally or not.
Listen mate, you have professional players at your disposal, not children who need teaching the basics. Your job is to identify what each player does really well, encourage them to keep doing that whilst moulding them together as a balanced side which has a good shape and discipline.
This has a two-fold positive effect as the players think you trust them and they are not being confused by your stupid, useless tactics and being forced to play in a manner totally unsuited to their abilities.
Yet another cardboard coach who talks too much and is Mr Pretentious when it comes to teaching players. Bottom six next season if he stays.
Ross Edwards
82
Posted 03/05/2015 at 20:59:39
His silence is quite telling, Brian. Something is going on behind the scenes.
Clive Rogers
83
Posted 03/05/2015 at 22:35:50
Brian #80,
You are spot on. The thing BK loves more than anything else is BK. He is putting himself before the club. We are going backwards and are in decline. Almost every other PL club has a new stadium or are redeveloping. Just what has he achieved in 16 years in charge?
Michael Winstanley
84
Posted 03/05/2015 at 22:29:48
You thought this might happen?
And to prepare against it do you did what exactly?
The answer to the second question is, he failed again.
Last season we had to be perfect to win a game of football, this season is more of a laissez faire attitude and approach to the games.
It's the same set of players. If Martinez stays then we must expect some wholesale changes to the squad, how can he rely on these players when they have performed so poorly for him?
Brian Porter
85
Posted 04/05/2015 at 08:14:55
Ross (#82) & Clive (#83),
I'm glad you feel the same. If something is going on behind the scenes, Ross, I hope it's along the lines of BK working out how to tell RM he's had his chance and blown it. I'd be making the point that he took over a team with a solid infrastructure put in place by David Moyes (love or hate him, it's the truth), and as a result was able to guide an established team to a great position last season. Left to his own devices this season, his insistence on playing his ticca takka slow moving possession brand of football has been a total failure, unpopular with fans and players alike.
I'd also be saying to him that his failure to address the problems his 'style' brought in terms of results carried us into a relegation fight and we only achieved mathematical safety with five games of the season left – an unacceptable level of performance all round. His inability to stick with a winning team and formation when he finally found it and went back to tinkering and bad, late substitutions also compounded his naïveté and is on the verge of turning us into the PL's laughing stock.
"Thanks for your best efforts, but they simply aren't good enough for our club, and we will be releasing you at the end of the season..." Please!!!
I know, however, that I'm only dreaming. BK just doesn't have the guts to make the tough decisions, and therein lies the root of all that's wrong with our once-great club.]
Clive Lewis
86
Posted 04/05/2015 at 11:05:47
Martinez and inconsistency leading to relegation. Typical hallmarks of the Martinez management. The manager and his coaching are clearly flawed and, what's more, he openly admits that we are at best going to be inconsistent and dire at times. Unfortunately, one good performance during the season has serious alarm bells ringing for next season.
Clive Rogers
87
Posted 04/05/2015 at 19:53:07
Brian #85,
The problem if BK did get rid of RM is then that I would have no confidence in his next choice. He certainly won't go for a top manager, (too expensive), but a young up and coming relatively inexperienced option (cheap). The two managers he has appointed were from Preston and Wigan, which tells us everything about where we are now IMO.
---
Add Your Comments
In order to post a comment, you need to be logged in as a registered user of the site.
Or Sign up as a ToffeeWeb Member — it's free, takes just a few minutes and will allow you to post your comments on articles and Talking Points submissions across the site.
© ToffeeWeb