Everton would "embrace" European qualification via Fair Play League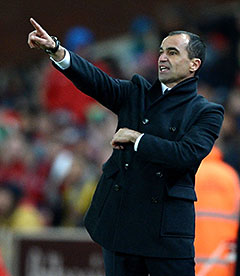 Roberto Martinez has said that Everton "would love it" if the club were awarded a place in the Europa League next season by way the Fair Play League, even if it means kicking off the campaign at the beginning of July.
The Blues are slightly behind West Ham in Uefa's table that ranks teams by a complicated formula affected by things like disciplinary record, attitude towards match officials, attacking intent and the two clubs meet each other at Upton Park this weekend in a Premier League fixture that could decide which team gets England's place.
Given the very early start date — the first qualifying round would more or less coincide with the players' return to pre-season training — and the potential for far-flung away trips, some have half-jokingly questioned whether the Blues and Hammers will kick lumps out of each other in a bid to avoid winning the place.
Martinez dealt with that question after Saturday's 2-0 defeat to Sunderland by insisting that the club would accept any place awarded and use it as an opportunity to blood some of the club's younger players.
"I wouldn't be disappointed," the manager said. "I would love it, and to answer it clearly, if we get awarded a place, we will embrace it and enjoy it as a football club.
"The international players are away until June 17th, so they would not be available for the early rounds. But we have got a lot of young, talented players who have already played in Europe. They are ready for that experience.
"The first four games would be taken in that manner. Then it is part of the preparation for the pre-season work. There is a place in the football club to embrace it — it is a chance for the youngsters to accept the responsibility and see how far they can go in the early round. It doesn't happen every year."
Reader Comments (40)
Note: the following content is not moderated or vetted by the site owners at the time of submission. Comments are the responsibility of the poster. Disclaimer
Andy Crooks
1
Posted 12/05/2015 at 00:15:52
I'm glad he would embrace it, so would I. I would just like a European night. Somewhere like Sligo would fit my budget .
Paul Kossoff
2
Posted 12/05/2015 at 01:09:03
It would fit in with Roberto and his plans to not have a pre-season set of games of any note.
Darryl Ritchie
3
Posted 12/05/2015 at 01:55:31
The last sentence says it all...U21's vs the world. Probably not a bad thing.
Brian Porter
4
Posted 12/05/2015 at 02:20:55
Andy, given the pre-season lethargy we saw last year, Sligo Rovers would probably turn us over and Martinez would blame the tiny ground, tiredness, poor refereeing decisions and a team who were 'really up for it'.
Paul Kelly
5
Posted 12/05/2015 at 02:54:42
Or the sticky pitch, Brian, don't ever forget the sticky pitch!
Peter Sanders
6
Posted 12/05/2015 at 06:44:15
Fear not – 'attacking intent' is a criteria. I'm just glad it's not sideways passing at the pace of a tortoise!
Robin Gomme
7
Posted 12/05/2015 at 06:51:22
And remember.... in July, it's REALLY sunny!
Mark Andersson
8
Posted 12/05/2015 at 07:52:05
You guys are funny. So for once I will applaud our knob of a manager for giving you the ammo to fire back at him.
I hope he does stay now cause he is very entertaining with his press sound bites. He is a walking talking Monty Python sketch.
Denis Richardson
9
Posted 12/05/2015 at 09:06:42
I'd love us to qualify but unfortunately July is smack bang in the middle of summer, it'll be too sunny for our players to perform.
Paul Joy
10
Posted 12/05/2015 at 10:38:07
Brian #4
Remember what was laughingly called our last pre-season we couldn't even beat Tranmere!!
ps: Or anyone else for that matter.
Oscar Huglin
11
Posted 12/05/2015 at 10:56:00
Now I want it to happen. Great experience for our youngsters. Well said, Roberto.
Tony Marsh
12
Posted 12/05/2015 at 11:34:44
That's all we need – the new season starting before this one has ended. The Europa is a curse and stats don't lie. Why does the manager wants our ageing squad to play in more meaningless fixtures in a terrible competition we have zero chance of winning? It was only after we got knocked out of the Europa this season that our results picked up.
The whole thing is a farce. Players will want away rather than face a grueling, draining season playing in Sep Blatters numbskull joke of a competition.
Go abroad and go on the piss, lads, you don't need a mickey mouse game to drag you there surely?
Dave Lynch
13
Posted 12/05/2015 at 11:49:31
Anyone who thinks this will benefit us needs to give their head a wobble.
Andrew Ellams
14
Posted 12/05/2015 at 12:29:02
The kids didn't shine too well vs Krasnodar...
Chris Leyland
15
Posted 12/05/2015 at 12:53:21
So, we shouldn't want to enter the Europa League as this may have an adverse impact on our league form next year which means we might not finish in the top 6 and if that happens, we won't qualify for the Europa League the following season...
Scott Goin
16
Posted 12/05/2015 at 14:01:57
As long as the early games involve only the young guys, I'm all for it. We need to figure out how to handle a fuller schedule if we ever want to succeed in Europe. I'd rather figure that out in Europa than to finally get into Champions League and fail miserably like last time.
Shane Corcoran
17
Posted 12/05/2015 at 14:49:27
Aren't the Blues in Asia in mid-July? How would that work?
How does the Fair Play table look after the weekend? Is it a realistic "aim"?
Sam Hoare
18
Posted 12/05/2015 at 15:20:12
Shane, I think it's pretty realistic. We are just behind West Ham at the moment though I'm not sure they have calculated the effect of the last 2 games.
Tom Magill
19
Posted 12/05/2015 at 16:14:04
Please don't make us go through this crap competition again!It ruins our season.
John Keating
20
Posted 12/05/2015 at 16:30:05
This guy is an embarrassment to our Club and we have just had a season from hell which he wishes to recreate. If he can't play the kids in the last meaningless games of the season, no way he will play them in Europe. The last thing we need is the EL and Martinez staying.
Groundhog day is upon us. Please, please Barry and AN Other –get sent off ASAP.
Dave Lynch
21
Posted 12/05/2015 at 16:45:17
FFS Scott!
Where on god's green earth do you get the notion we will qualify for the CL?
Mind you, you did use the word "Eventually" which could mean any time scale from now too the next millenium.
EL football is a total waste of time and effort, we don't have the squad resources to compete on one front never mind four. EL, PL, FA Cup and League Cup, or whatever it's latest guise is.
The squad is ageing and we have few resources to strengthen with the quality needed to compete in the above. This, combined with a manager who hasn't got a Scooby will equate IMO to another phenomenally disastrous season on all fronts.
I couldn't/can't take another season of sticky grass soundbites.
Dave Lynch
22
Posted 12/05/2015 at 16:59:07
Sorry to misquote you Scott.
You said "Than to finally" which means the same thing I suppose.
Scott Goin
23
Posted 12/05/2015 at 19:48:56
Dave, maybe I'm too optimistic but we did come really close to the CL last season. The players are mostly the same and there's a chance Martinez is able to galvanize the club again. There's been several instances of a 2nd-year slump turning into a 3rd-year resurgence. Moyes did it himself after slumping badly in '03-04 prior to the great run in '04-05.
I don't think such a turnaround is probable but it's definitely possible. A great start to next season could have everyone believing again and working hard.
Realistically, we aren't going to get in Champions League any time soon but I firmly believe it's going to happen at some point within the next 5-10 years and it would be nice if we had a roster full of experienced European campaigners.
Dave Lynch
24
Posted 12/05/2015 at 22:33:39
Amen to that, Scott.
I sincerely hope you are right on all fronts, my friend.
Can't see it though, mate.
Brian Wilkinson
25
Posted 13/05/2015 at 01:31:17
Fingers crossed we do not qualify for this, imagine playing around 10 games, then the guys from the also-ran Champions League join us.
Full focus next season has to be getting off to a better start; the best chance we have of silverware is one of our domestic cups, so I for one really hope we do not qualify for the Europa League and focus instead on winning a more realistic domestic cup.
Eric Myles
26
Posted 13/05/2015 at 01:42:23
Scott (#23), by coming really close to the Champions League last season, do you mean we were one place from it?
Because that one place was 7 points adrift of qualification so not really that close.
Eddie Dunn
27
Posted 13/05/2015 at 08:33:10
This is a marvellous opportunity. Everybody, stop being so negative. We must be squeaky-clean losing our last two games without so much as a whimper, and then we can qualify for the competition that realistically gives us our best chance of Champions League football the next season.
The extra games, and early start to our season is just what this bunch of players need. Most people only get a couple of weeks off anyway. After the last laughable pre-season, this is just what the doctor ordered.
Also, bollocks to playing the kids, put in the strongest side, and bring kids on once the game is secure. Play the youngsters in the domestic cups, this will reduce the timetable.
It will be a lovely, rhythmic Thursday - Sunday season coming up.
So remember, no silly tackles, no shirt-pulling, and no back-chat. Nolan, Noble, Tomkins & Collins will surely transgress.
Europa, here we come!
Paul Ward
28
Posted 13/05/2015 at 14:10:54
Eddy, you are a glutton for punishment. Hasn't the inept trash we have seen this season proved that the Europa League is a mistake for this poor squad of players?
The only reason we are in with a shout is the lack of fight in this team has enabled so few bookings. If we get in, it will be a good excuse for Martinez to blame our low league position on next season. What we really need is no Europa, a new manager, and some real pre-season games.
Eric Myles
29
Posted 13/05/2015 at 14:48:35
Paul #28, we actually played better in the Europa League while we were still in it. It was during the 2½ months break from Europa League that we witnessed the inept trash in the Premier League.
Scott Goin
30
Posted 13/05/2015 at 15:47:29
Eric, I'm saying we came close last season because we were in the race until the final few games and our points total of 72 would have been good for 4th place in 16 of the 18 years since 1995-96. Arsenal just happened to score more points than any 4th place team in Premier League history.
Eddie Dunn
31
Posted 13/05/2015 at 16:27:28
Paul, I know it was a factor in our malaise, and it has screwed other sides in the past, but can you see this current lot challenge for the top 4? I can't. So we will be going for 5th or 6th then! Therefore, save all the effort and get in on fair play.
If we were a bit more savvy in Kiev, we may, just may have got to the semis, and then, who knows. Martinez would have been hailed as a genius, and we would have all been looking forward to launching ourselves upon the big boys, attracting the best players etc, etc. Might be our only way in...
James Flynn
32
Posted 13/05/2015 at 17:24:33
Next season is only about staying in in the league. The 38 games. Everton's immediate future needs to be focused on retaining its top-flight status. Any silverware hopes will have to stay on hold.
The TV contracts are to increase the next couple years; only question is how much? The top 5-6 are secure enough. However, every other ownership group will be fighting and clawing to get in on all that free income; not only those about to be promoted. Others behind them and at least some demoted this season. The potential numbers are enormous.
Yes, we all want to win something; any piece of silverware. Would be delightful, no doubt of it. It has to wait, though. Too much is at stake. Next season's 38 games are everything.
Patrick Murphy
33
Posted 13/05/2015 at 18:03:20
James - Whilst we shouldn't take our Premier League status for granted, I would hope that our failings this season are not repeated with or without the distraction of the Europa League. Does that also mean that we should forget about going further in the cup competitions as they too could prove too much of a distraction? If Roberto has really reduced the supporters into thinking this is the case, perhaps we should appoint somebody else to do his job.

Joseph Clarke
34
Posted 14/05/2015 at 08:09:33
I was expecting the manager to say that Besic is now in a moment, where he can help the team for the rest of the season.
Geoff Evans
35
Posted 14/05/2015 at 15:36:42
Thank God for the Fair Play League. A chance for teams who have no other realistic hope of European qualification. Unbelievable!
Colin Malone
36
Posted 14/05/2015 at 19:29:29
Let's hope we get a couple of players sent off on Saturday, Martinez tells the ref to fuck off and we invade the pitch.
Brian Wilkinson
37
Posted 15/05/2015 at 01:41:03
Thank god Barry will be playing, that's one guaranteed yellow card,
Eric Myles
38
Posted 16/05/2015 at 01:30:21
Seems that UEFA and The FA have different views on what fair play means. This table
Link
shows a completely different picture.
Eric Myles
39
Posted 16/05/2015 at 01:36:07
And the PL is different again
Link
Conor McCourt
40
Posted 16/05/2015 at 01:42:02
James please don't start this rubbish again. We had a terrible start largely due to a number of factors including a terrible injury list, Europa League, a centre half who hit a brickwall, the other who was hung out to dry by his nation and a badly balanced team
We were told all season we were getting relegated by all these idiots yet once we got Stones in the team, Jags confidence grew, Martinez got Lennon in and Europa League was over, we look back to the one from last season.
If we avoid Europe, we will be around our usual spot of 6th or 7th unless our bloodsucking board can surprise us all and give the manager the tools to re-shape this squad.
Careful, Scott, that's akin to blasphemy on ToffeeWeb talking about our best Premier League finish under Roberto, I'm surprised you haven't been lynched.
Normally I want us to qualify for Europe but I think it's more important to bring confidence to the club and fanbase by having a decent campaign next season or the reality might be that we could be stuck with a Mark Hughes, Tony Pulis or Allardyce running our club and we would go back to the dark ages.
---
Add Your Comments
In order to post a comment, you need to be logged in as a registered user of the site.
Or Sign up as a ToffeeWeb Member — it's free, takes just a few minutes and will allow you to post your comments on articles and Talking Points submissions across the site.
© ToffeeWeb