Martinez will focus his search for a "№ 10" overseas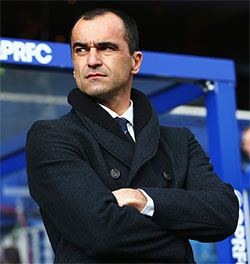 (Ian Walton/Getty Images)
Roberto Martinez believes he will only be able to find the particular blend of attributes he is looking for in a new "№ 10" — one of the key areas in which he is looking to strengthen — in a foreign player.
The manager has suggested that he has already identified his chief targets for the coming transfer window and admitted to the Liverpool Echo this week that he unlikely to find what he is looking for in a British player.
"It is a very specific position," he said, citing Steven Pienaar as the kind of player with spatial awareness and the ability to pick a pass that he has in mind.
"You are not just looking for the technical ability because it is clear what you are looking for: someone who has got good appreciation of where to receive the ball, someone who knows how to weight a pass and can give good service to the forwards.
"But it is also about having the mentality to adapt to the physicality of the British game and have an effect and also being able to control the big moments of the game.
"That is what a № 10 needs. You see many players who have the technical ability to play that role but mentally they are not right for that role."
Coming from a European background but having spent so long in the British game, Martinez has a rare perspective on what he sees as a real need in the game's homegrown players.
He says he is building a bridge over the gap at Everton's Academy but, for now, he will be shopping for this particular position abroad.
"It is difficult to find an English № 10 because the upbringing is very, very different," Martinez continued.
"I feel we have put things in place in our Academy that mean we will see our own products in that position in the next four of five years, and I am excited about that.
"[B]ut we will have to wait four or five years and it is exciting to see how that develops.
"We have got real clarity in who we want. More than anything, it is that personality who we think can fit into our football club, cope with the expectations and fit into what we want to build."
Quotes sourced from Liverpool Echo
Reader Comments (102)
Note: the following content is not moderated or vetted by the site owners at the time of submission. Comments are the responsibility of the poster. Disclaimer
Patrick Murphy
1
Posted 12/05/2015 at 17:46:54
The boss states that he is having to look abroad for a number 10 as there are no English / British players available or good enough to perform in that position. Never mind, Ross, sometimes the grass is less sticky on the other side of the fence.

Colin Glassar
2
Posted 12/05/2015 at 18:20:30
That is an interesting interview, Patrick. Martinez is obviously planning for the long term when he says our academy will start producing the type of players we need in 4-5 years time. HeĂ''s obviously run the rule over our youngsters and considers most of them technically deficient for the type of football he wants them to play.
It would appear heĂ''s looking for a Silva/Fabregas type creative player but where does that leave Ross? He obviously doesnĂ''t consider him for that role.
Joey Brown
3
Posted 12/05/2015 at 18:37:18
So, bye bye Barkley?
Phil Walling
4
Posted 12/05/2015 at 18:36:59
I thought Barkley was being Ă''trained upĂ'' as the model No 10. But perhaps, as a slow developer, he is Ă''one for the twentiesĂ''!
Michael Ward
5
Posted 12/05/2015 at 18:38:25
And so guess the Number 10 search begins. Seeing as my living room is getting work done, I might entertain myself tonight by trying to second guess RobertoĂ''s "chief targets"...
Patrick Murphy
6
Posted 12/05/2015 at 18:45:01
Phil (#4) "[B]ut we will have to wait four or five years and it is exciting to see how that develops." I bet that fills your heart with joy – another decade for your favourite manager to match what the former manager achieved? I will be entitled to a bus-pass by the time that comes, presuming that they will still be giving them out in 2025.

Phil Walling
7
Posted 12/05/2015 at 18:42:11
And as far as the Academy is concerned, it seems to exist purely to provide players for the likes of Brentford, Tranmere and Yeovil!
A total waste of time and money!
Colin O'Keeffe
8
Posted 12/05/2015 at 18:40:01
Good to hear this focus on getting a Number 10 type player – we've been crying out for it this year and it will allow Barkley to drop back into one of the central positions in midfield, as heĂ''s never a Number 10. Let's see what happens with these targets in the Summer - these players donĂ''t come cheap.

Ian Jones
9
Posted 12/05/2015 at 18:40:09
Not necessarily. Barkley was quoted (or mis-quoted) earlier in the season as being a striker so who knows what masterplan there is.
I have read the Liverpool Echo article and MartinezĂ''s points do make sense. I will add that if you are going to have a creative player it helps if the forwards are moving around a bit rather than standing fairly still. WhatĂ''s this Chris Long like up front?
Sam Hoare
10
Posted 12/05/2015 at 18:52:57
IĂ''m encouraged that he has at least recognised our alarming need for creativity and Barkley's lack of it. Getting a top No 10 is hard but would make a huge difference. Not sure who likely targets are. Last summer, I would have said Firmino but he is out of our range now.
Andy Crooks
11
Posted 12/05/2015 at 18:51:19
Phil # 5, complete and utter nonsense. We are competing with every club in the land. The fact that in the search for a gem we are finding decent players is to be commended, if we turn up one in two hundred who have a chance of being Premier League players as a result.
The fact that we are finding players who can make it in lower divisions suggests to me that we are not far wrong. There is a lot to kick holes in at our club but not every single thing is shite.
Darren Hind
12
Posted 12/05/2015 at 18:49:42
What a pity he didn't spot his man during his lucrative "scouting mission" last summer. This season would have been so much more rewarding.
Martinez has spent 㿢 million on players and none of them could see a pass if their lives depended upon it.
HeĂ''ll buy another tackling machine... and play him behind the striker.
Darren Hind
13
Posted 12/05/2015 at 19:15:24
HeĂ''ll be a foreign tackling machine, though – one that can do slidies on sticky grass...
Phil Walling
14
Posted 12/05/2015 at 19:11:50
Andy @ 11: so who is the Ă''one in two hundredĂ'' youĂ''ve got the hots about at present? And what makes you think this manager will ever give him a chance?
No, heĂ''d rather Ă''bring onĂ'' his mate MourinhoĂ''s kids – and then sign them for 㿈M – than give our kids a chance. Not that heĂ''s alone in that, granted.
Dave Lawley
15
Posted 12/05/2015 at 19:28:06
Ian, I think young Chris Long has a chance, he looks quick and sharp on the pitch and he has a little bit of something extra. The key is can he consistently put the ball in the net? His record isnĂ''t bad but can he do it in the top division?

Tom R Owen
16
Posted 12/05/2015 at 19:35:45
I thought Rom wore the Number 10 shirt...
Or have I got the wrong end of El stick?!
Ross Edwards
17
Posted 12/05/2015 at 19:47:07
ItĂ''ll be an ex Wigan... Shaun Maloney. HeĂ''s abroad...
Denis Richardson
18
Posted 12/05/2015 at 19:28:36
For once, I read something our manager has said and am not filled with despair. Good that heĂ''s focusing on a proper No 10 and the fact he wants a foreigner at least means it cannot be Cleverley,
How about a bid for Diego or Van der Vaart on a free? Both admittedly the wrong side of 30 but at least affordable.
Patrick Murphy
19
Posted 12/05/2015 at 20:05:11
Denis (#18), Diego it is then! Being the wrong side of 30, he will help to make us the oldest team rather than the fifth oldest team in the Premier League next year. Manchester City hold that dubious honour this season.

Dave Lawley
20
Posted 12/05/2015 at 20:07:40
Why not play Baines in the Number 10 role? He always looks good around the opposition box always looking to play someone in and reward the runner, he can score a goal and has a wicked shot on him, his number of assists from left back are excellent, his free kicks are excellent, he should still be taking the penalties and you'd have the first No 10 in history who could actually tackle.
Martinez reckons he needs to look abroad for a No 10, fuck that try Baines in there. I'd rather see him there than as a deep lying midfielder.
Mike Hayes
21
Posted 12/05/2015 at 20:06:59
See what he can plunder from Wigan, eh...
John Malone
22
Posted 12/05/2015 at 20:07:42
Music to my ears because Ross Barkley is never a Number 10 in a million years!!
Once he builds his stamina and hones his decision making and shooting skills, Barkley would be a cracking attacking centre-mid like Ballack or Lampard. To try an make him a creative, jinking slick-fleet footed "10" like Messi, Silva, Brahimi even Coutinho is just not going to work.
IĂ''d really love to see us sign a player in the Ossie (but better) mold, someone who can see and disguise a forward pass and can create a bit of space in tight situations to feed Lukaku, then we can really see what he is made of in front of goal!
Brian Porter
23
Posted 12/05/2015 at 20:19:33
Hmmm, do Wigan have a foreign Number 10?
Patrick Murphy
24
Posted 12/05/2015 at 20:18:14
If Ross canĂ''t play in the No 10 role, and the likes of Naismith and Eto'o were not good or fit enough to play that role, why didnĂ''t the manager find a way of playing that negated the need for a number 10, why did he at times have three players trying to play that role at the same time?
Where would Ross fit in if we did buy a Number 10? He canĂ''t play out wide, he doesnĂ''t have the pace, he canĂ''t play up front because Roberto mostly plays one up front, and he canĂ''t fill a midfield berth because McCarthy and Barry are always chosen when fit.
IĂ''m a cynical old sod and this smells to me like Man City or whomever have taken a punt on Barkley and that is why we are suddenly trying to find a Ă''creativeĂ'' Number 10, it may also explain Ross BarkleyĂ''s lack of form for most if not all of this calender year.
Gerry Quinn
25
Posted 12/05/2015 at 20:20:16
I bet Cleverley has a foreign mother or father!
Mike Corcoran
26
Posted 12/05/2015 at 20:23:41
Dave, thatĂ''s thinking outside the (penalty) box. IĂ''d love to see what Baines could do on the left mid or behind the striker.
Ian Bennett
27
Posted 12/05/2015 at 20:28:56
Riquelme.... It is then.
Andy Walker
28
Posted 12/05/2015 at 20:40:00
Robert Martinez November 2014:
"There is no doubt in my mind that he will be the best player England has ever had," Martinez boldly proclaimed. "Ross has everything. Normally a player has the pace and power to get around the pitch or they have the vision to pick a pass. Ross can do both of those things — not only that he is in love with the game."
Robert Martinez May 2015:
"You are not just looking for the technical ability because it is clear what you are looking for: someone who has got good appreciation of where to receive the ball, someone who knows how to weight a pass and can give good service to the forwards."
The guy talks contrary drivel week after week. If the fans can see this so will the players. What sort of affect will that have on their respect for the manager?
Michael Ward
29
Posted 12/05/2015 at 20:45:56
So seeing as I am bored and I would quite like to have a look at who we might get in what seems to be Roberto's Number 1 priority in the summer (and so the position we are more likely to spend some money on), I decided to put in a bit of research.
I have looked up the players who are in the top 10 for assists in each of the Spanish, Italian, German and French leagues (as per ESPN). I then filtered the list I had to only include midfield players valued at under 㾻m (as per transfermarkt) and aged 28 and under. I ended up with the following list of players.
Who would you prefer? And do any of you know any of these players? Because my list is purely based off statistics and I have seen little if anything of most of these players. Enjoy or get annoyed and call me all the FM insults under the sun...
Format is: Name; Club; Assists; Value; Age; Position
Dimitri Payet; Marseille; 16; 㾶.56M; 28; AM
Payet is a French international with 13 French caps, he joined Marseille for a reported €11M in the summer of 2013. He has 14 goals and 16 assists in 60 games for Marseille with 18 goals 25 assists in 71 for Lille and 19 and 17 in 129 for St. Etienne, so that implies good pedigree. He is known as quick with terrific technique and dribbling skills. Seems more like a winger than a number 10 but good stats.
Nolito; Celta Vigo; 11; ٣.28M; 28; LW
Nolito is someone most blues know from his good showing against us in the pre season friendly. He seems to me like a strong target and would be a perfect replacement for Pienaar in my eyes. I think he is almost certainly on Roberto's wishlist and is the reason I chose the pretty arbitrary 28 as my maximum age when filtering. Anyway, Nolito is a Spanish player who operates in the LW/FW position, he joined Barca B at the ripe old age of 22 and stayed at Barca for 3 years making 2 senior appearances before rejecting their offer of a new contract and joining Benfica, he is now back in Spain with Celta Vigo. His stats are pretty good, wiki only gives me his goals but he has 92 goals in 326 appearances overall, a good all round attacking player available reasonably cheaply I would imagine.
Yannick Ferreira-Carrasco; AS Monaco; 10; ٤.6M; 21; LW
Carrasco is a 1 cap Belgium international, at only 21 he alreadyhas 78 apps for Monaco. He seems to be a winger again. Not much else to be gained from his wiki but young with decent experience and possibly available quite cheap due to Monaco's financial troubles. As with Payet though doesn't seem to be a No10 per se.
My laptop is about to die so I will add a bit more beef from wiki on the rest of this list later but I have included their names for now:
Zlatko Junuzovic; Werder Bremen; 10; ٤.16M; 27; LM
Denis Cheryshev; Villarreal; 9; ٦.8M; 24; LW
Franco Vazquez; Palermo; 9; ٤.6M; 26; AM
Nabil Fekir; Lyon; 9; ٣.72M; 21; AM
Domenico Berardi; Sassuolo; 8; 㾹.2M; 20; RW
Romain Hamouma; St Etienne; 8; ٣.7M; 28; RW
Jonathan Schmid; SC Freiburg; 8; ١.96M; 24; RW
Diego; Stade de Reims; 8; ٟ.76M; 27; LW
Felipe Anderson; Lazio; 7; 㾹.2M; 22; LW
Gonzalo Castro; Bayer Leverkusen; 7; 㾸.32M; 27; CM
Thorgan Hazard; Borussia Monchengladbach; 7; ٦.8M; 22; AM
Anthony Mounier; Montpellier; 7; ١.52M; 27; LW

Ray Said
31
Posted 12/05/2015 at 20:46:30
The obvious question is: If Steve P is a model of a No 10 then why play him out on the left then, soft arse?
Scott Goin
32
Posted 12/05/2015 at 20:39:42
I think one day Barkley can become a No 10 type but heĂ''s not there yet. Although he displays flashes of good passing, heĂ''s still got tunnel-vision too often when heĂ''s on the ball. He canĂ''t play defensive midfielder either so Martinez would need to rework his formations to get Barkley in his best position on the pitch.
Osman looks very good at times in the No 10 role but heĂ''s really inconsistent. I agree with John Malone on getting an Ossie-like upgrade for the No 10.
Jim Bennings
33
Posted 12/05/2015 at 21:07:35
We need the finished article, someone whoĂ''s going to instantly change the dynamic how we play. We havenĂ''t got time to waste on nurturing babies for yearĂ''s, get someone in whoĂ''s going to fucking do something positive.
Trevor Peers
34
Posted 12/05/2015 at 21:03:10
Roberto must read ToffeeWeb posts because weĂ''ve been telling him all season he needs a CM or No 10 as he calls it. Finally, the penny has dropped, but IĂ''m not getting too excited.
Seeing is believing where Roberto is concerned. LetĂ''s see if he comes up with the goods. After him heaping great expectations on Ross and ruining the lads confidence, god knows what superlatives a new No 10 would be burdened with.
Kunal Desai
35
Posted 12/05/2015 at 21:16:57
All good and well saying that he wants a new Ă''No 10Ă'' but I will believe it when I see it.
Cue transfer deadline day when he will say the club tried to do all they could but they couldnĂ''t do a deal or it wasnĂ''t right for the club. IĂ''d rather people at the club just shut their gobs for once and just deliver, give the fans a surprise in a nicer way.
Helen Mallon
36
Posted 12/05/2015 at 21:27:22
Phil Hammond – at what time during the season have you seen any of our Under-21s play well enough to displace what we have? Most donĂ''t even play for their loan clubs.
Anthony Hawkins
37
Posted 12/05/2015 at 21:34:12
Forget a No 10, we need creative wingers and strong midfield leader.
Andy Mack
38
Posted 12/05/2015 at 21:43:15
Moutinho, finally weĂ''ll land him.
John Malone
39
Posted 12/05/2015 at 22:08:15
I agree with Anthony – we need a midfield leader who can control the tempo of our passing and take the game by the scruff of the neck and get on the ball – like Arteta used to!
Danny Broderick
40
Posted 12/05/2015 at 22:06:35
Phil Walling,
You are a joker. The academy is the only thing which has kept the club afloat the last 10 years! Rooney saved us from going out of business. Since then, every time we have flogged an Anichebe, or a Rodwell, or a Vaughan etc, it has created vital funds that we wouldnĂ''t have been able to generate otherwise.
We have had first team players like Ossie and Hibbert, who must have played 400 games between them. Even now, we could sell Barkley for 㿀 million plus. How you can say it has been a total waste of money is beyond me. itĂ''s the only part of the club which has been successful!
Dave Ganley
41
Posted 12/05/2015 at 22:03:00
We can all appreciate the need to have a creative No 10 but if the fitness levels, tactics and matchday preparation are wrong, then it doesnĂ''t matter who we have on the field. All season, all 3 of those things have been wrong and weĂ''ve suffered badly and good players have been made to look very poor.
As far as the Under-21s are concerned, I was really looking forward to seeing the kids against Krasnadar at home and all we got was same old, same old due to poor tactics. At times, El Bobby can talk a good game but, certainly this season, rarely produces a good game. As the saying goes, practise what you preach, Bobby.
James Martin
42
Posted 12/05/2015 at 22:17:33
So many contradictions... first, just in this interview alone.
First, itĂ''s all about the English players not having the right technical ability, but then he goes on to say that itĂ''s easy to find players with the right technical ability but they need to have a British mentality – which one is it?
Secondly, it completely contradicts all the rubbish that has flowed out from him about Barkley being a natural Number 10, Naismith being both a natural Number 9 and a natural Number 10. It was obviously a load of rubbish as every idiot has been able to see this season that neither can play that role against tight defenses.
I am glad heĂ''s looking for creativity but what bothers me is I believe Martinez just sees the game as dominating possession, getting the opposition to retreat into their area, then hope a bit of skill or a wonder goal will get the breakthrough.
He should be looking for creativity from deep-lying midfield – not just Number 10. The Fabregas, Arteta type of player who can pick the ball up off the defense and play the incisive ball forward to get a winger one on one or a striker through on goal.
Harold Matthews
43
Posted 12/05/2015 at 21:51:06
Guess he noticed the great job 34-year-old Esteban Cambiasso has done at Leicester where he is supported by team-mates who work hard and make runs at the right time. Similar to the run Cleverley made against us at Villa when he skinned our dreamy defence and scored a brilliant goal.
Last weekend Cleverley lost his man with a fine piece of acceleration and scored a real Lampard type goal to win the game. His awareness and movement is something our squad does not possess and people who knock him wouldnĂ''t know a footballer from a toadstool.
Chris Feeley
45
Posted 12/05/2015 at 22:02:02
Cutting through the waffle and nonsense, the recognition that we desperately need someone who can play passes with a bit of guile is nothing short of stating the bleeding obvious. I genuinely hope though that this isnĂ''t another case of the club trying to appease an agitated fanbase by issuing a baseless statement with zero intent to follow it through. Unfortunately, for a lot of us, weĂ''ve heard it all before.
IĂ''m sure itĂ''s no coincidence that this came out on the same day as the Ă''Blue Seat DayĂ'' texts were issued. No subtlety in the clubĂ''s PR, what a surprise!

Craig Mills
46
Posted 12/05/2015 at 22:43:54
Well said Harold, Tom Cleverley would offer a very different CM, he has both intelligence and technique, something we are sorely missing.
Dave Ganley
47
Posted 12/05/2015 at 22:41:08
Cleverley is average at best. The examples you made Harold, against us... well we have made a lot of average to bad teams/players look outstanding this season and against a West Ham team who similarly have died a death this season is hardly a shining light as to why we should sign him.
Hull, Sunderland, Stoke amongst others have all shown qualities that we havenĂ''t this season but that doesnĂ''t mean that we should be raiding their players either. If Cleverley is that good then why hasnĂ''t he been doing it for Villa all season? But then again, I obviously donĂ''t know a footballer from a toadstool.
Trevor Lynes
49
Posted 12/05/2015 at 22:58:32
This is exactly what we have been crying out for, whether it be home produced or foreign. I hope that Martinez can bring in the creative midfielder we have been dying for for years. If that is the absolute aim then I am satisfied.
All we really need is a Ă''realĂ'' playmaker to provide the ammunition for Barkley, Mirallas and Lukaku. Unfortunately both Pienaar and Osman are at the end of their careers and can only be used as subs.
gareth johnson
50
Posted 12/05/2015 at 23:21:17
This is maybe crazy, but Diego Valeri from MLS.
https://youtu.be/kbhPf0mKV8M
Michael Winstanley
51
Posted 12/05/2015 at 22:42:48
Sherwood is clever, I think heĂ''ll stay at Villa, Harold.
As for the number 10 quoted by Martinez, I didnĂ''t think we could afford one of them?
I agree with many previous posts, we canĂ''t add another youngster and give him time to develop, whoever he is has to come in, play every game and be a success.
IĂ''d offer 㿀 million for Rooney.
Trevor Peers
52
Posted 12/05/2015 at 23:22:37
Cleverley form has improved, but only since Sherwood took over as manager. Coming to play for Roberto would make him quickly anonymous again, itĂ''s not rocket science to understand that the manager makes all the difference to average players.
Steve Carter
53
Posted 12/05/2015 at 23:35:24
And just what is a "No. 10" in association football?
Bill Gall
54
Posted 12/05/2015 at 23:30:32
No 10 is just a number; under the modern way of numbering players, it means nothing. If he is talking about a quality skilled midfielder in the Arteta or Silva mold, I will believe it when I see it.
Ernie Baywood
55
Posted 12/05/2015 at 23:21:24
IĂ''ll just echo an earlier point. If Roberto knows exactly what is needed in a No 10, and that we donĂ''t currently have that type of player, then why has he played a formation all season that has included position? And left wing too for that matter!
IĂ''d have thought he was an intelligent man if heĂ''d spoken less.
Phil Walling
56
Posted 12/05/2015 at 23:51:59
Danny @ 40. Rooney was a very long time ago and none of the others you mention have set the game alight, have they?
My point was that, even if some of the kids can play they are never given a chance, are they? The AcademyĂ''s main function these days is to provide employment for old players as coaches rather than budding stars. The whole scene is a farce.
Christopher Kelly
57
Posted 13/05/2015 at 00:22:57
He not only has to FIND the right player (which he has yet to do) but he must also CONVINCE said right player, that plying his trade at Everton, during the players peak years, with no CL and presumably no EL, after this hapless season, is the right move for their career. Tough sell to say the least.
Christopher Kelly
58
Posted 13/05/2015 at 00:36:55
With that said, of course we should rejoice at the fact that we are looking for the main problem area in the team. Hats off for that!
Dave Southword
59
Posted 13/05/2015 at 00:40:02
If it enables Barkley to move back into central midfield and focus on that position and the disciplines it requires, then this is a good move.
Ross, at times, does not seem to know what to do when facing a massed defence, albeit with little movement to help him. He can, however, ping a pass with pace and precision and by playing deeper he will have more time and space to see runs and passes.
His other quality is in the counter attack, linking to the striker or scoring himself. We should develop that into a tactical advantage as Moyes occasionally did with players like Tommy Gravesen. He never always used to pack the box with 11 players, but Tommy would stand on the touchline and if we could we would clear to him then we had the other team on the back foot. I donĂ''t recall that lasting too long though!
Ross needs to improve though, and I believe he would do this more effectively by concentrating on developing as a deeper midfielder, rather than something he is not (ie Hazard).
Bob Parrington
60
Posted 13/05/2015 at 01:34:19
Harold (#43) and following posts – Cleverley had an excellent game against West Ham at the weekend, I agree.
But I was impressed the the Aston Villa player, Grealish. I think he is only 19 but shows greater calmness on the ball than Ross Barkley, a good eye for the pass, and moves in to space well. Apparently heĂ''s not made up his mind whether to bee available for Ireland or England so he could be, er, from overseas.
Probably too young, though for the player RM is thinking about!
Mark McDonald
61
Posted 13/05/2015 at 01:57:15
I am glad RM is thinking of signing an overseas creative midfielder.
I too would like to see us sign Payet or Ever Banega (Seville). Banega maybe not a typical No 10 but could do a job there.
It shall be interesting to see who he releases (possibly Pienaar, Osman, Naismith, Kone, McGeady...)
So where does that leave Barkley, who has disappointed this season? Remains to be seen.
Brian Porter
62
Posted 13/05/2015 at 01:50:57
Michael Ward (#29), thanks for the list. Of those you mention, Nolito would probably be the best fit for us, but how and why and decent foreign (or British) player would want to come to us and play under Martinez after seeing the dross weĂ''ve played under his so-called leadership is beyond me. I firmly believe Martinez has done great damage to our clubĂ''s overall reputation this season which will make the recruitment of decent players a lot harder for us than it should have been.
IĂ''m not expecting much in the transfer window. Potential recruits will take one look at a few videos of our Ă''styleĂ'' his season under RM, and probably run a mile in the opposite direction. Our Ă''phenomenalĂ'' manager has, I fear turned signing for Everton into the equivalent of accepting a poisoned chalice. I know, I know, doom and gloom, but tell me just what has Martinez done or said(!) to give us any real hope for optimism?
Spragg Johnson
63
Posted 13/05/2015 at 02:46:48
Tommaso Clevelli?
Danny Broderick
64
Posted 13/05/2015 at 02:51:45
The answer is under our nose, Mirallas. HeĂ''s got a good understanding with Lukaku, he offers much more of a goal threat than Barkley, and he is more likely to create than Naismith. We should buy a couple of wingers instead – Lennon, plus someone similar for the left hand side.
Phil Smith
65
Posted 13/05/2015 at 03:05:21
I think he has young Deulofeu as one of his top targets.
Spragg Johnson
66
Posted 13/05/2015 at 03:02:29
Dembele hardly gets a game at Spurs (mainly because Eriksson is a gem) ... could be part of the BelgEvertonian Alliance?
Spurs will probably insist on getting Mirallas as part of the deal though (and over pricing Dembele as they did with Lennon)
Back to square one ...
Ermm ... Clement Grenier or Nabil Fekir of Lyon? ... Ă''CheekyĂ'' Fekir a potentially excellent shout at Goodison?

Phil Smith
67
Posted 13/05/2015 at 03:08:42
Oh and Brian (#60), I think the way we played in Europe this season (except the last game where the wheels well and truly came off) can only have advanced our reputation on the continent.
Mark Andersson
68
Posted 13/05/2015 at 03:15:13
Lip service thatĂ''s all it is. But as usual, anything Martinez says opens a debate. I will bet my house on nothing changing next season. He might offload some players, bring in debatable replacements, but he will still be the manager doing the same things.
Before we waste millions on new players, money has to be spent sorting out our sticky grass. ItĂ''s still making me laugh.
His gravestone will read, "Here lies Roberto Martinez; Keep off the sticky grass."
Brian Porter
69
Posted 13/05/2015 at 05:48:17
Very true, Phil (#67).
My point, however, is if these players we are talking about become interested and then fully research us by watching the woeful dross we churned out on a week-to-week basis back home, they might just alter their opinion slightly.
Richard Lyons
70
Posted 13/05/2015 at 06:13:55
Chief among a good Number 10Ă''s skills will be the ability, after the slide-rule pass to Lukaku, to collect the inevitable "first touch", which is in fact a horrible and unpredictable ricochet.
Peter Howard
71
Posted 13/05/2015 at 07:29:38
The No 10 position has just been filled.
Cameron was always committed to Aston Villa... or was it West Ham?
Phil Walling
72
Posted 13/05/2015 at 08:20:11
Good point Mark @ 68. Ă''Keep off the sticky grassĂ'' will make a Ă''phenomenalĂ'' title for the new satirical fanzine being planned for next season!
Allan Barratt
73
Posted 13/05/2015 at 08:21:55
4 to 5 years!!! I pray this idiot is no where near our club in 6 months never mind 4 years!!
Sam Hoare
74
Posted 13/05/2015 at 08:37:32
Why on earth did he not realise this problem last Summer and spend only ٣m on Brahimi who was at the World Cup and after one season at Porto is worth 3 or 4 times as much.
Last Summer we probably would have been a lot more attractive to players as a team on the up.
Jim Bennings
75
Posted 13/05/2015 at 08:36:13
Reading again through MartinezĂ''s words, though, what does seem obvious is that heĂ''s still persisting in putting two fingers up to the way the game is played in the Premier League, the fast frenetic pace.
You can read between the lines that heĂ''s wanting a player who can only walk with the ball and adapt quickly to snail's-pace pedestrian style, the way he likes it, thatĂ''s why he doesnĂ''t want a British player.
I really donĂ''t think I could put up with another season of possession at paint-drying pace!
Trevor Peers
76
Posted 13/05/2015 at 08:23:11
ItĂ''s very difficult to remain optimistic that Roberto can find a decent No 10 as he puts it and then get the best out of him. Comparing Barkley with Cleverley for instance, most people would agree Ross is a better player. Yet the manager doesnĂ''t seem to be able to get the very best or anywhere near out of the lad.
A lot of our players this season have under-performed and people wonder why Roberto has come in for so much criticism, surely thatĂ''s his job, after all. Look at the difference Sherwood has made at Villa with the same set of players.
Rob Baker
77
Posted 13/05/2015 at 08:55:03
Everything leads towards Messi signing...
John Pickles
78
Posted 13/05/2015 at 08:38:53
Michael Ward (#29). Excellent research (although probably largely wasted on here!), it will be interesting to see if any of those names come to fruition.
As our best creative players, Pienaar, Osman and Gibson are all either too old, or too injury prone, it is desperate that we get something to replace them.
I would be interested in what was available in the price range slightly above 㾻m as well, as it seems possible that we may lose one of our Ă''gemsĂ'' this summer for a Champions League class club and may have something in the kitty.
Mike Corcoran
79
Posted 13/05/2015 at 09:04:29
Richard Lyons, maybe Rick OĂ''Shea is Lukaku's Irish name
Phill Thompson
80
Posted 13/05/2015 at 08:53:38
So where exactly does this "No 10" play in our 4-2-3-1 system? Presumably it is the CM position, so where does Ross play?
Going back to his point of developing this type of player at our Academy, of the current crop only Kieran Dowell appears to fit this mould. Our U18 players in particular are showing up well at their respective international levels, but primarily in the defensive midfield position (Ryan Ledson, Tom Davies) or attacking full back (Jonjoe Kenny, James Yates, Kenny is too small to be a PL centre half). So I donĂ''t see any specific signs of a No 10 being developed apart from Dowell.
Arguably Davies and particularly Ledson could be developed into a No 10, both have good passing ability but their current strengths are around strong tackling, game awareness and defensive positioning.
It will be interesting to see how this develops in our youngsters. The one thing that is clear to me reading some of the depressing financial type articles of late is that we will remain a second tier team if we rely on our finances. Our best hope of breaking into the top four is via our own youngsters or cheap players we develop playing a system used throughout the club and understood by all. IĂ''m prepared to give Roberto another year to see if he can move us in the right direction with his system.
Jim Bennings
81
Posted 13/05/2015 at 09:19:54
Phil,
ItĂ''s wishful thinking to suggest the best way of getting into that top four is with our youngsters, thereĂ''s not a cat in hells chance mate.
I have seen the young lads a few times, for whatever reason we only seems to want to develop lads who are defensive minded and sit deep, I can tell you now, thereĂ''s no hope of seeing any young attackers of ours playing next season in the first team.
All this talk of signing a number 10 but one crucial point is missing here, no matter how good a player or creative he may be, he will need movement around him, how can you expect him to create things when you have players like Barry, Lukaku around who simply arenĂ''t mobile enough?
We donĂ''t do pass-and-move football, itĂ''s just pass-and-stand-still-and-watch football, thatĂ''s the way itĂ''s been all season.
Steve King
82
Posted 13/05/2015 at 09:01:08
Trevor, I agree with your assertion that Martinez has failed to get the best out of his players this season. But for fuck's sake will everyone stop sucking Sherwoods cock!! The guy has been there for 10 games and is enjoying the "Shit, we have a new manager – let's try extra hard" honeymoon.
DonĂ''t forget, Roberto had a whole season of brilliance from his players before his motivational weaknesses began to show.
Dave Ganley
83
Posted 13/05/2015 at 09:43:19
Jim (#81), spot on, mate... As much as I would like to extol Everton's virtues, the sad fact is that we donĂ''t have many at the moment. As I said in an earlier post on here, we could have any player but, with the manager's negative pedestrian tactical acumen, it wouldnĂ''t make any difference to us.
As it is, we, as fans appear to covet any player who runs rings round us but that is hardly a barometer of how good a player he is, as we are terrible. Unlike others who seem to think we played remarkably well throughout the EL this season, we actually had three good games: both the Young Boys games and Lille at home. Both Wolfsburg games we should have been destroyed had they had any decent finisher, so in my opinion I donĂ''t think the EL games really have enhanced our position as an attractive club for a foreign player to come here.
People forget that we do actually have quality players at the club but Martinez seems to have destroyed their appetite to play the game due to his poor tactics and poor match day preparation. Going into the new season, I can only see more of the same regardless of who we sign.
Sorry to all for being so negative but, unless the manager fucks off as far away as possible, then we may as well just keep the same players as far as possible and save the money for when Martinez fucks up once too often and luvvie Bill has to get rid and give the cash to a new manager who hopefully knows what he is doing.
ps Steve #82 yeah I agree with your assessment of Sherwood too
Jim Bennings
84
Posted 13/05/2015 at 09:46:47
Steve
Roberto took over a team that had just finished 6th though and fitness-wise was still pretty much living off the dying embers of Moyes's notorious endurance training methods.
12 months on, it's like watching 11 geriatrics playing. It comes to something when even a fine physical specimen like Ross Barkley is puffing and blowing during the FIRST HALF of a match a few months ago.
Martinez has taken a team that was consistently a top 7/8 side and trademarked for its endurance, fitness and durability, and if nothing more, at least being hard to beat, and turned it into a side that looks like a bunch of disillusioned strangers.
Sherwood is full of arrogance and self-confidence sure, but he has taken a team destined for the abyss into a free scoring entertaining vibrant side thatĂ''s now in a Cup or too.
He also did a decent job at Spurs until the more glamour named Pochettino came along and has he really moved them on from last season???
Phill Thompson
85
Posted 13/05/2015 at 10:10:28
Jim, yep, I agree about our current crop of youngsters and itĂ''s a point IĂ''ve made before that our best ones are "back six" players. None will be ready for 1st team places next year, maybe Ledson for squad appearances.
The positives is that these boys are well coached in the system they are taught to play. This was evident last week watching Tom Davies, James Yates, Nathan Holland play for England U17s. All fitted into the England system well.
It may well be wishful thinking to see our youngsters as being our future, but I despair that our financial/ commercial side will never enable us to compete with the current top four. Occasionally weĂ''ll be ahead of RS and Spurs, then coming up weĂ''ll have WHU in a new stadium and eventually moneybags owners, maybe even Newcastle will get their shit together one day.
I do admit that my enthusiasm and interest in our youngsters increases indirect proportionally to how the first team are doing. Given the choice on TV on Saturday IĂ''d rather watch the U18s trying to win the U18 Premier League at Man City than the WHU game!
Brian Harrison
86
Posted 13/05/2015 at 10:52:27
It has to be Messi, he ticks all the boxes. Mind I think RM will be clever and bring him in on loan first just to see if he can handle the physicality of the Premier league. I think it could have a major effect on season ticket renewals, which will please BK.
Clive Rogers
87
Posted 13/05/2015 at 11:39:47
Mark (#61),
All those players you mention as being possibly released have contracts for next season, so wonĂ''t be going anywhere. So does Hibbert. Half of next seasonĂ''s squad are crocked or past it already.
Trevor Lynes
88
Posted 13/05/2015 at 12:09:24
Apart from Delph or Puncheon, there are no English players who can fulfil that role apart from Rooney perhaps who can spot a pass. The best are the likes of Silva, Hazard and Modrich each foreign.
The last player we had who was anywhere near that class was Arteta, another foreign player, who is past it nowadays as he is over shadowed by other Arsenal midfielders. Osman is still the best we have which is an indictment of our so called youth coaching policy. All we seem to produce are defenders. :(
James Stewart
89
Posted 13/05/2015 at 13:53:28
@82 I think that is a pretty fair and accurate take on the Martinez reign.
If you watched Barcelona last night, which is obviously MartinezĂ''s blueprint for success, it was painfully obvious how you need exceptional players with great technique to play that system. If that style is ever going to work here he will need to get rid of most of the entire squad. I can count on 1 hand the players who could manage it here. Baines, Coleman, Stones, Pienaar. Possibly Besic.
The current Barcelona donĂ''t really have a no.10 anyway. Their fluid front 3 all take turns at drifting into that space. I like the new Barcelona a lot more than the Pep Barca. It would be interesting to see Martinez adopt a 4-1-2-3. We could manage it apart from the front 3!
Jay Harris
90
Posted 13/05/2015 at 14:03:37
Apparently Di Santo, another Wigan flop, could be available.
That's it then.
Patrick Murphy
91
Posted 13/05/2015 at 15:09:08
We could play 4-1-2-3 though, James (#89).
For example: Howard; Coleman, Jagielka, Stones, Baines; Barry; McCarthy, Besic; Mirallas, Lukaku, Barkley. It might not work but it could be interesting.
Terence Leong
92
Posted 13/05/2015 at 15:08:11
ItĂ''s a "damned if you do, and damned if you donĂ''t" for Martinez; whatever he says or does will get ripped apart. Guess thatĂ''s what managers sign up for.
Personally, I donĂ''t see how this is a contradiction to whether Barkley is a Number 10 or not. I think Ross will drive on from midfield in the way that Lampard and Gerrard do, like some have mentioned. So, there is no issue with a Number 10 who is a schemer and someone leading in assists, scoring his fair share of goals.
Even if Ross is Number 10, there is nothing wrong in strengthening that position, because we need results in the "here and now". We have laboured to play that final ball in so many games, and we need it now, not just 2 years from now. So, I donĂ''t see the fuss about getting ourselves tied up in knots over what Martinez says.
I still believe Ross can fulfill his potential. Lampard stagnated for a season or two before finding his feet at Chelsea. In fact, I believe it was after he was dropped from the England squad, then that caused him to kick on.
Ronaldo was at Man Utd for six seasons; he frustrated for the first three, with too many step-overs and little end product, ie, poor judgement and decision-making. He went from a few goals a season to 23 in his fourth season. And that was in the company of team of A-list players.
This is RossĂ''s second full season. Give the player a break.
Colin Williams
93
Posted 13/05/2015 at 14:56:09
Never mind searching for a No 10!... It's a No 9 weĂ''re desperate for.
You can get the best worldwide No 10s – it wonĂ''t matter one bit, without the right No 9 to compliment, link-up and create the perception that all top offensive players have in their locker to create and unlock the best organized defenses.
This perception that players seem to have developed through thousands of hours of practice and proper coaching. The key difference between top players and the average Joe is, top players are better at extracting information from what is going on around them. So how the feck people (so- called experts) expect Ross to start creating something from absolutely nothing considering the lad has just started his career! (ie, Get off his back!!!)
Terence Leong
94
Posted 13/05/2015 at 15:26:43
While I salute Moyes for stabilizing the club, the fact remains that he couldnĂ''t translate his eye for good players to utilizing them most effectively on the pitch.
We had creative players like Arteta, Pienaar and Osman at their peak during MoyesĂ''s time as a manager. There were glimpses of what they could do, in sporadic moments in certain games. I wondered if we have those players at their peak again today...
Phil Walling
95
Posted 13/05/2015 at 15:44:26
What did you expect him to achieve, Terence? Win the league or get into the CL? Dreamland on our resources. Then and now!
James Stewart
96
Posted 13/05/2015 at 17:14:43
@91 Perhaps you're right. I think it is a lot more positive than the 4-2-3-1 that is way overused. The key is the midfield three. McCarthy could do the Busquets role but the more advanced two CMĂ''s is a tricky one. Osman would be probably most suited to it but age is not on his side. Barkley doesnĂ''t have the vision or passing ability and Besic is too defensive minded for it.
Jay Harris
97
Posted 13/05/2015 at 18:40:33
Terence I am not a massive Moyes fan but have to give the guy credit. He totally overhauled a relegation threatened overpaid has-beens and turned us into a youngish top 6 club.
I believe that he could have achieved more with proper backing but then allowed his frustration to get through to the players in the last couple of seasons before stabbing us in the back.
He has a much higher workrate and better leadership qualities than RM.
David Israel
98
Posted 13/05/2015 at 18:19:07
Michael Ward # 29: congratulations on a job well done!
I have read somewhere recently, though, that Nolito seems to be on his way to Porto. It is also only a 90-mile drive from Vigo, where heĂ''s now playing, to Porto, apparently, and people say this is having an influence on his decision.
John Malone
99
Posted 13/05/2015 at 19:09:21
Porto must have the best scouting system in the world they get loads of top talent for buttons and sell them on for big money, while winning their domestic league and competing well in the Champions League!
Whoever theyĂ''re after, IĂ''ll take!!
Dominic Tonge
101
Posted 13/05/2015 at 18:22:01
it hurts to say, but what calibre of silky slide rule pass picking, free kick winning schemer and pisstaker in chief are we going to attract, we look a bit more McFadden than Messi at the minute. Glad the problem is being addressed though.
Terence Leong
102
Posted 14/05/2015 at 05:36:49
Jay @ 97, I concur, and thatĂ''s why we should give credit where itĂ''s due. Moyes put in his shift, and should be acknowledged for what he did for the club.
Phil @ 95, well, I think a good number of us would have hoped and thought that getting into the CL again after the 04-05 season would have been a possibility.
Bearing in mind that Arteta came halfway during the 04-05 season, Pienaar after that, and Osman peaked post 04-05.
So I think itĂ''s not unreasonable to ourselves to challenge more regularly for a CL place. We had at least a couple of 5th place finishes under Moyes though.
Bill Gall
104
Posted 14/05/2015 at 22:43:28
His comments of looking for a certain player overseas reminds me of BK saying he was looking for a new manager all over the place 24/7 and we all know how far he went for one.
Ian Linn
105
Posted 15/05/2015 at 05:45:08
I donĂ''t see the point of discussing what Matinez says because most of the time he comes out with abject shite.
Brian Wilkinson
106
Posted 15/05/2015 at 15:38:03
Kendall had it spot on build from the back, sort out a quality goalkeeper and solid defence, then work on the rest.
Petre Cech in goal, jags and stones and another quality centre half, Baines, Oviado, Garbutt if signed sorts left side out.
Mccarthy as centre midfield, another quality midfielder alongside, with Lennon one side and Marelles the other, Lukaku and an out and out striker alongside signed.
Shame we let Jelovic go and kept Kone.
Paul Baker
107
Posted 19/05/2015 at 09:18:32
Ross is not creative enough to be a "No 10", he has 2 assists in 62 EPL games for us while a stereotypical "No 10" has at least 6-7 a league season. HeĂ''s better making runs from deeper positions (performance vs QPR at home), kind of a "box-to-box midfielder" and could be our own version of Yaya Toure. ItĂ''s good we finally are looking for a true "No 10".
---
Add Your Comments
In order to post a comment, you need to be logged in as a registered user of the site.
Or Sign up as a ToffeeWeb Member — it's free, takes just a few minutes and will allow you to post your comments on articles and Talking Points submissions across the site.
© ToffeeWeb