West Ham United vs Everton
Match Preview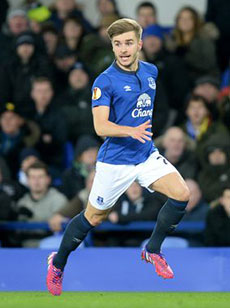 Luke Garbutt could be in line for another start in Leighton Baines's absence
Everton and West Ham meet at Upton Park in the "battle for 10th" — how the somewhat mighty have fallen — and a game which has the added dimension of possible entry to Europe via Uefa's Fair Play League.
This time last year, the Blues lay comfortably in 5th place and could afford the luxury of losing to Manchester City and scuppering Liverpool's title ambitions in the process; this time, an exactly mid-table finish is the best they can hope for.
Everton come into the weekend three points behind the Hammers and could erase the disparity in goal difference between the two teams with a victory that would put them level going into the final day of the season.
The European part of the equation, meanwhile, will depend on the fair play dimension to the game. West Ham had a slightly better ranking at the start of last weekend's fixtures and, having picked up a booking fewer than the Blues, will probably have retained that edge (although there are a number of factors that also go into the complicated scoring system).
Roberto Martinez has said that Everton would embrace the opportunity to return to the Europa League next term despite the fact that it would entail starting the campaign on 2nd of July and dismissed half-hearted suggestions that the two teams will kick lumps out of each other at Upton Park this weekend to avoid the "poisioned chalice."
The Spaniard will have the same squad from which to choose as last weekend's disappointing defeat to Sunderland, with the exception of the absent Leighton Baines. The left back underwent surgery to repair a long-standing ankle problem this week and won't be fit again until pre-season.
That puts him in the same position as Bryan Oviedo who is due to return around the same time once his fractured metatarsal heals and, theoretically, opens up a final opportunity for Luke Garbutt to see if he feels happy enough extending his contract at Goodison Park.
Martinez wouldn't be drawn on whether the 21-year-old would play but he is expected to be in the starting XI this weekend.
Predicting the rest of his line-up is made complicated by the two successive defeats to Aston Villa and Sunderland which were underpinned by poor performances from two slightly different line-ups. Ross Barkley and Leon Osman got the nod last Saturday but Kevin Mirallas could be given an opportunity to reprise his impressive display in East London in the FA Cup Third Round replay earlier in the campaign and Martinez has hinted that he would like to see Aiden McGeady before the season is out now that he is fit again.
Whether Aaron Lennon starts in what would be his last appearance before his loan spell from Tottenham ends might indicate the manager's level of keenness to retain his services on a permanent basis; or, if the winger doesn't start, it could simply mean Martinez has seen enough to make up his mind.
Since beating the Blues in that agonising penalty shootout in January, Sam Allardyce's side have chalked up home wins they would expect to get over the likes of Hull, Sunderland and Burnley but have failed to beat teams around and above them in the Premier League.
Draws with Manchester United and Stoke and defeats to Chelsea and Crystal Palace have underscored the Hammers' decline since their impressive early-season form and they should give Everton heart as the go in search of what would be their fifth League win away from home.
Kick off: 3pm
Referee: Kevin Friend
Full coverage: ToffeeWeb Match Reports
Reader Comments (59)
Note: the following content is not moderated or vetted by the site owners at the time of submission. Comments are the responsibility of the poster. Disclaimer
Peter Barry
1
Posted 15/05/2015 at 04:14:08
Roberto's teams are only marginally good enough to survive in the Premier League so to dream of more European football is just fantasy land.
Harold Matthews
3
Posted 15/05/2015 at 06:29:25
I hope young Garbutt gets more protection than Baines. With Jags and Barry playing towards the middle and Mirallas doing his own thing, the Hammers right fullback might well be Man of the Match.
Jim Bennings
4
Posted 15/05/2015 at 07:57:14
Last away game anyway in a season that barely feels like it's got started.
One final chance to put a bit of respect on a totally dismal away record of just 4 wins and unbelievably just 2 away clean sheets all season!!!
I won't hold my breath on anything other than a failed display again though with Martinez finding something "phenomenal" about it and then a few days later seeing the headline from one of our yes men "we wipe the slate clean and start again".
Yeah yeah wipe the slate clean and find a foundation rotting to the core!!
Richard Lyons
5
Posted 15/05/2015 at 08:59:13
So RM "would like to see Aiden McGeady before the season is out"? That's OK by me, as long as he doesn't mean "see him on a football pitch".
Peter Murray
6
Posted 15/05/2015 at 08:57:27
Getting 6 points against West Ham and Spurs won't do much for us now but they will provide a springboard for next season.The performances in these last 2 games will give us very useful indicators.
Ross Edwards
7
Posted 15/05/2015 at 11:54:00
This appalling season is finally petering out after numerous promises by Roberto Martinez that we would have a very strong second half of the season.
Hopefully we win but it wouldn't surprise me if we lost the final two games as we've seemingly reverted back to our sideways, dull and toothless shite that proves that our Great Learner and Tactical Tweaker hasn't in fact done either.
Chris Regan
8
Posted 15/05/2015 at 12:15:56
Is it me or is Martinez always talking about the future, he never really seems to be concentrating on the game in hand. Especially when talking about the youth set-up he talks about developing professionals. We need young players focussed on winning games/trophies. Nothing else!
Jim Bennings
9
Posted 15/05/2015 at 12:27:41
No it's not just you Chris.
Martinez was I stated on a previous thread yesterday is like a mad scientist , he has become that engrossed in experimental bullshit and tactics, that's he's forgotten about the actual end results.
If it's not this total fascination he has with controlling possession just for the sake of it then it's the same with the players he brings in and younger players.
Atsu was another example, sign him last summer and what do we hear?? "he will catch fire in the latter part of the season"
Then upon signing McGeady we hear him drag out "next season we will see the best of him"
Then there was Lacina Traore.
Then there was a ready made excuse for Lukaku in the first few months of the season, it was "due to a lack of fitness and toe problem".
Now he's dragging out an excuse to buy time for Kone..
Its as though with Martinez it's always "the future or next season "
What about here and now???
Patrick Murphy
10
Posted 15/05/2015 at 12:33:02
I feel sorry for anyone in the lounges after the match at Upton Park tomorrow especially if Roberto and Russell Brand get in a conversation, so many words but oh so few insights no matter what the subject.
Stephen O'Donnell
11
Posted 15/05/2015 at 13:04:05
Another defeat looms again... just go Martinez.
Andy Meighan
12
Posted 15/05/2015 at 13:47:36
Hinted that he would like to see McGeady before the season is out and that one sentence summed up what this fucking manager is all about... My god, I can't wait until this season is over.
Chris Regan
13
Posted 15/05/2015 at 14:38:08
Jim (9) for me one of the big problems is that his preference for a possesion based playing style often mean the team go out there and fail to exploit opponents weaknesses (Sunderland last week), where as are weaknesses are obvious and easily exploited (again, Sunderland last weekend) by the opposition.
He also signs older and sometimes injured players (Traore and possibly Kone). Under Martinez the squad has aged both naturally and through some of his purchases.
Finally, Alcaraz is worse than Nyarko. I only rate Brett Angel as worse than him.
Brian Wilkinson
14
Posted 15/05/2015 at 14:47:30
So even if we qualify for the europa league, Martinez has said he and the first team squad will be in Asia instead.
If that is the case then whoever picks the team for the qualifier, stick with it all the way through,
Give the fringe players and youngsters some experiance.
Leave the first team to concentrate on a better start to the season, thats if we get the fair play slot,
Chris Regan
15
Posted 15/05/2015 at 14:59:18
Brian (14), I recollect that his time last year there wasn't even a pre-season organised. So at least that's improved. Also it doesn't matter what team is picked we all know the tactics they will employ.
Ross Edwards
16
Posted 15/05/2015 at 15:01:02
If the Asia Trophy clashes with the Europa, either do one of the following 2 things Roberto:
1) Withdraw from the Asia Trophy
2) Don't accept the Fair Play Europa place
It's common sense. Although our manager doesn't seem to have that...
Rahul Sreekumar
17
Posted 15/05/2015 at 15:34:30
Is it just me or are others unable to get excited for the game too? I'm relatively new compared to most others on TW, but over the last 2.5-3 years I have always been excited for all the matches (Pre-season, season, cups, etc.) and I always used to enjoy the build up towards them.
But this season has taken the enthusiasm out of me. I always want us to win, but for the first time I couldn't care if we don't. Let's just get this over with.
Peter Bell
18
Posted 15/05/2015 at 15:45:02
30 years to the day @ Rotterdam, brings a tear to your eye. No wonder we are bitter... I hate them RS fuckers.
James Marshall
19
Posted 15/05/2015 at 15:45:49
I'm hoping we go all out to kick lumps out of them tomorrow, and therefore hand them a position in the Disney Trophy, which in my opinion we don't need next season.
Given how disastrous this season has been, I can't help thinking a year concentrating on the Premier League would do us the world of good.
Denis Richardson
20
Posted 15/05/2015 at 16:06:00
I'm still waiting for Atsu to 'explode' in the second half of the season...still two games to sort that out Roberto...
Eric Myles
21
Posted 15/05/2015 at 17:42:30
Just what we need, James (#19): don't play in the Disney trophy this season so we can concentrate on the PL so we can get into the Disney trophy next season.
Andrew Clare
22
Posted 15/05/2015 at 17:42:21
If there is anything at stake, we will lose. So we will lose tomorrow.
James Marshall
23
Posted 15/05/2015 at 18:15:27
Damned if we do, damned if we don't, Eric but I would suggest our aim MUST be the top 4 if we have any ambition - despite it being likely well out of reach. Being in the Disney next year would hamper our top 4 efforts. I know, pie in the sky but a boy can dream.
Kunal Desai
24
Posted 15/05/2015 at 18:17:58
A nothing game other than big Sams final home game so we all know what the outcome will be. Hammers players motivated for one final send off for there manager. I predict a loss. Thankfully work committments means I won't be watching another abject display.
Geoff Evans
25
Posted 15/05/2015 at 18:32:44
Patrick #10
Two comics together, one means to be funny the other...
Colin Glassar
26
Posted 15/05/2015 at 18:39:44
I think we'll win Kunai as we've got a decent record against the 'ammers. Like you, I'll be working but I'll follow the game on the ever entertaining Live Forum.
Jon Cox
28
Posted 15/05/2015 at 18:38:23
If we lose tomorrow, that's three on the spin and that's not acceptable.
If this is the case or even if it isn't, I still want Martinez out asap. The football has been rubbish
this season. It's got to change big time and very soon.
We'll only tolerate shite durge tactics and below par effort for so long.
I think the time has come to emulate the fans of the nineties. They voted with their feet and hit the club right where it hurts. Nothing says more to the tv companies when they televise a half empty ground.
That will say more than any protest march. (march and protest as well though)
I have never been as downhearted over the club I've loved and supported, as I am now.
I was chosen when Alan Ball and big Joe were in their pomp so that's how long I've been at it.
Anyway moan over,
thanks.

Phil Walling
29
Posted 15/05/2015 at 19:14:24
Jon, It may not be acceptable but there is sweet FA we can do about it. With BK otherwise engaged, the clown he should never have appointed will continue to run us into the ground. In my case 'out of the ground' as I shall never watch another match whilst he is in charge. I swear.
Dave Ganley
30
Posted 15/05/2015 at 21:55:36
Not sure that I actually care what the result is tomorrow as El messiah has sucked all the life and enjoyment of watching Everton out of me.
Phil #29 can totally understand why you wont watch anymore....however I have been daft enough to renew my season ticket for next season. Guess I must be a serious masochist.
I have given up hoping for the best next season....on the bright side, anything other than a disaster will be a bonus
Fintan Spode
31
Posted 15/05/2015 at 21:50:44
Jon I go back a while and I remember much worse seasons than this, in fact looking back over the last 40 years this has been pretty average. We are Everton we suffer, it is part of the joy of being a blue, hell we couldn't cope with too much success. I for one am looking forward to the match tomorrow simply because I can relax and enjoy it. Quite frankly balancing all things up any match where I am not tearing out my hair is a very welcome bonus!
Ian McDowell
32
Posted 15/05/2015 at 23:01:33
I just can't get excited for this game or any Everton game recently if I am honest. Hope this is just end of season blues for me.
Tom Magill
33
Posted 15/05/2015 at 22:52:01
We're on a serious downward spiral under our glorious leader. Another season like we've just suffered and we're Championship bound.
Martinez out now.
Paul Smith
34
Posted 15/05/2015 at 23:05:35
l will be at the game tomorrow and forget about all the bullshit in the world while I watch Everton. I'm swapping one lamentable feeling for another but at least a change is as good as a rest.
Still, I don't fancy us with Baines out, but the Master McGeady could be back so the seasons saved - can't resist joining in and having a dig at RM. It really has been a shite season.
Ian Smitham
35
Posted 15/05/2015 at 23:31:29
James #19 and 23. Forgive me, but next year it is the top 3 I think.
Colin Gee
37
Posted 15/05/2015 at 23:36:45
Ian #35 No still the Top4 qualify for the Champions League next season. Germany may overtake Englands co-efficent next season, but Italy in fourth still have a way to go to catch up.
As it stands it would still be Spain, Germany and England that have the Top4 teams qualify for the Champoins League for at least a couple of seasons.
I for one hope we do qualify for Europe via the Fair Play extra place, looking at some of the teams that we could play in the 1st couple of rounds I reckon you could get 11 lads out of the Lower Gwladys and the Park End who could beat them!
John Malone
38
Posted 15/05/2015 at 23:39:43
If McGeady crosses a zebra cossing in front of me, he's going over the bonnet! He's half the reason we've been shite this season but to be honest it's not his fault he's shite – it's the manager who bought and picked him so Roberto you've got one more year to prove you can buy the right players and play the right way to create chances and to win games – not possession stats – or you're out the door, Señor!
Ian Smitham
39
Posted 15/05/2015 at 23:45:56
Colin Gee, thanks for the answer to what was almost my pointless question, as if we are going to be troubling third or forth??
Good to know what is what though, cheers.
Phil Sammon
40
Posted 15/05/2015 at 23:42:05
Well, this page is a depressing read today.
Like the rest of you, I'm hoping for a win... but either way I'm just dreading the inevitability of next season with RM at the helm. Would a 7-0 defeat see him out the door early? I could never root for an Everton loss... I'm just dying to get this manager's reign over with.
Paul Hewitt
41
Posted 16/05/2015 at 00:21:03
I've been one off Martinez's biggest critics this season but we now need to support him next season and hope he has learned from the mistakes this season.
Phil Sammon
42
Posted 16/05/2015 at 00:45:22
Paul 41
Isn't that the most depressing thing of all though, Paul, that Martinez doesn't learn from his mistakes.
I could accept this season's poor showing if it looked as though Martinez were planning ahead. Sadly I see none of that.
Tony Byrne
43
Posted 16/05/2015 at 00:20:58
"Same shit different day" is my prediction.
The fact that Mcgeady gets a mention from our phenomenal manager means he is likely to play a part at West Ham,god help us.
For the first time last week I left after the 2nd goal went in,the lads sat around me also headed to the exits,a sad indictment that the majority of fans have had a belly full of RM & our poor performances.
Sunderland were appalling in the 1st half but once they got into the dressing room at half time,Dick had got onto the fact that we are quite shit so instead of grinding out a point,"we can piss 3 points here against this lot" was his team talk,simple really,as proved.
RM has destroyed me as a fan this season. We have all been subjected to awful periods from the past 25 years,this time from a personal point of view is the tipping point.
Prediction for tomorrow....1:0 to West Ham.....no subs till 85th minute.....Lukaku looking like the 5 million pound signing that he should have cost....etc etc etc...turgid boring phenomenal bollocks.
Darren Hind
45
Posted 16/05/2015 at 07:03:53
Favourite away game by some distance. I have some great days and nights out down there and made some very good 'ammer supporting friends. Unfortunately I can't get there today. Hopefully somebody on the LF will provide a decent link.
Difficult one to call this. I expect it to be as close as the two cup games, hopefully it will be our turn to be lucky.
Christopher Dover
46
Posted 16/05/2015 at 08:36:41
Look at the positives if he plays Barry he has every chance of being booked or even sent off, that may put paid to Europa League?
Jon Cox
47
Posted 16/05/2015 at 08:33:02
One thing is for sure. The establishment will only want one team to qualify for the Europa via the FPL.
It will be interesting to see which of us it will be.
I reckon we'll win 5-2 (yellow cards that is)
Max Wilson
48
Posted 16/05/2015 at 09:27:22
So depressing to read my Toffee friends negative comments above.
Sigh. Even though I agree with most of what is said I still fundamentally am against sacking the manager. I think it is a pity we, the constant witnesses and observers, don't have more influence. Or perhaps we secretly do? Who knows? I feel for the Chairman too. He's a fan just like us. Perhaps he gets angry and frustrated too. RM doesnt appear to be much of a listener. I think he thinks he can change players or maybe it is that old stupidity about not wanting to admit you are wrong?
Anyway, just to make you feel better, Lawro (shit shirts) says we'll be beat 2-1. The gobshite. Oh happy day.
Ian Bennett
49
Posted 16/05/2015 at 09:23:02
I don't understand the anti fair play sentiment. If we have a good season next season we get Europa league.
Our current ambition is capped at Europa league with the financial outlay that we have got. We are a 5th-7th placed team at best, with the top 5 jostling for those top 4 spots every season. Even top 5 looks a problem with Liverpool, Spurs able to outspend and West Ham looking like they can get into the bracket once in the Olympic Stadium.
Our best chance of champions league is via the Europa league. Treat it as a good preseason for the fringe players and have a go. Robles, Galloway, Ledson, Garbutt, Browning, etc plus the injured players that need to get back could all be given a go. It isn't as competitive as the EPL, so chuck them in.
James Marshall
50
Posted 16/05/2015 at 09:38:11
I've just had a look at a West Ham fansite, and they seem to think of us as a bogey side? Weird. I don't think of them as a Patsy for us by any means. I'm not sure of our record, especially at the Boleyn, but I never feel particularly confident against any London sides.
That said, it's a fun away day and I'm looking forward to it as the sun is shining in London and love em or loathe em, there's always good banter with the West Ham fans.
Joe Foster
51
Posted 16/05/2015 at 09:58:18
The race to avoid the Europa cup will be well and truly on today.
Martinez out
James Marshall
52
Posted 16/05/2015 at 09:58:49
They're also complaining about being on MOTD last......
Nev Renshaw
53
Posted 16/05/2015 at 12:18:18
Think I'll put this season down to a bad job and hope for something better next season.
Andy Walker
54
Posted 16/05/2015 at 12:20:38
The consensus seems to be we don't want to get in the Europa League and can't get in the top 4 anymore. What's the point then? Are we going to turn into Newcastle?
We used to rightfully have expectations of challenging for a top 4 finish each season. Survival next season is the target now it seems. Of course we could just get rid of a manager who has no track record of managing a consistently successful team and contradicts himself nearly ever time he opens his mouth. Get a quality, proven manager who talks sense and understands our fans want to see fast paced, attacking football that delivers results and excites us fans.
I don't think we will do any better next season if Relegation Roberto remains. Alas, I fear we will have to suffer the same shite until BK sees the light.
Dave Abrahams
55
Posted 16/05/2015 at 12:48:25
I find it amazing we will take the full complement of fans down to West Ham – brilliant! If there is any reason to want Everton to win today, there's 3,000 reasons right away.
Good luck, lads, I hope the Blues win for them.
Geoff Evans
56
Posted 16/05/2015 at 13:06:45
Best supporters in the country who deserve the very best, makes you proud.
Chris Feeley
57
Posted 16/05/2015 at 14:07:44
Garbutt on the bench again according to the official site lineups, with Stones moving to right back and Galloway starting. Square pegs, round holes, no real surprise.
David Hallwood
58
Posted 16/05/2015 at 14:09:59
No start for Luke Garbutt so it looks like he's off.
Andrew Keatley
59
Posted 16/05/2015 at 14:12:20
Chris (57) - Doubt Stone is right back. Coleman starts. Galloway surely starts at left back. Let's hope Garbutt is carrying a slight knock and RM doesn't want to risk him. Otherwise it's quite the slap in the face and the writing would seem to be on the wall...
Dave Abrahams
60
Posted 16/05/2015 at 14:12:53
Maybe Galloway is playing left back.
Phil Walling
61
Posted 16/05/2015 at 14:15:06
OS saying Coleman switches to LB!
Paul Andrews
62
Posted 16/05/2015 at 14:14:54
Galloway will play left back.
When you see this kid play it will become apparent why Garbutt is not being offered a big contract to stay.
Jamie Barlow
64
Posted 16/05/2015 at 14:29:36
You can still get on it Kevin. Just type Live forum into the search bar.
---
Add Your Comments
In order to post a comment, you need to be logged in as a registered user of the site.
Or Sign up as a ToffeeWeb Member — it's free, takes just a few minutes and will allow you to post your comments on articles and Talking Points submissions across the site.
© ToffeeWeb