Martinez credits Galloway with "impressive" debut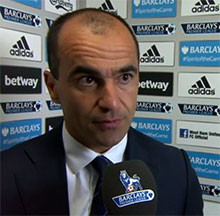 Brendan Galloway took full advantage of his first senior appearance for Everton with an accomplished display in the victory at West Ham that drew praise from Roberto Martinez.
The 19 year-old was handed his debut at left back in place of Leighton Baines and rewarded his manager's faith with a performance that Martinez described as "impressive".
Signed from MK Dons last summer, the England U19 international has become a regular for Everton's U21 side this season and Martinez felt he was ready to make the step up for the Blues' final away game of the season.
Alex Song's neat pass picked out Stewart Downing's clever run inside Galloway for West Ham's goal but the youngster's first appearance was otherwise hugely encouraging. Demonstrating John Stones-like composure on the ball and even refusing to be bullied in a confrontation with Hammers forward Cheikhou Kouyate, the teenager showed maturity beyond his years.
"Very impressive," beamed Martinez to the BBC Sport cameras after the game. "I think the way that he coped with the experience was quite impressive. When you're looking at his ability as a football, it's undoubtable and he's been working really well in the last 10 months. He's someone with really high standards.
"Today he looked like a player who has been in that situation many times; so composed. He had to cope with really good one-v-one situations he defended really well and then when he went forward he had a real threat.
"He played with a very good matriuty and that is just a reflection of the work we do at Finch Farm and at Everton. Everyone should be extremely proud because, as a football club, we will give our youngsters an opportunity.
But then as a youngster you have to take that and clearly today was an example of how to do that. Brendan deserves a lot of credit and we're very excited about his future."
Martinez was also pleased with the way his side responded to going a goal behind to Downing's 62nd-minute strike to not only level the match through Leon Osman but then win it stoppage time through Romelu Lukaku's stooping header.
"It's an outstanding result that comes on the back of a very strong performance. West Ham have a really top team and they don't surrender many leads.
"I was delighted with the way we dealt with their attacking threat andin the way we created the best chances before West Ham got in front. And then from that point we never lost our composure. We kept in looking for that equalising goal.
"When we got that we felt that we were very strong at the end of the game. We had a few chances and it seemed like it wasn't coming but the performance was exactly what you need in order to get a positive result at a place like West Ham.
While ruing another goal from his team's nemesis, Lukaku, Hammers boss Sam Allardyce was, to his credit, full of praise for Osman's equaliser.
"It was a wonderful goal from Osman," Allardyce said. "His take on the first touch was absolutely brilliant and his volley was outstanding. If somebody like [Diego] Costa had done that, or Robin van Persie, everybody would be crowing about it."
Reader Comments (34)
Note: the following content is not moderated or vetted by the site owners at the time of submission. Comments are the responsibility of the poster. Disclaimer
Colin Glassar
1
Posted 16/05/2015 at 21:45:10
Gutted for Garbutt but pleased for Galloway. He's been touted to be Jags successor so it's good to see him given a chance to shine.
Stu Smith
2
Posted 16/05/2015 at 22:05:45
With Galloway playing left back it either means 1 of two things for Garbutt. 1) he's already told RM that he won't be staying so that's why he played Galloway or 2) he knows what Garbutt can do so just gave another youngster ago.
Trevor Lynes
3
Posted 16/05/2015 at 22:13:13
I watched the young Everton side playing against Sunderland youngsters and both Oviedo and Kone played.
Both showed up much better than most of the youngsters in our side but both Garbutt and Galloway played well.
Galloway played on the left and impressed me far more than Browning and the rest of the defence.
Young Whatmore of Sunderland ran our right back and Browning ragged until he had to go off injured.
Our kids were not so impressive unfortunately apart from Galloway and Garbutt. Our attack was pretty average and Kone was much better than the others on show.
I actually said that Garbutt and Galloway were almost ready for first team action.
Gavin Johnson
4
Posted 16/05/2015 at 22:09:04
I'll echo you on that Colin. I'll be gutted to see a player who looks this promising go but its looking like his heads been turned. Lets hope we get around 3m for his development fee, bearing in mind we paid Leeds around 800K when he left them for us in similar circumstances.
As for Galloway, on today's performance he looks like he's a more than an adequate replacement for the departing Distin. We just need to bring in another CB to replace Alcaraz and we'll be very strong in this area. What I liked most about Galloway, is that, like Stones he looks like another one who's comfortable on the ball and isn't phased about playing from the back.
Mark Griffiths
5
Posted 16/05/2015 at 22:18:54
Good start for Galloway but I hope Garbutt stays.
Sue Brown
6
Posted 16/05/2015 at 22:27:39
Thought Galloway did well today against a West Ham team that were up for it, and I agree with other posters that he showed Stones- like composure on the ball.
Nice to see those comments from Big Sam; we've seen some moments of brilliance over the years at Everton that never get a mention or a second look 'cause it wasn't one of the 'darlings' of the PL.
Liam Reilly
7
Posted 16/05/2015 at 23:35:33
Garbutt is behind England's first choice left back and as much as I'd hate to lose him; he needs to look at the long term.
Clearly he'd have played today if he had committed to the club but it appears he wants guaranteed playing time, which he will only get at relegation fodder in the PL at his age.
Shame; I think with the right attitude he could be a real player.

Alex Parr
8
Posted 16/05/2015 at 23:29:50
Thoughts...
Bye-bye, Garbutt (gutted, but if you've made your mind up la, then I'd rather give Brendan Galloway a try).
Well in, Galloway. The only person worth mentioning on Merseyside, involved in football, who is named Brendan.
James Stewart
9
Posted 17/05/2015 at 00:33:37
Garbutt is already gone. He wants first team football and sees himself as good as the likes of Shaw and Cresswell. He's already had offers from half the Premier League.
David Barks
10
Posted 17/05/2015 at 00:50:25
Galloway looked okay, but it was one game. Garbutt has also looked good when he's played. Nobody should fault Garbutt for not accepting a place on the bench. That's called ambition and no great man or woman has ever been satisfied sitting behind someone else.
The bigger issue I have is that Baines was injured all season and we could have seen both of these players in multiple matches, and really have been able to see who is the best man to keep. But, oh well. Could have even tried Baines in that DM roll instead of Barry, but our manager is so concerned about thinking about the future that somehow includes playing an old man every single match in midfield, while youngsters sit the bench. Happy days.
Charlie Burnett
11
Posted 17/05/2015 at 01:43:10
Went the game today and must admit was shocked at the fact he gave the boy a run out... Then I thought it's blatant Garbutt rejected the contract given and RM thought he'd give Galloway a chance. Then, watching the game, West Ham were all Giants, so I was thinking this might be tactical for the height of Galloway.
The boy handled it well today I think West Ham targeted that left side but he didn't look out of place. Then the half-time came and I was looking at look and did anyone else notice Big Dunc doing the Jog: everyone was in a line and Luke didn't bother – he was doing his own thing. He didn't get included with the stretch either... that made me think the boy's gone sold. We get a fee for him because he's under 21 – another one of Bill's Blunders.

Brian Porter
12
Posted 17/05/2015 at 03:23:17
Pleased to see Galloway get his chance and the lad looked comfortable out there and didn't let himself or his team down. Still not quite sure about Garbutt. So many people have been clamouring for us to do this and do that to keep him but overall, he has only made a few first team appearances and can't possibly think he's just going to walk in and displace not one, but two international left backs, in Baines and Oviedo, both of whom I rate as far better players than Luke is at this stage of his career.
Can it be that the lad has heard so much said about him that he has become a legend in his own mind already? If so, that's not good for him, as his reported refusal to sign an improved contract shows. If he thinks he's going to walk into a first team place at another PL club outside the bottom six, then let him go and try his luck.
I just hope he doesn't fall flat on his backside and end up as a journeyman nonentity at some backwoods club that doesn't give a damn about his future development. After all, he's not seventeen any more. Meanwhile, Brendan Galloway has proved that Luke Garbutt is not the only potential first teamer in the U21s. Well played, Brendan.
Aidy Dews
13
Posted 17/05/2015 at 08:53:58
The thing with Garbutt is, he's a talented player that will get better but will only get better by playing games and at 21 he wants to start doing that now.
It's alright Martinez saying we want to keep him but if he's 3rd in line behind both Baines & Oviedo then he's not going to sign a new deal and make do with bit part opportunities.
He wants to play more regular games now and if he's got decent offers from top end Championship clubs or newly promoted Premier League sides and he thinks he'll get more opportunities then he's well within his rights to want to go and play and improve and better himself!
I'd like him to stay, I think he's a great talent, but I don't begrudge him wanting to leave and get games and better himself as opposed to signing a new deal and being happy to be 3rd choice and take his wages for another few years.
As for Galloway, great debut! It was only one game though so let's not get too excited and just let the lad get on with his game. Fans can heap too much expectation on a young lad's shoulders and it can affect 'em!
But his performance was very encouraging. He's a CB but played very well at LB and it never did Lescott any harm in playing there first at the start of his Premier League career, did it. Hopefully he can develop into a good CB like Lescott for us!
Harold Matthews
14
Posted 17/05/2015 at 10:53:50
Very pleased for the lad. Caught out by Downing for their goal but looked a much better defensive prospect than Garbutt who is very weak in the air. He's far too one-footed at the moment but I'm sure he'll be working on it. He's definitely got what it takes.
Sam Hoare
15
Posted 17/05/2015 at 11:32:40
There's something to be said about having taller full backs. If we were to play Galloway at LB and Browning at RB, then I bet we'd be a bit more solid at set pieces and diagonal balls into the box. Probably lose a lot in forward mobility.
Stones, Jagielka, Galloway, Van Dijk. If those were our 4 CBs next season, I reckon we'd do pretty well defensively.
Peter McHugh
16
Posted 17/05/2015 at 12:08:59
Aidy (#13) I agree with what you say but you don't know what's been said to the youngster – it's all pure speculation. Perhaps Martinez has told him to sign a new contract and he can go on a season-long loan to see if he has what it takes to challenge Baines.
I would really like Garbutt to stay but, if he doesn't, then I don't blame the lad and good luck to him but I do not see how Martinez is at fault either.
Mike Childs
17
Posted 17/05/2015 at 14:23:04
So who are we selling to settle the DCM position? No one's going to take Barry off our hands and with Besic on the cheap we have to sell either Barkley or McCarthy. Because it is obvious this is the position Barkley is built to play so sell Jimmy Mac to open up the position for Barkley or sell Barkley and leave our junkyard dog in place.
The more I think of the number 10, BBS should promote Ledson to learn from Ossie early on and then claim the position as his own by say the 10th game of the season.
Trevor Lynes
18
Posted 17/05/2015 at 15:43:18
Height for a fullback is not so important as pace. Most top full backs are not tall and that has nearly always been the case. Every back needs pace and all the best one's have it! I would just love to see Puncheon in our midfield with Bolasie whizzing past defences... Ah well, one can only dream.
But I really wonder why a lot of lesser clubs have players like Puncheon, Delph and Bolasie playing for them without having broke the bank to get them. We do not seem able to produce top class attacking midfielders or strikers from within the club.
Nicholas Ryan
19
Posted 17/05/2015 at 16:36:35
I have nothing against Luke Garbutt, but we need to remember, it is HE who has refused OUR offer of a [better] contract;
I think in the long-term, his career prospects will be better staying where he is and being [very] patient.
However, I fear the reality will be; that he has a very solid season for Bournemouth, in their only year in the Premier League.
The real question for the lad, is not 'Am I better than Baines?' [nobody is], but 'Am I better than Galloway?'
After Saturday's performance, the answer to the last question, is not entirely clear!
Paul Kossoff
20
Posted 17/05/2015 at 19:21:27
Mike Childs 17, Barkley as DCM? What qualities do you think he has to play DCM? Apart from being big, he has very few qualities for that position.
"As a defensive midfielder you must be tactically aware. You're at the heart of the team so you have to hold everything together and allow other players to express themselves. To do this you need to talk a lot and use your brain, because quite often you have to be in the right place at the right time. You have to cover the gap between the midfield and the back four, cover the left and right full-backs when they go forward and the central defenders when they push further up the pitch."
Do you know who said that? Patrick Veira, one of the greatest DCMs ever. How many times this season have we said "Keep Barkley away from our penalty area"?
Aidy Dews
21
Posted 17/05/2015 at 19:21:07
I would like that to be the situation Peter McHugh. I think that would be the best solution all round, sign Garbutt up to a new long term deal and then send him out on loan to either a promoted premier league side or high end championship club to get games and experience and start to fine tune his game at an high level.
But that all depends on wether Martinez sees Garbutt as Baines' main successor as apposed to Oviedo?!
But I think Martinez would be daft to rely on Oviedo to come by 100% fit and be the one to really push Baines from now on as after his leg break he keeps on picking up silly injuries and can't get fit!
But if Garbutt doesn't get assurances that he will get more opportunities when he signs a new deal or won't get loaned out then he's well within his rights to say no thanks, I'll take my chances elsewhere.
Peter Morris
22
Posted 17/05/2015 at 19:38:02
In reality Garbutt can no longer be classed 'a youngster', and he can't be blamed for thinking he's waited long enough behind Bainesy, who will probably keep the left back berth his own for another 3 years at least. Galloway, on the other hand, has those years on his side, and is possibly more versatile across the back, opening up more options, than a very one footed Garbutt, who is undoubtedly the best crosser at the club, but a bit limited in other aspects. Disappointed if he goes, but more for the loss of a decent fee than anything else.
Phil Walling
23
Posted 17/05/2015 at 19:47:01
Garbutt wants a real chance of first team football and for obvious reasons we can't give it to him. So I wish the lad well and expect to see him make it somewhere else.
Galloway has greater prospects as he can play in centre or on left. He made a good start yesterday and I look forward to seeing more of him SOON.
Harold Matthews
24
Posted 17/05/2015 at 20:19:33
Peter. Galloway is far more one-footed than Garbutt who often clears the ball with his right. It's all actually a bit stupid. Send these lads to me for 3 weeks and they will not only slam the ball hard with their weaker foot but they will want to do it. Watching one footed players passing the ball back 20 yards because they are scared of using their other foot is not a pretty sight.
James Flynn
25
Posted 17/05/2015 at 20:43:08
Garbutt will go to wherever he gets the best wage deal. That could still be at EFC.
Anyway, if it's at Everton or some other club, he'll still have to play his way into a starting position. No club will guarantee him playing time at this stage of his career.
John Daley
26
Posted 17/05/2015 at 20:54:55
"Send these lads to me for 3 weeks and they will not only slam the ball hard with their weaker foot but they will want to do it"
Andrew Presly
27
Posted 17/05/2015 at 22:37:57
Oviedo would like a jelly doughnut, Harold
Harold Matthews
28
Posted 18/05/2015 at 00:15:54
Haha John. Nice one. I love that guy. Having survived the terrors of basic training with both the Air Force and the extremely severe Army I Corps, I can relate to him with ease.
Getting serious for a minute and going back to when my left foot was only for standing on. After an operation for damaged toenails on my right foot I was forced to use my left. Initially it seemed impossible. At best maybe six months. It took three weeks.
I was so one-footed that for the first couple of days I could only do it from a stationary position. Right foot beside the ball with left foot swinging through. Putting in hours of work, at the end of a week I could plonk my right foot beside the ball at a slow lolloping gait and my weak foot was starting to make a good solid contact.
After another week I was trotting up to the ball and smacking it really hard with my instep. It felt great. The contact was more solid than that of my natural foot which was out of use for a couple of months.
At the end of the third week I was really enjoying this left foot business. Couldn't get enough of it. Smacking balls all over the place with pretty good accuracy. Unfortunately, with tackling. control and a million other things off the agenda it was a while before I played in a match, but after only three weeks of solid training I no longer had a weak foot.
Patrick Murphy
29
Posted 18/05/2015 at 01:56:21
Roberto says that playing Galloway on Saturday does not have any bearing on Luke Garbutt's situation. He once again doesn't know what he future holds for Aaron Lennon. I actually understood exactly what the manager said and there wasn't any hyperbole in his language, I wonder if the local hacks are helping him to communicate better at least in print anyways.

Harold Matthews
30
Posted 18/05/2015 at 07:10:12
Coming straight from the Dons first team has helped young Galloway enormously. Unlike Browning, who has been with us since he was10 years old, he didn't feel in awe of the seniors. Hibbert and Distin both revealed that this was a common problem with kids who joined clubs as babies, and felt out of place when they eventually joined up with players they had looked upon as Gods. Understandable I suppose. There are not many Rooneys, Gazzas and Alan Balls about.
Richard Reeves
31
Posted 18/05/2015 at 11:58:07
Great to see Galloway get his debut. It's no surprise that he didn't look out of place for someone so young, the lad is quality.
I hope Browning is in the manager's plans for next season because he's decent as well. He's not as elegant as Stones and Galloway who I think are almost identical in the way they play but still a good player in the making. He's already proved to me that he is our backup for Coleman but it's Stones's position (his natural position) that he needs to be tested in.

Ian Jones
32
Posted 18/05/2015 at 18:30:24
Harold at 24. I liked your comment about watching a player pass the ball back 20 yards etc so as not to use their other foot and it not being a pretty sight.
Wonder what you made of Distin's pass back in the semi final against Liverpool. That one seems to be the exact opposite. It wasn't pretty either :) I still have 'If only' moments!
I always say how good Messi could be if he used his right foot more.
Colin Glassar
33
Posted 18/05/2015 at 18:41:29
Remember that Galloway made his debut, for the MK Dons, when he was 15. Even though it was in league 1 this just goes to show his level of maturity. The lad is ready now even though he will have to wait a season or two to shift Jags.
Max Wilson
34
Posted 20/05/2015 at 16:14:52
I always think it is interesting to see what my Sunday papers say about our players. The Observer did'nt say much about Brendan except noted he'd been booked. But the Mirror analyses players and in his case they found he was in our top five for workrate, and second fastest in our team, just behind Aaron Lennon and gave him six out of ten for overall performance. (Romelu got 9 points.) The rest of the team all got 6. So, it looked promising overall, I'd say, would'nt you?
---
Add Your Comments
In order to post a comment, you need to be logged in as a registered user of the site.
Or Sign up as a ToffeeWeb Member — it's free, takes just a few minutes and will allow you to post your comments on articles and Talking Points submissions across the site.
© ToffeeWeb