Galloway: There's nothing that I fear
by

27 Comments [Jump to last]
| 15/09/2015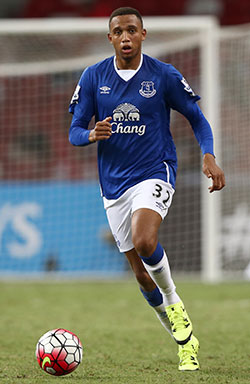 (Stanley Chou/Getty Images)
Everton's latest star-in-the-making, Brendan Galloway, says that he is learning all the time from his more experienced team-mates and doesn't fear any opposition.
Regarded by many as one for the longer-term when he arrived with little fanfare from MK Dons in August last year, the 19-year-old was handed a chance to experience life in the senior side in May following injury to Leighton Baines.
Despite two assured appearances against West Ham and Tottenham, Roberto Martinez suggested over the summer that both Galloway and his Under-21s team mate Tyias Browning were being considered for loan moves this season to continue their development by giving them regular first team action.
Baines's setback on the eve of the campaign, coupled with Luke Garbutt's loan move to Fulham and Bryan Oviedo's lack of fitness, however, meant that Galloway was needed to deputise at left back again and it's an opportunity that, so far, he has grabbed with both hands.
He followed up impressive performances against Watford and Southampton with a stellar display against Chelsea last Saturday after recovering from a minor knee injury, his rapid progress to first-team duties evidence that nothing fazes him.
"I learn every game and there's nothing that I fear," he told evertontv. "They're just other players in the Premier League. In this case the champions, but we're on the same pitch for a reason. That's the way I like to look at it.
"With that said, I'm still learning a lot and having my teammates help me during games is really important.
"The manager's advice and willingness to give me a chance really means a lot to me and I can't thank him enough. He puts his faith in me and hopefully I repay him.
"Him playing me at left-back, especially in these types of games, shows that he really trusts his youngsters. Every day on the training pitch I'm trying to learn off him because he's one of the best managers in the Premier League."
Galloway is now set to be offered a new contract with the club with Martinez confirming that the defender will be rewarded for his quicker-than-expected progress over the past 12 months.
"[Brendan]'s only 19 but he's one of those players who is a joy to work with," Martinez told evertonfc.com. "He brings you a real excitement about the potential that he has because he's a very good defender, he's someone who can be left in one-v-one situations, he's very good in the air and he's got electric pace to get forward and have that final ball like we saw in the first goal for Steven Naismith on Saturday.
"The way he has stepped up into the team has been really important.
"What is true as well is that he's had a quicker development than we expected - and that is down to his own personality and character.
"Nothing fazes him, he's always ready to improve, always ready to perform and, at the football club, we will always do the same thing; when we see a player get ahead of his programme, that needs to be rewarded.
"That's not going to be the last contract, it's just going to be the next step, and we expect Brendan to carry on with his development over the course of the season and in years to come."
---
Reader Comments (27)
Note: the following content is not moderated or vetted by the site owners at the time of submission. Comments are the responsibility of the poster. Disclaimer
Julian Wait
1
Posted 15/09/2015 at 18:32:36
Well done, son. You're giving Martinez some tough decisions ahead, but also giving us the luxury of not having to rush Baines back. And doing a fine job in the meantime.
Once we get our usual left backs fit, we have in Galloway another centre-half.
Galloway and Stones (and perhaps Jagielka) are also able to play at LB and RB respectively. Hopefully we can keep them; Coleman, Stones, Jagielka, Funes Mori, Galloway, Baines, Oviedo, Garbutt all as the bedrock of the team, with several of them able to play full back or even DM if needed as well.
Perhaps we need stronger / dedicated cover at RB for Coleman; in addition to the CBs, Lennon could also perhaps play there in a pinch at the end of a game ... but there seems to be some interest in Coleman we might be hard pressed to resist financially, eg, PSG. Sam Byram would be a strong choice, but my first choice is to keep Coleman and have a good understudy... ie, Tyias Browning who wasn't even on the (very attack minded) bench against Chelsea ... but he was on the bench at Spurs, and does he re-enter the equation at RB if Coleman is inured for Swansea? Or does Martinez play Stones at RB and leave Funes Mori in the side?
Some interesting decisions ahead for Bobby Brown Shoes.
ps: Perhaps it's not quite so ridiculous now to think we might see an all Everton back four for England at some point after Euro 2016... if we can keep Stones, keep bringing on Galloway, Browning, and Garbutt, and of course if Jagielka is still in the mix.
Richard Reeves
2
Posted 15/09/2015 at 20:28:34
Julian (#1),
I agree... well almost. I would like to see Pennington get some games at right back; Holgate, if he is near ready or Browning (but preferably Browning at centre-back) to see if they can take over if a massive offer did come in for Coleman.
Unlike you (and although I am an admirer of Coleman) I would sell at the end of the season if it was a big fee and any of these others could fill the void or we could bring in Sam Byram (who looks like a Martinez signing).
Coleman is quality but he is reaching that age where he is at his peak and maximum value and we could (I can't believe I'm saying this) bring in better or already have better in potential and collect much needed funds for the manager.
Julian Wait
3
Posted 15/09/2015 at 21:47:18
Richard - apologies my omission on Pennington - he looked (ahem) Mustard the other week in an otherwise poor performance. Definitely earned a chance and it just gives Martinez even more food for thought.
It just gets better doesn't it? I think my biggest concern with the new wave of defenders is how Garbutt is defensively; I was never that impressed when he was defending, and he made me realize that Baines is better defensively than I had given him credit for.
I wouldn't disagree with cashing in on Coleman at the end of the season if that's what he wants and we have a valid alternative AND backup. Seamus has given us a few good years and I agree he's probably as good as he will get in terms of performance and value.
Anthony Dwyer
4
Posted 15/09/2015 at 22:11:04
Brendan can look at the likes of Bellerin at Arsenal. He started last season as a no-mark, behind the new signings of Debuchi and Chambers only to get given his chance and take it with both hands.
Apparently Galloway is a centre-half by trade, although he looks comfortable at full-back too. I liked his composure on the ball the other day, I think that's the first time I've seen that from him. If it continues, he could become a real asset as he will be capable in two positions.
To think he begun this season as 4th choice left back and he's looking like he has the potential to push for a England role due to injuries to Baines and tonight's injury to Shaw. That shout may be a bit soon but I've heard the Reds say it about Gomez and Brendan is head and shoulders above him.
Anyways, good luck Brendan; I'm loving the confidence.
Jakob Herd
5
Posted 15/09/2015 at 23:53:15
If I believed in fate... I would think that Brendan is fated for great things.
Last season he was 4th choice left back at Everton, this season with injuries and loans he's first choice and is taking full advantage of it.
With Luke Shaw's terrible injury last night. Brendan could be on his way to the Euros next year, if he gets; and takes his chance in the England team.
Great to see a young player developing so fast and with confidence and right attitude.
Drew Shortis
6
Posted 16/09/2015 at 02:11:47
Galloway was tipped as a future star when he arrived from MK Dons and has shown that the potential can be converted into reality if given playing time. Starting the young centre-backs covering at full-back before moving them into the centre seems to work well. If Coleman were to get injured (god forbid) I would give Browning a go there. Pennington also looks like a decent option.
With Jagielka nearing the end of his career we are spoilt for choice when it comes to talented young centre-backs. Stones, Galloway, Browning and Holgate as well as Funes Mori.
I really hope that Stones stays long term, but if he does eventually leave or when Jagielka calls it a day we have plenty of options in the centre. I truly believe that Galloway, Browning and Holgate all have the potential to develop into top PL players.
Giving them the game time they need to develop is going to be tricky, but with a combination of loans and trusting them to step up when injuries open a place I think we can develop them all into the core of a rock solid defence for the next decade.
Mark Andersson
7
Posted 16/09/2015 at 04:15:37
Another good lad, problem is can we keep hold of them in the future. If the squad can get into the Champions League, then maybe... but anything like last season's shambolick mess will see them moving on.
So far, it's been a improvenent.
Lewis Barclay
8
Posted 16/09/2015 at 05:29:58
With what looked like an injury to Coleman's hamstring I wouldn't be suprised if we see Galoway and Browning either side of Stones and Jags against Swansea, although I suspect it more like to see Stones go to RB with Funes Mori coming in next to Jags.
I think we have the potential to have the best defense in the PL for the next five years and England are likely to depend on us for the majority of theirs if they all stay for a while!
Sean Haragdon
9
Posted 16/09/2015 at 06:42:06
Its hard to believe that mid-summer I was worried that we were a bit short at the back... but now, in the youngsters like Browning, Pennington, Galloway, Garbutt, JonJoe Kenny, Holgate, Baines, Jagielka, Coleman, Funes Mori, Oviedo and (fingers crossed) John Stones it looks like we could, potentially have an extremely strong defensive group which has already proved it can stiffle the big boys when they are up for it!!
I am starting to feel a strangely confident regarding this Everton Squad compared to last year; we just need that creative No 10!!
Geoff Evans
10
Posted 16/09/2015 at 09:24:29
He's the business.
Colin Williams
11
Posted 16/09/2015 at 09:49:56
The strength in depth is looking very promising throughout the back line "if" Robbie gives these other talented lad's their chance to grow into top players. The potential is there, they just need belief from the gaffer to give them that opportunity.
There is one area that needs strengthening now if we're looking at a top back 5 defensive line: the goalkeeper position. There is no way this team squad will come close to winning anything in the near future with a goalkeeper who has very obvious key goalkeeper weaknesses that constantly weaken our defensive line every week he plays.
I believe we could challenge for trophies when these key areas are addressed by the gaffer. Although the blind spot Robbie has for Howard could well be the manager's downfall.

Paul Cherrington
12
Posted 16/09/2015 at 10:42:21
I agree we're looking really good in defense now with strength in depth and all the young lads coming through. It is really nice to see and this lad Galloway is mint; I like his attitude too, that's what you need to be a winner.
Helen Mallon
13
Posted 16/09/2015 at 10:58:18
Now England's left back.
Brian Harrison
14
Posted 16/09/2015 at 11:33:55
I think he has done really well and looks to be getting better with every game. His height definitely helps defensively, and he is looking more comfortable going forward.
It will be interesting to see how RM replaces Coleman, I know the temptation will be to move Stones to full back and bring in Funes Mori. But I would prefer to keep Stones and Jags in the middle, especially it being an away game.
Brian Wilkinson
15
Posted 16/09/2015 at 11:35:33
For all the Martinez knockers, you cannot fault the guy giving youth a chance.
OFM had little time playing the youngsters regularly; even Coleman had to wait for an injury to Hibbert before Moyes played him.
Even after playing Garbutt at half-time against Leyton Orient and having a decent game, he then left him out against Leeds United in the next round.
How many games did Stones play under OFM?
Okay, Martinez might have his faults, but trusting in youth and not being afraid to play them is not one of them.

Tony J Williams
16
Posted 16/09/2015 at 12:36:23
To be fair Brian, it's not like Bobby had much choice of who to play there.
Also before you start extolling Bobby virtues for youngsters, let's not forget Stones only got in when Distin was injured/went through a poor patch.
Not trying to be argumentative, but let's not kid ourselves about Bobby and youngsters when he prefers to use Barry and Ossie.
In regards to Coleman, why are some posters wanting to sell him due to his maximum profitability?
Here's a funny idea: let's keep him and utilise his best years instead of getting shut for money that the team probably won't see?
Andrew Keatley
17
Posted 16/09/2015 at 13:24:29
Did somebody say Tony Hibbert...?
Sadly I think he's still injured; maybe we've already seen his last first-team appearance. Great servant obviously, although the game has moved on a lot since he first broke into the Everton side.
Add another to the long-term mix; young lad in the Under-18s, James Yates, is a very promising right back. I've seen some of his performances for England Under-17s and he's very neat and tidy.

Brian Wilkinson
18
Posted 16/09/2015 at 13:47:37
So Bobby has had no choice playing youngsters like Stones, Browning, Galloway, Lukaku, McCarthy, Barkley, Garbutt.
Well maybe not, but the likes of those players would not have been given extended run outs by OFM.
The likes of Neville, Heitinga, Osman, Distin, would all have been played out of position, before he would play the youngsters.
Martinez is doing it the right way, giving youth a chance, ensuring they are happy and signed up to longer contracts.
I still cannot forgive OFM, when Barkley had a stormer away to Arsenal and MotM, only to be dropped for the next game, and a half-fit Osman, back from injury recalled.
His tippy-tappy football and insistence of not dropping Barry and Howard are Martinez's flaws, but this season, he seems to have ditched the crab football, is mixing youth with experience. Give him time and I reckon long term, he will build a great team once again; at least he has the balls to say "Not for Sale!" if he wants to keep a player.
Nick Entwistle
19
Posted 16/09/2015 at 14:04:15
What's this, Moyes v Martinez argument? I'd wade in but I've forgotten all my old positions. I've been keeping an eye on Sociedad's results this season though.
0-0
0-0
0-1
En Moyes nosotros trusto? Mi seguro una persona puede correcto mi espanol con esta...?
Brian Harrison
20
Posted 16/09/2015 at 14:09:55
Brian 13
RM signed Lukaku for our record fee, paid top dollar for McCarthy and also bought Galloway. So it's hardly likely that either Lukaku or McCarthy wouldn't start.
You castigate Moyes for dropping Barkley after a MotM performance, yet seem to forget Browning coming on and playing great against Liverpool and hardly seen since.
I also seem to recall that it's only in the last couple of games that Barkley has played the full 90 minutes. Otherwise he has started on the bench or been brought off after 60 minutes or so.
Tony J Williams
21
Posted 16/09/2015 at 14:25:15
"So Bobby has had no choice playing youngsters like Stones, Browning, Galloway, Lukaku, McCarthy, Barkley, Garbutt."
Brian, taking out our two most expensive signings in consecutive years, so there is absolutely no doubt they would have played.
How many games between the rest of them?
Garbutt playing due to necessity - now shipped out on loan and dropped like a stone when he spoke out against Bobby after West Ham game
Browning - As stated in a post above, played a stormer in the "Jags Derby", disappeared
Galloway - Instead of playing Garbutt, as a punishment? played 2 games last season and against necessity means he is playing now.
Stones had to wait until January in the 2013-14 season before he got his first start.
I am glad we have the youth coming through but, again, let's not state Bobby is that great with youth.

Paul Mackie
22
Posted 16/09/2015 at 14:59:30
Neither manager has an amazing track record with bringing youth through unless forced to by injuries, but you can't really argue with the fact that Martinez is more tolerant of young players making mistakes.

Jay Harris
23
Posted 16/09/2015 at 15:24:50
Let's not get carried away by one great result against Chelsea.
Let's see how all the promising youngsters do after a run of games.
Those wanting to sell Coleman must want their bumps felt.
Coleman is one of the best RBs around and contributes a few goals too.
He has been carrying a weak hamstring since preseason (along with a number of other EFC players!!!) but has still given his all.
We need to keep our best players and try to bring more quality in not get rid of them at the first sign of a few dollars.
John Daley
24
Posted 16/09/2015 at 16:02:59
What does it matter the reasoning behind why a young player is given his chance in the senior squad?
You may say Stones only got a chance because of Distin displaying poor form or suffering an injury, but that's always been the way in football and the end result is still the same: young players name on the team sheet at the say so of his manager. It's not like he was given a start accidentally or begrudgingly against Martinez's better judgement.
Surely, the most important thing is how young players themselves perceive the managers propensity to give untested youth an opportunity.
Galloway certainly seems appreciative:
"The manager's advice and willingness to give me a chance really means a lot to me and I can't thank him enough. He puts his faith in me and hopefully I repay him.
Him playing me at left-back, especially in these types of games, shows that he really trusts his youngsters".
Whether or not Martinez actually deserves his reputation as a manager with youth development at the forefront of his 'philosophy' doesn't mean jack shit so long as people within the game believe it to be true. Myth or not, the more this line is peddled, the more attractive a proposition a move to Everton may become for young players aspiring to make their Premier League breakthrough.
It's one of the few 'aces up the sleeve' we have remaining when competing with clubs whose child catching techniques consist of flashing a big fuck off briefcase full of cash and the faint promise of medals in the distant future... maybe...after a couple of years spent sitting on your arse followed by three or four seasons fannying about on loan....if the mega-bucks we've spent on more marquee names in the interim turns out to have been wazzed up the wall...and we don't decide to cash in on you while people still vaguely remember that you actually possessed some small amount of promise at one point.
("So, sign on the dotted line, son, and your old queen could be rocking Beyonce style butt implants down the bingo by next Sunday and bragging about how her Godlike boy is destined for even bigger things than Gael Kakuta.")
Tony J Williams
25
Posted 16/09/2015 at 17:22:43
If you are good enough, you're old enough!
Raymond Fox
27
Posted 16/09/2015 at 19:25:33
Well said John D, the younger players have been given a chance by the manager, and when make no mistake at high risk to his own position. Stones has progressed, Barkley looks a player again and Galloway has class written all over him.
I've said a couple of times already that I'll eat my hat if Galloway doesn't make a £30m+ central defender, in fact I'll eat my shoes as well!
We now have a seriously strong squad with quite a few 'kids' also knocking on the door.
We might not have multi millions to splash about like some, but I think were ready to give anybody a game.
Jamie Sweet
29
Posted 17/09/2015 at 02:55:41
Holgate - Stones (C) - Galloway - Garbutt
England's back four in 2020.
But how many will still be at Everton?
Add Your Comments
In order to post a comment, you need to be logged in as a registered user of the site.
Or Sign up as a ToffeeWeb Member — it's free, takes just a few minutes and will allow you to post your comments on articles and Talking Points submissions across the site.
© ToffeeWeb