Martinez not looking beyond the next game regarding Robles
by

34 Comments [Jump to last]
| 27/10/2015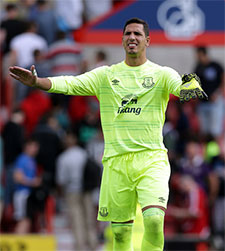 With Tim Howard's form coming under increasing scrutiny, Roberto Martinez says that Joel Robles can only be concerned with tonight's Capital One Cup tie against Norwich City.
Robles played in both of the earlier rounds and will make his usual start in the cup at Goodison Park this evening but there are many who feel that it presents an opportunity for the Spaniard to press his claims for more playing time in the Premier League and prove whether he is a viable long-term option in goal.
Howard has been at the centre of some poorly-conceded goals in recent weeks and that has revived the debate among supporters – and now the national media as well – over whether age is catching up on him as he approaches his 37th birthday next March.
The American suffered a noticeable post-World Cup slump in form last season and was deputised impressively by Robles for six weeks between late December and early February but was handed the first-choice gloves as soon as he had recovered from a calf injury.
Robles has had to bide his time in the interim as Howard's performances improved over the second half of last season and while it could be diplomacy and a refusal to public bash his veteran 'keeper, the manager's rhetoric this week suggests that Howard will remain the number one for the foreseeable future.
"Tim has been a really important figure for us, and not just on the pitch but also in the dressing room," Martinez said in the Liverpool Echo.
"You need to remember that the goalkeeper is the last man in front of the goal and when you concede goals, he is the one that is going to be highlighted.
"In both instances at the weekend [against Arsenal], we all could have done better than allowing Tim to be in that position in the six yard box.
"Tim's standards are very high and his experience is there for all to see but when you concede a goal we all need to take responsibility.
"Joel has been playing in the cup and doing really, really well and that is going to be the case on Tuesday. "In football you cannot have that long-term ambition," the manager continued after being asked if Robles has the chance to play his way to a regular starting berth at Howard's expense. "The only ambition has to be as good as you can in the 90 minutes ahead and do whatever it takes to get into the next round."
---
Reader Comments (34)
Note: the following content is not moderated or vetted by the site owners at the time of submission. Comments are the responsibility of the poster. Disclaimer
Tony J Williams
1
Posted 27/10/2015 at 17:10:12
"In both instances at the weekend [against Arsenal], we all could have done better than allowing Tim to be in that position in the six yard box" - Fucks sake!!
What position? Being a fucking goalie?
Brian Porter
2
Posted 27/10/2015 at 17:25:23
Oh, so our manager doesn't want his players to have any long term ambition? What planet does he live on? No wonder we'll never win anything with him in charge and no wonder he got Wigan relegated.
Kevin Molloy
3
Posted 27/10/2015 at 17:25:52
Statements like that will get you the sack! It shows a total lack of understanding towards the defensive problems we have. A goalkeeper who can't dominate his six yard box will cost you games.

It's not rocket science as manager you should deal with the problem not shift the blame.

Dropping any player that makes mistakes and coaching him to improve is what your paid for Roberto.
Patrick Murphy
4
Posted 27/10/2015 at 17:34:00
I'm getting a little tired of being told how important this player or that player is in the dressing room or on the training ground, but somebody at the club must realise that the ordinary fan pays to watch the players perform out on the pitch. If the eleven players who are chosen play well they should barring injury be retained for the next game, regardless of how unimportant they are to the dressing room.

As for Robles where is the incentive for him to perform to his maximum tonight? He may have a blinder and it won't help him be any more than a bench-warmer come Sunday - sorry Roberto I don't buy it and you have been in England long enough; so lost in translation isn't the issue. Mind you the team seem to be lost in transition on many occasions.

Frank Crewe
5
Posted 27/10/2015 at 17:55:45
"In both instances at the weekend [against Arsenal], we all could have done better than allowing Tim to be in that position in the six yard box."
Some right rubbish has come out of RM's mouth in his time at Everton. But this takes the cake. It's one excuse after another with this guy.
Victor Jones
6
Posted 27/10/2015 at 18:00:12
The two goals on Saturday were Howard's fault. Yes, the ball was whipped in with pace, but Howard made no effort to attack the ball. Top keepers would have tried to punch the ball, or at least get a hand to the ball or even barge the attacker. The law of the game would protect the keeper. Howard did nothing.
It would take me all night to catalogue every mistake that I have seen Howard make. Most of his "howlers" have cost Everton points, and still he plays every week. I just wonder why Ferguson let him leave Man Utd. Answers on a postcard.
Our defenders also need to learn how to attack a ball. Just head the bloody thing clear, wide, over the bar, out for a corner.
I hope that Robles plays well tonight.
Peter Murray
7
Posted 27/10/2015 at 18:06:07
Roberto is right to defend any player, whatever his display, in public. The analysis should go on in footballing terms behind the scenes. Just as he was right to defend Stones even after he'd handed in a written transfer request.
Playing the populist media/supporters card is easy. Mourinho has done it for years. However, it might just now have run its course.
Colin Glassar
8
Posted 27/10/2015 at 18:16:58
I think Roberto's long-term ambition might be to replace Kammy on Sky Sports. What a load of tosh he comes out with sometimes.
Colin Glassar
9
Posted 27/10/2015 at 18:18:26
P.S. I think both are sub standard goalies and need to be replaced.
Ian McDowell
11
Posted 27/10/2015 at 18:38:21
Neither of these goal keepers are good enough for a top 10 Premier League side hence why we will not finish anywhere near 4th this year.
Dave Abrahams
12
Posted 27/10/2015 at 18:51:05
Colin (8) one of them hasn't had a real chance, let Robles have a run of games before you make your mind up, I know you are fair minded so let the reserve goalkeeper prove to all of us one way or the other.
Gerard Carey
13
Posted 27/10/2015 at 19:11:42
Our Tim must have some info on Roberto, because theres no other reason for him to be kept in goal. Poor Robles must wonder what he's got to do to stake a claim, because this is just another kick in the teeth for him. A blinder tonight and he still sits on the bench for Sunday. Competition for places!!!!!, you got to be joking.
Alan Humphreys
14
Posted 27/10/2015 at 19:29:23
Tony (#1) nailed it for me.
Basically says Tim is undroppable, unlike the ball.
Might be good management technique, but actually poor football management. Everyone should fear for their place.
Especially the GK and striker.
Harold Matthews
15
Posted 27/10/2015 at 19:41:06
I don't know whether or not Howard brings in lots of Yankee dollars but he definitely has too much power. Having a very inexperienced back-up suits him fine. If fit, he plays. It stinks.
Andrew Laird
16
Posted 27/10/2015 at 19:43:31
I have never seen a goalkeeper so reluctant to use his hands and body in all the years I have played and watched football, the fact that this 'time to drop him' recurring discussion happens at least twice a season tells us everything we need to know.
How many people trot out the line "he is a good shot stopper" (even though stats prove he is the worst in the league)... a truly idiotic statement to try and defend a goalkeeper, of course he can stop shots occasionally he is a fucking goalkeeper! (As long as those shots are not from distance or a few yards away or on target).
Why don't we all try these statements with equal conviction; That fella in midfield is a good passer... That winger can dribble, That bloke up front has a decent shot, that defender can tackle... That guy in black blows a mean whistle.
Howard cannot command his area, is seemingly scared of the ball whenever it is near him, is flat-footed and never on his toes to react with little sidesteps (watch the 2nd goal at Arsenal and his little jump on the spot exactly when the free kick is taken, he leaves himself flat footed and unable to react whatsoever). Howard is beaten too easily at his near post, let's long shots in far too much and is about as composed with the ball at his feet as Gary Glitter driving a school bus.
Let the fella clean everyone's boots if you want him around the dressing room, buy him a mop and bucket if you have to but do not let him on the pitch in a replica shirt Roberto.
Ian Hollingworth
17
Posted 27/10/2015 at 21:26:04
Christ, what next from the buffoon Martinez?
Oliver Molloy
18
Posted 27/10/2015 at 21:50:24
Martinez just doesn't make any sense sometimes.
Michael Winstanley
20
Posted 27/10/2015 at 23:42:08
"You need to remember that the goalkeeper is the last man in front of the goal and when you concede goals, he is the one that is going to be highlighted."
Fucking hell, Sherlock.
Mike Price
21
Posted 27/10/2015 at 23:52:16
If Martinez actually plays Howard on Sunday he'll lose a large majority of the crowd...if he hasn't already.
The only way to get rid of Howard is for the crowd to turn on him. Martinez is asking for it, shocking management.
Colin Gee
22
Posted 28/10/2015 at 01:25:33
If Martinez has any balls, he will play Robles on Sunday and tell Howard that it is up to him to get his place back. I would go as far as telling Robles that he's the No 1 goalie now. It would make the kid feel 10 foot tall. Howard has been awful all season and was for the most of last if the truth be told.
As a goalie as a kid, I was always told any ball that comes into the 6-yard box is yours; if need be, take out the attacker and your defender to get it, but never stay on your line. Even if you challenge the striker and he heads it in, there's always a good chance that the ref will blow for a foul.
Looking at both goals on Saturday evening, Howard is stood rooted on his line when the ball comes into the six yard box, as for the Giroud one, I reckon that even if Giroud hadn't got a touch it would have gone in as Howard is already on his way down.

Phil Sammon
23
Posted 28/10/2015 at 01:41:03
"In football you cannot have that long-term ambition."
Jesus, the man wants sacking for that statement alone. If a young player can't aspire to hold down a starting place then they all might as well pack up and go home. What a ridiculous comment to add to Martinez' catalogue of foot-in-mouth blunders.
I'd be fuming to hear that sort of jibberish from a manager who's team were performing well...never mind the turgid stuff this guy is churning out week after week.
I really do despair.
Bobby Thomas
24
Posted 28/10/2015 at 01:51:42
A manager backing himself into a corner.
Doesn't want to drop Howard and is talking rubbish in order to back him.
Graham Mockford
25
Posted 28/10/2015 at 02:39:26
Having just returned from a week in NW Australia where a phone signal is a rarity never mind wifi, I haven't been able to join in the Tim Howard feeding frenzy.
Saw the Arsenal goals in my hotel in Freemantle last night and they looked pretty poor. However, a defence that allows 5 free headers in four games might want to be looking at themselves also.
Martinez ultimately gets paid to pick his team and on that he will be judged. The easy call might actually be to drop Howard for Sunday, it looks like he won't. Therefore in his opinion, obviously not shared widely he's making his call. You can see that as either stubbornness or conviction depending on your point of view.
Mike Price (#19) calling on Everton supporters to turn on their own players is nothing short of disgraceful. I get fans' frustration, it sounds like it was evident last night but to orchestrate against a player, not for me.
Tim Wardrop
27
Posted 28/10/2015 at 03:06:13
My one point on this topic is this: if Martinez doesn't think Robles is worth starting ahead of Howard now then he never will do and he should do the honourable thing and let Robles leave in January to find first team football
Mike Price
28
Posted 28/10/2015 at 05:59:28
Graham (#23) get off your high horse. I'm not calling on anyone to do anything they don't want to.
Some people voice discontent every single week, some don't, it's free speech. This situation, in my opinion, justifies dissent.

Philip Yensen
29
Posted 28/10/2015 at 07:53:17
Do the Everton board not view these internet sites? There must be overwhelming opinions about the lack of idea, ambition, drive and basic logic in the mind of Roberto Martinez. His whole demeanor is insipid.
He could be sunning himself in Spain and just leave a cardboard cut-out of himself on little wheels and a bog standard recording of his inane postmatch drivel on an SD card... who would notice?
I'd make Big Dunc the manager helped by ex-players who love our club. If you didn't give your heart and soul for that royal blue shirt, we should let him kick the shite out off you and get rid.
The way we play is like our manager, dull, predictable, one-dimensional, lethargic, uninspirational. Bilic should have been our man, ex-Blue knows players around Europe and is animated and heard from his line a proper manager. Adios RM
Kim Vivian
30
Posted 28/10/2015 at 15:35:28
So where would Robles get first team football in the prem if he left us?
I actually think Howard (notwithstanding some recent debacles) is a better keeper than Robles who if given a run of say 10 games would not cut it. I was not best chuffed when RM brought him over from Wigan.
RM is actually right about saying they all could have done better for putting Howard in that position in the 6 yard box – so how about defensive training against crosses Roberto?
Or am I missing something?
Mike Allison
31
Posted 28/10/2015 at 15:43:15
Kim he was given a run of 10 games last season and did cut it. Also, he's not going to get worse by gaining experience and game time, he's going to get better.
Kim Vivian
32
Posted 28/10/2015 at 16:07:47
I think he actually played 7 prem games last year (happy to be corrected if I'm wrong) and I agree he did ok after wobbly start. I am not sure of W/L D stats for those games but I do agree that TH should have had to compete for his place back last year.
I totally agree with most that TH is a shadow of his former self and I worry in fact that we are stuck with a choice of TH or JR between the sticks. And like I asked - what other prem side would JR (either of them in fact) walk in to?
However, I still think TH is the less stinky.

Eddie Dunn
33
Posted 28/10/2015 at 21:16:18
Tim's assets were his speed off the line and his quick reflexes. Experience helps of course, but time waits for no man and without very tall, commanding centre-halves, like Kompany or Vidic, to remove the danger, a keeper should come off his line and catch or punch.
Although Tim is allegedly six foot-two, he lacks the physical presence of a really big goalie, and many on TW suggest he is reluctant to get hurt. I don't think Tim is a big girl's blouse, but he is perhaps worried that he would look a right twit, should he attempt to come for one of these crosses and completely miss it!
It is the sort of basic goalkeeping problem that the keeper's coach should have addressed. It hasn't been sorted out, and he is still rooted to his line. With enforced changes in personnel in central defence, it is imperative that he should take the pressure off his two young colleagues by commanding the area.
Robles deserves his chance, and was unlucky last season to lose his place. As he is so big, he is naturally better equipped to dominate the box, but he will only improve if he gets games under his belt.
I am sick of Roberto blindly picking his favourites, and see this as another example of his stubbornness. When the vast majority of fans can see more clearly than the manager, he looks a fool.
Oliver Molloy
34
Posted 28/10/2015 at 21:50:49
Eddie,
I believe he is a coward in goalkeeping terms. His latest tactic in sliding in with his legs locked and studs up to win a ball he could collect with his hands and smother with his body is further evidence, I'm afraid; he is very wary of getting hurt.
Tim Howard's time as first choice at Everton is up and if our manager cannot see this when everyone else can, then I don't know... I want to believe Martinez can still do a job with Everton but I am becoming very very disillusioned with him. He has a great bunch of young players around him and there is a big opportunity to mould a very good team that can stick around for a while but it is in danger of all going terribly wrong.
I mean, I am not a huge fan of Kevin Mirallas, I have been critical of his attitude but now it seems to me that Martinez has just pissed this guy off so much he doesn't care any more and the same is now happening with Robles. How is Robles expected to get better if he doesn't get a chance especially when he delivers the goods!
Does he deserve to start on Sunday? – yes, he does because he earned last night. He produced a save from a header late on that would have beaten Howard.
Martinez needs to really start getting tough and stop talking bollocks to the media.
Eddie Dunn
35
Posted 28/10/2015 at 23:03:59
Oliver, I would also like to think that Martinez can succeed but it is all a bit like Groundhog Day. We seem to be encountering all of the problems from last season.
The obsession with 2 defensive mids, the loyalty to Howard, and the pissing about with the side in the only competition we can realistically win (in the FA Cup some of our sides in Europe will be dropping out and the Cup becomes more interesting).
Add to all this the lack of balance at times, and playing people out of position, even when natural options are available. It all undermines the manager's status, especially when he starts talking clap-trap. Hopefully, he will be absorbing all of the feelings from us fans and preparing to sort out these problems.
This will be his last season with us, unless he gets us into the top 8, or wins a cup. I hope he gets it right, but I suspect that he won't.
Dick Fearon
36
Posted 28/10/2015 at 23:32:06
Martinez would do better to look back at our games against Manure and Le Arse.
Harold Matthews
37
Posted 29/10/2015 at 18:11:00
Eddie. Six foot-three,
Add Your Comments
In order to post a comment, you need to be logged in as a registered user of the site.
Or Sign up as a ToffeeWeb Member — it's free, takes just a few minutes and will allow you to post your comments on articles and Talking Points submissions across the site.
© ToffeeWeb