Frustrated Naismith forced to bide his time
by

76 Comments [Jump to last]
| 09/12/2015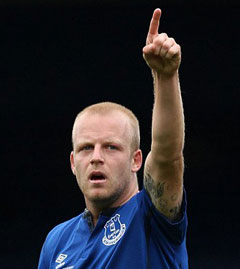 Steven Naismith has made just one start since scoring a hat-trick against Chelsea
Steven Naismith admits that it's tough watching watching on from the sidelines this season but he says he will see where he is in relation to Roberto Martinez's plans when the January transfer window opens.
The Scotland international has made just four starts this season, the last coming in the disappointing 3-0 defeat to Manchester United in mid-October, and while he acknowledges the stiff competition for places posed by the likes of Ross Barkley and Arouna Kone, Naismith wants regular first-team football.
The former Rangers forward looked to have been given an opportunity to enhance that prospect in August when Norwich City lodged an Ł8m bid for his services, a move that Naismith was prepared to make but Martinez blocked the move citing the 29-year-old's importance to Everton.
That seemed to have been underscored when he came off the bench against Chelsea and scored a superb hat-trick but his chances have been limited since the. It was agreed that the player's situation would be reviewed again during the winter transfer window and with just two substitute appearances since his last start, Naismith says that he might have to consider moving on if things haven't changed by then.
"We've got a squad that is full of unbelievable young talent and when you're not playing, it's amazing to sit and watch these guys play with no fear," Naismith told the media at a Christmas event benefitting the homeless put on by the Loaves and Fishes charity in Glasgow.
"But on the other side of it I'm frustrated that I can't get into the team. Other times I've been out of the team it's been because of injuries, but this time I'm fit every week, so it's hard to deal with.
"However, as long as this good run goes I'm just going to have to get used to being on the bench.
"When Norwich were interested in me in the summer, it was the manager who said he didn't want it to happen. But as a player you need to think about all your options.
"The manager said we'd speak about it again come January time so we'll do that.
"At the moment I'm just concentrating on playing my football as part of a great squad and hopefully if I get my chance to play again, I take it. But you've got to weigh up all your options and see where you're at.
"At the start of the season I wasn't playing then got thrown on nine minutes into the Chelsea game and not many people would've seen me scoring a hat-trick. That shows you how quickly it can change."
---
Reader Comments (76)
Note: the following content is not moderated or vetted by the site owners at the time of submission. Comments are the responsibility of the poster. Disclaimer
James Stewart
1
Posted 09/12/2015 at 18:48:24
Have a lot of respect for Naismith but he's not really good enough for our first team anymore so don't begrudge him a move if he's unhappy being a bench player. Probably best for both parties as he will generate a decent fee.
Graham Mockford
2
Posted 09/12/2015 at 18:50:00
If anyone wants to bid £8m in January bite their hand off.
Decent squad player, good lad but not quite the level we need.
Mike Hayes
3
Posted 09/12/2015 at 19:01:56
Great bloke - gives 100% every game he plays but he needs to be playing regular so a move maybe good for both player and club.
Dennis Stevens
4
Posted 09/12/2015 at 19:02:04
I just wish we could transplant his attitude into a few of the other players.
Phil Brown
6
Posted 09/12/2015 at 19:16:10
Swap him and McGeady for Brady, good deal for both us and Norwich – we desperately need a natural left footer out on the left to whip the ball in, pass or shoot first time rather than shift the ball onto the right foot.
Dave Abrahams
7
Posted 09/12/2015 at 19:18:36
We are not well off for strikers, so unless we bring an experienced striker in the January window I'd say keep him, we are going to need him. I agree that £ 8M is a great price for him, but that money is no good unless it is spent on a replacement.
Also, he might not be up to the standard required but again if injuries and suspensions deplete the team he is a good stand by.
Mark Frere
8
Posted 09/12/2015 at 19:27:55
He just isn't good enough - end of. Time for him to be moved on.
Ian Bennett
9
Posted 09/12/2015 at 19:31:45
Great attitude and desire, but if someone offers £8M I'll drive him myself. Plenty of room for McGeady as well.
Kieran Kinsella
10
Posted 09/12/2015 at 19:33:25
I understand his feelings but the team had to come first. Seems like 50 percent of our team are constantly halfway out the door. They play well (Lukaku, Deulofeu, Stones), we assume we can't keep them cause they're too good for us. They get dropped to the bench cause they aren't in top form (Naismith, Mirallas) they aren't prepared to fight for a place so they leave too.
Reality is that Nais is never gonna be an every-week striker for a halfway-decent Premier League team. Look at Anichebe and Jelavic and even Radzinski. All left our bench to sit on someone else's.
Naismith has a choice: stay here, be a useful squad player for a few more years, maybe play in Europe, maybe win a cup. Or get first team football every week in Scotland or for a mid level Championship team.
Christian Hoff
11
Posted 09/12/2015 at 19:34:58
Sell the trio (Mirallas, McGeady and Naismith). Buy quality in Yarmolenko and keeper Butland.
Steve Jenkins
12
Posted 09/12/2015 at 19:42:30
I called this back when we turned down ٦M for him.
I can understand why we did it – lack of backup and depth – but, in fairness to Naiosmith, he wants regular first-team football; when all the players are currently fit, he won't get much of look in – as has been shown.
Martinez may look to bring in a striker in January (so Naismith can move) or Naismith may have to sit the majority of the season on the bench (if Martinez can't find a suitable player), and move on in the summer. It's unfair to keep a player that wants to play first-team football.
Big fans favourite for his endeavour on the field and behaviour of it, seems a great guy, but difficult to see anything but pastures new for him, if not in January, then certainly in the summer.

Gavin Johnson
13
Posted 09/12/2015 at 20:11:23
If we get another bid in the region of £8M, we should sell and invest in a young hungry striker, like Dembele from Fulham. He could then be slowly integrated into the first 11 next season.
I really like Naismith and glad he proved his doubters wrong by earning himself another contract. But at his age, he needs to be playing regularly, so I totally understand if he's thinking of moving on.
Colin Metcalfe
14
Posted 09/12/2015 at 20:18:24
I think we could see some changes come January; maybe Naismith, McGeady and Mirallas could be off and it would not surprise me to see Oviedo go either due to lack of first-team opportunities.
The squad is too big and we are lopsided with midfielders so to move players on who are fringe players makes a lot of sense... although I will be gutted to see Mirallas go but it's quite clear Roberto has some beef with him!
Paul Commons
15
Posted 09/12/2015 at 20:33:23
Whilst I can understand the agitation of both Naismith and Mirallas at their lack of action this season, they represent the only attacking options to Lukaku and Kone and Martinez will not want to go into the busy New Year programme with no cover at hand. Nor should he. Both must remain.
Colin Glassar
17
Posted 09/12/2015 at 20:44:28
I really appreciate the effort Nessie puts in but we've moved on from his type of player. I say sell him to Norwich and get Redmond in return.
The likes of Nessie, Hibbo, Pienaar, McGeady and, possibly, Ossie need to be released (with honours) as they can no longer offer us anything on the pitch.
Tom Cuffe
18
Posted 09/12/2015 at 20:47:18
What's the betting, he's Moyes's first signing when he joins Swansea? And we will never see –8M for him, –5M tops.
Great attitude, always gives 100%... I wish him all the best if he moves on.
Christy Ring
19
Posted 09/12/2015 at 20:54:58
I like Naismith, but I'd let him go for £7/8m, and offload McGeady in January, and bring in a top striker & keeper. I hope Mirallas stays.
Steve Jenkins
20
Posted 09/12/2015 at 21:14:50
Good shout on Redmond, Colin.
I've been surprised we haven't gone for him before now, I'm sure he only went to Norwich for £2m?
I wonder if he has an attitude problem, as nobody else has gone for him since he's been at Norwich and he's looks a player to me?
The rest of the Dad's Army you list need moving on next season.
Colin Glassar
21
Posted 09/12/2015 at 21:35:48
I don't see him having an attitude problem, Steve. On the contrary, he runs his socks off every game. I think he's sometimes benched when his manager wants more defensive options.
Anthony Dwyer
22
Posted 09/12/2015 at 21:43:05
I love Naismith's attitude but for me he's simply not good enough to start matches for a top 10 Premier League team.
How we refused ٦m for him is hard to understand, I feel he's a ٢m player, tops; if we can get that bid again I'd take it.
٦m to spend on a younger squad player with potential, would get us a quality youngster.
Another big thing to look at would be to sell Howard or Robles for ٠-4m and or McGeady to bump the ٦m up to 㾸m and buy ourselves a top keeper.
All-in-all, Naismith is a nice guy with a fantastic work ethic but he's not good enough.
Phil Brown
23
Posted 09/12/2015 at 21:49:22
Colin, We need another right winger like we need a hole in the head. We need a left winger to balance out the team.
Tom Bowers
24
Posted 09/12/2015 at 21:57:50
Have to agree Nessie has a great attitude on the field and an eye for goal but he does lack that turn of pace and it does affect the role of playing in the pocket behind Lukaku where RM would play him.

With Barkley, Deulofeu and the surprising Kone offering more up front it would seem likely Nessie along with one or two others out of favour may be allowed to go in January.

Maybe we can swap him for Vardy?
Steve Jenkins
25
Posted 09/12/2015 at 21:59:12
I'd take Redmond tomorrow. Bags of pace and skill and from what I've seen can cross a football.
McGeady and Mirallas will be off, so we'll be two down.
I don't even think there's is as such (right and left wingers anymore), they seems to switch mid-game these days.
Charlie Burnett
26
Posted 09/12/2015 at 22:43:42
Players whose contracts end in 2016:
Hibbert
Oviedo
Gibson
Osman
Pienaar
Kone

Only Kone in my eyes from this season's displays would get a extension out of them.

Then you have Naismith, Mirallas, and McGeady that would be up for leaving and could boost some spending budget from sales.
Eddie Dunn
27
Posted 09/12/2015 at 23:05:01
I love Nais and admire his charity work. If he was given time in a role off Rom, then I think we would see him pop in 10-15 goals a season. He has never had a run in that position, and so often the lad has had to play on the wing or as an auxiliary midfielder. He is not blessed with pace, but has a good brain and could still do a job for a team at this level.
Regardless of whether he stays, if Rom gets crocked, then who plays the lone striker role?
Kunal Desai
28
Posted 09/12/2015 at 23:26:20
I don't think many would have been happy to see him leave after he banged in that hat-trick against Chelsea, just saying.
He may be a little inconsistent but he's an intelligent player and reads the game, not forgetting his energy and work rate. A player who chips in with 8-10 goals a season isn't that bad. If Kone picks up another injury, we are in trouble again.
Keep Naismith until the summer, I say, and wait for the right replacement to become available, which won't be in January.
Mark Andersson
29
Posted 09/12/2015 at 23:33:50
Why would Roberto let him go in January? We seldom buy in that window and Paul Commons is right.
He will be sold next summer along with Rom and Stones. I can't see this team breaking into the top 4, as Roberto refuses to address the defensive side of his game.
However, if Naismith does go I wish him all the best.
Oliver Molloy
30
Posted 09/12/2015 at 23:39:14
Providing nothing changes It is nailed on that Naismith will join Norwich for £6-8 million in January.
Fantastic attitude from a really nice guy. Steven Naismith knows his limitations but gives his all and never moans. Mirallas should take note on how to go about things.
Everton will listen to any offers for McGeady also in the window. Hopefully we get our No 10 we so badly need.
Neil Wood
31
Posted 09/12/2015 at 23:42:03
Situation report!
Three potential "recruits" that could turn us into definite top 4 material.
Yarmolenko – £15 million approx.
Batshuayi – £12 million approx.
Dragowski (GK) – £3 million. 18 years of age but will become a major asset for any team. Howard can see out his last year or so and move on to Major League Soccer.
That's £30 million outlay.
Sell Naismith for £8 million, McGeady for £3 million, then this will reduce it to £19 million.
Trust me!

Jamie Crowley
32
Posted 09/12/2015 at 23:52:40
This is a model – MODEL – professional who, if he's not playing, we should do the "right" thing and get him into an environment at another club where he plays a ton.
He's done nothing but give 100% to the cause. I think if he can't see the pitch and we can get good value for him, shake hands and by ALL means wish him the best.
If every player who pulled on the Blue shirt brought Naismith's attitude and work effort, we'd win the league at a canter. Bit of an exaggeration but take the point. Great player if not the most gifted.
Danny Broderick
33
Posted 09/12/2015 at 23:57:42
It's a win-win if we can sell him to Norwich. He'll get playing time, and we'll get a decent price for him. This type of transfer makes sense.
We need Koné to be the back up striker, and we need a better option on the left (although I am hoping Mirallas will get a look in at some point). Mirallas on the left, and Deulofeu on the right, really would give us some options going forward if they are both on song...
Lyndon Lloyd
34
Posted 09/12/2015 at 00:00:26
Actually, Charlie (24), Kone triggered a one-year extension with his appearance versus Sunderland so his deal now expires in 2017.
(I've updated our squad page accordingly; apologies if you used it as the basis of your post.)
Jack Okell
35
Posted 10/12/2015 at 00:27:29
Neil – Dynamo Kyiv were runners up in their Champions League group. I recall their manager saying he'd rather let his contract run down and keep him if they progressed.
And now Chelsea and Arsenal are sniffing around as well...
Richard Reeves
36
Posted 10/12/2015 at 00:37:16
I've always thought he is a good sub option but there's no point in keeping a player if he can't get any minutes on the pitch.
£20M for Naismith, Mirallas and McGeady (three players that hardly get a look-in and won't affect our season) is a good amount for Martinez to add to the squad in players that could be starters and take us up a level.
He's a decent bloke; if playing regularly, I'm sure he could get between 10 and 15 goals a season. I hope clubs are interested in him and that he pushes for a transfer.
Harold Matthews
37
Posted 10/12/2015 at 02:04:55
Martinez won't like letting him go but Nessie needs regular competitive football in order to keep his Scotland place. A fine man, I hope things turn out okay for him.
Paul Ward
38
Posted 10/12/2015 at 03:24:47
Nessie owes Everton nothing, his 100% effort every minute he has played speaks for itself. If he is not good enough to start then all he has to do is wait for someone to be injured... what an existence!!
In any other club, you would have a good chance of getting 20 minutes or more as a sub some weeks, but this manager believes in 85th-minute subs or none at all. This poor judgement by Martinez isolates players like Nessie and Mirallas from being part of the team.
Kieran Kinsella
39
Posted 10/12/2015 at 04:12:00
We aren't running a charity here. Naismith has been a good servant. Naismith seems like a good guy. But I'm an Everton fan so I'm more concerned with Everton than the future career prospects of any one player.
I don't think we could replace what Nais brings to the table for £8 million when sums like that are being thrown around by Bristol City and Sheff Wed on lower league players.
That said, if McGeady leaves I don't see us getting any new at all. Between Everton and Spartak he's played about 20 league games in 3 or 4 years. He's worthless. No one will pay a fee for him.
Tahir Abdullah
40
Posted 10/12/2015 at 05:02:14
As always with RM, there is no discernible Plan B for building this squad; Nessie's frustration will likely build until the end of the season as RM will probably not let him go in January (just in case, like). Nevertheless a model professional, who would be a more than useful addition for Norwich...
Jay Harris
41
Posted 10/12/2015 at 05:25:08
I like Nais as a person and a player but, if he is unsettled with being on the bench, sell him for £8M and get Charlie Austin.
Mike Gaynes
42
Posted 10/12/2015 at 05:30:43
Tahir, you're seeing Plan B, which is Kone behind Rom (in place of Naismith) and Geri creating on the right (in place of Naismith)...
...and it's working great for everybody but Naismith. I understand his frustration, but he's been well and truly beaten out.
Hope we keep him the rest of the season, however... because there's no way Kone makes it through to spring without at least one injury.
Ciaran Duff
43
Posted 10/12/2015 at 06:20:24
Surely it would be better to wait til the summer? If we qualify for Europe, then our squad requirements will be bigger. Also, it gives more time to bring in better options (January is generally not a good time to bring in new players IMHO.)
I can't see Yarmolenko going anywhere now that Kiev have qualified for the UCL knockout phase.
Anto Byrne
44
Posted 10/12/2015 at 06:25:04
Naismith is not a winger or a fully fledged forward. He has attributes of a Tim Cahill in that he can win headers and is brave in the box. Cahill lacked pace and so does Naismith. Tim worked his socks off and was very aggressive and petulant fouler.
Both players play for their countries and both are solid professionals. Thing is, no-one ever came calling for Tim Cahill and Norwich just offered a wedge for Naismith. Both are very good players.
Maybe it's a good time for Naismith to move on and offer an opportunity to one of the kids coming through? Conor Grant or Conor McAleny?
Ajay Gopal
45
Posted 10/12/2015 at 06:36:56
If Lukaku gets injured (God forbid), then I would trust Naismith to get us some goals. When used as an out-and-out poacher, he has surprised us all with some skilful goals. Provided Deulofeu and Barkley continue to provide crosses/assists, I can see Nais scoring useful goals.
In the meantime, I am surprised that Martinez has not utilised him more often in recent games. With all the League Cup, FA Cup and the fixture congestion in the next 6 weeks, perhaps Naismith will will get opportunities to show us what he can do?
Neil Wood
47
Posted 10/12/2015 at 08:10:58
Ciaran I think your probably right about that one If I am honest ..... I think we have probably already missed the boat and should of got him in the last window. He's contracted to 2020 now however, I'm sure that's his way of paying Kiev back ensuring they receive a fee for him ....
Denis Richardson
48
Posted 10/12/2015 at 08:16:48
We should have taken the £8M, which would get us a much better goalkeeper than then one we've got now...
Mark Daley
49
Posted 10/12/2015 at 08:42:12
The group-think on here is pretty clear. We have too many midfielders, so why not turn that to advantage? There are 3 slots and to fill them we have (barring injuries) Naismith, Mirallas, Kone, Barkley, Deulofeu, and probably someone I've forgotten – say, six players. So, three play their socks off for 60 minutes, then we sub the other three who plays their socks off for the last 30...
Chance of RM doing this = nil, of course.
Naismith scored the best hat-trick I have ever seen or that most readers will ever see (assuming they saw it) and I am convinced the benefit of his influence on the other players is underrated.
Paul Cherrington
50
Posted 10/12/2015 at 08:52:29
Sell him; I said it at the time but we should have taken the £8 million when we had the chance. He's not good enough for our first team now and we might as well let a young lad have his place in the squad.
A good lad and he's been a decent player over the years but time for him to be moved on. No way he should be playing ahead of Deulofeu, Barkley, Mirallas, Koné etc...
Allan Barratt
51
Posted 10/12/2015 at 09:14:12
If we're offered any money for him, I'd be glad to see him go. Clearly not a good enough footballer, attitude can't be faulted but just not good enough. I thought it was a joke when we'd been offered £8 million in the summer.
Tony Waring
52
Posted 10/12/2015 at 10:01:24
Not good enough, some say! Who beat Chelsea, then?
We should hold on to Naismith. He comes over as a genuine guy with a 100% correct attitude and a model for youngsters, some of whom think football owes them a living. If we get a spate of injuries, how many experienced players of Premier Lague quality – yes, he has got it – do we draft in as replacements?
RM should at the very least be using him as a sub for the final 20-25 minutes of games, if only to rest others. But then that's RM for you.
Sam Hoare
53
Posted 10/12/2015 at 10:41:33
Clearly a top man and his work rate alone makes him a valuable asset. Having said that he is not consistent enough to warrant a starting place and his lack of control and pace often see attacks break down. He is a very useful sub and squad player and clearly that's why he's still here.
If we were to get another £8m offer i'd be tempted. Partly because I think thats good value and we could potentially spend the money on something more needed (like a dominant keeper) but also because the guy really wants to be playing every week and I think he deserves to. He's not first choice for us or possibly even second choice so if we can replace him wisely and make him happy then it could be best for all parties.
Michael Polley
55
Posted 10/12/2015 at 11:26:09
Let's keep him. He has a superb work ethic, and we need the cover.
Maybe in the summer we could let him go...
Gerry Quinn
56
Posted 10/12/2015 at 12:28:31
Couldn't Naismith be sent out on loan – surely that would keep him, the club and the fans happy?
Jon Withey
57
Posted 10/12/2015 at 12:37:43
If Lukaku got injured....
Unless we can trade him for a Lukaku back-up, then keep him or trade in Summer. He's a decent finisher and we've started creating more chances.
There is a lack of strikers that can, you know, score goals in the Premier League – so don't undervalue him either.
Andy Meighan
58
Posted 10/12/2015 at 12:49:38
I wish Mirallas had his attitude. He never gives nothing more than his all and even off the bench he's always liable to notch. You can understand his frustration, but as we're constantly told it's a squad game and he's a vital member of that squad.
The thing is if he were to move on there's no guarantee of getting regular gametime. No player is allowed that luxury. There's plenty of games coming up so I'm sure he'll get his chance. If I was Martinez, I'd look at it at the end of the season.
Craig Walker
59
Posted 10/12/2015 at 13:54:09
I really disliked Naismith until Martinez took charge. I thought he was a limited footballer with no obvious positive attributes. I changed my mind on him though and he is probably THE player in my 41 years of supporting Everton who has massively gone up in my estimations during his time here. He always gives 100% and is one of the few attacking players we have who is alive to the through-ball.
I know he earns an awful lot of money but I've just read the article on the Guardian website about his Loaves and Fishes project in Glasgow. Fair play to the guy. It would be easy for him to play golf and count his money. If he does leave Everton then I'm sure he would be afforded a brilliant reception on his return. He would be a good player for a lot of clubs.
Brian Wilkinson
60
Posted 10/12/2015 at 14:31:01
Everyone is raving about Lukaku and rightly so, but if you put Naismith infront of goal, he very rarely misses, once in a Blue moon Naismith will not get a shot off on target.
If you asked me if a ball was played into the box or a one on one, who would I want to it to fall to, I would pick Naismith everytime.
Hes not the best footballer blessed with dribbling skill, but whenever he plays, he never stops harrassing opponents, and in front of goal you always know he will pop up with a goal.
Its a shame hes not on the end of some of Delboys crosses because I really do believe he would have buried some of the chances we fluffed.
I hope we keep the guy.
Ray Roche
61
Posted 10/12/2015 at 14:36:39
His only problem is a lack of real pace. He can head the ball as well as anyone we've got and could be a clinical finisher but he can't get away from a defender due to his lack of speed. I'd keep him. If he'd stay.
Guy Hastings
62
Posted 10/12/2015 at 15:03:40
Top bloke, good finisher, gives his all. A 'proper' Evertonian. Keep him, esp if we make Europa next season...
Steavey Buckley
63
Posted 10/12/2015 at 15:17:29
In 3 games when Everton dropped 6 points, Naismith would have been an ideal second-half substitute. The mystery is, why not?
And I don't blame him for wanting a move away from Goodison.
Steve Brown
65
Posted 10/12/2015 at 16:03:20
He scores goals at a Premier League level so why sell him? Also, he brings a bit of edge to a very 'nice' team.
Stephen Brown
66
Posted 10/12/2015 at 16:31:08
I'm with Steve 58. I wouldn't sell him as he's got that bit of grunt any side needs!
Also he's a good person to have round the squad! A footballer with morals – hard to find!
Michael Kenrick
67
Posted 10/12/2015 at 17:03:55
Ajay (#43) – surely we all know exactly what he
can
do – score a brilliant hat-trick against the reigning Premier League Champions –and exactly what he
can't
do... that is, come anywhere close to delivering that kind of end product on a consistent basis.
If anyone will take him in January, I think we should let him go. Going all soft and mushy over his off-field generosity is coming close to derailing us from the prime objective here, which should be winning trophies! We need to be ruthless.
I think Roberto has been more than generous in giving him four massive opportunities to show if he could do it again after Chelsea. Verdict: he hasn't done it. Although this is football: there's no telling if coming on as another 9-minute sub could lead to another brilliant hat-trick. But the odds against must be rather large...
Paul Commons
69
Posted 10/12/2015 at 20:43:50
Michael: loathe as I am to challenge your wisdom in these matters, is Everton so flush with strikers that we can afford to wave Naismith goodbye in January?
The player's 'off-field generosity' has nothing to do with it – he can be just as generous elsewhere but to have the moody Mirallas as our only goalscoring threat should anything happen to Lukaku is hardly sound planning.
Dennis Ng
70
Posted 10/12/2015 at 21:03:25
A move in January would be good for both parties, but anything less than 8m would be small imo. It's unlikely enough money to bring in someone of quality to challenge right away. 10m and above would be ideal.
Tom 22, Vardy? He's worth at least 30m imo. ~15 goals a season and that work rate, 30m is cheap (relative to other strikers sold). Way out of our range and risk level given his age. I don't buy the media talk that Leicester should sell him for 20m. Leicester should be smart enough to squeeze every dime out of some big sucker and I don't want it to be us.
Peter Gorman
72
Posted 11/12/2015 at 00:41:51
Paul, I am just thinking outside of the box here but I think we could always try that lad Kone upfront.
Also the 'moodiness' or Mirallas has nothing to do with it either – he is still a more potent goal-threat than Naismith.
What makes little sense is to keep both Naismith and Mirallas and play neither; hence both making their first noises about leaving in January, hence this entire thread.
Kieran Fitzgerald
73
Posted 11/12/2015 at 07:14:59
Given his attitude and work ethic, I can't see Naismith being will to stay without game time. I think the decision may well be his.
There would be serious interest in January. Teams like Norwich and Newcastle who are down at the bottom of the table will both need what Naismith can bring them, i.e fight, determination and goals. In the Championship, Middlesboro and Brighton may consider a move for the same qualities. Imagine what a Naismith could do for their promotion push. £8M+ on a player like Naismith could be a cracking piece of business for many clubs like these.
Naismith will have options. If he is not going to get the proper game time he wants then start both Naismith and the club can start to put the feelers out now. Martinez may already know what he can offer Naismith between now and the end of the season. It may well not be the game time Naismith wants. Make a decision now and try to generate the best deal we can for everybody.
Colin Glassar
74
Posted 11/12/2015 at 08:00:37
And what about McGeady? Any plans for him? Are any teams interested in him? Celtic? Newcastle? Bolton? Weight watchers united?
Paul Jeronovich
75
Posted 11/12/2015 at 08:49:43
We have quite a few players stealing a living off us: McGeady, Gibson, Hibbert (who???). Surely a quick 'black January' sale could be launched to get rid.
Trevor Peers
76
Posted 11/12/2015 at 08:58:10
Naismith has done a great job, but maybe it's his time to leave; the same goes for Mirallas. As long as they are replaced – we need a strong squad.
They are Moyes players and I think Roberto wants to build the team in his own way. Most of his buys have been top class, so hopefully there will be some exciting new additions if they are allowed to move on.
Kieran Fitzgerald
77
Posted 11/12/2015 at 09:27:50
Colin, I think your post is obviously tongue-in-cheek.
On a serious note, Celtic may have come in for him as a sort of 'come home, son' gesture. Unfortunately for us, they run things off very strict budgets and with no real revenue from European football this season, there's not a hope in hell of them taking McGeady off our hands.
As for Bolton, again ideal in that they're local but they're potless. They couldn't pay their players for November.
Paul, I think I read on ToffeeWeb a while ago that Hibbert is doing some coaching with the Academy. I am open to correction on that but if true, and with his contract due to expire in June, I can see him getting absorbed into the full-time coaching staff. Coaching his solid defending, tackling and tracking opposition players into our academy players may not be any harm.
I would actually prefer to keep Gibson. His style of play and range of passing would suit our offensive players at present. Yes, I know his fitness is suspect but I would wait until the summer at least to see how things go with him.
Ray Roche
79
Posted 11/12/2015 at 10:09:12
I'm not sure if the "sulk" Mirallas has should be pertinent here, if he is good enough he should be on the pitch. We are paying him sufficient wages to have him tooling around in a Bentley.
As many have already mentioned, without Naismith, we would be shafted if Lukaku got injured if Mirallas was sold. If either of them leave in January Martinez simply MUST have a replacement lined up.
We don't appear to have any young player ready for first team duty just yet, Rodriguez, if he's going to be good enough is recovering from injury and, well, I have no idea what's happening with the likes of McAleny, currently on loan, or Henen.
There is more of an interest in bringing young defenders in rather than forwards. Surprising when so little attention appears to be given to our first team defence. (Here I go again...)
Jim Knightley
80
Posted 11/12/2015 at 11:04:38
Naismith is exactly the kind of player who can help us win trophies. It seems too simplistic to state that 1) Naismith is not good enough for our first 11 2) so therefore Naismith is not good enough to win us trophies. He is fundamentally a goal scorer, who can score goals in big games. His attacking positioning is superb, and he is a natural finisher. He may not be good enough for our first 11, and his lack of a fixed position does not help this.
But we need Naismiths in our squad. When we have injuries, he will come in, try with every sinew of his being, and he will score goals. He is exactly the kind of player who could nab us a goal in a cup final. Will Lennon? Will McGeady?
We have some issues in our squad still. It's bloated in the midfield. I'd like to see Pienaar, because of his injuries leave. I'd like to see Osman, because of his age, go in the summer.
Hibbert needs to go, and McGeady needs to go. I'd also like Howard to go, and personally I think Gibson, for all his passing ability, should leave. I'd like to see a new goal keeper, a top quality creative player, another defender and a striker come in.
I do not want one of those departing to be Naismith. The point of a squad is to have quality in that squad. When a couple of injuries strike, which they will, I would trust Naismith to come in.
When we get back into the Europa league, and we need to mix things up, I would trust Naismith to a do a job. He is not a flair player. He will not excite us. But he is the kind of dependable goal scorer necessary to squads, and to the success of a squad-based game.
Michael Penley
81
Posted 11/12/2015 at 11:28:51
Keep in mind that we have been rather fortunate with long-term injuries of late, at least compared with last season. All we need is two or three first team starters to pull a hamstring and we will need Gibson, Naismith, Lennon, Mirallas.
We may even need Hibbert – who else is there to step in if Coleman and at least one other centre-back get injured?
Paul Cherrington
82
Posted 11/12/2015 at 13:18:09
The simple fact remains that he is not good enough to play for us if we want to be pushing on and challenging for Champions League, etc. Put him next to Lukaku, Deulofeu, Stones, Barkley, Mirallas, McCarthy etc and does he compare?

The answer is No... so we get rid and bring someone in with the money who is better.
Michael Kenrick
Editorial Team
83
Posted 11/12/2015 at 16:19:55
Ray (#71), just a small correction: I think Conor McAleny is back with us; his loan at Charlton ended last month and he has been playing for the U21s.
Ray Roche
84
Posted 11/12/2015 at 18:21:24
Thanks Michael, I must have missed that.
Add Your Comments
In order to post a comment, you need to be logged in as a registered user of the site.
Or Sign up as a ToffeeWeb Member — it's free, takes just a few minutes and will allow you to post your comments on articles and Talking Points submissions across the site.
© ToffeeWeb