Martinez plays down 'confrontation' with fan
by

57 Comments [Jump to last]
| 13/04/2016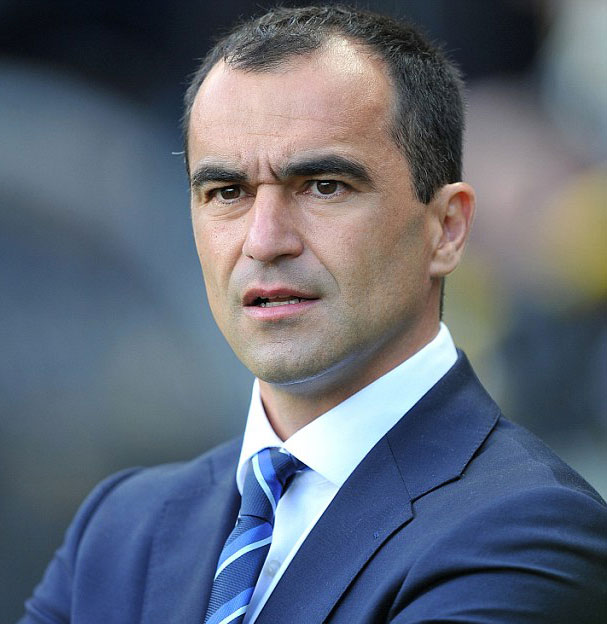 Roberto Martinez says he wasn't taken aback when a supporter engaged him in the stands at the U21s match against Chelsea.
Footage emerged on social media of an Everton fan involved in an exchange with Martinez at the Merseyrail Community Stadium last night, although none of the conversation is audible.
In subsequent accounts reputed to be from the Evertonian in question, he denies verbally abusing Martinez as some on Twitter have alleged but the indications are that he was frank in his assessment of the manager's performance.
Martinez was asked by the media today about the incident, which follows the display of a banner at Saturday's match at Watford calling for his dismissal from the Everton hot seat, and the Catalan responded by insisting that he respects the views of all fans and understands their complaints.
"I don't think I got approached by a supporter, I approached a supporter," Martinez responded in quotes published by the Liverpool Echo.
"I have always got huge respect for, whatever age of, the fans, I am here to make the fans proud and you need to know what the fans think.
"Of course, at times the passion that we all share will sometimes be disappointment, sometimes it will be negative and I don't expect any fan to be happy with our home form, in the same way I expect every fan to be very, very happy with the away form.
"All together we need to try to help the team to finish as strong as we can to address that issue and make sure we become a stronger team.
"We have been building over the months and over a long, long period with a lot of planning and now we have a very exciting squad but the reality is we are not the finished article yet."
Full quotes at Liverpool Echo
---
Reader Comments (57)
Note: the following content is not moderated or vetted by the site owners at the time of submission. Comments are the responsibility of the poster. Disclaimer
Kieran Kinsella
2
Posted 13/04/2016 at 00:56:41
In fairness what's he going to say? "The fan set me straight. I suck. It's true." But it is interesting to see Martinez having to deal with fan flak for probably the first time. Everton fans are as easily swayed as Wigan fans who grew up watching Stuart Barlow (oh wait bad example) and third tier football. He comes across as s narcissist kinda like Mourinho under pressure at Chelsea and I don't see it ending well.
Tony Draper
3
Posted 13/04/2016 at 01:08:55
I don't want any Everton manager ever hounded and belittled by Everton fans for the delectation of the press.
I just don't. Let's leave that to "Lesser Clubs".
Brian Murray
4
Posted 13/04/2016 at 01:26:05
Okay, mate, we will bite our tongues until around Xmas if you like... by which time, the trap door will be creaking. We need Moshiri to lose the disarming smile and tell Bungling Bill enough is enough.
Mick Davies
5
Posted 13/04/2016 at 01:31:09
Harry Catterick was decked... just for dropping Alex Young! I think this man has angered a lot more fans for doing a lot worse than that!
Malcolm Kitchen
6
Posted 13/04/2016 at 02:35:20
Too right Mick! I think I'd want a piece of Martinez if I was sat near him, the stats are shocking 4 wins at home is rubbish. If we lose at Palace he simply has to go. Every other club in the Premier League would have sacked him 14 months ago, bar Leicester City, who Pearson had got them promoted, but look what happened in the summer!

He's had his chances and it's time for a change; if we do nothing we'll lose the semi and end up in the Championship!!!
Jamie Sweet
7
Posted 13/04/2016 at 02:36:48
Very very happy with the away form?
Yep, I'm positively beaming having sat through those turgid displays against Man Utd and Watford!
Robin Cannon
8
Posted 13/04/2016 at 05:57:28
As quoted in
The Guardian
:
"Remember that we are not talking about a bad team here or a team that doesn't perform" Martínez said. "We are talking about a team that performs really well away from home, yet doesn't get the results at home. It doesn't mean the relationship between the manager and the players is wrong. We are talking about a very specific area.
"The football is attacking, it's exciting. I would pay a lot of compliments to the way the team has been playing this season and the way individuals have been developing. The reality is that our results at home haven't been good enough. That doesn't mean the relationship between the players and the manager is a problem, because that would mean that from Monday to Friday the relationship is different when we are away from home than when we are at home. That isn't the case. I think we have to be realistic in that."
...
Does he actually believe that? That we've been playing exciting, attacking football all season, and has just been a bit unlucky in getting some bad results at home?
Brian Porter
9
Posted 13/04/2016 at 05:58:17
Very, very happy with our away form? Let's be brutal here and say we have won one more game away than we have at home. One! Lots of draws, yes, but wins? Not a lot. I doubt I could control myself if put in a face to face with Martinez so well done to that mystery fan for his self restraint.
I think Martinez will find the pressure is only just beginning. Now that the fan discontent is out in the open and the media are on his case (at long last), the road is going to get a lot bumpier. Kenwright really does need to wake up and get rid of the lunatic in charge of the asylum that Goodison Park is rapidly turning into before things get much, much worse and the club begins to tear itself apart.
Opinion is finally polarising and it's clear that that opinion is wholeheartedly of the anti-Martinez variety. His supporters appear to be dwindling by the day and he needs dispensing with sooner rather than later.
Robin Cannon
10
Posted 13/04/2016 at 06:06:24
A quick look at the stats and TEN teams in the Premier League have won more away games than us this season.
This myth of a great away form is exactly that, a myth. It just sounds good because we can say we've only lost twice, and ignore the fact that we've drawn more than half our away games.
We're 6th in the "away league" table – but there's only 2 points separating 4th and 11th in that table. We've picked up a point more on our travels than Bournemouth. Leicester have picked up 14 points more than us away from home.
Kevin McCartney
11
Posted 13/04/2016 at 06:10:43
Speaking of Bournemouth, would you think Eddie Howe‎ is a viable replacement for the incumbent Martinez?
Robin Cannon
12
Posted 13/04/2016 at 06:18:29
I do. But I think there are a lot of "on the surface" viable replacements.
Rather than looking at various people and saying "will he do", I'd prefer the club to come up with a clear strategy and definition of what they want from a manager, and then go and identify a clear shortlist based on that criteria, approach and interview them, and choose.
Ian Hollingworth
13
Posted 13/04/2016 at 06:45:30
So his strategy is to blame bad luck at home. Does he not realise that a team is judged on results home and away over the season and we are 14th because we have not won many games either at home or away.
Frankly most of our performances have been pretty dull and very predictable. Please sack him now.
Paul Bromley
14
Posted 13/04/2016 at 07:05:38
Only 9 league wins this season and 5 of those against the relegation favourites. Without those 3 teams in the league next year it is difficult to see us staying up unless something changes over the summer.
John Louis Jones
15
Posted 13/04/2016 at 07:28:49
Martinez could put a good spin on Jimmy Seville.
I watched the presser and it was like watching a young Tony Blair. (All you needed was D:Ream playing in the background.) He did wobble though when asked about meeting the new owner.
One thing that no-one has picked up on is he said "I have do nothing different in 7 years in the Premier League." SHIT!
He took Wigan from midtable to Championship and he's not done any thing wrong??? WTF.
I think the pressure is on. Reports this morning are that he has has a crisis meeting in London after the Palace game tonight. Please God, Moshiri... GET RID.
John Keating
16
Posted 13/04/2016 at 07:32:49
This great attacking football and brilliant away record both Martinez and, even more amazingly, some supporters allude to, is rubbish!
Our football on average is slow boring shit and our away record is average at best.
Deluded, both Martinez and his acolytes.
Tim Locke
17
Posted 13/04/2016 at 07:37:13
At the start of this season I was in two minds about Bobby. Was his first season the one off or his second? It is becoming clear which is which now. If he continues on track, we will be fighting relegation with a "too good to go down team" next season.
At the start of the season I was most interested in luck, we have been "unlucky" in a fair few games, I won't list them all 10 by my counting. But highlight three: Bournemouth, Norwich and Chelsea away. These are three games without question we should have won. We threw away winning positions, two in stoppage time. But all three fall into the unlucky group in a "normal" season. So examples of hitting woodwork, players staying on when they should have been sent off, extra extra extra time.
As a fan, I except that these are the, for want of better words, "nut crushers" of games. The ones when you walk away thinking why am I a fan. Now as I said I have counted 10 games where "luck" has played a role in us losing. But Lady Luck is random so I would expect to see some games, around 10, where she has helped us out.
In my analysis, I have found one, one game all season which I feel the result went against what it should have been. That was the Man City game when we drew, we should have lost in open play and definitely should have had a pen against us. In that game I am scrapping the barrel for examples.
The bottom line is we have been poor this season, not unlucky. When "luck" becomes the normal excuse for losing or drawing then it is about form and tactics not about luck. Without question, Bobby, you have done well in getting some great players in, you have raised our profile in terms of media, you have built excellent relationships with Barca and others, you have even proved Tim Vickery wrong, but you can't manage a football team.
Yes as a one off you can pull a rabbit out the hat, eg, Arsenal 2-0 at home, but sadly your rabbit has died, your hat got a hole and it's time to acknowledge what you have done well, and jog on.
Thank you for helping create the best team I have seen in my 30 odd years support, but please please please realise your limitations and let someone who can manage do their thing.
Paul Olsen
18
Posted 13/04/2016 at 07:46:59
It´s true we have been decent away. Currently 6th on the away table, a position most fans would be ok with... Still, we have only won 5 away games all season, then lots of draws. Not excellent considering the squad Martinez has at hand.
However, to say we have struggled at home is an understatement. On the home table we are actually positioned 19th. Only Aston Villa have a worse home record than Everton this season. That is truly shocking.
Colin Glassar
19
Posted 13/04/2016 at 07:51:40
As long as Martinez continues to gush about Kenwright being the bestest chairman whoever existed in the history of world sport, then his job is as safe as houses.
Kenwright must love all this public adoration shown to him by his manager. Stroke Kenwright's ego and you've got a job for life.
Jim Bennings
20
Posted 13/04/2016 at 07:52:35
Agreed!!
Apart from catching Southampton cold due to their European interests in August, the only worthwhile team We have beaten away from home is Stoke.
As usual we have been to Arsenal, Spurs, Chelsea, Man City and Man Utd and failed to win one, no doubt the same at Anfield.
The fact we have only beaten 3 different teams since November 1st says it all, and 2 of those were the sides everyone beats (Villa and Newcastle). We have barely beaten a top half team.
It was only ever going to be a matter of time before criticism of Martinez became more apparent and vocal, and of course gathered media coverage.
Looking back to 12 months ago when we were having a similarly poor season, who can say they are surprised by it really? We knew keeping Martinez on this season was going to be a risk after we finally saw his flaws and weaknesses laid bare throughout last season.
It's fair to say it's a very unhappy ship at Everton Football Club both on and off the pitch at present and certainly not an atmosphere that is going to bode well for this crucial week we are facing.
Tim Locke
21
Posted 13/04/2016 at 07:57:51
Colin that last sentence needs editing – you have left the word 'ego' in.
Nick Page
22
Posted 13/04/2016 at 08:07:50
If Bill Kenwright puts his ego ahead of this football club then God help us cos, unless we get rid of Martinez, we're on a one way ticket to Championship football. This man thinks he has done a good job over the seven seasons he's been "managing". What a clown.
Iain Davies
23
Posted 13/04/2016 at 08:19:11
Martinez Out
Any protests or organized chanting/banners yet?
Michael Penley
24
Posted 13/04/2016 at 08:21:08
Away wins alone means nothing. You can always find statistics to back up the assertion that the fans should be "very, very happy". Aston Villa may have scored all their goals from open play, and put in the 2nd most crosses of the league – does that mean the fans should be very, very happy?
The only thing that matters is points, we are at the stage of the season where everything should have balanced out and points is a good indicator of how well we are doing. And it says we are the 14th best team.
Ray Robinson
25
Posted 13/04/2016 at 08:31:58
Tony #3. Has any Everton manager ever opened himself up to such ridicule with interminable waffle, hyperbole, delusional claptrap. I'd have had more sympathy if he'd just acknowledged reality occasionally. He insults my intelligence as a (reasonably) knowledgeable fan.
But yes, perhaps we shouldn't be hounding him. We should have no need to – he should have gone by now.
Phil Walling
26
Posted 13/04/2016 at 08:34:18
Colin, Kenwright, getting Moshiri 'to leave the football side' to him was a masterstroke and has, no doubt, re-energised him in that 'ego massaging' you refer to.
In the grand plan of things, I think that ego has always taken precedence over the best interests of Everton and will continue to do so until the new half-owner loses patience with him.
The trouble is that throughout the 24/7 search for an investor, Kenwright was never before able to find a mug who would leave him in charge of the trainset.
He may no longer be the Stationmaster but he is certainly still the Guard/Ticket Collector and he's never been much interested in how the railway is run anyway!
Phil Walling
27
Posted 13/04/2016 at 08:42:31
PS. My missus has just suggested that BK could better be described as Guard/Fat Controller.
Not bad that from a normally humourless Wigan supporter (kind of ) !
Patrick Murphy
28
Posted 13/04/2016 at 08:45:19
Only the bottom 4 teams have won less league games than Everton home and away combined, I rest my case M'lud.
As for not being the finished article yet, it's beginning to look as if the Martinez master plan has failed and that it needs to be ripped up and started afresh.

Phil Walling
29
Posted 13/04/2016 at 08:55:00
The only thing is, Patrick, as a desperate show of goodwill towards our club, I've put all these bets on wins against the (once) lower placed clubs so that we finish on 50 points!
Of course, I did realise that would be enough on Martinez surviving – so I also bet on that as well!
Jim Bennings
30
Posted 13/04/2016 at 08:55:57
For this reason alone I suggested after the lame defeats at home to Arsenal and at Old Trafford that perhaps not a popular choice but maybe moving Martinez on before the huge game at Wembley would have galvanised the team and given us a better chance of winning.
It may seem harsh but really how much of a say has Roberto actually had in us being at Wembley? We beat two dog and duck teams in the 3rd and 4th round, rode our luck at Bournemouth and Chelsea was all about Lukaku taking the game by the scruff.
I just feel this toxic atmosphere on and off the pitch at Everton is going to help nobody and it's showing in performance levels and more importantly in results.
I truly believe we'd all be better off now and even the burden on Martinez himself would ease if we parted ways, it's not showing any signs of getting better; if anything it's got worse.
Andy Meighan
31
Posted 13/04/2016 at 09:22:06
How can he say that? "I expect every fan to be very very happy with the away form" – does he truly believe that will wash with us???
I've been saying this for a while now but Martinez and Kenwright haven't got one ounce of respect for us. Especially the fans who go to every away game; the nonsense he spouts is embarrassing and insulting.
Surely someone on that board could have a word with Kenwright and say, "Look, Bill, reel him in. This is downright embarrassing and it's patently not true."
But no... you'd get more sense talking to a polar bear than you would trying to get Kenwright to see sense. I could weep when I hear the claptrap the man talks but the worrying thing is he believes it. I fear for us, I really do. Because nothing is going to change – Cup win or Cup exit.
Jim Jennings
32
Posted 13/04/2016 at 09:55:51
Phil (#26)
Leaving aside the laboured train references for now, I've seen you post a few times that Moshiri has "left the footballing side" to BK. Is this something you have insight into or are making an assumption? Have either BK or Moshiri said anywhere that this is how the club will be run? Genuinely curious since you say it with such assurance.
Shane Corcoran
33
Posted 13/04/2016 at 10:04:51
Well, at least the fan confronted him rather than cowardly abuse from the safety of the stand. Things are looking up for the game.
Dave Richman
34
Posted 13/04/2016 at 10:14:35
Hats off to Matt Stead for having the patience (or nothing better to do) to compile this litany of belters from Martinez:
http://www.football365.com/news/phenomenal-Roberto-Martinezs-greatest-hits
I suppose the ".... very, very happy with the away form" could be added to this?
Jim Potter
35
Posted 13/04/2016 at 10:33:04
Pleasing that the fan (seemingly) didn't personally (or physically) abuse him. That would be bottom-of-the-barrel stuff for me. He's a decent man (whatever you think of him as a manager) and should be treated as such.
He and his family must have to put up with a lot of vitriolic abuse that must be highly unpleasant.
By all means tell him what you think – but in a coherent manner. I hated that piece earlier this season when it was reported that brainless morons put in the windows of Stones's house. Fans? Men? Not to me.
I'm at Palace tonight to support my club. Manager included. He may deserve to go – but there's a wrong way and there's an Everton Way.
Tony Abrahams
36
Posted 13/04/2016 at 10:54:46
John Louis 15, where did you hear about the crisis meeting mate? If this is true, it can surely only mean one thing.
Paul Thompson
37
Posted 13/04/2016 at 11:00:52
I agree with Jim (#35). No employee should be physically or verbally abused, even if they are the manager of a football club that we all care passionately about. To say (#5) that "I'd want a piece of Martinez if I was sat near him" is unacceptable.
Iain Davies
38
Posted 13/04/2016 at 11:10:58
https://mobile.twitter.com/hashtag/Martinezout
Includes transcript of fan/Martinez "conversation" at Haig Avenue U21 game.
John Louis Jones
39
Posted 13/04/2016 at 11:55:14
This is class though :
https://mobile.twitter.com/JM1TTY/status/719021863708528640/video/1
David Harrison
40
Posted 13/04/2016 at 12:16:26
OMG. That last sentence. Once again he promises us jam tomorrow. Somebody needs to tell him how many games are left for the team to show exactly what we have been building for over the last 3 years.
James Hughes
41
Posted 13/04/2016 at 12:48:26
Phil W (#29)
I sincerely hope your bet comes in tonight as I can't face the thought of another defeat. Can somebody make the ticket collector a member of TW so he can see what we really think.
Nick Armitage
42
Posted 13/04/2016 at 12:54:43
Bill Kenwright was out-Kenwrighted by Dave Whelan when he was duped into signing Martinez.
If Martinez had a World 11, he wouldn't get that team into the Champions League over a season. The warning signs were there in his first season, the run in then was simply calamitous. How people didn't see through him then is beyond me.
I can't think of another club in the top 3 divisions that would have allowed the slide to continue, it's been going on for more than 2 years now. This isn't a recent blip, it is prolonged downward slide that if left, will see Everton relegated.
Damian Wilde
43
Posted 13/04/2016 at 13:18:03
More deflection from Martinez. He's hiding behind the fact we have lost two away, when in reality we have drawn eight, so the away record is 'average' at best. Coupled with a horrific home record gives you 14th place, I am not 'very very happy' with that, you dimwit.
Iain Davies
44
Posted 13/04/2016 at 14:10:46
Knowing our luck the meeting with Moshiri will be something along the line of "Two cup semi finals and we're just a few points from qualifying for the Championship League – well done!"
Come on, Mr Moshiri, take note of the stark facts and protect your investment – get rid, please!
Eivind Nyhus
45
Posted 13/04/2016 at 14:33:41
I agree that Martinez needs to leave, but that "fan" is an asshole. You don't talk to people like that, being angry with our performances doesn't make it okay to drop all common decency.
Lee Brownlie
46
Posted 13/04/2016 at 16:21:53
'I don't think I got approached by a supporter, I approached a supporter,'
Yeah, okay, whatever.. head, sand, rose-tinted glasses, and all that.. basically, just keep calling it all anyway you want but true and it'll all turn out big fat beautiful paella in the (blue) sky in the end, yeah? Or, not.
Phil Walling
47
Posted 13/04/2016 at 16:23:34
Jim @32: Sorry to seek to lighten the gloom a little - but Roberto's future is not beyond a little humour surely ?
As far as the Board's dynamic is concerned, Moshiri (who is not even a director) indicated 'the division of responsibility' in his brief address on appointment and Martinez has several times referred to Kenwright continuing at the helm to conduct transfers.
I have also spoken at length to two journos who know the newcomer via his Usmanov connection and both have said 'He will not want to get involved with the football.'
Please come to understand that anything on here is speculation so don't expect names, dates and times of sources who are happy to 'talk Everton' with me and other enthusiasts.
Patrick Murphy
48
Posted 13/04/2016 at 16:45:27
Phil (47) Roman Abramovich is not on the board at Chelsea FC but nobody doubts that he calls the shots. I'm not doubting the integrity of your sources be they Journalists or friends; however, they will know as much about Mr Moshiri's intentions as the rest of us – not much.
He may not want to get involved in the football, but may be forced to, if he sees his investment such as it is, is losing value with each passing game.
Most stuff on TW is idle speculation, but perhaps some tend to frame that speculation as fact rather than put in caveats which would help the reader to know that what they write isn't gospel.

Phil Walling
49
Posted 13/04/2016 at 17:30:28
Until Moshiri does otherwise, he will remain in the shadows and Roberto will remain as manager. What we are arguing about here is which of us speculates most accurately. I don't think my record is too bad on the whole Martinez thing so far, though!
Neil Fitzsimons
50
Posted 13/04/2016 at 18:09:23
I would think Mr Moshiri, like every other investor / businessman involved in a football club, would at some stage take action if the team under-performs which in turn has a knock on effect on ALL commercial aspects of the club of which, key to this is Moshiri's investment.
For me, anyone handing over £ millions of their own cash will at some point call time, unless Martinsand the team are able to pull some big rabbits in the next 2 months.
Joe Clitherow
51
Posted 13/04/2016 at 18:24:16
Phil 26
I have never met Farhad Moshiri but I would be very, very surprised if someone with a fortune in excess of a billion pounds made by investing and engaging in the world of Russian high finance would fit the description of "a mug who would leave him in charge of the trainset", irrespective of what your journo pals say. Maybe he did not get involved in the football side at Arsenal because there was no need to?
I would suspect that, the second he thinks his money is being pissed away or even at risk, he will suddenly develop a very very keen interest in the football side of things and the tables will be turned on BK PDQ, irrespective of any gentleman's agreement which may be in existence currently, and whatever Kenwright (and apparently you) think will happen.
The only reason anyone is getting involved in football right now is because of the Sky TV deals and the opportunities presented by being a member of the Premier League. Do you really think he will not check periodically on that status, and if it is threatened just leave it to Kenwright to sort out? I don't.
Martin Nicholls
52
Posted 13/04/2016 at 18:59:10
Patrick Murphy (48) and Joe Clitherow (51) – I'm with you.
None of us (including journo's who in actual fact spout more ill-informed nonsense than the average fan) know Moshiri's thoughts and intentions.
As to whether or not he was involved in the footballing side at Arsenal am I not right in thinking that he and his then partner Usmanov, whilst being major (but not majority) shareholders were prevented from getting involved in the footballing side by Kroenke who denied them representation on the Board?
There was some speculation that that is precisely why Moshiri "jumped ship" and bought his EFC stake – he may not be on the Board here but his representative most certainly is.
My working knowledge of Company Law tells me that Moshiri most certainly is in control here and it follows that he will "call the shots" on all major decisions, including the footballing ones. Kenwright is now no more than a public figurehead.
Ray Smith
53
Posted 13/04/2016 at 20:26:20
Phil (#26)
Are you saying Bill has had Moshiri over?
I just wish Moshiri would make a statement of intent, rather than keeping quiet.
Perhaps he's keeping his powder dry, then bang!!!!
Malcolm Dixon
54
Posted 13/04/2016 at 22:05:14
After all, it's not like we've all never been wrong before, it it?
"Just a week before the club faced a tricky FA Cup third round tie at Stoke City, just 13,659 fans turned up to watch an abysmal 0-0 draw against Coventry at Goodison Park, with protest leaflets handed out by fans spelling out their feelings towards the chairman and manager: "Kendall and Carter must go. 26,000 stay-away fans can't be wrong." Everton were 16th in the league and apparently going nowhere. Defeat at Stoke or Oxford in the forthcoming FA Cup and Milk Cup ties did not bear thinking about for Kendall."
Jim Jennings
55
Posted 14/04/2016 at 00:38:17
Phil
The subsequent responses have pretty much said everything I wanted to, none more true than none of us know Moshiri's intentions of level of involvement on the playing side.
You're correct in saying everything on here is speculation. Which was why I put the question to you in the first place. So while we can all speculate, I will in turn call bullshit on yours and your journo friends' claims.
Viv Sharma
56
Posted 14/04/2016 at 01:17:44
Jim (#35) Excellent point well made.
As much as most of can agree he's had his shot and blew it, and as phenomenally cringeworthy that his quotes can be, he is still a man trying his best for EFC.
No, he shouldn't be given much/any more time in charge, but he does not deserve to be hated and threatened. He's not sabotaging us (in the true sense of the word) he's just not a good fit for our ambitions anymore.
And as far as being pissed at the board for not getting rid of him yet, he has recent history with the cup and despite some peoples pessimism, there's no way we're going down. Give him as shot at the cup and get rid in the summer (either way).
The worst thing the board could do is let on that he's going to given the boot (a la Pellegrini). Hasn't worked too well for Man City!
Phillip Lupton
57
Posted 14/04/2016 at 07:52:01
If we hold our club and our manager to "Nil satis, nisi optimum" then surely we should also hold ourselves to the same standard.
Roberto is clearly trying hard; and even though I agree it is time for us to part company with him, abusing him openly in public pays no credence to our moto.
Martin Nicholls
58
Posted 14/04/2016 at 09:21:47
Viv - Pellegrini has got them into the semi-finals of the Champions League with (probably) a better chance of winning it than we have of winning the FA Cup! Closer to home, his team beat us in semi of the League Cup then beat the RS in final!
Hasn't worked too well for Man City? I'd say hasn't worked too badly for them!!
---
Add Your Comments
In order to post a comment, you need to be logged in as a registered user of the site.
Or Sign up as a ToffeeWeb Member — it's free, takes just a few minutes and will allow you to post your comments on articles and Talking Points submissions across the site.
© ToffeeWeb