Report: Funes Mori to forego Olympics

54 Comments [Jump to last]
4 July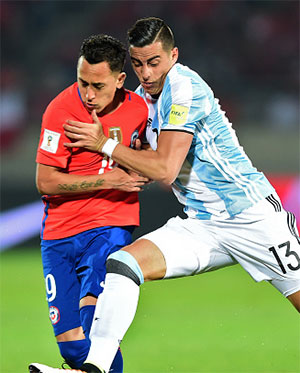 Ramiro Funes Mori looks set to turn down a call-up to Argentina's squad for Rio 2016 in a bid to impress Ronald Koeman.
The centre half has just come off an almost-triumphant Copa America campaign with the Albiceleste who lost the final on penalties to Chile and was included in his country's provisional squad for next month's Olympic Games.
The Mirror claim, however, that the 25-year-old will choose, instead, to return to Finch Farm after his post-tournament break and try to ensure that he is a first-choice starter under the new manager when 2016-17 kicks off in under six weeks' time.
---
Reader Comments (54)
Note: the following content is not moderated or vetted by the site owners at the time of submission. Comments are the responsibility of the poster. Disclaimer
Pete Ellingham
1
Posted 04/07/2016 at 22:18:29
Great news!
Phillip Mark
2
Posted 04/07/2016 at 22:19:50
Good news. We need the competition and the lad had a competent first season. I expect him to go from strength to strength
Alan Rodgers
3
Posted 04/07/2016 at 22:20:39
Tan bueno !
Eugene Ruane
4
Posted 04/07/2016 at 22:23:44
If that turns out to be true (and
'The Mirror claim'
no guarantee of anything at all) it would be a decision that shows the kind of thinking I reckon many of us would applaud.
Plus personally speaking, don't see the point of proper national football teams in the olympics (should have left it to the alehouse sides).
Keith Monaghan
5
Posted 04/07/2016 at 22:24:40
I hope this is true since I believe he is a good defender who will improve and is also a threat in the opposition penalty area, much more so than any central defender we've had since Derek Mountfield. He's also left-sided which provides balance in a key area of the team, and shows enthusiasm and leadership potential, and has his best years ahead of him.
I know he didn't perform well in the latter weeks of last season, but think that was a general malaise which afflicted the team as a whole until Roberto had gone.
Sam Hoare
6
Posted 04/07/2016 at 22:30:38
Good lad if it's true. Listen to Ronnie and he might just turn you into one of the best CBs in the league.
Steve Cotton
7
Posted 04/07/2016 at 22:32:24
He is a quality centre back and has a great side parting too. His only major slip last season was putting Origi in hospital. However that one slip probably cost Liverpool the Europa cup so hey ho in my book...
Ciaran Duff
9
Posted 04/07/2016 at 22:34:49
Great news. Personally I am ok with players representing their country but playing the Copa America AND Olympics is too much.
In terms of the player himself, I was impressed with his first season (always hard to adjust) and his performances in Copa America. I reckon that he and Stones (really want him to stay) can form a formidable partnership for the future especially with RK at the helm.
Brent Stephens
10
Posted 04/07/2016 at 22:38:09
Maybe influenced by Zika? Whatever, I'm pleased if he's back early. He did make a few mistakes last season but who didn't? He familiarised himself with Row Z at GP on several occasions.

Trevor Lynes
11
Posted 04/07/2016 at 22:41:04
He played well when partnered with Jagielka but suffered a form dip when he was playing with Stones.
Jags is still our best centre back whoever he is partnered with.Funes Mori has a really good chance of regular game time if Stones gets his transfer wish !
James Stewart
12
Posted 04/07/2016 at 23:02:10
Agree with the comment above jagielka is the best centre back by a mile. Funes Mori and stones have looked unconvincing but how much can you really judge any defender in a Martinez team. Let's see what koeman decides
Tom Bowers
13
Posted 04/07/2016 at 23:10:40
Jags is not getting any younger and like Stones he had some iffy games last season.
I think all three of them need to improve their concentration next season to solidify the centre of the defence, assuming Stones hasn't jumped ship.
However, let's not discount the young lads who are pushing these older guys.
Remains to be seen how Big K sees the squad now they are back in training.
Jamie Sweet
14
Posted 04/07/2016 at 23:39:49
Good decision I think.
Surprising how many seem to be willing write him off, despite a solid first season.
Surely if we are all expecting Stones to become a better defender under Koeman, then the same can be said of Funes Mori. They both worked under the same defensively clueless manager after all.
For a relatively young centre half, changing continent, cultures and being thrown into big games I think he coped pretty well where many lesser players would have been found wanting.
Plus he is our biggest goal threat from that position since Lescott which is an area we have been lacking in. Imagine what he could do if we actually started practising set-pieces again!
You don't get linked with Barcelona if you haven't got something a bit special about you.
Phil Bellis
15
Posted 04/07/2016 at 23:45:22
No idea how far Argentina have gone backwards but an Argentinian defender in my day meant classy, nasty and fn hard...we've got one...give him a break
Luke Robbins
16
Posted 05/07/2016 at 00:02:52
Very pleased to see this. Here we have a CB who wants to be here. Say what you will about the difference in potential or skill, but it's refreshing to see this devotion in the midst of Stones asking out. Appreciated, Mr Funes Mori.
Phil Jeffries
17
Posted 04/07/2016 at 00:03:27
People focus on Stones too much. Granted, he has great potential. But Mori is also a defender who can pick a pass and play out from the back. He is better in the air than Stones too. Reading of the game and decision making are the points that both players need to improve and learn from a master. I hope we can keep both players, but if we do sell Stones it will be because Koeman thinks it's in the best interests of the club. At least the young lad isn't spouting off in the press like a certain Belgian centre forward! So whatever happens with Stones, I wish him well. Either we keep a player that may be a great or we make a shed full of cash for a manager who believes we can spend it to make us better. But as for Mori, putting his Everton career ahead of his international spot will assist his status amongst the fan base. In Moshiri and Koeman we trust.
Mick Davies
18
Posted 05/07/2016 at 00:12:17
Phil @ 17, I agree, Mori looks the real deal, just a bit of tweaking that Martinez never had the ability to recognise is what's needed; Stones and Mori could be the future of the club, or if not, one from Galloway, Holgate or a new signing . . if it's true, then well done RFM; wanting to play for Everton might become an attractive proposition from now on
Patrick Fennell
19
Posted 05/07/2016 at 00:55:07
Jamie @ 14, Totally agree with everything you said. With a year under his belt in the league and a better defensive setup I think Mori will shine this year. I'm curious to see how the squad comes out of training camp this year as well.

So many nagging injuries the last two years I've always wondered if it was due to a lack of proper training. Let's see what kind of shape Koeman gets them into. Looking forward to the start of the season!
William Cartwright
20
Posted 05/07/2016 at 04:42:05
Mick @18, don't forget Tyas Browning. Big, strong and the fastest player on the books, faster even than Jags!
If you believe the media (who does) then Stones has already left in my book. Also the difficult challenge for RK is to assess the current squad, including both youngsters and the established players in recovery mode from last seasons mismanagement and there is the possibility that several new players may slip through the net. However there is also the Christmas window by which time the picture will become more clear.
I am waiting patiently to see what transfers emerge but would willingly settle for a breakthrough season for 2 - 3 youngsters and a shed load of money invested into the stadium. We need to give both managers and players a break to get used to each other and the new set up. Alternatively we can go out and spend, spend, spend like Manure and feed the media,and see where that gets us.
Am I being small-minded? Possibly. Just the way I see it. Although I would like to see some new arrivals, I still believe an Everton on their day with the existing squad well-managed, are a match for anyone! COYB
Paul Andrews
21
Posted 05/07/2016 at 06:12:30
I think this lad will be our best centre-half this season, regardless of who is sold.
David Chait
22
Posted 05/07/2016 at 06:49:56
As many fans as there are is as many opinions. For me I saw a player who passed the ball endlessly to the opposition in bad areas, positionally was caught out etc. but he had a nice leap when on goal.
I haven't written him off although I was close to it last year. New Manager and a clean slate for everyone (almost). Sounds like he might have his head in the game this year.
Stones is as good as gone, but there is a lot there with Jags and possibly Mori still (or Galloway).
Steavey Buckley
23
Posted 05/07/2016 at 07:25:23
There is too much emphasis put on the Everton centre-backs to do all of the defending at the back, when there are 4 defenders chosen to do that job. A problem made much worse when the likes of Coleman and Baines went AWOL last season. I wouldn't mind if their crossing and finishing was of the highest standard, but it was not.
Alasdair Mackay
24
Posted 05/07/2016 at 07:29:40
I saw the picture of him arriving at pre-season yesterday and I thought - shouldn't he get an extended break after the Copa America.
Apparently he didn't want one!
The lad is a pro and has a hunger that far exceeds many other players at the club. Plus he is left-footed, goal-scoring centre back. He will always be worth a premium.
Zeya Aung
25
Posted 05/07/2016 at 07:56:52
Alasdair, I think you mistook Robles for Funes Mori.
Jim Potter
26
Posted 05/07/2016 at 08:10:45
Mixed feelings on FM. With the ball at his feet I feel apprehensive as his passing isn't too hot. His actions v Liverpool were reprehensible.
However he, like the rest of our defence, suffered greatly under Martinez's stewardship. Hopefully we see a different player under a manager who knows how to defend.
He is a powerful threat up front from dead balls. And if he is a starting defender for Argentina he just has to better than the guy I've seen so far.
I hope he gets an injection of confidence and proves himself to be a great asset.
Rob Young
27
Posted 05/07/2016 at 08:32:01
For me, I wasn't bothered at all by him taking out Origi.
For years I've been hoping that one of ours would hit one of theirs pretty hard when we were losing yet another derby.
Finally, someone did ... and I am not ashamed to say I loved it.
William Cartwright
28
Posted 05/07/2016 at 08:37:51
Looking back on the decision to leave Jags out of the European Nations Tournament was a completely daft. Whatever the views expressed here they all seem to acknowledge his position as our number 1, reliable go to center half. He may not be captain material in the vociferous sense but he is a hell of a player and a real club man.
Our back line options at present consist of Coleman, Connolly, Holgate, Browning, Pennington, Stones, Jags, Funes, Baines, Kenny, Garbutt, Oviedo (plus another of the U 21's whose name escapes me . . . ).
All looks good to me, with or without JS.

Dale Rose
29
Posted 05/07/2016 at 08:50:29
Good news, cracking player with a big heart. Koeman will bring the best out of him.
John Hammond
30
Posted 05/07/2016 at 09:15:36
Probably a combination of not wanting to impress RK, Zika, and being completely knackered from not having a proper summer break
Olalekan Taofik
31
Posted 05/07/2016 at 09:32:42
Good for Funes Mori to opt out of the Olympics in order to concentrate with Everton.

Steve Pugh
33
Posted 05/07/2016 at 09:33:54
If this is true it is exactly what I want to hear from an Everton player. He is a good defender and if he needs someone else to bring the ball out for him once he has won it back then get someone to come and collect it.
Defenders need to defend first and play second. We have a midfield tasked with controlling the middle of the park and linking defence to attack.
Ian Burns
34
Posted 05/07/2016 at 10:10:24
This is terrific news in that he wants to get back to ensure he is at the forefront of RK's mind. The sort of attitude I love to see in EFC players, he'll do for me.
One point I would like to add to those who feel he was not up to standard last season - let's wait and see how he develops under a proper manager, then judge him - but for me right now I'm delighted to see him back at FF.
Martin Nicholls
35
Posted 05/07/2016 at 10:27:09
Rob (#27) – I know where you're coming from. A long time coming but a measure of retribution for Jimmy Case on Geoff Nulty – at least Origi still has a career... unlike Nulty.
Aidy Dews
36
Posted 05/07/2016 at 10:47:41
Great news IF true but I can't see him giving up being at the Olympics. To represent your country at something as big and prestigious as the Olympics is not something you give up on lightly and I've a feeling he'll go.
Brian Furey
37
Posted 05/07/2016 at 11:49:03
Interesting when you read about him and his twin brother, Rogelio, who plays as a striker in Mexico. Sounds like Ramiro is highly thought of in Argentina and especially at his previous club River Plate.
The Olympics football is usually U23s but they are allowed a few over-age players. Funes Mori is 25 now and probably knows he's in with a good shout of being an Everton regular if he can stay in the team after last season's good performances.
It will be interesting to compare where he and Stones are in a year's time.
Tony Abrahams
38
Posted 05/07/2016 at 12:16:21
Alasdair, I didn't know Funes Mori was already back in training?
I agree with you about him being a pro with hunger, because when we lost to City in the Semi's, he looked genuinely hurt even though he'd only been with us for a few months. Something I couldn't say about everyone that night.
A cynical South American, if he can cement a place in Koeman's back four, then maybe he might even become our captain?
Sam Morrison
39
Posted 05/07/2016 at 12:19:33
I'm one of those who has doubts about Ramiro. Totally happy to eat humble pie though; and hope I do. This is a decent start.
Gerry Quinn
40
Posted 05/07/2016 at 13:53:59
Like the guy, and admire him for his decision to come back early.
My one doubt is that he repeated the Origi tackle in the Copa – he needs to get that out of his system, doesn't need that dangerous hot-headed attitude which will damage him and his reputation.
John Pierce
41
Posted 05/07/2016 at 14:13:02
I think there's some positives on the forum but also a bigger picture perhaps is not being addressed.
Ramiro Funes Mori has promise, snide and a physical edge to his game, but also based on last season and the Copa America a 'Rick in him.
The CopaAmerica games were easy except the final but he made several foul-ups that went unpunished against weak sides.
The point by Ian Burns is well made: he merits time under Koeman, to see if there's an improvement in concentration of nothing else. Keep the edge, lose the nasty tackles, Origi and the Copa America final too.
Despite all of this doubt over Stones, stay or go, and actually Jags, at the stage now we're he picks up a hamstring or something which has limited his playing time the last 2/3 years. Time to get a statement CB who is likely to stay fit all season and get the stability that position craves.
Have to say the lad might be basic but Dann looks a decent option if no statement signing is attainable?
Tom Barton
42
Posted 05/07/2016 at 16:00:26
Have to say, a refreshing commitment from a genuine player who appreciates what he has with the Blues. Straight on the plane after a shower, without question, will be noticed by Ronnie K and will have done himself absolutely no harm with the new boss... great pity Rom hasn't the same attitude.
John @41, fair comments but one I think will change regards both Jags and the whole of the squad, we are certainly going to have a lot less muscle and hamstring problems. The amount of injuries for almost 3 seasons was a joke, without question caused by Martinez and his amatuer cronies.
Don't forget, the team physio (may have been young Donachie, sorry not sure) walked out mid-contract without a job, simply down to Martinez and his 'control-freak' organization.
We will have a fit squad next season which in itself will produce points, I actually think Funes Mori is going to be a part of it.
Kristian Boyce
43
Posted 05/07/2016 at 16:40:15
Probably at the start of the summer he would have gone to both the Copa and the Olympics, being back up at the Copa and first choice in a young Olympic team. But by establishing himself in the Argentine team during the recent tournament, he probably doesn't need to go to Rio as he's now thought of as a starter. Also, with the probability of Stones leaving, he has a better chance of establishing himself and the main left sided defender at the club. If he went to Rio and Stones left, Koeman probably would have to bring in two defenders. This would probably restrict future playing time for him at the club.
I would imagine Funes Mori wants a big year this season with the rumour of Barcelona tracking him. While I don't want him to leave, it's easier to get more money for him while he is a first team regular instead of him sitting on the sidelines for extended periods.
Daniel A Johnson
44
Posted 05/07/2016 at 18:15:08
like this guy, he also has a nasty streak and a bit of fire in his belly.
Sure his tackle was bad in the derby but no worse than the red shites Gerrard, Suarez and Kuyt have put in on us on a regular basis.
More of the same lad..............fuck em up.
David Milner
45
Posted 05/07/2016 at 18:40:50
William @28
Do you mean one of:- Matty Foulds, Gethin Jones or Antonee Robinson.
Robert Workman
46
Posted 05/07/2016 at 20:04:58
@28 also
Brendan Galloway
Paul Kelly
47
Posted 05/07/2016 at 23:51:49
Rob @ 27, my thoughts exactly, I loved it and not ashamed to admit it and him gesturing with the badge while walking off made me feel so proud I almost shed a tear.
Anthony Dwyer
48
Posted 06/07/2016 at 00:51:27
Mori had to remain at the blues throughout next seasons campaign as this is about to be a huge season for all concerned with our club.
Koeman becoming manager, talk of Stones and Lukaku moving on, and hopefully a handful of quality players coming into the mix.
This is not I me for Mori to be bailing on us.
Mori has to be a main stay in the starting 11, ideally with Stones, but if not then with Jags.
Paul Thompson
49
Posted 06/07/2016 at 09:05:24
If Stones is off, which I believe he is, then Koeman will bring another centre back in and Funes Mori wil have to compete with whoever that is and Jags for a regular spot. I very much doubt whether browning or another younger player will get an initial sniff.
With better defensive organisation it will then be up to Funes Mori to show that he can step up and eliminate some of the positional and other errors of last season. I hope he does, because he's certainly got the commitment that we need to go forward.
Laurie Hartley
50
Posted 06/07/2016 at 09:41:31
I like Funes Mori, he has got a bit of mongrel in him and he is good in the air. I am hoping he will be with us for some time to come. Good decision on his behalf to give the Olympics a miss.
I am also a fan of Browning and hope to see more of him in the coming seasons. I don't think it will be at centre half though - he's not tall enough. Right back will be his spot.
William Cartwright
51
Posted 06/07/2016 at 15:09:22
David (45) and Robert (46) correct; additions noted and apologies for the oversight. (especially Galloway, I think he's really good !) Not like my memory . . . .
Do you think we seem to have a abundance of defensive talent but are very thin on the attacking side of things in the U 21's?
Paul Conway
52
Posted 06/07/2016 at 19:13:46
Funes Mori imo has surpassed expectations. He arrived as an unknown quantity, during a tumultuous season and after his forays in the Copa America, he has proved himself.
I think he has tripled his worth for our Club. I have said this before and I will say it again and again... this Hombre will be our future Captain; he is maturing like wine!
Darren Hind
53
Posted 06/07/2016 at 19:36:58
Decent threat in opponents box, easily out muscled at the other end. Doesn't have great footballing skills. Will need the Stones move to go ahead to even feature. I also expect Galloway and Holgate to push on and ease him down the pecking order
Paul Andrews
54
Posted 07/07/2016 at 05:49:32
Mourinho made 3 bids for Stones last year.
If he reckons Bailly may not be ready to start the season will he make another bid for John?
Brian Porter
55
Posted 07/07/2016 at 06:57:21
So the Argentinian Olympic squad is announced and it seems the reports were true as Ramiro is not included. Good for him. I, like Paul Conway (#52), can see a bright future for Funes Mori under our new manager.
I'm sorry, Darren Hind (#53), but I cannot seriously see Galloway and Holgate as being preferable to a man who has now made himself a regular first choice for Argentina, one of the finest international teams on the planet. He gave his all throughout the Copa America and a runners-up medal was certainly no disgrace in a hard-fought final. I presume you didn't watch the games.
I can't understand the underlying negativity that still exists around this lad. Would John Stones make the Argentine squad? Ffs, he couldn't even get a sub appearance in a pathetic excuse for an England team at the Euros yet we have people who are prepared to slag off the one defender we have who has actually performed well for his country this summer.
Remember, all our defenders suffered under the Martinez regime... so, with RK now in charge, we should see a better, less error-prone defensive set-up this season. Stop knocking one of our better players. He could well be the best long-term signing of Martinez's time with our club.
Jim Hardin
56
Posted 07/07/2016 at 20:19:08
Maybe the real reason he is not in the Olympics could be his newly-minted wife said no. Congrats to Funes Mori and his new bride and best wishes to them.
---
Add Your Comments
In order to post a comment, you need to be logged in as a registered user of the site.
Or Sign up as a ToffeeWeb Member — it's free, takes just a few minutes and will allow you to post your comments on articles and Talking Points submissions across the site.
© ToffeeWeb