Everton closing in on Witsel

179 Comments [Jump to last]
7 July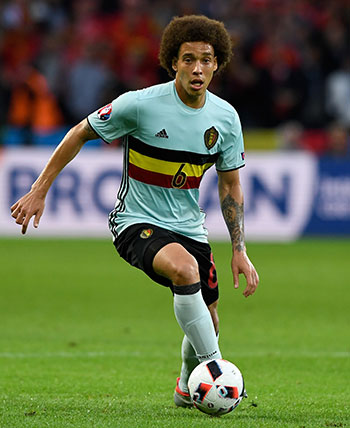 updated
Everton are close to signing Axel Witsel from Zenit St Petersburg amid growing suggestions from sources that the Belgian has opted for a move to Goodison Park.
Everton were prepared to him a bumper wage package to tempt him into complete a move now rather than wait for further offers and the indications from ToffeeWeb sources are that everything has now been agreed pending a successful medical.
The player is currently on holiday in Italy following his involvement in the European Championships with Belgium but is expected to fly to Merseyside in the coming days to complete his transfer.
Reports broke last week that a fee had been agreed between the two clubs, with Napoli also in talks with the Russian outfit but an intermediary in negotiations with the player told Italian radio yesterday that the Italians had dropped out of the running. A report originating at The Sun claiming Chelsea were set to gazump Everton is thought to be nothing more than tabloid talk.
Francesco Marseglia told Italian radio that the 27-year-old had rejected an offer from Napoli that was predicated more on the offer of Champions League football than an attractive salary.
"From what I know, the guy is far away from Napoli, Marseglia said on Radio Crc. "The deal has faded, and their offer didn't take lot of things into account. Perhaps Everton may even raise their offer above an engagement of €4m."
Reports of the fee have varied wildly in recent days from as low as £12m to as high as £28.5m, while the midfielder's own terms have been pegged as being anywhere between £65,000 per week to £120,000.
Meanwhile, talk of Juan Mata leaving Manchester United for Everton refuses to go away, with some sources suggesting that the Blues are further along in negotiations with the Spaniard than some media outlets believe.
Conflicting stories claim that Mata would prefer to stay to fight for his place at Old Trafford while others say he wants to return to Valencia where he played under Ronald Koeman.
The chance to stay in the Premier League and reunite with Koeman at Goodison could prove tempting for the midfielder, however, but he could have other options to consider before making a decision.
---
Reader Comments (179)
Note: the following content is not moderated or vetted by the site owners at the time of submission. Comments are the responsibility of the poster. Disclaimer
Kunal Desai
1
Posted 06/07/2016 at 08:44:37
Lets hope both these deals are tied up very quickly. There are other areas which also need addressing. The last thing we want is long drawn out transfers.
Phil Walling
2
Posted 06/07/2016 at 08:48:20
With the club blowing cold on the appointment of a Director of Football, we can expect the usual shenanigans to surround every signing we make.
Gavin Johnson
3
Posted 06/07/2016 at 08:51:14
Isn't this the report from yesterday?? By all accounts he's off to Chelsea.
Amit Vithlani
4
Posted 06/07/2016 at 08:51:46
The Mata/Koeman link now makes sense. As for Witsel, a quality addition if we can land him. Both players are a significant improvement to what we have.
I took a look at the pictures of the squad training yesterday. There was a clip showing a drill of one touch passing. I hope its a sign of an uptempo style. Witsel and Mata both have superb technique so should fit right in.
Ste Wallace
5
Posted 06/07/2016 at 08:53:11
Been watching the reported transfer interest in both these players on other media reports, too many conflicting reports, lets home the blues can push both transfers through,as these are 2 quality additions.
Drew Shortis
6
Posted 06/07/2016 at 09:12:56
Although I'm glad to see us linked with a player like Witsel, I would hope we won't pay over the odds in terms of transfer fee or wages. I know quality comes at a premium but I don't want to be that club that just throws around money willy nilly. There are plenty of quality players out there if you have the right scouting network.
Mata is a different kettle of fish. A genuinely world class player and worth paying that little bit extra to secure. I hope Koeman will be shrewd with his available funds. Prioritise key positions and give the youngsters a chance to bulk out the squad. A good blend of genuine quality, experience and youth.
It took Man City several years of silly spending on all kinds of duds before they finally spent enough to make a difference. I think Everton should pursue a different strategy, not least because we are still not in the same financial league as Man City where 㿊m wasted was merely a drop in the ocean. Let's stay classy!
Colin Glassar
7
Posted 06/07/2016 at 09:16:46
Witsel – yes, Mata – no (complete lightweight who doesn't offer much). This gossiping by the press is a bit of a bore IMO. I bet we get a couple of players we've never heard of before.
Colin Maughn
8
Posted 06/07/2016 at 09:37:41
It seems like we have been over taken by Chelsea for Witsel. Besides Mata, are there any other good available signings to fill this position?
William Cartwright
9
Posted 06/07/2016 at 09:40:16
Are Everton ultra-slow at the transfer business or is it the fans who expect too much to be sorted too quickly? I always have the impression that our negotiations are more drawn out than any other club and we never seem to get our business conducted swiftly.
I wonder if it is actually the case or if we do not play ball with the newshounds? The side-story of Liverpool entering the race for Witsel (now more of a leisurely stroll) is a case in point. It's easy to lose sight of exactly where Everton are coming from.
What is clear from Everton's management policy, which I think is very professional, is they never talk to the media unless a deal is done or at least reached a very advanced stage. This leads the media to make their own calls on the process and then all the hype starts.
I recall in Moyes' time we used to move quickly and decisively in the market. Perhaps that was because we were always bargain hunting and now times have changed.
The bottom line is at the end of last season, was the need to address the Stones and Lukaku positions (ongoing), organize a new goalkeeping structure (ongoing), bring in a new box to box mid-fielder (ongoing) and a new creative number 10.
The goalkeeping situation needed a new and experienced back-up, as well as competition for (or replacement of Robles). Although the new goalie is not in place yet I have a feeling it will be sorted soon.
Witsel seems to be coming, and Lukaku seems to be staying. Tarashaj has joined the group and Mirallas will be brought back into the fold so what else is their? Obviously the new No. 10. (or 8 but to the same effect). Also running through all of this is the need for RK to evaluate his squad at close quarters.
Before the transfer window closes, I expect Cillessen, Witsel, Mata, to have joined. If Stones goes then Van Dyke may join. Also there may be some more departures, and a closer integration of the U 21's alongside the 1st team squad.
COYB
James Morgan
10
Posted 06/07/2016 at 09:49:12
This guy would be an upgrade on what we have so it would be good if we got him. I would like Mata too but my preference would probably be Wijnadlum.
Trevor Lynes
11
Posted 06/07/2016 at 09:56:16
Like quite a few other fans, I cannot understand this continual tardiness in bringing in decent new blood when it is patently obvious that our squad needs a complete over haul. We are already down from last season by the freeing of Osman, Pienaar and Hibbert who were all included in our last seasons first team squad.
Our competitors have already strengthened and we are just near according to the media. Last season was totally inept..we let Naismith go without a replacement and then signed Niassie who was certainly not an initial target. We have been on the fringe of signing Payet, Shaqiri, Yarmolenko and others but have failed miserably.
It appears that we do not compete with other clubs in the transfer market but tend to pick the bones of left overs. Let us sincerely hope that Mr Koeman moves far quicker during this pre season and does not bugger off abroad and leave the business with others to complete.
Chris Gould
12
Posted 06/07/2016 at 10:09:58
I don't think Everton are being slow, I think Witsel and his advisors are hoping for other offers. He wants a bigger club. One of his intermediaries stated that he would choose Napoli a thousand times over Everton, but that they can't afford him.
We may have big money but we are not viewed as a big club by most of Europe. We will need to pay way over the odds to get the type of players needed to become a top 4 club. Then, we can start to attract top calibre.
I know Leicester did it without spending big, but that may never happen again. Everything fell into place and players over performed. Chemistry was perfect.
Tom Evans
13
Posted 06/07/2016 at 10:10:46
Oh for the good old days! Waking up to find Catterick had signed Alan Ball. No hint whatsoever up until then, although I suspect that if we had that dreaded phrase "social media" operating we would have known the far end of a fart.
Thomas Surgenor
14
Posted 06/07/2016 at 10:20:49
RK wanted to assess what he had first before going into the market. Training started, what, 2 days ago? The only thing he knew he needed prior to that was goalkeepers.
Patience people! I have faith that we will get who he wants. It may be a case that he doesn't want any of these names the media are spouting about. I read last week an admission from Zlatan's agent that he used to get his media mates to print fake interest stories so Zlatan could get a better deal.
Witsel sounds like a similar scenario. He wanted to move to Napoli and used our name to try and force them to give him a salary closer to what he wanted.
Tony McNulty
15
Posted 06/07/2016 at 10:23:49
Tom. Do you remember when we signed Howard Kendall? All the rumours beforehand were that he was signing for the Shite.
My Dad supported the Dark Side and I remember the radio announcer came on and started with the words: "Early today, Howard Kendall signed...." "We've got him!" shouted the Old Man. "...for Everton", continued the announcer.
His face fell. I did a triumphant whoop, which almost resulted in my bollocks ending up where my Adam's Apple used to be.
Brent Stephens
16
Posted 06/07/2016 at 10:26:24
The Grauniad is reporting that "an intermediary" said Witsel could be offered above €4M Euros net. First time I've heard of "net" salary in relation to UK clubs, though I have read it re Spanish clubs. Anybody know the ins and outs of "net" salaries in this context?
Tom, " if we had that dreaded phrase "social media" operating [in the good old days] we would have known the far end of a fart". Which end are we talking about? And didn't the press get wind of that sort of thing anyway in those days?
Chris Williams
17
Posted 06/07/2016 at 10:28:43
Tony,
I think Catterick himself actually helped by telling a Mirror journalist off the record that Howard was bound for the Shite.
It's in the book about Harry that Rob Sawyer (of this parish) wrote a couple of years ago
Tony McNulty
18
Posted 06/07/2016 at 10:39:10
Chris,
Catterick was a shrewd bugger for the most part so that is not a surprise. However, he once dropped a huge one.
He went on "Sportsnight with Coleman" and ran through the strengths and weaknesses of all the first team, including Gordon West's inability to deal with crosses. We all know what happened next. Every team playing us sent in a stream of crosses.
Dick Fearon
19
Posted 06/07/2016 at 10:39:25
Tom Evans, 13, Bobby Collins was another surprise signing. I dare say most Blues fans did not know anythng about it. He arrived by train at Manchester from Scotland on Saturday morning and went straight into the game at Maine Road.
When he first appeared on the pitch my first thoughts were, gee, our mascot is a stocky chap. We won that game 1-3.
Aidy Dews
20
Posted 06/07/2016 at 10:49:02
Apparently its close to being done, pending a medical. €25m (㿁.4m) and €4m (١.4m) a year contract according to reports.
Still, I'll believe it when I see it but I'm glad Koeman has identified CM has one of our weak spots in the team. We need a CM like Witsel that can do a bit of everything and he'd be a big improvement in CM.
And hopefully the Mata rumours are true has we've been crying out for some class, quality and creativity in the No 10 position!
Get those in, and we're supposedly in for Pellè as well, and the 3 would instantly make us much stronger. Get a top-notch No 1 in, and some quality competition for CB, RB & LW and our team/squad looks very strong.
Eric Myles
21
Posted 06/07/2016 at 10:52:05
William (#9), "I recall in Moyes's time we used to move quickly and decisively in the market."
Hence his nickname "Dithering Davey"??
Brian Harrison
22
Posted 06/07/2016 at 10:53:02
I think the world of transfers has always been a murky business but even more so now that agents are involved. They are the great spin doctors often dropping stories to journalists about how such and such a club are interested in his player. Yet the truth might be that nobody is interested but he using the media to try and drum up some interest in clubs. Even when a club is interested in one of their players they often tell the press that 2 other clubs are also interested to make sure his client gets the very best deal.
The actual truth is don't believe anything till they actually have signed on the dotted line. Just think how many blank pages there would be on the sport pages of the papers if the journalists didn't fill their papers with some spurious reports of who is moving where.
What keeps us all interested is sometimes they are told the truth by agents.
Gareth Clark
23
Posted 06/07/2016 at 10:56:01
Witsel - CM
Mata - CAM
Wijnaldum - LW/CM
Dragovic/Van Dijk - CB
Butland - GK
Along with Tarashaj - CF/LW/RW
And I'll be a very happy man!
Eric Myles
24
Posted 06/07/2016 at 10:56:23
Brent #16, net salaries are after tax, NI and other contributions are deducted.
It's usually what the employee gets in his pocket, employer takes care of the rest.
Brent Stephens
25
Posted 06/07/2016 at 10:59:15
Eric, yes. What I wasn't sure about was whether what I've read about in Spain (the club paying the player's tax etc) was used anywhere in the UK.
Eric Myles
26
Posted 06/07/2016 at 11:04:36
Can be easily done Brent, they just do the calculation in reverse.
Chris Williams
27
Posted 06/07/2016 at 11:14:52
Tony I remember that. Poor Gordon was being called Dracula for bit, being scared of crosses.
He was quite a character Gordon there was a story told by one of the apprentices at the time and apparently Gordon was the PFA rep in the club. He had to explain the PFA to the apprentices and walked in with jock strap on his head singing (to the tune of 'You Can't DO that')
I've got something to show you might cause you pain
It's a 2 foot nudger with a varicose vein
It must have made an impression because he was talking about it 40 years later
Brent Stephens
28
Posted 06/07/2016 at 11:24:29
Eric, I think my lazy (non-) thinking had just led me to assume that players operate under a contract for services (I don't know why!) rather than a contract of employment, and hence paid fees gross. But of course, given the usual tests for "self-employed" (free to do the job when you want; free to contract that work to somebody else; etc), then clearly players can't be on a contract for services. My lazy thinking!
Iain Davies
29
Posted 06/07/2016 at 11:33:20
Where are the defensive reinforcements??
Chris Gunter from Reading as competition for Coleman please.

Dave Abrahams
30
Posted 06/07/2016 at 12:19:26
Tony (15) the joke at the time Catterick signed Howard was that Shankly was lost in the Lake District looking for Kendall.
Stephen Ashton
31
Posted 06/07/2016 at 12:32:53
Most footballers with a number of income streams have a limited company to which the club pays the salary, the player draws from the company what he needs to live on and then pays himself and possibly his wife/partner a dividend, the company is not necessarily registered in the UK.
Guardian reporting that Witsel has agreed terms with Chelsea.
Patrick Murphy
32
Posted 06/07/2016 at 12:40:34
I hope Witsel and any other potential signing(s) manage their image rights properly and don't fall into the trap that Lionel Messi and his Father have fallen into, they have both been sentenced to jail terms – although neither man is expected to serve any time in jail!

Brent Stephens
33
Posted 06/07/2016 at 12:48:47
Stephen, I can't see that on the Guardian website.
James Morgan
34
Posted 06/07/2016 at 12:51:48
Chris Gould, we might not have the glamour attached that Bayern, Real, Juventus etc have but according to Guillem Balague we are still seen as a big club across Europe. Now if we can back that up with ambition and top salaries we suddenly become an attractive proposition.
Mike Allison
35
Posted 06/07/2016 at 12:54:34
"Are Everton ultra-slow at the transfer business or is it the fans who expect too much to be sorted too quickly? I always have the impression that our negotiations are more drawn out than any other club and we never seem to get our business conducted swiftly."
No William, it's all about perception. Fans of most clubs make the same complaint.
It's because with Everton you are aware of the possibility of a deal from the very first inkling of a rumour in a tabloid gossip column right through to the completion of the deal. This often seems like a long time. With other clubs you pay no attention whatsoever (the odd massive transfer aside) until the deal is announced, so it seems to you like it all happened very quickly. Meanwhile their fans, who've been watching that rumour gestate for three months, believe that it's their club who take ages to get deals done, whilst Everton wrap them up quickly. Let's say we do announce Witsel some time next week, to many fans of other clubs, it will come out of the blue.
There are quite a few examples of players we've signed in recent years that all happened nice and quickly, but we tend not to remember them.
Kevin Tully
36
Posted 06/07/2016 at 13:32:38
Stephen #31 - Incorrect. All Premier League players are paid like most employees in this country and full tax & N.I. contributions are deducted from their salary. (45% on all incomes over £150K)
They may set up Ltd companies for image rights, advertising etc..but HMRC are clamping down on this sort of tax avoidance scheme. If you ever wondered why so many shit movies were being produced, that was also a tax loophole many PL footballers were investing in, with tax rebates often being invested into overseas property.
Stephen Ashton
37
Posted 06/07/2016 at 13:34:31
Brent,
'Competing theories suggest that Chelsea have actually agreed terms with Axel Witsel, nudging them ahead of Everton in those stakes'
Admittedly, well hidden.
Tom Bowers
38
Posted 06/07/2016 at 13:42:54
The Champions League is a big temptation for any player but the reality is the long term and nobody knows what the season after next can bring for a 27-year-old. His agent will be holding out for the best deal possible but Everton don't want to get into a bidding war when there are other players equally as good who may be available.
Witsel is talented and as I have always maintained having a solid midfield core who are consistent is vital for success which Everton have not had since the Steven, Reid and Bracewell era.
Brent Stephens
39
Posted 06/07/2016 at 14:02:42
Stephen, thanks. Bet you wear a deerstalker!
Stephen Ashton
40
Posted 06/07/2016 at 16:22:52
Kevin #36 - I actually do the accounts for two premier league footballers and while we have had interesting discussions with HMRC over the last two years they have yet to challenge the players' companies (which in these cases are registered in England and Wales) invoicing the clubs concerned. I agree that the scheme no longer works where the company is offshore, but providing the remuneration is subject to the UK tax regime they have not sought to challenge the method of it's payment. There have been more issues with players' ownership than there have been with the UK tax authorities.
Never did the movie thing - my guys are in woodlands!!!
Brian Williams
41
Posted 06/07/2016 at 17:22:04
Stephen#40.
Forgive me if I seem naive but does that mean the players aren't actually employees of the Club for PAYE purposes?
Stephen Ashton
42
Posted 06/07/2016 at 18:27:00
Brian, They are employees of their own companies for PAYE and NI purposes and only pay PAYE and NI on what they take out of the company. The profit that the company makes is subject to corporation tax.
Their contract with the club is through the players own company. Some clubs prefer this as there is no requirement on the club to take out insurance on the fitness of the player and if the player is unable to provide the services his company is contracted to, then there is no contractual requirement for the club to pay the player's company, unless the lawyers have covered this at the outset (which they usually have).
Kevin is absolutely correct when he says that HMRC are clamping down, they are, and the opportunities are fewer and fewer. There have been cases where the club has been assessed for PAYE and NI when the club's advisors have not been diligent enough to ensure that the contract is sufficiently robust.
Mark Ryan
43
Posted 06/07/2016 at 18:30:48
I thought we had loads of money now. Why on earth are we failing to land any top players ? sorry just getting a bit bored with it all now. Not being very patient am I.
Terence Tyler
44
Posted 06/07/2016 at 18:36:11
Feeling the same Mark. Maybe the holiday period has something to do with it. Keep the faith.
Colin Glassar
45
Posted 06/07/2016 at 19:00:56
It's the same every summer Mark.
Brian Williams
46
Posted 06/07/2016 at 19:03:11
I wonder what odds I'd get for us signing NONE of the players so far linked with us by the meeja?
Nigel Munford
47
Posted 06/07/2016 at 19:32:36
Apparently patience is a virtue as my mother used to say Mark, I don't have any when it comes to Everton and transfers.
Mark Ryan
48
Posted 06/07/2016 at 20:45:42
Ha, I sense we are all feeling the same. Is it just me or is it quite annoying to hear Leon Osman saying that RM lost the plot ages ago?
Why doesn't someone pipe up when the manager loses the dressing room? Why do WE have to suffer the awful football?
I saw the interview with Big Nev on Sky's Sporting Heroes and he talked about how shit Mike Walker was. Even at the start of pre-season, he took them on holiday rather than on a boot camp and wandered around in a pair of Speedos poolside... Why don't these players stand together and say " enough is enough"?
I was pleased to see that Leon may be off to dirty Leeds. Nice lad, past his best but may do a job for them for a season. Anyway, wake me up when we have signed someone phenomenal... Sorry about the word "phenomenal".
Dan Davies
49
Posted 06/07/2016 at 21:46:32
Personally I think Ronald Koeman would be acting irresponsibly had he started spending big money without actually assessing his players/youngsters in the flesh first.
It's just common sense isn't it? To actually evaluate and calculate exactly what you need, by eyeing up your personnel close up on the training pitch?
Give the man a chance to get his feet under the desk! Mr Moshiri and his squillions have made some Evertonians impatient to say the least.
Colin Glassar
50
Posted 06/07/2016 at 21:56:29
The more I see of this lad, Joao Mario, the more I like. And, he's only 23 and would probably cost a lot less than Witsel (who I really rate btw).
Tony Hill
51
Posted 06/07/2016 at 21:58:36
Yup, a time for calmness. No need for rushing round; if any of the moves rumoured happen/don't happen, I am confident regardless that we have a manager who is taking his time and has a proper plan. Let dickheads like Mourinho spout off and wave their big money deals. Our man will deliver.
Alan Bodell
52
Posted 06/07/2016 at 22:10:58
Dan and Tony, two posts I'm with 100%. This guy's reputation is on the line with any move he makes and he has shown so far he is not a fool.
Dennis Ng
53
Posted 06/07/2016 at 22:18:16
Esk just posted that Witsel is ours on twitter. Not sure of the details though.
Tom Bowers
54
Posted 06/07/2016 at 22:41:26
Joao Mario has already been snapped up by Bayern Munich I think.
Colin Glassar
56
Posted 06/07/2016 at 23:04:48
Not according to the bible aka Wikipedia, Tom.
Jamie Sweet
57
Posted 06/07/2016 at 23:11:05
Colin, whatever happened to your crystal ball?
You were the only person we needed to check with on transfers a season or two ago. Now you just seem as confused as the rest of us!
We need Colin "Nostradamus" Glassar back!
Colin Glassar
58
Posted 06/07/2016 at 23:17:59
I dropped my ball Jamie. How crap are all these rumour websites? About 50 of them are saying Stonesy has agreed to move to the Etihad but apart from scummy rags like the Daily Star, Express and the Sun, no "serious" paper is even mentioning this at all.
Eric Holland
60
Posted 07/07/2016 at 08:14:48
I think he will surprise us and just sign someone not even on the radar.
Just getting the job done when he has assessed what we need.
I am in no rush to see X/Y player signed up, I just want him to recruit the personnel that he thinks will improve our squad.
Drew Shortis
62
Posted 07/07/2016 at 09:14:54
Brent Stephens 16,
I believe this would be the take-home salary after tax is deducted. I'ts worth bearing in mind the tax on top earners in Russia is extremely low in comparison with the UK, so even though we may pay him more than Zenit currently do, he could take home less of it.
Drew Shortis
63
Posted 07/07/2016 at 09:18:47
I think it's sensible to take most of these transfer rumours with a large pinch of salt. We read the rumours, then get frustrated when there seems to be no progress.
In a lot of cases I think there may be interest (hence the rumours) but the club realise the deal is not for them and we are all left here arguing about the pros and cons of a player Everton aren't even in negotiations with.
I enjoy the speculation but try not to get caught up in it too much until we're at the stage when the player is attending medicals etc...
Martin Mason
64
Posted 07/07/2016 at 09:21:19
The Telegraph says that Witsel is going to Chelsea and that it will be announced early next week.
Colin Glassar
65
Posted 07/07/2016 at 09:33:04
Wasn't that the same paper which said, yesterday, that his signing for Everton would be announced today, Martin?
The media throw out so many rumours that if they get 5% of them right they are happy. All this shit about Stonesy demanding a move to Man City is just that – a load of tosh. I'm still waiting for the Bale move to Man Utd every single paper predicted last summer.
Martin Mason
66
Posted 07/07/2016 at 09:36:33
Possibly Colin although I didn't see it. I'm just reporting what it said in its Chelsea transfer news column.
As you say it's just media feeding frenzy, City are bidding on defenders too so even the Stones move isn't set in concrete.
Brent Stephens
67
Posted 07/07/2016 at 09:38:53
Drew, yes. I was looking beyond that to see if there was anything more complex going on (see my further posts and those of Stephen Ashton). I'm a suspicious sod at times!
William Cartwright
68
Posted 07/07/2016 at 09:51:04
Colin, forget the rags speculation about the future of John Stones. According to the BBC Premier League web page, he is already going to Man City for £50mil. They have been posting that for days now.

If you can't trust good old Auntie Beeb in these troubled times to be at least impartial, then who do you believe!
Ray Roche
69
Posted 07/07/2016 at 09:53:54
Colin Glassar #56
Colin, Wiki now have him at Chelsea....
Craig Fletcher
70
Posted 07/07/2016 at 10:17:53
Wouldn't read anything into that Ray. Wiki profiles can be changed by any pot-stirrer.
Colin Glassar
71
Posted 07/07/2016 at 10:27:32
Ray, that can be changed. Remember Emery was our manager at one point on Wiki.
Paul Burns
73
Posted 07/07/2016 at 10:56:43
There's nothing big about Napoli.
One small period of achievement under the genius of Maradona does not make a big club.
Ray Roche
75
Posted 07/07/2016 at 12:15:14
Craig, Colin, I know how unreliable Wiki is, I tried at one time, and I must admit that Cabernet played some part in this, to alter Steven Gerrard's page to something more accurate, you know, pointing out some of his less well publicised actions, such as his penchant for diving etc. but the alcoholic fog surrounding me foiled my amateurish attempts...
Barry Skinner
76
Posted 07/07/2016 at 12:20:15
Don't forget Napoli has two Volcanoes... one of those is classed as a "super volcano", constantly monitored.. I don't think I'd want to live or work there.
Vince Furnier
78
Posted 07/07/2016 at 13:47:49
Well if it turns out to be true, I'll dig out my old Fellaini wig.
John Malone
79
Posted 07/07/2016 at 13:52:17
Tom 54, Jaio Mario is still a Sporting Player but has been scouted by Man Utd and he is keen to move to the Premier League.
I agree he looks a player – he stood out for me last night against Wales, he looks to have more speed and skill than Witsel but play's further up the pitch. I'd have them both!
Bob Parrington
80
Posted 07/07/2016 at 14:05:38
I tend to agree with Colin (#7): Witsel – Yes, but Mata – No. Mata's okay but is never going to set the Everton world alight. I like the Portuguese 18-year-old Renato Sanches. Something to build with but would take big $$$ to attract him.... Maybe introduce him to a gorgeous blonde hair blue-eyed Liverpool girl, eh?
Seamus McCrudden
81
Posted 07/07/2016 at 14:23:04
Unfortunately he has already joined Bayern Munich, Bob.
Brian Harrison
82
Posted 07/07/2016 at 14:25:23
John (#79),
Totally agree about Jaio Mario, looks a real prospect but I am sure many clubs will have been impressed with him. Also R enato Sanches is off to Bayern for 㿍 million.
I have also been impressed with Sissoko – surely he still won't be with Newcastle next season. He had a lot of similarities to Viera; he won't be cheap but who is these days.
Sam Hoare
83
Posted 07/07/2016 at 14:26:40
Don't think we will get Renato Sanches, Bob, as Bayern just shelled out for him.
If we get Witsel and Mata, I will be very happy. Those two alone would improve the first team a lot.
Sounds to me like Witsel may be dragging his feet a bit and waiting for a bigger offer/club.
Iain Latchford
84
Posted 07/07/2016 at 14:31:53
I read that Matic wants out of Chelsea and could be available for £17-18m. I think that would be good business.
Jay Harris
85
Posted 07/07/2016 at 15:16:40
Iain,
Matic had an outstanding first season but has gone right off the boil since then.
Iain Latchford
86
Posted 07/07/2016 at 15:34:46
Maybe so, but I'm sure the right manager could get him back to his best. It's unlikely to happen but I just think in today's market that's a decent price (considering Jordan Ibe costs £15m).
Andrew Ellams
87
Posted 07/07/2016 at 15:53:02
It's hard to gauge any Chelsea players based on last season's form. If you did you probably wouldn't touch Hazard either.
Dave Roberts
88
Posted 07/07/2016 at 15:56:14
Barry (#76),
I've been to the summit of Vesuvius and breathed in the fumes. Smells like rotten eggs and is scorching hot. However, if Vesuvius goes off, that's something for Neapolitans to worry about. If the super volcano of Campo Flegrei goes off, that's something we all have to worry about! Witsel won't be any safer here... nor will we!
Dave Pritchard
89
Posted 07/07/2016 at 16:18:51
So, if we get Witsel, that'll be a Witsel - Gibson pairing in the middle. Sounds odd but might just work, at least for one match... until Gibbo gets injured.
Tom Bowers
90
Posted 07/07/2016 at 16:24:43
Pogba back to Man Utd for 𧴜 million? Wow, did Man Utd slip up 4 years ago if that deal goes through...
Could be Man Utd will indeed be shipping a few players out now. Carrick, Mata, Fellaini and Januzai to name but a few.
Peter Jansson
91
Posted 07/07/2016 at 18:28:07
What about Tadic? Could we sign him?
Lyndon Lloyd
92
Posted 07/07/2016 at 18:30:32
Tadic apparently fell out with Koeman at Southampton last season so that would be an unlikely signing, Peter.
I would like Koeman to pick up Hakim Ziyech from Twente, though, as he could be signed for buttons given their financial problems. He would need a firm hand but he's a very gifted player.
Tom Bowers
93
Posted 07/07/2016 at 18:43:31
If Big K was to pilfer players from Soton I would like Fonte or Ward-Prowse.

Mike Mulhall
94
Posted 07/07/2016 at 18:54:19
Just Hurry up!
God I just want one signing to give this new era lift off!!!
Stekelenburg doesn't count ;-)
Lee Mandaracas
95
Posted 07/07/2016 at 19:30:44
I see that with our new, driven and decisive billionaire owner hand-in-hand with a motivated, well respected manager some deep-seated traits yet remain as of old. We still ain't good at quiet or speedy transfers is we?
Eric Myles
96
Posted 07/07/2016 at 19:38:39
Fonte has had a few good years at Southampton but he's 32 now Tom.
John Austin
97
Posted 07/07/2016 at 19:55:38
I know it's difficult but let's try and be patient. The club took time to appoint RK but they got him. We are clearly doing things more professionally.
We also seem thankfully to be setting our sights higher in terms of players who are inevitably in demand elsewhere. Let's give the new regime a chance and judge them at the end of the transfer window – but ideally we want players before the season starts.
Tony McNulty
98
Posted 07/07/2016 at 20:03:07
John (97)
My Mum used to tell me to be patient. Patience is not one of my towering strengths. And amongst my esteemed colleagues on ToffeeWeb, I am not alone.
John Austin
99
Posted 07/07/2016 at 20:22:58
And mums were right more often than not Tony. Mine was anyway!
Mike Mulhall
100
Posted 07/07/2016 at 20:42:05
My mum was wrong, she's a kopite.
John Austin
101
Posted 07/07/2016 at 20:48:30
Come to think of it Mike, so was mine! I'll take some of my earlier comment back.
Steavey Buckley
102
Posted 07/07/2016 at 20:59:50
Any chance of the Russian side taking Niasse in part-exchange?
David Chait
103
Posted 07/07/2016 at 21:05:09
I'm pretty happy to see Koeman taking his time... hopefully having a real look at the team quality before committing to making any redundant.

Colin Glassar
104
Posted 07/07/2016 at 21:05:20
Dave Roberts, what are the odds on that super volcano going off? I might have to rebuild my Anderson shelter.
Tony McNulty
105
Posted 07/07/2016 at 21:38:37
It sounds like Mike and John are about to join me in the impatient bastards ToffeeWeb sub-group.
It's actually only 36 days to kick off. And any new arrivals will need time to get used to the playing styles of colleagues etc. as well as tactics. It isn't like last year when we were a tactics free zone.
Peter Mills
106
Posted 07/07/2016 at 21:56:12
We are in a different realm now. Previously, we were told to be patient, then nothing much happened.
Now we have a different regime. The major shareholder has not gone out and got his manager (at great expense) simply to leave him with the limited resources currently on the playing staff. Major reinforcements will arrive.
Mike Mulhall
107
Posted 07/07/2016 at 21:56:13
Too right, mate.
I want it confirmed the days of signings like Pembridge, Gemmill, Hottiger, Barrett, Angel, McFadden, Oster to name a tiny few are over!
Just one marquee signing will do for now!
But, on a serious note, it's great to have optimism back.
Oliver Molloy
108
Posted 07/07/2016 at 22:02:28
I'd say that Koeman will now have a fair idea of the players he wants at Everton, and I mean bringing in and shipping out.
When Koeman makes his first major signing (like this guy), I bet you others will follow fairly quickly.
John Austin
109
Posted 07/07/2016 at 22:57:38
Not quite yet Tony but as we get nearer deadline day, I might give you a call for a membership form.
Douglas McClenaghan
110
Posted 07/07/2016 at 23:26:37
Fog of war.
David Israel
111
Posted 08/07/2016 at 00:45:59
Tom Bowers # 54, that was Renato Sanches, before the Euros started.
Sam Hoare
112
Posted 08/07/2016 at 11:33:39
The longer this goes on for, the more chance he goes elsewhere, with Chelsea being the likely option as they've missed out on his fellow Belgian whose name I can't spell,
The good news is, if we don't get Witsel, then there will be a list of alternatives. I could live with Matic, Carvalho, Matuidi, Schneiderlin or any other talented, athletic DMC out there who is going to control games for us in a way McCarthy and Barry have not done enough of.
Brian Furey
113
Posted 08/07/2016 at 11:47:36
Is it true he was spotted in Liverpool airport this morning for a medical?
Am I the only one worried about a new keeper? There hasn't been much talk of who RK is after if anyone. Surely this is much more urgent now.
Steavey Buckley
114
Posted 08/07/2016 at 11:50:00
I don't believe Koeman has got much time in getting the players he needs for a new season, because every top club in Europe is trying to reinforce their squads, especially as the bar of expectation has been raised for Everton fans. Yet, Everton have problems all over the pitch.
There is the need for a top goal keeper, a defence that conceded 59 goals in the Premier League, flawed midfielders who were out -thought and out-skilled by the Premier League's top teams. And then there is the question of the Everton width, that has problems crossing the ball without hitting the first opposing defenders first.
Hopefully, Lukaku stays – that will be one less problem to think about, who is going to replace him.
Lenny Kingman
115
Posted 08/07/2016 at 12:05:38
Is this the same Witsel that looked all at sea in a big game for his country against Wales last week?
He and his agent are playing Everton a merry dance with his "Will he? Won't he?" act.
I suggest the only reason he comes here is because of the size of the contract. Any platitudes about the history of our club and the rest of the diatribe associated with big signings will fall on the deaf ears of knowledgeable Blues fans.
Brian Williams
116
Posted 08/07/2016 at 12:14:10
I have doubts whether we're interested in him at all, as I have doubts about more than a few of the other names mentioned.
Not at all concerned yet. Koeman will need a number of weeks to assess and decide and, to be realistic, some competitive games as well.
Just keep telling yourself it HAS to be better than last season.

Jackie Barry
118
Posted 08/07/2016 at 14:26:00
Is this a load of baloney? Starting to look like it!
Antony Matthews
119
Posted 08/07/2016 at 14:47:43
If he has to think about coming to our club then it's not right for him and not right for us... Let's move on.
Eric Myles
120
Posted 08/07/2016 at 14:56:09
Brian (#116), that's what I was telling myself at the start of last season.
Brian Williams
121
Posted 08/07/2016 at 15:03:07
Eric,
Have to say I don't know why you were telling yourself that with Martinez still in charge, when it was pretty obvious to the vast majority that he was clueless. :-)
Martin Mason
122
Posted 08/07/2016 at 15:15:33
I would have thought that this will be a season of review and consolidation. Koeman needs to see what we have under competitive conditions and far better he doesn't buy now than buys badly.
John Daley
123
Posted 08/07/2016 at 15:49:17
Since when does any manager get gifted "a season of review"?
"There you go, Koeman, lad. Now, that might be a three-year, multi-million pound, contract you're clutching, but don't you feel the need to go diving into any decisions from the off. Just consider the first year a 'gimme' to get your bearings, fathom a few things out and gingerly run the rule over the remnants of the last regime. At your leisure, like.
"We'd much rather you take plenty of time to survey the playing field... perhaps kneel down, pick up a bit of dirt, give it a sniff and slowly roll it around your fingertips for what seems like fucking ages, a bit like Maximus did in Gladiator before decking that big roid monster in a tin mask and making a Bengal tiger his bitch... than see you come in and try to hit the ground running."
Phil Walling
124
Posted 08/07/2016 at 15:50:33
Martin, I agree with your perception of how RK should approach next season although I feel many Evertonians have visions of a dozen signings and an automatic top four place!
Patience has no place in a football fan's focus.
Brian Williams
125
Posted 08/07/2016 at 16:05:36
Phil#124.
I think a further 5 signings (taking it that there are no outgoings) and a top 6 place shouldn't be viewed as unrealistic.
That's what I'd expect taking into account the nucleus of the good team we have and at least three first team buys.
Darren Hind
126
Posted 08/07/2016 at 16:18:37
He's not going to be given a very Long honeymoon. Moshiri will want to see early indications that his money is being well spent
Raymond Fox
128
Posted 08/07/2016 at 16:41:44
Brian (#125), Stones is as good as gone, and it's a mistake to keep Lukaku. We've a long way to go before we start talking 'top' anything.
We have a squad full of moderate players in my opinion, plus some promising young players. Who are we going to attract, probably players that your City, Chelsea etc don't want. Mercenaries that will come for the money only, I think that's the reality I'm afraid.
I'm not trying to be a wet blanket but there's going to have to be a lot of money spent on a handful of really outstanding players for us to be competing with the best. Will they come – that's the question.
Mike Mulhall
129
Posted 08/07/2016 at 16:42:55
Pellè off to China. Given his age, no great disappointment.
Phil Walling
130
Posted 08/07/2016 at 16:54:14
I suspect Mata is as 'big' as it's going to get and there are those on here who don't rate him!
A goalie is a 'must' and a creative midfielder. Does anybody foresee Niasse getting a look in if Rom moves on?
Brian Williams
131
Posted 08/07/2016 at 17:04:42
Raymond (#128),
If Stones is as good as gone, I presume you mean to City? If you believe that, then it's not unreasonable to suggest you accept the 㿞m figure being bandied about?
If that was the case, I believe we could buy TWO very effective centre-backs with the money and actually improve the team. Not suggesting we SHOULD do that, btw.
So then, with four centre-backs, we look to strengthen elsewhere, and I don't buy into the "we'll be left with the scraps" approach. Koeman got players of high quality to go to Southampton and I believe he can get players of higher quality to come to Everton.
Raymond Fox
132
Posted 08/07/2016 at 17:54:31
Brian,
although Leicester blew the idea out of the water last season, I think its fair to say that its preferable to have 'stars' for want of a better word than average players.
I agree with what you say by the way about Stones and replacing him with 1 or 2 reliable defenders.
Ok, all the defence were stretched last season because of the emphasis on attack, but Stones did not cover himself in glory at all.
Somehow we need to recruit players that the City, Utd, Chelsea etc want, how we get over that hurdle I'm not sure.
Daniel Lawrence
133
Posted 08/07/2016 at 17:54:36
All this perceived new wealth may actually just mean we can now complete with the likes of Bournemouth and Stoke.
Also, remember it is Elstone who is still "negotiating" deals, and whilst that is the case, I'm not getting over excited!
Phil Walling
134
Posted 08/07/2016 at 18:41:28
Yes, Daniel, the Director of Football idea seems to have died a death. Perhaps RK frowned on the idea or Elstone saw it weakening his power base.
Les Reed seems to do a good job at Southampton although traditional (old fashioned ?) managers generally distrust the role.
Or maybe BK is trying to persuade Moysey to come on board !
Brian Williams
135
Posted 08/07/2016 at 19:16:55
I get the impression that Mr Moshiri knows what he wants, knows how to get what he wants, and generally do just that.
I'm quietly confident we're very much heading in the right direction and at a decent pace.
Early days I know, but as pragmatic as I normally am I can't help feeling very positive about the near and long term future.
Colin Glassar
136
Posted 08/07/2016 at 19:16:56
I'm not panicking, I'm not even concerned. Over a month to go before the season starts and longer still for the transfer window to close.
I've always said we will get players we aren't linked to by the media. So the likes of Pelle, Nani, Schneiderlin, Embolo etc...start to disappear off the radar and so will Mata (hopefully), Dann, Sneijder etc.... I'm not sure about Witsel though, that could still happen.
Phil Walling
137
Posted 08/07/2016 at 19:34:25
Isn't that how it's always worked out, Colin. The action will be on deadline day, no doubt !
Ray Roche
138
Posted 08/07/2016 at 19:36:10
Phil Walling, Les Reed gets a dogs abuse on Saints fan sites where he appears to be the love child of Satan and Myra Hindley. He takes stick for selling their best players and not reinvesting they proceeds. Underhand, sly,untrustworthy...and theses are his good points. (according to them) If you think Boys Pen Bill is unpopular have look at the fans comments in the Daily Echo.
Martin Mason
139
Posted 08/07/2016 at 19:46:34
I don't believe that any team has ever benefited by blanket buys of players, many have been spoiled by this tactic (Liverpool, barcodes, Spurs). Like diagnostics you find the faults by changing one thing at a time. The most important aspects of any buy though are quality and only then value for money. Quality, quality, quality and I reckon that Witsel doesn't have it. We have money but that is only one side of the equation, we must not buy for the sake of it especially just to keep the fans happy. I'd be happy to see 2 great buys, one midfield and one up front, let's see how we go and then add one or 2 more in January or next summer. OK, probably a very good goalie but why not Robles?
Remember the general view last year was that we had a great squad and all it needed was coaching properly, why not trust that this is so? We have two or 3 team's worth of good defenders, please no more.
City spent 100's of millions and yet they aren't a great side. We must aspire to be the very best now that we have at least the finance to do so. That means as dominant as we were in1970 and under Kendall 1, as good as United were and capable of winning consecutive titles. That is success and it can't be achieved by buying unless what you buy is absolutely right. If Davies and Kenny are as good as they look then play them every game don't buy their positions, play Barkley and encourage him to make and score goals. Do Barcelona worry that Messi doesn't track back and cover? No, they shape the rest of the team to provide cover. I want to see Everton winning by attitude and believing that it is their right and duty to win every game. We need to become a big club again with gates of 70,000 and revenue streams that don't need a sugar daddy to supplement. I want them to go to Anfield and expect to win not think that they're taking a knife to a gun fight. Despite our history we have become a small EPL club but we have the potential to rise again now we must find the attitude. The massive mistake will be irrational expectations from the fans which will dampen the support that will be needed to help this all happen.
Colin Glassar
140
Posted 08/07/2016 at 19:48:49
I think Koeman will wait to see most of his squad in training Phil, before he starts making his moves. Ross, JS, Seamus and Lukaku should all be back next week so he will probably wait and see who he can count on and who needs to go.
Martin Mason
141
Posted 08/07/2016 at 20:24:36
What I mean is, Sergio Aguera is a quality player. Witsel is not as good as Fellaini, is he really good enough for us other than as a stop gap.
Jackie Barry
142
Posted 08/07/2016 at 20:32:35
People are adamant that Witsel and Mata are going to sign for us. I'm not convinced at all, but they are saying the deals are pretty much done. Why are we not seeing the media reporting it? If these deals turn out to be true we really have changed how we do things.
Martin Mason
143
Posted 08/07/2016 at 20:37:18
Jackie, is buying a cast off from United a change?
Jackie Barry
144
Posted 08/07/2016 at 20:40:56
Considering Mata was twice Chelsea player of the year and I believe played out of position all season I think he is no cast off. Certainly not in the Cleverly mould any way.
Phil Walling
145
Posted 08/07/2016 at 20:43:59
I'm totally relaxed and only looking for a handful of additions. However, I bet they will arrive 'in extra time' and not before !
Martin Mason
146
Posted 08/07/2016 at 20:44:56
Jackie, he is fatally weakened by a lack of pace. He is massively skillful but it isn't enough. Still may be a good buy though but at what price?
Colin Glassar
147
Posted 08/07/2016 at 20:58:28
Martin, have you ever seen Witsel play on a regular basis, and I don't mean just in these euros? He's a top, top box-to-box player we've been crying out for for years. I'm not sure we will get him but if we do we will be privileged to have him.
As for Mata, well he's a very technically proficient player but he's only a better version of Ossie ie quick feet, quick mind but gets knocked off the ball far too easy and disappears in games.
I'd love to see Ross and Witsel together in central MF making runs towards the opponents box. If we need a creative No 10 then why not try Del there? Everyone seems to forget that we have the boy genius in our ranks.
Gavin Johnson
148
Posted 08/07/2016 at 21:07:14
Whats wrong with having a better version of Ossie, Colin?
We need another player like him, albeit better one. Personally, I'll be happy with the signing of Mata, Haller and Witsel. Although in the case of Witsel, my gut feeling is telling me he will be off to Chelsea.
Colin Glassar
149
Posted 08/07/2016 at 21:20:55
I just don't think he can influence a game enough Gavin and that's why Mourinho let him go at Chelsea. I also think Oscar is in a similar mould ie extremely talented but doesn't have the physical attributes for the premier league.
Tony Smith
150
Posted 08/07/2016 at 21:25:30
Martin 139, fantastic post, you articulate perfectly my hopes for my beloved Blues.
Tony Hill
151
Posted 08/07/2016 at 21:34:15
I also think Martin's post at 139 is the way we should be directing ourselves - though I disagree on some details. Happily, I believe Koeman will also be thinking in the same way.
Pete Edwards
152
Posted 08/07/2016 at 21:51:16
Colin, do you really think that of Oscar??? I'd jump at the chance of taking him to Everton!!!
Oliver Molloy
153
Posted 08/07/2016 at 22:03:42
Martin Mason,
Are you really trying to say that Mata and Witsel wouldn't make a difference to us if we did manage to sign them - they absolutely would in my opinion.
Witsel and Fellaini offer completely different game plans to a manager, the Belgium manager obviously thought the opposite from you.
Witsel from what I have seen is a cleaner tackler than Fellaini and a better passer with bags of energy.

Brendan Fox
154
Posted 08/07/2016 at 22:35:52
Martin @ 139 Nail on head.
I wish everyone would stop clamouring for the club to rush out and buy this player or that player that we are currently rumoured to be interested in and give the manager and his coaching team adequate time to assess what areas they feel need strengthening in the team and squad.
I hope that the laying down of the foundations of RK's squad is not rushed whether that's retaining a large core of existing players with one or two top quality additions.
Do not be surprised if it is 3-4 weeks until any new players are brought into the squad given that it will not be until next week before the international contingent join the squad for pre-season.
Stay cool blues, sit back and enjoy the revolution!
Andy Crooks
155
Posted 08/07/2016 at 22:37:49
Martin, that's a reasonable post # 139. It was done by Mourinho at Chelsea first time round, but that was a shock tactic that I don't believe will ever work again.
It seems to me that we have money when everyone else has. I suspect we will need the same luck and guile that we always have. I hope we can keep what we have, get the very best from them, and make a couple of subtle and hopefully inspirational additions.
Martin Mason
156
Posted 08/07/2016 at 22:56:02
Oliver@153
Witsel, Fellaini and Belgium were an embarrassment at the Euros. Is that the way we should go as a club?
Phil Sammon
157
Posted 08/07/2016 at 23:07:34
I can't believe some people don't rate Mata.
Man Utd have a history of flying wingers. This guy is the opposite. I think the odds were stacked against him there. He uses his brain and makes everyone around him a better player. He also loves a full-back who will go beyond him. We have two of the best in that regard and to see them bombing on again would go a long way towards reigniting my love of football.
Mata, a step up on Ossie?
I'd say he's a step up from Pienaar...which is a bloody exciting prospect.
Brent Stephens
158
Posted 08/07/2016 at 23:11:00
FFS now we are saying Oscar isn't good enough for us! Who are we?!
Paul Conway
159
Posted 08/07/2016 at 23:15:10
Martin Mason@139 agreed! But all this takes patience and are all Everton fans willing to wait? I am in for the long haul. This new-found wealth has brought serious expectations. Some people think that's all that it takes to turn things around in a twist.
Where? effectively, and metaphorically speaking, all this wealth has allowed us to bring chips to the poker table, in terms of bidding, counter bidding, and the huge amount of luck that we will need to see these acquisitions realise their expected potential.
Colin Glassar
160
Posted 08/07/2016 at 23:18:05
Mata, Oscar, both easy on the eye, both creative, intelligent players. Neither of them last 90 mins. Might be great super subs but are luxury players IMO.
Sam Hoare
161
Posted 08/07/2016 at 23:24:49
Colin, don't care if they don't last 90 minutes but we have very few if any genuinely creative players. Del and Mirallas can both beat a man and get a cross in but there's no-one to pick that visionary pass that no one else saw against a packed defence. Mata has that ability and if used well would be a great signing for us.
I've heard Witsel is done deal once he gets back from holiday, Mata and Haller both look likely. I'll be very happy if that turns out to be true.
Brent Stephens
162
Posted 09/07/2016 at 00:04:19
Oscar a sub for us?! Jeez! Who would we have in the first XI to make Oscar only a sub?!
Oliver Molloy
163
Posted 08/07/2016 at 00:04:59
Martin,
Now you are changing the subject. Who cares about Belgium? All I care about is Everton.
From what I can gather from your posts you basically are saying that Witsel and Mata are not good enough for Everton and at the same time you say it should be small steps in order for us to get to were we all wish to be.
If we could sign the above players that would undoubtedly be a step in the right direction.
I doubt very much that Koeman will buy just for the sake of it as you put it.
Joe O'Brien
164
Posted 09/07/2016 at 03:21:23
I think both Witsel and Mata would be good options. Always been a fan of MacCarthy but Witsel seems to be in the same mould but more attack minded. Mata is class, enough said. We don't need many more in midfield. Offload Kone and get Haller and one more up front and defo another keeper I think we're good to go.
Not too many changes just a bit of tweaking and I think we've got a good chance of top 4.
In my own head I'm thinking top 2, but I'll pull it back a bit for ToffeeWeb;)
Peter Gorman
165
Posted 09/07/2016 at 03:23:54
Colin, could it be Mata and Oscar can't last 90 mins in your head because they expend too much energy passing the ball forward?
Yeah, better stick with a Witsel who you can trust to conserve energy moving the ball sideways.
The very idea that anybody could prefer Witsel to either Mata or Oscar leaves me genuinely astounded. Not least because we already have a team of side-ways passers and not enough creativity.
Bobby Thomas
166
Posted 09/07/2016 at 03:34:07
Martin #156
Japp Stam had a poor World Cup before he signed for United. Other players can sparkle at a tournament and be duds. It happens.
David Price
167
Posted 09/07/2016 at 07:09:03
I've got that feeling again!!! You all know the one where every time we go public with a signing, they usually end up at Man Utd, Chelsea, Arsenal or abroad.
Let's build a team – not buy one, they're always the best. It takes time but the youth system creates hungry players who have the blue blood in their veins... only this time we have the money to resist them being sold. Remember Rooney... how good would he have been for us in his prime years?
Martin Mason
168
Posted 09/07/2016 at 08:18:12
I believe that Mata is a very good player. Sorry if I implied he wasn't good
Michael Ward
169
Posted 09/07/2016 at 08:22:20
I don't rate Oscar at all, Mata is much the better player for me.
Colin Glassar
170
Posted 09/07/2016 at 10:01:04
Mata and Oscar are great players but are not grab the game by the scruff of the neck type players is all I'm saying. Anyway, it looks like Mata will be joining us so I will give him my complete support and backing once he puts on the jersey.
Ray Roche
171
Posted 09/07/2016 at 10:15:38
I'm sure he'll be delighted to hear that Colin.;-)
Colin Glassar
172
Posted 09/07/2016 at 10:21:20
I'd still prefer Wijnaldum to either Mata or Witsel tbh. Younger, stronger, cheaper and scores goals.
Ray Roche
173
Posted 09/07/2016 at 10:22:55
Sam Hoare #161

Sam, did you see the link for a video of Lukaku's goals that was on here last week. (in a thread that was basically saying he was crap)?
" but there's no-one to pick that visionary pass that no one else saw against a packed defence. "
hmmm.......have another look at the through balls Del gives for a couple of the goals. I've said on here before that Barca are on record as saying that their coaching staff saw Deulofeus' future as a number 10 as opposed to a wide player and with his lack of stamina and ability to last 90 minutes that slot would require less running...just a thought.
Brian Williams
174
Posted 09/07/2016 at 10:24:49
I wonder how long it will take the moaners to start having a go if the latest rumour regarding Napoli being in the driving seat once more due to Everton having "issues" with Witsel during negotiations.
You know the one's "FFS this club is shite and we always lose out on transfers due to lack of professionalism blah blah blah...........
Bearing in mind that we don't actually know if we're after Witsel!
Tony Hill
175
Posted 09/07/2016 at 10:29:53
It's also about what Koeman can extract from these possibilities, how he works them in together and, above all, how he gives the players confidence in themselves (very much including those already here like Barkley, McCarthy, Deulofeu etc.whose confidence is bruised).
That's what makes a top manager, the transformation of players whose talents may be lying dormant just below the surface for whatever reason.
That's my big hope because I think Koeman exudes confidence -unsurprisingly given his own abilities - and will develop it in others.
Colin Glassar
176
Posted 09/07/2016 at 10:30:17
Ray, I made the same point the other day about using Del as our No.10. We have a rough diamond in this kid and we need to start polishing him ASAP. I'm ok with the idea of Mata or Oscar as 'our 10' but I think we have one already.
Tony Abrahams
177
Posted 09/07/2016 at 10:49:27
Agree with Ray 173, and could never get my head round why the flexible (his words) Martinez, never played Gerry as a number ten.
Mata, is a decent player, but speed and strength, makes the modern footballer, especially in the bigger games, which is where we have got to start aiming to compete.
Mike Allison
178
Posted 09/07/2016 at 11:03:22
Between Barkley, Deulofeu and even Dowell we certainly have a no.10 in there somewhere.
This goes to a basic issue in our current predicament, we have a good squad, with good players, many of whom are young and promising. This means that anyone we sign needs to be either:
1. a clear step up in quality (effectiveness, not just style)
2. in a position where we are weakest, or
3. in a position with an ageing first choice player.
For me this means goalkeeper, centre midfield and left wing. I'm frankly quite happy with our current squad, and would expect to do well if we started as we are. I expect only two or three signings, who all need to fulfill the criteria I mentioned above, and am prepared to be patient in getting the right player eventually, rather than the wrong one quickly.
I think we're all a bit traumatised by Martinez's attitude to new signings as well, where he'd buy them then not play them, telling us they somehow weren't ready yet (Niasse may never be ready from many accounts). Hence there are contributors who feel that if a player is not at Finch Farm by Monday then they can't be ready by the Big Kick Off. This isn't true.
Mike Allison
179
Posted 09/07/2016 at 11:12:14
A lot of respected regular contributors are talking about Wijnaldum, so I looked him up. Despite playing in a relegated team he was effective last season.
He is also, apparently, the cousin of...
Anthony Hughes
180
Posted 09/07/2016 at 12:00:07
Vision, technique, good first touch, decent goals return and assists. I'd take Mata all day long. So Mata lacks pace so what? I know, that Usain Bolt fella's quick why don't we get him?
Sam Hoare
181
Posted 09/07/2016 at 12:55:26
Ray 173, I'd love to see Geri play no 10 and I think that's where he plays for Spain U21 but he's played virtually no club football there hence me not being able to include him as someone able to do it, if you see what I mean. Both him and Dowell could becomee great central playmakers but we have no idea what they can do there so I see the sense in bringing in at least one proven playmaker.
Frank Crewe
182
Posted 09/07/2016 at 13:00:59
These sagas seems to have been going on forever. Just seems to be endless maneuvering, claim and counterclaim. Have we actually made a bid for Witsel or Mata? Because I can't figure out if we have or haven't.
Whatever happened to the days when clubs just made an offer got a yes or no from the other club and players did or didn't sign without this song and dance we get today.
If Napoli want Witsel then let them have him. He only signed for Zenit to play crap football but collect big wages. There are other players. If Mata wants to warm the bench at Manu let him. He's not wanted by Mourinho but apparently isn't getting the message. There are other players. If they are not showing the slightest enthusiasm for playing for Everton then why pursue them?
It's time to start calling bluffs here. Set deadlines and stop letting oligarchs, agents, and assorted middlemen give us the runaround. We had all this crap with Yarmolenko last year. Just made us look like beggars.
Time to grow a pair. If they start faffing us about drop them like a hot potato and move on.
Brian Williams
183
Posted 09/07/2016 at 13:11:12
I agree with Frank. I'd also rather see us go for younger players to be honest. 23-25 year olds who may not yet be the TOP players but who can grow with us and help our team grow together.
Dave Abrahams
184
Posted 09/07/2016 at 13:19:08
Ray (173) I'm with you all the way regarding Deulofeu playing as a number ten, the lad has great vision and can pinpoint a pass to wherever he wants to put it, just needs fellow players with anticipation. He has never been given a chance in that slot with Everton, maybe Koeman is the man to give him that chance.
Frank Crewe
185
Posted 09/07/2016 at 14:18:16
Brain I don't agree. Young players may grow with us but they would also grow old with us and would have to be replaced all at once.
The best sides are a blend of youth and maturity. Youth for energy and enthusiasm. Maturity for experience and leadership when things are going pear shaped. One compliments the other.
Ernie Baywood
186
Posted 09/07/2016 at 14:34:02
Dave 184 I'm not so convinced he's right for that role. Too often things break down with him. That's fine if you accept it in a winger, but the 10 is a key role. I wouldn't see it as a solely creative, 'try anything' role; more of an attacking general who dictates the game in the final third.
Brian Williams
187
Posted 09/07/2016 at 14:38:33
Frank. We already have the maturity. I was referring to the additions we need to make, not the full team.
---
Add Your Comments
In order to post a comment, you need to be logged in as a registered user of the site.
Or Sign up as a ToffeeWeb Member — it's free, takes just a few minutes and will allow you to post your comments on articles and Talking Points submissions across the site.
© ToffeeWeb