Conflicting reports but Witsel situation appears unchanged

132 Comments [Jump to last]
9 July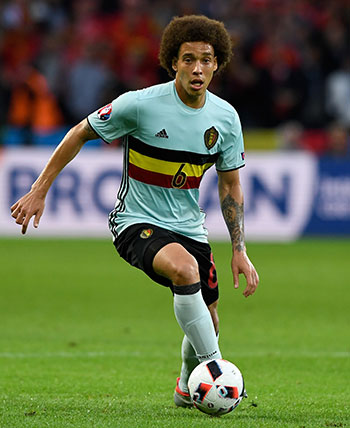 Despite a report claiming Napoli were looking to exploit snags in Axel Witsel's proposed Everton move, Russian media say his destination will be England.
It was believed that the Belgian international was set to complete a transfer from Zenit St Petersburg to Everton in the coming days once he had finished a post-Euro2016 break in Italy with his family, this after terms had been agreed with both the player and the Russian club.
According to Sky Italia, however, Witsel's switch to Goodison Park could be under threat as complications threaten the deal and that the Serie A side had returned with an improved offer.
The Italian club appeared to be in the driving seat for the 27-year-old early on because of their ability to offer Champions League but the Toffees looked to have swayed him with a better salary package and Farhad Moshiri's ambitious plans.
These fresh reports threw doubt on Ronald Koeman getting his man but also smacked of media attempts to exploit the delay while Witsel enjoys his holiday, in much the same way as tabloid reports in England tried to claim that Chelsea had come in with a trump offer a few days ago.
The journalist in question, Gianluca DiMarzio, has a chequered history where it comes to the reliability of his stories, and Russian media outlet Tass have since reported that Witsel's representatives are not dealing with Napoli. They say that the Premier League is his only likely destination.
Indeed, sources closer to home say that there has been nothing to suggest that the Everton deal has been derailed and that things will become clearer once the midfielder is back from his break.
Update Subsequent reports out of Italy that Napoli had, indeed, come to an agreement with both Zenit and Witsel were later quashed when fresh claims emerged that negotiations had collapsed.
Suggestions that Inter Milan have now entered the equation are thought to be similarly wide of the mark and only the player's return from holiday when he will make his final decision will end the circle of reports and speculation.
---
Reader Comments (132)
Note: the following content is not moderated or vetted by the site owners at the time of submission. Comments are the responsibility of the poster. Disclaimer
Joe Clitherow
1
Posted 09/07/2016 at 15:10:48
Believe things only when they are pictured wearing the shirt and holding the scarf. It's better for your health
Keith Harrison
2
Posted 09/07/2016 at 15:15:51
So it's down to a shootout between the Naples Cosa Nostra and our Financial KGB guy. Throw 'Player of the year' Niasse in the mix to seal the deal. Or swop him for a seal instead. It might be able to perform.
Stephen Coles
3
Posted 09/07/2016 at 15:16:47
What a bloody surprise!
Mark Ryan
4
Posted 09/07/2016 at 15:24:28
Joe Clitherow spot on.......I think I'm having one of them coronereries. I must be mentally imbalanced because when I read this I just think "oh fuck off then, if you don't want to play for us, piss off, you're not that good anyway" but I know that if he signed tomorrow I'd be chuffed to bits telling everyone we'd signed a world beater.

Bottom line, I think there are better players out there and cheaper but we'll have to wait and see I guess.
James Stewart
6
Posted 09/07/2016 at 15:32:20
Any player that would rather play in Serie A than the EPL they can have, Witsel is a good player but his lack of ambition would concern me, just look at the clubs he has played for.
Steavey Buckley
8
Posted 09/07/2016 at 15:36:32
Napoli can take Mata as well.
Tony Hill
9
Posted 09/07/2016 at 15:39:57
If he doesn't join us, it will be a deprivation we can tolerate.
David Barks
10
Posted 09/07/2016 at 15:47:19
New owner, same old Everton?
Pete Edwards
11
Posted 09/07/2016 at 15:52:38
We should know by now not to listen to all the "rumours" anyway
I'm sure the snag is probably a bit of mischief making to try and get a few more 00's added to the deal!
Eugene Kearney
12
Posted 09/07/2016 at 15:59:14
When, oh when are we going to get news of who is actually coming and who is actually going?
We've been linked to about 77 players so far this summer - and I'd like to know who (if anyone at all) really wants away - cos reports and counter reports are just getting jjaebcpmxloegdomgd...........
William Cartwright
14
Posted 09/07/2016 at 16:15:42
Media attempts to exploit the delay Lyndon? Surely not. . . . .The would never do anything like that would they? Who would they try to exploit on behalf of? Liverpool aren't after him are they?
Dan Davies
15
Posted 09/07/2016 at 16:22:03
Just watched a video of Ronald Koeman saying he is going to assess the youngsters in Austria next week. If that's the case, then I'd be surprised if any "big" names sign before then.
He's only been in his office a week! Players still on holiday after the Euros, give the man a chance! He still needs to talk to Lukaku, Stones and possibly others.
Hope I'm wrong mind, sign 'em up Ronald!
Aidy Dews
16
Posted 09/07/2016 at 16:40:21
No one really knows what's going on with this deal. Everton are saying nothing, they've given nothing away so the British press haven't got wind of it and the Italian media are just clutching at straws and making things up imo.
I think I saw this article shown on Twitter last night or today and Gianluca Di Marzio was running it and honestly, this fella talks shit! He's a football pundit for Sky Italia and does stuff on Italy's equivalent of our SSN so you'd think he'd have really good contacts over there and have his finger on the pulse of what's going on but he posts a right load of shit rumours what most of them have no fabrication what so ever!
You have to remember that this same fella not so long ago said we'd beaten Napoli to Witsel! Now he's saying Napoli are back in for him cos of complications?! This same fella has had us and other clubs in for all sorts of players. He said we had bid for Cristian Tello & Mbaye Niang! He said we were favourites to sign Nani! Said we were in for Zaza! Said we'd had a bid for Djibril Sidibe of Lille rejected! None of that he reported had any substance to em.
At the end of the day, no one knows anything right now and whilst things are quiet, people shit stir to fill back pages and columns.
IF it happens, it happens and we've got a good player. IF not then we move on. There is plenty of good CM out there for us to go for and I'm sure we're talking to plenty of agents just in case certain priority targets don't come off.
Neil Jones
17
Posted 09/07/2016 at 16:46:39
Why Would Wistel or Mata want to join Everton any way? Never played in the Champions league, except only for one qualify round, bottom half of the EPL for the last two seasons. Have not won a major Trophy for over 20yrs. Took months to get rid of the hopeless manager most of the other teams would have got shot months before.

No sign of the New Football director and if the new Water Front Stadium is going to be built in the next 3yrs Where is the Sold sign on the land at the docks? Same Old Everton.
Aidy Dews
18
Posted 09/07/2016 at 16:48:35
Dan #15, regardless of Koeman saying he will asses the young lads and the squad, he will of spoke to the likes of Big Dunc & Unsy and got has much insight into the 1st team squad and U-21's has he can and looking from a far last season will have an idea of where he thinks we were weak and lacking and will be making moves behind the scenes to strengthen.
Us Evertonians who are attached to the club and rate our players, still think we need strengthening in certain areas so what is someone who isn't/wasn't attached to us and looking on in from the outside and seeing us finishing 11th for past 2 seasons gonna think when he's tasked with kicking us on and competing for the European spots and beyond? He's gonna know we're gonna need improving here and there to try and get to where he wants to take us regardless of what talent we have already.
Sam Hoare
19
Posted 09/07/2016 at 17:04:10
Media balls I reckon. Witsel is coming and I think he'll be the best CM we've had in a while. He'll win headers and tackles while moving the ball quicker, covering the pitch and able to beat a man every now and then. The best qualities of Barry, Fellaini and McCarthy rolled into one. I hope.
Jay Harris
20
Posted 09/07/2016 at 17:09:57
Except Fellaini can score goals Sam.
Mike Allison
21
Posted 09/07/2016 at 17:21:12
https://www.google.co.uk/amp/www.liverpoolecho.co.uk/sport/football/football-news/Everton-boss-koeman-insists-hed-11592021.amp#
Don't need Witsel, we've got Davies, Dowell and Ledson.
Tony Hill
22
Posted 09/07/2016 at 17:29:27
That attitude from Koeman will do very nicely, Mike. Though I don't doubt there will be several buys as well. All very encouraging.
Mike Allison
23
Posted 09/07/2016 at 17:33:15
Yeah I'd actually like to sign Witsel, he looks good to me, but those comments from Koeman are really encouraging.
A team of homegrown players somehow feels more like a 'real' Everton than simply going out and splashing cash on big names.
Of course, it's really about getting a nice blend of the two.
Sam Hoare
24
Posted 09/07/2016 at 17:39:57
Jay 20, think Witsel has scored more goals at better rate than Fella over last couple of years.
Pete Edwards
25
Posted 09/07/2016 at 17:45:46
Bloody hell, Neil. I suggest you stay away from any sharp objects!!
Lyndon Lloyd
26
Posted 09/07/2016 at 18:10:25
It's obviously tailed off since but Witsel's strike rate for Standard Liege was 1 in 4. Shows he can contribute goals from midfield when/if needed.
Eric Holland
28
Posted 09/07/2016 at 18:21:54
Hasn't this guy been playing in the Russian league for the past few seasons?
I thought we had already bought the Russian player of the year! and if so does that mean this guy is not as good as Oumar Niasse?

Minik Hansen
29
Posted 09/07/2016 at 18:33:15
Betting conpanies making more money to confuse betters. He's coming alright, :) COYB.
Tom Bowers
30
Posted 09/07/2016 at 18:37:04
Not so sure the Belgian or Russian leagues stats. can be measured up with the top Euro leagues but the lad has done well for the National side and could be an asset to the Everton midfield if only because he has a smaller afro than Fellaini.
Kieran Kinsella
31
Posted 09/07/2016 at 18:37:11
Can he play as a goalie, CB, striker or winger? No. Is he proving himself currently in a top league? No. Has he ever played in a top league? No. Is he a stand out for his national team? No. Does he bring anything to table we can't get between Barry, Mc, Mo, Davies, Cleverly and Ross? No. So I'm not that bothered. If we are gonna get him in addition to those we need then ok but if he doesn't come I don't care.
Jeff Armstrong
32
Posted 09/07/2016 at 18:37:39
I'll tell you what, Wanyama is looking a snip at 㾷 million. How did you let that happen RK? Mane to the redshite too. Maybe there is something in your players not liking you.
Alan Bodell
33
Posted 09/07/2016 at 18:48:58
Koeman has been around as a manager, he know the leagues and it's all sharks and piraanas so lets just trust him as it's his ass on the line after his time settling in because unless he delivers for us then he's going back down the ladder.
Bob Hannigan
34
Posted 09/07/2016 at 18:57:57
We should probably all give the KGB guy and the new gaffer the benefit of the doubt and wait to see who are in the Everton jersey when the window closes.
Colin Glassar
35
Posted 09/07/2016 at 18:58:50
So are you saying you don't rate him Kieran?
Just read two tweets, one said its definitely off the other one said its definitely on. I think it's probably somewhere in between.
Kev Nulty
36
Posted 09/07/2016 at 19:22:30
Go for Joe Allen, he's got more energy.
.
Lyndon Lloyd
37
Posted 09/07/2016 at 19:28:15
Eric (28): "
I thought we had already bought the Russian player of the year! and if so does that mean this guy is not as good as Oumar Niasse?
"
Niasse's "Player of the Year" award was just a poll run by a magazine. There was nothing official or important about it. Nobody who watched him play for us in recent months would be surprised!
Jason Wheeler
38
Posted 09/07/2016 at 19:29:57
Don't see what all the fuss is with him anyway. He just looks a decent player to me and nothing else.
Colin Glassar
39
Posted 09/07/2016 at 19:42:50
Joe Allen? Pirlo wannabee, no thanks.
Mark Wilson
40
Posted 09/07/2016 at 19:43:08
Some people on this site are unbelievable. To be linked with the likes of Mata and Witsel 12 months ago would have been unthinkable. We are now... and it's possible they will come, so come on, folks, let's be more positive and believe that the MIGHTY BLUES are on the way to great things.
Jeff Armstrong
41
Posted 09/07/2016 at 19:52:55
Joe Allen is an average player, 㾺 million WTF, remember a sitter he missed a couple of years ago at Goodison, he's no more than a ١ or 4 million player, and yet they're asking silly money, the prices being quoted for really run-of-the-mill players is remarkable.
By the way, Joe Ledley's shit as well!
Sam Hoare
42
Posted 09/07/2016 at 19:58:19
Kieran, pretty sure the answer to your last two questions are yes. As for having played in a top league...nor had the likes of Payet, Van Nistelrooy, Kante and Mahrez to name a few.
The only question that really matters is 'is he better than what we have and will he benefit the first team?' Yes.
Kunal Desai
43
Posted 09/07/2016 at 20:03:35
Before everyone starts getting in huff there is around 7 weeks before the transfer window closes. How about we wait judgement on players once the windows closes.
Im certain the club will move forward and bring in signings we wouldn't have been blento make under the previous regime.
Nicholas Ryan
44
Posted 09/07/2016 at 20:34:34
I think Witsel is coming ... I think the deal was done weeks ago... I think the player has simply asked for the announcement to be delayed, so he can have a quiet holiday.... I also believe Rom will stay, because he knows his mate Axel is coming!!
Ian Riley
45
Posted 09/07/2016 at 20:35:12
I don't understand on transfer deadline day. Deals go through in one day. Summer transfers take months! Get on with it. Everton must have missed out on many players due to delays in negotiations.
Jay Woods
46
Posted 09/07/2016 at 20:39:31
Joe Allen is lightweight and was chasing shadows against Portugal. Not good enough for LFC, or us or any top half of the Premier League side.
Patrick Murphy
47
Posted 09/07/2016 at 20:49:12
Ian (45) as per usual and perhaps even more so this summer, every man and his dog is going to be linked with any Premier League club not just Everton, we'll probably never ever find out which players were on our list and we failed to get and which supposed targets where just linked because their agents were trying to garner interest in their client.
If a new player arrives, shirt in hand, contract signed, depending on who they are, we can jump about in joy or shrug our shoulders in disappointment. The window doesn't close until the end of August and we're only in the early days of July - despite the lack of sunshine we should take advantage of the fresh air and recharge our batteries for the upcoming season.
As for Witsel, I don't know enough about him, and he didn't stand out to me in the European Championships but then again how many players have announced themselves in that tournament?
Andrew James
48
Posted 09/07/2016 at 20:49:30
This seems to have become the only news story about EFC in recent weeks.
It doesn't excite me personally. He's 27, played in inferior leagues for his career and looked decent and tidy in the Euros but I think we're overpaying. I think we might as well get Fellaini back in for that role with goals on top... (I will get hammered for that remark)
Mata doesn't excite me either because I think we have a better Spaniard in our ranks. Managed right, he is a world beater.
And I don't mean Robles...
Gavin Johnson
49
Posted 09/07/2016 at 21:12:29
Andrew
Fellaini is awful as a holding midfielder. He's about the same age as Witsel and still hasn't got a proper position because he doesn't excel at anything apart from scoring the odd goal when playing behind the striker.
Andrew James
50
Posted 09/07/2016 at 21:36:08
Don't agree, when you play Fellaini in a fixed position for long enough, he does well. Moyes played him as a holding midfielder for 2 seasons and he was good but got injuries. Then he got moved up the park behind the striker in his last season and was really good.
Manure have played him all over the place so he doesn't know what he is himself.
I'm not really saying bring him back because for me he isn't mobile enough but just don't get the fuss over the other fella.
Jeff Armstrong
51
Posted 09/07/2016 at 21:44:33
Fellaini's best days are behind him, even at 27. His 'unknown quantity' advantage has long gone.
Is he a holding midfielder? No: he's slow, can't tackle cleanly, crap in this role, undisciplined. Is he a second striker? No: slow, all arms, undisciplined,again. Is he a centre-back. No: see above,
Is he finished as an influential Premier League player? Yes... Do I want him back? For ٠ million... maybe, but not a penny more.
Tom Bowers
52
Posted 09/07/2016 at 22:06:19
Fellaini is rubbish quite honestly. Can only be used as a sub. in a desperate situation for his height in the box.
Tackling is still awful and cannot beat a man on the ground.
Everton have a decent compliment of midfielders but the question is can Big K get the right combination and the right consistency from this bunch.
Far too often under RM they lacked the tackling and closing down when not in possession leaving the back line exposed. If Barry, Besic, McCarthy, Gibson and Cleverley along with Lennon, Deulofeu and Mirallas cannot form a strong middle-of-the-park line, then one or two youngsters must be given some more playing time if nobody is signed for the pre-season games.
Ian Riley
53
Posted 09/07/2016 at 22:06:45
Patrick (#47), I agree with your comments. I think all clubs will pay an extra 40-50% more for players. Average squad players are being valued at 10-15 million. I know very little about the players we have been linked with.
Mata knows the Premier League and can change games. He would be my choice at present. Unproven Premier League players is the risk all clubs must take.
Role on the start of the season!
Dave Abrahams
54
Posted 09/07/2016 at 22:27:25
Tom (52) I also could never see anything in Fellaini, except as you say as an auxillary striker, how we paid and got so much money for him I will never understand, and yet Moyes touted him as the best midfielder in Europe at one stage in his career at Everton. Well each to his own on opinions I suppose.
Andrew James
55
Posted 09/07/2016 at 22:37:55
"Fellaini is rubbish"?
10 goals a season? I'd rather have him than Cleverley and McCarthy who cause zero panic in the attacking third and rarely score.
Man Utd did overpay but we also did for McCarthy.
John Daley
56
Posted 09/07/2016 at 22:41:50
All well and good dismissing Fellaini as rubbish but we've sorely missed his height and physical presence at both ends of the pitch. At least when the ball went up to him it stuck.
Colin Glassar
59
Posted 09/07/2016 at 23:08:36
Is Fellaini coming back then?
Paul Smith
60
Posted 09/07/2016 at 23:14:25
The fro is a good player IMO.
Moyes played to his strengths and made him the focal point of the team – LVG never, plus to be fair to United, they have better quality so he doesn't catch the eye so much – I'd have him back, 㾻 mill?
As for Snitzel not seen much of him except for the Euros. Seemed decent but no world beater.
Andrew Ellams
61
Posted 09/07/2016 at 23:19:02
Fellaini and Witsel playing behind Barkley, Lukaku and Deulofeu? I'd take that.
Colin Glassar
62
Posted 09/07/2016 at 23:30:11
So according to some local radio station in Naples and Di Marzo, Zenit has accepted a £20m bid for Witsel and he's accepted a £2m per year contract. Jesus H, even Hibbo was on more than that here. Do these journos have degrees in cretinism?
Jackie Barry
63
Posted 09/07/2016 at 23:51:36
That was an Italian radio station apparently jumping to conclusions. Zenit are pissed off and word is that they will not deal with Italian clubs. Right now its seems like us or Chelsea depending on how serious Chelsea are.
Mike T Jones
65
Posted 10/07/2016 at 01:03:16
Fellaini is okay. But we are better. Stop harking for the past. I'm getting bored trying to raise expectations.
Joe Digney
66
Posted 10/07/2016 at 08:53:15
Does anyone know when he and his fellow Belgians return from holidays?
Paul Andrews
67
Posted 10/07/2016 at 11:08:00
A very good player who I think will suit the English game. A great addition to the squad of last season. If we get Koulibaly to strengthen the defense along with a couple of others (a keeper, someone for wide left), we have great potential.
I think Lukaku will be with us next season; nobody will pay £65 million – he's not worth that fee. If we ask £50 million for Stones ,that transfer won't happen either – he us not worth that fee.
Guardiola looks more interested in Bonucci, a ready-made defender at the full height of his power. Stones is only potentially a good centre-half, far from the finished article that Bonucci undeniably is.
Dan Nulty
69
Posted 10/07/2016 at 14:56:08
Fellaini!?!?!? Jesus wept, where have our ambitions gone. United fans like Mata, they think Fellaini is rubbish. he isn't the quality we should be looking at.
This just needs to happen now, let's force it through and move on to the next target.
Ari Sigurgeirsson
70
Posted 10/07/2016 at 14:59:36
Thanks for this LL. I do trust RK and staff to do their job. But on the other hand Witsel is not the best player in the world and certainly not the only player available for RK so we can relax I think. :)
Colin Glassar
71
Posted 10/07/2016 at 15:07:00
That's nothing Dan, someone suggested Chris Gunther at RB the other day!! Next week they start returning Joe.
According to conflicting reports, Witsel wants to come to Everton but his agent is insisting on Naples as he gets a larger cut. At the same time Zenit have told Napoli they're not interested in dealing with them. This is all very confusing.
Frank Crewe
73
Posted 10/07/2016 at 16:26:04
Colin it's the Witsel's future here. Maybe he should drag himself away from sunning his backside for a day or two and give us a hint what he would like to do. Can't players talk for themselves anymore.
Phil Walling
74
Posted 10/07/2016 at 17:11:21
Most of us thought that last season's team was a good manager away from finishing top six. How many NEW players do you see appearing in our first game, barring replacements, of course ?
Brent Stephens
75
Posted 10/07/2016 at 17:16:32
Phil, "Most of us thought that last season's team was a good manager away from finishing top six".
I think that's a very good reminder, Phil. And in which case, just a couple of really significant signings could well take us into a top 4 position. Assuming, of course, RK really can make that much of a difference, which I have no reason to doubt. The fly in the ointment at the moment is whether we can convince players who would not normally see us as worth signing for that in fact we are going places; and keeping the players we value.
Jay Harris
77
Posted 10/07/2016 at 17:37:10
I don't think anyone can be in any doubt the squad underperformed under Martinez but In that time we have given momentum to the likes of Leicester Spurs West Ham and the RS.
Time has marched on for Barry,Jags and Bainsey and we are now lacking a top class experienced GK.
We have lost Pienaar Ossie and Hibbo from the squad and could do with losing Kone.Niasse and McGeady.
There are also doubts about Stones and Lukaku so obviously that 100m will have to work hard.

Jay Harris
78
Posted 10/07/2016 at 17:46:10
Should have put Gareth Barry in the time marching on too.
Colin Glassar
79
Posted 10/07/2016 at 17:53:30
Frank, Witsel's agent seems to be the one causing the delay but what I don't get are the prices being quoted ie £20m for Napoli and £28.5m for us.
Phil, I'm personally looking forward to breakthrough seasons from the likes of Besic, Galloway and (believe it or not?) Cleverley. It might be a step to far to see the likes of Dowell, Kenny, Davies etc...but these other players I expect to come good this season.
I do expect to see three new top players; A GK, CDM player and a left sided attacker. As per usual, I'm quietly confident about the new season. No predictions though.
Andy Crooks
80
Posted 10/07/2016 at 17:56:43
Lyndon # 37, anyone who watched Niasse last season could have missed him in a blink. Judging him on the chances he got is unfair. He might he useless but Martinez could have rendered Alan Ball useless.
Paul Tran
81
Posted 10/07/2016 at 18:14:05
I wouldn't say Fellaini is rubbish, but I do prefer midfielders who can pass the ball and tackle without giving free kicks away so often. He scored goals in a side that often had no credible goalscorer upfront. One of my Utd supporting friends describes him a midfielder who can't dribble or pass and burgles the odd goal from a set piece. He got his shot at the big time and got found out. No thanks.
I would like some genuine physical presence in midfield; a big unit who is mobile, can put it about with an eye for a pass and chip in with the odd goal.
This is a squad that finished fifth three seasons ago. At the time I thought we needed two or three quality additions to push on. We didn't get them and were badly managed the last two seasons.
Keeper, centre half (if Stones is leaving), striker. We need a good spine before we can start moving forward again.
Ryan Williams
84
Posted 10/07/2016 at 21:01:05
I mentioned this elsewhere, but still think Sissoko is a good alternative here if Axel falls through. We still need that dynamic #10, but if we need a box to box player, Sissoko can play at a high level. Honestly, everytime I watched Newcastle I couldn't help but think he was the class of that team by a mile.
Paul Setter
86
Posted 10/07/2016 at 21:42:11
I like Witsel but not sure I'm keen on the amount he is likely to get paid, will he really offer that much??

However a one legged man offers more than that waste of space McCarthy and if Witsel did sign then I would roll with his wages if it meant I never have to see that talentless Barry chuckle wannabe play for Everton again
Helen Mallon
87
Posted 10/07/2016 at 22:02:55
I have just heard the deal is off
Brent Stephens
88
Posted 10/07/2016 at 22:05:17
Helen - source please?
Martin Mason
89
Posted 10/07/2016 at 22:25:50
He's going to Chelsea. His agent said he is going to England and while the weight of money was on it being to Everton he didn't say he's going to Everton. The Telegraph article said that the Chelsea deal would be announced tomorrow or Tuesday.
Thank heavens for me, he is a squad quality player at best and yet another indicator of the lunacy of current valuations. Lukaku £75 MM, Stones £50 MM? You can build schools and hospitals for that and it's obscene that instead we make thick under talented young players and their agents rich on it instead.
Colin Glassar
90
Posted 10/07/2016 at 23:14:40
It is obscene Martin but we pay for it. Millions of us pay to watch football on Sky and BT and they give the money to the clubs, to squander in many cases, for mega transfer deals. I don't know how longer this can go on.
As for Witsel, well this has become more tedious than the yarmolenko farce. They can both sod off if they want to use us to get their "dream" moves to other clubs.
Ari Sigurgeirsson
91
Posted 10/07/2016 at 23:15:18
To be honest I would rather have William Carvalho than Witsel.
Colin Glassar
92
Posted 10/07/2016 at 23:31:27
Joao Mario, Ari. He was everywhere tonight.
Sean McCarthy
93
Posted 11/07/2016 at 00:44:58
Mike #21.... are you basing your view that Dowell, Ledson and Davies are a better bet than a proven international on the briefest of brief appearances they made in a dead rubber of a game at the end of last season??? No pressure then, lads!!

Charlie Burnett
94
Posted 11/07/2016 at 01:11:46
Same old, same old. Okay, Moshiri took control but can anyone tell me anything that has changed?

Okay, we got Koeman and they said it was their Number One choice which I don't believe to be honest. What changed? Still linked with big names but can't seal the deal. Stadium still all hearsay. Bill still talking shit...
Barry Williams
95
Posted 11/07/2016 at 05:13:39
I think we put too much emphasis on these stories. No one from the club has mentioned a thing, plus how can the guy sign anything if he is on holiday?

Agents with their own agenda and media moguls with pages to fill do not a solid transfer link make! So, everything else is just speculation, which just leads to disappointment. Haven't we had enough of that as Evertonians? Indeed, these players may be on the radar, but quite frankly until they are at Goodison having a medical then it is just speculation to me!

When we signed Fellaini for example, that came out of nowhere. Some posters talk about dithering, but really what do we know about the behind the scenes shenanigans?

I thought Moyes got unfairly labelled here, his dithering got us Martyn, Howard, Coleman, Baines, Oviedo, Lescott, Distin, Jagielka, Arteta, Gravesen, Cahill, Heitinga, Pienaar etc etc. And there are some players we wished he'd dithered on.

The point is, it is all about perception as we really haven't got an igloo as to what is going on behind the scenes. As Phil Walling (#74) says, there has been a feeling of the squad underachieving. The manager has just come in, there has been the Euros, players are still on holiday, and there is a squad that is getting assessed, not to mention assessing the suitability of the youngsters for first team duties!
Peter Bradshaw
96
Posted 11/07/2016 at 06:44:21
Guys, from what I have heard, Chelsea have bid for the player and funny enough because of this Everton have placed a bid larger than Chelsea's for Koulibaly – can we see that these are linked?
Next we have a go for Milik, who plays for... ???
We will still land Witsel, but not Koulibaly. Mata is still on the cards as this deal is dependant on Pogba going to Man Utd (although Mata has been transfer listed).The Fiorentina guy is a great backup if everything goes tits up.
Advice: stop panicking and go and have a look at the Chelsea sites and see what they are saying about "corrupt Everton" – it's hilarious. Comments about us having loads of money and must be corrupt... we have signed a third choice keeper and they are owned by someone from the mafia. :)
Onwards and Upwards Guys COYB!
Peter Bradshaw
97
Posted 11/07/2016 at 06:46:23
Barry, the Fellaini transfer didn't come out of nowhere, Bluekipper even picked up our interest six months before he came in
Barry Williams
98
Posted 11/07/2016 at 06:54:30
Peter 97, BK may have picked up on the Fellani transfer 6 months before, but that would have been along with claiming we had an interest in a myriad of other players that utterly came to nothing.

My point being is that BK may have picked up on it, but the sports media didn't and ultimately for anyone who didn't regularly read BK it was out of the blue, no pun intended!

Whereas, I tend not to be too excited by transfer news as after being an Evertonian for 35 or more years I am used to a lot of these transfer rumours being just what they are, rumours!
Phil Walling
99
Posted 11/07/2016 at 09:23:07
Like it or not, it will be September 1st before we can see if we've had 'a good window' and almost certainly 1st February next year before we can start to be confident that Koeman is any improvement on his predecessor!
Summer International competitions always disrupt the close-season recruitment and training programmes and we are just having to be patient whilst RK gets his feet under the table.
Personally, I'm as interested to discover how the new man rates our 'unusual seam of young talent' as I am about signing Witsel and shall be just as happy if he turns last season's losers into a Leicester City as I shall be when Mata waves the scarf!
Brian Harrison
100
Posted 11/07/2016 at 09:37:55
I am sure that RK is busy assessing the current squad, and to see what changes are needed. Obviously with only one first team goalkeeper in the squad he had to sign another. Although I think he will definitely sign another keeper.
But as good as watching players train is valuable it is still not the same as playing in a competitive game. I am sure with having played against us he has a fair idea of the talent in the squad. But Klopp didn't make any signings in his first transfer window, he took his time to assess his squad. I am not suggesting RK wont make important signings before the start of the season but give the guy some time first.
Mike Allison
101
Posted 11/07/2016 at 09:55:31
I'd rather wait for the right signings than make the wrong ones quickly.
Our current squad has a lot of ability, and could do extremely well. We need clear improvements, not quick big money signings as a PR exercise to the fans.
Having a new manager means we're behind other clubs, they should be implementing long term plans, we're only just starting a new regime.
Eric Myles
102
Posted 11/07/2016 at 09:55:51
I'm not so sure Koeman is considering another keeper as with Valdes available for free surely he would have considered him?
Colin Glassar
103
Posted 11/07/2016 at 10:32:10
I was thinking the same, Eric, after reading Koeman's comments regarding our new goalkeeping coach. He just might think we don't need to spend mega bucks on a new goalie. I doubt it though.
Martin Nicholls
104
Posted 11/07/2016 at 11:58:23
Andy (#80) – NOBODY "could have rendered Alan Ball useless"!
Terence Tyler
105
Posted 11/07/2016 at 12:34:48
4-year deal with Napoli, according to TalkSport.
Colin Glassar
106
Posted 11/07/2016 at 12:48:16
TalkSport? Well if that's the case we move on and get that Croatian lad and Wijnaldum for about the same price.
Danny Halsall
107
Posted 11/07/2016 at 13:46:50
Have you actually read the TalkSport article? They quote an Italian rag as their source so I wouldn't read too much into it. I think we will sign him in all honesty, we have too much money compared with what Napoli offer and we can give him Premier League football. I know that Napoli are in the Champions League but, at 27, he may not get another opportunity to play in "the world's most competitive league".
We will see... either way, the club seems to be dealing with transfers in a calm and professional way. I think that, by the end of the week, there will be some sort of news for us.
Jim Burns
108
Posted 11/07/2016 at 14:02:39
Dave @ 10 – you seem to imply this is Everton's fault – can I ask why? We know virtually nothing of the facts.
Neil @ 17 – nothing like an optimistic view of things then?
Just remembered why some of the posts on TW can be bad for the blood pressure at this point of pre-season.
Ray Roche
109
Posted 11/07/2016 at 14:45:04
Martin Nicholls (#104),
He'd have played him in goal.
Martin Nicholls
110
Posted 11/07/2016 at 14:55:43
Nice one, Ray! Despite his size, I reckon Bally would have done a better job there than some of those (eg, Lawson and Dai the drop) who followed him to Goodison!
Dave Pritchard
111
Posted 11/07/2016 at 15:24:44
Danny feels calm and Jim's blood pressure is rising. I'm somewhere in the middle as I'm waiting a little anxiously for some transfer dealings to actually happen. No need for panic just yet but an actual signature on a contract from a player that is likely to improve us significantly would be nice.
Jay Harris
112
Posted 11/07/2016 at 15:57:28
I understand the need for patience as Koeman has to see what the players are capable of and who wants to stay and play as well as looking how the jigsaw fits together and what pieces are missing.
However, having lost so many players from the squad and with an aging Barry, Jagielka and Baines I am concerned that the top talent is already being snapped up.
Jonny Flynn
113
Posted 11/07/2016 at 16:21:20
Wikipedia says current club is Napoli. Because we have cash, we are being linked with all sorts of players edging for a move. I think we won't really know till most deals are done.
Best we sit back and hope it's a good ride. Koeman won't let us down. If we can't trust him at this stage, God help us.
Phil Walling
114
Posted 11/07/2016 at 18:34:00
Who, of our 'top talent' has already left us, Jay?
Brian Williams
115
Posted 11/07/2016 at 19:20:47
Phil (#114),
Errrrr....Osman, Pienaar, Hibbert.
Top talent........ 10 years ago!
Jonny Flynn
116
Posted 11/07/2016 at 19:39:13
I think Jay means the other teams are snapping up the top talent available. I'm not too worried... money talks – and we have it. :)
Darren Alexander
117
Posted 11/07/2016 at 22:19:17
Wikipedia says:
"On the 11 July 2016, Witsel signed for S.S.C. Napoli for €25, on a four year deal".
Presumably not too much of a risk for that money ;)
Sam Hoare
118
Posted 11/07/2016 at 22:32:30
Don't believe Wilipedia when it comes to transfers!!
Still think he'll be ours. Statement yesterday in Russian govt press saying Zenit were not speaking to Napoli.
Reckon we'll announce it the day he returns from holiday unless Chelsea gazump us...
Eric Holland
119
Posted 11/07/2016 at 22:32:32
Darren, any one of us can go on Wikipedia and change his club to Everton for the sum of 30 million.
In fact why don't we?
He must be worth at least 㿊 though Darren.
John Abbot
121
Posted 12/07/2016 at 08:16:53
He was set to complete a transfer from Zenit St Petersburg to Everton in the coming days once he had finished a post-Euro2016 break in Italy with his family.
Tony McNulty
122
Posted 12/07/2016 at 09:50:52
If we don't sign someone soon this week, I shall be even more annoyed than I was last week, to say nothing of how annoyed I will be next week should we not have signed anyone in what will then be the whole of last week (i.e. this week) or the then current week (which will of course be next week from the perspective of this week).
As for the week after next, I won't even go there.
I believe I speak for many ToffeeWebbers. Grrr.
Andrew Rocha
123
Posted 12/07/2016 at 14:33:16
09.47 BST: Everton look set to miss out on Axel Witsel to Napoli, with the Serie A runners-up offering €22m plus an additional €3m in bonuses for the Belgian midfielder. Gazzetta dello Sport says Zenit Saint Petersburg are prepared to accept the offer and Witsel will sign a four-year contract worth €3.2m per year
http://www.espnfc.us/blog/transfer-...eiger-and-more-in-manchester-united-clear-out
Darren Alexander
124
Posted 12/07/2016 at 16:12:14
@Eric (119) - you're quite right, but it was just that whoever slapped that up on Wiki forgot to add the critical "million" bit after the supposed fee. So I thought €25 was quite a bargain - even at today's poor exchange rate it's not much over 㿀 :)
Jackie Barry
125
Posted 12/07/2016 at 16:15:53
It's funny because Russian media are saying quite strongly that Zenit are refusing to talk with Napoli. I have heard that his agent wants Napoli but Zenit want to deal with us. Either way hope this ends soon.
Rob Halligan
126
Posted 12/07/2016 at 16:21:37
Looks like Witsel maybe off to Napoli
http://www.calciomercato.com/en/news/report-napoli-one-step-away-from-signing-Everton-target-witsel-102269
Daniel Lawrence
127
Posted 12/07/2016 at 16:21:57
We're 1/6 with Skybet for Mata. I doubt Elstone has the ability to try and sign two decent players at once (he seemingly struggles with one), so maybe the focus now lies there.
Mark Ryan
128
Posted 12/07/2016 at 19:41:21
Type or paste your comment here. PLEASE capitalise initial letters of proper names and use proper grammar. No txt-speak; all-lowercase posts are likely to be deleted
Mark Ryan
129
Posted 12/07/2016 at 19:43:38
I hope we have missed out on him to Napoli. He's not even as good Fellaini was. Move on, he's average
Martin Nicholls
130
Posted 12/07/2016 at 20:35:01
€3.2million a year? That's about 㿞k a week or half what we allegedly are prepared to pay him. Doesn't ring true somehow.
Personally, I'd look elsewhere anyway.
Sam Hoare
131
Posted 12/07/2016 at 22:49:13
Rumours now that his talks with Napoli have collapsed over image rights dispute.
I'm a fan of his but it seems to me like Napoli may have been his first choice and no-one likes being second pick....
Jan Andreassen
132
Posted 13/07/2016 at 11:28:48
This has taken so long now that if he finally does become our player, it will be like a new signing.
Colin Glassar
133
Posted 13/07/2016 at 13:52:06
According to some reports it's back on as Napoli have pulled out. Witsel, Wijnaldum and Ziyech will be our new MF this season.
Terence Tyler
134
Posted 13/07/2016 at 15:36:21
According to other reports Colin, he is going to Inter Milan
Chris Williams
135
Posted 13/07/2016 at 15:58:06
Nobody knows anything as a famous Hollywood writer said about Hollywood
( yet another senior moment!)
Chris Williams
136
Posted 13/07/2016 at 15:58:14
Nobody knows anything as a famous Hollywood writer said about Hollywood
( yet another senior moment!)
Chris Williams
137
Posted 13/07/2016 at 15:58:21
Nobody knows anything as a famous Hollywood writer said about Hollywood
( yet another senior moment!)
Andrew Ellams
138
Posted 13/07/2016 at 16:04:49
I used to watch a lot of non league football in the 80s and there were a few ex pros doing short term contracts around the circuit, 2 or 3 months at each club. Maybe that is what Witsel is planning with all of these clubs he's apparently definitely going to.
Dave Pritchard
139
Posted 13/07/2016 at 16:20:40
Colin 133, that's two Ws and a Z. If we can get Yarmolenko (arrggh I've mentioned the Y word) all we'll need is an X but Xhaka's already gone to Arsenal. Xavi anyone?
Chris Williams
140
Posted 13/07/2016 at 16:32:40
Sorry folks
Another senior moment. I hope they don't all join up.
Ray Said
141
Posted 13/07/2016 at 16:36:21
'Kiss Kiss Radio Napoli' report that Napoli have pulled out of the Witsel deal as the coach could not guarantee him a place in the first team and they didnt want to lash out 25 mill on a bench warmer-see link
http://www.football-italia.net/87287/sarri-rejected-witsel
Phil Walling
142
Posted 13/07/2016 at 16:57:58
I just hope he's a tad more talented than the last two we've snapped up from Russia !
James Morgan
143
Posted 13/07/2016 at 22:59:48
Gazzetto dello Sport now saying Napoli and Zenit talks have broken down and we are in pole again. 😴
Dave Hall
144
Posted 14/07/2016 at 01:30:29
As irritating as this become, this feels like an important transfer in an important position for us to get over the line to prove we mean business. I still want to see a Belge-'fro in the center of the park for us next season.
John Francis
145
Posted 17/07/2016 at 22:24:44
1/3 now to sign for us.
Tony Draper
146
Posted 17/07/2016 at 22:39:45
Think that I've gone utterly cold on this one.
Not going to flesh out my reasoning. So that's a Nope.
---
Add Your Comments
In order to post a comment, you need to be logged in as a registered user of the site.
Or Sign up as a ToffeeWeb Member — it's free, takes just a few minutes and will allow you to post your comments on articles and Talking Points submissions across the site.
© ToffeeWeb