International stars join group for pre-season

77 Comments [Jump to last]
18 July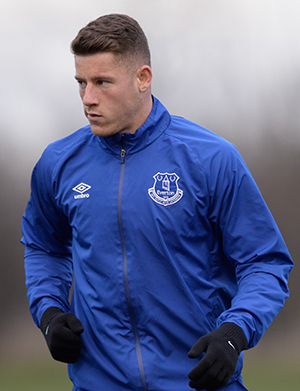 Eight of Everton's nine players who travelled to represent their countries in international competition this summer are back at Finch Farm.
Ross Barkley and John Stones, un-used in England's Euro2016 debacle, were joined by Ramiro Funes Mori, the Irish contingent of Seamus Coleman, Aiden McGeady and James McCarthy, and Swiss new-boy Shani Tarashaj in returning to Halewood to begin their preparations for the new season. Bryan Oviedo was already back in training following Costa Rica's early exit from Copa America.
Though Tarashaj spent the second half of last season back on loan with Grasshopper Zurich after he was signed by former boss Roberto Martinez, he has trained at Finch Farm before but, like his fellow internationals, he will be taking his first sessions under new manager Ronald Koeman.
Romelu Lukaku has been given extra time off by the club after his involvement with Belgium in France this summer and while the club haven't confirmed a date for his return, Koeman's comments on evertonfc.com suggest it will be soon, with the kick-off to 2016-17 less than four weeks away.
"The perfect scenario would have been to start with everybody," the Dutchman said. "But that's not really the football business in the last few years. You know after a European Championship you will need to start later on.
"The players except for Lukaku will all start [today]. Then we will have almost everybody back and that's good because then we can start really to work on the team for the season."
Funes Mori, a losing finalist in the Copa America with Argentina spoke to evertontv about his busy summer and his hopes for a flying start to the new campaign after he elected not to go to the Olympics in Rio next month.
"I've been busy with the Copa America, I got married and I didn't have much vacation," the defender said, "but it's always good to come back to Everton and hopefully we do better this season.
"It's good to see the guys and to get to know the new manager. [It's good] to be back training hard. I want to play like I did in my first year and hopefully we have a good season and start out strong."
---
Reader Comments (77)
Note: the following content is not moderated or vetted by the site owners at the time of submission. Comments are the responsibility of the poster. Disclaimer
Anthony Dwyer
1
Posted 18/07/2016 at 18:36:39
I'd have given Funes Mori an extended break of another 7-10 days.
He's the one who is half a world away from home and he's genuinely been active throughout the summer, playing all his country's games, and reaching a final.
John McGimpsey
2
Posted 18/07/2016 at 18:39:02
Well let's hope Ronald can see we still have 4/5 still here not counting the three who were released that need moving on.
Sharpy on the radio a couple of weeks ago said realistically we neèd 8 players to improve as a squad.... Mr Moshiri, get it sorted, kid... buy the other shares and move the con man, his side kick, and Suntan Bob out to pasture.
Alan Humphreys
3
Posted 18/07/2016 at 18:43:29
Barkley and Stones are at least we'll rested.
Oliver Molloy
4
Posted 18/07/2016 at 18:55:35
I do not understand why Lukaku is not back.

Daniel A Johnson
5
Posted 18/07/2016 at 19:02:39
Yet another example of there are rules for the team and rules for Romelu Lukaku.
Always pandering to him in one form or another.
I hope he doesn't come back and sulk the place out.
David Barks
6
Posted 18/07/2016 at 19:02:41
Because Lukaku went deeper in the tournament.
Colin Glassar
7
Posted 18/07/2016 at 19:04:17
Rom is in Miami with his mate Pogba.
Les Martin
8
Posted 18/07/2016 at 19:11:30
When Rom is back, Ronald and his regime can start with getting them all fit. I have a feeling some players are going to find it initially tough but welcoming after Martinez's fitness by ball playing nonsense.
Oh and please keep some them out of the weights room, especially Ross, upper body muscle is a energy sapper for midfielder/strikers who cover a lot of mileage during a game.
Oliver Molloy
9
Posted 18/07/2016 at 19:14:56
I agree with Anthony @ 1. Funes Mori played more games than Rom and he's back.
As I said, I don't get it – he should be back in my opinion.
Barry McNally
10
Posted 18/07/2016 at 19:24:19
Belgium finished 4 days later than Argentina so I expect he'll be back by the weekend.
Colin Glassar
11
Posted 18/07/2016 at 19:24:38
I think Rom gets back on Wednesday. Stones being there is far more significant for me as the press had him camped outside the Etihad with a "buy me" placard around his neck.
Tony McNulty
12
Posted 18/07/2016 at 19:27:21
Baines quoted as sensing a "buzz of excitement" around Everton following the appointment of the new manager.
This contrasts with the buzz of flies around dung under the latter days of the previous incumbent's tenure.
In retrospect, the bollocking Baines received after voicing some mild criticisms towards the end of last season really was a turning point, as others have pointed out.
Mike Allen
13
Posted 18/07/2016 at 19:36:38
Lukaku should be back or full explanation why he or anyone else has not reported back. I know he had a part-time job as a chauffer in LA but that's no excuse...
Michael Kenrick
14
Posted 18/07/2016 at 19:47:03
Wow, I'm really surprised and pleased that Stones is at Finch Farm. I'm hoping against hope that Ronald convinces him to stay.
Dave Ganley
15
Posted 18/07/2016 at 19:59:58
I'm quite sure that if England (ha ha) had reached the quarters then Stones and Bartley would still be afforded time off too. I don't mind people criticising Lukaku when he's had a crap match but come on, giving him a hard time the club has given him a bit of extra time off because of being in the quarters in a tournament?? FFS.
Think Stones is off as soon as, Michael, be nice if he stays but I think he mentally left last season. Sooner we offload if that's what he wants, the better so we can get as much cash as possible and get suitable replacements in.
Tony Hill
17
Posted 18/07/2016 at 20:23:37
Yes, let's hope Stones has decided to learn from one of the very best. If he has, I think it could be a career-making decision for him.
Michael Kenrick
18
Posted 18/07/2016 at 20:27:07
Yes, I'm only too familiar with that line of thinking on Stones, Dave (#15).
But as Ronald Koeman, would you not want to at least sit down with the lad, talk to him about his aspirations, compliment him on his tremendous potential, spit-ball some defensive strategies and 'filosofies' (arrgh!) that may not have been suggested to him these last three barren years of defensive blight... and maybe, just maybe invite him to rethink — given the absorbing prospect of working with a world-renowned Dutch international defender of outstanding pedigree?
Just sayin'...
Liam Reilly
19
Posted 18/07/2016 at 20:42:09
If Stones were to stay, then unless Koeman goes 3 at the back, either the club Captain or a starter for the #1 ranked team in world football would need to be benched.
Quite a pickle, but a nice one to have I guess.
Ian McDowell
20
Posted 18/07/2016 at 20:51:44
Whilst it would of been beneficial to get people in for pre-season training. There is still 6 weeks until the window closes. It's just one of them things these days that a lot of business gets done late.
Dave Ganley
21
Posted 18/07/2016 at 20:51:59
Don't get me wrong, Michael, I would love that to happen. I feel there is a great defender desperate to get out of Stones and Koeman is, in my opinion, the man to do it. If he can't learn from someone like that, then he never will.
I just feel that the damage has already been done regarding Stones and his 'affinity'(?) with the club. He was happy to go to the Chavs last season given half a chance and now he reportedly has said he wants to go to Citeh. Of course, this may all be paper talk, as is most of it at the moment. We shall just have to wait and see I guess.
Colin Glassar
22
Posted 18/07/2016 at 21:08:39
Agreed Ian. At Southampton he had to face mass desertions TWICE!! Koeman remained calm and quietly rebuilt two teams successively. I'm sure he's not worried right now with still a few weeks still to go before the season starts.
Paul Andrews
25
Posted 18/07/2016 at 21:31:59
Brian, it stands to reason. Koulibaly is one of the best defenders in Europe. Stones is not even the best defender at Everton.
Christy Ring
26
Posted 18/07/2016 at 21:41:14
Hopefully Koeman convinces Stones to stay, and fills him with confidence, after Martinez left him totally drained, and he won't have Howard behind him.
James Flynn
27
Posted 18/07/2016 at 00:07:41
Michael (18) - The line of thinking you post is another we're familiar with and a good one.
So, Stones IS convinced, "Gaffer, I'm convinced. You will make me better at defending, God bless you."
"Now about that 㿭,000 a week wage increase Man City is promising me....?"

Peter Gorman
28
Posted 19/07/2016 at 01:12:01
"International stars join group for pre-season"......"stars".......
"Stars......." Words just don't have any meaning anymore.
Eric Myles
29
Posted 19/07/2016 at 03:41:23
Wrong coast, Colin (#7), they're partying in LA.
Jay Harris
30
Posted 19/07/2016 at 04:16:37
That was last week, Eric, then they flew to Miami.
Partying not holidaying. How times have changed for young professional footballers.
It's a hard life.
David Barks
31
Posted 19/07/2016 at 04:29:26
Jay,
Are you trying to say that footballers of the past didn't enjoy a good time away from the pitch? What footballers are you thinking of exactly? Hell, back in the day they used to have a couple during half time. God forbid the guys spend 1-2 weeks enjoying themselves.
Darryl Ritchie
32
Posted 19/07/2016 at 05:55:04
To the world at large, the most recognizable Everton player is Lukaku. To them, he is a star! (Maybe not in Miami.) The thing is, he believes it himself. Make no mistake, I like Rom. He's a good player, but he could be so much better.
To me, he is an incomplete footballer, who should be at Finch Farm, working his ass off to improve his fitness and improve his skills in the areas he needs improvement in.
So much potential; so much pointing and walking.
Koeman has four weeks to assess the squad. A difficult job when your "star" is missing.
Tony Abrahams
33
Posted 19/07/2016 at 07:35:42
I'm not Lukaku's biggest fan but to say he shouldn't have at least 3 weeks away from football is not something I agree with.
It's a very long season, especially if we have a good one, and to expect a young man to go and play 95/98 weeks on the spin without a break will only catch up with him when he's probably needed the most.
I know people will say he had a break from March till May, but we are talking about athletes these days.
When Cantana, was at Leeds, I always remember his quote when they had to play a load of games, very early in the season. "We're English, the Leeds players kept saying, but Eric's reply was that they were not from outer space, they were human beings. And it didn't matter where they were from because the team were fucking shattered.
Eric Myles
34
Posted 19/07/2016 at 07:51:05
Totally agree, Darryl (#32).
Mike Allison
35
Posted 19/07/2016 at 07:51:35
"Partying not holidaying."
As if there's a binary distinction between the two. Partying and holidaying are the same thing for 23-year-olds. It's more about mentally switching off from football than the physical side.
Lukaku's been overplayed. He was never rested last season and I don't care what numbers go into your bank account each month, you can't 'peak' all the time. He'll be a much better player if he has adequate rest.
Eric Myles
36
Posted 19/07/2016 at 07:53:49
Jay (#30), I only just caught up on the news today that they were in LA!! Behind the news with moving.
Laurie Hartley
37
Posted 19/07/2016 at 07:55:53
Fair comment, Tony. I suppose regardless of our opinion of him, we all want him back as soon as possible so the boss can cement his plans for the squad.
Ray Roche
38
Posted 19/07/2016 at 08:13:27
David Barks (#31),
David, footballers past and present have always had a reputation for enjoying themselves. Difference is, getting the bus to the Dog & Duck for a shed full and taking a private jet from LA to Miami? The stuff of dreams. I know which I'd prefer.
I used to love that Dog & Duck......
Still, as long as he comes back fit and raring to go in OUR blue shirt, eh?
Andrew Ellams
39
Posted 19/07/2016 at 09:25:31
Jay Harris, are you old enough to remember Stan Bowles, Frank Worthington or George Best?
Derek Thomas
40
Posted 19/07/2016 at 09:36:47
You couldn't move for players in the Royal Tiger Club... and it was even worse after the game.
Barry McNally
41
Posted 19/07/2016 at 09:49:08
He was pictured driving Pogba so at least he's not on the sauce!
Chris Williams
42
Posted 19/07/2016 at 09:51:14
Derek, Friday night in the Royal Tiger was ruthless. I remember seeing Alex Parker tumbling down the stairs there.
I think I'm right in saying that Roy Vernon was tracked down there by Stoke City when they were trying to sign him.
Mark Murphy
43
Posted 19/07/2016 at 09:53:13
Different times... anyone else remember Duncan McKenzie sneaking a drag from someone in the Enclosure during a match (Stoke??) when he went "to take a throw in"??
TBH I'm more concerned that Funes Mori hasn't taken a holiday than that Lukaku has.
Simon Bates
44
Posted 19/07/2016 at 10:21:58
Personally, I would think the one player Koeman needs to work the hardest with in the whole squad is Lukaku. The guy is lazy, big headed, has serious weaknesses to be worked on, and a serious attitude problem. Koeman should have got him back early as an example, laid down his marker.
And please don't give me the 'tired' excuse. If he aspires to be called a world class athlete, send him on the pro tennis tour as Andy Murray's ball boy, mascot, racket carrier!!! He would soon be back at Finch Farm, tail firmly between his legs.
Paul Burns
45
Posted 19/07/2016 at 11:29:25
What the fuck is "partying"? – a nonce word made up by whoppers in newspaper celebrity columns for what every normal person calls having a drink.
Don't embarrass yourself by using it.
Terry Underwood
46
Posted 19/07/2016 at 12:08:50
Peter Gorman (#28), I totally agree. My first thought on seeing the headline was "Stars"???– who have we signed?
Yet another sign of pandering to already large enough egos. Do it on the pitch lads, prove yourselves worthy of the "star" tag, and we will love you; stroll around like last season and we will not love you quite as much... your choice!
COYMB
Oliver Molloy
47
Posted 19/07/2016 at 12:29:40
Anyone seen the photos of Stones out shopping in Manchester with a girl. He looks the picture of happiness – not... now his girlfriend (if it is) seems to be over the moon at being spotted.
Earns thousands and thousands of pounds a week, he is young fit and good looking healthy lad but can't raise a smile for the camera! – hilarious.
Jay Harris
48
Posted 19/07/2016 at 14:41:22
I certainly am, Andrew, and have had a fairly colourful life myself but that doesn't excuse modern footballers who are supposed to be so dedicated and fitness-conscious from doing the same as some of the "less" professional characters of the past.
Are you saying it's okay for Lukaku to become another Stan Bowles?
My biggest issue is that I believe all the internationals should have reported back at the same time and would have wanted to but Mr Ego personified decides he needs another 4 days.
I really worry about the effect this has on team spirit – especially if he is given a huge wage increase.
Tony Abrahams
49
Posted 19/07/2016 at 14:41:55
I don't know Stones personally, but feel, it's a case of "can't do right for wrong" sometimes, Oliver.
I would love to be a footballer right now, I'm sure I'd like the money they earn, but I know for a fact I would hate to be getting followed by a man with a camera.
The kid's probably got a lot on his mind right now, and maybe when everything's sorted in his head, he might be able to smile.
Tony Draper
50
Posted 19/07/2016 at 15:29:49
Oliver @47.
I'm with Stonesy on this one, mate, I really fuckin hate shopping!
One time on a Saturday (we were away) and the ex had me in bloody "Dollopy Porkins" by bloody 5 past 9. She spotted a bloody dress that was fine, in her size and colour (which incidentally, I could afford!). Did she buy the bloody thing? No!
So for the next FOUR hours we traipsed up an down sodding Lord Street, Whitechapel, Church Street, Bold Street, St Johns... then pass go and do not collect 𧶀 as we began again... at bloody "Dollopy Porkins", where she tries on the self-same sodding dress. Did "we" buy it? No!
As we are about to go to the same sodding shops, possibly in the same order, to try on the same shite as at 9:30am, I pressed the ejector button and as she stomped off towards Next or River Island or fuckin Fantasy Island(!) I dived off towards Bluecoat Chambers, swift left and into "The Old Post Office" for a pint of draught Bass. Possibly one of the best pints I've ever had in my entire life.
No mobile phones then, so a couple in there, then off to "The Swan" in Wood Street, same script in there, then up to "Ye Cracke", couple in there (at which point I flogged whatever shite was in the bloody carrier bags that I was still carting around, for a pint). Then off to "The Phil", downhill to the "Post Office" in for a couple more. "The Ropewalk" then popped down and jumped the bus home (only pausing for the worst pint of the day in "The Flat House").
Sound does not travel in a vacuum.
Brian Williams
51
Posted 19/07/2016 at 15:38:30
People sometimes seem to think that being a professional footballer immediately equips you to handle every situation, including some tosser following you round when you're already well pissed off at being dragged round the shops by your bird.
Why should Stonesy have to smile just because someone feels they have the right to invade his privacy when he's doing everyday normal stuff.? Some may say it goes with the territory... I disagree.
Now if he was asked is it okay and he said yes, then that's different. But to have some wanker walking along taking photos of you without having the common courtesy to ask... I'd hope he fell over a bench and broke his camera/phone and was then unable to put the photos on every sad social media site and thus miss out on his 15 minutes of fame!!
Jim Jennings
53
Posted 19/07/2016 at 15:49:02
Christ, some of you really would want to get out more.
A 23-year-old getting slated for going on holiday and "partying". As for Rom being on the sauce, isn't it the case that he does not drink?
Brent Stephens
54
Posted 19/07/2016 at 16:07:02
Tony (#50) – clearly you learned how to pub crawl the way she used to shop crawl – probably at no greater cost.
"Just trying this pint on, dear."
Oliver Molloy
55
Posted 19/07/2016 at 16:12:25
Tony @ 49 & Tony @ 50 (very funny).
Points taken, but the fact is everything is better when you smile, and for me he has a lot to smile about!
David Barks
56
Posted 19/07/2016 at 16:13:08
Jay Harris,
Try to expand your world view slightly outside of Everton, and then you'd see that all of the players who went deeper in the tournament are on holiday. The French players, Portuguese players, even Zlatan is still on holiday. It is the only time off they get. They do perform year round. Get over yourself.
Andrew Ellams
57
Posted 19/07/2016 at 16:25:42
Jay, my point is that these players aren't even close to being what Stan Bowles was, but if you don't let 23-years-olds blow off steam every now and then, that's when you get a problem.
Jay Harris
58
Posted 19/07/2016 at 16:43:17
Fair point, Andrew, but I still think, in the interests of team spirit if nothing else, all the international players should have come back at the same time.
Tony Abrahams
59
Posted 19/07/2016 at 17:03:53
Especially when the weather is like it is today, Oliver. Just perfect for one of Tony's little pub crawls, although I think he should have finished in the Post Office, simply because the steak and chips is second to none!
Everton Wint
60
Posted 19/07/2016 at 17:04:37
I'm sure the article says the Club, have given him extra time off. Surely that means he's got a date to return and start training, which Koeman must of had a say in. Leave him alone until he's actually done something wrong please.
It's a new era so let's forget the last two years and stop panicking about every little thing. Some of us on here, must have serious issues in our lives. Chill out. COYB
Michael Kenrick
61
Posted 19/07/2016 at 17:14:02
You say "team spirit", Jay, but have you considered the risk that these players, being denied a decent break and expected to work their bollocks off from day one, with no recognition of the extra effort they had put in to support their respective international campaigns, might just get a cob-on that could last the whole season? Er... not good for team spirit, eh, I would say.
Leave it be. It's not anything you're going to change. It's done.
Eric Paul
62
Posted 19/07/2016 at 17:24:46
Christy @26,
The problem was Stones not Howard (Arsenal away notwithstanding). Stones would make Southall look poor. Get rid.
Tony Draper
63
Posted 19/07/2016 at 17:28:20
Oliver @55.
Yes, you're quite right, and clearly have spotted that that beer + Tony = not professional footballer. There may just (only just, mind) have been some "other issues" too, pace akin to continental drift but frankly that was down to me Mam selecting them "Timpson's Shooting Stars Boots",
Then... stuff that I was working on... TBH some of it really has progressed... For instance, I buy my own boots now!
(Not the beer thing, well not in a "less is more" sense, more of a "more is, shitloads more" kind of direction. Based upon the much misunderstood Bernie Wright an Andy van Der Shandy. The Russian Athletic Federation have been most supportive in this regard.)
Jim Hardin
64
Posted 19/07/2016 at 17:41:16
Have I missed something here? Has the club or manager indicated Rom has failed to appear when required? If not, stop trying to slag the guy off when he has done nothing wrong.
Besides, practicing and actually playing with the Belgian squad since the season ended surely must have helped Rom keep his fitness. I expect Rom can show up and still be in condition to play more minutes than either DelBoy and Barkley from day one.

Phill Thompson
65
Posted 19/07/2016 at 19:11:40
I have no problem with Rom having a holiday. My concern is that 2 years ago, after an extended break following the World Cup, he was way off the pace for weeks when he returned.
I would hope he's two years wiser as well as older and quickly gets himself up to speed fitness wise. Sadly it's about the only outfield position where we don't have an eager youngster pushing for his position. I suppose there's always Niasse.... shudder.
Tony Draper
66
Posted 19/07/2016 at 19:19:33
Oliver @55,
I've re-read your posting and there's much to be credited to you, but possibly to the likes of me too (but in moderation). What follows is most certainly not directed at you, Oliver.
Although John and his girl are incredibly wealthy by my standards, are they "culturally enriched"? (Please forgive the "Social Worker Jargon".)
Does the expression upon John's face actually describe all the turmoil of emotions within? A year back, YouTube featured some utter bellends verbally abusing Stones at a motorway service station, the kid was visibly hurt. Similarly, Capt. Jags put an arm around Barkley's shoulder at the Wembley semi-final.
Multi-millionaires they may be at 22/23, and they can occasionally appear to be utter tools! But, around their age when I was (see post @50) a bellend, and I was occasionally (rare, extremely rare, I'll admit. *cough*) at least my folks, uncles, family mates could look me dead square in the eye and say "FFS Tony, you were shitfaced and acting like a right tit last night! Knock it off, mate!".
But, I was in a decent job, not fantastic just decent. These kids have bucketloads every single day. It attracts parasites, like stale ale in a beergarden attracts wasps.
Very few people in Stones's or Barkley's or Lukaku's life are there because they genuinely care. Sadly, not even their own kith 'n' kin.
Far from feeling wealthy, many of these young lads simply feel lonely, abandoned and can not trust anyone that they see upon a daily basis.
Their bloated wages (not earnings) are largely compensation for the intrusion of their trade. Ugly as it sounds, porn stars need STD checks, footballers need doping checks. Dreadful, but not entirely different.
So when anyone pokes a camera/phone in your face, it's what you are being paid for, the loss of true friends, being hunted by "fit birds" (who need very expensive fancy knickers etc).
Do I feel sorry for them? Nope, not for a single second. Did they feel sorry for me when I bloody near cut open an artery on a sliver of tile when I was removing a bath? Stopped me working for a month, zero income. Nope, not for a single second.
Money maketh misery?
Colin Glassar
67
Posted 19/07/2016 at 19:35:51
I don't have a problem with Rom having a few extra days off. Bale, Ronaldo, Pogba etc....are all having a few more days so, so what? Big deal!!!
However, what I cannot, and will not stand is Stonesy shopping in fucking Manchester!!!
Aren't there any decent shops in Liverpool John? Chester has good shops as does Preston, Bolton, Kirkby and Skem etc..... For gods sake, John, next time go to Paddy's Market, lad.
Dave Abrahams
68
Posted 19/07/2016 at 19:41:09
Tony, the love of money makes much more misery.
Dave Abrahams
69
Posted 19/07/2016 at 19:44:32
Colin, Stones lives in Manchester... don't know if that makes it worse!!!!
Colin Glassar
71
Posted 19/07/2016 at 19:51:23
I didn't know that, Dave, I thought they all lived in Cheshire. Well, that makes sense then but god, just for his lack of taste and judgement, we should sell him.
Tony Dove
72
Posted 19/07/2016 at 21:26:42
Rom spends half the season on holiday so another few days wont make a great difference.
Mike Allen
74
Posted 20/07/2016 at 08:53:50
Why, every time we see a photo of an A or Z celeb, do we have to add a conspiracy theory? Stones has gone shopping. Lukaku, right or wrong, is still on his hols. Super-rich at 20-odd – don't blame them or the agents, blame the clubs, the Premier League and the media for creating this over-hyped circus and us the supporters.
Got a few bob, have we? Oh! splash it on some unknown that we may have caught a glimpse of now and again or seen him score the same goal over and over again. The game of football is drifting away into fantasy football – more about off the field than on it.
Anto Byrne
75
Posted 20/07/2016 at 15:28:01
Professional footballer:
Money
Fame
More money
More fame.
Medals as an afterthought.
MONEY.

Oliver Molloy
76
Posted 20/07/2016 at 19:10:44
A different subject, but this is a sort of International thread what do you English Toffee fans make of Sam Allardyce getting the England job.
Forward or backward step ?
Phil Walling
77
Posted 20/07/2016 at 19:15:43
A journeyman manager at the most. I'd rather see Sam managing England than Everton !
Ray Roche
78
Posted 21/07/2016 at 10:16:55
So would I, Phil, but with the paucity of top English players and Sam having a deserved reputation for getting the best out of the players at his disposal, he might surprise a few of the purists. He'll certainly put the shits up the likes of Sterling.....
Incidentally, anyone see the photo taken by Depay for some Isn'itgrim or Twatter page showing his luggage for his tour with Man Utd? 1 pair of boots, 1 pair of trainers and a load of what he called "grooming" products. WTF? The guys taking a horse to China!?!
Laurie Hartley
79
Posted 22/07/2016 at 09:41:34
Ray, I did see Depay's "Twatter" page images – no way he would get a start in an Allardyce team. 😉
I am chuffed for Big Sam and think he will indeed surprise many.
Ray Roche
80
Posted 22/07/2016 at 09:52:23
Laurie, I couldn't believe that photo! Who in his right mind would post something like that? Just a thought, would Tony Kay or Dave McKay have done that?
I remember Johnny Haines having the piss taken out of him in the 1960's for advertising Brylcreem, but at least he didn't look like some limp-wristed, effete footballer like Depay does. Depay, who turned up for training in a 𧶲,000 Rolls Royce...... oh dear.
Phil Sammon
81
Posted 22/07/2016 at 10:12:25
I detest 'Big Sam' but I actually think he might be the right man for the job. We've tried and failed with pretty much every other type of manager so he can't do any worse. He's a complete arrogant prick, which I think you have to be to put up with the British media and he doesn't take any shit which should help him get the best out of the squad.
Previous England managers have been transformed from World Class to laughing stock within a couple of years. Hopefully Sam can do the reverse.
Laurie Hartley
82
Posted 22/07/2016 at 12:15:08
Ray, I think it would be fair to say Dave McKay would not approve.
Ray Roche
83
Posted 22/07/2016 at 13:10:06
Thanks for that link, Laurie, good article. Although I'll never forgive him for "that tackle" on Jimmy Husband (I know, I know; let it go, Ray) he was some player.
That iconic photograph also shows Bremner up for what HE was. Like Giles, a superb footballer but a snidey little shit who'd fill his kecks when he came up against a real hard man like McKay or Kay but who was not averse to sly kicks off the ball when playing for Dirty Leeds..
Add Your Comments
In order to post a comment, you need to be logged in as a registered user of the site.
Or Sign up as a ToffeeWeb Member — it's free, takes just a few minutes and will allow you to post your comments on articles and Talking Points submissions across the site.
© ToffeeWeb