Reports: Deal agreed with Leicester for Walsh

67 Comments [Jump to last]
19 July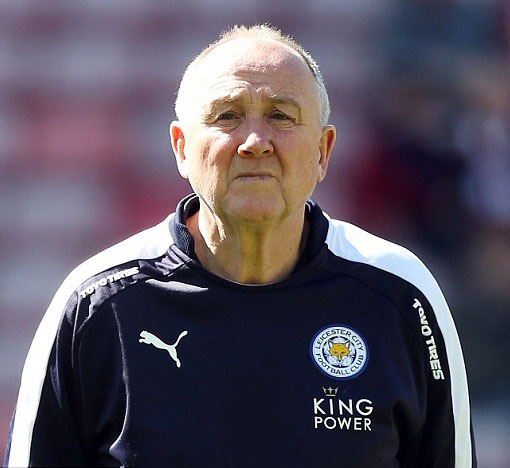 Everton have agreed a deal in principle with Leicester City regarding Steve Walsh whom they want to become the club's first Director of Football, according to reports.
Walsh, who currently serves as the Foxes' head of recruitment and Claudio Ranieri's assistant manager, is credited with scouting the likes of Jamie Vardy, Riyad Mahrez and N'Golo Kanté and has been identified by Farhad Moshiri and the Blues' board as the man to fill the new sporting director position at Everton.
Sources on Merseyside had indicated yesterday that an agreement was in place with Walsh but Leicester's refusal to accept Everton's approach for the 63-year-old had cast temporary doubt on the deal.
Those obstacles now appear to have been surmounted, with Sky reporter Rob Dorsett tweeting that a compensation deal, said to be around £2m, has been agreed and that the final legal details are now being ironed out and The Telegraph saying that Walsh's switch will be completed tomorrow.
While Walsh is on the verge of coming in, it looks as though long-serving scout Steve Brown could moving on, with the Liverpool Echo reporting that he will be joining Manchester United.
Brown has been part of the Blues' scouting setup since 2008 and has served as head of performance analysis and first-team scouting and recruitment co-ordinator.
---
Reader Comments (67)
Note: the following content is not moderated or vetted by the site owners at the time of submission. Comments are the responsibility of the poster. Disclaimer
James Morgan
1
Posted 19/07/2016 at 19:45:26
Well let's hope he's spotted some quality players he wanted for Leicester and gets them to us!
Marcus Reynolds
2
Posted 19/07/2016 at 19:47:58
All the pieces of the jigsaw are coming together nicely.
Colin Glassar
3
Posted 19/07/2016 at 19:54:59
Is Steve Brown the first head to roll? I imagine Walsh will want his own people in place.
David Pearl
4
Posted 19/07/2016 at 20:02:54
Well at last things are starting to take shape. Hoping the squad can now be added to soon with top quality, as we have enough squad players.
Christopher Dover
5
Posted 19/07/2016 at 20:07:43
Could Brown be taking a fall because of Niasse?
If he is perhaps he will poach him for United!!
Paul Kennedy
6
Posted 19/07/2016 at 20:12:50
Let's hope one of the many rumours becomes a reality!
Neil Roberts
7
Posted 19/07/2016 at 20:13:32
Foundations are in onwards and upwards from now
Phil Walling
8
Posted 19/07/2016 at 20:16:58
Delighted we've got our man. But he's hardly an advert for loyalty, is he ?
Just imagine the dog's abuse he'll get on here if he moves on to 'a better job' within TWO month's of signing his contract here !!
Tony Draper
10
Posted 19/07/2016 at 20:17:20
Two points:
1) No for an answer ? Step on.
2) Bring in the players.
Ron Marr
11
Posted 19/07/2016 at 20:17:47
Is he the brother of the Mick Walsh who joined Everton from Blackpool around 76/77/78 ?
James McPherson
12
Posted 19/07/2016 at 20:22:41
Player acquisitions more important. Hearing that Walsh took a lot of the credit when
It was a guy called David Mills spotted and scouted Marhez and Kante.
Colin Glassar
13
Posted 19/07/2016 at 20:29:59
Phil your enthusiasm is boundless. So much so you had to repeat yourself.
Andrew Ellams
14
Posted 19/07/2016 at 20:30:45
Ron Marr, yes he is.
Tony Draper
15
Posted 19/07/2016 at 20:30:50
Phil @8.
Relax mate. Despite this being "our" Everton, things just might not just go completely tits up this time.
But when they inevitably do, save me an oar next to you in the next "Titanic Lifeboat", our aguments will keep us going.
You're a sodding misery Phil, I agree with almost nothing that you print. But, you never quit.
Anthony Hawkins
16
Posted 19/07/2016 at 20:33:18
Everything is starting to fall into place which makes for a pleasant change.
The only concern I have is that we have yet to sign any quality first team players. When will they start to arrive?
Ron Marr
17
Posted 19/07/2016 at 20:37:38
Andrew, thanks. I think Mickey Walsh had the goal of the season at Blackpool. I met him signing autographs after the Everton game at Chelsea. COYB!
Ray Roche
18
Posted 19/07/2016 at 20:40:16
James, Walsh's official title is Assistant Manager to Ranieri as well as head of recruitment. Lineker claims he was the driving force behind the Mahrez transfer.
This from the Telegraph,
"A former PE teacher, Walsh also worked at Chelsea, rising to European scout under Jose Mourinho in his first period at the club. He is the brother of former Blackpool, Everton and Queens Park Rangers striker Mickey Walsh who scored that famous goal of the season against Sunderland in 1975. Now an agent, Mickey represents Pearson."
Derek Williams
19
Posted 19/07/2016 at 20:45:08
New owner, tick
New manager, tick,
New D of F, tick
New players, er ......

Jim Potter
20
Posted 19/07/2016 at 20:45:57
Phil - if Mr Walsh does move on quickly it'll probably be because he's been reading your posts mate!
Joe O'Brien
21
Posted 19/07/2016 at 20:49:23
Tony@ 15 I totally agree. He's a complete misery.
Bertie Alloff
22
Posted 19/07/2016 at 20:49:41
It looks like what Mr Moshiri wants, Mr Moshiri gets. Bodes well for future signings now. Clearly wanted a DoF in first.
Dave Pritchard
25
Posted 19/07/2016 at 21:35:47
Bit early for the "everything is falling into place" idea, just because we might have a DoF. Hopefully some incoming players soon...
Charlie Burnett
26
Posted 19/07/2016 at 21:40:45
The reason we haven't signed anyone is because we're hiring a DoF. It's his job to organise what we need, who we get and manage the staff. All the players linked are all lies.
Martin Mason
27
Posted 19/07/2016 at 21:43:57
According to the papers, Walsh's title is DoF and Assistant Manager.
Adam Carey
28
Posted 19/07/2016 at 21:46:48
Phil, while I understand your angst at us not making any marquee signings that Is clearly down to Mr Koeman. I expect us to have all we need in place by the end of the transfer window. As for Mr Moshiri, he wanted Koeman and got him, then wanted Walsh and appears to have got him. These are uncharted times for Everton fans of a certain age. We seem to be getting on with business now and not taking any nonsense while we do it. Have faith..:
Michael Polley
29
Posted 19/07/2016 at 22:14:27
I'm happy with him coming on board. Just need to see some players next. I've got faith in Koeman. Hopefully there is activity going on behind the scenes. COYB
Gary Willock
30
Posted 19/07/2016 at 22:17:17
Slow, methodical, deliberate, and strategic....what the hells is not to like here? With Dowell, Kenny, Davies, Connolly, Grant, Williams, Galloway, Browning, Holgate, Tarashaj, etc all banging on the door to replace just Osman, Hibbert, and Pienaar (and Niasse, Kone and McGeady if you want to be picky), I am not convinced we are any worse off than we were last season...
Take your time, blues, and do it right. Yes, I want to see you show us this money is real, but I don't want another Niasse either. Add quality, in the right places. Invest in the club — not the pockets of agents! coybb! 👍👊
Keith Harrison
31
Posted 19/07/2016 at 22:26:21
"Brown has been part of the Blues' scouting setup since 2008 and has served as head of performance analysis and first-team scouting and recruitment co-ordinator."
If he is responsible for Niasse, good riddance!
Christy Ring
32
Posted 19/07/2016 at 22:41:22
I believe Walsh knows his stuff, and a good addition. Don't know if Ronald is gonna play him centre back or upfront!!!
Andy Meighan
33
Posted 19/07/2016 at 22:45:04
I'm confused here. Is it the same Steve Walsh who was the yard dog of a centre half when the likes of Elliot izzett and co played under Martin oneill or is it a different Steve Walsh? I mean Steve and Walsh are hardly rare names are they? Can someone please enlighten me.

When I seen the Steve Walsh I mentioned getting interviewed about Leicester's title exploits towards the end of the season he looked like he could hardly string two words together. I'm guessing it's another.
Thomas Surgenor
34
Posted 19/07/2016 at 22:45:22
It looks like we are getting our house in order. Creating a solid base to build on and (more importantly) looking like we're building something sustainable if Mosh/sky money were to suddenly up and leave.
I have faith the playing side will follow.
Neil Clemow
35
Posted 19/07/2016 at 22:52:10
Could this be the foot in the door to bring Kasper along?
Ian Jones
36
Posted 19/07/2016 at 22:53:01
Some of the comments re Steve Brown seem a bit harsh .
If he is responsible for Niasse, who does seem a strange signing, then fine. However, he must have also been involved in discovering other players. Perhaps Stones or Galloway...for which he could take some credit
Pete Edwards
37
Posted 19/07/2016 at 23:02:34
Andy, it's a different Steve Walsh from their ex-player.
Mike Green
38
Posted 19/07/2016 at 23:35:09
Sweet Jesus, I thought it was Steve Walsh that used to play for Leicester for a minute. That nearly took ten years off me when I saw how old he looked. Bloody hell, don't do that to me...!
Oliver Molloy
39
Posted 19/07/2016 at 23:42:29
I wonder who is advising Moshiri on recruiting these people, Koeman perhaps ?

Daniel Lim
40
Posted 20/07/2016 at 01:55:42
Ian@36
Exactly what I thought
William Cartwright
41
Posted 20/07/2016 at 02:46:45
Jigsaw puzzle moving forward. Shows professionalism and promise. Most certainly it shows a big picture mentality, with a strategic analysis behind the scenes. Interesting that a root and branch make over, which nearly all supporters were crying out for, is now creating so much angst. There would be no logic in bringing in players that RK has not fully considered from all angles, whilst simultaneously risking money in a repeat of the Niasse fiasco. Keep the faith, be patient and COYB.
David Ellis
42
Posted 20/07/2016 at 04:09:06
Here is a link to a bbc radio interview of this chap
http://www.bbc.co.uk/programmes/p03tn5n9
Sound like a sensible and humble geezer, he refuses to take all the credit for the recruitment success. However he has a philosophy (is that allowed at Everton now???) – the key, he says, is to buy players that will do what you ask when they don't have the ball... something that never shows up on YouTube clips (and often not on TV at all even during live matches because the field of vision is too narrow). Barkley, Besic, Mirallas and Lukaku take note (to name just 4 serial offenders)!
As to Phil Walling's comments about loyalty – well the guy's title at Leicester was Assistant Manager – at Everton he is Director of Football. It's a major promotion.
Steve Harris
43
Posted 20/07/2016 at 07:15:56
Bit worried that he's just flavour of the month just because Leicester had a great season last year. Only a few years ago, Graham Carr of Newcastle was getting all the plaudits when they had a decent season so we would've probably gone for him if we'd been after a Director of Football at that time; I don't hear many singing his praises now they've been relegated.
Think it's a bit of luck: sometimes players pay off and sometimes they don't, no guarantee that we'll suddenly find players like Vardy, Mahrez etc.
Paul Black
44
Posted 20/07/2016 at 07:19:51
For all the whiners who can't wait for the so-called marquee signings, would you swap this waiting time for the time we waited for Martinez to be moved on?
No? Then learn how to wait quietly please and be grateful we're in the position we are now. Some people eh?
Abhishek Saha
45
Posted 20/07/2016 at 07:24:38
Is this is a done deal yet?
Mike Mulhall
46
Posted 20/07/2016 at 07:26:07
But still, given we can take the flavour of the month from a club who just won the league and clearly wanted him to stay, that says a lot about our current impetus.
Dave Pritchard
47
Posted 20/07/2016 at 07:26:46
Steve, the flavour of the month thing applies to the entire Leicester situation. including their players and manager. I actually believe that Kante will do well for Chelsea but it will be interesting to see how Mahrez, Vardy, Ranieri and Co get on this season.
They were all magnificent last season and it would be great to see them up there again. I always think that, until you've had at least 2 top seasons, it is premature to get carried away. Think Roberto for us.
Colin Glassar
48
Posted 20/07/2016 at 07:49:18
Steve, he was at Chelsea before he moved to Leicester and was credited with spotting the likes of Essien, Droghba and Robben before Jose took charge and bought them. So he's no overnight sensation by the sound of it.
Steve Harris
49
Posted 20/07/2016 at 07:56:43
Mike, I certainly think it's good that our current impetus can seemingly attract people that we probably wouldn't have before. But I'm just concerned that a 63-year-old man, who nobody had heard of before, is suddenly the recruitment King and will provide us with a conveyor belt of talent. I'm just wondering what he'd done for his previous 62 years.
That said, I hope he's a roaring success and provides us with an array of great talent for years to come.
Ray Roche
50
Posted 20/07/2016 at 08:21:35
Steve (#49),
"Who nobody had heard of before"
Having read several articles since Everton's attempt to lure him away from Leicester, I would suggest he's VERY well known, and well thought of, throughout football circles. The fact that you, me and George the window cleaner have scant knowledge of his success in scouting and recruiting players does little to diminish his obvious talent.
Have play with your Google thingy and do a bit of research, most enlightening.
Andy Meighan
51
Posted 20/07/2016 at 08:53:42
Thanks Pete. Appreciate that
John Daley
52
Posted 20/07/2016 at 10:30:00
I wouldn't know if the 'flavour of the month' label is wide of the mark or not, but I do know that, without Leicester's recent title win, no-one would be rubbing their hands together at the mere mention of his name.
His four employers over the last decade were Leicester, Newcastle, Hull and then Leicester again. Sure, some of the players he played a part in 'spotting' had a storming season just gone, but each of the aforementioned clubs all acquired their fair share of shite as well.
Does having a hand in unearthing a few unheard-of players qualify one for the Director of Football role? I'm not even being flippant as I find it hard to get a handle on what the job actually involves. Duties seem to vary wildly, depending on club.
Walsh certainly never held that position at Leicester, who had, and still have, a different guy as DoF. (Yes, 'guy' being the dead giveaway that I haven't got time to look up his name. Err... Soz?)
Are we saying 'Director of Football' is little more than a fancy title for a glorified head scout? The same as the grandiose sounding 'Ayattolah of Rock 'N' Rolla' in Mad Max 2 is merely a glorified gimp with moobs, manky grots and a giant meatcleaver? If not, and there's going to be substantially more to the role, then what on his CV suggests Steve Welsh is a cracking fit for the task at hand?
Sam Hoare
53
Posted 20/07/2016 at 10:46:45
Hmmm. Have to trust Moshiri on this one. As John (52) points out he's never been DoF before and may of the clubs he has been at have fared averagely in the transfer market.
Seems a step down from Monchi who had a longer track record at Sevilla of unearthing gems and good buys.
Difficult to know who will be pulling the strings and making the decisions in these cases but I guess having someone who helped assemble the team that just pulled off one of the greatest football fairytales can be no bad thing....
Aidy Dews
54
Posted 20/07/2016 at 10:49:04
Colin( #48), you do realise we tried signing Essien under Moyes before Chelsea whilst he was at Bastia so he wasn't an unknown that Walsh unearthed. He then went on to Lyon and made a name for himself and Chelsea snapped him up, same goes for Drogba, Mourinho knew all about him upon signing him. Walsh didn't find him and recommend him, didn't have to he was already making waves at Marseille.
But I'm like those who are thinking did Leicester get a bit lucky, did their players just have one of those out of this world seasons they'll never ever repeat? Don't get me wrong, they're good players, Kante I think is top class but Mahrez & Vardy weren't exactly pulling up trees before last season.
If I remember rightly, Mahrez was signed when Leicester were in the championship and was in and out of the side and Knockaert was the main man there, then he got injured and Marhez got his chance. And Vardy would be at Sheff Wed now IF Pearson had kept his job. He'd agreed to sell him last summer but then got sack and Ranieri stuck with him, so it could of all been different.
I've seen people say he was responsible for Zola going to Chelsea but that's rubbish. All you see in press is stuff about Walsh finding these 3 at Leicester and don't mention much about his time at Chelsea, and they don't say a thing about his times at both Newcastle or Hull either!
Now I'll admit, I knew nothing about Walsh till last season yet there's Evertonians all over raving about him has if he's some scouting god they've known of for years, yet fans other than Leicester supporters only knew of him cos of these Leicester players!
He may well be respected in the footballing world and he may do a good job, but I don't get the hype by most who knew nothing about him till last season.
David Chait
55
Posted 20/07/2016 at 10:55:27
I'm with Sam.. Definitely one to watch as opposed one to celebrate beforehand.
This would be he same guy whose club just won the Premier League and they going for Troy Deeney for over 㿀m?
I haven't been impressed with Leicester business so far this summer... Does he have the ability to buy top talent – not just hope to find a cheap one and get lucky?
Steve Harris
56
Posted 20/07/2016 at 11:31:50
Sorry, Ray (#50), I bow to your superior depth of knowledge and use of the internet. I can't speak for George the window cleaner though!
Rob Dolby
57
Posted 20/07/2016 at 13:37:34
I am a little confused as to why we need a Director of Football. Unless Koeman has insisted on bringing someone in, isn't this just undermining his authority before he even starts to shape the team?
I do hope that this is a forward step and that he brings something to the table.
Imagine next year if he brings in a St Mirren reject, a 5ft-4in centre-mid from a sub standard 2nd division side, the striker from Fleetwood Town, and we go on and win the league... We can only dream.
Brian Harrison
58
Posted 20/07/2016 at 14:23:16
I don't think we should get hung up about what title Walsh is given, he clearly has an eye for a player.
I like the way Moshiri is methodically working through the appointments to take us back to the top. Yes, the players are the most important part of the jigsaw but having the necessary building blocks in place to allow the players to flourish is very important.
I don't think Moshiri is looking for a quick fix, but so far for me hasn't put a foot wrong.
Anto Byrne
59
Posted 20/07/2016 at 15:53:16
I don't expect Koeman to be bringing in lots of players. He has the best set of assembled players and youngsters we have seen in a long time. Buying players is not a guarantee for success – building a football team with passion and pride in the club is, if we look at the Leicester model.
Helen Mallon
61
Posted 20/07/2016 at 18:39:01
One thing I would do is put a bid in for Begovic. He is a class goalkeeper.
Gavin Johnson
62
Posted 20/07/2016 at 21:37:27
Exactly how old is Steve Walsh?? It's either 63 or 51 depending on what report you read. I should imagine he's 63 unless he had a hard paper round as a kid.
John Daley
63
Posted 20/07/2016 at 22:39:09
He's 63 Gavin. The Echo and their crack team of meticulous research macaques are seemingly having a hard time differentiating between
his
Wikepedia page and that of the other Steve Walsh who
played
for Leicester.
You would think the fact he took his coaching badges in the early '70s, was a PE teacher for thirty years and looks like the fucking Equalizer's elder brother might give the game away but apparently not:
"Everton are closing in on the 51-year-old after agreeing a compensation package with Leicester and are hopeful of tying up the deal in the next 24 hours."
Tom Bowers
64
Posted 20/07/2016 at 22:57:22
Things happening that may be beneficial steps to returning the Blues to past glories we hope. Moshiri in, Koeman in and now Walsh but no new blood on the playing side except a keeper which may suggest Big K will be going with what he has got until the end of August or earlier.
Good to hear Big Sam has got the England job. Steve Bruce doesn't measure up in my opinion.
Also I cannot believe the league is harping on about referee protection again and very little about controlling the ever constant clutching and grabbing going on in the penalty area by defenders. Mike Riley stupidly says it's hard to detect even though referees are staring right at it when corner kicks are being taken. I guess we are just going to see more and more of it go unpunished.
Pete Bridson
65
Posted 21/07/2016 at 12:38:53
John (#63)
" .....and looks like the fucking Equalizer's elder brother might give the game away"
Brilliant, nearly choked on me tea.
Terence Tyler
66
Posted 21/07/2016 at 15:08:26
Signed. Welcome, Steve.
Thomas Surgenor
67
Posted 21/07/2016 at 15:15:06
How much of his knowledge can this guy bring with him?
Is the compensation deal to get around some intellectual property rights?
Can he bring some digital reports/scouting knowledge with him?
I know I'm gonna get shot down on here but football scouting etc isn't as simple as "pick a player and sign him". Also he isn't gonna remember every player or what his reports said. Players may well have been on his radar at Leicester but we play a different style and have different needs. Therefore we have (or at least should have) a different "short list". If not, we are purely buying on media reputation.
It's my opinion that this deal, much like the Moshiri one would have, will take upwards of a year to bear fruit. So we need to be patient and not expect the likes of Kante, Drogba etc rolling through our doors immediately.
Thomas Surgenor
69
Posted 21/07/2016 at 15:22:33
ps: I hope that this works in the following way;
Koeman goes to him and says for example, "I want a striker who plays with his back to goal, makes intelligent honest runs into the channels, is determined, and has good decision-making skills at tempo."
Then he runs off and scours his database and finds 4 suitable candidates for Koeman to assess and make the final decision on.
In my opinion, it HAS to work this way. I've heard horror stories (from a ex-Premier League manager's family) that a DoF / transfer committee made signings for him (without his consultation) and expected him to fit them into his plans / system instead of him asking for a particular type that fits how he wants to play. (If that makes sense.)
Thomas Surgenor
70
Posted 21/07/2016 at 15:25:48
Alan (#68),
I'm really going to have to start making these posts from a PC mate. Ranting from a iPhone leads to too many autocorrect errors!
Funny thing is, when I read other people's posts, incorrect spelling of players names (especially our own players) winds me up! Then I've been guilty of at least 5 similar errors in the last fortnight. Either time for a new phone or limit myself to PC-only submissions.
Sam Hoare
71
Posted 21/07/2016 at 15:26:23
Good news bout Walsh. Good but not great. Let's trust in the new regime.
In the meantime...Carvalho on his way? Hope so!
Pete Edwards
72
Posted 21/07/2016 at 15:26:53
David, I don't think you can use Deeney as an example; we all know prices are ridiculous right now. Add in the English premium and £20m is what a hard-working forward who can score goals will now cost.
Plus, he looks to have the work ethic Leicester built their success on last season, so would probably fit very well with them.
Add Your Comments
In order to post a comment, you need to be logged in as a registered user of the site.
Or Sign up as a ToffeeWeb Member — it's free, takes just a few minutes and will allow you to post your comments on articles and Talking Points submissions across the site.
© ToffeeWeb