Optimistic Mayor Anderson bowled over by Moshiri

78 Comments [Jump to last]
20 July
Joe Anderson says that he was impressed with Everton's new major investor during yesterday's meeting and that he has never been more positive about the club's future.
The Mayor of Liverpool met with Farhad Moshiri and Chairman Bill Kenwright in London yesterday to discuss the club's stadium options and, as he told the Liverpool Echo, he was hugely impressed with the Iranian-born billionaire who is quietly transforming Everton's prospects on and off the field.
"From that meeting as both the Mayor of Liverpool and an Evertonian I was absolutely filled with more optimism than ever and a sense the future is very bright for the club," Anderson said.
"I was blown away by his passion and commitment. Mr Moshiri understands how much investment Everton require both on and off the pitch. The scope of his ambition is vast."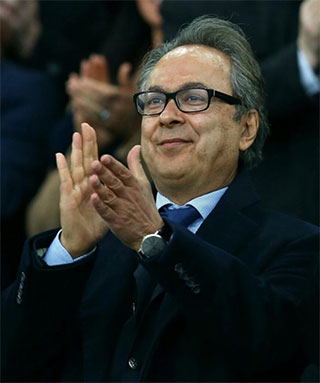 Moshiri became the largest single shareholder at Everton in March when the Premier League ratified his 49.9% stake in the club, a position he is expected to increase in time by exercising options to buy more shares from Kenwright, Jon Woods and Arthur Abercromby.
Resolving the Blues' long-standing stadium issue has been high on his agenda since coming on board and the prospect of relocating to a site like Liverpool's north docks or Stonebridge Cross on the East Lancs road were discussed at yesterday's meeting.
While Anderson has a professional interest in helping Everton furthering a stadium solution, as an Evertonian the Mayor couldn't have been more excited about the club's future given Moshiri's resources, knowledge and drive.
"He is here to make Everton a success story," the Mayor continued. "His vision is not just about new players and a new stadium it's fundamentally transforming the club at every level. He wants to make Everton a global player but also realises the importance of its role in the community and this city.
"Likewise he mentioned the importance of the academy and nurturing local players as we have always done so well. The future is bright. It's clear he is not just here for the short-term. It's about securing the club's future."
---
Reader Comments (78)
Note: the following content is not moderated or vetted by the site owners at the time of submission. Comments are the responsibility of the poster. Disclaimer
Brian Williams
1
Posted 20/07/2016 at 19:26:29
Music to my ears!
Stu Smith
2
Posted 20/07/2016 at 19:28:51
I still don't believe it is all happening! My source told me we wouldn't get a stadium until Liverpool found out about the Commonwealth Games bid. Here we are now looking at a new stadium in 3 years!!!
Mick Davies
3
Posted 20/07/2016 at 19:30:27
It's about time a council leader helped us instead of 'them' . .being an Evertonian has never stopped Anderson from bending over backwards to help the reds get a greenfield site. I always hoped Degsy would have channeled govt money into Goodison but he lost his job. By the way, does anyone know if Hatton still goes to games?
Kristian Boyce
4
Posted 20/07/2016 at 19:33:02
Probably a nice experience in dealing with the club now after all the years of Mickey Mouse management.
Oliver Molloy
5
Posted 20/07/2016 at 19:42:19
You would wonder at the age of 61why a billionaire would want to get involved in a football club that would require a hell of a lot of time , money and everything else that goes with it.
I could understand it more if he was younger.
If he was a born and bred Evertonian I could understand , but he's not so it has to be about more millions at the end of the day or is it ?
Whatever the inspiration Moshiri has for investing in our club , I for one am grateful for making me believe that we can be a force again.
COYB - and sign a few decent players please - pronto!
James Morgan
6
Posted 20/07/2016 at 19:46:25
Oliver, football clubs are increasingly becoming billionaires playthings. Whilst no doubt they see them as a way to make money, they probably also like seeing their money out there on the pitch entertaining them and gaining a few adoring fans themselves. Maybe it's an ego thing, who knows, as long as he does right by the blues!
Anthony Dwyer
7
Posted 20/07/2016 at 20:03:23
This fella seems to impress more daily.
Kase Chow
8
Posted 20/07/2016 at 20:09:43
Good reviews
Seems Moshiri is very private so we'll only hear about him 2nd hand. So this kind of feedback is really useful
Colin Glassar
9
Posted 20/07/2016 at 20:13:31
Because there's money in football Oliver and the more successful you are the more you make. It's an investment for him.
Peter Cummings
10
Posted 20/07/2016 at 20:18:45
Seems to me there's been an awful lot of talk but, so far, no sign of any action either on progress or new players and I agree with Jim Morgan that our game has become the plaything of foreign billionaires as well as foreign players who owe no loyalty to English clubs or their fans who just want to line their pockets with their 'Earnings'.
So Everton continue their policy of 'it's none of the fans bleeding business what we decide is best for them, only for ourselves', if we do get a new stadium (say no more wink wink) no doubt it will be named after some Arab potentate, and I very much doubt we will ever see those golden 'sixties to eighties' come back again anytime soon.
Steve Hogan
11
Posted 20/07/2016 at 20:25:45
Jesus, Peter (10)
Just read your post and a fella has just pulled me back from jumping in the canal...nothing like looking on the bright side of things.
Mark Ryan
12
Posted 20/07/2016 at 20:26:28
Who is going to be the first one to write a negative post about this article. Someone is aching to say "What's his ulterior motive, I bet he's not actually got any money".
All I can say is I'm so very, very happy that Bill found him. Well done, Mr K.... go on, say it: "about effing time..."
Colin Glassar
13
Posted 20/07/2016 at 20:27:16
Peter, forget the past mate it's gone. If he brings us success so be it. I'm sick and tired of not even being able to have any hope at the beginning of each season. I say, bring it on Moshiri.
Stan Schofield
14
Posted 20/07/2016 at 20:28:48
Peter (10): It's been a business for donkey's years, it's just on a bigger scale now. As a teenager in the 60s I couldn't help but notice it said "Everton Football Club Company Ltd" on the side of Goodison Park.
When I started going to the match it coincided with John Moores pumping in funds to secure Alex Young et al. I remember Everton being referred to as the 'cheque book team'. You can't get the best players and infrastructure without money.
William Cartwright
15
Posted 20/07/2016 at 20:30:53
Currently, football, and the Premier League especially, is a diamond in the global capitalist system. Moshiri's business profit motivation is a great fit with Everton's position as a resource ripe for investment.
If all goes well and according to strategy, it should be a long, happy and successful marriage. Win-win situations do exist from time to time and this could be one of those.
Evertonians really have no choice but to follow their leader at this point in time and do their part by supporting en-masse, as positively and as loudly as they can, and see where it all goes. One thing is certain and that is, no matter what the balance of priorities, it is the results on the pitch and winning that counts and drives everything else.
Just as long as the Premier League bubble doesn't burst... COYB
Oliver Molloy
16
Posted 20/07/2016 at 20:31:28
James @ 6 and Colin @ 8...
Yeah, I get the money side of things, that has to be the motivation, but what I mean is the man is 61 and if I was a billionaire, I really don't think I would be giving a shite about investing in a football club that could possibly give me some sleepless nights, if you see were I'm coming from. How many millions does a billionaire need, before settling down and saying that's enough!
In all fairness, it looks like BK has played a blinder here. Actually, come to think about it, if I personally was billionaire, I would have bought Everton some time ago. lol
Liam Reilly
17
Posted 20/07/2016 at 20:34:05
Jesus, Peter, my son's birthday party is coming up; are you available?
Mark Ryan
18
Posted 20/07/2016 at 20:36:30
My post was too late - Peter had already written his moan.
Roy Noon
19
Posted 20/07/2016 at 20:43:50
Let's cut Farhad a bit of slack. Unlike the chicken farmers, quick rich yanks and corrupt Asian businessmen that have taken over many English clubs, Farhad appears to have class and integrity. Thus far he has certainly impressed me. And hats off to BK too, he waited a long time for the right investor to come along, and hopefully he got the right one, ultimately only time will tell.

The big worry about outside ownership has always been the same. Buy cheap, invest a few quid, sell on in a few years and make a handsome profit. This of course could still happen. If and when it does, we have a new stadium overlooking the Mersey, are riding high as a euro football powerhouse and have plenty of silverware in the cabinet, I'll be quite happy thank you......well, I can dream cant I ?
Brian Harrison
20
Posted 20/07/2016 at 20:47:14
When Abramovich took over at Chelsea the same things were being said by the sceptics then. Even the press voiced their concern as to the length of his tenure. Well he is still there pumping in his millions and still winning trophies, so if Farhad does half as well as Abramovich I will be delighted. I don't care what nationality the owner or the players are as long as they put 100% in.
Andy Crooks
21
Posted 20/07/2016 at 21:00:14
No one should be too hard on Peter # 10. I always take the view that every catastrophic outcome should be considered so that it is impossible for the unthinkable to happen.
Therefore, I predict it will all end in tears. By doing so and not predicting a positive outcome I am on to a winner. Cloudy with a chance of sunshine is, in my view, the Everton way.
Brin Williams
22
Posted 20/07/2016 at 21:02:19
Warren Buffet is now 86 and still a Global Player - age is not a deterence for this Billionaire club!
Brian Harrison
23
Posted 20/07/2016 at 21:13:00
Andy
I do understand after following Everton for decades that we have often thought we are back on the up only to be disappointed again.
But we have not had money to spend like this since Sir John Moores was chairman. Plus we have appointed a top class manager, proven in the top flight. So if we cant be positive now then when can we be positive. Now I don't believe we will get into a Champions league spot this season, but I believe with Moshiri and Koeman in charge we will be competing for a place in the top 4 before too long.
Ian Bennett
24
Posted 20/07/2016 at 21:16:31
I slated kenwright when every other club was bought out and seemed to be progressing. Maybe, just maybe, it will be worth the wait. Here's hoping! John Moores the second.
This is Everton, so I live in fear we complete the new stadium the day after Eu funding comes to the end, we will sign a top euro star but won't get a new British work permit, some fucker will start WW3 when we're about to lift the title, and any other victory snatched from the jaws of defeat.
Eugene Kearney
26
Posted 20/07/2016 at 21:26:03
Great stuff - and a great read that puts a smile on your face (or most faces).
I am just wondering, though, why Koeman hasn't bought anyone yet. Surely we are going to buy a couple of the 79 players that we've been linked to?
Mike Allison
27
Posted 20/07/2016 at 21:31:36
A key premise of Oliver's post at (5) seems to be that 61 is old. It really isn't mate. Mr Moshiri will expect 30-40 years of pleasure out of Everton if he can get it right.
As a general note, I can't quite believe the impatience of some fans. If we want the next 30-40 years to be sorted out we should expect it to take a little while surely?
I understand pessimism, fear and cynicism. We could all be being had, it's happened to other clubs. But the impatience makes no sense at all, if Moshiri is being genuine, this shit should take some time to come to fruition.
Andrew James
28
Posted 20/07/2016 at 21:31:48
He is in this for the investment. 61 isn't that old these days.
Guess what, RK is probably using us as a stepping stone to Barcelona.
I don't care, if we can beat the RS more often, win a cup and not end up as the next Leeds or Portsmouth, I will take it. We tried the fairy tale route with Moyes and won nothing.
Sick of hearing the likes of Spurs fans thinking they're bigger and more successful than us or pundits doing likewise. Some big investment and a few quickly won trophies as a consequence would end that nonsense pronto.
Oliver Molloy
29
Posted 20/07/2016 at 21:33:36
Just watched the Man city friendly tonight. I'm not at all convinced by Bony.
So who's going to win the battle between Guardiola and Mourinho lads.
Koeman vs Klopp is a no brainier I know.
Danny O'Neill
30
Posted 20/07/2016 at 21:33:40
I'm hopeful too Ian and maybe (just maybe) we have waited for the right person as painful as that has been for all and frustrating for those who thought we (Kenwright) should have sold to the first bidder.
I like the style at the moment. Carefully going about putting the structure in place and securing plans. Foundations first then build the house (on and off the pitch).
Brin Williams
31
Posted 20/07/2016 at 21:38:45
'I am just wondering, though, why Koeman hasn't bought anyone yet.'
Becos!! We are supposedly bringing in a DoF to do that sort of thing – Ronnie is now the coach – Moshiri is the Boss and whateverhisnameis is he DoF.
How would you feel if, having landed the job of DoF, you come in and find that some other bugger has done the job for you, leaving you to pick up the pieces?
No movement in or out until the new man is in place – simple.
Steve Guy
32
Posted 20/07/2016 at 21:40:02
Why is Moshiri doing this? I have one word: "legacy". When you have more money than you can ever spend, you get more interested as to how you will be remembered.
I think Moshiri sees Everton as his legacy. If he pulls this off, he will have statues erected to him and will be spoken of in respectful tones by generations of future Blues. Who could ask for more?
Jay Harris
33
Posted 20/07/2016 at 21:48:03
Loved the bit about being blown away by his knowledge and insight into world football.
At last we are getting professionals instead of luvvies and amateurs.
Les Martin
34
Posted 20/07/2016 at 21:53:34
We should ecstatic that Bill has found an investor such as Mr Moshiri. Maybe he has made his money and now looks at this as a project and his Holy Grail, and to transform us to a new level.
It appears he has a plan, the drive, determination and a vision for the club, with... the finance in place to carry out and finish the job and not just to dream. I am sure that at the right time Mr Moshiri will make an announcement to the fans and clear the air of speculation. It would only be prudent to do this when everything is beyond doubt.
I truly believe that we are entering an era that a few years ago would be in the realms of fantasy. Of course transitions will take time but in 5 years we could be light years away from where we are standing now. Other clubs may well be looking at us with envious eyes once more. Very exciting times, revel in it!
Tony Abrahams
35
Posted 20/07/2016 at 21:54:00
I think Bony, is a decent back to goal striker Oliver, but due to a lack of speed and movement, I'm not convinced by him either.
Koeman, does seem to prefer a striker, that can bring other players into the game, (he probably found these players harder to play against) but I'm just hoping instead of all these big money signings, getting talked about, he goes and gets us a couple of unknowns, that really know how to play the game.
Colin Glassar
36
Posted 20/07/2016 at 22:08:03
Oliver, I understand your bewilderment at these billionaires and their obsession with earning even more money. I suppose making money with shrewd investments in the market doesn't produce the same level of excitement as watching your team win trophies in front of thousands of adoring fans.
Oliver Molloy
37
Posted 20/07/2016 at 22:08:47
Tony,
I don't know how that man runs with the size of the legs he has on him.
The biggest legs I've ever seen in a footballer was Mark Hughes I think and Bony has bigger calfs than he had / has.
Jamie Sweet
38
Posted 20/07/2016 at 22:10:55
Can anyone explain why there were a couple of Grand Old Team articles (linked at the bottom of ToffeeWeb home page) which appeared to be anti-Moshiri? One titled "Moshiri Out poll".
It seemed very odd given everything else that I have read and heard to date has been overwhelmingly positive.
Tony Draper
39
Posted 20/07/2016 at 22:24:27
So, after 20 odd years of BK in charge Joe Anderson (Mayor of Liverpool, lifelong Evertonian) meets Farhad Moshiri and...
"From that meeting as both the Mayor of Liverpool and an Evertonian I was absolutely filled with more optimism than ever and a sense the future is very bright for the club," Anderson said.

"I was blown away by his passion and commitment. Mr Moshiri understands how much investment Everton require both on and off the pitch. The scope of his ambition is vast."
I can't ever recall anything which better defines "Kenwrights Open All Hours" cornershop vision of Everton.
The utter absence of ANYTHING mentioned in regard of Kenwright and his shabby charade of warm words and empty trophy cabinets, then in a few sentences Anderson sums up the cheap musical hall act, by complete absence of ANY reference.
I'm utterly disgusted.
"The Mosh" at least has vision which would appear to respect the clubs aspirations to return to our rightful place.
He's never been in the boy's pen, it doesn't matter, 'cos let's be fucking truthful Bill, you never did either.
Come on ?
Please Bill, sell the shares to Farhad and just fuck off.
Oliver Molloy
40
Posted 20/07/2016 at 22:43:29
Mike @ 27,
"A key premise of Oliver's post at (5) seems to be that 61 is old. It really isn't mate. Mr Moshiri will expect 30-40 years of pleasure out of Everton if he can get it right."
Mike, I have to disagree with you, 61 years of age is old.
Are you really saying that Moshiri will be watching Everton when he is 90 - 100 years old? I very much doubt it.
Ben Dyke
41
Posted 20/07/2016 at 22:52:23
Colin, football is surely not an investment, or at least not a good one, not even in these Sky money days. He's bought shares for say 㿼m, he'll spend say 𧵎m on a stadium, maybe net invest 𧴜m on players over 5 years which makes total conservative outlay of up to 𧸖m and I'm not sure 50% of Everton will be worth 𧸖m in 5 years time? Have I got something wrong?
Peter Cummings
42
Posted 20/07/2016 at 23:07:07
Sorry you guys who thought my post was all doom and gloom, but after over 75 yrs of 'Evertonianism' I like to think that after all this time,and especially over the last ten seasons, I am entitled to express my thoughts on the events which have ranged from sheer ecstasy to deep depression in following my beloved Blues over those years.
I have been privileged to have seen the very best of the 'School of Science' years and watching the most famous names in the game gracing the turf at Goodison, starting from the boys pen in Gwladys Street in 1946, to (still my most treasured memory) the 1966 FA Cup Final highlighted by Eddie Cavanagh leading the London cops on a merry chase across Wembley. Despite my concerns at the way times have changed, I really hope things do get better for us all in the future – after all, we are the best supporters in the game.
Mike Allison
43
Posted 20/07/2016 at 23:11:39
Yes Oliver, that's exactly what I'm saying.
Have fun going round telling 61-year-olds they're old, you'll have some sore ears.
I presume you'll just be giving up on life and picking a nursing home at that age right?
Oliver Molloy
45
Posted 20/07/2016 at 23:44:28
Okay Mike, by the way, I mean no disrespect to anyone in or around this this age bracket... but I'm a realist. When you reach the ripe age of 61, you are indeed old; you may not consider it, feel it, or even think it, but you are no spring chicken are you?
I'm in my 50s, some days I feel it – some days I don't, some days I can – some days I can't (it's not like I used to be, lol). If we take the average life-span of a male, then I know I am in the last quarter of my life on planet earth.
I work in a job were I meet and speak with a lot of young people (15 to 35) and I get called "older guy" all the time.
It used to piss me off, but now I reckon these kids mean no disrespect, in fact the reason they ask the "older guy" stuff is because I know more than they do so it's a compliment in a way.
When I turned 40, I told myself it was the new 30 (as you do); when I hit 50, I told myself it was the new 40 (as you do); if I reach 60, what will say, I wonder! There is no holding back the big wheel of life, it just keeps on turning.
Anyway, you made me made me laugh out loud and I'm still smiling which is one of the reasons I come on this forum. Please forgive me if you feel or anyone else feels I was being disrespectful to "age".

Laurie Hartley
46
Posted 20/07/2016 at 23:45:34
Oliver, as a matter of interest, how "old" are you?
As an "older" Evertonian, I can say that the longer I live the more I realise that I have to make each day count in some way.
Perhaps Farhad Moshiri as well as being financially astute is also a good man who has come to a point in his life where he wants to enjoy his wealth, by making a difference in other people's lives.
Some years ago I posted on TW that Everton with its work in the community might possibly attract a philanthropic investor. Just maybe that has happened.
Or perhaps I am just an old dreamer. One thing I am sure of, when I stop dreaming and hoping it will be time to for me to go.
Oliver Molloy
47
Posted 20/07/2016 at 23:47:39
See above, Laurie.
Laurie Hartley
48
Posted 20/07/2016 at 23:55:35
Thanks Oliver - we crossed posts. All being well you have still got a lot of "living" to do.
Clive Rogers
49
Posted 20/07/2016 at 23:57:12
Tony #39,
You've expressed exactly what I was thinking after reading this article. Kenwright is a complete fraud, was a lousy chairman and owner and Anderson knows it.
Oliver Molloy
50
Posted 20/07/2016 at 00:11:43
Thank you Laurie , and you too, let's hope we see a trophy or two!
You know it is possible you may be on to something regards Moshiri being a decent man, let's hope so, and despite what some are saying it was BK who got him here.
You know I've changed my tune a little, because I have been saying I want to see how much of his money he spends before making my mind up, but it does look like that Moshiri is fully aware of what the club means to the people who support EFC both old and young.
Trevor Powell
51
Posted 21/07/2016 at 00:19:16
How many billionaires actually retire? They are driven and have the bucks to prove it. They want new projects all the time. It is in their nature which is why they do so well under capitalism. Do you see the Alan Sugars of this world slowing down or Richard Branson slowing down?
Len Hawkins
52
Posted 21/07/2016 at 00:22:26
I've been to the pub tonight and on tv there was the Bayern-City game now considering the money available to the City manager and the dross they played I am even more optimistic that Mr Moshiri will ensure Everton's status is improved and will not stand for second rate performances. RK is known for his shrewd signings and why should that be changed to placate us. Either put your trust in the new money man and his chosen management team or just expect same old same old I know what I hope for.
Michael Kenrick
53
Posted 21/07/2016 at 00:23:36
"Football is surely not an investment, or at least not a good one, not even in these Sky money days."
Are you quite sure about that, Ben? How do you think Bill Kenwright's investment in Everton Shares has fared so far? Robert Earl's...?? And that of Jon Woods???
Let's just look at Robert Earl, the classic 'passive' director who coughed up Big Money for Gregg's shares and then sat back, as those with Big Money tend to do.
Amount of Investment: £9M
Duration of Investment: 9½ years
Sale of Investment: £40.73M
Return on Investment: 17.4% APR
Yea... football is a rotten investment... NOT!
David Barks
54
Posted 21/07/2016 at 00:34:39
How can anyone say football is not a good investment for these billionaires? They're making a killing. What do you think the sky revenue is based off of?
It's global popularity and interest, which only keeps going up. These owners own one of the clubs bringing in all that money, with an asset that only increases in value every single year.
Phil Jeffries
55
Posted 21/07/2016 at 00:41:15
The above article has missed a paragraph where Anderson talks about the Docks move. He also states that if this is Everton's choice he'd do all he could to make it happen. Not sure why that didn't get a mention above?
NSNO quotes Anderson as saying, ""I'll do whatever I can to help them make the Dock work or prepare an alternative which means the club has a world class new home."
Now that IS music to my ears!
http://www.nsno.co.uk/Everton-news/2016/07/joe-anderson-Evertons-future-bright-moshiri/?
Michael Kenrick
56
Posted 21/07/2016 at 00:43:37
I think what you've got wrong, Ben, is you've bought in to the idea that Farhad waltzes up Goodison Road with bags load of mullah. The trick is he makes cash 'available', likely in the form of loans, that enable the club (ie,
NOT
Farhad Moshiri) to shell out the sums of money you cite for these new ventures.
Rest assured, these loans or whatever they are will be structured such that the value to one Farhad Moshiri is only going one way, and that is up. [Global Fiscal Apocalypse Notwithstanding]
John Louis Jones
57
Posted 21/07/2016 at 00:50:28
Man Alive?
Tony Draper
58
Posted 21/07/2016 at 01:52:20
Unlike many both here and other, I really don't see "The Mosh" as some newly converted, devout, bloody fundamentalist, reborn Evertonian. Not for a fuckin second.
Why is he suddenly interested ?
'Cost there's SHAGLOADS to be made by doing precisely what "The Gushing One" just did not do. Would not do.
36 Thousand Season Tickets sold for next season !
Kenwright threw a few fuckin' tins of paint at "The Old Lady", the perimeter of the pitch had Royal Blue chippings for the start of the season after he wowed the crowd with his fuckin' croaky "magicke acte".
Like him, the ever fading chippings became a total bloody embarrassment.
PALE BLUE !
Just like our sad, gutless, pantomime dame for a chairman.
Each time that I looked at them bloody chippings I'd think "FFS, Man City !", 'cos they were blooming and we were chugging along doing no-one any harm like some fuckin CBBC series.
"A well run club".
Sweet baby Judas.
Why didn't they just say
"We're all LAFFING at....... EVERTON !".
Stood there, in our fuckin "Top Dogs" waiting to get picked, all the time knowing that it wasn't going to happen. 'Cos it didn't last season, nor the season before, nor any bloody season under fuckin dreary and "dame edna daydream".
That pair of bloody slerks swapped
"Nil Satis Nisi Optimum"
For "Be careful what you wish for.....".
Bloody hell.
"Be EXTREMELY fuckin' careful what you put up with...".
And, I'm deeply fuckin' guilty here, I should have been upon my bloody hind legs howling for serious bloody improvements a decade ago.
Ernie Baywood
59
Posted 21/07/2016 at 04:20:51
I don't care too much about his intentions. For that reason I'm not getting carried away by a Mayor's praise of his intentions.
No reason to doubt him at present but I'm waiting to see something. Something concrete with regards to the stadium. A player that improves us.
Not saying they won't happen. But, while the noises coming out of the club are good, they are just noises. We've had plenty of them. You love it when you believe it, you hate it when you don't. I'm keeping neutral and judging action.
Paul Andrews
60
Posted 21/07/2016 at 07:21:40
I think the vast majority of Evertonians are impressed with Mr Moshiri. After year upon year of bullshit and small club mentality his approach is reassuring.
Michael has it right above: Man City and Chelsea apart, no owners spend their own money. They all guarantee the bank loans. Mr Moshiri's standing in business will have the banks coming to him, not as with the previous regime resorting to offshore banks at exorbitant interest rates.
He will be in full control, along with Koeman, of incoming and outgoing transfers. We just need to trust them. The clamour from a few to sign someone, anyone, is what we have heard for years. This, ladies and gentlemen, is a whole different ballgame.
Andy Walker
61
Posted 21/07/2016 at 07:35:37
Tony (#58), what point are you trying to make?
At a guess, it comes across to me that you don't want Moshiri at our club?
Brent Stephens
62
Posted 21/07/2016 at 07:44:20
Tony (#58),
I really don't see "The Mosh" as some newly converted, devout, bloody fundamentalist, reborn Evertonian.
Tony, I don't think anybody else sees The Mosh like that, either. Bill has more claim to be a blue! It's just that we probably see the positives in more money being available, and perhaps a more commercial, business-like approach to all our dealings. I'll judge him after a few years.
Bob Parrington
63
Posted 21/07/2016 at 07:52:05
There's a lot of good stuff on this post. I liked the exchanges between Oliver and Laurie. I'm 68 and, if I had the dosh or the ability to get hold of it (legit of course), I would have tried to take a share in Everton. Sleeping giant!
Farhad Moshiri is certainly not stupid. Michael Kenrick puts it well. he seems to be just the right kinda guy for our club. Well done Bill. Let's see how it all plays out but I'm one on the optimistic side of the equation.
Putting the squad together will be the trick. Spend wisely and piece the jigsaw. Seen the RS spend big over recent years in knee jerk purchase of players who don't fit in to their 'machine" style of play. Sooner see the management take its time and select well. Leicester didn't do too bad last season, eh? Keeping it going???
Dave Williams
64
Posted 21/07/2016 at 07:58:44
Mick (#3), yes Hatton still goes and I see him in the lounges most times I make it.
I am 61 and see it as an age when you still have energy and drive but also the experience to make it work.
I can't fathom the negativity – this is the best time to be an Evertonian since 1984-1987 so just sit back and watch Moshiri go!!
Matt Traynor
65
Posted 21/07/2016 at 08:26:20
Roy (#19)
"The big worry about outside ownership has always been the same. Buy cheap, invest a few quid, sell on in a few years and make a handsome profit."
You mean, exactly like Kenwright and chums did?
Gavin Wadeson
66
Posted 21/07/2016 at 08:44:00
Don't believe a word Joe Anderson says... Surely it is no coincidence that as soon as the nominations started for the new mayoral elections, he started talking positively about Everton's stadium plans again! He is a spin doctor.
As soon as the metro mayor election is over, he will kick it into the long grass, like he always does. He treats us like mugs, and we fall for it every time.
Roy Noon
67
Posted 21/07/2016 at 10:17:36
Matt @69, I think the difference is that Kenwright, whether you like him or not, has as much an emotional as financial stake in EFC. He took over from Agent Johnson when no-one else was interested, and in all likelihood saved us from plummetting down the divisions in the style of Leeds, Sheff Wed etc.
I'm no huge Kenwright fan by any means but, given the fact that he isn't megarich, I think he has done a reasonable job at the helm of EFC. Had he possessed the wealth of Moshiri, I am confident he would have moved the club on.
At the end of the day, money talks. If Kenwright ends up with a few extra million in his back pocket when Moshiri ultimately takes over, that's okay by me.
David Ellis
68
Posted 21/07/2016 at 10:45:30
Oliver Molloy on age:
"I'm in my 50s... If we take the average life-span of a male, then I know I am in the last quarter of my life on planet earth."
Not really true, Oliver – life expectancy of a man aged 60 in the UK at the moment is 84, or 24 more years. So yes, you can expect Moshiri to be sitting in the stands in his 80s and you still have about a third of your life still ahead of you (as you are in your 50s – not a quarter).
In reality, life expectancy should increase by a couple more years over the next 24 years (that has been the trend over the last 25 years – one month per year) so 26 more years to go (on average), and potentially more than a decade on top of that.
Cheer up!
Denis Richardson
69
Posted 20/07/2016 at 10:49:35
Nice to read something positive on the stadium front - an issue that Kenwright has not managed to sort out for at least 15 years.
I wouldn't be too harsh on any supposed negative posters as they have a point. Nothing tangible on the stadium issue has actually happened yet (that we can see anyway). The huge (and only) positive thing so far is that it looks like something tangible will happen and that we finally have a plan (or at least are puuting one together) to solve the issue (and Kenwright is not leading it).
A lot of ifs though with Sky and we should make hay while the sun shines but it's very hard to predict where the English game will be in 4-5 years' time. One thing is for sure, if/when the Sky train crashes, we will be in a much better position to come out of it okay IF we have the stadium issue sorted.
The current Champions have shown you don't need to spend £100m on players to achieve things, hopefully Koeman and the new DoF can bring in 3-4 players on a net spend of around –40-50m to boost the quality of the first team. We already have a lot of decent players, just need to sort out the tactics, fitness and motivation – which I'm confident Koeman can do. The rest of our money can go on the stadium.
Kevin Tully
70
Posted 21/07/2016 at 11:38:52
I can't imagine how we would all feel watching the Blues play Champions League football in a state-of-the-art waterfront stadium. From everything I've read and heard, Moshiri intends to take us back to the very top. There are no negatives so far, and after 20-odd years of smoke and mirrors, lies and doomed schemes, it looks like we are finally going to realise the full potential of EFC. Just look at our season ticket sales after this barren spell.
I personally believe Kenwright has finally let go because of his reported health problems, and the fact Bill, Woods, Earl & Co were finally happy with their sale price. Philip Greed also seems to be cashing in his chips on a global scale. We would still be talking about Walton Hall Park, knowing it was never going to happen, if circumstances hadn't changed. The only plan for a new ground was to request Liverpool City Council funded the whole scheme.
Thanking the board and multimillionaire past owners for finally selling after they have flogged everything and mortgaged the club for a generation seems to be somewhat ridiculous – but I suppose that's football for you.
Oliver Molloy
71
Posted 21/07/2016 at 12:01:02
David @ 68...
I guess it could all be a state of mind for many this age thing so whatever works for the person is fine by me.
The most important ingredients I believe as you grow wiser let's say is laughter and smiling (no, of course it cannot be all of the time, especially in the world we live in, and being an Everton fan puts years on you as the saying goes).
I still find myself turning into Victor Meldrew more than I would like!
Your thoughts did indeed make me smile, so thank you.

Mick Davies
74
Posted 21/07/2016 at 20:07:27
Dave @64, thanks for that info - I always thought he was a true blue. As for age; I'm only a few years behind you and Moshiri is definitely, not quite past it.
Paul Burns
75
Posted 21/07/2016 at 20:24:40
Kenwright didn't save us from plunging down the divisions. you can't just make things up and pass them off as true. All he's ever done is hold us back and strangle any ambition with his bullshit boys pen stories that some people on here apparently still believe.
As for the biggest legs in football, Bob Latchford takes first prize on that.
Dave Pritchard
76
Posted 21/07/2016 at 20:33:19
Paul, not a defence of Kenwright this by the way, but is your view about him true or just made up? Surely it is all about opinions.
David Israel
77
Posted 22/07/2016 at 02:50:19
David Ellis (#68), thank you for the heartening statistic/forecast! I happen to be the same age as "The Mosh", and so I now expect – and hope – to be around in some 20-odd years, watching us celebrate yet another Champions League Final win!
Steve McBride
78
Posted 22/07/2016 at 10:34:03
I would like to thank Bill Kenwright for all he has done at EFC. He has been criticised, wrongly in my opinion, and has proven to be a true Blue! He doesn't look in the greatest health and he has found someone to pick up the baton.
Here's to a great season ahead. Remember we all thought we had a good squad last season, it just wasn't used effectively, so maybe we don't need too many new additions. Goalie, centre-half and a "Reidy" type midfielder. COYB
Laurie Hartley
79
Posted 22/07/2016 at 11:07:39
I too am encouraged by Dave's (#68) arithmetic. I could have another 17 years up my sleeve with a possibility of a couple of bonus years.
As far as football is concerned, the one thing I would like to do is to make the trip back to Liverpool to attend the opening of our new waterfront stadium. That would mean we were well and truly back in the big time.
Eric Myles
80
Posted 22/07/2016 at 11:12:30
And don't forget about the last game at Goodison, Laurie.
Laurie Hartley
81
Posted 22/07/2016 at 12:29:18
Good idea Eric - I'll see you there. (I've book marked this thread)
Eric Myles
83
Posted 24/07/2016 at 06:23:34
Hope so Laurie, although I suspect it may be sold out.
---
Add Your Comments
In order to post a comment, you need to be logged in as a registered user of the site.
Or Sign up as a ToffeeWeb Member — it's free, takes just a few minutes and will allow you to post your comments on articles and Talking Points submissions across the site.
© ToffeeWeb