Moyes named as Sunderland manager
24 July

57 Comments [Jump to last]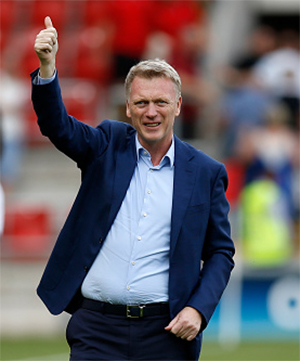 David Moyes salutes the Sunderland crowd at a pre-season friendly yesterday.
David Moyes has been appointed Sunderland manager in the wake of Sam Allardyce getting the nod for the England job.
After getting the sack from his dream job as manager of Manchester United after only 8 months, and then suffering a similar fate at Real Sociedad, the former Everton boss now takes the reins at the Stadium of Light.
The appointment offers the Scot a route back to the Premier League after an absence of more that two years following that fateful occasion at Goodison Park in April 2014 where the ominous form of the Grim Reaper baited from fom the crowd.
Moyes spent 11 years in charge of Everton where he was able to stabilise the club after years of struggles in the wrong half of the table and two brushes with relegation but he was unable to push the club to the next level.
Though he solidified the Blues as a perennial top-eight presence, he routinely found the glass ceiling between his team and the Champions League places impenetrable and he left Goodison with many supporters believing he had taken Everton as far as he could.
His remit at Sunderland will be similar to that which greeted him when he assumed the helm at Goodison in the spring of 2002 — revive the fortunes of a top-flight club that has battled at the wrong end of the table.
---
Reader Comments (57)
Note: the following content is not moderated or vetted by the site owners at the time of submission. Comments are the responsibility of the poster. Disclaimer
Darryl Ritchie
1
Posted 24/07/2016 at 06:43:39
Good move for Moyes. Good move for Sunderland. Allardyce is a specialist at keeping a club up. Moyes has the skills to keep them there.
Joe O'Brien
2
Posted 24/07/2016 at 07:44:55
Couldn't care less what he does. The manner of the way he left soured all that he did previously with us.
Joe O'Brien
3
Posted 24/07/2016 at 07:50:44
Couldn't care less what he does. The manner of the way he left soured all that he did previously with us.
Kase Chow
4
Posted 24/07/2016 at 08:25:36
Hope he does well
Whilst I (like many others) was very upset with how he left and his behaviour towards us after he left, it doesn't wipe out all the good stuff he did for us.
He did stabilise our club, he did get us back into Europe (before he came ,we were an absolute shambles so this was a major step forward), he got us to a FA Cup fFinal, 4th in the league and bought some fabulous players: Arteta, Pienaar, Cahill, Yabubu, Lescott, A Johnson, Saha, Baines, Coleman etc. People forget but we played some great stuff at times.
When I put his behaviour and what he brought to Everton on the weighing scales, the positive massively outweighs the negative. Why hang onto the negative like some jilted lover? We're a bigger better club now and Moyes contributed to our financial stability and all the good things that's led Moshiri to buy us.
Good luck, Mr Moyes, but I want 6 points off you every season mate!
Phil Walling
5
Posted 24/07/2016 at 08:25:51
A bit like Koeman left Saints then, Joe ,and he was mid-contract !
Get over it, this is football and we'd hsd enough of Moyes anyway.
Sam Hoare
6
Posted 24/07/2016 at 08:31:59
Good luck to him. Did good work at our club and think Sunderland is a good fit for him.
Joe O'Brien
7
Posted 24/07/2016 at 08:58:58
It was nothing like it Phil, he knew he was leaving for united for 6 months before he left and left us believe that he would sign a new contract. Then left for nothing, no compensation for our club. He was illegally approached and kept it from us. Once again I agree with nothing you say
David Chait
8
Posted 24/07/2016 at 09:00:11
Very good fit, as long as they give him time. Interesting to see how he does.
Joe O'Brien
9
Posted 24/07/2016 at 09:04:59
Sorry I do agree with you that we had enough of him of him anyway
Clive Rogers
10
Posted 24/07/2016 at 09:13:37
He's not the finished article. He can organise a defence and get the best out of some players, but his tactics are poor and he has no idea about strikers or how to win a must win game. Shows far too much faith in certain players.
Colin Glassar
11
Posted 24/07/2016 at 09:31:23
Why are we even talking about him anymore? He has absolutely nothing to do with Everton, same as the last manager, gone and forgotten as far as I'm concerned.
Good luck to Big Sam btw. At least he will restore some pride to England.
Bobby Thomas
12
Posted 24/07/2016 at 10:27:00
Lets be honest, in the post John Moores ownership period Everton were reeling and didnt have a clue what they were doing.
Won't go into everything here,but I feel that at a time when the club really was in a very precarious position and could have gone down Moyes came in and re-established professionalism, standards and respect.
I also thought, for balance, the semi final surrender to the shite was disgusting and paiful to watch. The players visibly wilted.
However on balance he was very good for Everton and the perfect manager at the perfect time. A young, hungry, intense manager who shook the place up and basically said "Right, I dunno whats been going on here but it fucking stops."
Compare his record to the last fella.
Ater a good two thirds of a first season thanks to the base left by Moyes, coupled with an opening up of approach, and sunny new feel good factor, it actually became apparent from the following pre-season that he was an incompetent who was performing a demolition job that would likely have been finished off this season in the form of relegation. All in 4 seasons. Well, Martinez wouldn't have got to the end of his 4th, he'd have been sacked before autumn was done.
This would have been achieved with the base left by Moyes and access to more dollar than Moyes ever had.
No comparison between the 2 managers and as time goes on I think people will ease off on Moyes. If I feel contempt towards anyone its Martinez, not Moyes.
Martin Nicholls
13
Posted 24/07/2016 at 10:37:49
Bobby#12 - whilst things soured once we suspected underhand dealings with manure and indeed due to some of Moyes' comments and actions once he got there, yours is as good a summary of Moyes' time at EFC as I've read. Well said.
Andrew James
14
Posted 24/07/2016 at 10:56:18
It wasn't perfect but he was our best manager since the 1980's (Joe Royle era difficult to judge because of how up and down it was)
I would not be surprised to see some of our players on the periphery making their way to the North East...sadly not the ones Martinez brought in and we are going to struggle to make money back on...
Matt Williams
16
Posted 24/07/2016 at 12:03:00
Bobby Thomas @12 – 100% correct. I would just like to add that he probably stayed a couple of seasons too long. The spark for the job seemed to have left him.
Dick Fearon
17
Posted 24/07/2016 at 12:08:16
He will probably guarantee Sunderlands place in the premier league.
Ian Burns
18
Posted 24/07/2016 at 12:41:31
This is a good appointment for Sunderland - comfortable mid table for them this coming season which will be a blessing after recent seasons of fighting relegation.
Had my say - now onto EFC .......
Colin Glassar
19
Posted 24/07/2016 at 12:46:37
Well Ian, I think it's a given that Hull, Burnley and probably Leicester will be relegated this season.
Simon Harris
20
Posted 24/07/2016 at 12:51:52
Their owner has wanted Moyes for their last 5 appointments so it would appear a good fit for them both.
Good luck to him but hope his knife comes out to the Everton gunfight.
James Stewart
21
Posted 24/07/2016 at 13:01:16
Extremely good appointment for them he will improve them without a doubt. I don't think there has ever been a season with so many top managers in the EPL. Every point will be have to be hard earned.
Andrew James
22
Posted 24/07/2016 at 13:04:55
Colin - interesting you say that. I reckon Burnley would have learned a lot from 2 seasons ago and will remain. Hull aren't looking in great shape admittedly.
Leicester to go down? Nah. I reckon there will be some humdingers at the King Power as sides throw everything at them and they get narky but they won't go down.
My shout is for Bournemouth, Hull and Watford for what it's worth.
Phil Walling
23
Posted 24/07/2016 at 13:05:14
Ian, BK fully knew the score as early as New Year 2013. Pie Eaters were saying RM was on his way to Everton well before they beat us in the Cup.
Everything Moyes did was with BK's aquiescence, believe me. But then, when Everton de-stabilise a smaller club, it doesn't count!
Of course not.
Mike Allison
24
Posted 24/07/2016 at 13:07:39
I feel much more positively about what Moyes did for Everton than I do about what Martinez did.
It's a shame he ruined it by talking shite when he wanted Fellaini and Baines.
Colin Glassar
25
Posted 24/07/2016 at 13:22:04
Andrew, I wonder what the odds are on Leicester going down? I don't think they'll be relegated but I don't think they'll make the top 10 either. Teams will sit back against them and make like difficult. 12th place for me.
As for Sunderland? 15th.
Eugene Ruane
26
Posted 24/07/2016 at 13:27:22
Partridge shrug.
Mick Davies
27
Posted 24/07/2016 at 13:43:56
I like Sunderland – a proud, once-dominant giant, living in the shadow of its neighbour (another 'Sky Sports' lovechild), and I think the 'Dour One' will do okay there. I would love it though if Koeman used our new-found financial muscle to unsettle their keeper, saying how the club was 'holding his career back'.
Colin Glassar
28
Posted 24/07/2016 at 14:01:12
Is that an Alan or Danny Partridge shrug, Eugene?
Ian Burns
29
Posted 24/07/2016 at 14:02:00
Colin (#25). Interesting predictions on Leicester (I think they will do much better than 12th) but what about EFC?
Colin Glassar
30
Posted 24/07/2016 at 14:03:55
Top 8, Ian. I'm being conservative this season and not expecting any miracles.
Ian Burns
31
Posted 24/07/2016 at 14:12:33
Interesting, Colin. Top 8 from a standing start will do for me this season – it would be nice to see the likes of Davies, Dowell etc see some decent game time.
Ian Jones
32
Posted 24/07/2016 at 14:30:43
Wonder how Jack Rodwell feels with Moyes becoming Manager at Sunderland
Ian Riley
33
Posted 24/07/2016 at 14:37:27
Good luck to him. Done a decent job with us. Less money to spend than Martinez and had to sell players. I think he would have come back if given the chance.
Olalekan Taofik
34
Posted 24/07/2016 at 15:05:04
Ian (#32), well Rodwell will have to eat humble pie and accept his fate. What comes around goes around (hope I am right).
There's this adage that says: "Be good to people on your way up because you might meet them on your way down..."
I am sure Moyes would forgive and forget.
Eric Myles
36
Posted 24/07/2016 at 15:36:07
Colin #11, because there's still some fans out there that are bitter about Moyes getting the Utd. job when they said it would never happen.
So now they say it was nailed on 6 months before (so how was it never going to happen??) and moan about compo which is not applicable when an employee fulfills his contract.
The same people usually decry the lack of loyalty in players wanting to move on, and criticise them for 'running down their contracts'.
Like you, to me he's another in a line of managers that will not be remembered for their trophies.

Colin Glassar
37
Posted 24/07/2016 at 15:50:41
I'm over him now Oliver. I don't care where he goes or what he does as long as his team doesn't beat us.
Pete Edwards
38
Posted 24/07/2016 at 15:59:18
Eric, I don't think there are many bitter about it for the reason you give. More about how he went about it and how he disrespected Everton once he had gone.
All he had to do in my eyes was to say he wasn't signing a new contract, instead of leading people on that he was thinking about signing another. From there I'm sure a hell of a lot of fans who don't now like the man would have a different opinion...
Honesty in the game is a very rare thing which would I believe have been appreciated and maybe even applauded (by some).
Eric Myles
39
Posted 24/07/2016 at 16:08:19
Pete #38, there was a lot of bitterness at the time from those who said he would never get the Utd. job, before he even made the bids for Baines and Fellaini.
Pete Edwards
40
Posted 24/07/2016 at 16:13:38
Eric, I'm not dissagreeing with that you'll always get a small few who see their backsides at being proved wrong but, the majority of the bitterness came from how it transpired that he deliberatly ran his contract down while leading people on that he was still thinking about signing one knowing full well he had no intention at all.

Jay Harris
41
Posted 24/07/2016 at 16:25:48
Lets get it straight he never once said he was going to renew his contract and as Phil said it was well known that BK knew about him leaving 6 months before and Martinez was lined up which is why some of us describe it as a lazy appointment.
Although I despise the way Moyes viewed and treated us as inferior to Man U I have to give him credit for what he did for our club on a shoestring budget while he was here.
Good luck to him at Sunderland where they will both find their level.
Brent Stephens
42
Posted 24/07/2016 at 16:40:58
I don't wish him ill. Can't understand why anybody would start a thread on this. Nowt to do with Everton now and on that basis other irrelevant posts get pulled. It's almost a wind-up.
Eugene Ruane
43
Posted 24/07/2016 at 19:27:03
Colin (28) - Alan.
Danny was less of a shrugger, more of an irritating, ginger, freckled-faced twat.
Paul Hewitt
44
Posted 24/07/2016 at 22:37:36
People should remember where we where when Moyes took over, and where we where when he left.
Jim Hardin
46
Posted 24/07/2016 at 23:54:52
One point for Moyes' supposed statements about Everton holding back the careers of Baines and Fellaini. One went the other stayed. Guess who played in CL? Guess who won an FA Cup? Guess who made his international team? Guess who was right on the face of three years' evidence?
While at Everton, he did what he was paid to do and didn't put a wrong foot forward. While at Man Utd, he tried to do what they should have let him do, including trying to coax players he thought could be Man Utd players from other teams, including his old one. All managers do it and you have to say something to convince them why they should move don't you?
Eric Myles
47
Posted 25/07/2016 at 01:23:02
Pete #40, he had no obligation to renew his contract, especially if he knew he was not going to honour it.
That some fans are miffed the Club didn't get any compo is just misguided

Saegaran Kana
48
Posted 25/07/2016 at 01:45:44
Good luck Moyes. You're a good guy and I wish you well. Looking forward to our matches this season. I know they will be tough.
Jim Hardin
49
Posted 25/07/2016 at 03:03:45
I hope he does well at Sunderland. I wonder what he will do with a striker as good as Dafoe? Hope he loses all 6 points to Everton though and takes all 6 from Liverpool.
Dick Fearon
50
Posted 25/07/2016 at 05:37:33
With so many of his old brigade still involved with EFC he would know down to a T how to do us down.
Eric Myles
51
Posted 25/07/2016 at 06:02:35
Different tactics though Dick, with a plan B thrown in.
I hope.
John Daley
52
Posted 25/07/2016 at 06:03:50
"With so many of his old brigade still involved with EFC he would know down to a T how to do us down"
Worked out well for him last time....and the time before that. Unless "do us down" was just a typo and you actually meant he knows "how to dour down"? In which case, who could disagree?
Eugene Ruane
53
Posted 25/07/2016 at 06:27:59
I imagine Sky and other reporters will love him being back.
"Ask him something a bit cheeky, in a breezy sort of way - see if you can get him to do that thing he does when he doesn't like a question"
David Barks
54
Posted 25/07/2016 at 06:30:13
You mean how he basically did as well as Van Gaal in less than a season vs two seasons, and not being able to spend as opposed to Van Gaal spending in excess of 200 million in his short stay?
Nobody supporting Everton should have wished him success in Manchester, but he didn't deserve the hate either. Anyone being objective would have to admit that moving from Everton to United would be a step up. I hope that changes under the new ownership. But at the time, a fact is a fact regardless of how it makes you feel.
I'm sure he'll do just fine at Sunderland, but I really don't care. I hope they stay up since they are a decent fan base. But I hope we beat them every time we face them. Why is that such a hard thing to embrace?
Laurie Hartley
55
Posted 25/07/2016 at 08:01:32
Eugene - you frightened the living day lights out of me with that. You have a wonderful imagination.
To paraphrase the joker in one of those batman movies:
"I wonder where he gets those wonderful links from"
Stale Haverstadlokken
56
Posted 25/07/2016 at 09:28:15
Good luck to him, will do a great job at Sunderland and give them much needed stability.
Paul Kelly
58
Posted 25/07/2016 at 14:18:33
Hate is such a strong word, it shouldn't be used... but, I wish him nothing but effing misery in his new post, I hope the treacherous Ginger twat fails miserably. Sorry for sitting on the fence on this, I just couldn't decide how I felt.
Dale Rose
61
Posted 26/07/2016 at 08:33:32
Paul 58, don't hold back say what you think.
Paul Conway
62
Posted 26/07/2016 at 15:33:06
Look! we can't slate him in light of the way Koeman left Southampton for us.
This is football and that is what football has become. Who cares about the fans? Let's line our pockets and fill our boots. Players, agents, chairpeople, managers – the lot.
Let's insert a few release clauses, appearance bonuses, caps for his country, amount of games played in a season, etc,etc. In fact, it's only us who are taking the whole thing seriously!
Jim Hardin
63
Posted 26/07/2016 at 20:00:11
Paul Conway,
Agree completely, Koeman could be viewed as a traitorous, treacherous snake, but he is our traitorous, treacherous snake so we will support him and forgive his ambition and "deceit." At least, we will until he either doesn't produce the results, or leaves early, or heaven forbid, runs out his contract to its expiration date. Ain't loyalty grand?
Add Your Comments
In order to post a comment, you need to be logged in as a registered user of the site.
Or Sign up as a ToffeeWeb Member — it's free, takes just a few minutes and will allow you to post your comments on articles and Talking Points submissions across the site.
© ToffeeWeb