Jagielka out of Germany trip but Kone and Lukaku will travel

40 Comments [Jump to last]
27 July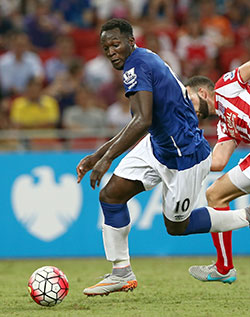 Romelu Lukaku has returned following his extended post-Euro2016 break
Updated
Phil Jagielka has been ruled out of the upcoming exhibition games in the Dresden Cup as he continues his rehabilitation from injury but Romelu Lukaku is back in training and Arouna Kone will resume his pre-season preparations in Germany.
The club captain will remain on Merseyside to continue treatment on his injured hamstring in a bid to be fit for the Premier League kick-off against Tottenham Hotspur on 13 August.
Having missed the last two friendlies against Barnsley and MK Dons with a knee problem, striker Kone, meanwhile, is expected to among the party that travels to Dresden. The Ivorian's absence, combined with Lukaku's extended break and Oumar Niasse's omission amid reports of an impending switch to Galatasaray, has left manager Koeman without a recognised striker so far this summer.
However, with Lukaku back and Kone apparently fit again, the Dutchman will have a more orthodox forward line from which to choose for the upcoming friendlies after deploying Gerard Deulofeu up front at Oakwell and Stadium mk.
Koeman has confirmed that the skipper isn't fit to play and explained that the proximity of the two friendlies means that he will be fielding two different teams to face Dresden on Friday and then Real Betis or Werder Bremen on Saturday.
"You can't play with the same team," Koeman explained. "Players cannot play Friday evening and then 1:30pm on a Saturday afternoon, that's impossible. We'll take 24-25 players.
"I have a good hope that Arouna Kone and Gareth Barry are fit enough to travel to Dresden for the tournament and James McCarthy will be involved in the squad for the weekend.
"Of course they need a good pre-season, that's the problem. Every player missing weeks in a pre-season that's a big problem.
"We will also take Romelu to the tournament because he started [training] last Monday and we have to see what we can do with Romelu. But he will play 45 minutes at least," Koeman explained.
---
Reader Comments (40)
Note: the following content is not moderated or vetted by the site owners at the time of submission. Comments are the responsibility of the poster. Disclaimer
Tony Abrahams
1
Posted 27/07/2016 at 17:29:16
With the season only two weeks away, this is a major worry.
Paul Hewitt
2
Posted 27/07/2016 at 18:42:11
With Stones looking like he could be gone soon as well, we need two new CBs now.
Gareth Clark
3
Posted 27/07/2016 at 19:36:12
Looks like Holgate, Davies, Dowell & Grant, and possibly Galloway (I'd prefer him to have a full season playing at a championship club) - will be the youngsters in the first team squad this year. Along with Garbutt.
I really like Garbutt, much prefer him to Oviedo! He should be our first choice back up LB. Plus he can offer that something special off the bench at LM too.
Helen Mallon
4
Posted 27/07/2016 at 19:44:00
Gareth Clarke @3 why would you want any of our youngsters at a Championship club?

Also Tony A@1, why are you worried? What makes who we have been linked with any better thank our youngsters?
Craig Fletcher
5
Posted 27/07/2016 at 19:55:31
Helen (4), its not hard to see where the worry comes from. If Stones is indeed off, we would have lost Howard, Osman, Hibbert, Pienaar, and Stones since the end of last season and gained only Steklenberg. Niasse (hardly a massive loss, I know) looks to be gone as well. Jags is an injury doubt for the start of the season. Yes, our youngsters are developing well which is a bright spot but I don't think we should be overly reliant on 3-4 kids with virtually no prem experience from the outset of the season.
I've no doubt we will get 3-4 big signings in before 31August, but it looks like we may be a bit thin on the ground squad-wise by the time Spurs roll into town.
Mick Davies
6
Posted 27/07/2016 at 20:06:14
Craig @5, Hibbert, Niasse and Pienaar, and to a lesser extent Osman were virtually uninvolved last season, and Stekelenburg is an improvement on Howard. Stones hasn't gone yet, but if he does go, you can bet we'll have him replaced with the money (hopefully £50m) we get.
We've got Davies and Tarashaj who played only one game between them so I'd say, Keep Calm and Trust Ron

Gareth Clark
7
Posted 27/07/2016 at 20:16:52
I meant Galloway on loan...
Paul Newton
8
Posted 27/07/2016 at 20:26:26
Does anyone know what has happened to Tyas Browning?
Or Conor McAleny?
Chris Wilson
9
Posted 27/07/2016 at 20:31:55
Paul, Browning is still recovering from the knee injury he suffered last season, and McAleny was shipped out to the under 23 training camp with Unsy and doesn't appear to have attracted Koeman's eye for first team action; at last not at this time. But I doubt he will.
Chris Wilson
10
Posted 27/07/2016 at 20:39:27
Make that Under 21s, sorry...the Olympics poisoned my brain.
Paul Holmes
11
Posted 27/07/2016 at 20:53:39
Koeman had worse problems when he took over Saints – he had no players, they all got sold! We have enough players, but the problem is they are not good enough (looking at last season), so it might take him a couple of transfer windows to sort it out with the new Director of Football. He will get it right – just give him a season.
Tony Abrahams
12
Posted 27/07/2016 at 22:04:33
Another hamstring injury, Helen? Or if we sell Stones, we will be very, very short in the centre of our defence come the start of the new season.
James Stewart
14
Posted 27/07/2016 at 23:42:54
The defence is looking extremely thin, we will go into the season with only Funes Mori at this rate.
Steavey Buckley
15
Posted 28/07/2016 at 00:23:06
Kone signed from Sunderland – that would be a bonus. The other Kone, who could not hit the side of a barn with a beach ball, that would be a worry.
Paul Kossoff
16
Posted 28/07/2016 at 02:23:57
Oh thank God Koeman knows what we need – a ٤million dead weight in the squad, eg Kone.
Go on then, who is the first to say "Oh well he wants to access the players." Yes, just like McGeady.
I can just see Kenwright giving the two of them extended contracts because like Gibson, it's the cheaper option to actually buying better players. I've had enough already.
Eric Myles
17
Posted 28/07/2016 at 03:23:31
Chris #9, I thought McAleny had gone?
I read his contract was up and he wasn't going to renew.
Eric Myles
18
Posted 28/07/2016 at 03:27:02
He's just starting his final year of contract and wants a transfer according to this
Eric Myles
19
Posted 28/07/2016 at 03:32:37
Chris #10, you're right first time, it's U23s from this season
Jay Harris
20
Posted 28/07/2016 at 03:58:51
Helen and Co, calm down... it's a marathon, not a sprint.
Koeman and Co are worth at least 10 points more than Martinez and the boss says we will be making signings over the next few weeks, so let's have some faith in the man.
Mark Daley
21
Posted 28/07/2016 at 05:49:54
So EFC's answer to Kevin Pietersen is on the trip. Has his agent (and his dad) failed to find him a cushier number than us? Whoopie, another year of us seeing him pleading to the heavens in disbelief after he's made a cats of something basic like controlling the ball.
Gary Carter
22
Posted 28/07/2016 at 07:55:36
Starting to become a joke. No new players of any note, need two centre backs, a right back, a fitlrst choice keeper, left midfielder, holding midfielder and a striker and what are we doing, selling out best young centre back.
All smoke, mirrors and bullshit from the board as usual, other than appoint a manager that was a very safe bet what has Moshiri actually done!
Gary Carter
23
Posted 28/07/2016 at 07:59:45
Youngsters youngsters youngsters, why do people always bang on about them, 9.5 times out of 10 they are not good enough.
Let's be honest here, we bang on about how good they are then they get released or sold to a League Two side for a nominal fee, never to resurface!
Tony Abrahams
24
Posted 28/07/2016 at 08:09:13
Paul 16, I can understand your frustration, but with two games in about 16 hours, I think we are going to need all the players we can use, in Dresden.
Laurie Hartley
25
Posted 28/07/2016 at 08:18:55
Bad news about Jagielka but regardless of this set back we still need to sign a dominant in the air, right footed centre back. I am guessing that this is Koeman's number one priority.
It appears to me that the boss has options coming out of his ears at full back, midfield, and up front, but we look very frail In the centre of defence. Ironically Martinez got one thing right in signing Funes Mori. If he hadn't we would be in serious strife just now.
Galloway, Pennington, and Holgate are all terrific prospects but they are just not strong or experienced enough yet to deal with the likes of Ibrahomovic, Kane, Giroud, Aguerro, Costa, and Vardy.

Paul Conway
26
Posted 28/07/2016 at 10:34:12
I don't really want to sound miserable but I took the blinkers off and I see it like this... With the current squad we have, we are in mix with Stoke, West Brom, Sunderland, Watford, & Bournemouth. The likes of West Ham, Southampton and Spurs have improved up the table.
Stones is off for Champions League football, or more important, more dosh! We have been linked with numerous so-called Marquee signings, but not one has materialised.
it occurred to me that, as long as we lack serious talent, big names are unlikely to come and play for us for fear of floundering like a big fish in a small lake! And damaging their careers. West Ham were linked with big names and even got a knock back from Lacazette.
It's great having money to splash, but we are not the only ones. I think we came into the money far too late. We had far too much stagnation these past decades and, whether we like it or not, apart from ourselves who think otherwise, we are also-rans!
I don't think Moshiri's millions will provide a quick fix. I personally think we will have to make a few astute signings and hope we can play our way with blood and guts into at least a Europa spot. That way, we could keep the momentum and attract other big fish to play for a good footballing consistent club,
Cos right now (blinkers still off!) – based on the last two seasons, we are neither good nor consistent. Hoping it will change... Now I am going to put my tin hat on and my blinkers back on.
James Marshall
27
Posted 28/07/2016 at 10:54:31
This is terrible news ...Kone being fit to play I mean.
Paul Burns
28
Posted 28/07/2016 at 11:56:42
Everton look like a train crash waiting to happen this season.
Mike Allison
29
Posted 28/07/2016 at 12:27:01
Can someone help me? There's loads of toys on the floor round the side of the pram here, and about three dummies appear to have been spat, they're not going to pick themselves up.
Patrick Murphy
30
Posted 28/07/2016 at 12:32:38
What is the panic? Everton very rarely buy players in July they have always tended to wait until August, usually until the final day of the window. Also don't underestimate the current economic situation, all clubs will think long and hard before they splurge huge amounts of cash and tie themselves into expensive long-term wage demands. If everything is so simple in the transfer market, why is John Stones still an Everton player or Pogba still at Juventus?
Denis Richardson
31
Posted 28/07/2016 at 12:34:00
Quite a few clubs have yet to make any significant signings so I wouldn't be too worried. Even if it takes till the end of Aug to bring in the right players that's better than rushing in now to get the wrong ones.
Still 2.5 weeks till the big KO, a lot can happen till then and no team will be match fit for the first couple of weeks of the season. Even if only Funes Mori out our senior defenders is fit, we'd still have Coleman, Funes Mori and Baines in the back 4. I trust one of the youngsters to be able to step up if needed. It's not like our whole defence is missing. (Also have the added bonus of not having Jagielka as captain).
Stan Schofield
32
Posted 28/07/2016 at 12:46:28
Yes, I've got an image of a load of fellow Evertonians hyperventilating. This is just a pre-season (probably minor) injury, and the new boss is no doubt just being rightly precautionary. On transfers, he's already said it's gonna be fine, so why don't we just go with that for now? The £100M 'war chest' isn't there to be spent for the sake of it, signings need to be the right ones. We don't want to be like Liverpool, throwing money around to no great effect.
Michael Polley
33
Posted 28/07/2016 at 13:52:55
Don't panic. Have faith. It will come good.
Martin Nicholls
34
Posted 28/07/2016 at 15:19:57
Anyone know if Stones went on this trip or was he left at home?
Ian Bennett
35
Posted 28/07/2016 at 15:21:13
Echo has him on the plane. No Niasse or Mcgeady.
Martin Nicholls
36
Posted 28/07/2016 at 15:23:00
Thanks Ian#35 - three positives!
Ian Bennett
37
Posted 28/07/2016 at 15:30:33
Stekelenburg, Joel, Hewelt, Davies, Pennington, Stones, Funes Mori, Oviedo, Baines, Galloway, Holgate. Coleman, Grant, Cleverley, Dowell, Bešić, McCarthy, Gibson, Lennon, Mirallas, Deulofeu, Barkley, Lukaku, Kone, Barry.

Martin Nicholls
38
Posted 28/07/2016 at 15:34:37
Thanks again Ian - hope that if Stones signs for City while we're still in Germany, they have to pay for his flight home!
Brian Wilkinson
39
Posted 28/07/2016 at 16:44:26
If Ronnie plays Kone as a supporting striker, instead of out wide, you never know, at least its worth trying him out, see how it goes, hes looked at Niasse, hes looked at McGeady, neither have shown glimpses.
Lets see how Kone does in these two games, I think Kone might just surprise a few with a different manager, if not we have lost nothing.
We still need a backup striker but Kone could turn out to be a squad player.
I still think Ronnie will land a number one keeper, a centre half and a striker, possibly a holding midfielder.
Jimmy Sørheim
40
Posted 29/07/2016 at 05:01:39
Just calm down everybody, we need smart signings and top quality players and that takes time and effort to find and sign.
I have faith in the manager, but I am not too sure about the new football director.
Phil Walling
41
Posted 29/07/2016 at 08:29:15
Were it not for Moshiri, we'd be saying BK was waiting for the Stones/lLukaku money to come in or even the dosh from the TV deal.
If Moyes were still here we'd be waiting for Dithering Dave to make up his mind. If Martinez, we'd be waiting to see which ex Wigan player became available.
But with the new set-up we just wait !
---
Add Your Comments
In order to post a comment, you need to be logged in as a registered user of the site.
Or Sign up as a ToffeeWeb Member — it's free, takes just a few minutes and will allow you to post your comments on articles and Talking Points submissions across the site.
© ToffeeWeb