Walsh excited to be part of new era at Everton

31 Comments [Jump to last]
27 July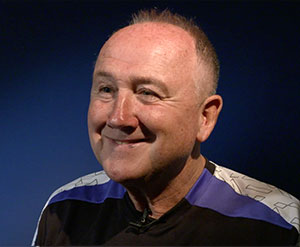 Everton's new Director of Football has expressed his pleasure at joining a "massive" club and explains that player recruitment will be his main focus for the time being.
Walsh was plucked from Leicester City where he was Claudio Ranieri's assistant and one of the architects of that club's stunning Premier League title triumph last season to become the first occupant of a brand new role at Goodison Park.
Having identified a shakeup in the team management structure as desirable following Roberto Martinez's departure in May, major shareholder Farhad Moshiri moved to lure Walsh away from the King Power Stadium and the Lancastrian's switch back to his native northwest — a chance to come "home" as he describes it — was confirmed last week.
"It is a massive, massive football Club," Walsh said in his first interview for evertontv. "I think it has an excellent infrastructure and looking at the building work that is going on at the moment [at Finch Farm] and the work on the pitches, it looks like a brand new era. Hopefully we will be able to make the team so that we can achieve.
"My title is Director of Football, my expertise is that of recruitment and that is the first point of call as far as that's concerned."
Walsh will be getting his feet wet at Everton at the same time as new manager Ronald Koeman alongside whom he will be working in the coming weeks to identify ways to strengthen the team before the transfer deadline at the end of next month.
He described his admiration for the Dutchman as a player and as an experienced, well-travelled coach and he sees the Toffees as being ripe to take a big step towards reclaiming their place at the top table of English football.
"Ronald was a legend as a player and has a very good reputation as being one of the leading coaches in Europe," Walsh continued. "He has worked at a multitude of excellent clubs and he has obviously seen the project and the challenge of Everton Football Club and decided he wants to put his name to it. It was a really big pull for me to come, no doubt about it.
Much is expected of Walsh after the stunning events at Leicester over the past 18 months but he admits that it "wasn't done overnight." Nevertheless, he admits that there wouldn't have been many jobs he would have considered leaving the champions for and he is looking forward to helping Koeman build a new period of success at Goodison Park
"It had to be a massive opportunity and I think that is the case here. It is primed and ready to go and hopefully we will be able to achieve the success we had at Leicester.
"The expectation doesn't weigh on my shoulders, not really. It took a long time to put the team together at Leicester, it wasn't done overnight ...so it was [a case of] putting those foundations down and making sure you are bringing the right age but also the right attitude of player to buy into what the manager wants to do.
"Mr Koeman certainly knows what he wants and I am going to try and fulfil that with the players that he desires in the positions he wants.
"I can't wait for [the new season] to start."
---
Reader Comments (31)
Note: the following content is not moderated or vetted by the site owners at the time of submission. Comments are the responsibility of the poster. Disclaimer
James Watts
1
Posted 27/07/2016 at 21:36:37
Go and buy someone then who will improve us! Or are we still in the days of selling first and buying on transfer deadline day to save on wages?
Gregory McDaid
2
Posted 27/07/2016 at 22:00:44
Why can't the manager not decided what signings he wants instead of waiting on a director of football because it looks like we will not sign until we sell and my question is were is our so called 100million?
Victor Jones
3
Posted 27/07/2016 at 22:12:13
Those comments sound fine by me. Early days, but all the soundbites coming from Everton sound good. Nothing yet to be concerned about. I'm sure that the right players will be brought in and no new contracts will be given to deadwood. (Gibson could come good).
Foundations need to be put in place Rome was not built in a day and all that jazz. All very routine comments .but still a lot more refreshing than anything that we heard from Martinez's back room staff. Remind me , who exactly were they did they ever speak what did they do???
Speaking just for myself I think that Koeman and Walsh will be the real deal at Everton. I think that we will see an upturn of form. I think that we will see a few players regain their form. I think that we are in for a few good seasons .the sleeping giant has been stirred. And about time as well.
Well you have to be optimistic and after almost giving up with Martinez's brand of football (could any of us have even contemplated another season of that). I'm more than willing to give Koeman and Walsh every chance.
Routine comments from Walsh nothing to worry about now go and unearth a few gems. A few gems to compliment the talent that is already at the club. I have faith. Funny how a new set up... major share holder new manager a DOF, a transfer kitty a few friendly wins can put a spring in this old supporter's step.
The old set up is almost forgotten Wiped from history... confined to room 101. Roberto Who?
Lee Hind
5
Posted 28/07/2016 at 00:57:14
Very pleased to have this man as part of the new structure. I think it is impatient to expect signings immediately... this is a man with great connections across the globe as demonstrated by his recommendations at Leicester... therefore, knowing he was coming I think it made sense to wait til he got here.
I read on another thread that the marquee signing won't happen; I say it will... and before the season starts.
John Daley
6
Posted 28/07/2016 at 01:45:50
"Go and buy someone then..."
"..where is our £100million?"
James Watts
7
Posted 28/07/2016 at 01:55:19
Made me chuckle that, John. :)
Robin Cannon
8
Posted 28/07/2016 at 04:24:02
@Gregory (2) - Because the game doesn't have to be like that, and I'd prefer our manager to be coaching and managing the squad. I've no doubt Koeman will have a veto on signings, we're not looking at a situation where the Director of Football and the Manager are at odds and one undermines the other.
Les Green
10
Posted 28/07/2016 at 08:47:50
With a bit of luck Martinez will get the Hull job and Steve Walsh will get him to buy all the rubbish players we've got; McGeady, Kone, Niasse ...
Peter Gorman
11
Posted 28/07/2016 at 09:18:46
Gregory, like Robin has said I would think Koeman would still have a major say in who we sign.
All managers rely on a team of scouts to bring suitable players to their attention so Walsh won't be doing anything different in that regard. It will be interesting to know who has the final say but I would fully expect there to be plenty of conversation between them.
Paul Burns
12
Posted 28/07/2016 at 12:01:56
Nothing to be concerned about?
The season kicks off in 2 weeks and the squads in worse shape than last season if that's possible.
Are our fans in a permanent coma?
Jim Knightley
13
Posted 28/07/2016 at 12:10:07
Personally Paul, if Jags makes it, I don't think this first 11 looks bad:
Robles, Coleman, Jags, Mori, Baines, McCarthy, Besic, Mirallas, Barkley, Deulofeu and Lukaku.
We need players, and there is no doubt about that. But there is something important to remember: Our team is not a bottom half team, it is a team capable of pushing the top six which has been degraded by Martinez's nonsense tactics. We now have a manager capable of getting our players to play to their potential. We need a goalkeeper, a centre back, another dm, a playmaker and a back up striker. Personally I'd like another right back too. But we are not going to get destroyed on the opening day if we have only brought in a couple of players. This is a truncated pre-season with alot of managerial change and plenty of teams will be suffering from a lack of pre-season. Our team has lots of potential, even before the buys, and I expect the early performances and results will remind people of that. Let's not over-react.
Andrew Ellams
14
Posted 28/07/2016 at 12:14:12
Jim, if that's our team for this season I give up. £100million transfer fund and not one new name?
Mike Allison
15
Posted 28/07/2016 at 12:30:18
Off you pop then Andrew, see you back here when we're winning. We'll have your dummy picked up, washed and sterilised for you by then.
John Daley
16
Posted 28/07/2016 at 12:37:50
Where did this figure of £100m come from? Wasn't it just something printed in one of the red tops during negotiations with Koeman? If their transfer 'scoops' are considered by most to be pulled out their arse, why are people so ready to presume their announcing of Everton's planned summer spend is on point?
Les Martin
17
Posted 28/07/2016 at 12:49:18
I think we better get used to the fact that we are in "transition" and anyone who expects miracles this season is delusional.
As Steve Walsh stated, the Leicester team was built over a period of time and no doubt a lot of the first team squad of last year will be gone in the next 12 months, either not or no longer good enough.
We have the right backroom team in place, we will just have to be patient and let them build something special.
I expect 2017/18 season, the season when we can start getting really excited, by then the transition hopefully will be complete.
Andrew Ellams
18
Posted 28/07/2016 at 12:51:41
Mike, we can't attract the players. What are we going to be winning? It's August on Monday and nothing has happened. We're just not an attraction to players who want to win things.
John nor sure where the actual £100million number came from, but the point is after years of selling to buy we now have a significant transfer pot but not the pull as a club. It's a bit of a smack in the face, and not good for the club.
Andrew Myers
19
Posted 28/07/2016 at 12:58:44
I think we have to be really careful around transfers in the coming weeks. Just because we are supposed to have this mythical 𧴜 million does not mean we can attract top players when other so-called "bigger" clubs have just as much and probably more, plus a recent record of winning things.
I do not want us buying average "panic" buys at inflated prices just because it is felt necessary to please the fans. The market is ridiculously over-inflated at the moment anyway, so let's give the new DoF a chance to establish a plan. This season will be a transitional period so let's all remain a little realistic here and look to a bright medium to long term.
John Daley
20
Posted 28/07/2016 at 13:06:19
" We'll have your dummy picked up, washed and sterilised for you by then"

What? The same old dummy, Mike?
You miserable, tight, Moyesesque, minge bag. We're minted now.
Surely Andrew would be well within his rights to demand one of these?:

May as well throw in a new bottle as well while you're at it:
Link
𧶲,000 for the pair? Pfffftt. Small price to pay when you consider the statement such marquee sucking will send out. Everton are back and their fans are feeling fucking entitled already.
Nicholas Ryan
21
Posted 28/07/2016 at 13:22:43
Think back to last season. Think of the number of times we lost 4-3 or 3-2, or drew 3-3. Suppose no new players came in, but the new manager was able to get 10% more out of the existing players.
Those narrow defeats would turn into narrow wins, and we'd be sniffing around Europe.
We probably only need 1 or 2 new faces to replace those who might be out-going!
Mike Allison
22
Posted 28/07/2016 at 13:30:57
We're going to be winning football matches Andrew, by kicking in the goal more times than they opposition whilst they stand still assuming that because they'd bought more players than us by August 1st they are automatically entitled to win the match.
Eric Myles
23
Posted 28/07/2016 at 13:52:05
It's all about the fine margins then, Nicholas??
Stan Schofield
24
Posted 28/07/2016 at 13:57:39
Nicholas @21: Spot on. The new money isn't supposed to be spent for the sake of it, splashing out dosh to no great effect (like Liverpool do). Koeman's already said it'll be fine, and I'm happy to go with that. We have a fine squad already, just needs better, firmer, management than before, and one or two signings as and when necessary.
Mike @22: I agree. No reasons to say otherwise as far as I'm concerned.
Andrew Ellams
25
Posted 28/07/2016 at 14:12:26
We have a squad that's finished in the bottom half of the league two seasons in a row. New manager or not, changes are need on the field too if you want to see changes in results,
Seamus Coleman said himself this week that it is going to take time to kick the bad habits from the Martinez era. If you don't introduce new blood then it will take even longer. You can guarantee if things start badly Lukaku will be moving around the pitch like he's carrying a piano on his back and Barkley's confidence will fall through the floor again.
Stan Schofield
26
Posted 28/07/2016 at 14:23:57
Andrew @22: Yes, we no doubt do need one or two signings, to improve a squad that already provides a solid base for Keoman's different approach. But this is incremental stuff, to be done without haste, after proper assessment by the new management. Don't you think that Koeman is a disciplinarian, which was arguably the first thing needed after last season? If so, then Lukaku or anyone else who isn't doing their best will probably be put right pretty quickly.
Gordon Crawford
27
Posted 28/07/2016 at 14:33:48
"Don't worry, be happy" Bobby McFerrin. We need to try and relax and enjoy the ride. A new dawn is looming over Everton Football Club, and it's one of huge positivity. I trust Koeman and Co. to get the right signings for the season ahead. It wont be the superstars that we would all like to see. But I do believe that they will be a big improvement on what we already have. COYB

Phil Walling
28
Posted 28/07/2016 at 14:50:57
LIke Nick @21,I too, will be okay with a couple of 'good signings' as I want to see how much added value RM can bring to RM's 'under-performing' squad.
But I suspect Uncle Bill has retained responsibility for negotiating fees and wages so it may be well into August before 'we cop a live one' !
Brent Stephens
29
Posted 28/07/2016 at 14:59:44
Phil #28 , Nick #21. Yes, This is interesting. If RK spends big, as is promised, and Everton perform well, we won't really be able to say whether improved performance is down to signing better players or better management or a bit of both.
This seems the converse of when the Scottish manager went to Manure. They performed badly when he was there. He was fired, money was spent on transfers. They then improved. So we can't say for sure whether that was a failure of the Scottish manager or a failure (initially) to spend.
Please, that's not to open up a debate again about the Scottish manager. Just an interesting converse parallel (can you have a converse parallel?).
Like you, Phil, just one or two big signings and see how well he can bring on the current squad.
Sam Hoare
30
Posted 28/07/2016 at 15:16:47
It's coming
I reckon one of Witsel/Carvalho plus Gueye will be an Everton player by this time next week if not sooner. A top goalie, Stones replacement if City fork out and a left winger who can cover as striker and we'll be cooking!
Alan J Thompson
31
Posted 28/07/2016 at 15:32:51
Didn't Mr Koeman mange another club before Everton? Would he not have in mind players he would like to sign, players whose transfer fee his club could afford? Is it not fair to say he is seeing what the current squad can do before bringing in improvements, if required? It would be nice if they were brought in before pre-season is finished but that may not be feasible given the Euros and is the rumour that Mr Moshiri had a chat about big name signings any ring of truth about it? Time will tell.
Martin Nicholls
32
Posted 28/07/2016 at 16:02:35
Phil#28 - I see you're still desperately clinging to the belief that Kenwright is still in a position of authority - beginning to sound like wishful thinking from ToffeeWeb's very own Private Fraser!
Steve Powell
33
Posted 28/07/2016 at 18:24:42
Jim's (#13) team is not far from Martinez's team which finished 5th in his first season. That would suggest that there is some potential there. That season, they had not quite forgotten all Moyse taught them about defending and added a bit more going forward. After that the defending stopped and everything went to hell in a hand cart, as we know. If Koeman can re-instill the defending (which you would hope he knows something about) this team, with some reinforcement could put us in the right direction.
---
Add Your Comments
In order to post a comment, you need to be logged in as a registered user of the site.
Or Sign up as a ToffeeWeb Member — it's free, takes just a few minutes and will allow you to post your comments on articles and Talking Points submissions across the site.
© ToffeeWeb