Everton 'busy' working on player recruitment

109 Comments [Jump to last]
1 August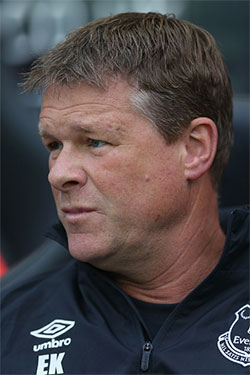 Alex Morton/Getty Images
With four pre-season friendlies behind them and the management team having gained a good sense of where reinforcements are needed, the club are intensifying their efforts this week to secure new signings.
Evertonians have been eagerly awaiting the appointment of Ronald Koeman as manager and the promise of significant funds from majority shareholder Farhad Moshiri to bear fruit in terms of a host of new faces but, to date, only Maarten Stekelenburg has been signed to plug the hole left by Tim Howard.
A combination of the delay caused by Euro2016 on the summer transfer market in general, the relatively belated introduction of a Director of Football following Steve Walsh's switch from Leicester, the need for Koeman to fully assess the players he inherited from Roberto Martinez, and the possible obstacle to attracting top-class talent by Everton's lack of European football next season, has resulted in a protracted wait for new faces.
With the new season just around the corner and the transfer deadline four weeks away, Everton's Assistant Manager, Erwin Koeman, says that his brother "and the chairman are very busy" stepping up their efforts to bring in new players.
That has been translated by some in the media to mean there will be signings this week which could end up being the case but Erwin also gave a nod to the need for the existing players to be completely ready to face Tottenham on 13th August.
"Some players made their first minutes here [in Dresden] and they need more time," Koeman told the Liverpool Echo after the defeat on penalties to Real Betis on Saturday. "We can talk about a lot of things but in two weeks the league starts and we have to be ready.
"There is no excuse for that. It's for us but all the other teams too. Not one team in the Premier League is ready for the moment. In two weeks the circus will start."
Erwin also agreed that the managerial staff have been implementing a different style of play to that insisted upon by Martinez over the past four weeks but it will take time for some of those older habits to change.
That task hasn't been helped by the staggered return of players from their summer breaks, with almost all of those who featured for their countries over the past couple of months permitted to return to Finch Farm later.
"[The players] are used to playing of the way of Martinez and now we have to play the way Ronald likes," he continued. "That is not always easy.
"Of course you have some players who start late. It takes time but we know in two weeks we have to perform."
Links to new players continue to come thick and fast in the media but there has either been very little substance in the reports or Everton have been finding it difficult navigating waters where the level of competition is that much fiercer.
Two of the more hotly-tipped signings, Axel Witsel and Idrissa Gueye, are both reportedly being courted by other clubs — Juventus and West Ham respectively — while other targets may not be fully realised until closer to the deadline when the European market as a whole is expected to heat up considerably.
Meanwhile, speculation that both John Stones and Romelu Lukaku could be leaving Goodison Park before the end of the month continues which could further complicate both the Blues' recruitment needs and their start to the new campaign. The message from Everton, however, appears — at least in terms of the media narrative — to be a consistent insistence that Manchester City and Chelsea pay the asking price or neither player will be going anywhere.
---
Reader Comments (109)
Note: the following content is not moderated or vetted by the site owners at the time of submission. Comments are the responsibility of the poster. Disclaimer
Brian Williams
1
Posted 01/08/2016 at 16:36:52
"The message from Everton, however, appears to be a consistent insistence that Manchester City and Chelsea pay the asking price or neither player will be going anywhere".
Is that the message from Everton though, Lyndon, as I've certainly not seen it on the official site or seen it anywhere where it's been attributed to anyone at the club.
Are both players for sale?
Paul Kossoff
2
Posted 01/08/2016 at 16:51:30
Looks to me that we are waiting to get the money in for Lukaku and Stones before we can buy players in; so much for the 𧴜 million war chest. We are getting left behind once again in the transfer market; I hope we are not caught short when the season starts.
The fact that Kone, McGeady and Niasse are still here is alarming to say the least, and trying to bring in 32-year-old centre-halfs looks like short-term plugging of gaps and desperation.
Peter Laing
3
Posted 01/08/2016 at 16:52:54
Although there is 4 weeks to go until the transfer window closes the season begins in earnest in less than two.
After watching the pre season tournament in Germany, it is evidently clear that the squad largely assembled by Martinez is seriously lacking in strength and quality. We have to do business this week, hopefully Walsh and the Koeman's have their targets; let business commence.
Jay Harris
4
Posted 01/08/2016 at 16:59:01
I think we would be naive to think both players will be wearing the Everton shirt this season. Although there is a lot of media hype it is common knowledge that Man City and Chelsea are in talks with Everton regarding each player.
This could be put to bed by Everton coming out and saying no players are going to be sold but they haven't done this. Instead, they have set fees that Man City and Chelsea are approaching bit by bit.
Personally,I feel if a player is determined to go, he should go; otherwise, it creates unrest and uncertainty at the club.
Paul Andrews
5
Posted 01/08/2016 at 17:00:35
Brian,
That is more than likely why Lyndon used the term "appears to be" – A fair assumption from Lyndon in my opinion.
Nobody knows the true picture except the people at the business end of things; Mr Moshiri, Ronald Koeman, and to a lesser extent, Kenwright. We have to put our trust in their judgement.
They are setting out on a project to improve the team and club on and off the pitch. A bit of patience is required from some of our fans.
Dan Hollingworth
6
Posted 01/08/2016 at 17:01:28
The window should close on 1st August. It would be better for everyone and at least then you know where you stand. It's done to favour the Champions League clubs.
Brian Williams
7
Posted 01/08/2016 at 17:03:06
Jay. Sorry to labour the point but Everton have said nothing. The club has not set any price for either player, the media have.
Everton are notorious for saying nothing when there's nothing to say.
James Stewart
8
Posted 01/08/2016 at 17:03:45
@6 Agree completely – the window should not be open once the season starts.
James Watts
9
Posted 01/08/2016 at 17:12:47
I'm sure they are 'busy' ... but how can the Gueye 'transfer' drag on for nearly a week?!? With pretty much every other club, once a fee is agreed it only takes 2 maybe 3 days for him to be holding up the shirt.
Oh wait... Bill is still involved. Makes sense now.
Phil Walling
10
Posted 01/08/2016 at 17:14:32
The 1st September closing date is set by FIFA in recognition of the differing season opening dates across Europe. Thus to enforce an earlier cut off date here would seriously hamper EPL clubs – in respect of both in and out transfers – although the current arrangements it do seem daft at first glance!
Phil Walling
11
Posted 01/08/2016 at 17:16:32
Should have said UEFA not FIFA – although I understand the Russian FA have their own rules!
Raymond Fox
12
Posted 01/08/2016 at 17:16:47
Put me down for that too, James, it doesn't make for a level playing field.
Brian Williams
13
Posted 01/08/2016 at 17:18:10
A perfect example of the media shite has just been on Sky Sports. The halfwit presenter prattled on about how "we understand" a deal being close for some player or other and then ridiculously reported that the player's present club stated they have had no offer for him and are not aware of interest from any club.
FFS!
Mark Tanton
15
Posted 01/08/2016 at 17:26:53
It's all a big game.
Jack Convery
16
Posted 01/08/2016 at 17:29:25
Why is the transfer window always Squeaky Bum Time for EFC and us Evertonians?
With 𧴜m to spend we don't need to sell do we?
Make an offer to players and if they want to check out whether the grass is greener elsewhere tell them to do one – simples. Either you want to play for EFC or you don't... or am I being really naive? Still, a "take it or leave it" attitude with agents would be a breath of fresh air.
Mike Allison
18
Posted 01/08/2016 at 17:50:00
No James Watts, no no no. No it doesn't. No. No. No.
I've lost count of the amount of times I've had to explain this on ToffeeWeb. Your perception of Everton transfers vs other clubs' transfers is completely skewed because you follow Everton transfers closely and you don't follow other clubs.
You pay attention to every little rumour and snippet when it involves Everton, and desperately check the Internet every day (or more) to see if any progress has been made. Therefore from the first made up rumour to the player holding the shirt seems like an eternity to you, when in fact it is no longer or shorter than with other clubs.
Meanwhile for those fans of other clubs who pay no attention to Everton rumours, it seems like Everton wrap things up quickly whilst their club turns every transfer into a 'saga'. In fact, there are fans of other clubs out there right now making the exact same complaint.
You seem to forget that when Everton do sign players they are rarely the ones the gossipmongers 'linked' us with all summer. We often pull signings off quickly behind the scenes, but people don't tend to notice them. Fellaini came out of the blue, as did Niasse, I don't think we were 'linked' with Coleman at all, nor Barry.
These stories get made up as click bait so second rate websites can get hits in order to sell advertising space, and you're letting it cloud your view of Everton Football Club. Get some perspective.
Ian Hollingworth
19
Posted 01/08/2016 at 17:53:21
I like to think everything is in hand but surely Ronald et al were briefed by people at the club plus their own knowledge of what was needed. Plus the way every team progresses, no matter what level, you need to keep getting better-quality players than you already have.
Disappointed we have not moved sooner for some identified targets. Unless RK ripped up the plans for those targets and is starting again, etc?
If so then it could be a slow season with real progression only coming next year. Like it or not, the current playing squad will not compete for top 6 spot.
Drew O'Neall
20
Posted 01/08/2016 at 17:53:36
Everton will have identified several player choices for each position requiring strengthening, as well as the order of importance of each position. They will have also set acceptable sale prices for Stones and Lukaku which will alter all of the above.
If they feel they are close to an acceptable offer for both or either player, meaning they can get their first-choice players in more or all positions, they would be mad to begin recruitment until those deals were reached.
There will come a point, though, by which time they cannot delay recruitment any longer and they must cut their cloth.
A further complication is the options on the tables of the respective players involved. It is their agents' jobs to elicit as much interest in their players as possible and in the case of Axel Witsel, for example (who we can assume is first choice in a priority position for Everton), the best deal for the player in terms of salary and signing-on fee would only be obtainable after Juventus sell Paul Pogba and therefore come to the table with their offer.
There are many dependencies where these deals are concerned and, while it can be frustrating, there is a sequence of events to follow, especially when there are a number of new faces required, and especially when we have a new manager. So the deal hasn't been done months in advance as we can assume has been the case with some of the deals we see at the start of the transfer window by teams like Tottenham for Jansen for example.
Chris Hooson
21
Posted 01/08/2016 at 17:56:20
Jack Convery, is right fella, spot on. We are Everton FC, or just fuck off.
James Watts
22
Posted 01/08/2016 at 18:01:24
No, no, no, no, Mike. No, no, no, no. I beat you on the number of 'nos' right? :P
My perception may be skewed, but look at a lot of the deals that have happened outside of Everton this summer. Most are linked, fee agreed and within a couple of days they are standing there with the shirt.
I'm impatient, very true, and that is clouding my vision, perhaps. I'm very worried that we'll be starting against Spurs minus Stones and Lukaku and no new signings. We'll just agree to disagree I think.
Sam Hoare
23
Posted 01/08/2016 at 18:05:01
I usually preach patience but I am getting a tad frustrated. I thought Gueye might be announced today at least.
Good things are worth waiting for I suppose...
Gueye, Witsel, Williams, Koulibaly, Mata, Haller, Hiyech. Or something like that!
Mike Allison
24
Posted 01/08/2016 at 18:05:28
Some deals are linked, fee agreed and then holding the shirt but loads don't happen like that, and Everton are no better or worse than any other club. This season has been worse than usual because we've changed manager and appointed a DoF, so there's been no-one planning since February 1st what we were going to do.
It's simply confirmation bias, you notice the things that back up your perception and you don't notice the ones that don't.
Chris Gould
25
Posted 01/08/2016 at 18:10:38
Mike, I agree with most of what you say. However, Gueye has a release clause which we apparently activated. Di Matteo and Villa's owner both confirmed this to be true and expected him to be signing for us... still waiting.
It's depressing that players seem to be holding out for other clubs rather than signing for us. It would also seem to be the case with Witsel.
James Watts
26
Posted 01/08/2016 at 18:12:21
That is probably true Mike. I guess I'm just pretty frustrated with the whole transfer sagas. I don't believe much in the press as I know 99.9% is crap but I do believe it when the opposition manager comes out (like Di Matteo did end of last week).
Getting close to the start of the season without any recruits in areas that are weak is pretty criminal in my view and is pissing me right off!
Steve Bingham
27
Posted 01/08/2016 at 18:29:19
Be cool, people... stay calm... Everything will be hunky dory!
Kim Vivian
28
Posted 01/08/2016 at 18:37:47
So Rom has allegedly "...told team mates he wants to leave this Summer..." reports the Daily Snail. I hoped he would stay and develop under Ronald Koeman but, if he goes, I hope he fucking bombs and finds the grass not so green in the smoke, or wherever he ends up.
We've got to prioritise a replacement, or have Kev lead the line, which I think he could do.
William Cartwright
29
Posted 01/08/2016 at 18:39:43
Regarding the Gueye chappie, I am sure that Di Matteo's comments were above board and genuine. However, West Ham it seems may have been sniffing around, as they usually do (a hangover from 'Arry's days), and it may be that he and his agent will settle for a deal that suits him, personally, best. Nothing wrong with that. Who is it that reads ToffeeWeb can't grasp the concept that football players are employees and they look to feather their nests, just like the rest of us?
Chill out, guys, no pun intended, and let the deals take their own natural course.
I have a lot of respect for Everton's policy of respecting other clubs and their players' interests under contract. In fact, the majority of clubs behave like this and it should not change. Just because the awful Sky 4 (sorry 5 including the Redshites but excluding Leicester) wish to stir it up for marketing's sake, don't get drawn into it. It will just wind you up and give you an ulcer!
I have faith in Moshiri. I think the Christmas window and next summer will be the key windows, especially when the game plan for the stadium is more clear. In the meantime, Koeman will be doing a stabilization and consolidation job with or without Rom and John.
Meanwhile, I still believe the squad is better than one would normally expect after a manager has been replaced as a result of two bad seasons, and it may be that the quality available is actually making Koeman shift his targets? However, there is no doubt that the well-recorded imbalances and weaknesses, such as GK, back-up â"– 2, big centre-back, left-sided midfield, creative â"– 10, especially if Rom and John depart, will require some Band-Aid actions and next week could be very interesting... Or, then again, as boringly frustrating as last week!
Mark Ryan
30
Posted 01/08/2016 at 18:42:24
I see that Southampton have signed a goalie... does that mean we will sign their â"– 1??
Kim Vivian
32
Posted 01/08/2016 at 18:50:26
I wondered that also, Mark, but it looks like he is there to provide a bit of competition for Forster. However if Saints think Forster might be heading off – hopefully in our direction – they may just be lining up the stand-by.
Steven Jones
33
Posted 01/08/2016 at 18:53:38
Jay Harris @4
Where is it common knowledge that we are "in talks" with Man City and Chelsea? It is mere paper talk which may be primed by agents wanting to create stories. Where have EFC or Chelsea come out and stated that we are in talks? Do not propagate falsehoods.
Both are staying at the club as far as EFC are concerned.
Eric Holland
34
Posted 01/08/2016 at 18:54:02
I think it will be Kasper Schmeichel who we end up signing!!
Jay Harris
35
Posted 01/08/2016 at 19:02:28
Let's all remember how bad things were under Martinez for the last 2 seasons and know that Koeman can only improve on that.
I think the reason most of us are panicking is that, having seen signs of improvement at Barnsley and MK Dons, we then witnessed a limp performance against Dresden and a total embarrassment against Real Betis but we should remember both of those games were with abnormal lineups and neither were our full strength side at any stage.
We have already been told reinforcements will be arriving so let's see how we look after next weekend before we start to get suicidal.
Jay Harris
36
Posted 01/08/2016 at 19:03:55
Keep your head buried in the sand, Steven, and I will be the first to apologize if I am not correct.
Lyndon Lloyd
37
Posted 01/08/2016 at 19:08:47
Brian (1) "
Is that the message from Everton though, Lyndon, as I've certainly not seen it on the official site or seen it anywhere where it's been attributed to anyone at the club.
Are both players for sale?"
You're right. There hasn't been anything official from the club and nor would there be in this instance.
Privately, both players will have their price, though, and if they have both indicated a desire to leave (Stones apparently has and even if the Mail's report today suggesting that Rom has followed suit is wide of the mark, he has made enough noises about wanting to leave for a Champions League club), then that will apply to an even greater degree.
Kim Vivian
38
Posted 01/08/2016 at 19:09:26
I thought we were not allowed to go after Leicester players, Eric. Perhaps they are allowed to go after ours.
Mick Davies
39
Posted 01/08/2016 at 19:13:00
Eric @ 34, didn't we sign a deal with Leicester not to go after their players when we got Walsh?
Paul Hay
40
Posted 01/08/2016 at 19:20:38
I don't think that there's any need to panic. Mr Koeman will steady the ship and it will probably be a tough period up until the next window where the real business will begin.
Keep the faith.
Eric Holland
41
Posted 01/08/2016 at 19:23:05
Load of tosh. Who told you we had signed a deal with them?

Stan Schofield
42
Posted 01/08/2016 at 19:25:07
Beats me why folks seem to be panicking. Surely things can only be better than last season, especially as the season unfolds. Otherwise we'd be expecting the new manager to be as bad or worse than the old manager. In which case there would have been no point in getting rid of the old manager.
Steven Jones
43
Posted 01/08/2016 at 19:31:06
Jay,<>Buried in the sand? I think you are the one that is naïve if you do not think that agents and other interested parties don't play the media and that the media don't create stories without real sources and without real evidence.
You can be an ostrich for all you like but don't be so naïve and cocky with your comments when the truth lies elsewhere – you need to get wise about the media and agent agendas.
I think it is common knowledge ...
Jon Cox
44
Posted 01/08/2016 at 19:42:40
As far as Lukaku is concerned, seems quite easy really. Knock off 㾶 mill for Stones and make sure we acquire Bony from Man City. I'm sure that if Rom can get 20 goals plus per them, so can Bony.
Big difference, of course, being one has ball control and scores goals and the other just scores goals. So, if one has ball control and the other Disney, question is how many goals will be made by which particular player? My dosh is on Bony.
This would be a fantastic bit of business by Everton. Once Bony is in, Guess who has the upper hand with regard to the hands on the power levers?
By the way to the guys talking about the "no no no"s, which film had this as dialog?
"No no no no no no no no no no no no no"
"No no no no no no no no no no no no no"
By the way There's only one â"– 10 and he's Spanish.
Colin Glassar
45
Posted 01/08/2016 at 19:43:38
Apparently, Rom has handed in a transfer request to his team mates. Well, if you believe the Daily Mail that is.
Eric Holland
47
Posted 01/08/2016 at 19:50:45
Slightly off topic, sorry! But have you seen the artists impression of the Goodison makeover?
Link http://www.liverpoolecho.co.uk/sport/football/football-news/goodison-parks-201617-makeover-good-11675465
James McPherson
48
Posted 01/08/2016 at 20:02:20
Everton are busy with new kits, players birthdays, new crockery at Finch Farm, soundbites, titbits, that photo, this photo, everything bar the business of football on the pitch.
So Everton – flim-flam personified.
Eric Holland
49
Posted 01/08/2016 at 20:05:34
You had a bad day, James?
Terence Tyler
50
Posted 01/08/2016 at 20:07:59
Fresh report saying Gueye medical today, signing tomorrow. I know...
Paul O'Neill
51
Posted 01/08/2016 at 20:08:01
Starting to wonder if Moshiri's ambition is as great as first thought. Reason's being;
• Recruited Koeman & Walsh, two individuals who are known to be very savvy with limited funds available.
• Not made any big noises so far this window.
• Instead of saying Stones and Lukaku are 100% not for sale, we read they do in fact have their price, albeit both prices we read seem fair.
I know it's early on and it's too soon to start panicking but Spurs is two weeks away and the squad is clearly not good enough. It's surrounded by uncertainty from incoming and outgoing players and it needs uniting, and if it means getting rid of John and Romelu to start the shaping of Ronald Koeman's Everton, then get it done.
Brent Stephens
52
Posted 01/08/2016 at 20:08:16
Sexy Beast, Jon!
No, not you.
Chris Gould
53
Posted 01/08/2016 at 20:08:33
Stan, it isn't particularly hard to improve on last season. I think everyone expects some sort of improvement, but surely you accept that we will improve significantly more with a few quality signings?
I'm not panicking, but I am concerned that we may not be able to lure some of our priority targets. It may be that we have to settle for a little less.
Regardless of this, I am very positive about our future, but we may have to settle for slower progression than many had hoped.
James McPherson
54
Posted 01/08/2016 at 20:24:57
Eric - no. Just reality.
Ken Buckley
55
Posted 01/08/2016 at 20:33:52
They must be working quickly as news has just reached the room of nonsense that Ash Williams is to sign for us in next 24 hours.
We will see...
Jim Burns
56
Posted 01/08/2016 at 20:36:45
Guys, guys (and girls) – what's with the negative waves? Read Seb Stafford's piece for FourFourTwo, under 'Elsewhere on the web', then calm down and remember who we are.
Jon Cox
57
Posted 01/08/2016 at 20:58:41
Brent I'm very sorry to tell you,
I love you!!!!!
Ian Riley
58
Posted 01/08/2016 at 21:01:35
Tomorrow the car park attendant will be telling us how hard the club and himself are working to bring players in. Just get on with it!!!
Stan Schofield
59
Posted 01/08/2016 at 21:05:07
Chris @53: I agree totally, mate, but that comment you made isn't panicky. It's fair to say that quite a few comments are panicky, and I can't see why. It's good to imagine various scenarios, but there's no point being pessimistic, it's futile.
We have a new manager who ticks the boxes I would reasonably have hoped for in a new manager, so, so far so good. He and his brother have already said they're looking at signings, so that's good.
I believe we could do quite well (for starters) with the current squad, and we don't need to get rid of anyone, so we're in control. I agree that extra signings will probably improve things, and they will come in good time. So I'm having a beer now. Chill out, fellow Evertonians!
Chris Gould
60
Posted 01/08/2016 at 21:19:32
Stan, I think some of the panic stems from not knowing what will happen to either Stones or Lukaku. Until the club make some form of statement regarding their intentions on the matter, it is a concern that they may well be sold at the end of the transfer market and not necessarily replaced adequately.
Of course there is a hell of a lot going on in the background that we aren't privvy to, and we should at least try and keep the faith that we have employed the right people to make the right decisions.
I for one will remain positive and excited about our future even if we don't make any significant signings because, like you, I believe we are undoubtedly heading in the right direction.
Jay Wood
61
Posted 01/08/2016 at 21:41:24
In more uplifting news, any one had the good fortune to see this?
Stan Schofield
62
Posted 01/08/2016 at 21:49:48
Thanks for that link Jay, didn't know about that. I remember reading Alan Ball's autobiography, 'Ball of Fire', I recall it was circa 1968. A good read, if you can get hold of a copy these days.
Brent Stephens
63
Posted 01/08/2016 at 21:52:45
Wash yer mouth out, Cox. But was I right?
Michael Farrelly
64
Posted 01/08/2016 at 21:57:24
Like most, the wait for key signings is killing me!
So much hope and excitement in the new club ownership, new stadium talks, and the signing of Ronald and Walsh.
The way I feel right now, though, I'd see the signing of 'Ernie the Milkman' in an optimistic light!
Stan Schofield
65
Posted 01/08/2016 at 21:58:26
Chris, I understand the concern with Lukaku and Stones. But, I'm fully expecting this new regime to take a very business-like approach, that they are simply not for sale unless we've already secured suitable replacements and Koeman decides he doesn't require them. If they left any other way, not consistent with this very controlled approach, then I'd say we haven't really got a new regime.
Brent Stephens
66
Posted 01/08/2016 at 22:02:14
It's been an empty a few weeks as regards signings. But just think, it will all be concentrated into the next few weeks – all those 21 players we've been linked with now signing at the rate of three a day.
Chris Gould
67
Posted 01/08/2016 at 22:10:42
Stan, sounds like you're right. Williams in one day and Stones out the next. Suitable replacement? I guess we'll have to wait and see.
Sam Hoare
68
Posted 01/08/2016 at 22:11:22
Reckon we'll sign 3/4 players this week.
There was a medical late today apparently. Could be Williams.
Eric Holland
69
Posted 01/08/2016 at 22:21:10
I remember the last time we had a Welsh centre-half!!!
Stan Schofield
70
Posted 01/08/2016 at 22:25:48
Chris, I'd like Williams to come here, and Stones to stay. A likely scenario in my view. Stones could the learn a lot about defending.
Jay Harris
71
Posted 01/08/2016 at 22:33:42
Sam,
I think it was Gueye at Finch Farm today.
Williams is away until Wednesday on his jollies.
Jay Harris
72
Posted 01/08/2016 at 22:34:40
Yeah, my dad told me he was the best CH he had ever seen Eric.
Jay Wood
73
Posted 01/08/2016 at 22:46:53
Stan @ 62.
Still got my original (autographed!) copy of Ball of Fire. It came out on the back of his man of the match performance in the 1966 World Cup Final and his transfer from Blackpool to the Blues.
Bally was my one and only schoolboy hero and the best and greatest player I have seen play live in the blue jersey of Everton. But even I as a starstruck kid thought it way premature for a 21-year-old to be publishing an autobiography.
Still, I lapped it up. A nailed-on Chrissy present from me ma and da each year was the Alan Ball Football Annual.
Sadly, I'm not in Blighty to get to see the linked theatre production.
Bobby Thomas
74
Posted 01/08/2016 at 22:47:00
Transition season this, gents.
Chris Gould
75
Posted 01/08/2016 at 22:47:42
I agree Stan, but I think Stones will be gone by the end of the week.
Jon Cox
76
Posted 01/08/2016 at 22:50:38
Brent, yeah,
At this point, the rain is hammering down in Bristol, Ham Green. Fancy a cuppa?
Then sort out a teleportation situation if you can. I can have a brew waiting before you leave!!!
Brent Stephens
77
Posted 01/08/2016 at 22:53:50
Haha, Jon. Tea not for me!
Tim Locke
78
Posted 01/08/2016 at 22:58:45
I find this position strange. A number of people have said how much we need signings, we lack depth in the squad, we need x, y, z player. But they are the same people who said last season we had a cracking squad and should have finished top 6 even top 4.
So, either we have a crap squad which lacks depth and needs improving, in which case, why on earth did we sack Bobby Brown Shoes? Surely he was right and should have been given more time.
Or we have an excellent squad, which could finish top 4-6 and we shouldn't be too worried we haven't bought any new players in.
Jon Cox
79
Posted 01/08/2016 at 23:01:58
Ok Brent,
Hows about a cellar converted to a red vino specific ocean?
Mike Allison
80
Posted 01/08/2016 at 23:03:46
http://www.fourfourtwo.com/features/why-Evertons-flushed-new-owner-wont-be-following-stereotypical-sugar-daddy-mould
Nice piece about our current situation.
Brent Stephens
81
Posted 01/08/2016 at 23:04:50
Ah, now yer talkin'.
Laurie Hartley
82
Posted 01/08/2016 at 23:13:29
Ken # 55 - I hope the "roomer" comes to pass. That would be our most important acquisition of this window sorted.
Stan Schofield
83
Posted 01/08/2016 at 23:15:36
Jay @73: A signed copy, bloody brilliant. Same here, he's my all-time hero. To me, he IS Everton. I always remember at Goodison, when lads ran onto the pitch when the teams were warming up, Bally would often have a bit of a kick-about with them.
I was gutted when he left for Arsenal in 1971. No doubt a good deal from a business viewpoint, bought for 𧴦,000, got best five years from him, sold for 𧶔,000, but terrible for the fans.
I also read Brian Labone's 'Defence at the Top', and Howard Kendall's 'Playing for Everton'.
Stan Schofield
84
Posted 01/08/2016 at 23:17:46
Tim @78: My thoughts entirely. This is why I'd be happy with Koeman working on the current squad with no new signings or departures.
Bobby Thomas
85
Posted 01/08/2016 at 23:28:12
For what its worth, the Guardian is saying Ashley Williams is boxed off:
https://www.theguardian.com/football/2016/aug/01/everton-ashley-williams-swansea-10m-deal
Bobby Thomas
86
Posted 01/08/2016 at 23:29:40
Well, kinda
Oliver Molloy
87
Posted 01/08/2016 at 23:50:07
Tim @ 78.
What's your position Tim? What do you think of the squad?
Me, Martinez should have been sacked long before he was, and the current squad simply is not good enough.
It remains to be seen if we can add the quality required to get us going and give our current players the kick up the arse they obviously need.
Too many positions where we have no real competition; this must change.
Douglas McClenaghan
88
Posted 02/08/2016 at 00:18:48
This is a transitional season; we won't assemble a title-challenging squad in July-August 2016. I expect a few seasons of development and the real transfer action is probably a year or so away.
Look at who wants out, check out which youngsters have what it takes, see which careers can be re-ignited – all this will take time.
The longer this seeming inaction goes on, the more confident I feel. All I want from next season is improvement and evidence we are headed in the right direction.
Terry Bolger
89
Posted 02/08/2016 at 00:52:27
Let's get this right... we don't need to sell, but more important we need to buy but we don't really have the money. We ask this every season, I honestly think nothing has changed. We are the club of all talk.
David Ellis
90
Posted 02/08/2016 at 02:30:29
Mr Watts (#27) – no no etc. Mike Allison (#18) is right, and you are wrong. Nothing to agree to disagree about.
Just look at what actually happens with signings in other clubs, it's no different to ours. These things just don't run smoothly and it's not in the control of the club to "just get it sorted" etc.
I am hugely frustrated but it's no different to any other club – has Pogba signed for Man Utd yet? Has Witzel signed for anyone yet? Have Man City got Stones yet? No No No No. It's not just us.
Barry Williams
91
Posted 02/08/2016 at 02:59:00
So basically you want Koeman to get a Gueye in for the weekend. I am sorry but this doesn't take into account Mrs Koeman's feelings, methinks!
James Watts
92
Posted 02/08/2016 at 03:07:57
That's your opinion David (90). And I respect it. but I do disagree. Still, whether you like it or not.
You cherry picked some transfers to make your point. Mike at least picked Everton transfers to make his point.
Now let's look at other transfers once a fee was agreed: Xhaka to Arsenal done and dusted in a few days. Batshuayi and Kante to Chelsea, few days after fees agreed they were holding up the shirt.
I could go on... But there you go. I still believe we take longer than other teams in general to tie up signings, but not in every single case as Mike points out.
Mike Dolan
93
Posted 02/08/2016 at 03:11:27
Does anyone know the rules in place that dictate how much a club can spend on acquisitions and payroll in relationship to income? I read somewhere that Everton would have to sell either Stones or Lukaku to up their income and so be able to spend at a higher level. Or something like that.

James Watts
94
Posted 02/08/2016 at 03:22:19
Mike (93), from memory it's about €30 million in terms of spending v income. But with the TV deal now it means we would have to spend around €100 mill before it might become a problem. Think we'll be safe. ;)
Eric Myles
95
Posted 02/08/2016 at 04:27:25
Phil (#10), I thought it had something to do with the early qualifying rounds of Champions League and Europa League competitions?
Eric Myles
96
Posted 02/08/2016 at 05:44:52
Mark (#30), Kim (#32), more likely that since we signed their #2 goalie they are just replacing him.
Darren Bailey
98
Posted 02/08/2016 at 09:15:10
Quite frankly, I'm totally fed up with the inactivity in the transfer market this summer. It started off okay with the appointment of Koeman and I was all for being patient while he got his feet under the table and recruited his backroom staff. Walsh again is a great addition and obviously things have developed in the background. This gave me a sense that things were on the up but come on, it's becoming same old Everton in the market.
It was showing so much promise with a supposed 𧴜m to spend and no need to sell any star players. Now, the only transfer activity is two of our best players leaving, none of the crap we want gone or showing any sign of being moved on, and the only incomings are 30+ centre-halves. It's not good enough and deep down even the most optimistic Evertonian will agree.
This is supposed to be a new dawn, a new generation and new pedigree of player being brought in. Where the fuck is it then? It seems like anyone of any stature doesn't want to come and the club don't seem to want to spend the money. Pull your finger out and don't give me the crap about the Euros delaying things, other clubs bought players during and even before it started.
Denver Daniels
99
Posted 02/08/2016 at 09:49:15
When are we gonna sign a bloody attacking midfielder / playmaker? Get rid of Cleverely, McGeady, Kone, Niasse and use that money and wages and bring in someone top class.
Rob Halligan
100
Posted 02/08/2016 at 10:06:34
Denver, just one major problem when you say get rid of Cleverley, McGeady, Kone and Niasse. We need a club to actually want to sign them. If no club comes in for any of them, then we are stuck with them.
Jim Knightley
101
Posted 02/08/2016 at 11:28:23
We have appointed a new manager and a new Director of Football after getting a new owner a few months ago. And we've finished in the bottom half in two successive seasons.
I think it is naive to compare us to the likes of City, United etc, because of differing circumstances, especially in terms of changing the structure of acquisition in the club. Clearly we've been after one or two big targets that have not come off (I think we are still after Witsel with Gueye as the back-up choice) and we need some patience.
Personally I expect another two buys to come in before kick off (plus Williams) and I think we will bring in an extra two before the end of the window. We have a great manager, a great Director of Football, an exciting owner and some young and talented players. Patience is necessary.
Paul Tran
102
Posted 02/08/2016 at 11:53:43
Why a transition season? I've been told for two years that this is a top-six squad, ruined by Martinez. Now that he's gone, have they all become rubbish?
The squad is disorganised, unbalanced and lacks leaders. Let's see what big Ron does with what we have and adds some players with backbone – like Williams for starters. I suspect that many existing players will turn out better under some discipline and genuine guidance.
Derek Knox
103
Posted 02/08/2016 at 12:19:42
In my humble opinion, I think RK will prove to be a better acquisition as Manager than we first imagined.
He has been given a budget that most managers would drool over, then just rush out and buy over-hyped and overpriced players. I am not saying Jose Mourinho is a chequebook manager, but he has paid stupid prices in the past on flops, who have then moved on, or languished in the reserves.
I truly admire what he is doing, in selecting quality players, who will improve us. Which brings me to Ashley Williams, I think would be a great buy even though he is 31, another player like Gareth Barry, who knows the Prem. inside out and rarely has a poor game.
We all want quality at Everton, but the likes of Witsel and Koulibaly (both very expensive) have never played in the Prem, I dare say they would be great acquisitions given time, but what an outlay. In both cases they don't appear to be showing any desire to come!
When you look at Southampton, when RK arrived, they were selling players right left and centre, ( the Redshite buying the majority of them) and he still managed to build a team, now that's what I call a good manager!
Patrick Murphy
104
Posted 02/08/2016 at 12:22:53
Paul (102) The very fact that we have changed managers and staff means that Everton FC are undergoing a transition period doesn't it? The players will have to alter the way they approach things on the pitch and that in itself will take time? Seamus Coleman has already spoken about this and therefore the upcoming season will be one of transition.
Everything might click into gear from the first whistle, but that is highly unlikely, given we are possibly going to lose two key members of the team, i.e. Stones and Lukaku, any replacements will need time to bed in won't they?
Martinez wasted a golden opportunity in the last 18 months of his tenure and dismantled most of the good things about the squad - but that's all water under the bridge now and we have to hope that Ronald can squeeze every ounce of energy and desire from his players and build a team in the coming season(s).
Expecting Everton's squad to move seamlessly from miserable failures to high-flying performers is asking a little too much, they as a group may have the talent but they will need more than that if they are going to achieve what we all wish to see. It might take most of the coming season for the team to get back on the right track.
Mark Ryan
105
Posted 02/08/2016 at 12:31:40
I want Moyes to do us a favour and take McGeady, Cleverley and Niasse off our hands.
Vijay Nair
106
Posted 02/08/2016 at 12:34:04
Mark (105), you can add Kone to that list.
Paul Evans
108
Posted 02/08/2016 at 13:38:16
Idrissa Gueye 100% done deal, will be announced imminently
Mike Allison
109
Posted 02/08/2016 at 13:40:27
Patrick, we are of course in a period of transition, but I agree with Paul in objecting to the notion that it would take an entire season. We may hit some teething troubles in the first 10 games, but in a nine month, 50 odd game season, the excuse that we're 'in transition' will wear off very, very quickly.
I believe the squad is pretty good, the players who've gone so far don't need replacing with incoming transfers, and we need to add some specific quality in particular areas, perhaps to suit the shift to a different way of playing.
Alex Doyle
110
Posted 02/08/2016 at 16:00:10
I like the sound of this - http://www.fourfourtwo.com/features/why-Evertons-flushed-new-owner-wont-be-following-stereotypical-sugar-daddy-mould
Paul Tran
111
Posted 02/08/2016 at 17:25:19
Fair point, Patrick, there is clearly going to be a transition.
Look back to Martinez's first season, where I was told he didn't play 'winning football' and that the players 'couldn't pass the ball'. We finished fifth with record points and goals.
I'd love a transition like that this season, with the proviso that it actually carries on improving!
William Cartwright
112
Posted 02/08/2016 at 17:32:24
Darren @98:
You're an Evertonian and that's good standing in my book. This is not a personal attack, I don't know you at all, but it is a rant against the absolute shallow drivel in your post. Also against the presumptive arrogance that all Evertonians "deep down" agree with you.
I believe you are completely wrong and should be following the instamatic demand for success now type of club.
Moshiri has made all the right moves and I think we have made big steps forward from last season:-
1. The crap manager and his cronies have been replaced.
2. New ground strategy is being organized.
3. The grand old lady is being given a facelift in the meantime.
4. The commercial deals are under scrutiny.
5. New manager and support team appointed.
6. Director of football appointed.
7. Big names persued without success (suspect many behind the
scenes reasons but not for want of trying?
8. Big names not sold yet but if to be reluctantly sold then for top
dollar.
9. Top class additions arriving (Guye, Williams) and more on the
way.
10. Budget for player investment still largely untouched and
sitting ready for the right time and place.
11. Existing exciting youth policy being supported by the
incumbent management.
You know what? Moshiri and RK are doing just fine. Appreciate it.
Jay Harris
114
Posted 02/08/2016 at 17:38:34
William, I agree with you 100% – or should that be 200%? lol
Tim Locke
115
Posted 02/08/2016 at 20:25:13
Oliver Molloy - The Everton squad reminds me of England, or England squad reminds me of Everton. What I mean is within and outside ToffeeWeb people speak as if we have world class players and then end up disappointed when they fail to deliver.
With that in mind I would make the following obervations. Bobby wanted to play 4-2-2-2 but didn't have the players to do it, therefore he continued to play square pegs in round holes.
Everton failed to win because they failed on two fronts firstly to press home advantages. Secondly they couldn't defend in the formation they were set out.
Bobby failed to address gaps in the team, if you want to play 4-2-2-2 make dame sure you have the players, if you don't sick your tactical hat on and do something. I will admit at times he did,the Man U and Arsenal wins are pointers to that.
The squad has some good and some OK players, but they are better than 11th, with no changes and a better manager I think we would have finished 7th or above.
The squad has some areas which need improving for strength in depth. It also needs improvement on the left side, mainly left wing.
Our current position reminds me a lot of Tottenham a few years back, a lot of players coming up through the ranks, some new buys but no clarity on what is needed and where. Sure people will say a new keeper, centre back etc, but there is a difference between playing Cham man and buying in a player with high ratings and bringing in someone who improves the squad/team.
I would go back to the England problem, putting the 11 best players on the pitch does not win you a game, putting the best team on the pitch wins you the game. As fans we want to see Barkley or Stones out there, but sometimes we are better off as a team with Williams and Jones. That's not to say class doesn't have a place, it does not it can't be at the expense of team. What I hope RK will do is form a team, rather than assemble a good squad.

Oliver Molloy
116
Posted 10/08/2016 at 21:05:10
Tim,
Whoever speaks of Everton having WORLD CLASS players are mad. In my opinion Everton does not have ANY world class players in the squad as of right now.
Too many punters and pundits use this term on a very casual way – world class for me means that a player be in a world 11 or the squad at least.
A player having a world class moment is not the same as being world class – doing the business week in week out consistently over your career.
Add Your Comments
In order to post a comment, you need to be logged in as a registered user of the site.
Or Sign up as a ToffeeWeb Member — it's free, takes just a few minutes and will allow you to post your comments on articles and Talking Points submissions across the site.
© ToffeeWeb