Reports: Williams set to join Everton

116 Comments [Jump to last]
1 August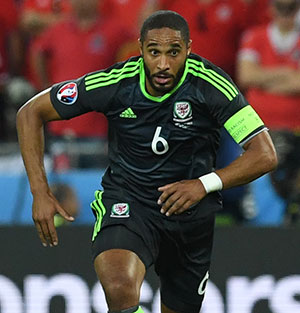 Ashley Williams could become an Everton player this week according to an exclusive report from WalesOnline and subsequent follow-up claims from the likes of the South Wales Evening Post and The Guardian.
Welsh Sports Journalist of the Year, Chris Wathan, reports that a £10m fee has been agreed between the two clubs and that the defender could make the switch "within 48 hours". The Guardian's Andy Hunter also states that a deal has been agreed "in principle".
Wathan tweeted that the Swans are reluctantly prepared to accept the deal for the Welsh international who turns 32 later this month and that Williams' desire for a fresh challenge means there is "little to stop the move happening."
Williams has established himself as legendary figure during his eight years with Swansea and he took his excellent club form into the European Championships where he helped Wales on their fairytale run to the last four in France this summer.
Quotes sourced from WalesOnline
---
Reader Comments (116)
Note: the following content is not moderated or vetted by the site owners at the time of submission. Comments are the responsibility of the poster. Disclaimer
Declan Martin
1
Posted 01/08/2016 at 20:42:25
㾶m for a 32-year-old?
I may come out of retirement myself.
Michael Ward
2
Posted 01/08/2016 at 20:42:47
I am personally very happy with this news. I would much rather spend 㾶m on Williams than 㿔m on some fella I had never heard of until a few weeks ago. A good solid Premier League defender and a leader – exactly what we need.
On a personal level, whenever I have watched him, I have disliked him; that probably means that, if he played for us, I would love him (à la Cahill). Overall, it reminds me very much of the Distin signing and that worked out very well.
Neil Jones
3
Posted 01/08/2016 at 20:42:51
Yes! Nice one.
Sam Hoare
5
Posted 01/08/2016 at 20:46:01
A short term fix but exactly what we need. Another leader and a physical type who can organise a defense and make us a bit more watertight.
Barry McNally
6
Posted 01/08/2016 at 20:47:13
Physically he looks like he has at least three years in him at the top level – good signing.
Ian McDowell
7
Posted 01/08/2016 at 20:50:24
Yes please. A leader, organiser at the back. Exactly what we need. I'll be delighted if this and Gueye happen in the next 48 hours.
Rob Halligan
8
Posted 01/08/2016 at 20:50:35
Good signing if it happens. Make him captain as well.
Jonny Flynn
9
Posted 01/08/2016 at 20:51:37
Whenever we played Swansea, I hoped Williams would somehow miss out. A nightmare to play against and unreal in the Euros. We wanted a tough character... well, here he is.

Won't roll over for any team. I'd roll out the red carpet for his arrival. Anyone who thinks different is mad.
Ian Riley
10
Posted 01/08/2016 at 20:52:45
A player ready to go straight into the team. An experienced player and a leader. We haven't got time to put youth in with Stones going and Jags injured.
Hugh Jenkins
11
Posted 01/08/2016 at 21:02:41
Forget his age - forget the price ( nowadays, financially, this is a pin prick on an elephant's bum).
This is a signing to "stop the rot".
Our new majority shareholder has no doubt said to Koeman something along the lines of - "I don't expect instant success.
I do want growth and development over the next three years.
Here is the Gantt chart.
Year 1, steady the ship and get us back into the top 7.
Year 2 - keep developing the squad and get us bak into the top 5.
Year 3 - aim for the title - but we will accept a top 4 finish."
I think Ashley William's - if he signs - is very much part of the "steady the ship" strategy.
Colin Glassar
12
Posted 01/08/2016 at 21:06:22
I've always said we need leaders in this team. Williams is a leader. No, he's not the exciting player I'm hoping for but he's a solid player. Welcome aboard Ashley (if true).
Dave Williams
13
Posted 01/08/2016 at 21:08:51
We lack a leader on the pitch and this guy is one. He will sort out the defence and he won't allow free headers at goal.
Young players aren't leaders so we have to get someone with experience. He will buy us the time we need for Holgate, Galloway etc to mature into fully fledged first team players.
Great signing if we get him.
Kevin Thompson
14
Posted 01/08/2016 at 21:10:37
We missed leadership at the back last season, especially when Jags was injured, Will help bring on the development of Holgate and Galloway and maybe Stones if he stays. I know he will cost near to £10 million, but that is probably the same as £4 million a couple of years ago. Will probably get 2-3 good years out of him
Kevin Thompson
15
Posted 01/08/2016 at 21:12:01
Also he has only missed 5-6 games due to injury in last 5 years

Gordon Crawford
16
Posted 01/08/2016 at 21:12:20
He has the experience and the legs still. I would say sign him up.
Kevin Thompson
17
Posted 01/08/2016 at 21:14:34
Hopefully Gueye and Williams are signed in next few days; they would add steel to our defensive spine.
Simon Spencer
18
Posted 01/08/2016 at 21:19:26
I'm not too bothered about the age... wasn't Distin roughly the same age? He is Premier League tried and tested and I'd feel more confident not to concede with him as opposed to Stones.
Daniel Lawrence
20
Posted 01/08/2016 at 21:21:21
Should be handed the captaincy if he signs. Jags is no leader.
Chris Gould
21
Posted 01/08/2016 at 21:24:55
Colin, it's hard to get too excited about a centre back, but as far as centre backs go...Williams is as exciting as they get. He's fearless, vocal, passionate and a real throw back. If true, I can't wait to see him lead the team out at Goodison. I will instantly feel more secure with him in the team.

He also pops up for a few goals. Suddenly we may look dangerous at set pieces.
Brin Williams
22
Posted 01/08/2016 at 21:26:08
KT 13 'Also he has only missed 5-6 games due to injury in last 5 years'
AND he was injured (shoulder) in the Euros but refused to come off and was back playing in the next game – guts and dedication – oh yes did you see that header he scored?
Colin Williams
23
Posted 01/08/2016 at 21:28:32
Williams lacks height, pace and technical ability. Yes, he's competitive and yes, he leads by example... Still not enough to really change our problem area.

One other thing – he's too fecking old! If that's the best we can do... we're in trouble!
Alexander O'Brien
24
Posted 01/08/2016 at 21:29:23
After giving it some thought and after my initial reservations, this could make sense. Ready-made leader at the back and a threat at set pieces. Just what we need. The first of a few, I hope.
David Donnellan
25
Posted 01/08/2016 at 21:29:34
Sign him up if true! A real leader of men on and off the pitch, did you see him pumping his team mates up during them Welsh huddles. We haven't got a natural leader like that in the squad, exactly what we need. A decent defender too!
Martin Nicholls
26
Posted 01/08/2016 at 21:31:38
Go for it, Everton!
Jeff Armstrong
27
Posted 01/08/2016 at 21:33:19
I don't think you'd need to take the armband off Jags, he's a decent club captain but Williams will be a leader on the pitch, armband or not, let's just get the pair of them in the team and take it from there.

I believe Jagielka has still got a bit of pace left and although having the both of them would certainly not be a long term solution,I think it would be enough to give us a solid base to kick off the campaign, Jagielka's fitness permitting.

I am still not sure about Funes Mori, his distribution is terrible, and the Anfield debacle was embarrassing.

Just need a creative midfielder and replacement goal scorer and away we go.
James Stewart
28
Posted 01/08/2016 at 21:35:46
Would have no problem with Williams coming in. Good player and more importantly a leader with a nasty streak. We don't have a single player like this.
Gavin Johnson
29
Posted 01/08/2016 at 21:41:40
I've always rated Williams. I think he's just what we need. His age would normally worry me, but we're now in a situation where we can now afford to buy players without worrying so much about a sell on fee. I think Williams will make an instant impact, and after the last 2 seasons, that's exactly what we need.
I'm happy as long as this signing is the exception rather than the rule. I don't want us to sign anymore old codgers this window.
Pete Owen
30
Posted 01/08/2016 at 21:53:49
Remember in the Euros, his shoulder was knacked and he just would not leave the pitch knowing that even with a fucked shoulder effectively one good arm he was still twice the player that Collins (his replacement) is.
"It's fine, it's FINE!!!..."
Fucking hero that man. Yes, please.
Chris Gould
31
Posted 01/08/2016 at 22:05:29
Williams in by Wednesday, Stones out by Thursday. £40 million in the bank. Like it or not... it's happening.
Jeff Armstrong
32
Posted 01/08/2016 at 22:08:59
Chris 31, I like it!
James Morgan
34
Posted 01/08/2016 at 22:19:34
Exactly what we need, a proper solid dominating defender. Don't care about his age, if a player makes an instant impact like he would, then age is just a number. Manchester United bought RVP to make an instant impact despite him being 30+, and it won them the title. 㿄m well spent.
Simon Bates
35
Posted 01/08/2016 at 22:34:45
This signing would actually make more of a statement than some seem to realise!

Let's just go and take the captain of Swansea City, after taking Southampton's manager, oh and while we're there we may as well take the Champions' head of recruitment .

Small club my arse, COYB
John Austin
36
Posted 01/08/2016 at 22:51:17
Agree with most of the posts. This will be a great signing for all the reasons stated if it comes off. He would head a brick wall if he thought the ball was the other side. Just what we need.
John Bradley
37
Posted 01/08/2016 at 22:54:07
You find me one Swansea fan who will be happy to see Williams leave. They will be gutted. He's a leader and currently a better centre half than John Stones. Stones has potential but so do Galloway and Holgate. This is a great signing.
Jon Withey
38
Posted 01/08/2016 at 23:10:58
Like him, good buy – ignoring price.
Like Barry must have reminded us – you can only have so much potential before you actually need the finished article.
Nigel Munford
39
Posted 01/08/2016 at 23:33:35
Well I'm amazed, only two negative posts out 38. Let's hope it happens tomorrow or Wednesday. This type of defender is just what we need.
Julian Wait
40
Posted 01/08/2016 at 23:43:46
I like this. By all accounts we've got a few good young uns coming through (Foulds, Pennington, Galloway, Browning) and this buys some time AND some experience to help develop those players and see who can make it (and those young players can provide cover across the back).
I'd take Fonte as well if possible, as we need four good centre halves and we're going to lose Stones it seems.
After this, a top class keeper is needed.
Andy Crooks
41
Posted 01/08/2016 at 23:49:08
I think this would be a superb signing. If we got him for £4 million I doubt there would be a complaint on here. However, we are in a transfer window where money is mad. Last season our defence was shit. This player would improve everything about it. We would be a better team with him.
We have fretted over money for years but, my God it is not our money and I think I will enjoy who we sign and rely on Mr Moshiri to keep an eye on his investment.
James Watts
42
Posted 01/08/2016 at 23:49:42
If this is true, I like to take my lead from the fans from the club we are buying from, eg. when we signed McGeady, even Celtic fans were giggling at us.
My initial reaction is surely we can do better with the heavy caveat I haven't seen that much of him apart from when he plays against us and the Euros. But every single Swansea fan I've seen post about this on various social media sites are absolutely gutted he could be leaving.
So just from that, I hope he comes on board and isn't more tabloid bull! Fans (normally) know the good 'uns v the bad 'uns.
Steve Hogan
43
Posted 01/08/2016 at 23:53:19
It'll be just like a new signing... wait a minute, it is a NEW signing... nurse, nurse...
Geoff Williams
44
Posted 01/08/2016 at 00:01:54
Like it or not, but:
A, 㾶 million ain't a big sum these days, even before the Moshiri money.
B, 31 ain't actually that old these days. Most players are clean living and look after themselves. His injury record certainly suggest's this.
I'm amazed for the the price, the likes of Arsenal haven't come in for him.
He's a proven quality player in the Premier League and will instantly come in and improve our team.
My only concern would be that he only knows how to play the 'Swansea Way'; can he transfer that into another team??
Mick Davies
45
Posted 01/08/2016 at 00:03:58
He's just what we need right now; last season our defence was run ragged by teams knowing they could bully our players into mistakes. This guy takes no prisoners and if we get 2 years out of him, it gives us time to blood the youngsters and/or bring in younger centre-halves... oh, and I hope he is made captain, as he is a natural leader.
Darren Hind
47
Posted 02/08/2016 at 00:05:06
Colossus. He can play football too.
Tony X Williams
48
Posted 02/08/2016 at 00:06:53
According to Wikipedia, Williams is an Everton player already!
Jim Knightley
49
Posted 01/08/2016 at 00:07:50
Williams has had 4 fantastic seasons in the last five years. In this market 10million for one of the best defenders in the league, even at 32, is fair enough. As a central defender, there is no reason why he can't make it to 35, and we are dealing in an inflated market that has seen the likes of Higauin (28), Gaitan (28) and Gameiro (29) go for massive fees.
Now I'd like us to look at a playmaker (Mata, Nasri or even Sigurdsson), bring in a pure DM, sign a goalkeeper (Forster, Begovic, Szczesny) and another striker (Borja Gonzàlez, Alcacer).
Phil Jeffries
50
Posted 02/08/2016 at 00:28:28
Just get it done. He is a rock and arranges his defence to DEFEND... he is commanding in his own box and a threat in the other.
Andy Meighan
51
Posted 02/08/2016 at 00:45:34
Just what we need, a no-nonsense, take-no-prisoners defender. Mori could learn a lot playing alongside Williams if this comes off.

Mori looked a good defender when he first signed until Martinez coached it out of him with his playing it out from the back shite.

Williams looks a leader and I won't forget his performance at Goodison last season when he had Lukaku in his pocket Then again, he wasn't alone there.
Mike Galley
52
Posted 02/08/2016 at 00:52:03
Colin Williams # 23. I think I know what you done there!!!
Paul Kossoff
53
Posted 02/08/2016 at 01:09:29
Not good enough. Buy to shore up a poor defence. I watched the Dresden game and nothing seems to have changed: no real organization, players seemingly strolling through the game, three wingers on the pitch not doing anything of note.
Funes Mori playing like a novice getting caught in possession; Baines stopping to pull his socks up 10 yards from the opposition's goal when the other side were breaking away.
Alex Song just left Barcelona for nothing, why didn't we get him? No-brainer for me, only 28... better than what we have? Definitely.
I'm getting worried.
Anthony Dwyer
54
Posted 02/08/2016 at 01:30:47
Links to Williams and/or Fonte have me wondering what the future holds for our centre-halves.
Stones is the easy one, he's off to Man City, but the others, Jagielka and Funes Mori, what does the future hold for them?
The way I see it is Funes Mori is an Argentinian international, he's at an age where one good season could see his price rocket.
Some fans don't rate Funes Mori, but for me he has to be vital to us this season. He may have had a slightly topsy turvy start to the Premier League, but there aren't many centre-backs who haven't. Look at Loveren across the park, raved over at Southampton, then ridiculed at the Red Shite. Then a change of manager and style of play and he's back on track. Look at Koscielny at Arsenal, he struggled, but last season his stats were second to none. I believe Funes Mori will prove to be a top find throughout the course of this season.
Jagielka will be 34 before the start of the season, and whilst I think he still has miles on the clock, one might begin to wonder just how many miles that is.
All food for thought, but if we did not already own Funes Mori, and were currently linked with a 6-foot-odd Argentinian international who played every minute of their recent Copa America campaign, and who has a knack of scoring goals, we would all be buzzing with excitement. But as it is, some of our fans are judging him on a first season in which we had a manager who somehow managed to make Jagielka, Baines, Coleman, and Stones all look like clowns.
I love Jags, but I have to side with team Funes Mori.
William Cartwright
55
Posted 02/08/2016 at 02:56:18
Everything that needs to be said has been said already. If Koeman pulls this off, then hats off to him. He will have identified for himself the unbelievable ridiculousness of Martinez's philosophy and done the best thing possible. Brought in reinforcement(s) to stabilize the the ship and buy some time to change its course.
Roberto drove us to the edge of a cliff in three years. Ronalld will turn us around 100% in a similar time frame.
Wonderful management move.
COYB.
Brian Porter
56
Posted 02/08/2016 at 06:52:21
Funes Mori is definitely part of our future. With Martinez gone he can return to real defending, as he does for Argentina. As already stated on here, he played every minute of their Copa America campaign and they don't pick crap players for their international team. Away from Martinez, he's a different player completely 'like a new signing'!
Whoever comes in has to be seen as a potential replacement for Jags, who's getting older and slower and very prone to hamstring injuries over the last year or two. With Stones likely going, Funes Mori has the potential to be the heart of a new defence for the coming years if we can hold on to him.
Let's face it, there's already been interest in him from both the Spanish and Italian leagues so it's obvious they have seem his potential and I still fail to understand the amount of negativity often shown on TW towards the lad.
Amit Vithlani
57
Posted 02/08/2016 at 07:14:29
1. Improves the squad, tick.
2. Wants to play for us, tick.
3. Acceptable price, tick.
Add to that, he is a legend at Swansea, who have just been taken over and are flush with cash, and if this story is true, it is a mighty feather in Koeman/Walsh's cap.
Paul Smith
59
Posted 02/08/2016 at 07:38:25
Good post, Brian.
I'm one of the doubters re: Funes Mori. Your synopsis has me reconsidering.
Paul Evans
61
Posted 02/08/2016 at 07:38:47
Gents, bit of inside info here.
Ash met with Everton last Wednesday and personal terms were offered, he returned to Swansea chairman to basically say I'm off, and Huw Jenkins has refused to match the wages, so looks like this one has a bit of meat on it and he's on his way to Goodison.
Gordon Roberts
62
Posted 02/08/2016 at 07:55:03
Very rarely misses games, rarely injured, will lead by example. Hope it happens. Jags to Sunderland??
Jeff Armstrong
63
Posted 02/08/2016 at 07:58:39
Brian (#58),
I believe the negativity towards Funes Mori is justified, he cannot pass a ball out of defence, he overhits, underhits, gives hospital balls and often puts us back under pressure unnecessarily.
I know Martinez wanted to play it from defence on the deck and granted there will be an improvement as Funes Mori will not be expected to start attacks from centre-half, but passing for me is at least 25% of what makes a decent player and this guy has never shown any aptitude for this part of the game.
John Parker
64
Posted 02/08/2016 at 07:59:25
He would be a good signing; he had Lukaku in his back pocket last couple of games against them.
I like the Distin comparison, but say he's more like Richard Gough when we signed him, towards the end of his career. Not the tallest or quickest, but fearless, reads the game well; through a tough spell, Gough was an outstanding defender for us.
Mike Mulhall
65
Posted 02/08/2016 at 08:03:32
You don't get much better than this in terms of a centre-back position. I seriously wonder what some fans think if they don't want this type of player.
Question: Who would you get in instead given the position the club are in in that position?
It's a total no-brainier and, if I am honest, I am surprised we are pulling this off
Drew Shortis
66
Posted 02/08/2016 at 08:17:13
I wasn't initially impressed with the idea of signing Williams due to his age. I have changed my mind. He's exactly what we need. Solid, experienced defender, but crucially a real leader. 㾶m may seem a lot of a 31-year-old, but he should still have a good 2-3 seasons left in him and would give us the solidity we currently lack. Get it done.
Laurie Hartley
67
Posted 02/08/2016 at 08:21:17
I hope we get Williams – in my view, a perfect fit for Everton.
In a week or so, we will have to deal with Messrs Ibrahomovic and Rooney – quite a physical challenge. I think Williams and Funes Mori can handle them.
Pity about Jagielka – he put his body on the line for us in the semi. I suspect he is now paying the price for that.
Ray Robinson
68
Posted 02/08/2016 at 08:27:12
If it happens, this sounds like more evidence of a well thought-out, long-term strategy, despite his age. Improves the defence, provides leadership and, crucially buys time to bring on the youngsters.
The guy has admirable characteristics – battler, leader, unassuming, loyal and not a headliner-grabber. Just the sort of player we Evertonians seem to take to. Not a bad defender either. Let's hope this happens.
Jamie Sweet
69
Posted 02/08/2016 at 08:29:08
If he can help stop the heart palpitations I get every time the opposition get a corner or set-piece within 30 yards of our box, then he'll do for me!
Nathan Snell
70
Posted 02/08/2016 at 08:32:48
For me, a big Yes. Perfect fit for Everton – I really like this guy irrespective of the age. It's all about positioning and reading the game.
Leader on the pitch and understands the importance of working as a team. Led by example at the Euros. £10 million is nothing in this industry and, as said before, we will have at least 2 very good seasons from a him and he'll be a great role model for the younger lads.
Kevin Day
71
Posted 02/08/2016 at 09:00:07
Jamie, I think that's the whole reason for buying him, it will take months to undo what Martinez has done, Williams is an instant cure...
Craig Walker
72
Posted 02/08/2016 at 09:03:32
Jamie Sweet. Spot on. I'm fed up of shittin' 'em every time there's a corner or free kick heading its way into our box. Ashley Williams and a top-notch goalkeeper is an absolute must.
Dave Pritchard
73
Posted 02/08/2016 at 10:10:34
Gordon, if we do get Williams in it seems crazy to then offload Jags. Think, and hope, you are wrong.
James Hughes
74
Posted 02/08/2016 at 10:21:10
Listening to Colin Murray on TalkSport and the 'latest news' is that Citeh won't move from 㿔 mill and we won't move from 㿞 mill. We are deadlocked apparently.
Eddie Dunn
75
Posted 02/08/2016 at 10:31:19
Williams will help to organise our defence and help the younger lads learning their trade. He is a colossus down here in South Wales, the Swans fans are beside themselves at the thought of losing him.
He wants a new challenge... Rom, John, take note! Here is someone who actually wants to play for us.
Denis Richardson
76
Posted 02/08/2016 at 10:35:52
Hope this happens, as said above exactly what we need. A proper CB who can lead and set an example. He'll also allow the couple of youngsters we have time to develop rather than being thrown in the deep end too soon.
I would rather we spent £10m on him than £9m on Fonte, who's a year older. 32 is getting on a bit but he should have at least two years of top flight football left in him. If lucky, he'll do a Distin and give us 4.
Andrew Ellams
77
Posted 02/08/2016 at 10:36:03
Eddie Dunn, to be fair, he's somebody who wants to leave the club where he made his name and earn more money. Probably not the best role model for Stones or Lukaku.
Colin Malone
78
Posted 02/08/2016 at 10:49:57
Is he tall enough? No. That said, Koeman will tell the goalkeeper to come off his line for corners and free kicks, while someone stands on the goal line as Howard and Robles did under Martinez, which is a good option due to our lack of height in defence.
Michael Polley
79
Posted 02/08/2016 at 10:50:20
Good signing. Yes, he is no spring chicken... but a very strong defender who can head the ball and command the back four.
Ray Roche
80
Posted 02/08/2016 at 10:53:36
At the same time, Andrew, he's given them 8 years of loyal service, arguably his best years, and now he's hoping to get his last big pay-off.
He's not some one who's just desperate to get off his stepping stone to shove even more money under his mattress before he's even the finished article. Maybe not as bad an example as you think.
Terry Underwood
81
Posted 02/08/2016 at 11:02:06
This guy is the sort of player who could easily go on at the highest level till 35; in my book, that makes him a bargain.
Teddy Bertin
82
Posted 02/08/2016 at 11:07:09
Wow never seen a transfer speculation thread unite the ToffeeWebbers like this. The man is a natural leader and what we've desperately been lacking.
Get him in, make him captain and watch our defence go up a level.
I'll make a prediction that him and Koeman will inspire Funes Mori into becoming a world-class centre-back. He's more naturally gifted than Williams and has the same passion but lacks organisation, discipline and focus. By the end of the season, I can see Funes Mori bagging 8-10 goals and becoming a wanted man.
David Price
83
Posted 02/08/2016 at 11:18:51
On Sky Sports, his representative has been looking for a home for him in the northwest. 㾷m deal pretty close it seems.
Lenny Kingman
84
Posted 02/08/2016 at 11:24:39
His pedigree is as high as it will ever get after the Euros as I'm sure his agent has been constantly reminding him ever since. Also being a "colossus" at the likes of Swansea City doesn't begat the same at Everton.
Give him a one-year rolling contract and see how he does. And see how really committed he is to the new world dawning at Everton Football Club, the biggest club he has performed for or will ever perform for. If he signs, of course!
Mark Tanton
85
Posted 02/08/2016 at 11:27:05
Anybody got the feeling they'll introduce Gueye and Williams together, and possibly even another?
Mike Mulhall
86
Posted 02/08/2016 at 11:28:42
£1m rolling contract for a £10m buy is ridiculous. He is a better defender than what we currently have, and is in the form of his life.
Ray Robinson
87
Posted 02/08/2016 at 11:32:46
Mike (#86) beat me to it. The idea of offering Williams a one-year rolling contract would be ridiculous. Do we want him to come or what?
One-year contracts are for players who are already at the tail end of their playing careers and at the end of the contract with their current club.
Stephen Brown
88
Posted 02/08/2016 at 11:36:06
Ashley Williams could be the new Kevin Ratcliffe!!! Wales and Everton centre-half picking up some silverware – starting with 2017 FA Cup!
You never know?! Why not?!
Mike Mulhall
90
Posted 02/08/2016 at 12:19:46
Great minds, Ray (#87), great minds.
David Pearl
91
Posted 02/08/2016 at 12:36:12
I've read some brilliant remarks on ToffeeWeb... But to pay 㾷m and then offer him a one year rolling contract is up there with the best of them.
He has balls, something we've been lacking for a few years but he isn't close to Ratcliffe. He also plays on the left side doesn't he? Better to partner Stones than replace him!
And please let's get rid of that Lukaku prick.
Danny O'Neill
92
Posted 02/08/2016 at 13:01:08
Both this and the Konte link (if true) could be very astute business. As I said on that link, I would hope this is routine business; the additional proven centre back we needed anyway plus an extra requirement given the injury to Jagielka.
If Stones goes, I would hope we would be seeking a replacement for him. Unless that is, Koeman thinks Holgate, Pennington and Galloway are sufficient cover for Williams, Konte and a fit Jagielka.
Nigel Munford
94
Posted 02/08/2016 at 13:11:07
Teddy, said that in an earlier post, 38 I think, there'd been 38 posts and only 1 negative, I was amazed, but this guy would be a very good acquisition.
Steven Twine
95
Posted 02/08/2016 at 13:14:34
Colin 23 are you serious?? Or are you seriously deluded? What has been quite clearly lacking these last few seasons, a leader!! This man brings it in spades!
Welsh captain who brought together a bunch of kids and lower league players and moulded them to qualify for the Euros, the best performing British nation. Quite clearly who didn't watch Wales qualify or play in the Euros.
Ashley Williams is perfect for us as we look like we are bringing youngsters through instead of big name signings. Ask any of the Welsh squad what he is! Those hammerings in Anfield will never happen with him there and his 'never surrender' attitude. Never injured and scores goals... Perfect!

Danny Halsall
96
Posted 02/08/2016 at 13:17:03
I think clubs are starting to secretly hope that there players are linked with us.
Marko Arnautovic set to sign - signs a new 4 year deal with Stoke.
Gylfi Sigurddson bid expected - Sigurddson signs new 4 year deal.
I'm preparing myself for a headline stating 'Williams pledges future to Swans'.
Danny O'Neill
97
Posted 02/08/2016 at 13:18:58
And the 31 - 33 age bracket isn't old for a centre back. If anything, that's when they hit their prime. Hence Stones still having much to learn. Won't start seeing the best out of him for 5 - 6 years yet.
Totally random one and off-thread; Schweinsteiger anyone? Past his best - yes. But his best was the very best. Play every match - no. But his presence and influence? At 32, another Barry-type purchase to compliment and nurture the younger players only this time we are talking truly top drawer pedigree.
Just a thought!
Lenny Kingman
98
Posted 02/08/2016 at 13:29:41
In answer to the doubters of the virtue of a one-year rolling deal then I will say this.
There are quite a number of contributors to this thread who seem to think that 㾶 million isn't that much money these days. In the eloquent phrase of one such scribe the said amount is a mere "pin prick on an elephant's bum." Maybe, maybe not. If it is the case then what is the harm in making this person, particularly at his age, take such a deal as I suggest?
It's been employed in football over the years to ensure players, and managers stay focused and don't allow the power of a very lucrative contract over a long term make them lazy and uncooperative.
Bet Manchester United wished they'd took the one-year rolling deal regarding Moyes's contract arrangements. At the time he would have gone there without a contract at all. Cost them millions to unload the production-less numpty.
On the other hand, it kept Holloway honest at Blackpool for the 3 years he was there. Earned the owners 䀆 million from the Premier League miracle, nearly kept them up against all odds and then got them to the Play-off final the next year. Ultimately of course the owner's notorious frugality saw him walk soon after.
Anyway, Williams seems a reasonable sort and will no doubt be given an overlong contract at top dollar and, like all players today at this level, they and they alone decide whether to actually earn money already banked.


Mick Robinson
99
Posted 02/08/2016 at 13:33:53
Just seen a leaked picture of Gueye in an Everton shirt outside Finch Farm. Looks like a done deal.
Geoff Williams
100
Posted 02/08/2016 at 13:44:25
Oh dear. Is he going to help us defend set pieces? No, as he's simply not tall enough. He is prone to making similar gaffes as Stones and he is slow and deliberate on the ball.
On the positive side he is a good leader and will clear the ball to Row Z. There are better buys out there and this is from a proud Welshman who has watched Williams on a regular basis.
Jim Bailey
101
Posted 02/08/2016 at 13:46:22
Gueye done and dusted by all accounts.
Paul Evans
102
Posted 02/08/2016 at 13:56:01
Yep, photo of him wearing the shirt at Finch Farm.
Jim Knightley
103
Posted 02/08/2016 at 13:59:39
Some of these comments on here are strange. Funes Mori is 6ft-3in and Williams is 6ft-0in – that is hardly a midget centre-back line! Do we really think that our set-piece defending will be resolved by simply bringing in a gigantic defender? These are endemic problems that will take a while to shift, and is related to coaching not height. We would not have conceded so many set-piece goals with a different manager.
Also, why would we want Song? He couldn't break into the West Ham team but he cannot hold his position. He is not a great passer so what exactly does he bring? Energy, yes, but I'd rather invest in a pure DM or a deep lying playmaker. Not a square peg in a round hole who goes AWOL, and will join the likes of Barkley, Deulofeu and Lukaku in attack when he should be covering the spaces left in behind. He hasn't had a good season in 4 years and will be 29 next month, and his age will have an effect on a game based around energy.
Williams passes the ball well. He is a leader and is one of the league's most consistent defenders. Of course he makes an occasional mistake, as does every defender in this league, and every defender in the world. Watch Pique's error against Atletico. Look at Silva's display against City. Look at some of Koscielny's performances, or Kompany's over the past couple of seasons. Williams would be going for 㿀 million if he was three years younger, and 㾶 million is more than fair and very good business. It gives us time to develop the likes of Galloway and Holgate and scout for a long-term successor to Jagielka or Williams depending on how they are doing. We need players for the future, but we also need players for now, and Williams is certainly one of those.
William Cartwright
105
Posted 02/08/2016 at 14:13:06
Cynicism Lenny and Geoff, pure cynicism. No need for it.
If there is one deal to date that gives me comfort it is this one, if it gets over the line. RK has taken as much of the limited time available to him to judge the resources at his disposal. I am sure he was disappointed if not shocked.
In bringing Ashley Williams to the Club he has obtained the best jigsaw piece to fit the unique challenge in front of him. An option I would never have imagined was possible. Obtaining the services of one of the most reliable, premier league experienced captains and solid defenders available in world football today for 10m! Holy shit, that's the sign of an active and shrewd manager. Brilliant.
This is an example of what Moshiri saw in RK, so kudos there too.
Like most Evertonians with experience of being shut away from the top table, to suddenly digest a large transfer budget seems quite uncomfortable. I understand and respect that. However the big difference for RK as manager of Everton now, instead of Southampton, is he does not have to oversee an annual selling mentality. He can build with confidence. Wanyama and Maine leaving is not like Rom and John, who have history and emotional baggage, and even allowing for this the Club are clearly not anxious to sell, unless it is at a 'generous' price.
A center half who will likely vie for Jags with the captaincy, will together with Jags, Barry and Baines form the 'old guard' who will be able to steady the ship and pass on their valued experience to the younger players is a master stroke. Absolute genius.
I've lot's of South Wales friends from my uni' days and to a man they are gutted that he is potentially leaving. They are fucking speechless!
Please lets get this done asap. . . . . . COYB

Peter Morris
106
Posted 02/08/2016 at 14:31:09
If the guy lives the right way, and he appears to be a rock solid pro from what I can surmise, he could have 4 years at the top and that puts the fee into perspective. I think he has a reliable fitness record too. It does concern me a little that he is a very similar type of player to Jags, and perhaps lacks those extra 3 or 4 inches that seem to be vital nowadays. Anyway, if he is worth £10m, I say hold out for top dollar for Stones or tell moneybags Citeh where to put their petro-dollars.
Ray Robinson
107
Posted 02/08/2016 at 14:53:55
Lenny #98, I'm glad that you're not in charge of recruitment! A 1-year rolling contract would be laughed at by Williams – he'd be off any number of other places who would offer him longer. Besides, it'd would smack of a bit of arrogance on Everton's part. Furthermore, you'd instantly write off a 㾶m asset – he'd have no resale value whatsoever – zilch!
Short term rolling contracts are rarely used to recruit players except where a player is patently at the end of his career (which Williams is clearly not after his displays at the Euros) or when coming back from a career-threatening injury. They are used effectively to retain existing players (like Distin) whose future is uncertain.
It's a sellers market these days. The normal rules of commerce don't apply. If they did we'd demand our money back on Niasse under the warranty on the basis that he didn't match the product description.
Matthew Williams
108
Posted 02/08/2016 at 14:58:18
Ask yourself a simple question Blues, would Martinez have made this signing?! Trust Ron eh!.
Quality signing, could be our finest in years.
Timothy Blanshard
109
Posted 02/08/2016 at 15:01:19
I've just been reading the wiki page about him and I found this.
'Williams was a boyhood fan of Liverpool F.C. and the Miami Heat.'
I also found this,
http://www.mirror.co.uk/sport/football/transfer-news/everton-set-sign-idrissa-gueye-8545824
It is going to be a busy week COYB.
David Chait
110
Posted 02/08/2016 at 15:08:23
Matthew, Martinez might well have made this signing... he signed Barry.
Mike Allison
111
Posted 02/08/2016 at 16:17:46
Buying Williams isn't buying technique, it's buying heart, character and leadership.
That's something we have lacked.
Paul Evans
112
Posted 02/08/2016 at 16:29:28
Some of his passing is fantastic, he can knock a 50-yarder to feet, no issues! Decent in the air, and strong in the tackle, will be a great signing for the next 2 seasons minimum...
He's not due back to training with Swansea until tomorrow, so I presume we will know a lot more in the morning as to if he turns up and joins in or not.
Paul Kossoff
113
Posted 02/08/2016 at 16:46:19
I would like to see the stats on goals we conceded from corners and crosses into the box over the last two seasons. Then, come December, see if an improvement has been made with Williams in the team. Hopefully our defence will be solid.
Paul Tran
114
Posted 02/08/2016 at 17:36:35
Matthew, I think Martinez bought him when he was at Swansea, which begs another question ..
Good to see an Everton manager going straight for the spine of the team. When that's good, the team's usually good.
Stephen Brown
115
Posted 02/08/2016 at 17:46:10
William #105. I'm from Swansea I can confirm all Swans fans including the ones in my family are 100% gutted! This could turn out to be an inspired signing!
He is a great leader and defender! I have met him a few times in the school I work in and I can also confirm he is a smashing fella too!
Hope he signs and goes onto great things with the Blues!
Denis Richardson
116
Posted 02/08/2016 at 17:58:59
For those worried by his age (and I was a bit too), looking at his stats, he's missed just 10 Premier League games for Swansea in the last 5 seasons, with the least amount of appearances in any one season being 34. (Read that again!)
Seems to me he's a bit like Distin in that he's a very good athlete and takes care of himself and should give us a good 2-3 years at the top flight minimum. £10-11m is still a lot for me but given defense is our Achilles heel at the moment, we need/needed a short term fix.
A one-year rolling contract for a £10-11m buy is a bit ridiculous. If we didn't think he'd be good enough we wouldn't offer that much in the first place. If he has a great season then some other club will offer him huge money in 12 months time (even Jan) to go to them on a free.
Bring him in and put him straight in the first team next to Funes Mori, Coleman and Baines. With Stekelenburg in goal, that's the defence sorted for Spurs.
Also... MAKE HIM CAPTAIN!
Steavey Buckley
117
Posted 02/08/2016 at 18:00:02
What Everton need now is two nasty full-backs who won't allow the opposition to get anywhere near the penalty area to cross.

Denis Richardson
118
Posted 02/08/2016 at 18:04:42
Matthew (#108) – for all Martinez's faults, you can't really say 'Ask yourself a simple question Blues, would Martinez have made this signing?!'
Martinez did sign him, when he was Swansea manager...
Ray Said
119
Posted 02/08/2016 at 18:05:25
I wonder if RK will now be tempted to play three at the back at times this year? Williams looked very good in the Wales back three and I am sure Baines and Coleman would be effective as wing backs.
Tom Evans
120
Posted 02/08/2016 at 19:16:20
Probably been said a few times already, but I reckon we are in a no lose situation if he comes to us. I have to admit to only recently paying attention to him during the Euros a few weeks back, but what I saw was a proven leader, with not a little bit of skill in the art of defending. He will shake up the present incumbents of the centre of defence and even doing that will be worth the money. Talking of which, £10m is nowt these days.
Colin Glassar
121
Posted 02/08/2016 at 21:22:46
It's off according to a Welsh website. Swans worried about fan backlash?
Barry McNally
122
Posted 02/08/2016 at 21:25:05
Colin, bloody typical.
Colin Glassar
123
Posted 02/08/2016 at 21:29:37
Everyone can only see £££££££££ signs, Barry.
Colin Williams
124
Posted 02/08/2016 at 00:02:46
Steven twine..." Colin, are you serious" Yes! Or "are you seriously deluded" haha No I'm not!... Are you? (Great to see you shout a load of bollock!!)
• Yes, "Williams is a leader at the back," – so fecking what! (Most centre-halves are brought up to be leaders on the field, except ours.
• Welsh Captain! ... What the feck has that got to do with it?
• Brought together a bunch of kids and lower league players? ...there were a minimum of 9 Premier League players actively involved, plus one of the world's best players.. Bale! Bit disrespectful that to the whole Welsh squad!!
• Best performing nation... That wasn't fecking hard to do was it!
• Quite clearly who didn't watch Wales qualify and play at euros... Quite right, I did, I was there supporting my fecking country, Wales!!! Was you?
• Williams would be perfect fit for us. Okay, fit short term, yes! IMO... I believe we could do better looking for a younger and still very experienced player, who could maybe still do well at Anfield!! And even score some goals too!! I believe we have panicked a little due to the season starting in two weeks and looked for a short term fix (and I get that). And yes, maybe he could help bring through the young central defenders we have, good shout!
• Ask any of the Welsh squad What's he like? What do you mean? (What's he like?) Anyway, I know what character the lad has; also, I know quite a lot about the lad and most is positive! But, I believe we could do better! "Who?" you say. That's Walsh's job, not mine to do.
• Those hammering at Anfield would never happen if he was there? How the feck can you say that? Are you deluded??
• He scores goals! Well I hope he does, that's part of his fecking job has a professional footballer!! (Normally being a centre-half, you would have a presence about you – or you should have!!)
• Never injured! (Never?) – rarely injured!... Good shout!!
Paul Hay
125
Posted 05/08/2016 at 06:24:17
Just hope Mr Koeman manages to pull this one out of the bag. Williams has been correctly identified as the leader we need at the back. Committed, determined and with an 'in your face' approach, such a purchase simply reinforces my belief in the new management team.
Keep the faith.
---
Add Your Comments
In order to post a comment, you need to be logged in as a registered user of the site.
Or Sign up as a ToffeeWeb Member — it's free, takes just a few minutes and will allow you to post your comments on articles and Talking Points submissions across the site.
© ToffeeWeb