Koeman wants more aggression from Everton
7 August

171 Comments [Jump to last]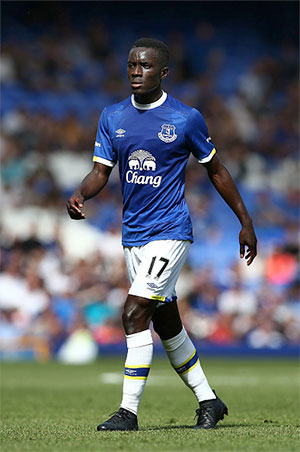 Koeman was happy with Gueye's first showing against Espanyol, saying the Senegal midfielder brings a different dimension to the team
Getty Images
Ronald Koeman says his players are being "too nice" and that he wants them to start getting in the opposition's face more.
The new Blues boss has used the pre-season programme to assess the squad he inherited from Roberto Martinez, one that has only been augmented by the additions of Maarten Stekelenburg and Idrissa Gueye to date.
Two victories against lower-division English opposition has been followed by defeats to Dynamo Dresden and Espanyol, a draw with Real Betis (the Spaniards won on penalties) and a goalless encounter with Manchester United and while Koeman admits he has seen some positive signs — including from new signing Gueye — he remains dissatisfied with the level of decisiveness and aggression shown in recent friendlies,
"He is a different player and he can bring that to the team and that's the reason why we signed Idrissa for Everton because he is a different midfield player than most of them," Koeman said of Gueye, who impressed overall on his first appearance against Espanyol, even though he gave away an early penalty.
"But also the rest of players need to be more aggressive. It is sometimes too nice. Football is not what you do on the ball. Football is most of the time, how compact you play, how you run, how you react and sometimes it is too sloppy.
"[Idrissa] can bring that but we have to show the players what we want and that is still difficult because if you play three seasons on your guitar and then one day you need to play piano it is difficult because maybe it is not your quality but it is also a mental question.
"Football is not anymore the game when you have the ball." continued Koeman who has made the need to press the ball one of his consistent themes over the past couple of weeks. "It is also the game when you don't have the ball and we need to improve much more than we did so far."
Everton kick off the new Premier League season in six days' time when one of last term's title contenders, Tottenham Hotspur, visit Goodison Park. Both Koeman and his brother and assistant manager Erwin have indicated that work on bringing new players in is ongoing and Blues fans will be in expectant mood between now and the end of the transfer window that needs in key areas of the squad will be addressed.
---
Reader Comments (171)
Note: the following content is not moderated or vetted by the site owners at the time of submission. Comments are the responsibility of the poster. Disclaimer
Jose Walsh
1
Posted 07/08/2016 at 19:55:28
I like Ronald more and more...
Says what we have all been saying for ages.
Now sign some more players!
Darren Hind
2
Posted 07/08/2016 at 19:57:32
Thats Roberto's time nailed

All change
Tony Draper
3
Posted 07/08/2016 at 19:58:09
Thanks Ronald.
Thank you so deeply.
The first "Derby Match" this season falls upon my birthday and no-one could have delivered a present any closer to my heart.
THANKS RON !
Brent Stephens
4
Posted 07/08/2016 at 20:01:18
I noticed at least once yesterday that Coleman and one other got in the ref's face for a prolonged period after a foul on one of our players. Yesterday was all about practising "getting in their face"!
Neil Gribbin
5
Posted 07/08/2016 at 20:02:44
Excellent. It has been needed saying a long time.
Brin Williams
6
Posted 07/08/2016 at 20:03:50
Three years on a guitar!! Ha ha – surprised he didn't mention the sombrero, the castanets and the long siestas during matches.
Tony Draper
7
Posted 07/08/2016 at 20:04:40
Brent, your observations are spot on.
Seamus is my nomination for Club Captain.
The armband can transform a bloody good player into an outstanding one. I believe Seamus time has arrived.
Bobby Thomas
8
Posted 07/08/2016 at 20:09:53
Hopefully the days of being the easiest side to play against in the division are over.
And the manager thinking that shambolic organisation and turning a football match into a kamikaze game of ice hockey is playing with"swagger".
Worst manager since Walker, Roberto.
Joe O'Brien
9
Posted 07/08/2016 at 20:10:23
Dead right Ron..skill and aggression wins games in the Pl. Anyone hear any rumours of transfers to let me cling to? Surely they'll be at least two this week...
Brent Stephens
10
Posted 07/08/2016 at 20:10:29
And Seamus good defending and going forward yesterday, would you say, Tony? He looks revitalised!
Paul Kennedy
11
Posted 07/08/2016 at 20:11:34
Watching Man City play, their defence is as bad as ours. Let's ask for £60 million for Stones.
Chris Gould
12
Posted 07/08/2016 at 20:14:24
Ronald says it like it is no bullshit. Love him already. Everyone has been saying for ages that we are too nice. Been playing guitar for 3 years (playing like a bunch of Nancies). Now we have to play some in yer face fuckin piano.
Really need a couple of new players who haven't had the Roberto treatment to come in and help shake the others out of it.
Peter McCann
13
Posted 07/08/2016 at 20:15:52
About time too. We have been too nice for too long. It used to be good to jump up after a bad challenge and shake hands. Never complain to the ref and make his life easy.
I really don't like it but, if you want to be winning, the game has changed. You need to be in ref's face and complain about decisions. It's not nice but the game has changed...
David Pearl
14
Posted 07/08/2016 at 20:18:55
Well he's got that right. Starting with our captain Jags, Barry and Baines all too nice when they should be putting certain big heads in line. Letting Rom, Mirallas and Ross all try and succeed in taking penalty duties off him. Glad he can see what most of us can see. The figures bright, the figures not lemons.
David Price
15
Posted 07/08/2016 at 20:20:04
Ryan Shawcross – he will scare anyone and he's bloody good in the air!!!!
Bunch of nancies, and the biggest is Lukaku. Take the money and get rid asap.
Michael Polley
16
Posted 07/08/2016 at 20:20:38
His comments are spot on. I want to see our wee team intimidate and get stuck into the opposition. Kick lumps out of them and don't apologise. COYB
Sajid Patel
17
Posted 07/08/2016 at 20:21:02
Only Besic and Barry play aggressively the rest are too passive and are afraid to get injured.
Stewart Lowe
18
Posted 07/08/2016 at 20:24:40
Did anyone sense the swipes at what Martinez has done to the players and the way they play?
1: States the players are too nice, which was always a Martinez flaw.
2: States what players do off the ball is just as important as when you do have the ball, which was the opposite philosophy to that of Martinez.
3: Stating the last 3 seasons the players have been playing a completely different kind of football that he needs to drill out of them.
Basically saying we have no aggression, our tempo is slow, and we don't close players down quickly when not in possession.
I think he is absolutely right and we need to accept this season is going to to have to be part of the overall project as its going to take time to drill out of them what Martinez turned them into.
Christopher Wallace
19
Posted 07/08/2016 at 20:32:43
The most aggressive thing about Lukaku is his first touch...
Sort him out or ship him out!
Tony Draper
20
Posted 07/08/2016 at 20:33:43
OK Ronald, seeing as we're dropping "The Walton's" approach, here's a few suggestions.
Baines takes the pens. ALWAYS.
Besic wraps a roll of gaffa tape around LuLu's fat mouth.
Besic wraps TWO rolls of gaffa tape around LuLu's Dad's cakehole.
Deulofeu gets taken to the barbers by Phil Walling, every Friday.
Barkley gets a infused with a pint of Tony Bellew's blood.
Once Bellew puts the BARK back into BARKley then BARKley "has a word" with Mirallas about his "Violet Elizabeth Bott" alter ego.
You remind Jag's that Jay's is short for Jaguar, a top of the food chain predator, not a kitten fed on "Choice Cuts".
Ramiro Funds Mori needs to make his mind up, TWO names is plenty.
James McCarthy will get right into oppositions faces, so close that they can see his freckles individually. BTW, his haircut is bloody marvellous.
Gareth Barry should wear a Saville Row suit and carry a Walter PPK fitted with a silencer.
Gana is fine, he's thought ahead.
OK, that's about all for now.
Stewart Lowe
21
Posted 07/08/2016 at 20:35:46
JOE#9: I have a rumour for you and this one has come from the ever reliable source that is me, but hear me out:
Juan Mata was seen by media being hugged by staff after the Man Utd win today and more so than any of the other players. He was even seen pointing at Mourinho and shouting / arguing his point towards him as if he knows he is going and just doesn't care.
He was on the bench today and only brought on for 10-15 minutes to wind the time down so believe what you want but was that the the attitude of someone on his way?
Kevin Tully
22
Posted 07/08/2016 at 20:37:09
At last! Finally a manager has recognised an inherent weakness we've had for the past 15 years or so. Clattenberg and Gerrard deciding between themselves to send Hibbert off at Goodison in a Derby - no problem lads, crack on.
Some of our fanbase love to play the martyr, just read the Hibbert thread of how they are all cut up at the way he's been hung out to dry, with a contract renewed when the player was clearly no longer good enough three years ago.
Take your class, your loser mentality and shove it. Get nasty if you want to win. Every other club has walked all over 'nice plucky little Everton' for years.
Love this new manager already.
Raymond Fox
23
Posted 07/08/2016 at 20:39:51
You don't think he could deflecting the criticism away from, that since he took over we are shit when we have the ball as well!
Dave Abrahams
24
Posted 07/08/2016 at 20:42:20
Koeman was a winner as a player,he detested losing, he will get them thinking and playing the way he did, how many times did you see an Everton player upset in the many games we lost, not many, if any.
That is one of the reasons I like Liam Walsh, the young Everton reserve (at the moment); he berates his team mates when they lose the ball or make a mistake, gets angry with himself when he makes an error, most of all he hates losing.
Most of the first team just shrug their shoulders and carry on making more mistakes. They will learn under Koeman or they will be out of the club.
Tony Byrne
25
Posted 07/08/2016 at 20:43:30
It may take a season or two until Koeman "de-Martinezes" the squad; however, with a few signings, a bit of patience, and the full backing of the fans, we will become a much better side.
Let's face it, it can't get any worse than the last two years under the fraud.
Mike Moore
26
Posted 07/08/2016 at 20:43:56
Love it, Kevin (#22), my sentiments entirely, I hate this "People's Club", we are all a family" mentality. Remember what it says under the badge – it hasn't been the case for virtually 30 years!!
Ian Burns
27
Posted 07/08/2016 at 20:44:01
Fantastic interview - we have waited 3 years for this interview - no bollocks; in a few weeks he has realised the last 3 years playing the Spanish guitar has got nothing to do with the rocking piano he wants to bring onto the field!
Wiped out Martinez's work in one interview - he'll be contributing to TW shortly - we speak the same language!
Now Mr. K - some quality additions please preferably ones who have never heard of the name Martinez - so no Belgians!
Eugene McLoughlin
28
Posted 07/08/2016 at 20:44:34
More and more he is saying the most sensible things and I'm loving it, hopefully he can mould them, too many times under Moyes & Martinez we didn't fight enough, i.e. GET IN THEIR FACES as he says,, letting fucking wanker pricks like Twattenburg and Twatkinson talk down to us! FUCK OFF!!! We are back..

Kevin Rowlands
29
Posted 07/08/2016 at 20:44:46
Stewart, yes I think you may be right, a really low class move from Mourinho that, I hope Mata finally comes to his senses this week and realizes Man Utd don't want him. C'mon, Juan, we'd love you at Goodison.
Back to the subject on this thread, exactly what I want to hear. No more Mr nice guys or pushovers for any team looking to end a bad run of form. Nice one, Ron.
Mike Green
30
Posted 07/08/2016 at 20:46:09
Christopher Wallace #19 - "The most aggressive thing about Lukaku is his first touch..."
Superb :D
Joe O'Brien
31
Posted 07/08/2016 at 20:48:18
He'd be a great signing Stewart... I'll be very disappointed in you if he doesn't. I hope Ron irons out those Martinez bad habits and the team begins to click soon...
Stewart Lowe
32
Posted 07/08/2016 at 20:49:18
Kevin (#22), Absolutely right.
Hibbert has been taking the money for 3 years and hasn't earned a bean of it. The last 3 year contract was for loyalty and now he is upset nobody sent him a leaving card or gave him a goodbye hug. Everton are so bad that they have even allowed him to train at Finch Farm whilst he finds another club, nasty nasty Everton.
His number should have been up 3 years ago when Martinez took over as a Martinez team was 90% about passing and Hibbert has always been a crap passer.
However, there have been and endless stream of players happy to take the money and do nothing for it: Pienaar, McGeady, Kone spring to mind.
Tony Hill
33
Posted 07/08/2016 at 20:49:34
Kevin Tully, absolutely correct. The historic spirit and class of Everton are about courage and flair, not sentimental indulgence of players who will then be only too happy to sit back and collect their wages as a matter of entitlement.
Brent Stephens
34
Posted 07/08/2016 at 20:50:29
Seagulls and sardines. Knives and gunfights. Now guitars and pianos.
Kevin Tully
35
Posted 07/08/2016 at 20:55:38
There's a reason we haven't won at Anfield, Chelsea, Arsenal etc... we are too timid, and the ref's, opposition players and fans all have their foot on our throats when we play at these grounds.
It's about time this club fought back, and Koeman seems just the man to put the fight back into this particular dog.
Jon Withey
36
Posted 07/08/2016 at 20:56:51
Good rhetoric but I'm definitely concerned about the state of the team at the moment – feels like it is going to get worse before it gets better – and it was pretty bad.
Where are our signings? The summer is almost gone and we have a second-choice keeper and a relegated midfielder. I'm sure they are both decent for the squad, but it's hardly a new era.
If we lose Lukaku's goals, for whatever reason, I can only see a relegation battle at the moment.
Christopher Wallace
37
Posted 07/08/2016 at 20:56:55
Thanks Mike, though on reflection it should've been "the ONLY aggressive thing "
We definitely are too nice. We really need an injection of pace, energy, aggression (and the stamina requires for these attributes) - both on and off the ball.
If we are to get the luxury playmaker we've been craving for years, the others really need to up their game. If not, they can piss off and we'll bring someone else in that can get the job done.
Rom, Mirallas, Del Boy, Barkley all have the potential to be great, but the desire, commitment, fitness, aggression needs to be better.
Brent Stephens
38
Posted 07/08/2016 at 20:57:00
Tony #20 - very good!
Alan Humphreys
39
Posted 07/08/2016 at 21:05:15
Roll over Beethoven - The Big Bopper is in town.
Tony Draper
40
Posted 07/08/2016 at 21:05:27
BTW Mr Koeman, do you know what a "Blue blood Oath" is?
Everton Wint
41
Posted 07/08/2016 at 21:12:41
Koeman and Moshiri are our two best signings. No nonsense straight talking, disciplined management from both. I am over the moon with these two and whoever they choose to sign or release, I will be happy with because they identify weaknesses and go about putting the solution in place as soon as possible. We are on our way but let's be happy with improvement and maybe we'll be surprised. COYB
Colin Glassar
42
Posted 07/08/2016 at 21:16:45
The antithesis of Martinez with his "right (nice) character" type players. Roberto was/is a dreamer, Ronald is a hard nosed sod who will eventually get this team playing to his tune.
Rooney said yesterday that it will take the Manchester players some time to adapt to the new managers style. The City players are already moaning about the new Guardiola regime (if they're too fat they're sent home). Klopp is getting his lot super fit. Poccetino is an in your face, fitness nut. Wenger is Wenger. We've got some catching up to do so I think we're going to have to be patient.
Stewart, I thought Mata was taken off injured? If he wasn't that must be bloody humiliating. Is Mata a Koeman type player?
Guy Hastings
43
Posted 07/08/2016 at 21:22:49
Brent 4, any player 'getting in a ref's face' is likely to end up with a yellow, if not a straight red, as the laws have changed to get that boorish behaviour out of the game. I'd like to think someone at Finch Farm has picked that up and passed around the players. You might approve of it but as someone who's reffed at local ' youth level I certainly don't.
Jay Harris
44
Posted 07/08/2016 at 21:26:44
I don't think Mata was injured Col.
Mourhino seemed to indicate to him that it was just to run the clock down.
Another area where "win at all costs" behaviour eludes Everton.
Brent Stephens
45
Posted 07/08/2016 at 21:29:00
Guy, thanks, now I remember reading of that rule change. I don't like the in-yer-face stuff but when other teams have done it and get away with it, I've thought we should equal that or refs would see us as no problem and take the easy option. It'll be interesting to see how far refs push this back but wherever it's pushed back to, then we should be there, not shrinking violets.
Colin Glassar
46
Posted 07/08/2016 at 21:31:35
Just going by what the commentators said Jay. Mata didn't look too upset when he came off.
Tony Draper
47
Posted 07/08/2016 at 21:32:48
Well put Brent.
There is a world of difference between "tugging our forelocks" and being "forcefully assertive".
We NEED to step it up.
Martin Mason
48
Posted 07/08/2016 at 21:39:30
So, we want to abandon the School of Science and become 1960's Leeds United? Count me out.
Tony Draper
49
Posted 07/08/2016 at 21:45:35
Martin @48.
Everton 1980's
Count ME in !
Brent Stephens
50
Posted 07/08/2016 at 21:46:01
Martin, Leeds were then by far and away the nastiest bunch around. Koeman I think is just saying let's not be the softest. The School of Science AND the Subtle Arts
So are you out or in?!
Ed Fitzgerald
51
Posted 07/08/2016 at 21:48:17
Whilst I totally agree with the sentiment of playing with a more appropriate level of aggression and devil I do think Koeman is engaging in some playing to the masses rhetoric here, just as Martinez and Moyes have done before him.
It's his team now and we shouldn't settle for bullshit excuses before a ball is kicked in anger.
Guy makes an excellent point about the rule changes and if we get in the refs face this season we are likely to end up with a lot of red cards.
Paul Hewitt
53
Posted 07/08/2016 at 21:58:25
Let's get "the Dogs of War" back.
Gordon Roberts
54
Posted 07/08/2016 at 22:02:13
Some crazy comments on this thread about being aggressive with referees and getting in their faces. Proof if ever it was needed that the amendments to the rules this season are long overdue. You have done Koeman a huge disservice, he wants more aggression in their play, not against the officials. Some have serious issues with officialdom I'm afraid.
Stan Schofield
55
Posted 07/08/2016 at 22:05:13
Martin @48: The School of Science was epitomised by Ball, Harvey and Kendall, who played fair but also hard. Alan Ball in particular was truly a 'ball of fire'. You can be hard while still being fair. Similar for Peter Reid.
Dave Williams
56
Posted 07/08/2016 at 22:11:20
Ed, have you seen the look on his face watching us play? This guy isn't trying to point-score – he looks absolutely livid at how we have performed and looks determined to sort it out.
Seems like he has totally sussed out the squad which is Step 1. Step 2 is what is he going to do about it and I agree with Tony that making Seamus skipper would be a good start.
Stan Schofield
57
Posted 07/08/2016 at 22:19:29
I don't think RK's remarks are at all to do with the side of aggression that involves being in the faces of officials. I think his remarks are to do with fighting for every ball, not giving up, not letting heads drop when the going gets tough or decisions go unfairly against us. We've been too fragile.
Patrick Murphy
58
Posted 07/08/2016 at 22:19:59
Colin (46),
According to Mourinho, he took Mata off because he was the smallest player on the pitch for United at the time and he wanted to be able to match the Foxes in the aerial duels in the latter stages.
BT of course, as is there wont, decided to have a debate about it, with all three pundits (Owen, Savage and Ferdinand?) deciding that it was a slight against Mata and that he wasn't or wouldn't be impressed with his manager.
Doug Harris
59
Posted 07/08/2016 at 22:22:49
Surely the whole thing about getting in their faces a bit is the opposition not the officials. Koeman has got it spot on: we have been soft touches for too long.
As Dave says (#24), we need more players with the attitude of buck yourselves up, be angry if you lose out in a tackle or you get your arse ripped.
Alan Ball tendencies I see in young Liam Walsh and by God did he berate people to the benefit of the team... Why? – cos he hated losing and don't we all.
We need some steel in everyone of the team, fair, just and fight.
Chris Williams
60
Posted 07/08/2016 at 22:29:45
In the 60s for every Harvey or Kendall or Youngyou had a Kay, Gabriel, Morrisey or Vernon or Collins or Ball. All great players but nasty angry viperish players prepared to mix it.
In the 80s for every Steven or Sheedy you had a Van den Hauw or Bracewell or Reid or Gray. Again al great players not to be messed with and quite happy to call team mates to account if they didn't do the job.
That's what aggression means here, less hugs before the game starts, less fist bumps, more in your face lets get this lot sorted. And win the battles and then win the game.
Jamie Crowley
61
Posted 07/08/2016 at 22:32:40
Kevin Tully -
I can't believe I'm having an issue with your posts! What's next?! Jesus riding out of the clouds?!
You're right, in part.
We can have that bite, that nasty little get in their face approach. I'd love it!
But we can also conduct ourselves with class - a la the way we treat our loyal veterans.
Now let's allow Ronald to create that nasty, not in our house, get stuck in mentality.
And let's do the right thing as a Club when we dismiss our valiant, loyal servants.
Dan Davies
62
Posted 07/08/2016 at 22:35:09
A 50/50 of dogs of war/school of science mentality would be perfect! Fire in the belly, ice in the mind.
As for Idrissa Gueye, the above picture gives me an idea of what type of player we've just bought just by his boots: plain black, nothing flashy. Means business.
Ray Robinson
63
Posted 07/08/2016 at 22:38:02
Chris #60. Agree with what you're saying but refereeing is a lot stricter these days so, to a certain extent, you have to be less aggressive.
I watched George Best in the '70s get hacked to pieces by John Hurst – his first tackle nowadays would have seen a red card! Even some of the '80s stars would have found it hard to stay on the pitch for 90 minutes based on today's standards. But yes, we do need to be more aggressive – in a calculated way
Chris Williams
64
Posted 07/08/2016 at 22:46:11
Ray agreed but as you say it's got to be calculated and a matter of degree. Maybe it starts in our own dressing room and less nicely nicey with each other. Just holding people to account for poor performance might be a start.
Jay Harris
65
Posted 07/08/2016 at 22:51:41
I don't know why we are even debating what the manager meant.
He said it, he knows what he means and he is the professional running the club so before we start arguing about School of Science versus Vinny Jones. We should just get behind him and the team while he is reorganising the club and players.
Paul Conway
66
Posted 07/08/2016 at 22:52:23
Can't we just play football to outsmart our opponents? Or has Koeman finally realised that we can't, but a bit of aggression will do in the interim, before he finally brings in real quality to replace the aggressors.
Ray Robinson
67
Posted 07/08/2016 at 22:55:14
Chris (#64), Now that I can agree with. A narky captain would do who would have torn a strip off Mirallas for instance for taking the ball away from Baines to take the penalty against WBA, someone who'd have rollicked Stones for doing fancy Cruyff turns in his own penalty area in the last few minutes of a match against Spurs.
Someone who'd cajole Barkley and Deulofeu into tracking back occasionally. Someone who could bend the referee's ear every now and then (in a non-abusive manner) so that we get our fair share of penalties. I think we've got that player – Seamus Coleman!
Colin Malone
68
Posted 07/08/2016 at 23:00:20
When you have passion and aggression, as Ronald Koeman demands, we are on a winner.
Ross Barkley, I love the bones of you, typical easy-going scouser with a special gift, who has been rolled in cotton wool. I love you, Ross, but it's time you got over the bad injury by throwing in some tackles.
Peter Cummings
69
Posted 07/08/2016 at 23:02:34
Guy (#43), you have expressed my thoughts on Koeman]s "get in their faces'', comments. It is all very well if players take this advice but the consequences of doing so could lead to yellows and reds.
I am all for telling it like it is and in no uncertain terms, but swarming referees isn't the answer and I was pleased to hear that this really obnoxious behavior by certain teams is being banned and how many refs change their decisions because of it anyway??
What also needs to be addressed is the mayhem in penalty areas from set pieces and the habit of shirt tugging which is rarely punished by refs but more infuriating to fans are offside 'hairline' decisions which are often seen to be wrong on replays yet such calls were supposed to favour the attacking player according to Lancaster gate.
Like, I believe, most Evertonians, I am not convinced that this is to be 'our' season unless things turn around a lot more quickly than of late with definite and necessary action from the hierarchy, starting on Saturday???
Chris Williams
70
Posted 07/08/2016 at 23:06:11
Maybe Ray, or maybe Ashley Williams, but it has to start from the dressing room culture first. Too bloody cosy.
Inside Out.
Brent Stephens
71
Posted 07/08/2016 at 23:10:40
In the ref's face - obnoxious. Swarming the ref- obnoxious. Shirt-pulling in penalty box obnoxious.
Even more obnoxious is the authorities allowing some to get away with this while soft Everton play fair.
We should be as "fair" as the other clubs who stretch things to their limit. It's up to the authorities to define and impose that limit.
Colin Glassar
72
Posted 07/08/2016 at 23:15:05
I hope refs really crack down on all the wrestling that goes on during corners and free kicks - Mr Clatterberk.
Kevin Tully
73
Posted 07/08/2016 at 23:22:14
Brent - superb. I've never walked away from a defeat in a derby, Wembley or any other big game thinking "at least we played the game in a fair manner, old chap" as Gerrard or Terry walked off the pitch smirking.
Patrick Murphy
74
Posted 07/08/2016 at 23:24:56
Ronald Koeman says his players are being "too nice" and that he wants them to start getting in the opposition's face more. I'm struggling to see where the Everton boss said anything about haranguing or pestering officials.
Given the changes in the rules for the coming season it would be silly for Ronald to say anything that would put the officials on special "Everton alert" I'm hoping that the red-tops don't wilfully misinterpret Ron's words as we'll only have half a squad available by the time the window closes - due to numerous suspensions.
Laurie Hartley
75
Posted 07/08/2016 at 23:28:10
Dan (#62) – I think you are on to something with your comment about Gana's black boots. A picture is worth a thousand words.
Ray Robinson
76
Posted 07/08/2016 at 23:32:38
I'm not one for haranguing the referee but he cannot be allowed to think that a team is a soft touch or he will in most cases not make 50:50 calls in favour of that team. An assertive captain can perform the role of keeping a ref even handed. It's only human nature to follow the path of least resistance and if a ref thinks he can get away with making a decision / not making a decision due to the supine nature of a particular team, he will do so.
I think we have been that submissive type of team. I'm not advocating swarming around the ref like some teams – in fact I'd retrospectively ban players who do that – but there's nothing wrong with an occasional word in the ref's ear from a team captain.
On the subject of referees, anyone else find the news of Clattenburg's tattoos slightly disconcerting?
Dan Davies
77
Posted 07/08/2016 at 23:41:19
Yep Laurie, I looked at em and thought Iron Mike Tyson in his prime! No messing.
John Daley
78
Posted 07/08/2016 at 23:44:32
Patrick @74,
Quite right. He didn't mention officials at all. Surely, he's talking about the way this Everton team have too often allowed the opposition to waltz right through them at will or permitted snide grocks like Kevin Nolan to boss and bully them into submission while they stand there throwing their hands in the air and whining about it instead of fronting up and giving a bit back.
Ian Riley
79
Posted 07/08/2016 at 00:03:07
Aggression is willing to win the ball back. We have lacked the aggression for hunger and desire to win matches. These players need to understand results are now what matters under Koeman. Good football but losing won't be tolerated.
All great teams have aggression. It's what makes winners. Win the battle first then play. Our players have had it easy for a while. Wake up lads the party is over.
Thank you, Mr Koeman.
Keith Harrison
80
Posted 08/08/2016 at 00:09:48
Ronald says. We all on here, with few exceptions, seem to think this is a breath of fresh air, and Ron'll sort 'em. He's absolutely right: we do not have any leaders or snides in the team, but we all knew that anyway. Ronald's job is to sort them – or get people in who are that way inclined.
So far, we are being told exactly what happened on the pitch, instead of Spanish verbiage, but the team do not appear to have improved one jot. Williams is imperative for us, a striker, and goalkeeper, and a centre-mid with an eye for a pass.
It looks like Ronald is quickly realising that you can't polish a turd, and "the best team we've had in 25 years" is in serious need of an overhaul. And the sooner, the better.
Steve Foster
81
Posted 08/08/2016 at 03:19:59
Dogs of War without the ball, School of Science with it. That's what it sounds like to me. If so, count me in!
Loving this guy!
Them lot across the park done this the other day as they took Barca apart. Hassling to get the ball and then attacking quickly when they had it.
Small steps in the right direction for us, we need to be patient. Confident this guy will take us to where we want to be. COYB's!
Derek Thomas
82
Posted 08/08/2016 at 04:56:40
Martin @ 48; Give over. I don't know if you remember, but at a time when everyone was hard...before Revie / Leeds upped it to unacceptable levels and they were totally OTT. But in 62-63 WE were accused of being too tough...l mean, Morrissey, Kay& Gabriel too tough...nah.
Don't confuse hard but fair with dirty.
Alan J Thompson
83
Posted 08/08/2016 at 06:01:47
Watching all the so called footballing sides, whenever they lose the ball they give away snide little free kicks, commit petty fouls and when the free kick is given they stand there so the free kick cannot be taken quickly. Barcelona have seemed the worst for it for years and it is a tactic all top coaches use.
Anyone remember the Spurs game at Goodison a season or two ago when Barry gave away a free kick, turned his back on it and walked away. The Spurs player took the kick immediately, pushed it between defenders still making their way back and they scored. You have to slow the game at these moments so that your defence can re-organize. When was the last time you saw a player have a clean run at a corner? Oh, yeah, this is Everton.
Like it or not, its just making a level playing field.
Brian Porter
84
Posted 08/08/2016 at 06:16:47
Tony Draper (#20). You make one great point. If Koeman wants to play to our strengths Leighton Baines must be made our #1 designated penalty taker.
A Baines penalty is a 99.9% guaranteed goal. With anyone else it becomes a lottery. Koeman must know Baines's record as the Premier League's best penalty taker and should make sure he uses that as a potent weapon in our offensive armoury.
Get rid of the schoolboy mentality of players 'fancying a go'. Too much can hinge on a successful penalty strike so common sense dictates you use the best man for the job, as you would in any other results orientated business. Come on, Koeman, sort it out, please.
Laurie Hartley
85
Posted 08/08/2016 at 06:50:53
Derek #82 - Johnny Morrisey was my type of footballer.
He was very skillfull, built like a brick dunnie, and was hard as nails. AND IF an opponent wanted to mix it up he could and would accomodate them. It didn't happen very often because his opponents knew what was coming if they instigated anything.
Naismith had it - Carsley and Cahill were masters of it - Arteta had it in him.
Every team needs players of this ilk - the Everton team that beat the Reds 3-0 at Goodison some seasons ago was full of them.
Have a look through Leicester's squad. Not many shrinking violets in that lot from goalkeeper to centre forward.
Harping back to the subject of boot colours which Dan brought up above and Ray Roche brought up on a thread a couple of weeks ago:-
Pink boots - could you imagine Bobby Collins trotting out at Goodison in pair of them. Joe Mercer would turn over in his grave God rest him.
If I had my way I would ban all coloured boots from all Everton's players kit, and while we are at it no men's handbags - get a rucksack. And no earphones when you are getting of the bus. And yes, no pulling your socks over your knees because your cold or you don't want to get them scratched - Wear longer I shorts. And no head bands - get a hair cut. Last but not least all players must tuck their shirts into their shorts.
Have we signed anybody yet?
Rick Tarleton
86
Posted 08/08/2016 at 06:58:40
Forget for a moment that Koeman and Moshiri are in charge. We are a week from the start of the season, we've signed an ex-Villa mid-fielder and an ageing goalkeeper. Most of the talk is about who'll leave Everton, rather than who'll come in. Is this different from when Moyes or Martinez were in charge under "Billy Liar"?
So we're going to reintroduce a little hardness? That'll be the difference then. Champions' League here we come.
Forgive me, I've been watching and supporting for 60+ years and the present squad is mid-table at best. Koeman will earn his corn, if he gets them higher than eighth. But being in the face of referees and committing sly fouls is certainly not the answer.
Alan J Thompson
87
Posted 08/08/2016 at 07:04:20
Sorry, Laurie (#85), you lost me at the namby pamby "brick" dunnie. Fibro only, no light, no checking the seat if there is one, a bucket of water and the only newspaper has two be in four pieces with a bit of string through the corner. Next thing you know you'll want one for the sheilas as well.
Crikey, mate, you've been in the city too long, get yourself back to the bush!
Laurie Hartley
88
Posted 08/08/2016 at 07:21:36
Alan your right - I'm getting soft.
Alan J Thompson
89
Posted 08/08/2016 at 07:24:36
Quite right, Rick (#86) but nowhere in this piece is it suggested that on their own they are the answer. Perhaps the terminology should have been "more professional" rather than "less nice" but it is part, may be insignificantly, of what needs correcting, without taking it to the level of Leeds in the '60s.
Sam Hoare
91
Posted 08/08/2016 at 07:52:58
Yup. More aggression and physical presence needed.
Williams, Witsel and Bony might help with that...
Gonna be a very interesting few weeks watching how this team plays when it starts to matter and seeing who comes in to the club. Think the Pogba deal finally getting done will kick start a lot of transfers and don't be surprised if we bring in 2-3 players this week.
Rick Tarleton
92
Posted 08/08/2016 at 07:53:04
Fair point, Alan, but my main thrust was that despite all the Moshiri, Koeman hype, this feels very like all the pre-seasons of the last twenty years.

Denver Daniels
93
Posted 08/08/2016 at 08:47:27
Exactly right, Rick. It feels like déjà vu all over again. For all the Koeman hype it's been a bit of a letdown.
You don't need to have been the Everton manager to know we needed a playmaker and yet we still don't have one.
What a joke.
Mark Pierpoint
94
Posted 08/08/2016 at 08:56:30
Denver, I think the issue is that the calibre of players we are looking at has increased. I don't think that this type of player sees Everton as their number one option. They are probably waiting to see what else happens before committing. If we were looking at third/forth tier players I think we would have one in place.
I think we are short of squad players in certain locations. I accept though as a team outside of Europe, but with lofty ambitions, we may have to bide our time for this 'marquee signing'
Phil Walling
95
Posted 08/08/2016 at 09:03:43
It doesn't take much to please some Evertonians, does it?
Trot out some bullshit which seems to criticise his predecessor's approach and a load of bollox about guitars and pianos and we're on our way to glory!
After this pre-season's piss poor performances against some very average sides our new hero would have done better to keep his trap shut and just get on with sorting out the chaos he's inherited.
Oh, and sign some decent players!
Nigel Gregson
96
Posted 08/08/2016 at 09:11:27
Phil, I agree completely – suddenly we're walking on sunshine, despite barely winning a single pre-season game or making any signings.
Sam Hoare
97
Posted 08/08/2016 at 09:16:16
Equally, Phil, it takes virtually nothing to anger/depress many Evertonians such as yourself.
Of course we have all been frustrated by lack of transfer dealing but surely people can realise that landing the bigger fish for a club that's had an inglorious recent history is far from easy and requires patience. If the window shuts and all we have is Niasse and some loans then by all means let loose but lets show a little goodwill towards the club we love until then at least.
It seems to me that Moshiri, a huge successful businessman, is not about the quick-fix and a few snaps to get the fans happy but is about getting things right for the long term. This is why they were keen to get Walsh in place first (to avoid any more Niasse's) and are holding on for their first pick transfers rather than snatch up anyone just to get some bodies in. Only time will tell if this is the right approach but I can certainly see the sense in it.
Ernie Baywood
98
Posted 08/08/2016 at 09:23:55
Phil, the easiest thing to do when it comes to Everton is criticise. It's very unlikely that you'll be proven wrong... the odds are hugely against it.
But it just makes me question why you stick with it.
I know there's little chance we'll suddenly click into gear and start to give me my version of the eighties (I was too young to appreciate that period). But I hope, albeit tempered with some realism. If I didn't hope, I'm not sure what I'd do.
You seem to have no hope. Every thing the club does is wrong. Every player is the wrong player. Nothing will change.
The only answer I can think of is, going back to my opening sentence, that it's simply the easiest thing to do.
Michael Plant
100
Posted 08/08/2016 at 09:38:41
Coleman should be made captain; he looks completely refreshed and back to his best. Baines on penalties always with Stones (if he stays) as backup.
Lukaku and Barkley need to start bullying teams, should be frightening teams with how aggressive they are... There are not many players as physically imposing as them with the ability they have!!

Paul Chaloner
101
Posted 08/08/2016 at 09:39:33
What a relief to hear Koeman being honest. This job may take a little longer than I and some others first expected. A few more signings is essential to our prospects this season. Hopefully the Martinez effect won't be long lasting.
Stan Schofield
102
Posted 08/08/2016 at 09:51:24
It strikes me that Koeman has simply said it as it is, and his comments reflect the concerns that we as supporters have had for a while. I don't think he even used the phrase 'in their faces', he's simply acknowledging a lack of steely fight and professionalism which he obviously aims to correct.
If he says something like this, some will criticise, and if he says nothing, others will criticise. Let's just see how he gets on with the job.
Phil Walling
103
Posted 08/08/2016 at 09:59:02
The trouble is, Ernie et al, I was brought up on Catterick who never said anything and Lee who, when he did speak, I couldn't understand. In between them, we had to suffer Bingham's blarney which introduced me to managerial bullshit!
I don't do the patience thing anymore – 30 years of pissing about is far too long – and I guess I thought Koeman (with Moshiri's dosh) would break the mould and hit the ground running.
Truth is, we're being set up for another 5-year plan – I know because it took me that long to master the 'Old Joanna' after they took my guitar away!
I just can't be doing with it!
Paul Smith
104
Posted 08/08/2016 at 10:00:31
I applaud Koeman for coming out and saying what the majority of us have been thinking for 2 years. During that time we have been playing testimonial football which has been tiresome to watch.
The only thing that will change this cycle is new players who have got the desire to play this way. First of all, our so-called flair players need to understand that there is another side to the game when they haven't got the ball. Secondly, I'm afraid to say you can't carry 35-year-olds in the centre of the pitch who can't cover the grass any more.
This will take time to facilitate over a few transfer windows but as I've said before we need to target younger players with that desire and energy. I would start by enlisting another midfielder to play next to Gana in the Carvalho or Strootman style.
I would give the forward players until January to see if they can play in the Koeman style and, if not, replace them. As much as I hate to say it but this is exactly what Klopp is doing with the other lot.
James McPherson
105
Posted 08/08/2016 at 10:13:45
I am very pleased we got Ronald Koeman. His arrival was (we were led to believe/hope) to coincide with progression off the pitch too. That aspect is as utterly shambolic as ever.
This club's modus operandi under Kenwright has been to do as little as possible until the absolute latest as possible. The lack of planning given the needs we have to match our so called ambition tells me one clear thing...the ambition is as false as it has always been. Premiership survival without positive net spending is still the mantra.
My worry: Moshiri's arrival has fallen well short of the heralded changes. Talk remains of waiting for Sky money, selling Stones and Lukaku – really? Where's the independent monies? Also, Koeman is no mug and unlike Moyes and Martinez, will not hang around with this nonsense. That would leave us up the creek. Shocking.
There's always been a disparity between the hope and the reality as a blue – post-Moshiri, it's wider than ever.
Ray Roche
106
Posted 08/08/2016 at 10:19:16
Some great comments on here especially regarding the lack of "aggression". Aggression? Maybe passion is a better word. Maybe if the players were to show as much passion as the Street End or Park End we wouldn't be the nice guy push-overs we have become of late.
And the black boots... one of my personal hates are the soddin' Rainbow Warriors who mince about the pitch giving hugs and kisses like Elton John at a Gay Pride Festival, resplendent in their multi coloured pink, baby blue, lime green, etc carpet slippers... who the fuck is going to be frightened of them with their rolling on the floor antics after breaking a nail?
Maybe if we were to look and act like men out there we would put the frighteners on some teams. No little hand slaps for putting the ball out for a throw in. What's all that about? When has a throw in for the opposition been something to celebrate? Headphones as big as bin lids, Nivea ads – what the fuck has happened to football?
Ron Sear
107
Posted 08/08/2016 at 10:22:06
It's not just the team that need to get their mojo back after the Martinez era. We the fans have become soft, resigned and silent in the home matches after what feels like an infinity of boring, slow and utterly dull performances. Only the supporters who have gone to the away games can hold their heads high.
Time to start roaring again and a few new songs please from the creatives among you.
Kim Vivian
108
Posted 08/08/2016 at 10:28:07
He's talking about 'guts', 'fight', 'fire in the belly', 'passion' – call it what you will. What we have all been crying out for. Not mobbing, abusing questioning every decision from the officials. Why can't football officials command the same respect as rugby? And indeed the players for that matter. The passion shown by most rugby players, and respect of the officials is exemplary by comparison with football.
And on the subject of boots – I couldn't agree more. The current trend for day-glo ballet pumps is excruciating. Particularly when worn by players who can barely perform at their required level.
Tony Abrahams
109
Posted 08/08/2016 at 10:32:00
Swap Stones for Bony, then sign Williams and Bruno Indi, and still have change. With Gana and another combative midfielder, I think we can solve this lack of aggression pretty soon.
Dennis Stevens
110
Posted 08/08/2016 at 10:38:29
I'm not depressed by the lack of cash splashing, far from it. Although I appreciate the squad needs strengthening in a few areas, it's a great relief that we're not squandering money we don't really have just to get a couple of big name players in who probably don't really want to be here & won't hang around too long either.
Many of our best players over the years have been somewhat unheralded & often largely unknown. I think it's a mark of a decent manager if he can bring in that type of player & all too often it's the big money signings that have failed to impress for Everton.
Added to which, Koeman has been brought in to manage with the resources we have, both in terms of playing staff & financial resources to support him – we are not in a position to just buy success.
Trevor Peers
111
Posted 08/08/2016 at 10:50:07
We need to spend £50 million just to finish 11th again IMO, any less and we will finish lower with the present squad.
Phil Sammon
112
Posted 08/08/2016 at 11:05:57
Trevor 111
£50M on what? Chips? What are you talking about?
James McPherson
113
Posted 08/08/2016 at 11:06:06
Dennis, laudable statement but, imo, standing still resulting in going backwards is not progress. Being frank, we are not even standing still. Record season ticket sales were borne out of clear statements of intent via the board via the PR machine.
I did not pick up that marketing strand that said "Folks it's going to be sell to buy, we can only afford a DM and reserve keeper, other than that it's RK making do and mending."
Really? Is that where we are? Has RK signed up for that? I don't think so. Wonder how many of the renewed season ticket holders agree?
Ernie Baywood
114
Posted 08/08/2016 at 11:16:28
Is the only explanation for us not spunking money all over the place that we're embarking on a policy of "sell to buy"?
Phil Walling
115
Posted 08/08/2016 at 11:21:33
Dennis, I suspect many Evertonians share your view that great success can be attained by recruiting 'somewhat unheralded and largely unknown players' given that Leicester City have shown us how it can be done.
I guess that why Mosh has recruited their 'talent spotter in chief,' although I somehow doubt he will be able to replicate his success with us because the clubs who ended up with egg on their faces have responded by extending their spending into a veritable Football Wonderland in the race for honours.
On the other hand, the policy of signing 'no marks' which you laud has not proved itself at Everton where Moyes's unheralded sixthish rapidly declined to an eleventhish norm under his successor. And that was with 'the magic' of Lukaku, Stones and Barkley there to aid them.
Having said that, I see no reason why, given time, Koeman can't build a 'New Southampton' here and thus restore the relative success of the Moyes years.
Of course, it's not what we dreamed of in the early 'Mosh Dosh' days but hey, we all got carried away at the talk of £millions to spend. What we longed for was a Godfather of the Fairy variety rather than the emissary of the Russian species we ended up with.
Again, it's a call for patience, dear friends. And Evertonians have that in abundance!

Kevin Gillen
116
Posted 08/08/2016 at 11:30:24
James at 113. Good questions.
I have renewed and I travel a long way to the games. I am disappointed but not surprised at the lack of transfer activity. I just think that we can't attract better players at the moment. Perhaps we might get one or two in at the end of the transfer window.
I did think we were much more assertive in the Man United friendly and I am encouraged that we will get a realistic assessment from Koeman at the end of our games rather than the constant massaging of egos we got from Martinez. I have faith that we will improve under Koeman but not before a few casualties.
I'm still not convinced by the hype surrounding Moshiri; for all we know, he could be an asset stripper! I'll reserve judgement on his reign until we move to a new improved stadium or renovate the old lady.
As for Ernie's point at 114, I think there will be some sell to buy largely because our top stars don't want to play for us and there is a lot of dead wood in the squad. I'm looking forward to seeing Holgate, Davies and Dowell getting opportunities. If we play at our best, we can make the top six, but I don't think it will be this season.
James McPherson
117
Posted 08/08/2016 at 11:35:28
Ernie, "embarking" on a policy of sell to buy? As a regular contributor whose posts I read, I know you've not just arrived from planet Mars, but come on, that's been us for more than two decades man! Also, why does strategic targeted spending money always equal "spunking" wastefully?
The squad needs strengthening – a fact apparent in May. Here we are in August days away from a tough opening game woefully under resourced and deep uncertainty hanging over two key players. Not acceptable. You indicate that it is.
Trevor Peers
118
Posted 08/08/2016 at 12:41:49
Phil @112, Witzel. Bony and Cavallio for starters. Are you seriously saying you're happy with the present squad? If so, you're in a minority of one... jeez!!!
Ernie Baywood
119
Posted 08/08/2016 at 12:49:27
I'm not indicating it's acceptable, just that it may not mean we have to sell to buy.
There are plenty of reasons for not spending money. Do Man City have to sell to buy? They haven't bought Stones yet. Chelsea waiting on a few sales before getting Lukaku? Hopefully we have some deals in the pipeline... and it's not unusual for business to be conducted late in the window when the dealing gets a bit more desperate.
And you're right, the use of the word "embarking" was probably wrong – I meant whether this is what Moshiri's reign is starting with.
Keith Glazzard
120
Posted 08/08/2016 at 12:56:27
I saw the game online. Some positives. But you have to ask what is Ross for? I functioned in a decent level of amateur football with a zillionth of his potential, but I never turned into trouble, I always laid it off.
This isn't negative, this is good housekeeping. Give the opposition the ball, for no good reason? Perhaps they use too many balls in training these days. They used to cost a lot in my day.
Jamie Barlow
121
Posted 08/08/2016 at 12:59:27
Not sure he can make these pampered princesses more aggressive. Need some new blood desperately.
Ciarán McGlone
122
Posted 08/08/2016 at 13:02:58
Keith,
I can't disagree with your assessment of Ross. He is problematic.
He is ineffective at closing down and on the ball he ponders far too much. He also has a rather frustrating habit of throwing himself to the ground and feigning a foul whenever he gets caught out. These are things which should have been ironed out of his game before now. I've begrudgingly accepted that he's not the messiah, simply an above average midfielder.
We should not be building a team around him.
Stan Schofield
123
Posted 08/08/2016 at 13:21:31
As an Evertonian, I'm very used to being disappointed after the event, and if more disappointments come, I'll jump that hurdle when I come to it. So I'm not going to get disappointed before the event.
So far as I can see, Moshiri's wealth means, in the first instance, that we don't need to sell. I presume that was part of the attraction for Koeman, who must have got fed up with repeatedly selling at Southampton.
We've got Koeman, and a new team around him. We've got a couple of signings: a good GK, and a midfielder who seems to know how to get stuck in. The latter fits with Koeman's observation that we need to have more fighting spirit, an observation that resonates with the fans' concerns.
We've got some fine youngsters coming through, in the Everton tradition.
There'll no doubt be more signings, targeted at what Koeman decides we need, not targeted at throwing cash around for the sake of it. We've got players like Stones, Barkley and Lukaku who some say are not what they were. Well, maybe Koeman will get them back to what they were.
All-in-all, it seems to me that there's been a lot of progress on the management side after the recent crap we've had to put up with. Whether there's still management bullshit or not, I don't know, but I'm not going to assume there is at this stage. They seem to say very little, which suits me, having first supported Everton when Catterick was manager. Also, recall that Kendall didn't waste time on meaningless management waffle in the '80s.
So, although I'm inured to disappointment, I'm not going to start now, before the season even starts.
James Marshall
124
Posted 08/08/2016 at 13:37:16
I miss Tommy Gravesen.
Craig Walker
125
Posted 08/08/2016 at 13:54:36
Ciaràn @ 122. Spot on. I desperately want Ross to do well at Everton but your phrase sums it up "not the messiah simply an above average midfielder".
Good players make good decisions. Ross makes poor ones all the time. If we break and he has players left and right, he'll choose the wrong one. When he needs to shoot low, he puts it over the bar. When he needs to lift it, he hits the keeper.
I think last season was make-or-break for Ross and he did get goals but he was poor in a lot of games.
Raymond Fox
126
Posted 08/08/2016 at 14:08:00
Phil (#115), 'the magic of Lukaku, Stones and Barkley'!
I hope your having a laugh Phil, I'd sell all 3 of them. I can defend better than Stones, Barkley seems to be lacking enough grey matter to be a top midfielder, sell before his reputation drops further.
Lukaku we will miss most, but I think his head is too far in the clouds now. The way things are at the moment we are in a far weaker position than last season, its worrying.
I'm not bothered about Stones going, but if Lukaku and Barkley were to leave, we are threadbare in too many positions and we need to push the boat out on the signings front, quick.
Brent Stephens
128
Posted 08/08/2016 at 14:29:23
If Barkely doesn't "make it", doesn't improve on his weaknesses (decision-making and passing, not to mention tracking back), I'll be really disappointed because the lad has some skill.
On Saturday he again was able quite a few times to receive the ball with his back to a player, retain possession, turn his man and get away. It's just what comes after. Come on, Ross, excite me.
I thought he actually looked a lot fitter on Saturday. And maybe I was just wanting to see it but I swore I saw him a few times track back with a bit more purpose; ditto with a few balls in the air.
Chris Gould
129
Posted 08/08/2016 at 15:03:21
It may very well be the case that getting in Koeman and Walsh allows us to identify the players we need and manage them correctly once they arrive.
The problem is that neither of them are involved in negotiating with other clubs or pitching our club to agents and players. It's a bloody important role and it requires a lot of skill. Whose job is that? Whoever it is ,maybe they aren't particularly good at it.

Ciarán McGlone
130
Posted 08/08/2016 at 15:06:58
Chris,
Erwin Koeman let the cat out of the bag. The one and only Mr showbiz is running the negotiations.
Paul Burns
131
Posted 08/08/2016 at 15:11:09
Martin Mason, I counted you out ages ago.
Tara.
James Hughes
134
Posted 08/08/2016 at 16:47:04
Raymond ~12. You can defend better than Stones? ...err, YOU CAN DEFEND BETTER THAN STONES !!!
Then get in touch with Mino and job done, mate, you'll be supping champagne for brekkie. All I can say, Raymond Mitty, is why haven't you put yourself forward before? Was it because Martinez didn't believe in defending? Regardless I will buy your shirt when you sign.
Dennis Stevens
135
Posted 08/08/2016 at 16:57:55
James McPherson #113, I'm not sure my statement is particularly laudable – maybe it's just a bit more realistic, perhaps even sensible. I do agree that "standing still resulting in going backwards is not progress" but don't really see the relevance of that statement to my post, unless you happen to think that "progress" is dependant upon trying to sign "star" players. As for the rest of your post, it seems like a bit of an unfocused & pointless rant.
Phil Walling #115 My views aren't based upon the success, however fleeting it may prove to be, of Leicester City, but a reflection of where I think we are as a club at the moment. I would guess that Moshiri has brought in those people who he believes can deliver the success he wants in the manner he wishes to attain it, which will probably be a step by step approach rather than trying to achieve what may be a one season flash in the pan, I'm sure he will want susatainability.
Perhaps the abilities of the last two managers were the more limiting factor in terms of our success, or otherwise. Especially as the latter had what were quite notable signings, by Everton's recent standards, to work with. However, if one recalls Kendall's team without stars in the '80s, there weren't too many big money household names signed to achieve those mid-eighties successes. We haven't got the money or the appeal to lure the very top players to Goodison Park, so building steadily by developing players, scouting for bargains & a bit of well-judged cash splashing where needed is our only way forward, imo.
I think Moshiri will give Koeman time, & some money, to build – but I suspect his expectations will be higher than the relative "success" of the Moyes years. Tbh, it's exactly what I expected after the take-over by Moshiri. No Chelski/Mansour City extravagance but a chance to build & only sell on our terms. So patience is indeed the order of the day.
Rome wasn't built in a day, or Barcelona either!

James McPherson
136
Posted 08/08/2016 at 16:59:29
Ciaran - that explains everything if that is indeed correct.
Eivind Nyhus
137
Posted 08/08/2016 at 17:25:27
Well said, Dennis.
Stephen Coles
138
Posted 08/08/2016 at 17:59:24
*Puff of the cheeks*
Another a day and still no more transfer activity
Martin Mason
139
Posted 08/08/2016 at 19:09:39
Derek@82
The Leeds side that saw out the 60's was one of the finest sides ever to Grace a football pitch in the UK, probably better than the Everton side that pipped them for the title in 1970 after Leeds gave up the chase to try to beat Celtic and go for the European cup and then the FA Cup. Players like Gary Sprake, Reaney, Madely, Terry Cooper, Billy Bremner, Jack Charlton, Eddie Gray, Norman Hunter (booo!!), Sniffer Clark, Peter Lorimer, John Giles, Mick Jones. Truly superb.
The Leeds I don't want Everton to emulate is the side that came up from the second division in 1964 who were a bunch of thugs and who were allowed to establish themselves by their thuggery. No Evertonian who saw games in that period would ever accuse Everton of similarity in any shape or form or wish that Everton would play like that now, even if we had tough players like Morrissey at the time. Tough you had to be then, dirty was a weakness that was Leeds strength for a while. Never would Everton have physically attacked another side as Leeds did to Everton several times in that period. They were the most hated side in England and rightly so and even their subsequent brilliance never quite got rid of the bad taste.
Phil Walling
140
Posted 08/08/2016 at 19:51:15
As I have said previously, Koeman is tasked with getting us back to where Moyes left us three years ago. Whilst that was never good enough for most, in any reality it was as good as it was ever going to get with the management and governance in place at the time.
The task, in its self, should not be over-difficult for a man of RK's talent and experience but it will only work out if all the pieces in the puzzle are in place p.d.q. as, for whatever reason, progress does seem to have stalled.
The news that BK is 'still conducting transfers' as RM used to put it, goes someway towards explaining why deals in and out are seeming to take forever and, as is customary in that quarter, the 'time window' will be used to its full extent.
If that is annoying to us mere mortals, we can be sure that the new manager will be even more frustrated although we can only hope that Moshiri will act to sharpen up the club's negotiating team before the January market opens.
But as several posters have remarked, we must learn to be patient.
As if !
Dave Ganley
141
Posted 08/08/2016 at 19:59:59
Hmm not entirely sure that BK is still in charge of negotiations. Maybe he is there and a way of placating him but I can't imagine Moshiri will tolerate it for long.
Phil, maybe you are right at the moment, maybe the first job is to get us back to the level that Moyes had us at a solid team and a fantastic team spirit as opposed to the train wreck we have at the moment courtesy of the idiotic reign of the relegated buffoon Martinez. Then and only then can we start to move forward, with a solid base to work from. Think we all need a big reality check as to where exactly we are as a club at the moment.
Frank Crewe
142
Posted 08/08/2016 at 20:21:27
So we have Walsh who identifies the players we should recruit. Kenwright who conducts the actual transfer of said players. Koeman who organises said players into a team. Moshiri who signs the cheques. So the club is being run by a committee. No wonder it's taking so long to get players in.
Tony Graham
143
Posted 08/08/2016 at 20:36:37
Knock back after knock back... no-one seems to want sign for us, wonder why?
Ray Roche
144
Posted 08/08/2016 at 22:23:20
Martin Mason#139
"probably better than the Everton side that pipped them for the title in 1970 "
Sorry Martin, that is complete crap. The Everton side of 69-70 is the best Everton side I've seen, and as good as just about any English Champions before or since. OK, the Leeds side had some great though dirty players and , as a side, frightened other teams whenever they played them but that "fear" factor helped Leeds bully lesser opposition into defeat. They were a horrible shower of bastards with a crooked, corrupt manager who no doubt "helped" his team get points they would not have got in other circumstances. Better than Everton? Give your head a wobble.
Raymond Fox
145
Posted 08/08/2016 at 22:51:51
James 134, well lets just say at this stage of his career as a central DEFENDER (as you seem to like capitals) he's not very good.
The way this recruitment drive is shaping we are going to be the poor relation in terms of player quality once more, unless there's a late dramatic change.
This squad, even if Lukaku and Stones stayed, which is about 20-1 that happening, will not feature in the higher reaches of the League I fear.
James Flynn
146
Posted 08/08/2016 at 23:08:58
Is it somewhere officially that Kenwright is "still conducting transfers"?
That Moshiri is leaving it to him to handle EFC moneys?
Is this some new job he's been given? Well-established that once Moyes knew the money he was/was not getting, Kenwright left it to Moyes on players in or out. Only when the banks were banging on the door was Moyes given no choice. And the Lescott business, which forced both Bill's and Moyes' hands.
Which only leaves "conducting business" as Kenwright handling the money-end of transfer business. Moshiri has handed that to him?
I don't think so.
John Austin
147
Posted 08/08/2016 at 23:23:03
Hands up if you're dreading Saturday. I know I am.
Nigel Gregson
148
Posted 09/08/2016 at 01:06:05
Sorry but I've moved on from 'patience' now. This is the reality of the current Everton. Building for years and growing youngsters is something that other teams do (and we tried to do until we got acquired). Going forward, no more patience, just go out and win!
And Phil Walling, I expect Koeman to get us to where Martinez was in season 1 – chasing Champions League, not where Moyes was in season 11 (but, in reality, I don't think he is capable of it).
Anthony Hughes
149
Posted 09/08/2016 at 07:50:36
On the subject of Barkley, he has all the physical attributes for the modern game, he just doesn't seem to have the natural born football intelligence that the top players seem to possess. I don't think all the coaching in the world can affect the split second speed of thought and decision making to make you a top class creative midfielder.
Phil Walling
150
Posted 09/08/2016 at 08:23:41
Quite the most boring and disappointing transfer window in our history. Previously we've expected very little - this summer we got nothing !
Tony Hill
151
Posted 09/08/2016 at 08:42:38
It might be wise for us all to wait and see what happens when we start playing competitive matches. I think we may be pleasantly surprised.
That said, the continuing presence of Kenwright on the Board has always seemed to me to be an unfortunate confusion and one that will need to be resolved sooner rather than later if we are truly to become a more focused outfit off the field in terms of transfers and so on.
Brent Stephens
152
Posted 09/08/2016 at 08:52:28
Phil, window aint closed yet.
James McPherson
153
Posted 09/08/2016 at 08:55:18
Tony, you advise us to wait and see, as we may be pleasantly surprised. You then go on to register concerns about BK. Those two things are intrinsically linked. BK's whole philosophy is to do as little as possible for as long as possible. Fans saying let's just wait and see, you never know etc...is absolute music to his selective ears. This situation is not good enough. Nothing but nothing has changed under Moshiri aside from perhaps getting a better manager in to work with fewer potentially less able players in the hope he can replicate the work he did at Southampton. Whatever happened to getting us back to the top table? Dark Arts and deception and EFC - hand and glove.
Chris Corn
154
Posted 09/08/2016 at 10:12:16
Stones named in City's CL squad as per SSN. Deal set to be announced within 24 hrs.
Trevor Peers
155
Posted 09/08/2016 at 10:23:58
If that's true about Stones, thank god it's over ! Sick and tired of all the speculation and who can say it hasn't affected his performances for the last 18 months ?
Let's move on and use the money to buy the player's we really need, and want to play for Everton.
Tony Hill
156
Posted 09/08/2016 at 10:43:56
James (153), I understand and share your view of Kenwright. I think though that Moshiri and Koeman will prevail. Things are frustrating now but these new people at the top are of a different order to anything we've had since the time of Moores. Neither Moshiri nor Koeman can afford to fail and Kenwright won't be allowed to stand in their way.
If Stones is going then things should start to move on the transfer front.
Danny O'Neill
158
Posted 09/08/2016 at 11:09:34
Confirmed. 6 year deal with City. Guaranteed fee of £47.5, potentially rising to £50m with add-ons.
Chris Corn
159
Posted 09/08/2016 at 11:14:50
I'm afraid we are on the wrong end of a bad joke again. Decent fee, but the manner in which this was forced to be announced was just another example of rank amateurism which allegedly we'd moved away from under the new regime. So we have circa £147.5m plus the inevitable Lukaku fee to spend now do we? I'm afraid I'm going Wallingesque on this one pending incontrovertible evidence to the contrary. Admins , Please move this to the relevant thread when it emerges.
Danny O'Neill
160
Posted 09/08/2016 at 11:59:09
In fairness Chris, it was Man City not Everton who dropped the clanger. They had to come out and admit it was "hugely embarrassing". Anyway, now we turn to a replacement and the centre back we needed anyway, so that'll be 2 please!
Mike Hughes
161
Posted 09/08/2016 at 12:03:00
I notice that ToffeeWeb have been as slow as EFC in announcing the Stones deal.
My theory is that they are expecting an avalanche of inward 'done deals' later today and are going to do all the announcements in one go.
Expect Jermaine Beckford to be unveiled by 5pm today.

Danny O'Neill
162
Posted 09/08/2016 at 12:11:35
Or Joleon Lescott Mike - Villa releasing him on a free. Personally if I were them, out of making a point I would actually pay him to leave!

Jim Burns
163
Posted 09/08/2016 at 12:29:20
Ashley Williams deal must go through now?
No news on Bony coming over as part of the Stones deal – shame if not. I fancied him and Lukaku upfront.
Steven Jones
164
Posted 09/08/2016 at 12:56:37
Phil Walling ... I bet a beer with you that we are closer to 5 new players coming in than none between now and the end of the window ...
I am off to Cyprus tomorrow and by the time I am back ten days later I am hoping for some big changes with loads of incoming ...
Keith Conchie
165
Posted 09/08/2016 at 12:58:51
Sky Sports say we've agreed a 㾸m deal to sign Ashley Williams.
He's a good defender and the fee isn't huge, so not a bad bit of business. But at 31 years old, he's not one for the future, but more to steady our defence for now, til the young players are ready.
Keith Conchie
166
Posted 09/08/2016 at 13:02:18
Lamine Kone is apparently a done deal too. £18m.
At 27 he should be at his best, anyone seen much of him to comment if he's any good?
Jon Withey
167
Posted 09/08/2016 at 13:07:26
I suppose if £6 mil goes to Barnsley, then we have swapped Stones for Williams and Kone, effectively.
Geoff Williams
168
Posted 09/08/2016 at 13:08:45
Kone and Williams is so more attractive than Kone or Williams. A quality goalkeeper, Mata and a striker now please.
Phil Jeffries
169
Posted 09/08/2016 at 13:10:03
Williams has just been signed for £12m. Now there is someone who will get stuck in and has a mouth!
Danny O'Neill
170
Posted 09/08/2016 at 13:19:09
Mata and what about taking Schweinsteiger off them too? Past his best, won't play all of the time but unequivocally top top drawer; genuine, not like those who we too easily categorise with that label these days. His experience and sheer presence in the squad could add a lot.
Might want to go back to Germany though.
Keith Conchie
171
Posted 09/08/2016 at 13:22:08
I would happily take Mata but not a fan of Schweinsteiger. Never really rated him even at his peak. Just my opinion.
New keeper and 2 strikers now, cos I think Lukaku may still go.
Danny O'Neill
172
Posted 09/08/2016 at 13:39:36
Fair one Keith. I'm just a big fan of German football, the players they produce and that particular generation.
Phil Walling
173
Posted 09/08/2016 at 13:42:46
Good to see the Stones speculation ended and I'm sure Williams will do us proud. But as for Danny's advocacy of Man Utd's casts-off, no thanks.
Schweinsteiger is well over the top and behaving like an Eto'o, I've read. As for Mata, nobody knows where to play him!
Now to clarify the Lukaku situation. Before Saturday, I hope!
Steve Bingham
174
Posted 09/08/2016 at 13:45:17
And so it begins...
Danny O'Neill
175
Posted 09/08/2016 at 13:57:45
All about opinion Phil.
By that logic, Lukaku was a Chelsea cast off, however he's turned out to be the closest thing to a 20-goal-a-season striker we've had in a generation (or two).
Kevin Sheedy was a Liverpool cast off who couldn't get out of their reserves.
Hey, it was just a thought anyway. Not sure we'd go for Mata (for reasons you state – ability but where do you play him?) and the World Cup winning, 1 x Champion's League winner, 8 x German Bundesliga and 7 x German Cup winning Schweinsteiger will probably head home.
Steven Jones
176
Posted 09/08/2016 at 14:07:15
Agree with both Danny and Phil ...
In addition with the new RK press, physical recipe not really sure Mata or Schweinsteiger fit the mould... ??
Martin Mason
177
Posted 09/08/2016 at 15:25:48
Ray@144
I agree about that Everton side and watched every game of that season. I also watched Leeds many times in those years and they developed into a beautiful side. They were at least as good as Everton at that time and didn't press us in the end although we did have a bad patch. They put their chips on the European cup though and lost everything.
It could be said that the 1970 Everton team were one season wonders. Now that's what you call controversial not that a superb Leeds side was as good as them or not.
Ray Roche
178
Posted 09/08/2016 at 17:16:16
I agree with the fact that that Everton team were broken up far too soon and should have gone on to start a dynasty in the League, but selling Ball soon after and not pushing on...well, it remains just another "if only".
Leeds WERE a great side but I think we were better. They were spiteful little narks, snidey, underhanded shits epitomised by Jack Charlton in his Little Black Book. I'll always be grateful to Morrisey for one of the best stories from football.
They also had an unpleasant arrogance about them, do you recall them beating Southampton 7-0 and taking the piss out of Saints? Even the commentator said "It's almost cruel". I know we battered Southampton a couple of times but I don't recall us strutting about the park humiliating them. (now if we could do that to the RS)..
Add Your Comments
In order to post a comment, you need to be logged in as a registered user of the site.
Or Sign up as a ToffeeWeb Member — it's free, takes just a few minutes and will allow you to post your comments on articles and Talking Points submissions across the site.
© ToffeeWeb